Planning a trip is one of the most important things to do prior to your travel (aside from picking the right travel partner, of course). Even for those who are the kind to do things "spontaneously", one still needs to plan your day to a certain degree. In order to get the most out of your travel, having a plan of action in place is essential. Admittedly, my sister is the pro planner out of the two of us, and most of how I do things I learned from her.
Travel planning has been taken to another level since mobile technology becomes widespread, and yet I remembered a mere five years ago, I still had my phone stowed securely in my bag and a paper map clutched in my hand. Those were the days. Since this year, the two most important tools used in my travel planning are Google sheets and Google My Map.
Google Sheet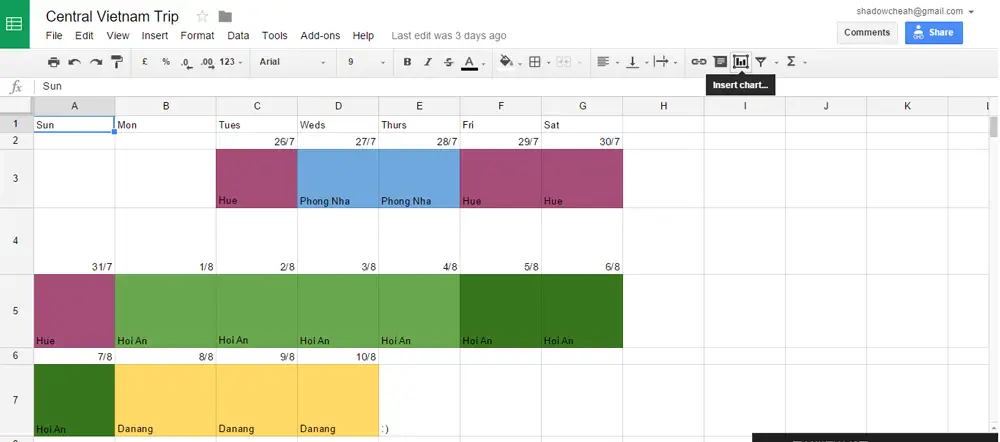 Available on mobile and desktop, store on Cloud and sharable, Google Sheet has become the most versatile tool ever and readily shareable. There are several ways we make use of it:
Rough Itinerary
Perhaps unnecessary for a short trip, it's a great way to keep track of which city you are in by colour coding it on a calendar. Especially since it's very easy to lose track of what date of the week it is when you are on holiday.
Detail Itinerary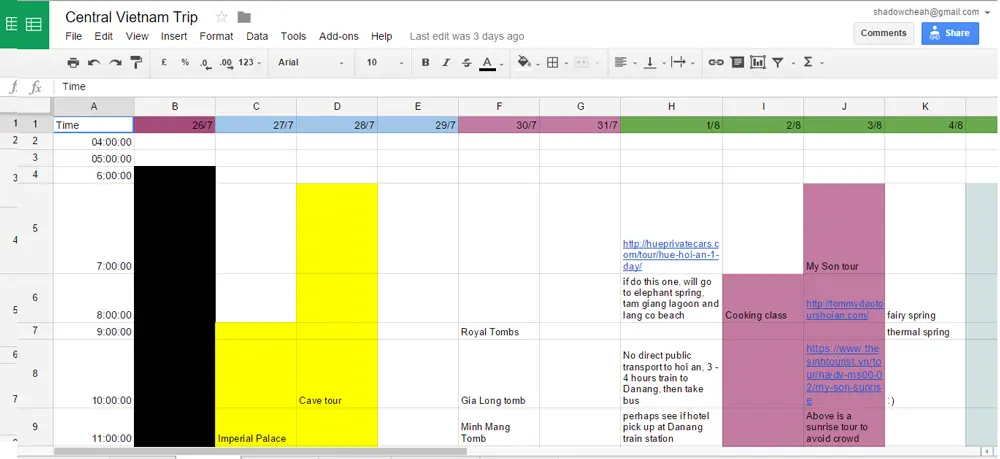 As I had said, having a plan of action is important. This doesn't have to be a concrete plan, but this will definitely help you make sense of your timetable. It's important to figure out how long you should spend in each city prior to departure. For example, when my friend and I went to central Vietnam, we know that there are 4 day trips we want to take in Hoi An so we make sure we stay there for at least that long.
It's also great for sharing with family in case they are worried about where you are and what you are doing.
Bucket list
Having a list of things you can do, even if you can't fit it in your itinerary is a good idea. I basically dump all my research into the list and it definitely came in handy on days when we want to forego one plan for another.
Spending
Perhaps the most important part when you are going with friends, finance is one of the touchier subjects, but it shouldn't be. The best way to do this is to keep track of everything. Make sure you know who paid for what to avoid a fall out – you don't have to work it out right there and then, but having it all recorded makes everything better. And it's always good to know what you spend where.
Packing list
This one is optional, but if you are sharing some items, or if one of your friends is the forgetful type, then putting a packing list on will ensure that everyone has the essentials they need.
My Map
GPS is a great invention, and combine that with google map, there's virtually nothing you can do to not know where you are. But we all know that Google Map requires data or internet, but what you might not know is the existence of My Map.
My Map allows you to annotate Google Map with points with icons – and is available offline. I have no idea why I didn't know about this earlier, but it's definitely worth downloading this app.
Note – China does not have Google Map. A good alternative is OsmAnd app.
What do you put on it? Here are some ideas:
Your hotel
Now this one should be obvious. Knowing where you live is a great idea, and it makes showing the taxi driver where you live easier. Don't foget to check the hotel ratings too – especially the recent one!
Restaurants
It's a good idea to pop recommended restaurants – whether by friends or Tripadvisor – on the map so you have something to fall back on when you are out and about. It can be tiring deciding where to eat and having choices at hand will save a lot of time and arguments about which to pick.
Sights
Another obvious one, putting on the sights you can see will help you plan your route. But how do you find the sights and restaurants? Here's where I find them:
Where to research
Depending on where you go, there are several places where I get recommendations from.
Tripadvisor
Although Tripadvisor is a great tool, everything on there should be read with a grain of salt. Especially since Tripadivsor now run affiliate booking services, and a lot of services and restaurants will encourage their customers to review them as well, even if their quality isn't particularly great compare to those around. An example will be the #1 pizza place in Palermo, Sicily that my sister and I went to. It wasn't bad, but it definitely didn't warrant a first. But the owner practically begged everyone there to review him and it was hard not to oblige.
Wikitravel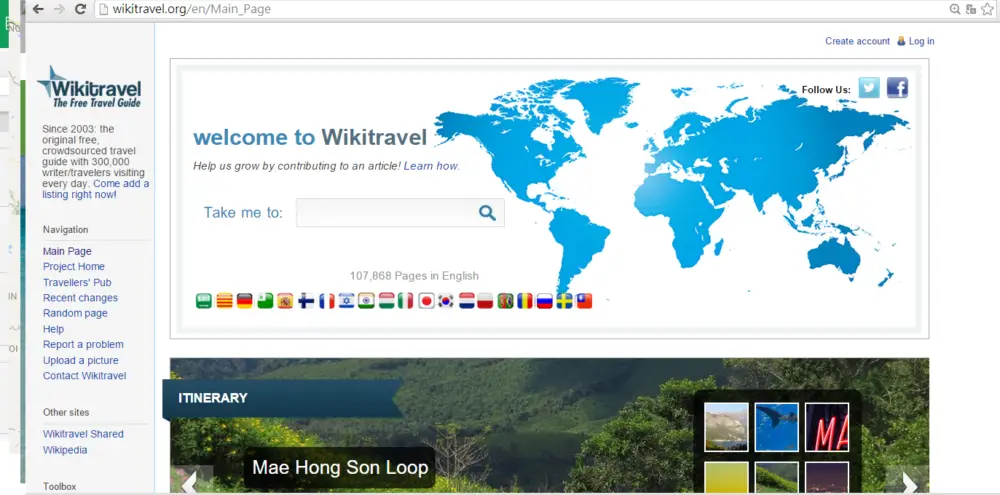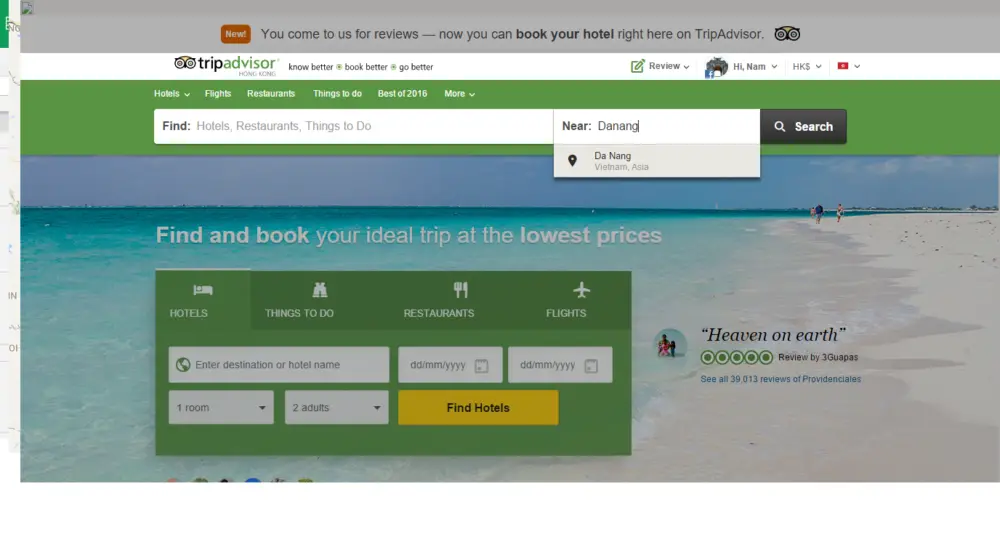 A very comprehensive guide in terms of sights and information, Wikitravel has become a recent favourite for me to check. Although I wouldn't take their restaurant and accommodation recommendation without double checking reviews, I like learning about the history of the city and their transport sections are usually very well written. However, not all cities have a Wikitravel profile.
Pinterest
A great place to search for the most photogenic spot, simply type in your destination on the search box and be amazed by the stunning array of beautiful places that you can visit. However, more often than not the photo is either heavily Photoshoped or taken by some super professional person, so don't let that hype you up too much.
Bloglovin'
While Pinterest is not a great place to look for articles, Bloglovin' is. Although the quality varies, it's a great place to look for reviews from bloggers who had been there themselves. The best thing about that is if you have a question, it's as simple as reaching out to them via comment or email.
Facebook groups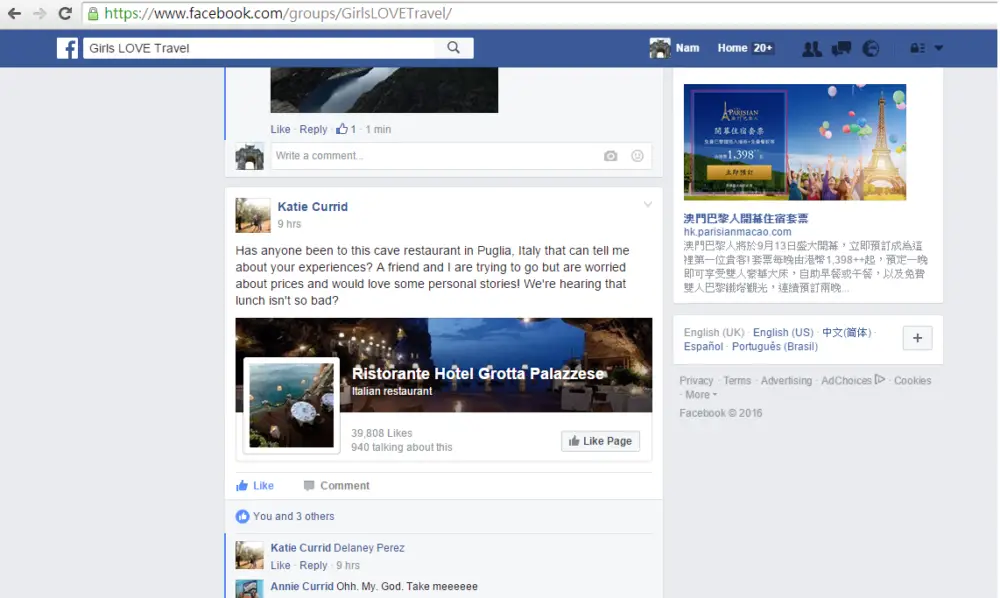 If you want personal recommendations, then joining some travel Facebook groups and asking for advice is the best way. Travellers love helping a fellow travellers out, and the communities are friendly and warm. I often get a ton of good advice from girls at Travelette, Girl Love Travel and Female Travel Blogger Facebook group. Just make sure you don't divulge the exact dates and where you stay.
Plain old google
Sometimes, the destination you have in mind might not be well represented in the above channels, but google is all powerful – and google never let you down.