A guide to Lake Bohinj's towns, attractions, and transport
Bohinj region in Slovenia is relatively unvisited in comparison to its neighbor Bled. An area of immense natural beauty, it is not only home to Lake Bohinj – the largest permanent lake in Slovenia, but also to numerous gorgeous waterfalls as well as the Triglav National Park. Unlike Bled, the region of Bohinj is full of small towns and it can get confusing, it wasn't until I was there that I wrapped my head around what the area is like. So here, I bring to you the Ultimate Guide to Bohinj.
Towns around Lake Bohinj
Bohinj region is home to a lot of small towns and although tourism has begun to grow, a lot of these are still farm focused. If your trip is centered around the beautiful lake and the surrounding nature, then these towns would be one that you will most likely go past and spend time in:
Bohinjska Bistrica
The largest town in the region, Bohinjska Bistrica is the only town around Lake Bohinj that has a train station. The town is relatively clear of tourists even in the month of August when I visited, as most people visit Bohinj in passing rather than stay. The Church is the most prominent feature in town, with a white and creamy yellow facade with a central bell tower standing virtually unobstructed. With a population of 1,774, the town, though fill with B&Bs and hotels is still quiet with little to do except for its bowling alley and the Tomaz Godec Museum.
Ribcev Laz
Perched on the east bank of Lake Bohinj, Ribcev Laz is a pretty little town that's most recognizable by the stone bridge spanning across a small section of the river with the gorgeous church dedicated to John the Baptist behind. Though not as large as Bohinjska Bistrica, it's favoured by tourists due to its proximity to the lake and thus consists mostly of hotels and holiday homes.
Stara Fuzina
A small town northeast of Lake Bohinj, there's not much around the town of Stara Fuzina, save for its proximity to Mostnica Gorge and the gaggles of paraglider landing in the plains stretched between it and Lake Bohinj. It is also home to the Alpine Diary Museum, and is one of the towns you past through on the cycling path around Bohinj.
Ukanc
A smaller version of Ribcev Laz across the lake, there really isn't much around Ukanc save for a large camping site. The west bank of Lake Bohinj offers more places to lounge and sunbathe, however, there is a sinister history in this town. A former World War II mass grave, as well as home to an Austro-Hungarian cemetery chapel, Ukanc's idyllic and calm charm, shows little of its turbulent past.
Srednja vas v Bohinju
With one of the weirdest town names I ever heard, Srednja vas v Bohinju might just be the picture perfect Slovenian Alpine town. Wooden hayracks that stand on fields below the town, the bright yellow Church of St Martin and the Ribnica River that flows through the town all makes it stands out.
Be sure to admire the view as you climb the steps up to the church – I knew I did!
If you are interested in going to Bovec (that's on the other side of the mountain – my friend Kamila has a comprehensive guide that covers the Slovenian Alps that includes the charming town, too
Attractions in Bohinj
Lake Bohinj
Though the water in Lake Bohinj is colder, much more so than its cousin Lake Bled, its considerably bigger size means there's more room for you to kayak, paddle board or canoe your way around. With high, snowcapped mountains as backdrop and countless secluded spot you can hide away in and plenty of great photo opportunities.
As the largest permanent lake in Slovenia, it is 1km long and 4.35 km wide – the towns of Ukanc and Ribcev Laz border its west and east respectively, with its north bank only able to fit a walking trail before the landscape rises into the mountains. The south bank is a similar story, save this time it's the main road that lies before the mountain.
If you want to know more about great spots and sports to do around Lake Bohinj – this is the article for you.
Savica Slap
From the mountains to Lake Bohinj, one of the routes that water can take is through the Savica River. And they emerge out of underground via a fault – forming the Savica Slap. With two falls at 78m and 25m long respectively, it forms a rough shape of A against the white-creamy limestone and collects into e gorgeous turquoise water.
A fair amount of steps is involved, as well as an admission fee to get up to see the fall. A small pavilion perched on the highest part of the trail, where visitors rest and admire the waterfalls. You can go down the short flight of dead-end stairs to get a closer look at the waterfall behind a fence.
Address: 4265, Ukanc 104, 4265 Bohinjsko jezero, Slovenia
How to get there: Either drive, or take one of the Alpetour bus to the last stop at Savica Slap station.
Price: 3 euro
Mostnica Gorge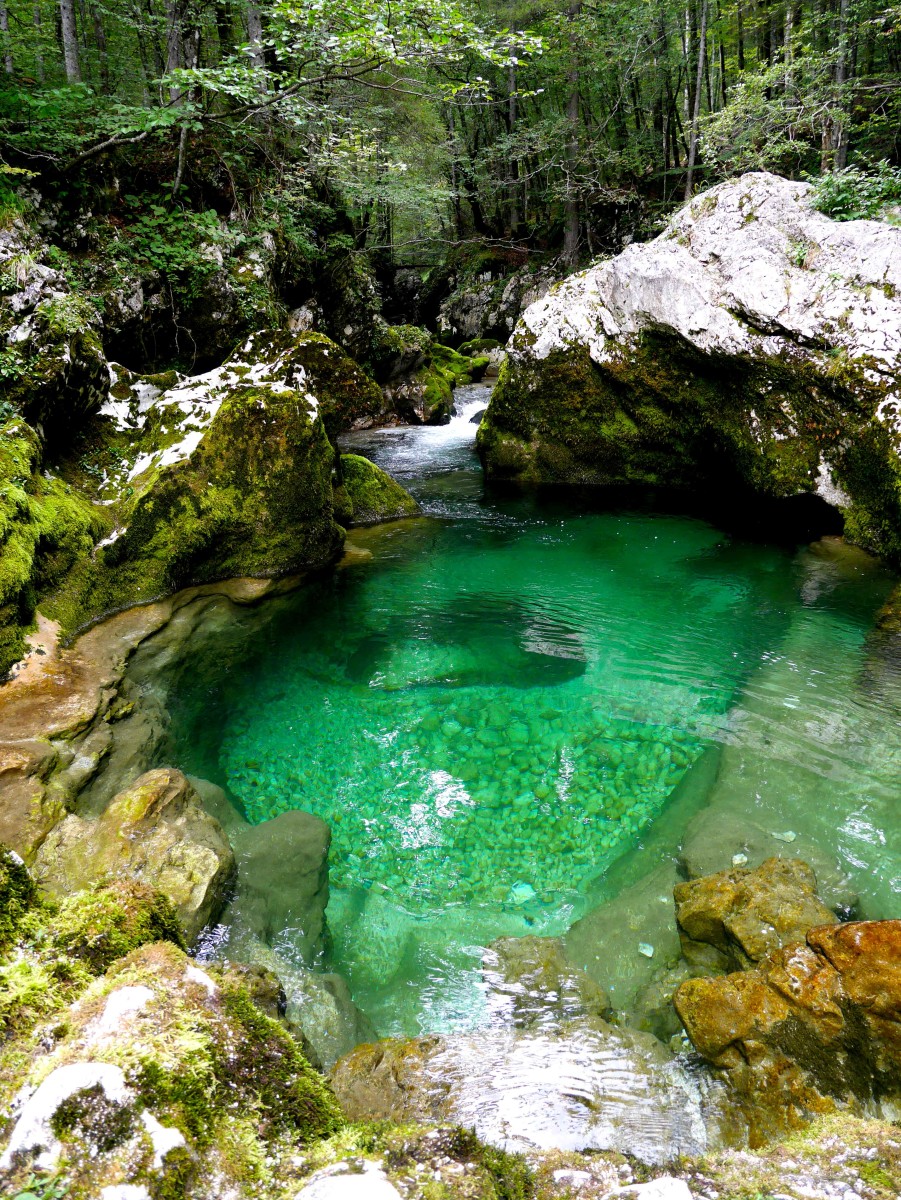 The most beautiful gorge I have ever seen, this particular 2-3km stretch of the Mostnica River is home to some stunning mini waterfalls, rapids and gorge. Up to 2m deep at the southern end, the trail will take you up along the Mostnica River, weaving from one side of the bank to another towards the Okrepčevalnica Slap.
It is near the town of Stara Fuzina – across the Devil's Bridge and up, and also on my cycling and chasing waterfall journey.
How to get there: Cycle or drive to the town of Stara Fuzina, and take the northwest road out and you will encounter the carpark. Then walk towards the Devils bridge (plenty of signs) and continue up along the river,
Price: 3 euros
Vogel Ski Center
Whether you are a ski lover or not, visiting during the summer or winter, Vogel Ski Center should be on your to-go list. South of Lake Bohinj, the cable car will take you up from 0 to 1,535 m above sea level, racing up the stunning mountains with the view of Lake Bohinj to your right as you go up.
Even if you are not an avid skier or hiker, you can enjoy being on the Alpine mountains and snap up photos of the mountain goats grazing from one patch of perilous cliff to another. And for those of you who enjoy hiking and cheese – there's an alpine cheese farm as well as countless trails that span up and down the Ski Center for you to enjoy.
I spent a day hiking up to Mount Vogel and enjoyed it immensely!
Address: Žičnice Vogel Bohinj, d.d.
Ukanc 6
4265 Bohinjsko Jezero
Opening times (Cable Car): Ukranc Crossroads bus station at the entrance of the car park, the bus run by Alpetour and departs from Ljubljana via Bled that stops at various town ending at Savica waterfall.
Price: 11 euros return cable car journey) – alternatively you can walk up there.
Where to stay in Bohinj
>While you can most certainly stay in Bled or even Ljubljana and make Bohinj a day trip destination. But if you truly want to explore more of the place and want to cut down on the commute time, then here are some places you can crash at:
Places to stay in Bohinska Bistrica
As the largest town in the Bohinj area, it's a good place to stay if you need access to the trains station and supermarket.
Where to stay in Ribcev Laz
I'd probably stay here if I had a choice (hehe) – it's on the eastern shore of Lake Bohinj with easy transport.
Where to stay in Stara Fuzina
For a more farm-ish vibe life, Stara Fuzina is great. It's also not far from Ribev Laz and much closer to the lake beach.
Where to stay in Ukanc
If you want to be more secluded, head over to the western shore of Lake Bohinj where Ukanc is.
Where to stay in Srednja vas v Bohinju
For the ultimate escape (albeit further from the lake), Srednja vas v Bohinju is the most idyllic of them all!
Hostel pod Voglom
The only hostel that's right by the bank of Lake Bohinj, Hostel pod Voglom is right on the south bank and runs a sports center as well, including a rope course as well as kayak and paddleboard rental. It is a quaint timber building in Alpine style, it's 2 km west of Ribcev Laz but only a minute away from the nearest bus stop. If you are planning to stay here – it'd be best if you have a car and book in advance* as it fills up quickly.
Address: Ribčev Laz 60, 4265 Bohinjsko jezero, Slovenia
Bohinj restaurants
There are numerous restaurants dotted around the towns of Bohinj, and truth be told I hadn't managed to eat in many of them as most of the time I packed my food and ate on the go. Generally speaking, there are plenty of Slovenia cuisine as well as fish dishes. Here, I will mention two restaurants that I ate in and quite enjoy:
Strud'l – Bohinjska Bistrica
A quaint little restaurant in the heart of Bohinjska Bistrica, Strud'l has a great view overlooking the shopping mall opposite, I am kidding. It overlooks the church and the main road, with a cute covered outdoor seating area as well as a chalet style interior. It's only a 5 minutes' walk from my B&B, and the prices standard – around 10 euros for a dish with drinks.
Address: Triglavska cesta 23, Bohinjska Bistrica 4264, Slovenia
Opening hours: Mon – Sun 7:00 – 23:00
Hotel Center Restaurant – Ribcev Laz
Right next to the tourist information center and post office, the Hotel Center Restaurant has a very typical tourist-catered menu and style that wasn't unappealing. In a hurry and wasn't sure of what to get, I ordered grilled fish with roast potatoes and was surprised that it was actually quite good. I ended up paying 13.60 euros for the dish.
Address: Ribčev Laz 50, 4265, Slovenia
Getting around Bohinj
(See this post on Bohinj Guest card and detailed on how to get around)
Driving in Bohinj
Arguably the best way to get around Bohinj, there are plenty of parking spaces at all attractions as well as accommodations for your vehicle. Some of them would require payment, however, if you are planning to visit the Bohinj region as well as the rest of Slovenia then getting a Bohinj Guest Card for free parking might be the best way to go around.
However, be warned that popular attractions such as Savica Slap and Vogel Ski Resort's car park often fill up faster than you think, so be sure to go early.
 Haven't rented a car? Check CarRental8!
Buses in Bohinj
For those who, for some reason isn't going to drive, then the bus is the best way to get around. During the summer season (from July to October), the buses run more frequently from Ljubljana to Savica Slap, going past Bled and various towns in Bohinj region and the sights as well.
The schedule varies daily, depending on which day of the week – however on average there will be a bus every 60 – 90 minutes. The bus is run by Alpetour and if you want more information, I talk extensively on getting around the region in this blog post.
Cycling in Bohinj
Though doable, unless you are a seasoned cyclist, I wouldn't recommend doing this as the sole mode of transportation. I was able to cycle around the beautiful cycling path in the Bohinj region, however, outside of that path you would have to cycle on the road. Given that there is only one road from Bled to Savica Slap – which goes up hill as well – it is not very safe for those who are not experienced with bikes.
There are affiliate links in this post where I get a % sale if you click through and book at NO COST to you
Pin me!
Pin me!