Things to do in Liepaja, Latvia
Liepāja is the third largest city in Latvia on the Baltic coast. It's known as the Windy City, 3 hours west of Riga (or one hour by plane). It's a popular seaside town known for its wind and beaches, as well as their theater. It's a great place to spend some quiet town, whether with music or in nature. Here are the top things to do in Liepāja:

What to do in Liepāja 
White Sand Beach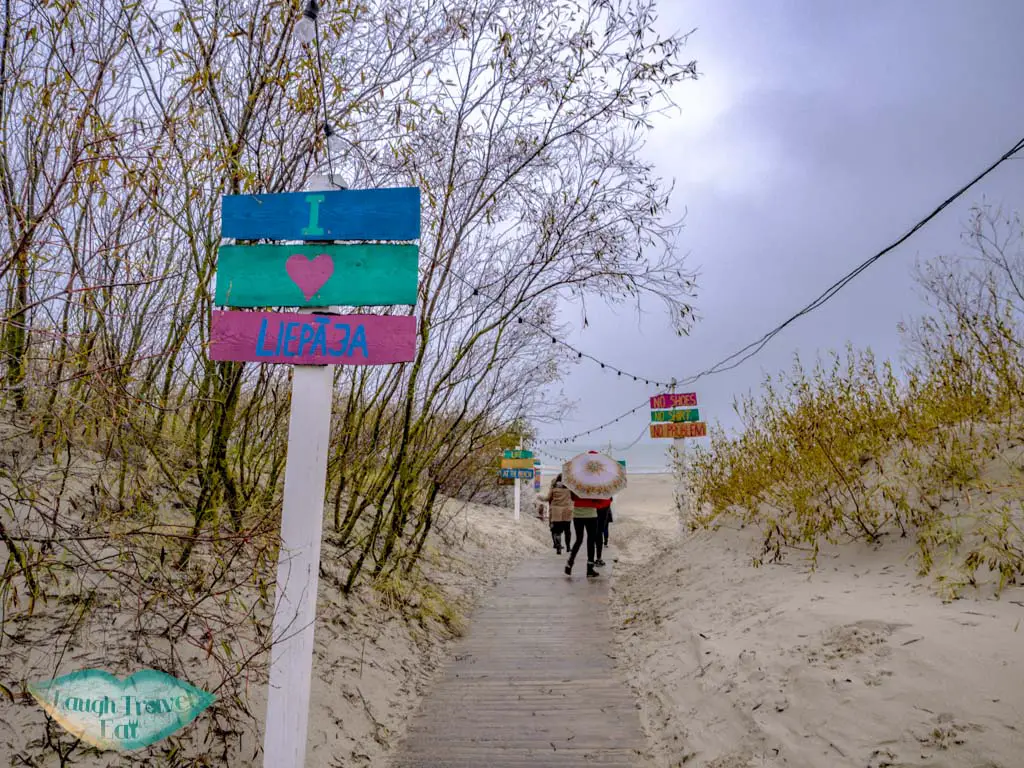 Stretching for as far as eyes can see, the white sand beach of Liepāja are as wild as they were centuries ago. They face the Baltic Sea, a perfect place to sunbathe in the summer and watch the wild weather in the winter.
It might be cold and wild and rainy on our visit to the beach, but I felt like I was in a Nicholas Spark novel and might meet some mythical creatures.

Great Amber Concert Hall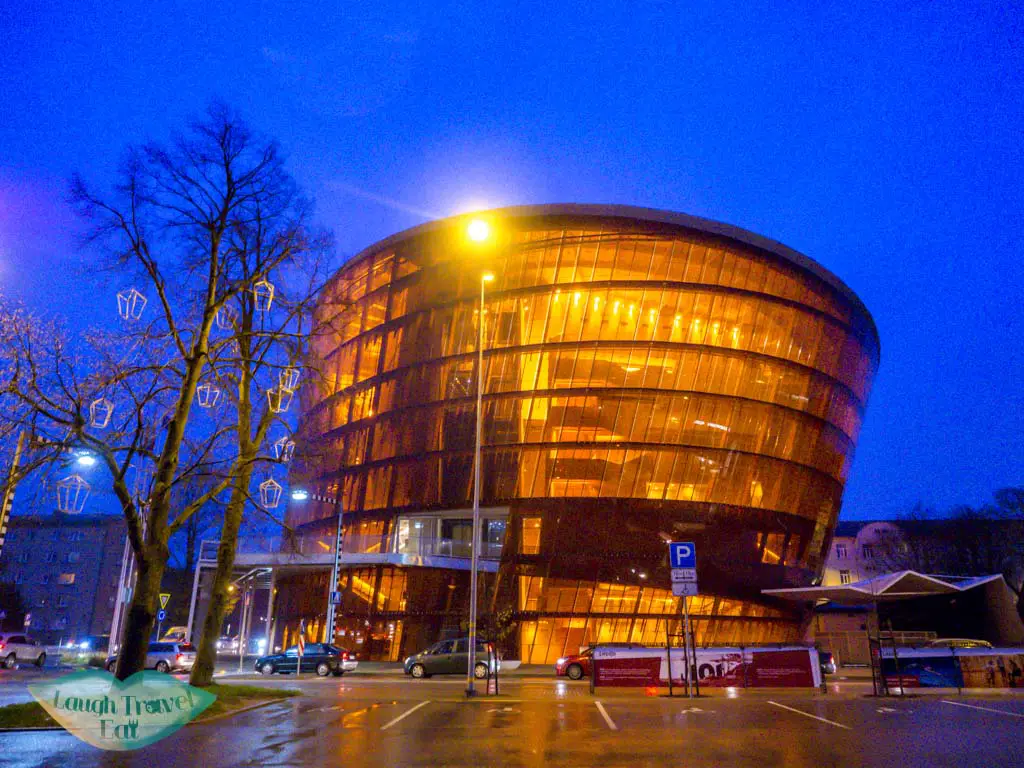 An iconic landmark in Liepāja, the Great Amber Concert Hall stands at 30m high near the Coast. It is, yes, shaped like an amber, designed by the Austrian architect Prof. Volker Giencke. Built in 2015, it has three concert halls that can sit a total of 1,320 in total and 8 floors. It is home to the Liepaja Symphony Orchestra, Liepaja Music, and Art and Design High School.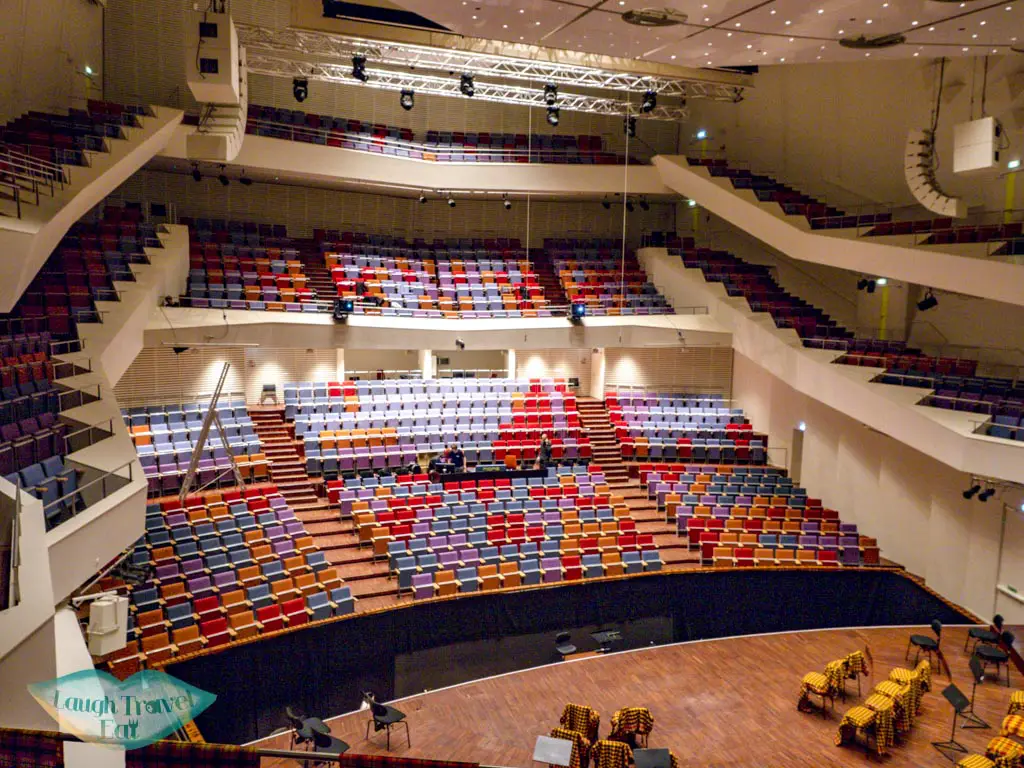 They have a calendar of all the events, as well as a concert hall tour every sunday. They are also considering implementing a unusual instrument and performing experience that we had a chance to be part of and it was super fun!
I played wine glasses water, which is the most normal, since another girl played a giant metal sheet and another a pipe (yes the mechanical kind).

Amatnieku Nams – Craftsman House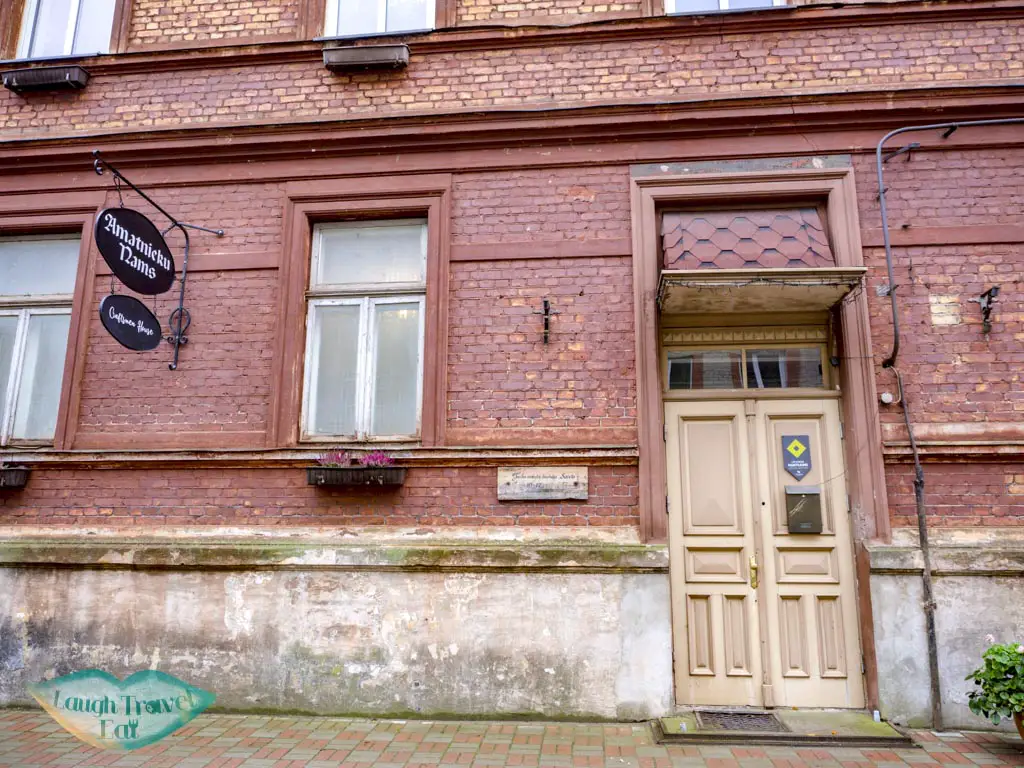 Not to be missed for fans of culture, Craftsman House (Amatnieku Nams) houses the workshops of many traditional Latvian craftsmen of different trade. Weaving, spooling, costume making, pottery, metallurgy and jewellery, and candle making are only among some of the crafts being handmade here.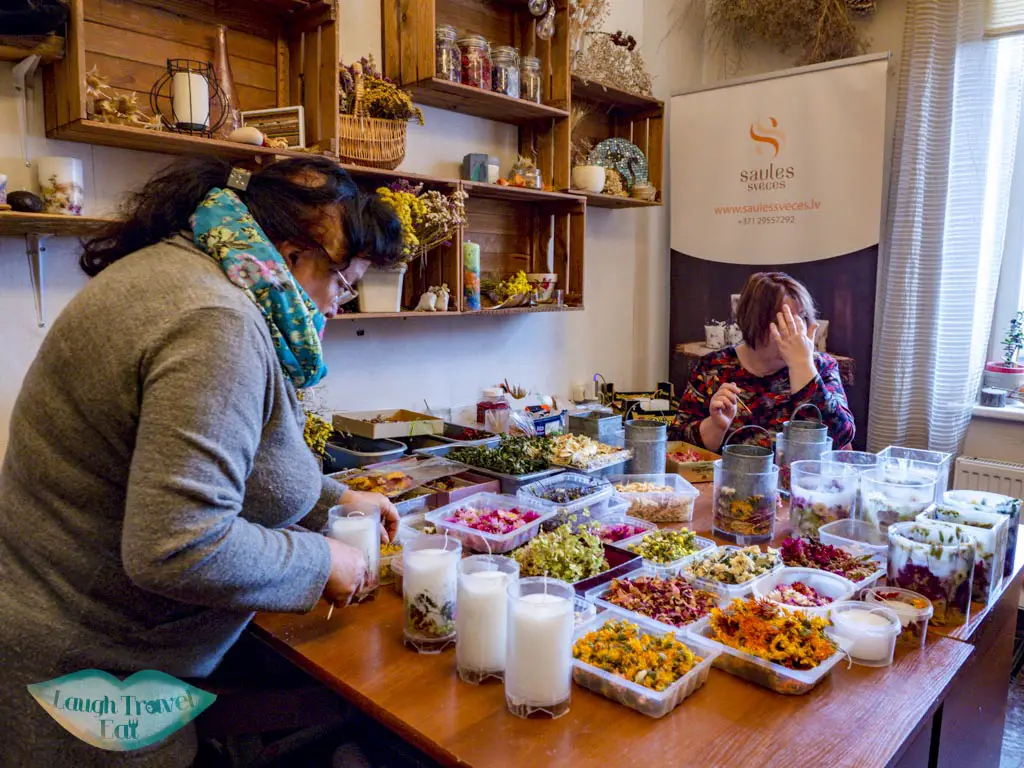 It's truly a pleasure to see grandmas weaving traditional clothes, and we even got to try doing it for a bit. Many Latvians are increasingly commissioning for a costume of their village to be made, but those can be 1000-2000 euros depending on the sewing. A shawl can take up to a month to make!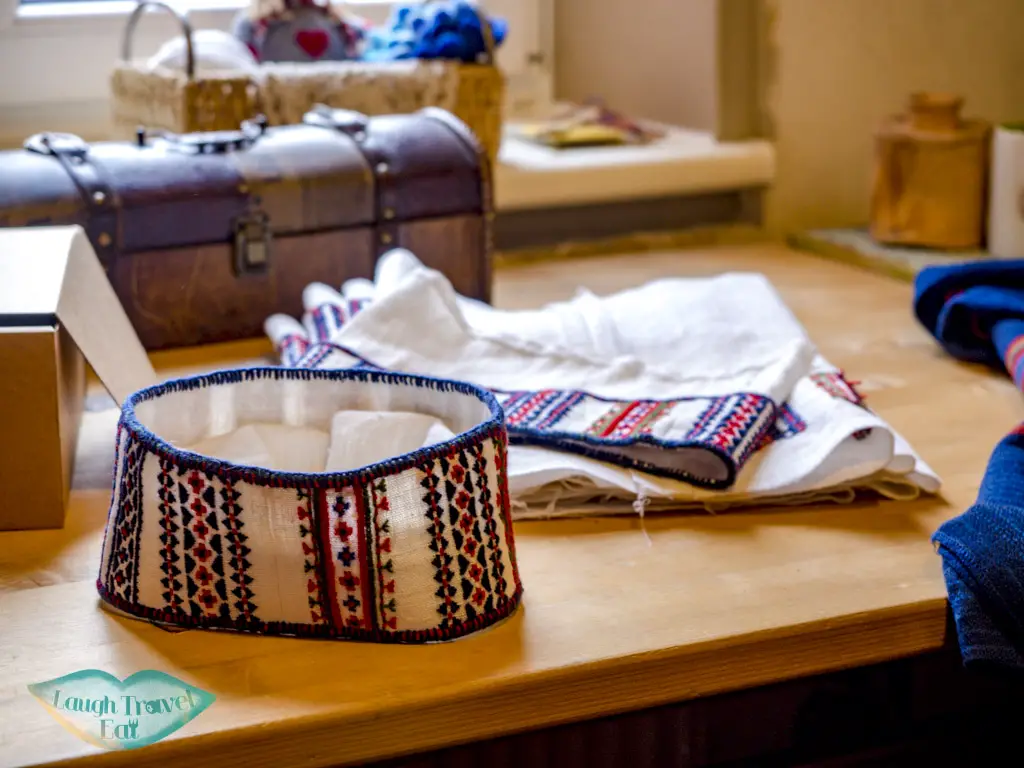 My favourite stops include the costume, weaving, and candle making! Flowers are used as well as amber, and since it's November already, we found Christmas candles, too! Of course, since we are in the Baltic, there is also an amber workshop where jewelries are crafted from pieces of ancient tree sap.

The best part is their gift shop, where we spent over half an hour trying to choose what to buy. A must is something made of amber – there are earrings, bracelets, and necklaces. Candles are another popular buy – I was tempted but I simply ran out of space in my suitcase!
Address: Dārza iela 4\8, Liepāja. LV-3401
Opening times: Mon – Fri 10:00 – 17:00
Peter's Market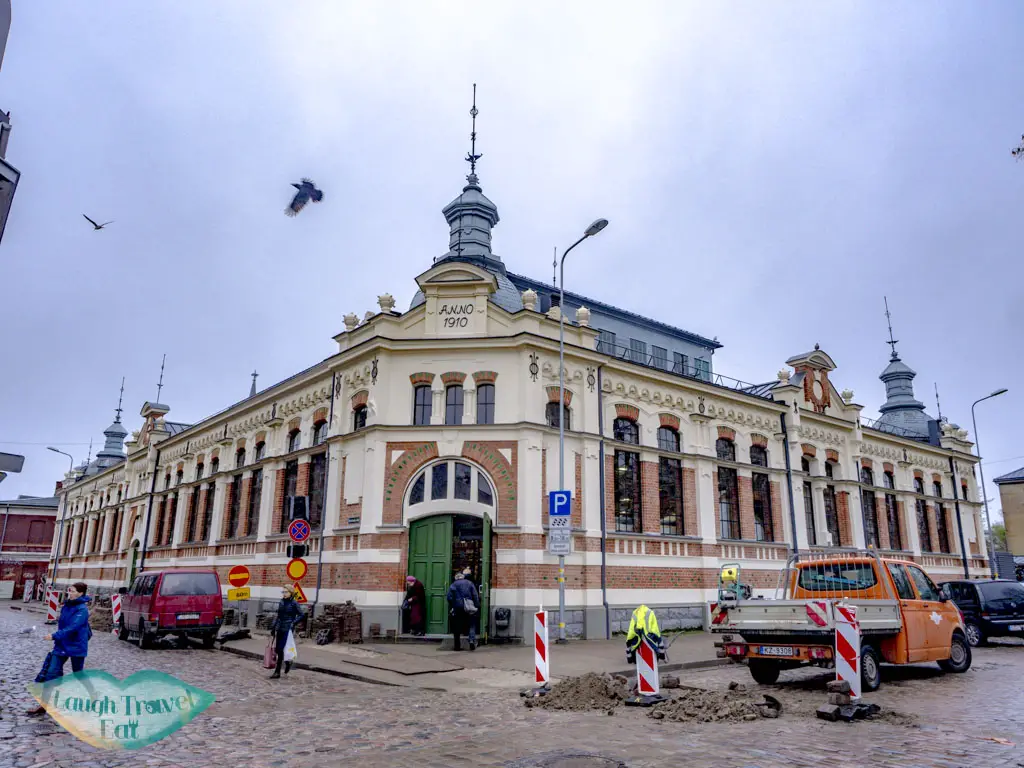 The Art Nouveau style central market is Liepaja's food market. Opened in 1910, it has two floors with the basement dedicated to fish. It's pretty, it's a slice of local life, and there's food, so it's definitely a place to visit! We tried the local carrot pie here, which is surprisingly well flavoured together.
Opening times: Mon – Fri 8:00 – 18:00; Sat 8:00 – 14:00

Holy Trinity Cathedral 
Home to the World's biggest mechanical organ (until 1968, though it is still the biggest unreconstructed mechanical organ), this 18th century Baroque Church is the seat of the Bishop of Liepaja. Its exterior was under construction on our visit, but the interior is adorned by Rococo style gold decorations. 
It's free to visit the church, however, photos are not allowed inside. 
Opening times: Mon – Sat 11:00 – 13:00
Art Gallery 'Romas darzs"
An underground gallery that features painting from Liepāja artists only, Art Gallery Romas Darzs is hidden in a courtyard and a treasure trove for art lovers. The paintings date from the beginning of the 20th century onwards, offering a glimpse into the lives of those in Liepaja during the Russian occupation.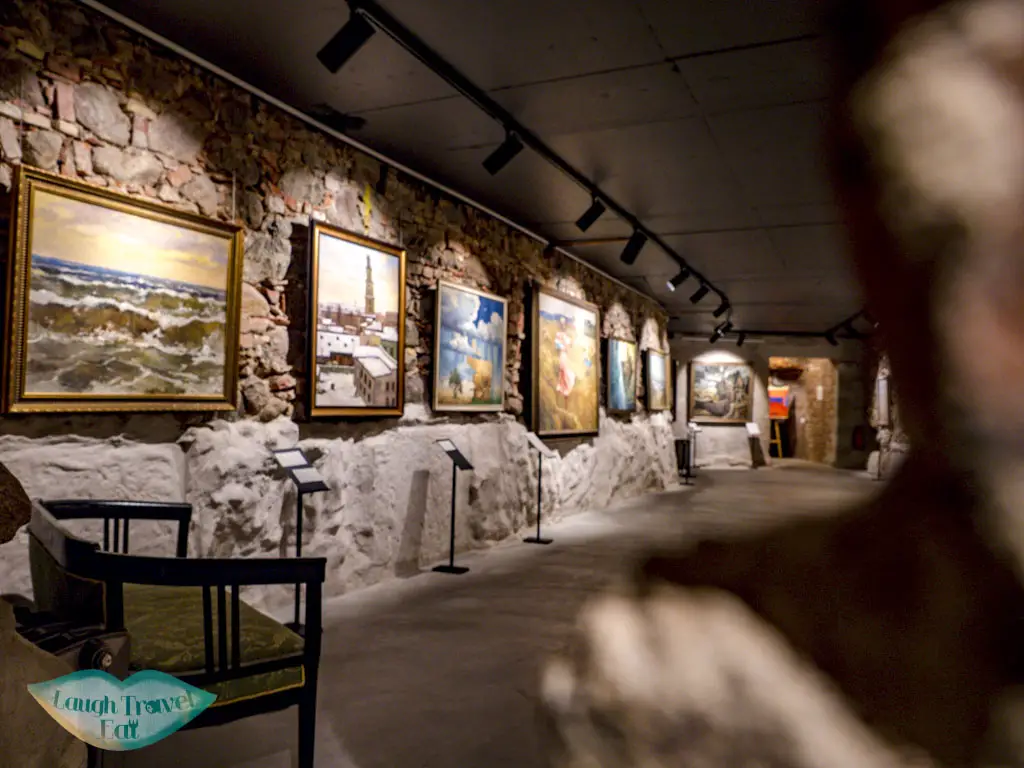 The galleries run through a series of cavernous room underground where wine were likely kept. The Soviet Era paintings are mostly landscape and nature, but there are also cartoon doodles by a local security guard.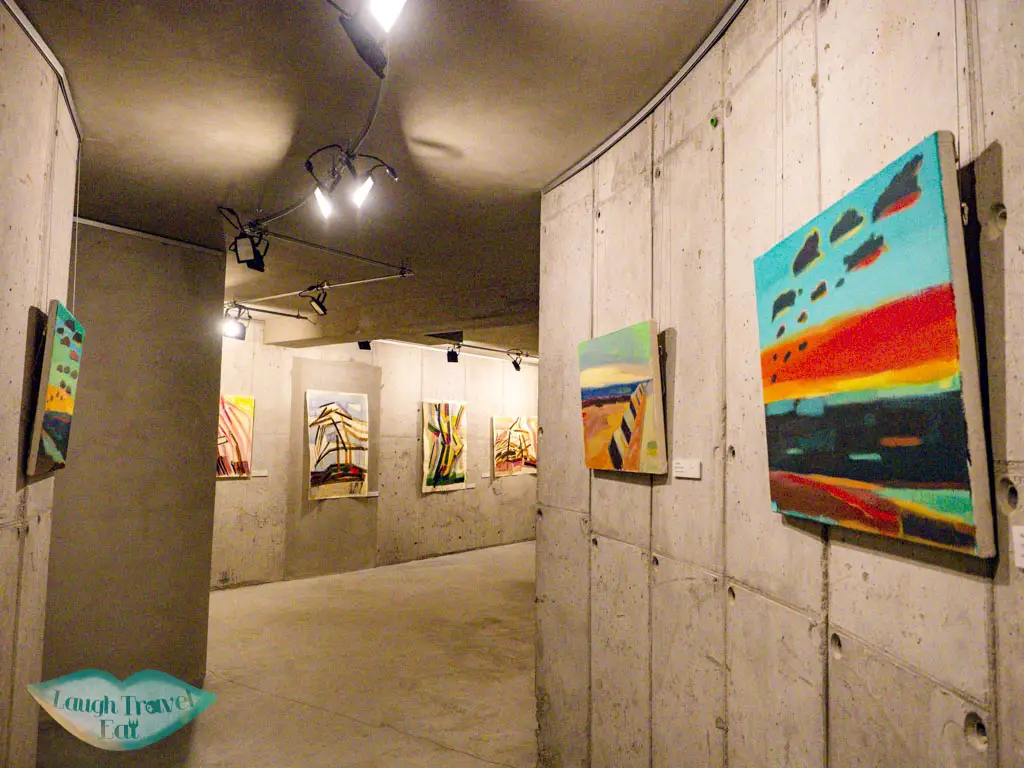 More varieties came when an art school was established in the 20s, and at the end of the permanent exhibit there are modern art, too. It is free to visit the gallery and you can also put in an offer for the painting.
Address: Zivju iela 3, Liepāja, LV-3401, Latvia
Opening times: Tues – Fri 11:00 – 18:00; Sat 11:00 – 16:00
galerijaromasdarzs.lv
Where to eat in Liepāja 
Red Sun Buffet Beach Bar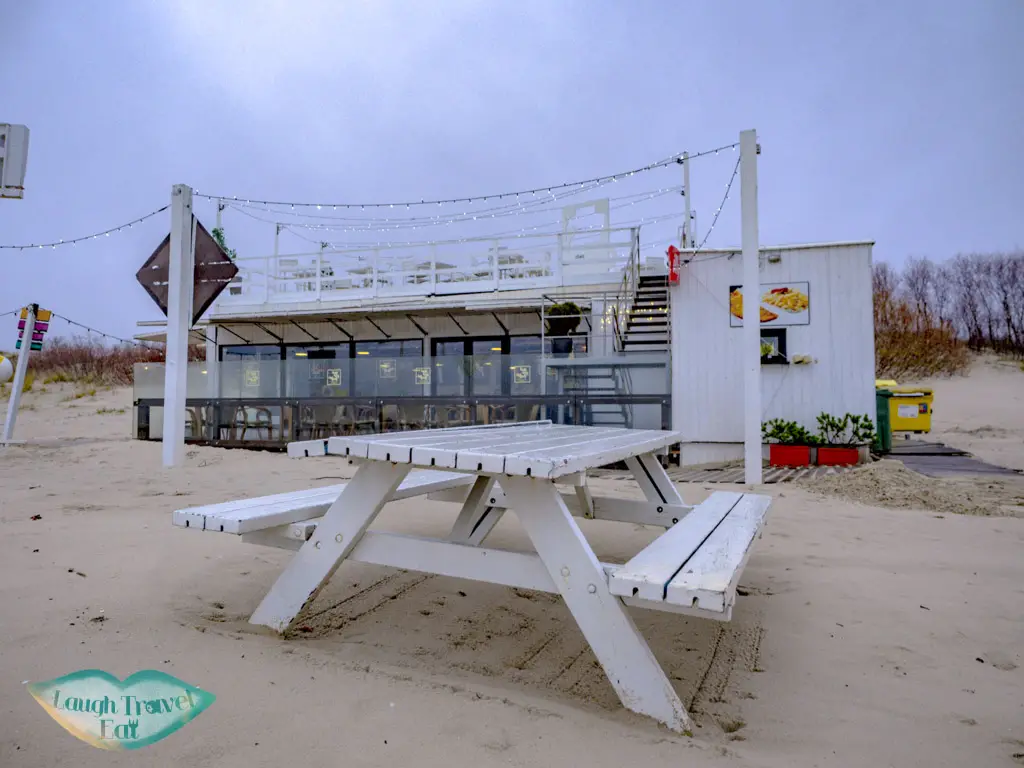 By the wild sandy beach is Red Sun Buffet, a cozy cafe with a hip exterior and classic interior. Contrary to its name, I didn't see any buffet on offer, only food and drinks typical of a cafe. It's a wonderful place to sit and watch the sea and the beach whether it's summer or winter.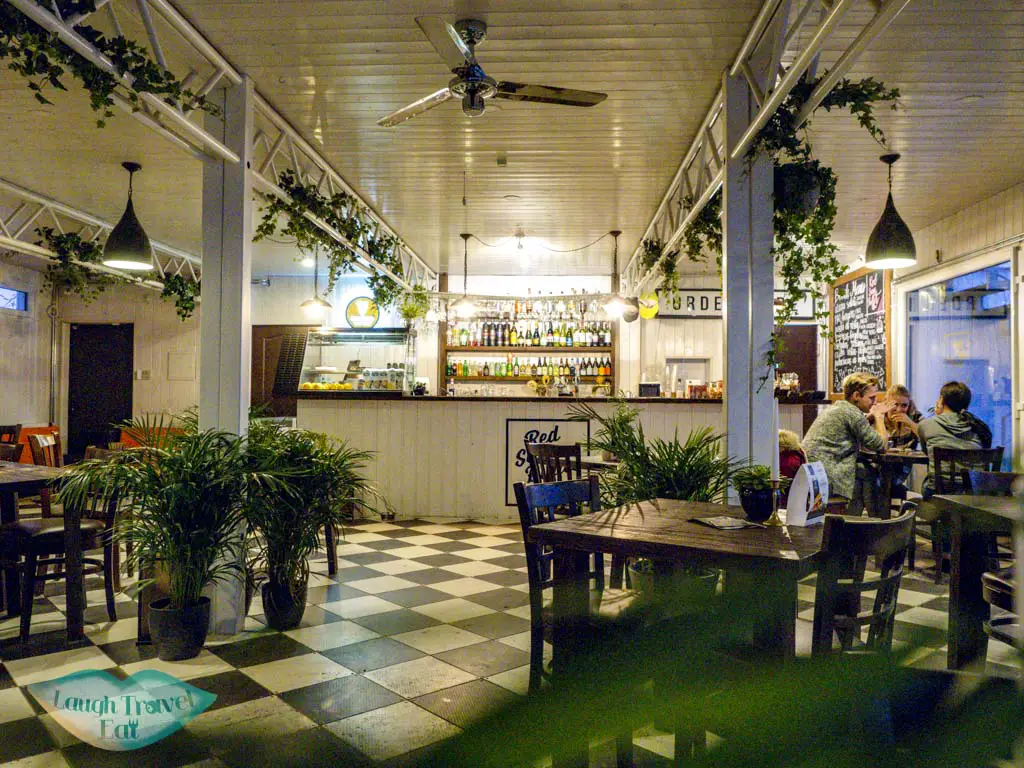 Address: Liepaja Beach, Liepaja 3401, Latvia
Opening times: Sun – Thurs 11:00 – 22:00; Fri – Sat 11:00 – 0:00

Boulangerie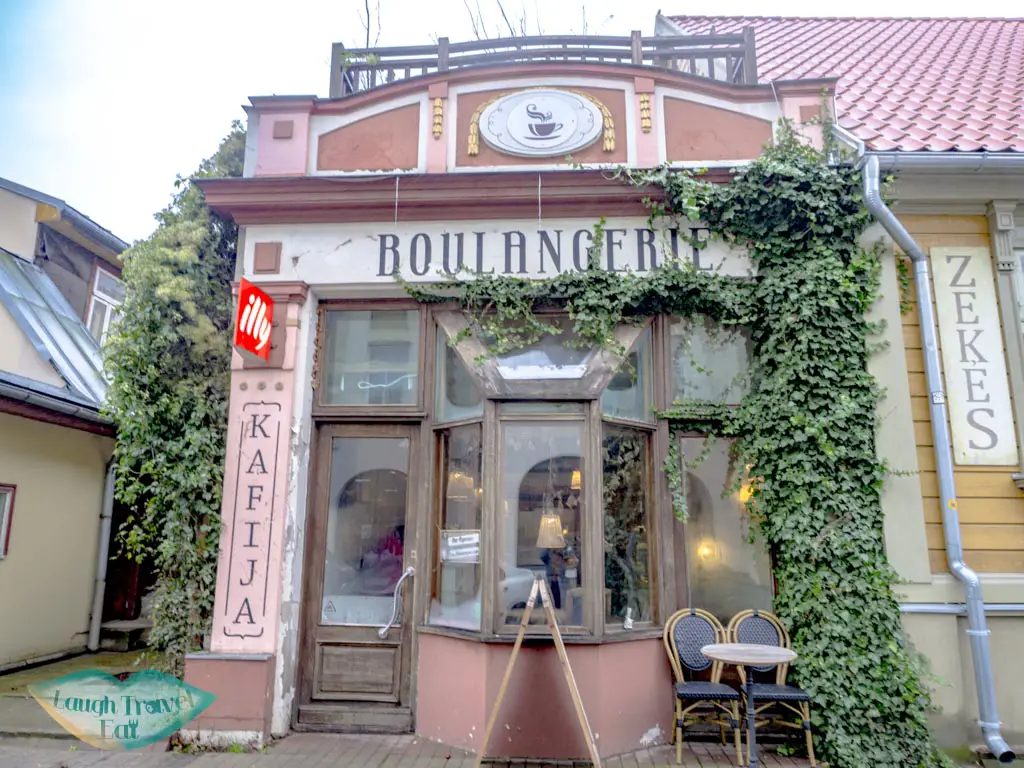 A charming little bakery and cafe across the road from St Peter's Market, Boulangerie is a good place for breakfast, brunch, and dessert. It's cozy, it's pretty, but is quite popular so expect some crowd if you are there during the summer.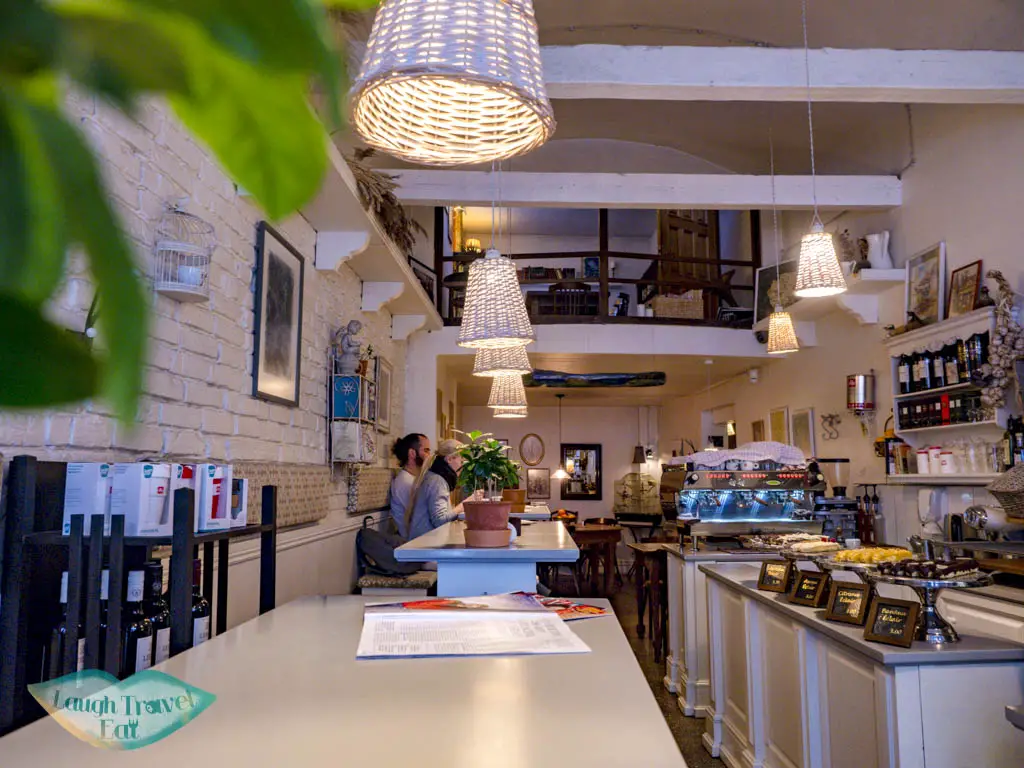 Address: Kuršu iela 2, Liepāja, LV-3400, Latvia
Opening times: Mon – Fri 8:00 – 19:00; Sat 10:00 – 19:00; Sun 10:00 – 18:00

Cello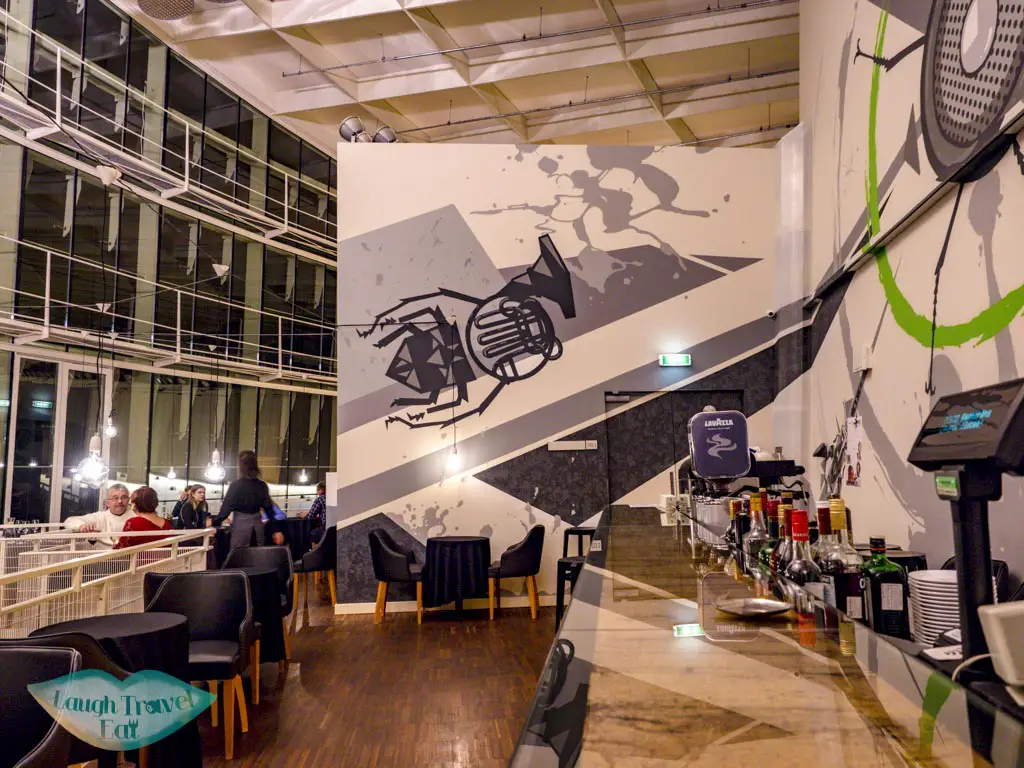 On the top floor of the Great Amber Concert Hall, Cello is not just a place to grab food before a concert, but also an amazing restaurant worth visiting. It is a small restaurant, but the staff are attentive and the food delicious. They were able to offer wine, too, from different regions of Europe.
We had a salad, a main course of chicken, and rasphberry mousse for dessert. I'll let the photos speak for themselves.

Opening times: 10:00 – 20:00

Hot Potato
A cosy basement restaurant, Hot Potato has a rustic vibe with hearty food. The portions are big and the food tasty, however, the service was slow – it took us almost an hour to get food! The hot potato are akin to potato mash with filling of choice, then fried, which is quite tasty.
Address:  Jāņa iela 1, Liepāja, LV-3401, Latvia
Opening times: Thurs – Sun 12:00 – 0:00

MO Liepāja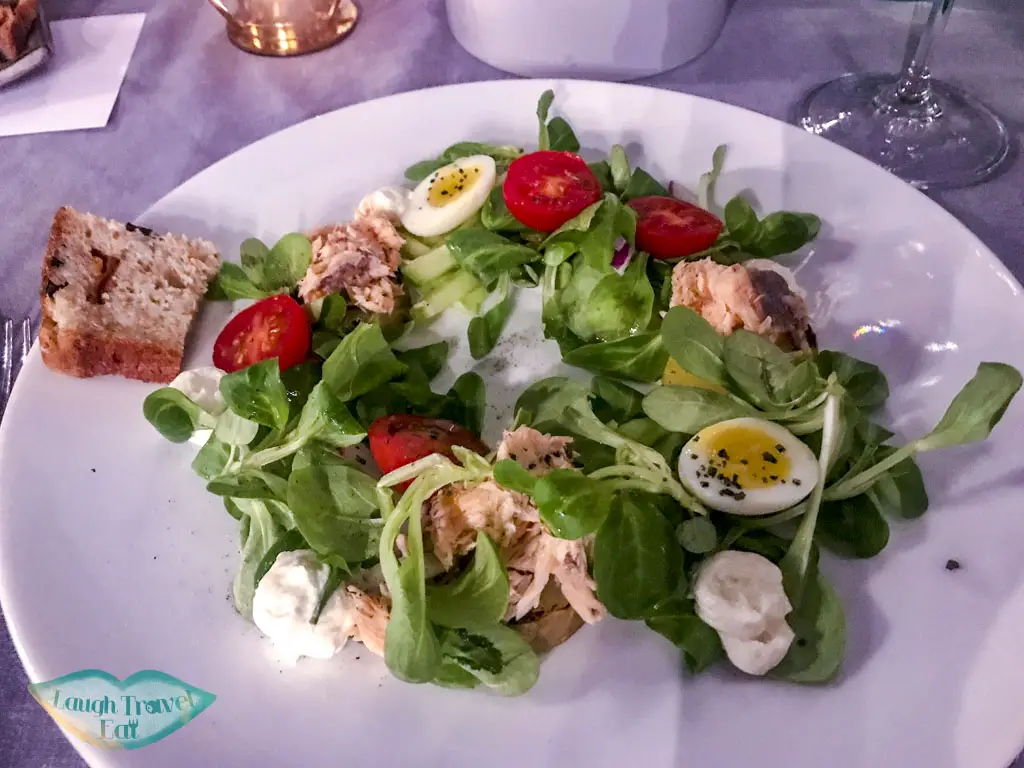 For a classy meal in Liepaja, you can't go wrong with MO Liepaja! Located in Julianna's Courtyard not far from the seafront, it's stylish and modern.
We had a delicate quail egg salad with salmon, flavourful chicken with crunchy potato gnocchi, and chocolate mousse. Of course, let's not forget the delicious Riesling we had!
Address: Friča Brīvzemnieka iela 7, Liepāja, LV-3401, Latvia
Opening times: Sun – Thur 12:00 – 22:00; Fri – Sat 12:00 – 23:00

Where to stay in Liepāja
Art Hotel Roma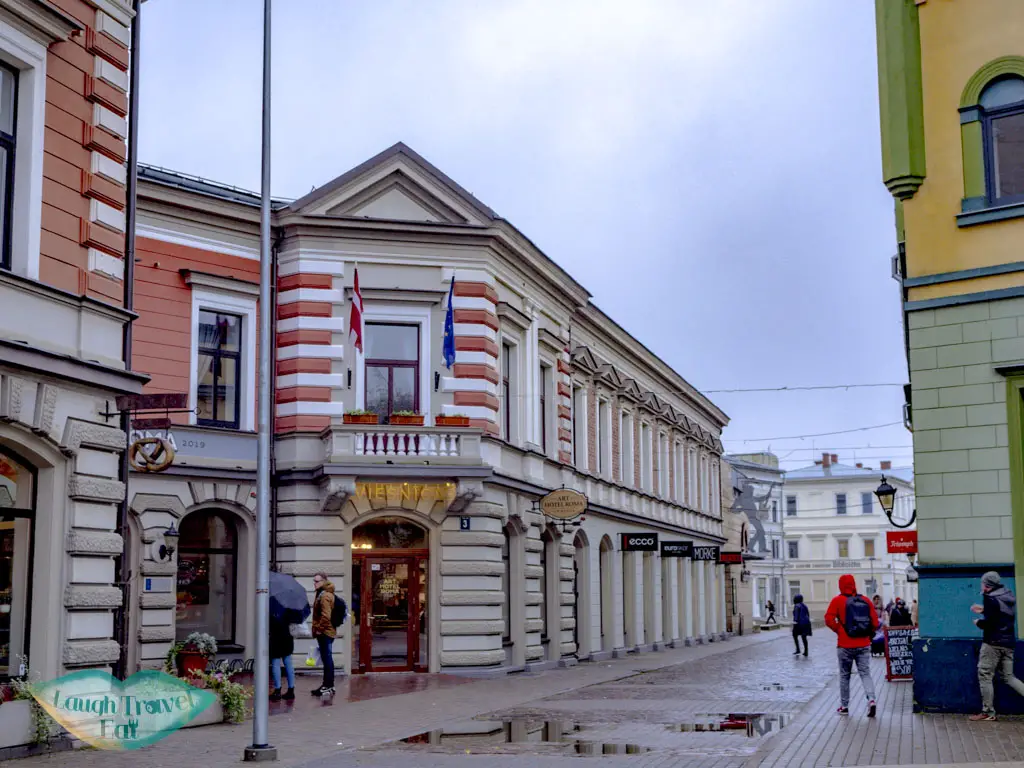 The number one choice for a cultural getaway, Art Hotel Roma is across the courtyard from the art gallery, owned by the same owner. While it is a new 2019 incarnation, the building had been a hotel since 1882. The hotel is decorated by the interior designer Alvis Zemzaris, with painting from Liepaja and other Latvian artists. If the art gallery is closed, you can come to the hotel for some browsing, too.
There are 28 rooms and 25 suites around courtyard, each room features more paintings from local artists, and there's even a loft room. The rooms are all spacious, some with bathtub some with shower, but all with desk, sofa, and wardrobe. The only thing that's a bit different is WiFi for the room is only available if you turn on the TV.

Promenade Hotel
For something more historical, the Promenade Hotel is built inside a granary from the 19th century. It opened in 2006 with a casino and restaurant on site, facing the port.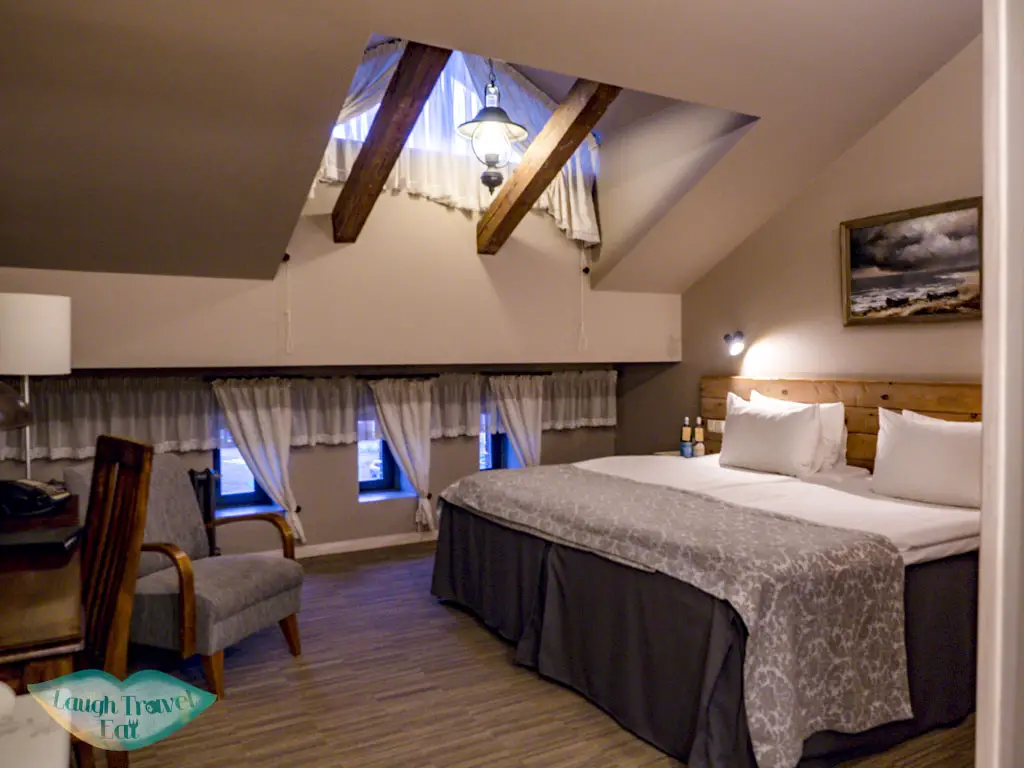 There are 58 guest rooms, some with exposed bricks and cool circular window that continues the theme of its granary past.