5 things to do in Siem Reap besides temple
It is undeniable that Siem Reap is most famous for its temples. People flock all over the world to visit Angkor Wat and Angkor Thom and admittedly, those are THE highlight of this city. Before we went on the trip, I searched high and low for some alternative things to do in Siem Reap. While there were options besides temples, some of them are underwhelming or lackluster, but below are the 5 alternative things to do in Siem Reap that I actually enjoyed!
> See here for our full itinerary to Siem Reap!
Horse riding with Happy Ranch

Probably the most expensive trip on the list (unless you are taking a private tour), horse riding with the Happy Ranch turned out to be an amazing experience. We chose the 2-hour ride, for the sake of budget as well as our lack of skills.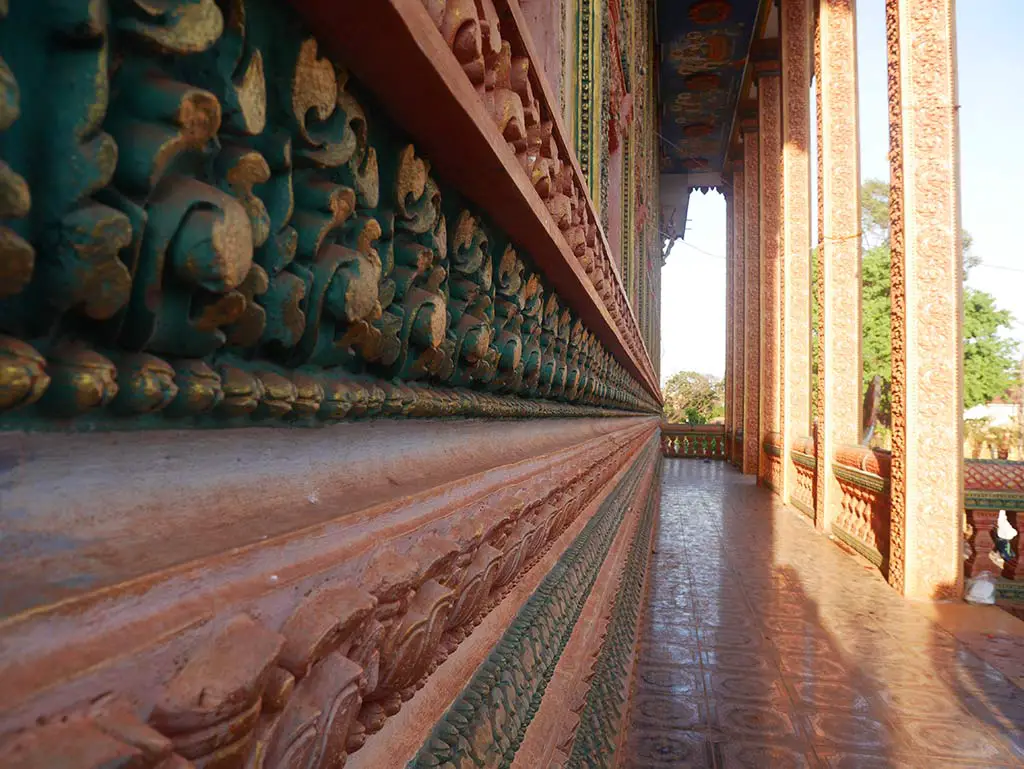 We had to option to start at 16:30 and were able to visit a local Buddhist Pagoda on our ride, where a huge celebration of Song Kra was happening. Then we rode past rice paddies and stopped at a field to admire the sunset and take more photos!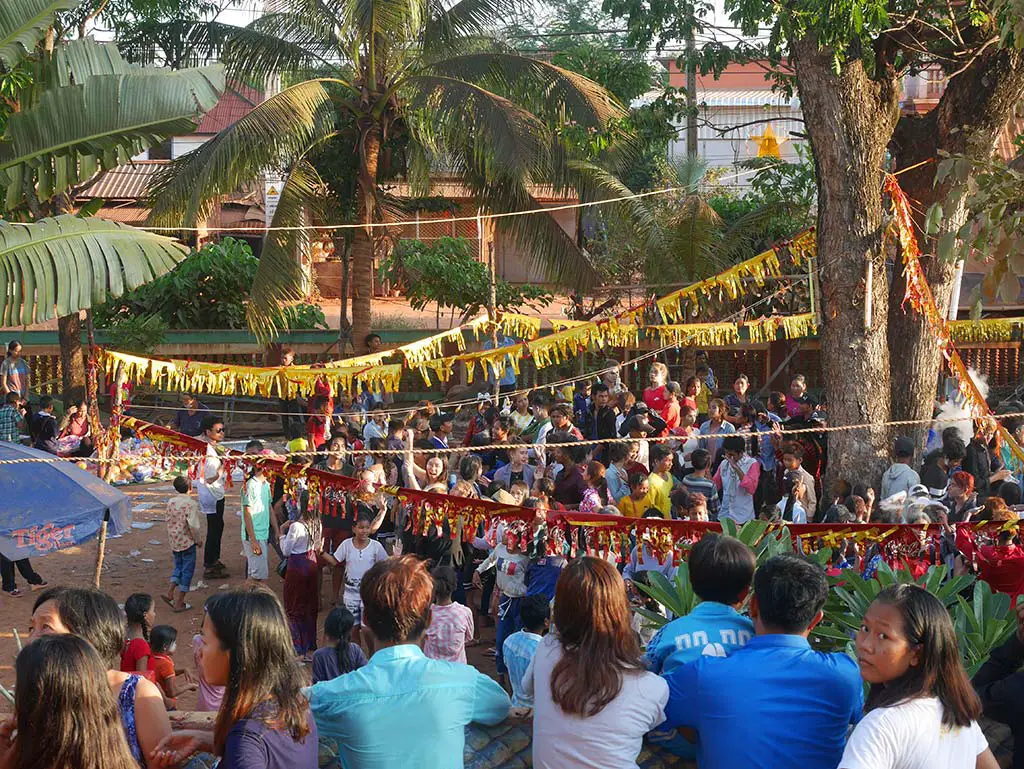 The staff at Happy Ranch was warm, personable and made us laughed and felt welcome. They were very accommodating as well, preparing a white horse specifically for our friend Kelly.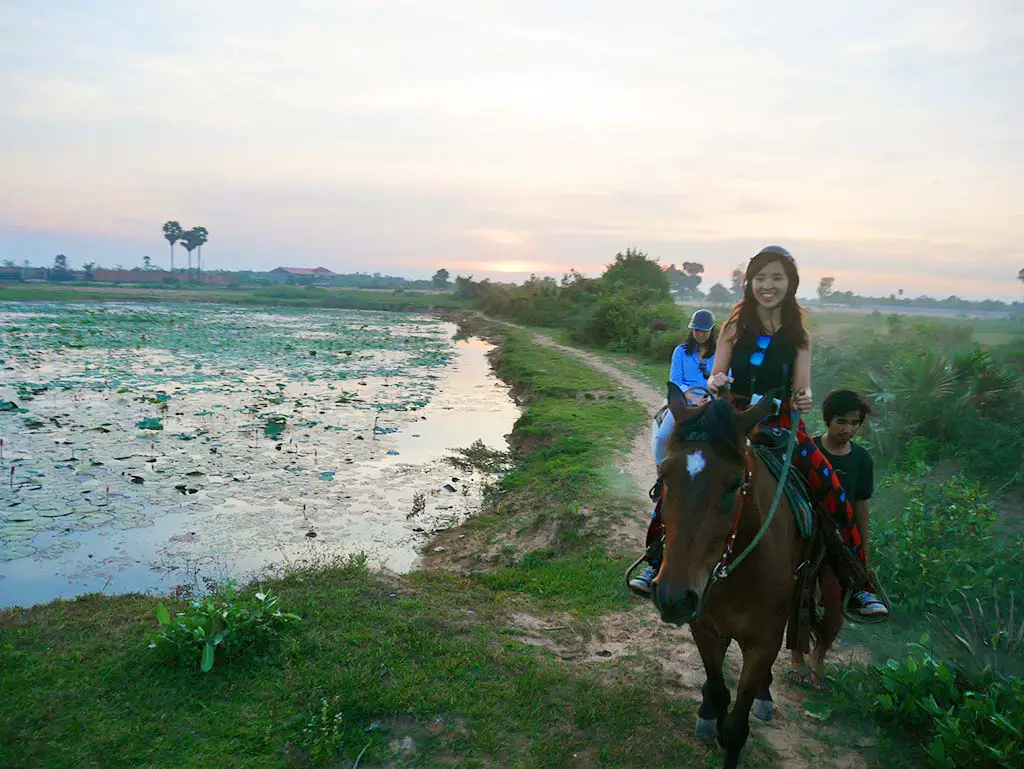 To sum up it all up, here's a photo of me, on a horse, during sunset: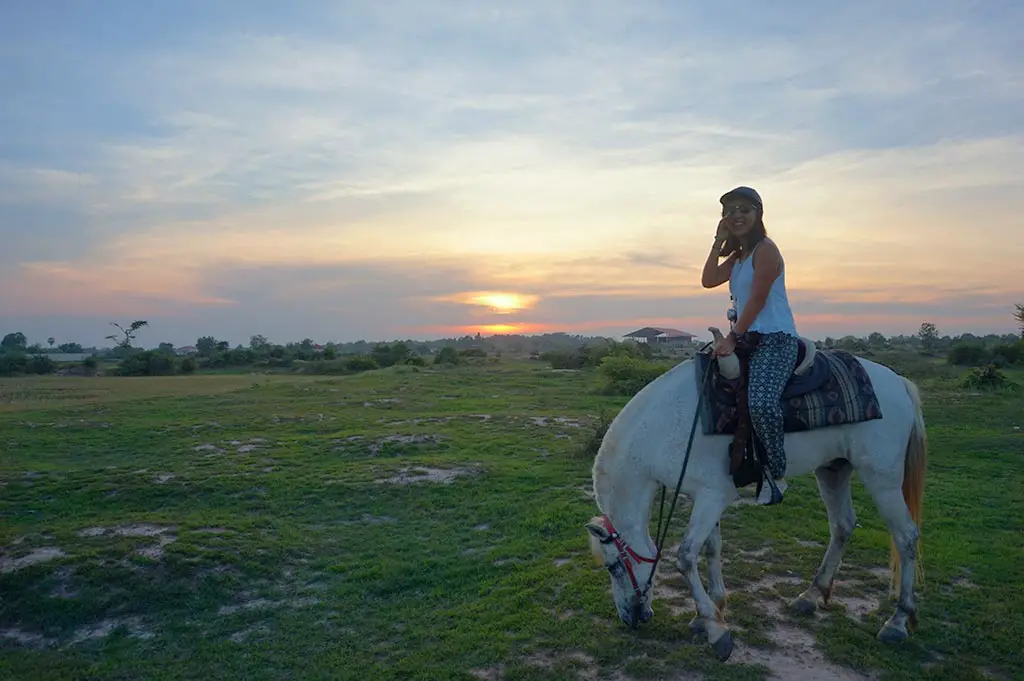 Verdict: I'd definitely recommend it if you want to do something different in Siem Reap
Cost: 48 USD for 2 hours, more details here
Address: Group 4, Svay Dangkum, Siem Reap Angkor, Kingdom of Cambodia
Tel: (+855) 12 920 002/ 016 920 002/ 0977 920 002
[email protected] – www.thehappyranch.com
 Siem Reap Floating Village Kampong Phluk and Tonle Sap Lake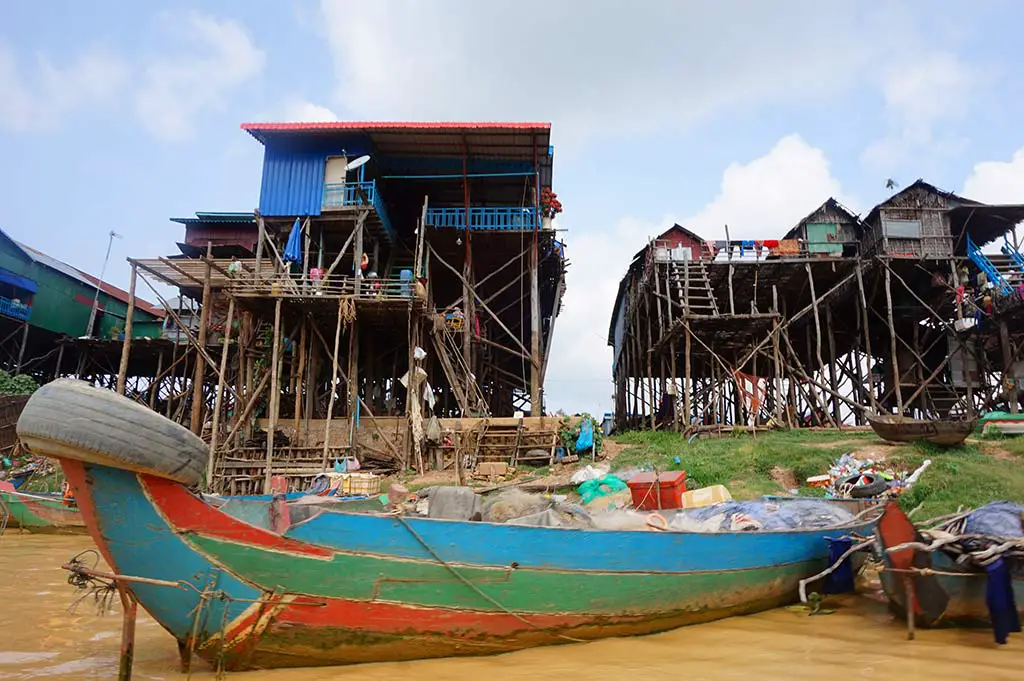 Only half an hour or so south of Siem Reap is the largest lake in Cambodia: the Tonle Sap Lake. It's worth noting that the prime season to visit is October and November, however, we visited during the dry season and still enjoyed it.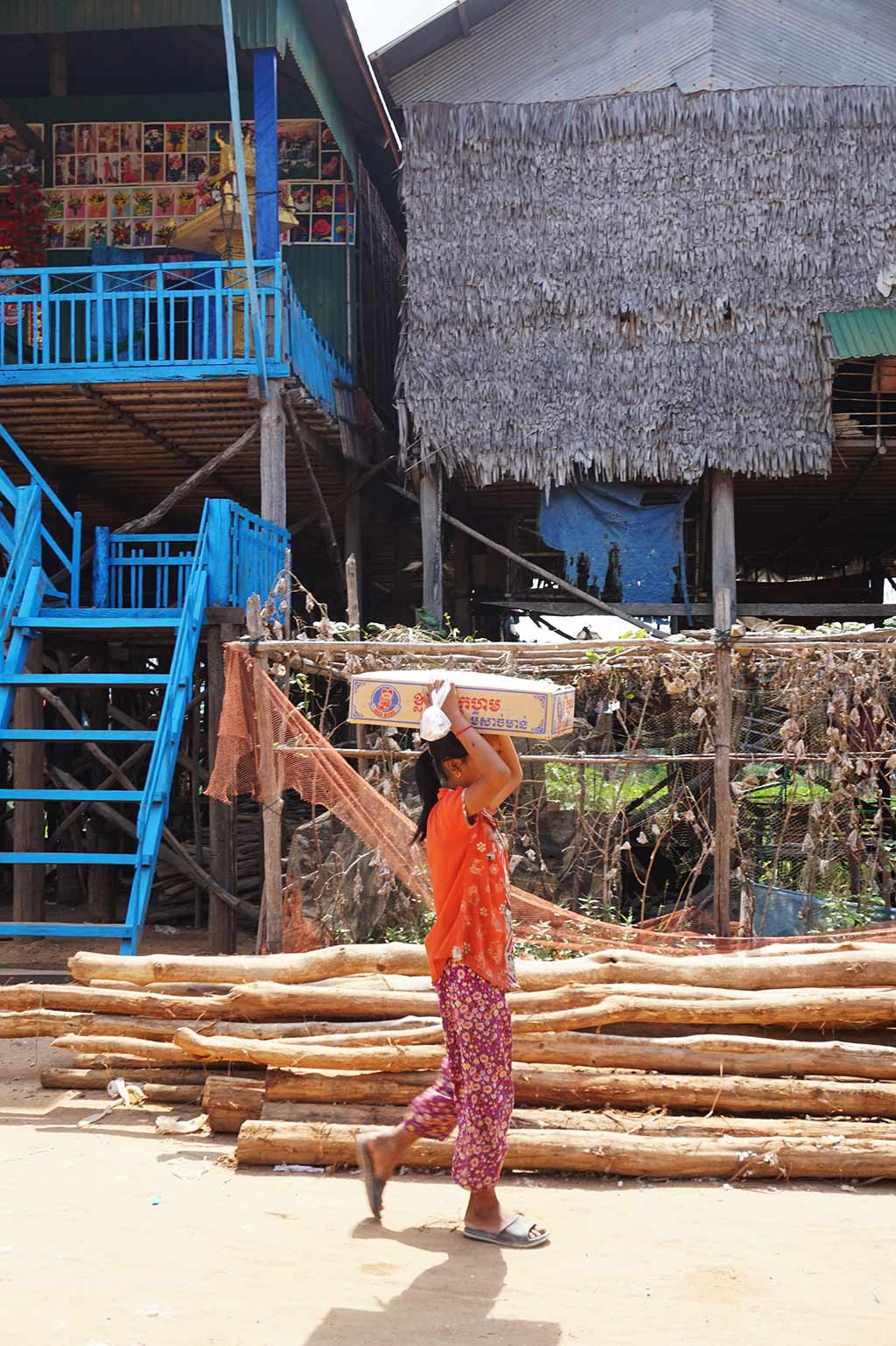 The village of Kampong Phluk is home to three thousand people and surreal to see from the river. Since we went during dry season, the houses were all impossibly tall on wooden beams and pillars. Simply constructed bridge spans across the river, connecting both side and people cross them carefully if not perilously.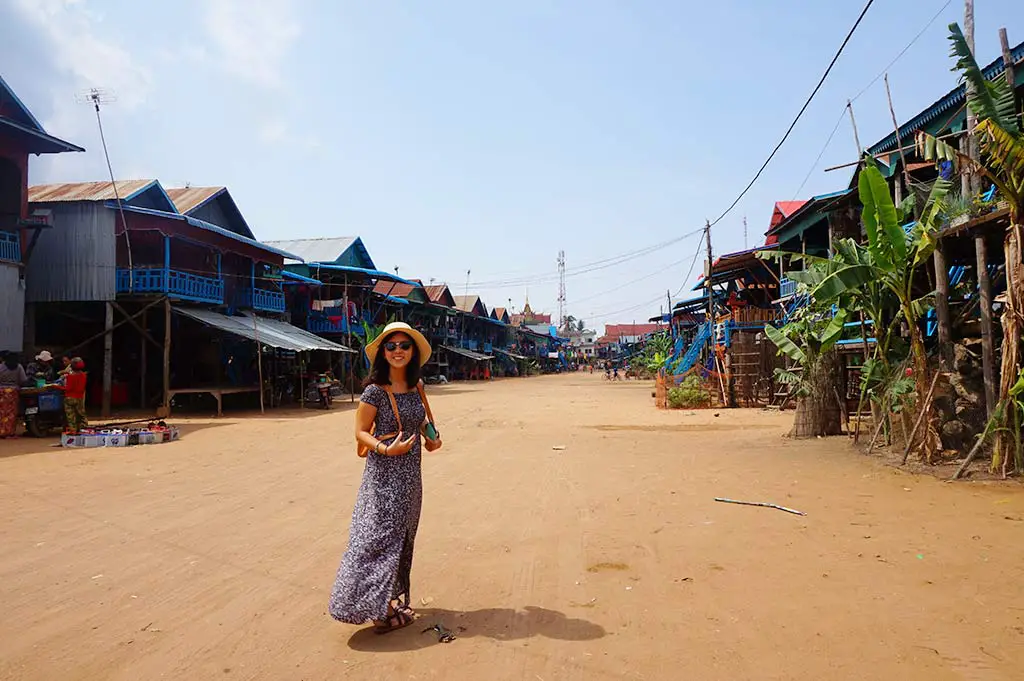 We walked down their single street on one side and was greeted by friendly but shy children. Most people went about their daily business and it was clear that tourism doesn't play a huge part here, yet. Afterward, we rode to a floating restaurant in Tonle Sap Lake – which was muddy but still serene.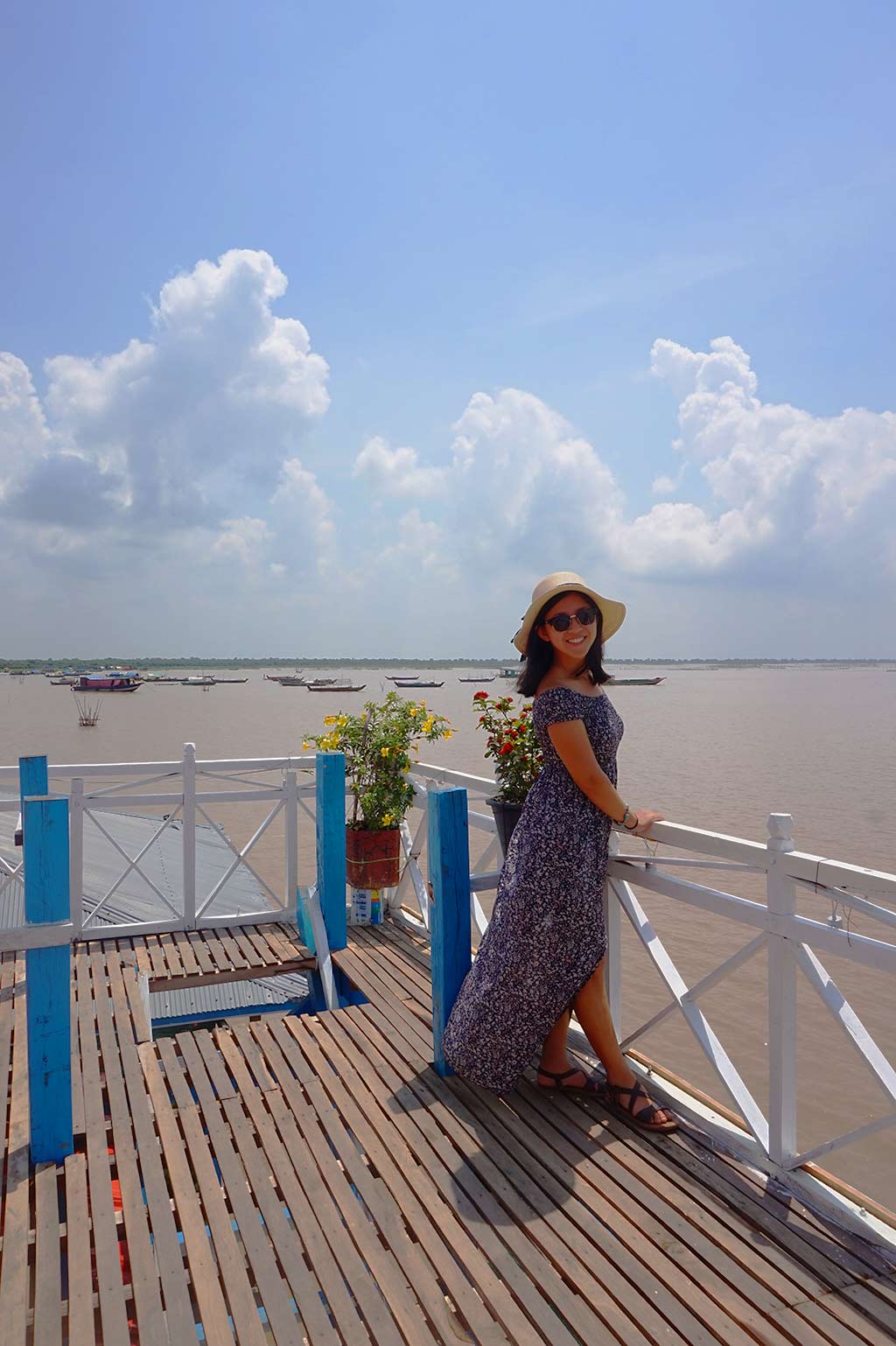 We had booked the tour with Viator for 38USD and honestly, it was overpriced. They didn't even give us the fruit salad until I'd asked, with the reply of "oh there isn't much fruit so we hadn't prepared any because it's Song Kra".
Verdict: overpriced for a tour that can be found anywhere, but the guide's English was good and he was informative. But the lack of light lunch of fruits until asked was disappointing.
Cost: 38 USD per person
A cheaper alternative on Klook (18 USD) but no lake tour
Asana cocktail class Siem Reap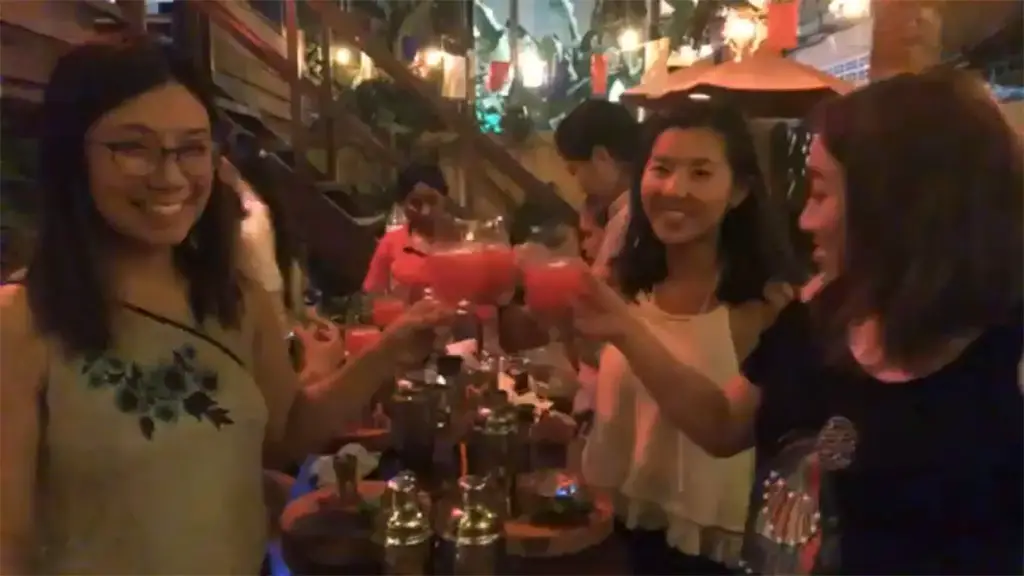 Asana is one of the best cocktail bars in Siem Reap, hidden in the alleyways near Pub Street. Arriving at night, I was charmed by its beach vibe decor with a raised wooden shack, comfy seating and hanging hammock beds.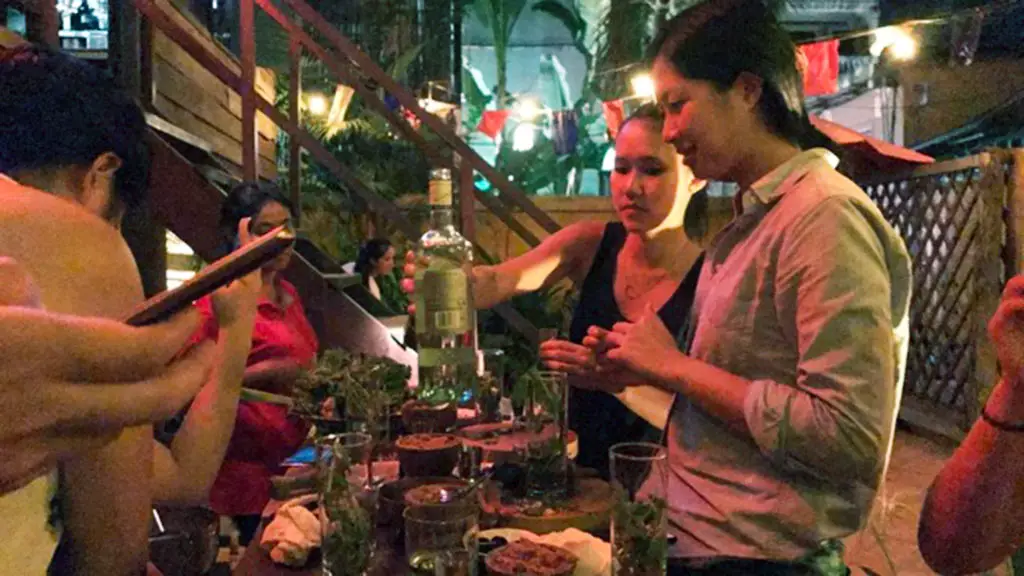 The equipment for the cocktail class has already been laid out before us. We were to make three cocktails and started with tasting all the ingredients we'd use. We made a Mojito, a Tamarind Sauce and an Angkor Sunrise at our own pace.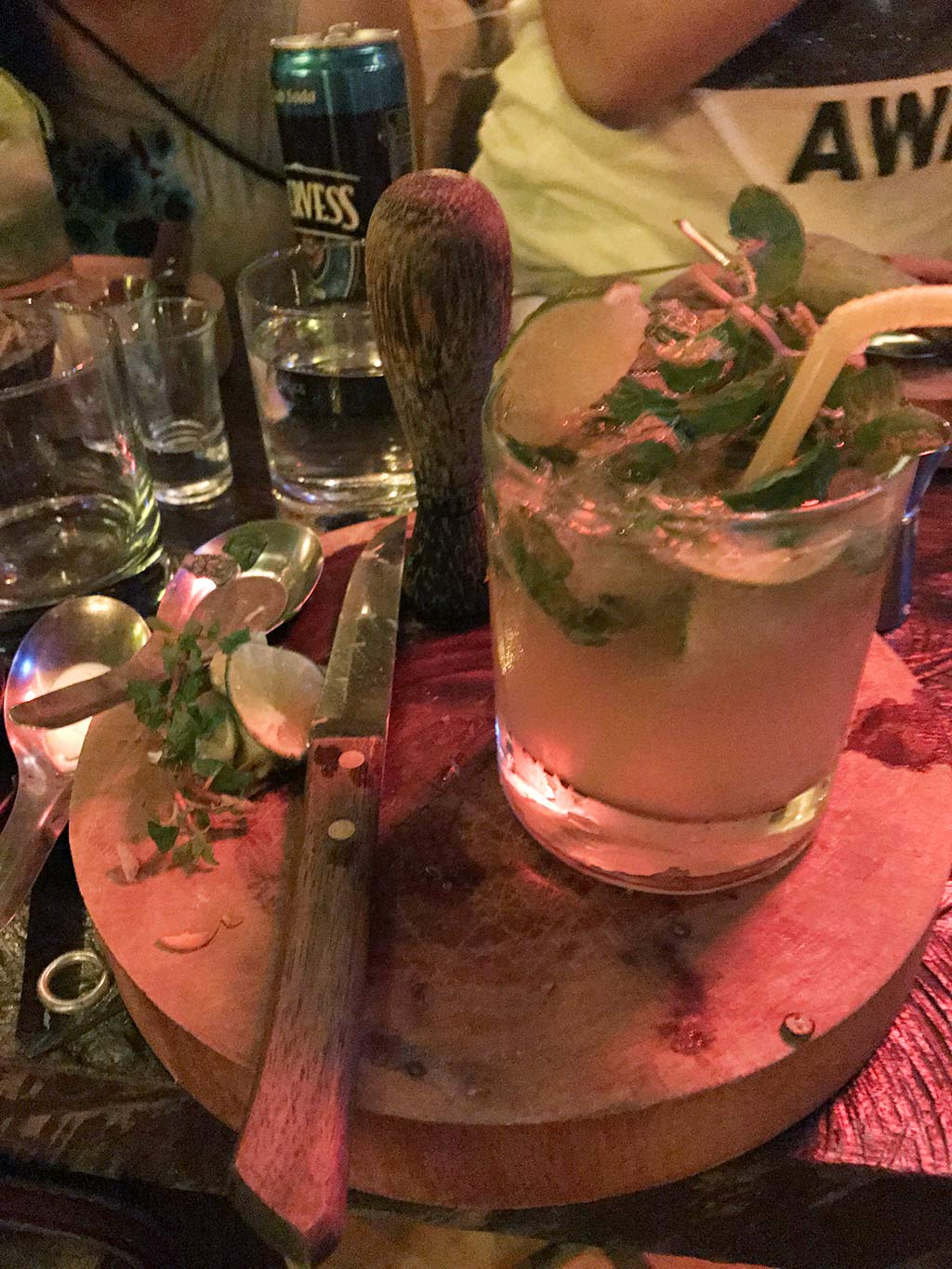 Though our teacher was in and out with the class throughout the evening, we loved the flexibility of the class and the affordability of it – it's only 15 USD.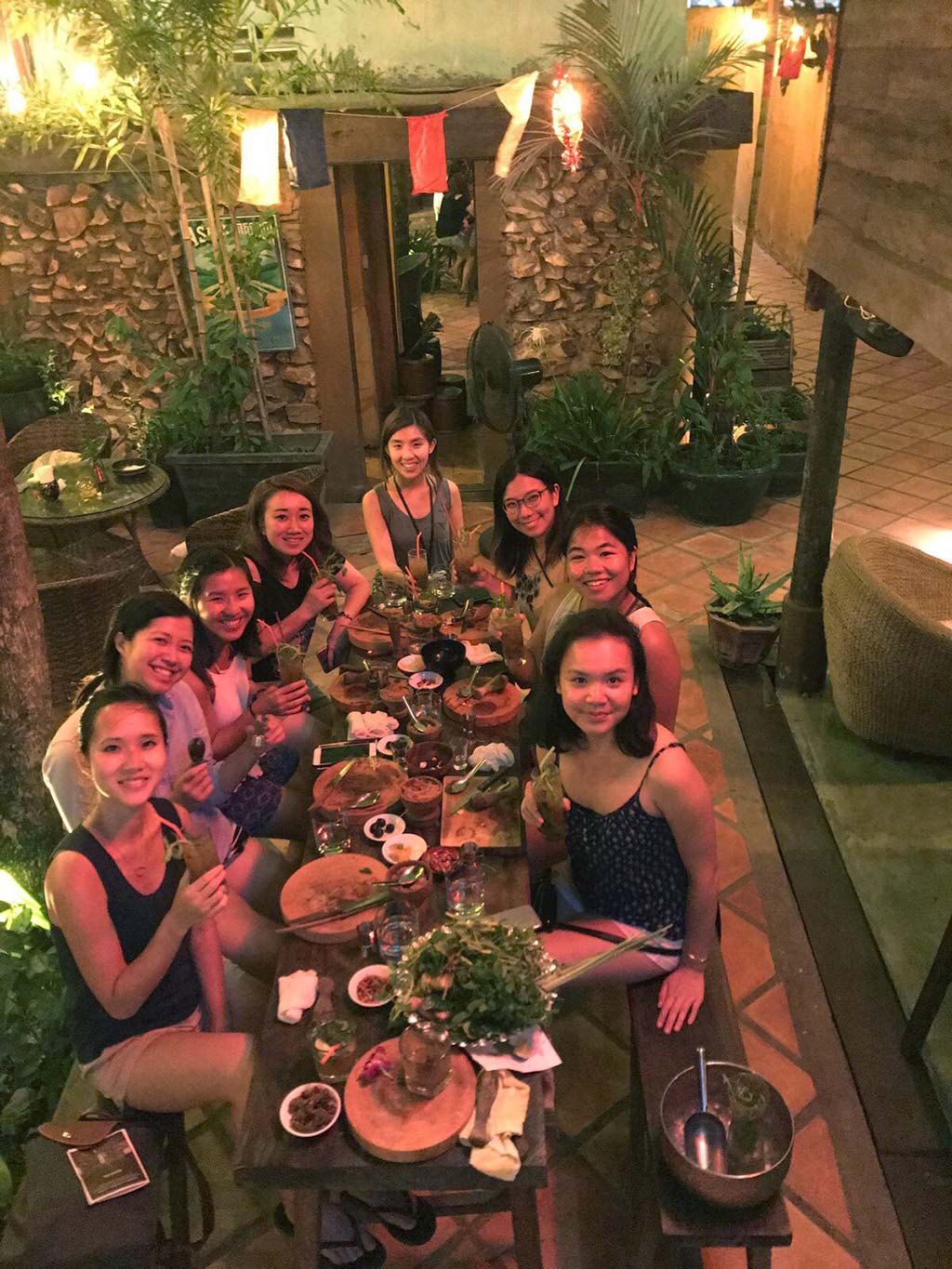 Verdict: a great alternative to just ordering and drinking cocktail and fun with friends
Book your Cambodian Cocktail experience here
Cost: 15 USD
Address: Street 7 | The Lane, Siem Reap, Cambodia
Number: +855 92 987 801
(Their website is down as of March 2017, it's best to call and book – they speak english)
Cooking Class Siem Reap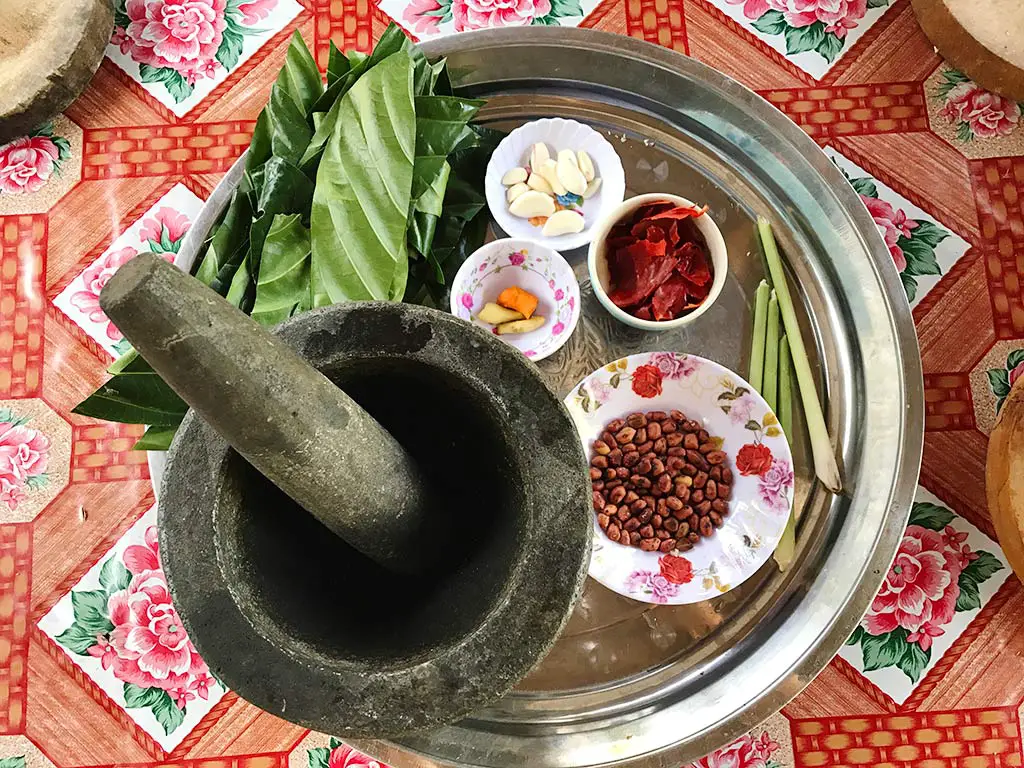 I'm going to be completely honest and say that aside from Fish Amok, I'm not overly in love with Khmer food. They also bear a striking resemblance to Vietnamese food, which I do prefer over them. However, Fish Amok and Chicken Amok are super delicious and by taking a countryside cooking class, you can also visit the local market and learn some dishes, too.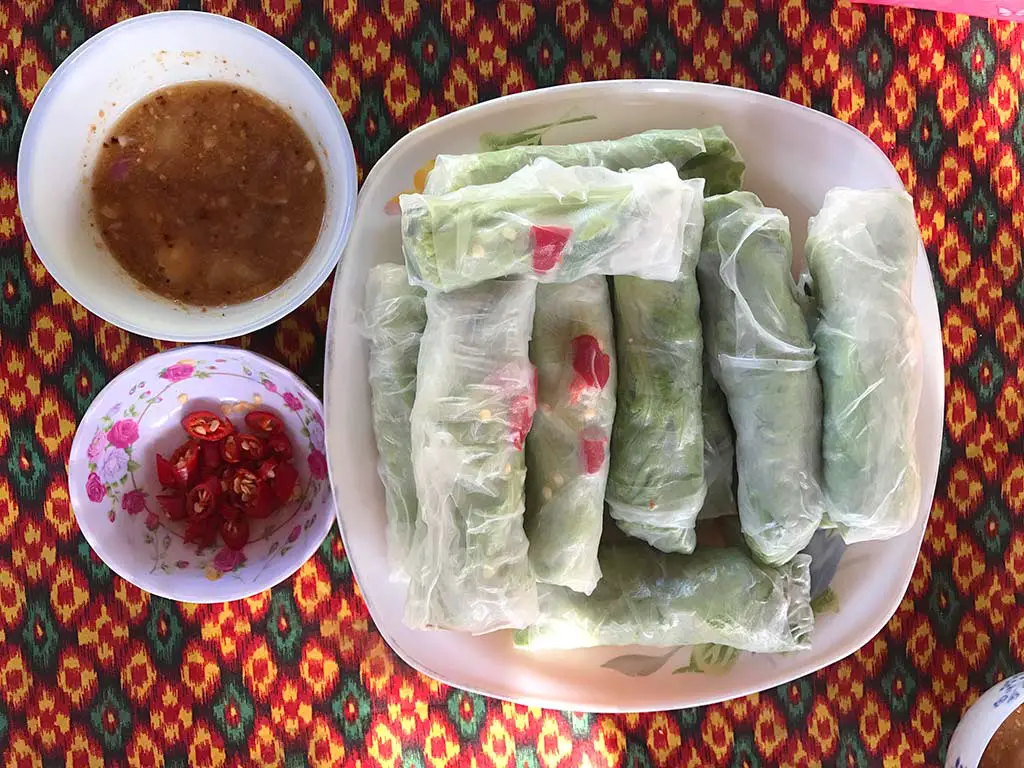 We made some rice paper spring rolls with turmeric dip, chicken amok and a pumpkin duck egg custard and they were all great!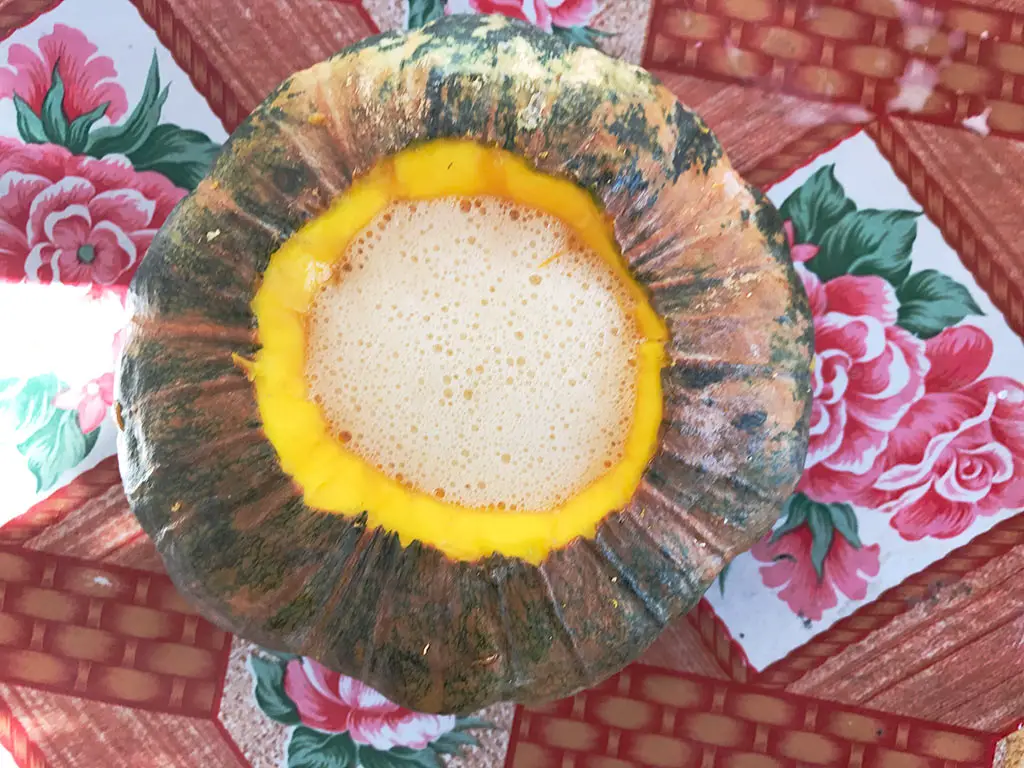 It's worth noting that cooking was a group effort – so you were really doing it all yourself but between four to five people for this class.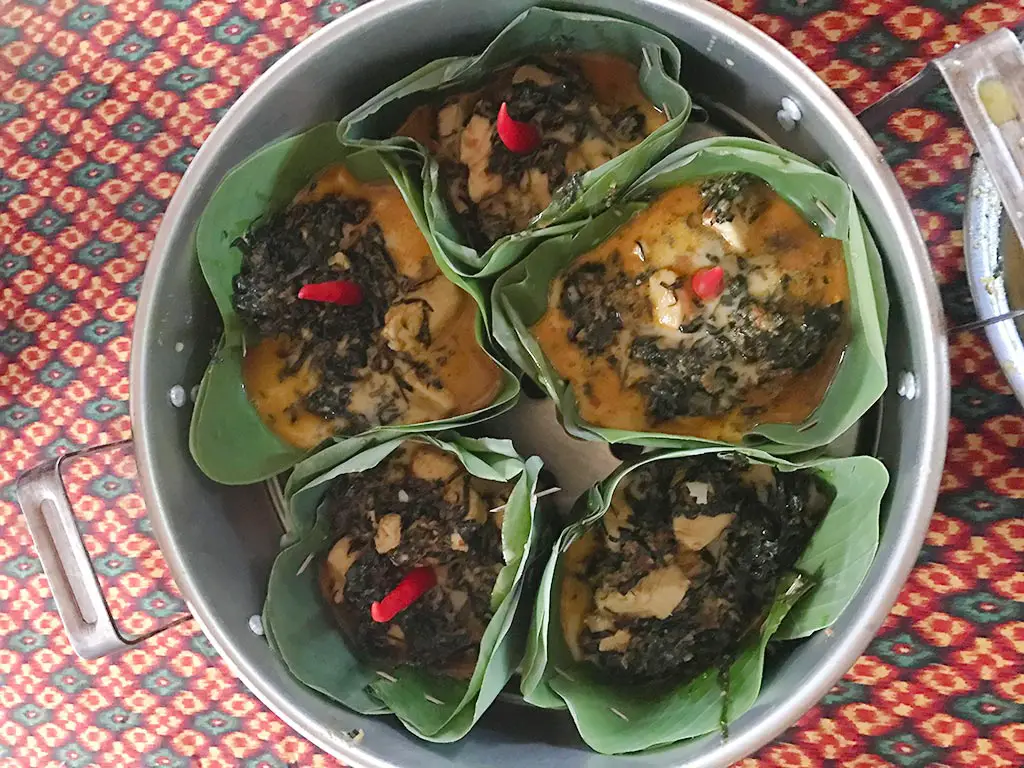 The food that we didn't finish would go to the orphans and villagers in need, which I thoroughly appreciated. However, our guide and instructor was a tad annoying and condescending, refusing to let us differentiate between our Chicken Amok and generally was a bit mean.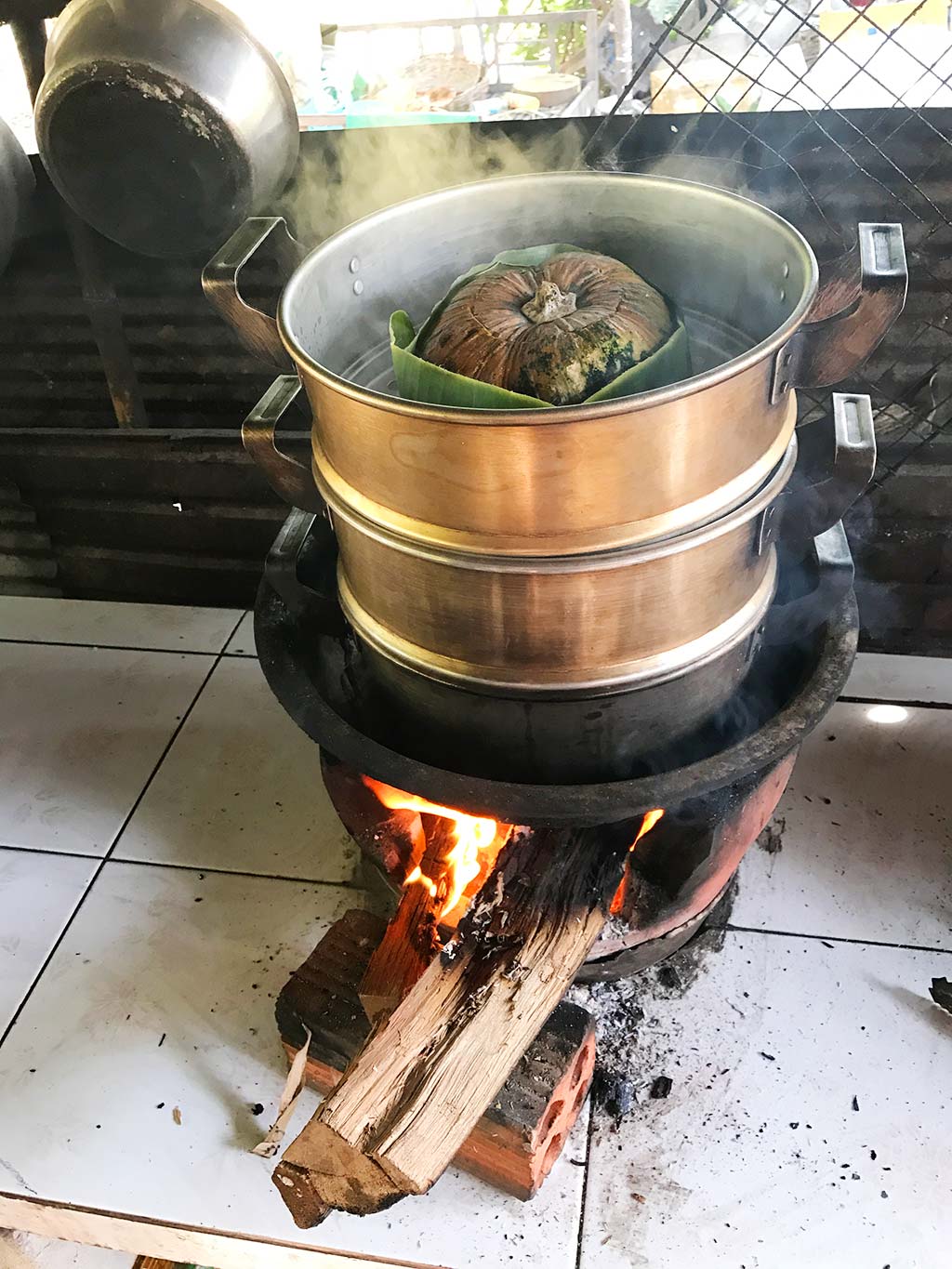 I did find that we weren't really hands on enough save for the prepping of basic ingredients, but it was overall a good experience.
Verdict: Not hands on enough and I didn't expect it to be a group cooking effort – do do a cooking class but not necessarily this one
Cost: 28 USD per person
Address: 6 National Road, Siem Reap 17259, Cambodia
Phone Number: +855 99 266 008
https://www.countrysidecookingclass.com/
A cheaper Alternative on Klook (20 USD)
Songkran Cambodia
Song Kran is well known as the Thai New Year, but Cambodians celebrate it, too. Having not expected it at all, we arrived the night before Song Kra at Pub Street and was immediately subjected to water fights and baby powder smearing. Out of the six days we were there, four of those were bang on with Song Kra and it was manic with people attacking you with water on tuk tuk and the streets.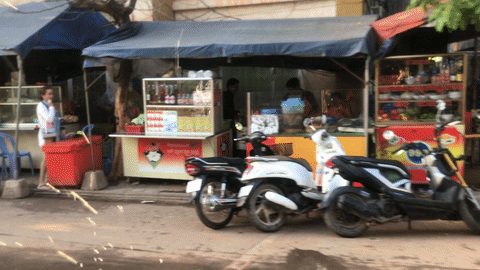 It was a fun occasion if you were prepared, but we weren't. Without water protective cases or bags, it was a hazard to our electronics. The "free face massages" by strangers with baby powder also ended with my eyes blazing red and irritated. Many don't know when to stop and it can be dangerous if you slip or inhaled a copious amount of baby powder.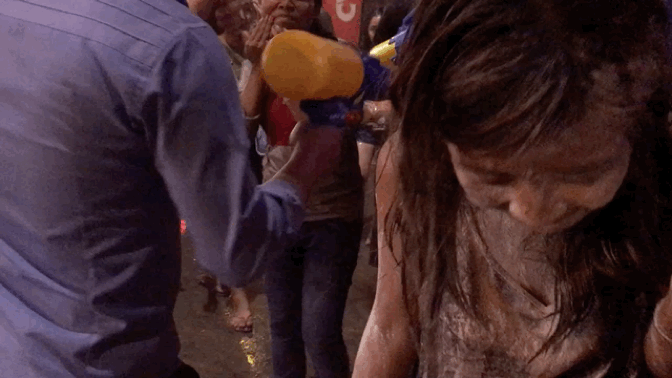 That said, I enjoyed the festivities and the vibes but that also left me with a few dry items of clothing.
FREE!
Not there for Song Kra? You can still get a water blessing!
Psst: Since then I've discovered some amazing tours by local on Backstreet Academy, see here for 69+ things to do!
Pin me!

Pin me!
Note: this post contain affiliate links that means if you click through and purchase I get a % of the sale at no cost to you