Visiting Angkor Wat: 48 hours temple run in Siem Reap
Angkor Wat is one of the most iconic tourist attraction in the world and for good reason. It is the largest temple complex across the globe and also a UNESCO site, and the first thing I should say is that Angkor isn't just Angkor Wat, but also Angkor Thom.
While the ticket price has recently increased, that still doesn't deter the hordes of visitors that flock to the ancient religion site. Given that there are over four thousand temples in Cambodia, you'd expect that to be hundreds if not tens of temples in Siem Reap. Which one is worth visiting and which one isn't? And how do you make the best of your trip? Here's my experience and 48 hours guide:
Get your free map for my entire itinerary here
Tickets to the Angkor Archaeological Park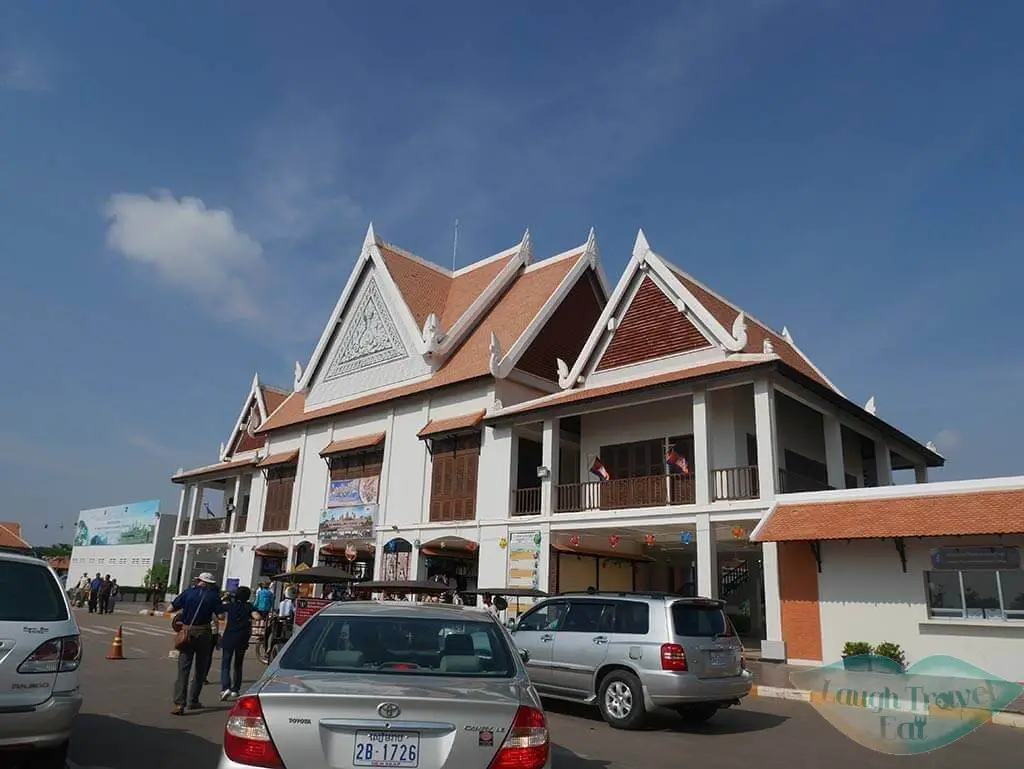 You have to purchase your ticket before your visit to Angkor Wat and Angkor Thom, but it's not sold at the entrances but at the ticketing office and nowhere else. The queues weren't long when we went in the morning.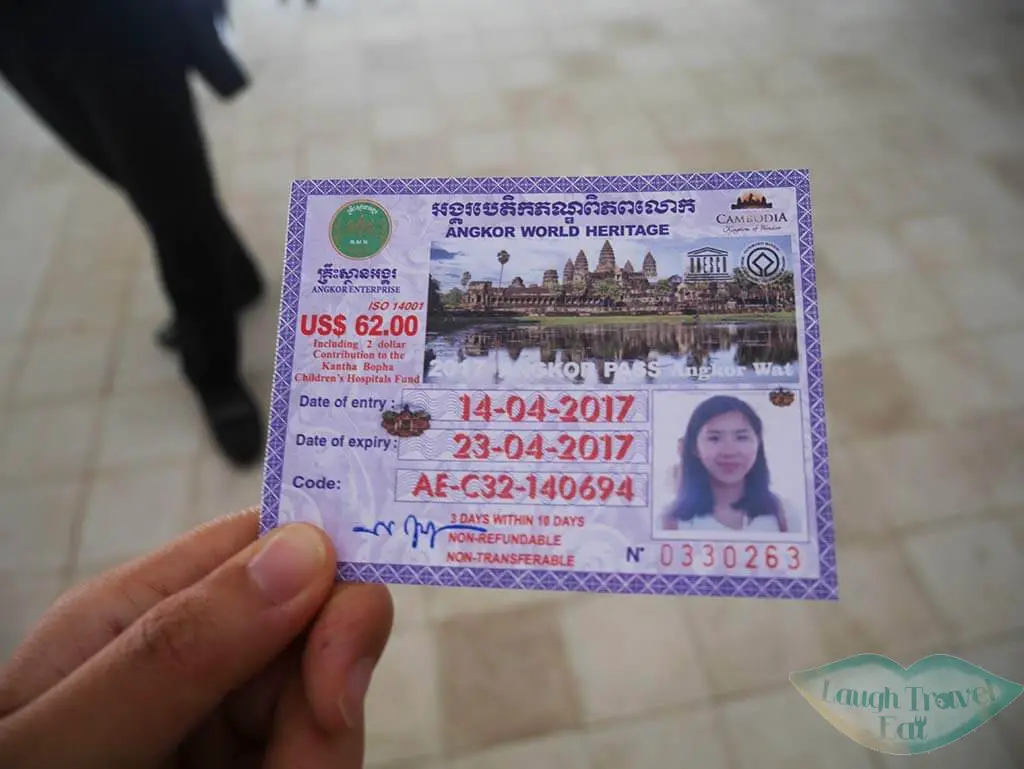 You don't need to bring your passport or any identification documents, just have your money ready! But be prepared to have your photos taken and then it takes a while for the ticket to print.
You can buy three kinds of passes for Angkor:
1 day for 37 USD
3 days for 62USD (valid over 10 days)
7 days for 72 USD (valid over a month). Tickets clipped on a new day for entry.
Tickets clipped on a new day for entry.
Children under 12 don't require tickets but you have to show their passports.
Address: The intersection of Street 60 and Apsara Road northeast of Siem Reap
Opening times: 5:00 – 17:30 (for same day tickets it's valid on that day, but if issued after 17:00 it's valid for the next day)
Angkor Wat how many days?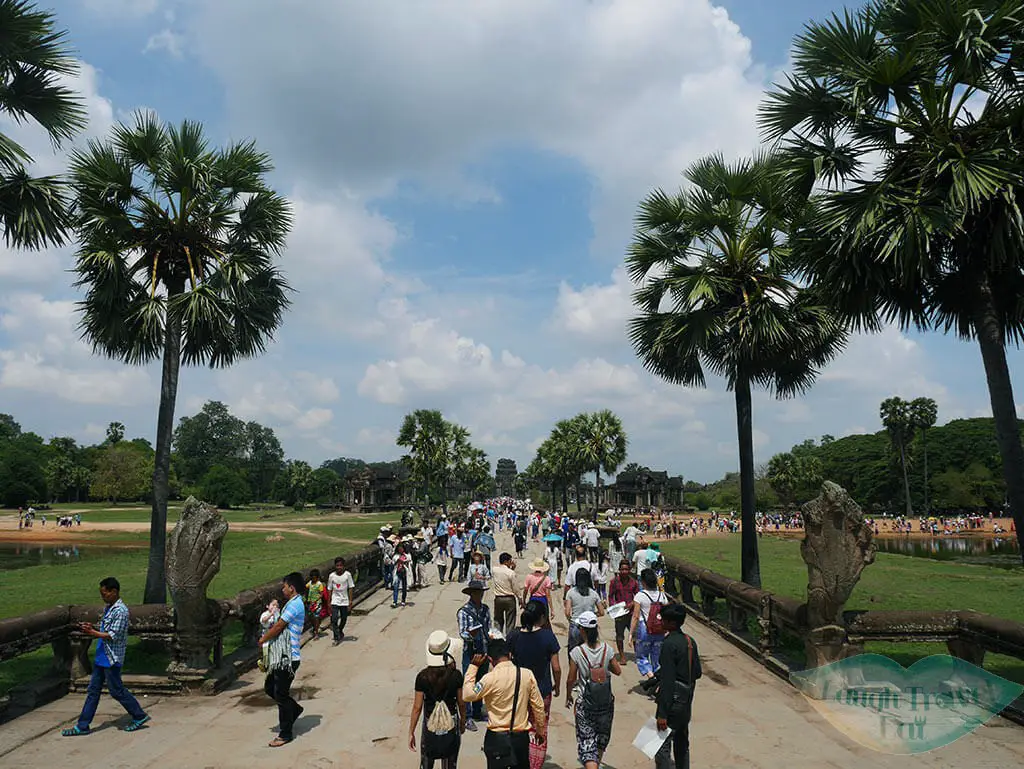 It's safe to say that one day is obviously not enough to explore Angkor Wat. While I think the optimum number is three, we only did two days and that was enough because the heat was unbearable. Unless you are a huge history buff or is really interested, the temples will start to blur together after one day. Thank you, GPS on iPhone photos that keep me from mixing them up.
What to wear to Angkor Wat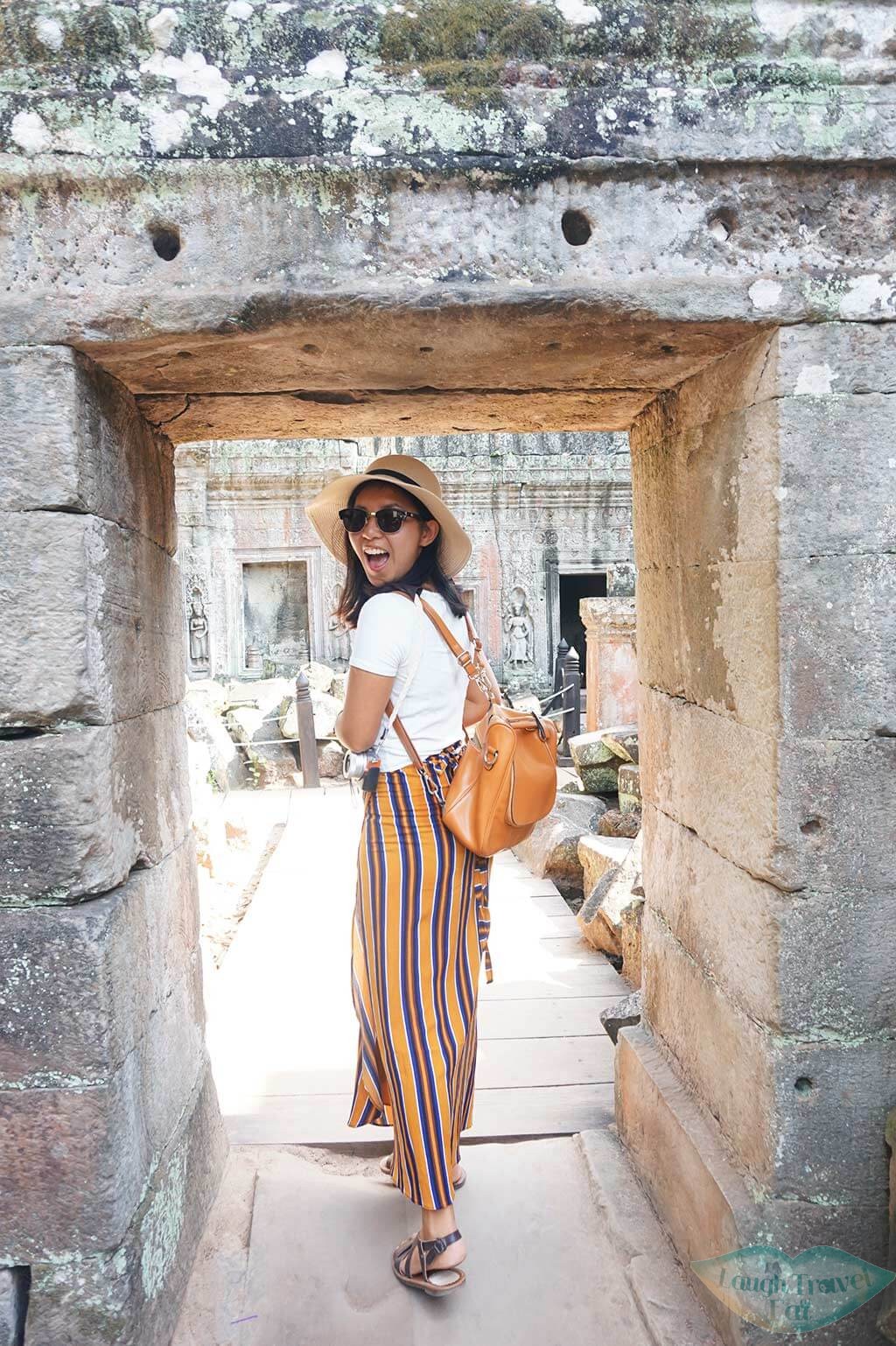 Not sure what to wear to Angkor Wat? Since it's not a short topic, I've written another post that can be found here.
Angkor Wat Tour Guide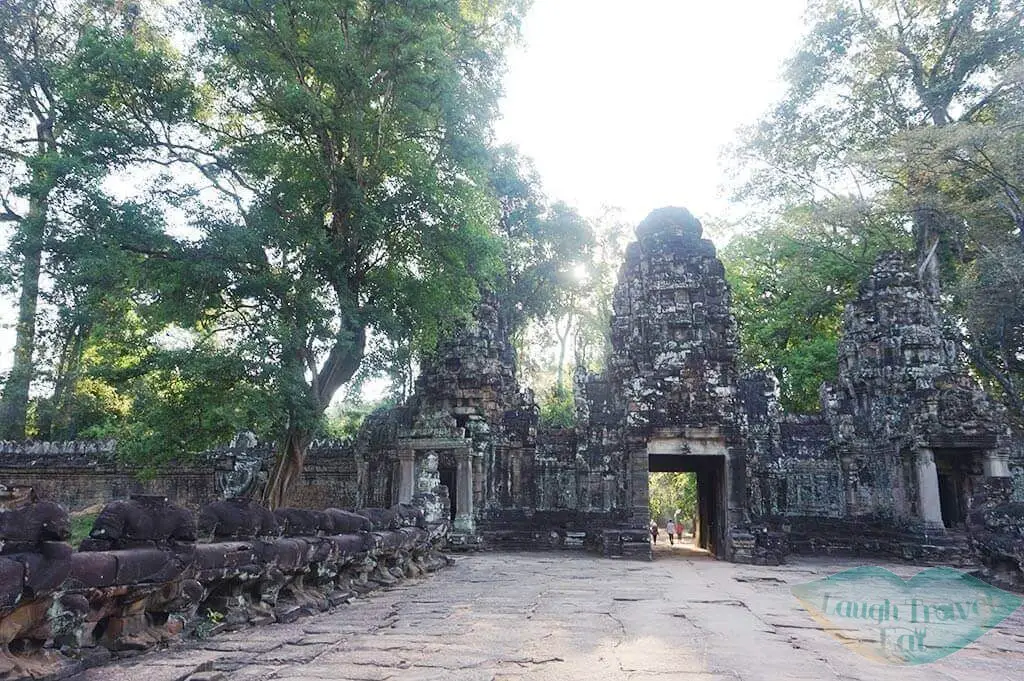 Do you need a tour guide for Angkor Wat? My answer is that it depends. If you are interested in the history, then it's definitely worth having a guide take you around. An added bonus is that he or she would be able to contact your driver for you, making getting around a lot easier.
Two things to know about hiring a tour guide:
A driver does NOT equal a tour guide. The driver won't leave his vehicle and he most likely won't know the history of the park.
It's a hit or miss unless you hire someone that's been recommended to you or highly rated. Ours was horrible but it was extremely affordable to hire him so we didn't have many complaints.
If you just want to know a short version, read on and I'll be giving a brief overview of each temple I've visited.
How to get to Angkor Wat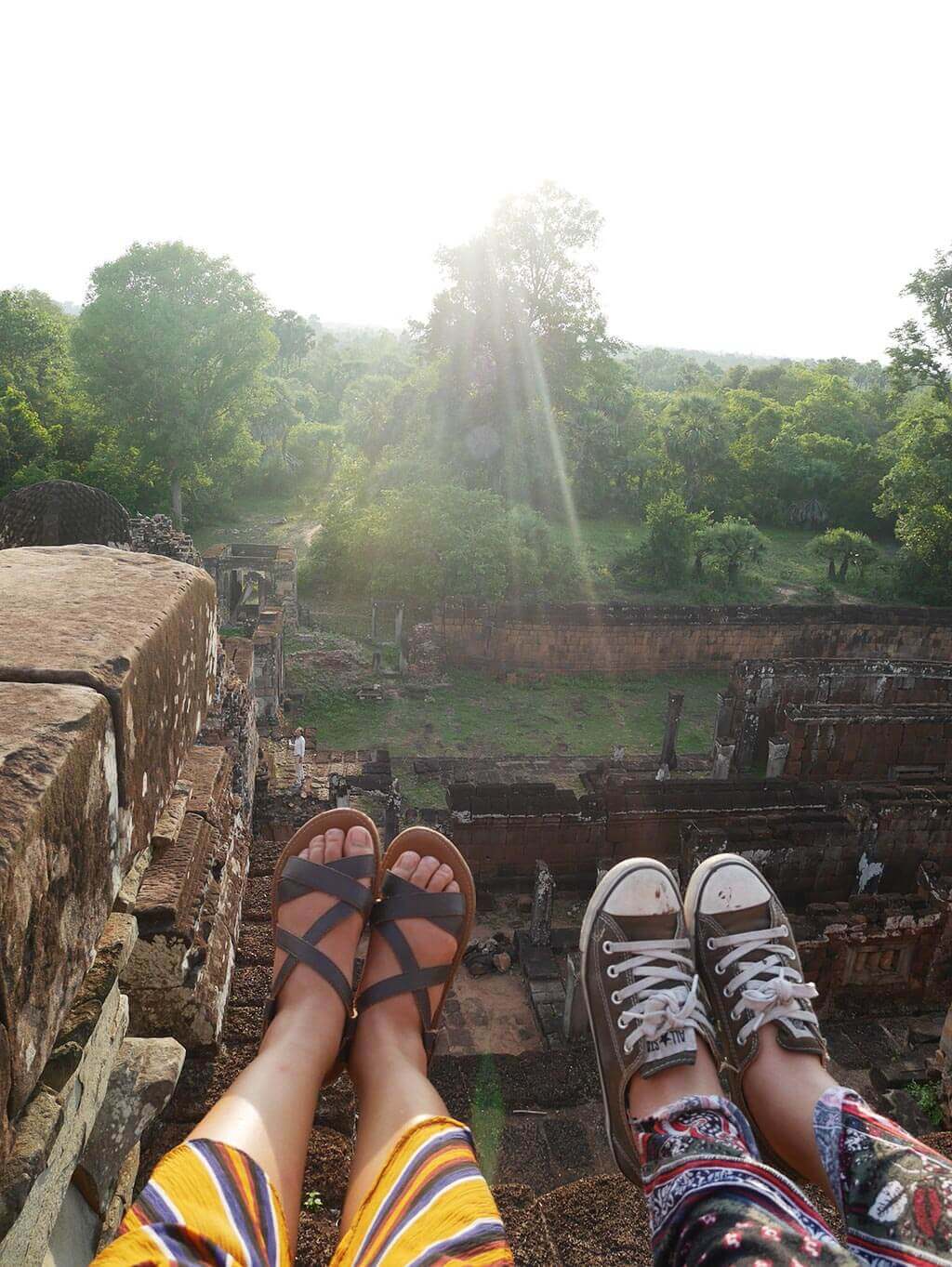 Angkor Wat is situated north of the city of Siem Reap but can be reached in a short car ride. Most people opt to go around on a Tuk Tuk by hiring a driver for the day (costs around 20-25 USD per day). However, since we were a group of 8, we ended up booking an air-con minivan. It was probably the best decision we made on the trip. The weather was stiflingly hot and being able to go into the air con van was a small reprieve between temples.
There is no extra cost for going in by vehicle, so I strongly recommend you book a van or taxi. While tuk-tuk might seem fun and authentic, the heat and dust can get too much.
Some people also opt to cycle, however, the traffic isn't the best and if you aren't heat resistant, don't do it.
As I have said before, we do not recommend our guide if you really want to learn the history. For the 8 of us, it costs 200 USD for two days with cold water and wet towels provided for reference.
Best time to visit Angkor Wat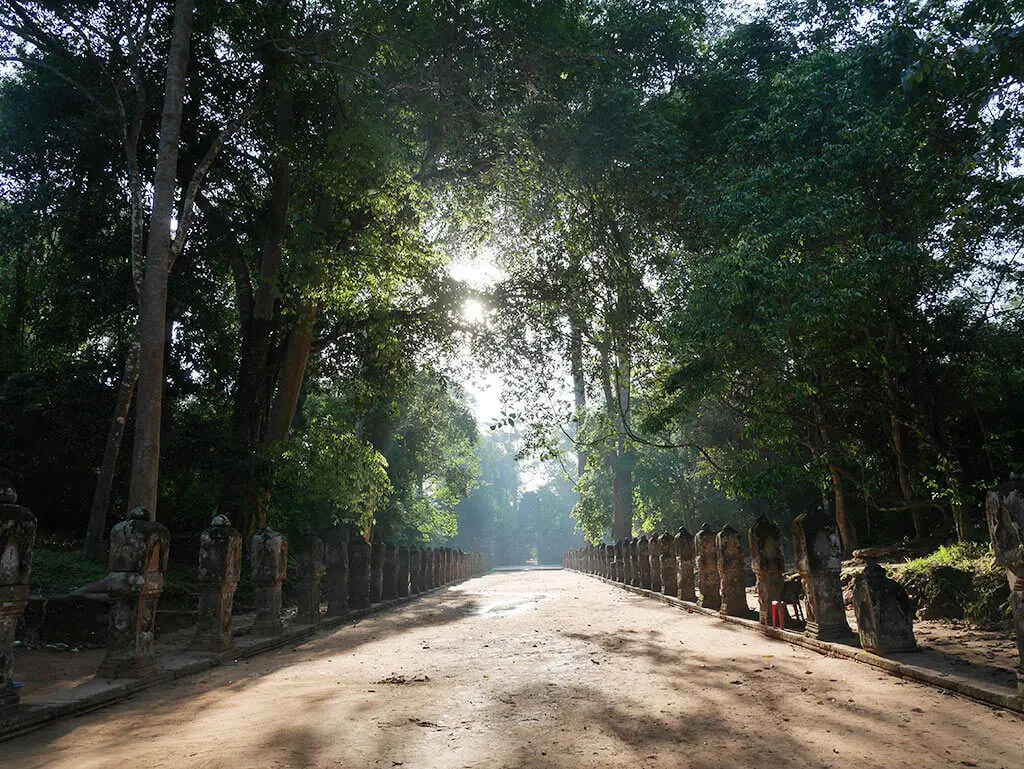 While Angkor Wat is a year-round attraction, you should avoid the Chinese New Year period since there would be a lot of Chinese tourists. If you prefer not to get stuck in traffic, you should also avoid Song Kra as the locals go there during that period as well. I am not sure about the rest of the year, but I had heard that it's significantly quieter in between.
As for the time of the day, it would be easier, if possible, that you do a morning and evening visit because midday is extremely hot. It was exhausting for us to keep going continuously for the day, and the restaurant choices are slim and expensive in the Angkor area.
The opening times of the temples:
All other temples: 7:30 – 17:30
12 temples in 48 hours
Before the trip, we made a list of temples we wanted to visit and gave it to our guide. Sadly, he didn't follow it and I did miss a few that I wanted to see but we also visited some that weren't on the list. It turns out that he took us on a small circle and grand circle route that's standard for visiting Angkor Wat. Below it's a brief summary and memorial point of each temple.
Get your free map for my entire itinerary here
Day 1 itinerary visiting Angkor Wat and Angkor Thom
We started the day by visiting the ticketing office, if you want to get a real feel of our day, here is a quick highlight:
Angkor Wat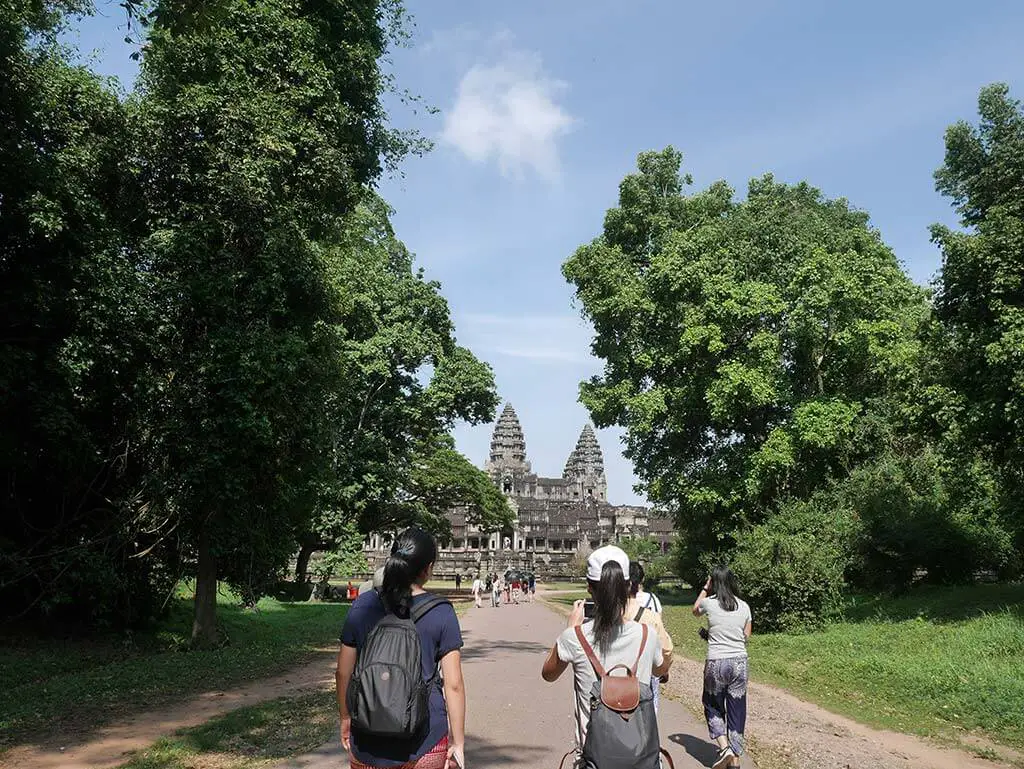 This one probably doesn't need much introduction with its iconic reflection pool photos. A mountain-style Hindu Temple built in the 12th century, it boasts a moat around it as well as three galleries (a different style), each higher than the last.
The sandstone temple has five towers to represent Mount Meru – a five-peaked sacred mountain in Hinduism.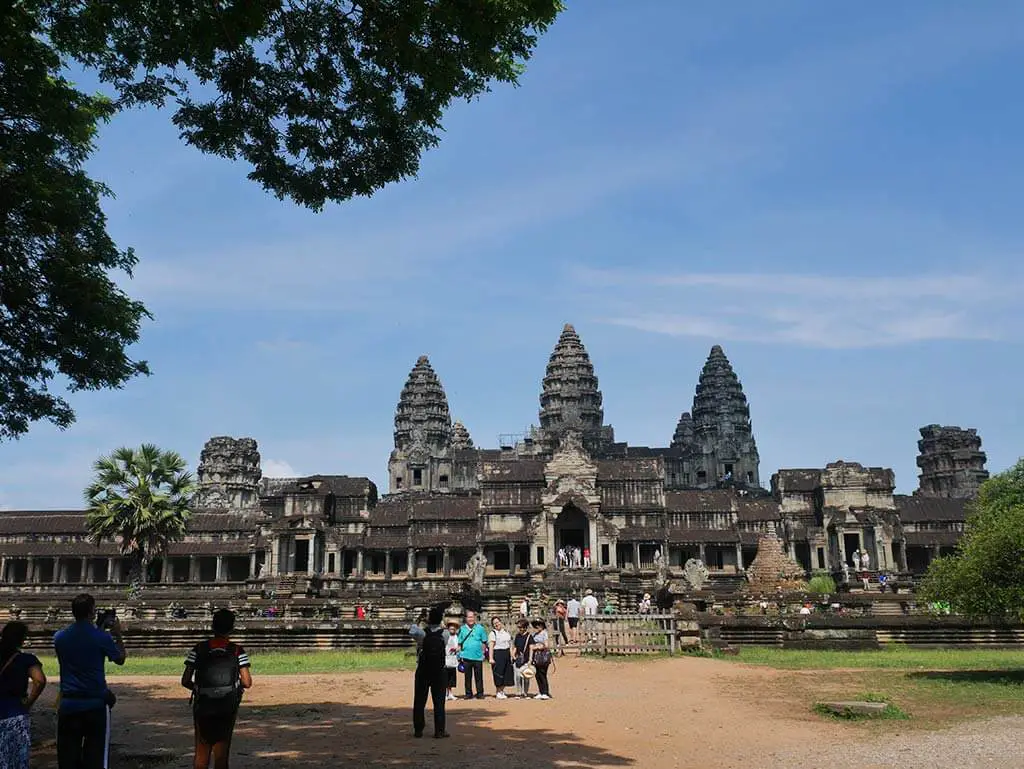 It was built by King Suryavarman but by the end of the 12th century, then converted into a Buddhist Temple and was in used intermittently by locals and Japanese pilgrims until it became the national monument. Its orientation to the west instead of the east might be due to the King's wish to use it as a tomb, but it is not sure.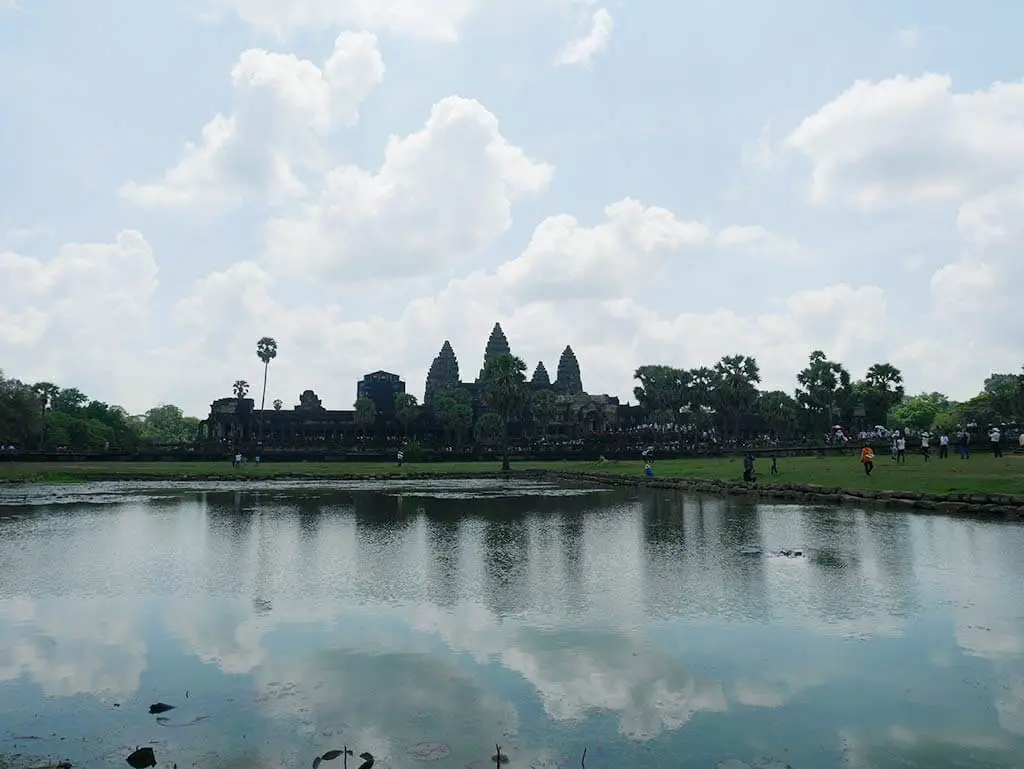 The famous reflection pond is much smaller than I thought, on the north side of the path that heads to the west gate. Outside the gate is a sprawling market full of promoters and stalls that sell things at a much higher price than the Siem Reap town.
Some of the best photo spots:
[huge_it_gallery id="5″] Before you enter – you won't get the whole temple if you take it inside!
The first level gallery stair cases and the beautiful Hindu creation myth relief.
Inside Angkor Wat is rather packed and there isn't a lot of places where photos would turn out well. The highest level, the one where you would have to cover up, has some dried up pool that would make good photos if you go early enough that there wouldn't be a crowd.
Tip: you need to queue to go up to the highest level, which doesn't allow people to wear hat or revealing clothings.
They seem to rent out robes to cover you but it's best if you have something yourself. The stairs are also very steep, so if you have knee or mobility problems or is afraid of height, be careful.
Angkor Thom:
We drove towards Angkor Thom, which was north of Angkor Wat. It was built by King Jayavarman VII in the late 12th century after they defeated the invading Chams, who destroyed the last capital city Yasodharapura. Its direct translation is "Great City", built in the Bayon style and covered 9 km2.
Bayan (Buddhist)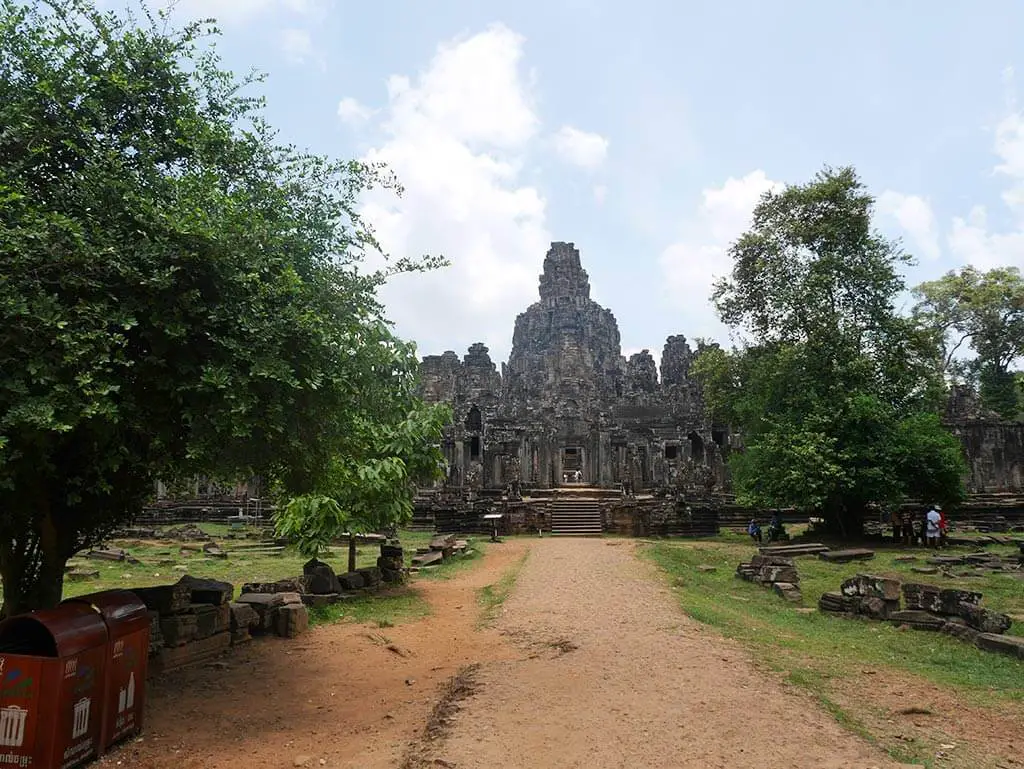 The center of Angkor Thom, Bayan is known as the four-faced smiling Buddha tower temple nowadays but was once called Indrapattha. We visited this straight after Angkor Wat and I like the architecture style a lot more. It was King Jayavarman VII's main state temple, the last to be built in Angkor Thom. It was still in used by successive kings who modified it to suit their religious beliefs. Additional parts such as the library and inner galleries are from a later date. There are a total of 216 faces if you want to know.
[huge_it_gallery id="6″]
Terrace of the Elephants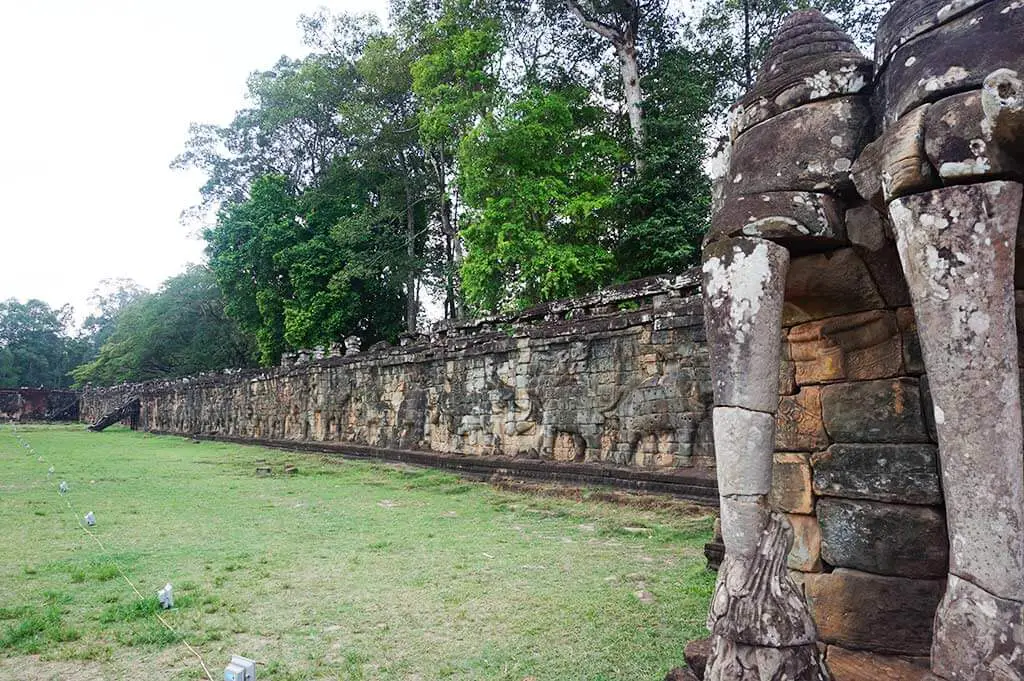 It used to be part of the royal palace, however, the palace was made of wooden structures that eroded and waste away through time. The Elephant Terrace, which was made of stone, remained. It was the site where the King would watch the ceremonial processions or returning armies, and you can still see some elephant statues remaining on the way.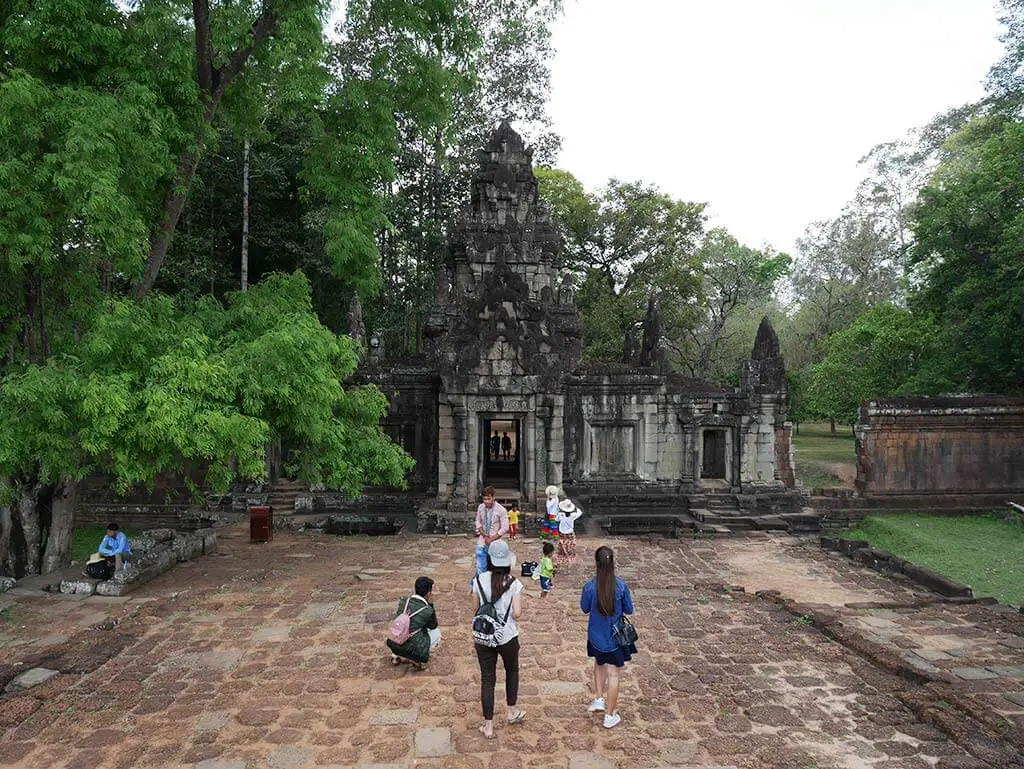 Our guide told us that they also used to watch elephant fights here but I found no backing of this… I think we either misheard him or he lied!
Triple K restaurant
At the recommendation of our tour guide, we had lunch at Triple K restaurant – which was a disappointing experience. The service was slow and the food mediocre at best. We believe that tour guides get a commission or free meal of sorts if they bring tourists here, so it's worth noting to mention that you don't want to visit this place.
Ta Prohm (Tomb raider)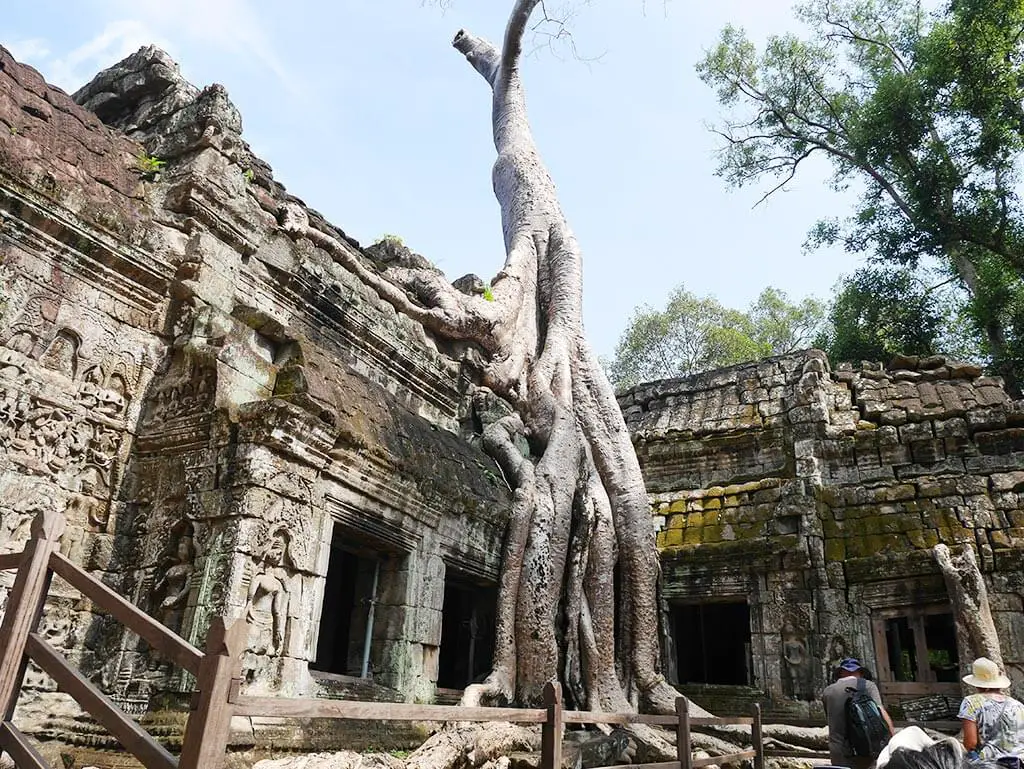 Built in 1186 with the name of Rajavihara (the monastery of the king"), Ta Prohm temple is of the Bayan style. It is the most popular temple in Angkor Thom due its assimilation into the jungle without becoming a part of it. While it is famous for being featured in Tomb Raider, less people know that it is dedicated to King Jayavarmna VII's mother. Her image is used to represent Prajnaparamita, the personification of wisdom and the main image of the temple. The site once held up to 80,000 people, including the village nearby.
[huge_it_gallery id="8″]
Banteay Kdie (citidal)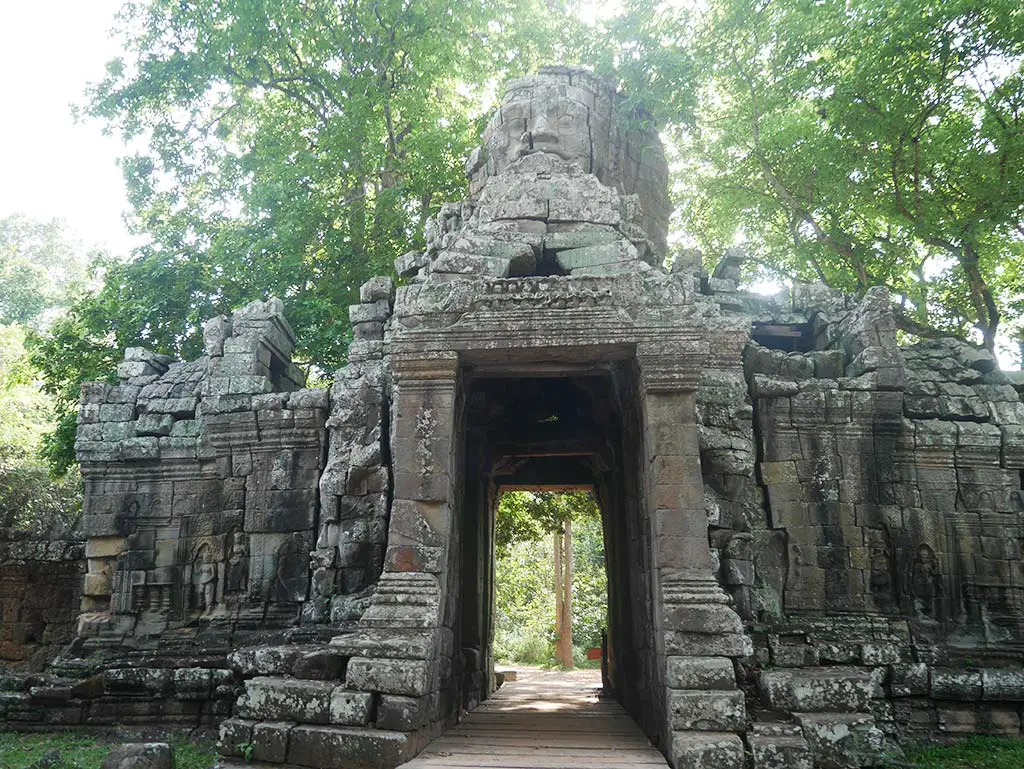 Previously a Hindu Temple, Banteay Kdie was converted during the reign of Jayavarmana Vii and resembled the temples that we had seen already. Beanteay Kdtranslatesate as "A Citadel of Chambers". True to its name, there are endless chambers connected by open doorway which are charming on their own. It is smaller than the previous temples, built atop a 10th century temple by Rajendravarman.
[huge_it_gallery id="9″]
Pre Rup (sunset)

Different to the Buddhist temples with its more reddish colour, elevated temples and five high towers, Pre Rup temple is a Hindu Temple. The state temple of the aforementioned King Rajendravarman, it was built in the 10th century with laterite, sandstone and brick in the mountain temple style. It is a funeral temple and dedicated to the god Shiva and also the chosen site for many to witness an Angkor sunset. Although the sunset is nice it isn't worth waiting around for since you can't even tell you are at Angkor Thom from it.
[huge_it_gallery id="7″]
Day 2 exploring Angkor Archeological Park

This is an early day but we also ended early because of the sunrise. We were picked up at 5:00 am at the hotel to chase the sunrise at Angkor Wat. Below is a vlog of our trip:
Sunrise at Angkor Wat
Since Siem Reap is a tropical city, the sunlight hours don't vary greatly throughout the year, however, it's still worth checking the forecast so you won't be disappointed. That said, our trip was said to be "raining" the whole five days and it wasn't the case.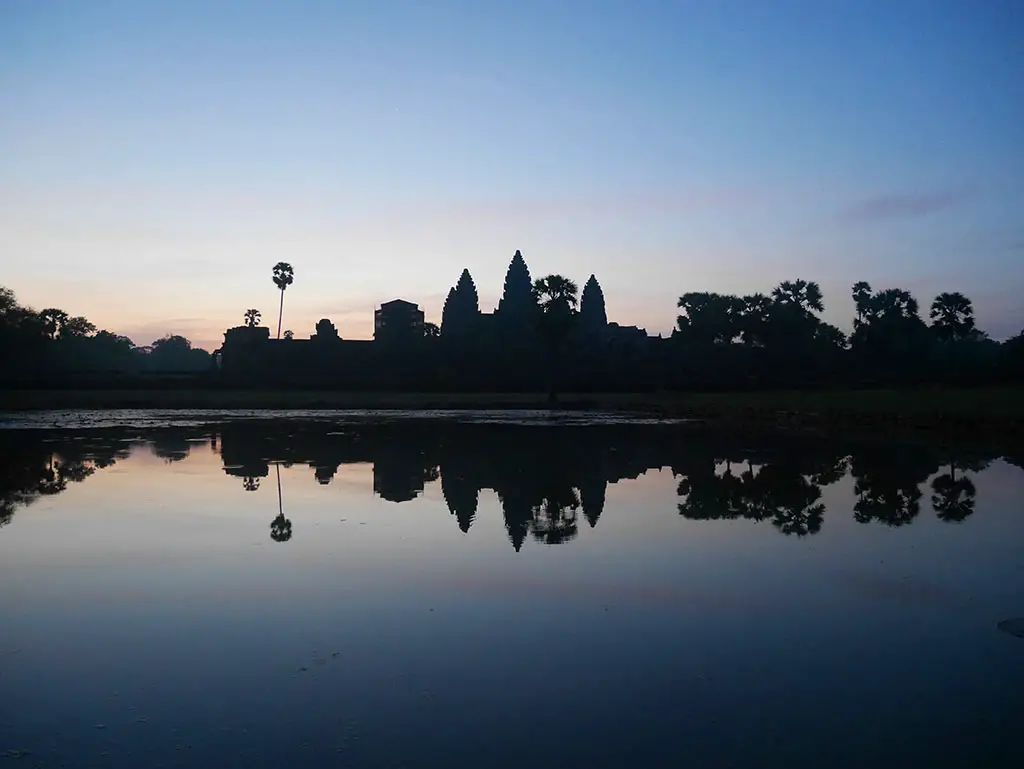 We reached Angkor Wat around 5:20 and there were already a huge crowd gathered around the lake. You will need your tickets to go in, so make sure you already have them. The reflection pool is not very large, and the best location is towards the mid-left side facing the temple. I managed to squeeze my way to the front and then it was a waiting game.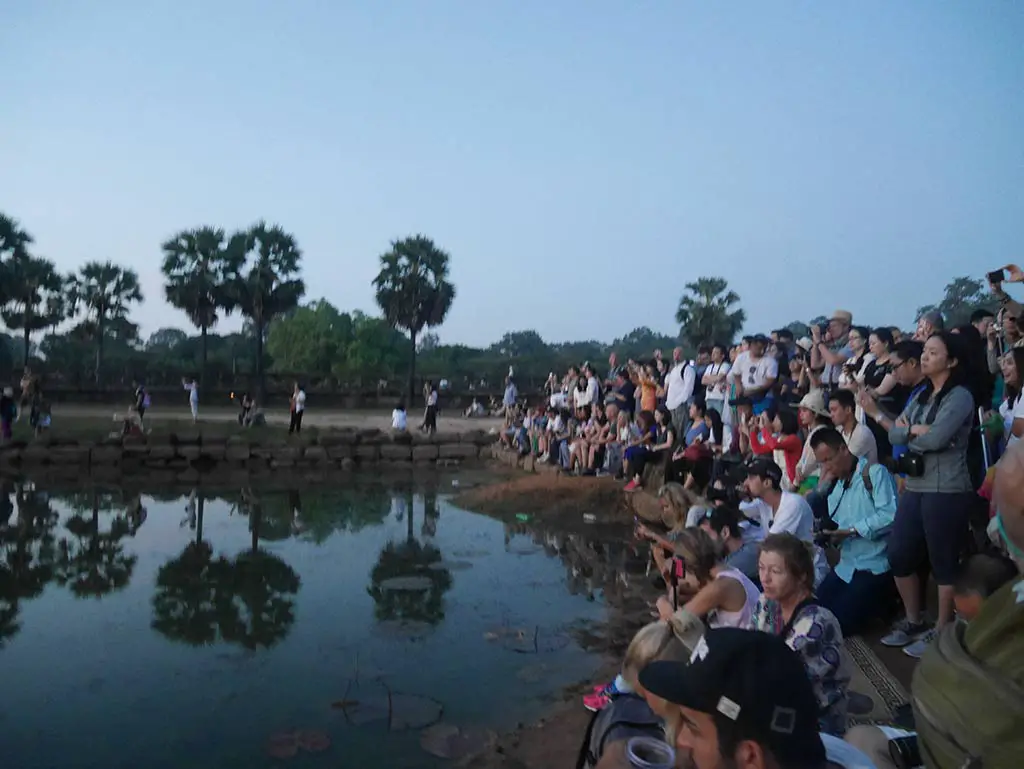 The good news is that as soon as the sun is up (6:11) – but not yet passed the top of the left corner of the temple – people start to disperse. You will have a chance to snatch a few precious seconds by the bank for some photos. It is the prettiest when you first arrive and once the sun comes up and there is almost an hour plus in between those time, so you would have to be patience.
[huge_it_gallery id="10″]
Preah Khan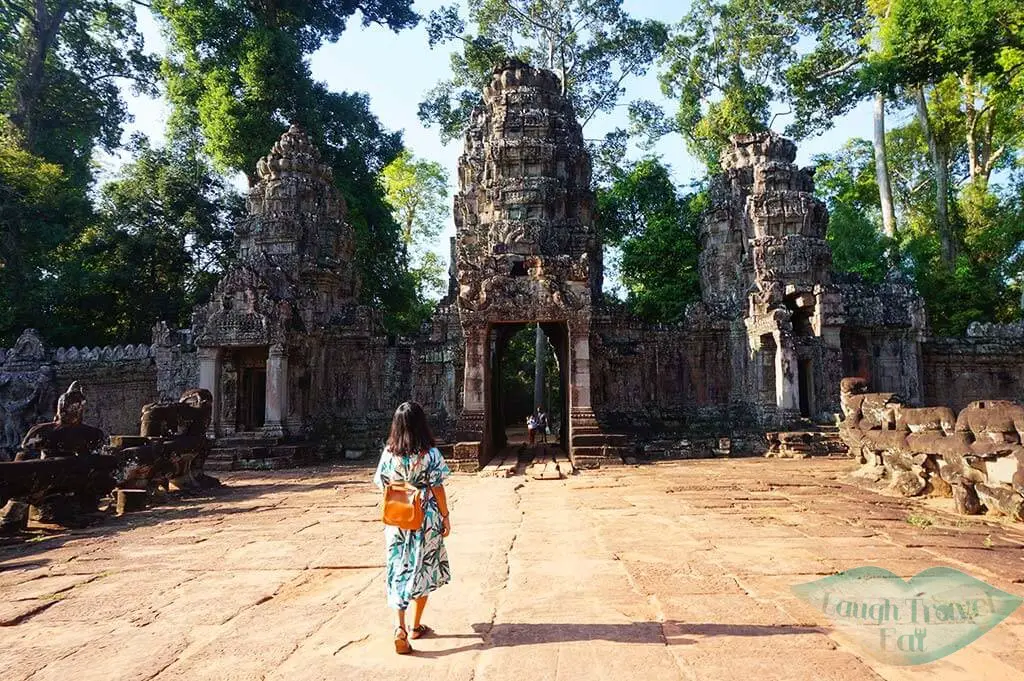 Barely pass 7 am, we made our way to Preah Khan Temple, one of my favourite in the trip. Dedicated to King Jayavarmna VII's father, this is also a Buddhist Bayon style temple and similar to the Banteay Kdie Temple. Translate to "Holy Sword", this is the site where King Jayavarman VII defeated the Chams. Similar to Ta Prohm, not much restoration has been done except maintenance and clearing of vegetation. Walking through its gallery ways were a highlight as well as exploring its relieves.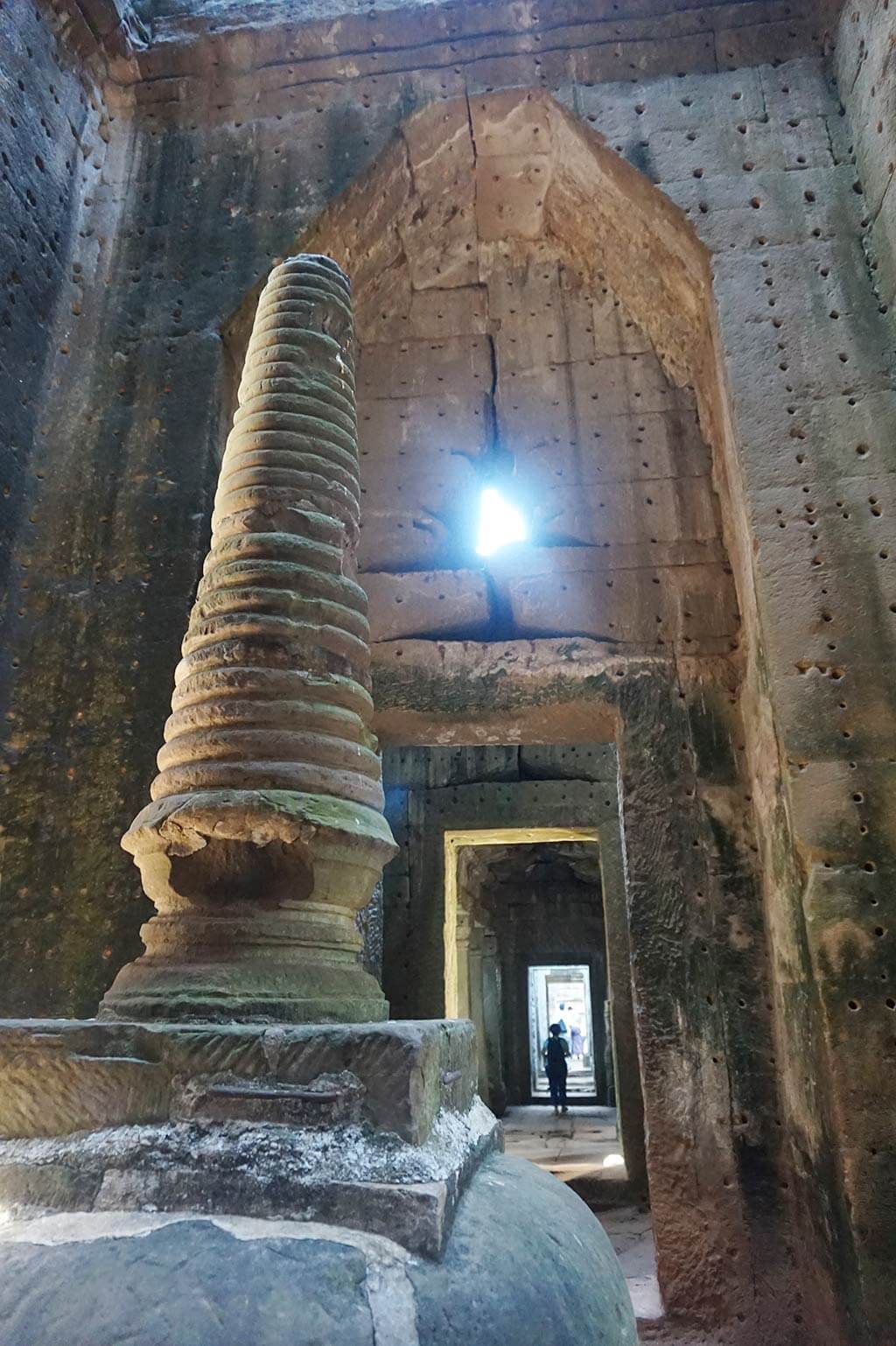 The center of the temple, which now holds a small pagoda, used to hold the statue of the King's father. The doorways of the temples also become wider but shorter as you go in, making you bow in respect to the temple.
[huge_it_gallery id="15″]
Neak Pean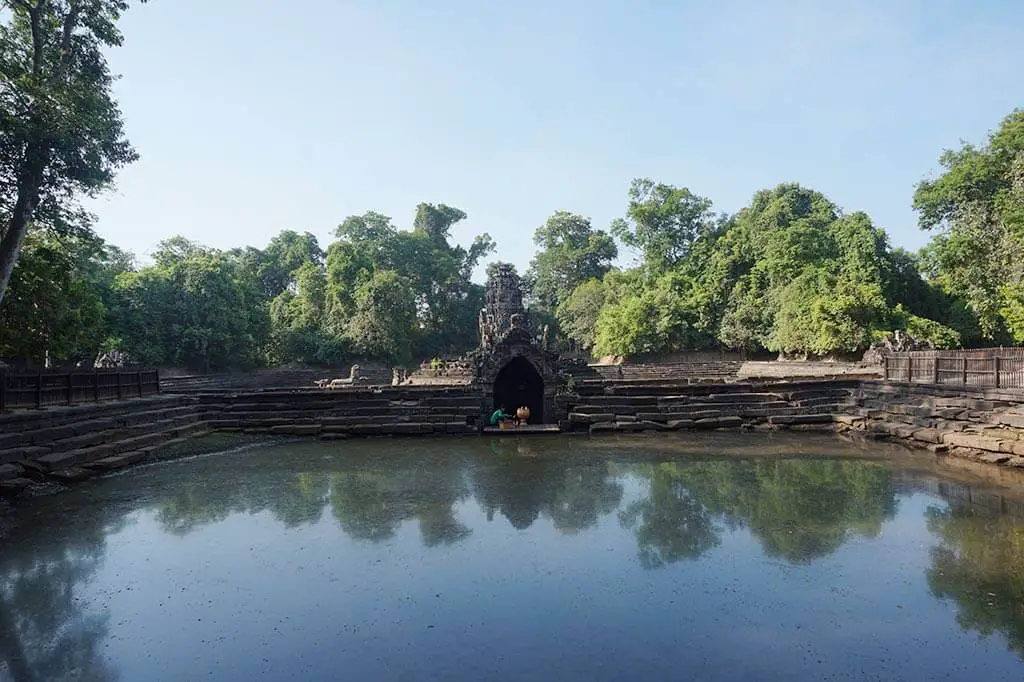 Neak Pean is arguably the most unique temple in Angkor Thom, built on an artificial island in Jayatakaka Baray. You can only reach the temple through a long walkway on the reservoir, which is thought to represent the diseases-curing mythical lake Anavatapta. Neak Pean consist of four small pools around a central one, representing the four elements in a central source. The Khmer believes that bathing in them restore balances in the body and this used to be a hospital.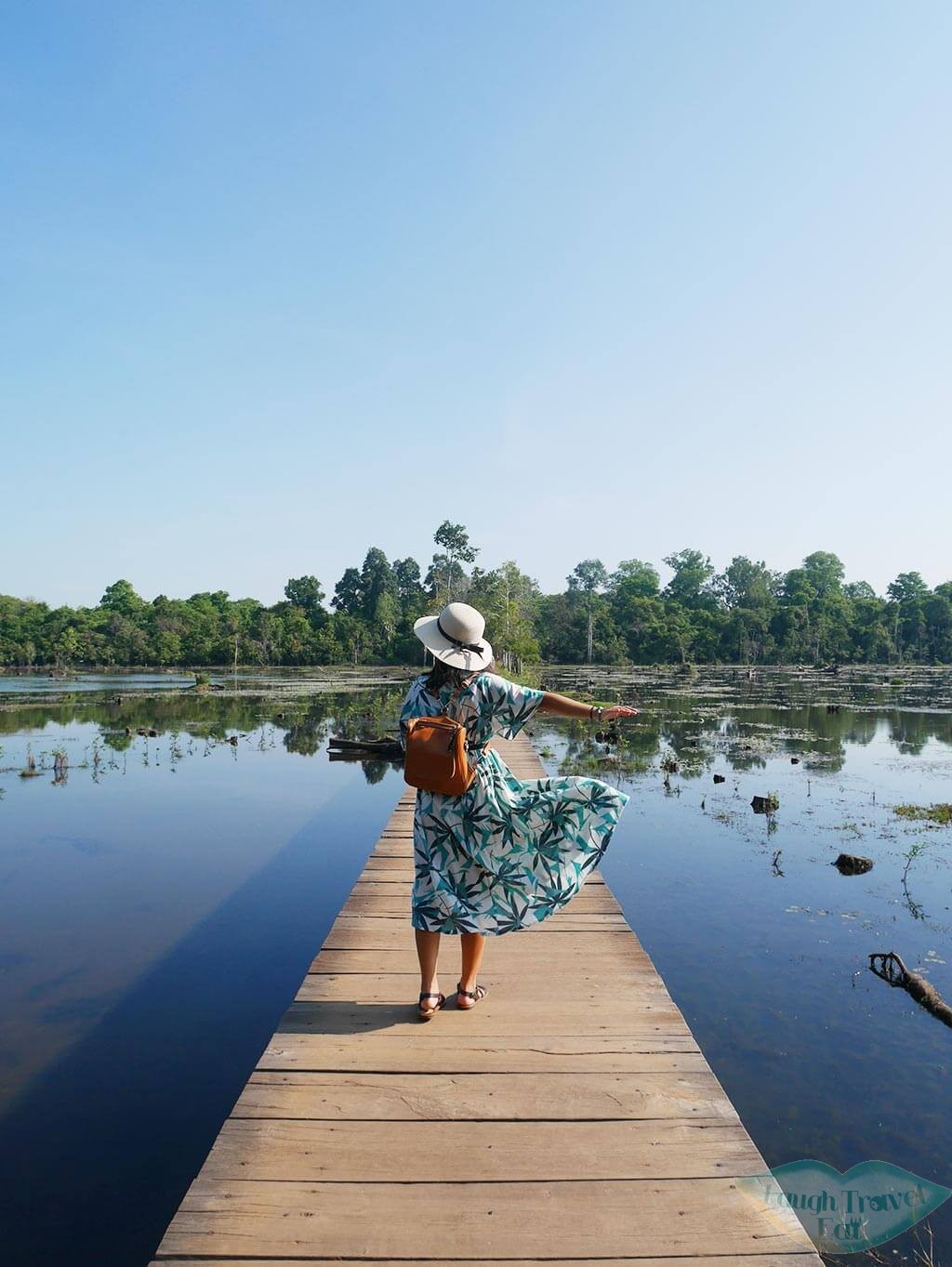 The name Neak Pean means "The coiled serpents", and while it features many Hindu believes, it was built by King Jayavarman VII and a Buddhist temple.
Ta Som

Most memorable by the tree growing on top of its gate, Ta Som is another Buddhist Bayon Temple built by King Jayavarman VII to commemorate the general that fought with him to drive the Cham people back. This temple is less popular, which means there are plenty of room for you to take photos!
[huge_it_gallery id="11″]
East Mebon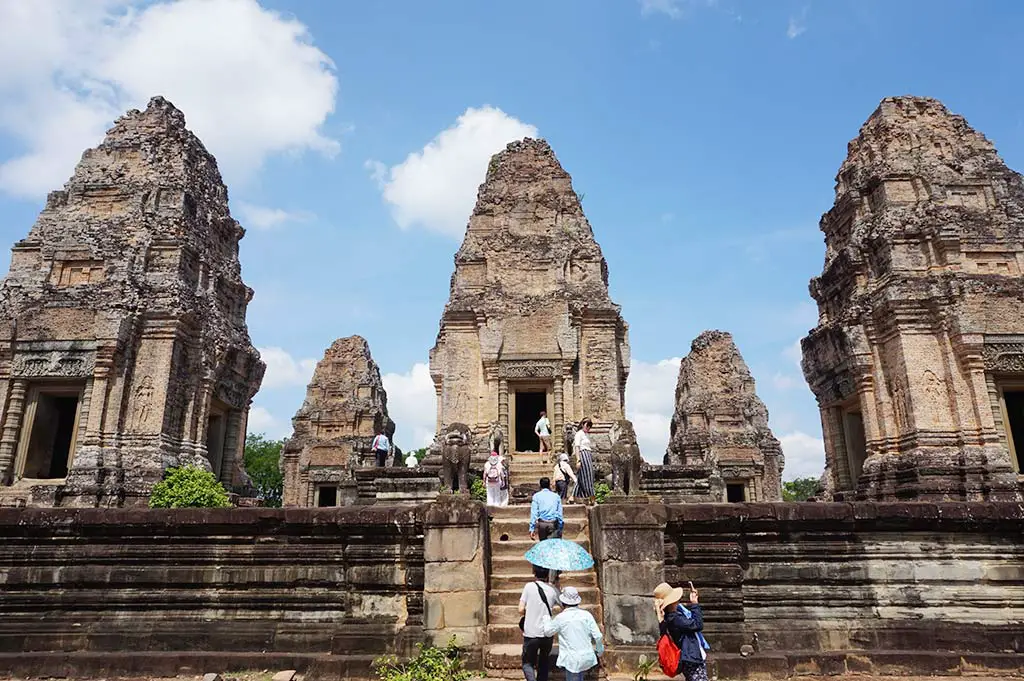 A Hindu Temple similar to Pre Rup (the sunset temple from the day before), it's more symmetrical but with lower towers. Also built under King Rajendravarman in 10th century, it's better preserved than Pre Rup, too. Believe it or not, this used to in the middle of the reservoir that had since dried, and the steps that we climbed up was a pier.
The highlight of the temple was the elephant statues on the corner of the first level terrace. Its side temples also make for great photo spots.
[huge_it_gallery id="12″] P.S. please don't climb on the elephant statues, they are over 1,000 years old!
Banteay Samre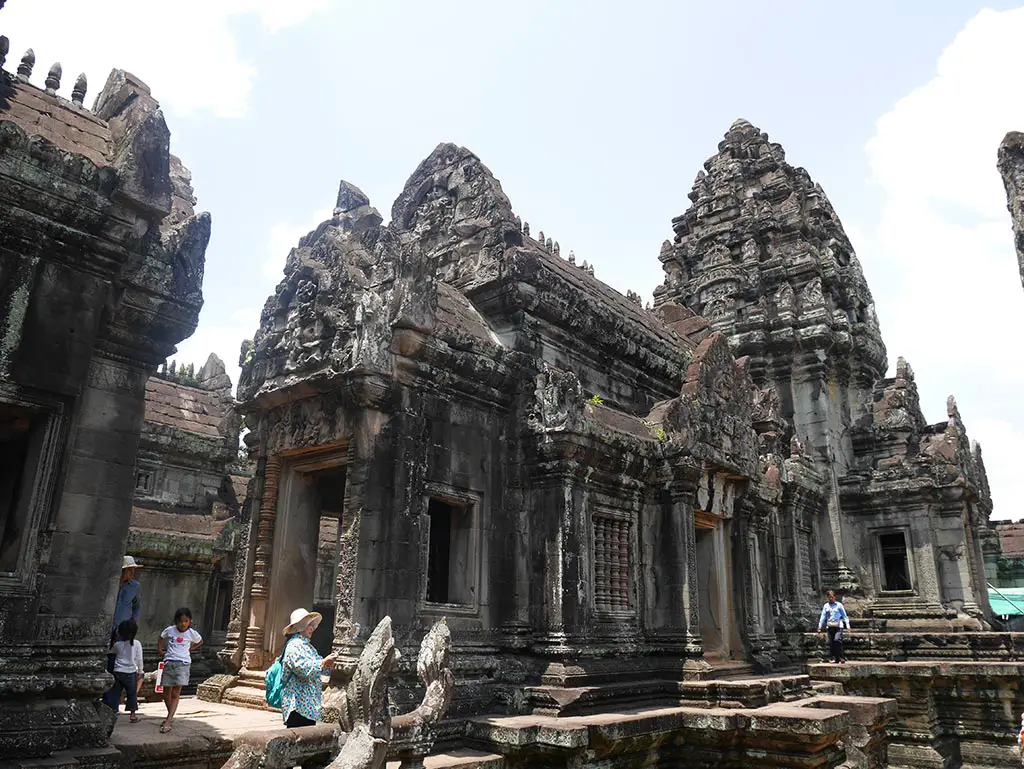 Another temple that stood out in my mind, the Banteay Samre was built in the early 12th century by King Suryavarman II and continued by Yasovarman II. A Hindu Temple that is in the same style as Angkor Wat, it had received extensive restoration and the galleries around the libraries are the best part with their mahogany-red stones and grass-filled archways. It's almost like an Asia version of Cambridge. It is not to be confused with Banteay Srey, which we were heading to next.
[huge_it_gallery id="14″]
Lunch at Banteay Srey Parvis coffee and souvenir shop
Unlike Triple K, Beanteay Srey Restaurant might be the only option near the Banteay Srey temple, which is about 10-20 minutes' drive from Angkor Thom, serves up some pretty good food at a reasonable price. The coconut was 1.5 USD, the fish dish and mango pancake was amazing and the papaya salad was decent. But it's worth avoiding the meat dishes.
They also have a free information center nearby that gives a good history and architecture break down of the temple.
Banteay Srey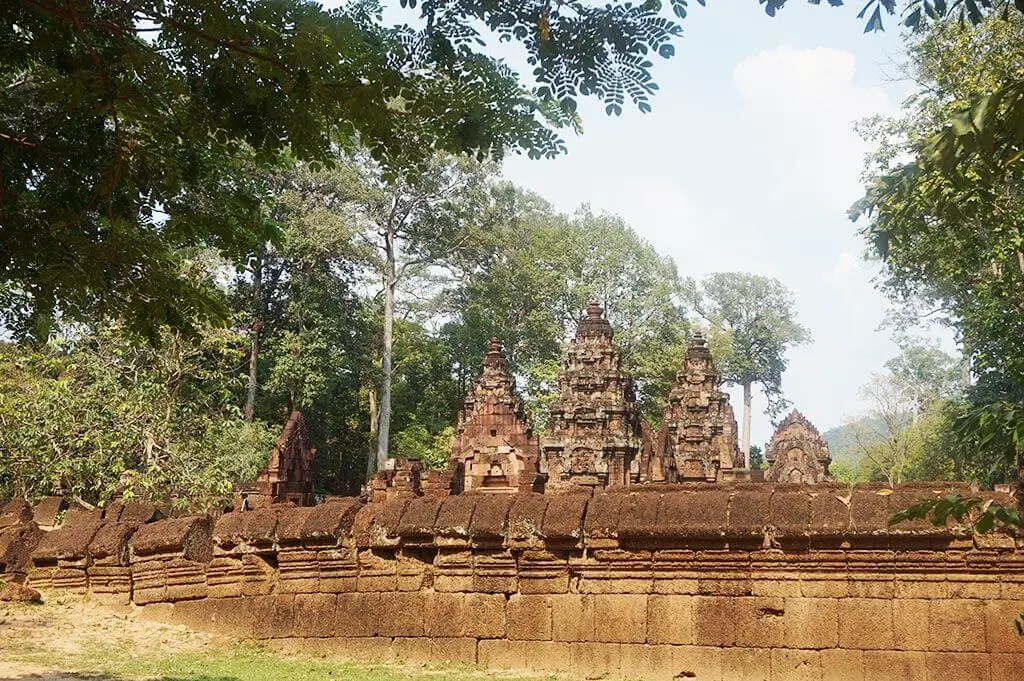 Known as the women's temple and its pink colour, the Hindu Temple Banteay Srey (or Srei) is located further north of Angkor Thom. Built in the 10th century on the Phnom Dei Hill, it's smaller than I anticipated and fairly popular. The temple was constructed by Vishnukumara and Yajnavaraha, whom are not kings but were on the court of King Rajendravarman II. The intricate relieveves of Hindu creation myths on laterite and brick distinguishes it from other temples. Each of these towers have five levels that represent the five levels of being in Hinduism.
[huge_it_gallery id="13″]
Temples that I wished I had seen:
Phnom Bakheng
This is a perfect alternative to Pre Rup as a sunset temple because it overlooks Angkor Wat.
Srah Srang
I saw photos of Srah Srang – the royal bathing grounds –  and wanted to visit it. But between Neak Pean and this temple, I'd choose the former. Ironically it was right outise Banteay Kdie.