Penang Nyonya Food: what is it and where to eat
Penang's Nyonya food, which is often called the Penang Peranakan food, is a unique blend from a Chinese-Malaysian household. The Peranakan culture is an integral part of Penang's culture and their food is beyond a doubt a must-try when you're here. If you're looking for a break from Penang's street food or simply want a sit-down meal, here is a guide on what Nyonya food is and where to try them:
What is Penang Nyonya Food?
As mentioned, Penang's Nyonya food comes from the fusion of Chinese and Malay cultures in the household. Nyonya is actually the term used to describe the daughters from a Chinese-Malay household, and the sons Baba.
The same term can also be used for Chinese-Indonesian cuisine. The Nyonya food is most noticeable in the addition of spices and the aroma and flavours that come with it. Here are some of the typical addition/ingredients:
Coconut milk
Lemongrass
Kaffir lime leaves
Pandan
Galangal (a type of ginger but milder)
Tamarind
Lime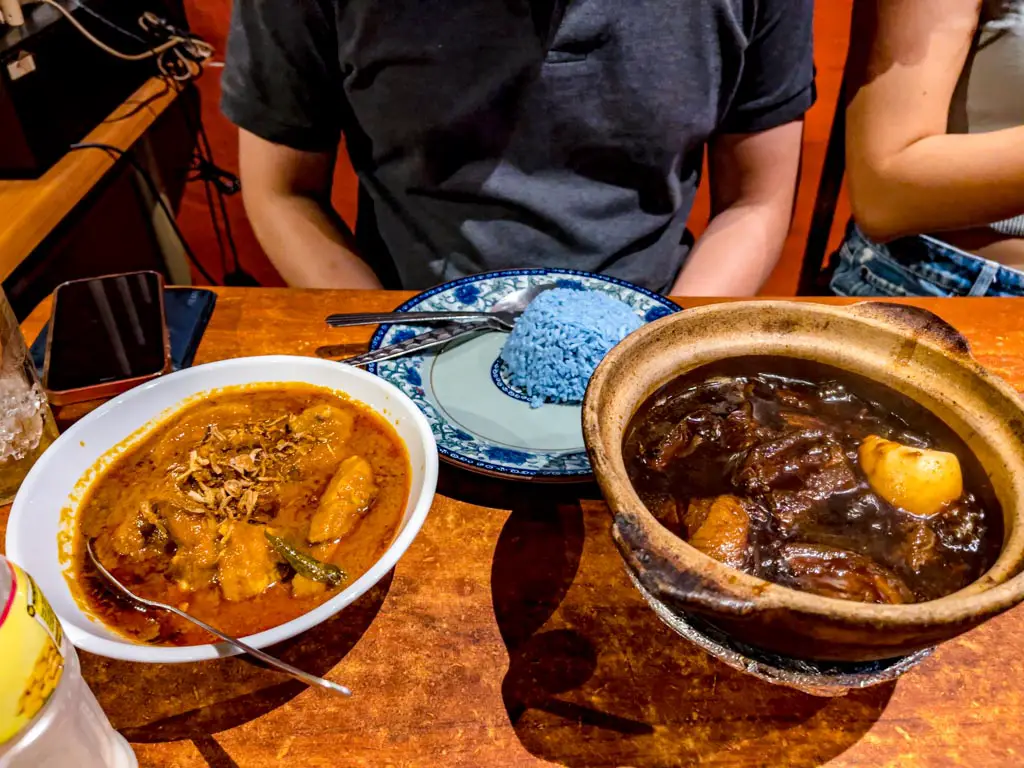 For dishes with coconut milk, it's richer and more fragrant. For those without, it tends to have more of a sour taste, which usually includes the name Asam or Ayam. Most of the dishes should be familiar to those who are used to Chinese food but definitely expect a twist.
Penang Nyonya Restaurants
Now that you know (sort of) what to expect, here are the Nyonya restaurants in Penang you should try! Unfortunately, one of my favourite and a few other good ones has closed down during COVID.
Jason's Nyonya House
Jason's Nyonya House is my local friend's favourite place to get Nyonya food, run by a family who serves their home-cooked meal in a small restaurant. They have a great lunch set during the week which is great value for money, with signature dishes like Tau Yu Bak, pork braised in soy sauce, and various Asam curries.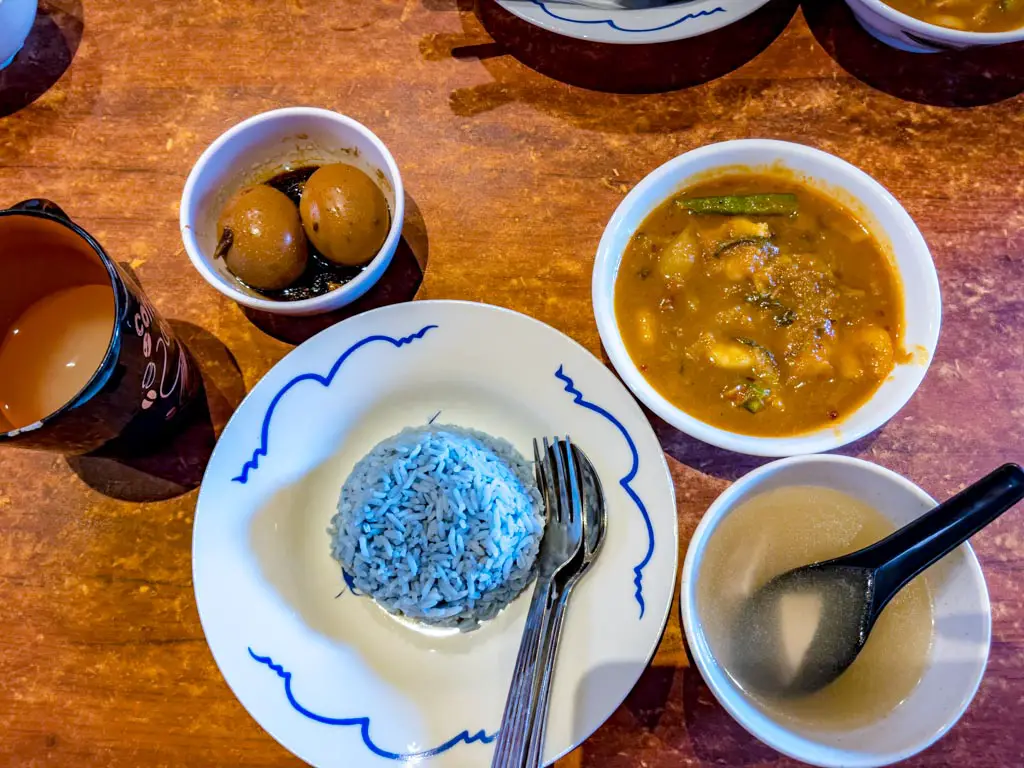 If you are a group, it's great to go for dinner and order a la carte to share. The starter of the mixed vegetable and meat with lettuce wrap was also fantastic.
Address: 10b, Lebuh King, George Town, 10200 George Town, Pulau Pinang, Malaysia
Opening times: Thurs – Tues 11:00 – 14:30, 18:00 – 21:30
Hainantown Yeng Keng Nyonya Restaurant
The Hainantown Yeng Keng Nyonya Restaurant is the place to get chicken rice and Nyonya food as well. It's a great place for a group meal, as you can cater to everyone's preferences.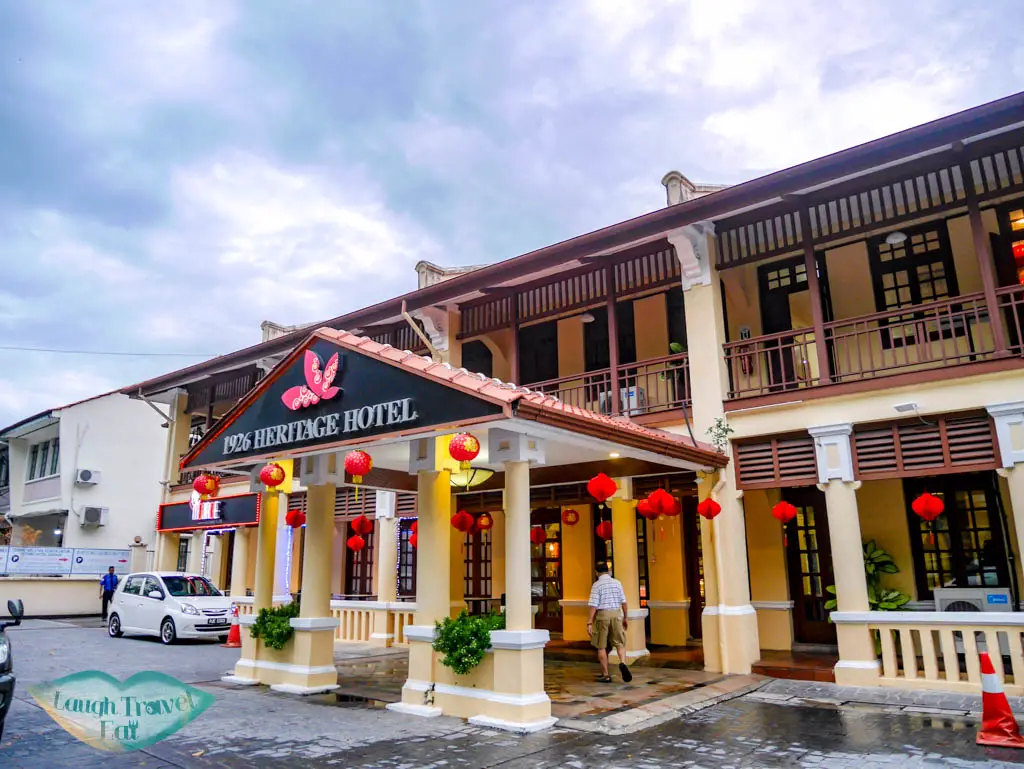 I really like their chicken rice and they have a good selection of Nyonya and other typical Penang food like loh bak and satay.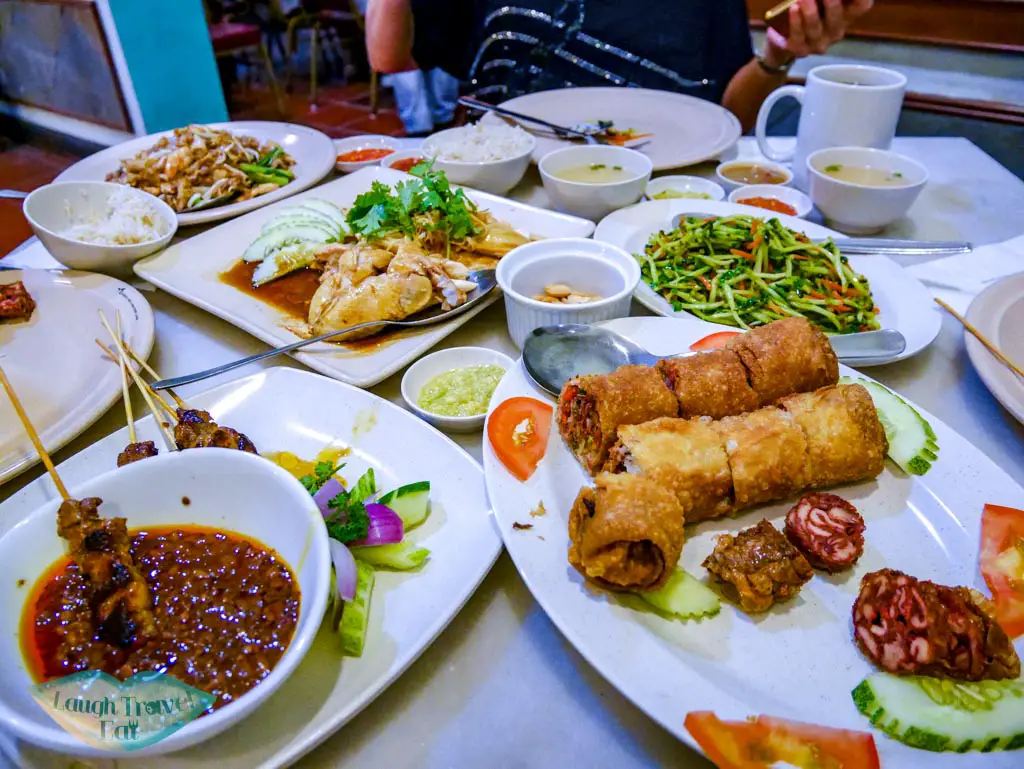 It is a bit more difficult to get a taste of everything if you're dining here solo – it's best to go for street food or for a lunch set at Jason's if you're alone.
Address: 366, Chulia St, Georgetown, 10450 George Town, Penang, Malaysia
Opening times: Tues – Sun 11:30 – 15:00, 18:00 – 22:00
Bibik's Kitchen Nyonya Cuisine
Since a lot of my old favourite has closed, this is one that my friend recommended to me! 
Address: 73, Jalan Sri Bahari, George Town, 10050 George Town, Pulau Pinang, Malaysia
Opening times: Tues – Sun 11:30 – 15:00, 18:00 – 21:00
Indigo Restaurant at Blue Mansion
While it's not technically a Nyonya Restaurant, the Indigo Restaurant at the Blue Mansion is worth a mention because of its heritage. It was the house of Cheong Fatt Tze, a prominent merchant in colonial times, and now a heritage hotel.
The mansion only runs guided tours and the other way to visit is to dine at the Blue Mansion. Their lunch set is a 3-course meal for 88 RM (not including service charge) with very good quality ingredients. You get to look around the mansion afterwards and the restaurant balcony is really pretty.
Address: Cheong Fatt Tze Mansion, 14, Lebuh Leith, Georgetown, 10200 George Town, Penang, Malaysia
Opening times: 12:00 – 15:00, 18:30 – 22:00
Nyonya Palazzo
Nyonya Palazzo is across from the Pinang Peranakan Mansion which is more of a cafe rather than a restaurant. They have a great package for rental of the traditional Nyonya sarong and top with an entry ticket to the Pinang Peranakan Mansion and later an afternoon tea.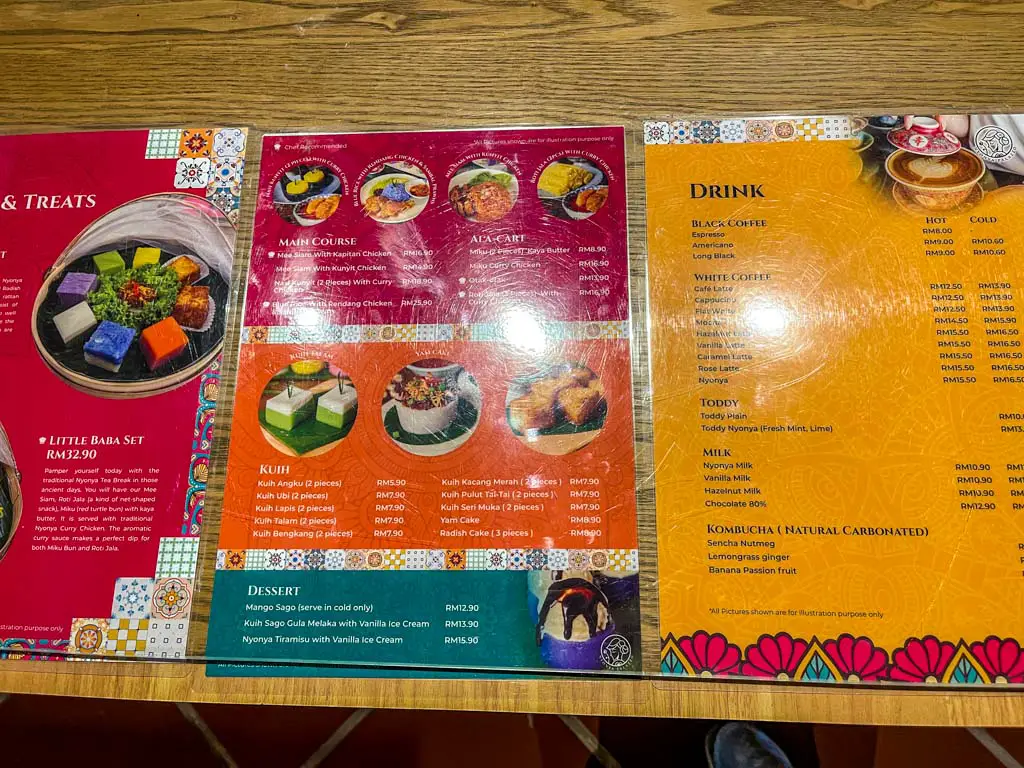 They have a great selection of desserts and more modern take of Nyonya food as well like a cupcake, and there is a souvenir shop as well. 
Address: 29, Church St, Georgetown, 10200 George Town, Penang, Malaysia
Opening times: Fri – Weds 10:00 – 18:30