An foodie's guide to Athens food tour and Best Athens Restaurants
Are you looking for the best Athens restaurants or Athens food tours? Because I was too and now have a list of great places to eat and a lovely tour to recommend. If you're looking for what to do in Athens, that post is coming soon! Here, I'm covering some brunch places in Athens, the best rooftop in Athens, and where to eat in a beautiful setting:
Things to know about dining in Athens
Bread and water are automatically given but are usually charged, but tap water is free and drinkable so you can ask for that
Tipping in Greece is not mandatory, but you are always welcome to round up
Most restaurants have WiFi. You can simply ask the waiters for the WiFi password.
Dining in Greece, in general, is a relaxed, long affair, so budget more time to eat
Dinner is the most important part of the meal, so a lot of Taverns and restaurants don't open until 5-6 pm
For fast food you can get away with under 5 euros, most restaurants will probably cost you around 15-20 euros per person, depending on whether you order alcohol.
What to eat in Athens
If you can't figure out what to eat in Athens, then I'm here to help! Here are some typical dishes that you should try when in Athens:
Moussaka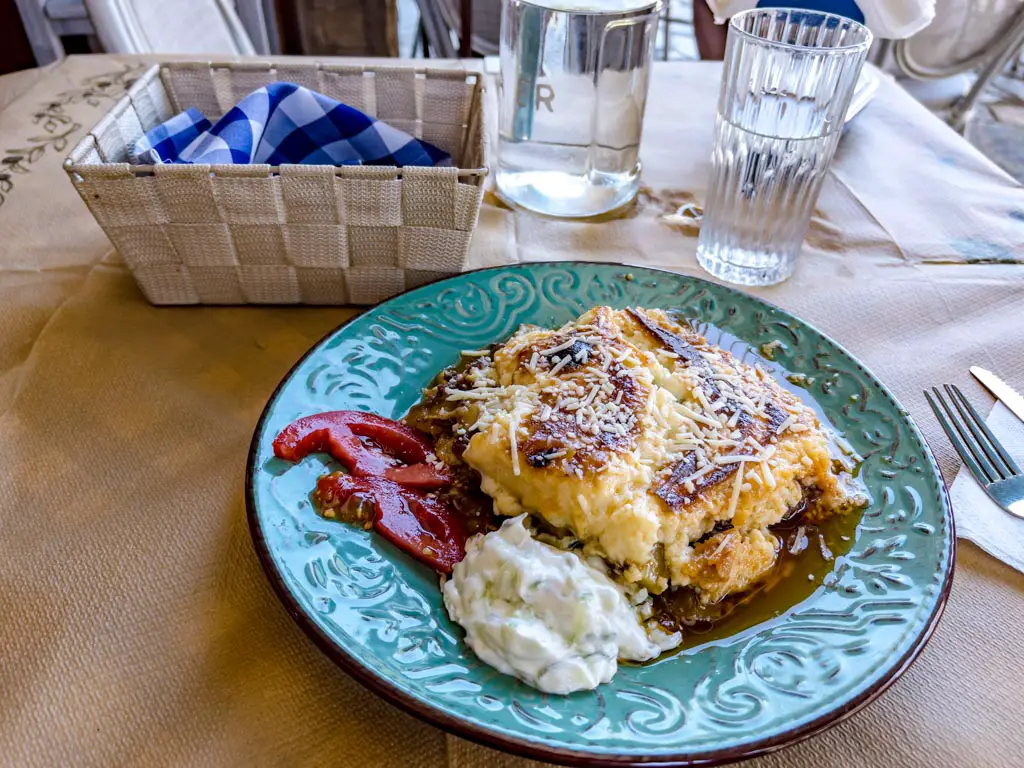 Moussaka is a classic dish in Greek cuisine. It's almost like a lasagna except it's made with aubergine (eggplant) and potato. It's a little oily, but it's quite a hearty choice. It is made with bechamel sauce, so those with diary allergy should eat with caution. 
Pasticcio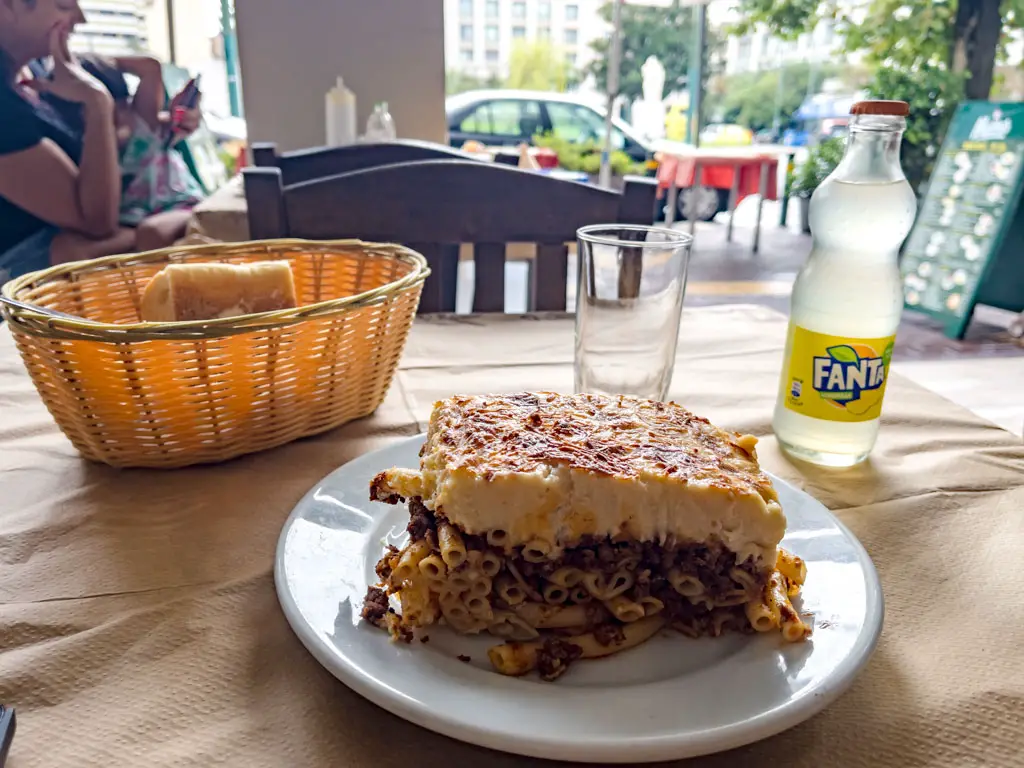 Pasticcio is even more lasagna like but instead of sheet pasta, it's made with rolled pasta. This is quite carbohydrate heavy but also a hearty dish.
Stifado
Stifado is a stew that is commonly made with beef. It's usually served with pasta or rice and contains onions and wine. It's very tender and can be made with pork or rabbit meat.
Bougatsa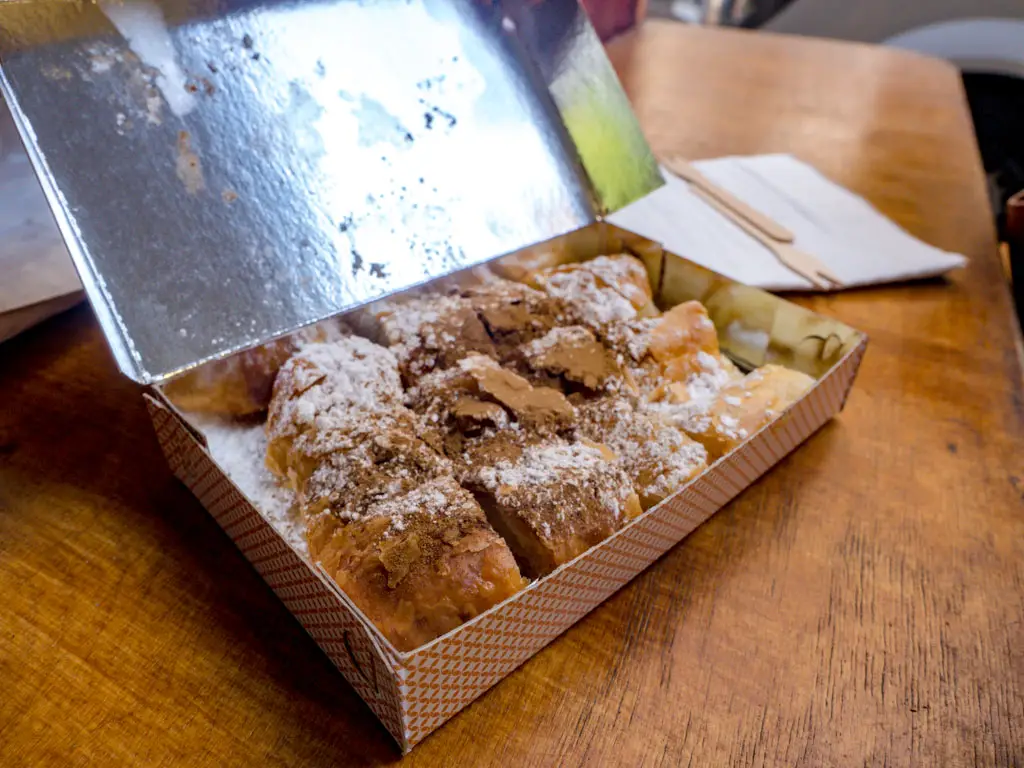 Bougatsa is a pastry that can be savoury or sweet, made with filo pastry. The most common sweet kind is made with a milk custard that almost tastes like Portuguese tart, while savoury is with spinach and cheese. It's particularly common for breakfast.
Gyros Pita (or Souvlaki)
Gyros pita is the best street food to eat in Greece. It can be described as a kebab, but it's so much more. The wrap is pita bread, and gyros mean meat slices that are thicker than kebab. Inside there is tzatziki sauce, made with cucumber, garlic, and yoghurt, some greens, and chips.
It's one wrap that includes meat, vegetable, and carbs.
Saganaki
Saganaki is a pan-seared kasseri cheese, but it's also the name of a tomato feta sauce. Both are totally worth a try!
Seafood
Athens is close to the sea and there are plenty of fresh and delicious seafood dishes to try. Greek restaurants are obligated to tell you whether or not the dish is made from frozen food, so you would be able to tell what's fresh. 
Greek Salad (and other salad)
Greek cuisine is also famous for Greek salad, and they also have plenty of salad. They're usually pretty fresh. The tomatoes are very fresh and it's common to have cucumbers, too.
Keftedes – Greek Meatballs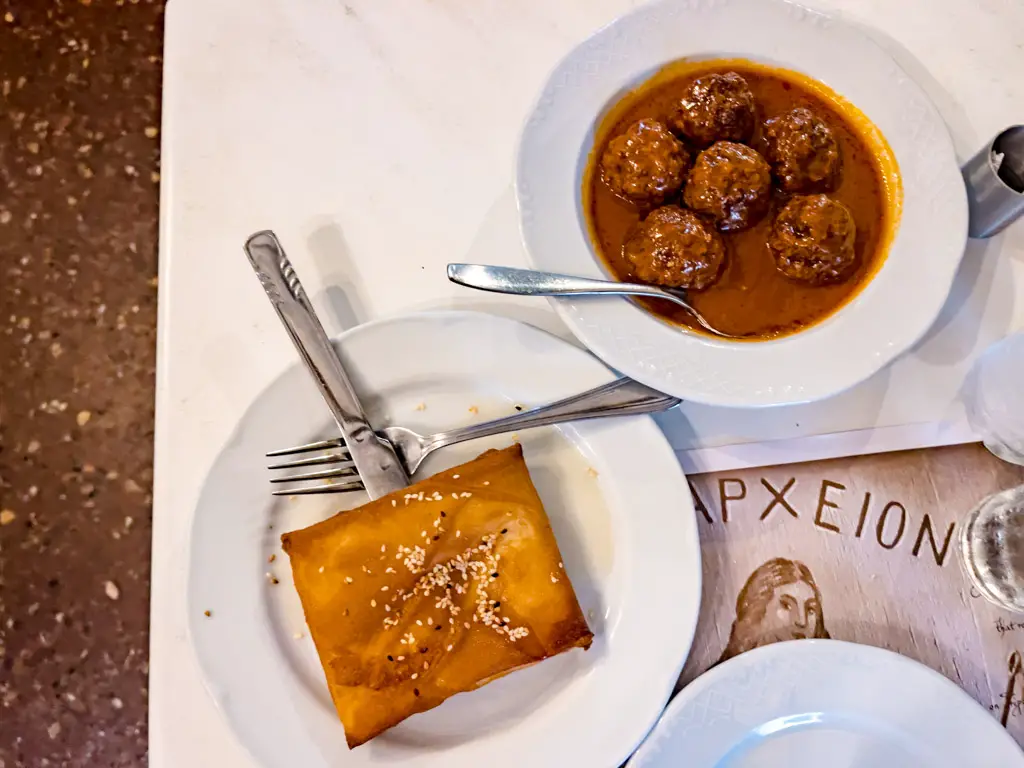 The greek meatball is usually made with a tomato sauce with parsley onions. The meatball is generally made with beef but sometimes with lamb.
Athens food tour
Athens food tour is a great way to get to know Greek cuisine and also sample some food that you won't normally come across yourself. I took a free walking tour that was recommended the Athens Food Adventure Tour by the Greece Tour Hub, which is a perfect fit for foodies who love to cook.
Our guide Trevour is trained as a chef and full of knowledge about the ins and outs of Greek food. The tour size is kept small, and we weaved through the streets of the modern agora of Athens – aka Central Athens, sampling and learning along the way.
We also ventured into the public market and also sampled olive, cheese, deli meat, and seasonal fruits.
Here are some of my personal highlights: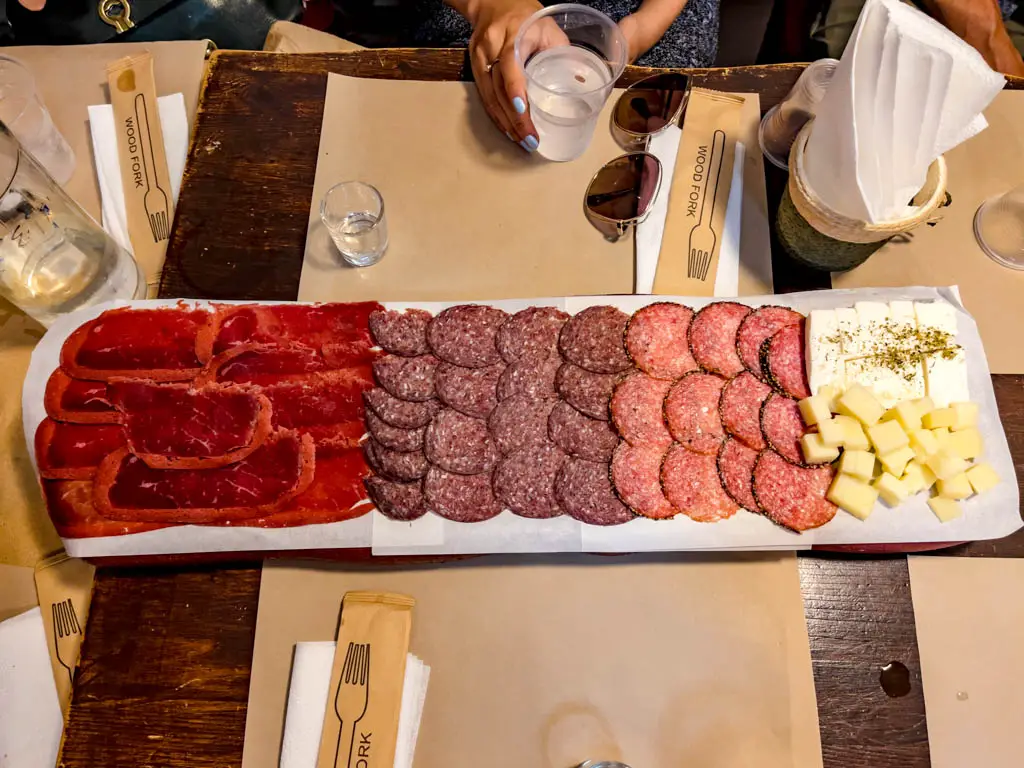 The Koulouri and Bougatsa tasting
The unique deli meat
Learning about the Greek cuisine
Cost: 45 euros
Duration: 2.5 hours, from 10 am
Best Athens Restaurants
Looking for the best Athens restaurants? I did my best to only eat Greek food during my time in Athens and have put together a list of my favourite restaurants in Athens:
Attic Urban Rooftop
Whether it's date night or girls' night, having drinks or meals on a rooftop looming across at the Acropolis is definitely a bucket list for Athens. Attic Rooftop is one of the three rooftops on the north side of Monastiraki Square with a view of the square and the Acropolis.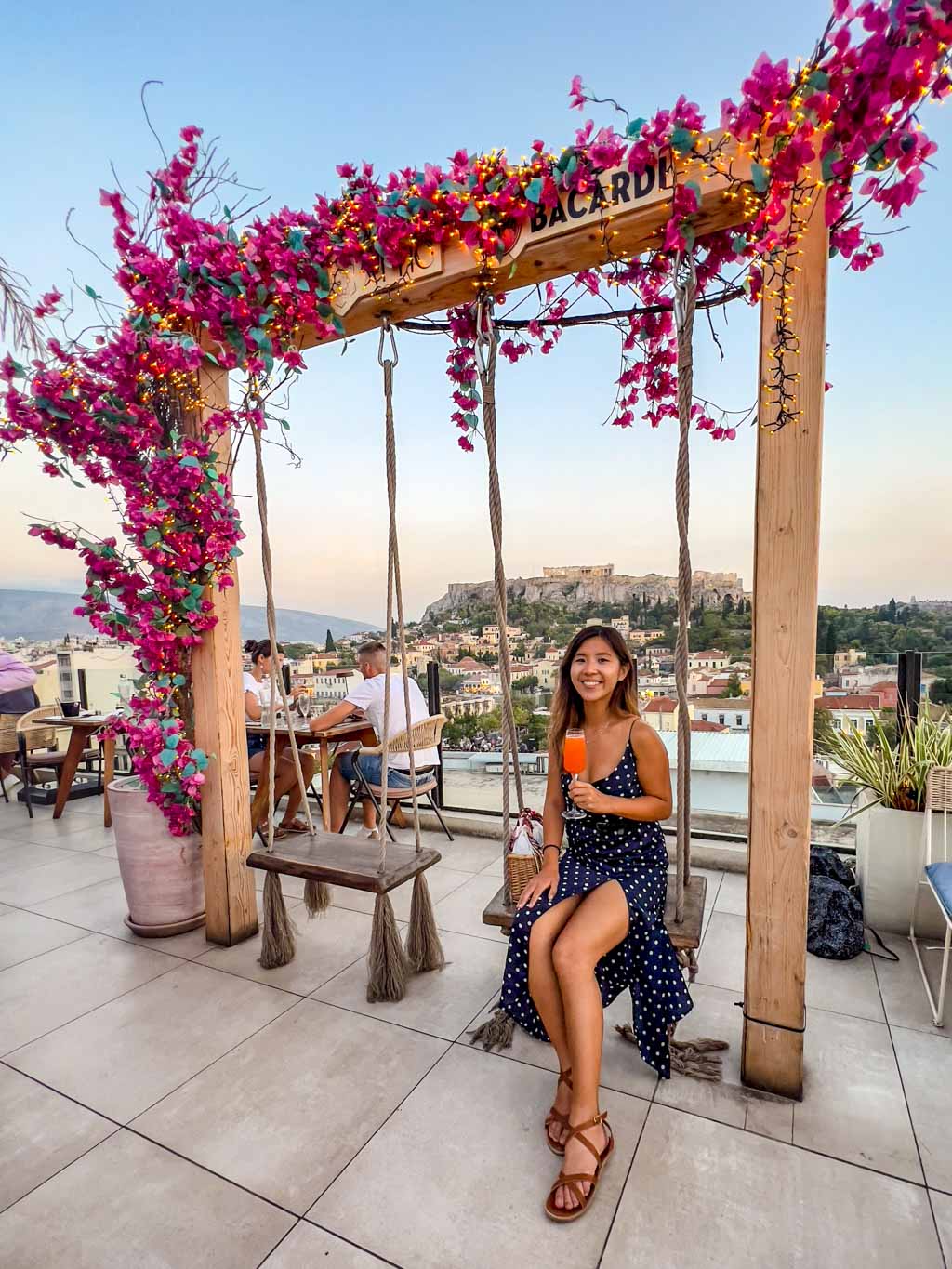 It stands out mostly because of the decor and the floral swing, although trying to get a photo there is quite a task with tables crammed quite tight.
That said, the menu is less expensive than I expect for its location and the food is quite tasty. We tried the salmon, and it was lovely, but the pita bread with dips was slightly cold.
Address: Ermou 86, Athina 105 54, Greece
Opening times: 9:30 – 3:00
Lyra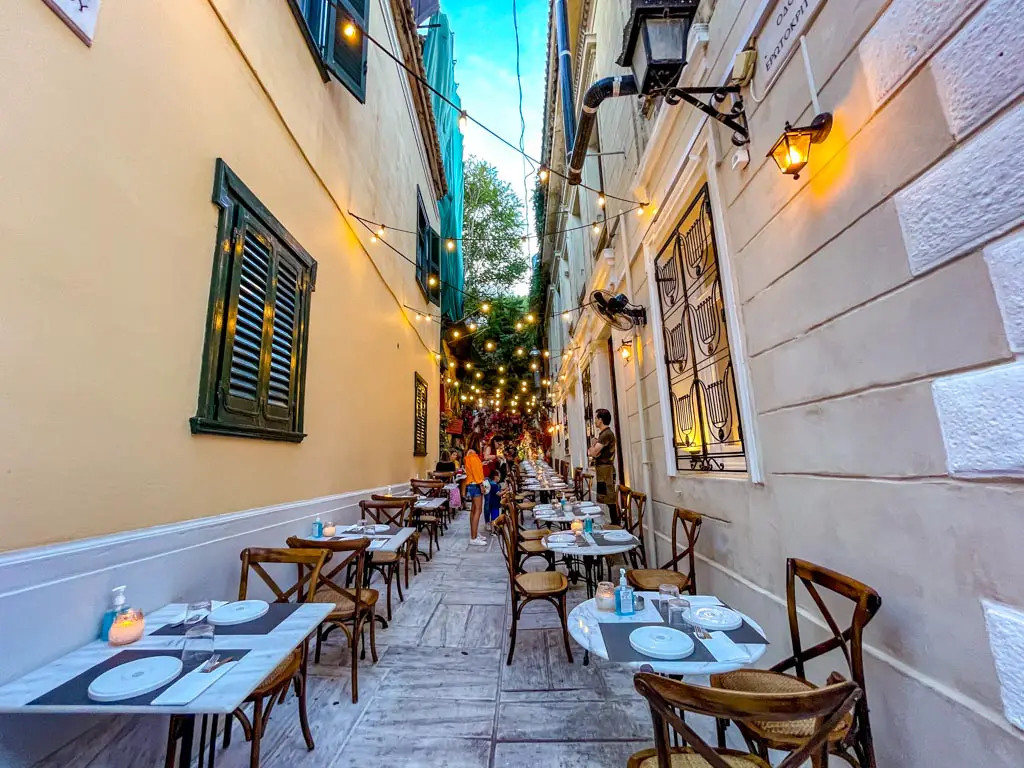 Hidden on a gorgeous side street in Plaka, Lyra's street side dining is on a secluded alleyway with live music and fairy lights.
Their menu features traditional Greek food as well as seafood dishes. We ordered the small platter, and it was enough food for three. The price is slightly above average but it's a gorgeous place to dine whether it's for a girls night or date night.
Address: Lisiou 12, Athina 105 56, Greece
Opening times: Sun – Thurs 10:00 – 2:00; Fri – Sat 10:00 – 3:00
Restaurant Scholarhio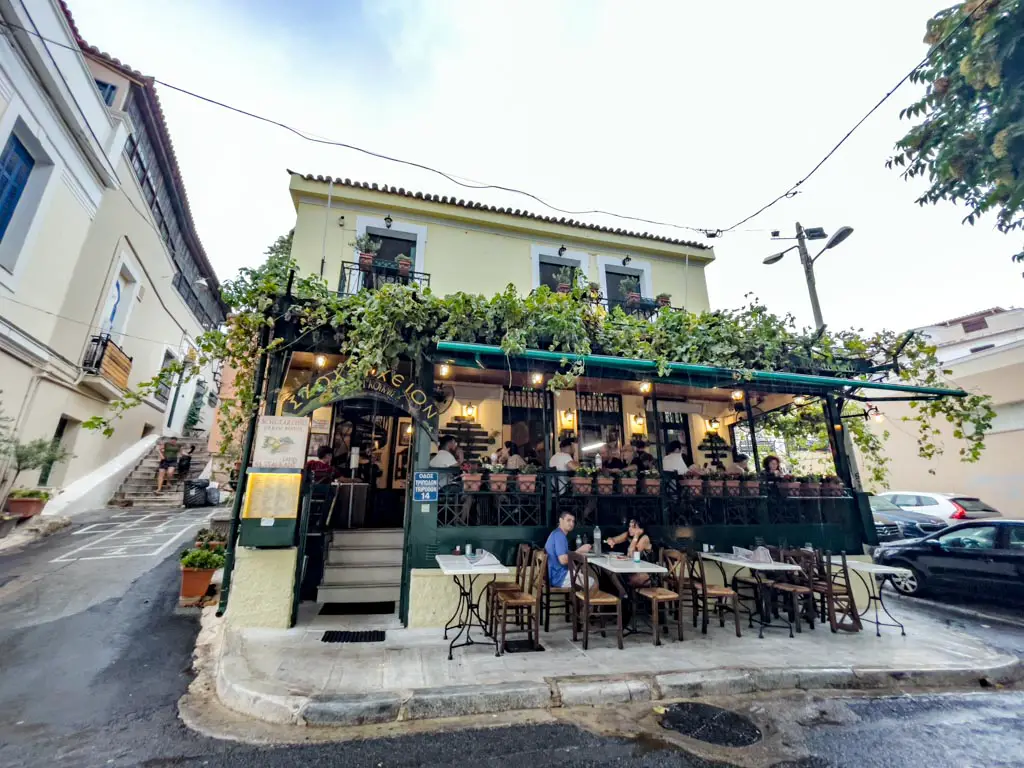 This family-run restaurant is arguably one of the best choices in Athens for an authentic and affordable meal. It's on the edge of Plaka in a picturesque little house with a traditional menu. I love that they also have set meals for solo diners and large groups.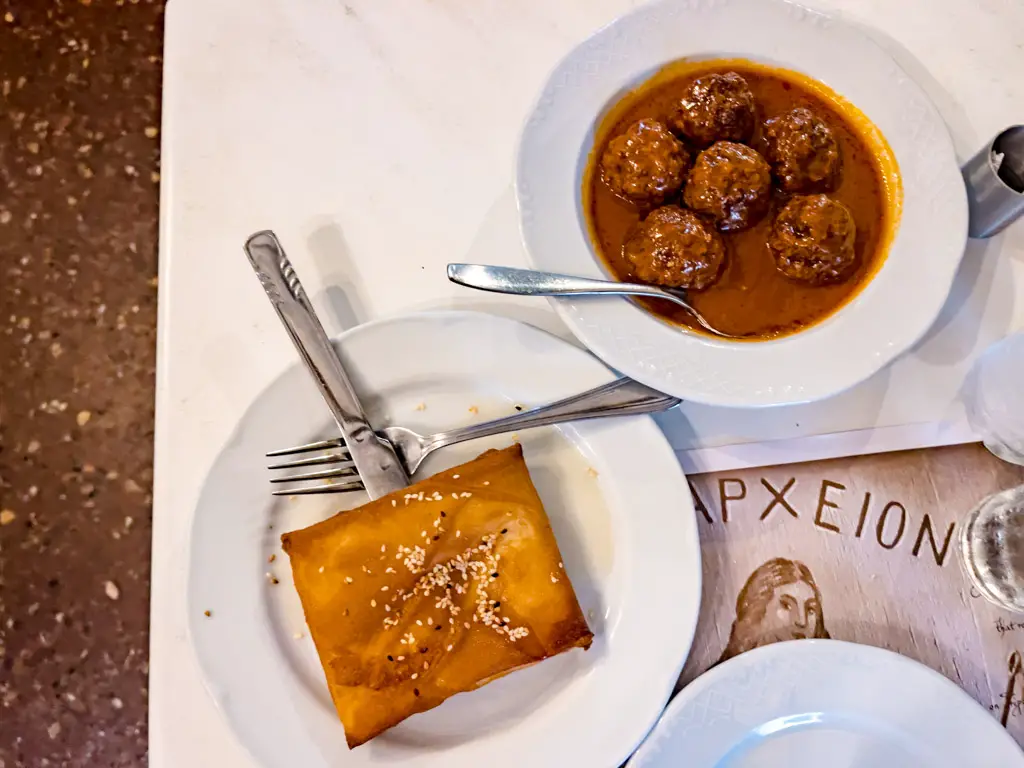 I tried their one person set meal with two hot dishes, water, a drink of choice, bread, and dessert. I practically had to roll my way home!
Address: Tripodon 14, Athina 105 58, Greece
Opening times: Sun – Fri 11:30 – 0:30; Sat 11:30 – 1:00
Black Duck Garden
Black Duck Garden is known for its pretty garden with both local and international dishes. While it is slightly pricier than most, it is a romantic and cute setting, although do note that smoking is allowed.
We had a pasta and also a picked calamari with beetroot dish and both are quite yummy.
Address: 5, loannou Paparrigopoulou 7, Athina 105 61, Greece
Opening times: 10:00 – 1:00
Trata Fish Tavern
Trata is a Greek seafood tavern around the corner from Omonia Square that's favoured by locals and tourists alike. The staff are friendly and they have both fresh catch and classically cooked dishes.
I ordered the shrimp sanganaki, which is a tomato and feta sauce and it was delicious.
Address: Nikitara, Athina 106 78, Greece
Opening times: Mon – Sat 11:00 – 23:55; Sun 11:00 – 18:00
Atitamos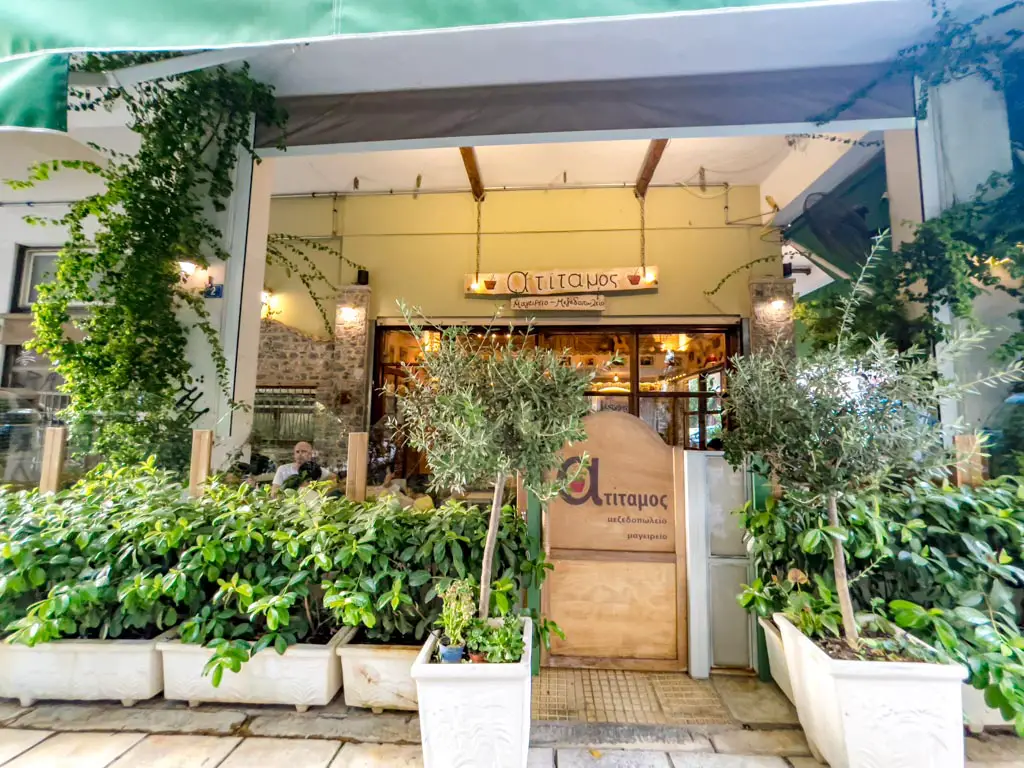 Atitamos is a little distance north of Omonia Square with traditional dishes. They serve hearty portions that are perfect for sharing. I ordered the grilled octopus which was quite good. You can also find traditional dishes such as mousaka. I got so full that I didn't even have dinner.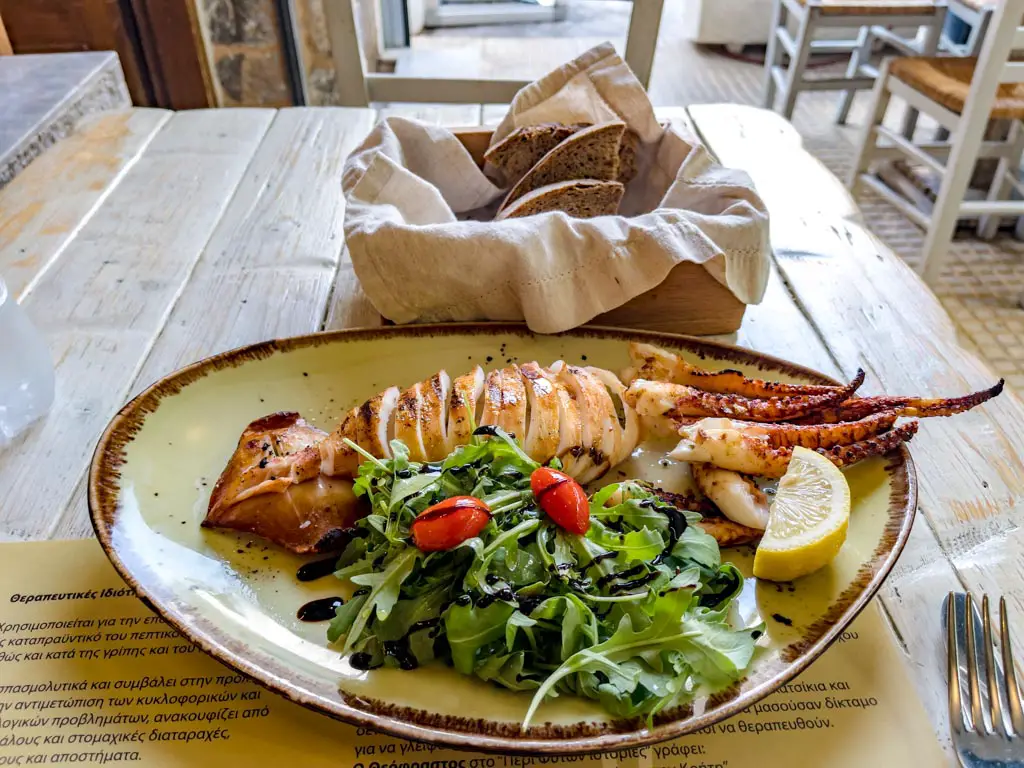 Address: Kapodistriou 2, Athina 106 83, Greece
Opening times: 12:00 – 1:00
Mironi Greek Restaurant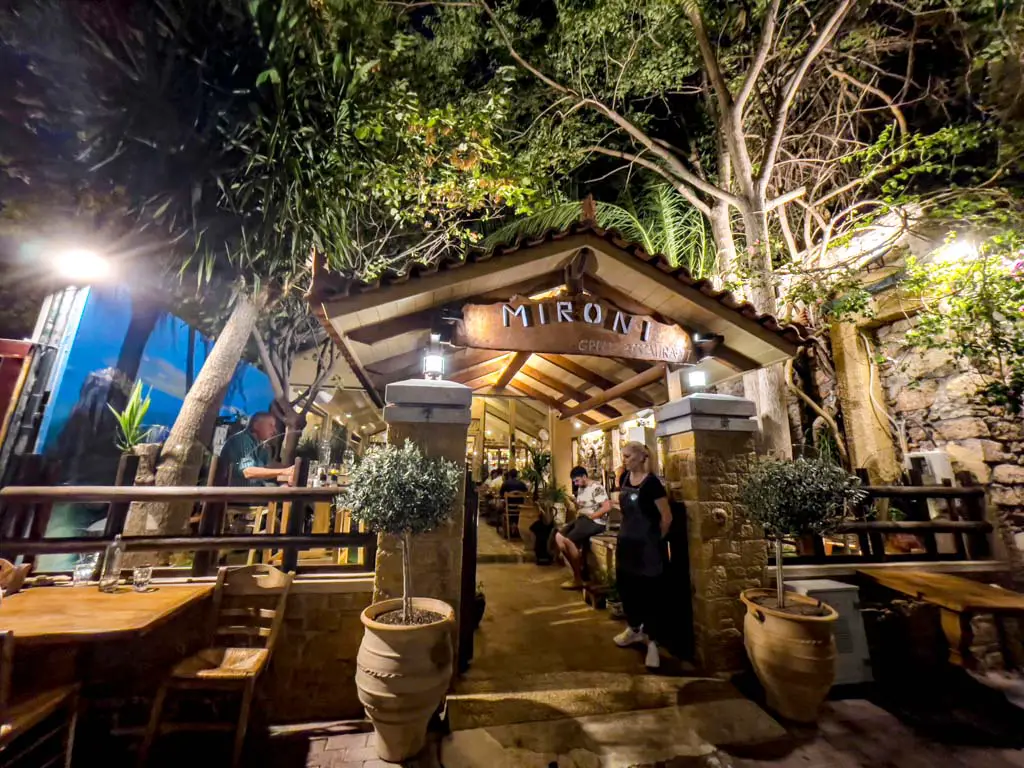 Mironi is another great traditional restaurant near Omonia Square with live music and a rustic vibe. The glass dome on the inside courtyard makes for a romantic setting.
The portion is also decently sized and they gave me a free pana cotta dessert.
Address: Meg. Alexandrou 7, Athina 104 37, Greece
Opening times: 12:00 – 0:00
Best brunch in Athens Greece
The Makers
The Makers is a great place for brunch with great dietary options for gluten free and vegan. It's also a clothing store with a modern, lofty but nature vibe interior and outdoor seating.
I had their avocado toast on gluten free multi-grain bread with beef carpaccio and it was fantastic. It's a popular brunch restaurant but the waiting time is generally short. 
Address: Praxitelous 37, Athina 105 60, Greece
Opening times: Mon – Fri 8:30 – 19:00; Sat – Sun 9:00 – 19:00
El Greco
After a sunrise mission and early visit to the Acropolis, we were hungry and found El Greco. They have the freshest orange juice I've seen that is worth the 4 euros price tag. I also had the Greek Omlette which was more like a scramble egg, but delicious. We were also given bread with butter and marmalade, which was also delightful.
P.S. the WiFi was pretty fast for Athens
Address: Kavalloti 8, Athina 117 42, Greece
Opening times: 9:00 – 2:00
Fast food and snacks in Athens
Feeling like a snack or a quick bite? I did too and got you cover:
Delicious Souvlaki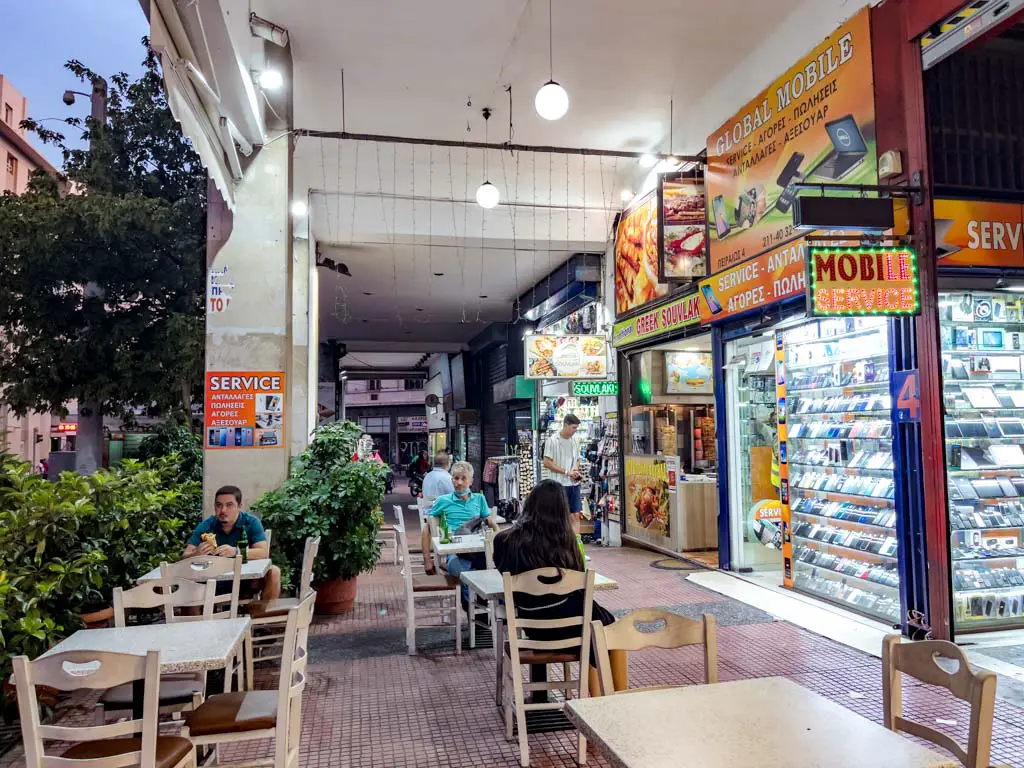 If all you want is a fuss free gyros or souvlaki pita, Delicious Souvlaki is right by Omonia Square and a solid choice. It's quick, it's cheap, and it's delicious. They have pork and chicken gyros as well as other common fast food like burger. But gyros pita is truly the must order when in Greece!
A gyros pita and soda will only set you back 4 euros, it really doesn't get better than that.
Address: P. Tsaldari 4, Athina 104 31, Greece
Opening times: 10:00 – 0:00
Lukumades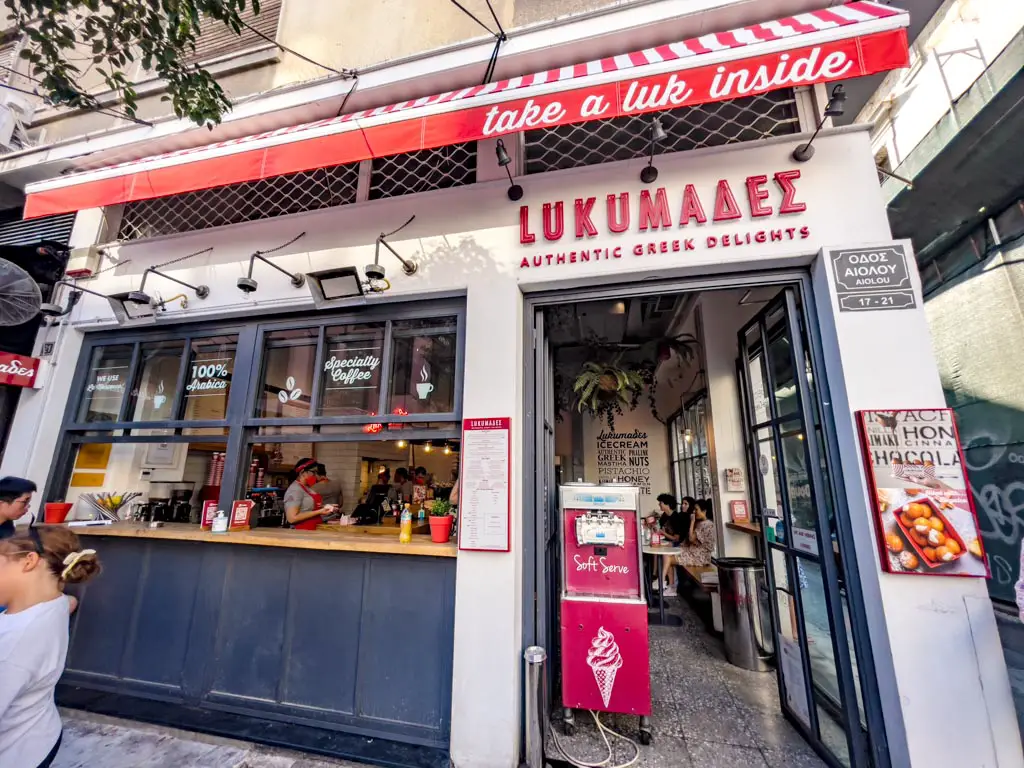 Loukoumades is the name of a fried dough ball that is essentially the Greek donuts. It is also the name of the Greek donut chain. Their Athens location is near the shopping street and only 5-10 minutes from the Monastriaki Square.
The original lukumades is served with honey, but their most popular order is the one with pistachio sauce. There's also hazelnut, of course, and various other topping and ice cream combo option.
Address: Eolou 21, & Aghias Irinis Str, Athina 105 51, Greece
Opening times: Mon – Sat 8:00 – 2:00; Sun 9:00 – 1:00
I have craving for bubble tea now and then and Athens was one of the places when it hit me. Luckily, I found this authentic bubble tea place near Syntagma Square. Prices run around the 5 euro marks with both classic an seasonal items. I had their mango orange yoghurt drink and it was just what I needed in the summer heat.
Address: Perikleous 24, Athina 105 62, Greece
Opening times: Mon – Sat 10:00 – 20:00