Trakai Castle is about an hour from Vilnius and a famous landmark not only because it is a castle in a lake. It is a historically significant castle that witness the beginning of the Grand Duchy of Lithuania and in particular its struggle with the Teutonic Order.
While the castle was damaged during war with the Muscovy (Moscow) in the 17th century, it had been reconstructed in the 19th century and now open to visitors. It is among the most popular day trips to take from Vilnius, and here's how to visit for a day:

Trakai castle from vilnius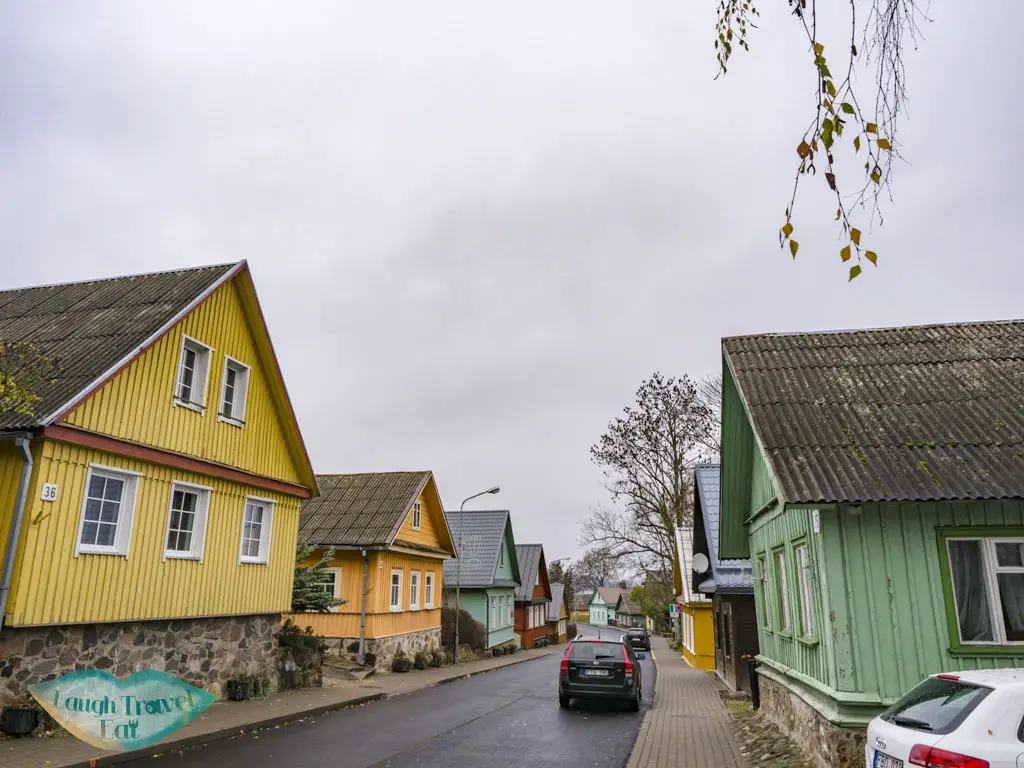 There are several ways to get between Trakai from Vilnius, but you can only take the bus since there's no railway connecting it to Vilnius. You can also drive, although I didn't see good parking there and it's very close and easy to get from Vilnius by public transport:

Public Bus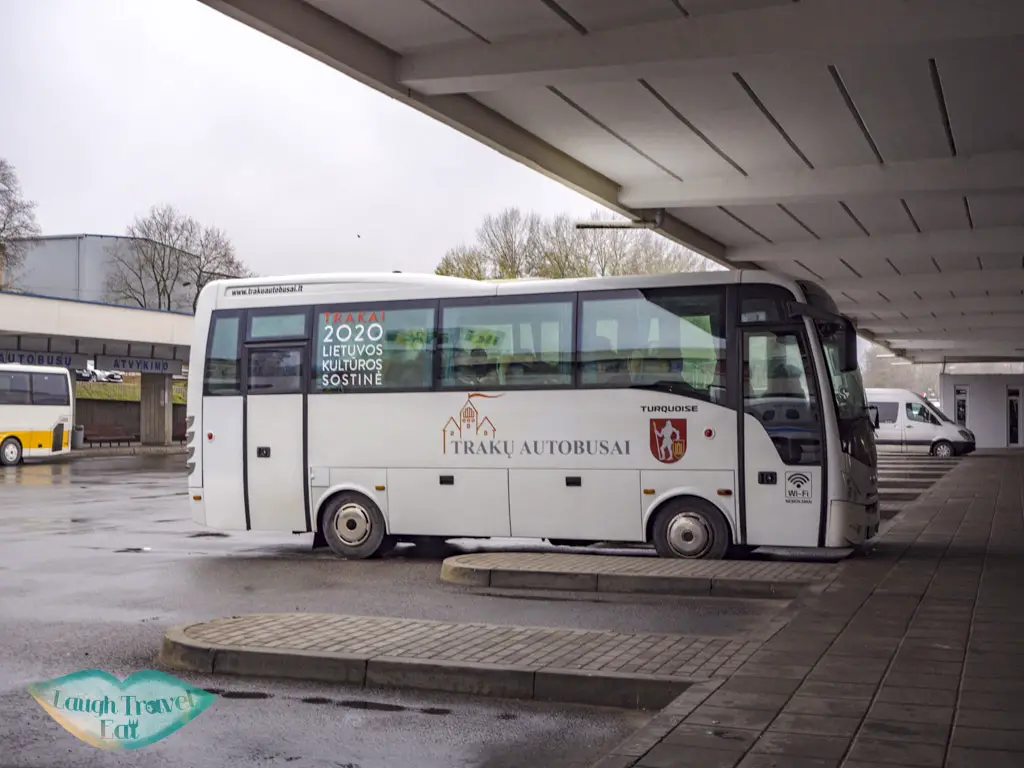 It is actually a very easy journey from Vilnius to Trakai Castle. A tourist mini-bus departs around every 30 minutes to an hour from the main bus station (by the train station) with the word Trakai on it. It drops us off at the Trakai bus station about 20 minutes walk from the castle south of town, and this is where you'll find the bus to return as well.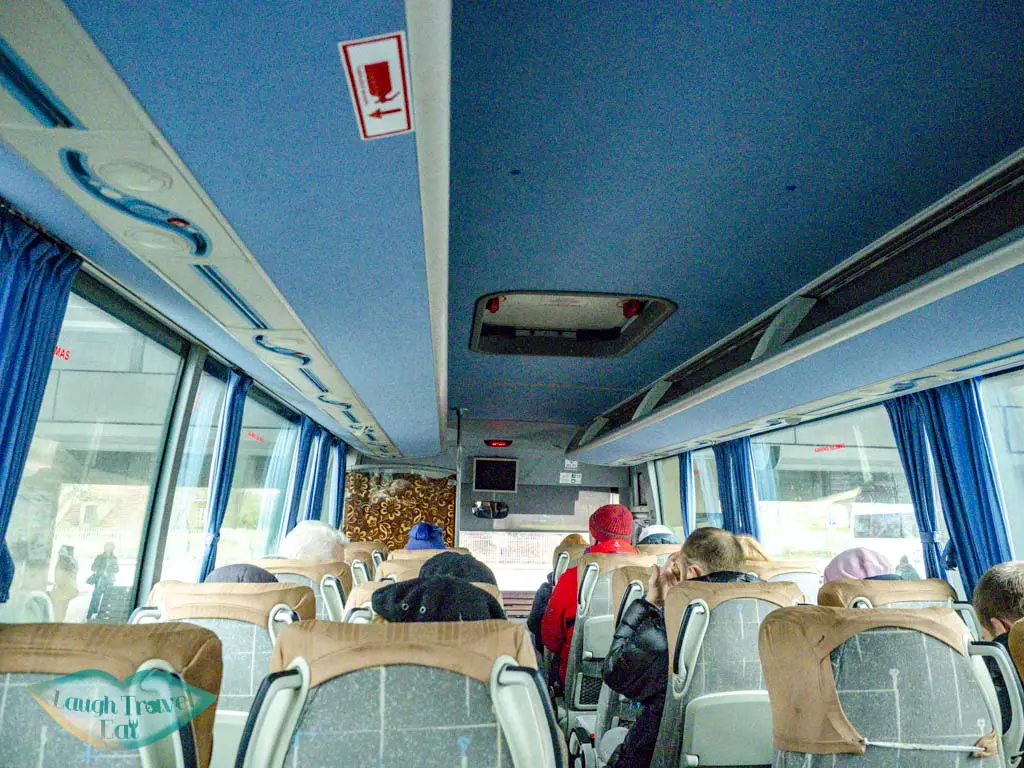 Fare is 2 euros and you pay on board, so there's no need to stop and buy a ticket. You can check the schedule from Vilnius here.
Remember to take a photo of the bus schedule there so you can time your trip back!

Private Tour
If you are a family or several friends, you can consider making a day out of it and book a tour! This one by Klook also includes a visit to Uzutrakis Manor Estate and traditional lunch as well.

What to do in Trakai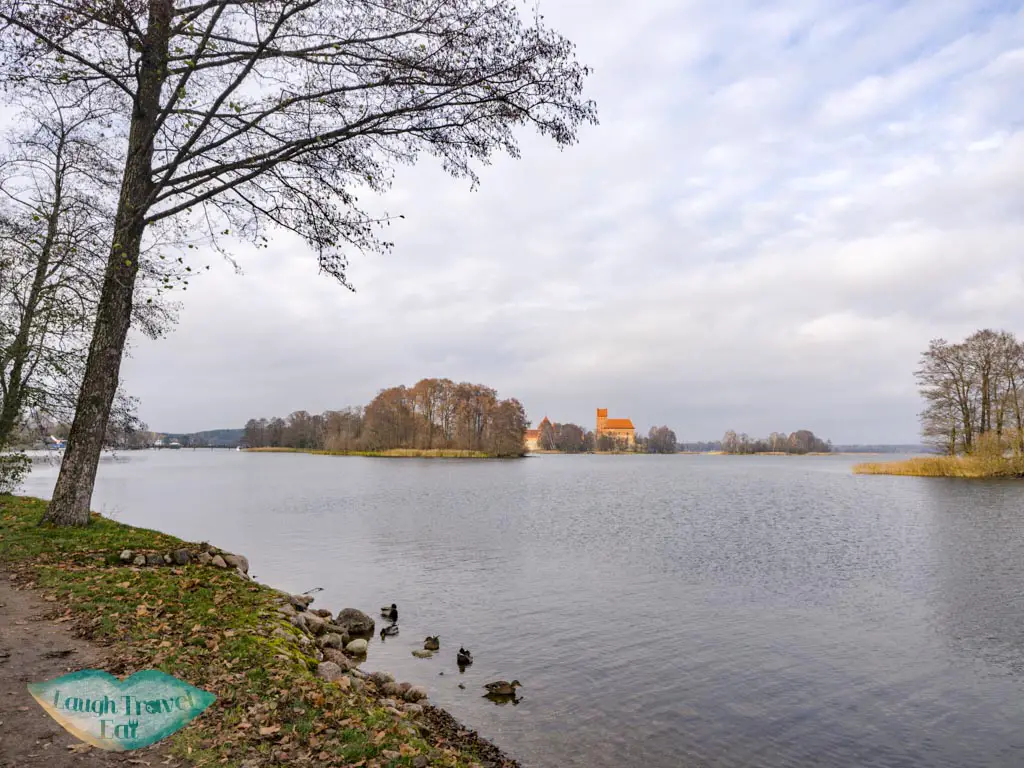 You pretty much walk through the entire town on your way from the bus station to the Trakai Castle. There are a few other attractions in town aside from the castle itself, and if you are a fan of nature there are some wonderful lakeside path to wander on. Let me start with the iconic castle and go through the rest:

Trakai Castle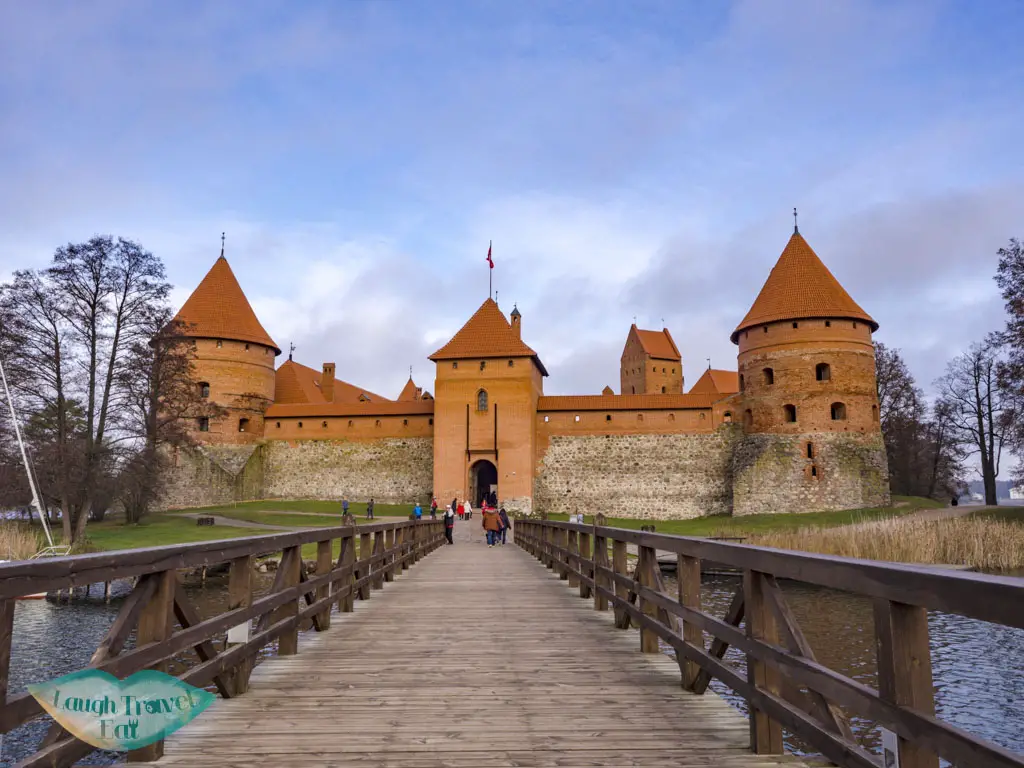 Also known as Trakai Island Castle or the Peninsula Castle, the red-bricked castle with many towers is not only the most famous castle in Trakai but also in Lithuania. The building of Trakai Castle began in the 14th century under Gedinimas' son Kęstutis.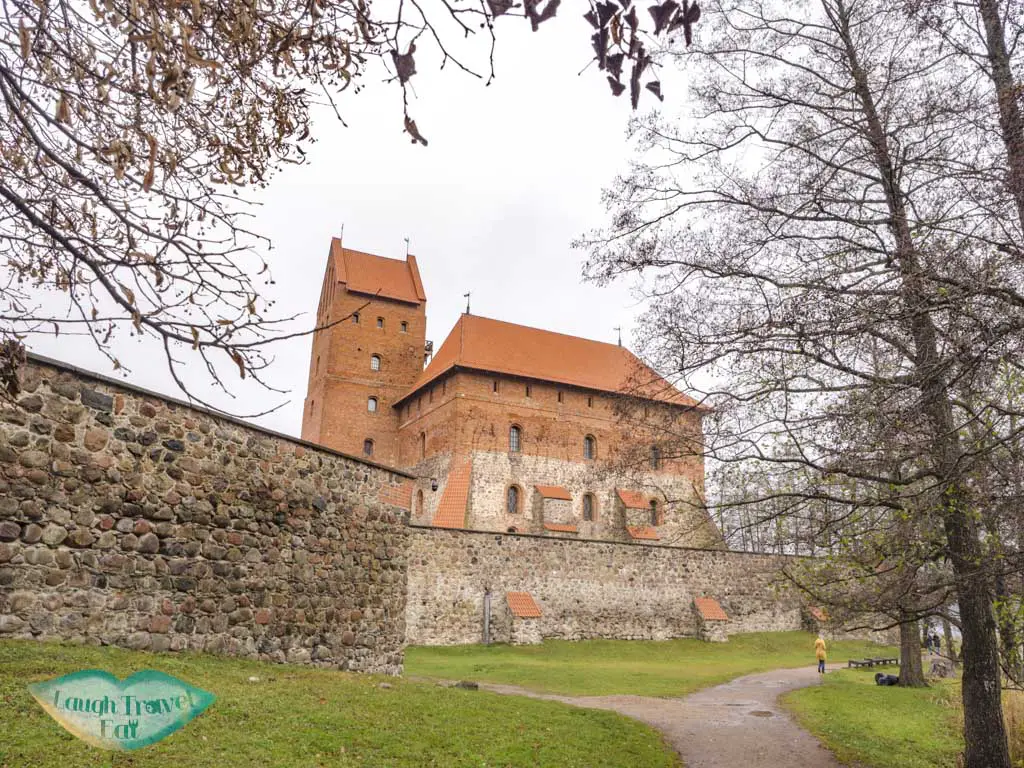 He and his brother Algirdas removed their younger brother who succeeded the throne from their father and split the Kingdom. Trakai was the centerpoint for the conflicts between Kęstutis and his brother's son Jogaila and the Teutonic Order until his assisination in 1382. After that Trakai was under the Teutonic Order until Jogaila became King of Poland and Vytautas, Kęstutis's son, reconciled with Jogaila and was made Grand Duke of Lithuania.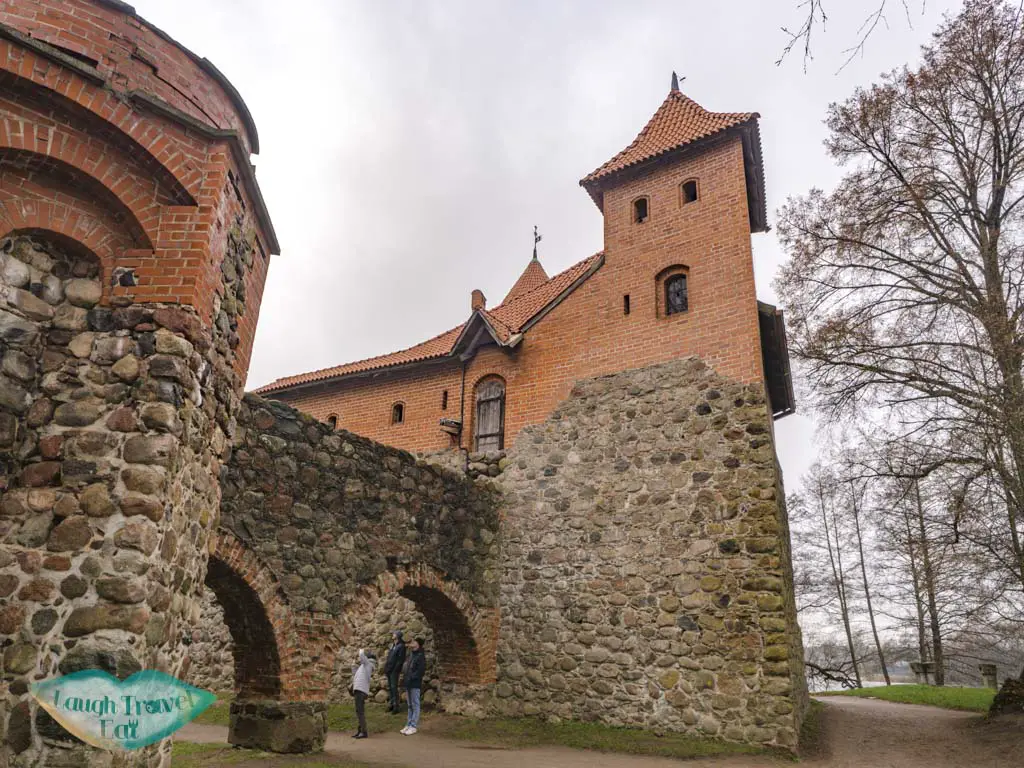 The castle was then return to Lithuanian hands and the second phrase of construction, in mostly Gothic-Romanesque style, began. It was expanded again in the 15th century and became a residential palace after the Battle of Grunwald.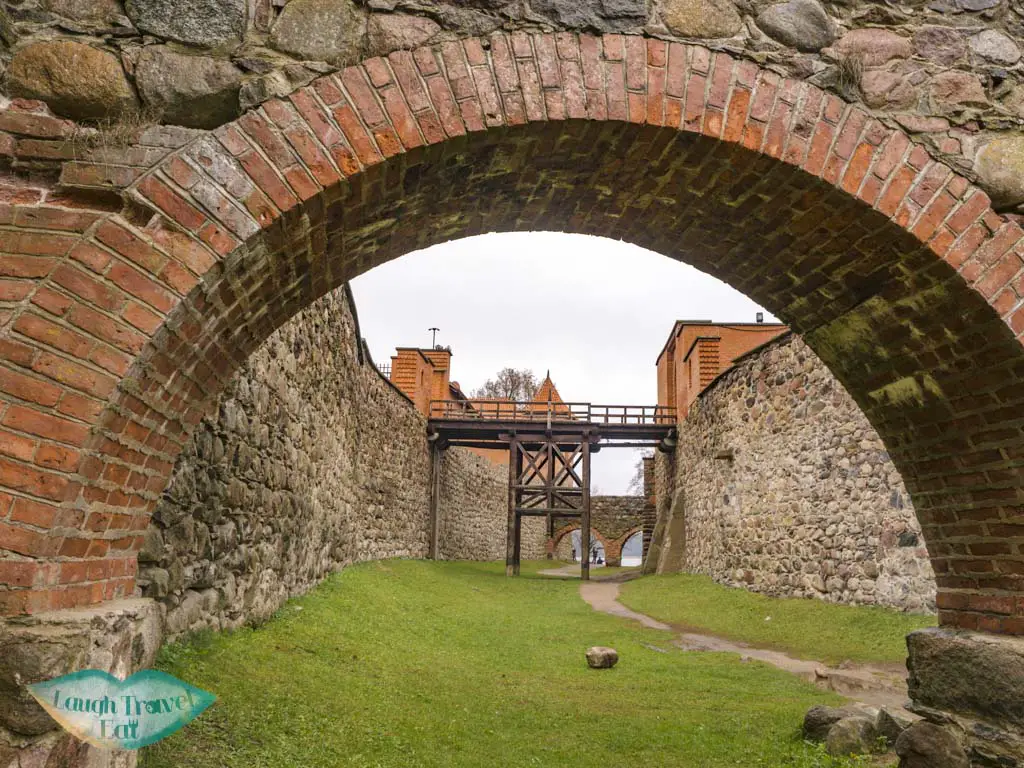 In the 16th century, it was renovated with the Renaissance style, then became a prison and eventually was damaged and left in ruins in the war with Moscovy in the 17th century. It was used for local assemblies for a while with the Dominican Monastery setting up inside in the 18th century, using stones and bricks from the castle.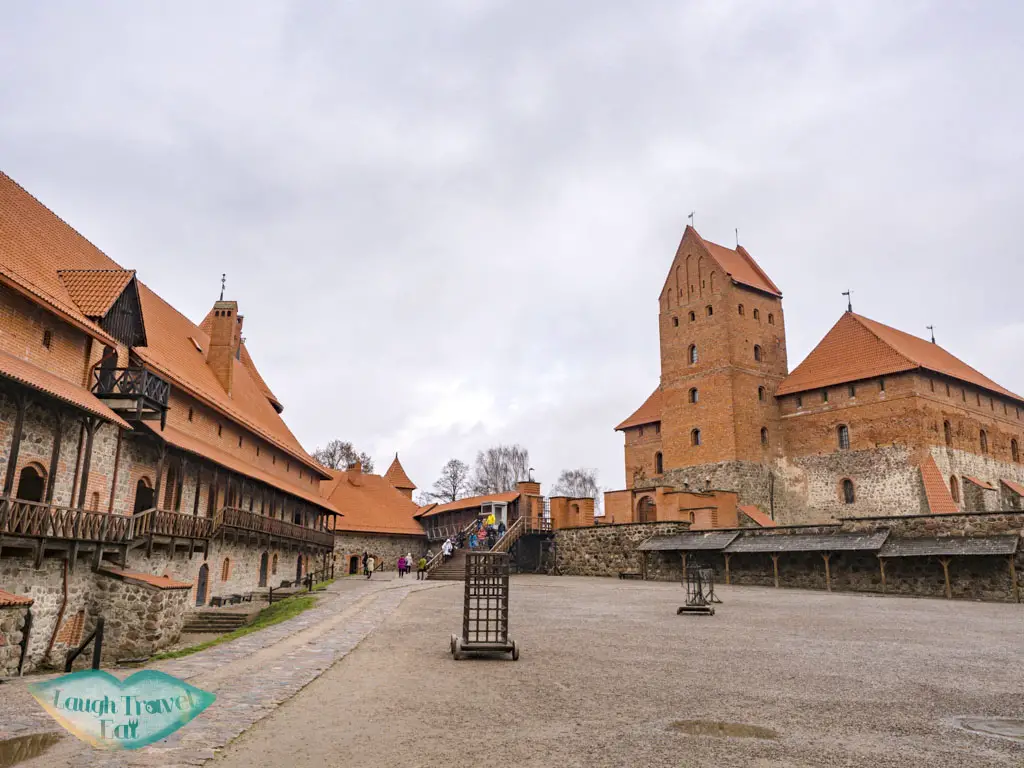 The route to visit the castle is clearly marked and reached via two bridges. Be warned that there are many tour groups visiting, especially during the weekend. You can buy your tickets in advance to avoid queuing. There are also guided tours on offer for groups in Lithuanian and English.

Note: even if you don't want to pay for the entry ticket, you can walk up to the inner couryard and do a perimeter walk.
Opening times: Closed Monday except May – September, usually open 10:00 – 17:00. Check website for exact times.
Admission fee: 8 euro, concession 4 euros

Boat trip on the lake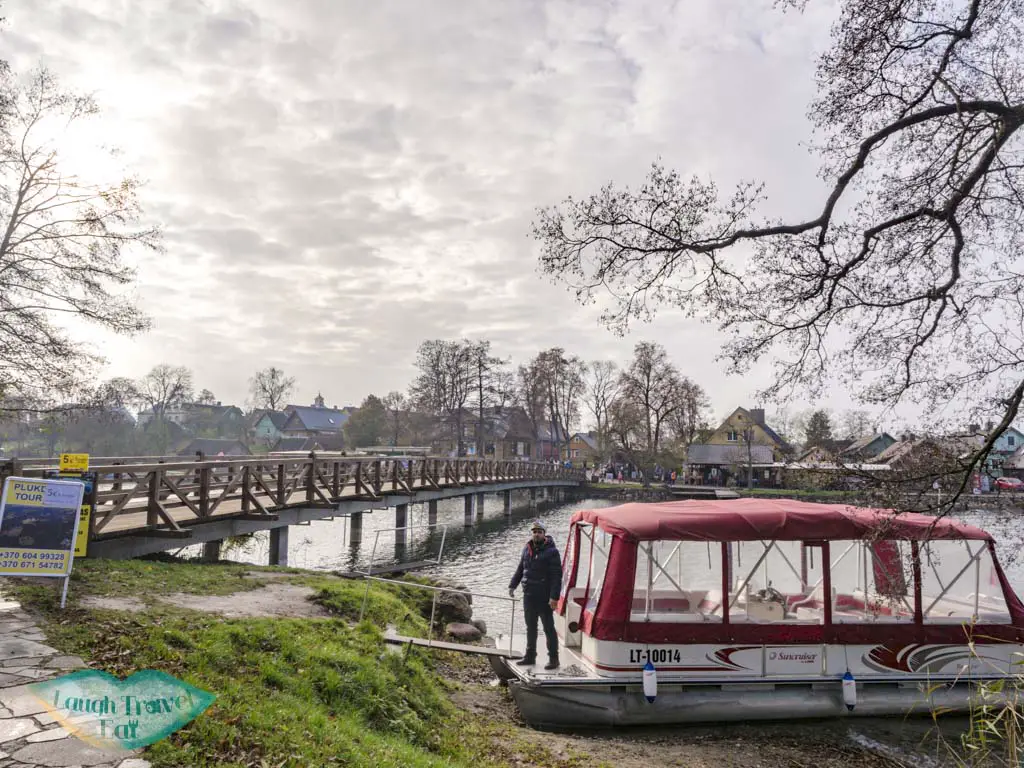 If the weather is nice, you can take a boat trip around the lake for 5 euros per person. There are plenty of boats along the way from shore to the castle who'd be looking for business. The trip should be around 20-30 minutes long and take you on a perimeter cruise around the Trakai Castle with audio guide.

Trakai History Museum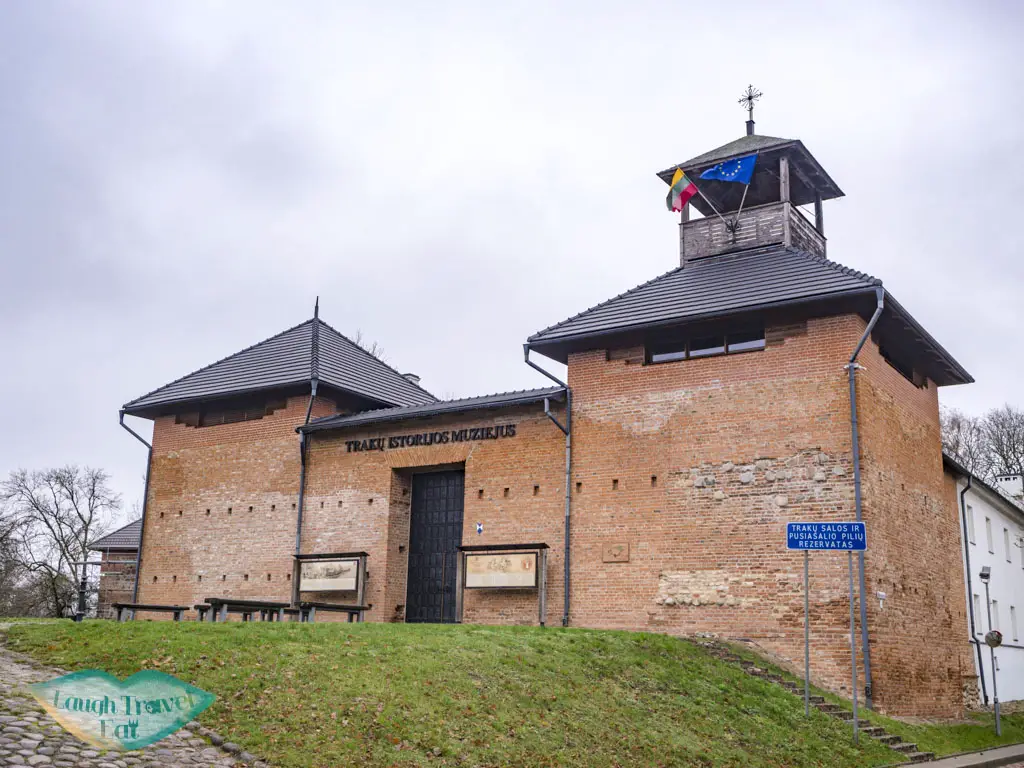 If entering the castle is too expensive for your liking, you can consider paying a visit to the Trakai History Museum. It's en route to and from the bus station with a small courtyard in the front. The museum outlines the history of Trakai as a town as well as the castle, with some exhibits as well. Interesting, I can't find much about it online!
Address: Kęstučio g. 4, Trakai 21104, Lithuania
Opening times: unclear
Admission fee: 3 euros, 1.5 euro for concession

Karaite ethnographic museum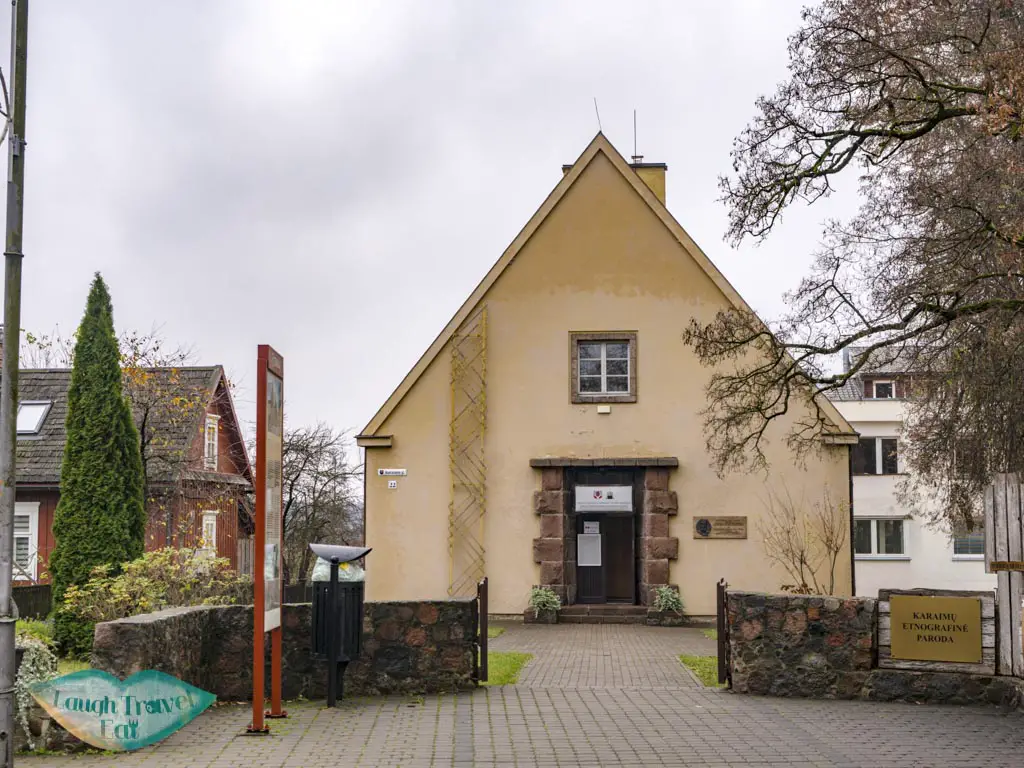 A small museum dedicated to the Karaite people, a group of Tukric speaking Jews, who settled in Trakai in the 14th century. There are only three rooms in the museum, so it's only a short detour for anyone interested in ethnic minority.
Address: Karaimų g. 22, Trakai 21106, Lithuania
Opening times:  Wed – Sun 10:00 – 18:00 (an hour earlier for both between November and March)
Admission fee: 2 euros, 1 euro for student

Where to eat in Trakai
I was very hungry and cold – since my visit was in November – so I wanted to find somewhere nice for lunch. Unfortunately for me, most places don't open until 12 but that meant I had time to decide on where I wanted to eat:

Bona Pizzeria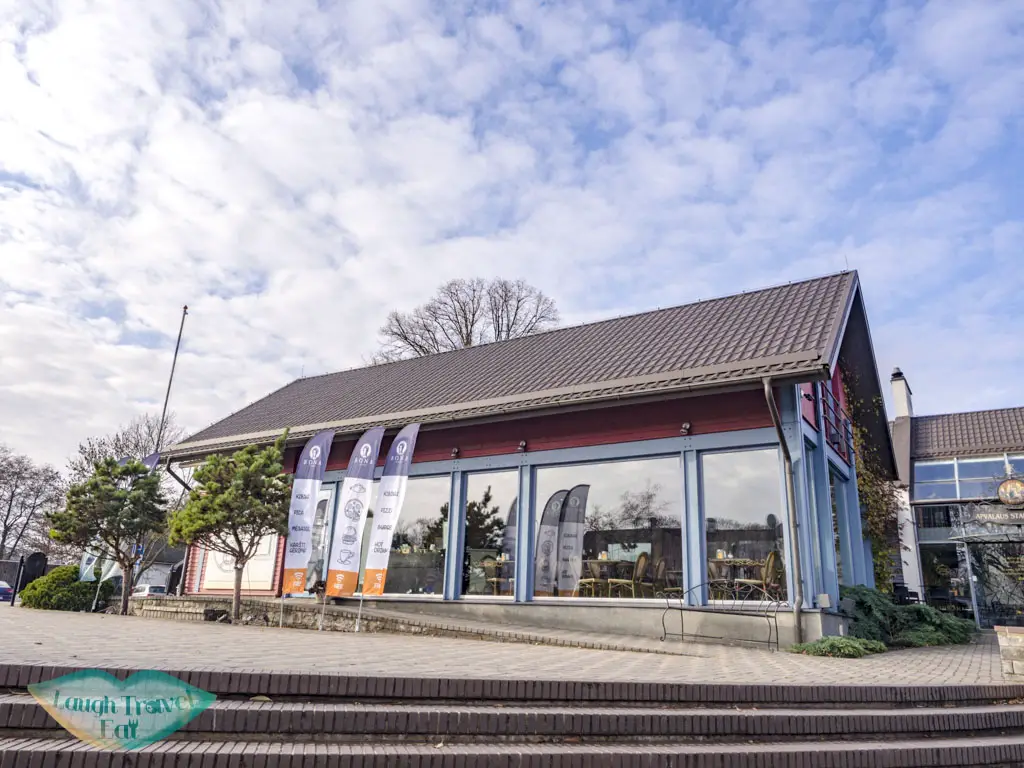 North of the bridge that links to the Trakai Castle, Bona Pizzeria is directly across the lake from the castle itself with floor to ceiling glass window that gives you an unparalleled view. I got there early and snagged a table facing the castle. It's a little on the pricier end for the Baltics, but it is arguably the best meal I had on my entire trip in Lithuania.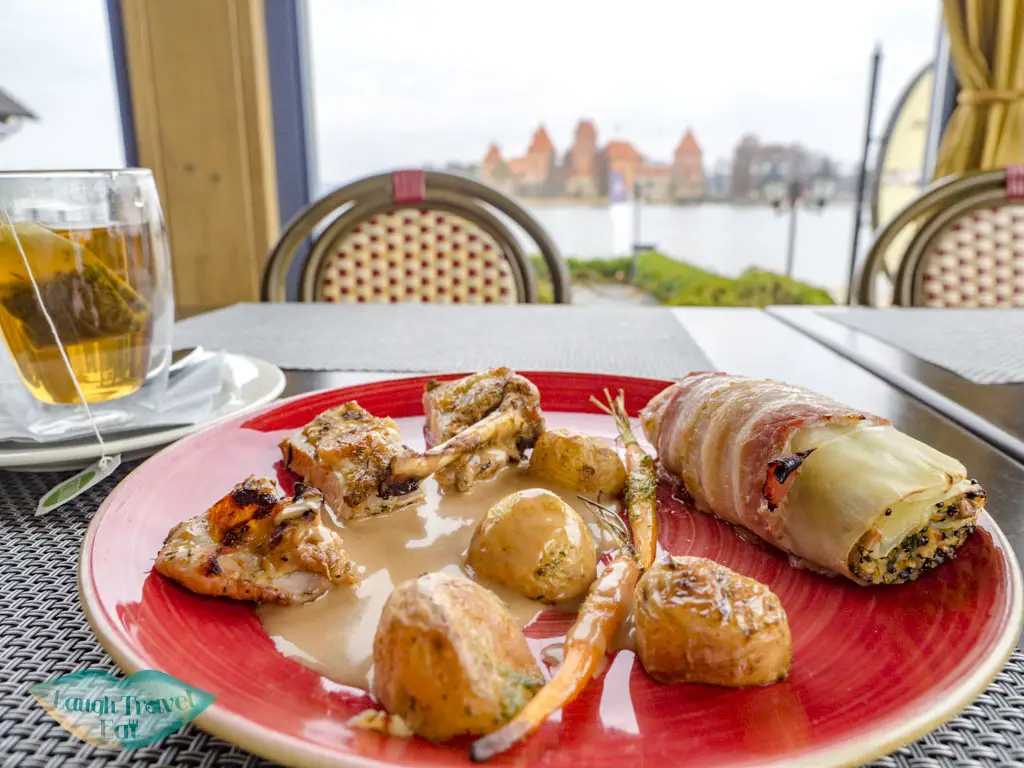 I had a guinea fowl fillet with quinoa stuffed cabbage and it was fantastically cooked and presented! Added with a cup of hot tea it came to 12.90 euros.
Address: Karaimų g. 53A, Trakai 21104, Lithuania
Opening times: Weds – Sun 12:00 – 21:00