Danang and Hoi An has become a popular trip combo for those visiting Central Vietnam. It's not hard to see why as going from Danang to Hoi An takes as little as 30-45 minutes. While some will stay at one place and take a day trip to the other, it's actually much easier to split your time between the two. Whether you are looking to stay at both cities or just to take a day trip either way, here is why Belle Maison hotels are a great choice:
Note: I was hosted by Belle Maison but all opinions are my own

Nam
Danang to Hoi An or back
Belle Maison Parosand Danang organise shuttles to Hoi An at about 100,000 dong per person single trip for day-trippers. The staff at both hotels are very helpful and would be happy to help you arrange your trip.
Alternatively, you can also hire private cars or get a taxi (grab or otherwise) to and from. The hotel offers the following:
Belle Maison Hadana Hoi An Resort & Spa: 450,000 nett / 4seat car / way; VND 550,000 nett / 7seat car /way; VND 650,000nett / 16seat van.
Belle Maison Parosand Danang Hotel: VND 500,000 nett / 4 seat car /way; VND 550,000 nett / 7 seat car / way; VND 700,000 nett / 16 seat van / way
We had hired a private car from Hoi An to Danang separately via Marble Mountain (where the driver waited for us) for 500k dong, so there's not much of a price difference. I won't recommend the company I used because we had a bad experience with them, so it is worth going with the hotel if you aren't fussed to shop around for transport.
Belle Maison Parosand Danang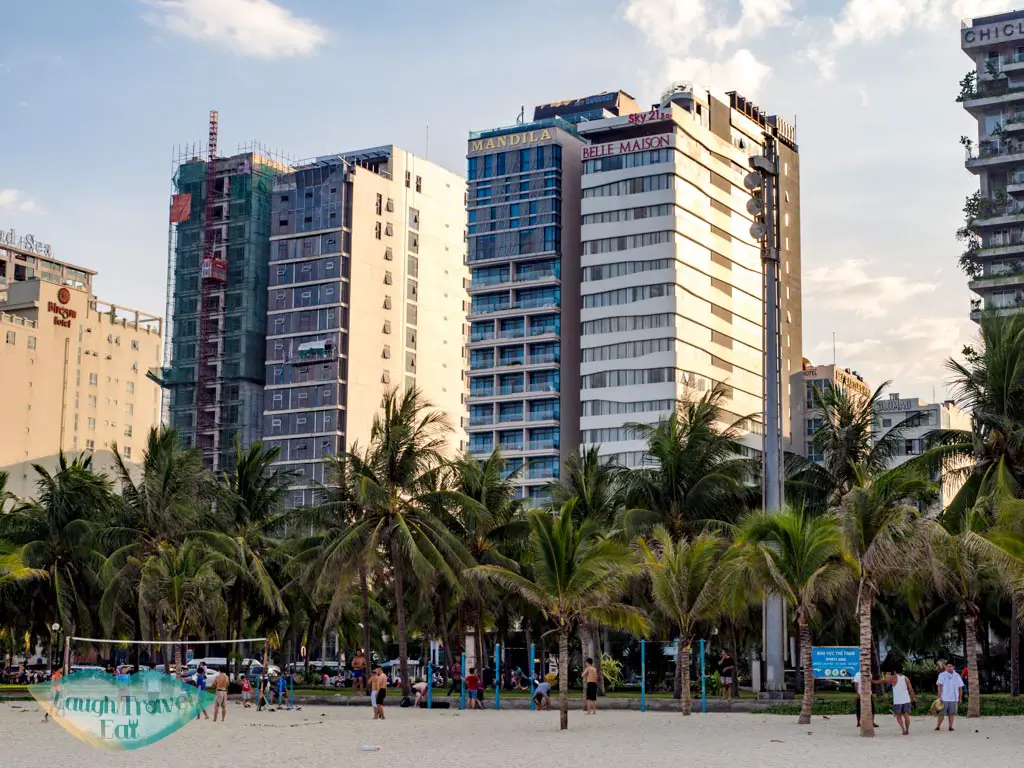 Just across the street from the beach, Belle Maison Parosand Danang is in the center of the seafront of Danang, making it a short commute from downtown and even shorter walk to the beach. It has the all-important rooftop infinity pool that offers an unparalleled view of the beach and the sunrise.
Location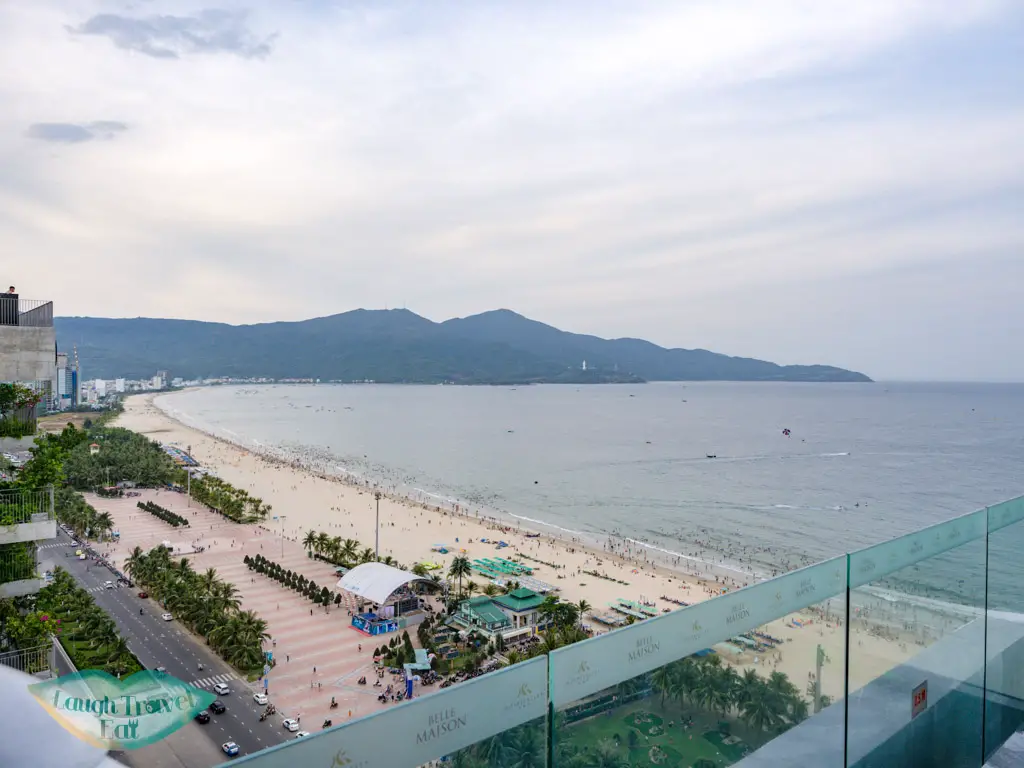 The hotel is just steps away from the famous My Khe Beach and close to many seafood restaurants of various sizes and budgets, so there's bound to be something to do. To get to the downtown area by the Han River, a Grab taxi will cost you 50-60k dong while a Grab bike will only set you back 20-30k dong.
Room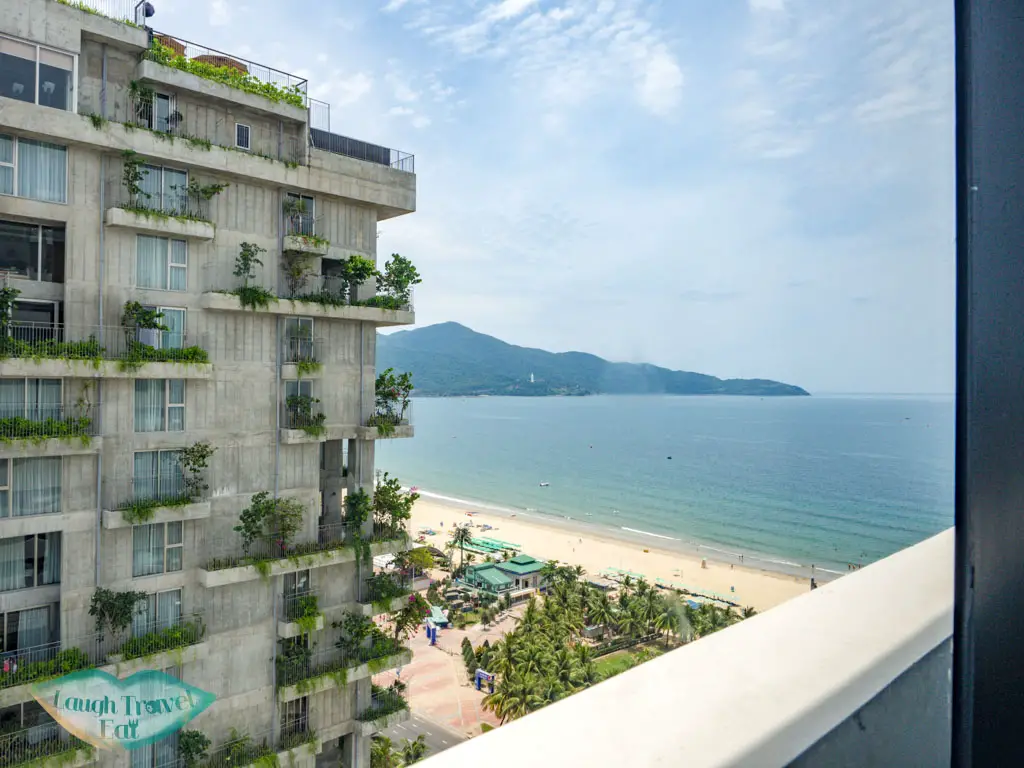 The hotel has 138 rooms with city, ocean and partial-ocean views. The size starts from 22 m2 to 136m2 for the Executive Residence, with family-friendly rooms (the Family Suite and Executive Family Suite) that offer bunk beds and two separate rooms for the parents and kids.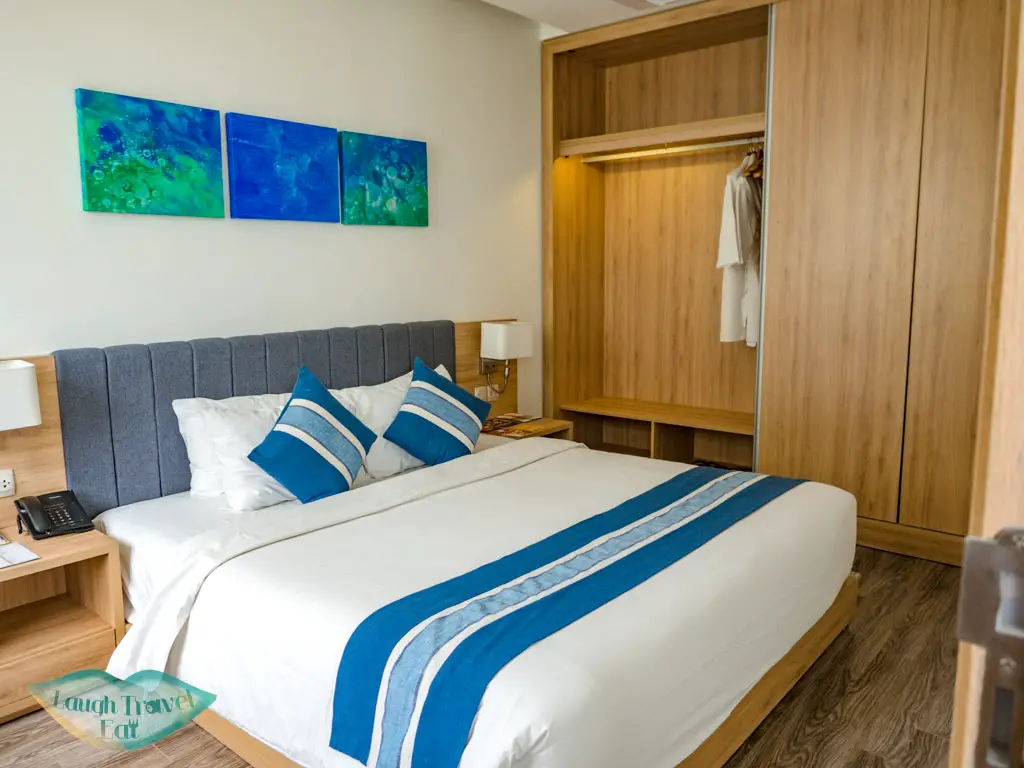 The bigger rooms are Residences and come with a kitchen and dining room, too, which makes for a great place for family as you can fix up a snack at any time. The sofa behind the kitchen area by the entrance can be converted to bunk beds but act as a lovely couch during my stay.
kitchen area
Facilities
The hotel has a tour desk at the lobby and the reception staff are always happy to make suggestions and help you plan your time. Apart from good advice, they can book you onto a tour or a private car.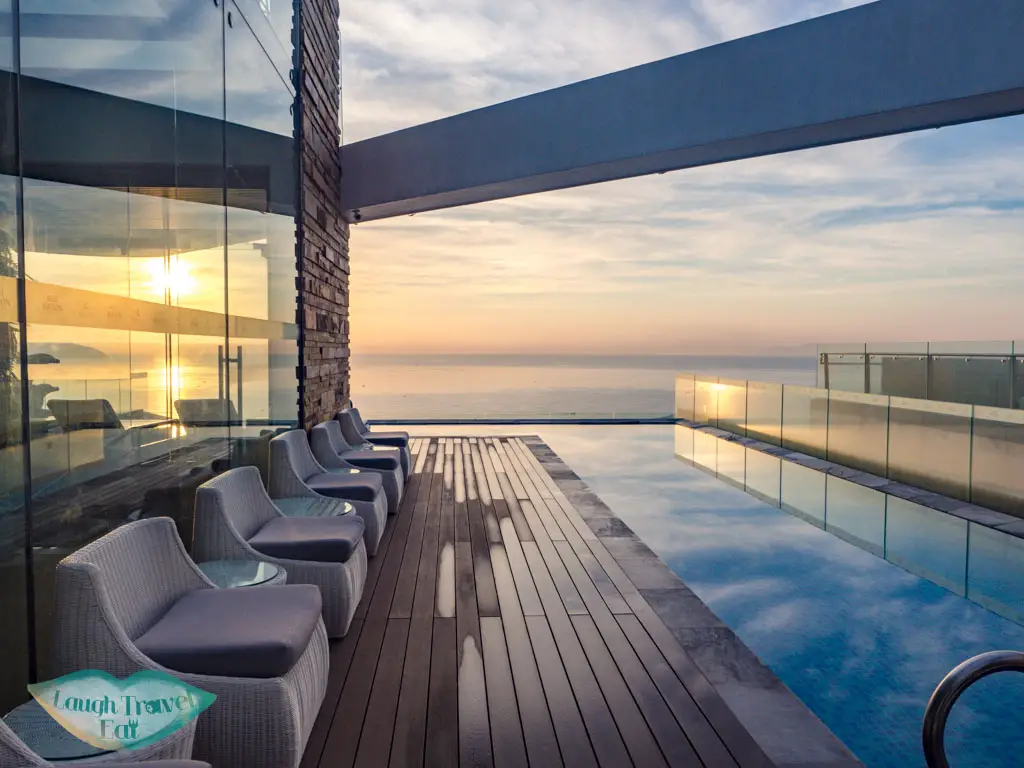 Of course, the best part is the rooftop infinity pool. Designed in an L shape, it has 8 sun loungers in total, half on the long side and half on the short side. The best time to be up there is during sunrise where you can get an uninterrupted panorama of the ocean.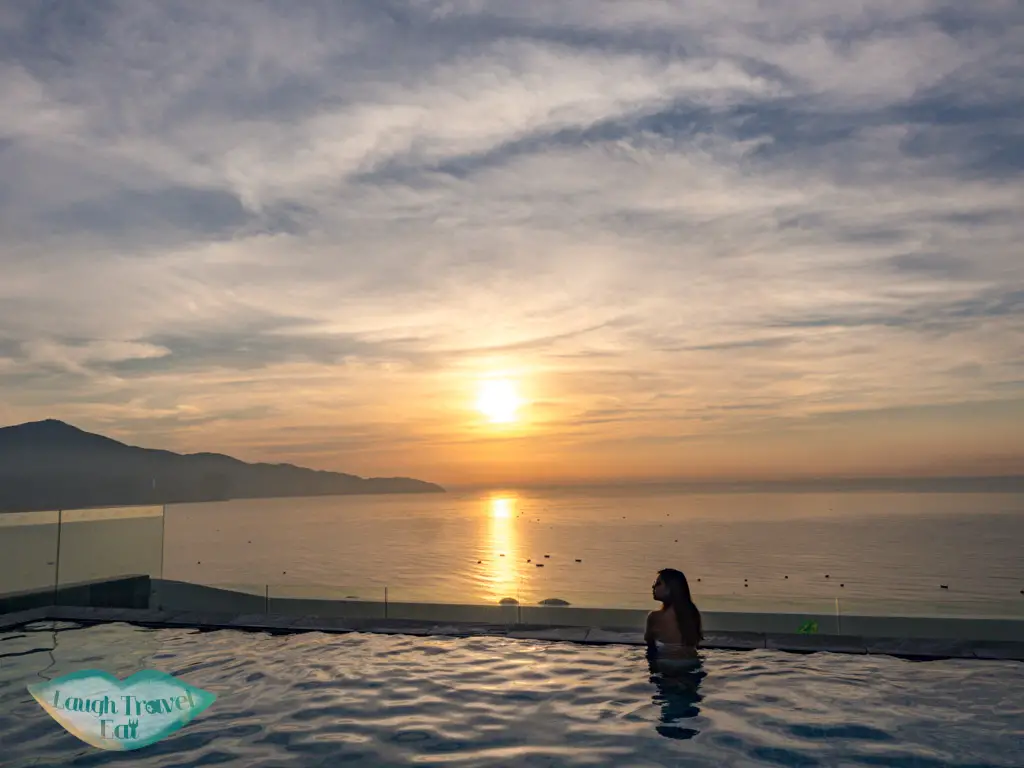 While the pool doesn't officially open until 6am, the stairs from lv 19 to the pool is left open so guests can admire the view. The pool is not as deep as expected but good for a dip and a short swim.
They have a fitness center on the same level as the spa on the 19th floor, but I didn't get around to using it.
Maison Spa

Maison Spa is a popular spa in Danang and it's not hard to see why. The staff are attentive, the decor tasteful and natural, and each room is designed for relaxation. The prices are more mid-range than cheap, but I think it's so worth it for the quality. 
You can book easily at the reception or by heading up to the spa reception – Guests receive a 10% off on treatment of choice. Or you can pre book online via Klook.
Book your Maison Spa experience
Opening times: 8:30 – 22:00, last booking 21:00
Restaurants
There are four dining venues in Belle Maison Parosand Danang. There is a cafe – Maison Du Cafe on the ground floor adjacent to the lobby. A Vietnamese restaurant Nem on 3rd floor where breakfast is also served, the Skyview Restaurant serving quality French cuisine on the top floor with rooftop bar Sky 21 Bar above it.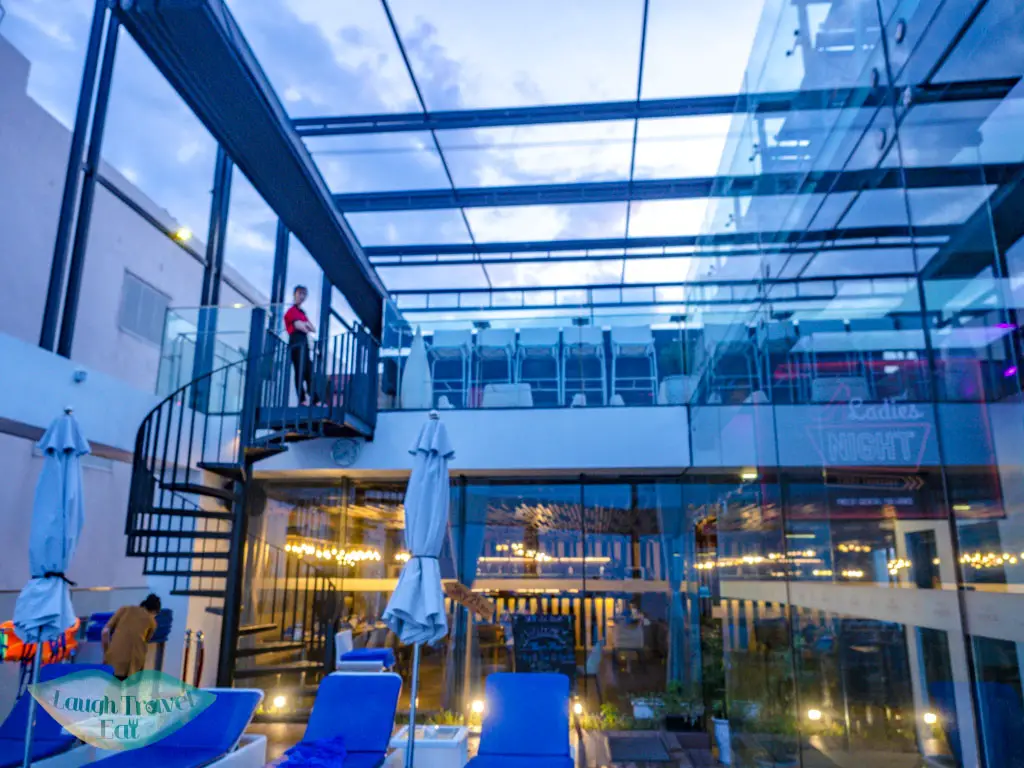 I usually can't stand still and love to venture out of the hotel to eat. But frankly, summer in Da nang gets too hot, so it's nice to have good hotel restaurant options. I dined at both the Skyview Restaurant on their set French menu and in Nem Restaurant trying their new Vietamese set menu, too. You can make a booking at the reception or by calling them easily. For the full food review, see my Danang restaurant guide coming soon.
Breakfast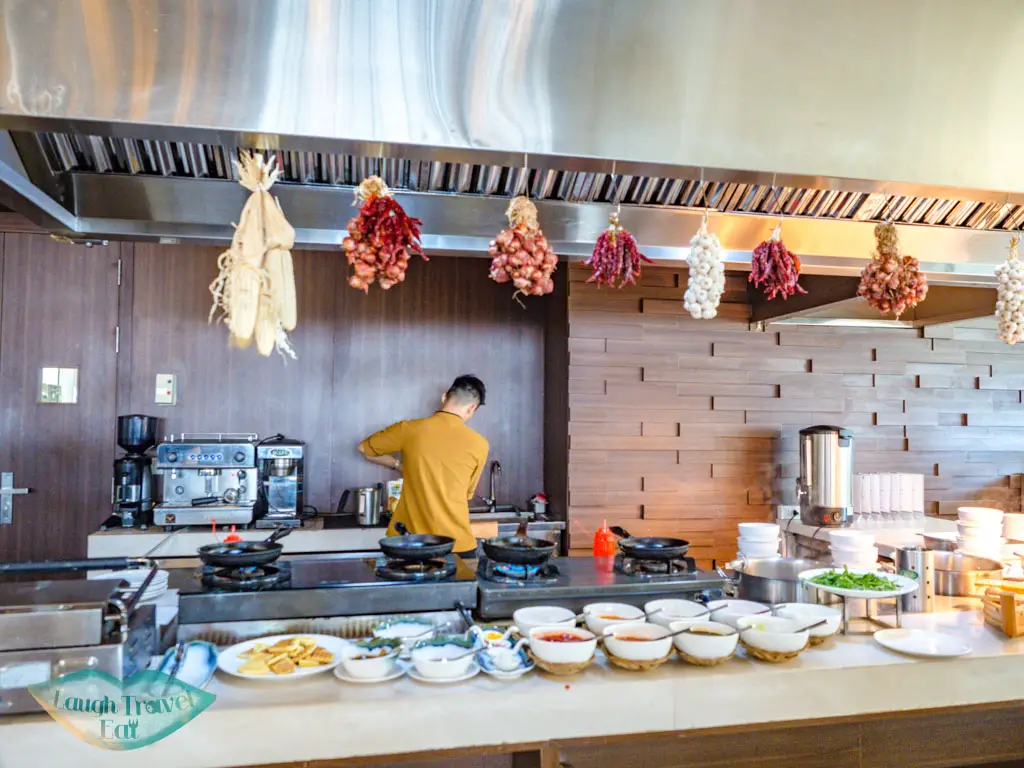 The buffet breakfast at Nem Restaurant has a great spread of bread, pastries, fruits, and hot food. There is the quintessential egg station in addition to a noodles one.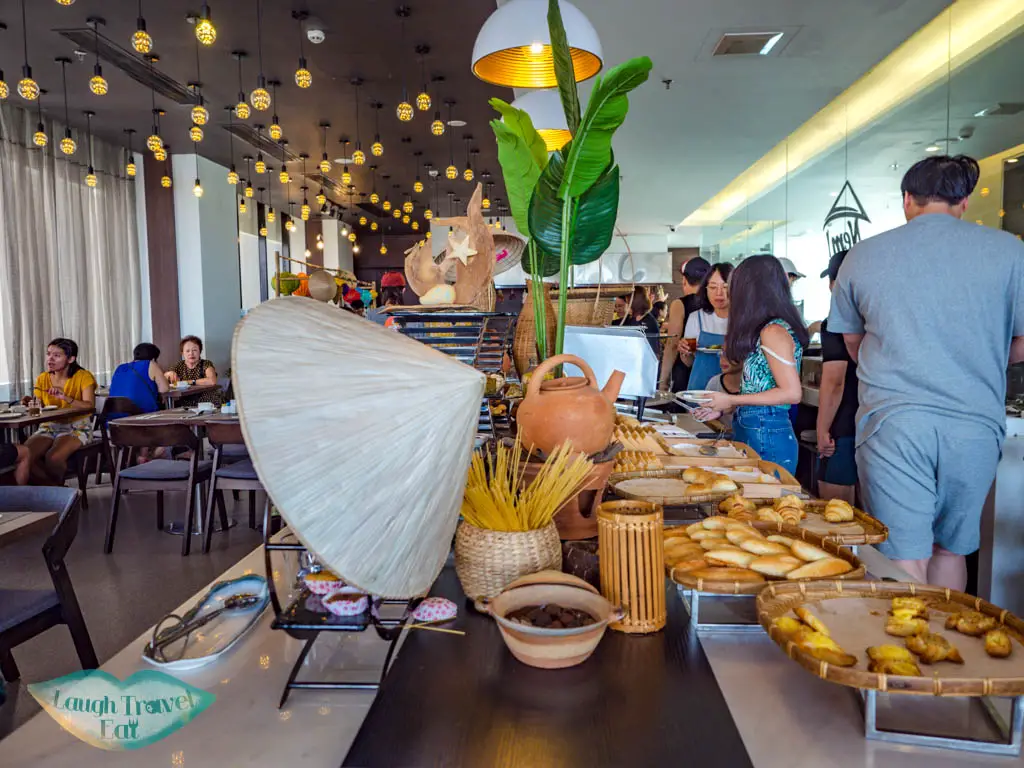 I like that they also have yoghurt and cereal. 
Breakfast time: 06:00 – 10:30 a.m

Belle Maison Hadana Hoi An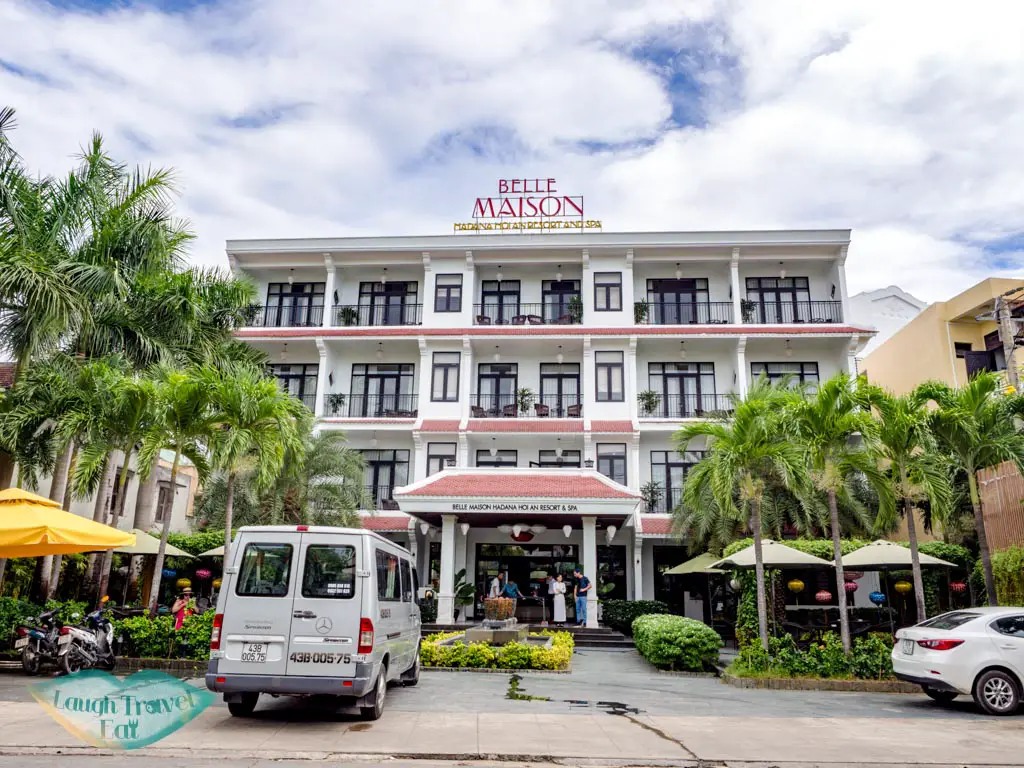 Hoi An has many beautiful boutique hotels and resorts, and it can be difficult to choose being close to the old town or by the beach. Luckily, Belle Maison Hadana Hoi An Resort and Spa has the perfect balance. It has all the amenities of a modern hotel, a pool, shuttle to and from the beach, as well as being walking distant from the old town with beautiful decor. Did i mention the helpful and friendly staff? Here is a review on my stay:
Location
Belle Maison Hadana is 900 m from Hoi An Old Town, about a 10-15 minutes walk depending on your speed. You can also Grab to and from the Old Town for about 22k dong if you don't want to walk. The hotel is distinctive with its white walls and red tile located by one of the main roads to Hoi An, but far enough that it's quiet at night.
Room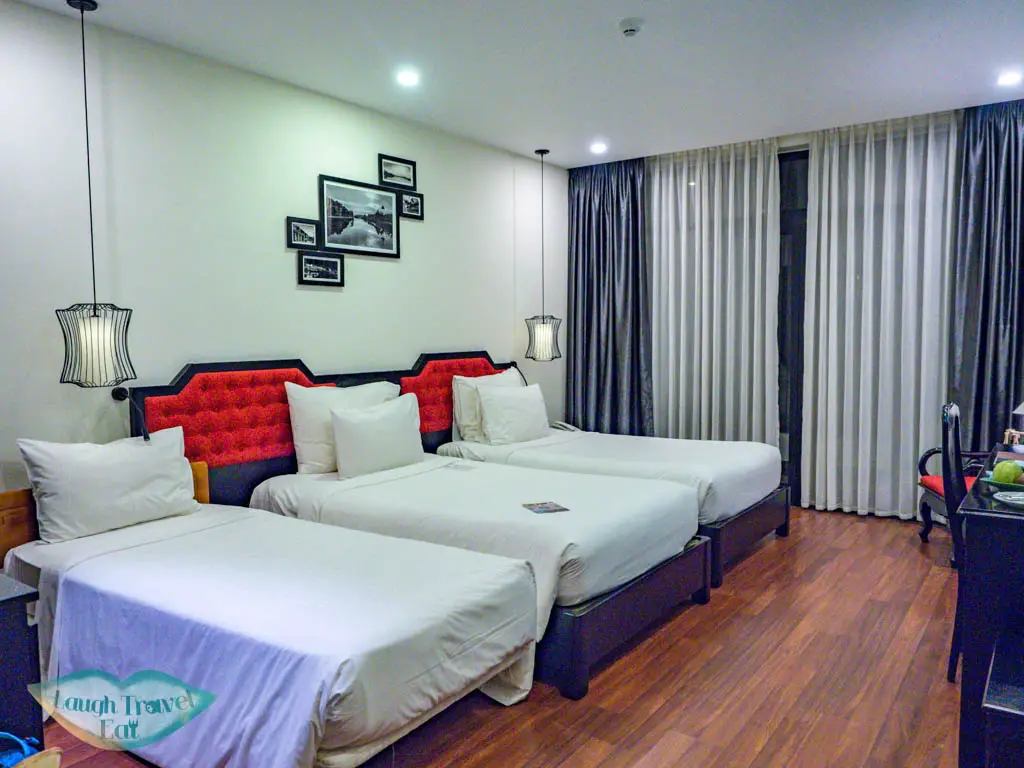 There are 95 rooms in the hotel which is built like a compound centered around the pool. The rooms have either city, pool, or rice field view, most of which have a balcony. The hotel design is a nice blend of Vietnamese style with red and white and modern decor.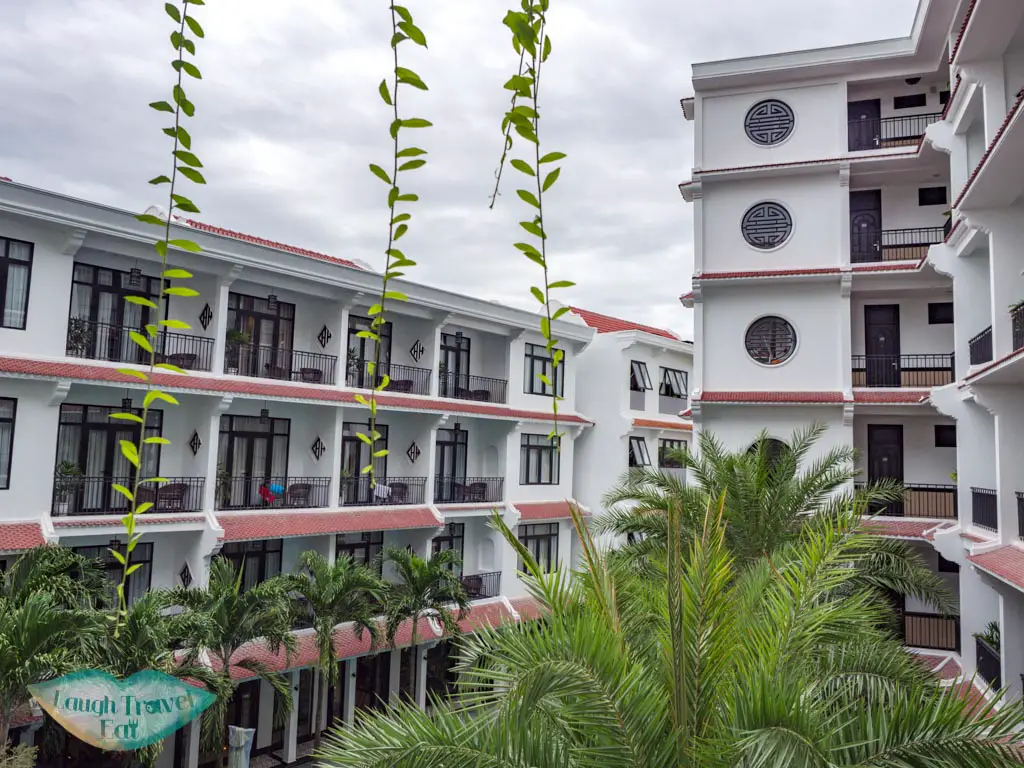 There are five types of rooms:
Deluxe with Balcony
Senior Deluxe
Executive
Suite
Belle Maison Suite
We stayed at an Executive room that can accommodate an extra person and overlook the paddies next door (at extra cost). The rice paddies is really just the size of a building, so I'd say go for a pool view if you can!
The en-suite bathroom has a tub and all the basic amenities such as hair dryer and shampoo etc. We had to ask for more since they din't refill it during our stay, but it was just a call to the reception. The water pressure isn't as strong I'd like, and you'll need to turn on the water heater!

Facilities
There are 1 bar and 1 restaurant on site, all of them around the pool – with about 6 sun loungers by its side. There is also a Fitness Center and a Spa, with guests receiving 20% off for any spa treatments. Since there are plenty of dining options in Hoi An, we didn't try out the onsite restaurant aside from breakfast.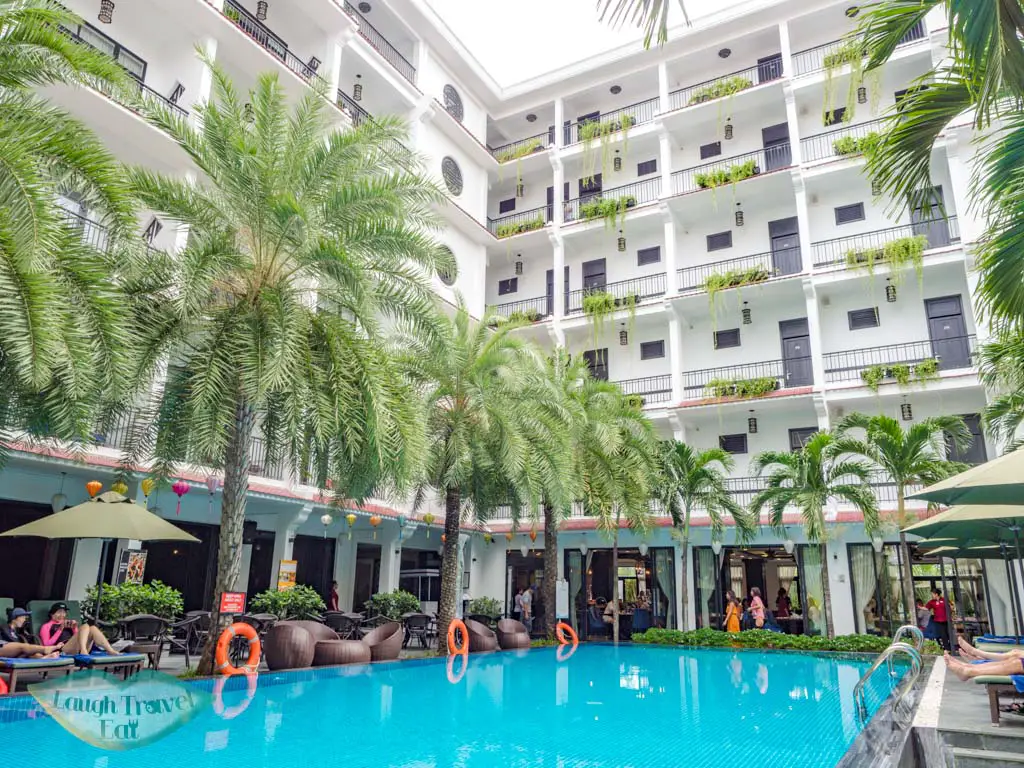 My favourite is the free shuttle bus to An Bang Beach, where they have a deal with the Soul Beach for free sun loungers and provide hotel guests with a beach towel.
You can also use the hotel bicycles for free, which are adorably named after different fruits found in the area. Simply asks the reception and off you go!
Note: Vietnam traffic can be chaotic so definitely take care if you want to cycle there.
Breakfast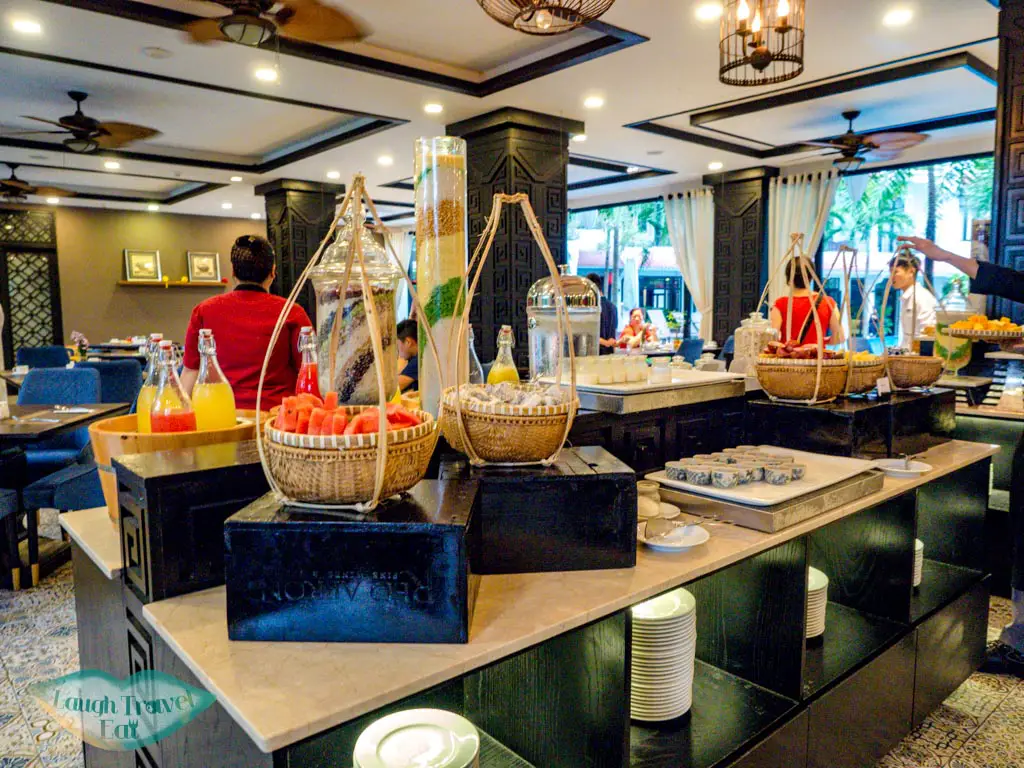 Much like Belle Maison Parosand Danang, Hadana Hoi An also has a great buffet breakfast spread. Served in the restaurant by the pool, they also have a noodle and egg station.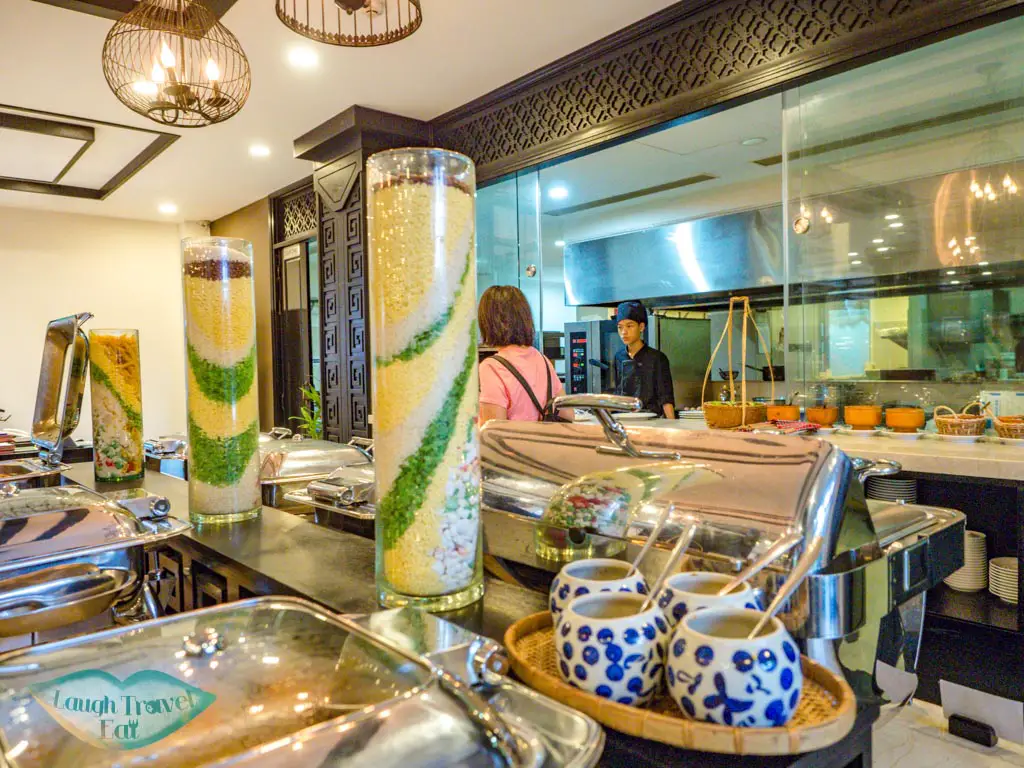 Compare to Danang, it's more relaxed as the buffet is more spread out.
06:30 – 10:00 a.m.