Hoi An has many amazing restaurants, with many unique dishes influence by Chinese and French in particular. It is where I find the best food in Central Vietnam. Spring rolls, noodles, Banh me, it's essentially food heaven and I was sad to leave. Since my first visit in 2016, you can find restaurants serving more than just local specialties, with many hidden along alleyways. But fear not, I'm here with a list of the best restaurants and cafes in Hoi An!
If you want to learn about shopping in Hoi An, its old town or tours around there, I got those covered, too.
Best food in Hoi An
Hoi An was once a favoured trading port for the Chinese, Portuguese, Japanese, Dutch and Indians during the 16th to 17th century. With a culture that's heavily influenced by the Chinese, their cuisine is similar to them, but with a Vietnamese and international twist. Here are some local specials that you should try:
White Rose Dumplings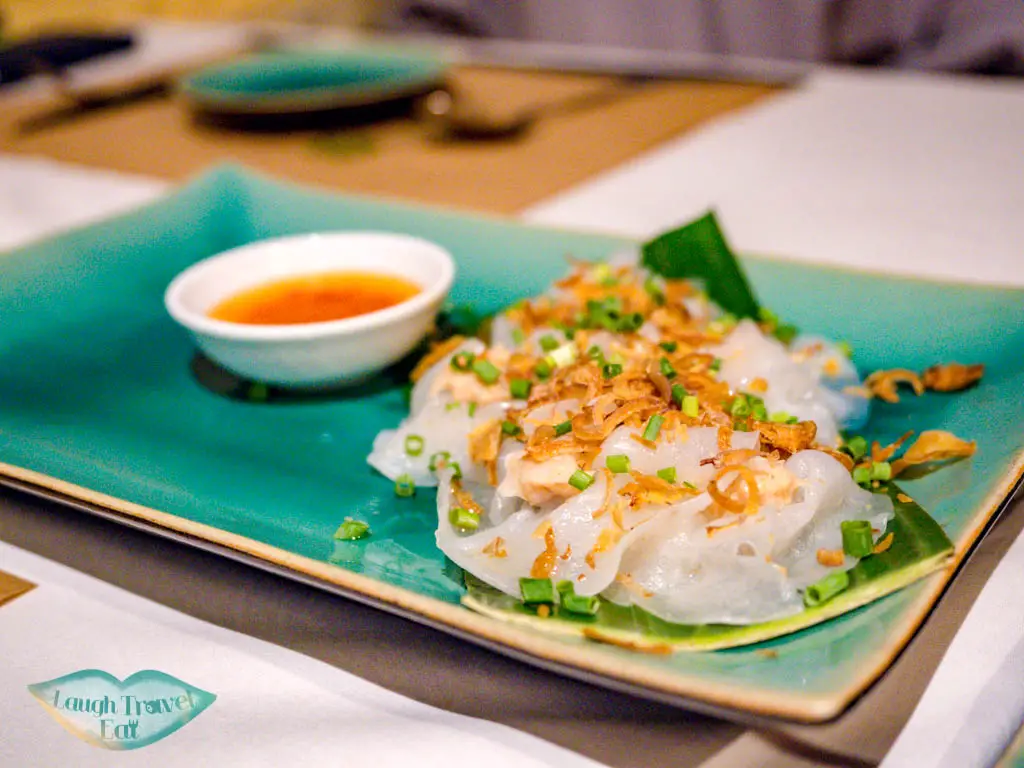 A local dumpling dish with pork and shrimp filling, their shape is what gives them their name. It's usually topped with fried shallot and soya sauce – and it's a tasty appetizer that you can find in any restaurant. We ordered it almost every other meal in Hoi An.
Cao Lau
A yellow noodle dish served with pork slices along with tons of green, you might not think that Cao Lau is any special, but the noodle is made with water from Cham wells. It is usually served with pork broth with crispy croutons and soft boiled eggs. We found that there is a seafood version as well.
Quang Noodle
A rice flour noodle that's an alternative to Cao Lau, it is mostly different in the sense that it's a mostly brothless dish. With mint, coriander and peanuts as well as meat and veg, this is a good dish for those who want something cooler in a hot climate.
Chicken Rice
Not the kind of chicken rice you get in Hainan or Penang, the Hoi An chicken rice feature shredded chicken fried loosely with rice, onions and various spices. It's a refreshing take and worth a try for those who are familiar with the other kind.
Seafood grill
Hoi An is a seaside town so it's only normal that they have seafood on offer! And you certainly can't go wrong with a good old grill. Prawns, of course, are one of my favourites and a great option. They usually come with rice and papaya salad, so don't worry about having no carbs or veg.
Meat grill with lettuces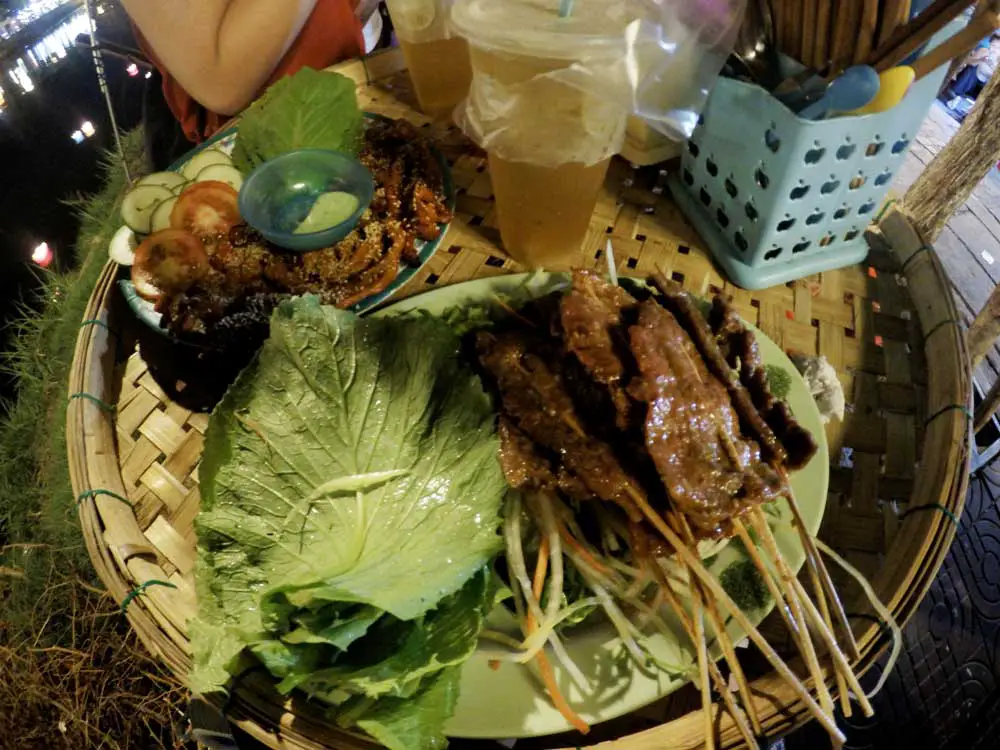 If you don't like seafood, then there is always meat. We settle for a nice, cheap meal at the riverside with some grilled meat with lettuces. They barbecue it right on the street with a choice of pork and beef.
Side not: we ate at one of the harbour side stalls west of the Japanese Bridge – questionable hygiene, but value for money.
Hoi An restaurants
There are one too many restaurants in Hoi An, most of them crazy photogenic or come with glowing recommendations. In a place where choices are abundant, it's difficult to pick and choose. Following the duo principle of good selection and affordability, we managed to suss out some good restaurants during our trip:
Get a Hoi An map with all the restaurant's location on and more here
Le Fê Dining Place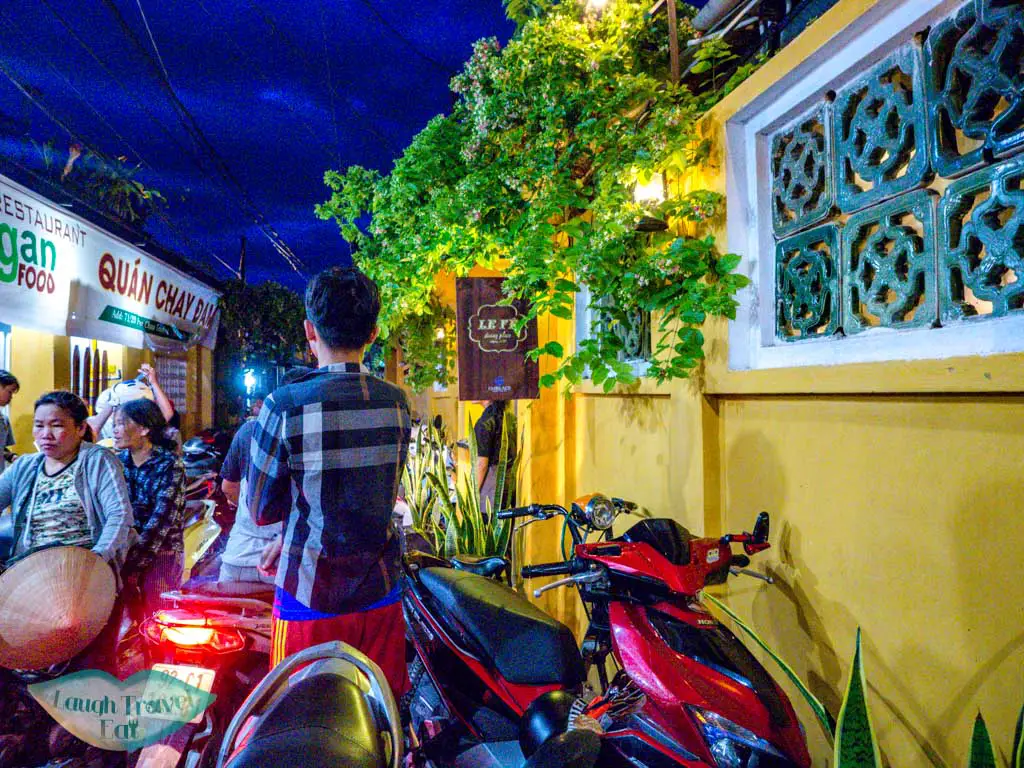 A newly opened restaurant in 2019, Le Fê Dining Place is hidden in the northern part of the old town and worth finding. They have a varied menu that stretches from north to south of Vietnam, providing diners with a snapshot of the country's best offerings.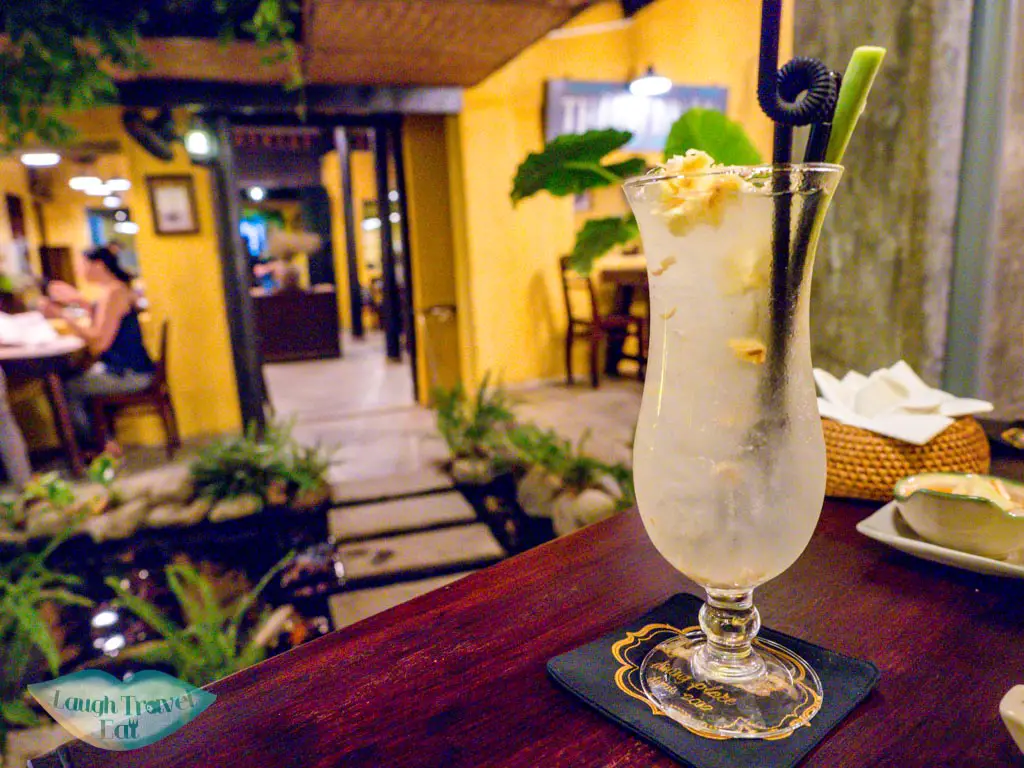 Their manager was very nice, explaining the menu to us and making suggestions. We ended up ordering a drink each, two starters and two mains:
Overall, a 10/10 for service, food, and ambiance!
Address: 69/3 Phan Chu Trinh, Phường Minh An, Hội An, Quảng Nam
Opening times: 11:00 – 22:00
Morning Glory Original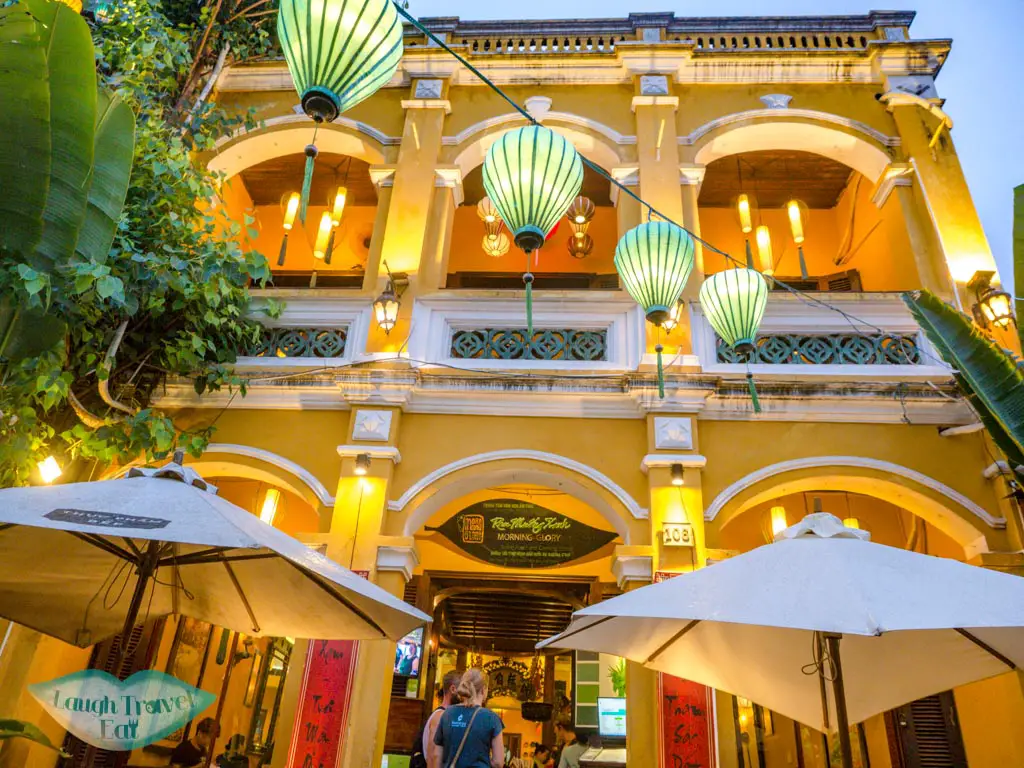 Arguably the most famous restaurant in Hoi An, there are actually three Morning Glory, so be sure to seek out the original one. As it is popular, if you know when you want to eat you should pre-book, otherwise going there before 6pm should be good.
Shrimp Curry

Banh Xeo
We ordered one starter and three mains – which is perfect for three people!
Bun Cha is northern food but my sister wanted it

Wonton noodles – it's ok but I prefer the HK version
Overall, it's a great meal and not that pricey given its popularity!
Address: 106 Nguyễn Thái Học, Phường Minh An, Hội An, Quảng Nam, 越南
Opening times: 10:00 – 23:00
Rice Drum
By far my favourite restaurant, Rice Drum has two store fronts and a second storey balcony that faces the sea front and the An Hoi Island. You would expect the prices to be astronomical with its classy Vietnamese towel décor, but it really isn't the case.
With prices starting around 35,000 dong, you can get all the Hoi An specialty dishes in this place as well as some of the most delicious smoothies and mixed juices I ever had. They also do happy hour for cocktails as well, so definitely don't miss it! I recommend the Cao Lau with a Passion Daiquiri.
Pro tip: head there for dinner early and ask for a balcony seat so you can admire the view of Hoi An
Average cost: 230,000 dong for two including drinks (2016 price)
Address: 75 Nguyễn Thái Học, Minh An, tp. Hội An, Quảng Nam, Vietnam
Opening times: daily 8:00 – 23:00
On my return in 2019 I find the food to be less good. However, the terrace view is great and the prices good.

Nam
Red Gecko
Located on the island of An Hoi at the very back of the night market, the Red Gecko is an unassuming local restaurant that serves a mean grill. Yes, the checkered table cloth doesn't look like it's been clean in ages, and the ambiance is more of a local, street side store than one of nice décor, but the affordability of the grill is unrivaled and we definitely wouldn't miss seeing our meal barbecued by the street for the world. The owners are pretty friendly too.
Pro tip: a meal bundle comes with papaya salad and rice
Cost: 280,000 dongs for prawn and meat grill plus two Cola (2016 price)
Address: 23 Nguyễn Hoàng, Minh An, tp. Hội An, Quảng Nam, Vietnam
Opening times: 9:00 – 21:00
Restaurant Café 96
Lining the harbour front that faces the An Hoi island, Restaurant Café 96 occupies one of the best scenic spots in Hoi A. though the price reflects that, you can't beat the view. One thing I must say is that their food's value is low. Which aka means that for the price, the portion is too small and the taste isn't stella. However, they do offer a happy hour.
Pro tip: hit the restaurant at the start of happy hour and grab a drink before setting off for dinner. Although their chicken rice isn't bad.
Cost: 276,000 dong for two (happy hour drinks buy one get one free – 2016 price)
Address: 96 D Bach Dang, Hoi An, Vietnam
La tonnelle

For a mix of hipster charm and Vietnamese food, la tonnelle appears to be a French restaurant with a Vietnamese twist or the other way around. With a high ceiling, open plan store front, this guest house slash café restaurant is a photo magnet and offer some good cuisine on the west side of the Japanese Bridge.
Have a fresh coconut!
After an unsuccessful first round of trying to dine here, we went back for some Bahn Me and fresh coconut and settle down for some people watching. Our only issue is that the coconut isn't cold.
Pro tip: Ask them for some ice if you are ordering a fresh Coconut
Cost: spring roll, Bahn me and two coconut = 220,000 dongs (2016 price)
Address: 44 Nguyễn Thị Minh Khai, tp. Hội An, Quảng Nam, Vietnam
Hoi An Cafes
Faifo Coffee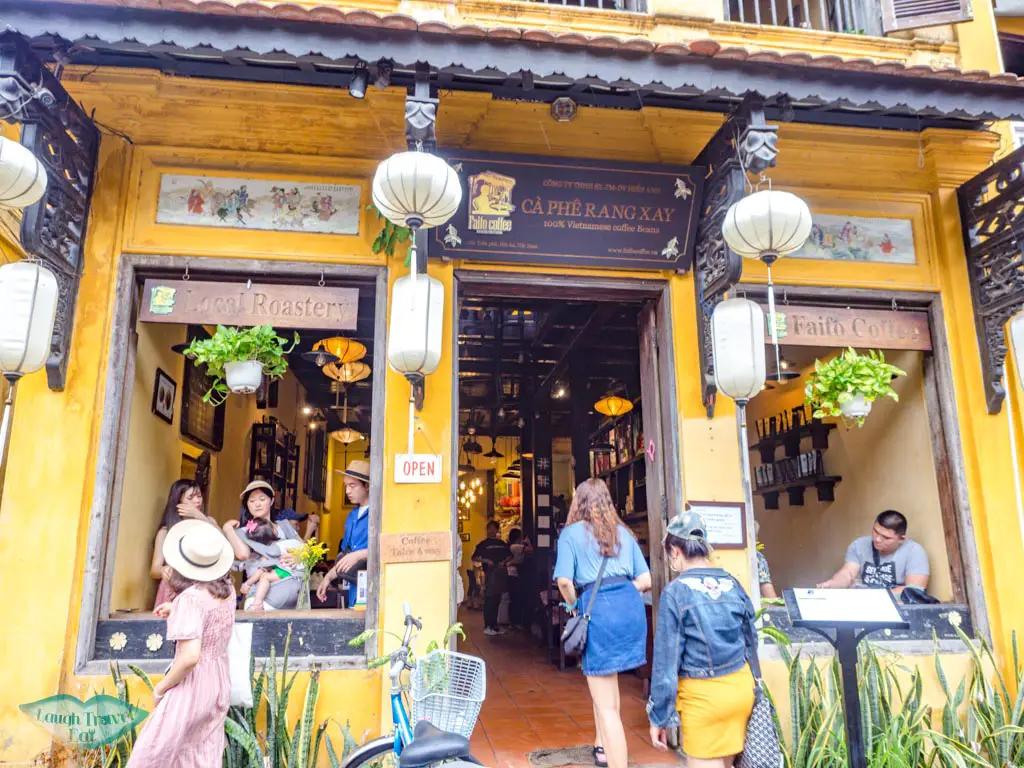 A cute cafe with three floors, Faifo is Instagram famous for its rooftop. They serve a variety of drinks with some snacks, too, though those seemed to be sold out fast.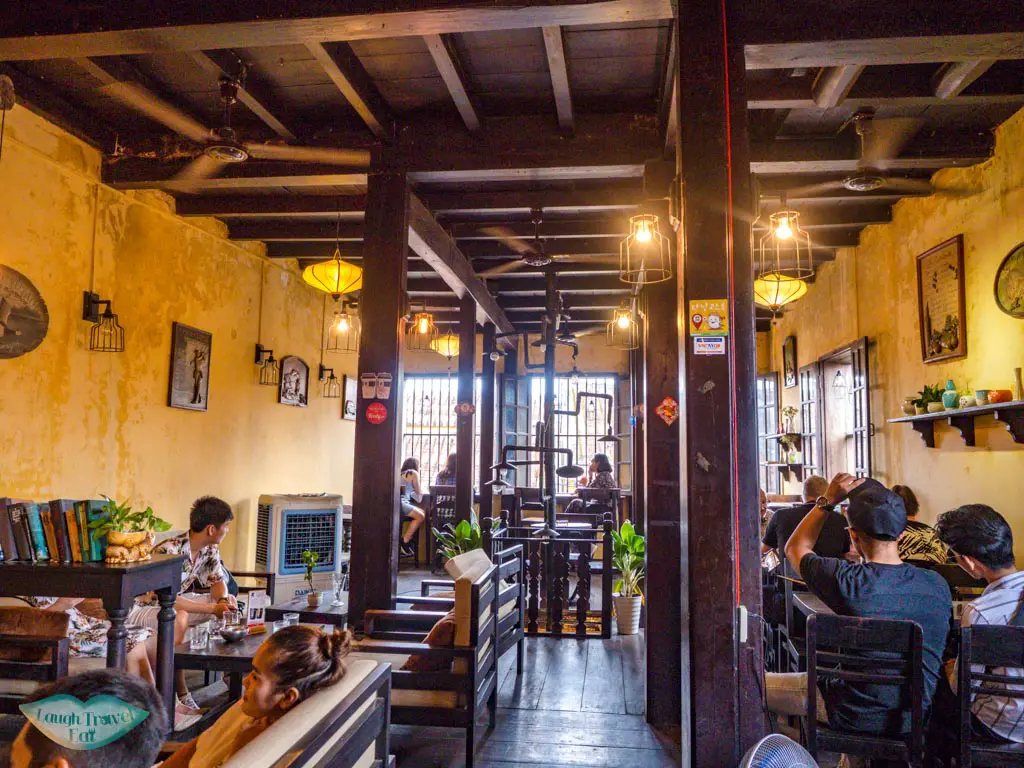 I adore their rustic orange-yellow and wooden decor, however, it can be a little difficult to find somewhere to sit. Don't forget to venture up to the rooftop for the views!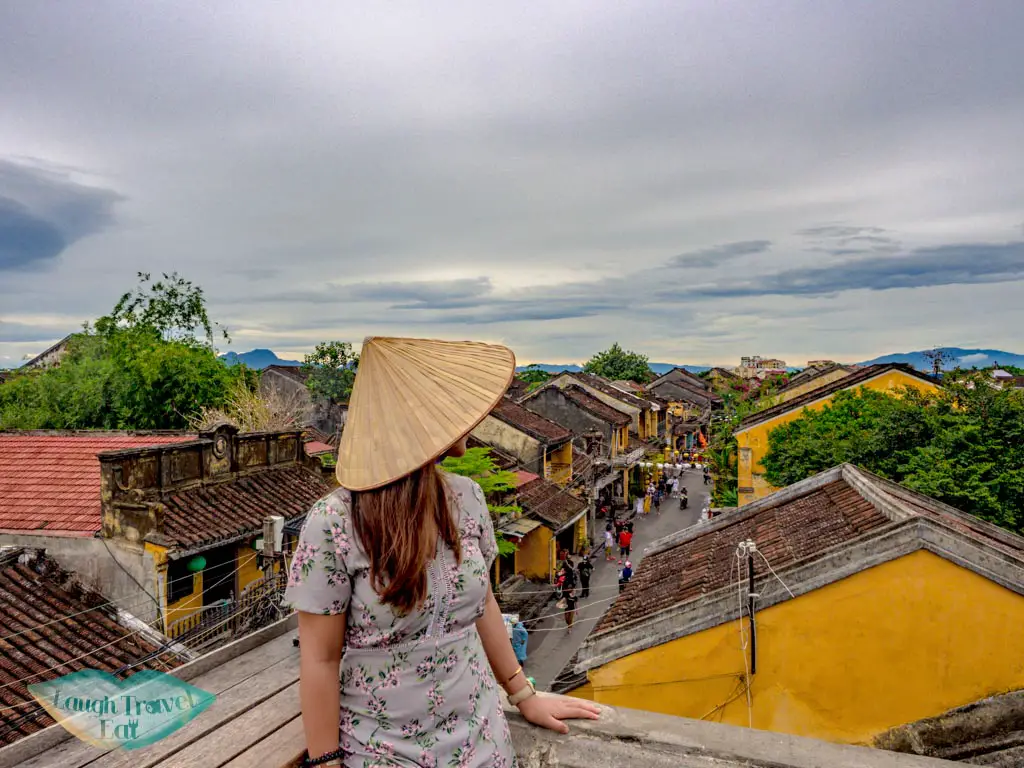 Address: 130 Trần Phú, Phường Minh An, Hội An, Quảng Nam
Opening times: 8:00 – 21:30
Reaching Out Tea House
For tea and coffee lovers out there, Reaching Out is the perfect place for you. Reaching Out is a coffee and tea house run by a disability association who employ deaf and mute staff. They have word blocks you can use to communicate and it is, overall, a grand idea. The tea house promotes a serene atmosphere and encourages guests to unwind in the darkened interior. Loud conversations are discouraged, so do bear that in mind when you visit.
The prices in here are generally higher than outside, though it is still cheap compared to western standard. However, you can stay for an extended period of time, and their level of service and hygiene are unrivalled. It also makes for excellent Instagram shots:
Pro tip: bring a book for a relaxing afternoon; you can sit for as long as you want
Cost: Orange juice, Coffee and cookies platter = 191,000 dong (2016 price)
Address: 131 Trần Phú, Sơn Phong, tp. Hội An, Quảng Nam, Vietnam
Opening times: Mon – Fri 8:30 – 21:00; Sat – Sun 10:00 – 20:30
CoCo Box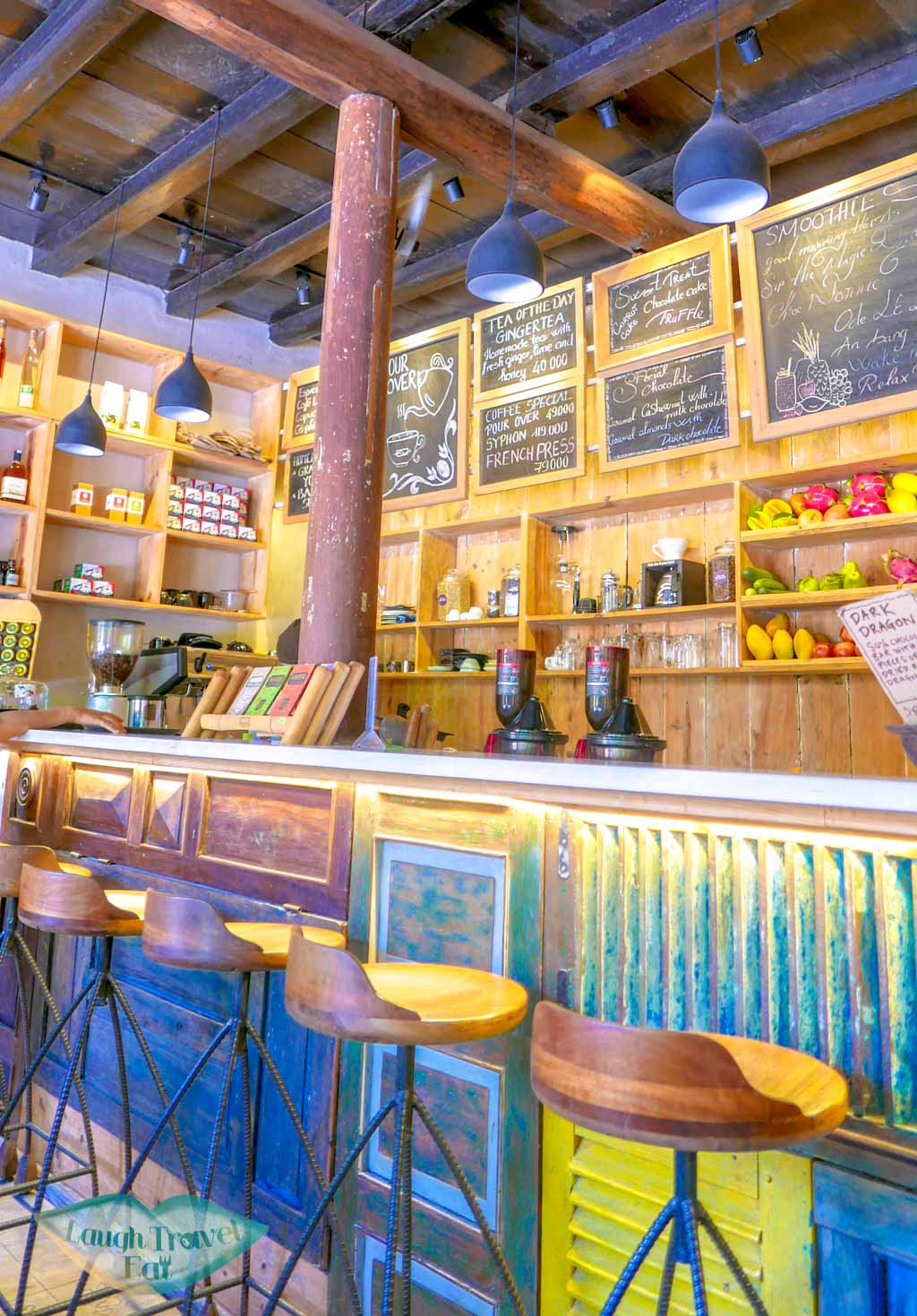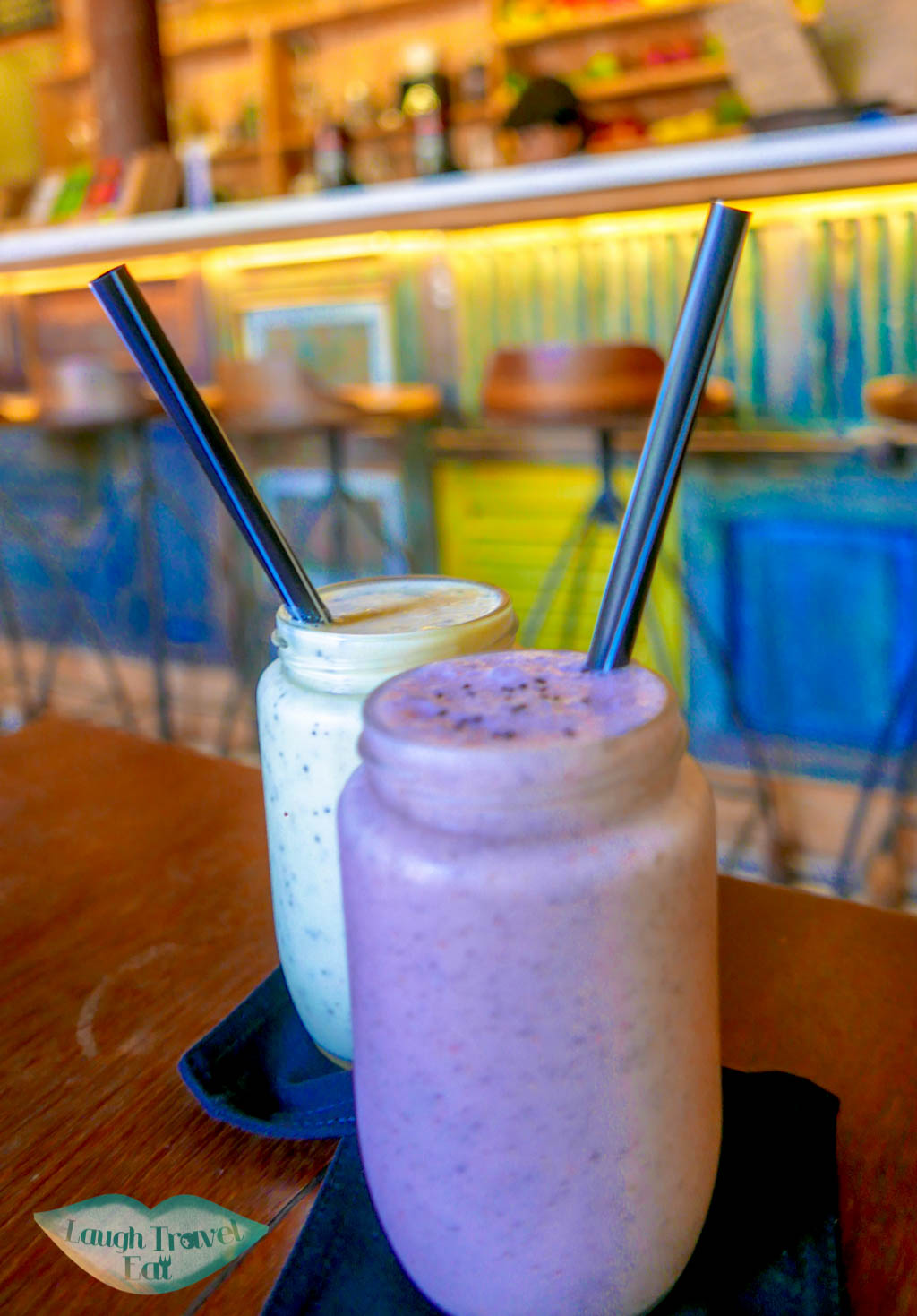 If you would rather go for some ice cream, then head to CoCo Box instead. Another place where you can stay for as long as you want, it mainly differs to Reaching Out with its wide open storefront. The two share a similar western mix Vietnamese style and it's super English friendly.
Pro tip: get an ice cream when the weather gets too hot and people watch
Cost: 2 ice-cream bowls = 150,000 dong (2016 price)
Address: 94 Lê Lợi, Minh An, tp. Hội An, Quảng Nam, Vietnam
Thai Hoc Street, Hội An, Quảng Nam, Vietnam
03 Chau Thuong Van Street, Hội An, Quảng Nam, Vietnam
Opening times: 7:00 – 22:00
Mot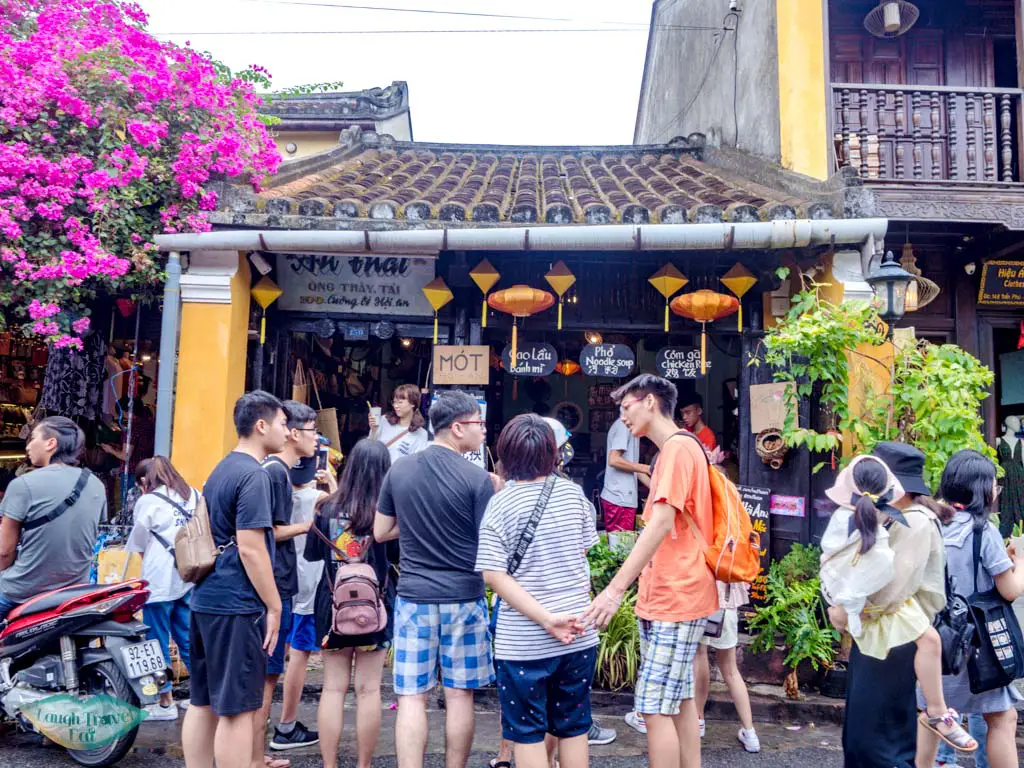 A popular drink stand that doesn't offer seating, Mot Hoi An serves only one thing: a Vietnamese herbal drink that costs 12,000 dong. It can be a little difficult to worm your way in, but it's a cheap and refreshing drink that uses bamboo straw and paper cup!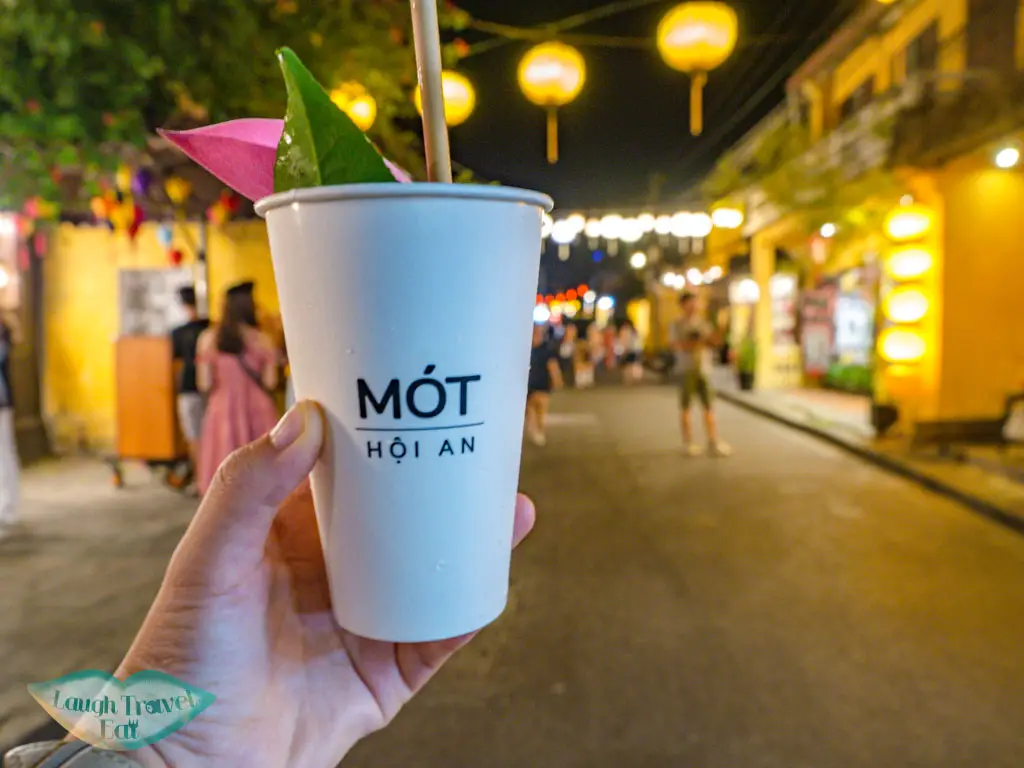 Address: 150 Trần Phú, Phường Minh An, Hội An, Quảng Nam, 越南
Opening times: 4:30 – 22:00
Window ice-cream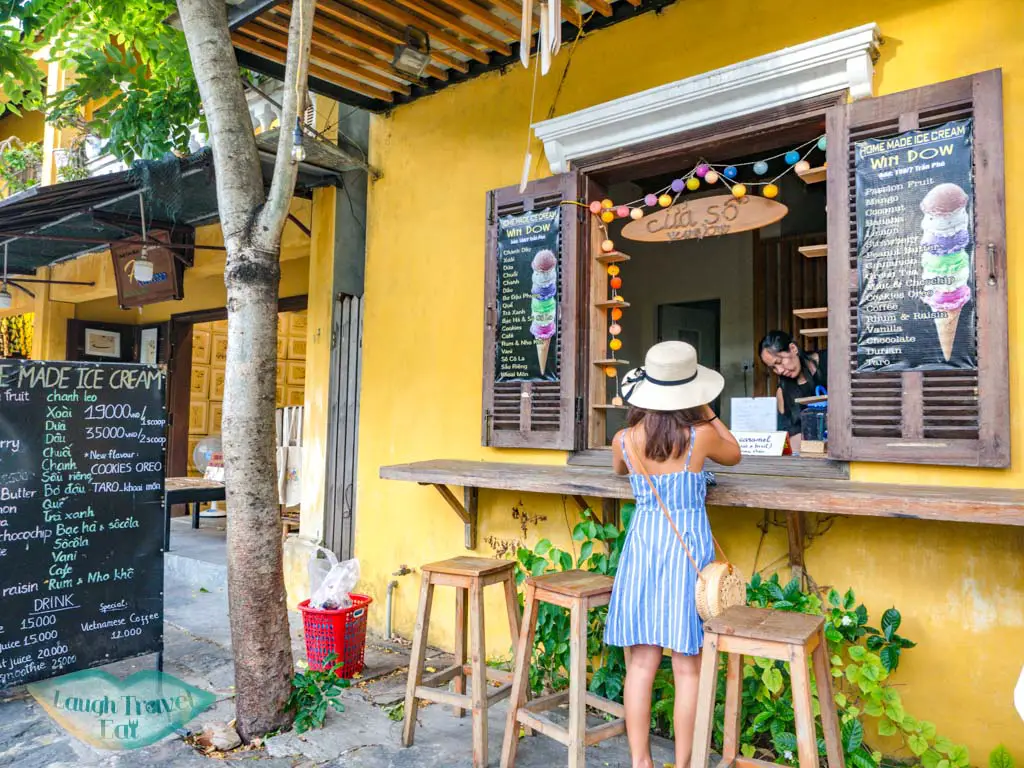 A handmade ice-cream store by Japanese Bridge, Window Ice-Cream is basically a window by the house. They have a variety of your usual and more unique flavour such as pho and lemongrass!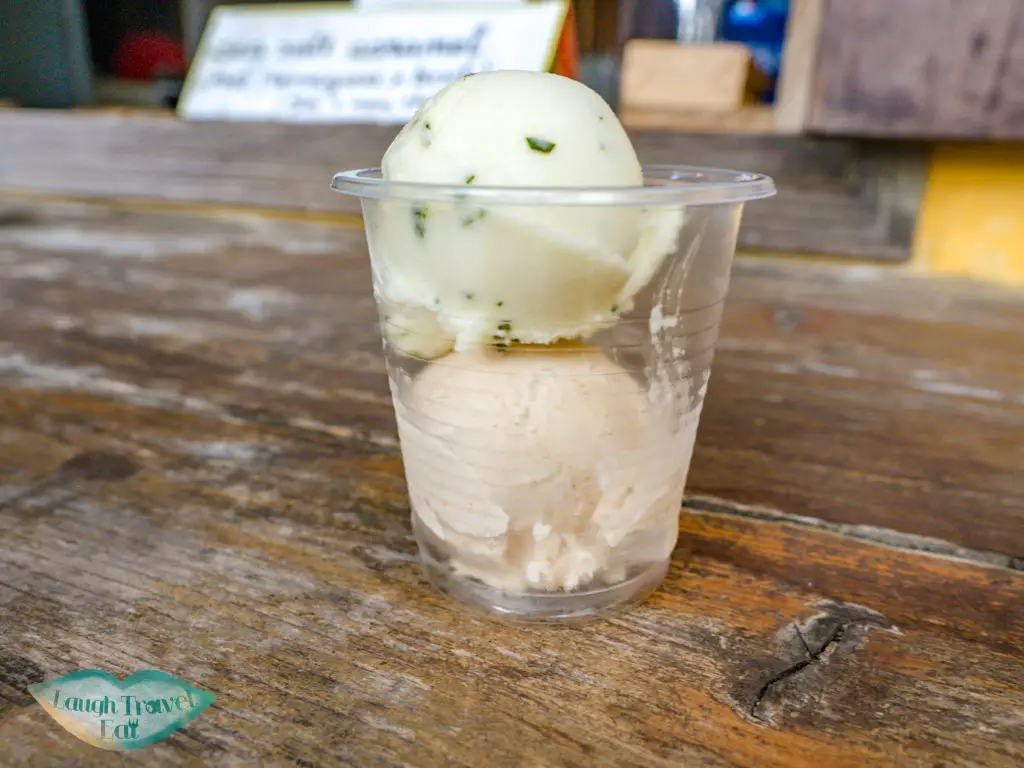 My sister says it's no gelato, but if you are craving something cold and different, it might be worth a try!
Address: Trần Phú, Phường Minh An, Hội An, Quảng Nam
Opening times: 14:00 – 21:00