Things to do in Bali Seminyak in 36 hours: a shop + eat guide
Seminyak is one of the most popular towns in Bali. While some might argue that it's too touristy, its great amenities and proximity to the airport make it an ideal place to stay. Because of the influx of tourists, Seminyak isn't as cheap but it also has a great variety, and I do like a good mix of western and local influence. While it might not be an ideal place to discover Bali's culture or to escape from it all, it's a great place to eat, shop, spa, and party.
In 36 hours, of course.
Seminyak Shopping
While it would be better to shop in Ubud or Tegalalang markets, it isn't that much more expensive to buy things in Seminyak. For more information, you can read it on my price guide (coming soon)! But we are going to talk about where to shop in Seminyak. The truth is there are a million shops around the entire town, but below is where I found the best (budget) shop clusters:
Double Six Street
We basically went everywhere before we stroll down the Double Six Street, only to find that it is actually is the best place to shop in Seminyak!
There is a great range of products here: clothes, accessories, leather products, crochet products etc. We also saw a few sarong shops with great choices, you just need to haggle firmly.
Bonus: this street leads straight towards the beach
Jalan Raya Basangkasa
The main street in Seminyak that cuts parallel to the sea, so naturally, you'll find a lot of shops along here. One of the hidden gems I found is a little clothing store on one of the side street – although it's not very cheap but it makes up for it with variety (location on the map). The Double Six Street is connected to Raya Basangkasa, as do a lot of side streets that head off towards the sea.
Seminyak markets
Around Seminyak Square
The real town center of Seminyak is around its market, and there are a lot of cute boutique shops here. The prices will reflect that, but you should consider this more of a high street rather than a flea market.
Flea Market Oberoi
There is also a flea market in Seminyak, though again, not as cheap as one would like. The Flea Market Oberoi is a small cluster of shops with netted cloth ceiling, and it's a neat collection of stores selling the most popular products and souvenir in Bali. Of course, the influx of tourists to this spot will mean that they aren't as cheap as the markets in other places, but with some haggling, you'll do fine.
Address: Kayu Aya Square Oberoi, Jalan Kayu Aya, Seminyak, Kuta, Kabupaten Badung, Bali, Indonesia
Opening times: 9:00 – 21:00
Best restaurants in Seminyak
Motel Mexicola
After a chat with Lola from Miss Filatelista in Ubud, we tracked down Motel Mexicola for some taco time. Because honestly, who doesn't like tacos? While we had taxied past it the night before, nothing prepared us for the glamour and colours that is Hotel Mexicola. We were one of the first people to arrive for lunch and couldn't help but roam around for some photos:
The main order of business, of course, was to eat some tacos. And they were amazing. We ordered some guacamole too, naturally. Everything was delicious and I have no complaints. I wish I can go back for a second meal but I was stuffed.
Address: Jalan Kayu Jati No. 9X, Kerobokan Kelod, Kuta Utara, Kerobokan Kelod, Kuta Utara, Kabupaten Badung, Bali 80361, Indonesia
Opening times: 11:00 – 01:00
Potato Head Beach Club
I'm going to be honest here and say that people don't go to Potato Head for the food. But the vibe makes up for it ten times over. One of the coolest beachside restaurant and club I have been too, everything is perfect from the beachside pool to the atmospheric lighting. Although that did mean that I had to turn on my flashlight to read the menu.
Between the dining area and the pool, there are sofas and hammocks for people who are there for a drink. The red leaves hanging across the open plan area added to its surreal, holiday vibe.
The food at Potato Head was bar food type, and the portion is on the small size. We ordered the pizza which turned out to be amazing, as well as the starters. The mains, however, was less spectacular, with the pork belly skin being too tough and the burger fries too thick.
*while there were free tables when we got there, it's probably best if you book ahead
Address: Seminyak, Jl. Petitenget No.51B, Kerobokan Kelod, Kuta Utara, Kabupaten Badung, Bali 80361, Indonesia
Opening times: 10:00 – 02:00
Miura – Pintxos Bar & Grill
While some people say you shouldn't eat at a hotel's restaurant, but in Miura's case, it's completely untrue. The prices are higher than all the other Nasi Goreng we had, but the 65k price tag is worth it. They have a good mix of western and Indonesian cuisine, excellent live music and vibes, and that's pretty much all you look for in a restaurant, right?
Address: Jl. Camplung Tanduk No.99, Seminyak, Kuta, Kabupaten Badung, Bali 80361, Indonesia
Opening times: 7:00 – 22:30
If you want more options or is looking for cute cafes, here are some top cafes for digital nomads!
Seminyak sight-seeing
Double Six Beach
Given what I've heard about the urbanization of the area, the Double Six Beach is much prettier than I anticipated. While we had visited on a gloomy day, the reflection on the shallow pools on the beach and the dramatic clouds made it a different kind of beautiful. There are plenty of beachfront restaurants and sun loungers for rent, so it is a great beach day recipe.
Where to stay in Seminyak
Grandmas Plus Hotel Seminyak
There is no shortage of hotels in Seminyak, and it's definitely one of those places where you don't even know where to choose. We end up staying at GrandMas Plus Seminyak Hotel – and I really like it!
Not only are the staff friendly and warm, we were immediately greeted with welcome drinks on check-in.
We were happy to find that for once there is a lift (some would call it an elevator) to bring us up to our floor. I love the previous hotels we stayed at but lugging my luggage up and down was a torture.
The rooms are on the small side and remind me of a serviced apartment. But everything you need is present, and the bed is super comfortable!
The fact that the light switch is right next to the bed is a bonus – the little things really matter!
They also have a swimming pool, albeit a very small one, at the back of the restaurant.
Breakfast is also a highlight – with a western and Indonesian option. Apparently, they have 3 2-set menus – so if you stay for 6 days you can have a different breakfast each day! It also comes with juice and fresh fruits. Definitely the best breakfast quality in our entire trip.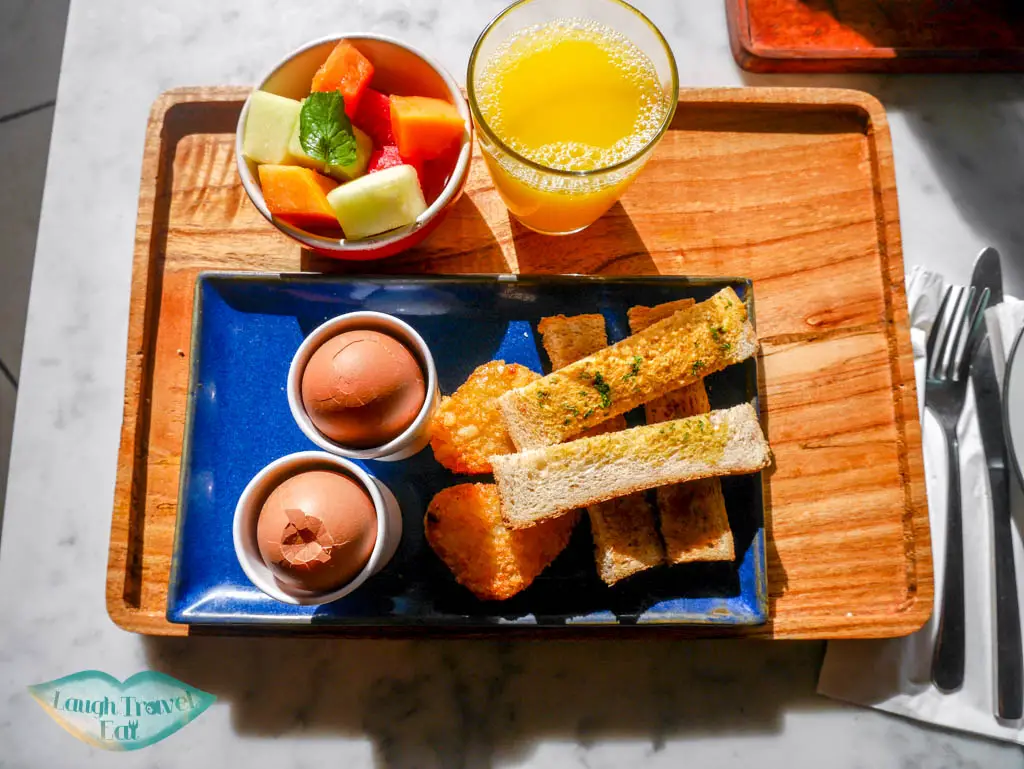 Pros: centrally located, comfortable bed and pillow, friendly and helpful staff
Cons: room is on the small size and it can be cleaner.
Check their website for more information
*Disclosure: we stayed at the GrandMas Hotel as a guest but all opinions are our own!
Best spa in Seminyak
Now I don't know if it is the best spa, but De Nyuh Spa & Beauty Salon is on top of GrandMas hotel, ranked highly on Tripadvisor, and is a very affordable spa. The corridor from the entrance to the spa area is a mini-highlight itself.
A 60 minutes Balinese massage costs 180,000 rupiahs.