Singapore at night. There is something about Singapore after dark – it's like the whole city comes to life once the sun has set (and the mosquitoes goes to sleep, at least some of them do). Whether you are hungry for more exploration in the city or got off work during your work trip, here are some of the best things to do in Singapore at night:
Universal Studios Singapore at Resorts World Sentosa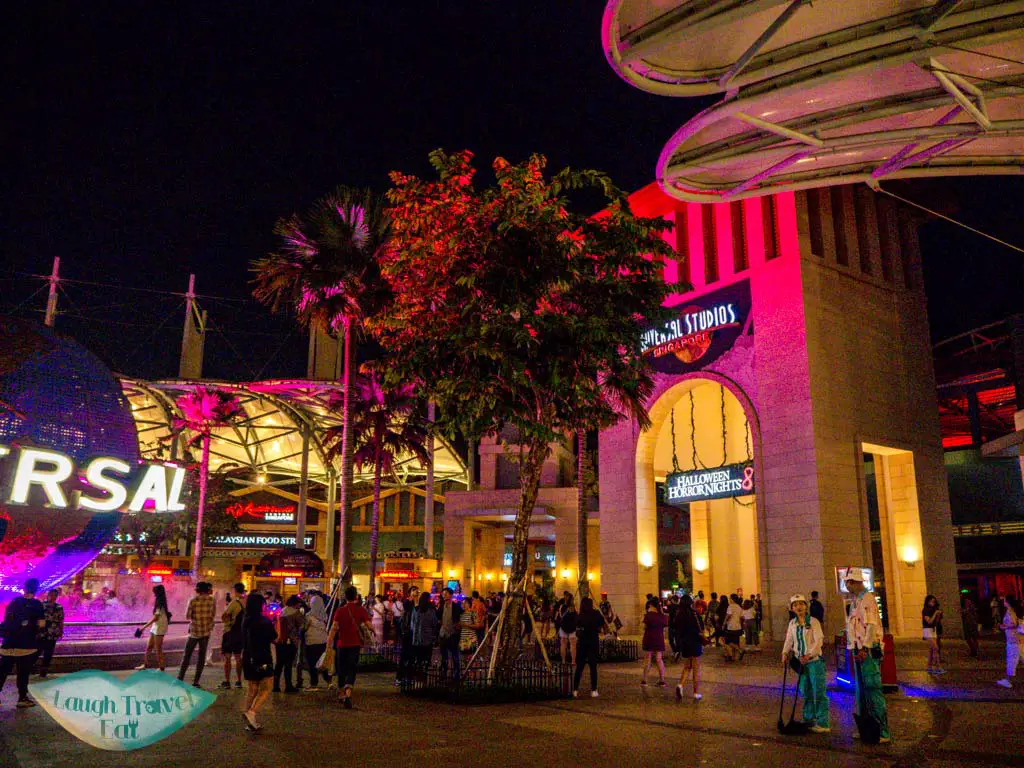 This year I was in Singapore in late October, which means I had the chance to visit Universal Studio's Halloween Horror Nights 8! Starting at 7:30 sharp, the whole ground comes to live with haunted houses, creepy zones, shows, and even several rides. With shows thrown into the mix as well, you can stay there until 1:30 am and enjoy the spooktacular Halloween.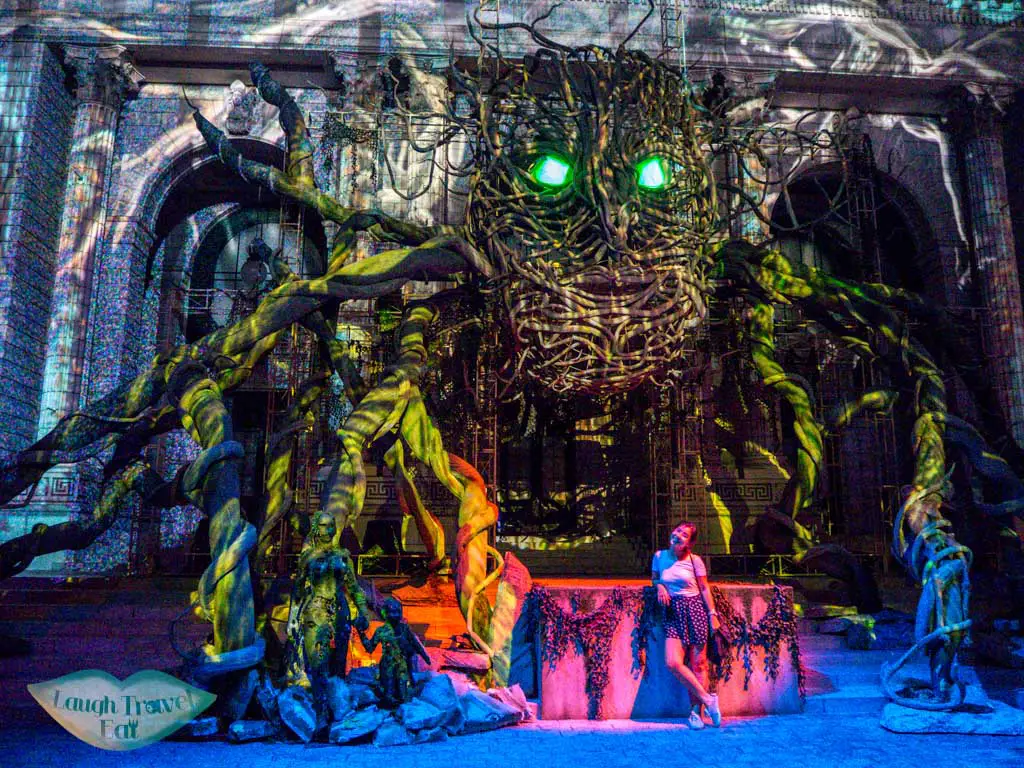 For 2018, they have a Stranger Things theme haunted house which was fantastic, though it isn't the scariest one by any means. With a total of five haunted houses seeking inspiration from all over Asia, even my sister, a die-hard horror fan, was scared. The night started with a performance at the main stage before we were let out into the scary night.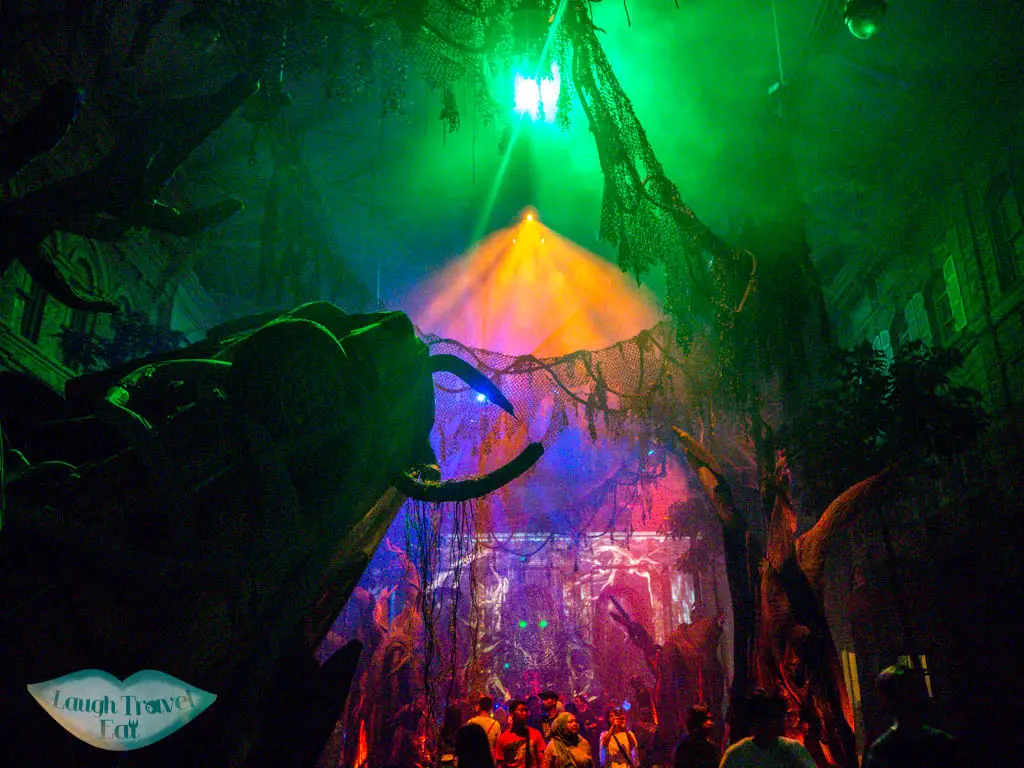 What surprised and amazed me is the fact that the queues honestly aren't that bad. We managed to go to all the rides and haunted houses in 3 hours, which will never happen in most major theme parks! There is also an Apocalypse now zone which was extremely eerie to walk through, and a zombie laser tag (but with an extra charge).
Note: I was hosted by Universal Studios Singapore at Resorts World Sentosa for Halloween Horror Nights 8 but all opinions are my own.
How to get there: to get to Resort World Sentosa, either take a taxi/Grab to the Casino exit and head up a level, or go to the Harbourfront MRT and change to the Sentosa Sky Train in Vivo City.
Gardens by the Bay Night Show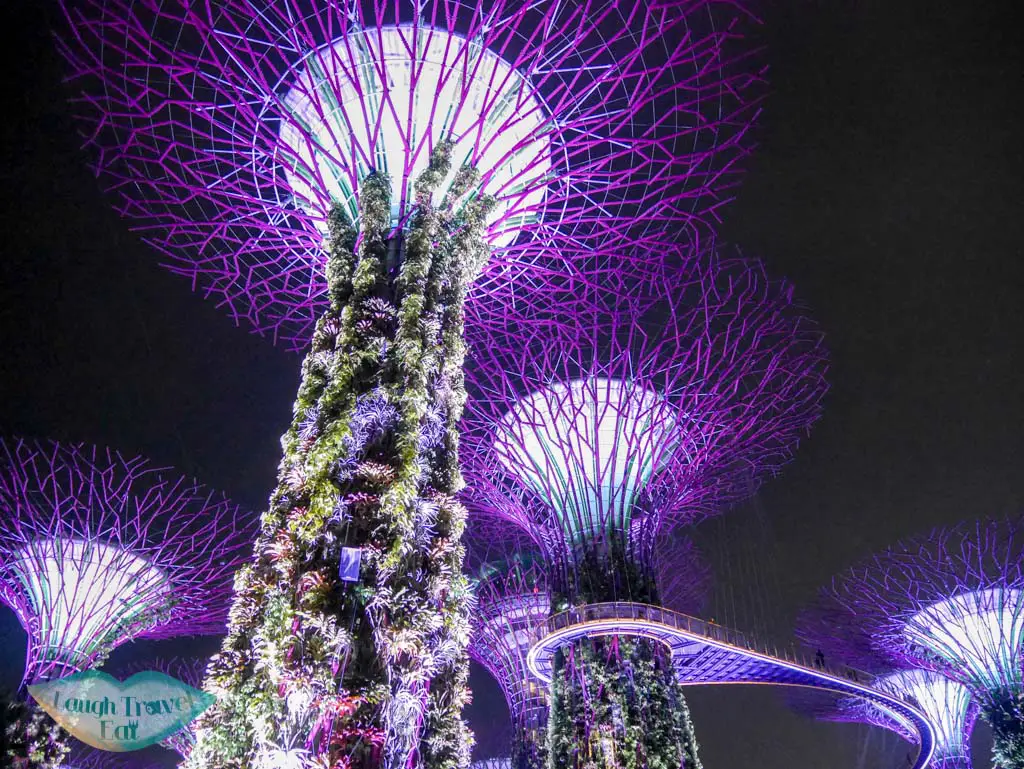 The Super Trees are one of the most well-known attractions in Singapore. A cluster of futuristic man-made trees, they do actually have a bit of a green component with leaves and vegetation growing on its trunk that leads up to its branches. While they are pretty during the day, at night they truly come alive with dazzling neon colours. Since it's free to enter and has a nightly light show at 8pm and 9pm, it draws a large crowd but it's well worth it!
How to get there: from Marina Bay Sands (Bayfront MRT), go up the escalators and walk through the hotel to reach the garden.
Merlion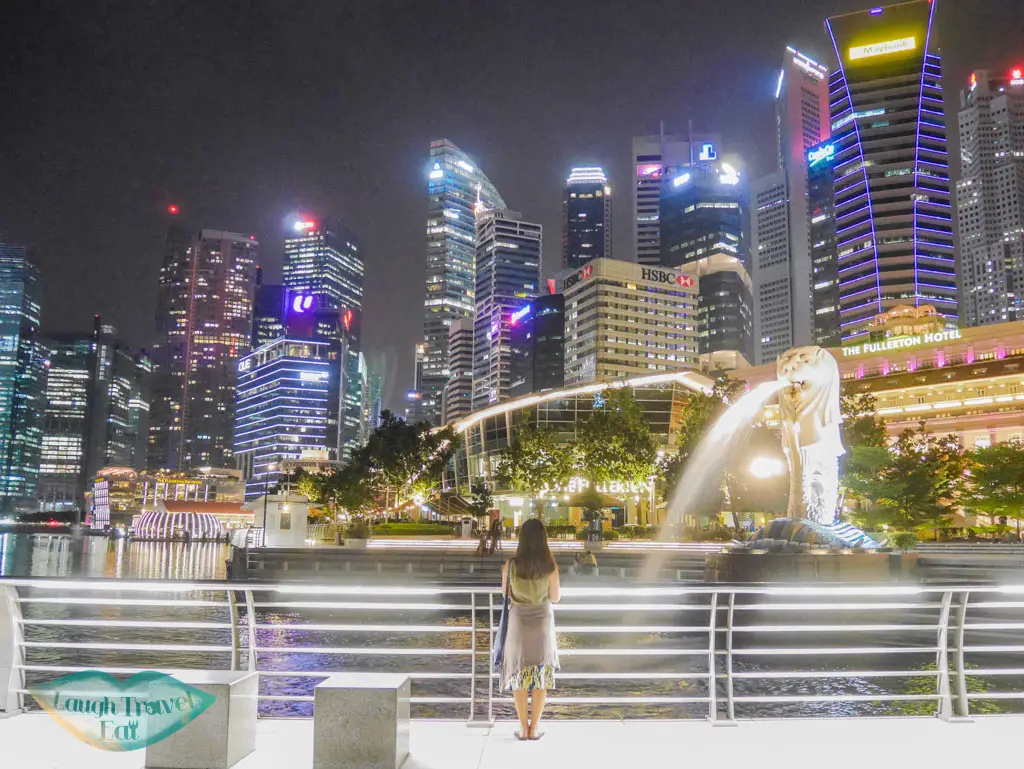 During my first visit to Singapore, somehow I was always tempted to walk by the Merlion at night no matter how late it was. One time, I was there at midnight with a few other people and it's almost magical. The (not-so) gentle babbling of the water from the bigger-than-I-expected white Merlion's mouth and the light from surrounding skyscrapers and Marina Bay Sand come together in another futuristic setting.
How to get there: Walking from either Bugis, Clark Quay, or Raffles Place MRT is probably the easiest.
Esplanades


Right by Merlion is a stretch of seafront that's called the Esplanades – it runs from Merlion's edge to the Helix bridge that connects to Marina Bay Sands. There are plenty of places to sit and enjoy the atmosphere, with views of both the Merlion and Marina Bay Sands visible.
How to get there: same as Merlion
Helix Bridge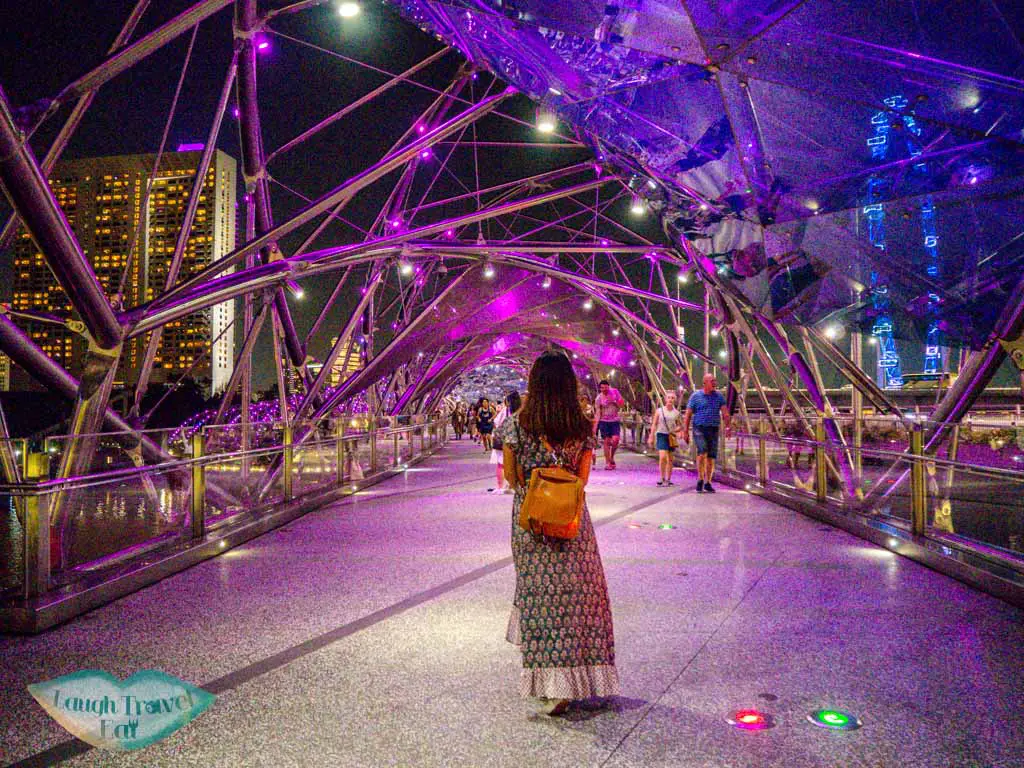 Don't want to pay 19SGD or didn't make it to the ArtScience Museum? The Helix Bridge at night is pretty spectacular ad futuristic. With a pinkish-purple glow and smoothly curved metal rods, it's almost like walking through a spaceship. It connects the edge of Marina Bay Shoppes to the opposite side of the river and makes for a great walk at night.


How to get there: from Bayfront MRT, exit to the Marina Bay Shoppe and walk towards the food court direction. The top level of the mall exits straight to the bridge connection.
Clarke Quay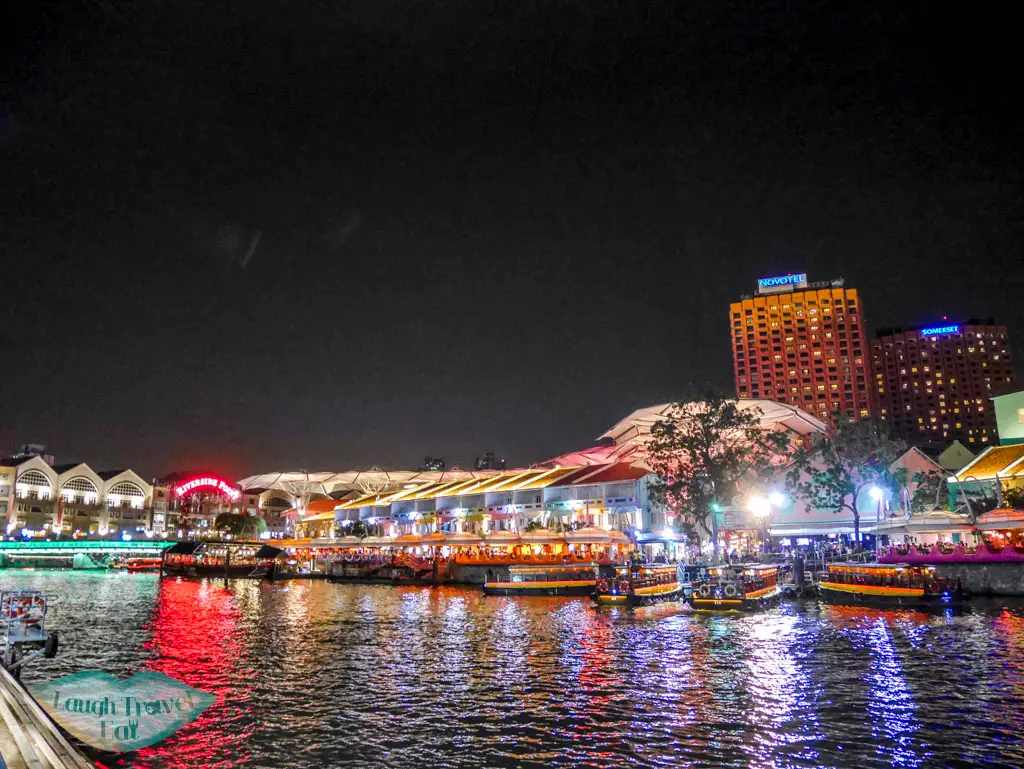 Want more neon lights and water reflection? Clarke Quay is perfect! There are plenty of bars and pubs along the canal front for you to chill in, and steps to sit on too. It used to be a key warehouse area during the early history of Singapore, where the cargos are transported from the port to store. The restaurants and bars now take over the renovated warehouse and the lights from the tourist boats and restaurants make the night lively and picturesque.
How to get there: Clarke Quay MRT
Marina Barracks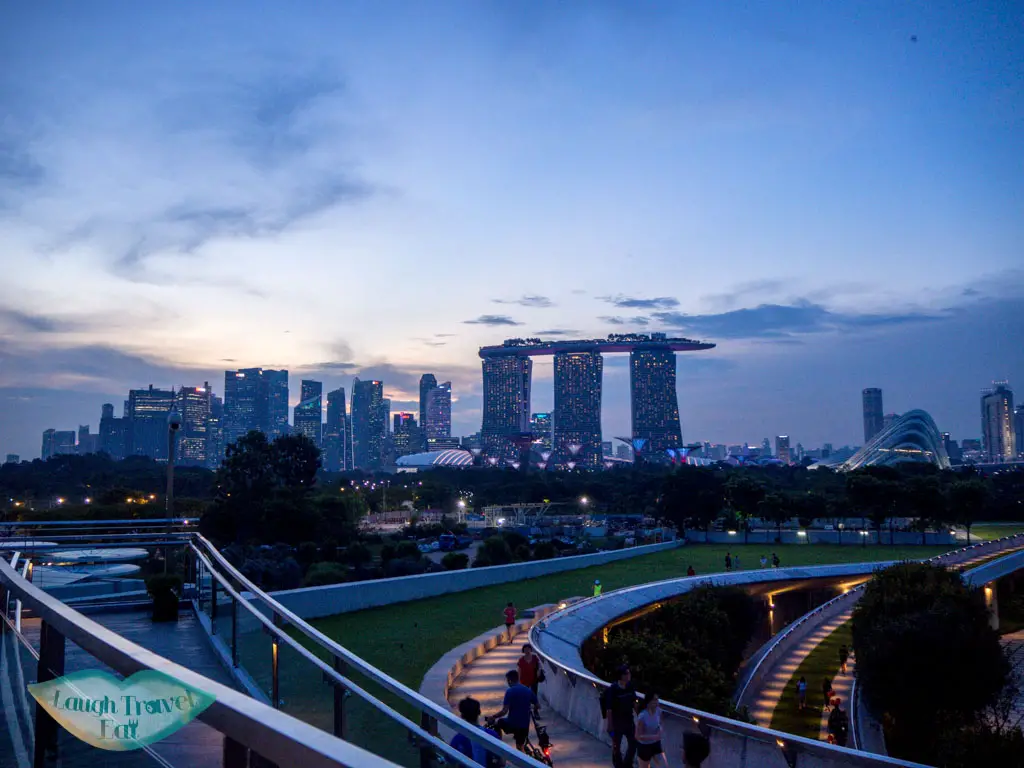 Another great place to admire Singapore's night view is the Marina Barracks, not too far from Gardens by the Bay. It's also an idea sunset watching location with the rooftop garden on the reservoir, with many joggers going up and down and cyclists breezing past from below. We even saw a set up for a romantic dinner (not that anyone turned up), as well as a marathon, happening.
How to get there: Walk from Gardens by the Bay is about 10-15 minutes.
Eat to your heart's content at a Hawker Center!
Late at night, it's probably the best time to eat! There are so many choices in Singapore, but for the best vibes, here are some of my favourite:
Lau Pa Sat

A food court inside a historic late 19th-century building, Lau Pa Sat comes from the phonetics of the Chinese word old (Lau) and Pa Sat from 'bazzare'. With a gorgeous orange tiled roof and high vaulted ceiling, there is an abundance of affordable choices for dinner. You get to mingle with Singapore's businessmen and women as you enjoy a chicken rice or Nasi Lemark.
Nearest station Telok Ayer
Makansutra Gluttons Bay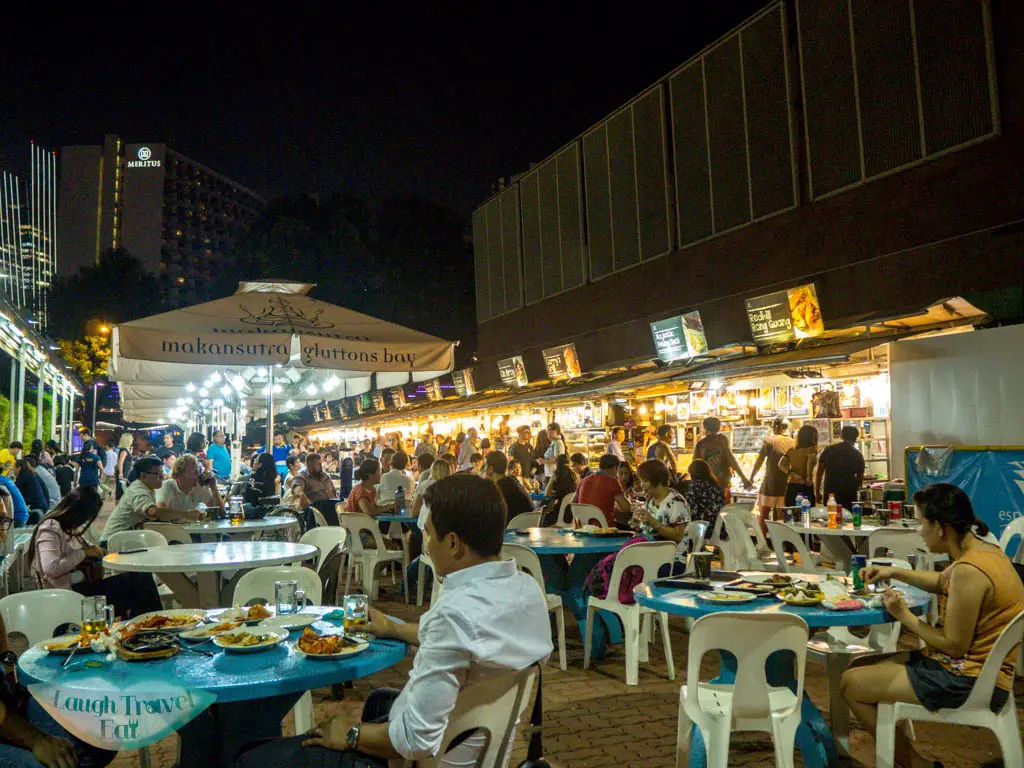 While this isn't exactly the hawker center with the best food, Makansutra Gluttons Bay is just by Esplanadas and not too far from the helix bridge. With a lively atmosphere and a good range of options, both locals and tourists come here to get their dinner fix.
Happy Hour at Ann Siang Hill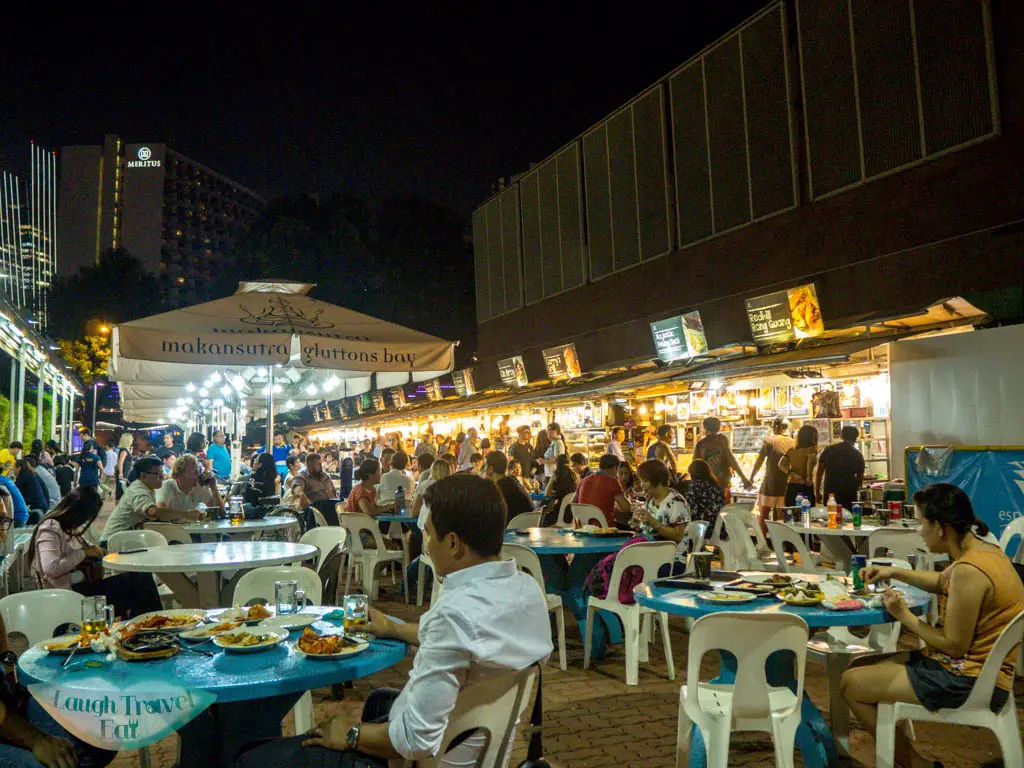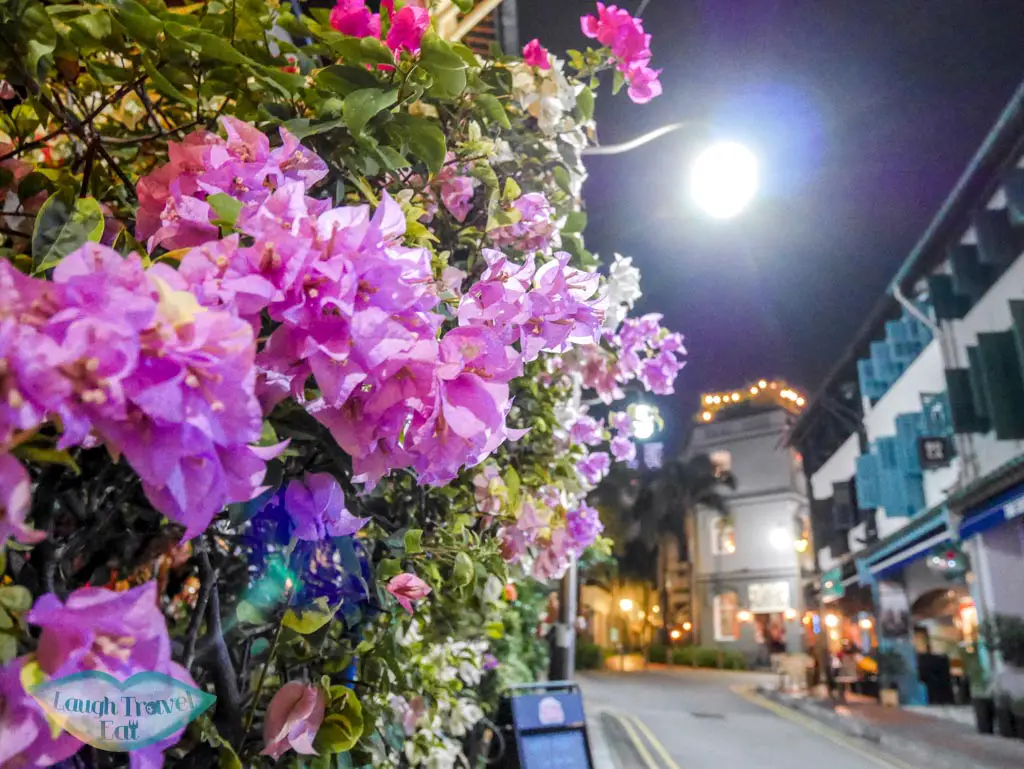 For happy hour lovers, Ann Siang Hill is the place to be. A beautiful neighborhood near China Town, Ann Siang Hill is full of heritage houses and many of them are now bars and pubs. Some of the best bars to hit are the rooftop bar The Screening Room, Oxwell & Co., and Beaujolais.
Nearest station: Chinatown MRT or Oustram MRT
Geylang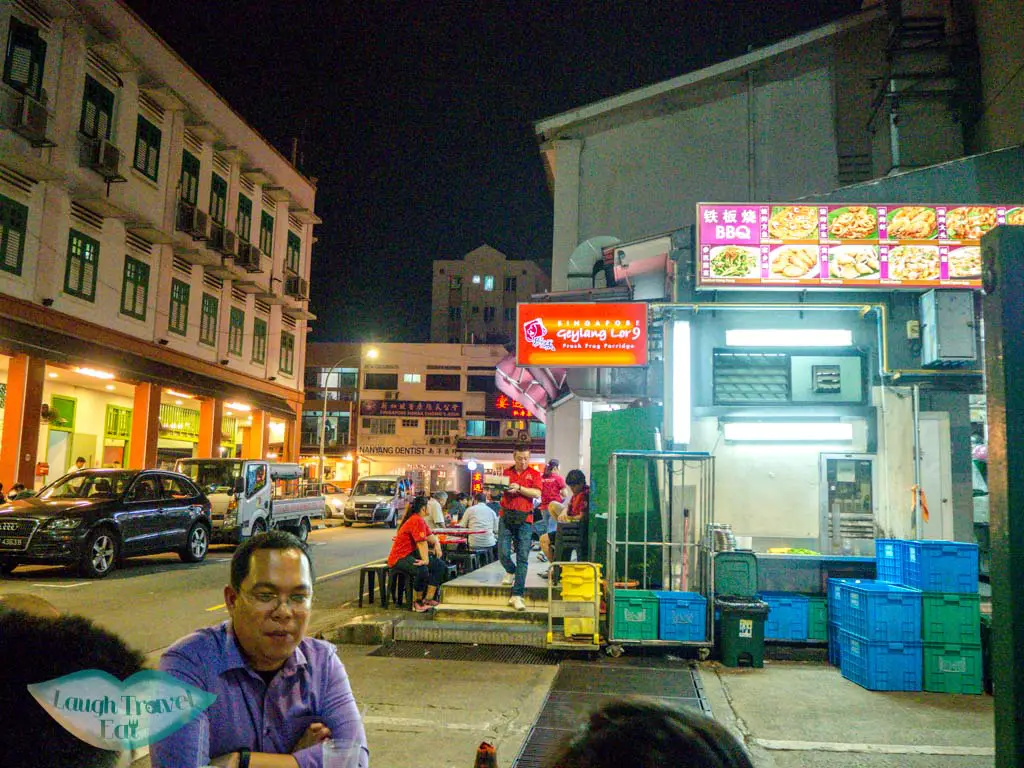 Want to eat like a local? Get yourself to Geylang and try the local's frog porridge. With seats that spread across the pavement and shopfronts, it's a truly local experience. Your order by how many frogs you want, so for four of us, we ordered four and that was a good portion. The porridge and the frog are served in different clay pots and you get to mix the sauce in your own bowl!
How to get there: it's easiest to get a Grab!