An in depth guide of the best places to visit in Singapore in 3 days
Singapore is a city that I have heard much about but hadn't had the pleasure to visit until recently. Especially because I have family in Penang and so we usually visit there instead. While I was excited to attend ITB Asia for a week, I only had about 3 days' worth of time to visit Singapore and here are the best places to visit:
Get your free Singapore map here!
Singapore famous must see:
Gardens by the Bay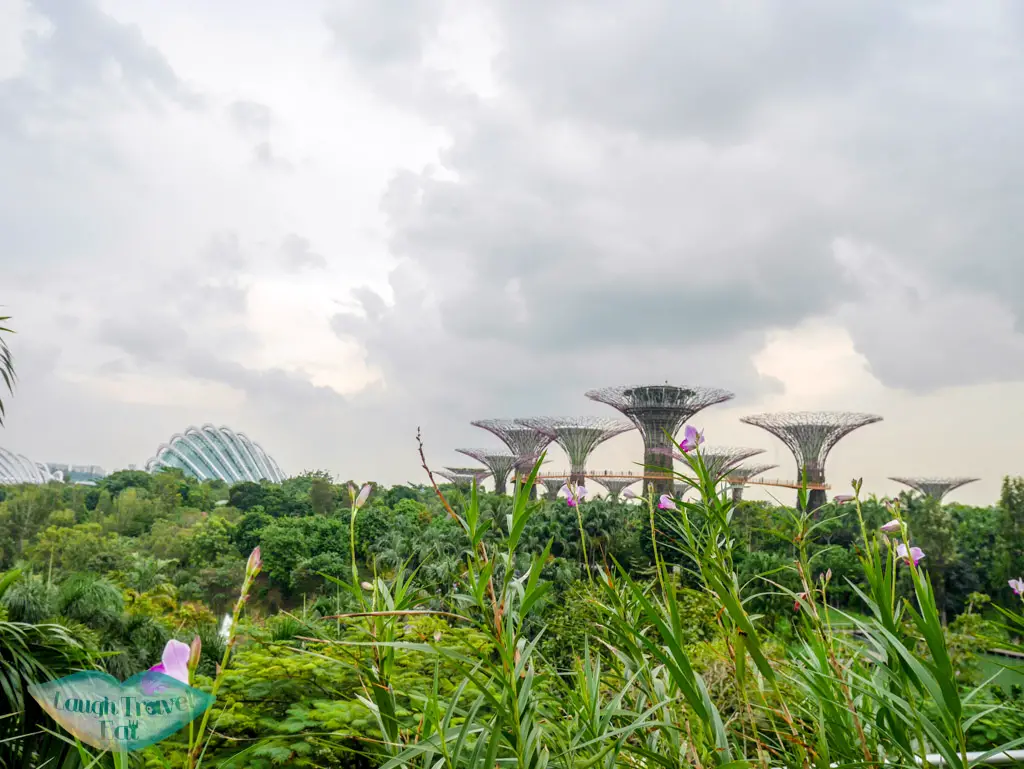 Undoubtedly the most iconic sight in Singapore, Gardens by the Bay refers to the park across the road from Marina Bay Sands that is home to the Supertree Grove, Cloud Forest, and the Flower Dome. It's easiest to reach through the skywalk that leads from the Marina Bay Sands Shoppes to the hotel, then to the garden.
The area is free to visit, but you will need to pay to go up the Supertree Grove and the two conservatories.
P.S. Gardens by the Bay is pretty walkable, so you don't really need the 3 SGD service they offer.
Opening times: 5:00 – 02:00
Supertree Grove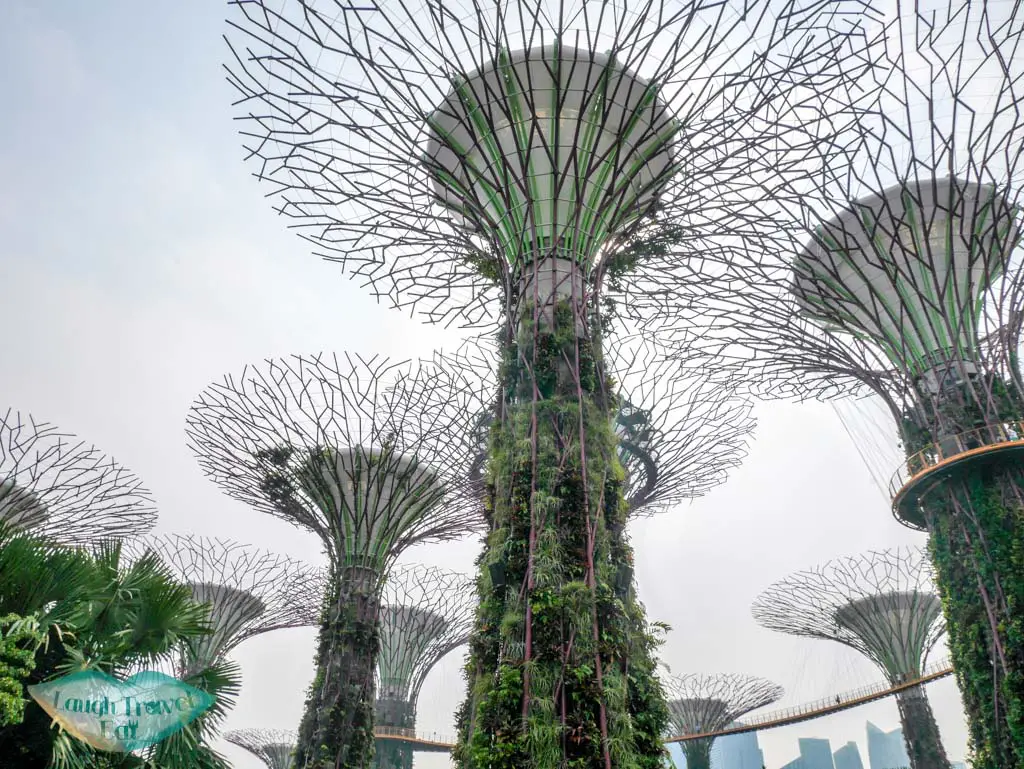 These futuristic trees are actually vertical gardens and there are two clusters in Gardens by the Bay. The larger one is closer to the skywalk, with the smaller Silver Trees located near the Flower Dome.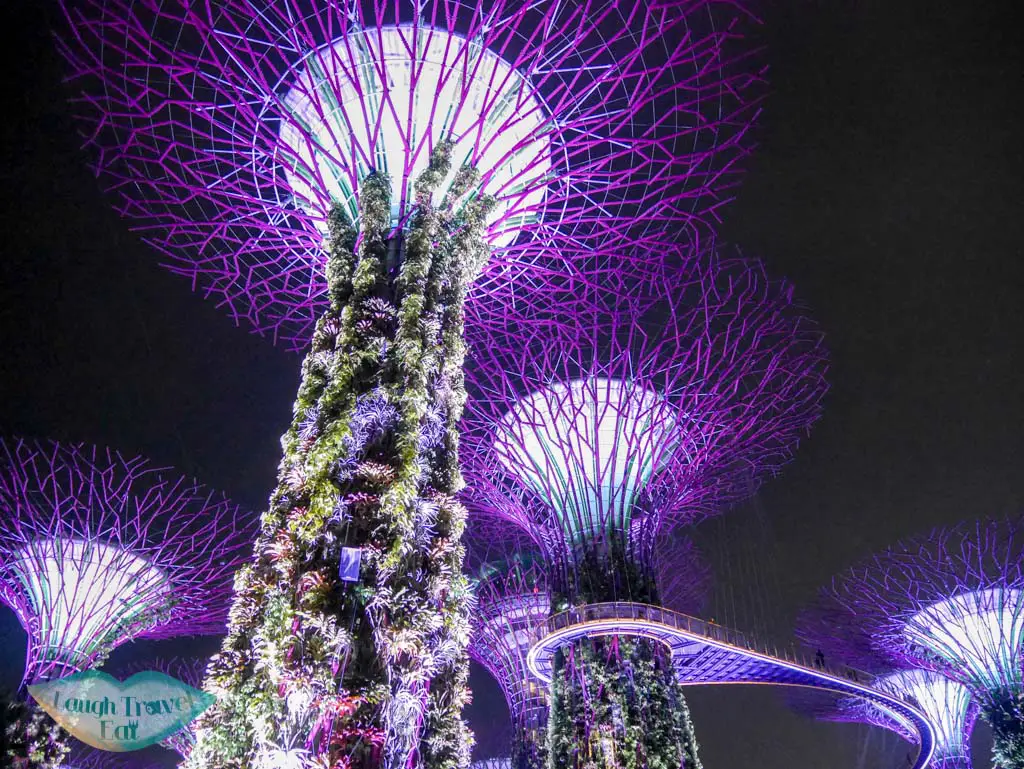 Don't miss the nightly light shows at the Supertree at 20:00 and 21:00. It was surreal to sit among tens of strangers on the floor and watch the light show, but it was spectacular to see. You can also witness it from the end of the skywalk from the Marina Bay Sands, but you'd be too far to hear the music.
Opening times: 9:00 – 21:00
No admission fee, 8 SGD for going up the Super Trees
Cloud Forest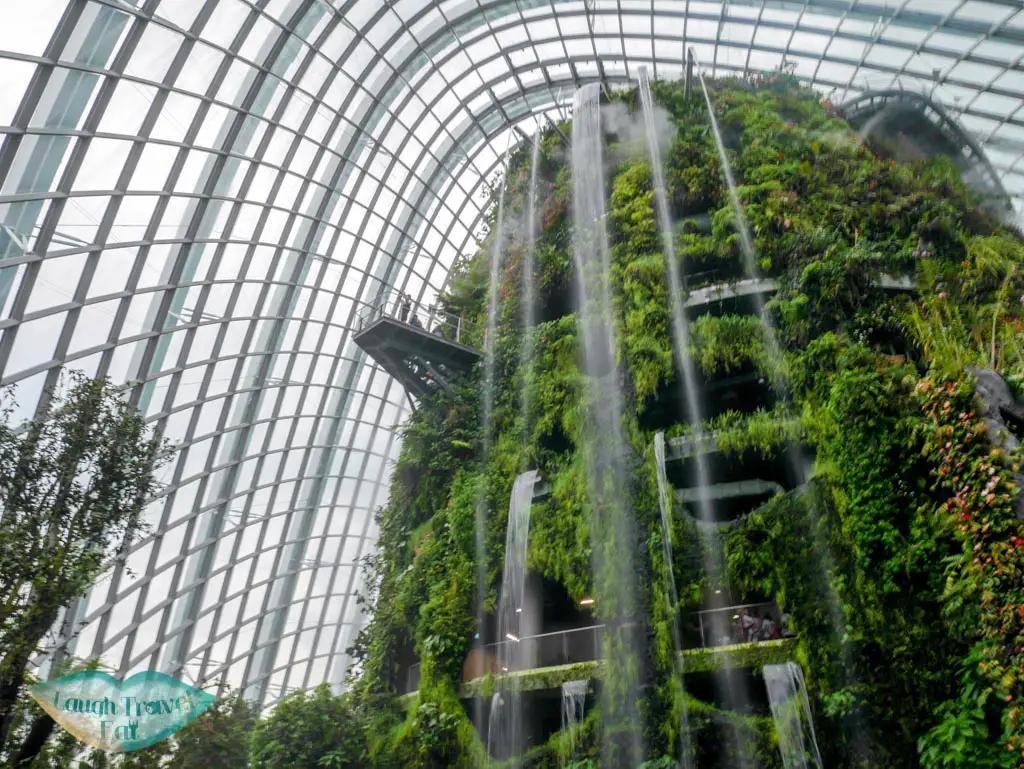 The Cloud Forest is most famous for its 42m high Cloud Mountain and the walkways that meander from top to bottom of the conservatory. I felt like the admission fee was well worth its cost when I saw the waterfall that greets me as soon as I entered. The Cloud Forest, as its name suggests, is a conservatory of high altitude tropical climate and floras, specifically those between 1,000 to 3,000 m.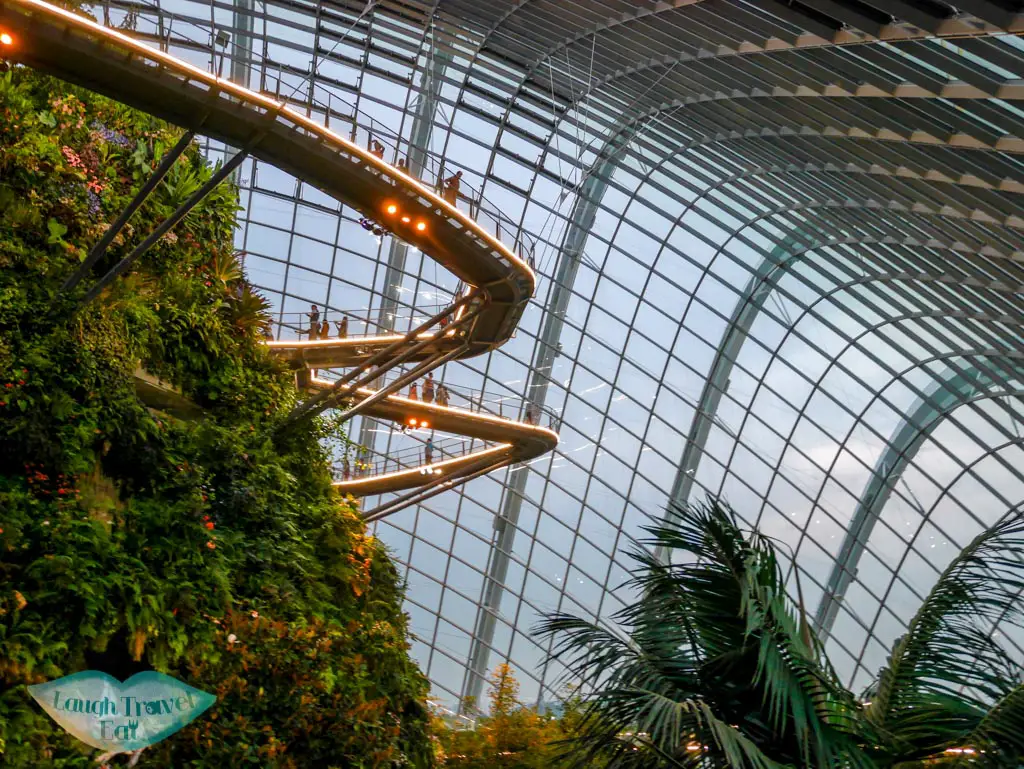 There are escalators and elevators up to the top of the Cloud Mountains where you can go down the walkways to the ground. It doesn't take long to go all the way around, but I recommend taking an hour to admire the view.
Flower Dome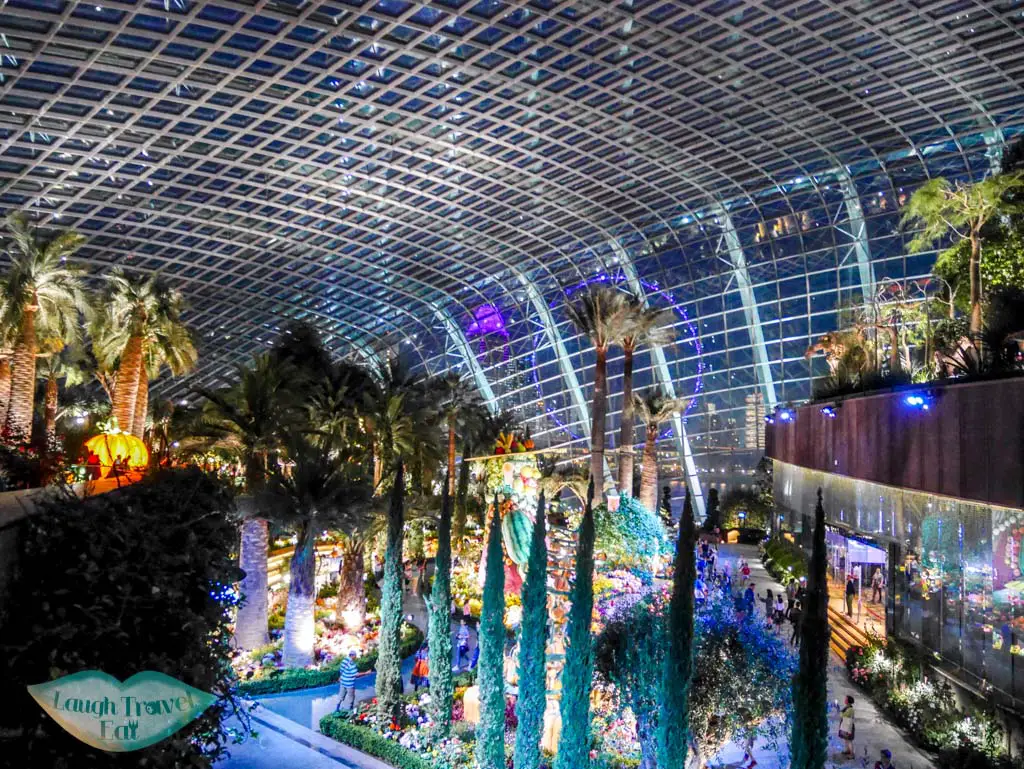 The flower dome is not as high as the Cloud Forest but broader, and home to floras of dry, warm climate. Unfortunately, when I was there it was near Halloween and at night so all I could see was pumpkins. But since I could only buy combo tickets at the stands there for the conservatory, I visited it as well.
Admission fee: 28 SGD for Cloud Forest and Flower Dome (cheaper for local residences) – can only purchase combo tickets and might hae to be in long queue
Opening times: 9:00 – 21:00 (last ticket sale 20:00, last admission 20:30)
Avoid the queues and prebook your tickets here
Alternatively, there are also tours available with pick up
Marina Bay Sands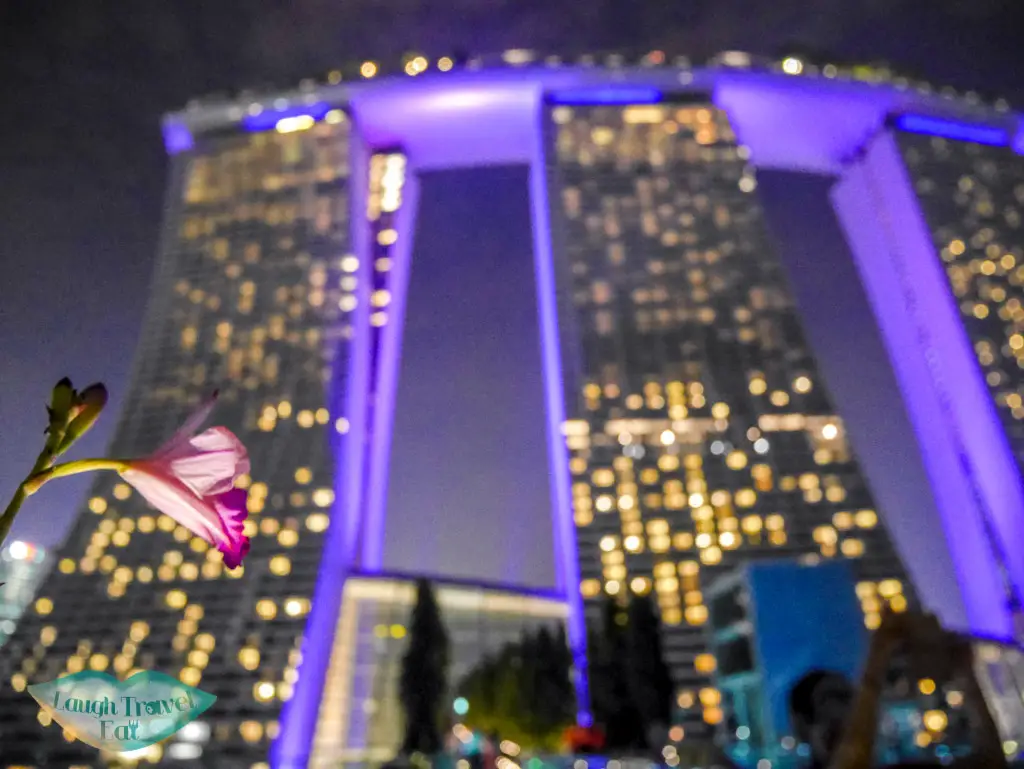 Marina Bay Sand is the second most iconic building in Singapore to me and it took me a while to get a clear idea of it. At the harbor facing the Merlion is the Marina Bay Sand Shoppes – the shopping malls. Though it's modern and beautiful, there's nothing particularly special about the mall itself, though it did have a canal at the lowest level, not unlike the Venetian in Macau.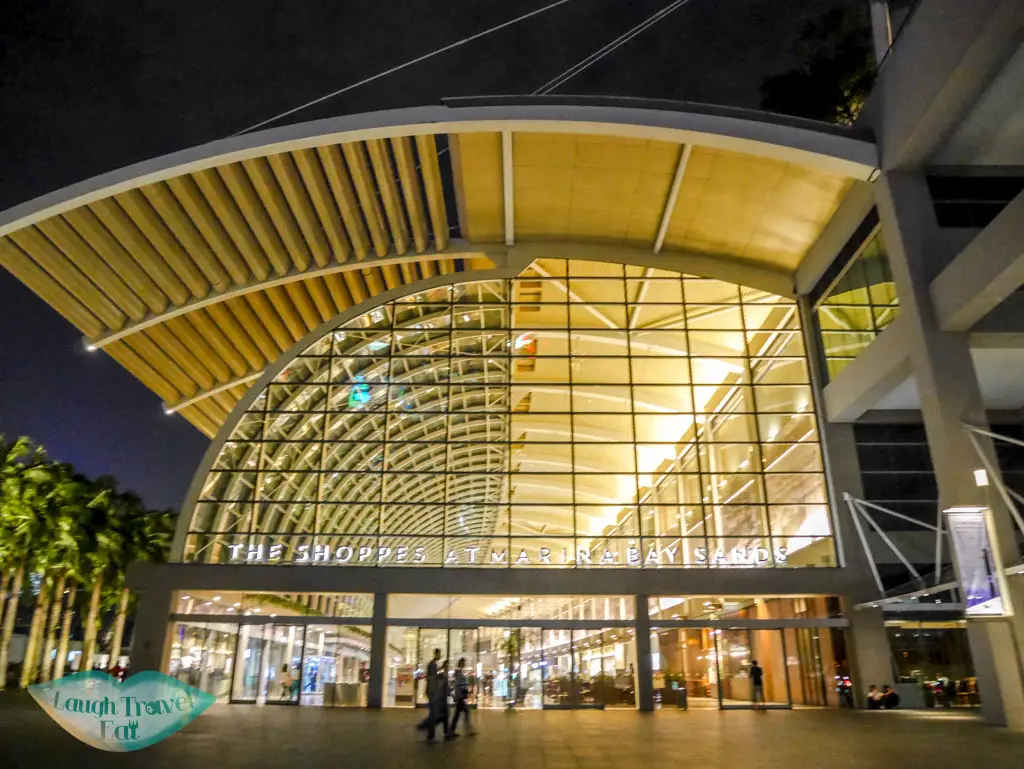 The hotel itself is a magnificent architecture piece, with three tall buildings holding what appears to be a very large ship. And that's where the famous infinity pool is. You will walk through the hotel on the skywalk to Gardens by the Bay and it's beautiful. If budget allows, staying one night there would an amazing addition to your trip.
Book a stay at Marina Bay Sands
Merlion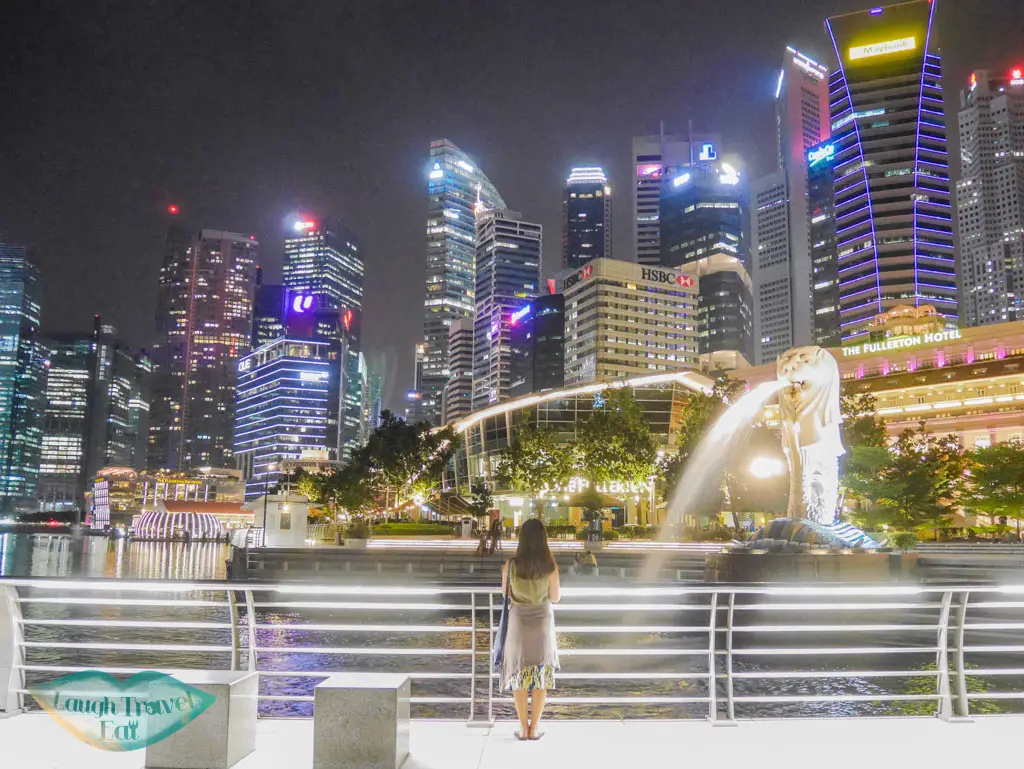 I had no idea that there was more than one Merlion in Singapore and the one at Downtown Core is undoubtedly the most photographed. It is bigger than I expected (unlike the Manneken Pis in Brussels). This was the original, built in 1972 and relocated here in 2002 in the Merlion Park. The Merlion is representative of Singapore, Mer for its sea heritage and Lion for its old name Singapura, meaning lion city.
Chinatown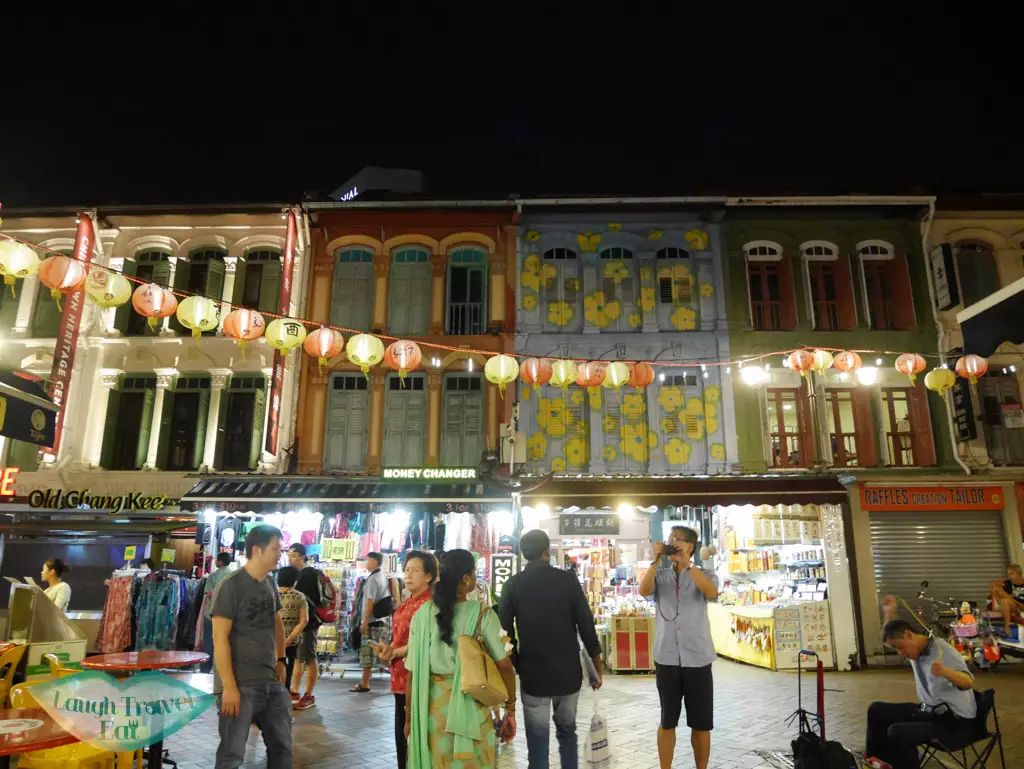 The Chinatown in Singapore is also called 牛車水, its literal translation means Cow Cart Water, which refers to its mode of water transportation back in the days. The area reminds me of the Pengnag's George Town, with colonial-styled 3-storey buildings stacked against each other in a row. Admittedly, they are in better shape than those in Penang, too. The area isn't big, and you can find plenty of restaurants and a market in the area.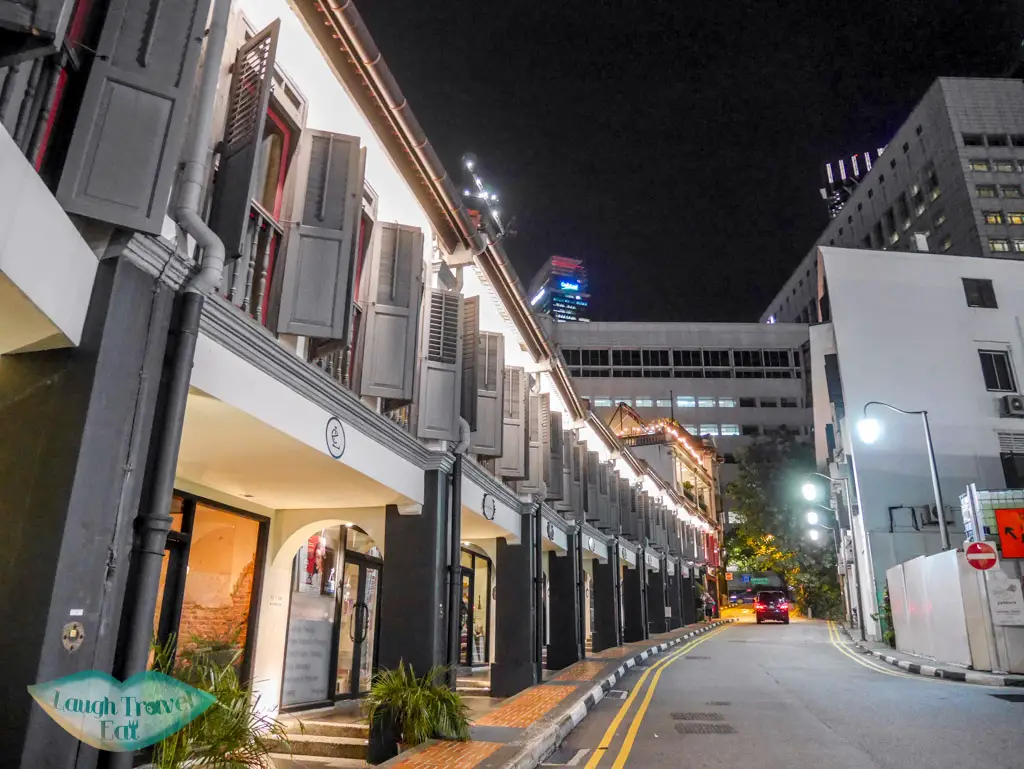 However, the prices at the restaurants here would be more expensive than eating at a cook food center. There are some beautiful streets around as well with quaint bars.
Clarke Quay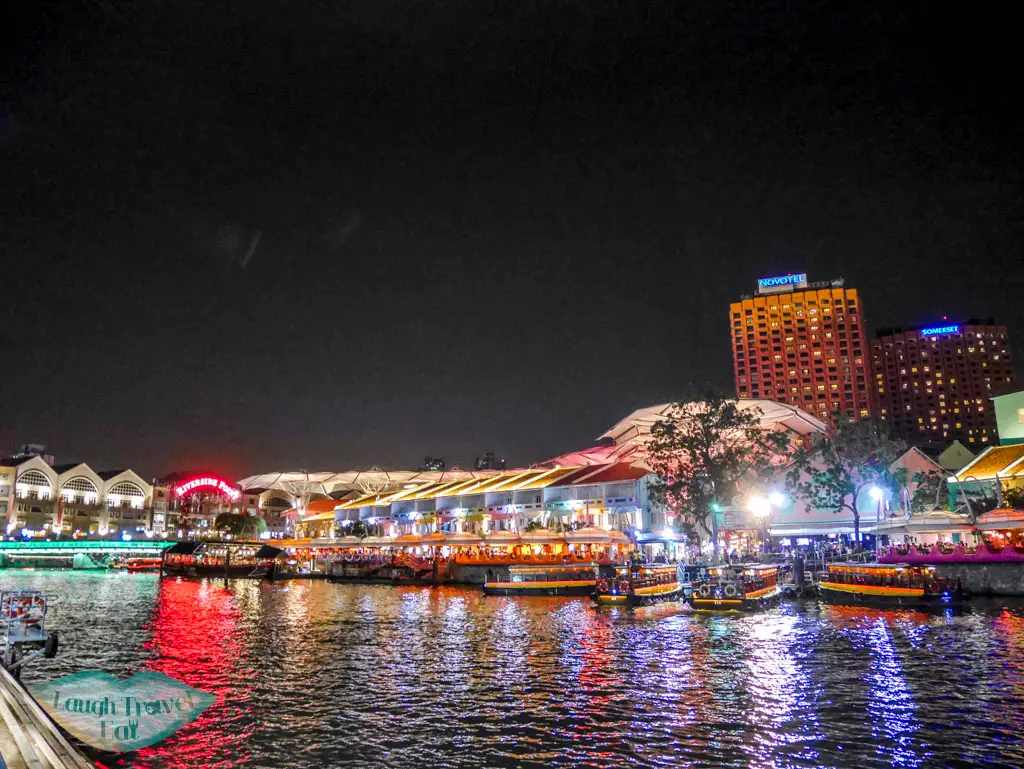 There is no better place for a leisurely stroll or somewhere to chill with friends than Clarke Quay. Named after the first governor of Singapore, it is a historical port trade area. Nowadays, it is home to restaurants and bars on one side and malls on the other, as well as a neatly paved sidewalk. There are boats for tourists to cruise down, but I prefer a walk down it.
Little India
The area of Little India is as its name suggests. On the surface, it didn't look all that different but you can see the culture as you walk down the street. The items on sale as well as the population are mostly Indians. I was there during Deepavali and the street decorations are beautiful. Here are some of the top attractions:
Sri Veerama Kaliamman Temple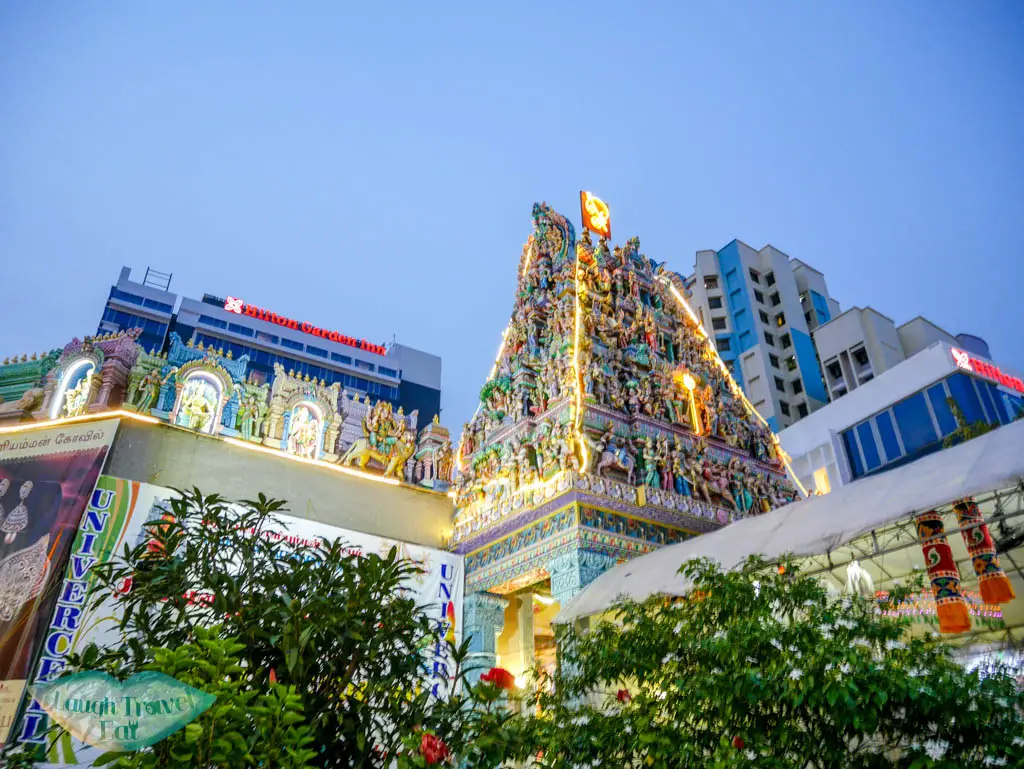 Built in 1881, the Sri Veerama Kaliamman Temple is dedicated to the Hindu goddess Kali, the Shakti of Shiva.
Address: 141 Serangoon Rd, Singapore 218042
Tan Teng Niah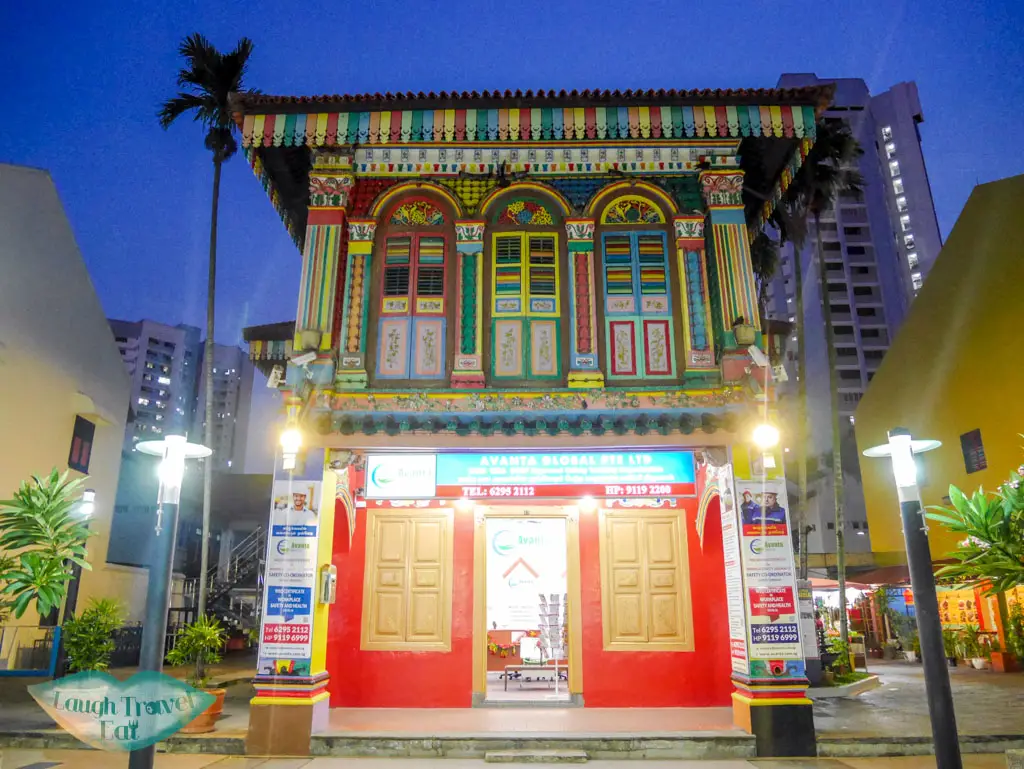 A colourful house in the middle of Little India, Tan Teng Niah's residence was built in 1900 as the home of the merchant. It is extremely photogenic and Instagrammable, so don't miss the chance to take a photo there.
Address: 37 Kerbau Rd, Singapore 219168
(Not open to visitors)
Tekka Center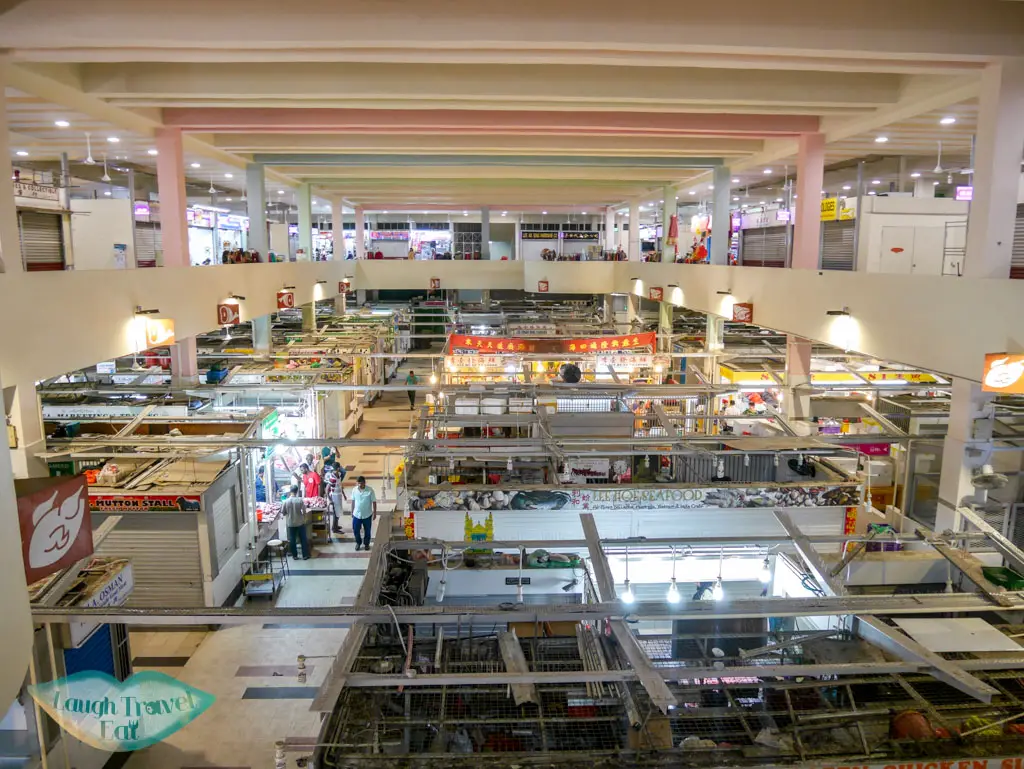 The wet market in Little India right next to the MRT station, Tekka Center's upper floors sells a myriad of Indian clothes that was a feast for the eyes. The lower floor is typical of a wet market and sells meat, vegetables as well as authentic Indian food.
Address: Bukit Timah Rd, Singapore
Opening times: 6:30 – 21:00
Sentosa
I originally intended to skip the island of Sentosa altogether, but I managed to sneak a quick night-time visit to the island when I met up with MichWanderlust. You can reach Sentosa by taking a train from the mall Vivo City at Sentosa stops, but it turns out you can simply walk over and enter for free. The return train ride doesn't require payment so you can take that back. I didn't manage to see much except the shopping area and the entrance to Universal Studio.
Singapore's other top sights:
Parkview Square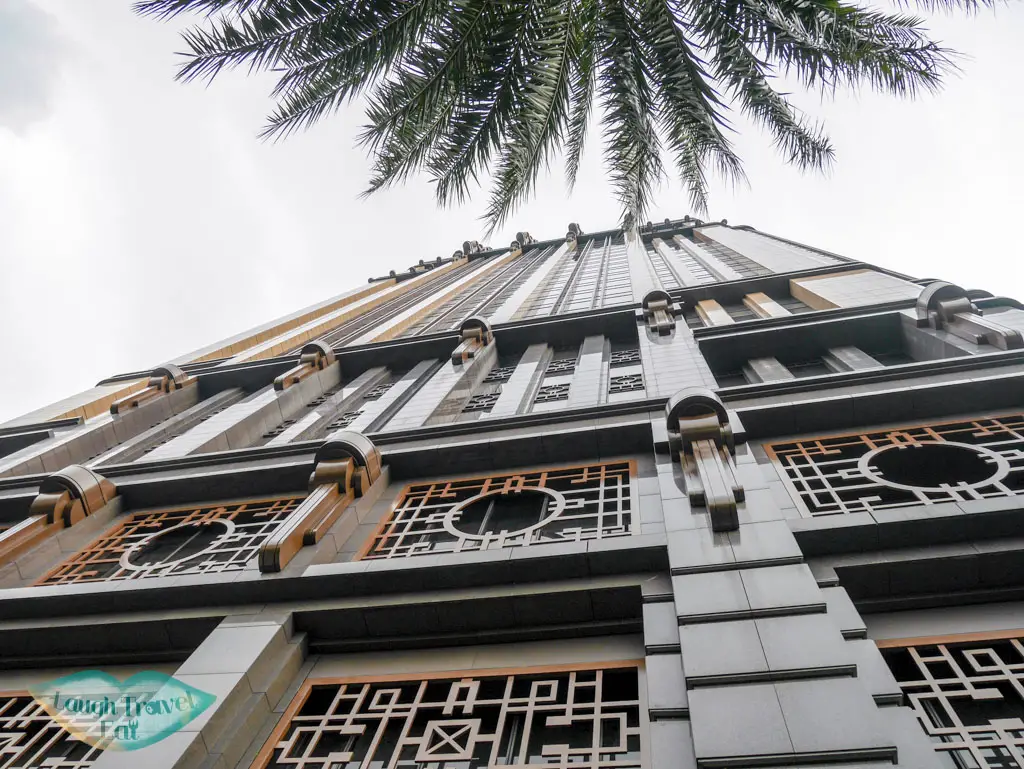 One of the coolest buildings I had ever seen, the Parkview Square stood out like a sore thumb from the roaring 20s. With a distinctively Neo Art Deco bronze and gold exterior, the office building looked like it belonged in a movie set or as a hotel.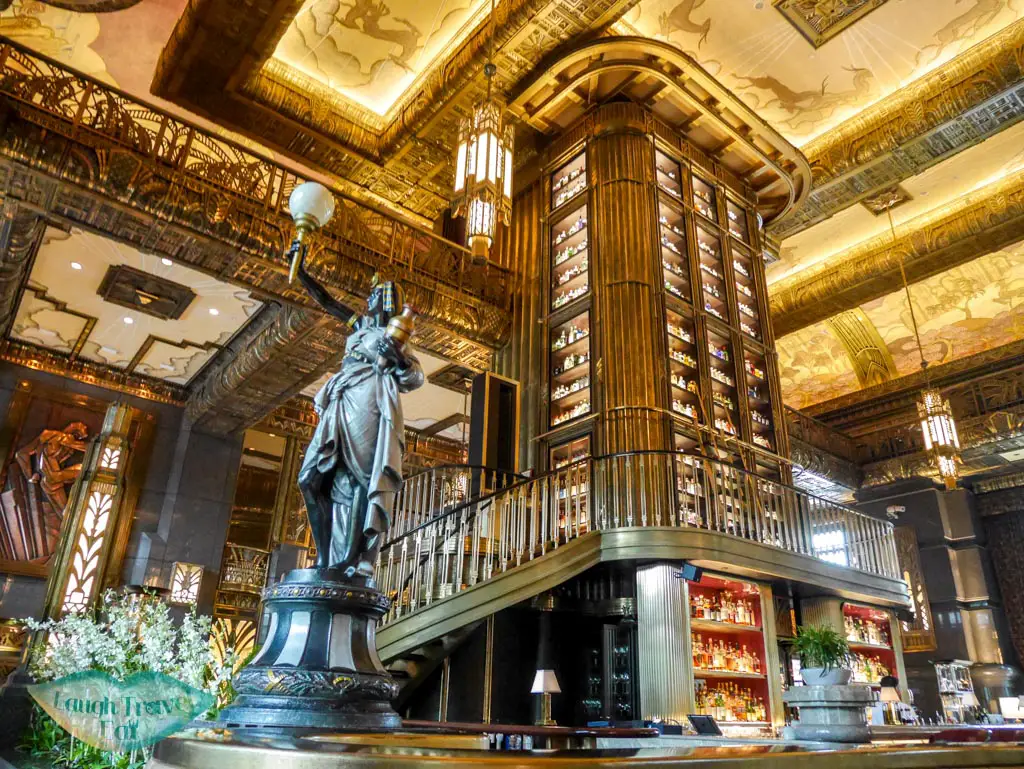 The building was completed in 2002 and belonged to the Chyau Fwu Development, and a visit to its lobby is a must. The décor makes you feel as though you are inside the set of Great Gatsby.
Kampong Glam
A cute little neighborhood with street art and culture, Kampong Glam was the historic neighborhood where the Sultans, along with Arabs and Malays, lived during the colonial times. It is also nicknamed the Muslim Quarter and is now a wonderful area full of boutique shops, cute cafes, and restaurants.
Haji Lane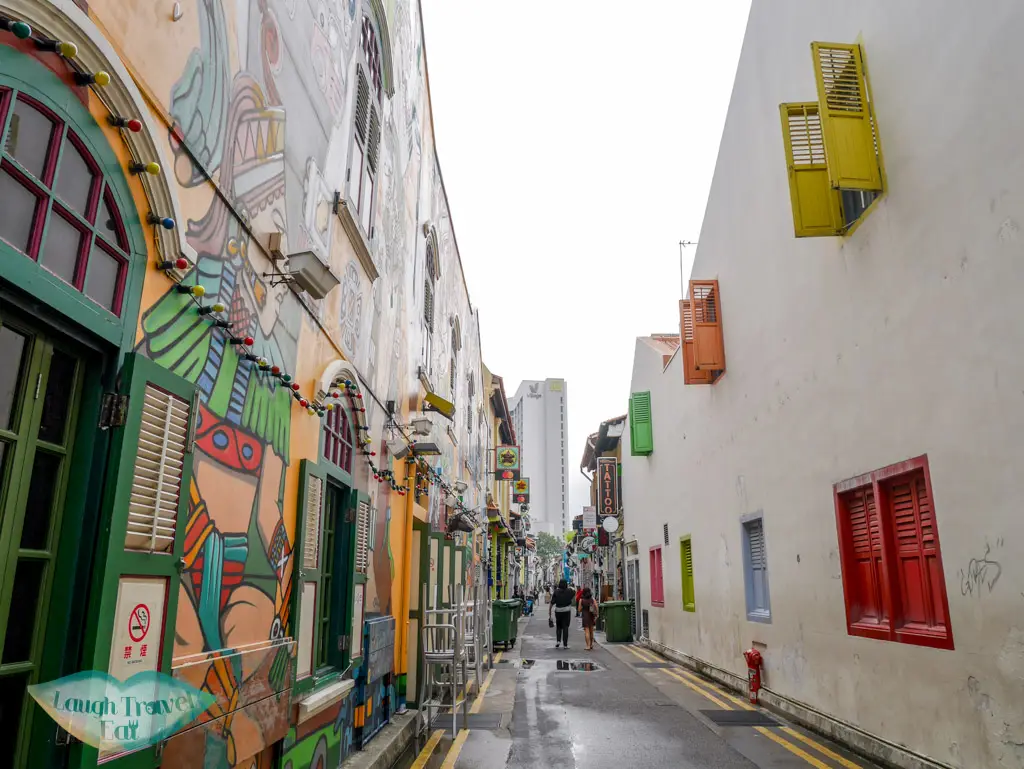 Probably my favourite streets in Singapore, Haji Lane has many qualities about it that's hard not to love. There are the vibrant and exotic murals that cover the walls of the street, the cute shops, cafes, and restaurants, as well as the contrast of the modern building at the northern end.
Arab Square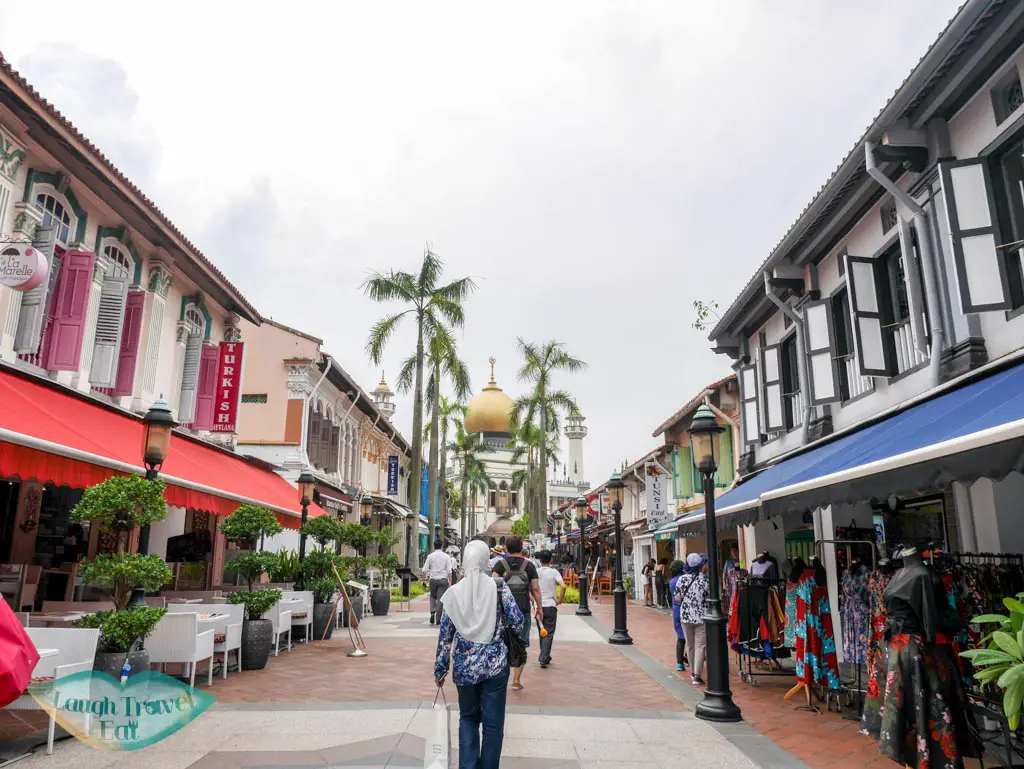 A few streets down from Haji Lane is the Arab Square with wide, white road that leads to the Masjid Sultan Mosque. The mosque itself was built in 1928 to replace the one built by the Sultan Hussein Mua'zzam Shah ibni Mahmud Shah Alam when he relocated to the area during the colonial times.
Bugis Street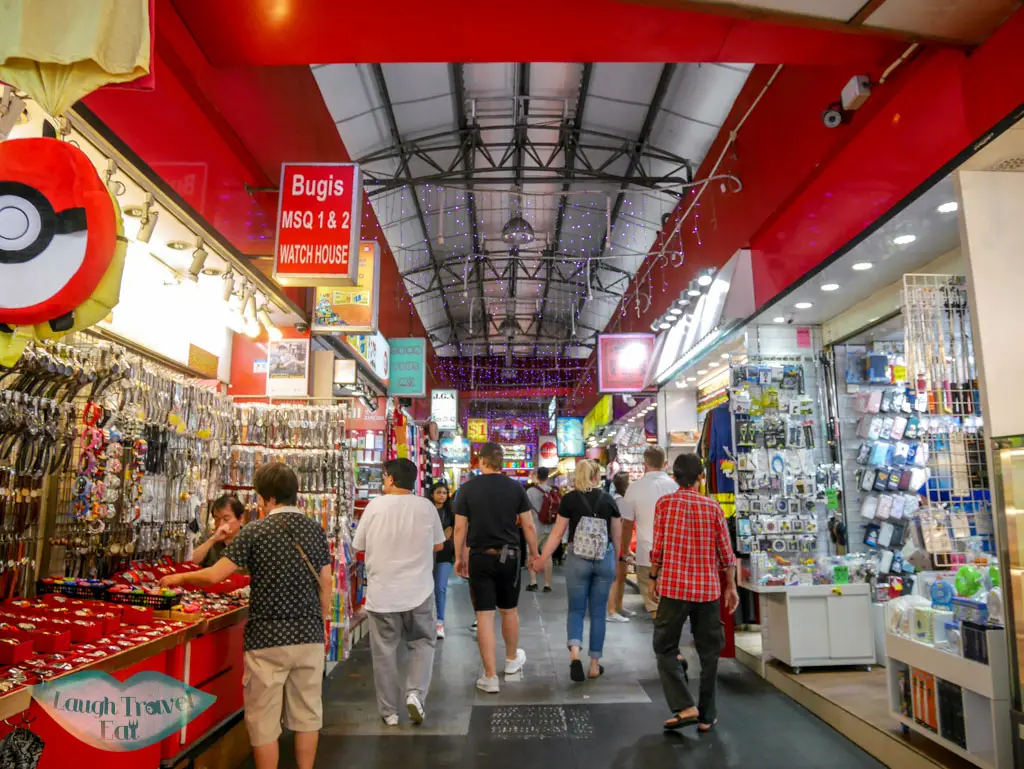 Bugis Street is the market street of Singapore, like a much smaller version of Mong Kok in Hong KongMong Kok in Hong Kong. If you are looking to buy some souvenir without breaking the bank, this is the place to do it. In the past, this used to be a sort of Red Light District. There are over 800 stores in the covered market and you mustn't miss the shopping mall where parts of the old street buildings were conserved inside.
Chijmes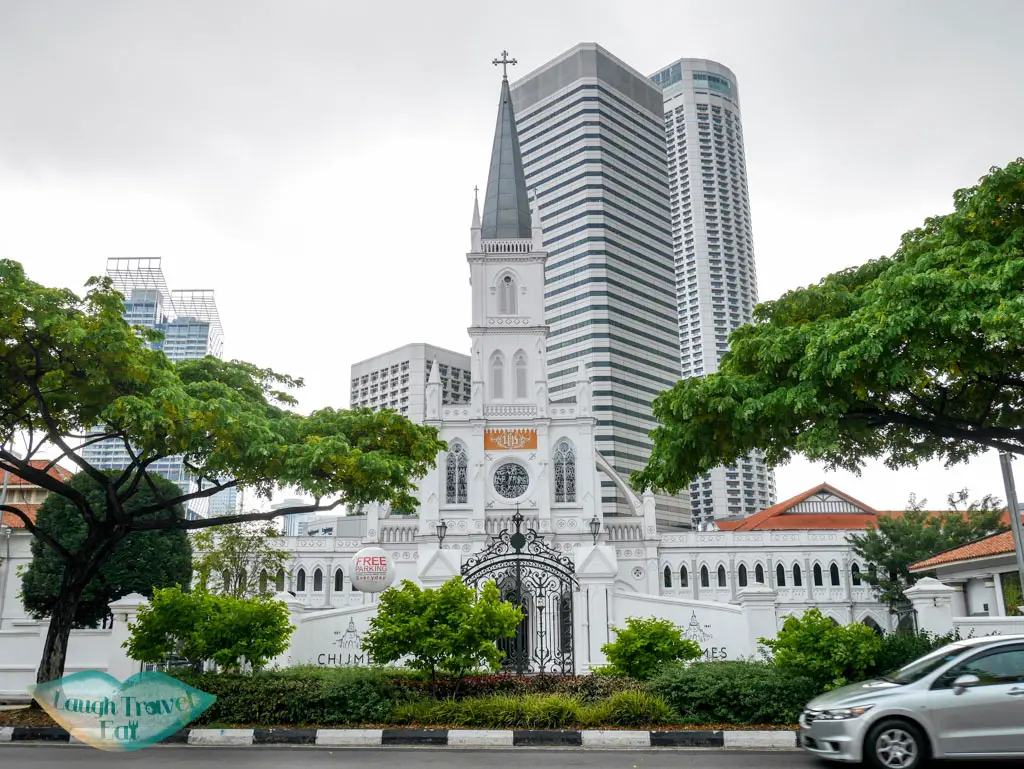 The word Chijmes gave me a bit of a headache when I first saw it, but this beautiful Gothic building complex is absolutely stunning. Built in the mid 19th century, it was formally a Catholic convent with a more conventional name of Caldwell House.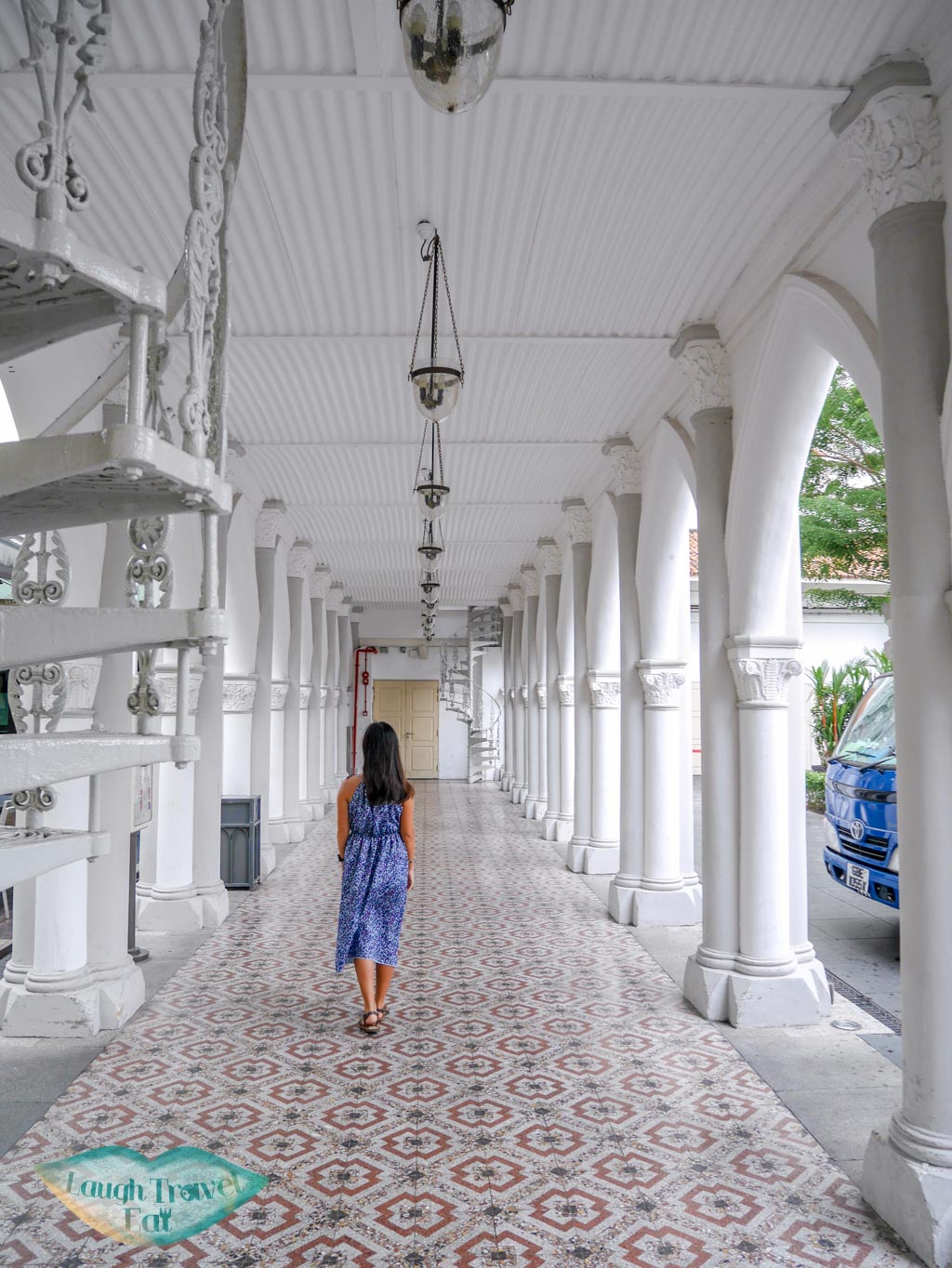 Now it is a restaurant, wedding venue, and art gallery.
Address:  30 Victoria Street, Singapore 187996
Opening times: Mon – Fri 8:00 – 03:00; Sat – Sun 8:30 – 04:00
The Southern Ridges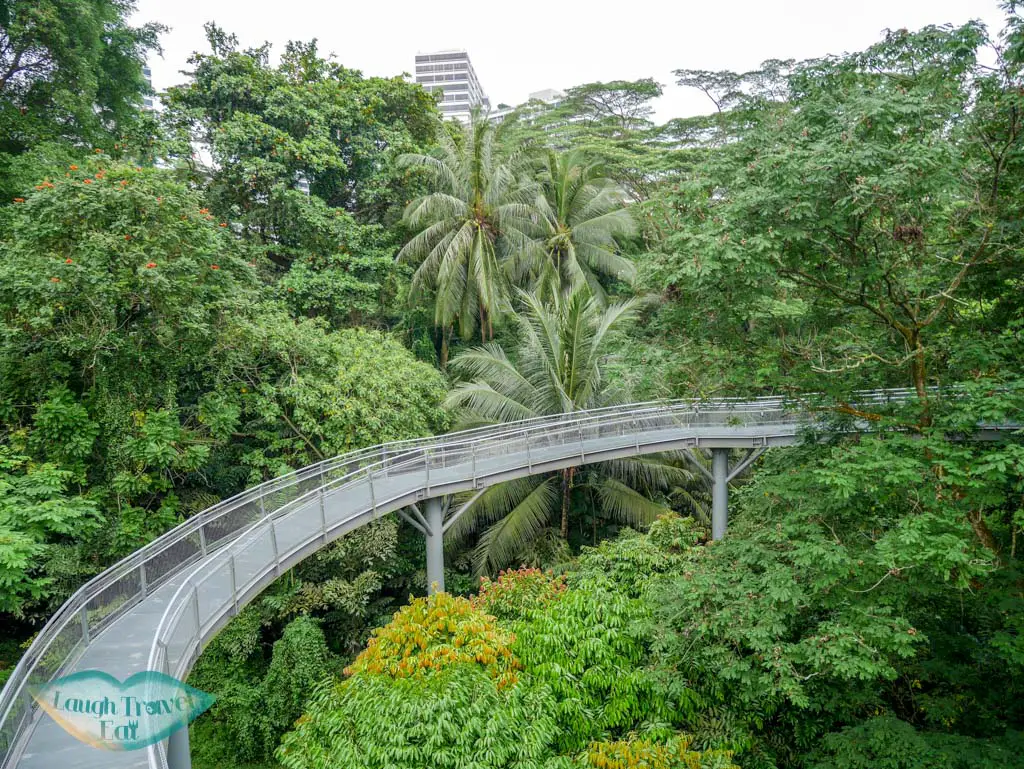 The most difficult to access site on the list, the Southern Ridges refers to a 10km series of the skywalk that spans over several parks. The most scenic part is part between the Mount Faber Park to Telok Blangah Hill Park, but if you are pressed for time then just visit the Henderson Waves.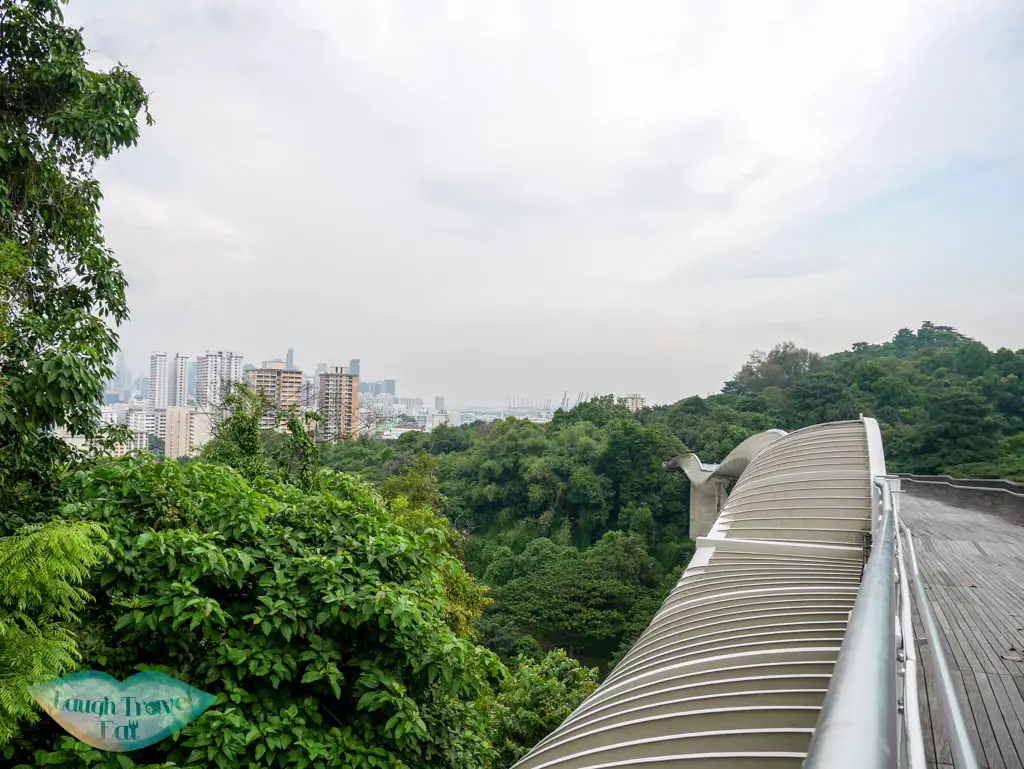 It only takes about 40 minutes to hike the aforementioned section but you would have to take buses or walk 15-20 minutes from MRT station.
Address: Henderson Road, Mount Faber Park, Singapore 099203
Nearest MRT station: Labrador Park and or Telok Blangah MRT – but will require 15-20 minutes walk
Nice Restaurants in Singapore
Cooked food centers, otherwise also called Hawker Centers, are the most budget-friendly places to eat with great varieties to choose from. Here are some of my favourite ones:
Maxwell Food Center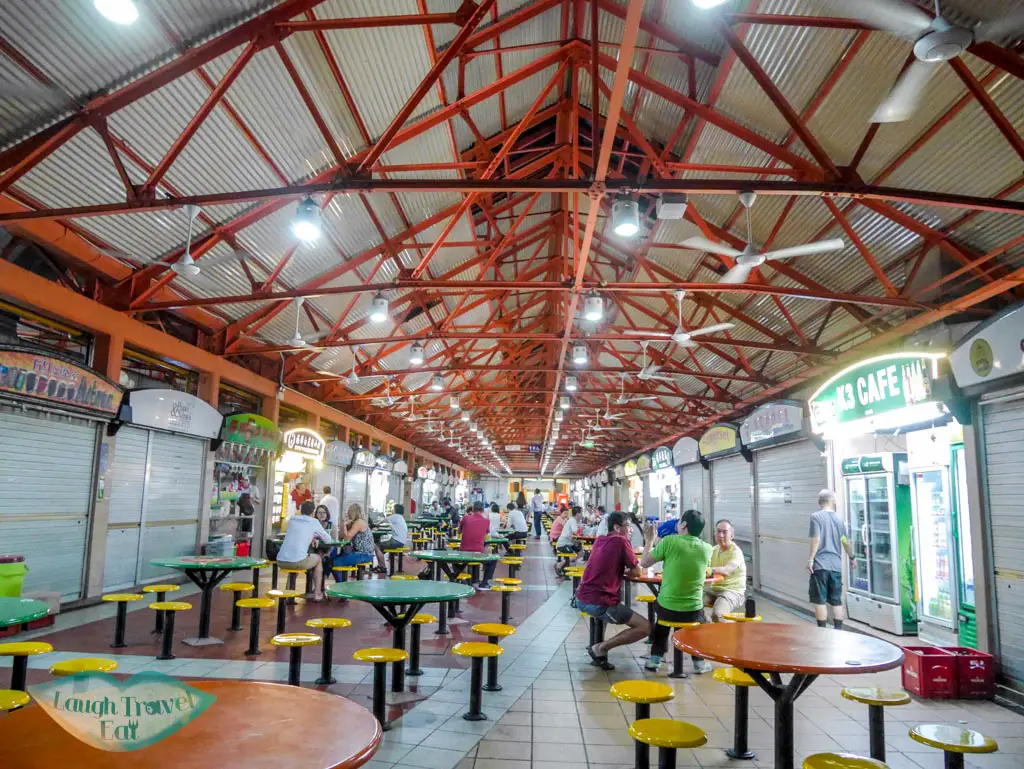 Most famous for the Tian Tian Chicken Rice Store, Maxwell Center is located near Chinatown and an authentic place to eat in Singapore. Although be warned that stores don't open till that late. I had my first dinner there and there were only a few stores still opened at 9pm.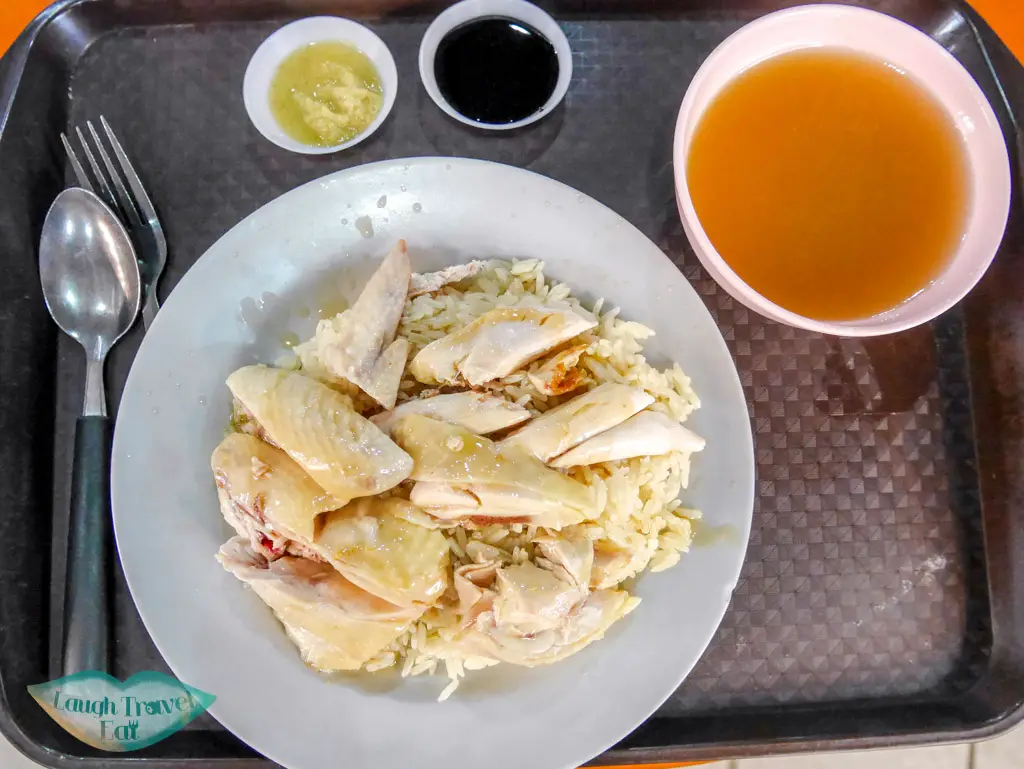 Address: 1 Kadayanallur St, #01 -10/11 Maxwell Food Center, Singapore 069184
Opening times: Closed Monday, 10:00 – 21:00
Lau Pa Sat

If you want to go somewhere a bit more classy, then Lau Pa Sat and its stunning architecture won't disappoint. The 19th-century former market is an architectural gem with its octagonal shape and vaulted ceiling.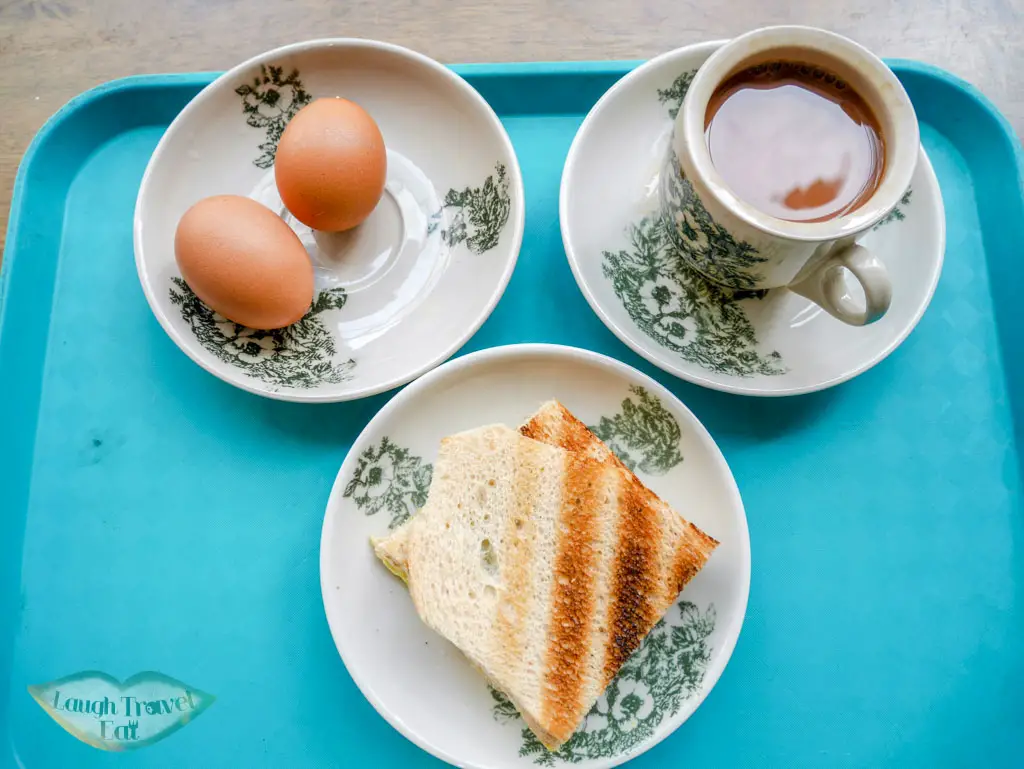 I had my breakfasts there for two days, enjoying the Kayan Toast and milk tea.
Address: 18 Raffles Quay, Singapore 048582
The area is open 24 hours
I also had the privilege to be taken on a Singapore food tour by the lovely Saucy Singapore, and below are the highlights:
Tash Tish Tosh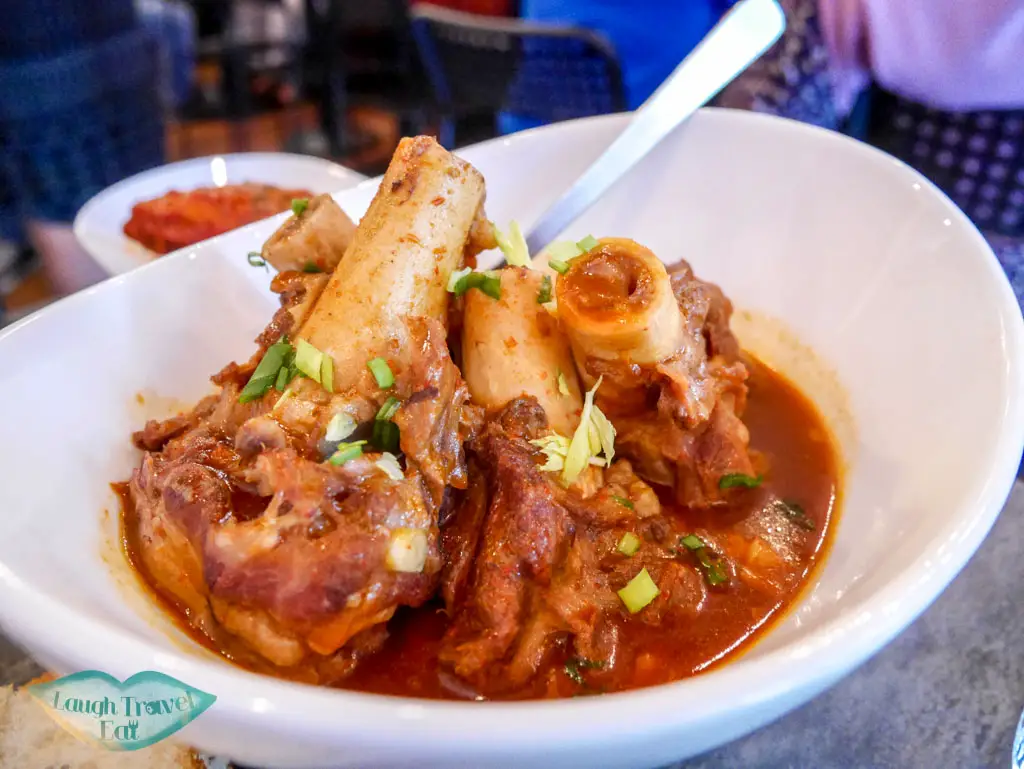 An absolute gem near the Kampong Glam, Tash Tish Tosh does American food with a Malay twist and I was definitely begging for more. Their The Bomb Buffalo Wings are to die for and so is their Tash Toolang Stew (mutton bone marrow stew). The bread is amazing itself and I wish I could eat more!
Address: 50 Kandahar St, Singapore 198900
Opening times: daily 10:00 – 22:00
Julie Bakes

A Halal bakery near the Arab Square, Julie Bakes serves up some tasty cupcakes and cakes with a local flavour. There is jackfruit cake sitting alongside your average red velvet, and you have got to try their cookies as well.
Address: 14 Baghdad St, Singapore 199653
Opening times: closed on Monday, otherwise 12:00 – 20:00
Old Tiong Bahru Bak Kut Teh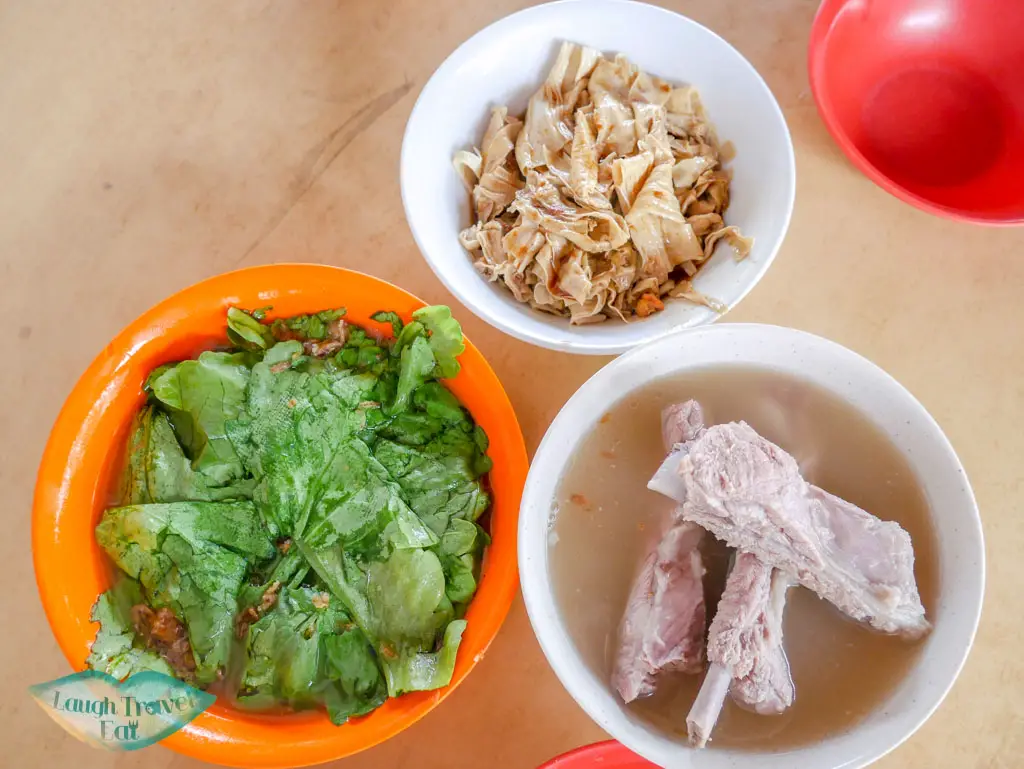 Bak Kut Teh is one of my favourite food in Penang and I was excited to try the Singaporean version, too. The main difference between the two is that the Penang version is more herbal and the one in Singapore is more peppery. I'll be honest and say that the Penang version is far superior in my heart, but it doesn't mean that the Singaporean one isn't good too. One huge advantage is that you can ask for a broth top-up in Singapore!
Address: 58 Seng Poh Rd, Singapore 160058
Opening times: closed on Monday, 6:30 – 21:00
Of course, there isn't just Singaporean food on offer, here are two of my favourite foreign cuisines pick:
Souvlaki Gyromania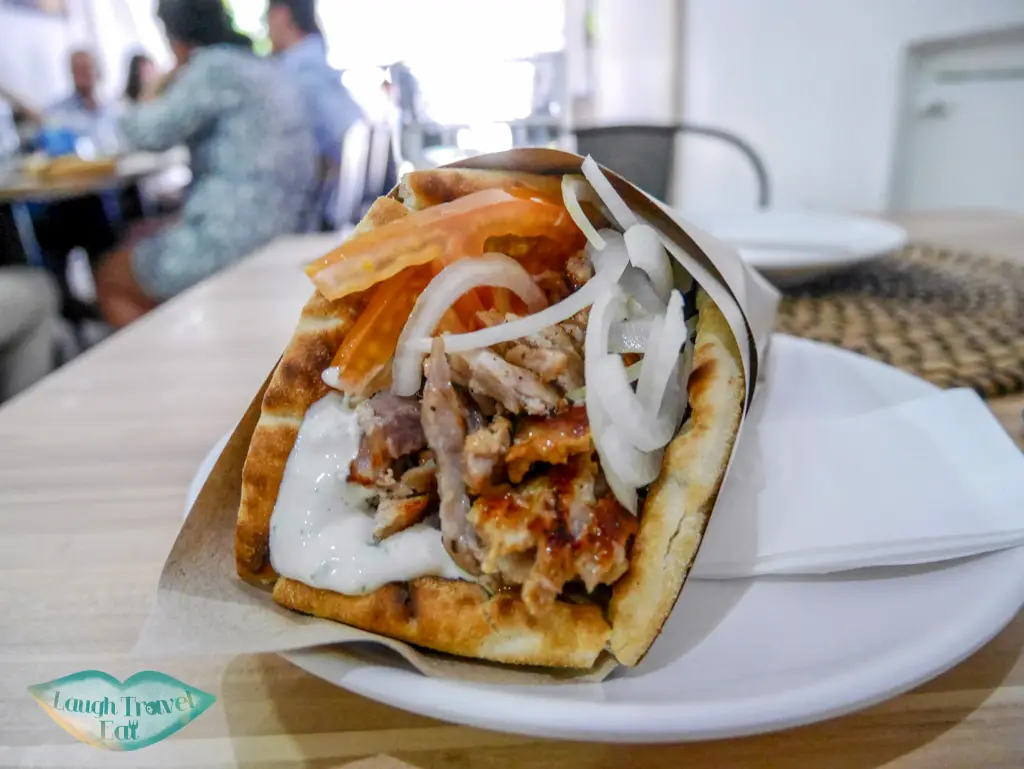 One of the biggest food love of my life is Gyros Pita, a Greek snack that involves pita bread, slices of kebab meat (not shavings or souvlaki) with taziki, chips, and salad. By some stroke of luck, there was an authentic Greek place near Clarke Quay. At 9.8 SGD, it isn't as cheap as 2.30 Euros but it's Asia and I was more than happy to just taste it again!
Address: 9 Circular Road, 新加坡 049365 (the address on google map is a bit off, try apple map – can't believe I'm saying this!)
Opening times: Closed on Sundays, 12:00 – 0:00
Lucha Loco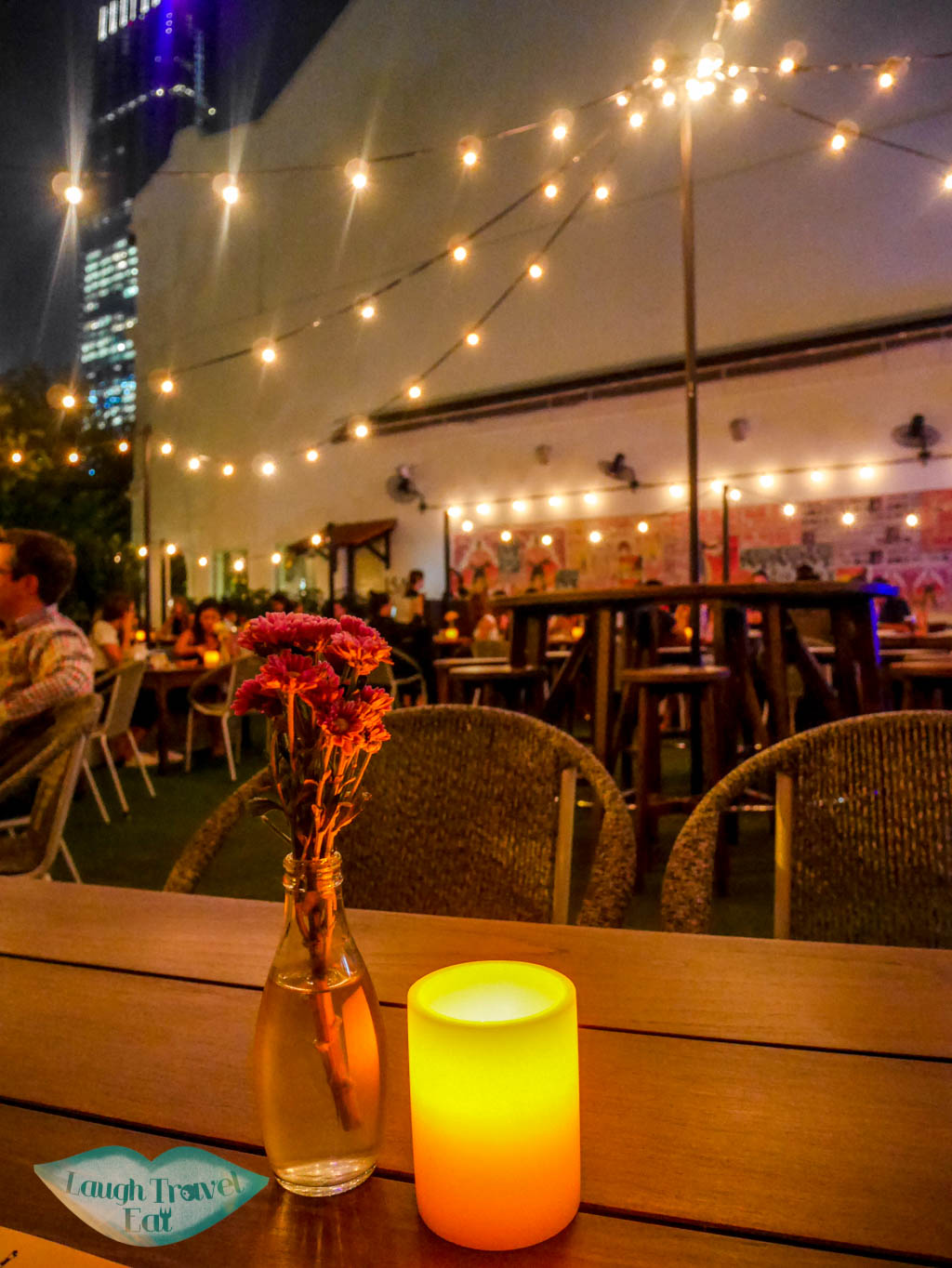 I can't resist a good taco and although Lucha Loco is expensive compared to everything else on the list, the food and atmosphere were stunning. The staff was a little too attentive – asking us to order and if we are okay practically every 10 minutes. The tacos were single portions, but larger than what I'd usually see.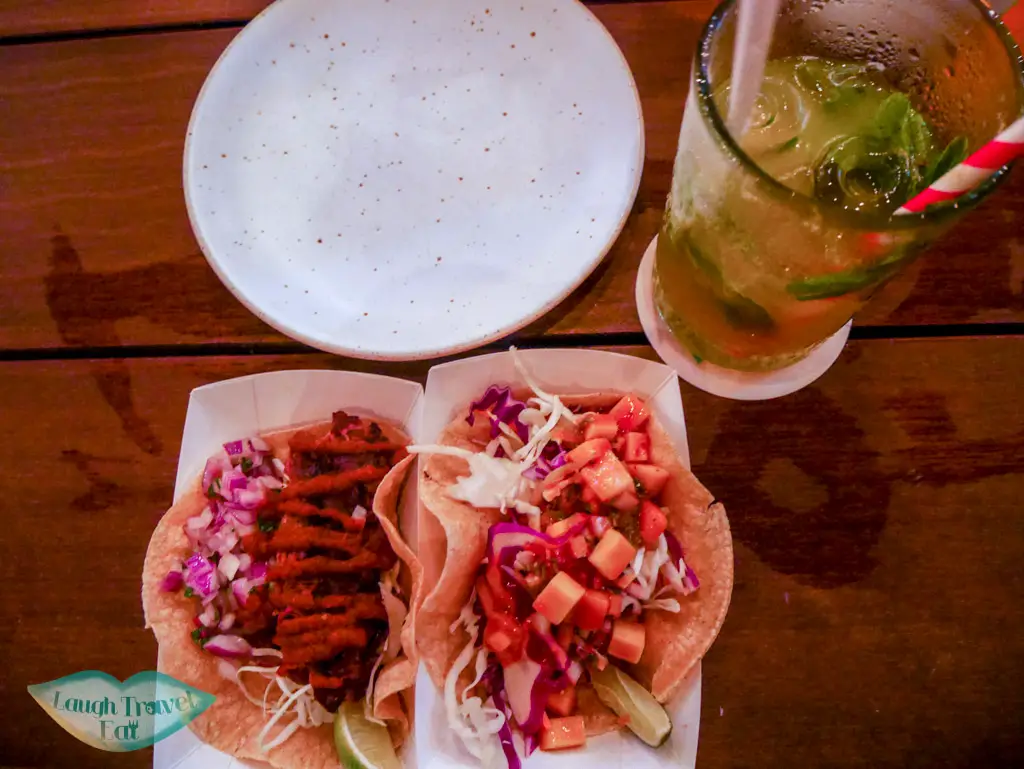 All in all, a great place to chill and catch up with friends.
Address: 15 Duxton Hill, 新加坡 089598
Opening times: Closed Monday 12:00 – 0:00
I didn't manage to explore the nightlife as much, and due to the alcohol tax, the drink prices in Singapore are quite expensive. I met up with a fellow Instagrammer katysaam for drinks and it turned out to be a really fun affair:
Employees Only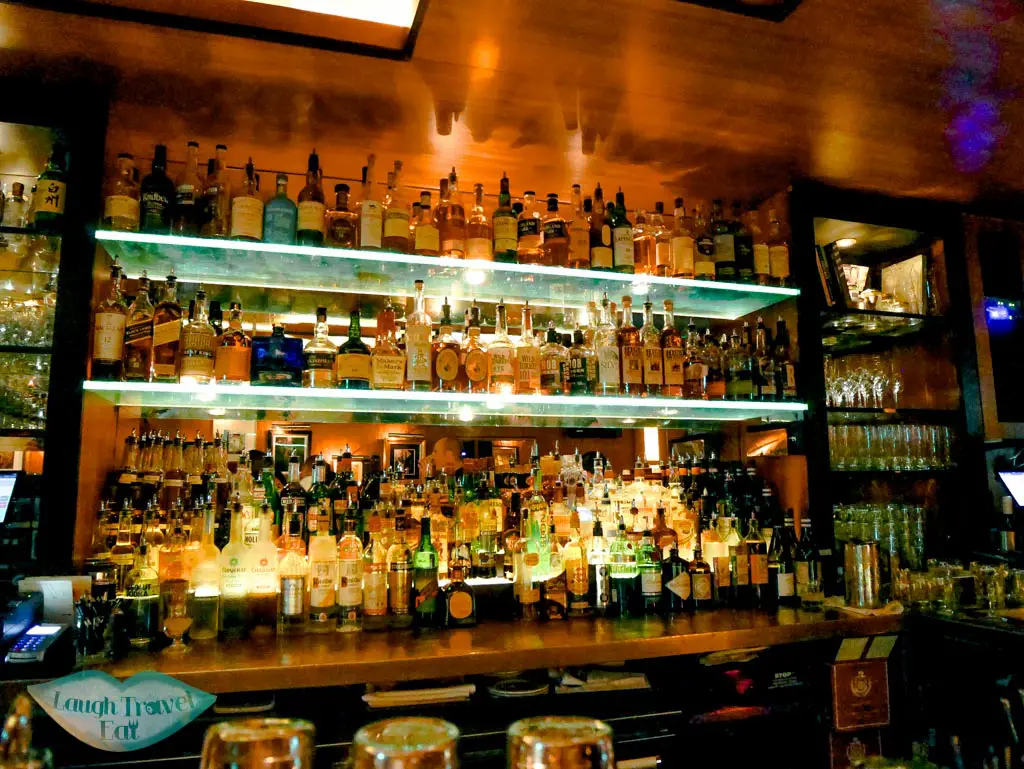 A cool little bar on Amoy Street, I almost missed the inconspicuous entrance to this little bar. It is a modestly sized bar and a separate dining area to the back. We stayed there until closing time and they gave us a bowl of chicken soup each!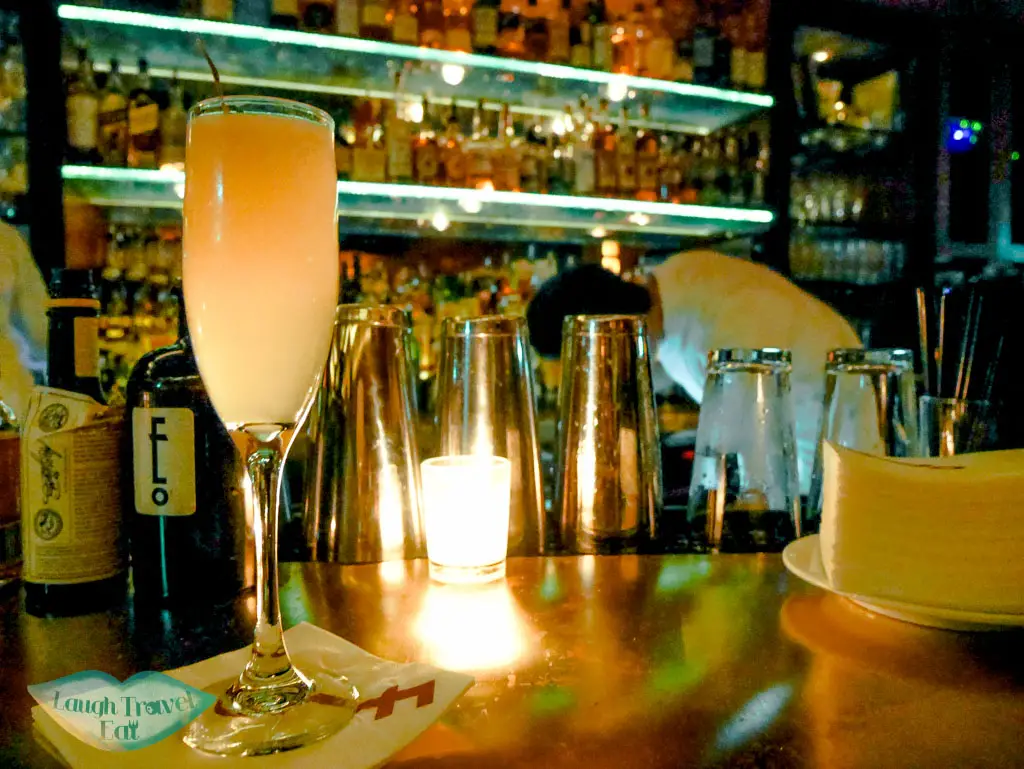 Address: 112 Amoy St, Singapore 069932
Opening times: 17:00 – 01:00
Getting around Singapore
There are two main ways a tourists would get around Singapore: MRT and Taxi. There are public buses as well, but the metro, aka the MRT, is much easier to navigate in my opinion.
It's easy to get around the Singapore MRT with an E-Z link card, which you can purchase at the airport. You pay 12 SGD for a card, 5 SGD is unrefundable for the card while 7 SGD is for credit. You can top up with a minimum of 10 SGD every time.
Uber is widely used in Singapore and extremely affordable. I had used it a couple of times and it's very convenient. Otherwise, getting a metered taxi at a taxi stand is very painless, too.
Where to stay in Singapore
Personally, I think it's best to stay in Chinatown if it's your first visit for transport convenience, but Little India and Bugis Street are both good options. I had stayed at Porcelain Hotel for a night before moving in with other bloggers at MetroResidence for the conference. And here are some of my overall suggestions:
Budget:
Capsule Pod Boutique Hostel: one of the prettiest hostel I've seen, if it isn't for the fact that the sink and the toilet aren't separate for shared bathroom I'd probably have booked it
Porcelain Hotel: a great budget choice for solo or small groups, the hotel is prettier than expected but the rooms are relatively dark with little natural lights. Otherwise, it's pretty decent!
Adamson Lodge: a modern and centrally located hostel near Rocher Street MRT. However, it doesn't provide toiletries in bathroom or towels.
Mid-range:
Fragrance Hotel Selegie – a good budget choice near Rocher MRT, it has a memorable yellow façade and a nice pool. Although the room sizes are on the small side.
Champion Hotel City – located in Clarke Quay one stop away from Chinatown, it's a modern hotel with a foresty vibe. You'd be close to good bars and nightlife but the rooms, again, is on the small side.
Splurge:
Marina Bay Sands: This one probably doesn't need much introduction! If budgets allow, it's worth staying there.
Intercontinental Singapore – a beautiful white hotel with a modern twist, the Intercontinental near Bugis Street is ideally located and close to shopping, food, and MRT.
*Note: this post contain some affiliate links