Ijen Bromo tour: a 3 day adventure to Mount Bromo and Ijen to Bali
Kawah Ijen and Mount Bromo are two of the most spectacular volcanoes in Indonesia that is hikable for most level of fitness. Kawah Ijen, with its milky blue lake and sulfur fumes, is perched on the eastern edge of Java close to Bali, and Bromo a six hours drive away. After hiking Mount Batur the year before on my first visit to Bali, a trip to Java to tackle the more spectacular and not too challenging two seems like a great next step.
With IndoTravelTeam, there is a 3-day option to visit both volcanoes from Bali and be back. It is honestly the easiest way to do the hike for a solo traveler and for those lacking in time or doesn't want to handle the logistic of getting to and from Java. It's even better if you want to carry on your journey in Java, as one girl in our group ended up doing! If you are wondering what it's like, then you are in luck:
Note: I was hosted to go on the trip with IndoTravelTeam but all opinions are my own
Ijen Volcano
Ijen is a caldera in East Java that's most famous for its sulfur mining, acidic turquoise lake, and blue fire. The acidic lake is one of the largest on Earth at 1 km diameter with its acidity coming from sulfuric acid and dissolved heavy metals. The Ijen National Park consists of a series of extinct caldera cones, with Kawah Ijen being active. They are stratovolcano, which consists of alternating layers of lava and ash. The highest point of the volcano is 2799 m above sea level with its last eruption was in 1999.
Mount Bromo
Mount Bromo is the most famous volcano in the Bromo Tengger Semeru National Park, though it is not the highest nor the most symmetrical or pretty. Located in the heart of East Java, its name derives from Brahma, the Hindu god of creation. Bromo is a Somma volcano at 2329 m above sea level, which means that it's a caldera with a new cone partially formed inside. The moon-like ashen and rugged plains around is also one of its main attraction, with the most classic viewpoint of the area from a nearby mountain.
Ijen Bromo tour: Mount Bromo tour package
If you are going to Mount Bromo from Bali, then it only makes sense to stop by Kawah Ijen as well since it is on the way there. There is no denying that this trip isn't for everyone since the majority of the time will be spent in the minibus from one place to another, but it's also an amazingly efficient way to hike Bromo and Ijen from Bali in one go. While it is a three-day tour, we started day one at 5pm and ended day three at 11pm, which means you are roughly 'on the road' for 54 hours.
Bear in mind that we did the reverse route which goes to Ijen first then Bromo, which would make sense if you want to continue your trip in Java. Otherwise, it would be better to do the normal route and head to Bromo first, as it gives you more time to rest before your trek.
The tour from IndoTravelTeam includes:
Transport, the main group depart and return from Gusto Gelato in Seminyak, though you can take the tour from Ubud, too, but the drive would be longer.

Meals during the trip except for dinner on day one and day three

Equipment if you need them – the sulfur masks for Ijen, but also torches, spare hats, jackets, and gloves

One night accommodation at Bromo on day two

Local guides for Bromo and Ijen
Mount Bromo tour price
The cost can be found on their website, but it's 290 USD as of October 2018. You can also just do the Ijen hike from Bali for 24 hours for 120 USD, which goes with the reverse tour that heads to Ijen then Bromo. You can find the schedule of the tour on their website.
See the tour on IndoTravelTeam website
Mount Bromo to Bali
From Mount Bromo to Seminyak, the drive is about 12 hours door to door, including the ferry across Java and Bali. Bear in mind that Java is one hour behind Bali, so you essentially negate the hour you spend on the boat from Bali to Java.
Equipment for the trip:
Foldable duffle bag – we brought along a small duffle bag to put our change of clothes and toiletries in since we don't need much when we are actually hiking.
Daypack – the bag that you'd bring up the volcanoes. It doesn't need to be big, mine was about 30L but most of the space was taken over by my camera gear.
Jacket and fleece – it does get pretty cold and I recommend bringing your own layers at least
WooCommerce plugin is required to render the [adace_shop_the_post] shortcode.
Hydration device – you can buy water from the minimarts along the way, but I like having my own bottle or even hydration device to help with my water intake.
Long hiking socks – both volcanoes have sandy parts so it's best to wear long socks to keep them out.
Hiking shoes – although you can definitely hike with normal trainers/tennis shoes, hiking shoes have a much better grip and I'd definitely recommend it.
Wipes and tissues – most bathrooms in Java don't provide tissues, and wipes will come in handy in many situations.
Toiletries – shampoo, soap, toothbrush etc are not provided and you should bring your own!
Sunscreen – once the sun is out, the high altitude means that it can get quite strong. So remember to bring sun protection.
Flip flops or something to wear other than hiking shoes – we mostly change back into our flip flops whenever we aren't hiking for comfort.
Tripod – if you want to take photos of the blue flame, you'll need a tripod.
Camera gear and charging – there is charging available at the hotel on the second night, so remember to pack your camera (and GoPro) to make memories from this trip! Nikon cameras apparently don't do well with the sulfur and the casing of my GoPro got roughed up, but otherwise, it's free for all!
External charger – with long car journeys, you'll need something to recharge your phone to keep you company
WooCommerce plugin is required to render the [adace_shop_the_post] shortcode.
Neck pillow – another must for the long car ride!
Headphones – ditto.
Head torch – while they do provide torches, it wouldn't be a head torch and some aren't very good at all. So it's best to bring your own if possible.
WooCommerce plugin is required to render the [adace_shop_the_post] shortcode.
Day One: Bali to Ijen
The reverse tour starts at 5pm and the meetup point is Gusto Gelato in Seminyak. We had left our luggage with the hotel and set off with our back pick up sharp at the Gelato place. Our guide, Fanny, greeted us at the cafe and led us to the car park across the road to get on the van. It is a relatively spacious minivan with eight seats. Between the six of us, it was a decent fit.
The traffic in Bali isn't the best, but the journey to the ferry was relatively smooth. We had one minimart stop 40 minutes before we were at the ferry port that doubles as toilet breaks, and this is a good chance to change into your hiking clothes if you haven't already (or you can do that once we get on the ferry).
The van arrived at Gilimanuk ferry port at 10:30pm. The ferries between Java and Bali seemed to be pretty frequent, and we drove right onto the ferry and disembark. Ferry ride is an hour but Java is one hour behind so we get to Java at 10:30 pm local time. The ferry has two levels above the parking area and passengers are free to roam. The main compartment smells a lot like stale cigarettes, so we opted to stay on the top floor.
Before the ferry docks, we were herded back to the van and got back on the road in no time. The traffic in Java is significantly less hectic, and we had another minimart stop 20 mins after we got to Java before heading straight to Ijen. It is probably wise to take a nap because the mountain roads up is pretty scary and that there is a tough hike ahead.
We arrived at Ijen at 12 am and had to wait an hour for the local guides to arrive. It also gave us time to repack our bags and gear or take an extra nap.
Day 2: Kawah Ijen
At 1 am, the guides arrived and greeted us. The Ijen car park is filled with activities from other tour groups and Bali. They had some gears for us to borrow such as hats, gloves, jackets, torches, and a sulfur mask which is essential for Ijen. I would say definitely bring your own jacket if you can, and maybe a head torch as there wasn't really enough.
We started the hike at 1am, going pass the ticket entrance up to the first section of the walk. It's mostly volcanic sand slopes, and it's harder to walk up particularly in combination with the high altitude.
It takes about 2 hours before reaching the 'cafeteria', which marks the beginning of a flatter path that leads to lake and crater.
If you feel like you really can't walk, there are people with wheel carts that offer to take you up like a 'taxi'. They are essentially push carts with cushioned seats pushed by human. It costs around 1 million rupees or more depending on your weight. But you can't do that for descending or ascending to the crater.
Ijen crater
The descend to the crater is the toughest part and there are many people, so you need to be careful. There is a sign that says you can't go down, but we all went down to be closer to the blue flames to see.
The hike takes about 45 minutes, with a small queue forming as people navigate down carefully on top of loose rocks. There are a few who went down to the lakeshore but our guide said it's not safe. Bare in mind that the sulfur fumes exit at about 600 degree celcius, and they can really burn you. A girl's hair was sighned and turned yellow just by being a little too close.
Mount Ijen blue fire
The blue fire stems from the sulfur gas catching fire, close to the lake where sulfur fumes can be seen wafting out. Depending on the weather conditions, you might or might not get a good look with condensation and sulfur gas both creates a fog around it.
We arrived at crater at around 3-4 to see the blue flames and managed to see several spots. Our guides offered to take our phone closer to take videos and photos, and those looks very eerie.
We stayed at the bottom of the crater for an hour or so, heading up at about 5am. You can't actually see the sunrise at this hike, but going at night is needed to see the blue flame in all its glory.
The temperature is also not as cold as expected, I was fine with a sports top and a wind jacket with fleece, leggings, and ear muffs. As daylight came, we encountered the sulfur miners that had started their day. They mine the sulfur in the crater for as little as 5-8 USD a day, filling baskets up to 85 kg together and carrying them out of the crater. Some makes this trip about 5 times a day!
Now that there is light, we are able to see so much more on the hike back down. Once again, the taxi services are available if you are tired. With the early morning, you might be able to see clouds between the mountains. There was this one particular one, which the locals refer to as Mountain Tomato, that looks absolutely amazing.
The snack shop at the cafe stop is now open if you need something to eat or drink, and there is also a bathroom there (but also likely a 2000 rupee charge).
We got down around 7am and head to breakfast right by the car park called Fried Chicken. We had the choice of Mee Goreng, Nasi Goreng, or Soup with coffee or tea. The Nasi Goreng was mostly just spicy fried rice with an egg on top, but it was okay.
Once everything is finished, we were piled back into the car and off to Bromo. The ride is about 6 hours, and we had a quick rest stop at 11am but needs to pay 2000 to use the bathroom. The temperature felt significantly hotter in Java, so we used that opportunity to change into shorts as well. Bare in mind that Java is a predominantly Muslim Island, so nothing too revealing.
We stopped for lunch at 12:15 in a small restaurant at Probolinggo, the nearest big town before heading up to Bromo. Once again, the food wasn't amazing, but Java isn't as developed as Bali in terms of tourism and food. We then began the drive up to the village near Mount Bromo. Supposedly, we would have arrived at the hotel at 2 but had to wait an hour because of road work in the area.
Finally, we got to the village at 3 pm. We stayed at Pariwista guest house, though there was another group who is doing the normal trip (so Bromo first) who had stayed at another guest house. Here is a quick look:
The only complain I have is that there isn't a sink in the bathroom, nor is the water heater/tank hold sufficient water for more than one person.
After taking a quick rest, we walked to Warung Podok Tengger about 10 minutes away for dinner with the other group. It was a family style dinner with rice and shared dishes. The food is decent and we were happy to go back to have an early night after.
Day three: Mount Bromo
Sunrise trekking on Mount Bromo
Our day starts at 3:45 am, splitting into five people per Jeep that drove us to the bottom of mount Bromo. It's worth noting that most people and tour group heads to the King Kong viewpoint for sunrise, and we were the only ones at Mount Bromo at this early in the morning.
We started hiking around 4:15, the hike up is under an hour, first through the sandy field then it becomes steeper and leads up to a flight of 250 stairs. It felt significantly colder than at Ijen, but the hike was also a lot easier, with the trek from carpark to the top of the stairs taking about an hour (more like 45 minutes).
Once we were up, we started to walk along the rim of the crater by going left. One of the girls in the group wasn't keen on height, so she ended up going back own with our guide Fanny. As someone who was a bit afraid of height (more so of falling, really), it was a bit scary to walk on the crater rim as the low fence disappeared pretty much after the first 50m.
We stopped at the eastern edge of the crater and waited for the sunrise was about 5:10 and it was a great view from there. One brave member of the group went all the way around the crater, although our guide advised us only to go as far as the northern edge and should turn back.
The crater is constantly fuming, and definitely not a good place to take a tumble!
People have started to arrive as we made our way down, and where the stairs starts at the bottom has turned into a bit of a small congregation point with snacks vendors and horses.
So you can pay to take the horse up or down from the car park to the base of stairs, and it costs about 100k according to our guide.
We got back down at 7am and enjoyed some tea, watching as the people flood in to hike up Bromo and on horses. If you like photography, this is a great time to whip your camera out and get some shots. With the sea of sand behind, it's almost like being in Morocco or Dubai.
With the morning human and horse traffic in full swing, you need to be careful when going down since there are so many people. One thing to look out for is the carved faces on the cliff sides just before you reach the plains. They are the Pithecanthropus Erectus – aka the Homo Erectus or the Java Man that existed in Java.
In fact, the locals still have offering festivals where they sacrifice live goat and chicken. Apparently, some locals will climb into the crater to try and catch the sacrifice, as doing so is considered to be good luck!
King Kong Hill viewpoint of Mount Bromo
After we reached the car park, we hopped back on the Jeep to go up to the classic view point of Mount Bromo, the King Kong Hill. This is where most people go for sunrise, so by the time we got there, it was completely deserted. The drive up was a little adventure in itself, with the Jeep navigating the meandering roads up.
We were able to park right by the footpath that leads to the viewpoint where we can see the entire sea of sand, Bromo, and the volcanoes around it.
After that, we went back to the village and had breakfast at the same warung as yesterday. We had about half an hour afterwards to pack before we set off back to Bali.
The drive back was a grand affair that lasted 12 hours, starting at around 10 am during which we dropped off one of the girls at the train station at Probolinggo so she could continue her journey in Java. Our next stop wasn't until 2pm, where we had lunch at a random restaurant called Mak Lika Warung Apung that served up some good Mee Goreng and Nasi Goreng.
While traffic isn't bad in Java, we had to overtake several slow moving trucks that were simply carrying too much, avoid stray animals, and deal with crappy drivers. Our own driver Mr Jojo was an absolute saint who kept up the good work without fail. If you need the loo at any point, simply let the driver know and he'll find a minimart to stop.
We got to the port at around 4pm in Java and crossed to Bali at 6pm Bali time. Then the drive was completely in the dark. We made it back to Gusto Gelato just before 11pm, after the girl who needs to go back to Ubud changed cars. And thus end a great adventure!
Verdict:
While the trip is exhausting, there's no doubt that it's worth it just to see Ijen and Bromo in all their glory. I would say that the trip is best for people who want to make the most of their time, doesn't mind roughing it a little bit, and is relatively fit.
Where to stay in Seminyak
It's best to stay close to the meetup point – Gusto Gelato to get to and back in a timely manner since traffic can be dicey in Seminyak. We also wanted to stay somewhere that's still accessible to town center, and d'Penjor was a great choice.
It's 11 minutes from Gusto Gelato on Sunset Road, so the beach is 20-30 minutes walk at most. The rooms are very generous in size, with all the amenities you want and a balcony that faces the inner courtyard and pool.
The staff are kind, attentive, and breakfast a feast in itself. Overall, I would 100% recommend staying here.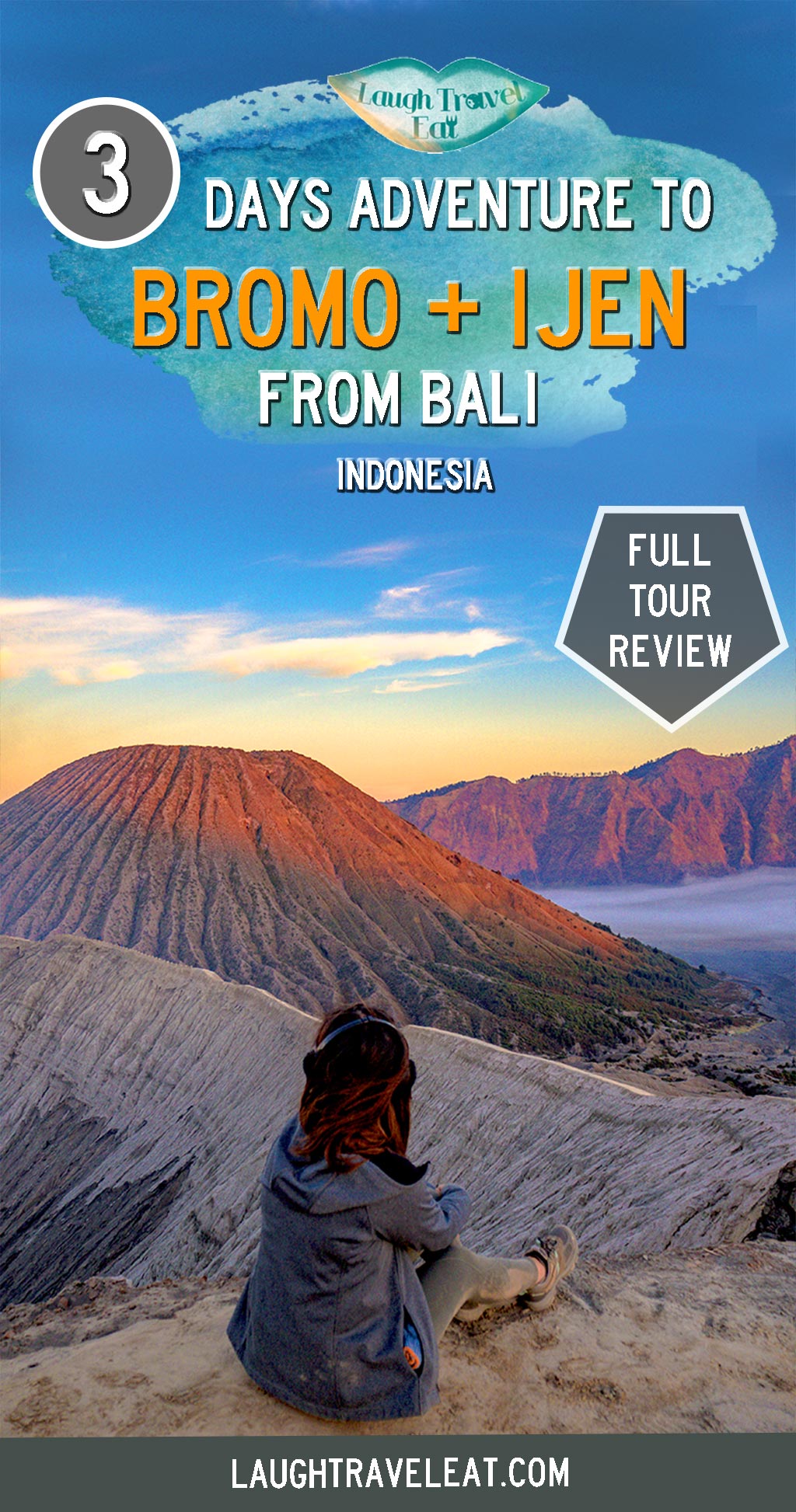 Pin me!