Budget Lodge Safari Tanzania: a 5 day cultural & animal encounter
Going on a safari in Tanzania isn't as expensive as one thinks. I have covered Tanzania Safari tips in this post, so this is more about picking an itinerary and what our 5-day safari is like with Shadows of Africa. Aside from seeing wild animals in national parks, we also pay a visit to local tribes including one that still practice hunter-gatherer.

Note: our safari was hosted by Shadows of Africa but all opinions are my own
Tanzania safari packages
Tanzania safari packages are usually lodge safari and a package should include airport pick up and drop off, lodging, entrance fee, jeep with driver, and meals. Most people go for 5-7 days as more is tiring. It's important to pick the right company to make sure that the experience is smooth and safe. Let's not forget that you'll be traveling in rough roads and encountering wild animals! I'm going to go into a little about why you should choose Shadows of Africa below:
Shadows of Africa
Highly rated on Tripadvisor and running for 7 years, Shadows of Africa is a trusted company for Tanzania safari and beyond. While all of the safari lodge packages offer the same thing, but there's little things that make it better:
Mini fridge in Jeep and unlimited drinking water
One glass of wine per person per day during lunch with juice 
Hot lunches and not lunch boxes like others whenever possible
Has charger for phone and cameras on jeep (USB only)
Our driver Dickson was amazing – speaks great English, spots animals from miles away (without binoculars)
Day 1 Arrival in Arusha
Our flight landed in Kilimanjaro Airport late, but it's not an issue since our driver was waiting to pick us up already. What's even better is that they had a little welcome drink and snack for us. We had a choice of coffee or juice and some chocolatey snack. The perk of landing late is that the hour and a half journey to Olerai Lodge, where we are staying, is quite smooth.

Olerai Lodge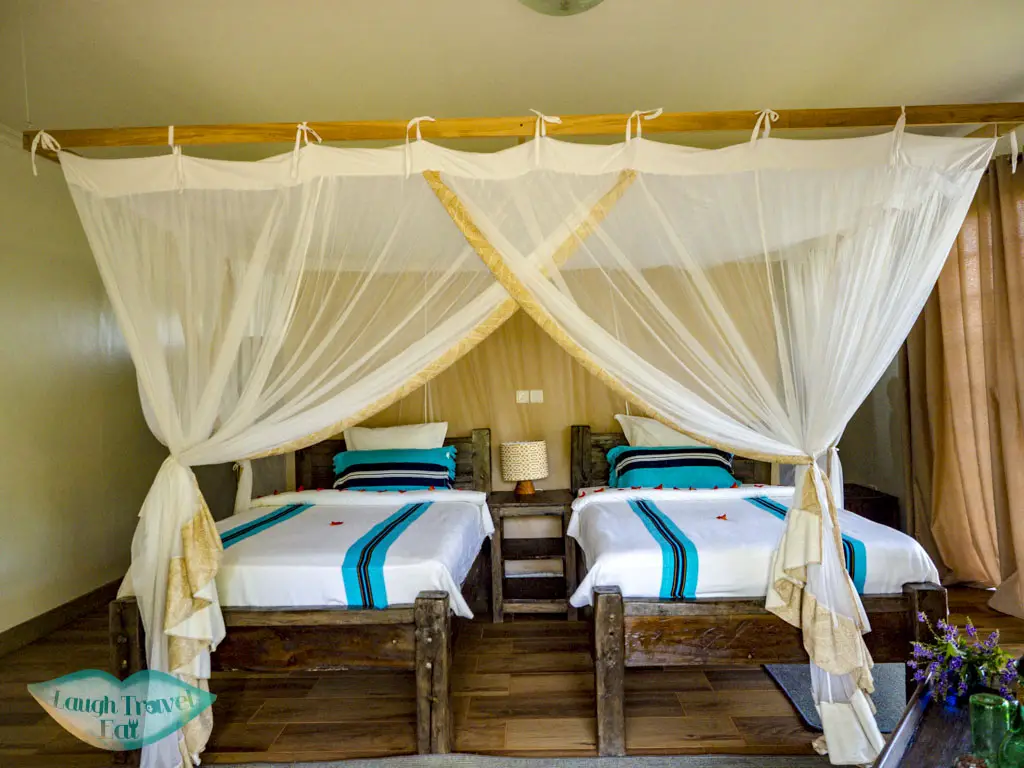 Our home for the night, Olerai Lodge is southwest of Arusha, which means it's on the way to the national parks. It's a quiet and serene lodge with bungalows that have glass windows and an indoor open shower. There's also a pool and we'll be returning here for our last night, meaning we can leave some luggage behind and go light for the trip!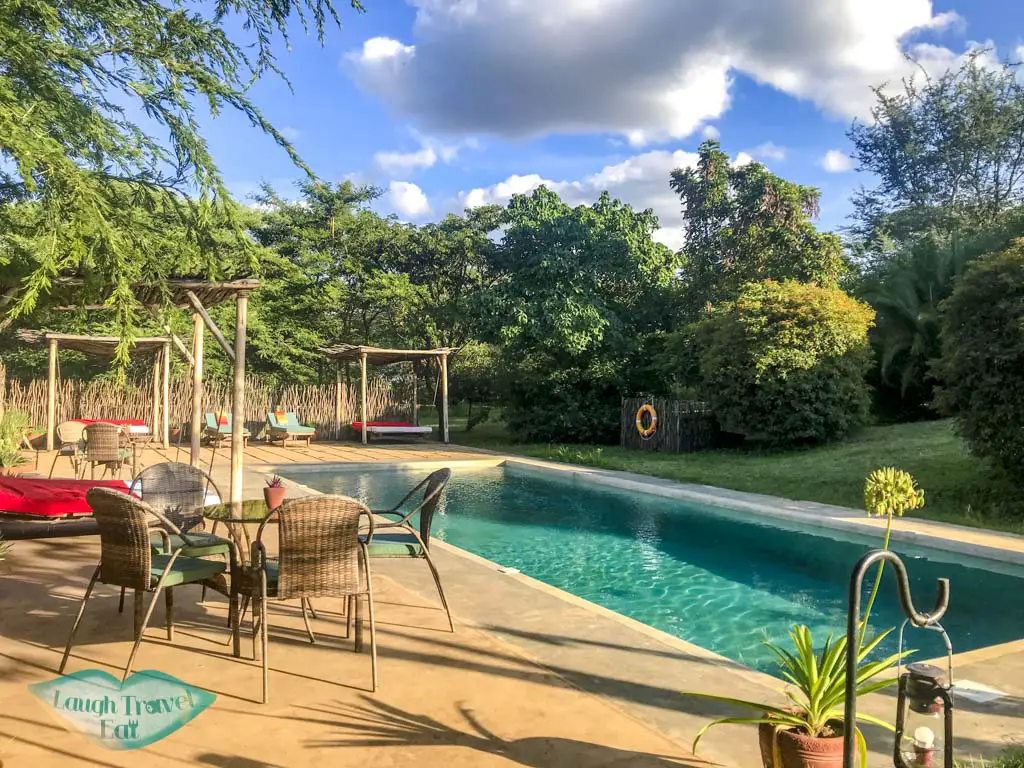 WiFi are also pretty good but depending on your bungalow position, you might need to go to the reception to get in range of the signal.

Day 2 TarangireNational Park
Luckily for us, our first full day safari doesn't start until 9, so we had time to eat breakfast and pack. We had a briefing on our itinerary as well as what to expect. For the most part, a Tanzania safari involves staying in the Jeep and a lot of driving!

Tarangire National Park

We set off around 9 am for the 2 hour drive to Tarangire National Park, which is about 130 km from us. There is a tarmac highway which makes the majority of the journey smooth. We stopped briefly at the entrance to the national park, where our driver Dickson went to sort out the permit while the rest of us run to use the bathroom!

Then it's time for the Game Drive!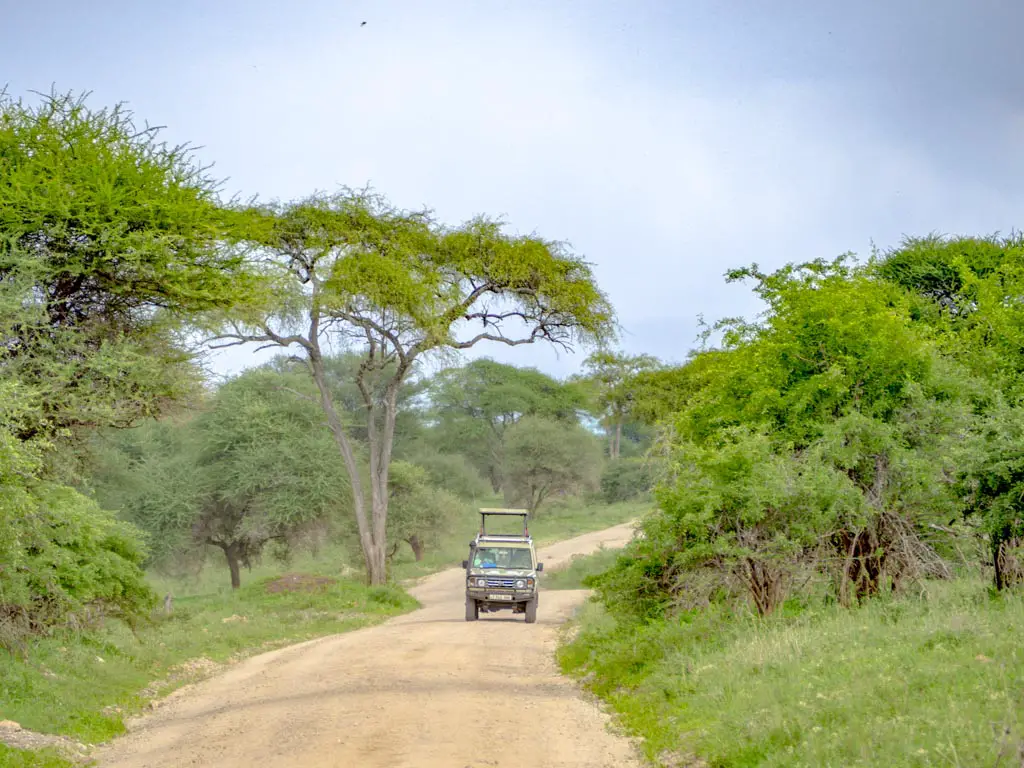 Tarangire is home to the elephants, borrowers, and grazers with mostly bushland vegetation and a small forest to one side. The park is surrounded by villages and as the wild animals are known to attack domesticated animals, some are killed by villages, hence less viewing than the other national parks.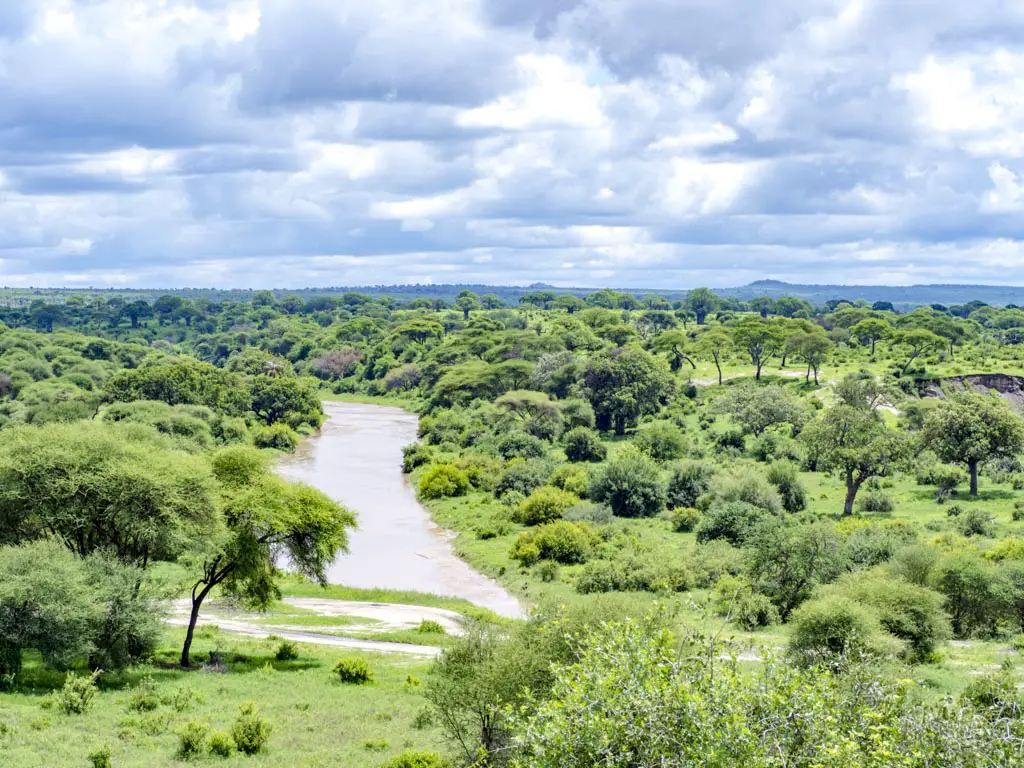 The park's main river: Tarangeri River, supports the life of the elephants which roams in big family of 50-100. There are lions, cheetahs, leopards, but we only saw a lion from afar. We also saw:
Warthog
antelope
Water bark 
Sausage tree (hanging waterpods)
Impala
Baobab Tree
Picnic Lunch at Matete Picnic Site

The picnic site is atop a hill that overlooks the Tarangire River and the vast bushland. The area is often visited by monkeys and baboons, but do remember that you can't feed them and they'll steal your food!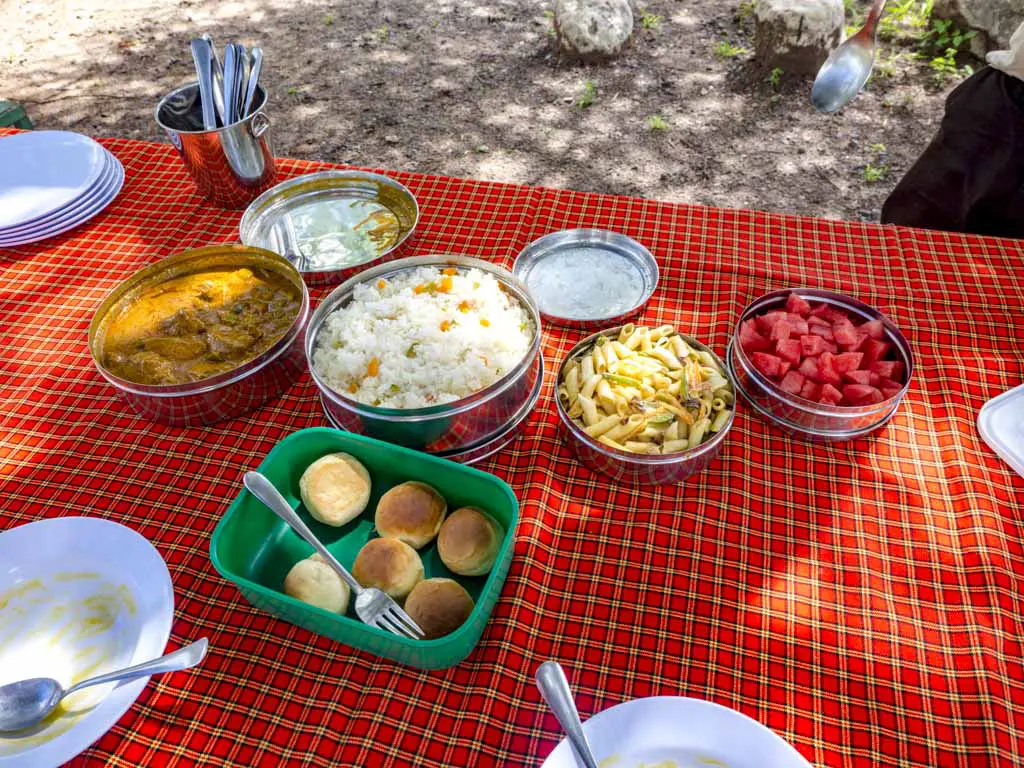 Dickson pulled out a huge picnic box and a tablecloth, and we snagged a table close to the cars and settled down for a scrumptious hot meal. We had hot soup, dinner rolls, chicken curry, rice, pasta, and watermelon! Plus mango juice and red wine. Did I mention that everyone else was having a lunch box?
The monkeys mostly stayed towards the edge and center of the picnic site, so we were relatively undisturbed. However, a few managed to get into the jeep and ate some nuts from a girl's bag! There are bathrooms at the picnic site and they are surprisingly clean with toilet paper and are western style. Don't forget to go to the edge of the picnic site for a look down at the river. It is a gorgeous view.
More Game Drive in Tarangire National Park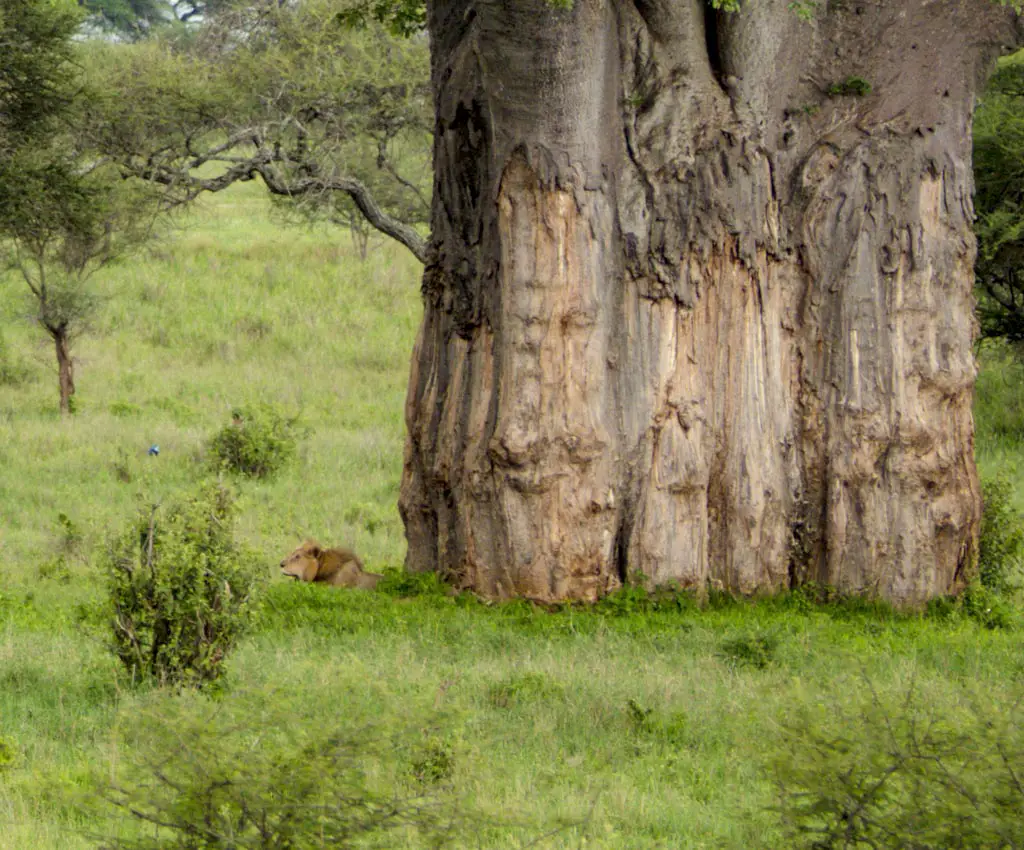 After lunch, we drove around the park some more. While we didn't see anything out of the ordinary after, we did spot a lion from afar, who was resting by a huge baobab tree. Of course, zebras, the donkeys of the savannah, are everywhere, as are wildebeest.

Escarpment Luxury Lodge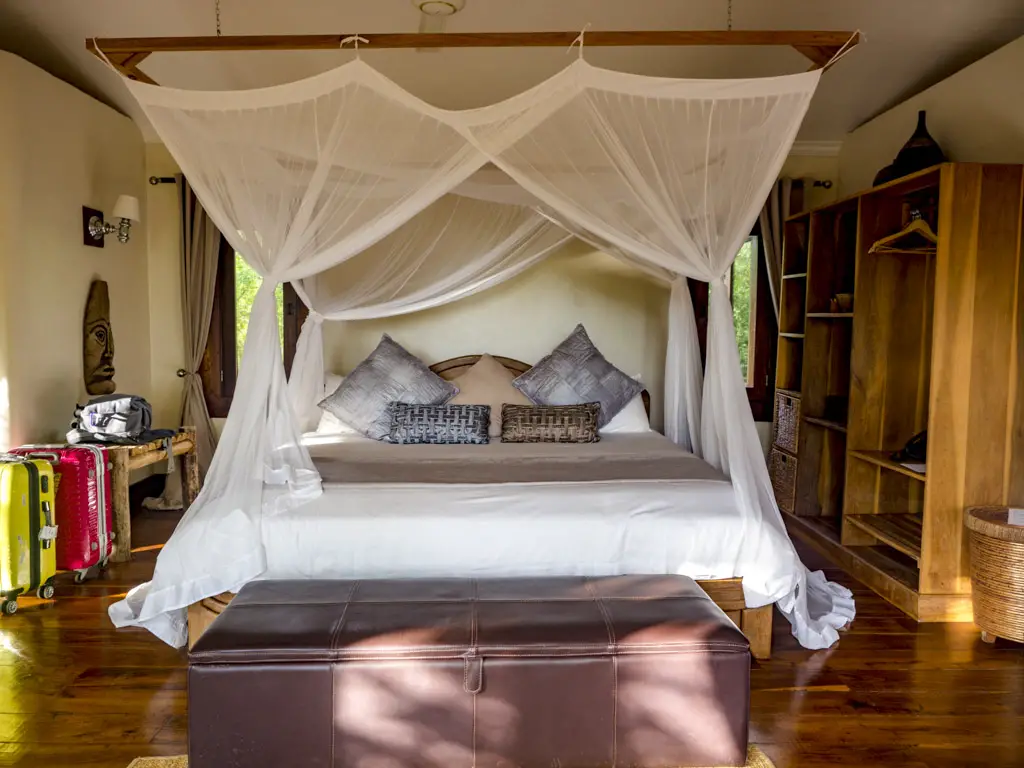 After our lion sighting, we set off towards our lodge of the night: Escarpment Luxury Lodge. It's an hour's drive, so luckily we have a bathroom break before we leave the National Park. The road to the lodge winds up a hill which gave us a good view of the valley and Lake Manyara.
The lodge is beautiful and rustic, exactly the kind of luxury glamping that its name suggests. It's all wood, with a living room area, spacious room with plenty of plugs, giant king size bed, balcony, outdoor and indoor shower, bathtub and two sinks.


The balcony overlooks the lake, and so does the pool. It's a beautiful view of the lake and the forest, unfortunately it is too cold to swim!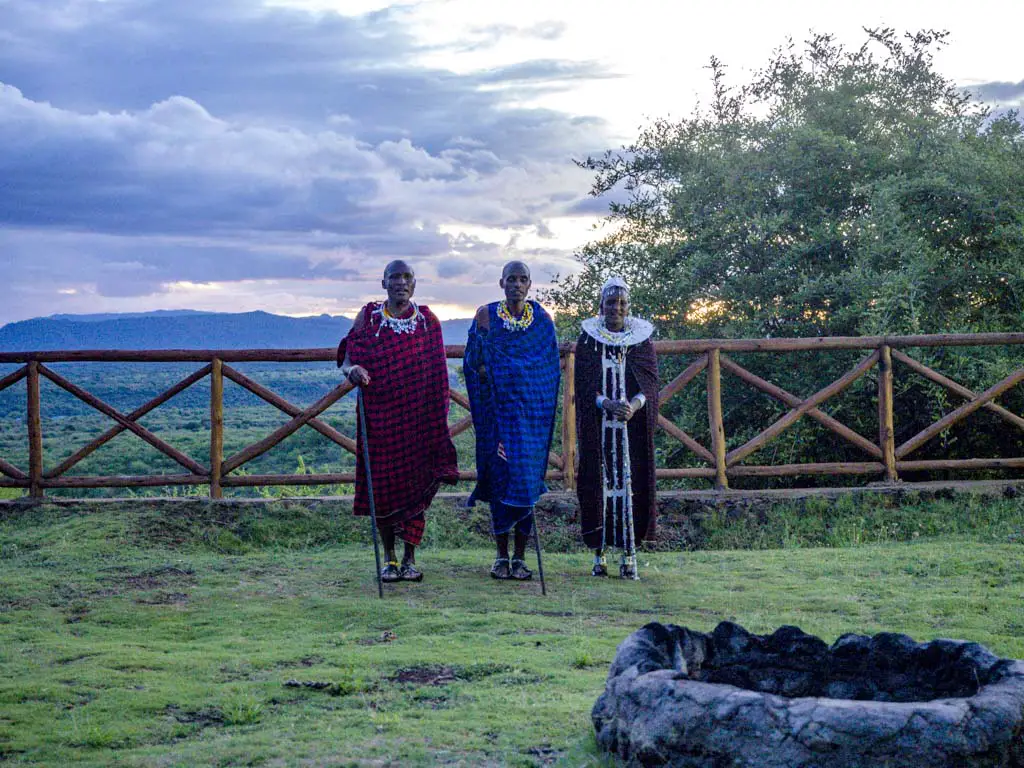 They also have Maasai dance performances in the evening, and they asked us to join in, too! Not that I was very good at it.

Dinner at Escarpment Luxury Lodge
They have a three course menu for us to choose from with four starters served like a canape style. For our main course, we had steak, and banana crumble. Another group had a birthday boy and they bought him a cake with singing and dancing.

Day 3 Maasai village visit
We have a more relaxing start on day 3 with a 9am-ish start. We congregated for breakfast at around 8, which has a buffet section with cereal, bread, and fruits. They also take our order for a hot breakfast, which involves eggs, sausages, baked beans, and potatoes!

Maasai village visit
We drove an hour to visit the Selela Maasai Village. The Maasai are a group of cattle rustlers who arrived in Tanzania around 300-400 years ago. They are known for their bright cloth-wearing ways, and their many cattle and children. They are a patriarchal tribe and one man can have many children. They build a hut for each wife, keep their hair short, and still circumcised their children when they come of age.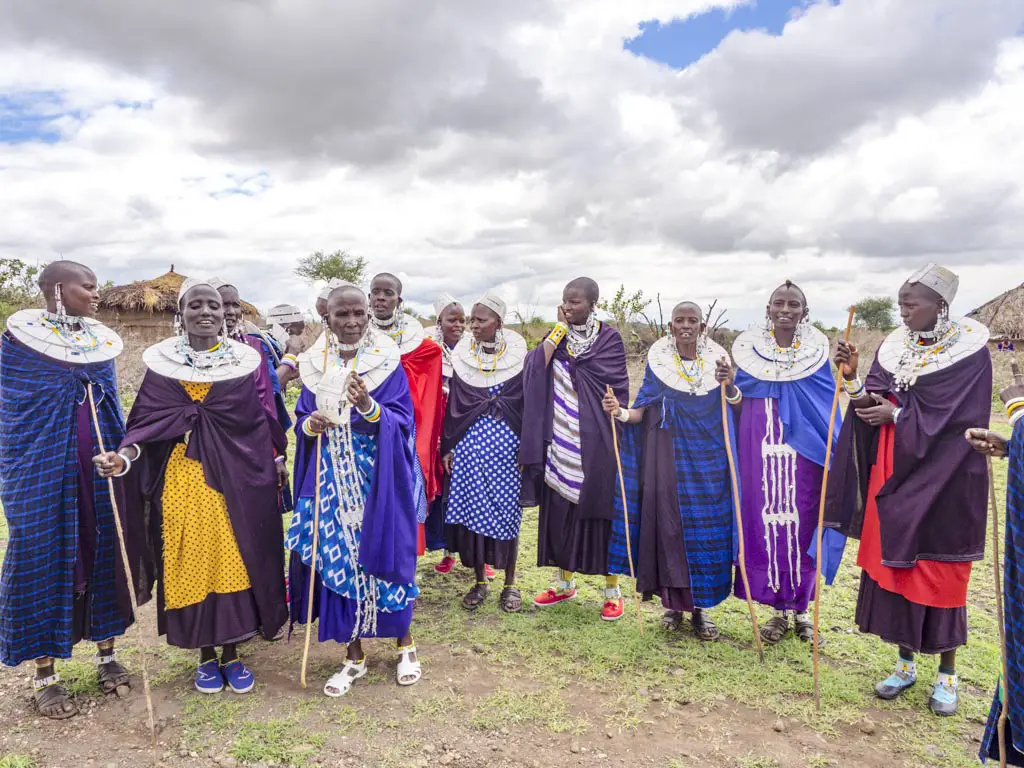 We first visited a local school that educate Maasai kids. Then we head to the main village and were greeted by the local ladies, who demonstrated their traditional dance.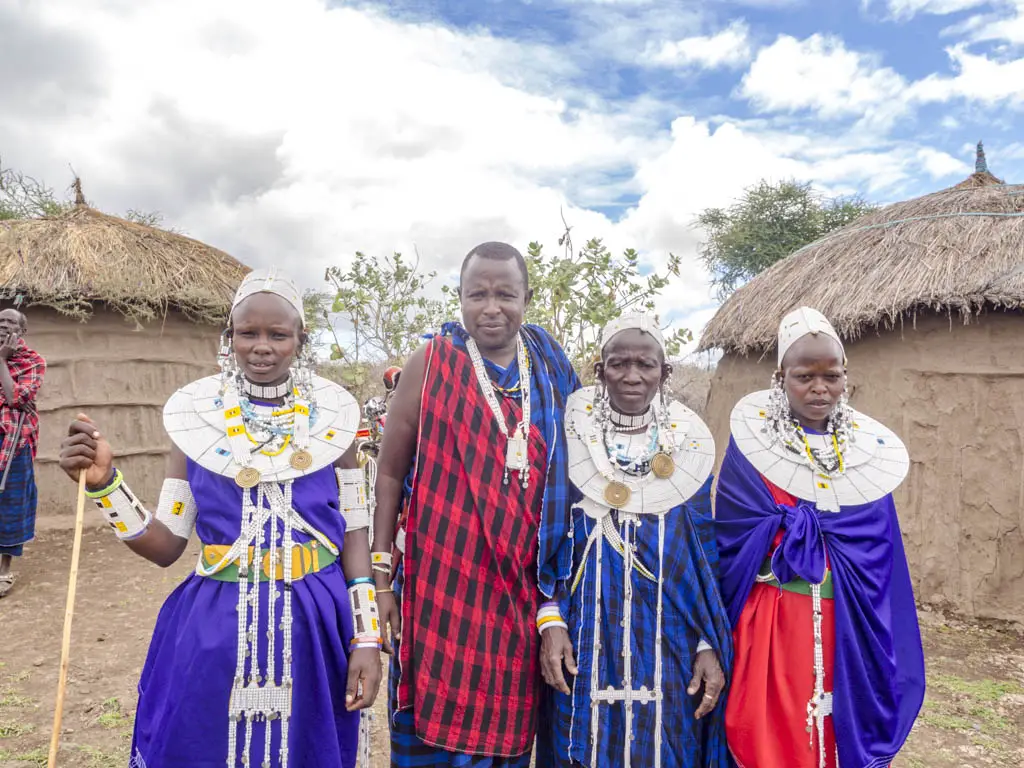 A village council member came to greet us and show us around the village, with some curious locals looking on. We saw the cattle pan and visited one of the huts, which are muddy, plain, and dark.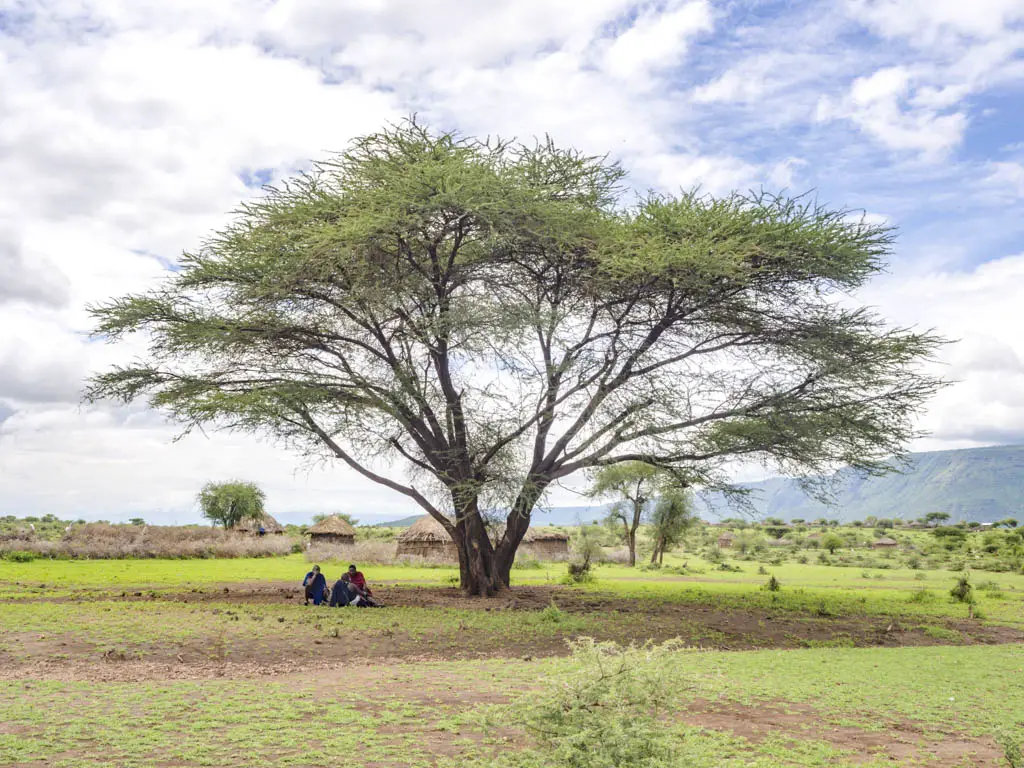 Most of the locals hang out under the shade of the trees surrounding villages. There's a big party to celebrate the election on the night of our visit, so they showed us the barbecue pit where they are to roast goats for hundreds of people. They are mostly meat-eater, and drink from any body of water without filters, so it is a very basic life.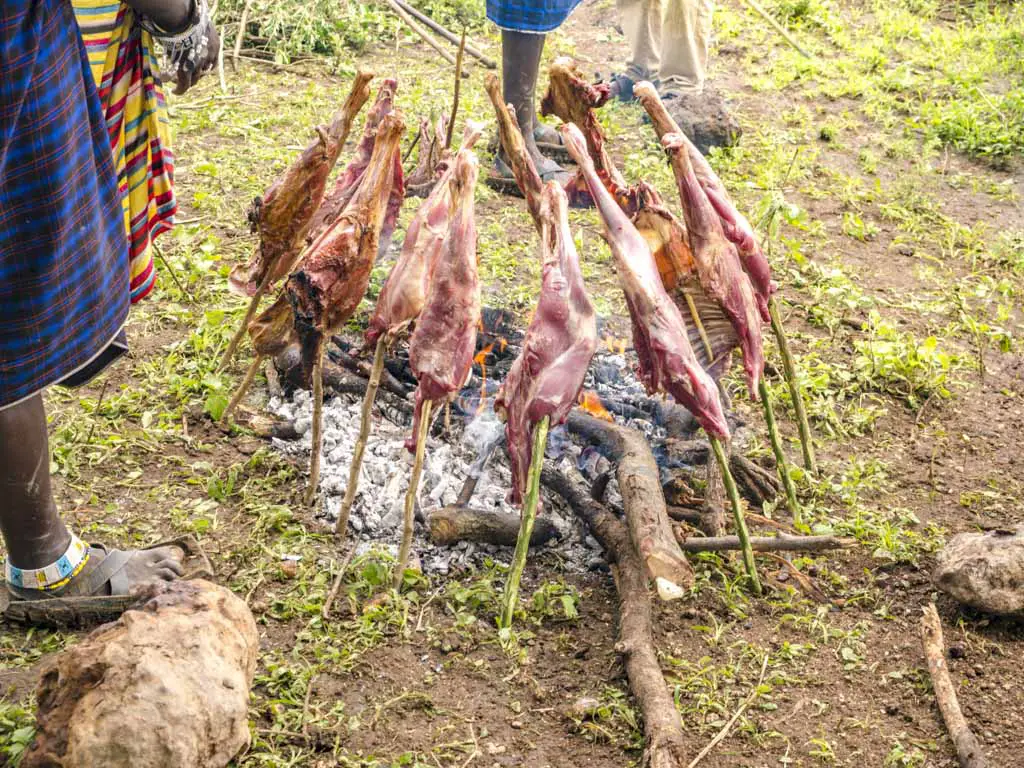 We spent a little longer before heading over to Acacia Farm Lodge. Since it's a longer drive, we had a lunch box enroute to our lodge.

Acacia Farm Lodge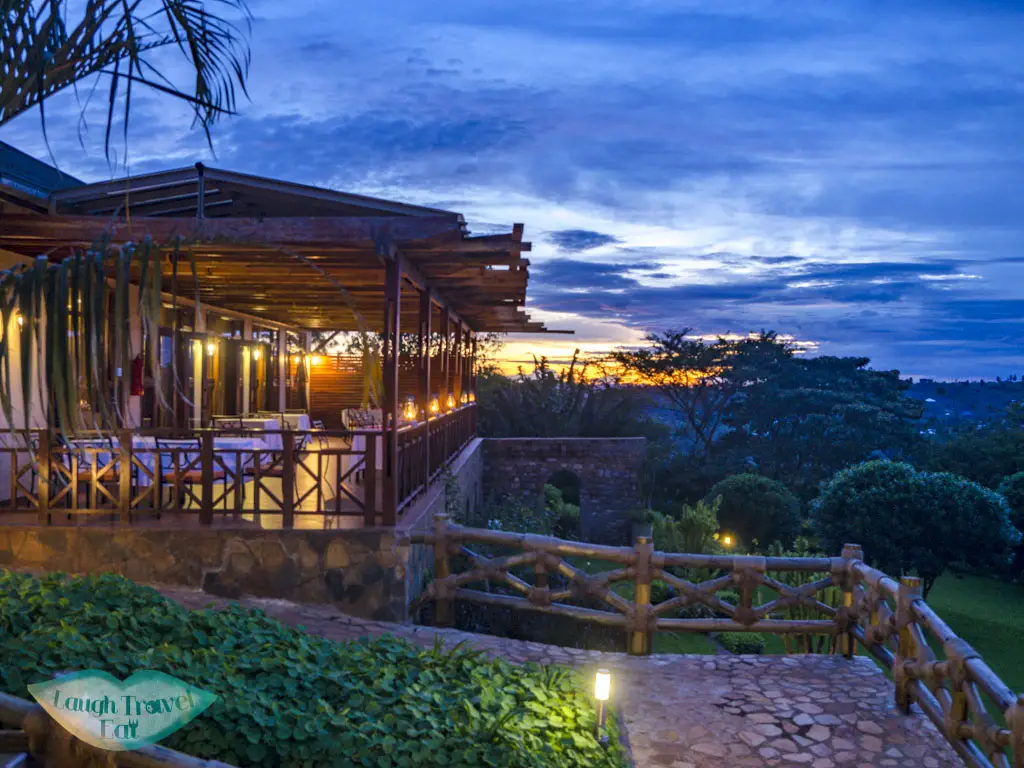 Our lodge for this night is Acacia Farm Lodge. The lodge consists of beautiful bungalows and a gorgeous lounge and dining area. The balcony is the perfect place to watch the sunset, and they have a firepit, too.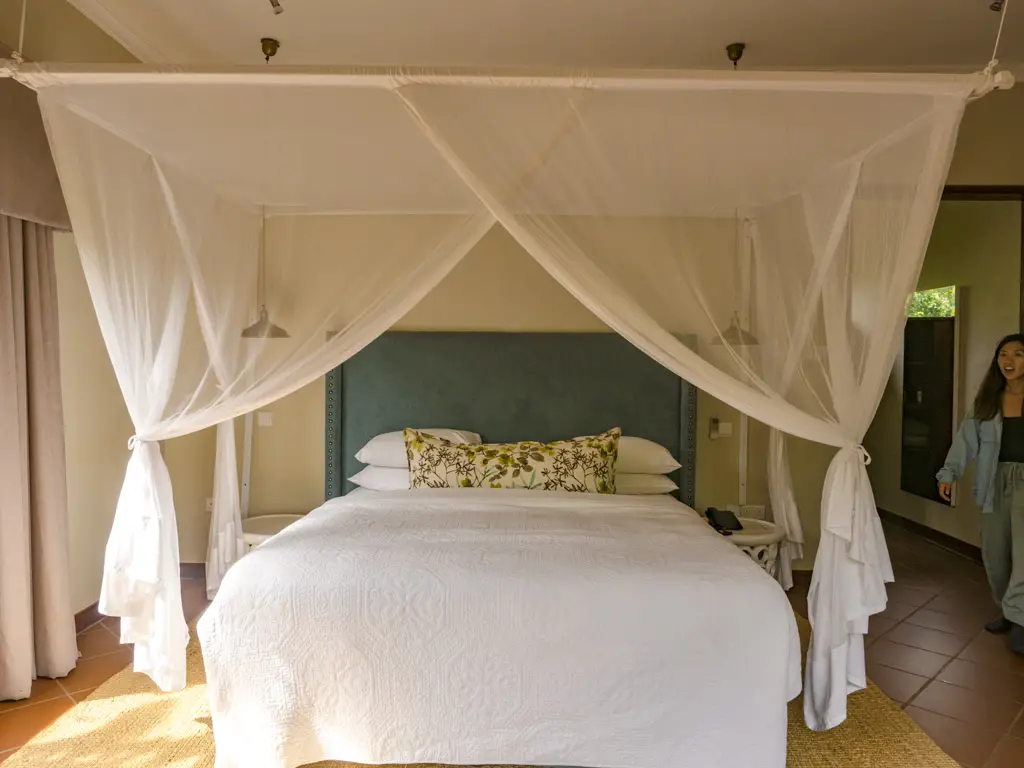 The lodge has a farm with 24 aces, with 6 of them growing organic coffee. The coffee plants take one year to grow, and need a long time to process. There are plenty of vegetables and fruits and the lodge uses 75% of their produce from onsite.
A different kind of accommodation to our lodge the night before, here we have a bungalow villa with a seperate living room, bathroom, bedroom, and a balcony. It was good to arrive in the afternoon as we have an early morning start the next day.

Dinner at Acacia Lodge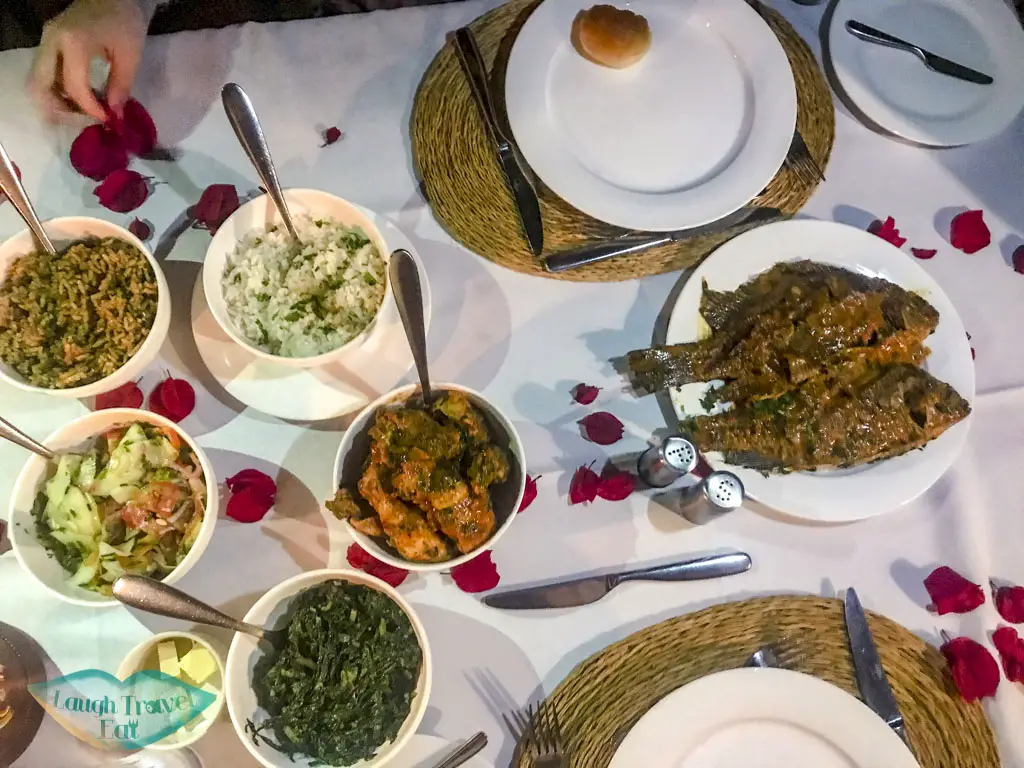 We decided to go with traditional Tanzanian food and was treated with some delicious grilled fish with spice, chicken curry, and rice with some greens. There were plenty of food for all four of us and even dessert. The grilled fish was particularly good and I wish I could eat more.

Day 4 Ngorongoro National Park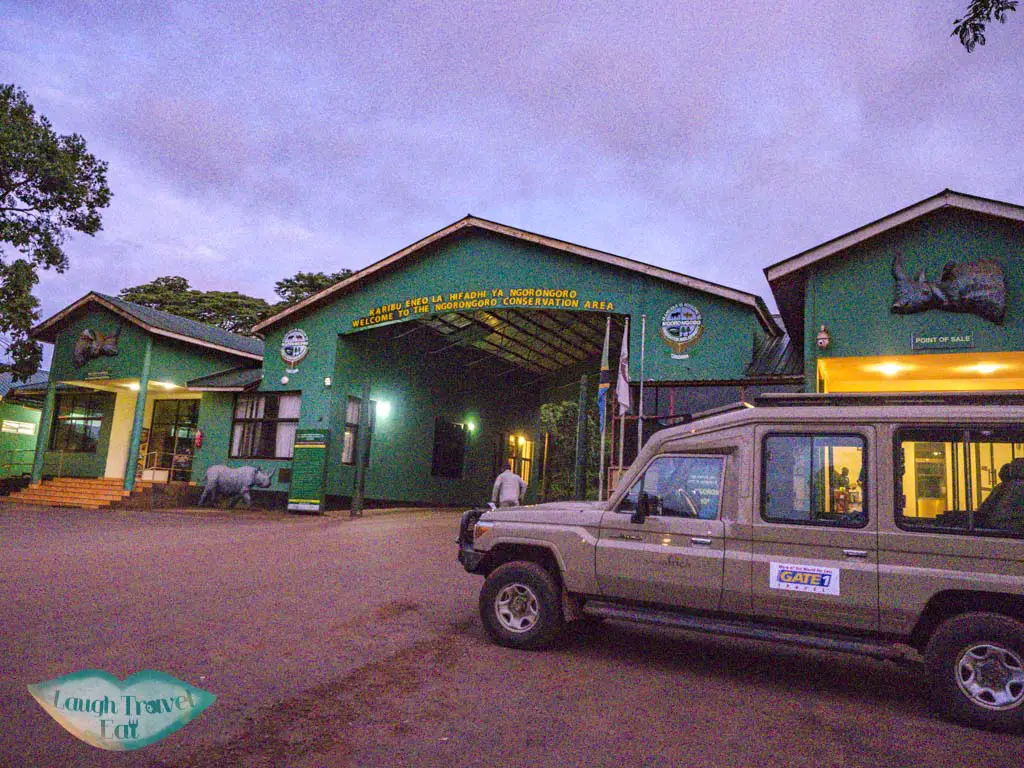 The doors to Ngorongoro National Park opens at 6am, and as most of the animals in the park are nauternal, we were to leave the lodge at 5:30 for our 20 minutes drive. Fortunately for us, the hotel had tea and some bread waiting in the lobby. We were able to eat some food before hopping into the jeep and setting off!

Ngorongoro safari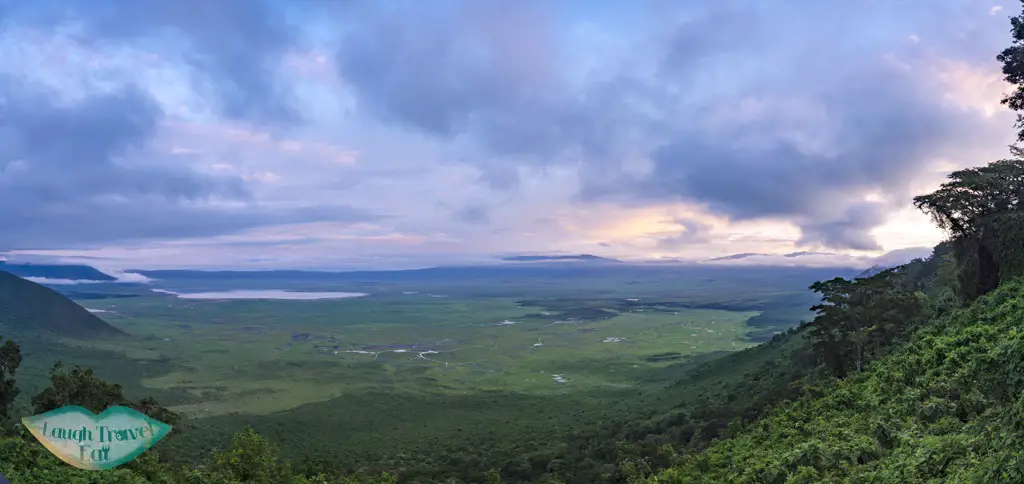 The Ngorongoro Crater formed from a volcanic eruption 2 million years ago. It is a green conservation area so people can stay here, and it is inhabited by the Maasai who came here in the 18th century. It is said that the name of the national park comes from the bells on the cows they herd – with their  goron goron sound.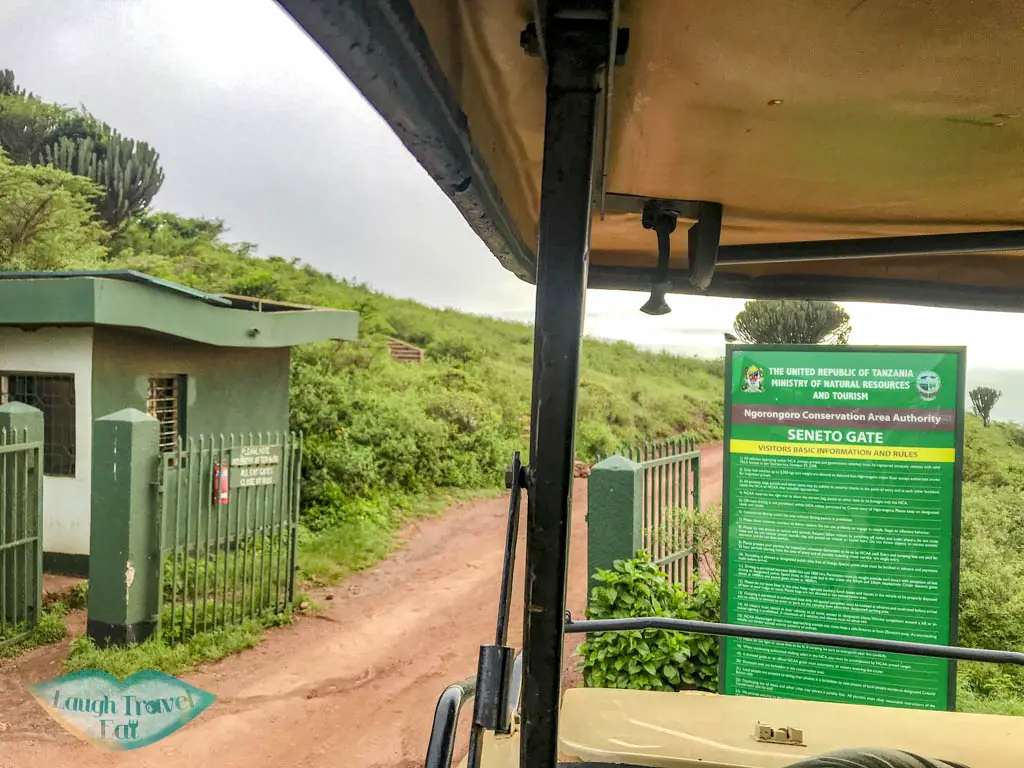 The park covers 8300 km square with 120 species of animals. We were upon the first to arrive at the gate and made our way in as the door opens at 6. However, there's an inner gate further down, then the Seneto Gate (where there is a bathroom) before we finally descend. It's a challenging road that goes down 600m or so, but we got a good view of the valley and Lake Makat.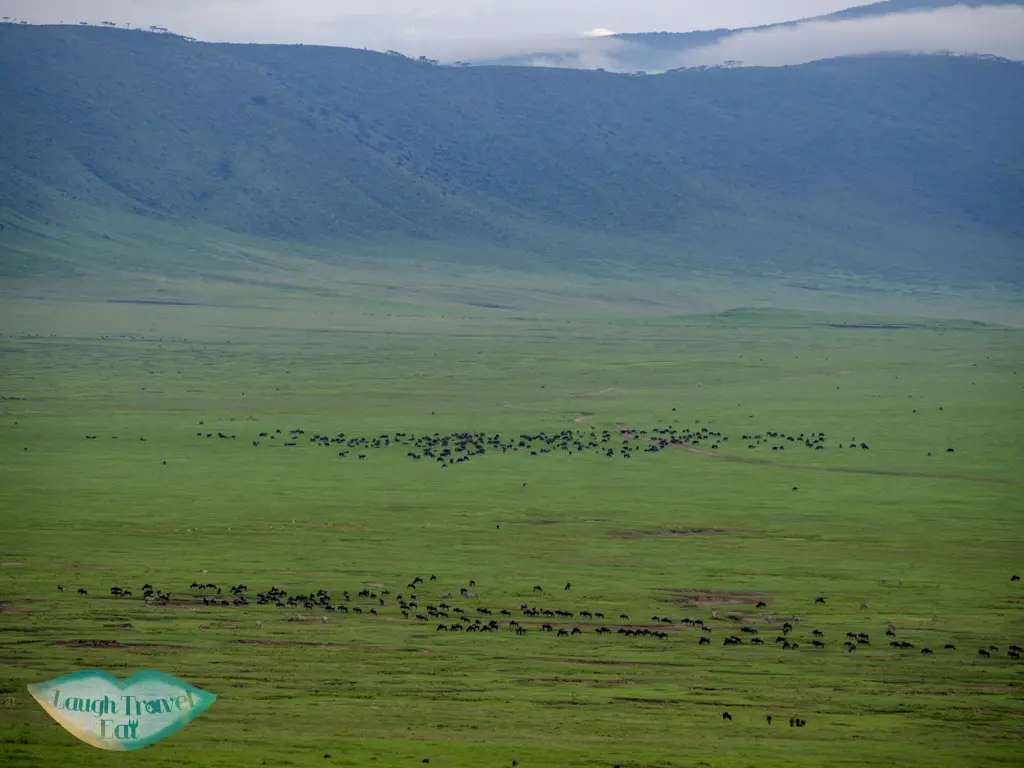 We could see the herds of wildebeest from afar already! The crater has no cheetahs as there are lots of hyenas and other creatures that hunt them.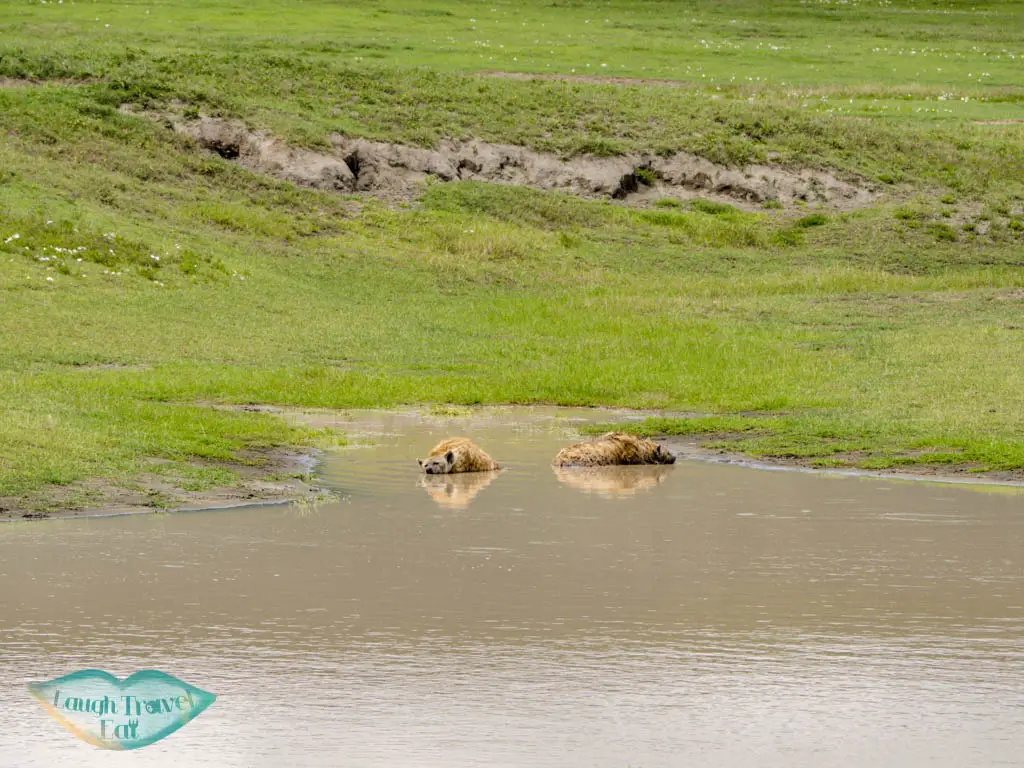 We also saw, from very far away, a black rhinoceros. Only 24 of them are left and they are shy and aggressive.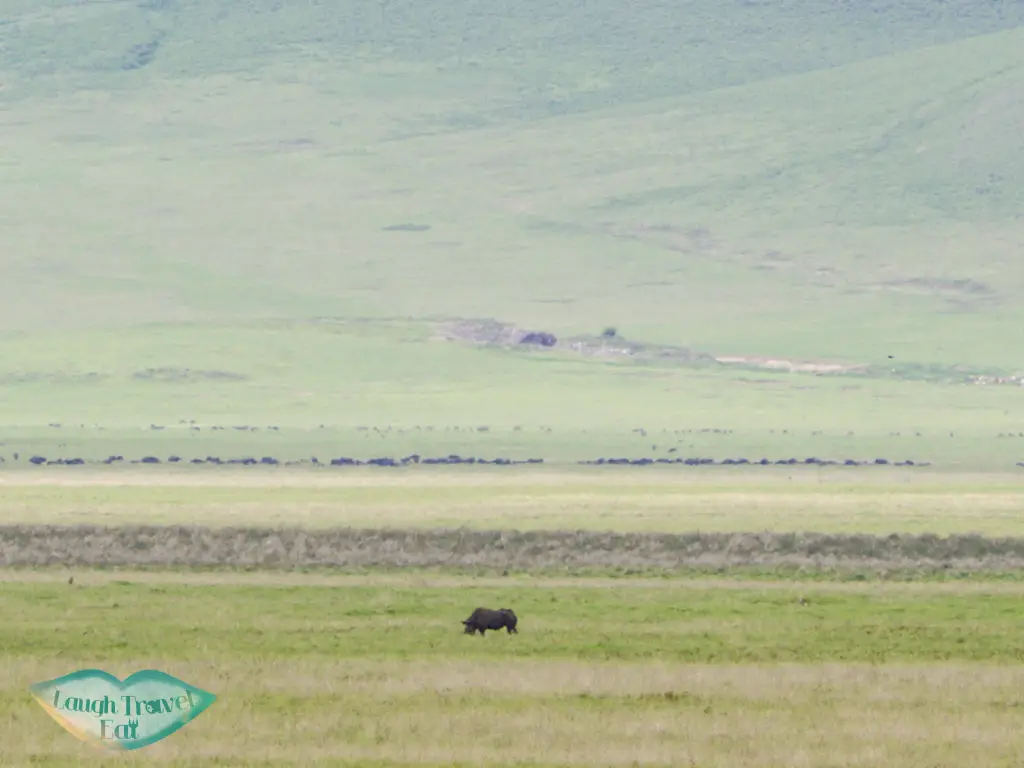 Since we had a very early start, we stopped at a little picnic spot for breakfast. The lodge had packed us a rich spread of breakfast. We had sausages, bacon (the crispy kind), cookies, croissants and various pastries, and mango juice, apple, and banana.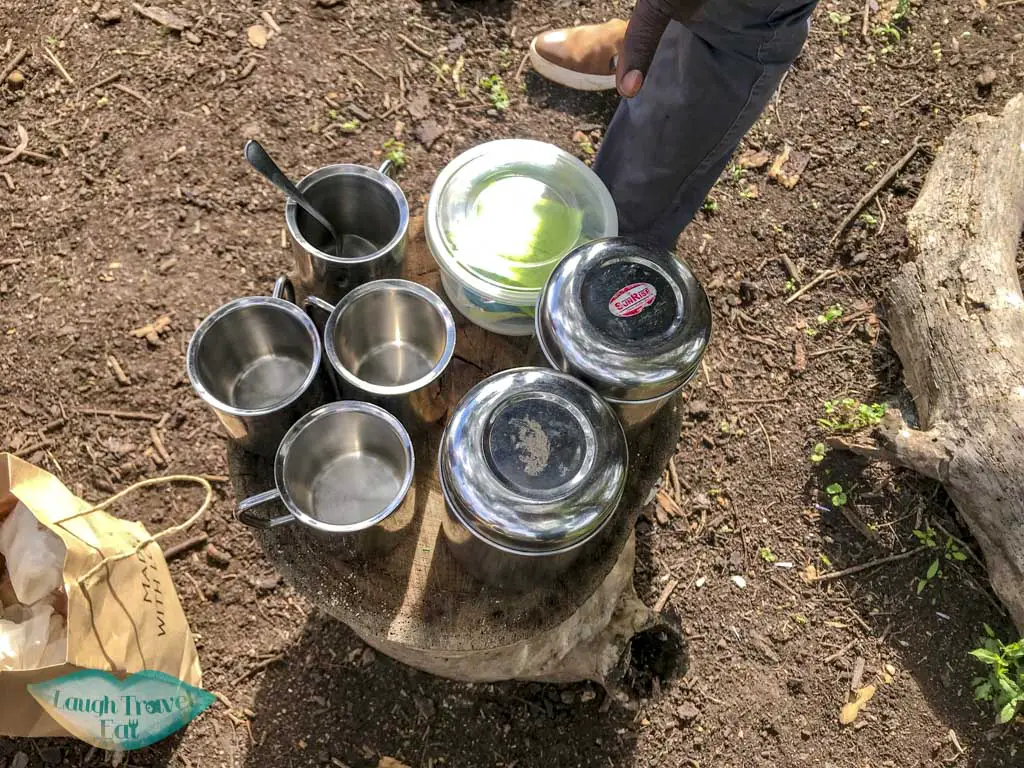 The bathroom was also really clean. Although we were surrounded by creepy and crazy looking yet beautiful birds.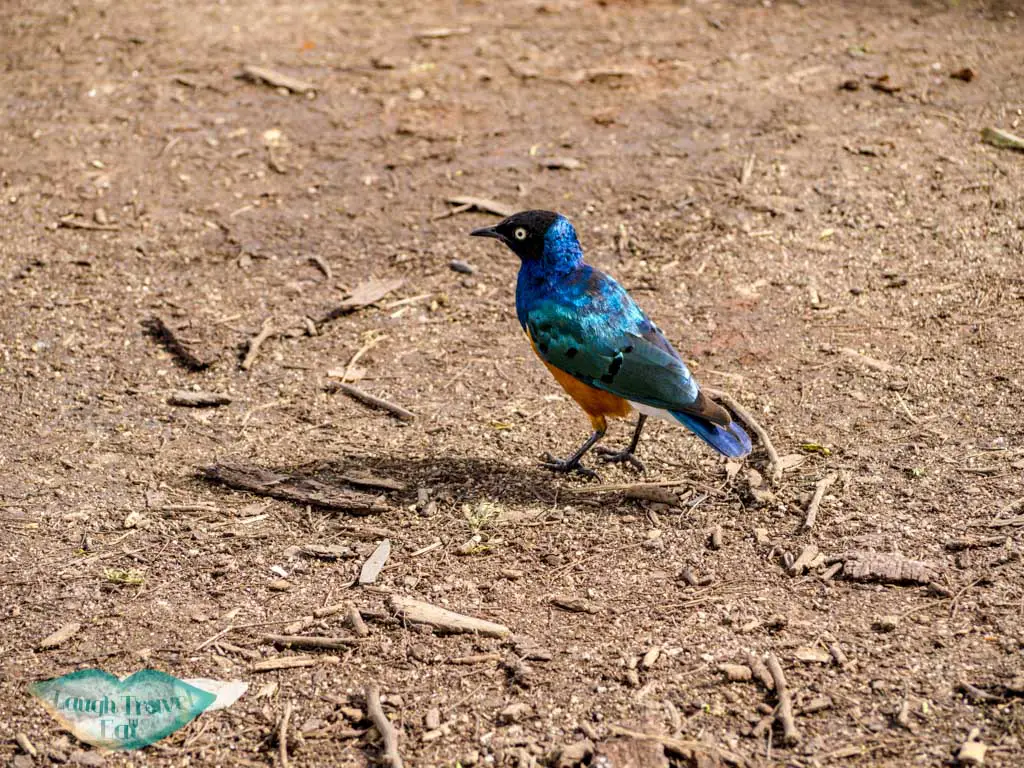 There are ostriches, and more close up of wildebeests~
We drove around and saw the first two male lions hanging out, then a group of 6 with half female half male hanging out.
Some of them even moved to stay by the shade of a few of the jeep!

Picnic lunch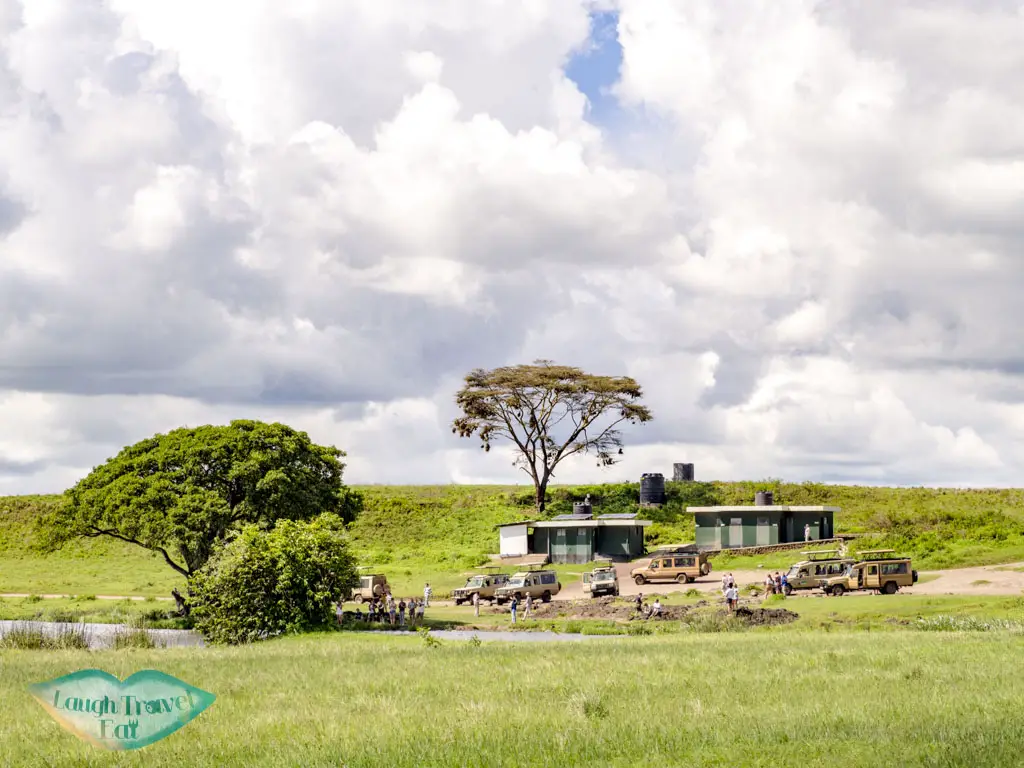 By the time we finished spying on the lion, it was already early afternoon so we decided to have lunch inside the park. The picnic site was by a large pond and we could see the hippos swimming in there. It's best to not get too close to the water as they are aggressive and fast swimmer.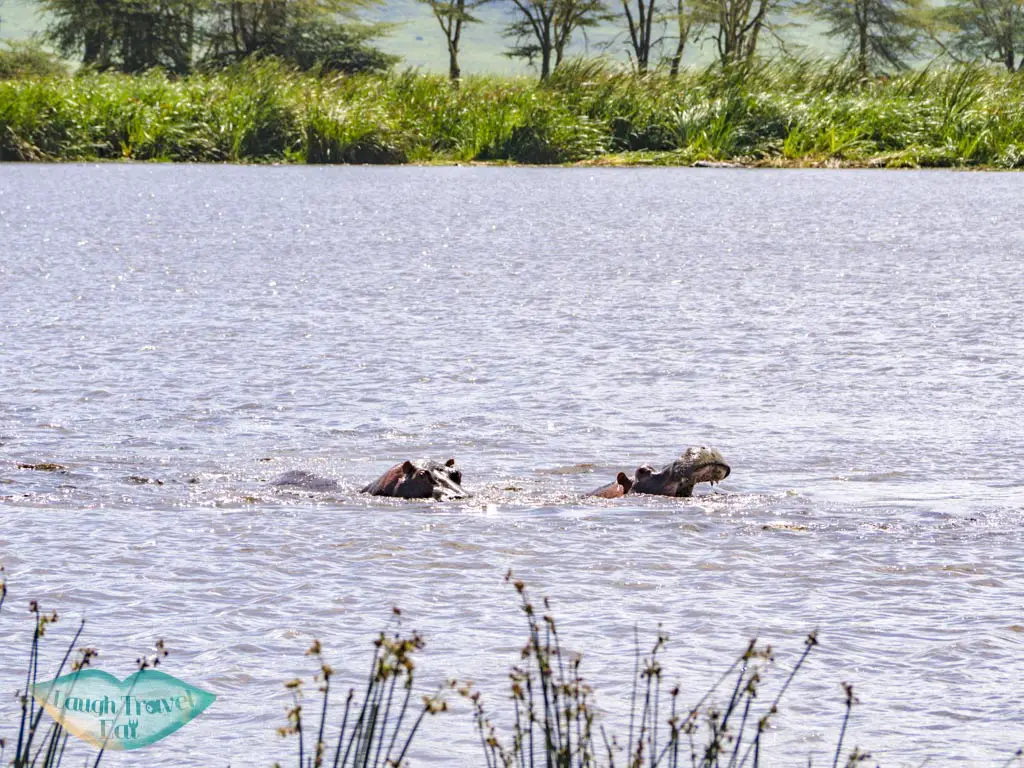 There's no picnic benches or table at this site but it doesn't matter, because our driver Dickson has chairs and a table stowed away at the back of the jeep! So while other safari-goers munched on their lunch boxes perched on tree stumps or sat on the grass, we enjoyed another hot meal on our own table!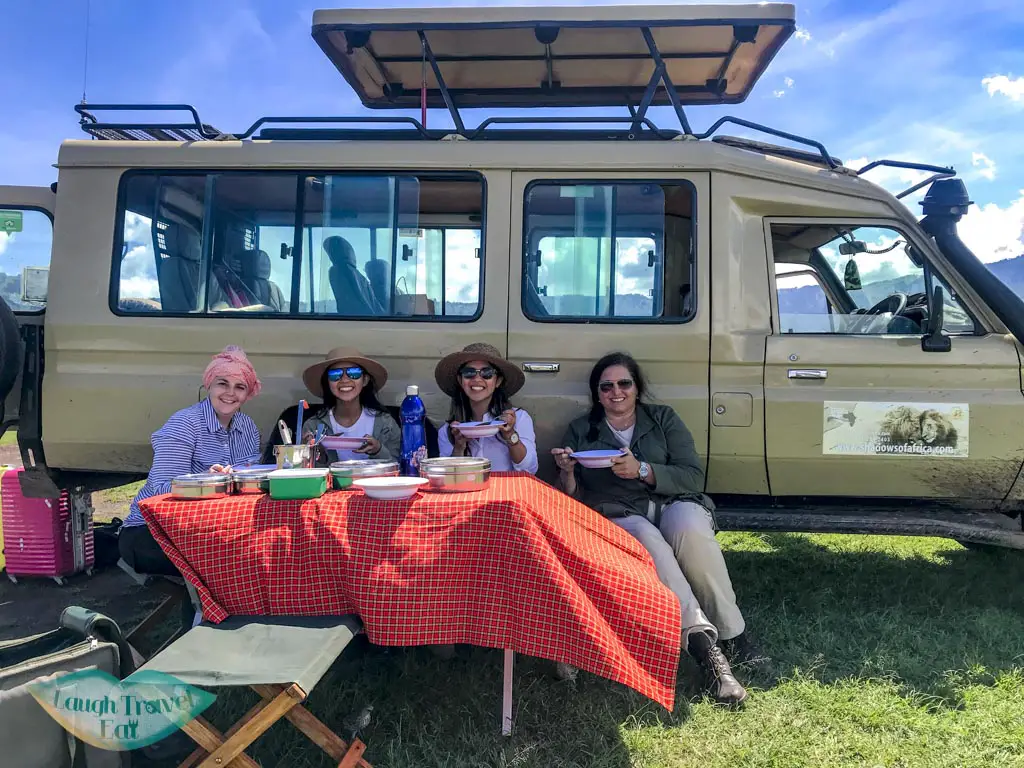 We had another round of delicious chicken curry, some roast veggies, rice, salad, and sweet corn. And soup of course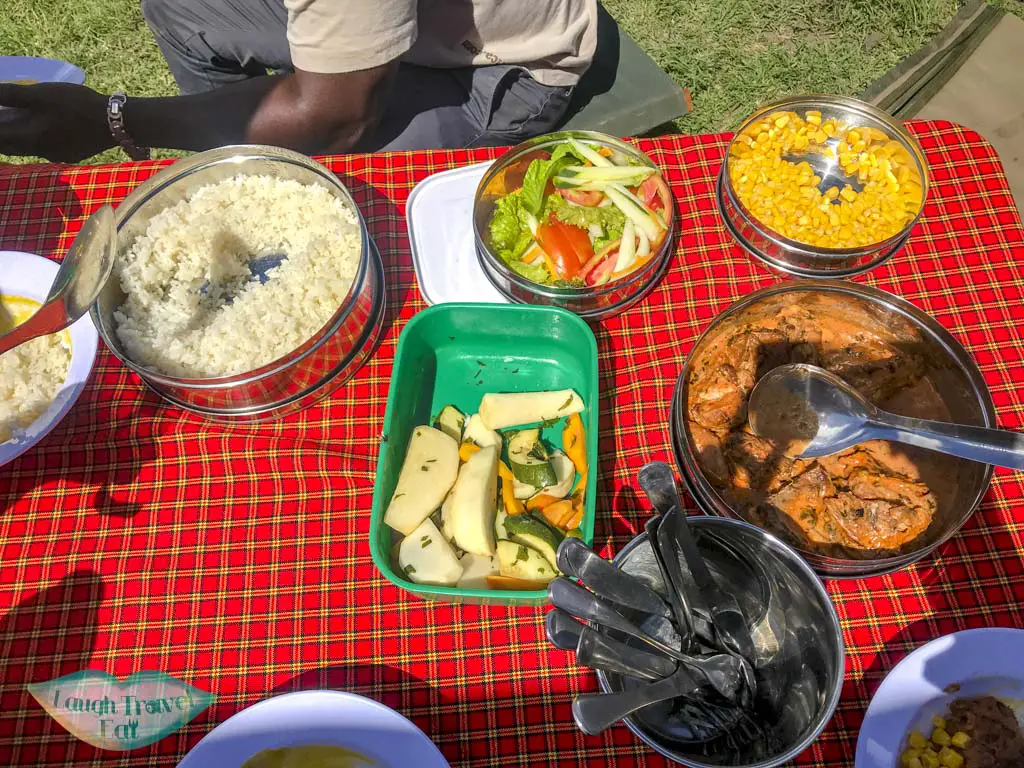 The picnic site had very clean washroom too!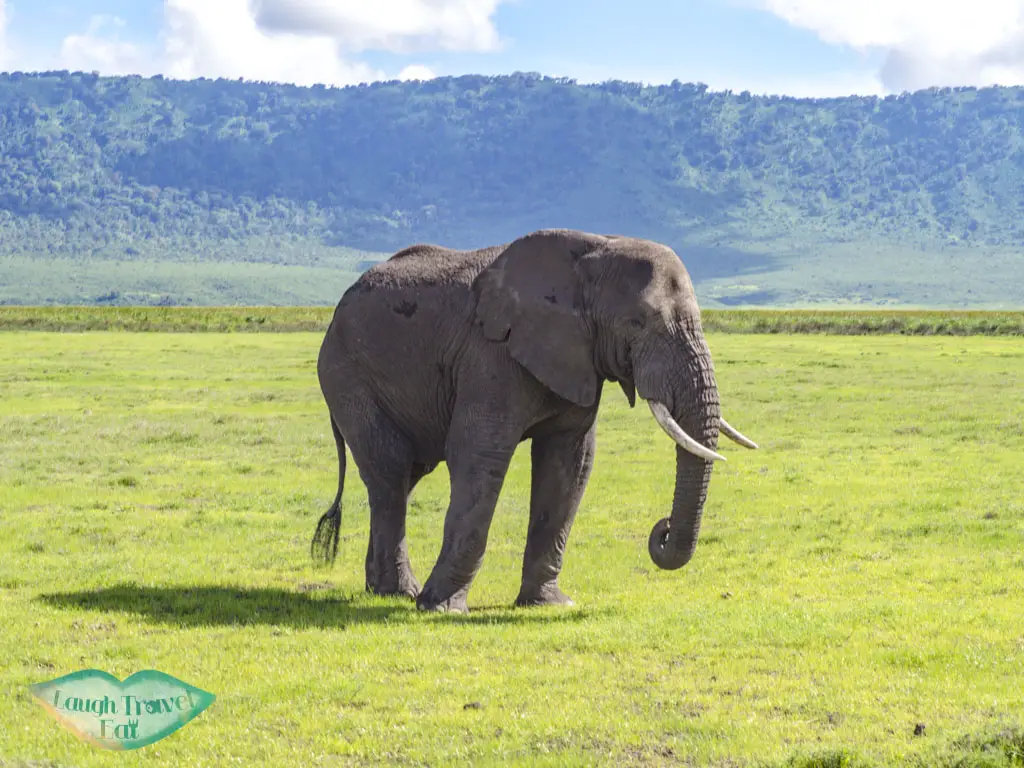 As we made our way to the ascent road to get out of the crater, we ran into two gentle giants: aka old elephants. They came right by our jeep and it was a pretty cool moment!

Lake Eyasi Safari Lodge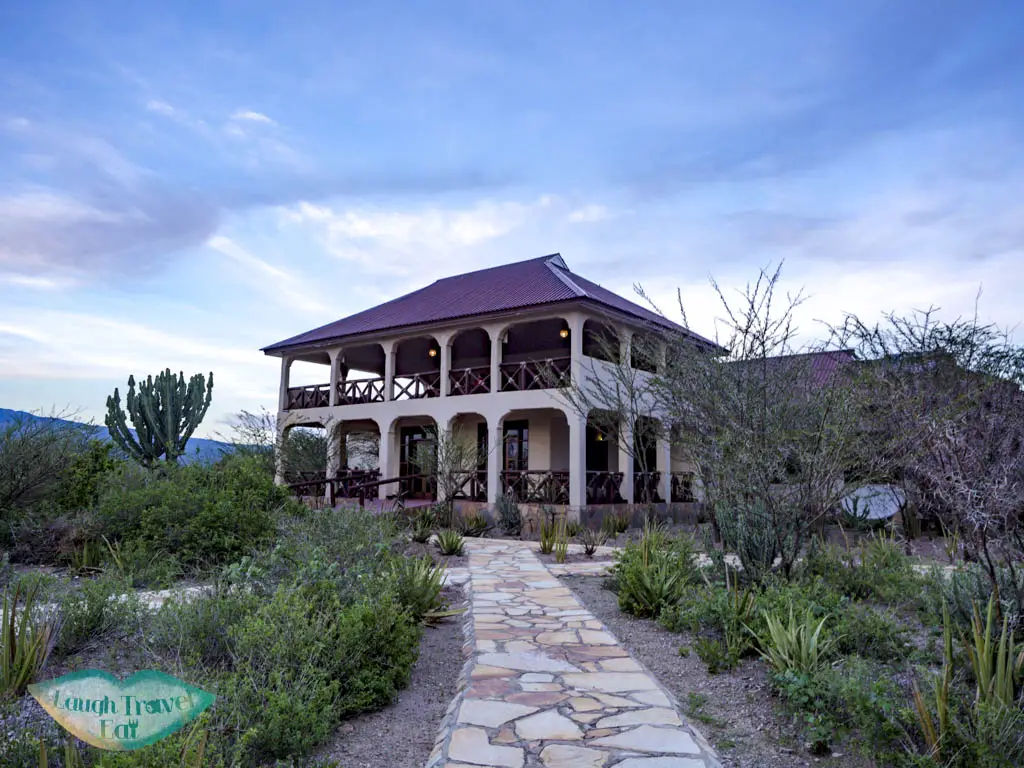 Our last lodge before going back to Arusha is by Lake Eyasi. The drive to the Lake Eyasi Safari Lodge is about an hour or so. The landscape here is different, more desert like and open. They have a large reception lobby building with villas dotted around for the guests.
The view out is great and the room spacious, however, there is no air conditioning. That said, I still had a decent night's sleep but you might want to bring ear plugs.
Our dinner was served semi-buffet style, with the waiters coming with a bowl to serve us.

Day 5 Cultural day then back to Arusha
Hadzabe Bushman Tribe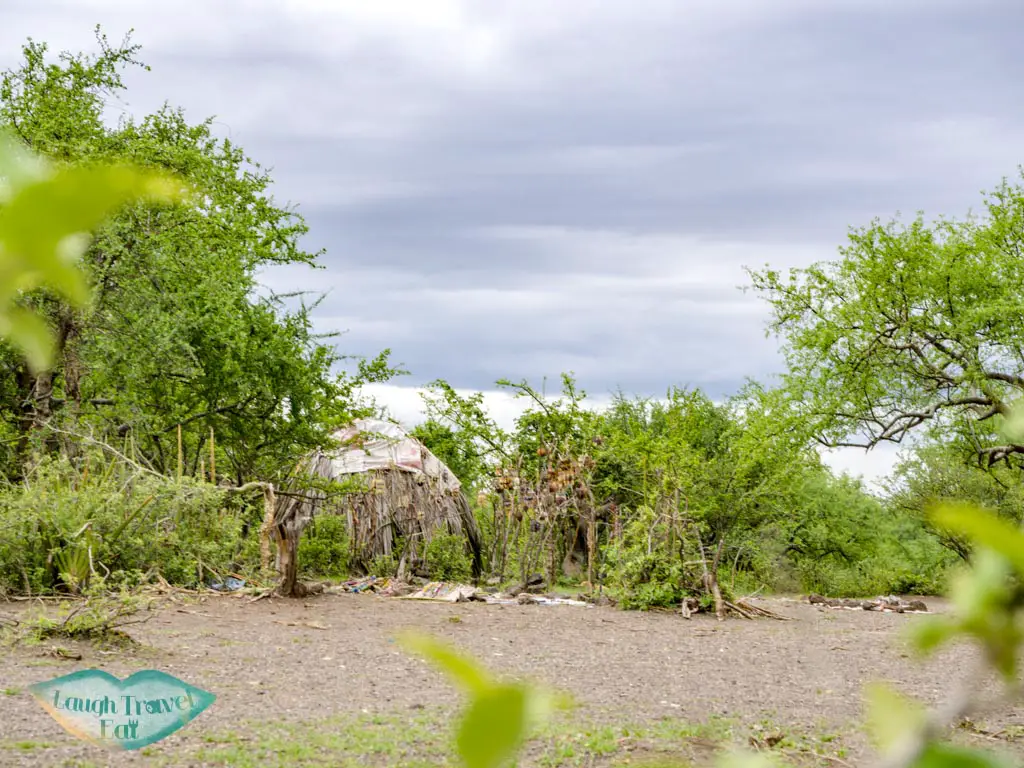 Today we were ready at 7am because we are to visit the Hadzabe Bushman Tribe to hunt for food! They are originally from South Africa but migrated all the way here, and one of the last hunters and gatherers tribe there.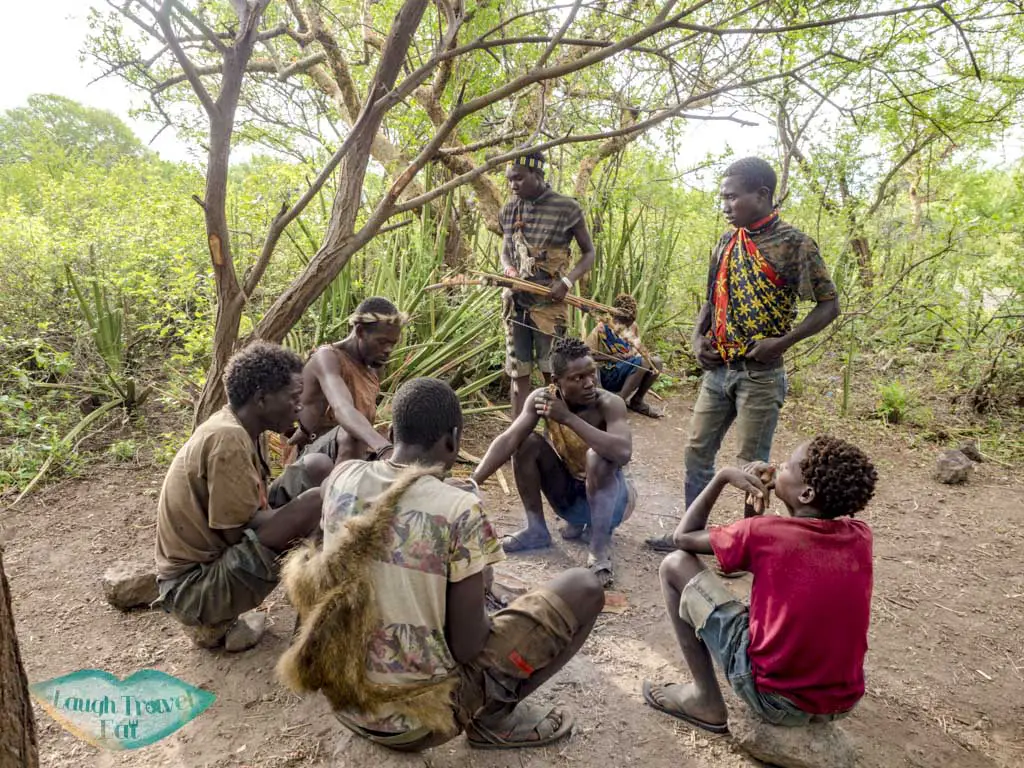 There are 15-20 people per tribe – and there is no name for the village since they are nomadic. Each morning, the chief decide who is hunting in the morning, and we arrive to see a group of men gathered around a fire, whittling or chatting.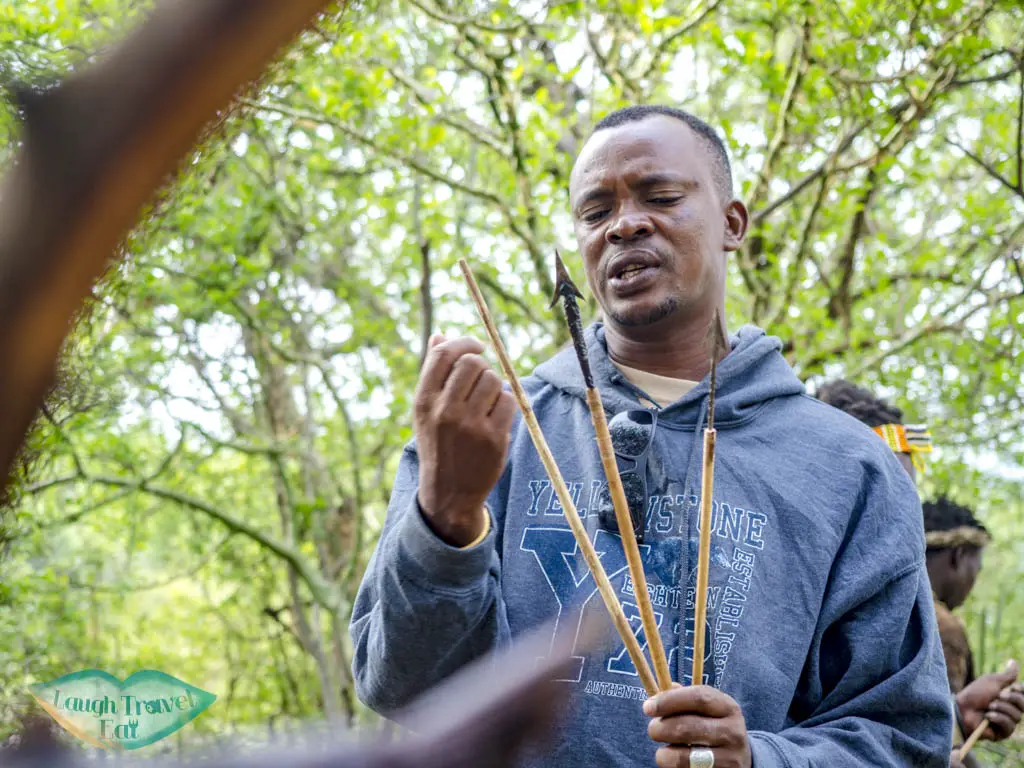 Our translator, who met us at the lodge, explained that they are discussing what to hunt while the women do the same in terms of gathering food in another corner of the village. If the men don't catch anything, they go back at noon to let the woman know so they can gather more food.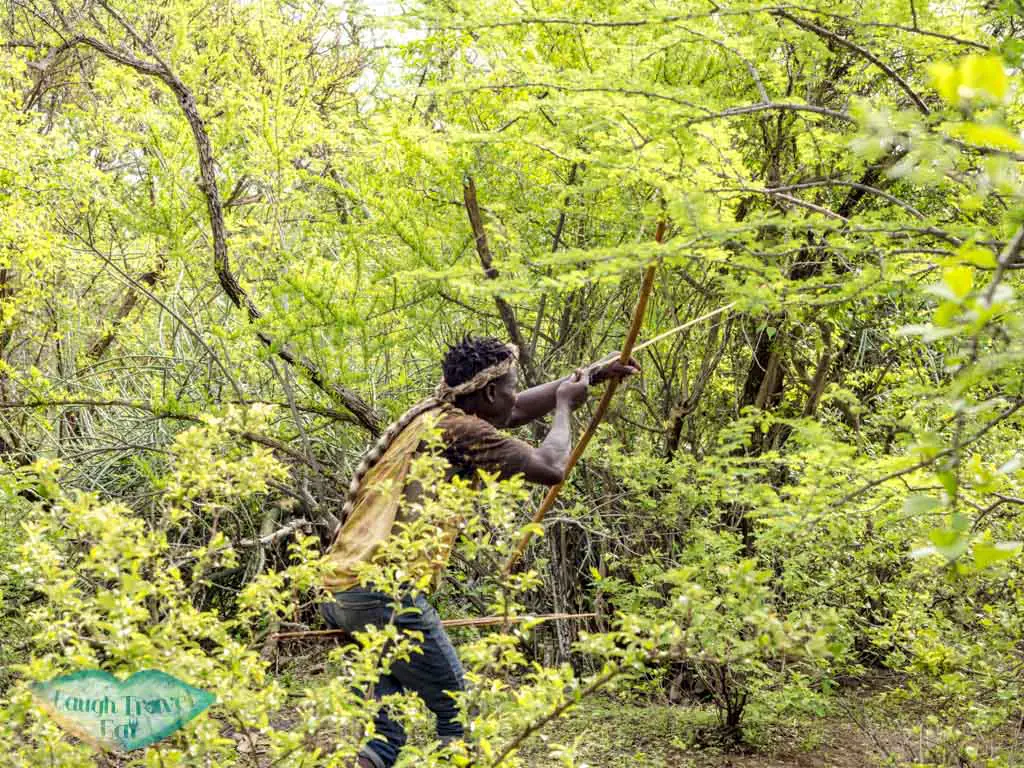 The men wears fur and pieces from their kill such as baboon fur headdress. This helps them from being noticed by animals because of the scent. The government has sent resources to help them but they only accept what they want, such as clothing and the development of cultural tourism.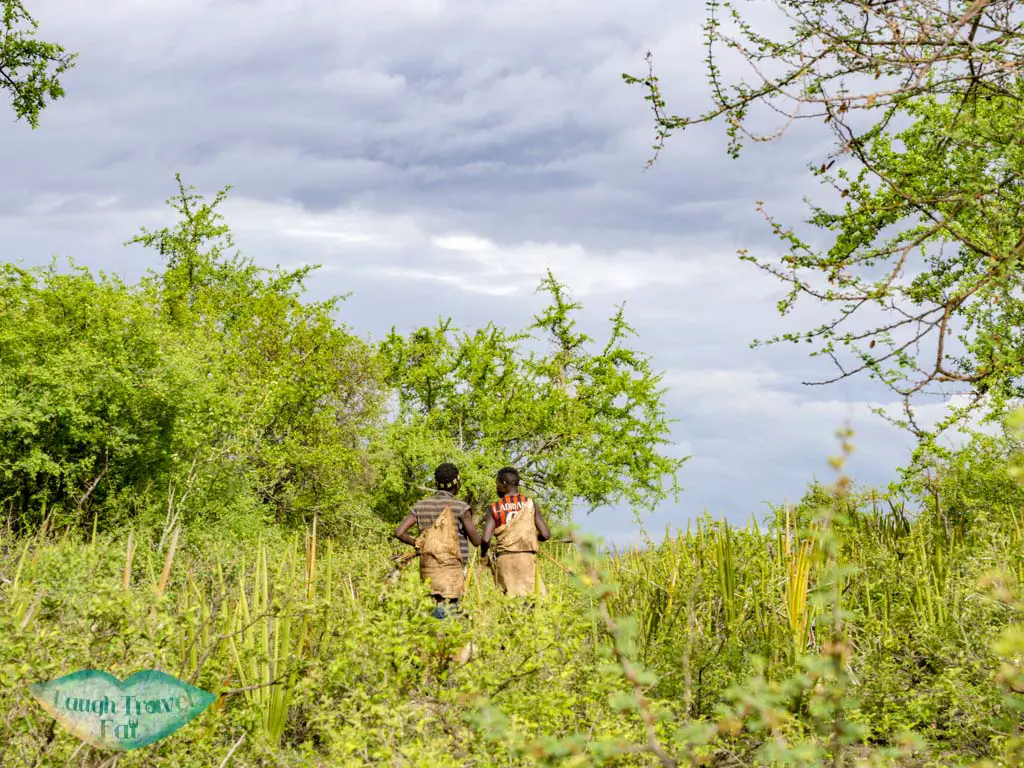 They buy arrows from the Datoga tribe (which we'll visit later) and often adds poison to them. Our outing with them on the hunt was cool, although I'm pretty sure we were just hindering their efforts. So instead, they took us to a beehive and smoked the bees out to get honey for us. I didn't even know that honeycombs are white!
The women are gathered with the children with a range of handicrafts for sale. Whatever we buy (in Tanzanian shillings) will be given to the maker. I got two bracelets made of beads and porcupine needles for 4,000 shillings each.
Note: the drowny for a wife is one baboon, though you are supposed to kill it yourself!

Datoga Tribe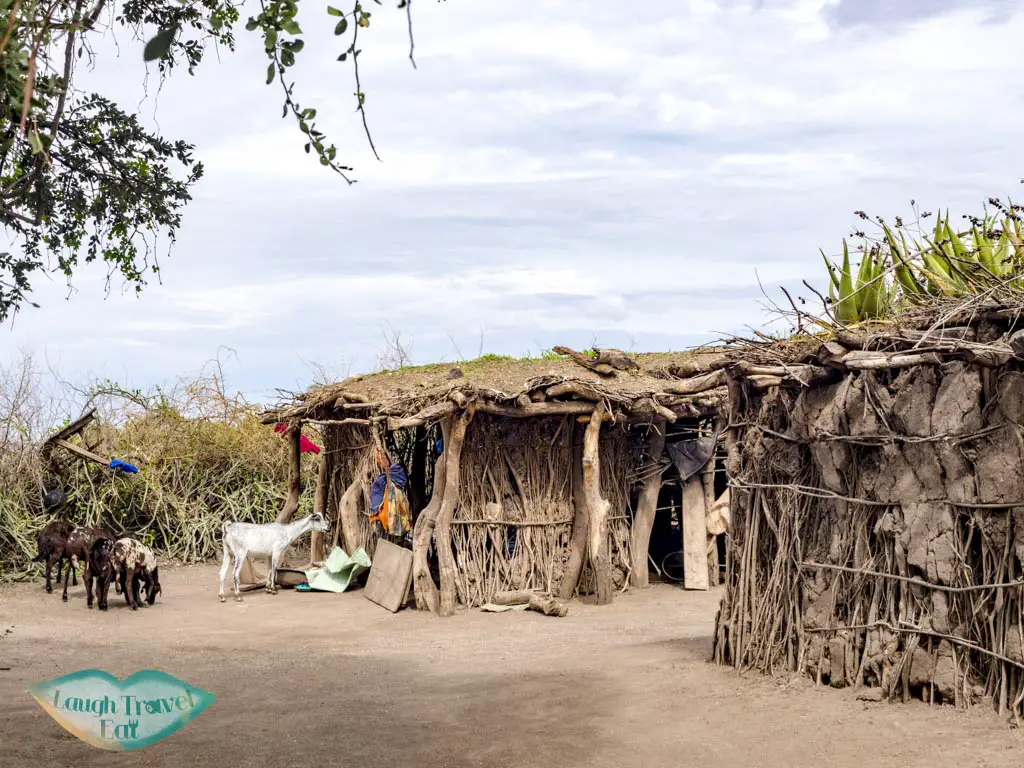 Not too far away is the Datoga Tribe, who are known for their blacksmithery. They often exchange hunting equipment with meat, although they also keep their own animals.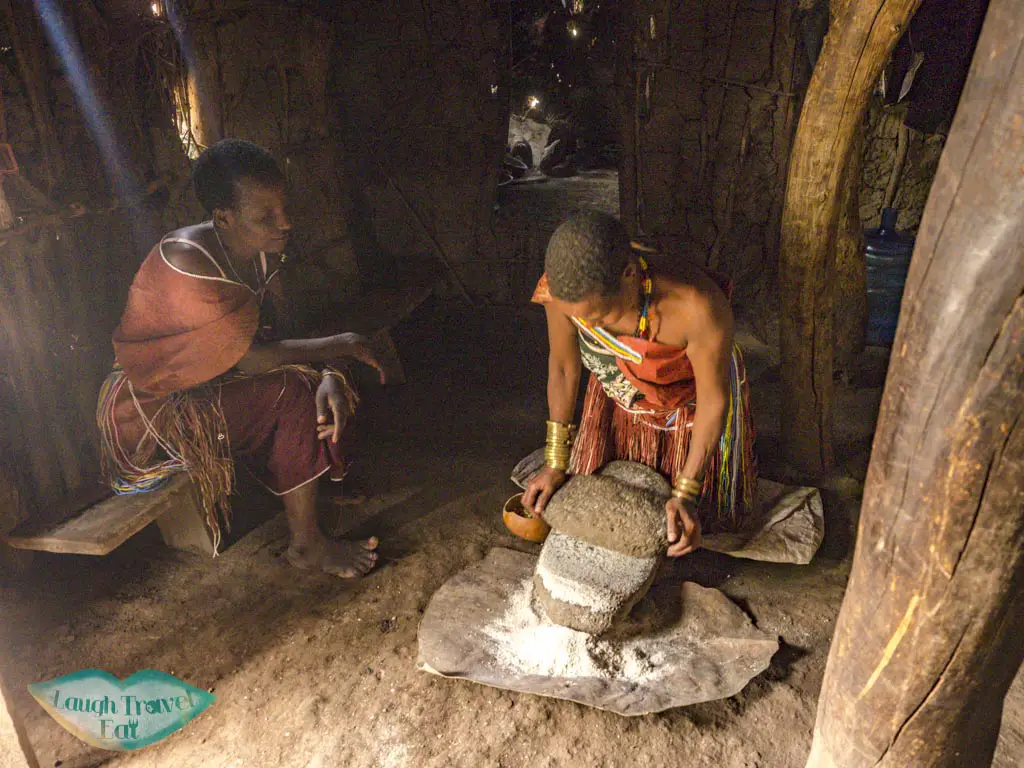 The Datoga are polygamy, and the wives are in charge of household chores and cooking. Believe it or not, the average number of wives a man has is ten, any less the man would be seen as poor. The wives are generally not jealous, since it means more people to share workload.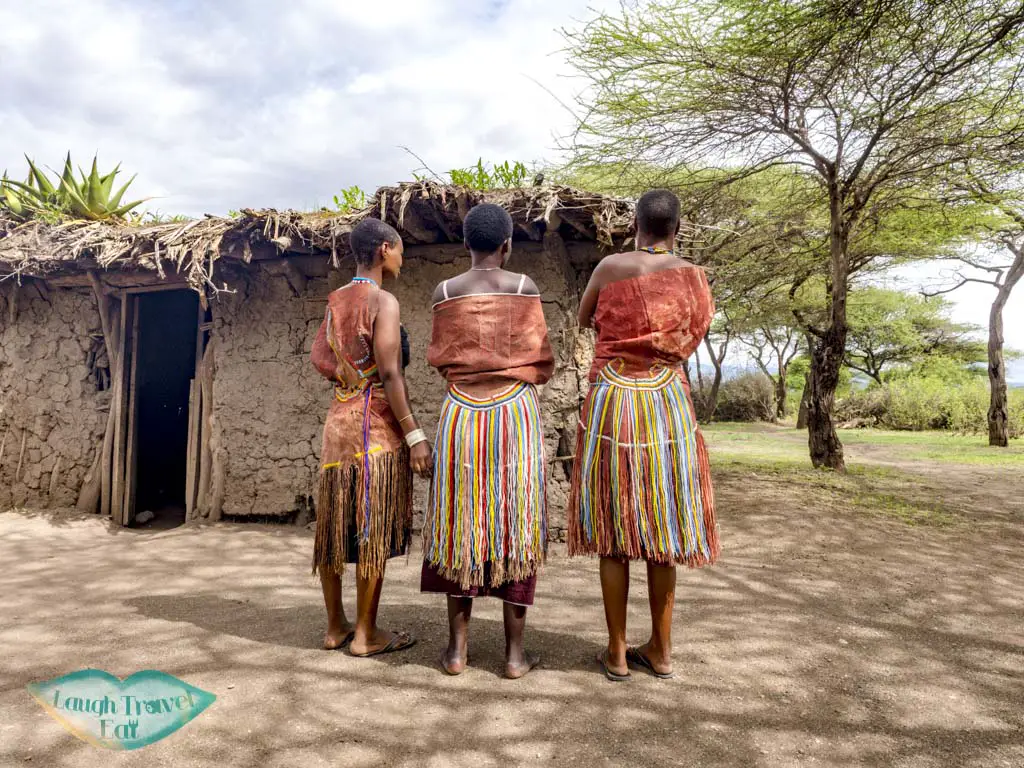 They once lived in Ngorongoro but the Maasai forced them out. The women wear a leather underskirt that are never taken off, which is a symbol of their marriage (like the ring in western culture). Their traditional clothes, which are still worn, consist of more leather with beads and fringe.
My favourite part of the visit was watching the men make bronze bracelets. Again, we are welcome to buy them here and one costs 8,000 shillings! They are absolutely beautiful and according to the Datoga, brings good luck and prosperity.

Lunch back at Lake Eyasi Safari Lodge
We returned to our lodge for lunch and it was a nice reprieve as the midday sun was very hot. We had another round of semi-buffet that was pretty good before we leave for our three hours plus drive back to Olerai Lodge in Arusha!

Olerai Lodge relaxing night
We got back in the late afternoon and was relieved to have some time to relax! While sitting in a jeep doesn't sound too bad, it does get exhausting. I took a dip in the pool, showered, lazed around, tried to repack my suitcase, before jetting off to dinner.

The food is great as usual and we settled in for the last night in Tanzania with great WiFi and comfy bed. Our driver has been arranged to pick us up with plenty of time to head over to the airport.