Zanzibar itinerary: what to do for 3 days to a week
Zanzibar has long been an island of spice and trade even before becoming part of Tanzania. Most itinerary for Tanzania will include this island, not only because of its history but because of its beautiful beaches. Whether you are looking to spend a few days in Zanzibar or a week to relax and unwind, I've got some suggestions for you:
A short history of Zanzibar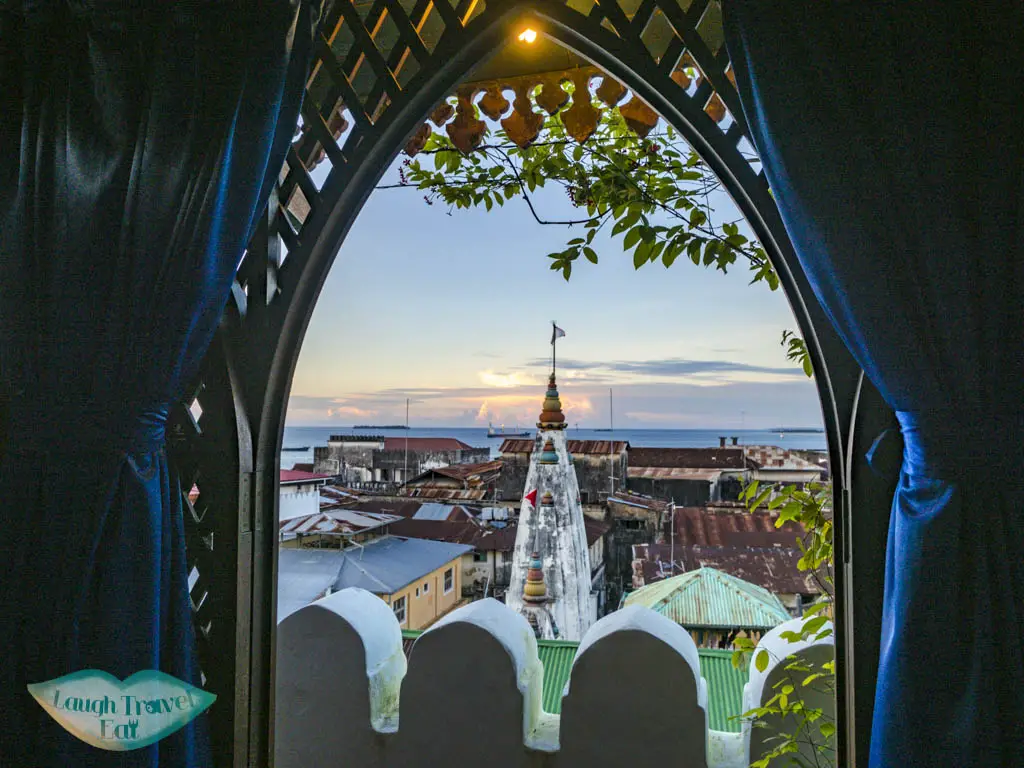 The name Zanzibar derives from the Arabic word for black land or land of the black people, coined by the merchants who saw black people for the first time back in the days. The original inhabitants migrated from South Africa, arriving on Dhows pushed by strong wind going off course around the 5th century.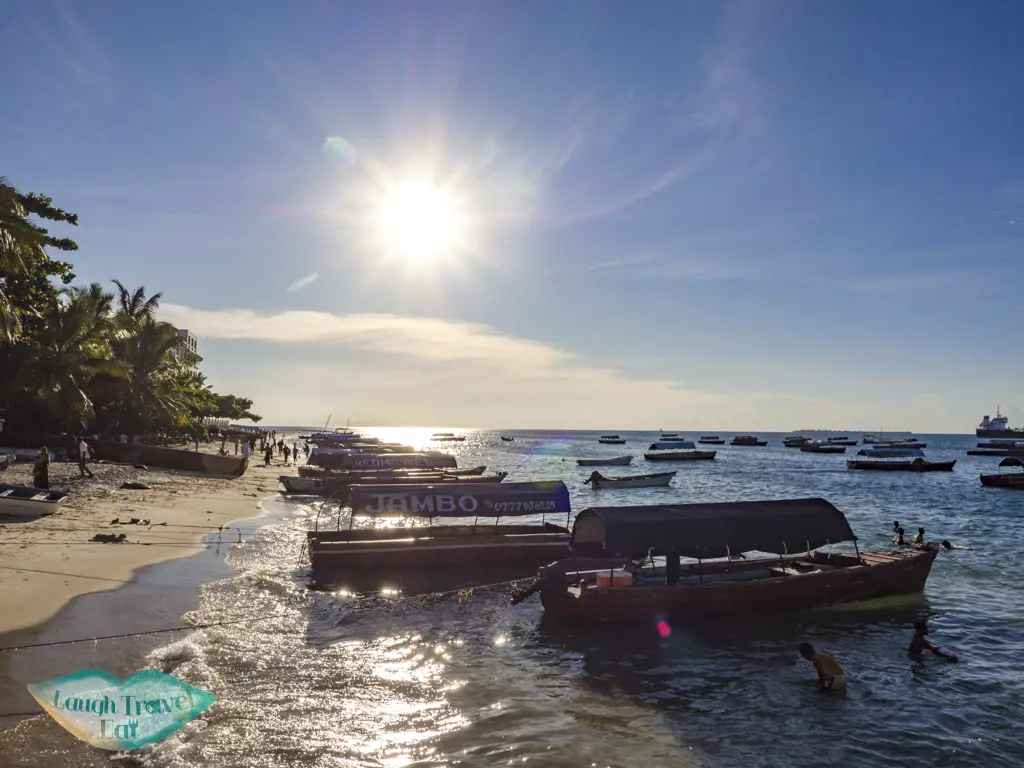 As Zanzibar became an important trading port, Persians, Indians, Arabs, and Chinese started arriving by the monsoon wind. Many eventually settled here. It was also how Zanzibar became a Muslim island, which meant that later missonary from Europe found it harder to convert them to Christians.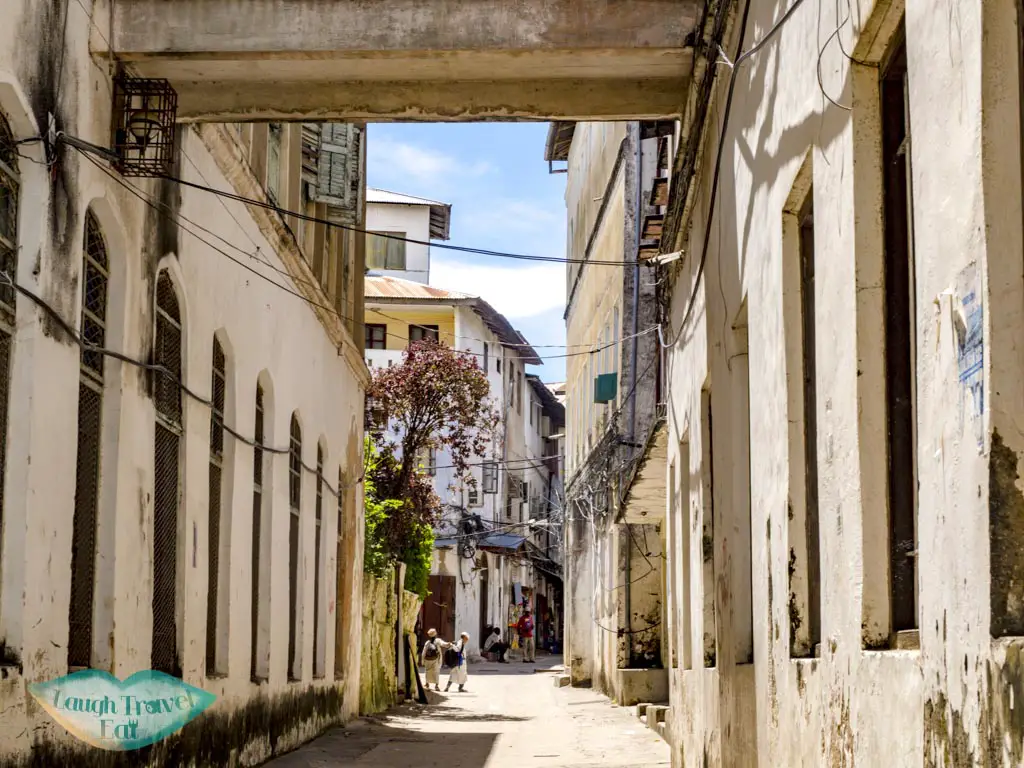 It became under the Sultanate of Oman after they appeal for help to Oman to fight off the Portugese who tried to occupy the island in the 17th century. In the 19th century, it became a British Protectorate until 1963 when it formed Tanzania with Tanganyika.

Zanzibar essential information
For sim cards, Zantel has the best coverage on the island
USD is widely accepted in hotels and tour companies, but it's best to have Tanzania Shillings for shopping and restaurants
You can exchange money in Stone Town, which has a better rate than the other places, although the airport isn't bad
Tap water is safe to use for brushing your teeth but only drink from bottled water
As a former British Protectorate, it uses British plugs
It is a Muslim prodominant island hence dress modestly if possible, though locals are used to tourists but definitely no swimsuit outside of the beach
You will be bombarded by vendors and locals alike trying to sell you a tour or items, just be polite and walk away
While it's a safe place to visit, I would avoid visiting walking alone at night if you are a girl. Regardless of age and gender, it's best to move fast and with purpose.
Zanzibar Itinerary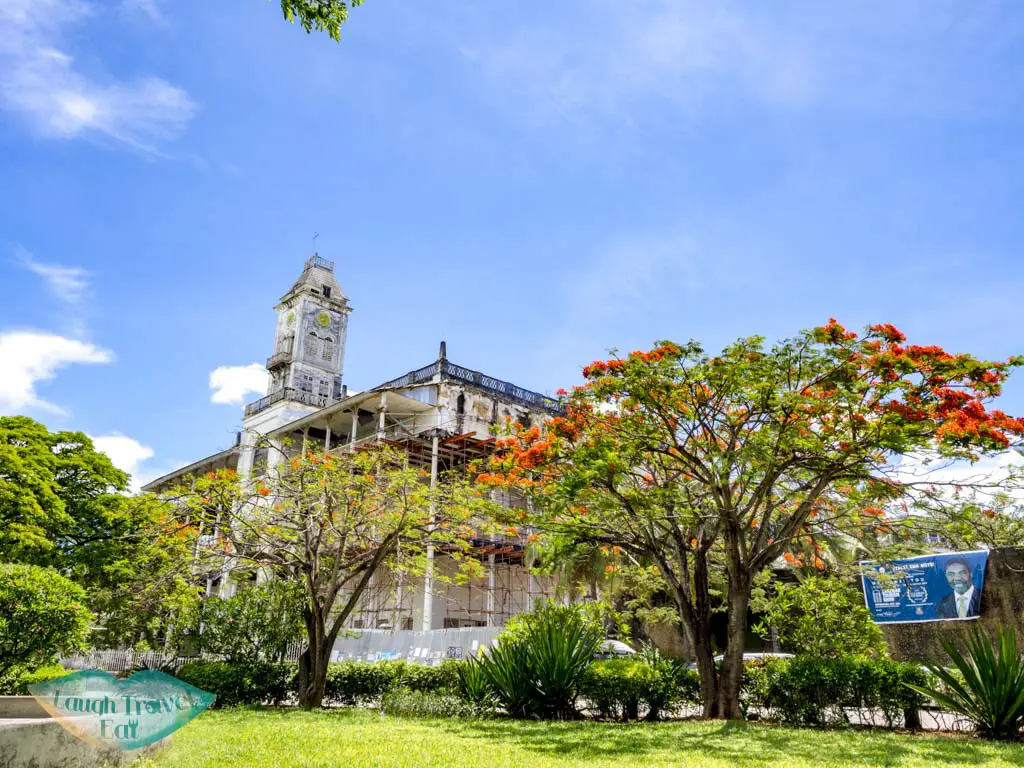 If you only have three days in Zanzibar, I would recommend staying in Stone Town and taking day trips. The island reminds me a little of Bali, albeit smaller, with how everything is structured. The main hub is Stone Town, which is near the airport, with day trips to all corners possible. Other popular spots includes Nungwi to the north and Jambiani in the southeast. If you have around a week, you can do all three. However, personally I didn't want to move around too much and went with Stone Town and Nungwi.

Day 1 – arrive and visit Stone Town
We landed in Zanzibar in the afternoon. We arranged for a transfer from the airport to our hotel in Stone Town beforehand which costs 15 USD. Our driver was a little late since our flight was early, but it was a smooth journey to our hotel for around half an hour.

Dhow Palace Stone Town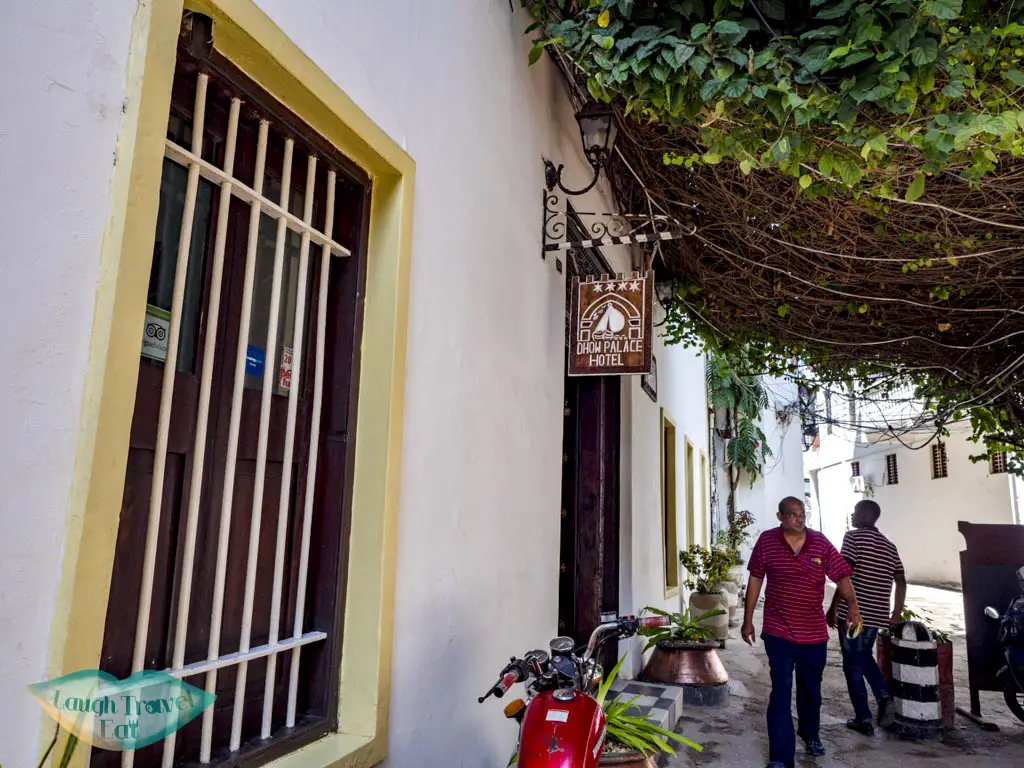 Stone Town is full of heritage hotels and we decided to go with Dhow Palace. It's in the center of the city near the mainstreet and the former mansion of the merchant Sheikh bin Mujbia from the 16th century.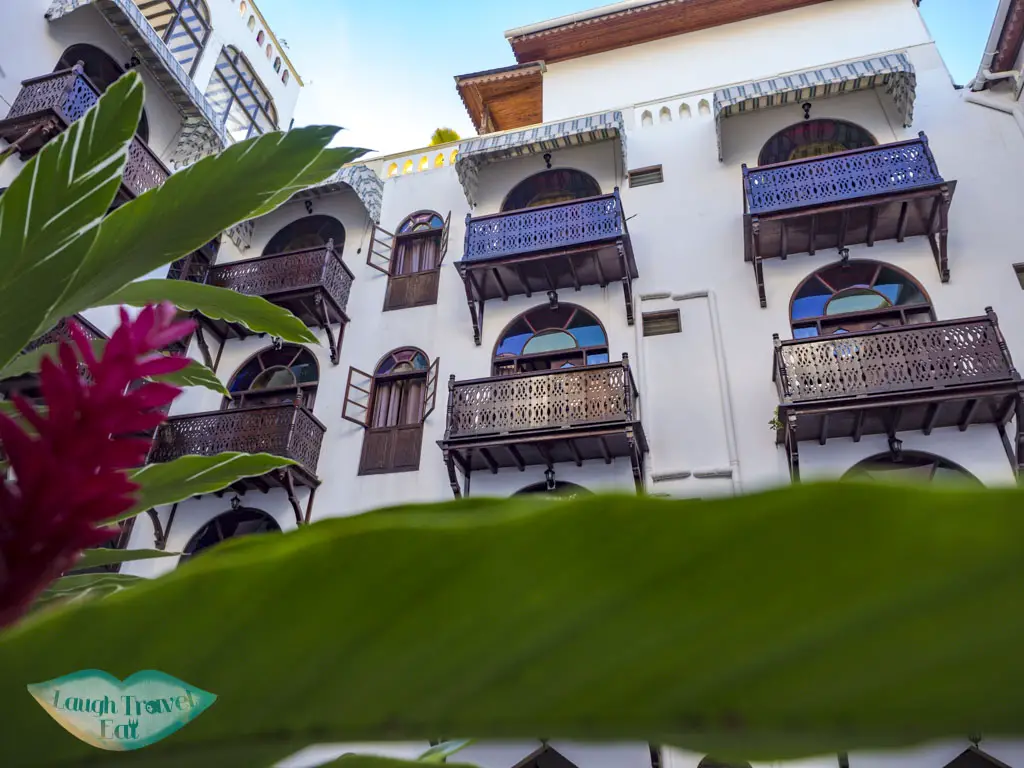 It retains the charm of the Arabian time, with the furniture and restoration done beautifully and with the same material. From the central swimming pool to the colourful stained glass, it's a wonderful hotel to stay, albeit the room can be a little dusty, but the balconies more than make up for it.

Shopping in Zanzibar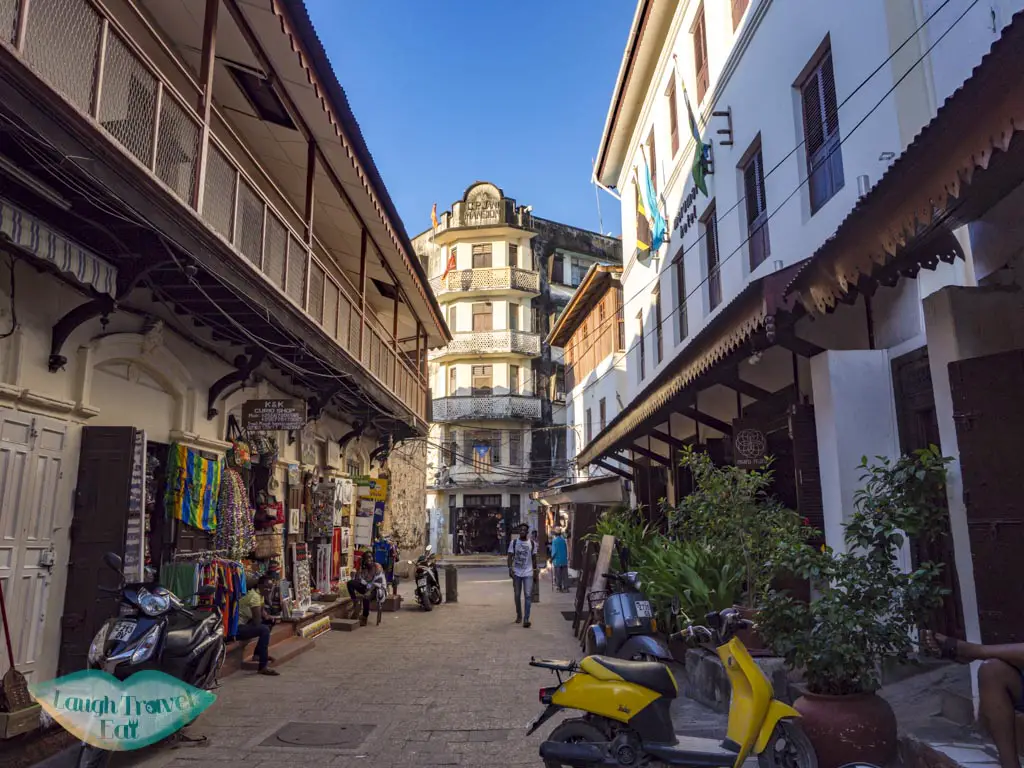 After we settled in, we ventured out to the main street and unintentionally started shopping. Zanzibar has a lot of beautiful handcrafts, some of the more popular items include textile products made from Khanga and Kitenga. They are brightly coloured and patterned cotton, and you can find them on their own or made into beautiful accessories and bags that you can buy.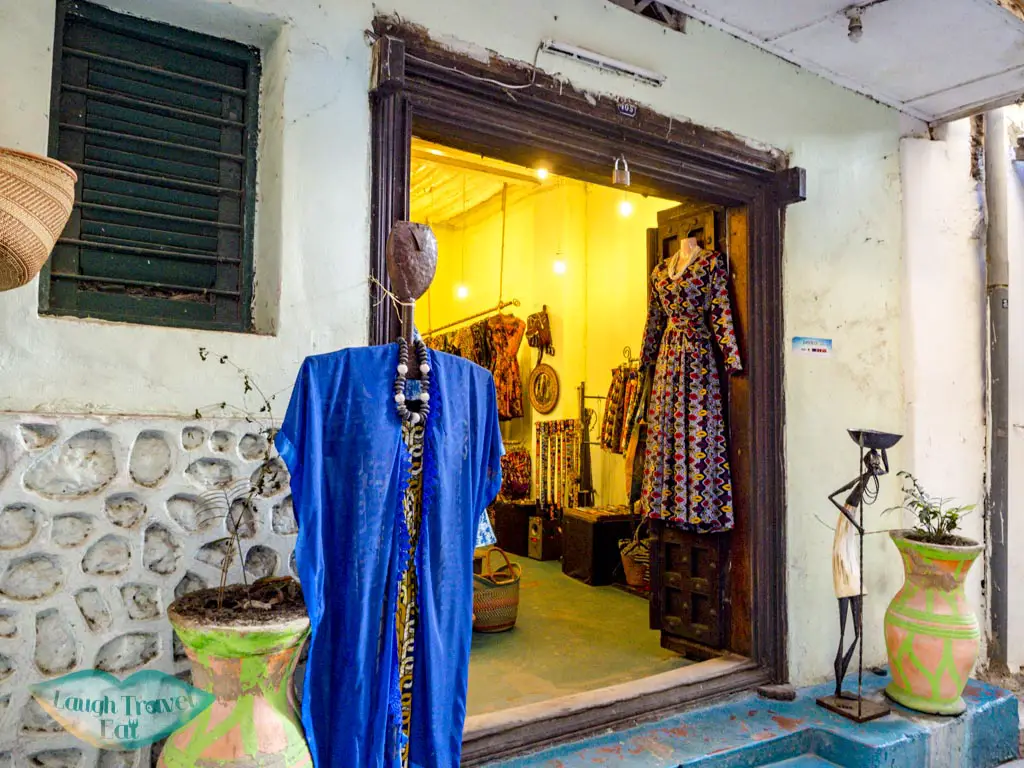 Some shops also have ready to wear pieces, but the prices tend to be on the higher end. Do remember to haggle and it's best to snoop around before going back. Here's a quick summary of how much I paid for what:
Ear rings 8k barter down, originally quite 15-11k
Couldn't really barter down the kinega 15k each
Skirt 27k barter down from 35k
Flip flops quotes 15-20k depends on design some more
Emerson on Hurumzi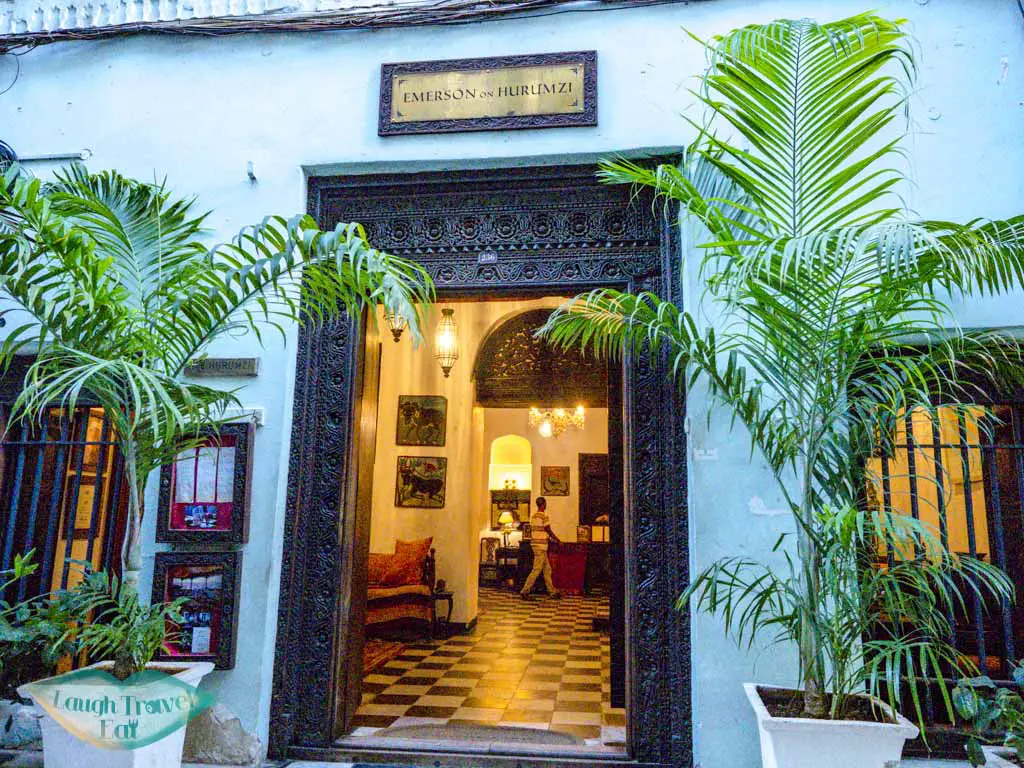 A rooftop dinner is definitely not to be missed in Stone Town. Emerson on Hurumzi is the second highest building in the city that belonged to an Indian financial advisor to the King. Nowadays, it's a hotel and restaurant. It's a popular place for a sunset set meal and it's definitely worth it to pre book.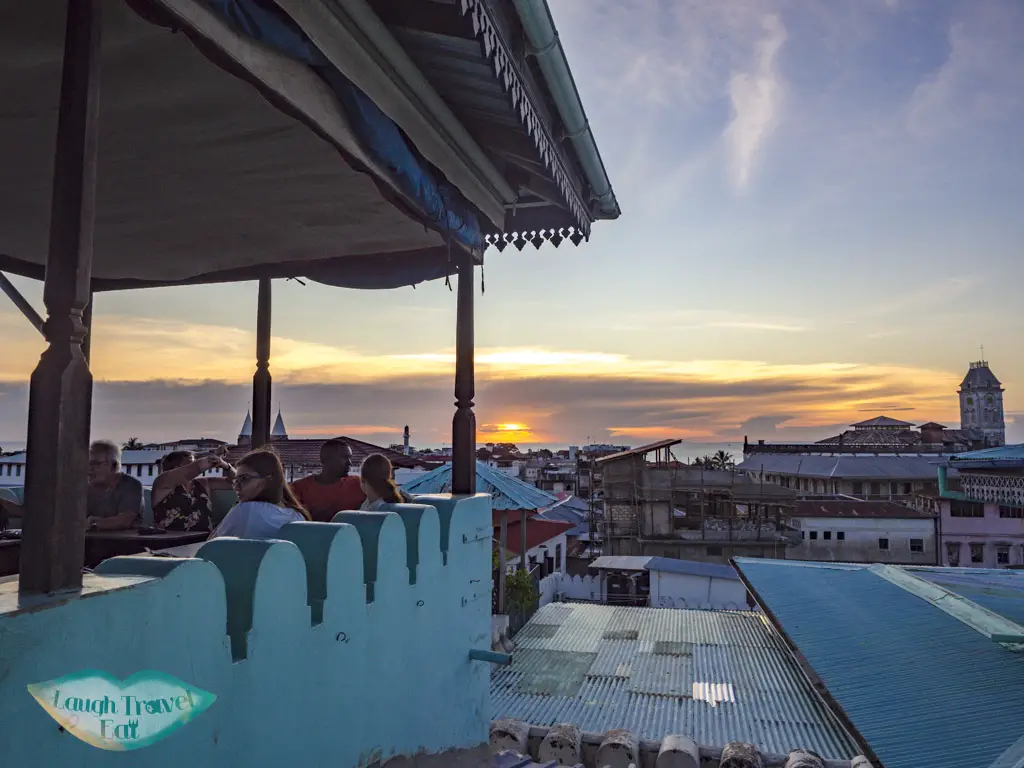 You have to option to dine with floor seating, which is more traditional, or on tables. While the dinner officially starts at 7pm, it's best to head there before 6 to grab a seat and enjoy the sunset view.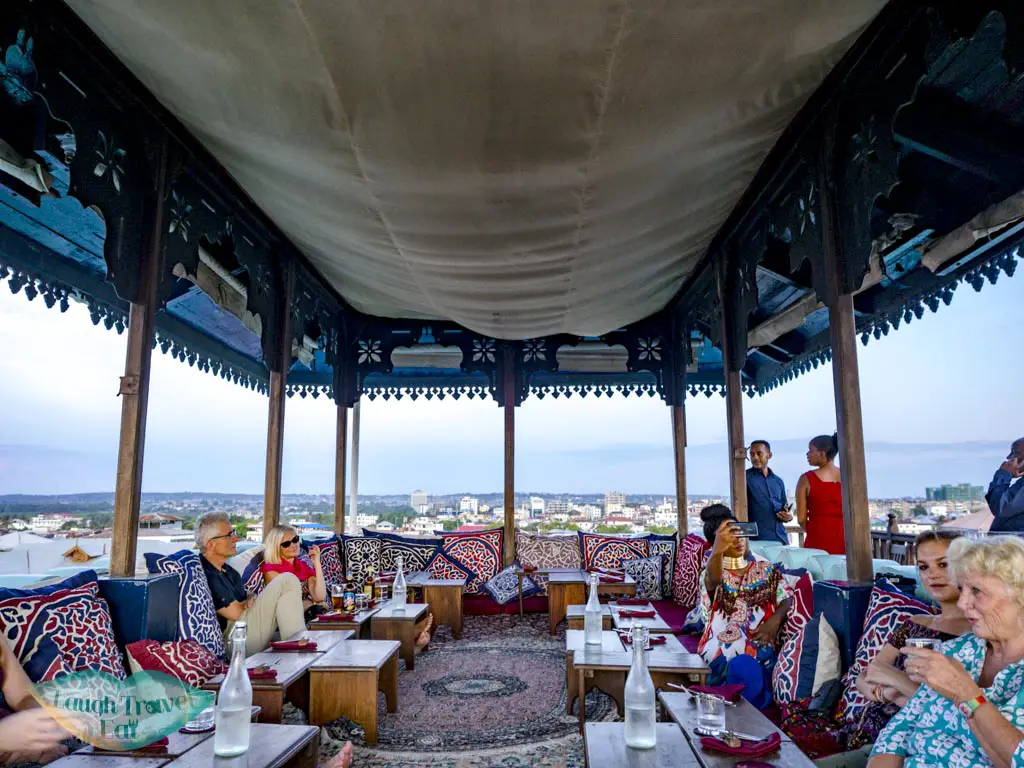 Water and drinks are separately charged, we ordered a water to share and I also had a Hibiscus Champagne cocktail. There are two courses, both served platter style. Starter includes spice salted squid, beetroot Tahini, and Arabian flat bread. For main, there's samaki wa chicha, pumpkin tagine (which I adore), Massaman goat curry, with rice, and papaya salad. Then comes ginger tea – and all for 35 USD per person (as of Dec 2019).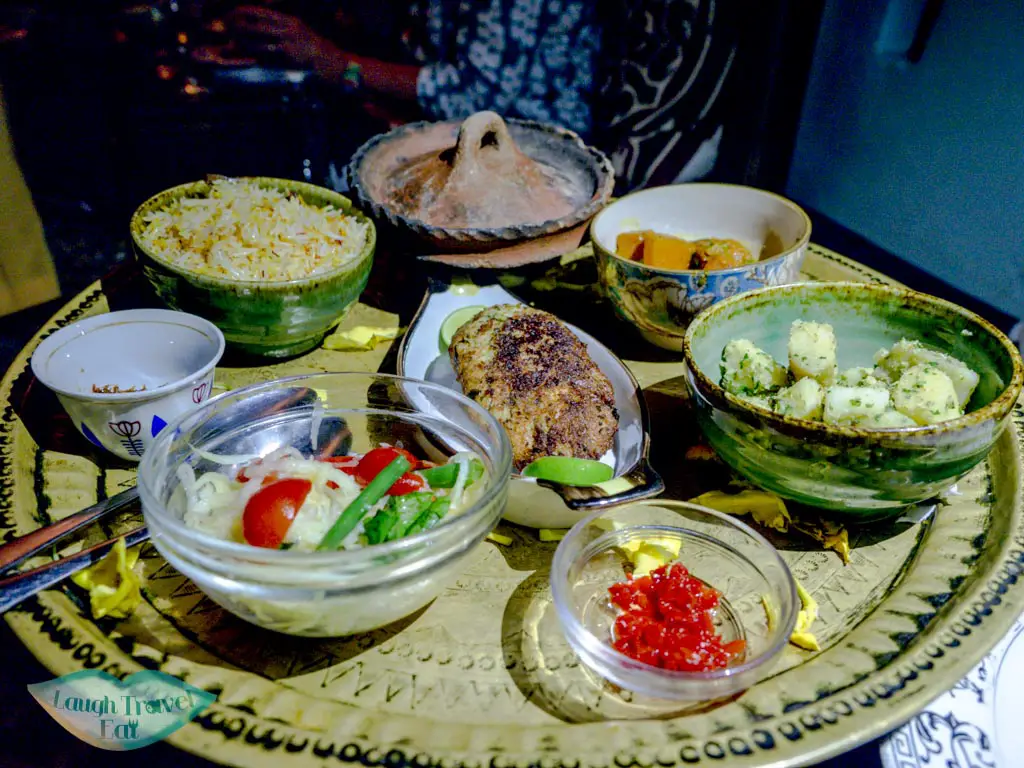 These are Persian Middle East Sawali food that are commonly ceremonial wedding meal. This were accompanied by traditional music called Tarack, with a lady singing several songs.
You can message them for most up to date information, but to make a reservation, you'd have to send them an email and a deposit paid via the Zanzibarian version of paypal is required.

Day 2: Stone Town City Tour
Stone Town city walking tour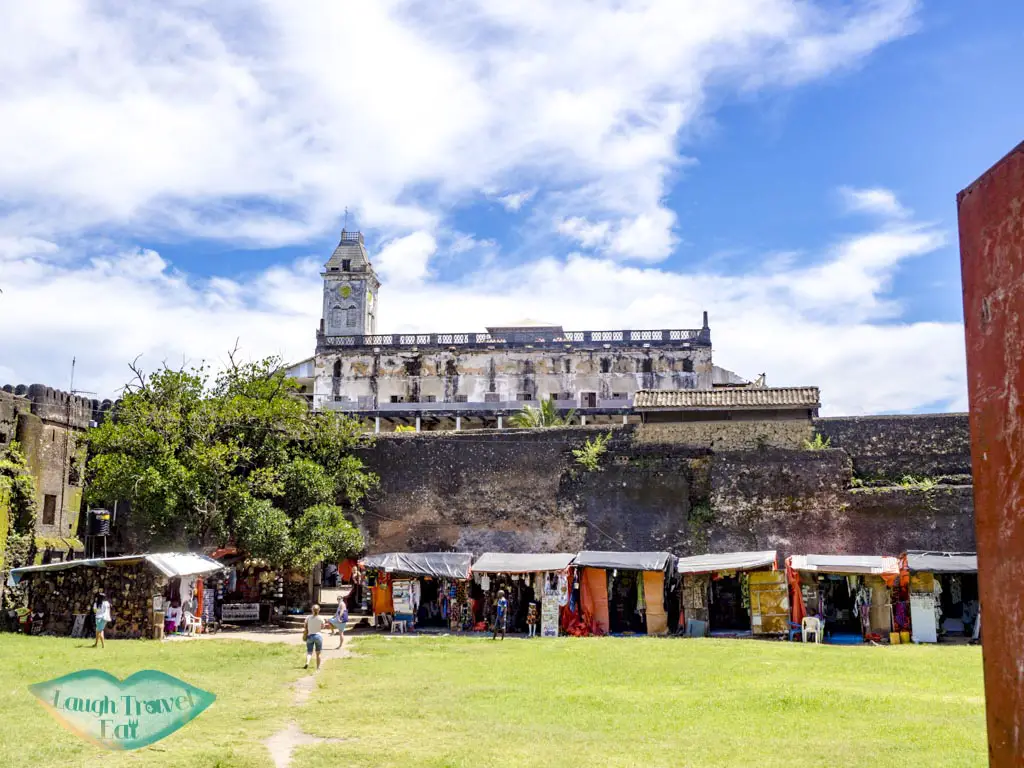 We decided to take a private city tour and booked through our hotel. Our guide met us at 9:30 and gave us a great overview of the history of Zanzibar before we moved onto a tour of the city.
I highly recommend it if you are interested in the culture, architecture, and history of the island. The tour costs 15 USD per person and is pretty much the same price across the board. Here is the contact of the guide we had if you are interested:
Mr Alawia. Maalim, email [email protected]om, whatsapp +255 777 417 541
He also runs other tours but since I hadn't taken them, I don't know what they're like.
For those who are more into exploring on their own – check out my Stone Town article here.

Lunch at The Silk Route
Our tour guide recommended a restaurant for us and it turns out that it wasn't far from our hotel. The restaurant is located on the third floor of a building, but the way there is marked by signs so you won't miss it.
It serves both Zanzibarian and international food, and we had a delicious grilled prawns and calamari and biryani rice. Although it has a heavy Indian and Arabian influence, the food isn't as spicy here which I love.
Address: Mizingani Rd, Zanzibar, Tanzania
Opening times: 12:00 – 22:30

Afternoon chill at hotel and some shopping
We headed back to the hotel for some afternoon chill time, it's hard to resist the siren call of the pool and it's good to escape the heat. We ended up doing some more shopping and browsing around the shops.

Dinner at 6 Degrees South Grill and Wine Bar
This is another popular sunset spot, although it mostly consists of bar tables on the rooftop. The view is good, although we didn't have the best weather. The food is on the pricier side, we ordered a salad to share and it was okay – definitely not as good as lunch!
Address: Plot 60, Waterfront, Shangani St, Stone Town, Zanzibar City, Tanzania
Opening times: 10:00 – 01:00
Day 3: Day trip or head to Nungwi/Jambiani
If you are leaving today, you can swap Day 2 with a day trip (see my Stone Town article) – I'd recommend the blue safari or prison island for those who want to see the giant tortoise.
We headed from Stone Town north to Nungwi, though Jambiani is another popular place for beach lovers.
In a nutshell, Nungwi has more activities and facilities, while Jambiani is more local.
Why did we choose Nungwi? Well, my sister is the one who chose but I think it's not bad!

We booked a transfer through our hotel which costs 35 USD and it's a two hour journey. The main road on Zanzibar is good, however, as we reached Nungwi, the road shifts to muddy track riddled with potholes that made for a very bumpy ride.

Nungwi House

We stayed at Nungwi House, a lovely budget option with clean rooms and amazing breakfast. The lady who runs the place was also fantastic, showing us the way to reach the beach and also giving very fair prices for taxi and excursions in the area.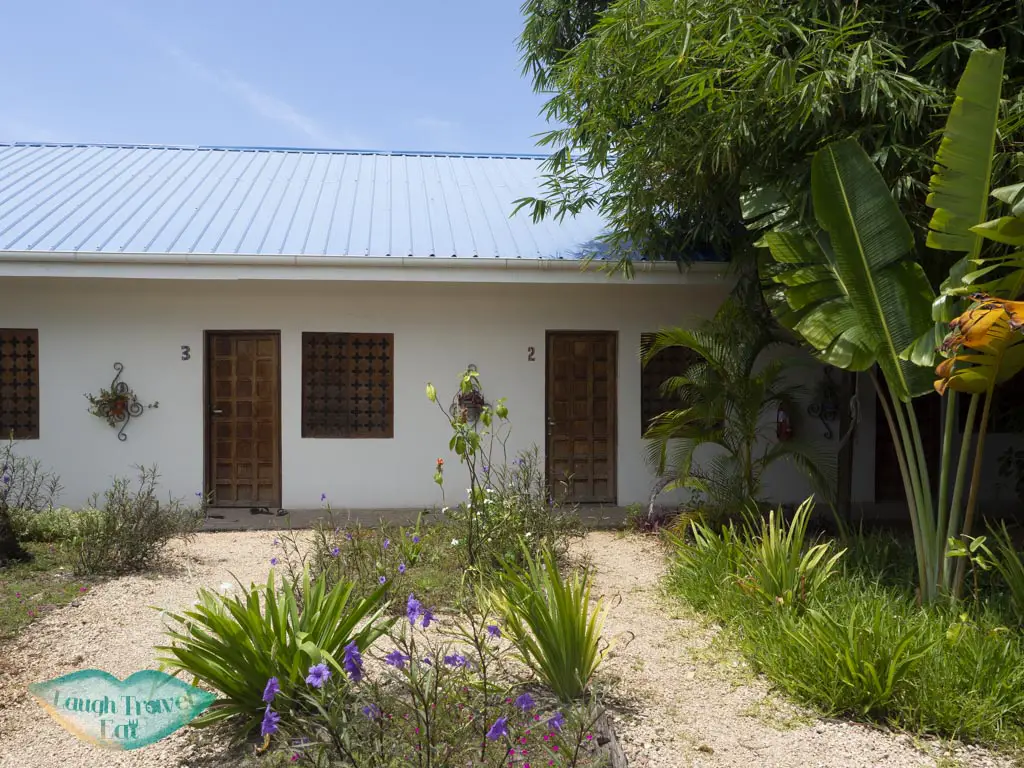 The rooms are spacious, though there is no air conditioning. We found that ok but if you are not used to the hot weather it can be a problem.
Nungwi Beach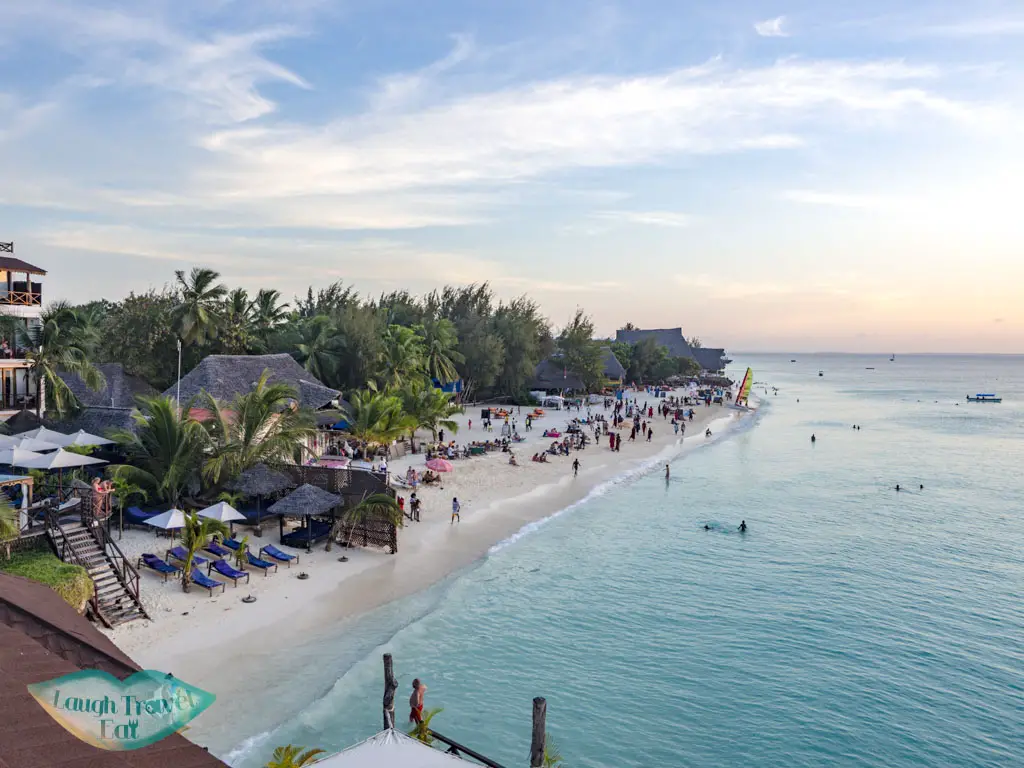 Since we left Stone Town in the morning, it was close to midday when we ventured to the beach. There are many vendors and people selling tours, but definitely ask around before you commit to any.
One of the sales pitches were less salesy so we ended up getting a village tour and then ate at his restaurant:

Lunch at Blue Ocean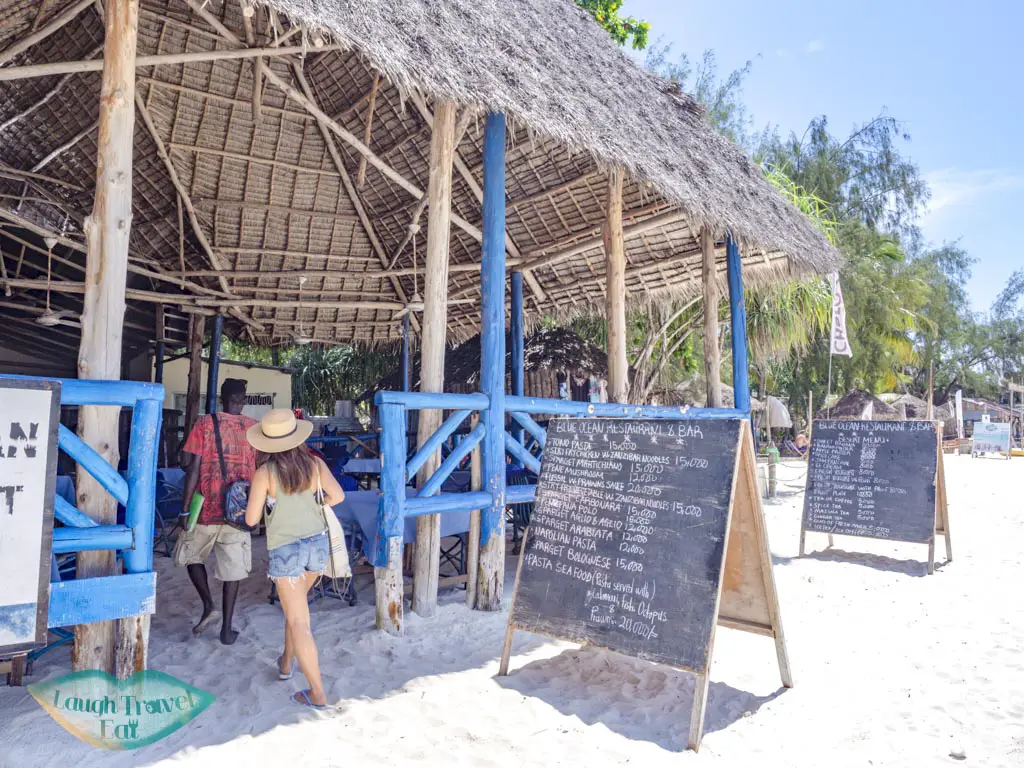 One of the beachside restaurants by the stretch of beach near Nungwi House, it's a good value for money place to eat. It's set a little further back from the beach with beach as their floor, but the food was good albeit the service was slow.
We had the barracuda and tuna, the former was tasty with good bbq sauce, but the tuna was a little overcooked.

Beach time
We spent the rest of the day relaxing on the beach, since we came here for a beach vacation before we move on to mainland Tanzania for a safari! There are a few restaurants with sun loungers (Istanbul's is free to use, more on that later), but you should be able to find a patch of sand to lie on, too.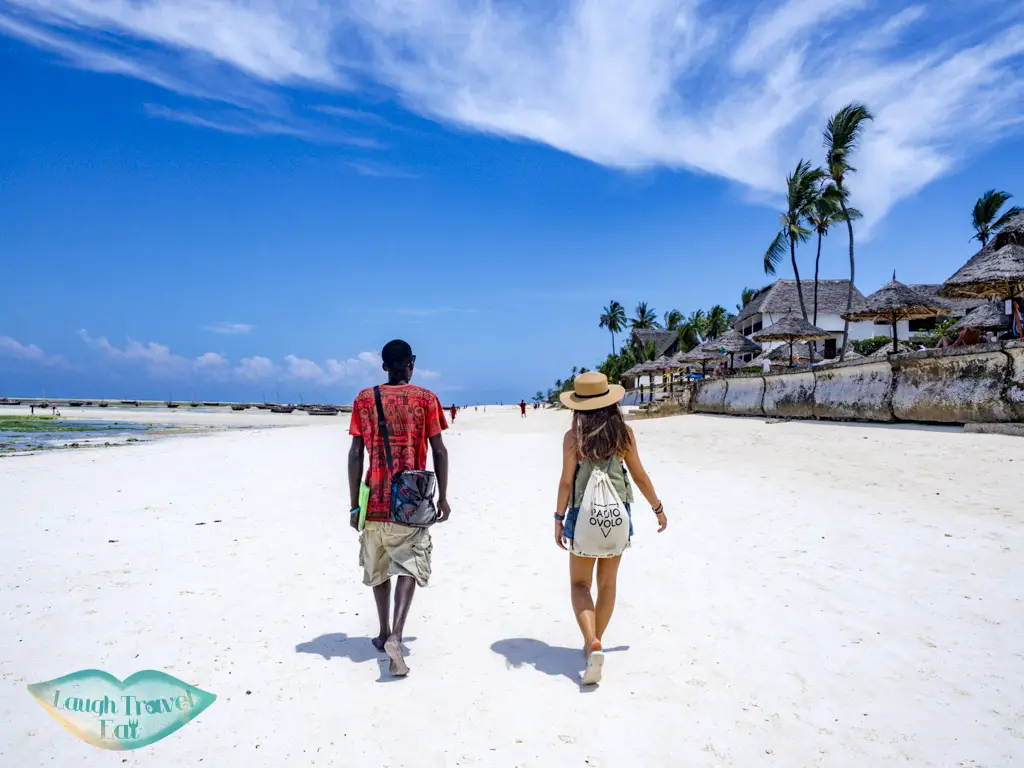 Be prepared that there would be people approaching you – a good tactic I found is to partially cover your face with your hat. If they don't make eye contact, they are less likely to bother you!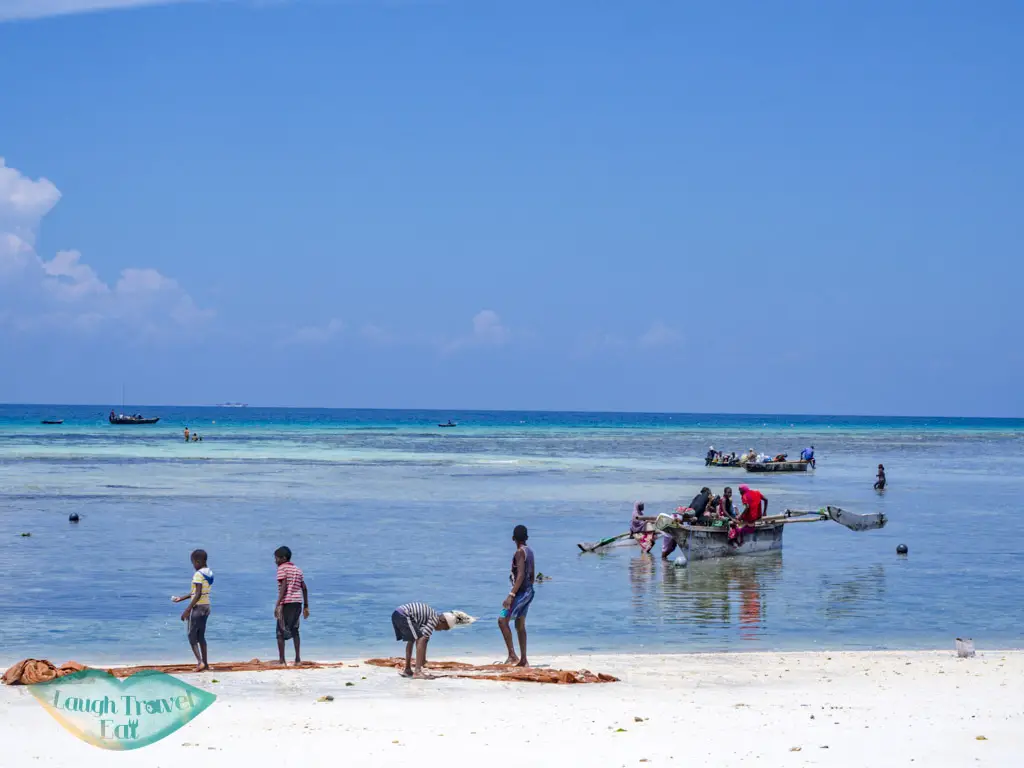 Low tide is around midday and the beach really comes alive with the locals venturing out to fish and collect shellfish. There are also sandbanks that appear that can take you out and it's a wonderful time to walk around.

Mama Mia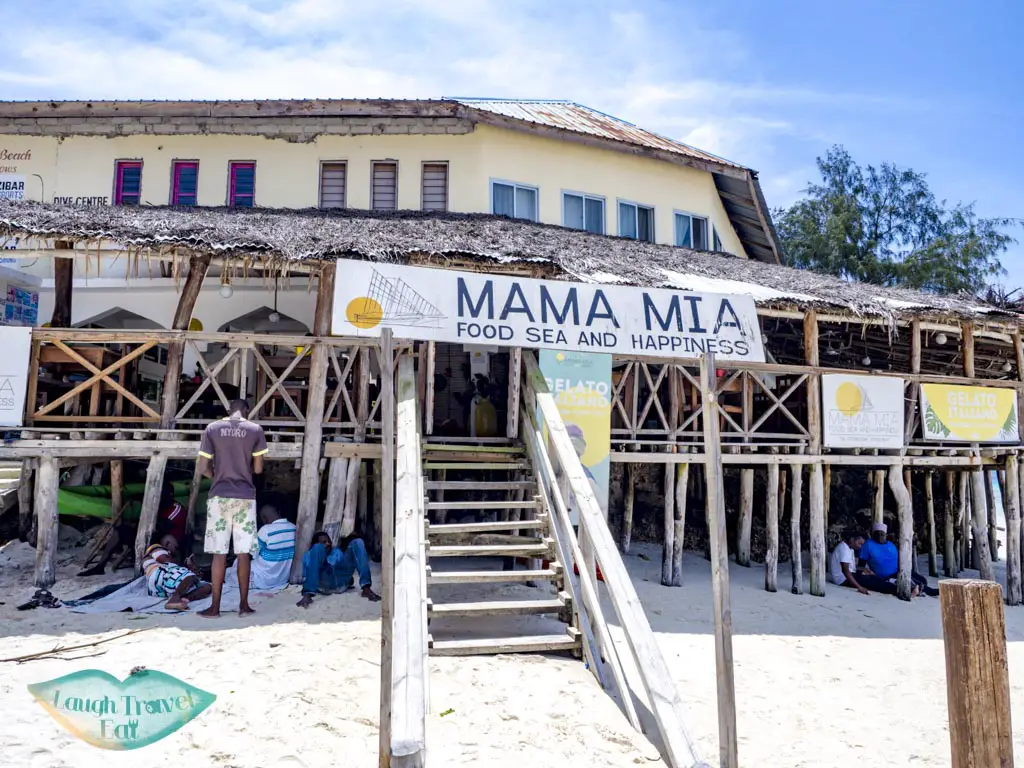 We had dinner at Mama Mia, and yes, it's an italian restaurant. They sell amazing gelato that are perfect for an afternoon pick me up.
The food there is okay, with daily special on top of their usual menu of seafood and italian fare. Their location overhangs on the beach which makes it a beautiful place to be around sunset as the tide comes in.
Day 4 Beach day and sunset cruise
Today is another beach day, we went straight to the sunbeds at Istanbul and vegged out for the morning!

Istanbul Restaurant & Bar
Since we are already right by the restaurant, we headed up there for lunch. The owners are very friendly as are the staff, greeting us with a warm smile. They serve Turkish food here and everything is accompanied by hummus, eggplant dish, and spicy carrot dip. We had the fried calamari, which was decent, and they also offer fresh catch of the day. I went to their counter and picked a small fish which they grilled.

Sunset cruise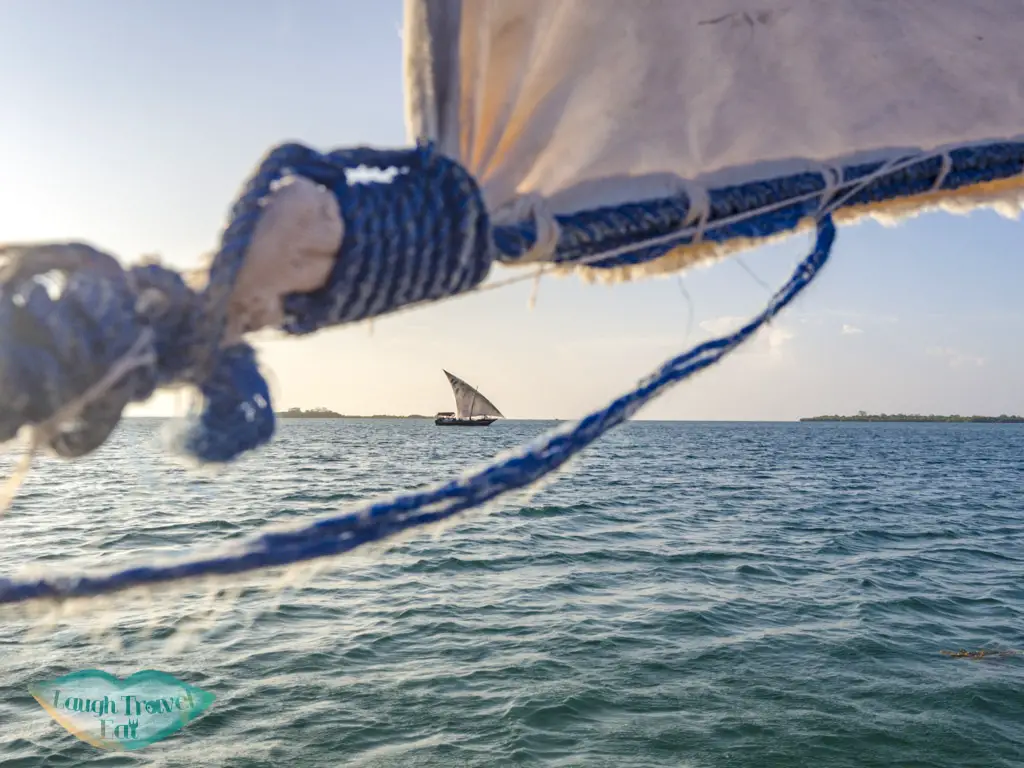 We booked a sunset cruise with our hotel which cost 10 usd per person. We were picked up at 4pm at our hotel and set off at the beach by Z Hotel. Note: you will have to wade across the water and likely get wet up to crotch area depending on your height. So wear your swimsuit under and something that can get wet in!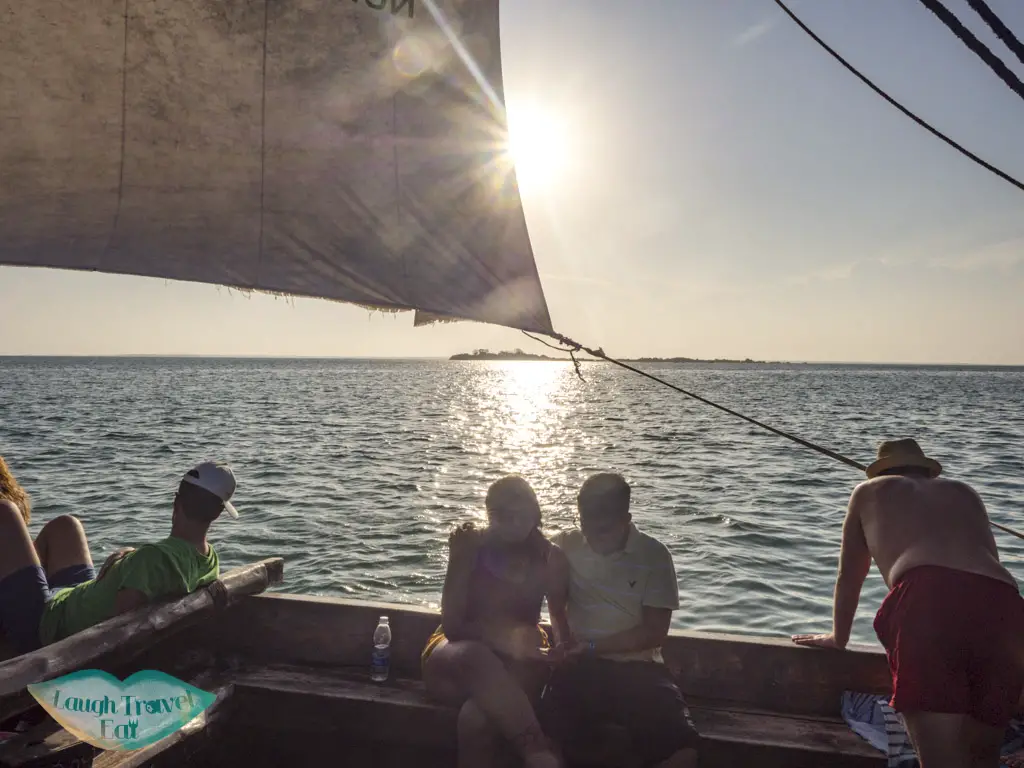 The sunset cruise is a leisurely sail along the coast south then back. We picked up people along the way and had some fruits about half way in. There is not much to do on the cruise, so it is more of a skirt along the coast and admire the scenery type.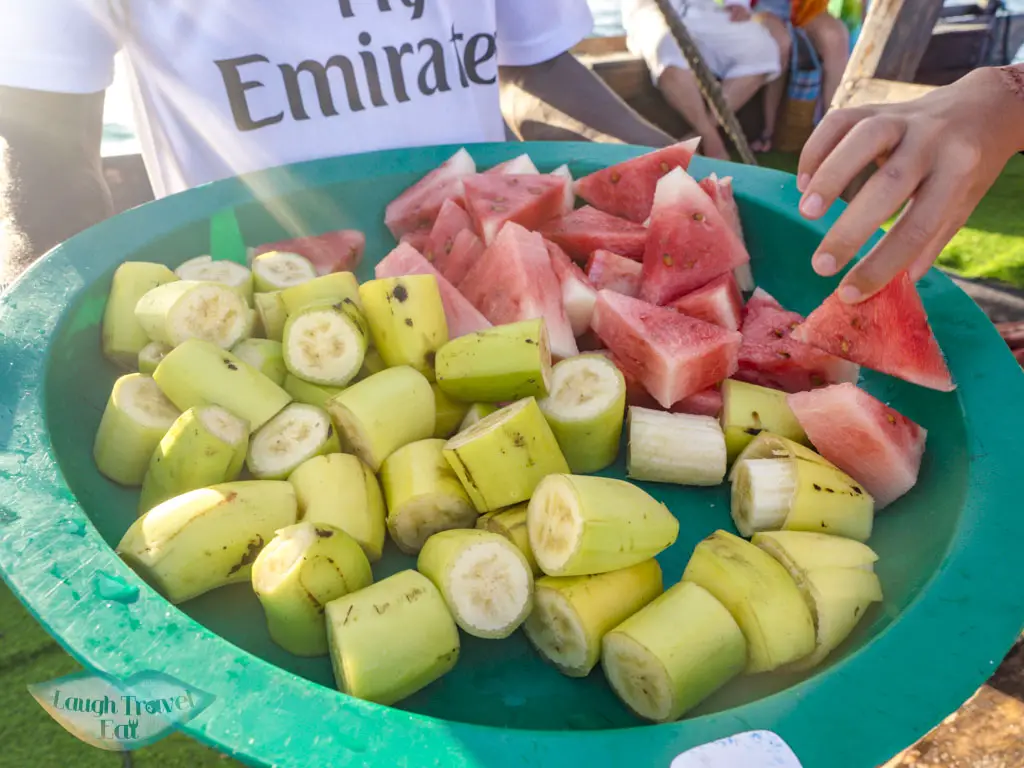 We returned to our starting point before the sun completely set, and we had to go back to our hotel to change before heading out for dinner.

Blue Ocean for dinner again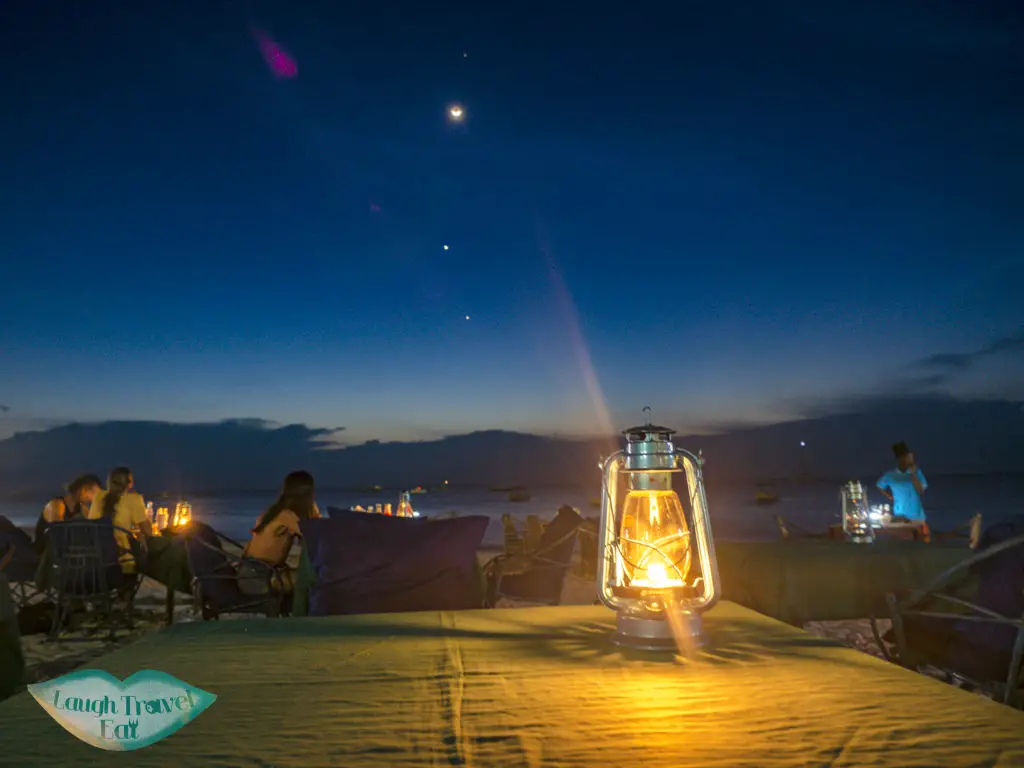 Dinner is served on tables on the beach with lanterns, very romantic and cute under the stars and close to the sea. As usual, the food was decent, the avocado juice was good, and the service a tad slow (but it's the same all over Nungwi).

Day 5: Mnemba Island Snorkelling 
The best day trip activity from Nungwi is a snorkelling trip to Mnemba Island. Before you get swept away with vision of you on an island made of sandy beach, Mnemba Island is a private island so we can only snorkel near it. There is strictly no drone use near, and setting foot on the island will incur a 200 USD fine.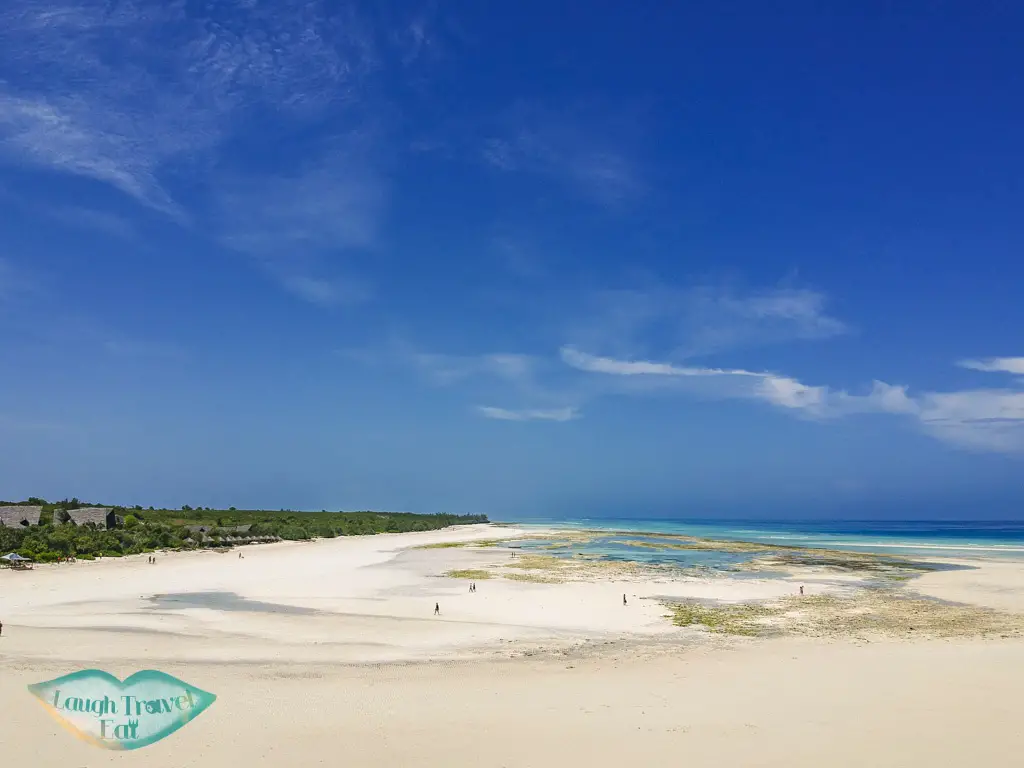 We booked our snorkel trip for 20 USD from our hostel, which includes snorkeling gears. We were picked up at our hotel at 9am, and the boat should be returning at 3:30pm. Fun fact: it's the same boat we took on sunset cruise, so they probably come back and set off again!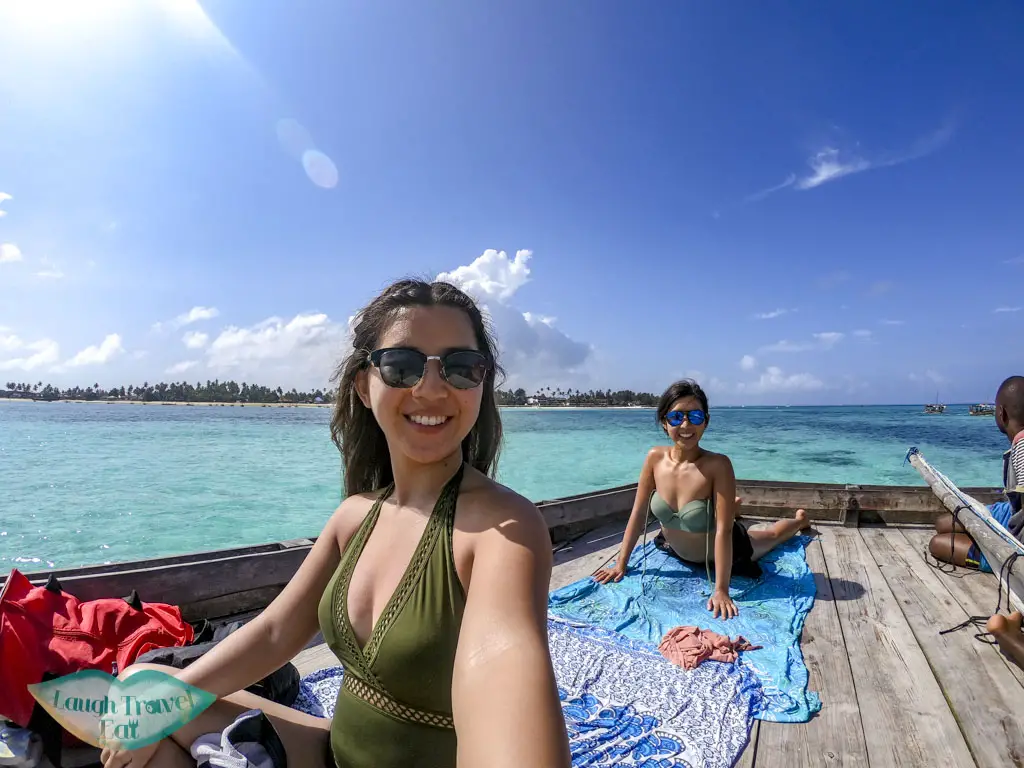 Getting on was the same as last evening, and the ship went around the northern tip of Zanzibar. When we get to just east of the tip, we spotted some dolphins, so definitely watch out for them!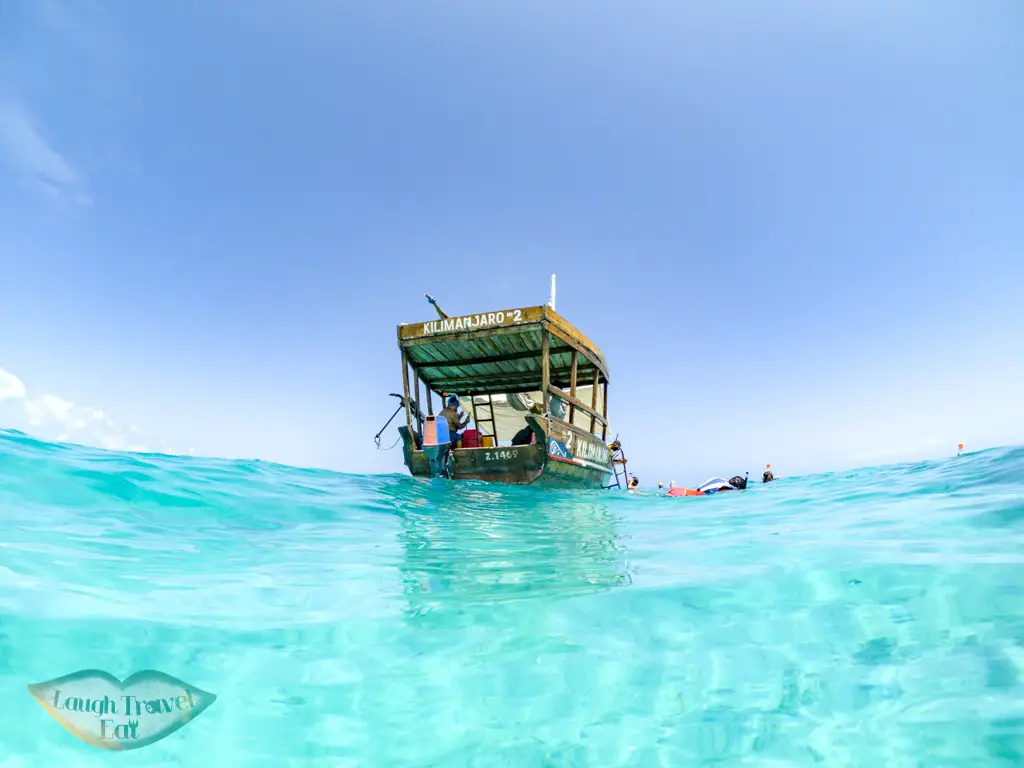 The journey is a bit rocky and took two hours, but we made use of the time by tanning on the top deck. However, the sun is pretty strong so you might want to hide under the shade of the sail.
The ship stopped near the island and we were off to snorkel for about an hour and a half. There are a lot of corals and sea life there, and the fruits that staff throw in attracts a lot nearby, too. After the snorkelling session, we go back to the mainland across from the island for lunch.
Lunch is local curry with chipati, tuna, and rice, and we were served food but with extra going around. There's also mango and pineapple afterwards.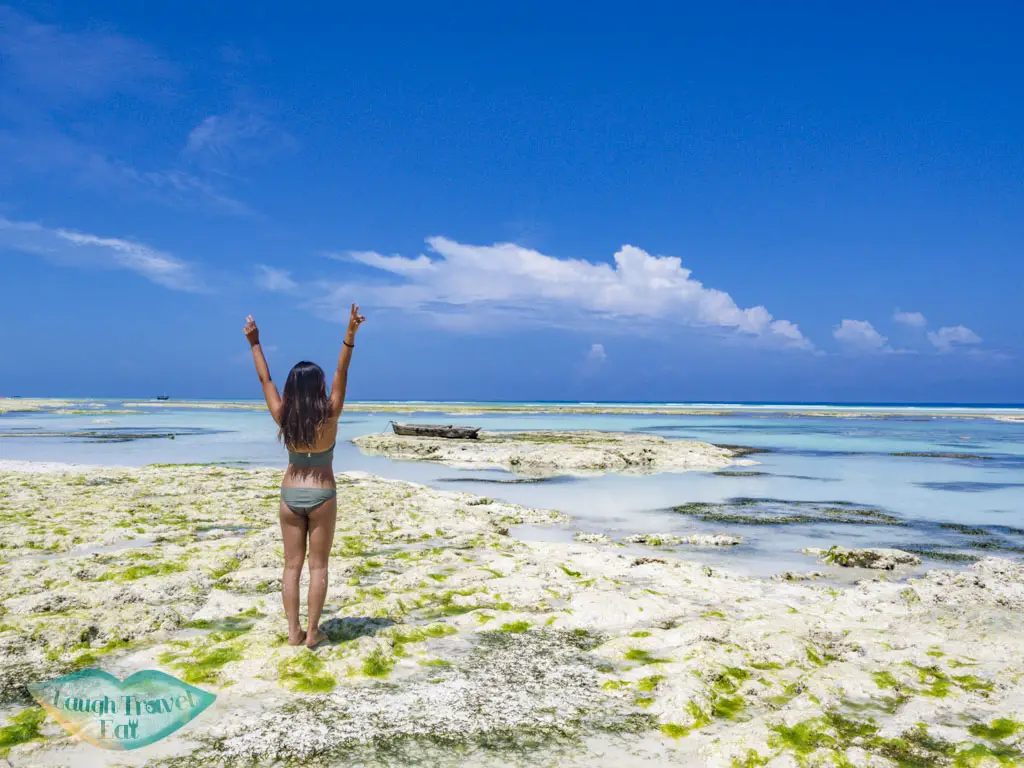 We only have about 15 minutes after lunch to explore the beautiful beach which was a shame, since it really is beautiful.

Cinnamon restaurant in Z hotel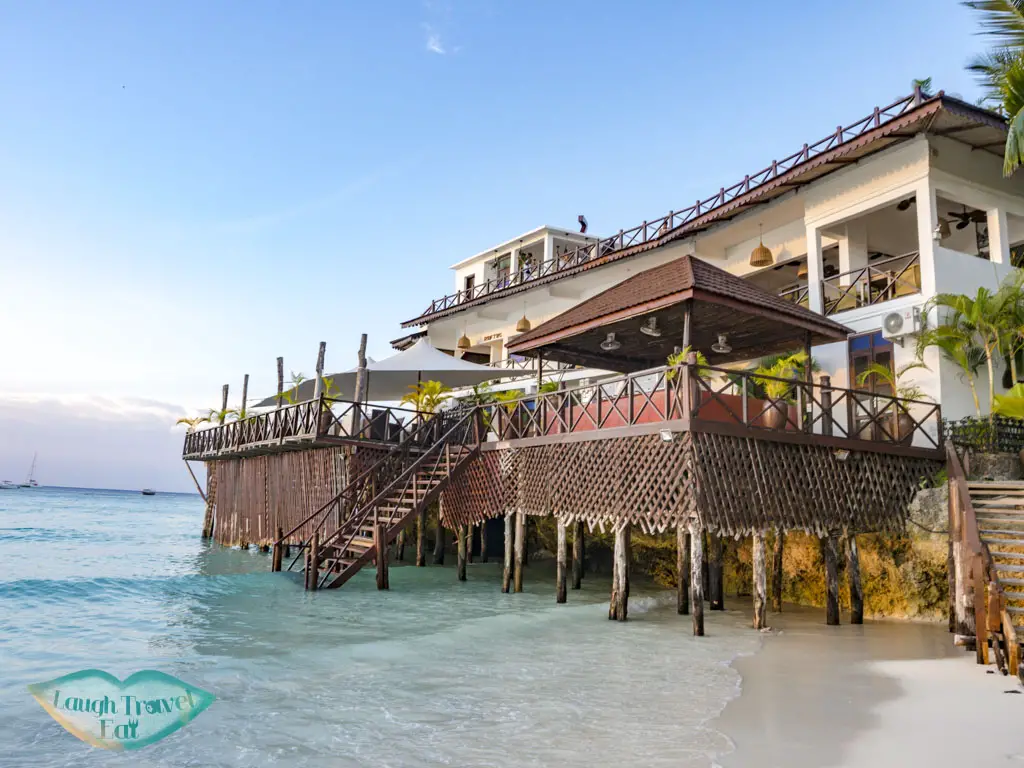 By far the best food we had, the Cinnamon Restaurant at Z hotel is just below the rooftop terrace that's famous for sunset. We got there before sunset and sat at the balcony side table, which gives a pretty impressive view of the beach and the sea.
We ordered a pasta and a beef salad dish and they arrive quite quickly. They charge in USD and for the two of us we paid 35 usd for two mocktails, a salad, and a pasta, not bad at all!
Day 6 Leave Zanzibar
We went to the beach and then head to Istanbul for lunch, before showering and heading to the airport. Nungwi House helped us book our transfer again and it's also 35 USD to the airport.
We landed in Arusha and started our safari trip!

Where to stay in Stone Town
Budget: if you are looking for a good hostel, Lost & Found Zanzibar has curtained bunk beds in dorms with air conditioning and clean facilities. Traveling with friends? Zenji Hotel has clean, traditional style rooms and rooftop breakfast!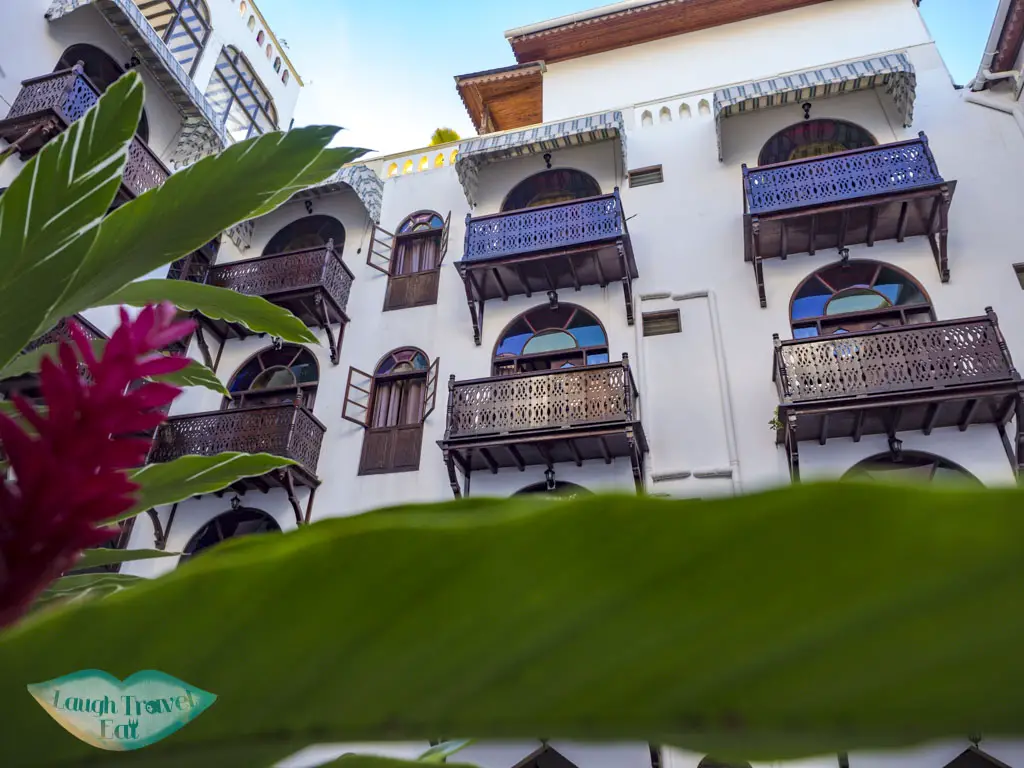 Midrange: We stayed at Dhow Palace and really enjoyed our visit. For a more modern alternative, Antonio Garden Hotel has clean, spacious room but still have Zanzibar influence. Although you do have to walk the last path to the hotel.

Splurge: Doubletree By Hilton Zanzibar – Stone Town has sleek modern room that's beautiful with good breakfast. Kisiwa House is a more Zanzibarian style alternative with reminiscent of Arabian night, but do note that they don't have a lift so you might want to request a lower floor.
For the ultimate pampering, Park Hyatt Zanzibar is beachfront with a sweeping view of the sea and a rooftop infinity pool. Rooms are spacious, beautiful, and clean with great food.

Where to stay in Nungwi
Budget: We stayed at Nungwi House, which is a basic hotel but lovely nice with private bathroom and spacious room (however no air con). An alternative is Badolina Bungalows, which has air con in the private rooms and a beautiful outdoor area with hammocks.

Mid-range: Nungwi Getaway is a clean and nice hotel close to all the nightlife. Aluna Nungwi is on the northern tip on the other side in Nungwi, but close to the conservation center. 

Splurge: DoubleTree Resort by Hilton Zanzibar – Nungwi has a prime location in front of the beach with a swimming pool that faces the ocean as well. Rooms are spacious, clean, and right by the village. My Blue Hotel is another beachfront with full board and beautiful view and food.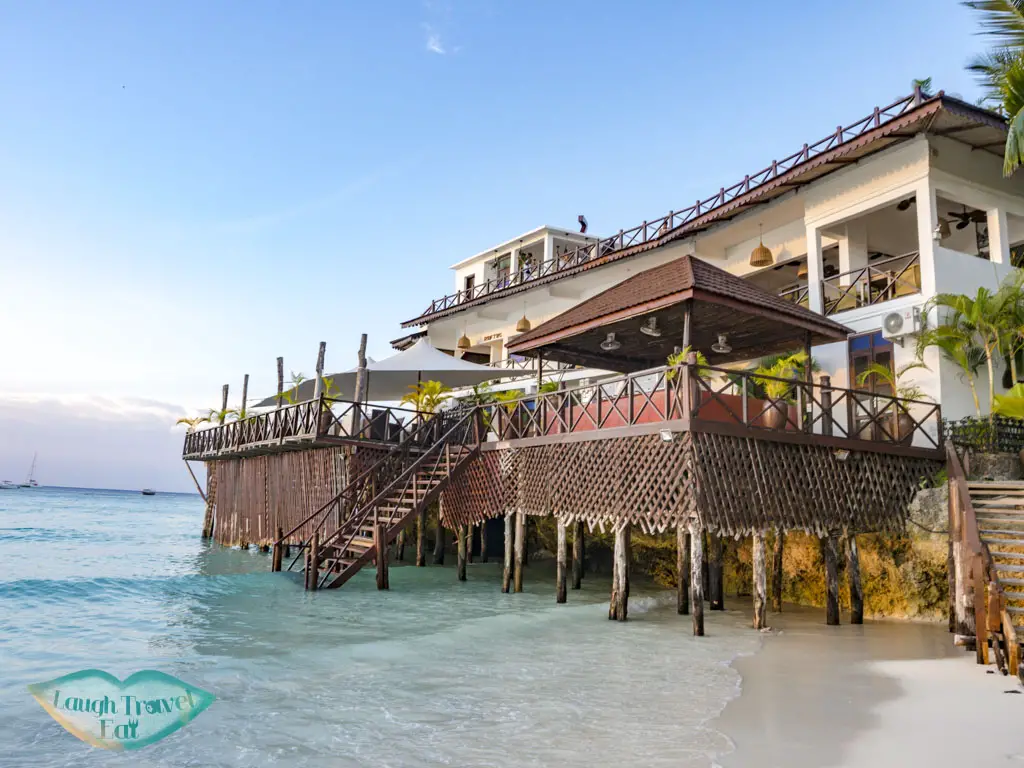 If you want to be in the center of action, Z Hotel is perfect. They have an infinity pool, beautiful decorations, though it's close to the main beach where everyone is and can get an influx of beach boys trying to sell you things.