Tanzania safari holidays: tips and what to wear
Going on a safari is one of the top things to do in Tanzania and for a good reason. The country is home to some amazing national parks, such as the famed Seregenti where it's possible to see the big 5 and the natural wonder that is the Ngorongoro Crater. It's a perfectly good place to break into safari – I had a wonderful 5-day safari with Shadows of Africa. I'll talk about the safari itinerary here, but first let's cover some tips for safari and Tanzania:

Types of safari in Tanzania
There are many different ways to do safari – but I personally would recommend at least having lodge accommodations, even if it's a budget one. It makes a world of a difference to have a proper room to go back to and rest.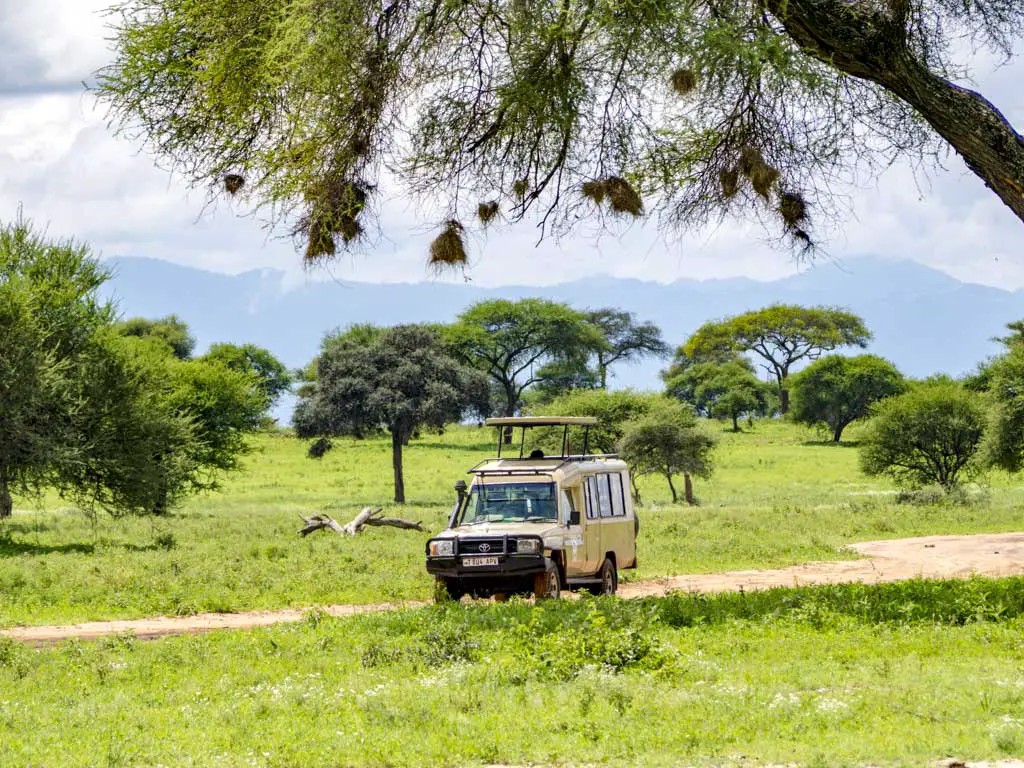 To be quite honest, I didn't actually realise that you can camp at first. The cost might not be overly different between the two depending on your itinerary at ~300 USD per person per day.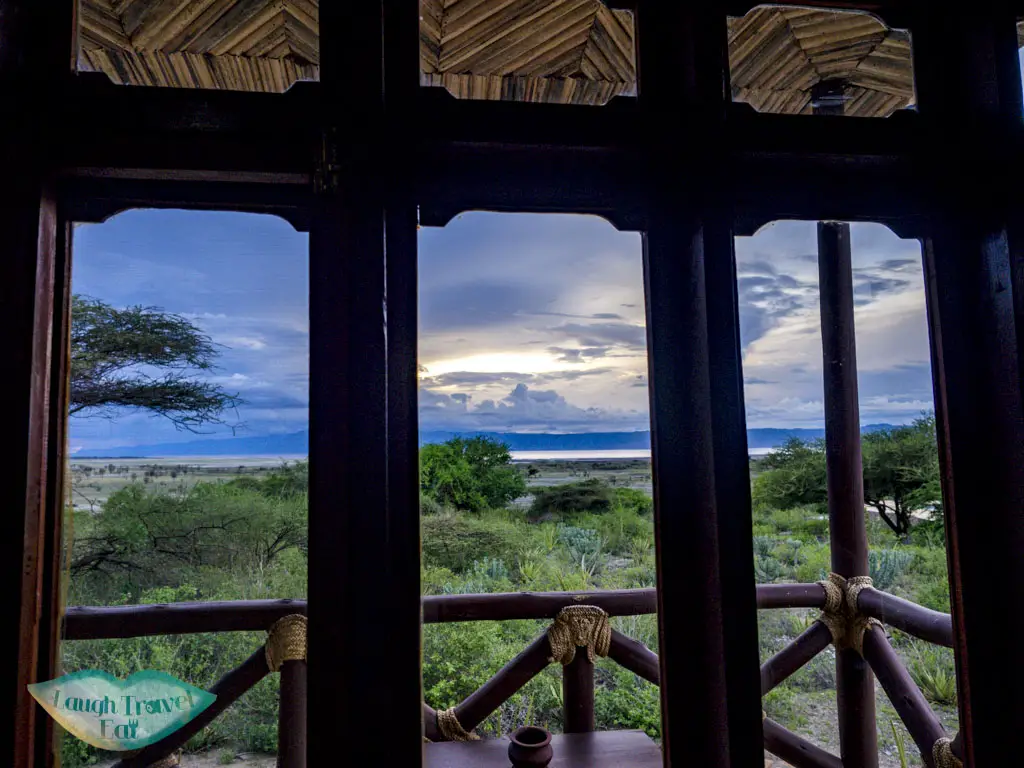 Plus, it's more roomy to be in a pop up safari jeep without all the camping equipment.

When to go to Tanzania for safari
The peak season for safari in Tanzania is during the dry season from June to October, with the Wildebeest Migration taking place between June and July. However, as long as you avoid the peak of the rainy season from March to April, it's still a good time to go as you'll see something different.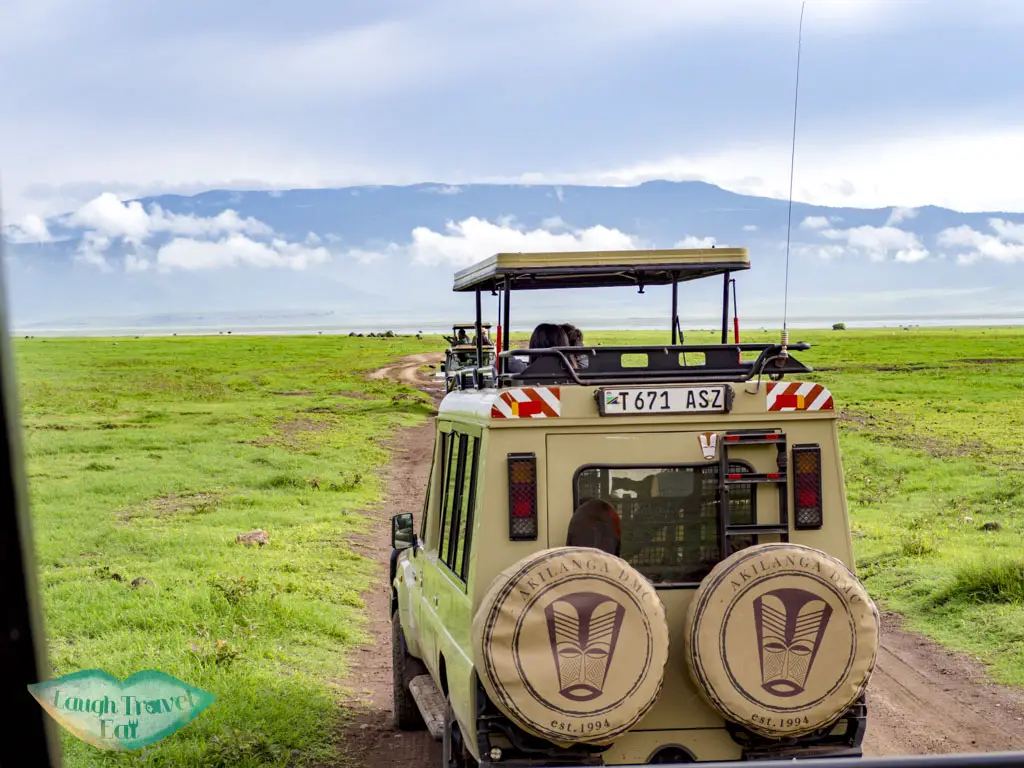 My visit was at the beginning of December, where it's a lot less busy, the land is lush instead of yellow, and we still saw plenty of wildlife. It also reduces cost!

How long should you do a safari for?
Usually, people opt for 5 or 7 days of safari, as you tend to get too tired after a week. This, of course, also depends on the pace of your itinerary. Personally, I think a 5 day safari is enough to get everything done!

Choosing a safari company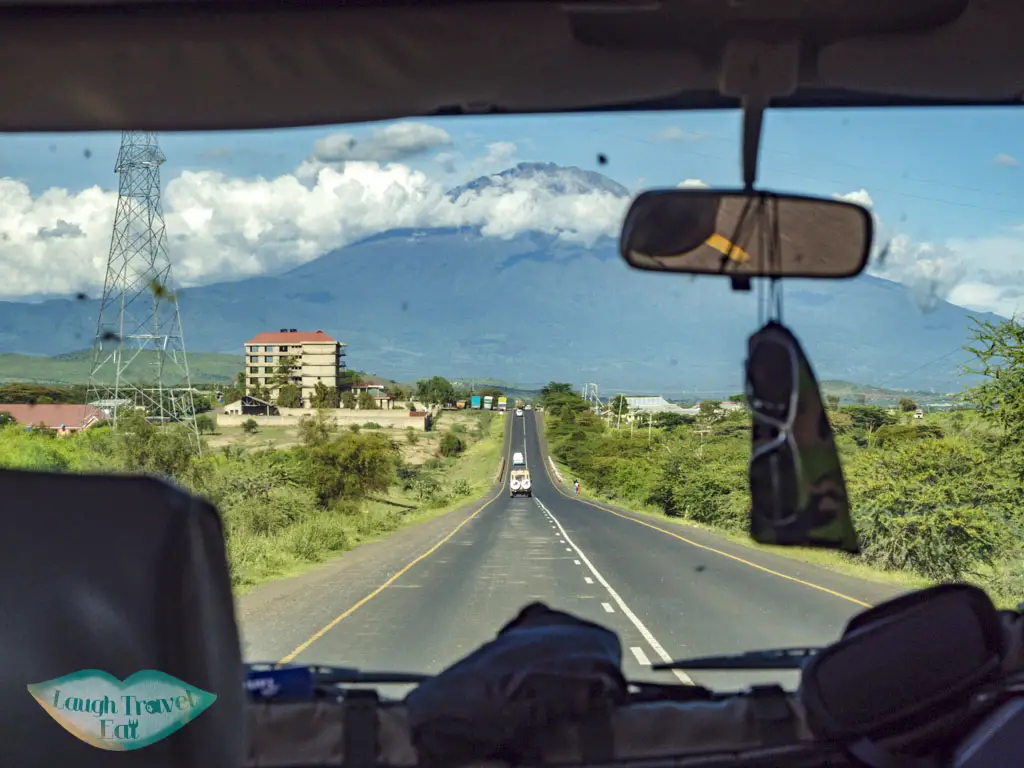 Picking a company that has a good reputation is the most important part – since it can make or break your trip. Shadows of Africa is one of the top ranking safari companies on tripadvisor, and offers complete customisation for their clients.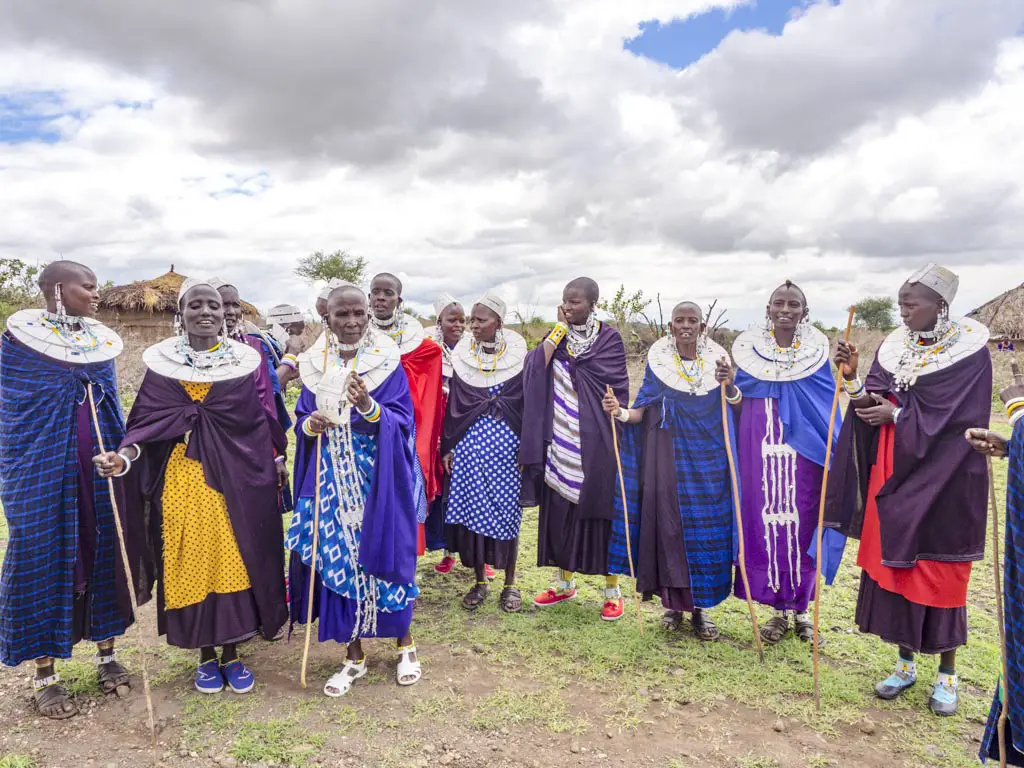 They also offer cultural visits to Maasai, Bushmen, and Datoga villages, which makes for a nice change in between national parks. 

Choosing national parks in Tanzania
Most people will know about Serengeti and Ngorongoro National park, but they are not the only ones in Tanzania. Most safari, depending on your preference, would visit 2-3 national parks, usually one day each and then add a cultural day out. Here are the national parks and an overview for them:
Note: most national parks is home to wildebeest, zebras, warthogs, antelopes, and some other birds.

Tarangire National Park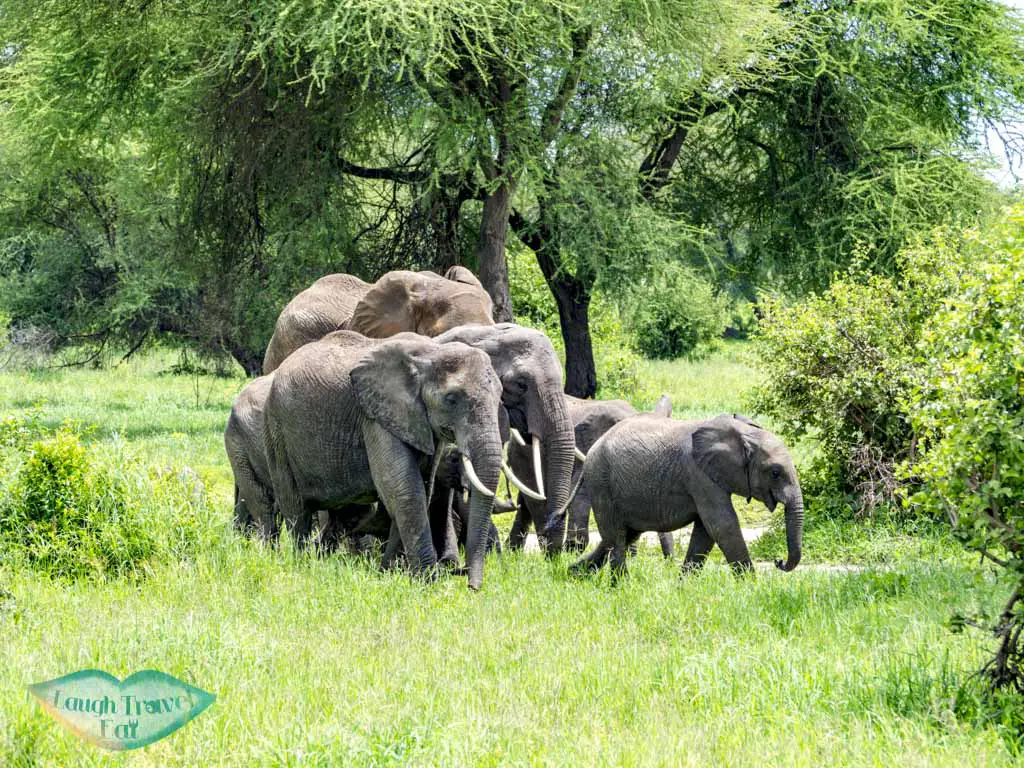 2 hours from Arusha, Tarangire National Park is a good choice for a first stop with its proximity and variety of animals.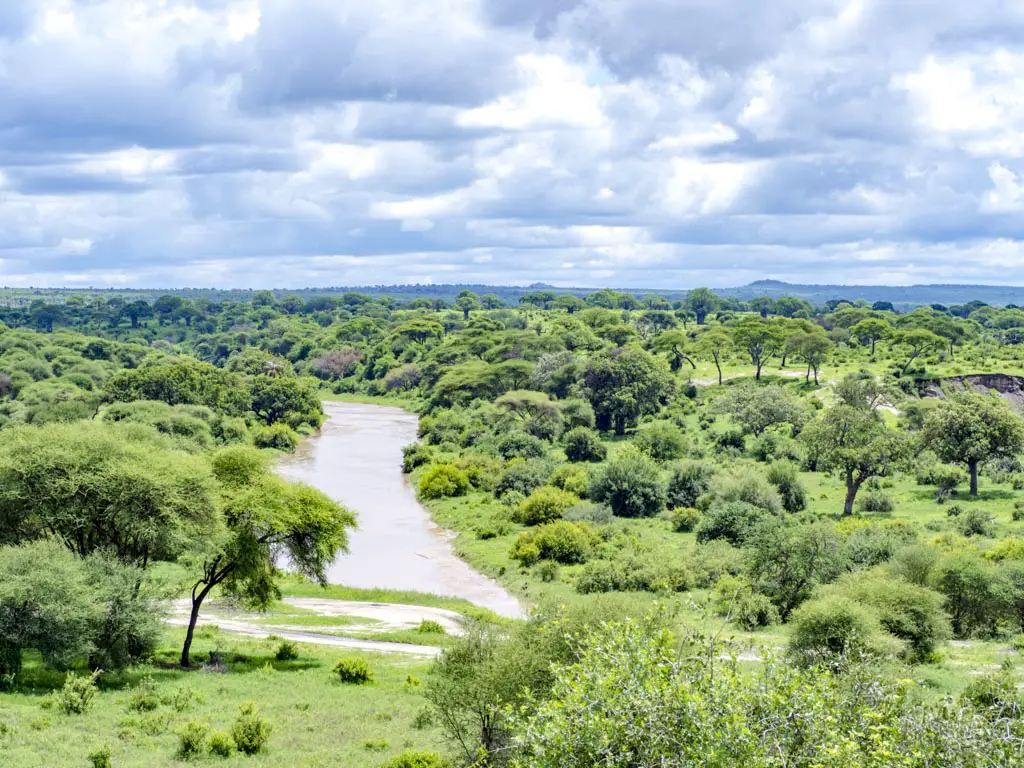 The national park covers 2,850 km2, most notable for its baobab trees, elephants, giraffes, and herds of zebras.

Lake Manyara National Park

Not too far from Tarangire, Lake Manyara National Park would be the choice for bird watchers since a large part of the 325 km2 park consist of the Lake Manyara itself. You can also find tree climbing lions here!

Ngorongoro Crater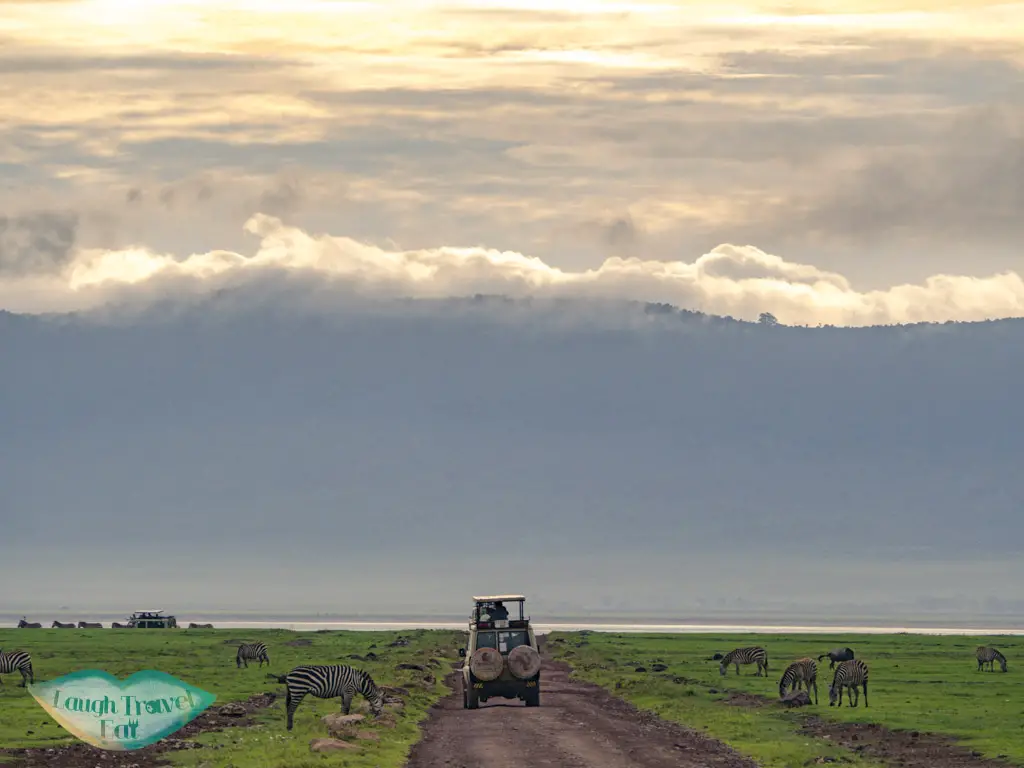 The crater was a volcano in Pliocene (2 million years ago) which erupted and the magma chamber collapsed. It is now a conservation area, but unlike the other parks, there are Maasai villages inside, as they have settled in the area about 300 years ago.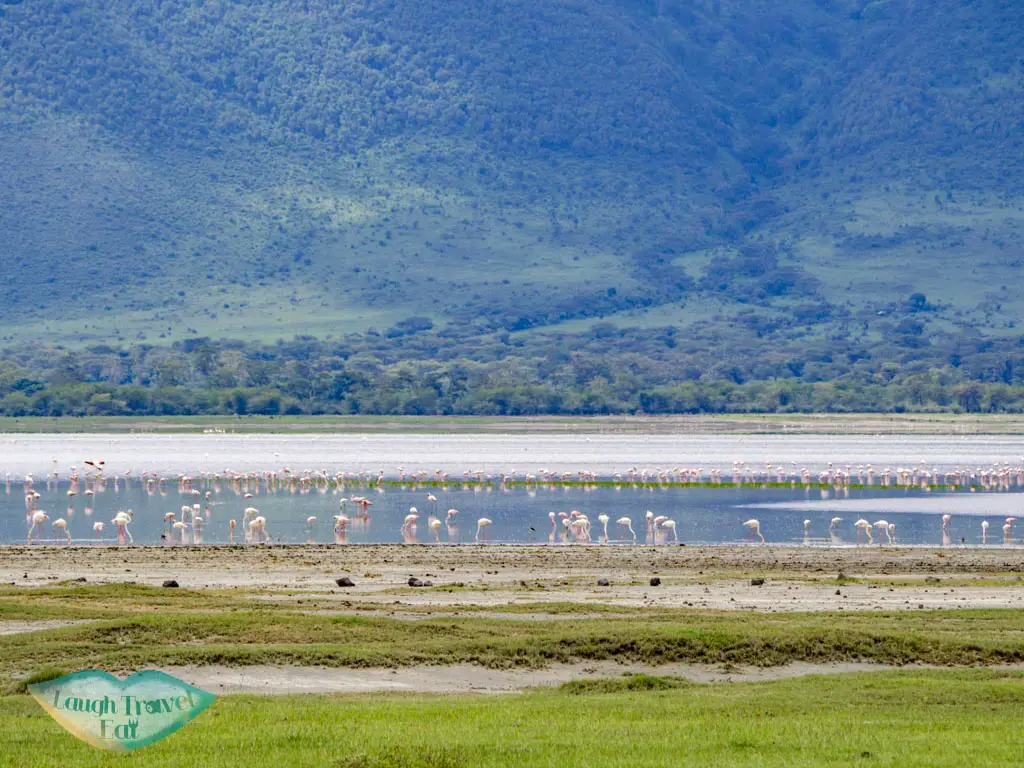 There's no giraffes in the crater, as they cannot get down the steep cliff. However, you'll find flamingos by Lake Magadi, rhinos, lions, and hippos!

Serengeti National Park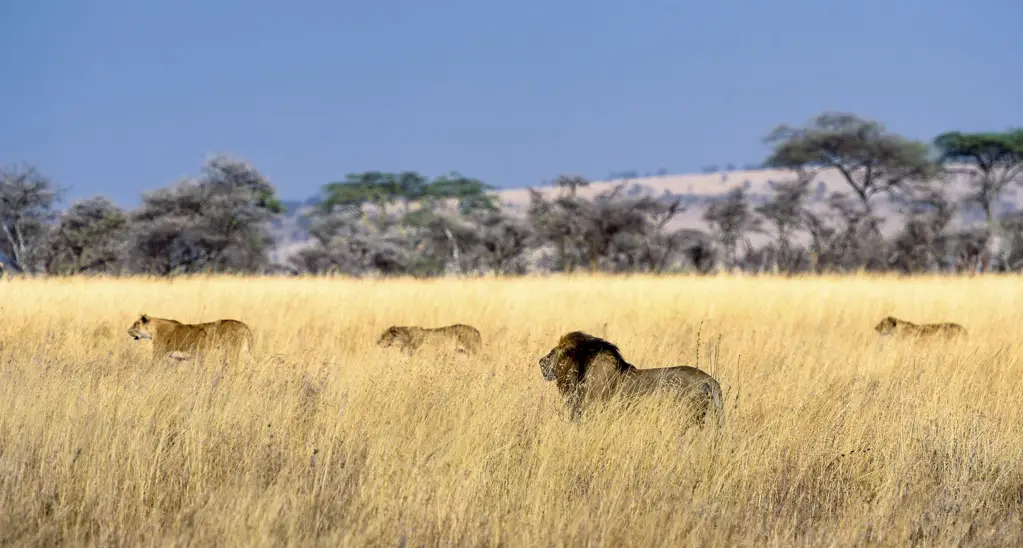 The most popular national park in Tanzania, Serengeti borders Kenya and covers 14,750 km2. It is the most expensive national parks, however, you are most likely to see the Big 5 here, and it's also where the Wildebeest Migration can be seen.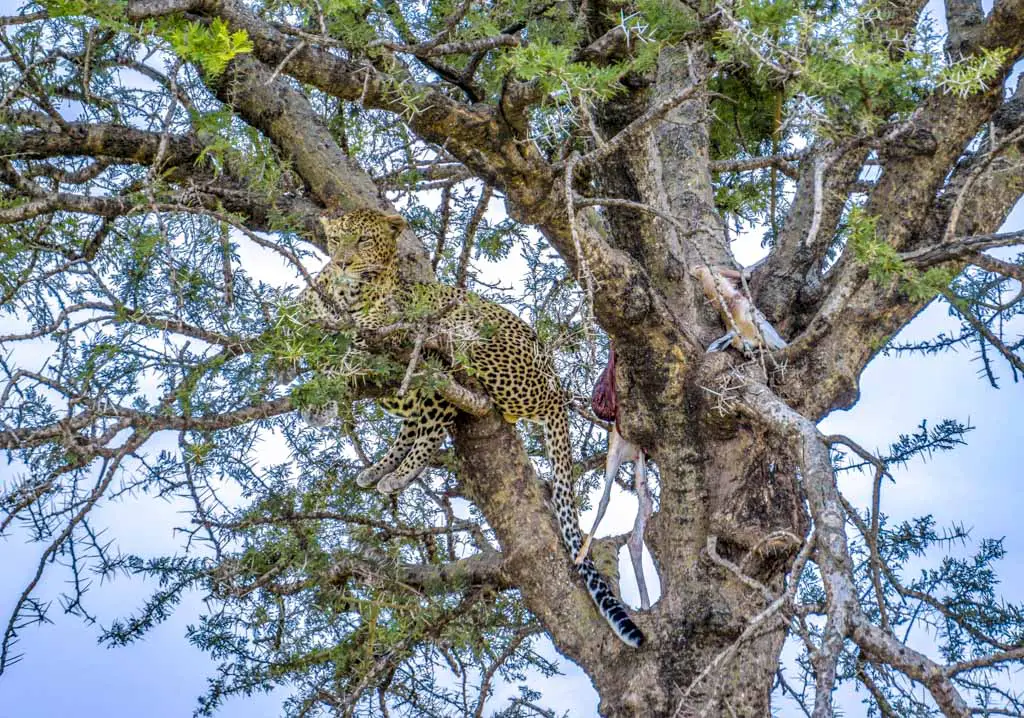 Tanzania Visa
It's best to check with your embassy for visa requirement to Tanzania, but most visitors can apply for a visa on arrival fuss free. We landed, fill in the form, paid 50 USD (either card or cash), and was done – and we have UK passport. Actually, if we have our Hong Kong passport, it's visa free!
We landed internationally in the Zanzibar Airport and they didn't need our photos. However, it is listed as part of the requirements so it might be a good idea to have some read.
Alternatively, you can now apply for an e-Visa in advance.
Note: you only need a single entry visa even if you are flying from Zanzibar to the mainland or back, which was a point of confusion for me for a while!

Currency exchange and cash for Tanzania safari
There is little need to exchange Tanzanian Shilling for your safari trip, as most places quote and accept USD. On a budget lodge safari, all your meals are covered and you should only have to pay for any extra drinks or food you purchase in a meal.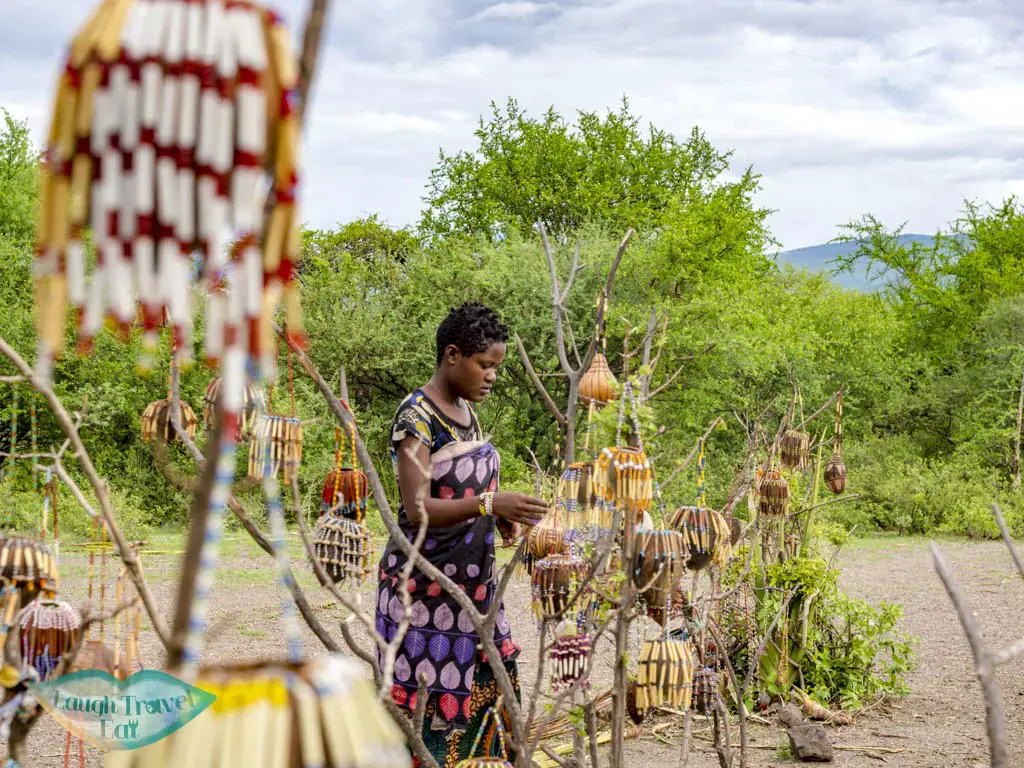 However, if you decide to add on cultural visits to villages and tribes like we did with Shadows of Africa, you might want to get some shillings on hand so you can buy some local crafts. The rate is the best in town most likely, but I find the airport ones to be decent, too.
Note: it's also advisable to keep some small bills for USD!

Sim cards for Tanzania
For the most part, the coverage for Safari in Tanzania by mobile companies isn't the best. Most lodges have reasonable WiFi that allows you to send and receive messages and some images, but more is pushing it.  
There are 8 telecom operators in Tanzania: Airtel, Smart, Smile, Halotel, Tigo, TTCL, Vodacom, and Zantel. Tigo seems to be the best out of all of them, as well as Airtel. This is only specific to safari.

Medication and vaccination for Tanzania
For travellers only visiting Tanzania for the trip, there's technically no need to get vaccination, although it is strongly encouraged. The best thing to do is to check with a travel clinic and get vaccination before you leave. Lonely Planet has a comprehensive article on this, but here is a quick overview: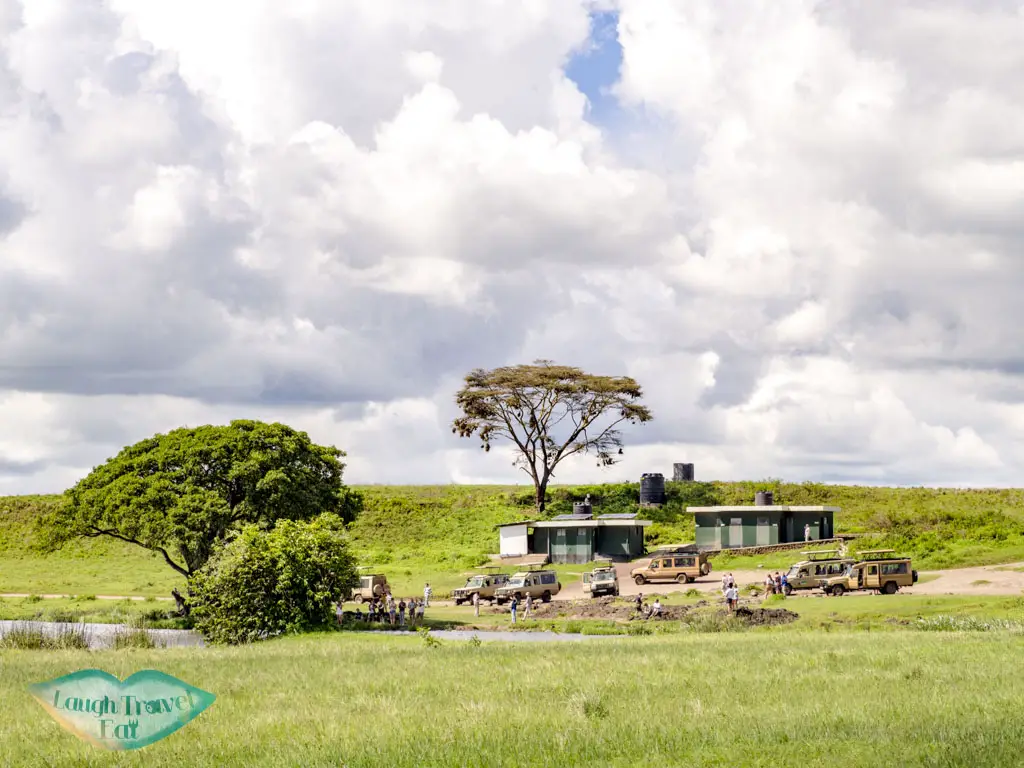 Malaria – although not the most dangerous diseases to get in Tanzania, it is more common. You should have anti-malaria pills and a self-diagnostic kit. If you get sick within 2 weeks of your travel, it's best to consult a doctor.
Yellow fever – if you are only traveling to Tanzania, it is not a requirement. But if you are visiting from other countries with risk of yellow-fever, or transit in the country for over 12 hours, then you'd need one. You must have your yellow fever vaccination card if that's the case.
Check here for the full list of countries.
The biggest issue for most travellers is getting diarrhea. The number one thing to do is to only drink bottled water, avoid ice, and even brush your teeth with bottled water. I used tap water to brush my teeth for the first night and ended up with an upset stomach.

Camera gear for Tanzania safari
Binoclinus is provided by your driver/guide, however, if you want to capture the animals, you would need a zoom lens. For true professionals, lenses and camera gears can cost thousands of USD but luckily, that is not necessary.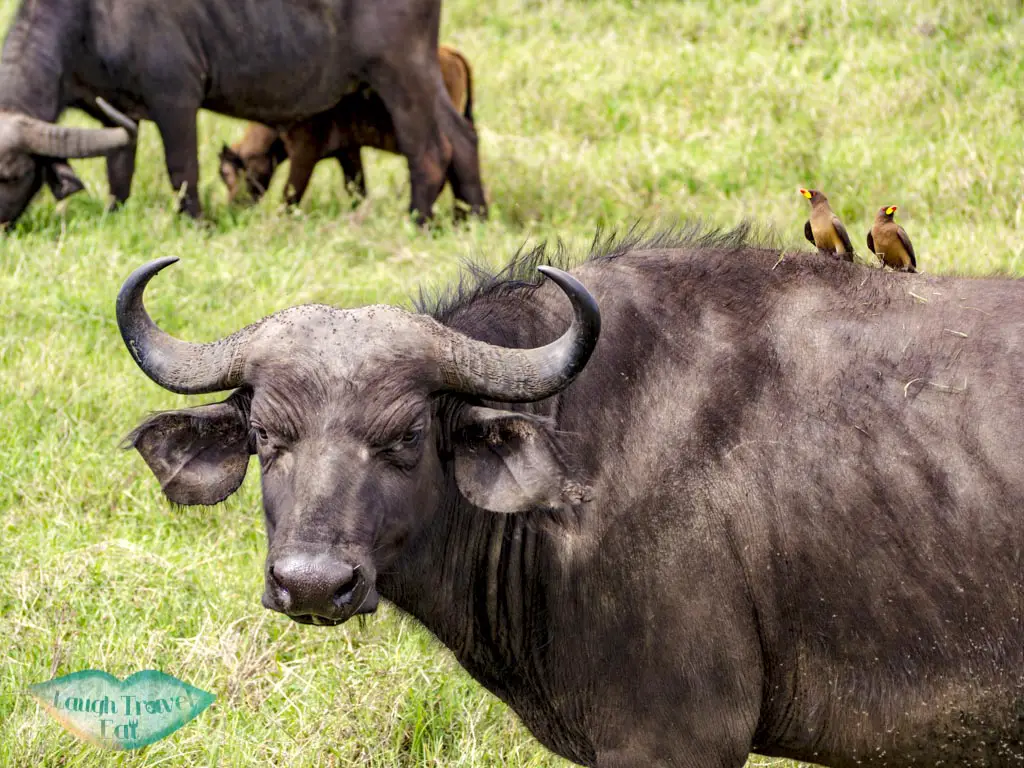 My camera – a mirrorless Olympus E10 Mark III – came with a kit lens with the spec of 40-150mm 1:4-5.6. It's a pretty basic zoom lens but it truly did the job, as the jeep would stop for us to spot the animal, and the key is to keep a steady hand. In fact, I wasn't able to see this lion with my naked eye or on the camera, but once I zoom in, it's pretty clear: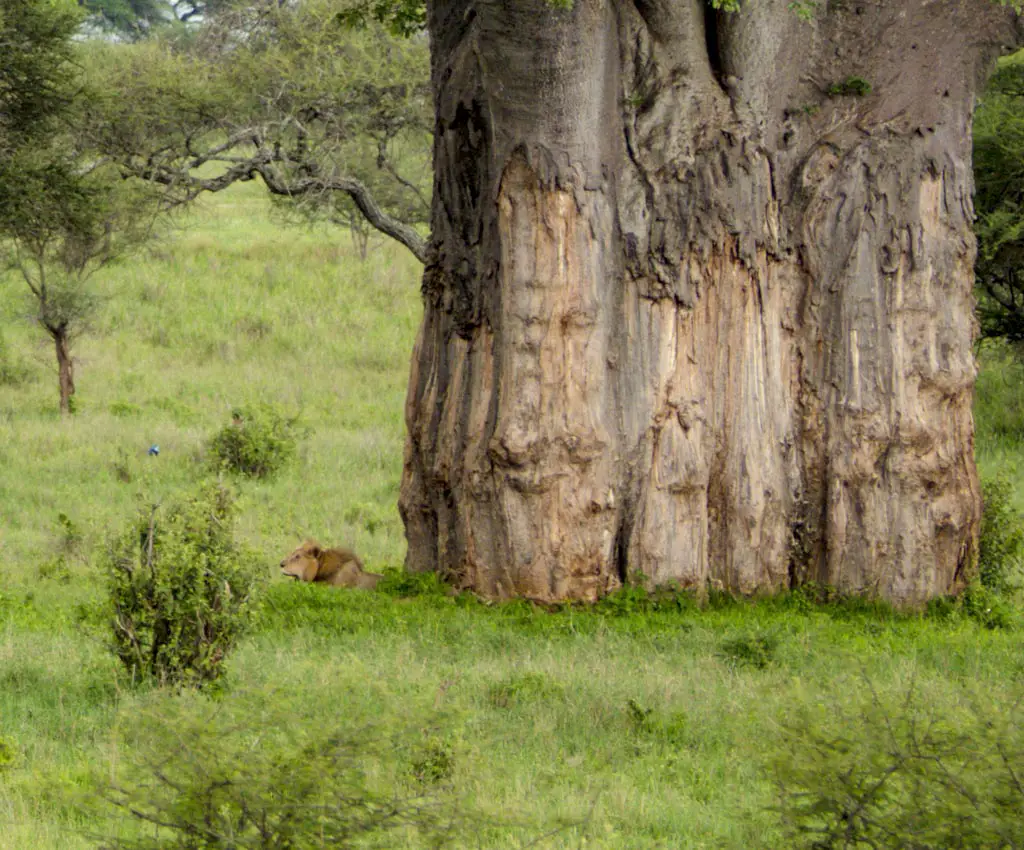 The downside is that its aperture isn't as low. If you want one for keeps that's better, the Zuiko has an equivalent at F2.8.

Olympus lenses are compatible with Panasonic Lumix range. If your camera is a different brand, here are some similar counterparts:
Do you only have your camera? Fear not, you can also get a zoom lens for it. Using your phone requires even more stability, so you might want to get a gorillapod or something to aid that.

If you do have the budget, you should a teleport lens that can zoom even further, but the above ones are all okay to be operated without tripod with a steady hand, and isn't overly heavy or pricey.

What to wear on safari Tanzania
For a jeep safari, there's actually no need to dress a particular way since you will be inside the vehicle at all times, but in general:
Avoid animal prints – some parks won't allow it either as it confuse the animals
Avoid very white clothings – this also set some animals off, which I didn't know beforehand!
Avoid dark clothings – mosquitoes are attracted to them and they are carriers of diseases! 
Avoid using a big suitcase – have a weekender bag for the safari as suitcases do not travel well – the wheel of mine broke from being drag to lodges
Wear light colours – re point above!
Wear loose clothing – it's quite hot so you would want to stay comfortable in the car
Wear good shoes – we do get off the jeep at picnic site and its best to wear good shoes. Boots are preferred, but trainers/sneakers work, too
Cover your shoulders and legs – the sun can get hot even if you are in a jeep!
Bring a hat and sunglasses – for the sun, too!
You'd also need sunscreen and mosquito repellent!
While extreme white is not ideal, white, beige, green, and brown remains the top colour palette for safari.