Poon Hill Trekking: 5 day beginner trek in Annapurna Nepal
I have never heard of Poon Hill trek before I visited Nepal, with Everest taking most of the world's attention, it eclipses a lot of the other hikes. But it is one of the best viewpoints of the Annapurna range and perfect for those who are just breaking into trekking. Why? It's shorter, lower in altitude with better guest houses and facilities compared to Everest Base Camp or the Annapurna circuit. Poon Hill is also located not too far from Pokhara, making it easier to reach as well as boosting a stunning vista of Annapurna range, most notably the Annapurna South.
That said, despite having done Mount Fuji, Annapurna Poon Hill trek still isn't a walk in the part for me! But it doesn't have to be for you – here's all the load down on trekking Poon Hill trail!
Nepal Trekking needs to know: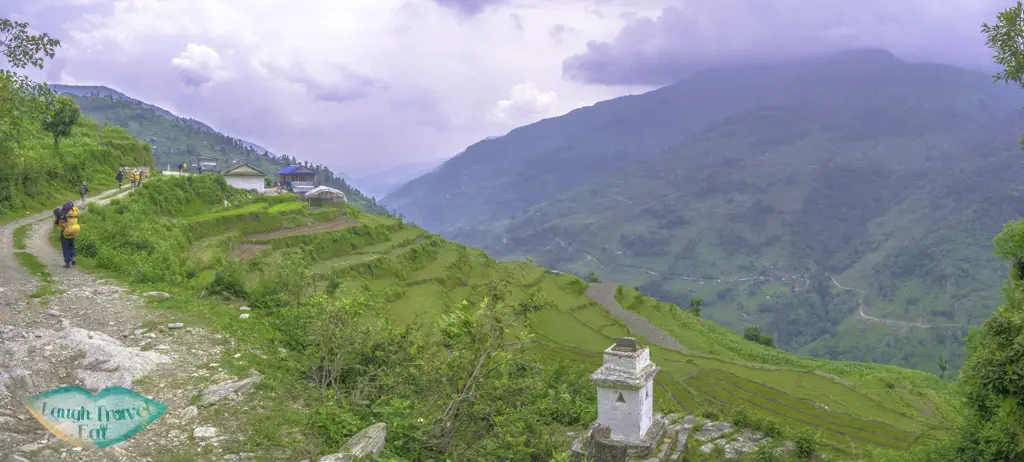 Trekking in Nepal isn't as simple as just turning up and doing it. You would need to apply for TIMS – which stands for Trekker Information Management System. If you are going with a tour guide, they would likely organise it for you. But if you are on your own, you can do it in either the Kathmandu or Pokhara office.
We ended up getting ours at Kathmandu as we originally were supposed to go to Lukla. You would need to decide by this point whether you are going to trek independently or with a guide – as there are different prices point for each. You can find more information on the prices here.
What you would need to bring:
Passport photos x 4

Passport

Cash
If you are confused about the entry point, it would be just Nepal! Be prepared to spend about an hour here to get everything sorted!
Equipment and what to wear trekking in Nepal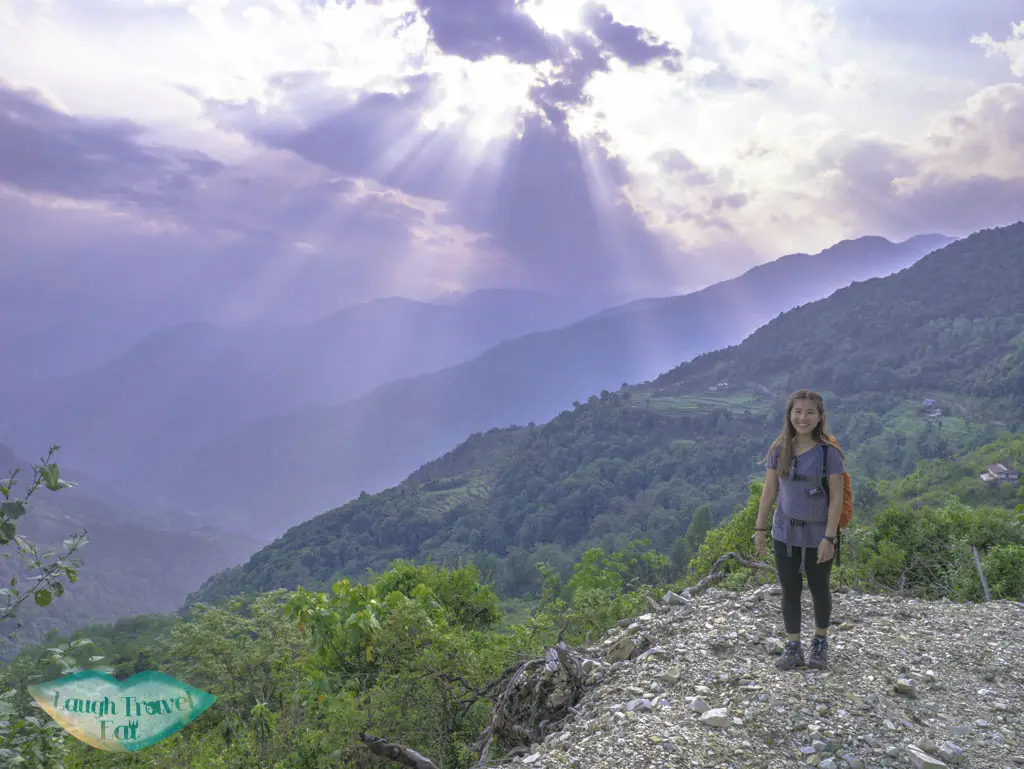 In all honesty, as long as you have a good pair of shoes, there is no real reason why you can't complete the hike. That said, it's also important to make trekking as easy for yourself as possible. Coming from someone who was a little unprepared, here's a list of essential which you can also easily purchase in Kathmandu and Pokhara:
Walking pole – one or two depending on personal preference. It helps so much!
Refillable water bottle or a Camel Sack – the area is a no plastic zone! I found my Camel Sack (also known as hydration bladder) to be a total lifesaver since I can just drink water so easily! Note that you would need a backpack that supports the system to use one.
Backpack with waist strap and or back panel – a day pack if you have a porter. If you are going with a tour company, they would usually provide a duffle, but if they don't, make sure you have two backpacks. If you need a bigger one, this is highly recommended.
Waterproof jacket or umbrella – it doesn't get that cold on the hike when I was there, but it did rain. So bring either or both. For waterproof jacket, bring something that's not too bulky like this as it can get hot hiking in the rain
Waterproof trousers – I didn't end up needing it but it's good to have! Get something that would fit well.
Fleece – more for the evening and at night when the temperature drops. Despite being indoors, it still felt pretty cold. Something that can zip up would be ideal.
Hat – for the sun. Most people wear a cap, but I think hiking ones might be better if you are prone to sunburn
Sunglasses – ditto, get a polarising one for best protection.
Fast dry towel and maybe a small one – for showers and sweat
Long socks x 3 – there are leeches so it's best to have long socks
2 tops – more if you are hiring a porter and feel like you can fit it in, bring more. It's better to bring trekking specific ones as they make sure it's performance enhanced and won't be dredged and smelly as fast.
1 zip off trousers and leggings – both are quite useful for me and five days is too long for just one pair in my opinion. Zip-off ones can be found here.
Sunscreen – high altitude means that the sun is stronger. A few of us turned red so it's best to wear sunscreen!
Insect repellent – there are more insects than you expect!
Hand sanitizer and or wipes – your hands are going to get dirty
Toilet paper – they are NOT provided, so bring some!
Moisturiser – for your skin because they are going to get battered
Toiletries – all guest houses have showers and sinks to get clean
Hiking shoes – you don't have to wear ankle high ones as long as it has a good grip. This is similar to the pair that I wore and I found them good enough. Of course, if you are willing to This is similar to the pair that I wore
Flip Flops – for evening wear, you can also bring trainers or just sandals as well depending on space.
Power bank – a lot of the guest houses charges for charging your devices and there are limited plug space, so bring one with higher voltage storage. I also got myself a solar panel to recharge things, but it is a bit of an overkill for this trek, particularly since it was dreary most of the time.
Head torch – you would need it for the sunrise hike up to Poon Hill, and it's good for getting around
Knee brace or support – there are a lot of stairs, so if you have weak knees or need extra support, bring something!
First aid kit – bring some medical supplies such as painkillers, cold meds, band-aids etc, especially if you are not hiking with a guide
Waterproof shell for backpack and valuables – when downpours do happen, you would need to make sure your valuables are protected! I also got Waterproof shell for backpack
Sleeping bag – I didn't have one for the trip, but if you are not confident in the cleaniness of the tea houses, it's best to bring something. It's also quite cold at night, so having one would be good, too.
Poon Hill Trek: solo or in group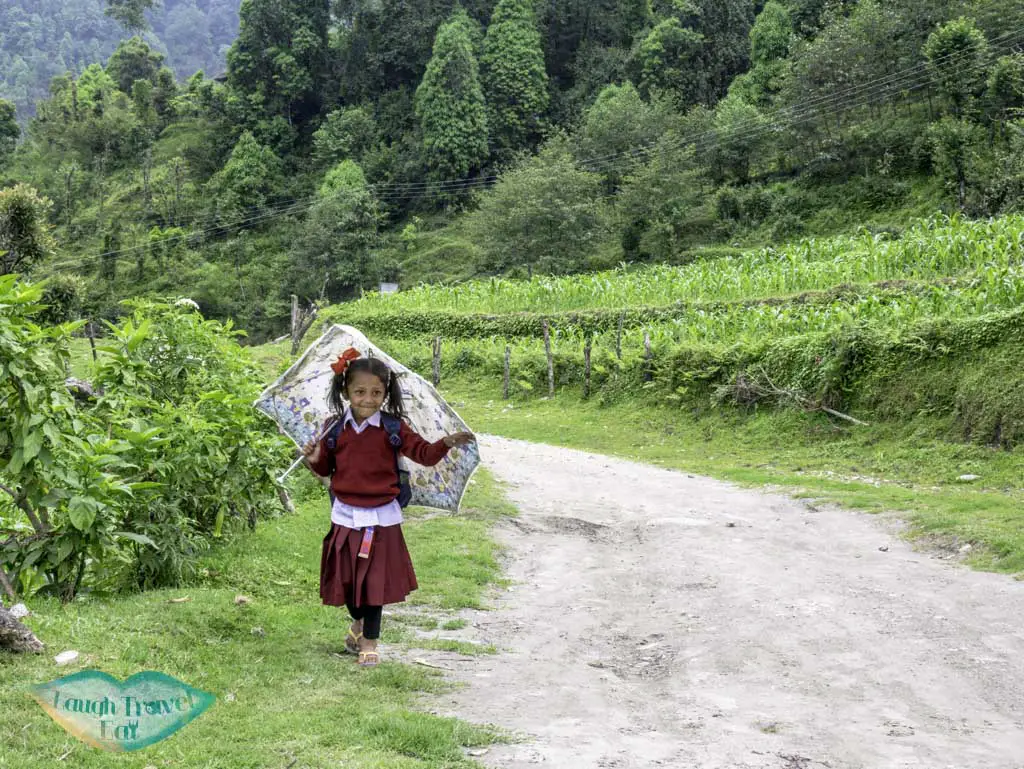 It is definitely possible to trek Poon Hill DIY and even solo, since the route is pretty straightforward and there are plenty of towns and guest houses along the way.
That said, it was definitely a lot easier to not worry about finding the right way and having a guide to organise food and lodgings. We definitely stayed at better guest houses than I expected.
Depending on how prepared you are, I would recommend doing it with a guide for those who are visiting Nepal for the first time. It would take the risk out of language barrier and logistic errors!
Nepal Trekking: Porter or not

Even if you don't need a guide, you might want a porter. For someone who isn't used to carrying ten-kilo plus on their back, it would be tough to go up and down with all your belongings unless you pack really light.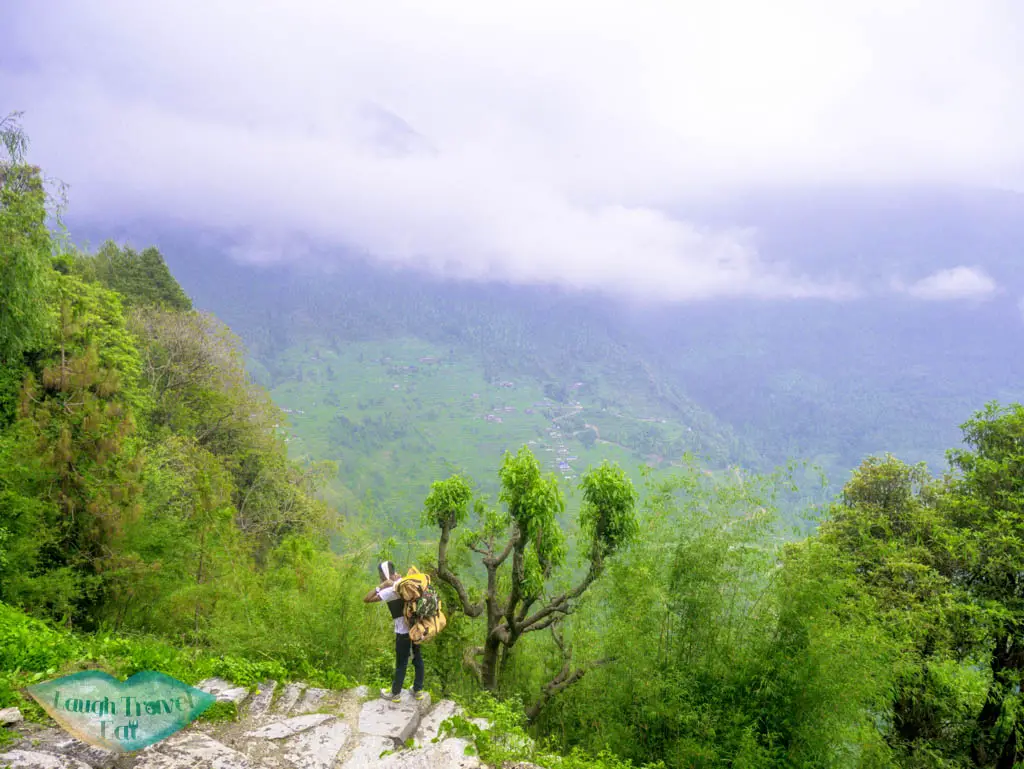 It's important to also not pack too much into your porter's bag, as Nepalese people will try to carry it all without complaint! Which isn't good for them.
Geology of the area: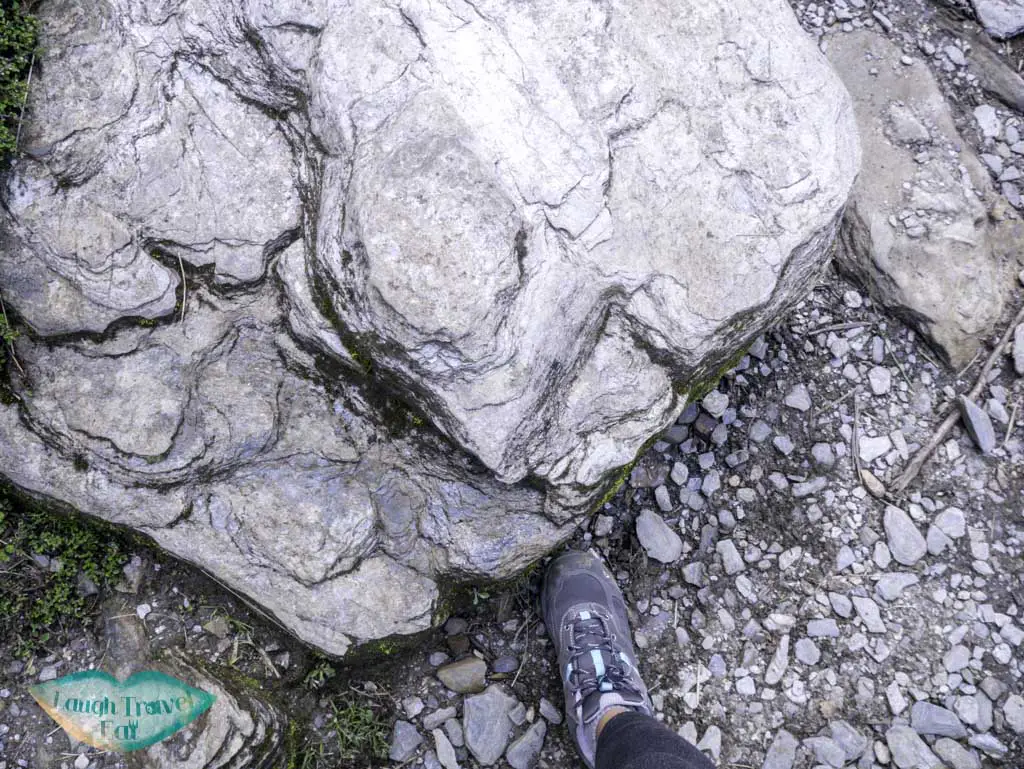 Around the Pokhara area, the rock type is predominantly the Seti Formation in Lesser Himalaya Group (also known as the Lower Himalaya or Midland group). The rocks here are less metamorphosed and mostly sedimentary in origin, containing basic intrusion.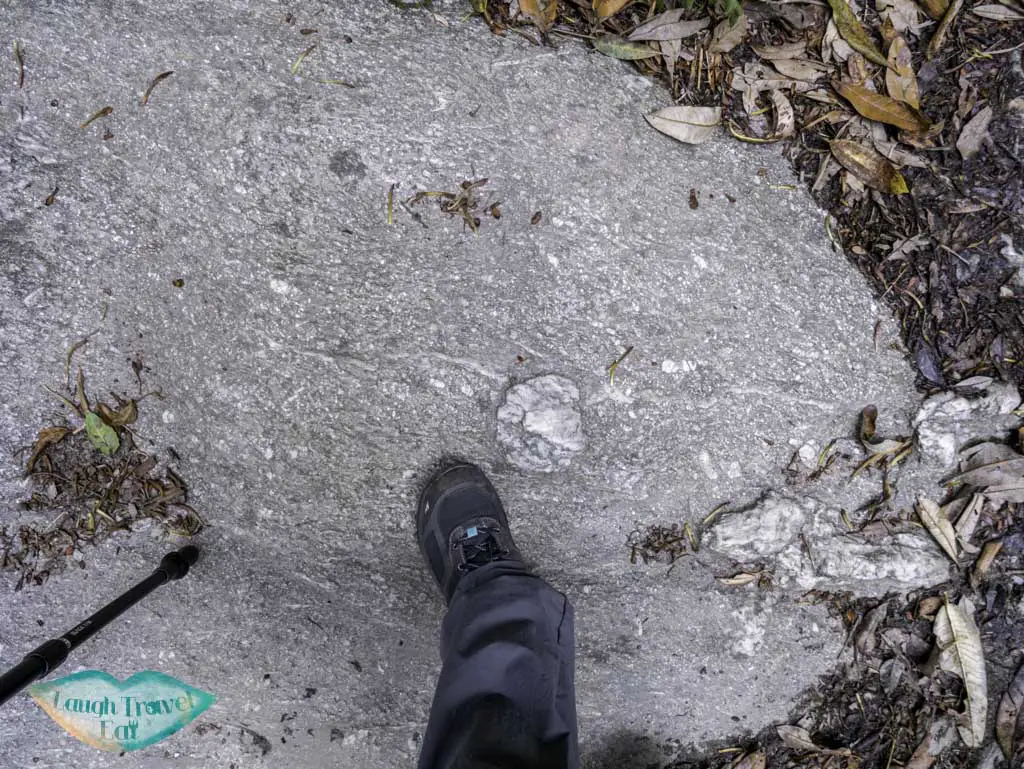 The Seti Formation consists of grey greenish gritty chlorite muscovite sandstones and gritstones with conglomerates and white massive quartzites in the upper parts. The shiny greyness of the rocks is a result of the Muscovite. You can also spot shearing in some of the rocks, known as mylonite. These are the result of the mountain-building level of movement!
Poon hill trek 5 days
There are several different ways to do Poon Hill trek, and it's commonly done in four or five days. We ended up doing part of the Mardi Himal trek, too, as we extended our last day to go to Australia Camp. But people commonly stop by the village of Ghorepani where the trek to Poon Hill starts and Ghandruk. I want to give an overview of the itinerary my tour was on as well as alternate options:
>You can also watch my vlogs on the trek here.
Day 1: Pokhara then Ulleri

We flew from Kathmandu to Pokhara in the morning and went straight to the trek. We flew on Yeti airline and the flight was delayed for 45 minutes, but that is apparently common. The flight only lasts for half an hour, and if you are seated on the right-hand window side, you just might be able to see some of the Annapurna mountains. The airport at Pokhara is very small with only one luggage claim, so be sure to watch out for yours.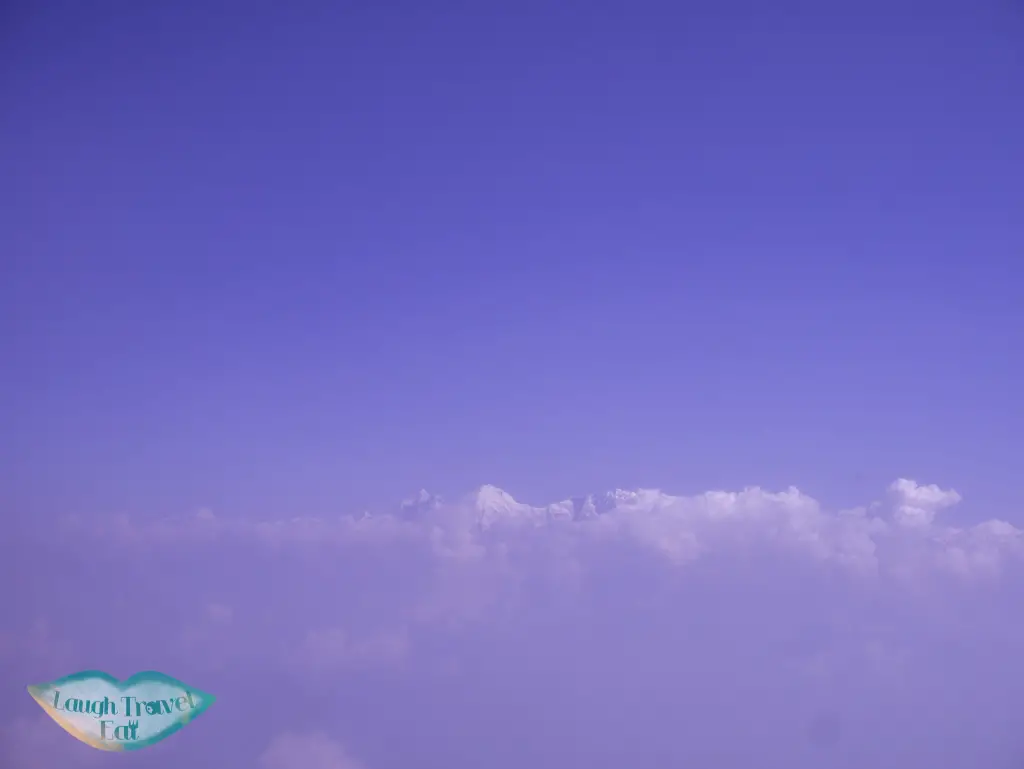 Note: surprisingly we were able to bring water through security, and there is refill station anyway!
Most people would spend a day or two in Pokhara to get settled in, but if you already have everything you need, there's no reason why you can't start the trek once you landed. Depending on your hiking itinerary, that is.
After sorting out all the logistics, we were put on a van to the village of Birethanti, which was a 45 minutes drive, for lunch. Note that there are roadworks when we were headed there (June 2018) and we had to get to a jeep to go to town.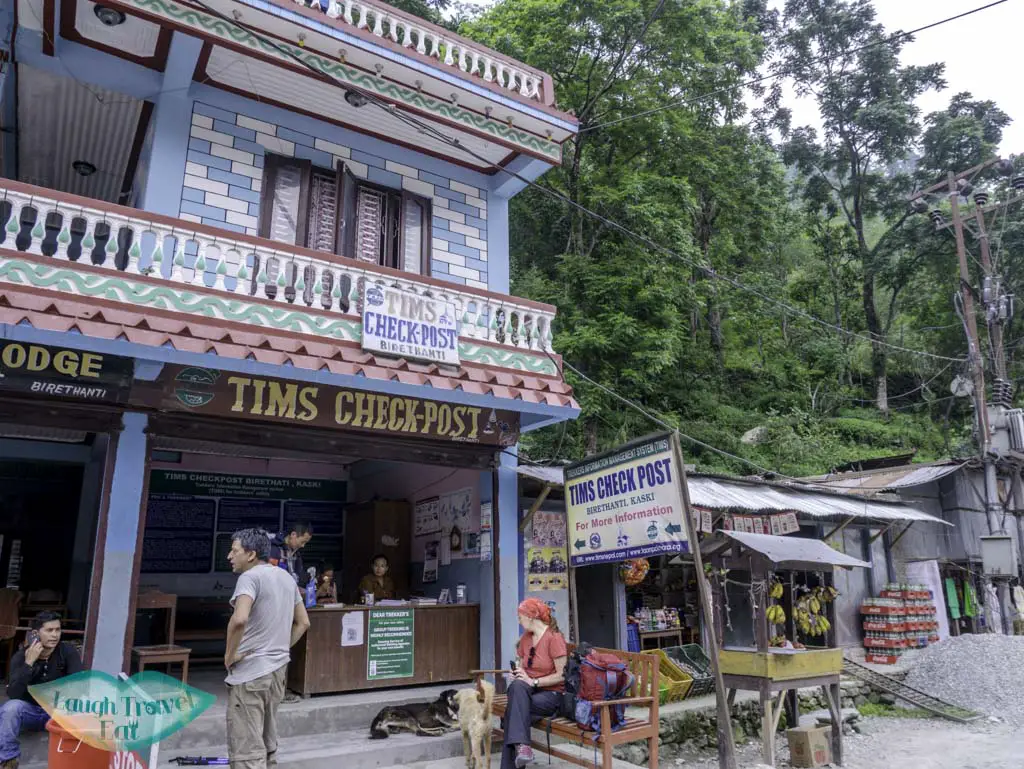 There is a TIMs Checkpoint there and then we are having lunch at moonlight restaurant nearby the office. We got back on the jeep and it goes northwest along the river to the starting point.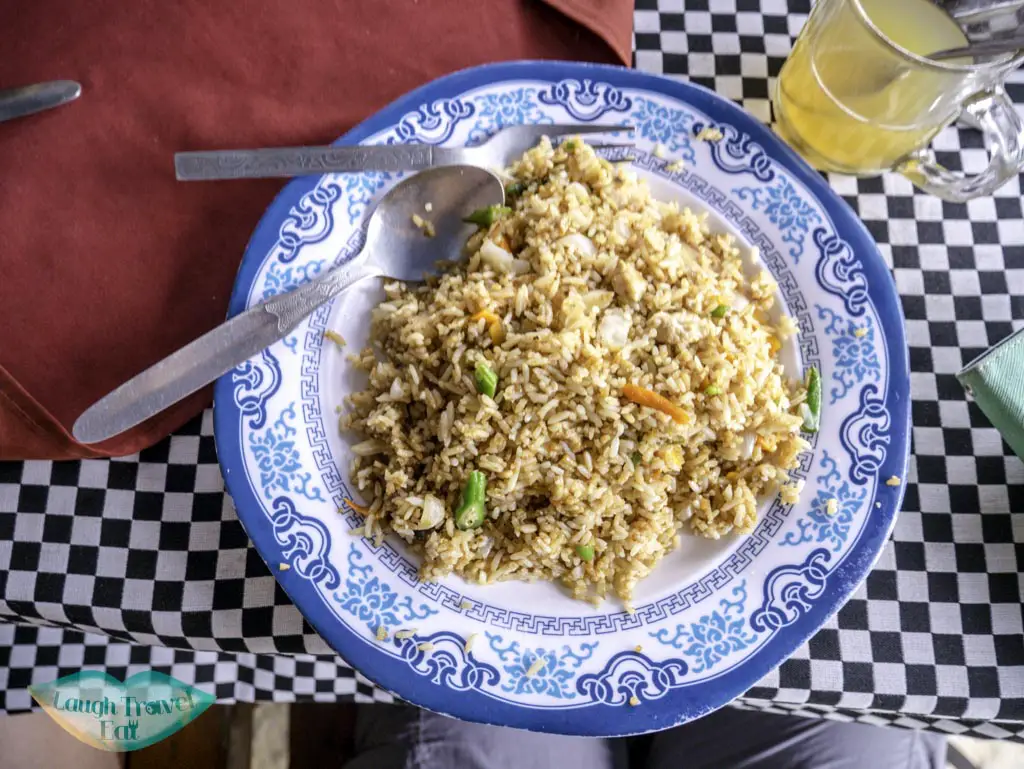 While you can start your trek right there, we got back on the jeep to start at the end of the road. It was interesting to watch the porter divide the duffle bags among them, tie them up with ropes and carry it with a head strap!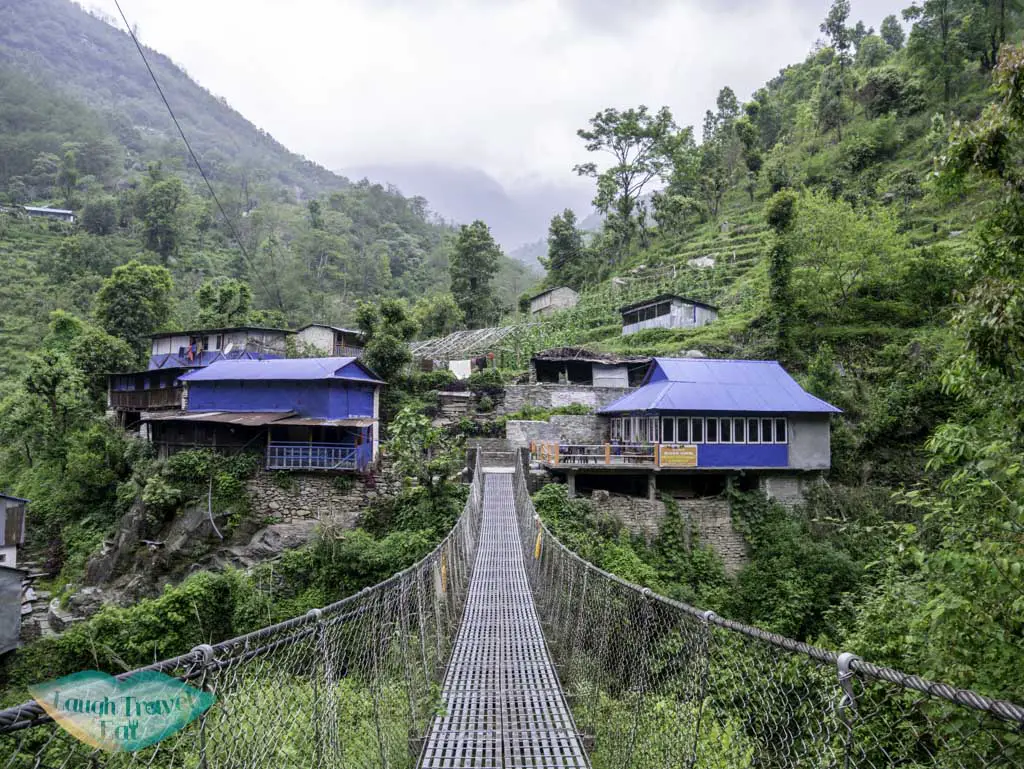 We started the hike going downhill, crossing two small suspension bridge and then up. The hike is only two hours but rather brutal, going uphill on steep stairs. It started to rain a little bit, but luckily we found some shelter – and spotted some donkeys!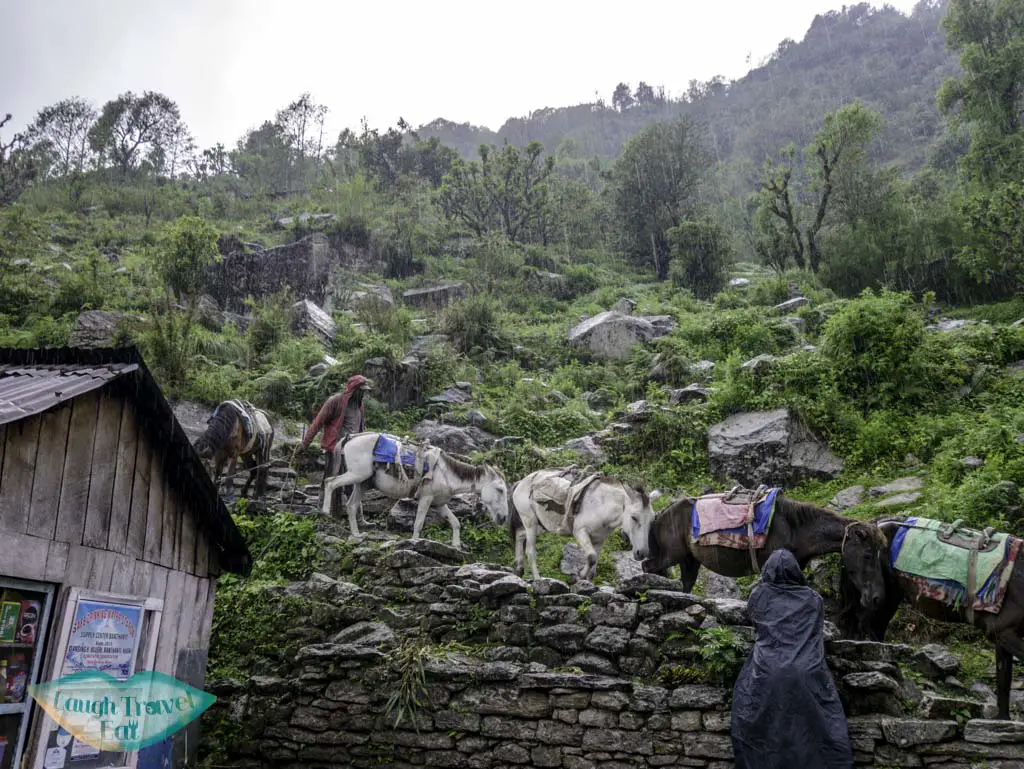 The stone stairs are well paved though and we reached the village of Ulleri at around 17:45.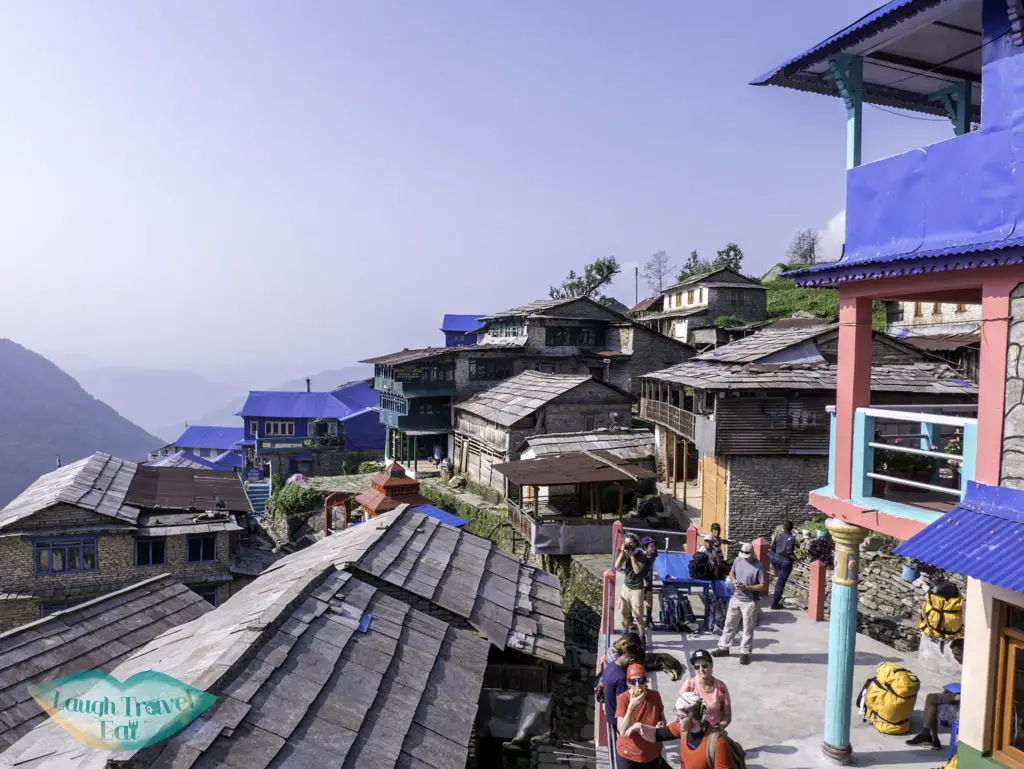 The tea house we stayed at is called Kamala Guest House in the middle of the village with a pink and turquoise facade. They have clean rooms with ensuite toilets and hot water! We had to pay 100 rupees for WiFi though. For dinner, I had mixed momos which were quite good, though a bit dry, and a good garlic soup and masala tea.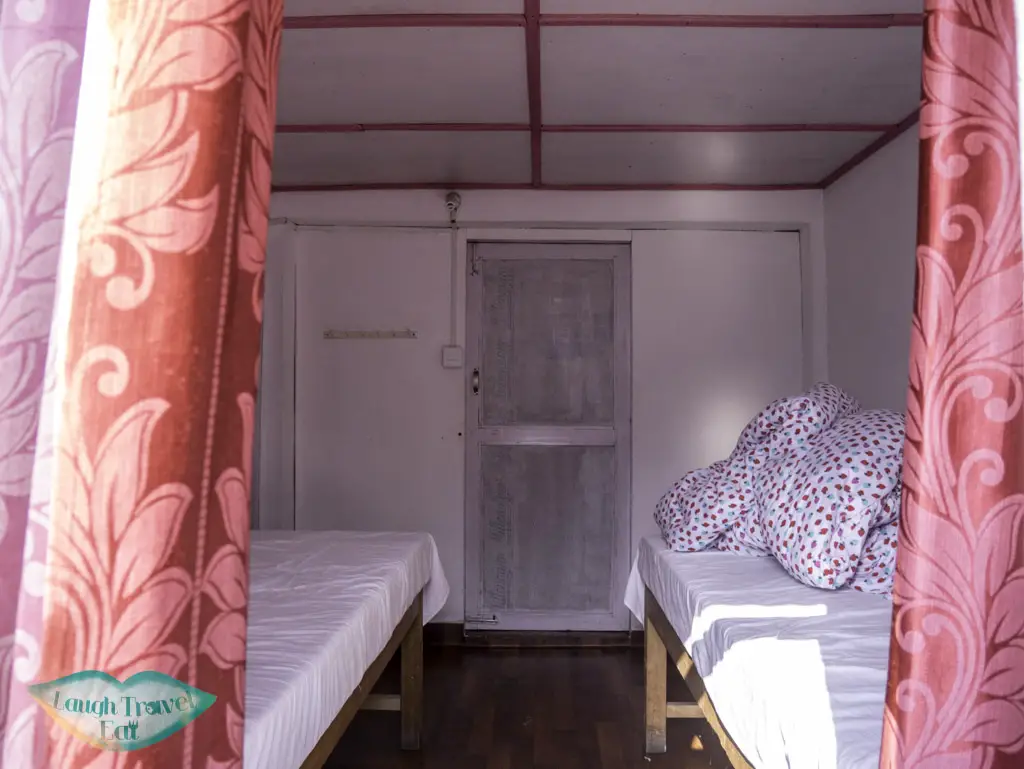 We also ordered breakfast for the next day at dinner, since getting your meals take quite a bit of time in the guesthouses. It is essentially toasted with jam and honey, then fried potatoes and a choice of eggs.
Day 2: Ulleri to Ghorepani
Breakfast was at 7, but true to Nepali time, we didn't start until 7:20. We ended up leaving around 8:20 or something as the guide settled the bill – water was included in our tour but it usually isn't, so perhaps that was why it took a while. The trek to Ghorepani isn't long, about 5 hours or so on the undulating but paved path.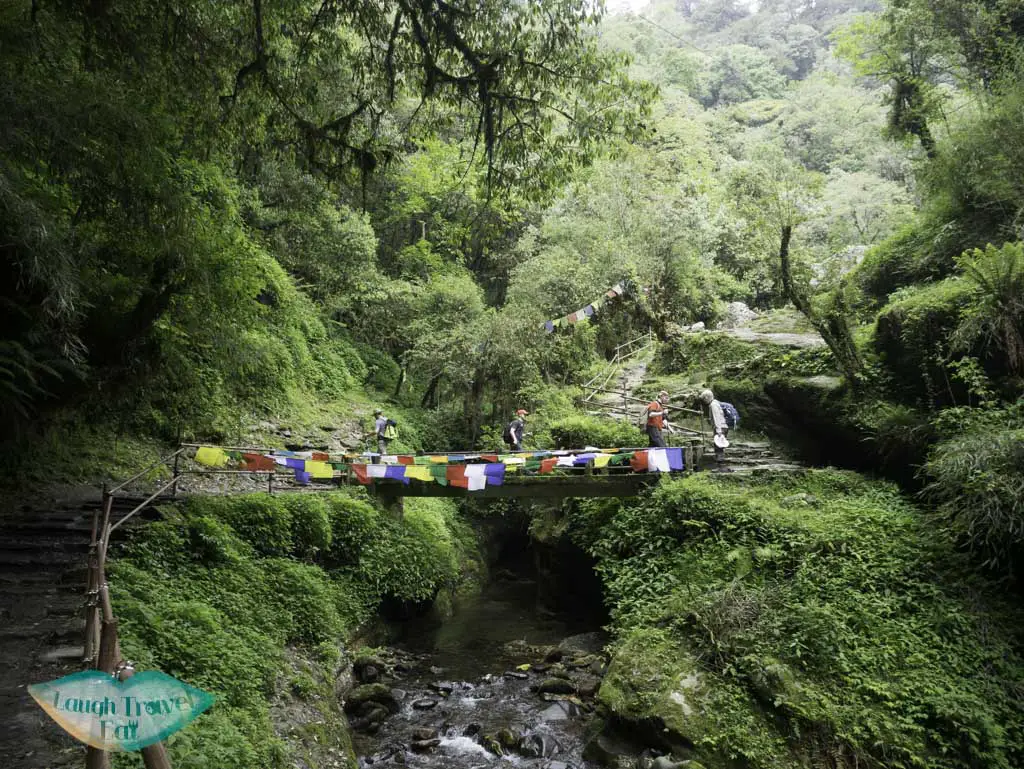 We stopped for lunch at Lali Gurans Guest House and Restaurant and it took a while to get the food. But the Dal Bhat was very good!
There was another TIMS check in the village, so be sure to pack yours with you and no in your packed bag! The hike wasn't so bad today, and we arrived at our homestay – Peace and Excellent View Lodge around 15:30.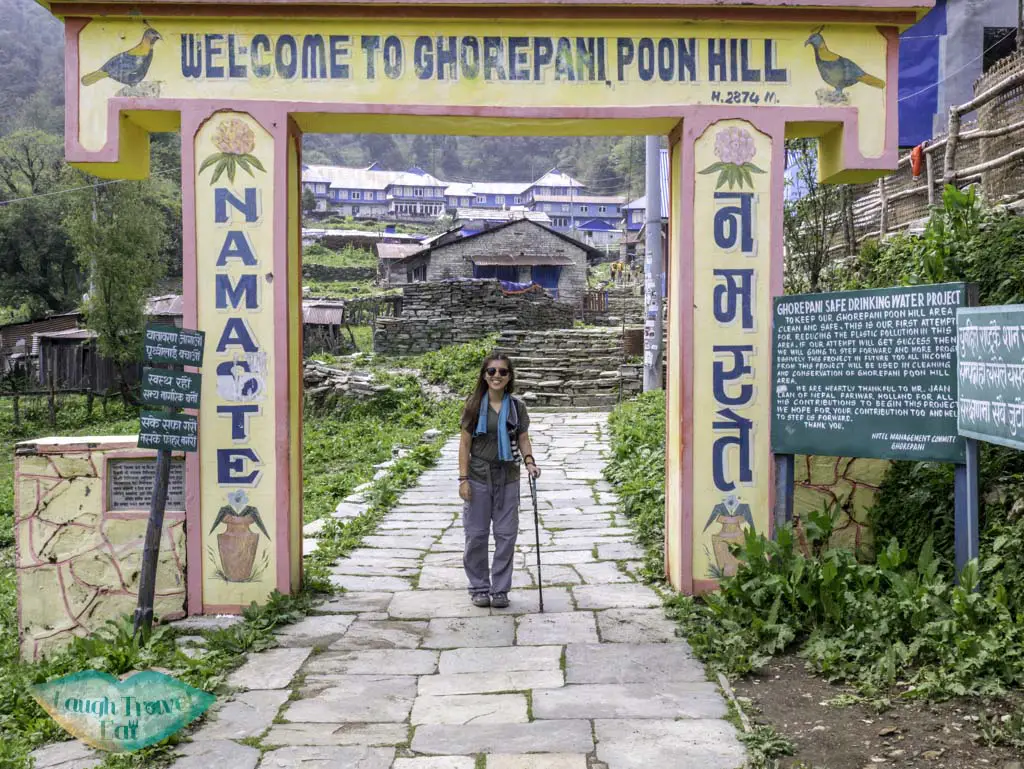 It was on a hill a little way from the village and offers a pretty good view. It was then time to unwind and the facilities are better than the last house, we were able to find a plug space in our room even!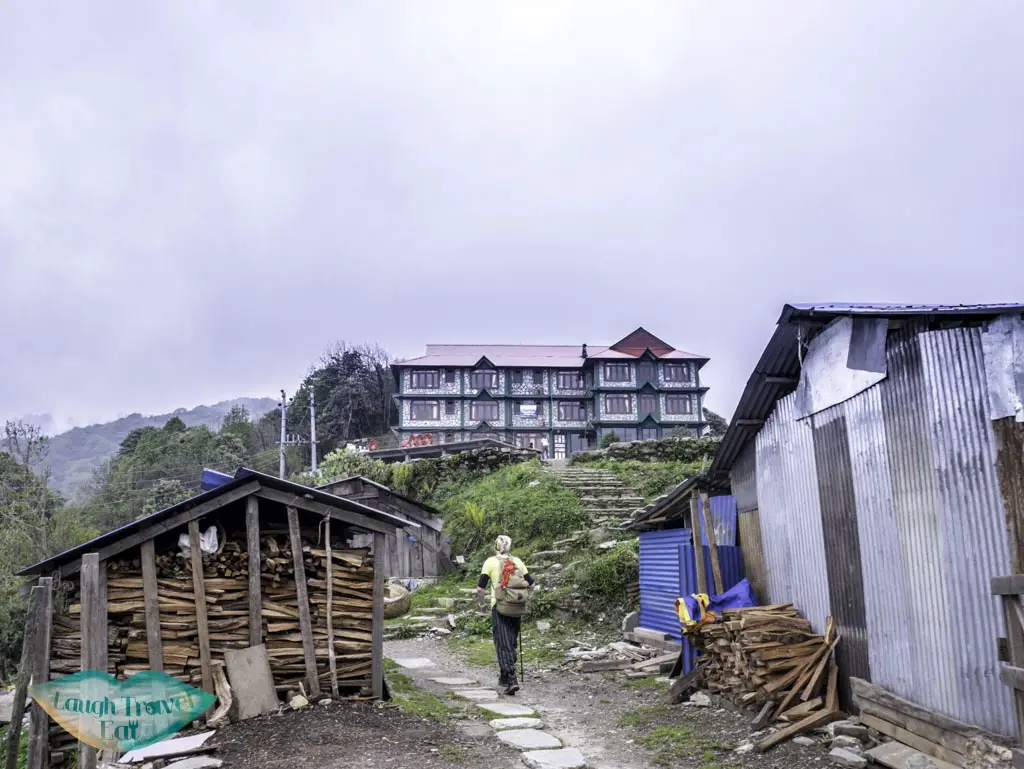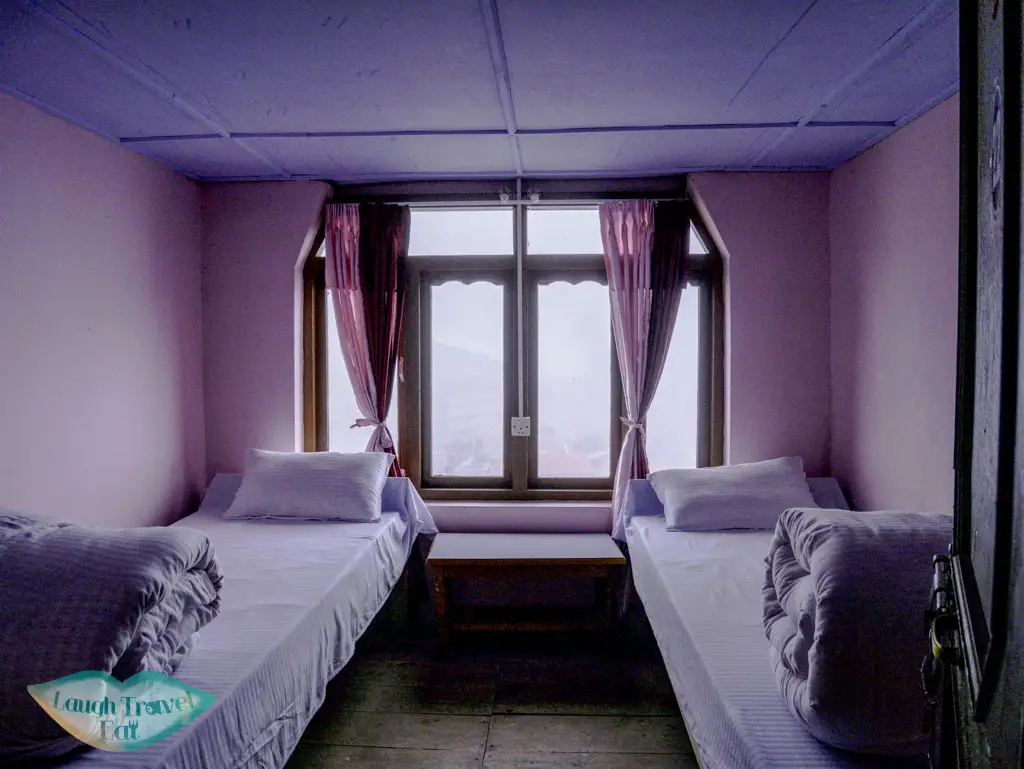 For dinner, I had Dhal bat, which was pretty good. We ate early at 18:30 so we had plenty of time to go to bed in preparation for our sunrise trek.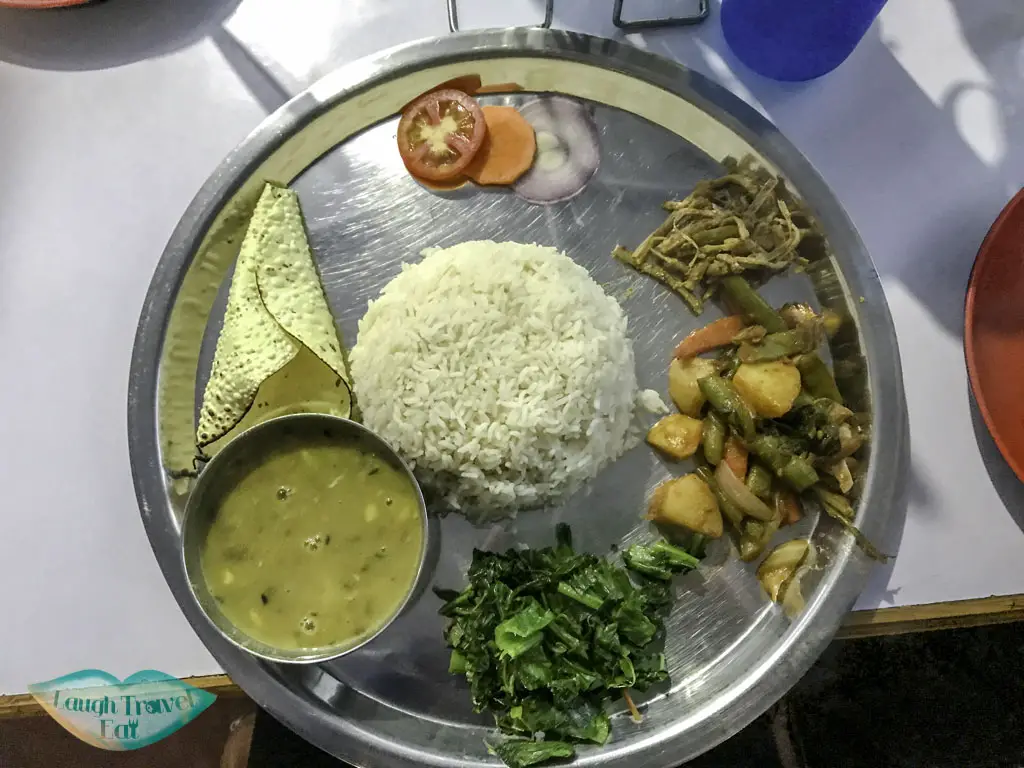 Note: you won't get breakfast until after the trek, so it's best to pack some snacks beforehand.
Day 3: Poon hill sunrise trek and Ghandruk
Ghorepani poon hill trekking
We had an early start at 4:00, heading up the trail from the town square and up. It's dark but not impossible to walk without a head torch. There is a ticket counter about ⅕ way up, you would have to pay 50 rupee entry (he was gone when we come down though).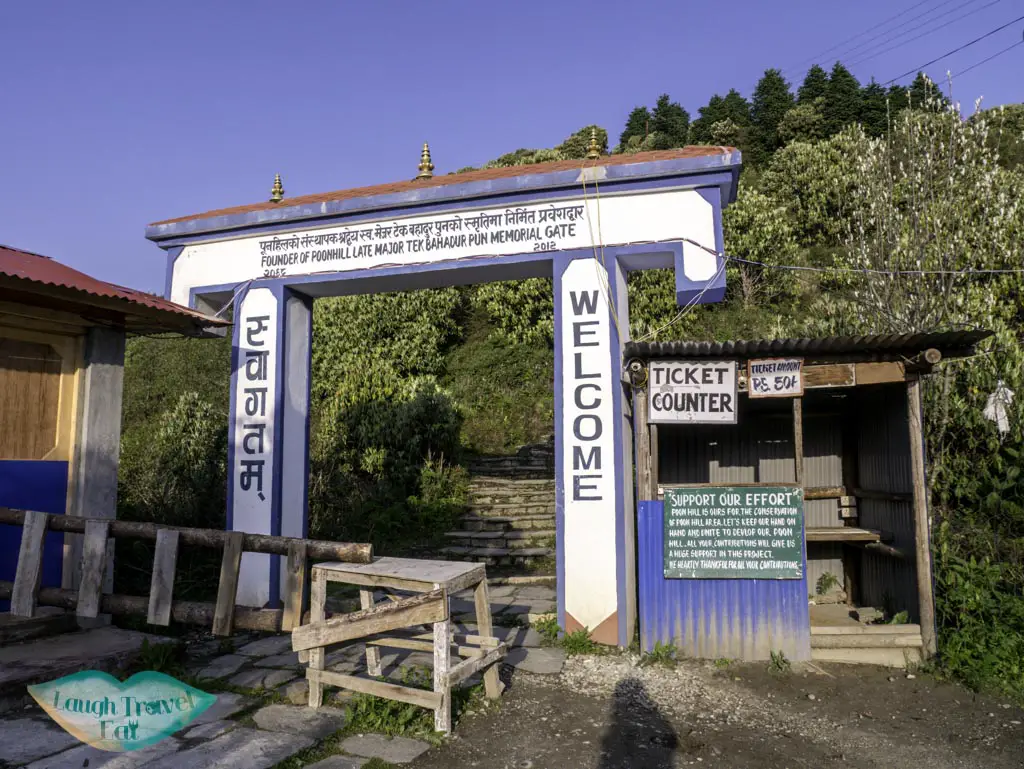 The hike up is longer than expected, but with well-paved stairs. The route is pretty deceptive with curves and small hills. It took about an hour to reach the top where you can see a small observation deck and tea shop. The drinks there are quite expensive, around 200-300 rupee but it's a great hot drink option.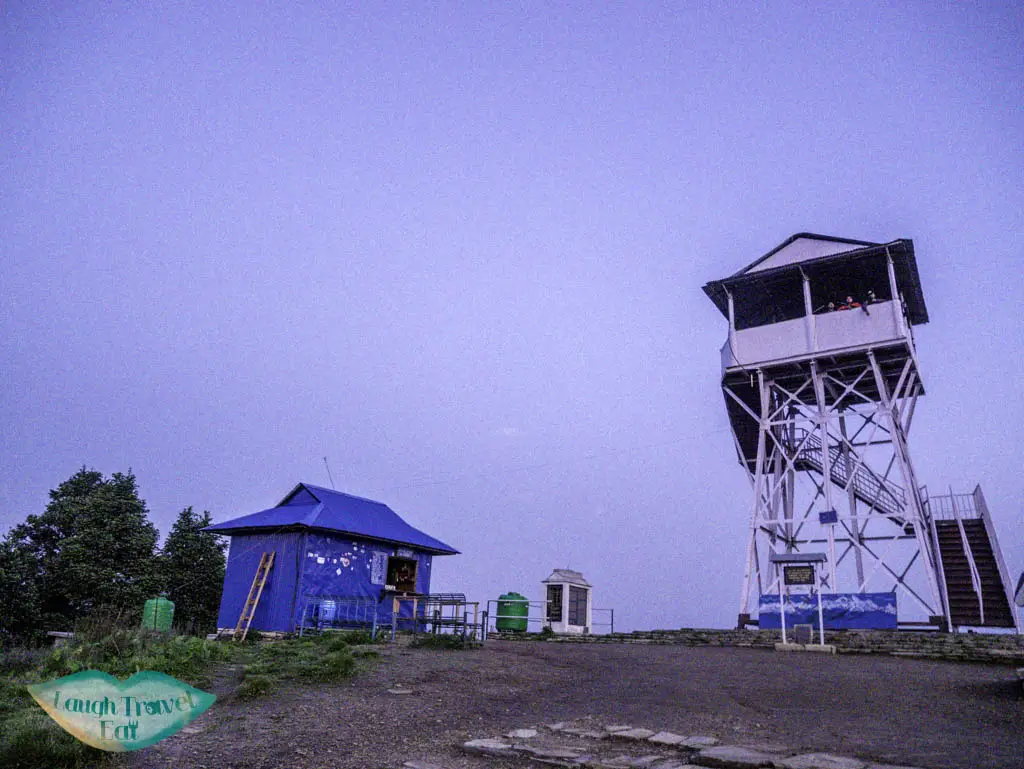 There isn't much of a difference between watching the sunrise from the deck or from the ground, though you might also want to pay attention to the far side of the mountain where the prayer flags are. Personally, it's much more photogenic to stay on the terrace!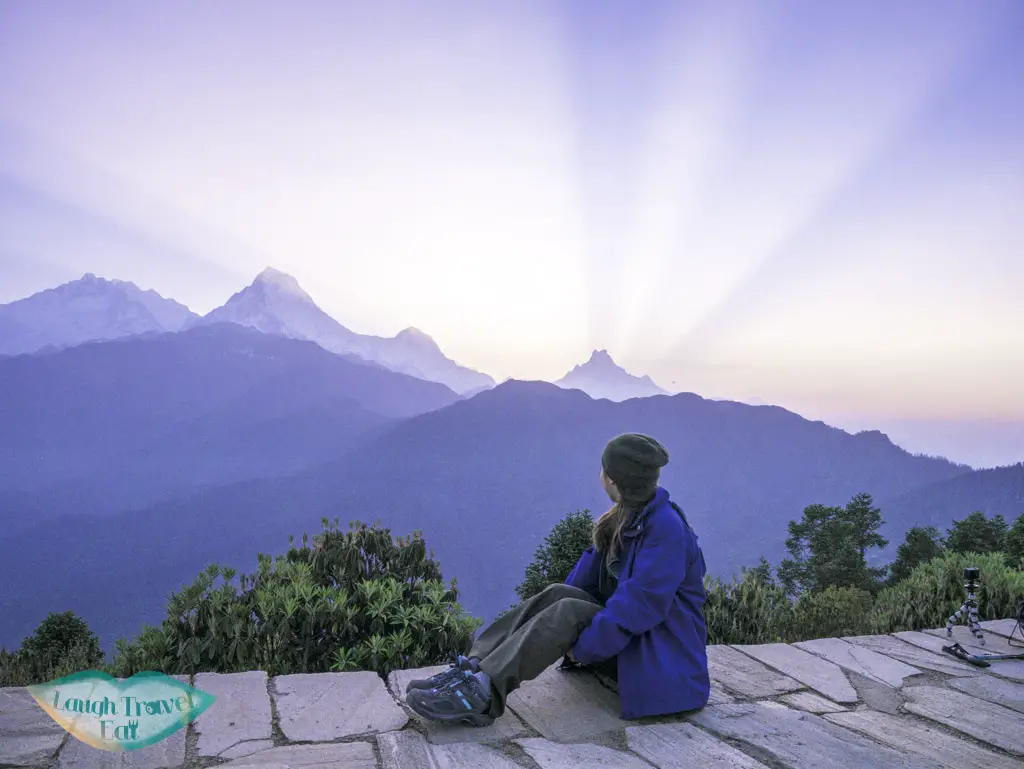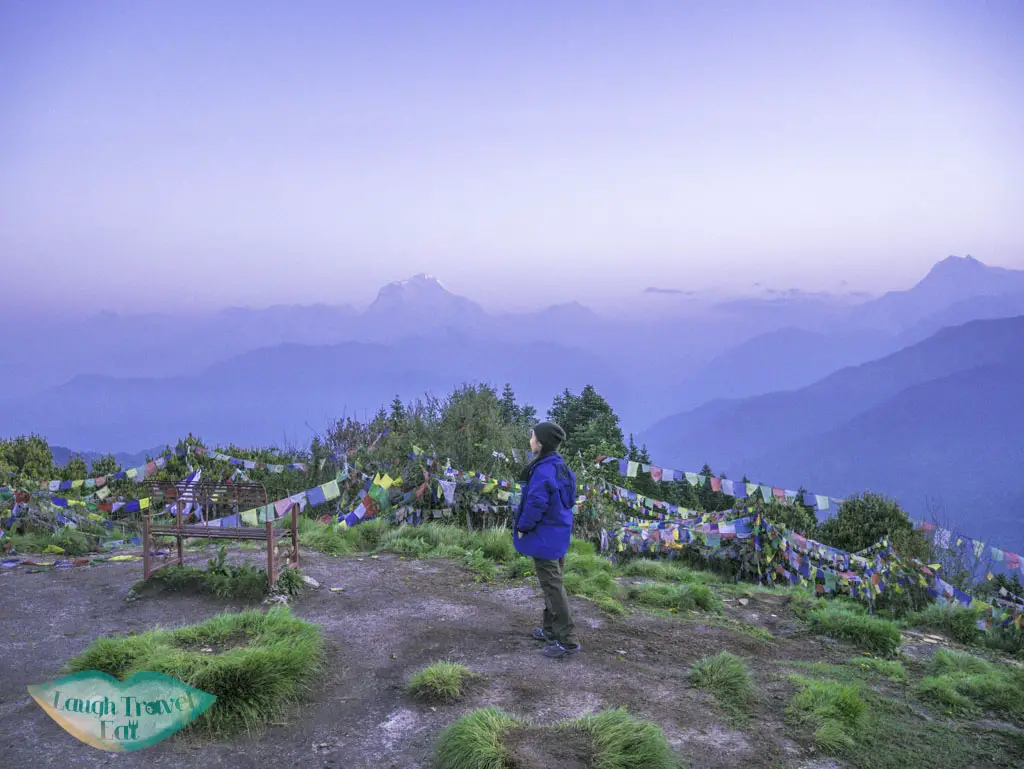 And of course, don't miss the Poon Hill sign for that obligatory selfie.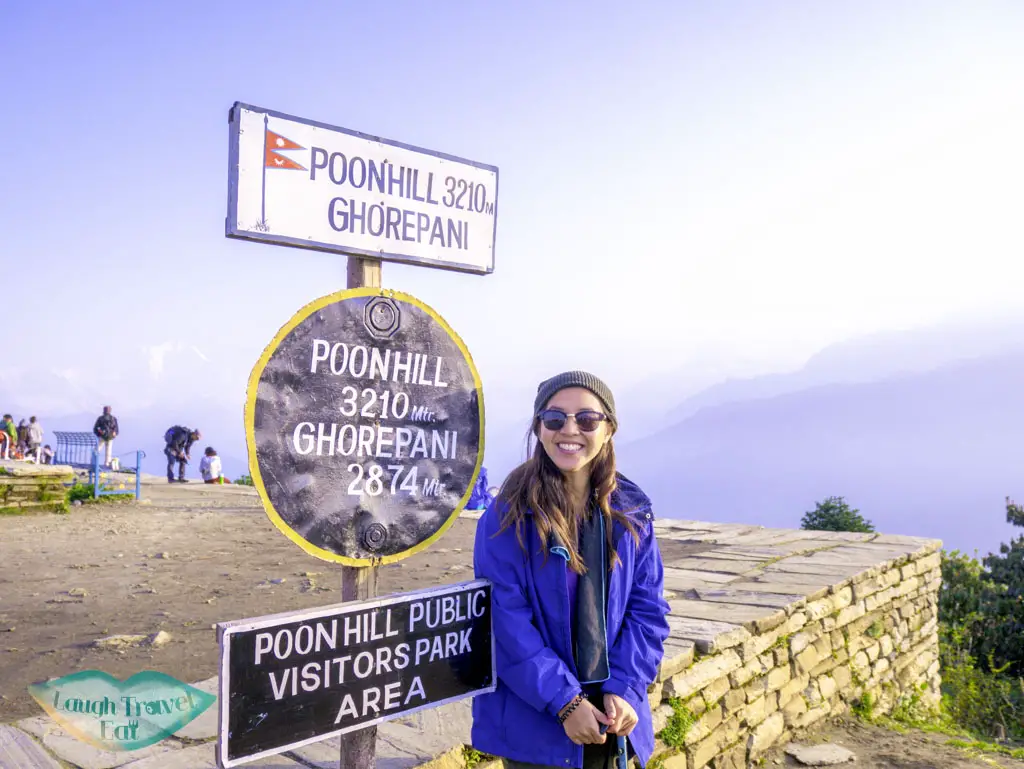 The sun rose from behind the mountain around 5:40, so unless you want to shoot the hues before sunrise, you don't have to get up so early.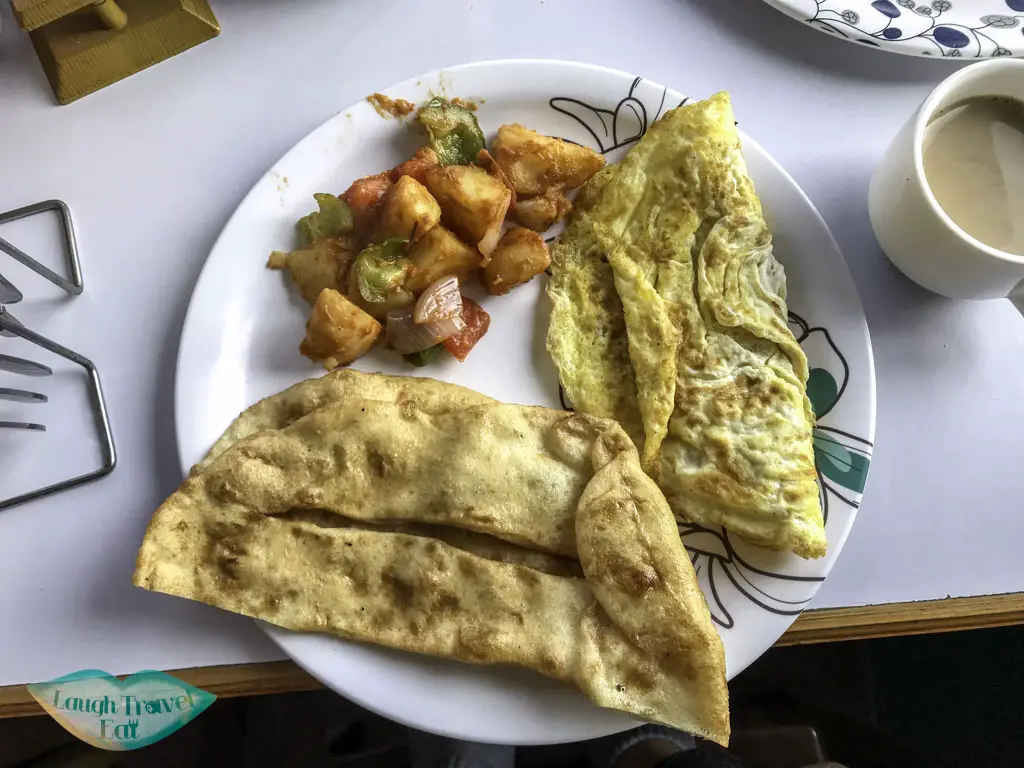 We got back down in our own time and had breakfast around 7:30 before setting off at 8:30. The trek from Ghorepani to Ghandruk is long, especially compared to the last two days. We reached the Deurali Pass not long after the trek, which offers a stunning view of the surrounding:
Then we entered the jungle. Because of our large group and different walking speed, I ended up on my own for about 40 minutes. I almost thought I was lost! Luckily, I wasn't, and we had a quick tea break after two hours at a little village.
We then started going downhill through a beautiful ravine. After lunch bought about a little rain but we had one of the best Dhal Bat on the trip.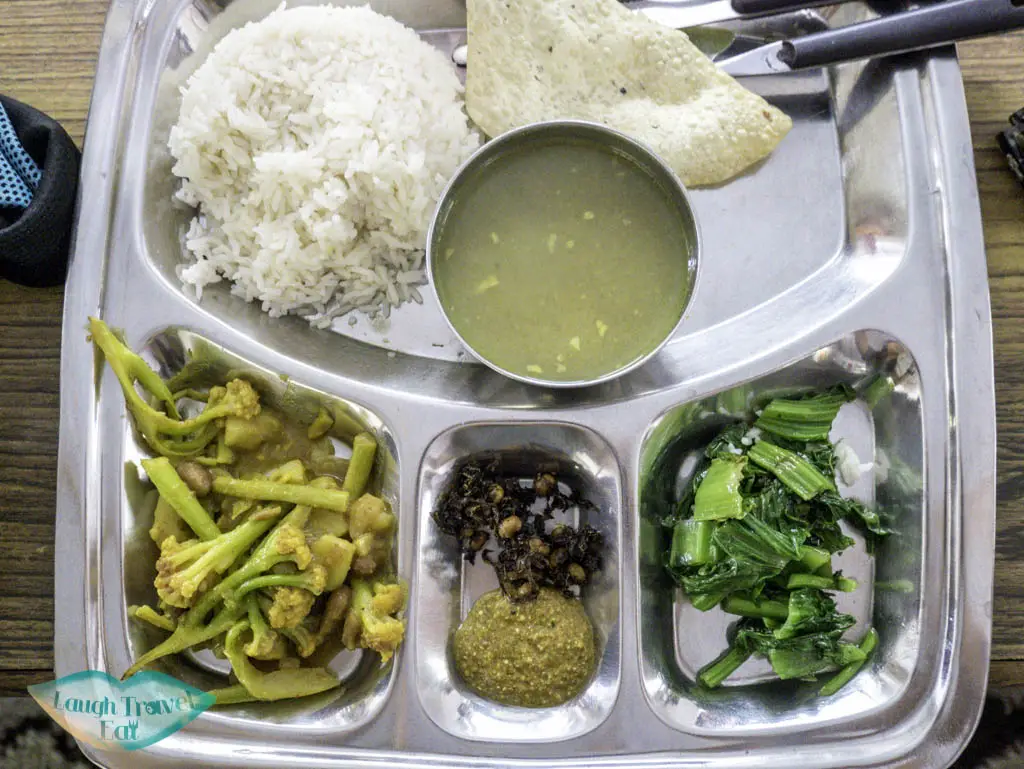 The rest of the day's trek was a bit of a long blur of trudging through cascading streams that was once called the stairs. It's best to have a poncho and an umbrella for such an occasion.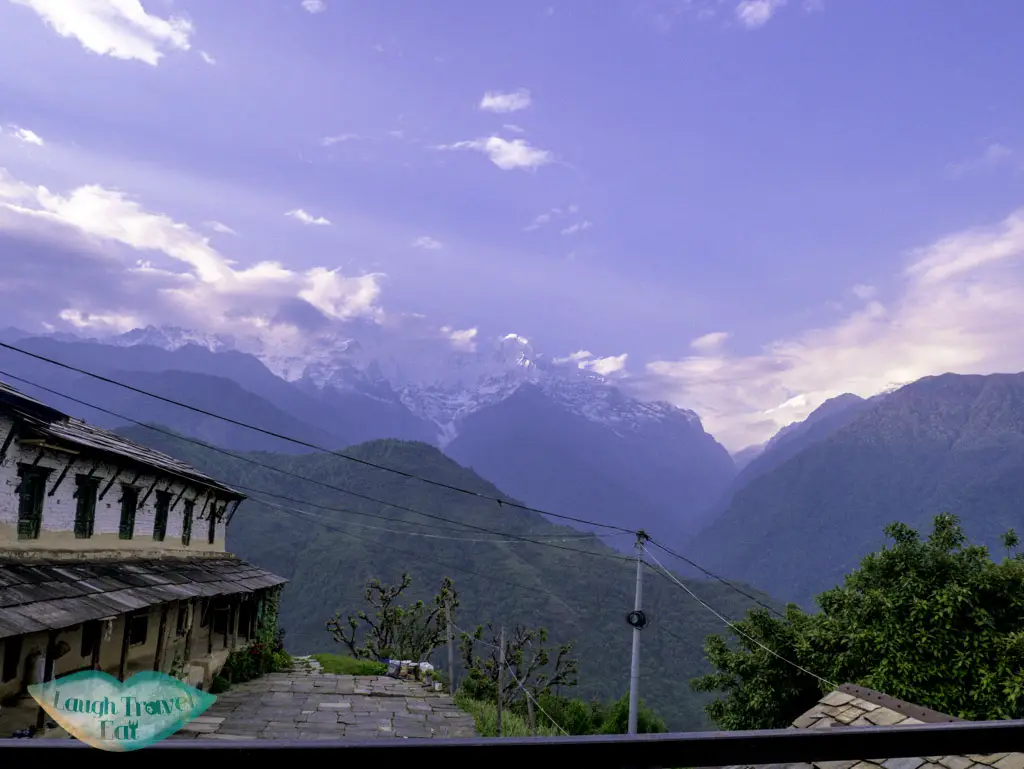 Our group arrived at Ghandruk at around 17:30 to 18:00, everyone was exhausted and we all collapsed on a chair sipping tea. The guest house – Simon Guest House – has a perfect view of Annapurna South, the view is weather dependent, of course.
I've got the biggest serving of chicken fried rice that night, and Simon Guest House is by far the best place we've stayed in for the whole trip. Signal was also at its best here with good working WiFi and even HBO in TV. Did I mention a beautiful balcony?
Day 4: Ghandruk to Australia Camp
Today we are venturing out of the normal Poon Hill trek route to Australia Camp. Here's an interesting tidbit: the name came from the 70s when the Austrians set up camp in that area, and it got misspelt to Australia Camp.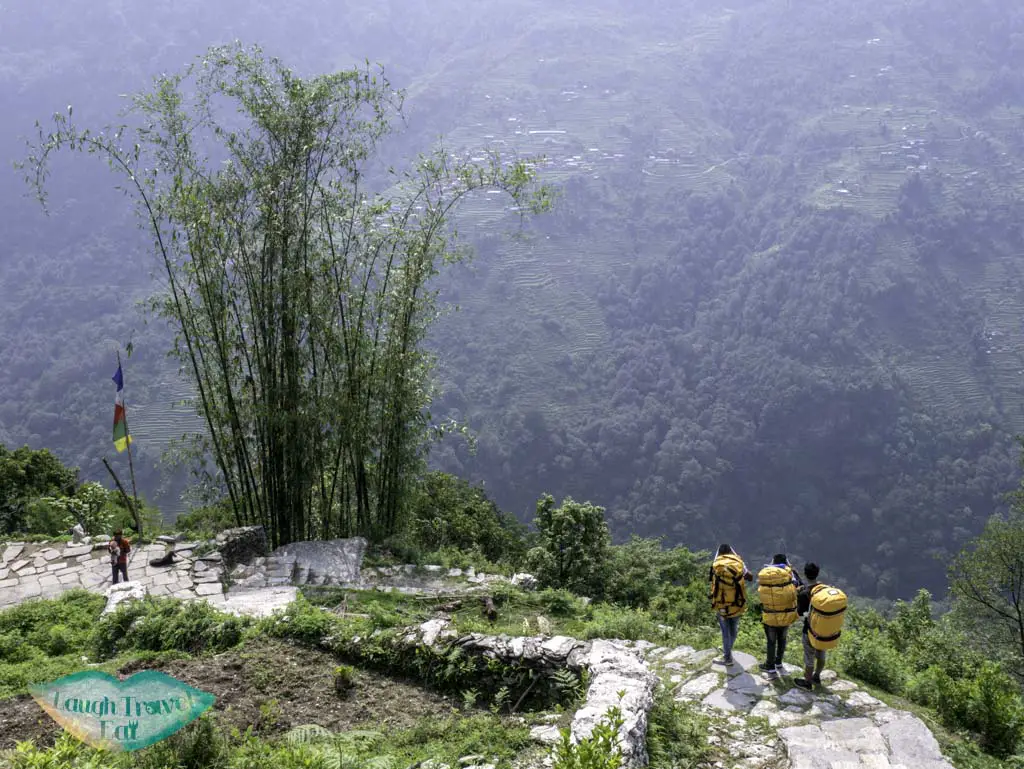 We set off around 8:30, though it's advisable to do it earlier as it can get really hot. This is one of the toughest descend and ascend across the Modi Khola. I made sure to have my knee brace on to make sure it's not too brutal on my knees. The bridge is also very photogenic and you can see the rushing river.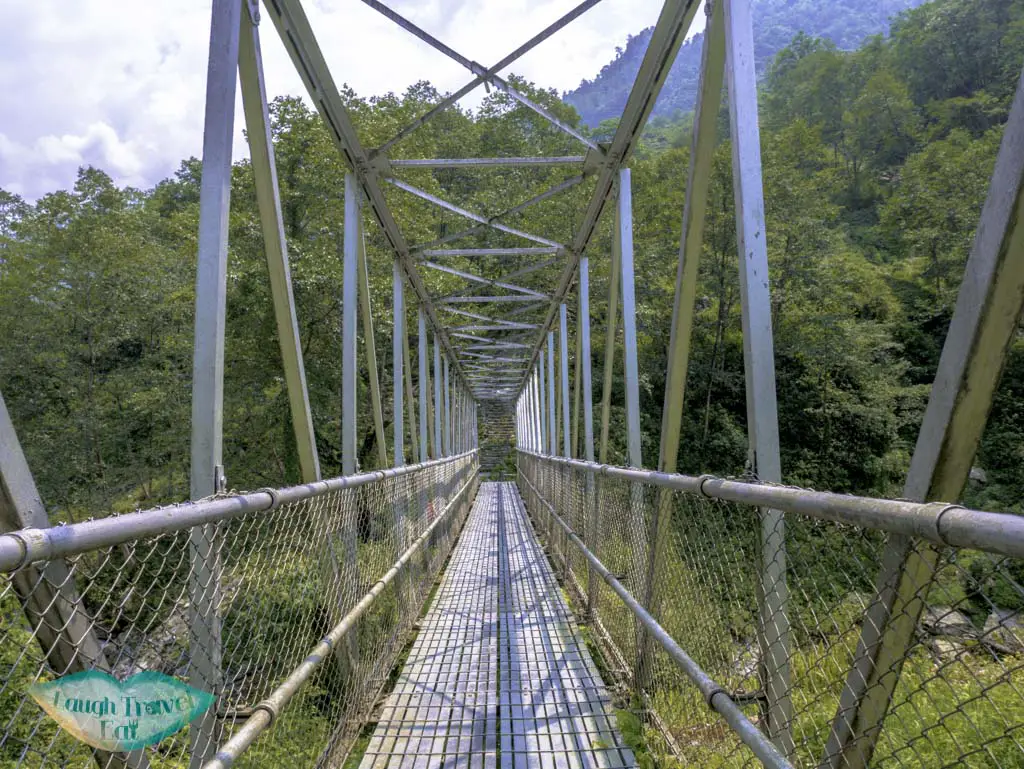 Despite it being relatively early, we had lunch at Hotel Sherpa & Restaurant at Landruk to celebrate the toughest part of the trail being over.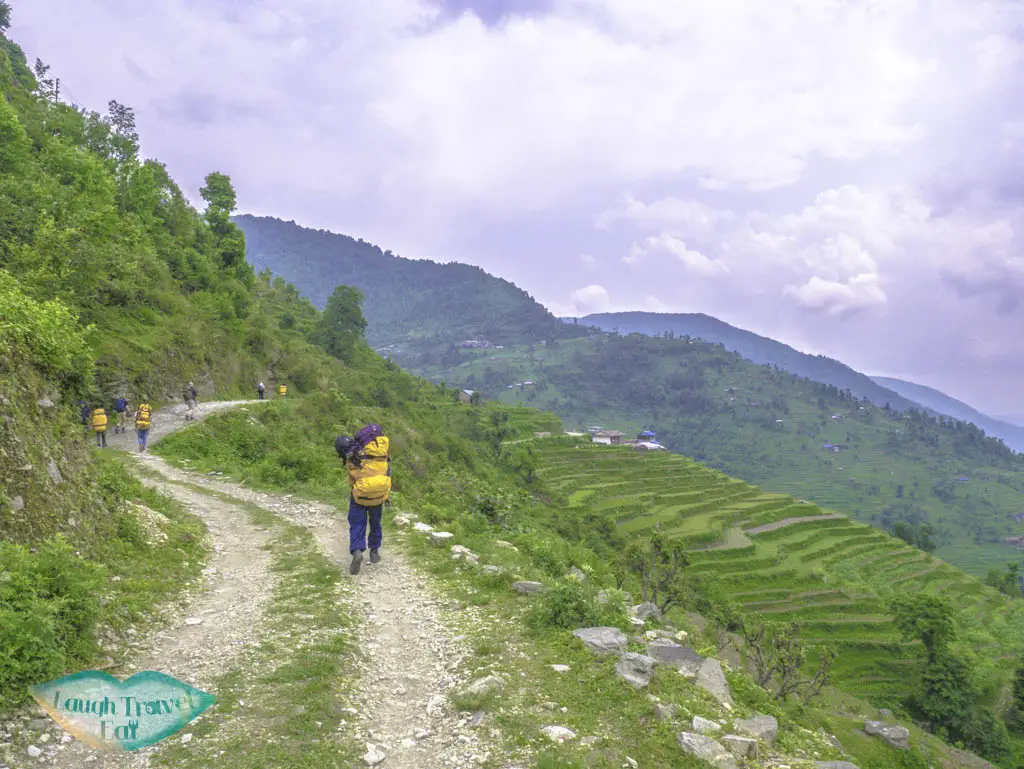 The rest of the trail isn't as difficult, with what is referred to as 'Nepali flat' that lasts for three more hours to Australia Camp.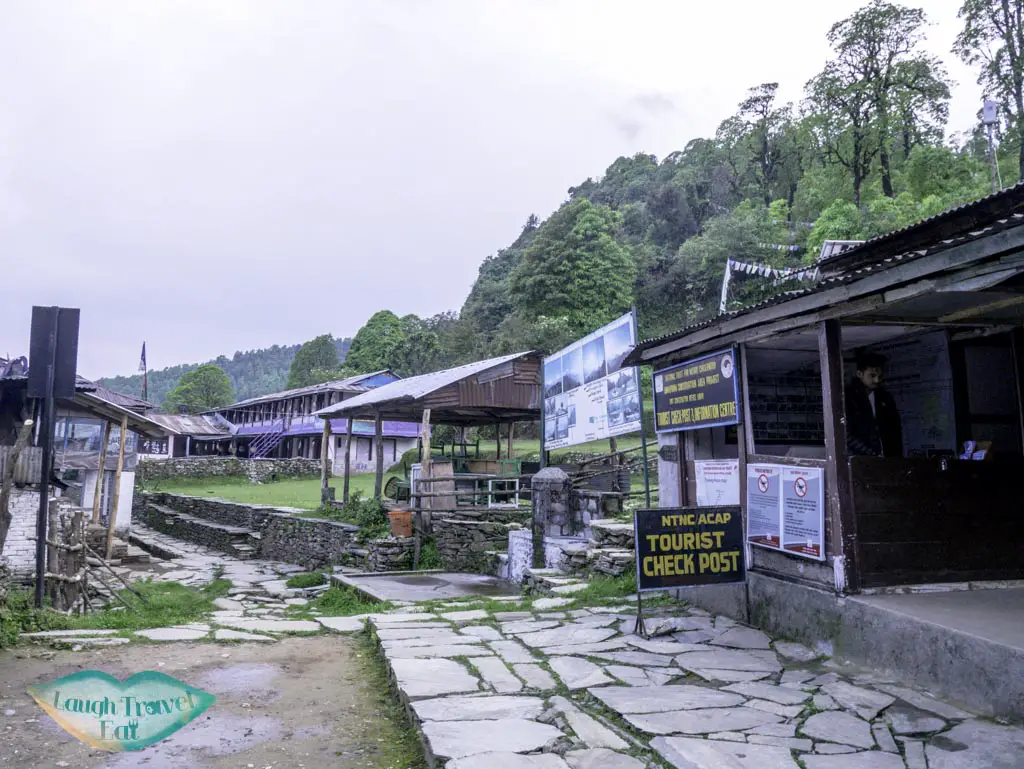 There was another TIMS Check in Potana before Australia Camp, though we are technically not on the usual Poon Hill trek, we were waved through. By then, we were all quite exhausted after two days of extensive trekking, staggering into the guest house at 18:00. The last stretch involved quite a bit of uphill, and we were never happier to see the sign that reads Australia Camp!

Our last guest house is Gurkhas guest house, though I must admit it didn't live up to our increasing standard but it was quite quaint. However, we are treated to a view of the Annapurna range from another angle, though it's also weather dependent.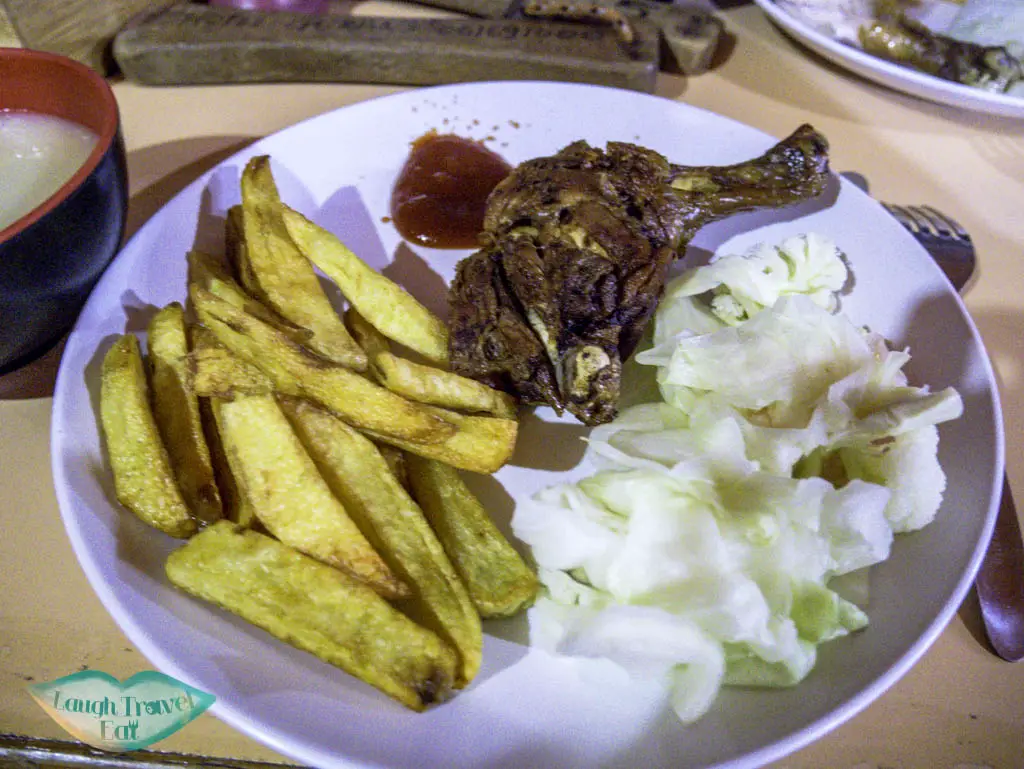 Since it was our last night, we were given free reign over what to order for dinner as we relax with a cup of masala tea. Somehow, most of us ordered chicken with chips that were surprisingly good. There is also beer, but that costs 600 rupees, so it's quite a splurge!
Day 5: ends in Pokhara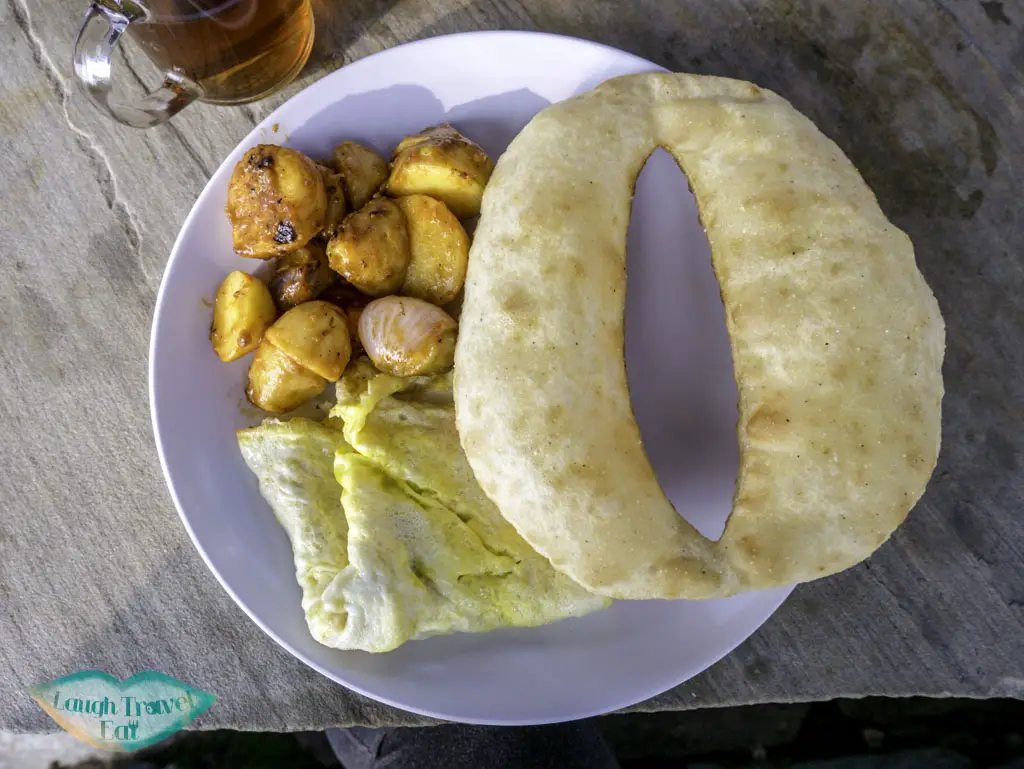 Our last morning brought one of the best breakfast, with a fluffy yet crunchy Tibetan bread. As we set off to trek down to the main road, we hiked along the ridges with a full view of Pokhara and its lake. That's when things start going downhill, both literally and figuratively.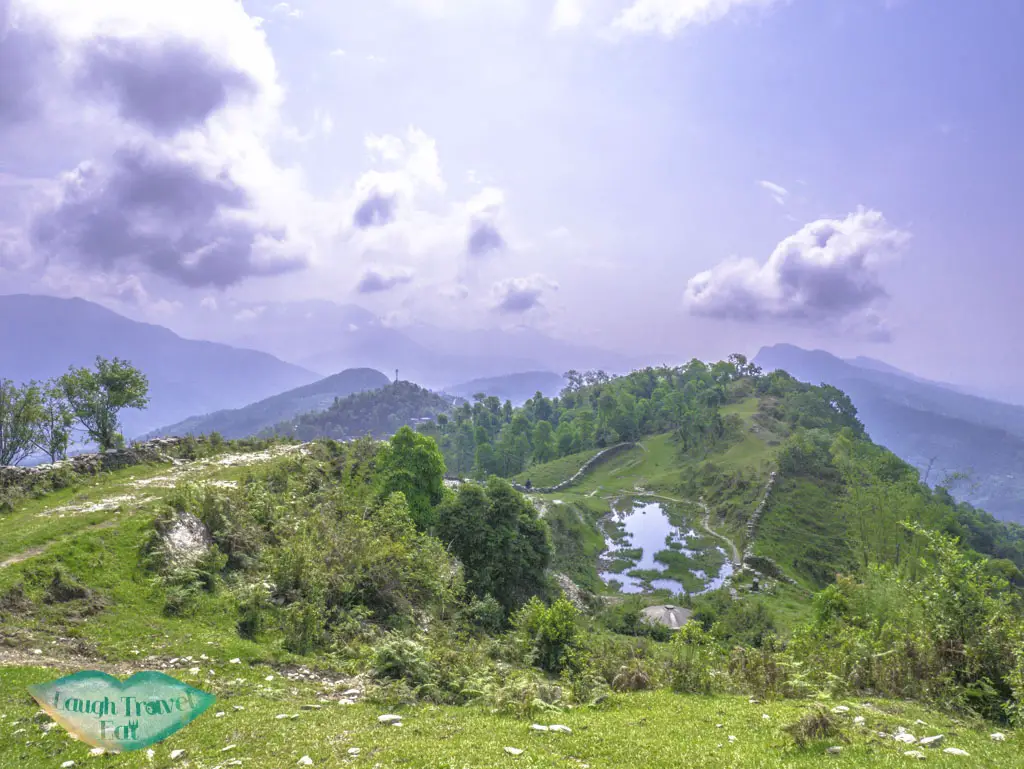 We stopped at a pond to wait for the rest of the group to catch up, and our guide turned to me and said, "you have a leech on you".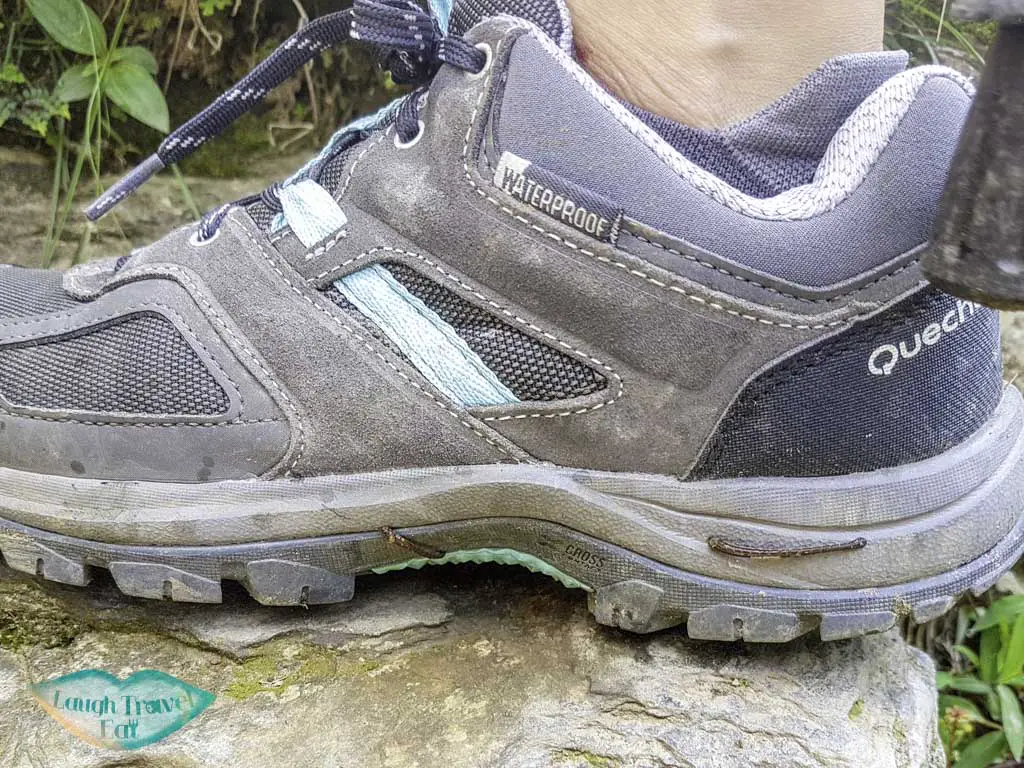 He then casually plucked it off my ankle, and it seems like they just come out of the pipeline and start jumping onto our shoes. It was the best motivation for us to move faster, and it was almost a race to the nearest village.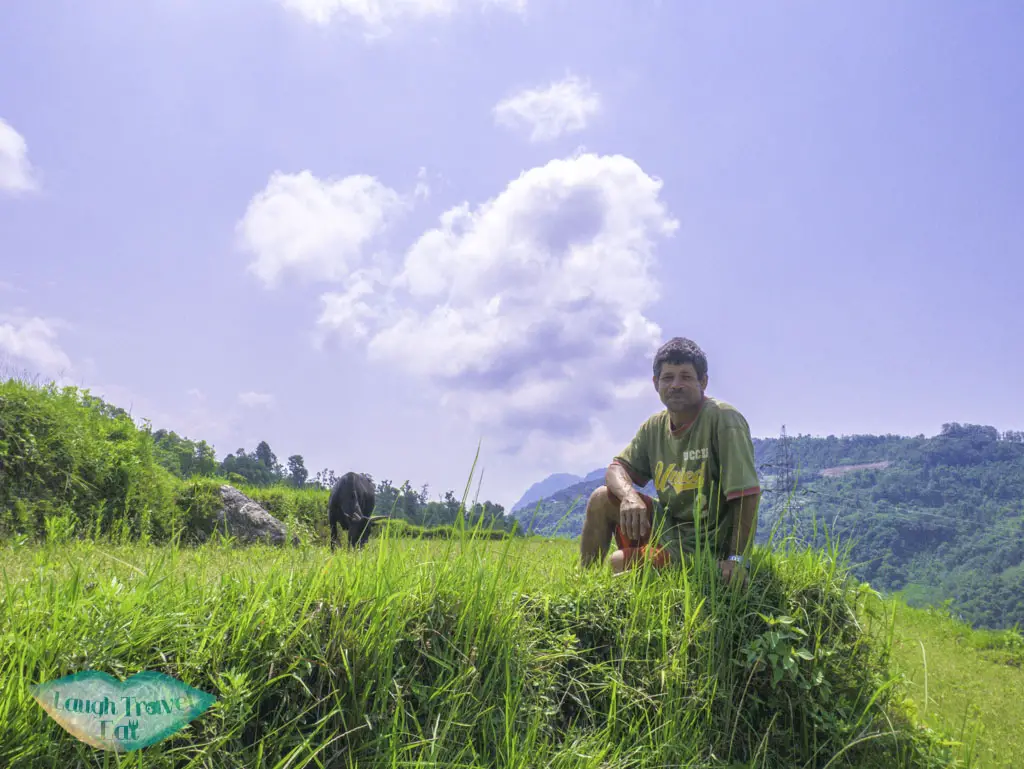 After that, we meander our way down the villages along the rice terrace. Though they were scenic, it was another rather brutal day for the knees, hence it might be worth considering getting a jeep out from Ghandruk if you were feeling rough after yesterday.
The hike to the main road took about three hours, and we emerged on solid concrete at Ghatte Khola bus stop, where it was only a half hour bus ride to Pokhara!
Poon hill trek 4 days
It is more common to split the day from Ghodepani to Ghandruk into two, with a night at Tadapani in the middle and getting out at Ghandruk. That would make for a more leisure hike and suitable if you are carrying your own bag or first time trekking.