Glamping isn't the first thing that pops into people's mind when they visit Vietnam, neither is the Dak Lak region. Discovered through the Glamping Hub, I had such a wonderful time at Lak Tented Camp that it surprise me not many people know about this place. Presiding by the lakeside in the Central Highland of Vietnam, only an hour from the nearest airport, it's a sustainable and beautiful place to stay if you want to get close to nature. Here's a recap of my stay that would have you looking to book:
Lak Tented Camp overview
On the north shore of Lake Ho, Lak Tented Camp is a secluded glamping spot in Dak Lak that's an hour south of the Buon Ma Thuot town. It started as four Vietnamese guys' idea to build an eco-friendly glamping spot, it took them a year and a half to ship everything across the lake to realise their dream.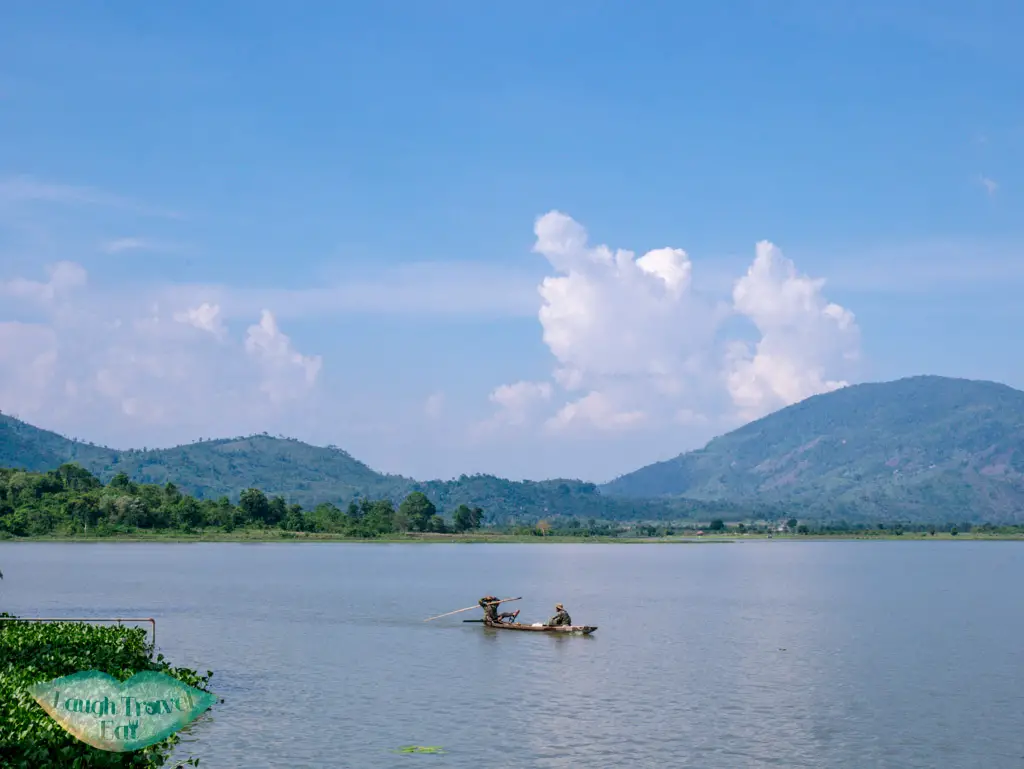 In an effort to maintain sustainability, no deforestation was done and only 15 tents and 4 wooden bungalows were built. The tents are located to the west of the main restaurant and reception, while the bungalows extend to the east side.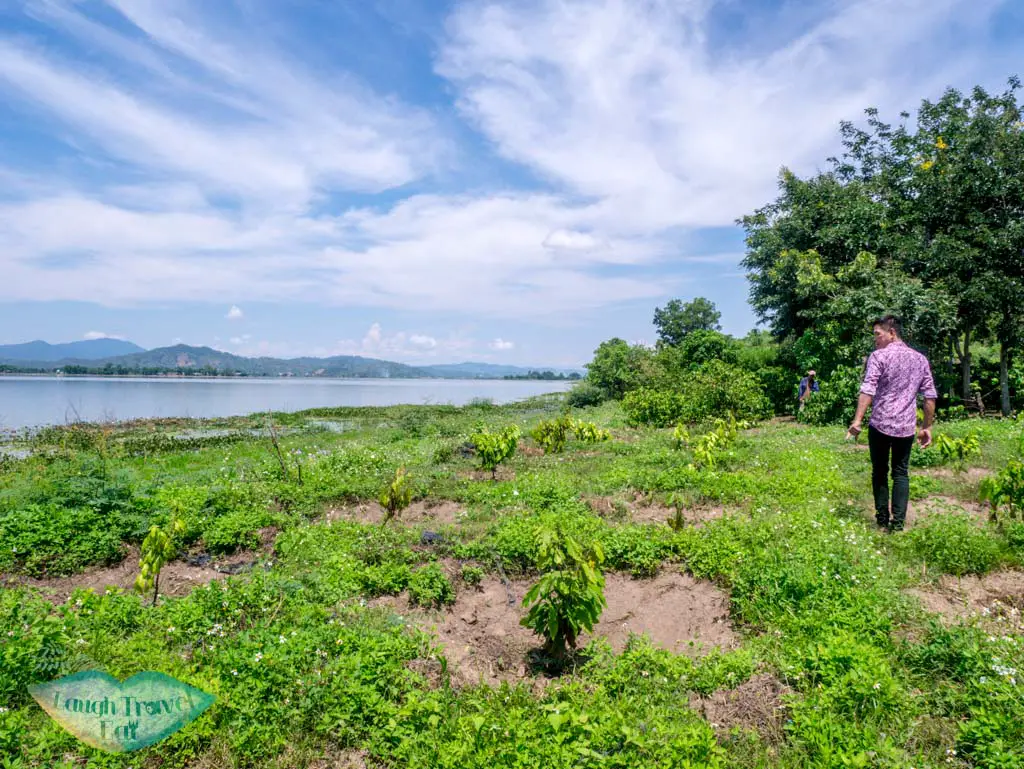 The grounds hectares hectare, including their own vegetable gardens, which contribute to 50% of the kitchen's ingredients. They are also growing cacao and coffee plants! Lak Tented camp also hire and train local ethnic people to work in the hospitality industry.
Tents
Even if you are not a camping fan, it's hard not to love the rustic yet beautifully furnished tents. With wooden furniture that includes a spacious double bed, bed-end table, and wardrobe, it's better than even some of the hotels I've stayed in. Of course, let's not forget about the balcony! They even have tea and coffee, as well as a kettle to make some drinks to unwind.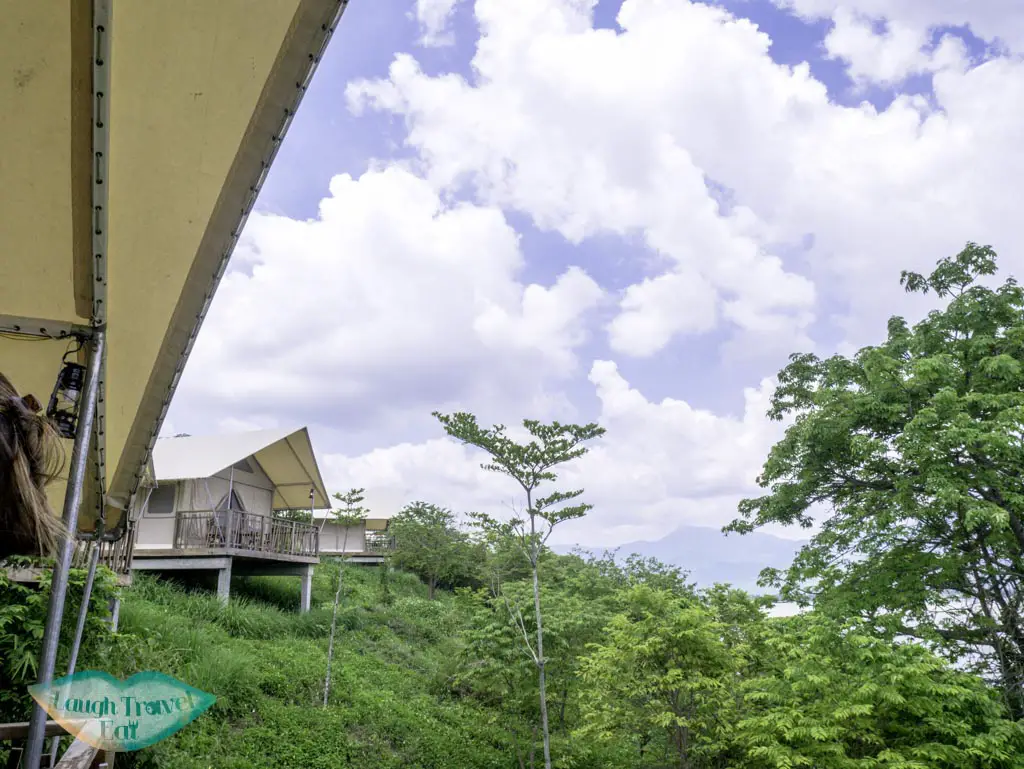 The bathroom and the shower are separate, in a little room each at the front of the tent. The tents are completed with a mosquito net as well as the waterproof outer layer. It makes me feel a little bit like I'm in an old school adventure movie!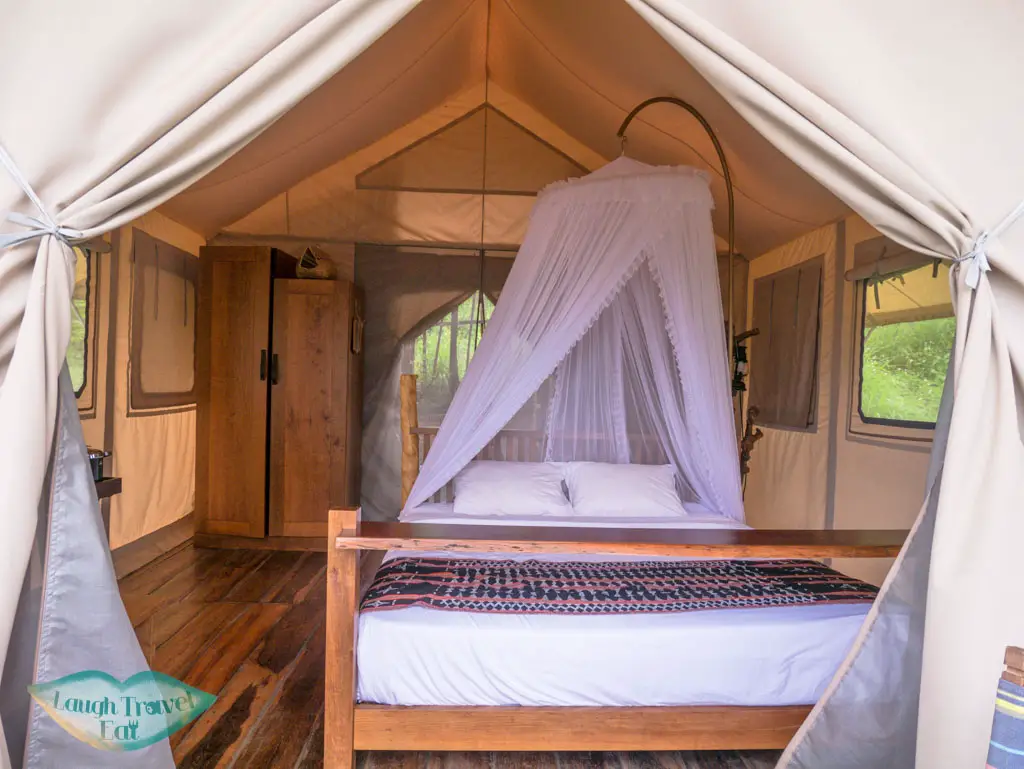 It does get a bit hot without air-con during the day, but we were able to request an extra fan. It also gets a bit dark at night, but they also provide a flashlight and there are a few lamps inside.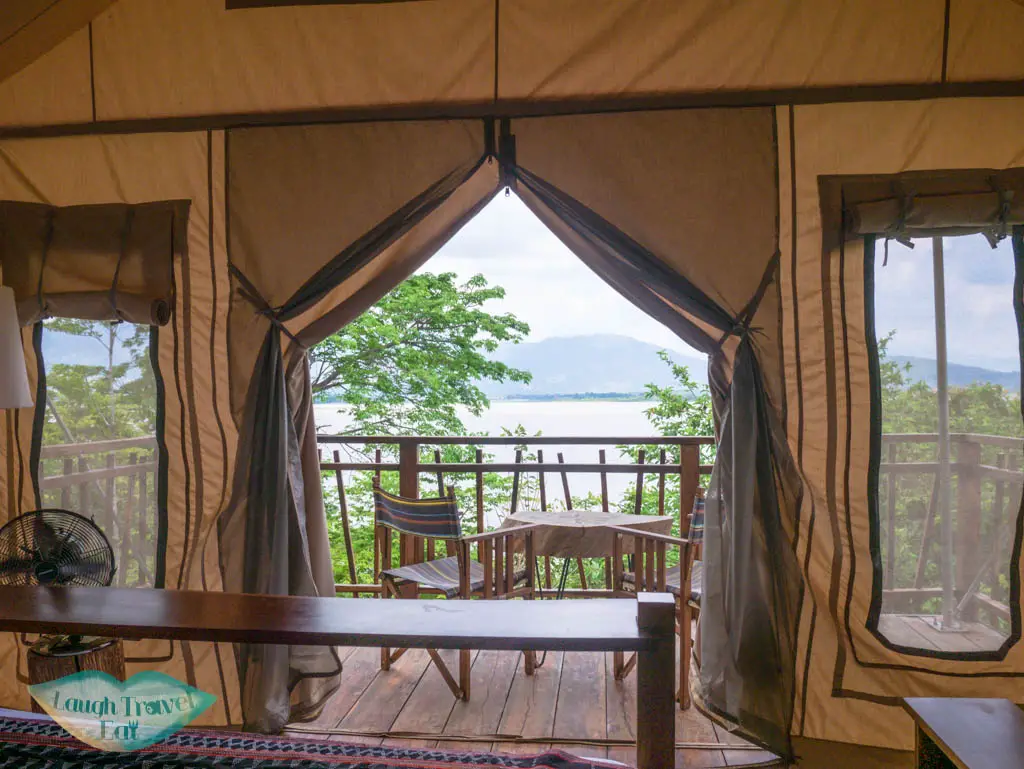 I found it very peaceful to read at night with the sound of the insects.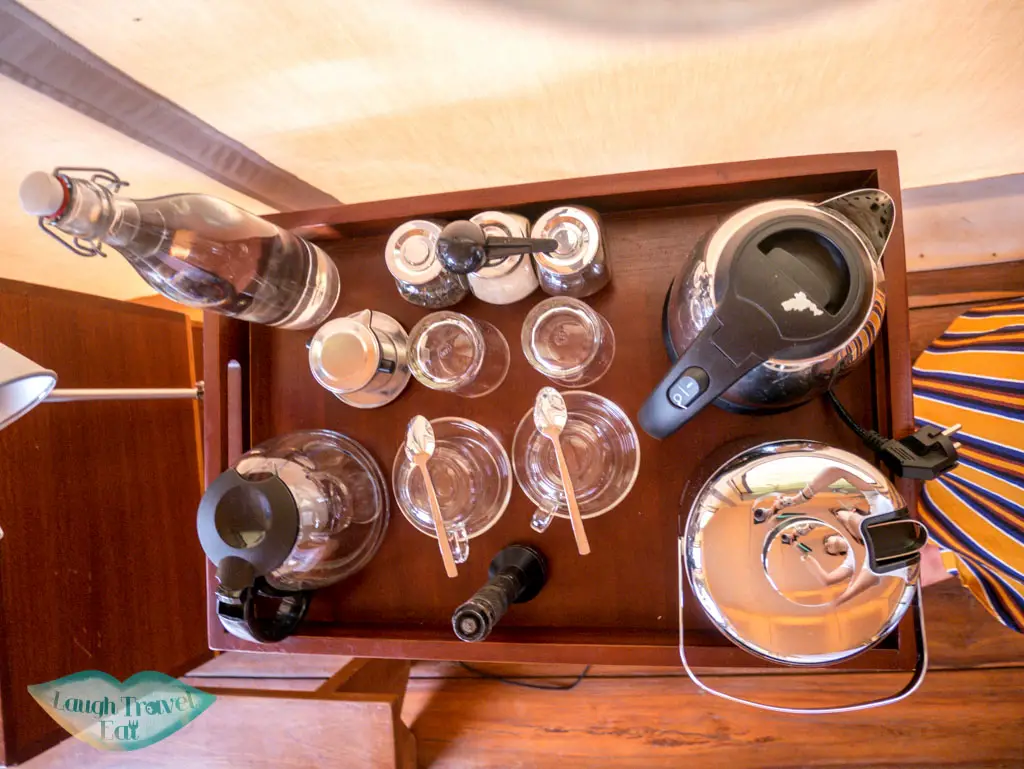 Bungalow

The bungalows are more luxurious, a wooden hat with a slanted roof that's similar to the local Mnong houses. But instead of being on stilts, it's a high ceiling, two-storey modern living space with an upstairs bedroom and a lower-storey living room with a bathtub.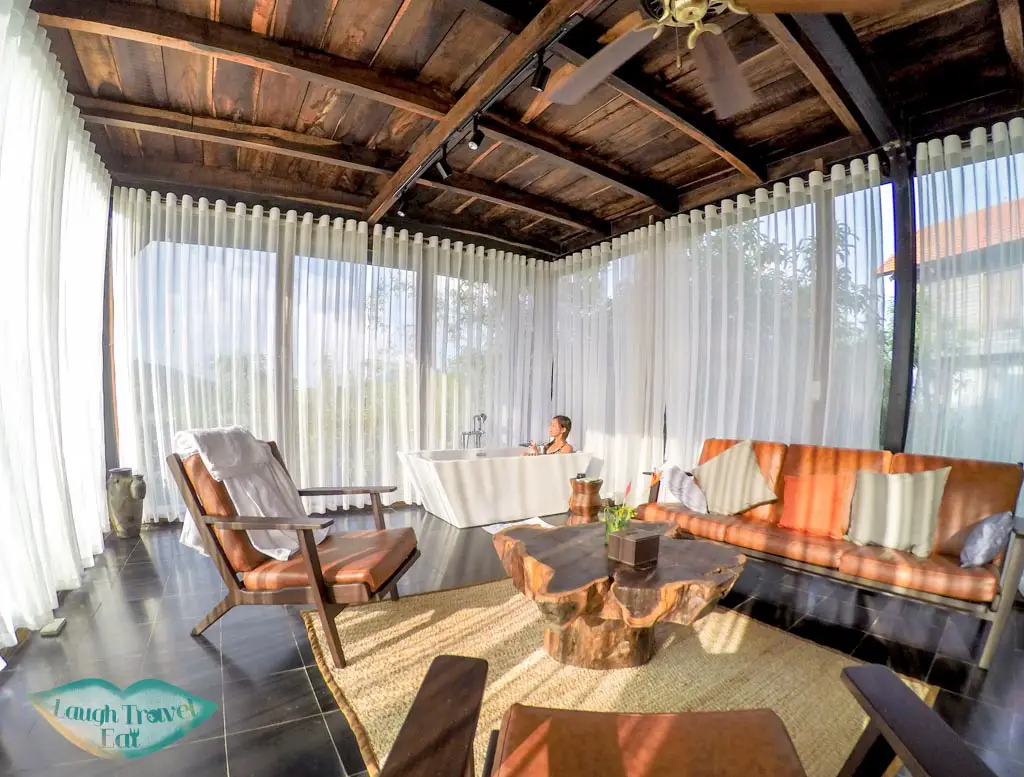 There is air conditioning in the bedroom, and you can close the door to the foyer and turn it on. The balcony doesn't have chairs like the last one, but it offers a better view of the lake.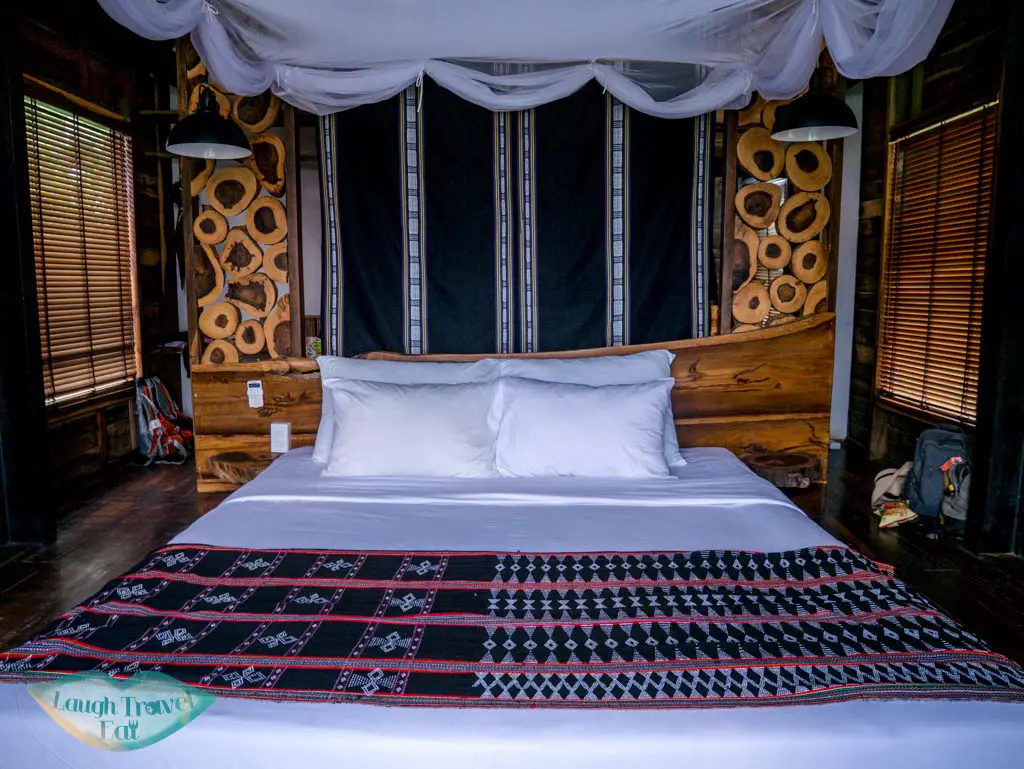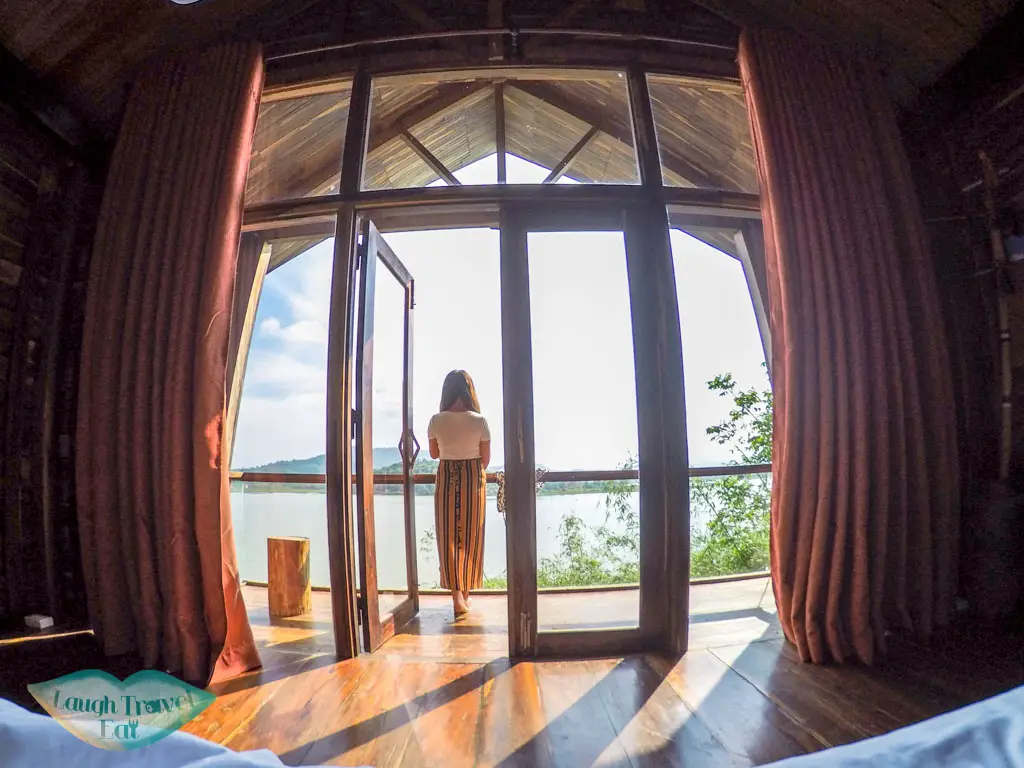 Tours from Lak Tented Camp
Aside from enjoying your beautiful tent or bungalow, there are actually a lot of tours you can do from Lak Tented Camp. From visits to the local Mnong villages, trekking in the mountains or a swim in the waterfall, we had a great few days there exploring the surrounding:
Bim Bip Waterfall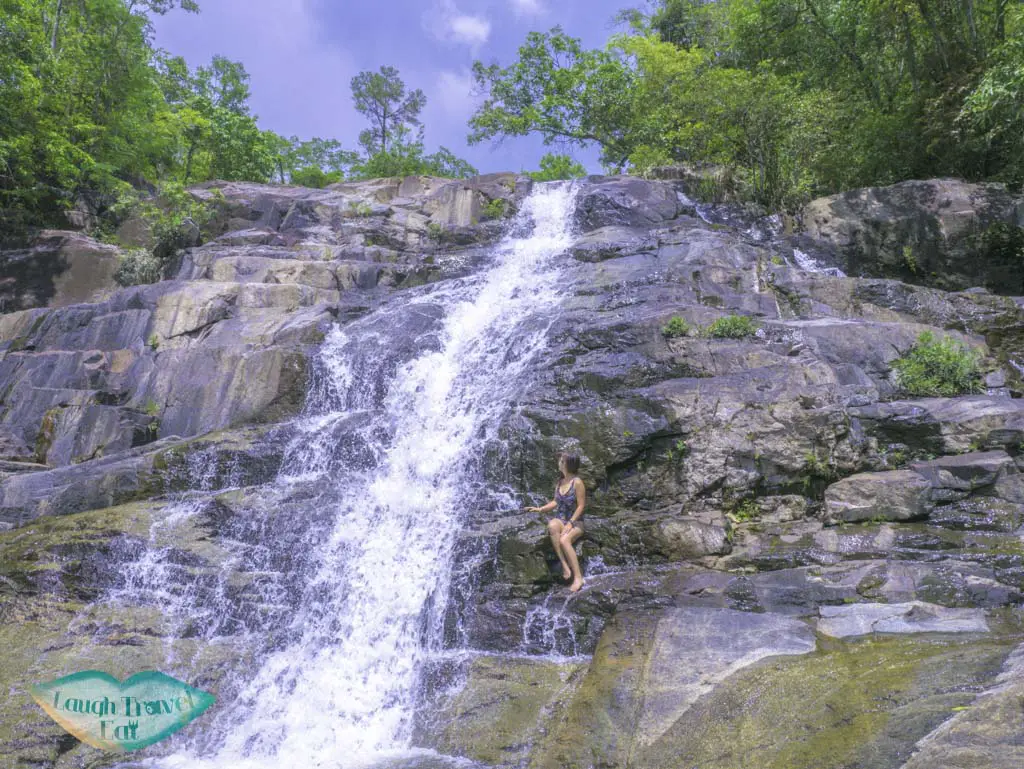 The closest and one of the easiest to reach the waterfall, Bim Bip Waterfall is a great half-day tour that's combined with a BBQ lunch option. It's a 45 minutes walk through the jungle and coffee plantation, but it's relatively secluded meaning you are likely the only ones there. There were only a few Mnong kids when we got there, and the team quickly started to prepare our lunch while we took a refreshing dip in the waterfall.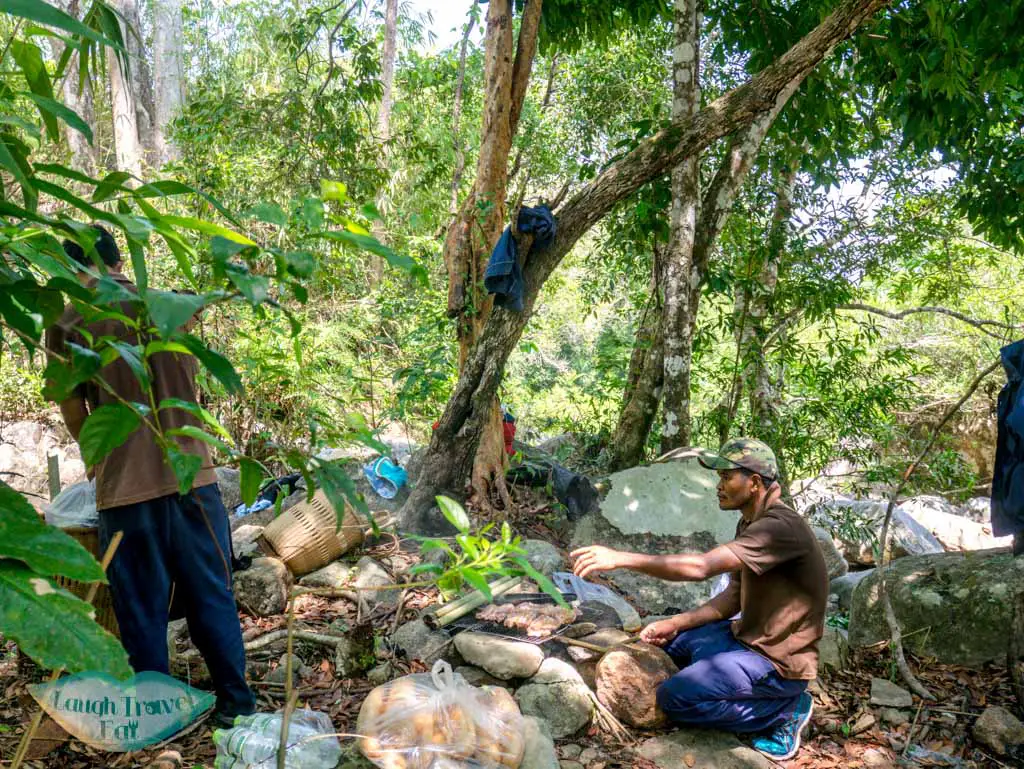 It isn't exactly big enough to swim in, but we were able to just sit in the step above the main plunge pool and relax.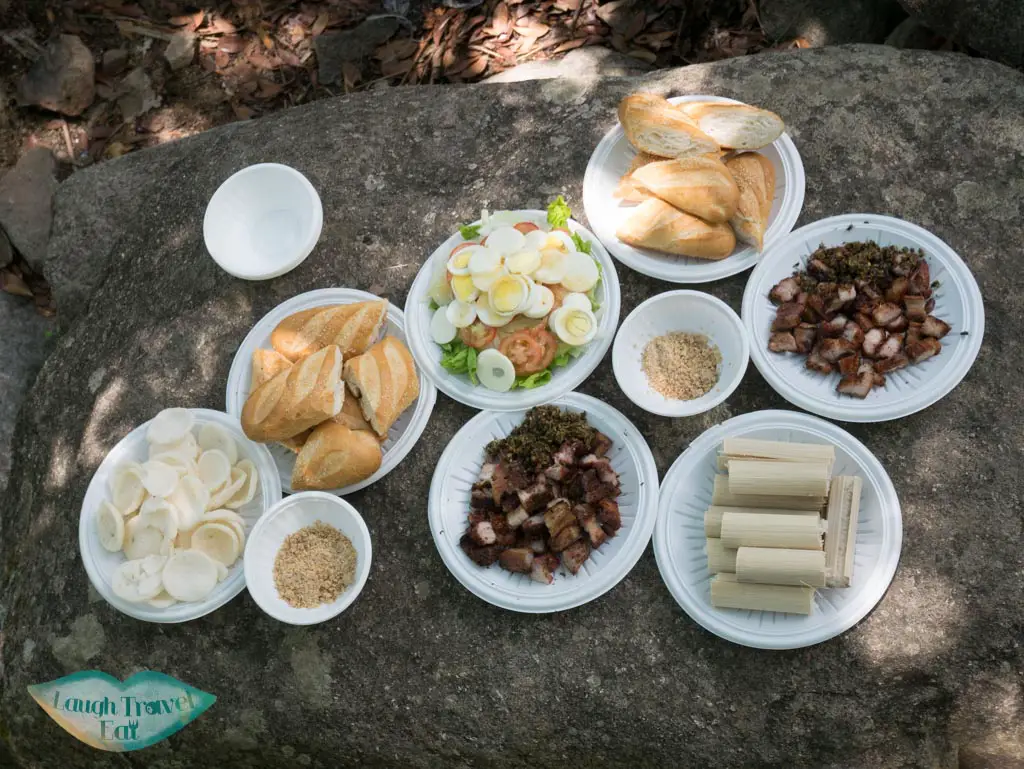 There is another waterfall that's easier for family, as well as an adventure tour with jeep that operates during the dry season only with an 8km trek.
Mnong Villages
Dak Lak region is home to the Mnong people, a minority group that is found in both Vietnam and Cambodia. The local guide told me that they are from Polynesian who sailed here a long time ago with houses shaped like a boat.
You can visit the nearby village which is 3 hours from the camp, walking along the lake to the Mlieng Village while looking at the rice paddies and farm.  You will also stop at a local house for tea and chat before returning to the camp by boat.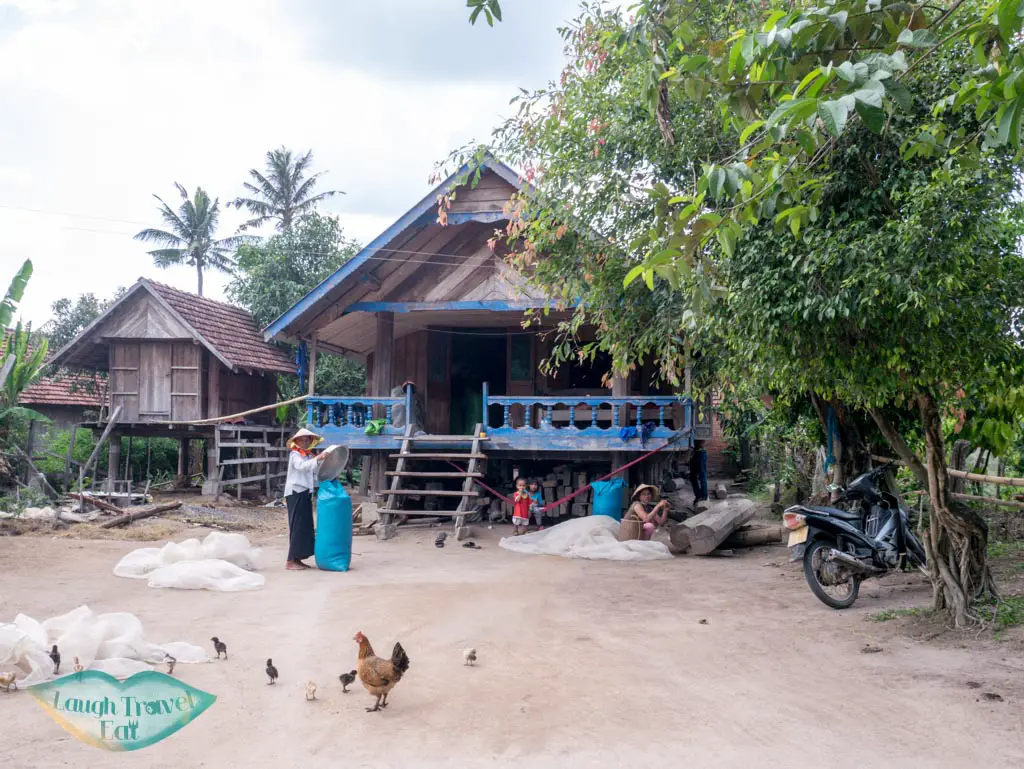 You can also cycle if walking is not adventurous enough. The camp is 6 km to the village Yang Tao village. We ended up stopping by this village form our waterfall trip, where we visited a cacao farm by an entrepreneur lady. She managed to get USAID to support her to learn planting cacao, transitioning the whole village from the less profitable rice farming. Now it's an organic cacao farm and the community are all farming it.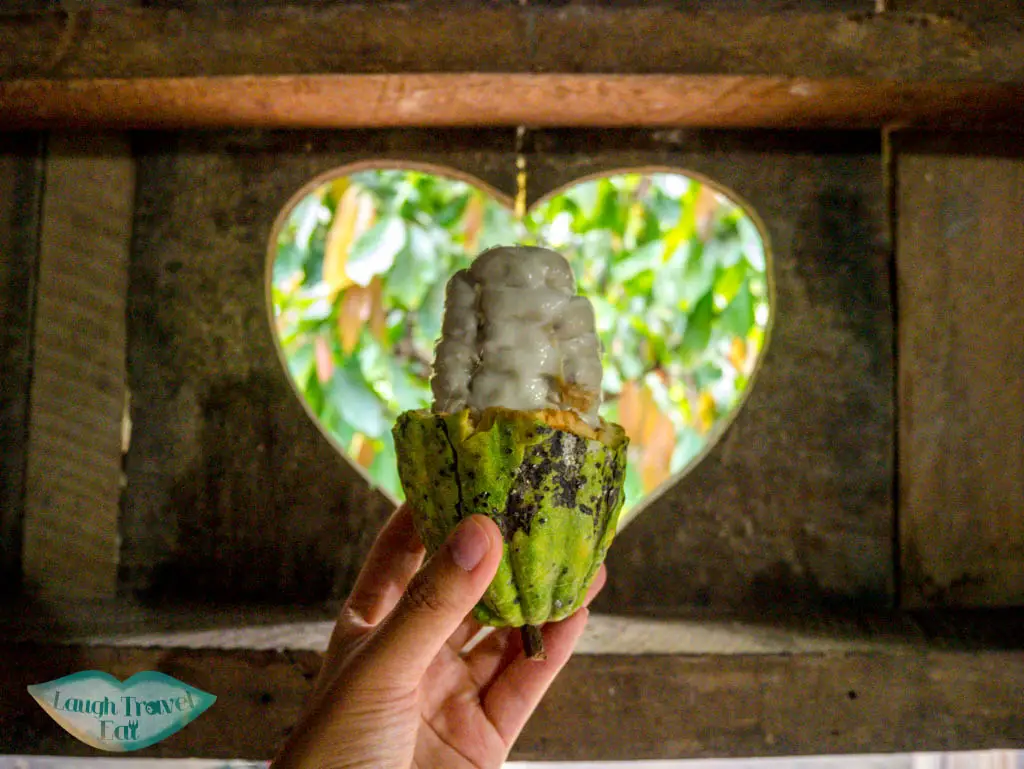 They provide cacao that is used to produce Azzan and Marou chocolate brand, though sadly we couldn't buy them. The cacao is also used to make a fermented drink that is surprisingly nice and refreshing, a little bit like kombucha.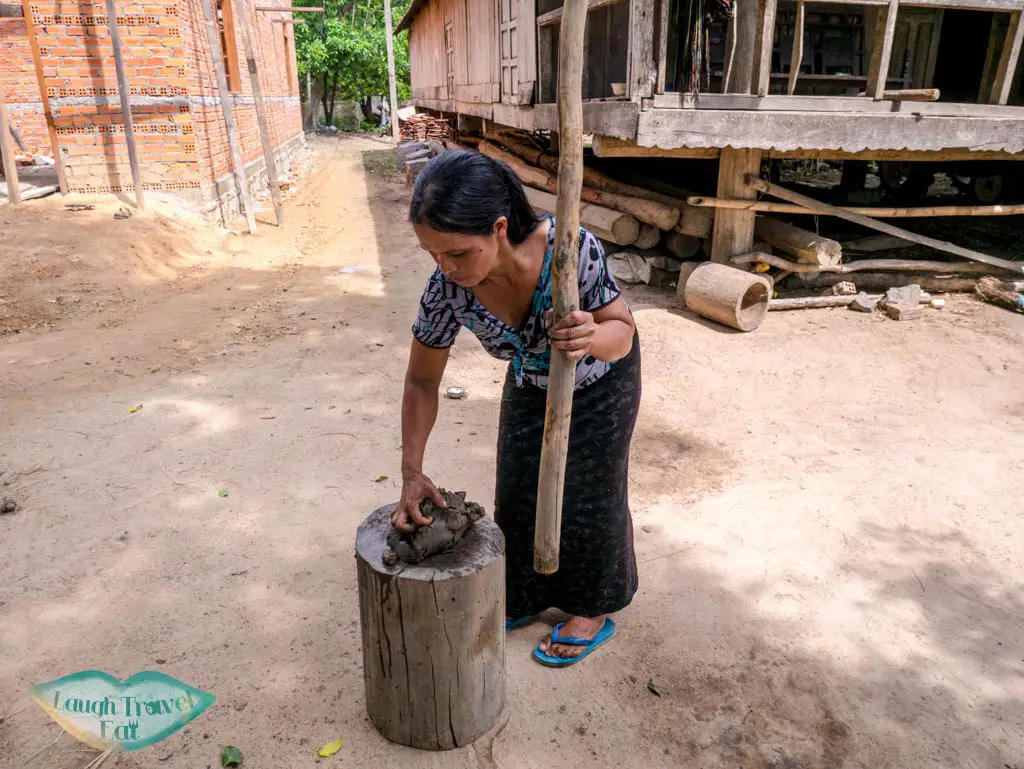 Another great visit is to a pottery lady. The Mnong people do not use pottery wheels, rotating themselves around instead. She gets the clay from a mine, then crashes the mud with stone and rock so the pottery made wouldn't leak. We watched her make a pot in twenty minutes! She works on commission to make jars and rice steamers, selling to both tourists and locals. The hotel uses her potteries as well as two other local ladies.
For those who are wondering about how well the locals are paid, Lak Tented Camp pay them monthly and the local are proud to share their skills.
There are also trekking and camping option in the National Park as well, though we didn't have time to try it. Lak Tented Camp are also organising a homestay program in the local villages to provide a lower price point accommodation option as well as a chance to live like a local.
Cultural music night by Mnong people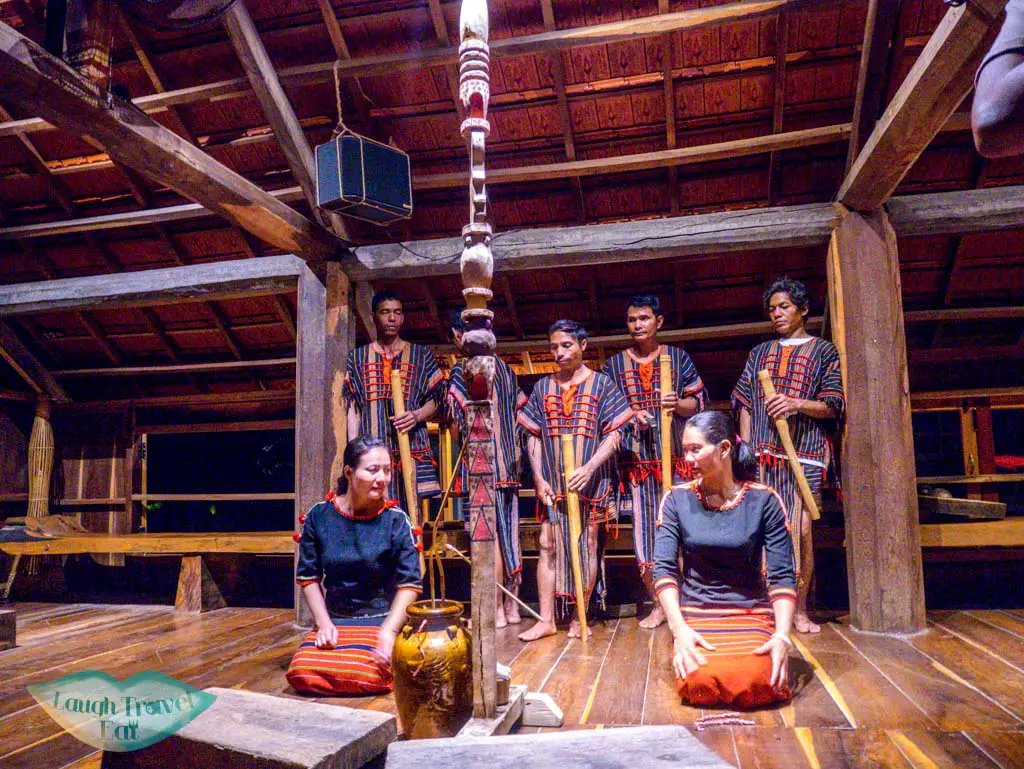 Every few days or so, depending on how many guests are staying, Lak Tented Camp will invite the locals to come and play music. They would come dressed in their traditional attire, bearing instruments as well as wine. They started with a welcoming ceremony, where the girls are invited to drink from their local wine (which was actually kind of horrible, but interesting!) as they sang a song.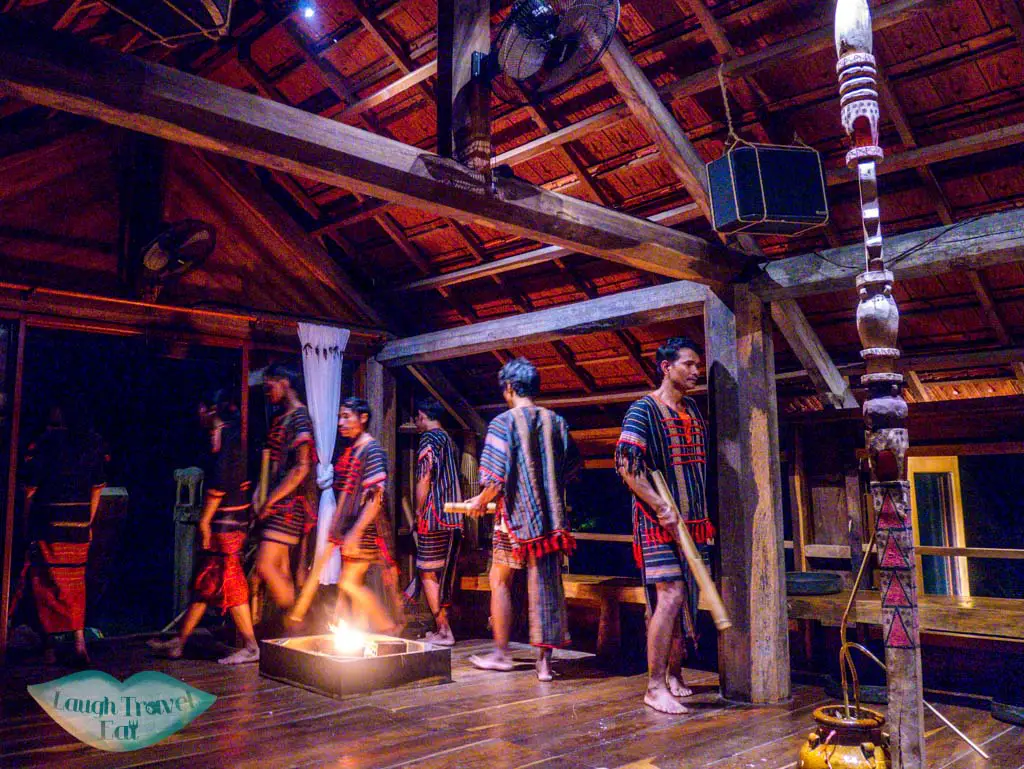 The Mnong are a very musical people with three main instruments including a gong and flute. Most of the songs they perform as a tribute to various gods, a testimony to their animist belief. We were treated to a rice harvest song, a thanksgiving song and a fire song. During the singings, we are invited to take a drink from the wine jug should we feel like it. It did seem that no one else liked the wine, too, and it was kind of funny to watch two of the Mnong people chug it down just before they leave.
Sunrise kayaking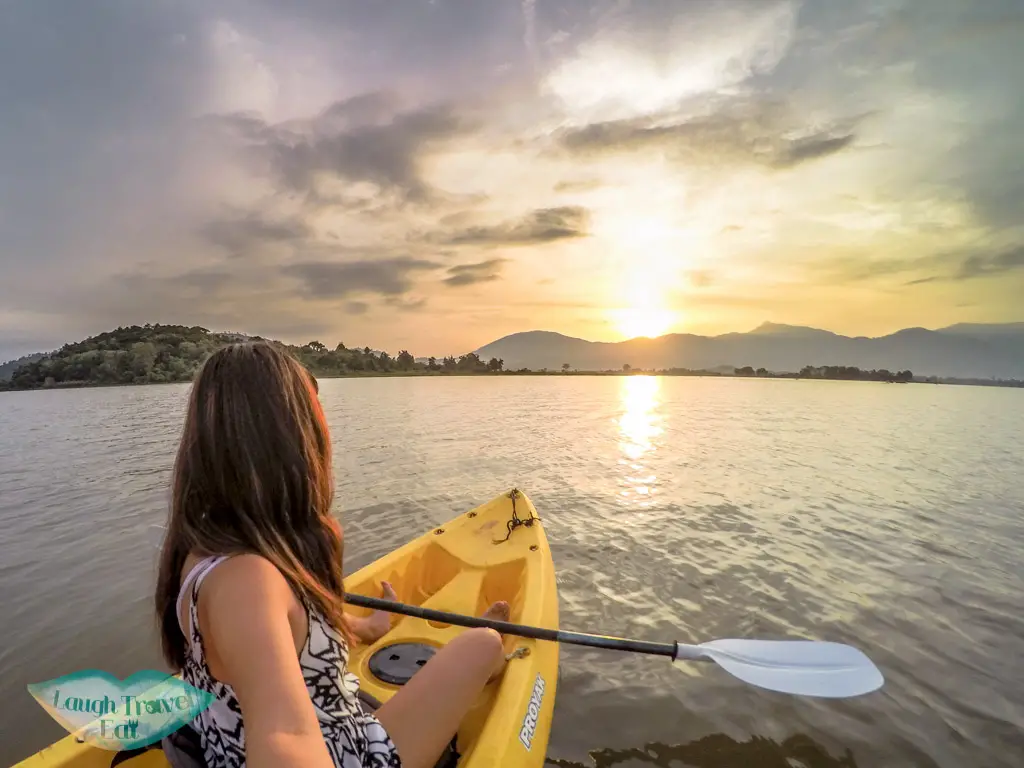 My favourite experience at Lak Tented Camp was sunrise kayaking. Waking up at 5:30 am to get on the water wasn't fun, but the view is well worth it!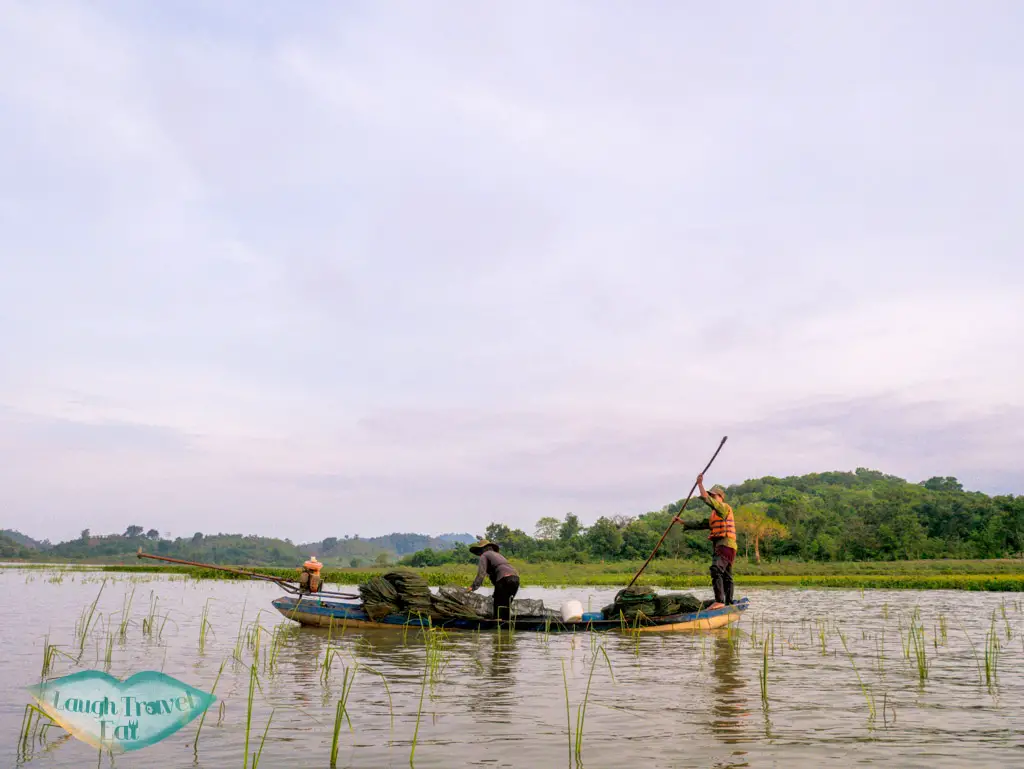 The lake is easy to paddle around, and one of the staff had helped me move the kayak out and pushed me into the water. There were a fair amount of fishermen starting their day, too. They tried to talk to me, maybe to tell me to get out of their way, but I didn't speak any Vietnamese!
Food at Lak Tented Camp
I'm pleasantly surprised at how amazing and affordable the food are at Lak Tented Camp. As noted before, 50% of the vegetables are from their own garden, and everything else is sourced locally and cooked fresh. In fact, we are asked to order our lunch and dinner in advance, as it takes them a while to prepare.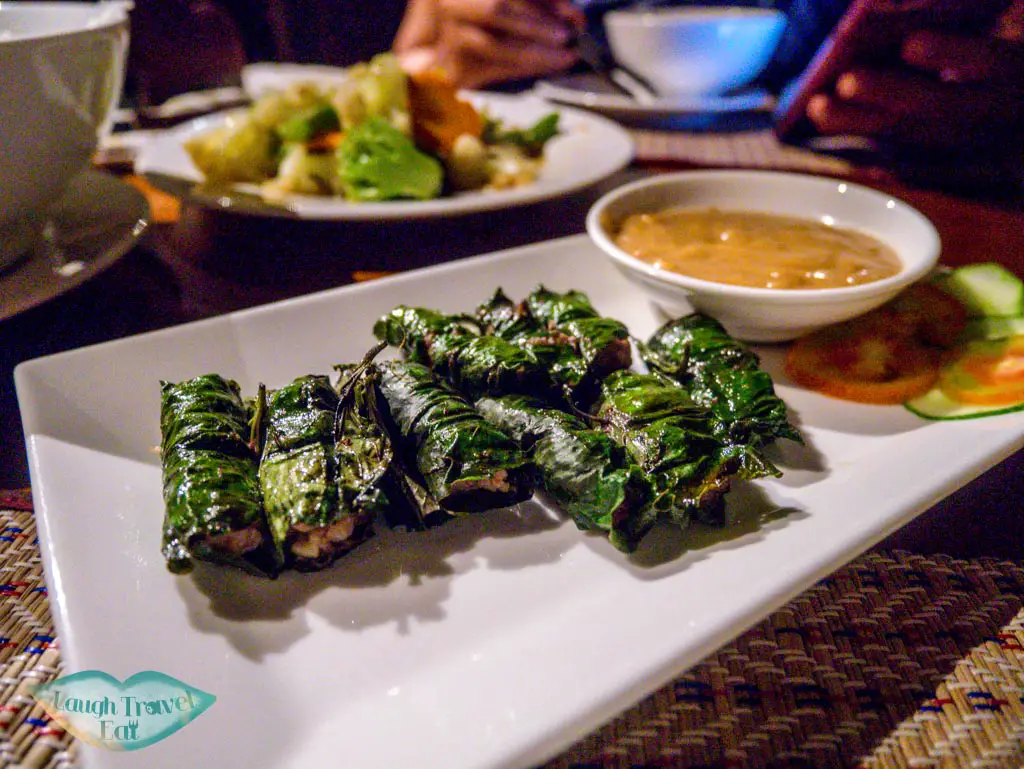 In fact, one time, after I had ordered fish, I saw a staff went down to the lake with a fishing rod. Though I'm not sure if I did end up eating a fish that he caught!
The menu consists of mostly Vietnamese food, with a decent selection of vegetarian food, too. I particularly enjoyed the betel leaves meat skewer and the lake fish fillet in passion fruit sauce.
Note: I was hosted by Glamping Hut and Lak Tented camp for the stay but all opinions are my own. Thanks Lola from Miss Filatelista for taking the photos with me in it!