One of the busiest areas in Hong Kong, Mongkok – aka busy corner – is where the best shopping and eating happens. It's where I go shopping and eating since I was ten and arguably my favourite place in Hong Kong. I'm literally there once or twice a week. Also spelled as Mong Kok, a lot of people think it's too crowded to visit, but I can't get enough of this place. Whether it's market, food, shopping, or just to soak in the vibe, Mongkok has it all!
From the Prince Edward MTR station to Yau Ma Tei MTR station, the entire area is my 'hood and I'm excited to finally share all my favourite spots and shops! In fact, you are likely to find me there on a weekly basis!
In a nutshell, Things to do in Mongkok:
Mong Kok markets
Shopping for cheap clothes in Hong Kong
Street food and bubble tea galore
This is going to be a long post, so use the tables of content below to navigate:
Transport Mongkok
Mongkok is the center of Kowloon in a geographic sense, and there are many ways to get there. You can reach it via the MTR Tuen Wan Line (Red) at Mong Kok station, but don't confuse it with Mong Kok East Rail station on the East Rail line.
There are no ends of buses and minivan that goes to Mong Kok, however, if you are unfamiliar with the transport system and the neighborhood, I suggest taking the MTR as there are many stops.
Mong Kok market
Mongkok has some of the best markets in Hong Kong. You get specialty markets, your regular markets, and the first hawker market in Hong Kong! Without further ado, here are all of them in order from North to South!
Flowers Market
On an aptly named street called Flower Market Street, this was originally a wholesale market in the 70s. During the 90s, it became popular with the average consumers and now sells to both. It's lovely to stroll along the beautiful flowers and potted plants, and one of my favourite café/dessert places inlocated here as well! It's right next to the Birds Market, so it's really two birds with one stone to visit the two together!
Address: Flower Market Road, Prince Edward, Hong Kong
Opening times: 9:30 – 19:30
Birds Garden Hong Kong
Also known as the Yuen Po Birds Market, this is a place dedicated to the Chinese song bird tradition. It is a bit of a dying hobby, popular only among the older generation.
Song bird tradition has a long history in China where song birds are kept in wooden cages and, well, sing.Although the market itself is long standing, it was relocated to the current location in the 1990s due to re-development of the site (it is now Langham place). However, all the shops inside are still the ones from years before. If you are here early enough, you'll see people walking their birds!
Address: At the end of Flower Market Road next to Boundary Street. See here for instruction.
Opening times: 7:00 – 20:00
Ladies market Mongkok
Probably the most famous market on the list, Ladies market is the first government-sanctioned hawker market in Hong Kong. Established in 1975 for vendors, it now boasts over 100 stores selling all kind of knick-knacks. The name, however, originated from the fact that I sold chiefly ladies' clothes in the beginning.
Although I rarely buy things from here, it's an interesting place to visit as the merchandise there strong reflect current trends. The high red-white-blue plastic store coverings and myriad of goods also make for a unique sight.
Bear in mind that the market lasts over four blocks along Tung Choi Street!
Address: Tung Choi Street, Mongkok, Hong Kong
Opening times: 11:00 – 23:30
Where to shop for cheap clothes in Hong Kong (among other things)
Mongkok is one of the best places to shop if you are looking for cheap clothes. I've been buying my clothes there since I was a teenager, and despite the rise of Taobao and Aliexpress, sometimes it's still better to buy in person. Now there are a few pointers that you need to keep in mind when shopping in Mongkok (and Hong Kong boutique in general:
Usually, everything is one size fit all – it's mostly Asian sizes as well
You won't get to try it on because there simply isn't space and it's not common practice
Shop around for the best price. I once found the same item four times with varying price tag
If the price is marked, you are unlikely to be able to haggle for it, but asks if they can lower the price if you are buying more than one piece
Check the goods, it's common practice and sometimes there are some faults
Cash only! So hit an ATM first
Argyle Centre Mongkok
A maze in which I often get lost in, the Argyle Centre in Mongkok is a heaven for female shoppers but a nightmare to navigate for first-time visitors.
Unlike your average boutiques, the majority of these tiny stalls don't have a shop name, nor would most people try to find it. It's akin to the cross between the stalls you find in other Southeast Asia market and your average shop. As mentioned above, a lot of the shops sell the same stuff, so if you spot something you like, make sure you look all around the three stories before you buy.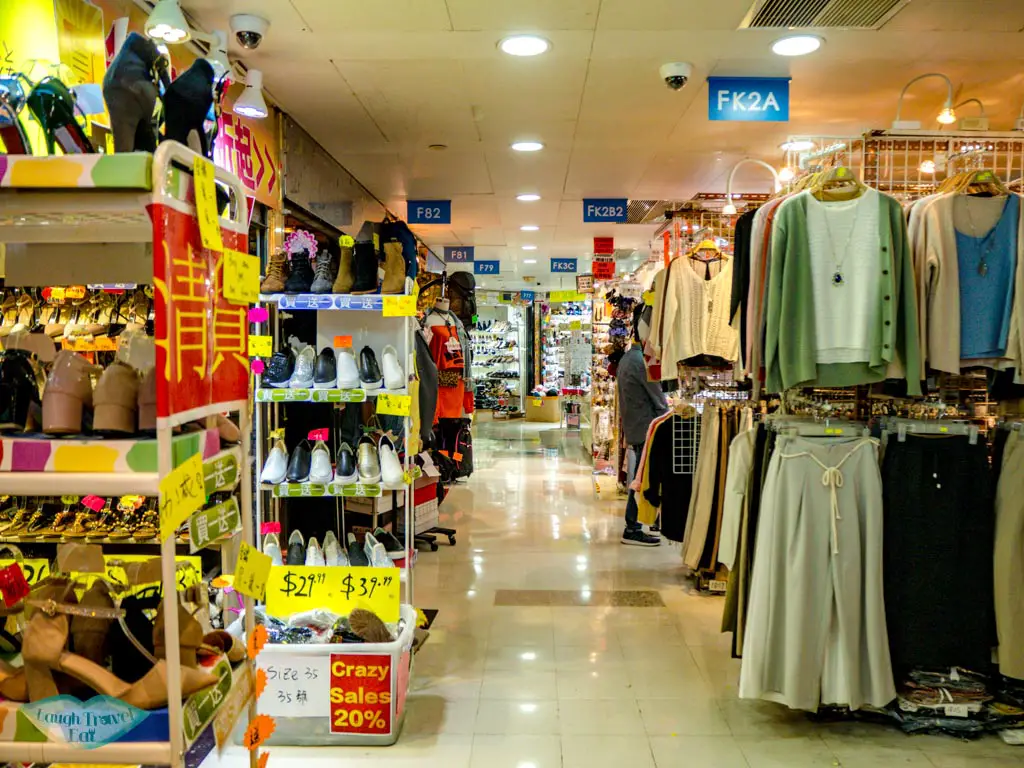 While I do have a few favourite stores, most of the time I get a little disorientated even after visiting it for at least hundreds of times! It is also connected to the New Plaza, which is distinguishable with the brighter, more conventional mall-appearance (and also have free WiFi).
They do, also have bathrooms, at the corridor connecting the two malls. The female is on the top floor, male second.
Address: One Mong Kok Road Commercial Centre, 1 Mong Kok Rd, Mong Kok
Opening times: unsure, but if you go there before 12pm, most of the shops won't be open!
This is Our Place T.O.P.
A brand new mall that has opened in mid-2018, This is Our Place is connected to the Argyle Center and is home to some hip and boutique shops. While a lot of the places are still in the opening stage, you can find some quirky design and cute design in the mall itself. So far, its main attraction is the bridge that connects to the 2nd floor of Argyle Center with its colourful glass windows:
Fa Yuen Street (between Prince Edward Road West and Argyle Street)
Fa Yuen Street and Argyle Centre have been alternating as my favourite place to shop. Only a 5 minutes' walk separates the two, therefore I often end up going to both anyway.
This particular stretch is home to another street market, one that I often roam around as opposed to Ladies Market. It caters to the local market as opposed to tourists, and sell a myriad of fruits, veg, electronics, and clothes.
For those who want to buy fashion forward wears, then go to the side streets where the none-stalls are. These will have names, though are often meaningless and a new shop would soon replace an old. The northern ends have some thrift and factory-outlet style shops for the thrifties as well.
Address: Fa Yuen Street – between Prince Edward West and Argyle Street
Opening times: it usually opens up around 10am and close around 7 pm. Individual stores vary.
Allied Plaza
If neither of the above tickles your fancy, then you can hop over to Allie Plaza as well. It is smaller than the aforementioned places, and the mall itself is a bit shabby. I don't tend to shop around there but it's also in the neighborhood!
Address: 760 Nathan Rd, Prince Edward
Opening times: 11:30 – 21:00
Mongkok Computer Centre
Let's venture away from clothes and discuss electronics. There are more and more stores popping up that sells phone cases, USB cable etc, and while Sham Shui Po is always home to the most choices, you can get most of what you want at Mongkok Computer Centre too. It's towards the southern end of Mongkok near Sneaker Street. Hong Kong is famous for buying electronics for the cheap, too, but be wary of prices. Check price.com.hk if you are in doubt.
Address: 8-8A Nelson St, Mong Kok
Opening times: 10:00 – 23:00
Sino Centre
If you aren't looking for particularly high-tech gadgets, Sino Plaza should suit your need. Located along Nathan Road, it is mainly for games and phone or tablet related accessories. There are also a few comic book stores and hair product stores thrown into the mix.
Address: Mong Kok, 彌敦道582-592號
Opening times: 12:00 – 23:00
Sneaker Street
With a self-explanatory name, the Sneaker Street is actually a nickname to the southern end of Fa Yuen Street, dedicated to sports brand. Not being a huge sports fan, I don't spend a lot of time shopping here, but I've accompanied friends who wanted to buy basketball player's shirts here. Usually, the street is crowded with tourists here to buy sneakers, and it is a short walk to most of the other places listed here.
Address: Fa Yuen Street between Nelson to Soy Street
Langham Place
You might be getting claustrophobic or in need of an air-conditioned place by now, and Langham Place is perfect. A huge mall with over 13 floors and some of the longest escalators in Hong Kong, there are restaurants, high-street stores and small boutiques in here as well as a cinema. Even if you aren't going for shopping, the escalator and the view from the top is pretty impressive.
Address: Langham Place Shopping Mall, 號, 8 Argyle St, Mong Kok
Opening times: 8:00 – 23:00
Mongkok food guide
I thought about doing a standalone Mongkok food guide (110/31), but most of it is covered in my egg waffle, bubble tea, and favourite restaurants posts respectively as a whole. So I'll pick and choose some of my favourite here to make it the monster-sized guide it is!
Where to eat in Mongkok
For me, there are three main snack points in Mongkok, two of which I had covered already. From north to south, I'll introduce them along with my go-to orders:
Fa Yuen Street/Bute Street
Bute Street is a street that dissects Fa Yuen Street on the southern end of the shopping section I mentioned earlier. You can also get Tenren or Sharetea for bubble tea or fresh juice from a small stand diagonally across the store pictured below. For even more authentic Hong Kong street food, try the fish balls and fish sai mai from the local stores for 8 dollars a skewer each.
Argyle Center
In recent years, Argyle Center had refurbished their space and opened up two brand new street food corners on the first and second floor.
Stir Noodles
However, I want to introduce the "stir-noodles" first. It has been around since I was a little girl, whereby you can pick your own toppings to add in a small bag of cooked noodles (dry) then mix with desired sauces. Typical toppings include squid, sausages etc. They are usually offered with three toppings, though you can add more by paying more. It's been a while since I've had any but the average costs are 16 HKD with three toppings.
You can find this either on the top floor of the mall or the ground floor of the adjacent New City Plaza.
Handroll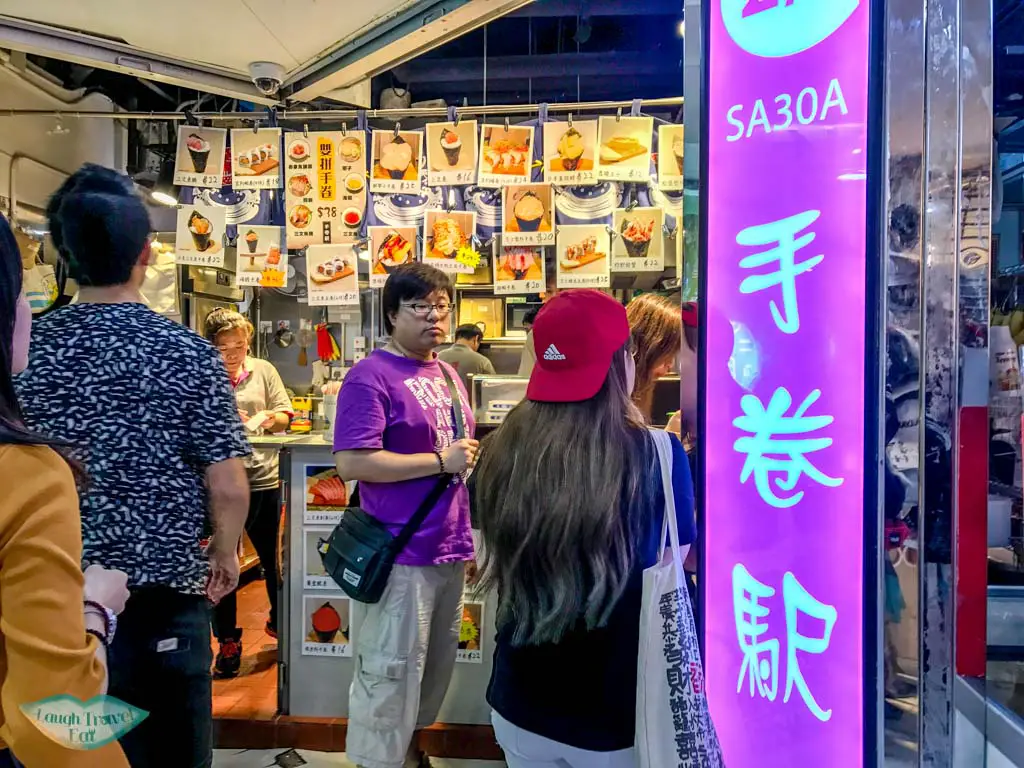 Do you like Japanese food? Because my sister is obsessed with this sushi handroll place and it is value for money and delicious! Honestly the best combo. She swears by the soft shell crab handroll, while I quite like the seared salmon handroll!
Egg Waffle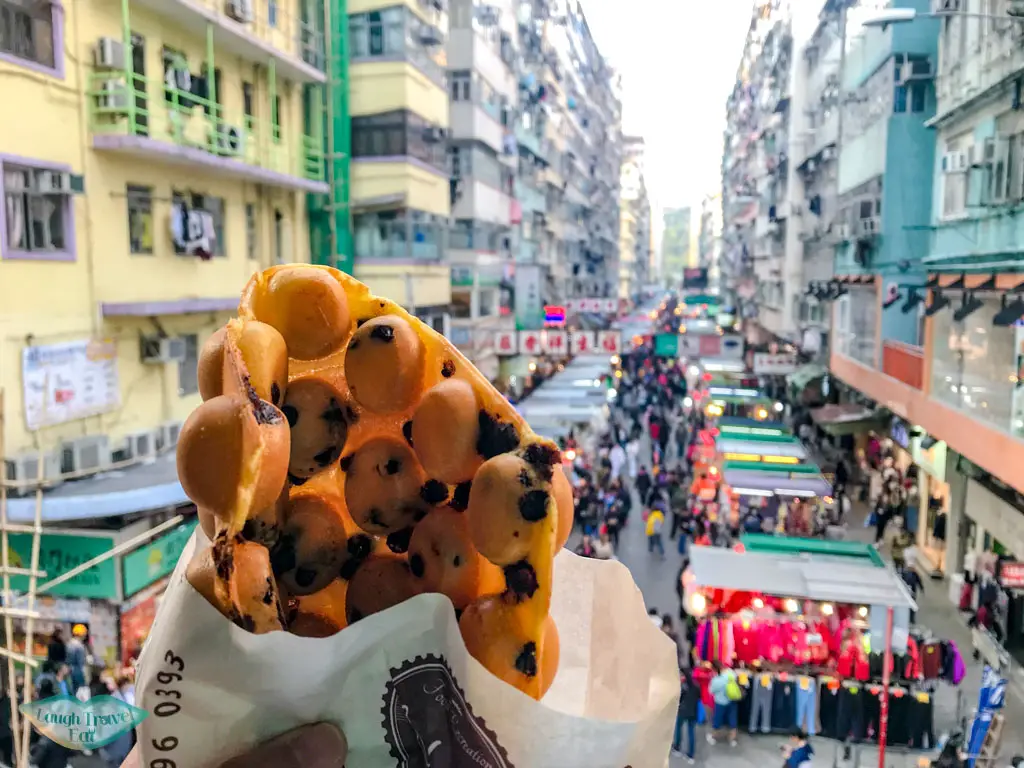 Just around the corner from the handroll store is my favourite egg waffle place: Modos. They do a variety of flavour from the usual chocolate to cheese and even meat floss and shrimp paste!
Small Snacks
There are two stalls to get small HK snacks from – one is on the second floor towards the end of the corridor Modos is at, the other is one floor down. You can get siu mai, popcorn chickens and whatnot for a very reasonable price
Bubble tea
There are a ton of bubble tea shops there and I have an entire blog post on bubble tea in Hong Kong. My favourite is ITea next to the colourful bridge that connects to T.O.P. mall on second floor.
Dundas Street Hong Kong
The eastern section of Dundas Street is like a gold mine for street food stores. The entire street is full of bubble tea places, so you would really be spoilt for choice. You also have a Mammy's pancake right off the eastern end around the corner on Kwong Wa Street for those who crave egg waffles.  There are also several Thai tea places that has popped up!
Other foods on offer are cheese tarts, loaded fries, fishballs etc! The list is endless!
What to eat in Mong Kok list
Egg Waffle
Bubble Tea/fresh juice/sugar cane juice
Fishballs or fish sai mai
Stir noodles
Sushi handrolls
Yim so chicken
Other places to visit in Mong Kok
Gold Fish Street
Have you ever seen goldfishes sold in plastic bags (with water)? If you haven't, then you are in luck! Gold Fish Street is nicknamed so because it sells gold fishes. Although nowadays the gold fish stalls clusters around the intersection of Tung Choi Street and Bute Street, near Fa Yuen Street!
If you want to see cute puppies and kittens, go south along Tung Choi Street, which is also nicknamed Pet Street.
Sai Yeung Choi Street
The entire Sai Yeung Choi Street south of Mong Kok Street is like the heart of Mong Kok. It used to become a pedestrian zone during weekends and public holidays, but sadly that was canceled at the end of 2018 due to noise complaints. To the west is Nathan Road, to the East is Ladies Market and Sneaker Street, and Sai Yueng Choi Street is more akin to a high street with chained brands. There is now a huge Forever 21, as well as numerous makeup, skin-care shops, and electronic stores.
Hotels in Mongkok Hong Kong
If you are planning to stay around Mong Kok, you can check out my suggested hotels here – along with other areas that you can consider!