Tsz Sha Ancient Trail is a hike used by villagers and people who needed to cross the mountains from Kowloon to Shatin back before there was a tunnel. It is roughly an hour long on a mostly paved trail and you can even see the Chinese Bell Flowers around Chinese New Year. If you want a family-friendly or easy hiking trail in Hong Kong, this is a good one to pick!
> See more Hong Kong hikes here!
Tsz Sha Ancient Trail Summary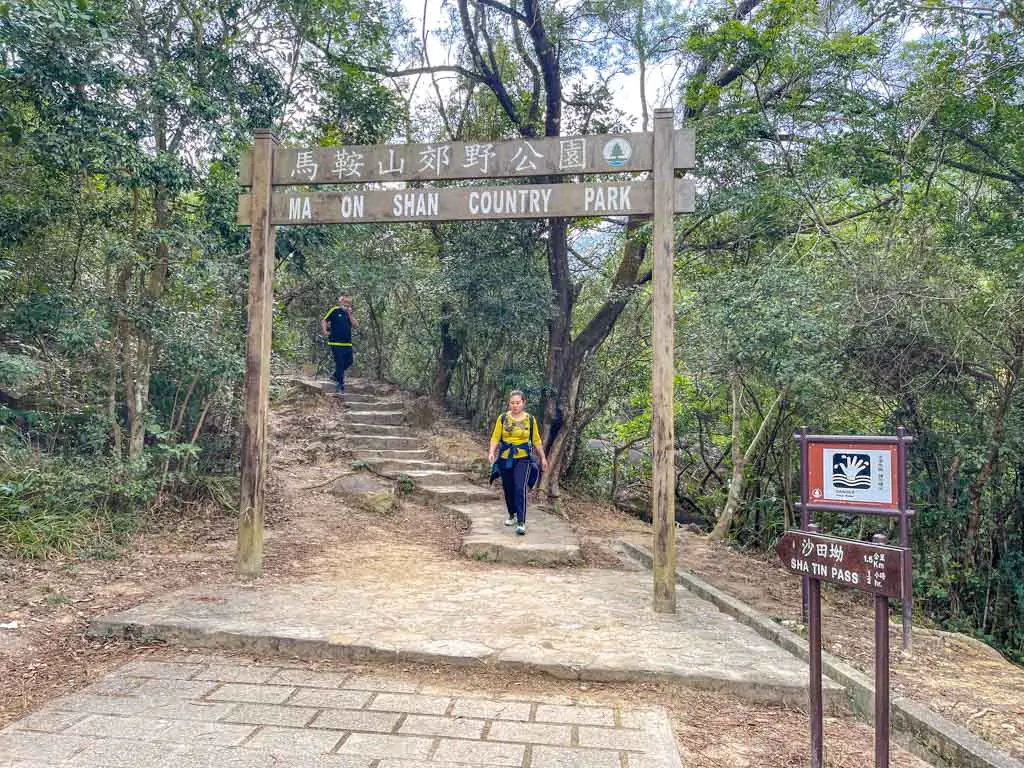 Difficulty: 1/5
Time taken: 1 hour, though budget some time to get in and out of the hike as well
Pro: easy hike that is mostly paved, suitable for all levels
Con: there is no viewpoints along the hike and it takes a while to get in and out
Note: you can start the hike either way, but I generally go up at Shatin Wai and get down from Shatin Pass to Wong Tai Sin.
Tsz Sha Ancient Trail History
Although it is not always called Tsz Sha Ancient Trail, it is believed that this route dates back to the Southern Song dynasty. Back then, many areas in Kowloon are state salt farms, a lucrative business in those times, and this is one of the official transport routes.
The name was acquired from Tsz Wan Shan's Kwun Yum Temple, which was built in the mid-19th century, 
Tsz Sha Ancient Trail Shatin Wai Trail Start
The trail start for Tsz Shan Ancient Trail on Shatin's side is at Shatin Wai, by the new housing estate Shui Chuen O Estate. The easiest way to get there is to take the MTR to Shatin Wai Station on the Tuen Ma Line (brown line).
To get there, take exit D and follow this google map: 
From there, take the concert trail and just follow it all the way to the end and you will see the start of the Tsz Shan Ancient Trail.
All in all, it's a great way to warm up!
Tsz Sha Ancient Trail
Tsz Sha Ancient Trail, though relatively easy and paved, does involve a fair bit of uphill. It runs parallel to a stream at first.
It is easy to follow and slowly becomes less steep.
My favourite part is this small bend and stairs.
After that, we walk through a barbeque area and then exit onto the main road that is a merge with the Wilson Trail Section 5.
Turn left and follow it to Shatin Pass!
Shatin Pass 
Shatin Pass has a public bathroom, a local restaurant, and the Lion Pavilion. You can choose to hike Lion Rock from here as well or head down the Shatin Pass Road, which will take you to Wong Tai Sin MTR Station.
The road down is a one-way road up for cars, so watch out for incoming vehicles. But the view of Kowloon is also pretty good!