Last updated on October 23rd, 2020 at 11:01 am
Hong Kong is emerging as the best urban hiking destination, however, a lot of the times these hikes can be challenging. With the likes of Needle Hill, Kowloon Peak, and Sunset Peak drawing people to them with their stunning vista, a lot of the times they are just not easy enough for beginners. So which hike is the easiest? I'm so glad you've asked. Below are my top easy hiking trails in Hong Kong that isn't Dragon's Back.
Pssst: see a list of hikes I've been on in Hong Kong here.
Easiest hikes on Hong Kong Island
Red Incense Burner Summit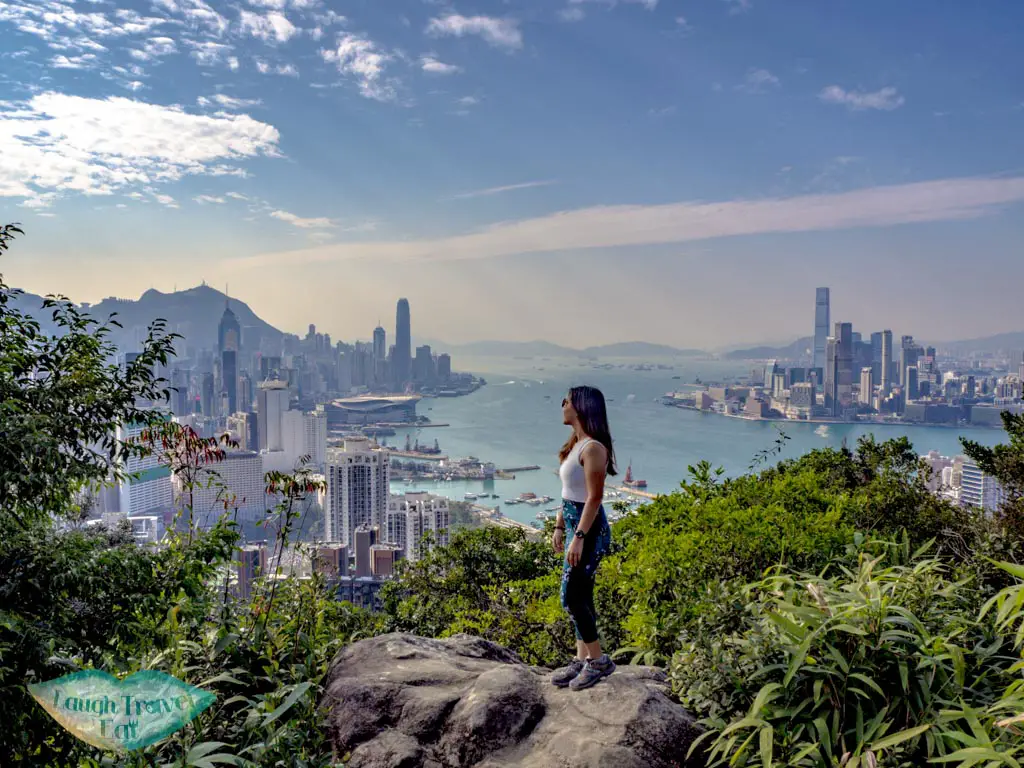 A popular spot on Hong Kong Island, the Red Incense Burner Summit is called Hung Heung Lo Fung. The shortest and sweetest of all the easy hiking trails in Hong Kong, it is only 10-20 minutes walk from the nearest minibus stop, making it ideal for a walk on a whim. It is also popular for night views, but be careful around the summit which consists of boulders and can get crowded.
Difficulty: 1/5 but the ground can get slippery
Duration: the hike is short but budget around 1-2 hours, can be extended to a 3 hour hike.
How to get there: there is a minibus that will take you near it from Causeway Bay. See full directions here.
High West Hill (and Lugard Road)
While the Peak on Hong Kong island is famed for its view and reachable via the tram or a bus, you can go for a rewarding walk (yes, walk!) on Lugard Road.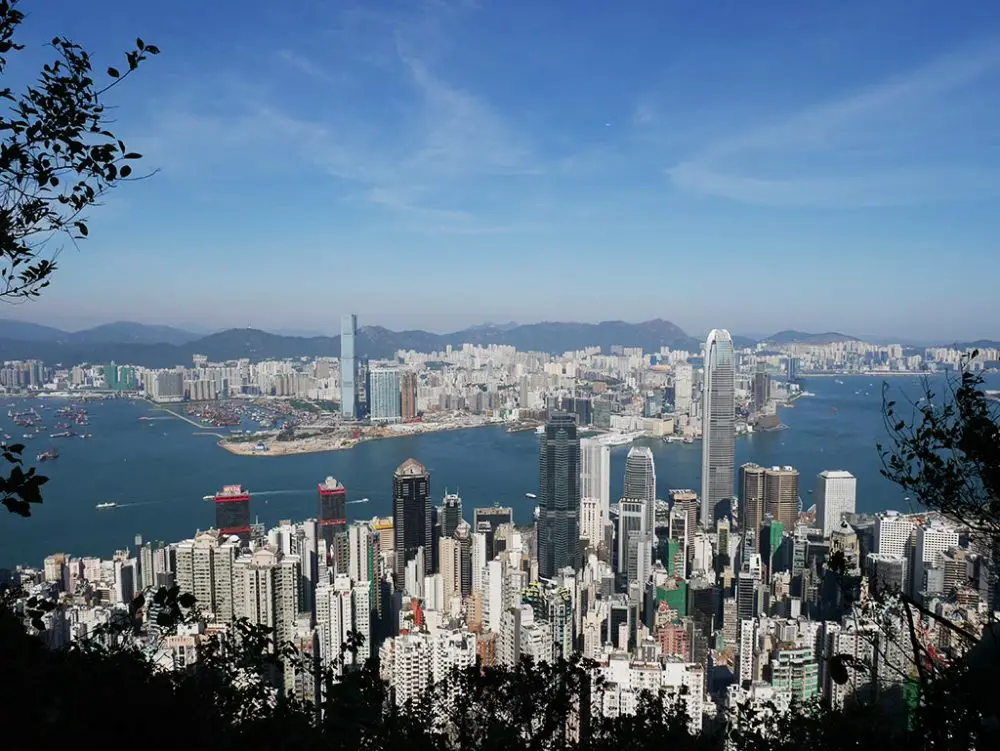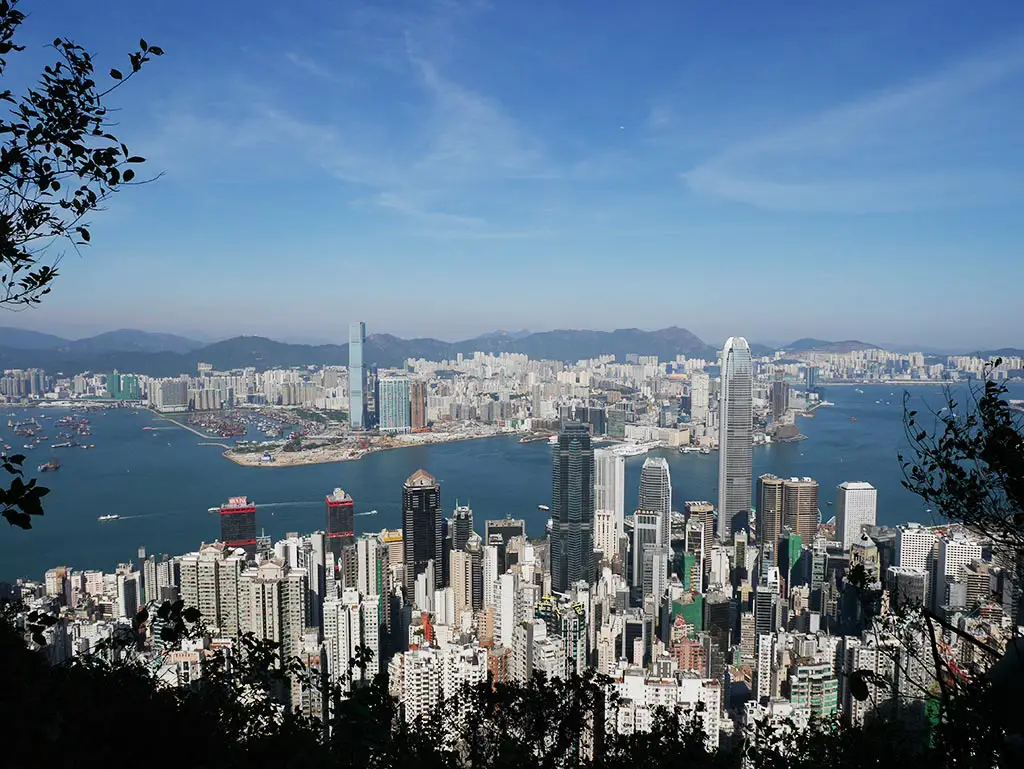 The trail starts on the edge of the Peak Tower and loops around the mountain side. A mere 15-20 minutes walk gives you a full panorama of the Victoria Harbour, Kowloon Penisular and further west to Tsing Yi!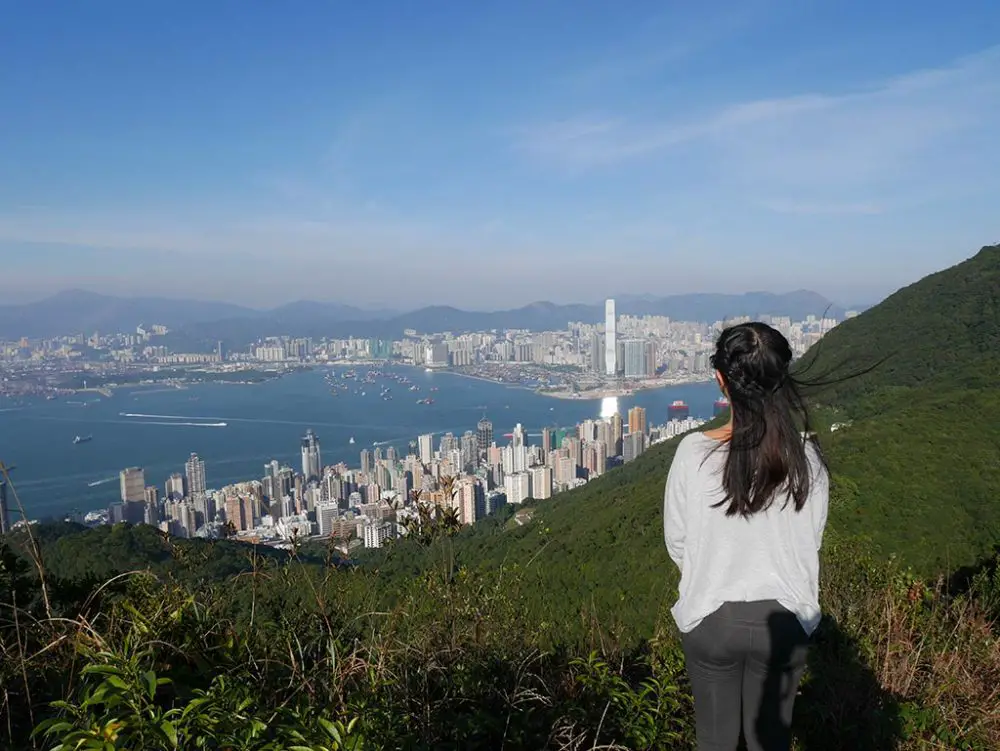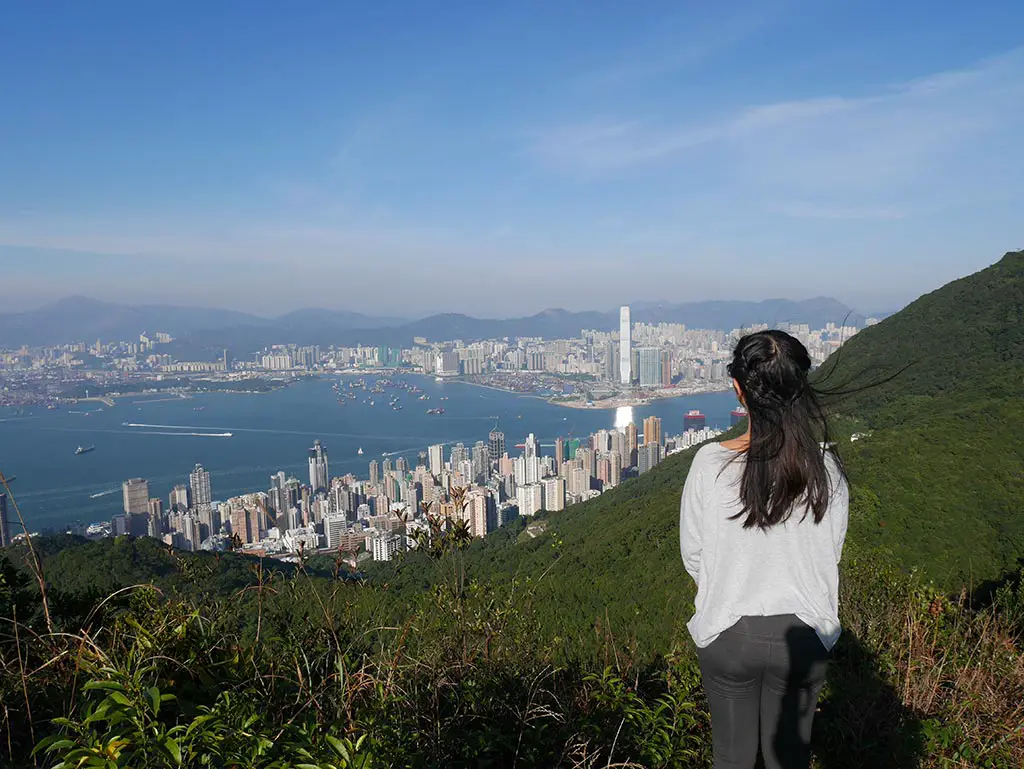 West High Hill is THE highest mountain on Hong Kong Island and while there is a lot of stairs going up, it's a short journey from a junction reached by Lugard Road. Here is how to hike West High Hill.
Difficulty: 2/5 because of the stairs
Duration: 2 hours should suffice including going up from Lugard Road. You can go down to the Peak again or continue down to Hong Kong University
How to get there: head up to the Peak and start your trek there
Cape D'Aguilar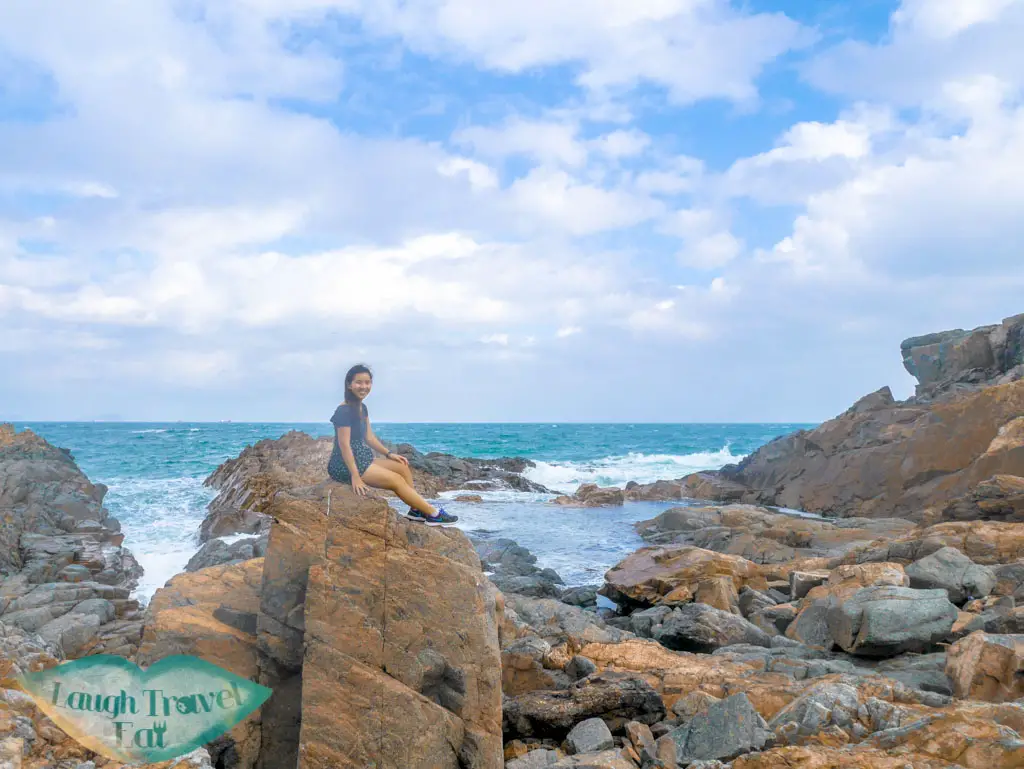 A popular alternative to the Dragon's Back is Cape D'Aguilar. Arguably the easiest hiking trail on the list, getting in and out isn't quite as easy, most part of the hike consists of the road that leads in from the bus stop, with only a little dirt and rocky trail at the end.
However, the Cape is known for its dramatic coastal landscape with the 'thunder sound cave' and arches a favourite. There are also several small local cafés along the route in one of the villages, making it a friendly beginners hike with good refreshment point.
Note: it can be a bit crowded as tourists from China also go there en-mass
Difficulty: 1/5
Duration: about 2 hours roundtrip budgeting time for photos
How to get there: Take the number 9 BUS from Shau Kei Wan and get off at Cape D'Aguilar (get out with the same bus – only 1 stop, make sure to note the end stop at the front of the bus)
Rhino Rock
Nearby in Stanley, the Rhino Rock has attracted visitors with its unique and lifelike outcrop. It's at the southern end of the peninsula facing east, although you will also get an eyeful of the Stanley Prison. The hike takes less than an hour round trip, though you do need to wear good shoes and be sure footed. If you're planning to explore Stanley anyway, this makes for a good addition.
Difficulty: 2/5 mostly just for the sandy and slippery slope
Duration: you can get in and out within an hour but budget 2-3 for photo break
How to get there: Bus 14 to Stanley Fort
Easiest hike in Kowloon
Devil's Peak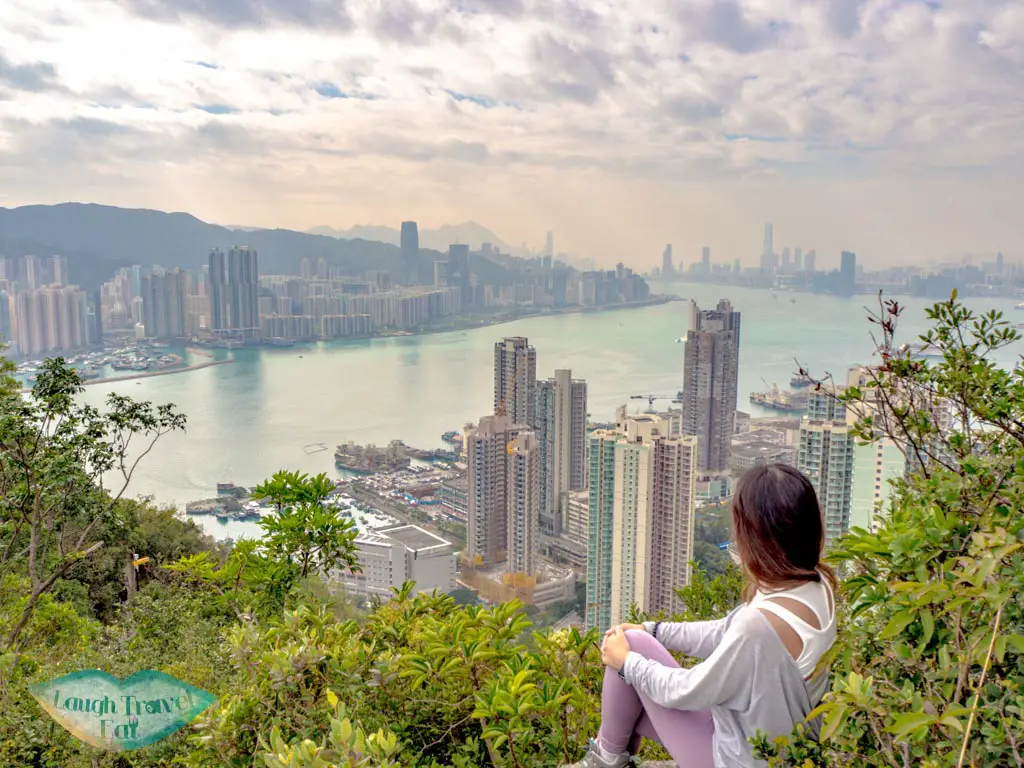 Perhaps the least flat route in the list, Devil's Peak makes for a short but interesting hike with a WWII fortress, great view of Tsuen Kwan O and east Hong Kong Island. What makes it beginners friendly is the well-paved paths and many exit points, and you can easily continue as well onto the Wilson Trail stage 3.
Difficulty: 2.5/5 for steep stairs
Duration: 1-2 hours depending on how long you continue down the route
How to get there: the nearest MTR is Yau Tong
Easiest hike in New Territories
Tai Tan Country Trail
A new favourite of mine, Tai Tan Country trail feature mostly flat ground and is a straightforward coastal hike with only a small hill. Starting from Tai Tan Village near Wong Shek Pier in Sai Kung, it takes you along the coastal route to Hoi Ha, passing by the Wan Chai campsite and many wonderful beaches. The hike takes around 3 hours to complete, and if you are feeling adventurous, there are snorkeling and kayaking rental available at Hoi Ha, which also happens to be a protected marine area.
With easy transport in and out of the start and end point, it's a great hike to do for a half day, though you might want to budget some time for photo taking etc.
Difficulty: 2/5 due to the path being a bit rocky
Duration: 3 hours hike, another hour to get in and out from Sai Kung town center
How to get there: get the bus 94 (and 96R on weekends) from Sai Kung town center and get off at Tai Tanvstop. From Hoi Ha, take the minibus 7 at the front of the village back to Sai Kung town center.
Note: you can check the bus schedule with the KMB app, the minibus has a tentative schedule of 30 minutes per ride
Wu Gau Tong
One of the best routes to take your pets (or unfit human friends) on, Wu Gau Tong is perhaps the best nature trail for someone who wants to feel the wilderness of Hong Kong without committing into too big or too crowded a hike. Completely away from the city, you will be walking through green vegetation, ending in Sam A village for some refreshment.
This is, however, a circular route, with the option to really up the difficulty by going up Tiu Tan Lung.
Difficulty: 1.5/5 – mostly for getting in and out
Duration: 3 hours for the hike, though budget more time for eating, photo break, and getting in and out
How to get there: see the Wu Gau Tong and Tiu Tan Lung hike post.
Lai Chi Chong
A favourite for family, Lai Chi Chong is a geopark that makes for another easy roundtrip hike with a good educational twist. Being a geopark, the coastal area of Lai Chi Chong is home to unique geology and you can find the information on education board! Again, you can add to this trip by carrying on to Sham Chung and Yung Shue O, or even just get out by ferry to Ma Liu Shui.
Difficulty: 1/5
Duration: 2 hours >
How to get in: see the Lai Chi Chong + Sham Chung + Yung Shue O hike
Tsing Tam and Ho Pui Reservoir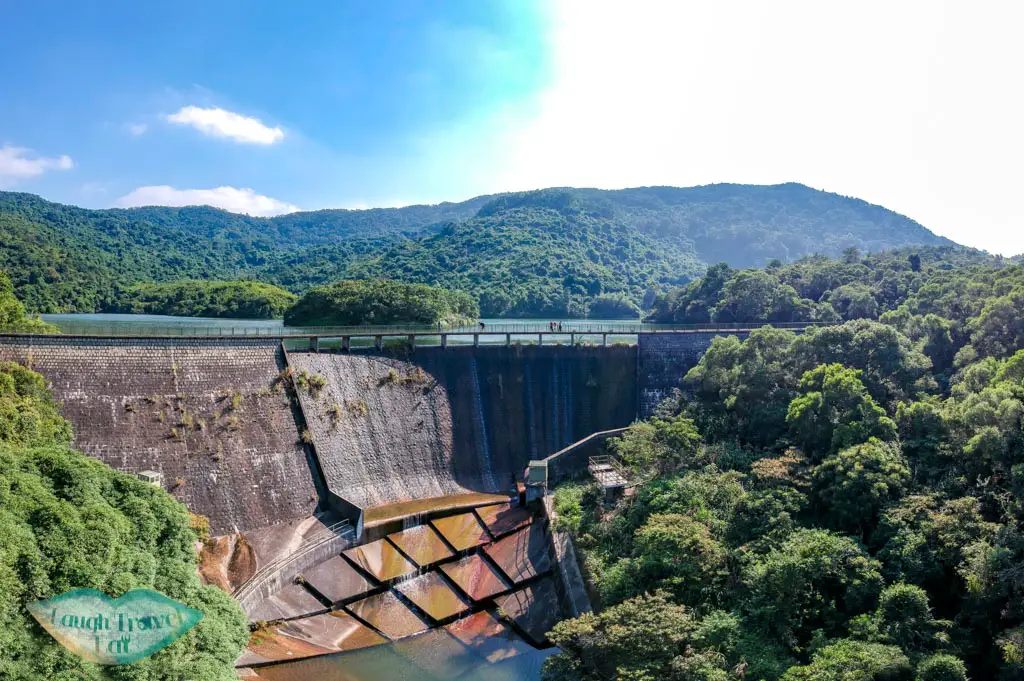 A great trail for the family, the reservoirs are along a concrete trail that stretches between Tai Po and Yuen Long. Not only is it stroller friendly, the 3 hour trail also takes you past some refreshment points and an Eco Garden. If you don't want to hike for so long, starts at Yuen Long and turn back once you have reached the Upper Tsing Tam Reservoir, as they are all closer to the Yuen Long side.
Difficulty: 1.5/5 – just because it takes some time to get in and out
Duration: 3 hours, but budget more time to get in and out
How to get there: see the blog post below, you can start at either end
Pin me!