Rila Monastery from Sofia: a day trip guide
A day trip to Rila Monastery from Sofia is one of the most popular day trips to do when visiting the Bulgaria capital. The monastery is the biggest monastery in Bulgaria and it was named a World Heritage Site in 1983. If you like history, culture, and religious monuments, then a trip to the Rila Monastery is a must.
> see more about what to do in Sofia here and what to eat in Sofia here.
A short history of Rila Monastery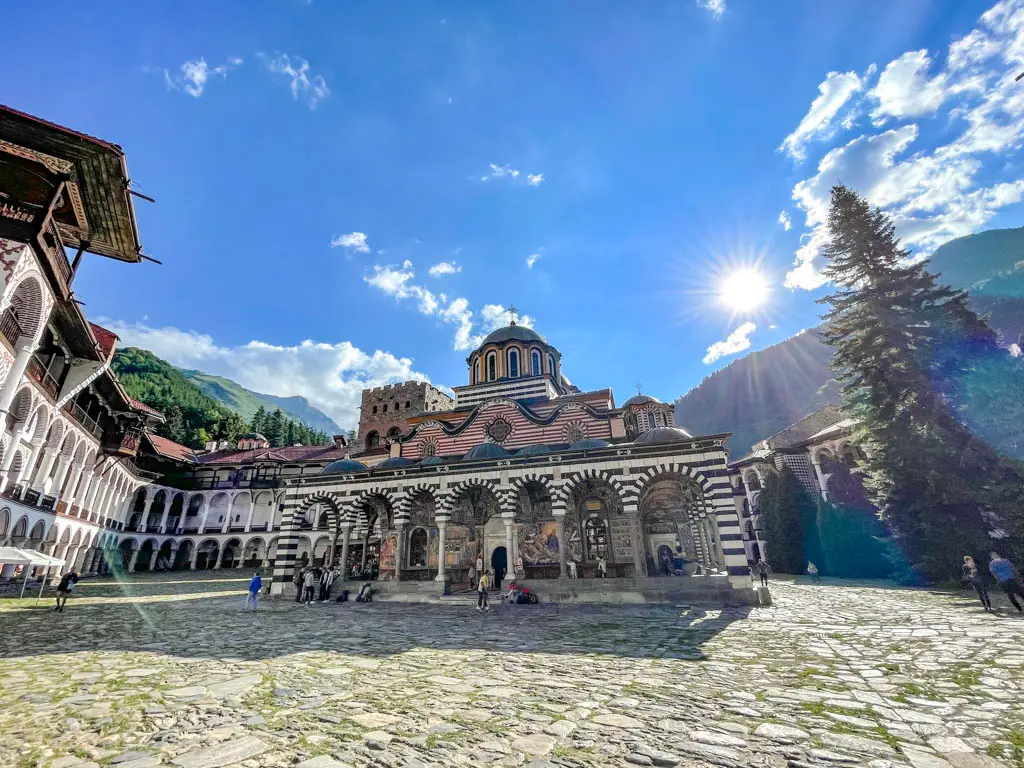 Rila Monastery is a religious complex located in the mountains of southwestern Bulgaria, about 120 km from Sofia at 1300m above sea level. It was named after the famous Bulgarian monk and hermit, Saint Ivan Rilski, who lived in a cave near the site in the 10th century AD.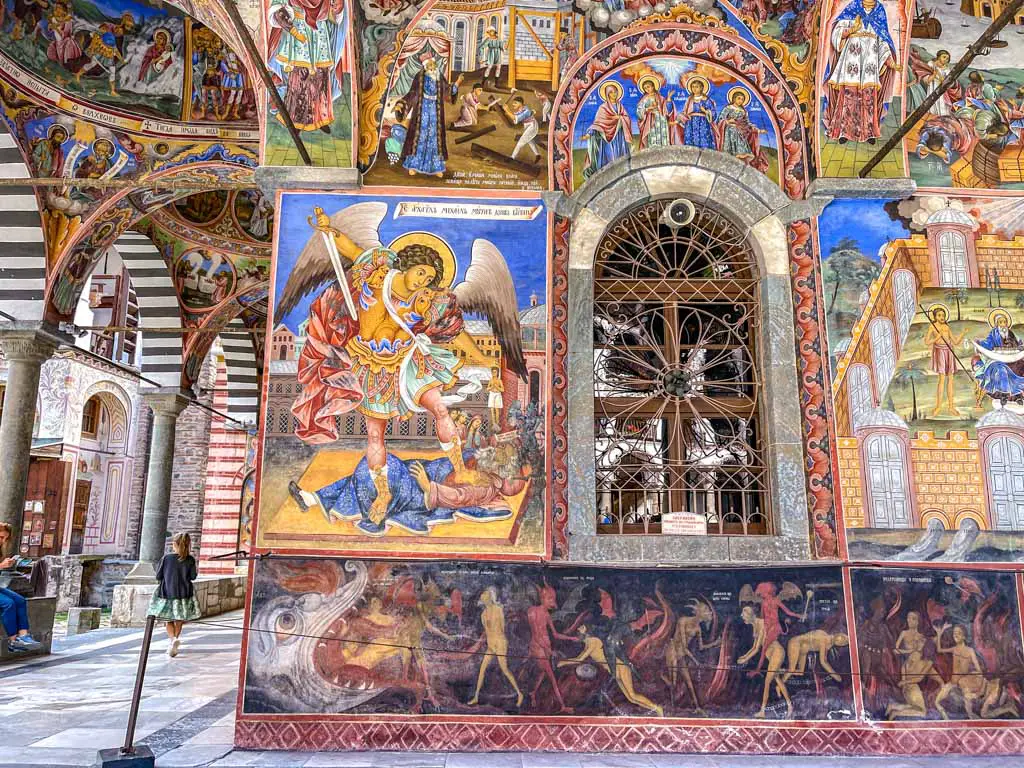 For 800 years, it saved the traditional Eastern Orthodox ways. The earliest buildings of the complex were simple wooden structures, but over time they were replaced by stone buildings, including a church, a bell tower, a library, and living quarters for the monks. You can find the oldest part of the building at the back of the church by the fortification tower, dating back to 1218. It's where the soldiers hired to keep the monastery safe would live.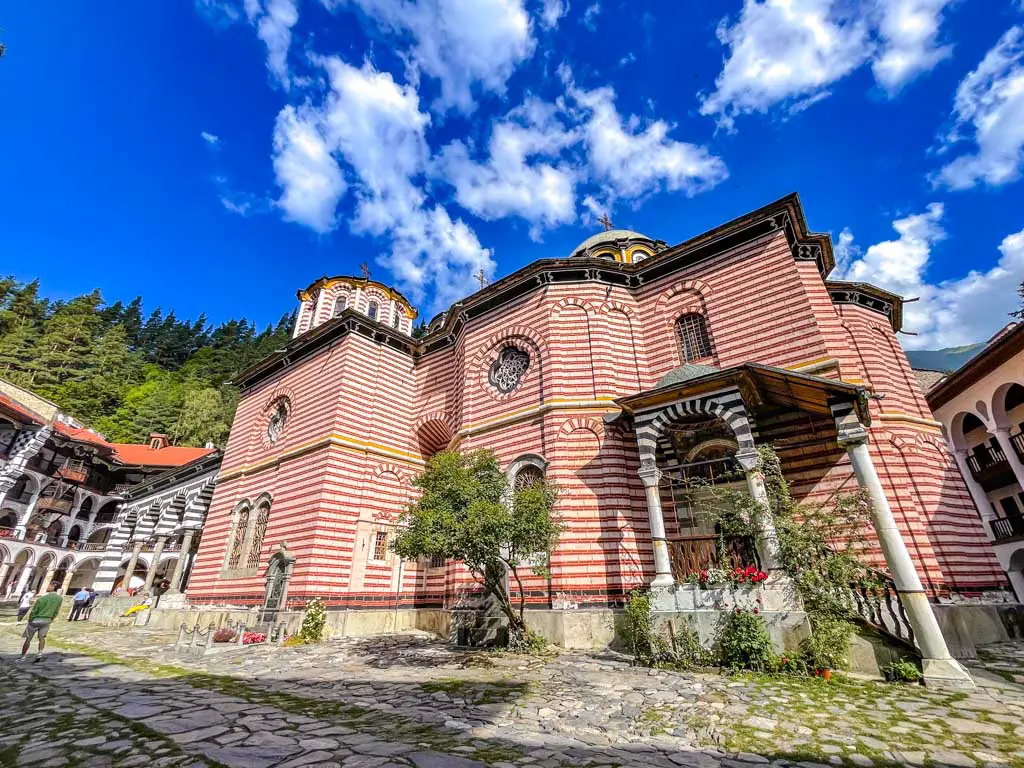 In the 15th and 16th centuries, the monastery became a center of Bulgarian culture and education, and it played an important role in preserving the Bulgarian language, literature, and music during the Ottoman occupation of Bulgaria. Many prominent Bulgarian intellectuals, artists, and patriots studied or worked at the monastery during this period.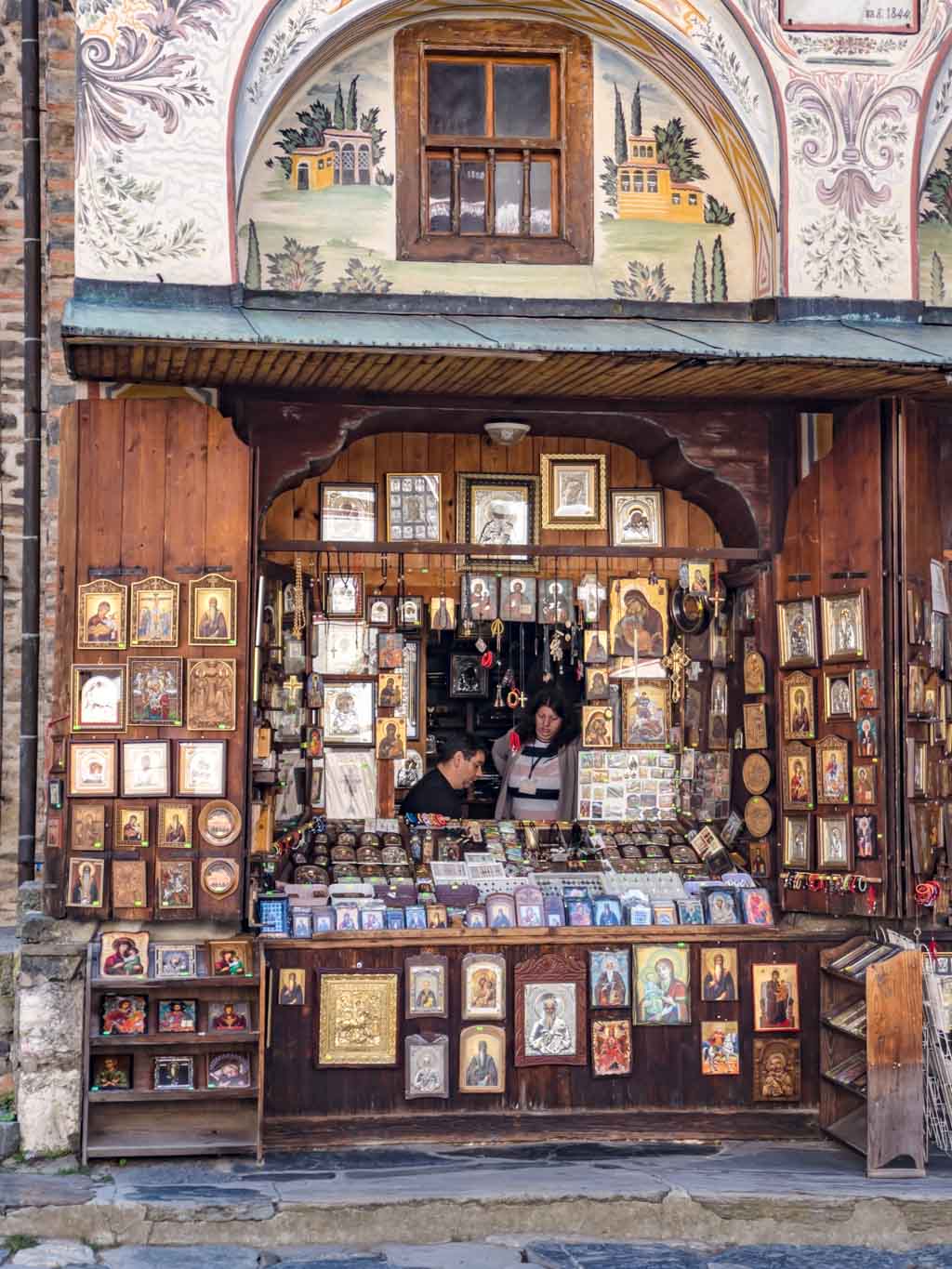 In the late 18th and early 19th centuries, the monastery underwent a major renovation and expansion, with the addition of new buildings, frescoes, and decorations. During this period, the monastery became a symbol of the Bulgarian national identity and a popular destination for pilgrims and tourists.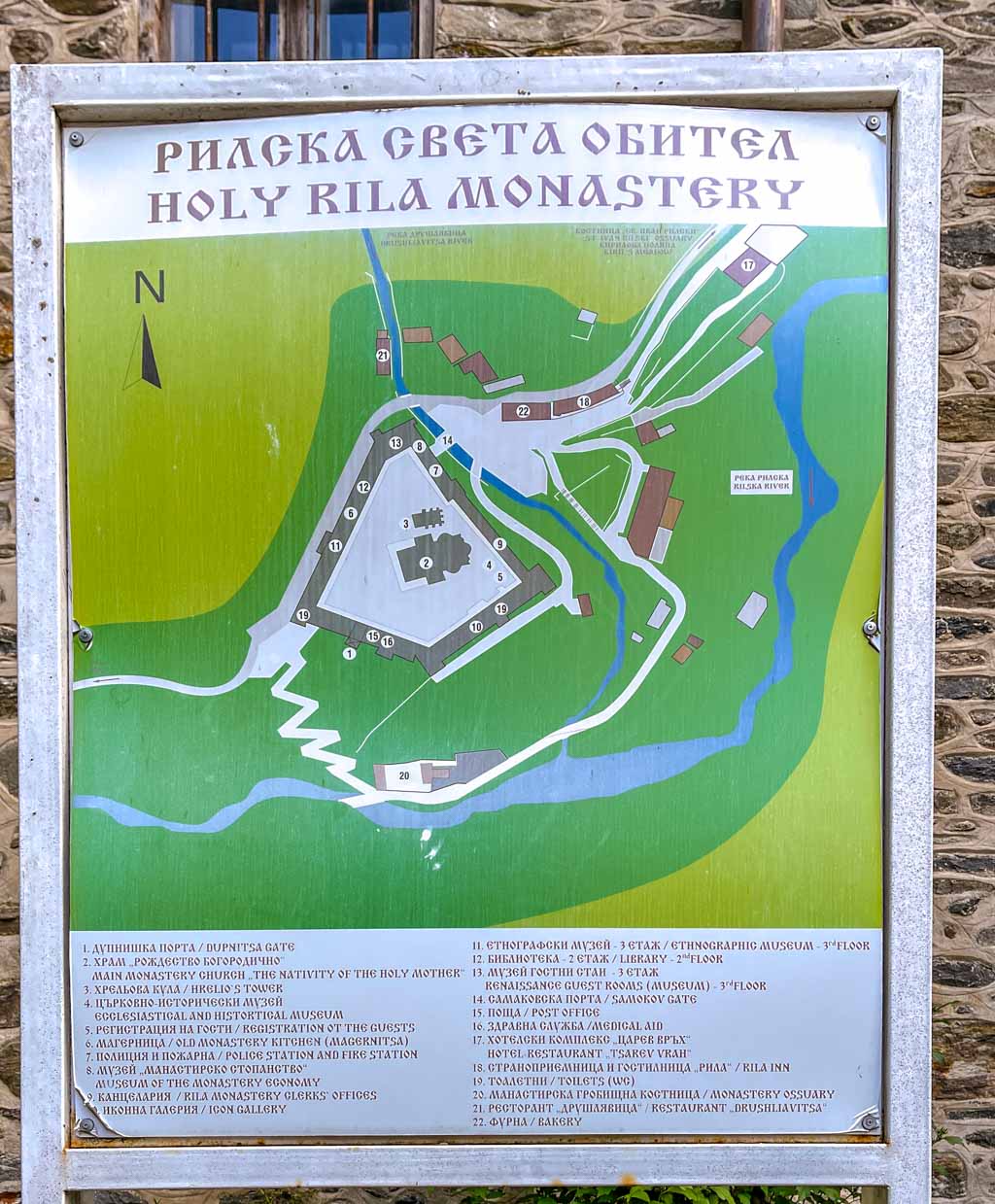 The monastery survived numerous attacks and raids throughout its history, including a fire in 1833 that destroyed much of the complex, but it has always been rebuilt and restored. Today, Rila Monastery is one of the most important cultural and historical sites in Bulgaria, as well as a UNESCO World Heritage Site. It continues to be an active monastic community, with about a dozen monks living and working there.
Sofia to Rila Monastery
The best way to travel from Sofia to Rila Monastery is by car. There is little to no public transport that can get you to Rila Monastery from Sofia, so your option is limited to renting a car or joining a tour group.
Note: there used to be a public bus but it is not operational anymore from what I understand.
Renting a car in Sofia
You can rent a car in Sofia and drive to the Rila Monastery by yourself. There are parking available in front of the monastery. But it does get filled up quickly, so it's best to arrive early or be prepared to park somewhere else.
(insert car rental affiliate)
Joining a tour to Rila Monastery from Sofia
There are many day trips, shuttles, and self-guided tours available to Rila Monastery. Given that it takes 2 hours to go to the Rila Monastery from Sofia, it's worth combining it with another site to make the most out of the day.
But here are some options:
Rila Monastery Only
The official website recommends Rila Shuttle which departs from Sofia at noon the arrive back in Sofia at 6 pm. This does mean you spend 4 hours roundtrip for two hours at the monastery.
Rila Monastery and Boyana Church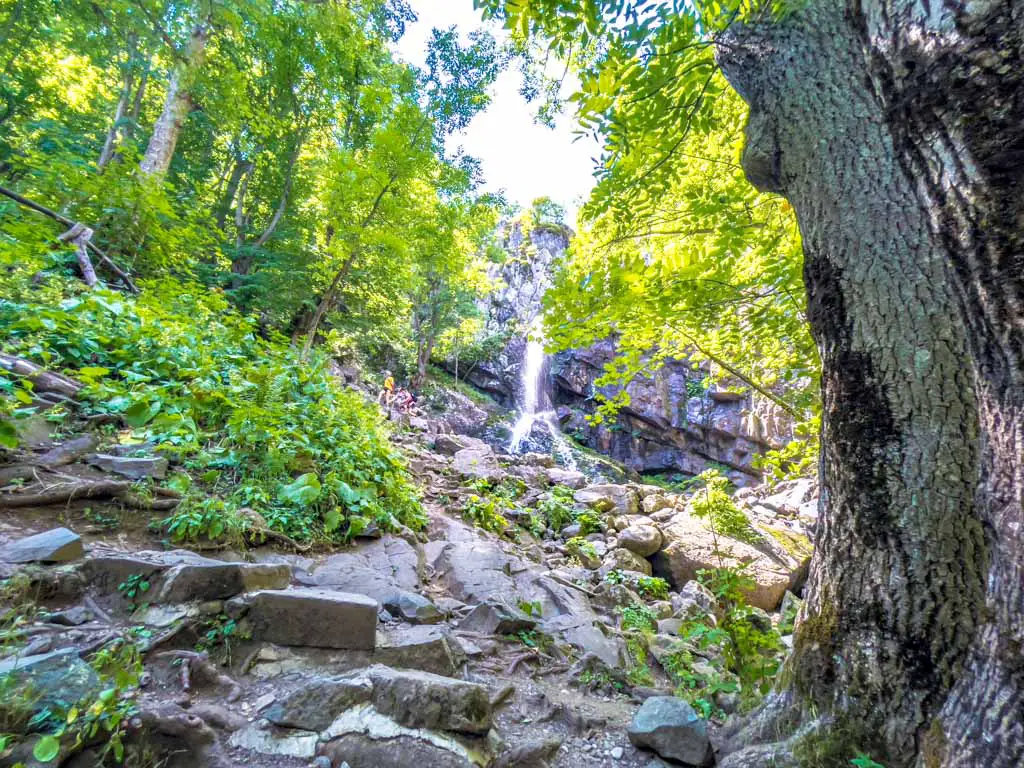 Boyana Church is another historical church close to Sofia. If you want to do both in one go it's worth joining a tour. But you can combine Boyana Church with a visit to the waterfall, plus they are both a short bus ride from the city and perfectly doable as a half-day trip on their own.
There is also a more historically focused one that includes the Rila Monastery, Bells Park, and Boyanna History Museum tour.
Rila Monastery and Rila 7 Lakes Tour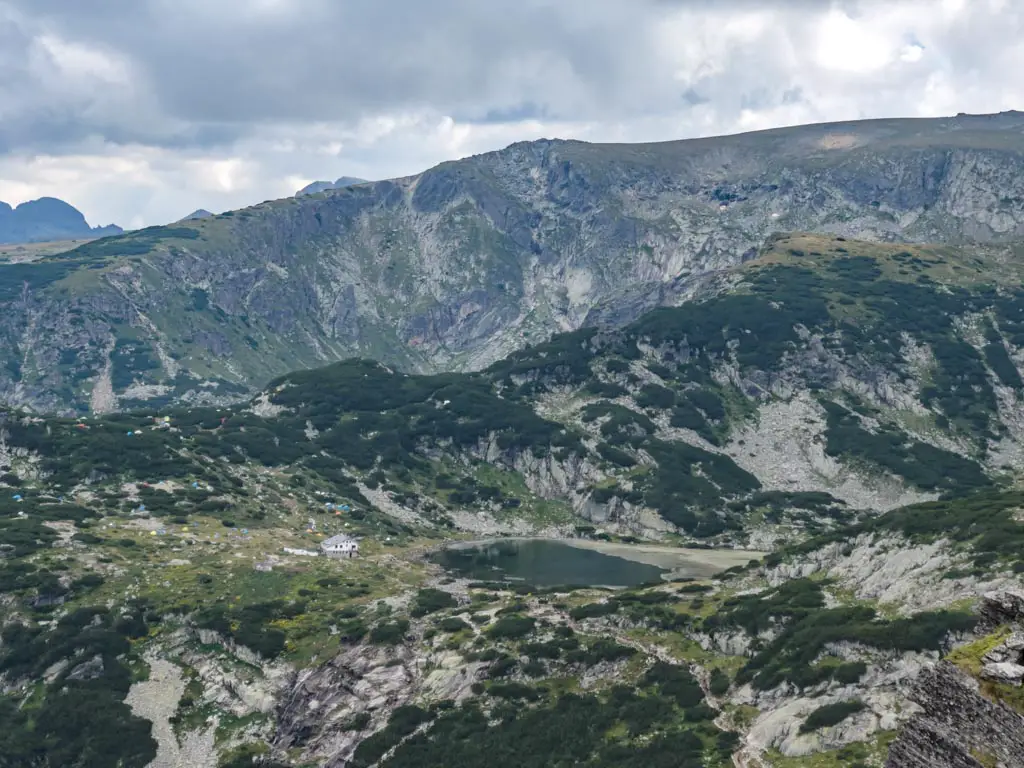 I personally opted for this one as Rila Monastery and Rila's 7 Lakes are both in the Rila Mountains, although not as close together as one would think. This does mean you spend less time at the monastery but it is a good day trip combination for hikers.
I wanted to take the self-guided Rila Monastery and 7 Lakes tour but it was sold out. So I went with Traventuria which offers the same tour. The guides were very nice with plenty of space in the minivan for me to sit alone.
The tour starts at around 7 am, and we got there at around 9 and spent about an hour at the monastery before heading to hike the 7 Lakes.
Rila Monastery and Bansko
If you want to see Bansko as well, this would be a good tour. However, the distance is quite long so I don't recommend actually doing this unless you are short on time and really want to hit both spots. Bansko deserves its own trip.
Frequently Asked Questions about Rila Monastery
Is Rila Monastery worth visiting?
Yes, Rila Monastery is one of the top attractions in Bulgaria and less than 2 hours drive away from the capital Sofia. Whether you are interested in the history of religion in Bulgaria or beautiful art, it's worth visiting.
How much does it cost to visit Rila Monastery?
There is no entrance fee for the monastery complex and church. However, there are charges for the museum which are generally not included in any tours:
The History Museum:
Adult: 8 BGN
Students: 2 BGN
Family ticket: 4 BGN for each parent, 2BGN for each child
The Tower of Hrelio, Ethnographic museum, Bulgarian renaissance guestrooms, and Monastery farm:                                             
Adults: 5 BGN 
Students: 2 BGN 
Family ticket: 3 BGN for each parent and 2.00 BGN  for each child 
Note: if you visit on a group tour, you might not have time to visit all three.
They also offer a guided tour that charges per group and requires reservation:
25 BGN for English
15 BGN for Bulgarian
When is Rila Monastery open?
Rila Monastery is open every day from 7:00 to 19:30.
However, the History Museum has a more limited opening hours from 8:30 to 16:30, which is extended during the summer period (1st June to 30th September), and Friday to Sunday until 19:30.
What is the dress code for Rila Monastery?
Rila Monastery is an Eastern Orthodox church, therefore your shoulders to knee must be covered. Leggings are accepted, but I brought a wrap skirt to wear on top just in case. It's good to bring a wrap for ladies just in case as well.
Note: heels are also not allowed. 
Photography in Rila Monastery
There are a few things photographers need to be aware of when visiting Rila Monastery:
Photography is not allowed inside the church
Although not stated, some tour guides told me not to use my tripod in the courtyard
Drones are also not allowed
Rila Monastery Visit
There doesn't seem to be a lot to see at the Rila Monastery at first glance, but if you prepare yourself or join a tour, there is much history to be gleaned. I'd also take the time to roam around the courtyard and take it all in, as there are many corners that most visitors don't venture to.
For example, there are many taps around where you can refill your bottle or drink from! And plenty of photogenic corners as well. But unless you are a history or religion buff, an hour should be more than enough time to take it all in.
Nativity of the Virgin Mary (or Church of the Birth of the Virgin Mary)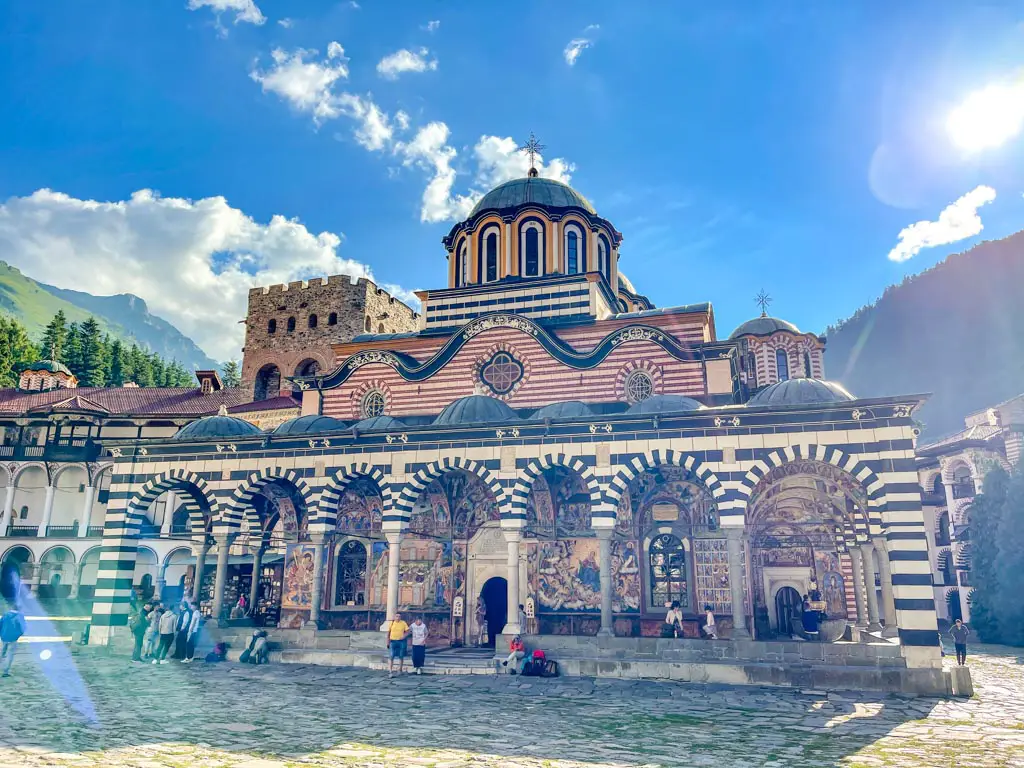 The main church of the Rila Monastery is dedicated to the Virgin Mary. It is consistently very busy and it's best to prepare yourself with its history and significance before entering.
Inside the church, there are no seats like in the Catholic church.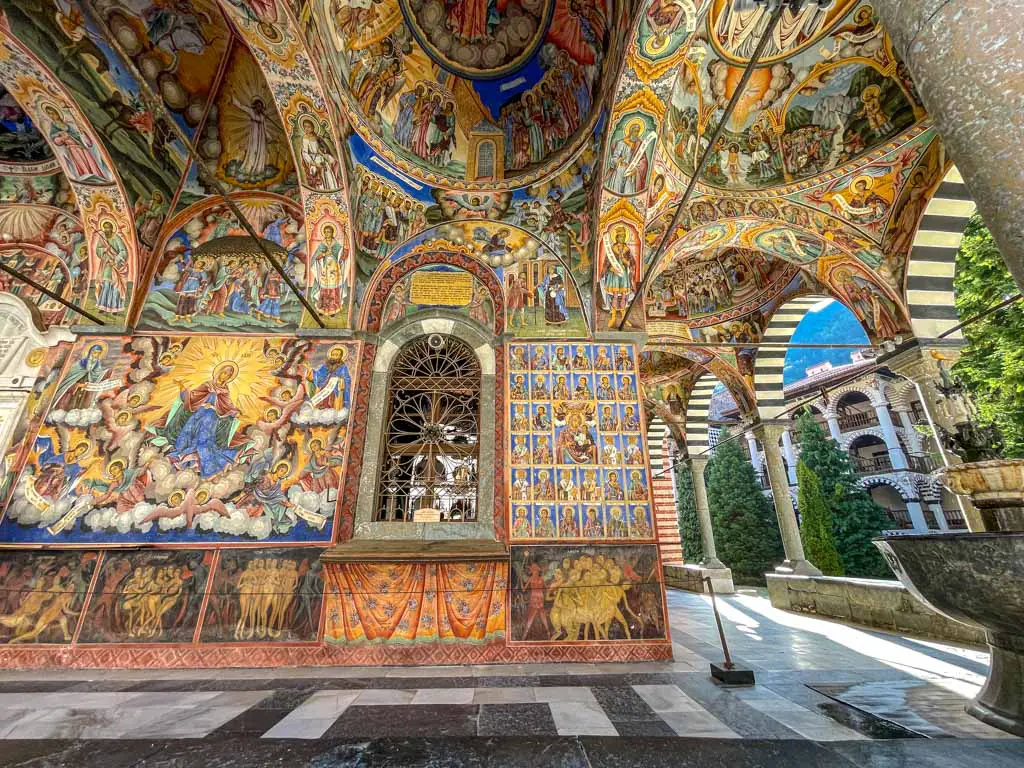 The interior is divided into two with five domes. Four symbolises the four corners of the world with the central dome painted with Jesus and symbolising the tunnel from Earth to God. They believe that the candle on the chandelier will take wishes up to heaven.
While I didn't get a good look as the church was busy during my visit, there are bone knives made from the fingers and elbows of 32 saints by a table. The grave of King Boris III – the last Bulgarian King – is also inside.
Although I can't find more information on this, our tour guide said that 13 kg of gold was given by Russians post-liberation so they gilded a lot of the facade and interior with it.
Tower of Hrelio

The tower is the oldest part of the monastery, built in 1335 by Stefan Hrelio Dragovol. It is the tallest part of the monastery as well at 23.6m high. There is a chapel on the top floor with 14th-century fresco.
Ethnographic Museum and Bulgarian Renaissance Guestrooms
The Ethnographic Museum is a rich display of textiles, jewelry, and folk art donated to the monastery between the 18th and 19th centuries by Bulgarian Lords. Some of the guestrooms they stayed at retained the ethnic and cultural decorations from their time and are worth a roam for those who are interested in ethnography.                                            
Mekitse shop at the back entrance
There is a Makitse shop outside of the back entrance of the Rila Monastery that also sell other baked goods. It's very cheap to get one and you can buy it from a little window storefront.
I tried one since the 2 hours bus ride made me hungry and it's pretty good!
Museum at Rila Monastery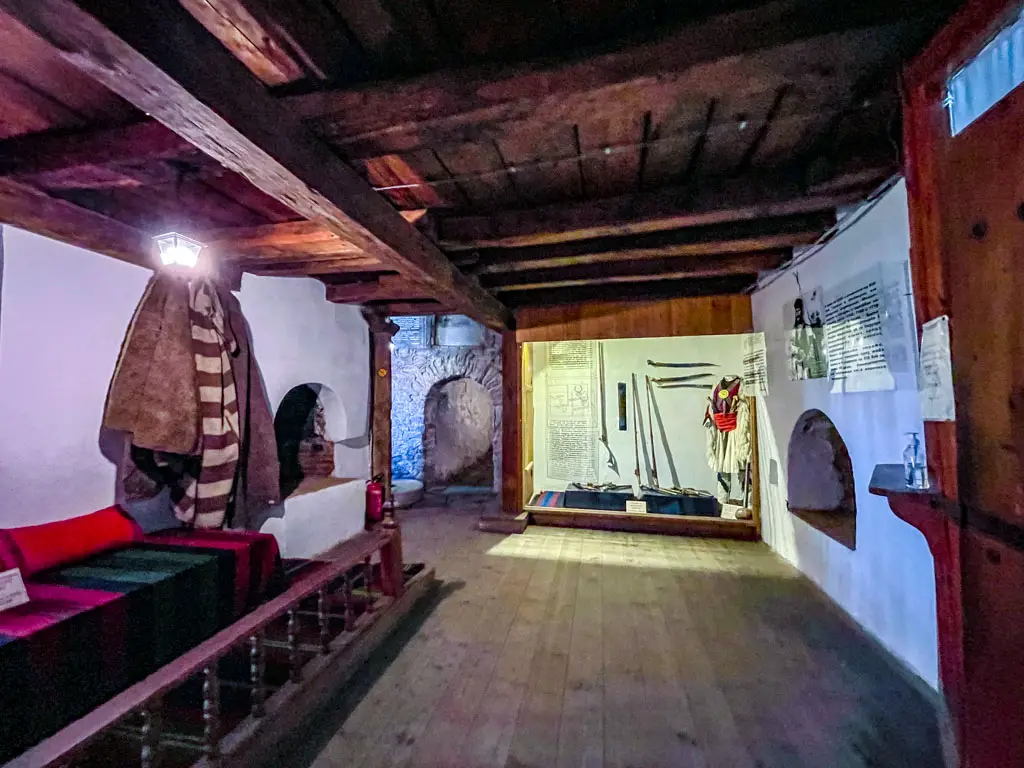 There are a few more museums at Rila Monastery or different museum sections. As I only had an hour and therefore didn't have time to poke around. There is a section on the history of the museum, which is close to the back entrance, an icon gallery, as well as church history. If you are interested in all of these, it might be worth making a reservation for the guided tour.
Staying in Rila Monastery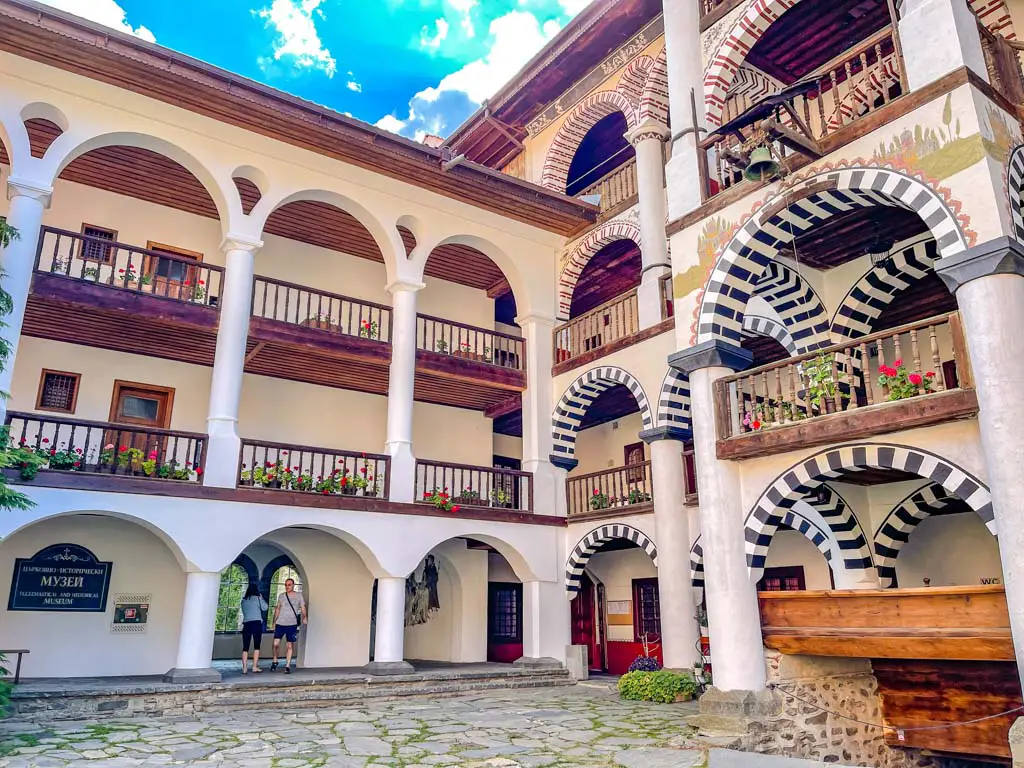 Although there are 241 rooms, they are off-limits. But 47 of them can be stayed in as the monastery is also a hotel. If you want to absorb the atmosphere, you can book a stay by calling the monastery directly or paying a small fee to have it done for you. You can find the details here.