Boyana Waterfall Hike + Boyana Church: a Sofia Day Trip
One of the most popular hiking destinations in Sofia is the Boyana Waterfall Hike. This scenic route takes you through a lush forest, alongside a gurgling stream, and finally to the stunning Boyana waterfall. As you trek through the picturesque landscape, you can take in the fresh mountain air and admire the beautiful flora and fauna. Whether you are a seasoned hiker or a beginner, the Boyana Waterfall Hike is an incredible experience that shouldn't be missed while in Sofia.
> See my Sofia guide here and food to eat in Sofia here
> Click here for more Bulgaria tips + posts
How to get to the Boyana Waterfall Hike
Sofia to Boyana Waterfall by public transport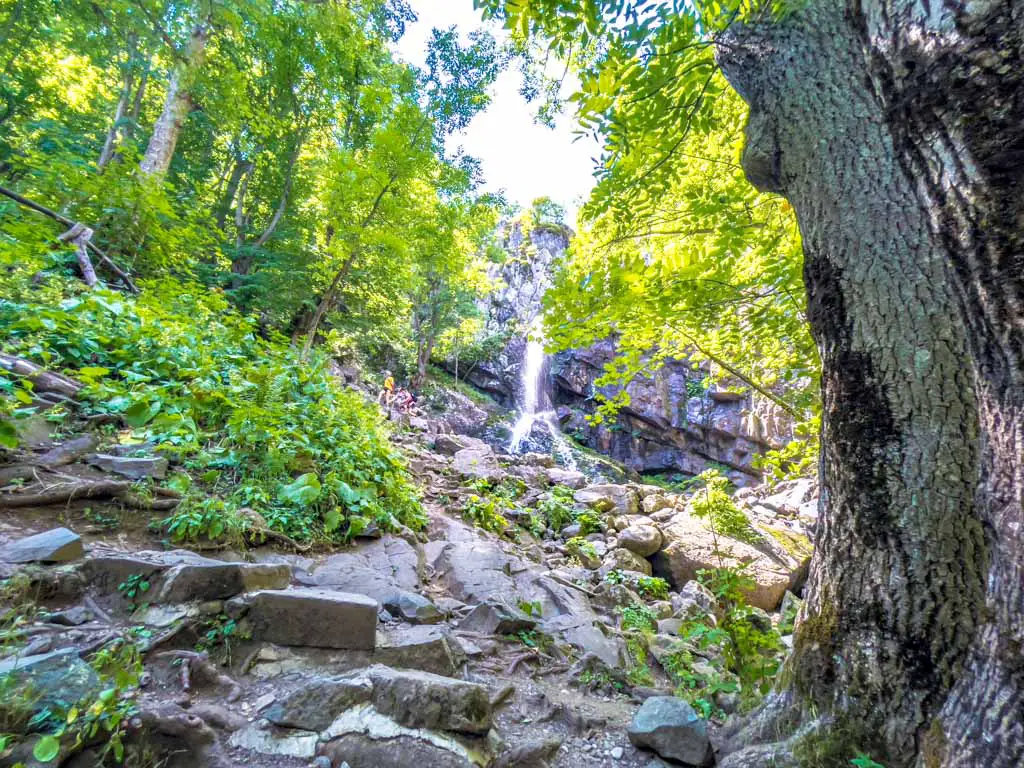 If you are staying in the center of Sofia, it is easy to get to Boyana with a metro ride plus a bus ride. You can get a one day pass for only 4 BGN (~2 Euros) that can get you there and back. Compare to a single ticket of 1.6 BGN you'd save 2.4 BGN! Plus there's no need to buy a ticket every time.

Purchase your day passes at a metro station
Take the metro to Vitosha Metro Station. I took it from Serdika station
Change to bus 64 – the google map schedule is not accurate, but the stops are so you can track your bus progress there
Get off at Boyansko Hanche, which is the name of the village. The trail start is about a 10 minute uphill
Note: you can also visit the Boyana Church, which is on the way.
Essential Information on the Boyana Waterfall Hike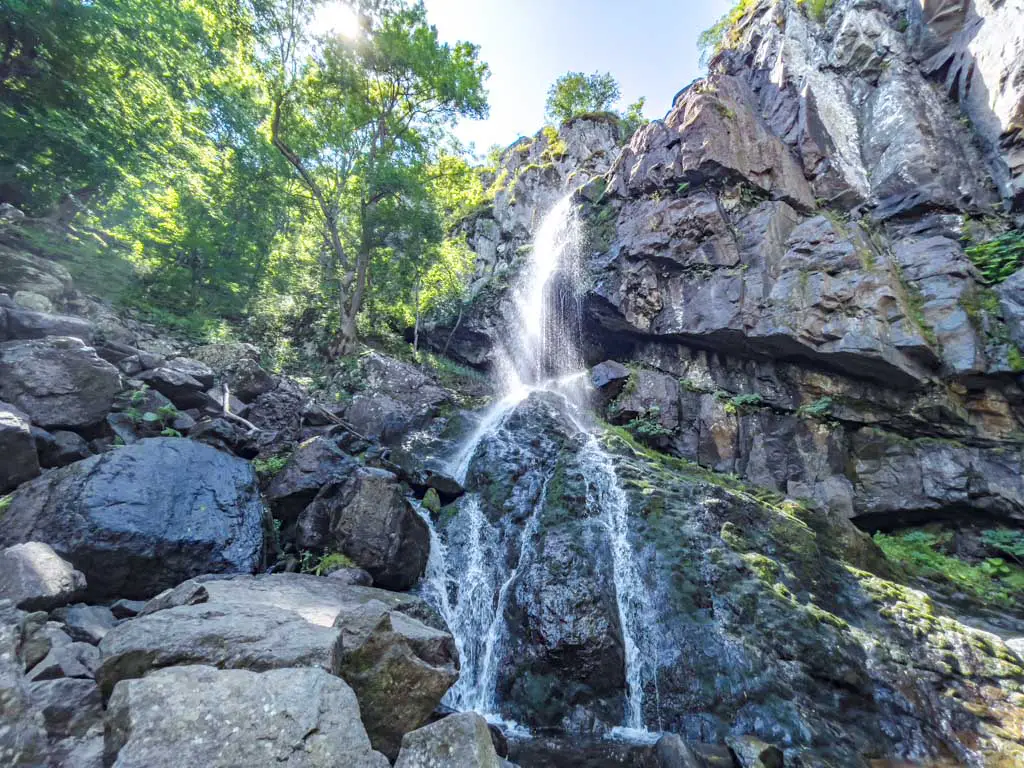 Boyana Waterfall hike length: 5.1km loop trail. One side is easier than the other and I recommend going back the same way if you're with kids or beginner hikers.
Boyana Waterfall hike time taken: it takes around 1 hour to reach the Boyana Waterfall from the trail start. Therefore budget around 2 to 2.5 hours to hike the entire trail. There is also a lake nearby that can be an extra point to hit.
Elevation of Boyana Waterfall: If you hike the trail to the lake as well, you'll go higher, but the elevation of the waterfall is 1260m above sea level.
Geology of Boyana Waterfall and Vitosha Mountain
Boyana Waterfall is part of the Vitosha Mountain south of Sofia. The mountain was formed by volcanic activity with a dome shape. It also underwent extensive lateral folding during the Mesozoic era which leads to layers of tilted sedimentary rocks with magma intrusion.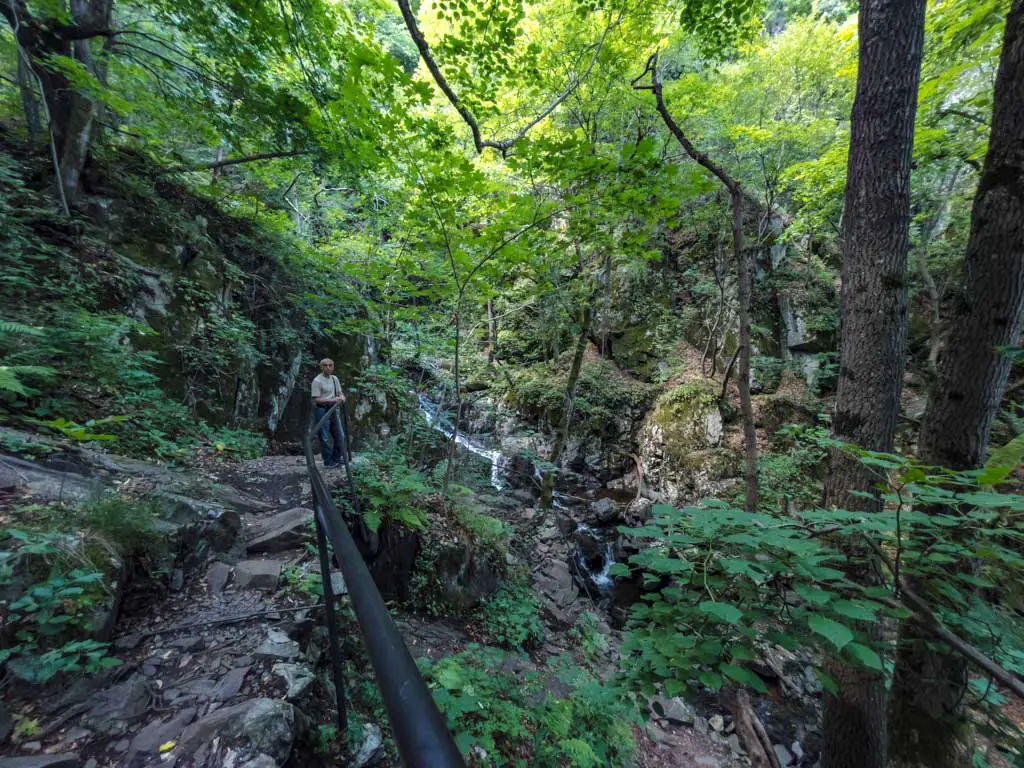 The shape we see is not only by the folding but also glaciation in the area. You can see some amazing stone rivers, canyons, and waterfalls in the region. The elevation extends up to 2,290m at its highest, but the Boyana Waterfall area is only around 1200m above sea level.
What to bring for Boyana Waterfall Hike
As a hiking enthusiast, I have my usual hiking day pack essential. Boyana Waterfall hike isn't too difficult, therefore there are not too many things to prepare: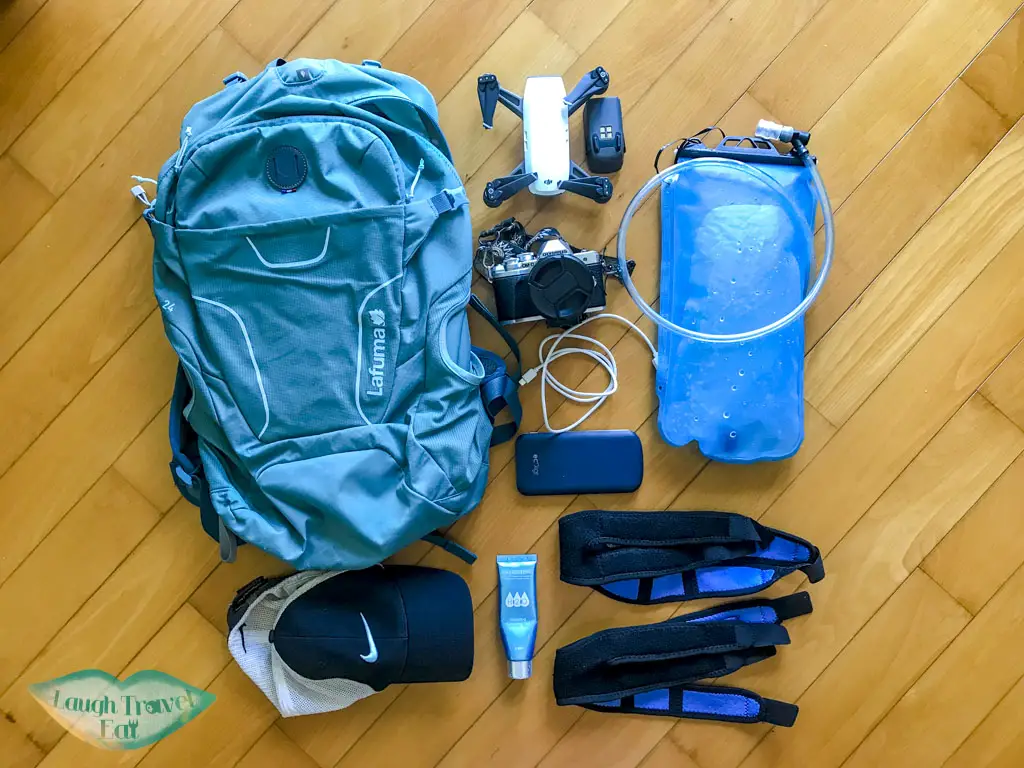 Sunscreen and hat – although the trail is covered for the most part, it's important to have sun protection.
1.5L of water – I'd recommend more in the summer.
Good hiking shoes or trainers – while the trail is well-used, it's not a smooth hike and there are rocky parts.
Snacks – it's not a long hike but combine with traveling from Sofia, it's important to bring some food.
Layers – the mountain is cooler than the city center even in the summer, so it's best to have layers on hand.
How tall is Boyana Waterfall?
The Boyana Waterfall is 25m high and is the largest waterfall in Vitosha Mountain. The water flows from the Boyana River and it freezes during the winter, making it a spectacular sight.
Do you need to book in advance to visit Boyana Waterfall?
No, the trail is open all year. You do not need to make a reservation to hike the Boyana Waterfall.
When is the best time to hike Boyana Waterfall trail?
The best time to hike the Boyana Waterfall trail is during the warmer months. While it's still possible to hike in the winter, the snow and cold would make it difficult and not suitable except for very seasoned winter hikers.
Boyana Waterfall Hike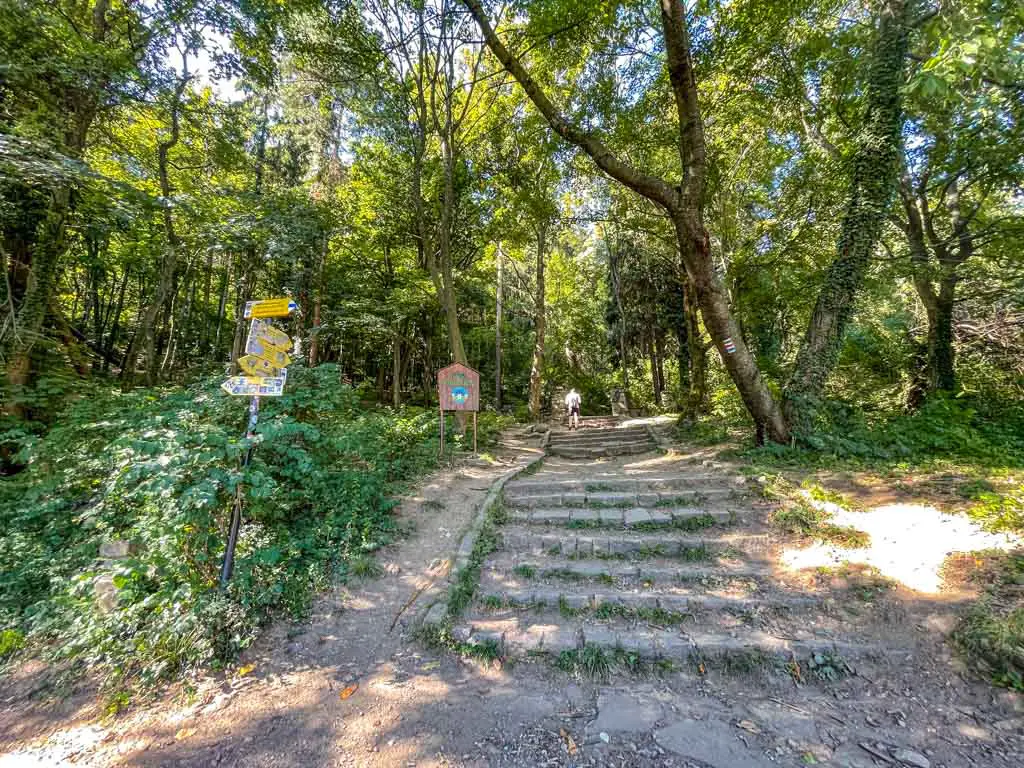 I did the Boyana Church + Boyana Waterfall hike as a day trip from Sofia, and in fact, it took me less than a full day to do. I decided to go up to Boyana Lake and then to the waterfall, which is slightly longer, but the hike up is less steep. And I hiked with an offline map app (I use OSMAnd), but AllTrail is also very popular.
I'll skip straight to the hike and put the bit about the church at the bottom:
Bus station to Boyana Waterfall Trail Start
I visited the Boyana Church first after getting off the bus. The entrance of the church is on the west side of the compound and that did throw me into a loop. For the trail start, it's a 17 minutes walk according to google map:
The trail start is very easy to find, but beware that there are other trails that start there. A reminder that I decided to go up to Boyana Lake and then to the waterfall, which is slightly longer but the hike up is less steep.
Boyana Waterfall Trail Start to Boyana Lake
The trail start is marked by many signposts as well as coloured stripes.
The area is very well-trodden so it is a bit confusing. Which is why I recommend having a map. As I was heading up to Boyana Lake first, I headed left following the sign and into the beautiful forest.
I hiked on a weekday afternoon and more or less had to trail to myself. There are signs that point to the lake, but it's in Cyrillic. But you can also look out for the white blue white stripes.
There is a very makeshift gym playground and also a small shrine. I couldn't figure out why it is a place of worship so if you do let me know!
After that, we soon reached the lake which is slightly fenced in. you have to go up and then around it before you can go in.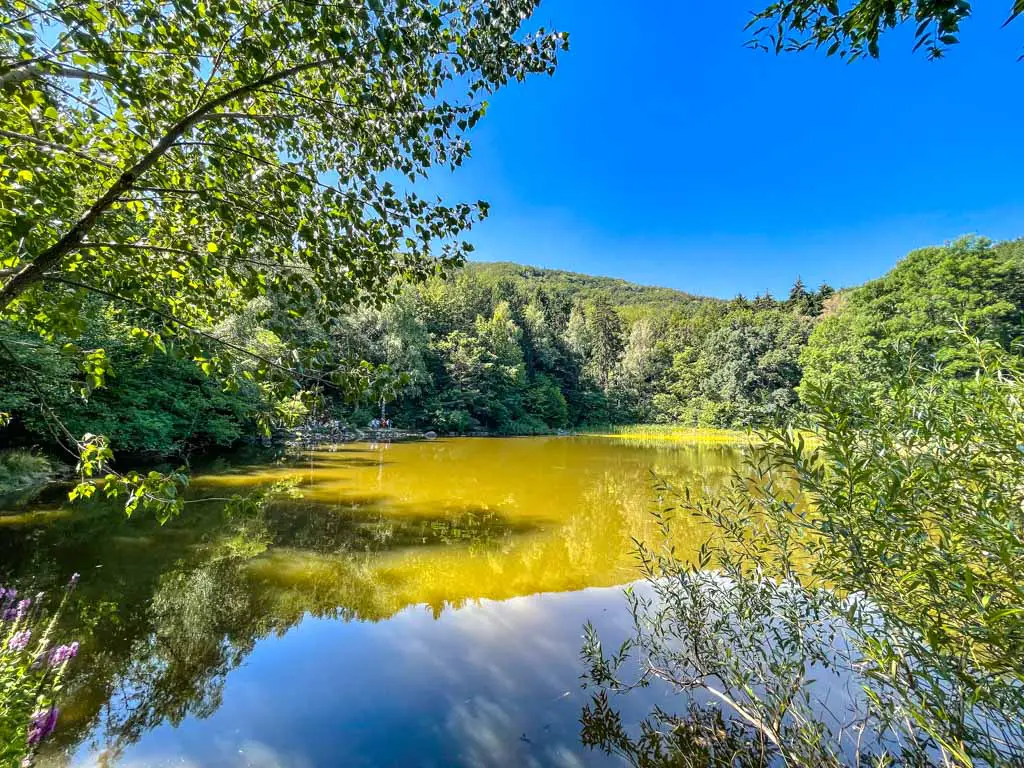 The trail around the lake is less scenic than expected, but overall it is a very pretty place. I had my packed lunch by the side of the lake there.
Boyana Lake to Boyana Waterfall
From Boyana Lake, go east and there will be a sign pointing up. That's the trail that will go to the Boyana Waterfall.
I walked past some abandoned buildings and then carried on up a narrow rocky path.
There is a big junction but there are very clear markings pointing towards the waterfall.
The hike then gets a bit more difficult in terms of footing. But there are also more signposts to lead you the right way.
It mostly goes up and actually takes you up and then down to the waterfall.
Boyana Waterfall back to Boyana Waterfall Trail Start
The waterfall is very beautiful and I spent some time taking photos. The trail down from the waterfall goes right back to the trail start and is generally the one that people would take to go directly up.
While it is a more paved trail, there are some steep parts, and it's along a river, which makes for a scenic walk.
There is some more slippery beat at the end-slash-beginning, so good shoes are necessary.
Once you hit the bridge then you're almost done.
Boyana Church
Boyana Church is worth a visit if you have time before and after. The church located on the outskirts of the city is a UNESCO World Heritage Site and one of the most remarkable medieval churches in the Balkan region.
The church is famous for its stunning frescoes from the 13th century, which depict religious scenes and local historical figures. But you cannot take photos inside, and there is a limited number of people who can enter at one time as well.
If you need the bathroom, it's also worth visiting since they do have one. You might even be able to go in without a ticket.
Ticket price: 10 BGN adult, student 2 BGN
Opening times: 1st April – 31st October: 9:30 – 18:00 (last ticket 17:30); 1st Nov – 31st March 9:00 – 17:30 (last ticket 17:00)