A Sofia Food Guide + Best Restaurants in Sofia
Sofia's food scene is pretty great and there is a version of the best restaurants in Sofia all over the internet. As a self-confessed foodie who takes a food tour and tries her best to eat at every restaurant possible, I thoroughly enjoyed Sofia's dining scene. 
Food in Bulgaria
Food in Bulgaria is generally more meat orientated, whether it's stewed or grilled. It also bears many similarities with other Balkan countries especially Serbia, Greece, and Romania, which are very close by. That said, here are some of the must-try items/dishes:
Banitsa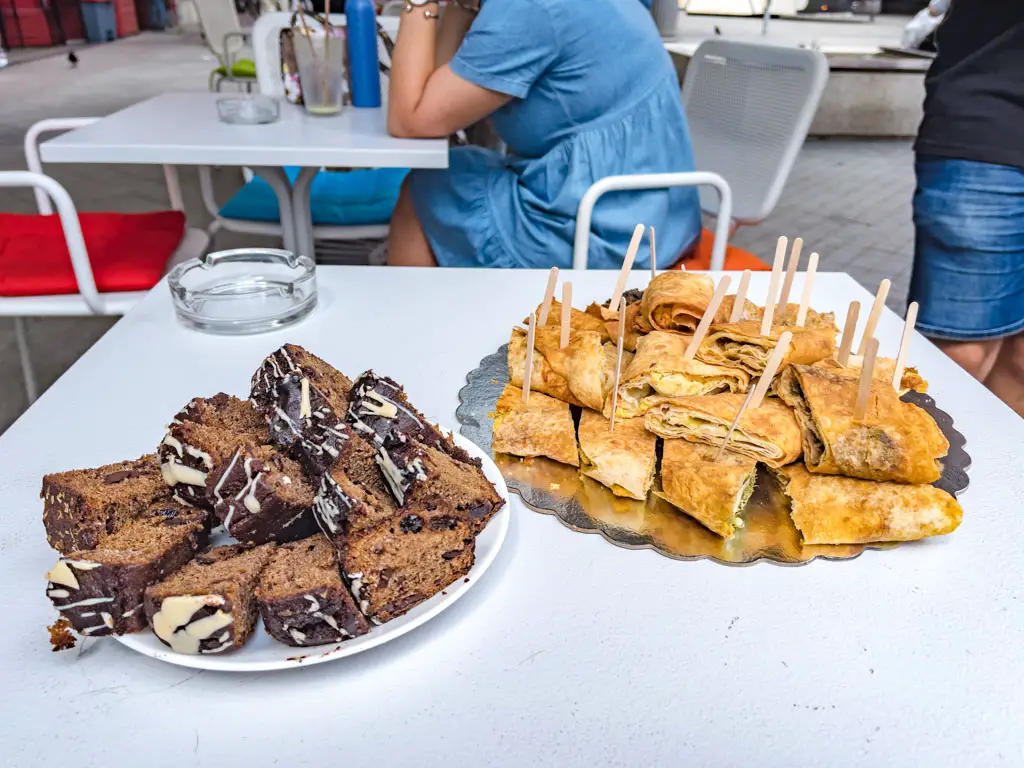 Banitsa is one of the most staple pastries in Bulgaria and is most commonly stuffed with cheese, yogurt, or eggs. The pastry is filo based and often made into a circle or a wrap. Vegetables and meat fillings are increasingly common and you can also find sweet versions.
Bulgarian Yogurt (Tarator)
Bulgaria yogurt is so one of a kind that Japan actually bought the copyright for it and sell them. The most special thing about it is the strain of bacteria that produces it, which is named after the country itself. It is a lot creamier and more like cheese than other yogurt and is the main ingredient in the tarator soup.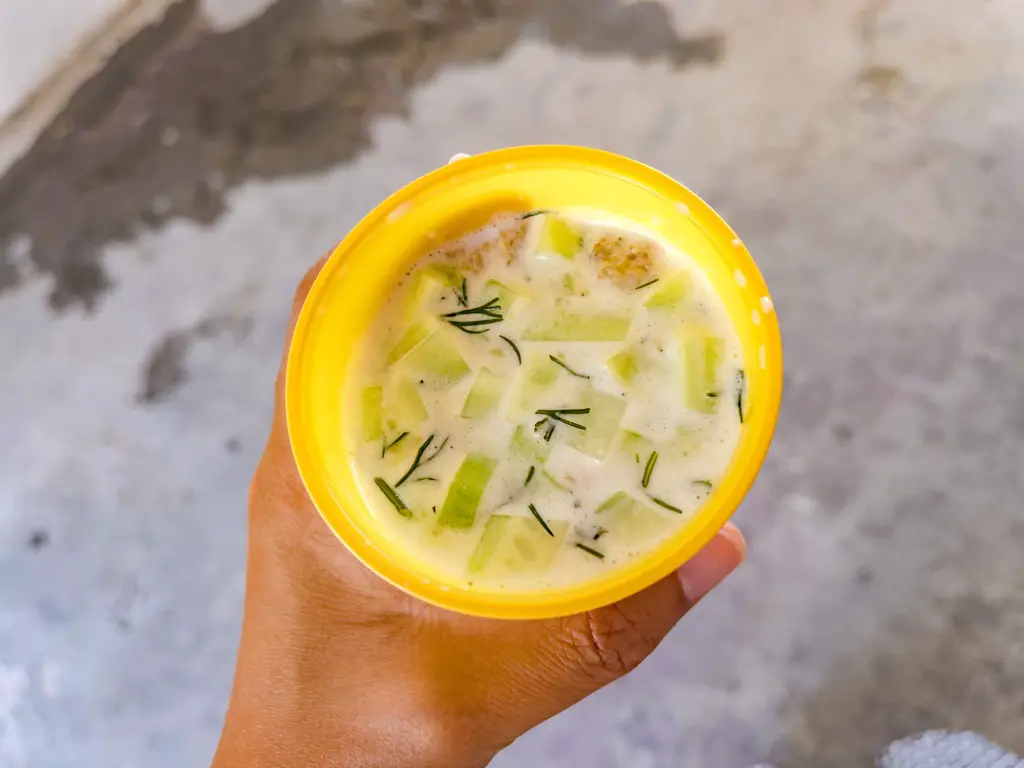 Tarator soup is almost like a cold drink with yogurt mixed with cucumber, water, and dill. It is a summer favourite and found in almost every Bulgarian restaurant.
Ayran
If tarator sounds too adventurous for you, you can try Ayran. It is a yogurt drink that is very bitter and is often drank with banitsa as breakfast. 
Lutenitsa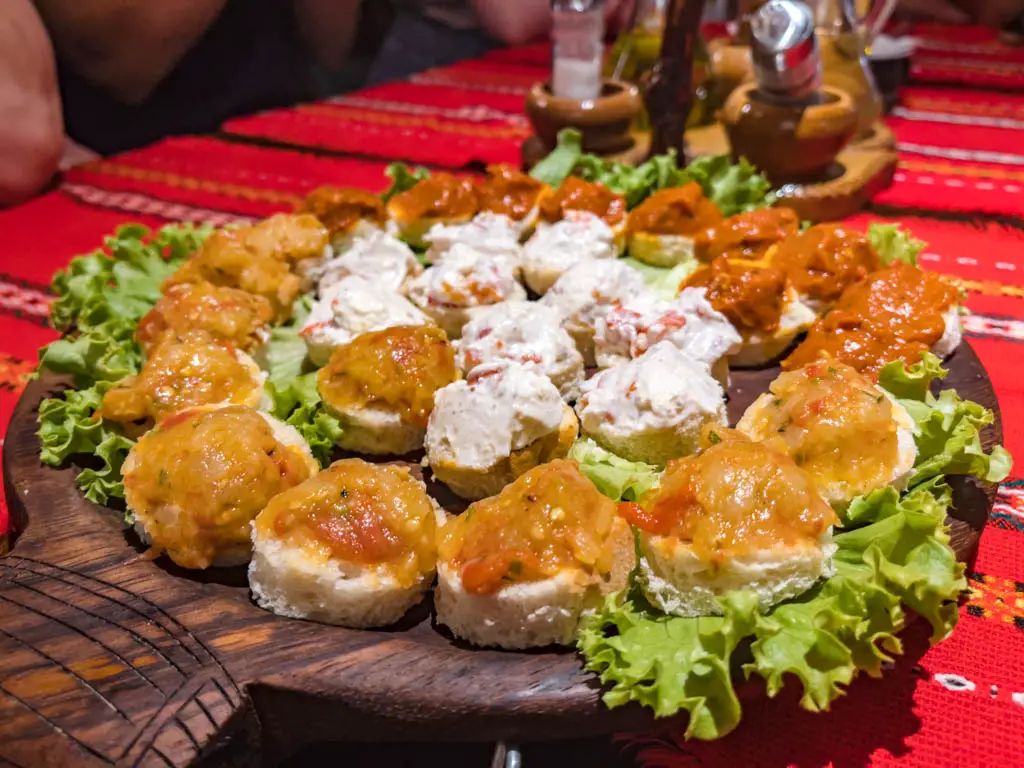 Lutenitsa is a red pepper based dip that is popular throughout the whole country. In fact, I'd like to compare it to kimchi in Korea. You can buy tubs of it in most supermarkets and it's easy to dismiss it as a sauce when it appears with other main dishes. It's great for sandwiches and as a dip.
Mekitsa
Mekitsa is a fried dough that is almost too similar to langos in Hungary and both can be described as fried dough. It's round in shape and the Bulgarians like to eat it as a dessert or sweet treat, versus the Hungarians who eat Langos as savoury.
Sofia Food Tour
The one food tour to take in Sofia is the Balkan Bites, not only because they offer you bite sized pieces that you can definitely finish and informative guides. But also because it's a free tour!
There are over 5 tastings spread across Sofia city center and we got to sample some of the most classic dishes and sauces in bite-size. It is perfect for foodie and solo travellers who otherwise would not be able to stomach so much food on their own.
Cost: free, reservation required! Tipping is encouraged at the end.
Meeting place: 2pm Crystal Park
Best Bulgarian Restaurants in Sofia
When in Bulgaria you should probably eat Bulgarian food. When it comes to finding food in Sofia, I definitely try to opt for more local options, and here's my short list:
Shtastlivetsa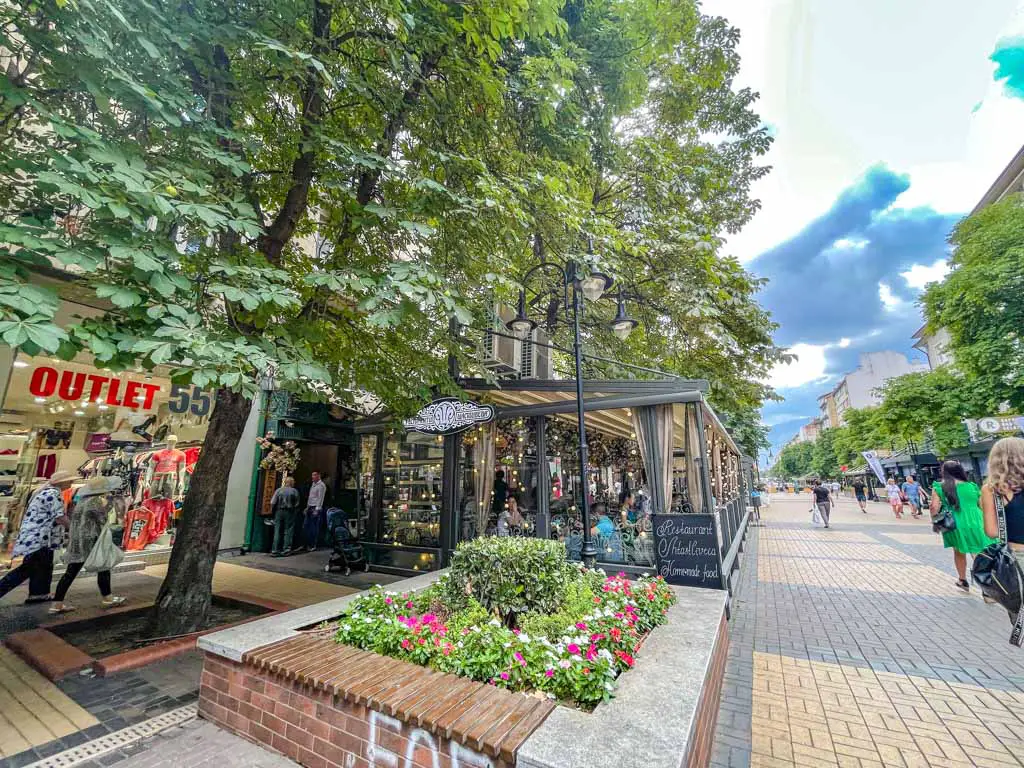 Shtastlivetsa restaurant is located on the fashionable Vitosha Bul. with a little pavement-side seating area as well as a gorgeous interior. They served both traditional Bulgarian cuisine as well as international fare, with the seasonal menu as well.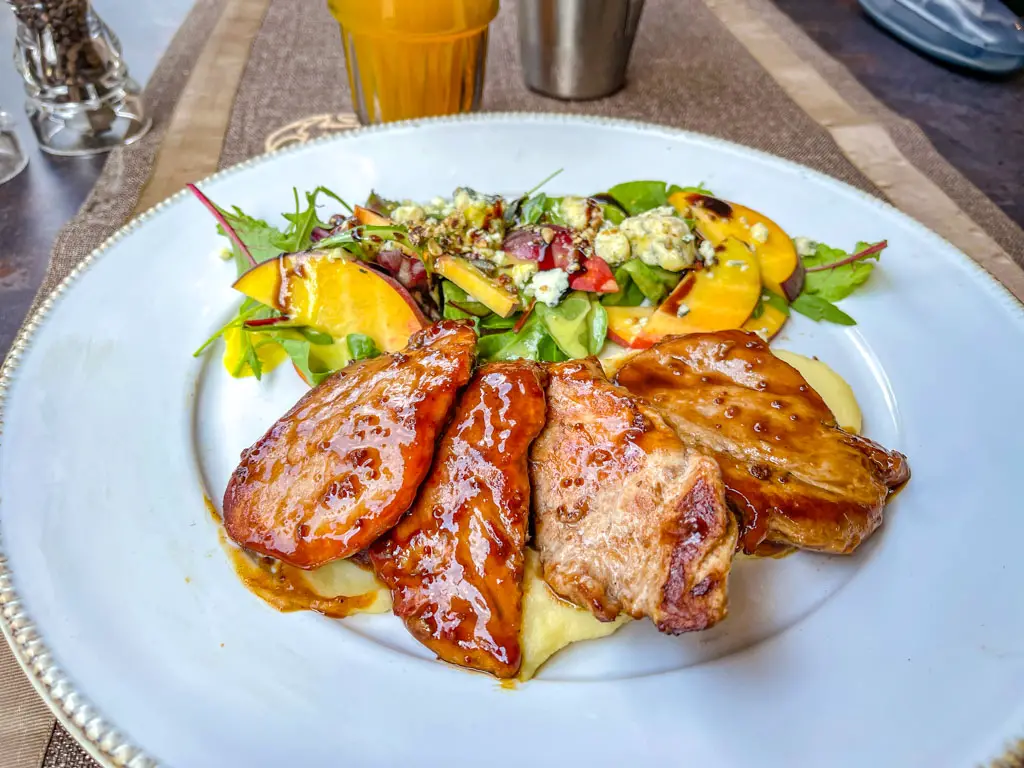 I had their pork chops with a seasonal sauce and it was delicious with a good portion of salad. It is slightly above average in terms of price but quite a lovely place to eat and people watch.
Address: bul. "Vitosha" 27, 1000 Sofia Center, Sofia, Bulgaria
Opening times: 11:30 – 0:00
Moma Bulgarian Food and Wine
Moma Bulgarian Food and Wine is the place to go if you want an authentic Bulgarian restaurant atmosphere, good food, and good service. And yes, the price tag does reflect that, but the traditional veal stew with oven-baked dough on top was defined and their local wine selection is also great.
It's a short walk from the Vitosha bul. as well with a beautiful courtyard. They even let us sit for a long time afterwards to chat.
Address: ul. "Solunska" 28, 1000 Sofia Center, Sofia, Bulgaria
Opening times: 12:30 – 23:30
Restaurant "Staria Chinar"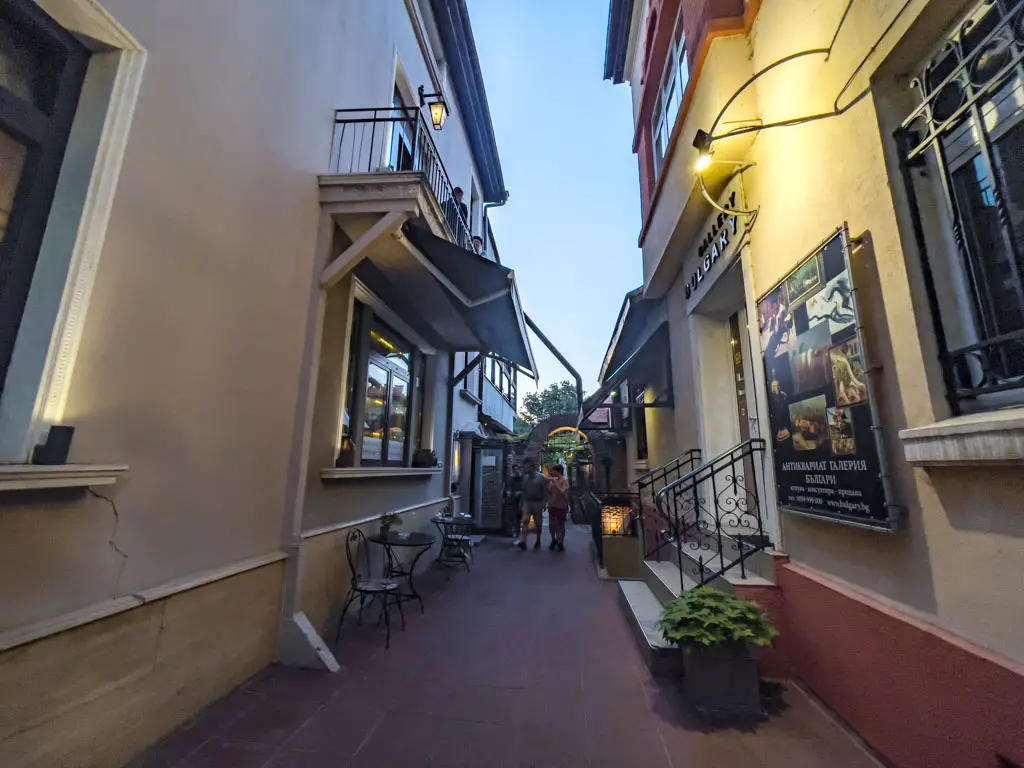 If you don't mind venturing slightly out of the city center, Staria Chinar is another beautiful Bulgaria restaurant to dine from. It is quite popular, so it's best to make a reservation if you know you're headed that way. Their courtyard is very beautiful to dine in.
While the inside is not bad, the lighting is dimmer and the seating a little dated. The pork ribs were fantastic though and they even debone it for you!
Address: бул. "Княз Александър Дондуков" 71, 1527 Sofia Center, Sofia, Bulgaria
Opening times: 11:00 – 23:00
Best Brunch Restaurants in Sofia
Rainbow Factory
The Rainbow Factory is one of the most popular places for breakfast or brunch in Sofia. It's a small but cute cafe with a variety of savoury and sweet dishes and a good selection of drinks.
I had their French toast with kombucha and it was quite tasty. However, do note that it can be difficult to get a seat.
Address: ul. "Veslets" 10, 1000 Sofia Center, Sofia, Bulgaria
Opening times: Mon – Fri 8:00 – 18:00; Sun – Sat 9:00 – 18:00
HleBar
HleBar is a health-conscious cafe and bakery that also has a small zero-waste shop. It's a great place to grab a pastry or bougatsa and they also do sandwiches and wraps.
There isn't a lot of seatings and 
Address: 16, ul. "Oborishte" Str, 1504 Sofia, Bulgaria
Opening times: Mon – Fri 7:15 – 21:00; Sat – Sun 7:30 – 21:00
Sweet and Salty Bakery Cafe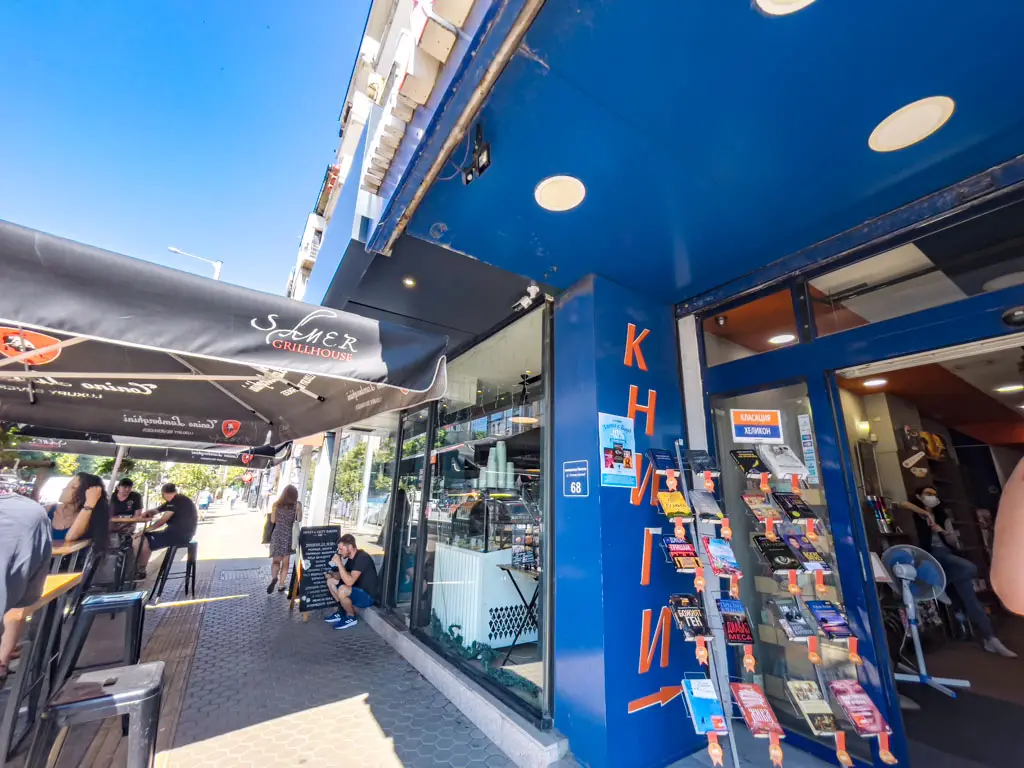 The Sweet and Salty Bakery is across from the Palace of Culture Park and also a popular brunch location. That said, I didn't find it too value for money, even though the egg florentine I had was fine.
Instead of a sit-down breakfast, their pastries and baked goods look pretty good!
Address: bul. "Vitosha" 62а, 1463 Sofia Center, Sofia, Bulgaria
Opening times: 8:00 – 20:00
Best Burgers in Sofia
Skaptobara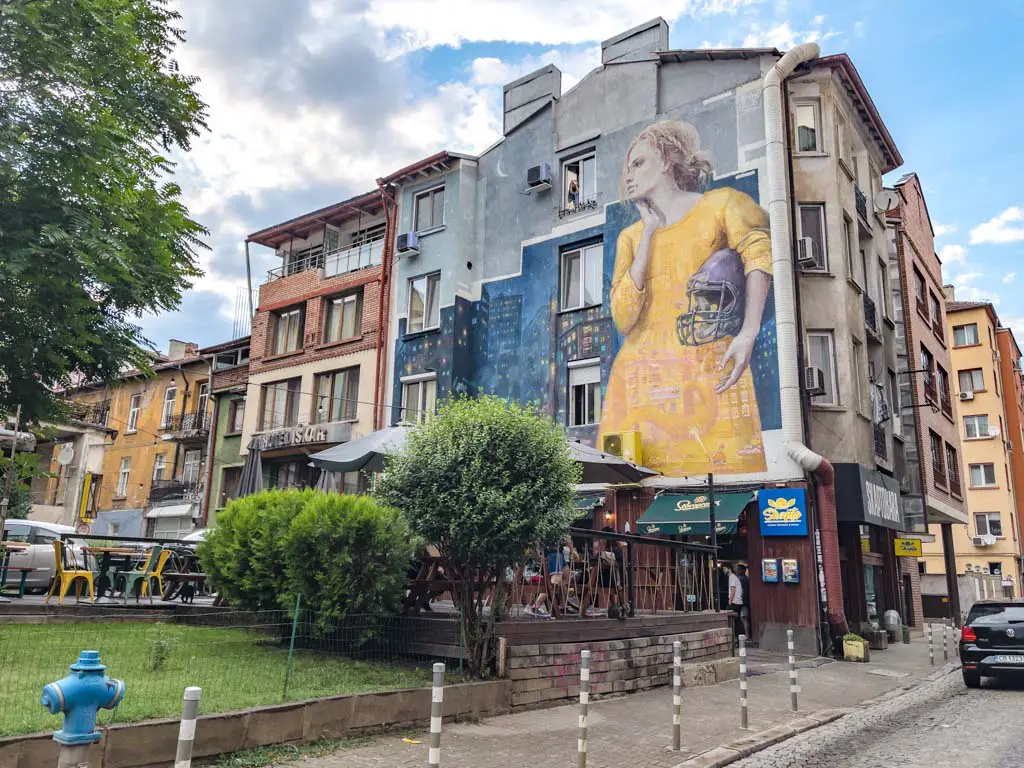 Skaptobara is a burger joint opened by an American and popular with both locals and tourists. Their main location has a huge mural of a girl holding a football helmet on the wall above the restaurant.
They have a good choice of beef, chicken, and vegetarian burgers and a nice courtyard to sit on during summer.
Address: ul. "Iskar" 11А, 1000 Sofia Center, Sofia, Bulgaria
Opening times: 11:30 – 22:30
Best Gelato in Sofia
Savina Gelato & Bakehouse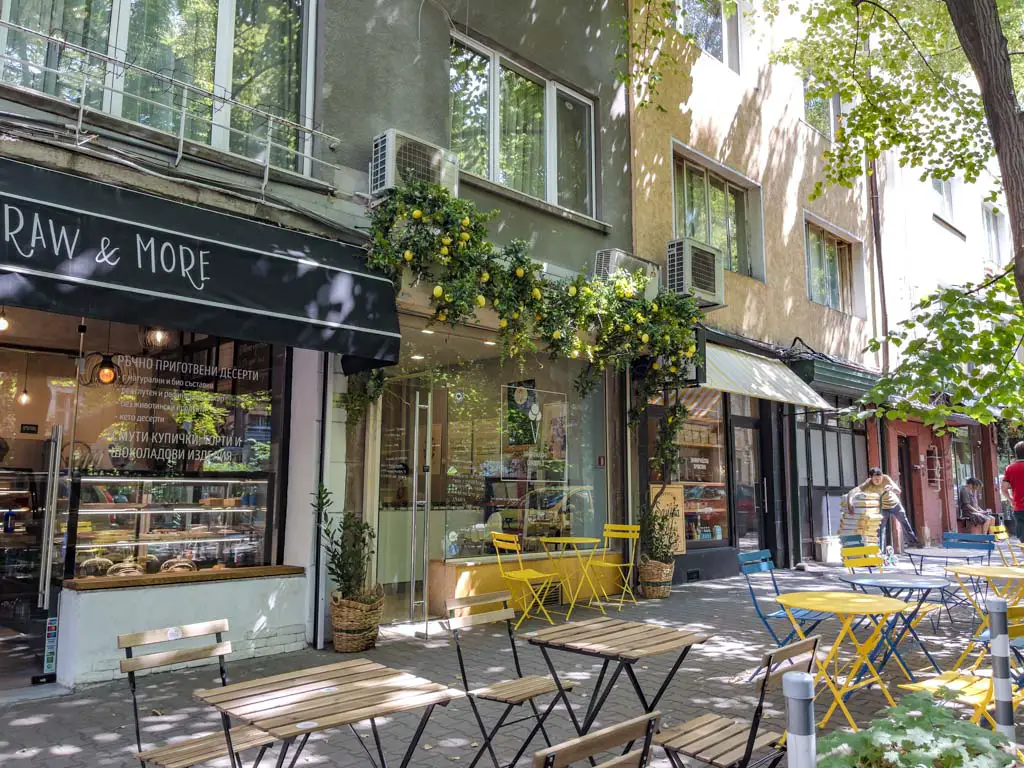 Savina Gelato is more of a gelateria than a bake house but perhaps that's because I visited in the afternoon. They have a great selection of flavours and is approved by my gelato-making friend.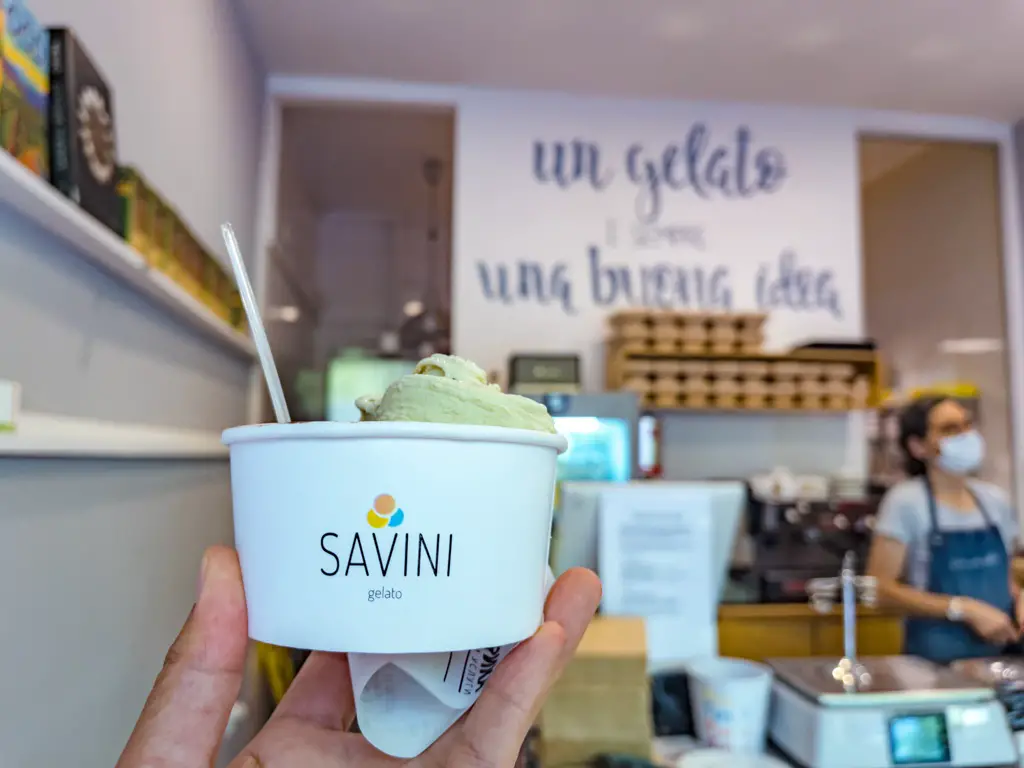 They also have vegan options as well as sorbet, although admittedly the prices are higher compared to the average dining cost in Sofia. I have to say it's well worth it on a hot afternoon.
Address: ul. "San Stefano" 9, 1504 Sofia Center, Sofia, Bulgaria
Opening times: 8:30 – 22:00
Best snacks in Sofia
Mekitsa and Coffee
Mekitsa is one of the must-try in Sofia and Mekitsa and Coffee is one of the best places in the city to have one. The prices are extremely affordable with classic ones and various topping choices starting at less than 2 USD.
The mekitsa is also larger than expected so don't eat it too close to meal time or share it with friends! They have dine in option but most people order theirs to go.
Address: ul. "Graf Ignatiev" 28, 1000 Sofia Center, Sofia, Bulgaria
Opening times: Mon – Fri 8:00 – 19:00; Sat – Sun 9:00 – 19:00
Zoya Natural and Organic Shop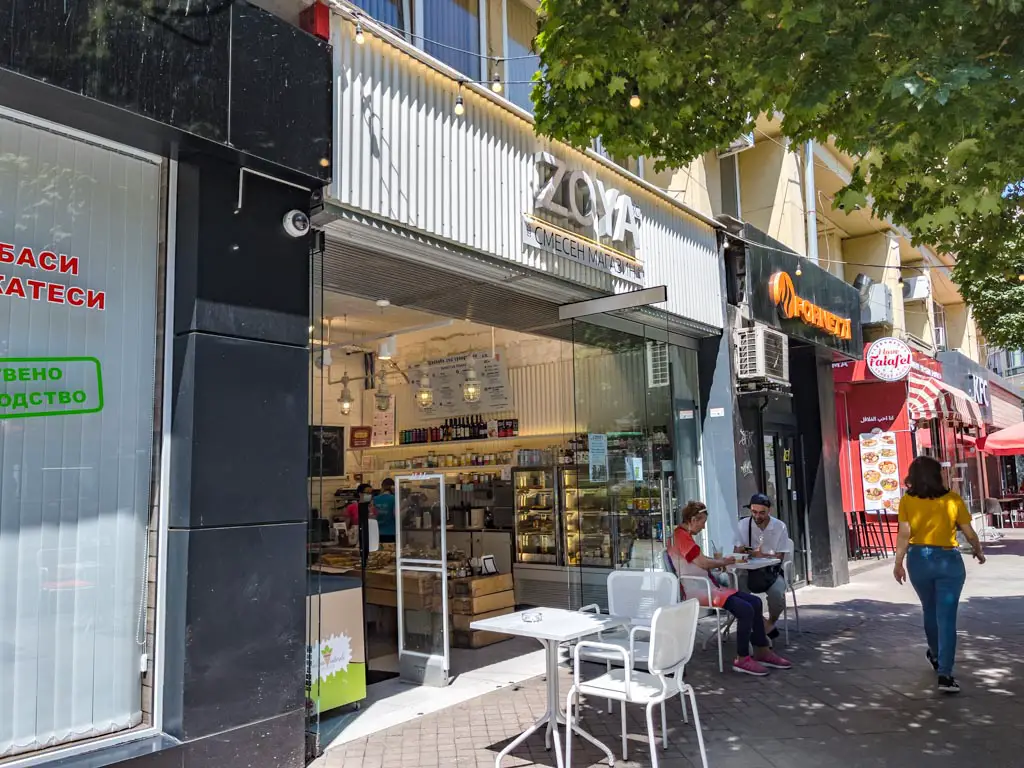 Zoya is a chain of natural food and cosmetic that has several locations in Sofia. Most of their shop has a cafe as well, if not they always have a food section. They also serve up another breakfast/pastry banitsa as well as some delicious cakes and smoothies.
They have 7 stores across the city and you can find the addresses and opening times here.
Asia Restaurants in Sofia
Ninja Bowl

Ninja Bowl is an Asian fusion restaurant that serves both poke bowls as well as other cuisines like Thai yellow curry, Tex-Mex, burritos, and Indian food. There are plenty of vegetarian options and seating, both inside and outside.
The prices are also quite affordable and it's a great place to grab a quick bite or get takeaway.
Address: ulitsa "Georgi S. Rakovski" 84, 1000 Sofia Center, Sofia, Bulgaria
Opening times: 9:00 – 21:00
Sando Shop
For even more Asian fusion, Sando Shop is a small but frankly quite awesome sandwich place with Asian sandwiches. From fried chicken sandwiches to baos, they even have ramen! I had the chicken sandwich and waffle fries and left very, very stuffed!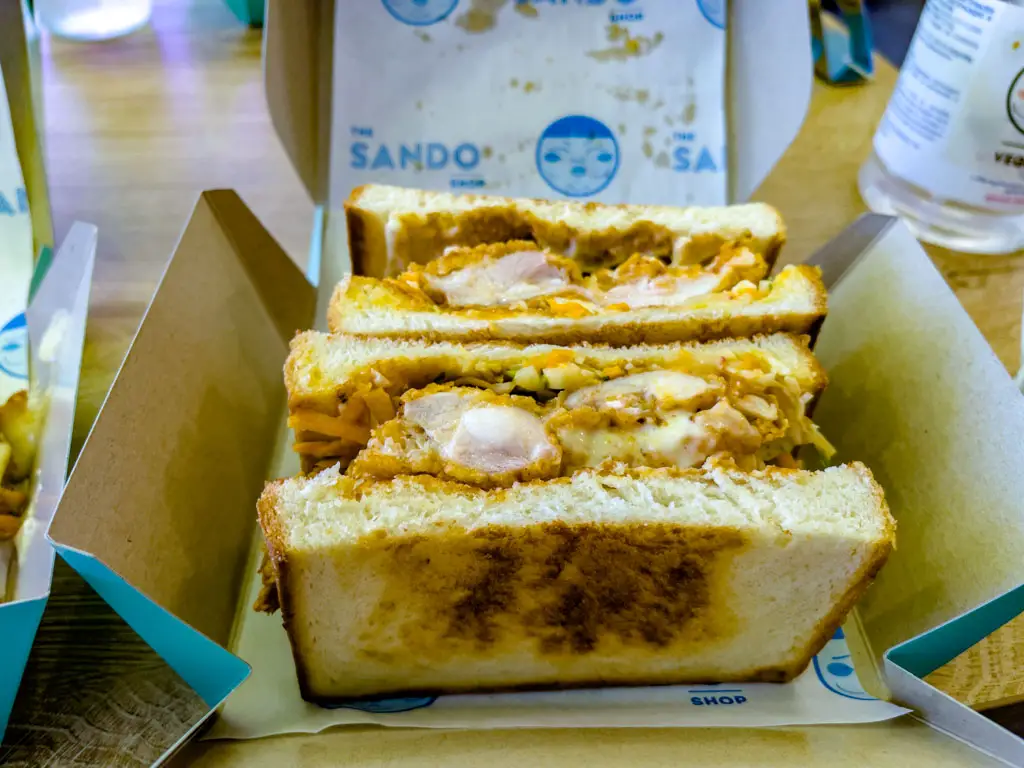 Address: bul. "Patriarh Evtimiy" 14, 1142 Sofia Center, Sofia, Bulgaria
Opening times: Mon – Sat 12:00 – 22:00