Rila Seven Lakes day trip from Sofia + tips
The Rila Seven Lakes is one of the most popular day trips and hike to do from Sofia. Not only does the lift for Rila Lakes make it an easy trek, the Rila Mountains of Bulgaria are also known for being the Switzerland of the Balkans. It's famous for its stunning natural beauty and pristine landscapes, and the Rila 7 Lake hike is a must-do activity for outdoor enthusiasts visiting the region. The hike takes you through an enchanting trail that winds through seven crystal-clear glacial lakes, each of which boasts its own unique charm and features.
> See my guide to Sofia as well as what to eat.
> All the tips for Bulgaria
The Rila Seven Lakes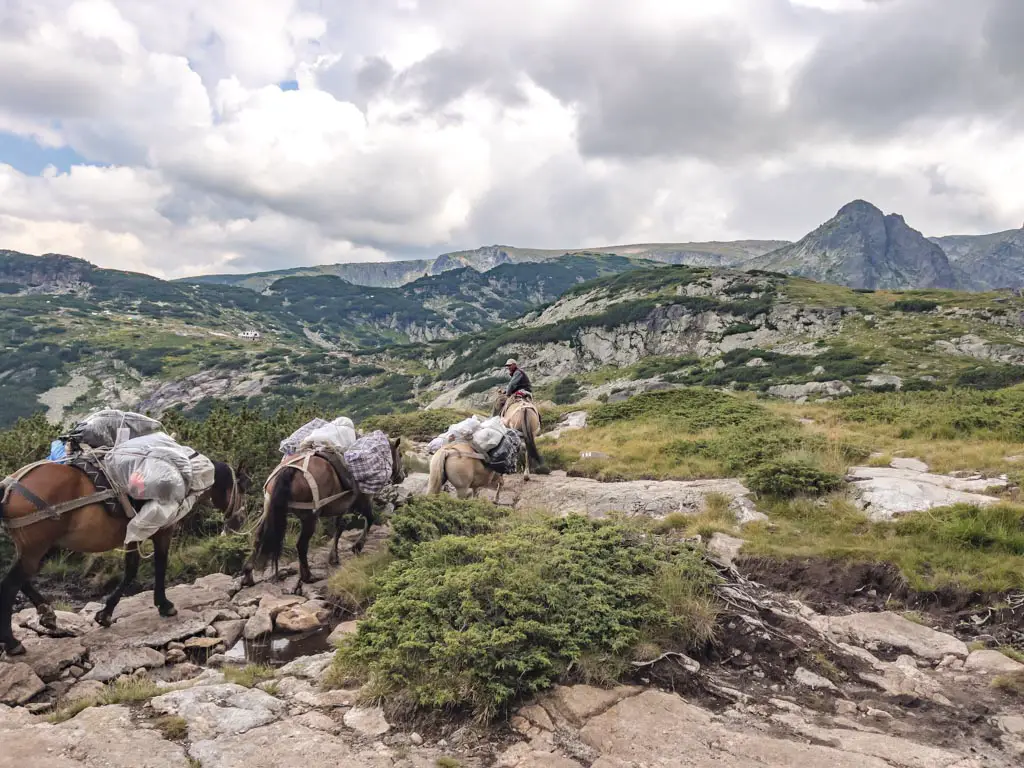 As you can see, there are seven lakes in the Rila Seven Lakes hike. There are more lakes in the Rila Mountains, but this hike will take you through seven of them. The lakes are interestingly linked to the religion of the Universal White Brotherhood.
Rila Seven Lakes Geology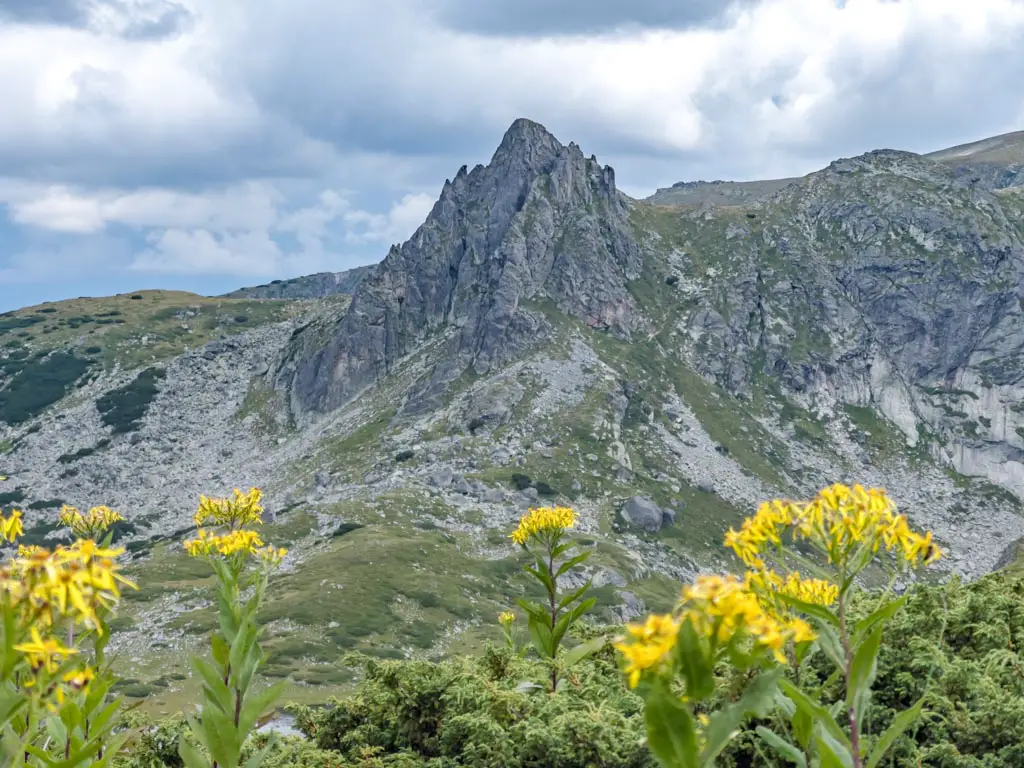 The Rila Seven Lakes are all glacial lakes situated in the northwest corner of the Rila Mountains. Rila Mountain is the highest mountain range in Bulgaria. It is one of the oldest parts of Balkans with rocks from the Macedonian-Thracian Massif.
The main rock type of Rila is granite with schist and granite-gneiss topped by Tertiary sedimentary rocks. The shape we see today is from the glaciation during Pliocene and Pleistocene and then also the modern glaciation 10-12000 years ago.
Here are the lakes in order: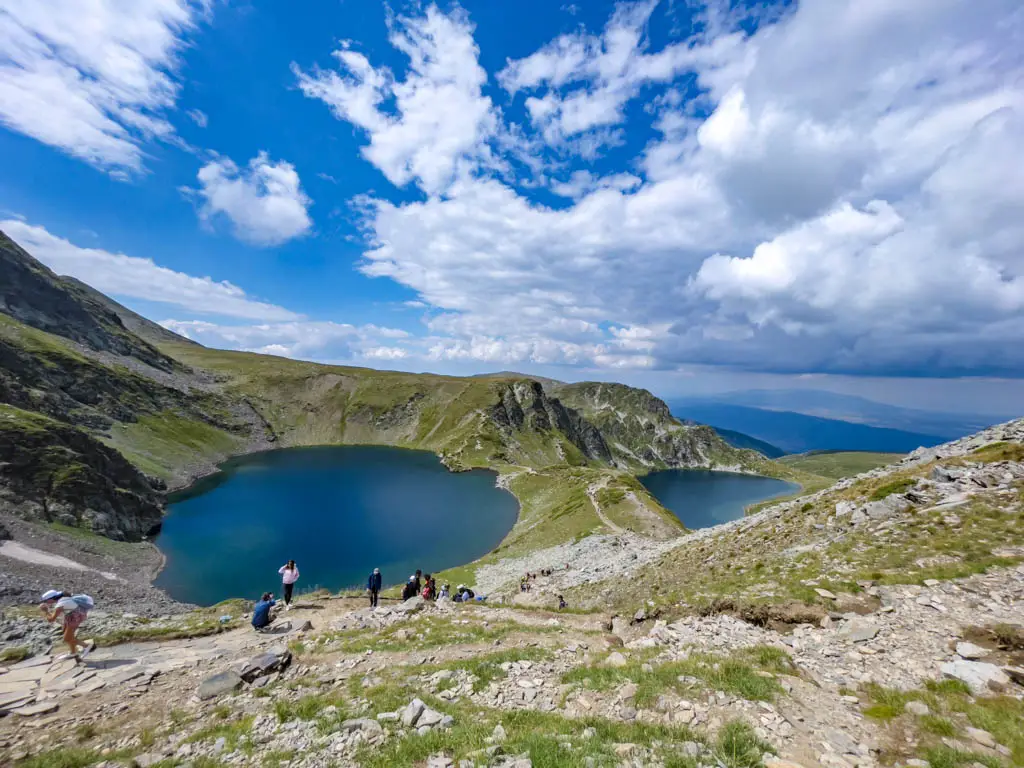 Dolnoto Ezero: the lower lake and the largest of all the lakes, with a depth of about 37 meters. It's located just below 2,000m sea level.
Ribnoto Ezero: the fish lake, which is smaller and has a unique shape resembling a fish. It is rich in wild trout.
Trilistnika: a serene tarn that is surrounded by alpine vegetation and shaped like maple leaves. It's also known as the 3 ways lake as the water goes towards lake 2 in 3 different ways.
Bliznaka: the twin lake, composed of two smaller lakes that are situated very close to each other. The two lakes are linked by a small river.
Babreka: the Kidney (shaped) lake, which has a relatively shallow depth of about 25 meters
Okoto: the heart-shaped lake is the deepest of all, with a depth of 37.5 meters.
Salzata: the teardrop shape lake. It is the smallest of all the lakes but compensates for its size with its stunning cascading waterfall that plunges from a height of 70 meters, making for a spectacular sight.
Universal White Brotherhood and Rila Seven Lakes
The Universal White Brotherhood is a Bulgarian-born religion that is a mix of Christianity and Indian Hinduism. It was founded in 1897 by Peter Deunov and the Rila Seven Lakes is the strongest point of positive cosmic energy. They hold an annual celebration called Paneurhythmy on 19th August to celebrate with music and dance.
I said each of the lake represents different life stages according to the Brotherhood's beliefs:
Spiritually it's the infant lake
Child Lake
Adulthood lake
18 to 35
35-70
70-100
100-120, end of the physical life
How to get to Rila Seven Lakes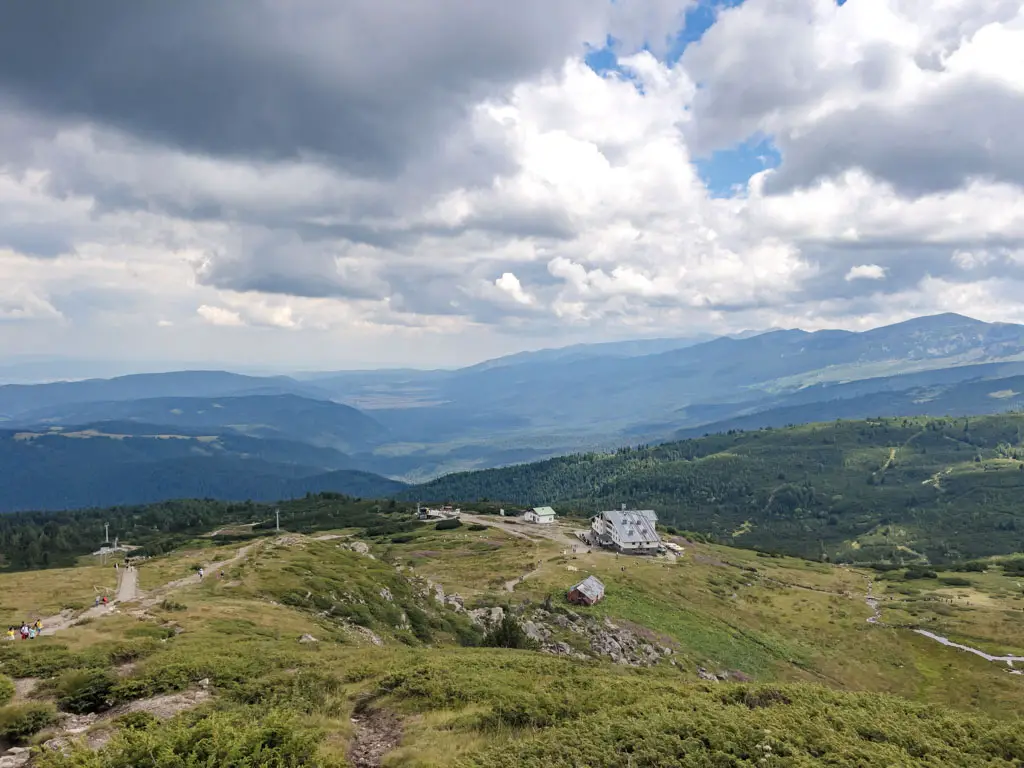 How do I get to the Seven Rila Lakes? There are a few possible ways to get to the Seven Lakes depending on where you are in Bulgaria.
How to get to Seven Lakes from Sofia?
Most people are likely to travel from Sofia and there are 2 main ways – public transport is not recommended as there is no direct way.
Rila Seven Lakes from Sofia by Car
Driving to Rila Lakes from Sofia is by far the most flexible way. The drive takes around 2 hours and do note that road signs will be in Cyrillic. Therefore, make sure you are well prepared with the route before setting off.
There isn't a lot of parking space by Rila Seven Lakes if the main car park fills up. The nearest one has some negative reviews but it is the closest. Price should be around 5 BGN per day.
Rila Seven Lakes Shuttle and Day Trip
The most fuss-free way would be to take a shuttle to Rila Seven Lakes or join a day trip. This means you don't have to worry about the logistic and only need to show up. The most popular thing to do is combine the famous Rila Monastery with the hike, which is doable on a long-ish day trip.

Most day trips that start from Sofia depart from the Alexander Nevsky Cathedral. It's worth noting that the chairlift ticket is not included, so remember to bring 18 BGN cash. Here are the two most popular options:
Rila Seven Lakes Day Trip from Sofia – which has a guided and self-guided option. If you're not an experienced hiker, it's best to opt for a guided tour.
Rila Seven Lakes + Monastery Self Guided Day Trip from Sofia – is another popular option. Since it hit two major attractions with one.
If you want to do the full seven lakes hike, you'd have to do the full-day trip. There simply isn't enough time for you to do all of them if you also go to the Monastery.
The Rila Seven Lakes Hike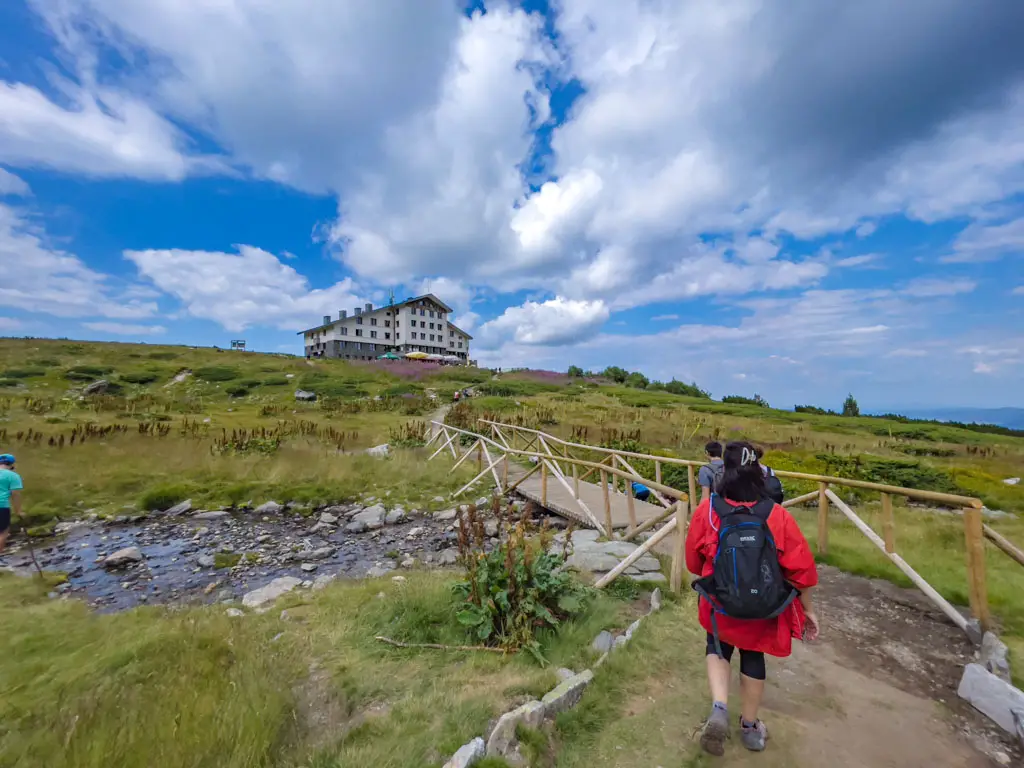 How long does it take to hike the 7 Rila Lakes? It is a difficult question to answer because it depends on your hiking experience, whether you're appropriately dressed, and which route you take. Here is a quick summary:
Rila Seven Lakes Hike time: to do the full hike, budget around 4.5 hours. If you're only doing lakes 1-5 and returning the same way, it should take just under 2 hours. This does not take into account of the chair lift time or waiting for the chair lift.
Rila Seven Lakes Hike length: 10km (6.2 miles) for the full hike,  
Can you swim in the 7 Rila Lakes: no, you are not supposed to swim or take water from the lake. But there is a stream between Lake 5 and Lake 6 where you can refill your water bottle.
Lift to the 7 Rila Lakes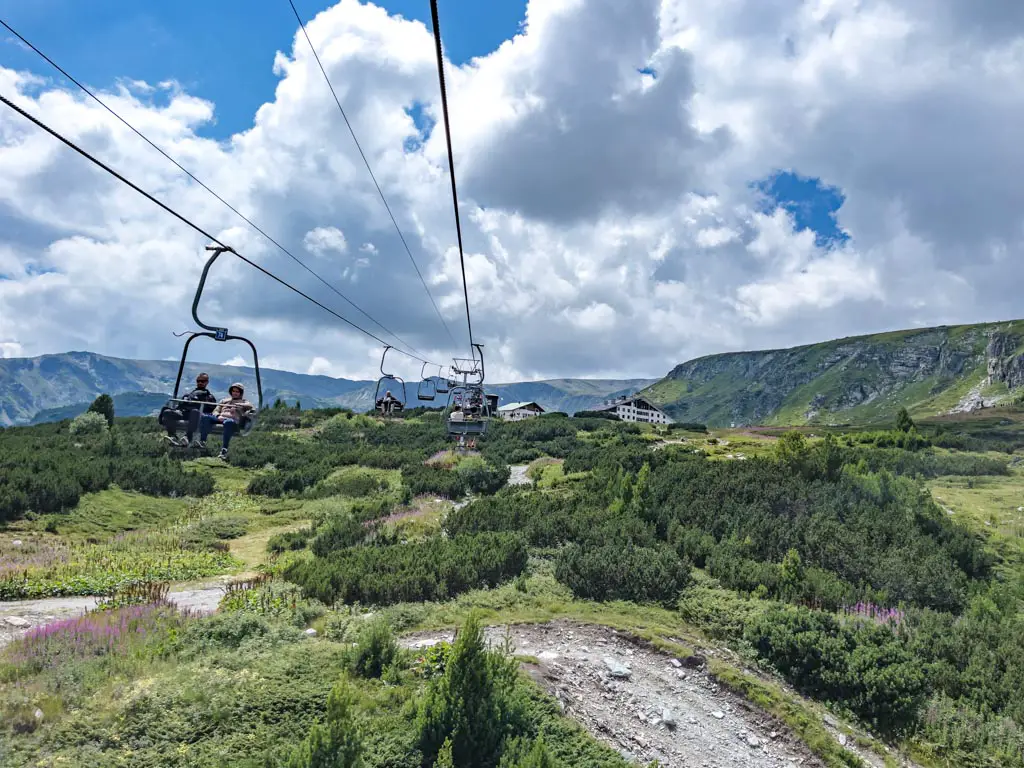 The Rila Seven Lakes chair lift opened in 2009 and cut two hours and 500m elevation on the hike. It is a ski lift and honestly, as a short person, it was kind of difficult to get on and off (ha). But it does have a great view, saves you time, and makes it possible to do as a half-day trip.
7 Rila Lakes Lift Cost
How much is the lift to Rila Lakes? You need to prepare cash for the visit as while it does take cards, the machine doesn't always work (visited August 2022). Remember, you'd need to buy a return trip otherwise you'll have to queue for the tickets again on the way down: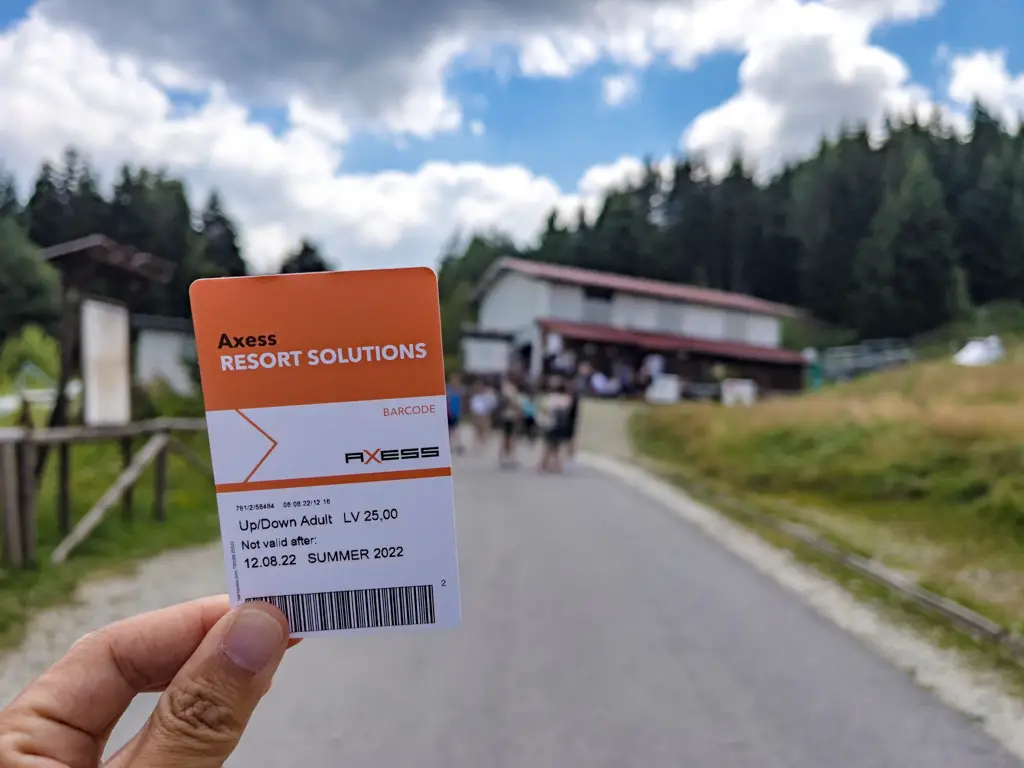 While the ticket prices on the website are below, I paid 25 BGN for a return ticket
Adult: 10 BGN one way (5 euros), 18 BGN return (8 euros)
Children (5-12), seniors, and disabled: 8 BGN one way (4 euros), 12 BGN return (6 euros)
Under 6 free
Note: you get a 10% discount for 10-24 people and 20% off for groups of 25+. But the entire group needs to be present at the ticket kiosk.
Day passes and longer passes are available – see the official website.
7 Rila Lakes Lift Opening Times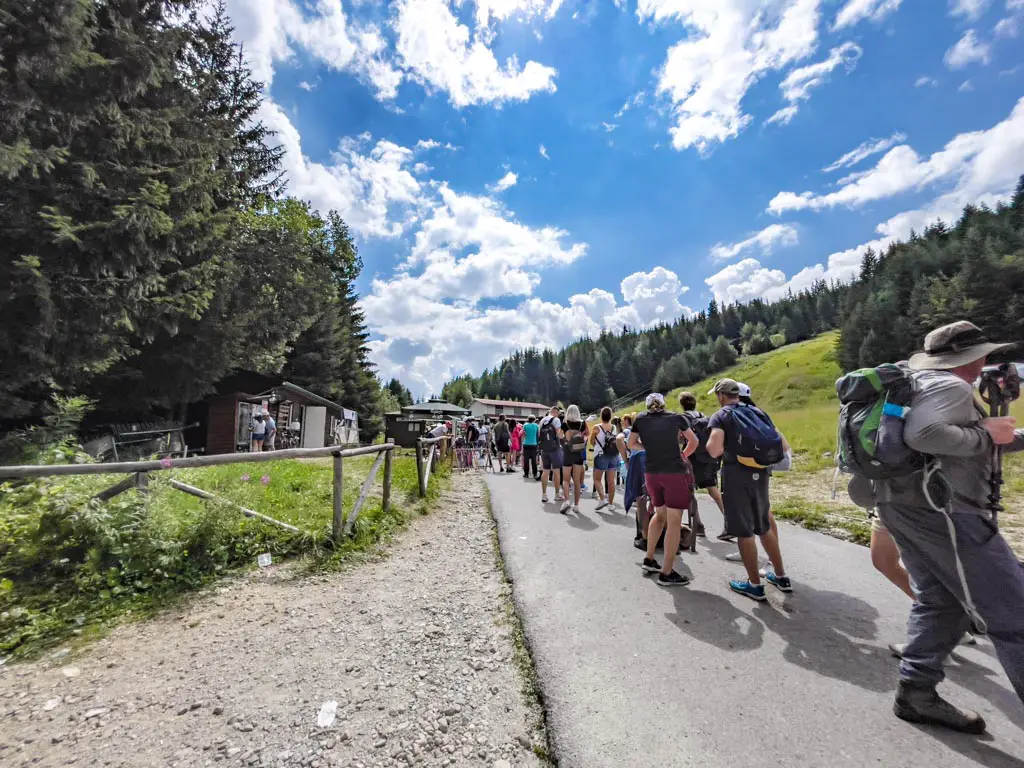 The lifts are open year round but have a shorter service on Monday, and also close every last Monday of the month.
Monday: 12:30 – 18:30
Tuesday – Thursday: 8:00 – 18:30
Friday – Sunday: 8:00 – 19:30
What to bring for Rila Seven Lake Hike
The Rila Seven Lake hike is well-trodden but that doesn't mean you should go unprepared. The hike is signposted and paved, but there are limited refreshment points and some more difficult parts, so it's important to be well-equipped. Here's what I recommend: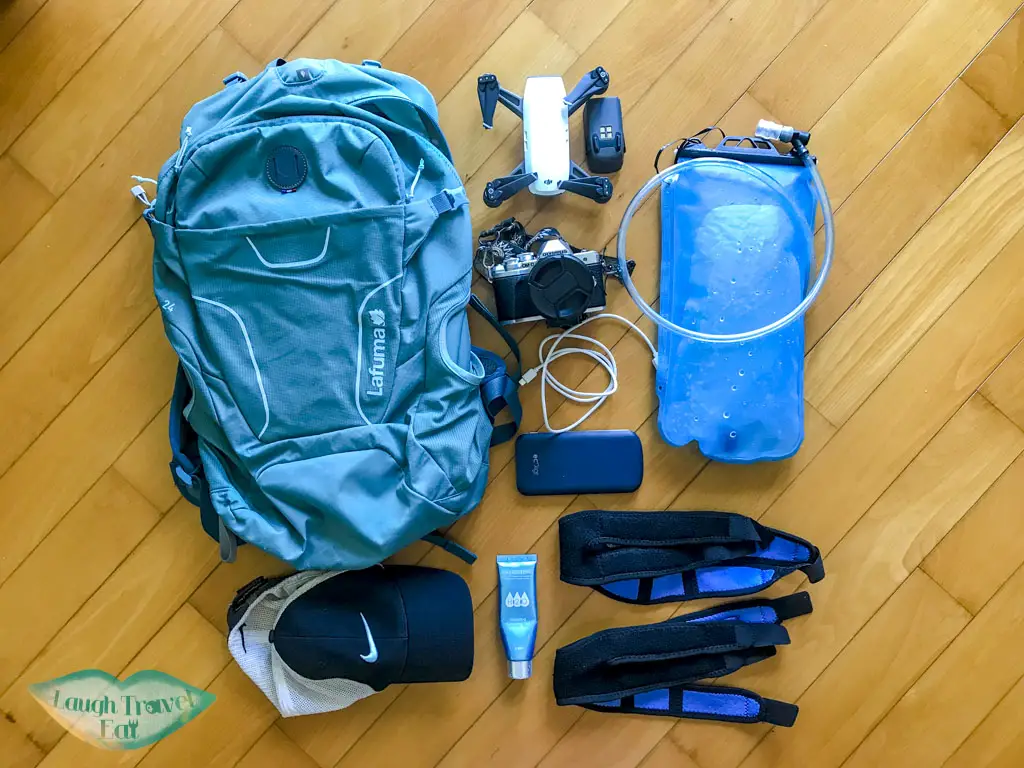 (see here for my general hiking day pack list)
Sunscreen – the hike is quite exposed and you should use sun protection, especially in the summer months. 
Hat and sunglasses – ditto above
Windbreaker and layers – I'd bring a waterproof jacket if you have it as the weather can be unpredictable in the mountains. It is also cooler up there so layers would be good to have.
Good footwear – some parts of the trails are on rockier grounds. A good pair of hiking shoes or trainers with a good grip is essential.
1-2L of water – while there is a stream where you can refill your bottle, it's much safer and more advisable to bring your own.
Packed lunch and snacks – there is a restaurant and cafe at the bottle of the ski lift and by the ski lift. But the offerings are limited and you should pack your own food.
Cash – for the ski lift and any food you want to buy
Hiking the Rila Seven Lakes hike
Here is my experience hiking the Rila Seven Lakes. Truth be told, it was extremely difficult to keep track of which lake was which aside from Lake 4 (twin) and Lake 5 (Kidney).
Chair Lift to Rila Seven Lake Hike Starting Point
I joined the day trip to Rila Monastery and Rila Seven Lakes and we arrived at the Rila Seven Lakes lift just before lunchtime. The queue was already quite long since it was August, and our tour guide stood in line to get tickets for us while we were free to roam.

This is a good time to eat because you would need to begin hiking as soon as you go up. It did take a while as we had to wait in line for the tickets, then for the chair lift up.
The trail for the Rila Seven Lake is a short walk from the chair lift. There are many good signposts and we followed our guide.
Trail Start to Lake 5 (Kidney Lake)

After the initial stairs, it was an easy walk along the ridge with many spectacular views. While the weather isn't the best, it was still lovely and less scorching.
The main trail is a bit narrow and has to serve outgoing and return hikers. Although there is a wooden fence along the way, it's easy to go past it but you have to be careful of the cliff.

It's all relatively flat until you reach Kidney lake, and it doesn't bypass lake 1-3, we only see them from afar.
Kidney Lake to Highest Point

then it's the steepest part of the trail towards Lake 6 and lake 7.

We didn't go all the way to 7, only to the viewpoint for both before returning down towards the Kidney Lake (lake 5).
Lake 5 (Kidney Lake) back to Chair Lift
The easier way would be to return the way we came, but you can also do a loop back to the chair lift and get closer to lake 1 and 2.

I did that with some faster fellow day trippers and made it back before the main group.