Last updated on May 6th, 2019 at 09:24 pm
The rugged Irish countryside has a unique beauty, and the west coast of Ireland is a definite must for people visiting Ireland; the enchanting landscapes in Connemara, Cliff of Moher etc. are the gems of Irish countryside, and what make the west coast of Ireland so famous. For those who doesn't know how to drive or are hesitate to hire a car in a foreign country, joining a local tour is definitely an option. For us we decided to join the West Coast Explorer tour with Railtours based in Ireland.
Choosing Ireland tour
We were only visiting Ireland for 5 days, and we wanted some time to explore Dublin as well (check out our Top 5 things to do in Dublin if you are planning to head there too!). Hence our priority is to find a tour that is short but still allows us to visit enough of the countryside, and 'The West Coast Explorer' has a packed 2 days' itinerary that definitely does that. If you are looking to do more, here's a two week Ireland itinerary.
Sights included in the tour: Bunratty Village, Cliff of Moher
Day 1 of Ireland Rail tour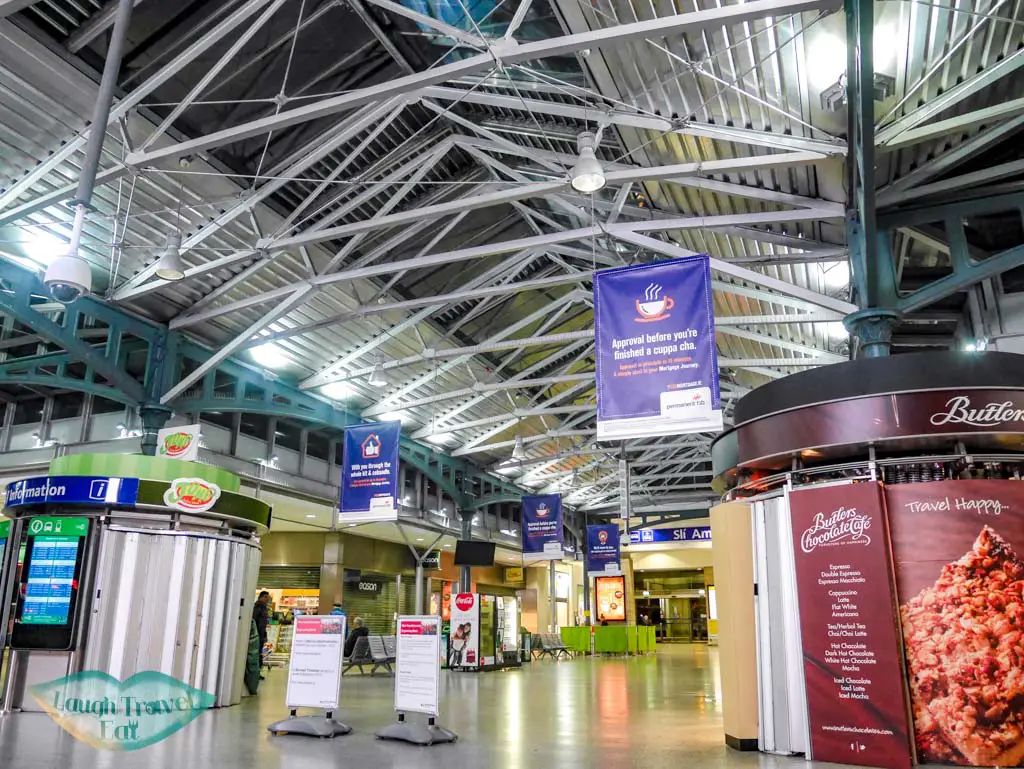 The meeting point of the tour is at Dublin Heuston station, at the early hours of 7:00am. We recommend getting there early, and the staff (wearing bright yellow vest of Railtours Ireland) are easy to spot!). When we booked our tour, online bookings include cooked Irish breakfast, but I do believe they change the giveaway so do check on their website! There's a member of Railtours with us to make sure we change train to get to Limerick.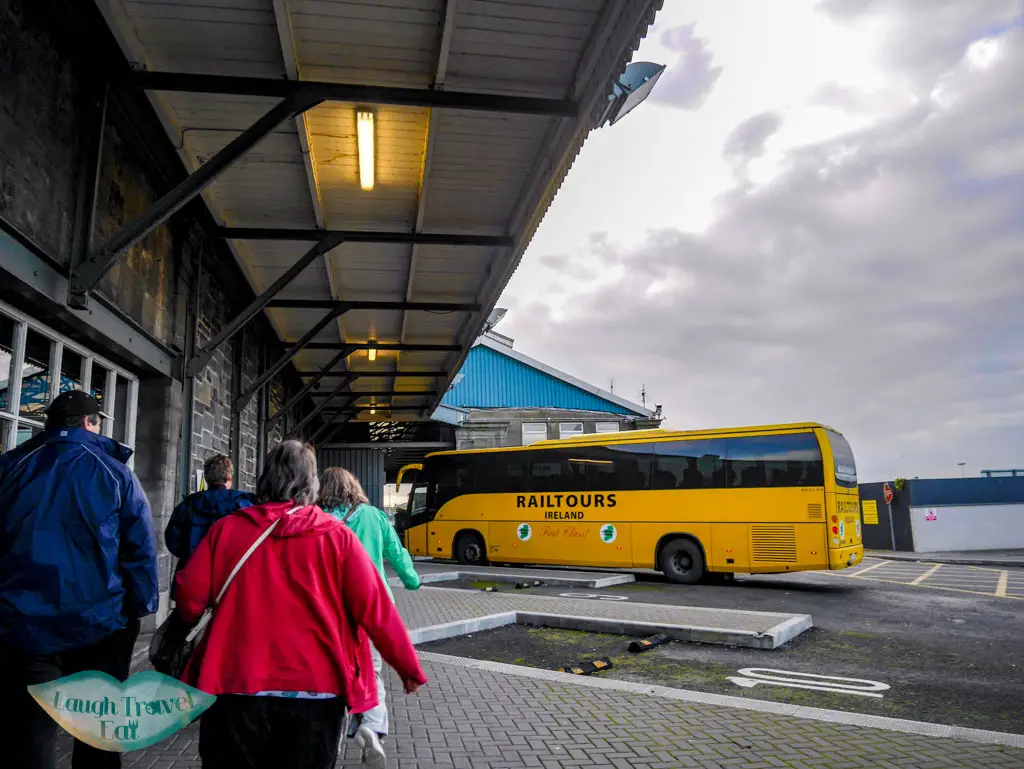 After we arrived at Limerick, we got on the Railtour bus and headed to our first sight of the trip: Bunratty Village. Bunratty village includes the Folk Park and the Bunratty Castle.
Bunratty Castle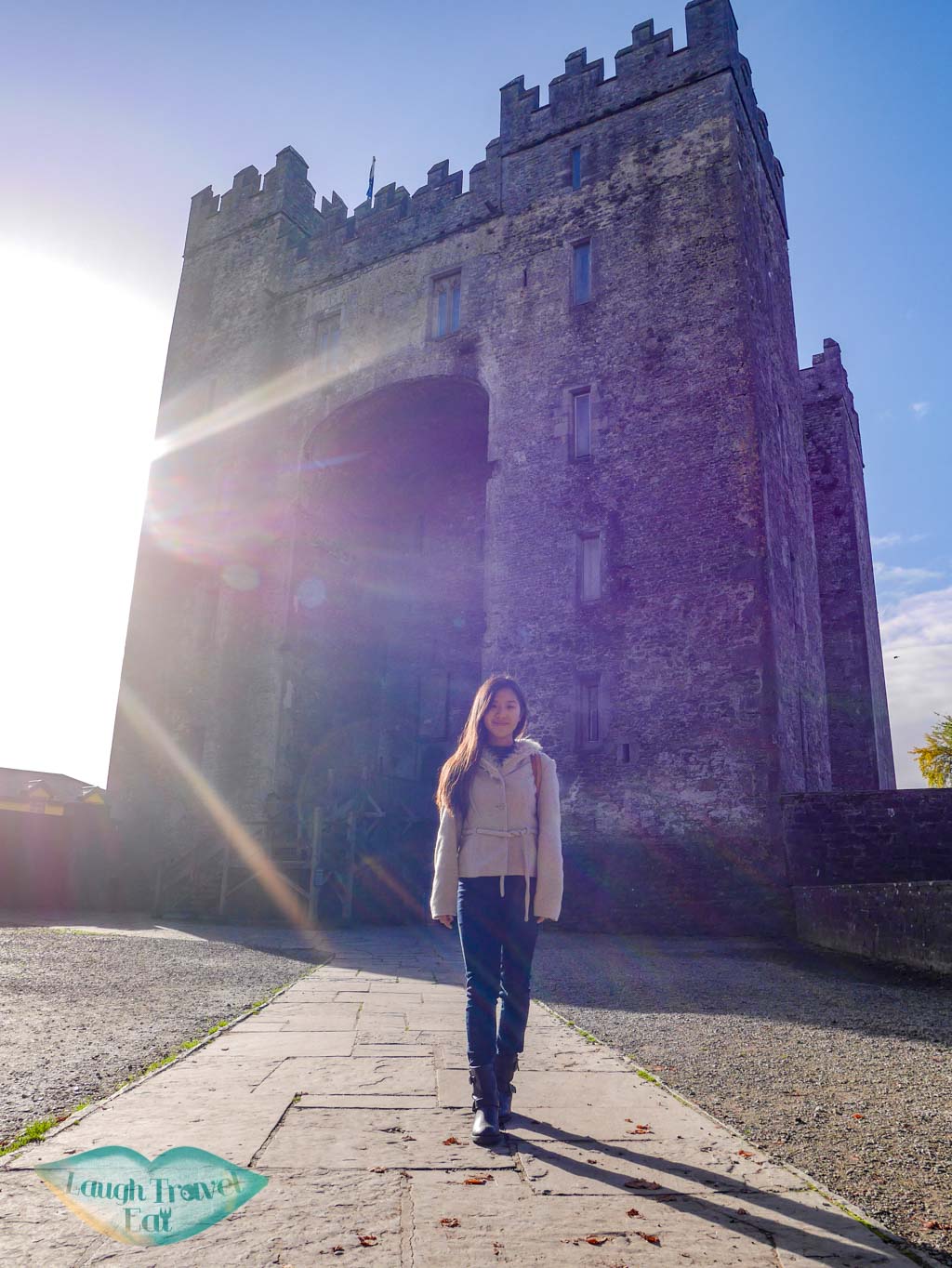 Bunratty castle got its name from the adjacent River Ratty, as Bun means 'bottom' or 'end of'. Several castles existed around the area before the construction of the current castle (the fourth structure), which was built around 1425. Bunratty castle had changed hands over much of the history, it was left to disrepair in the early 1800s; it was restored in 1956 by the 7th Viscount Gort and finally reopened to the public in 1960. The furniture, arts and tapestry inside are mostly from the 17th century.
Our tour guide wore a charming Medieval costume!
Apart from the castle itself, it's worthwhile to look around the folk park as well. There are some pretty spot around for photographs so do leave some time for that!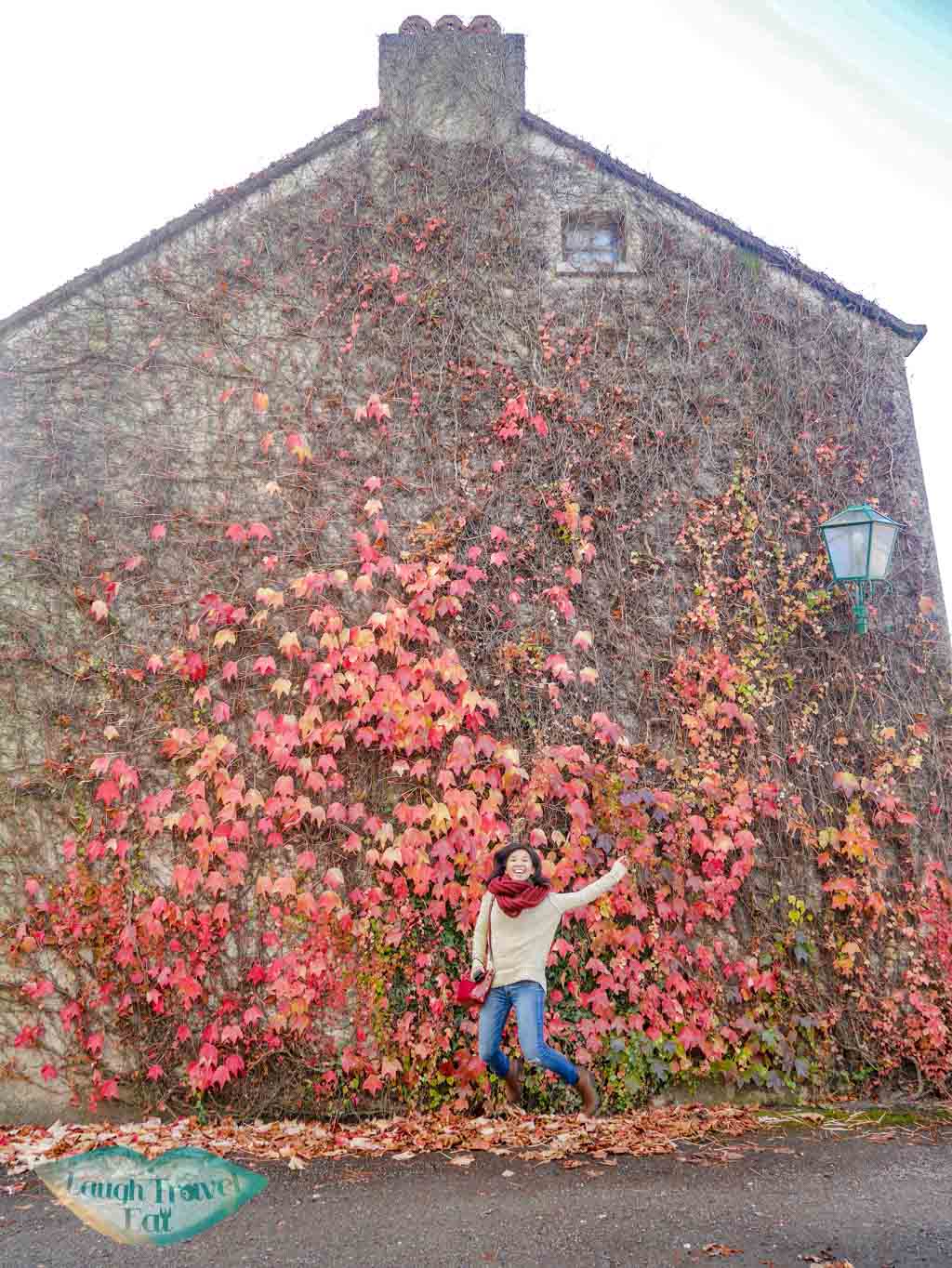 Lunchtime at Gus O'Connor's Pub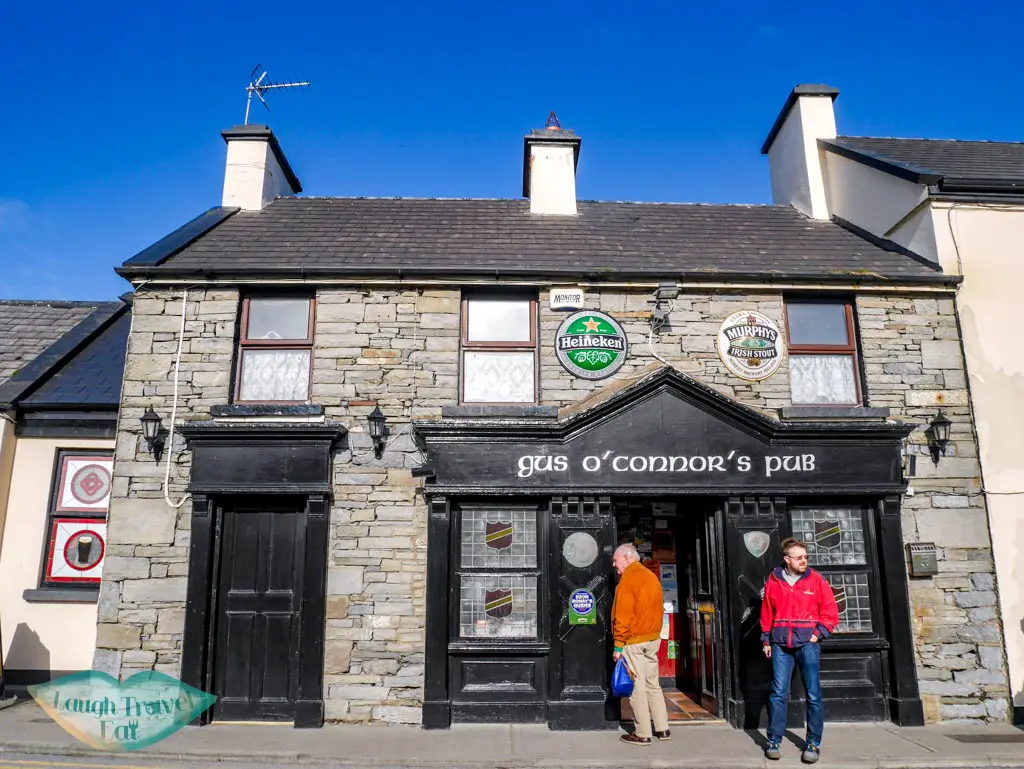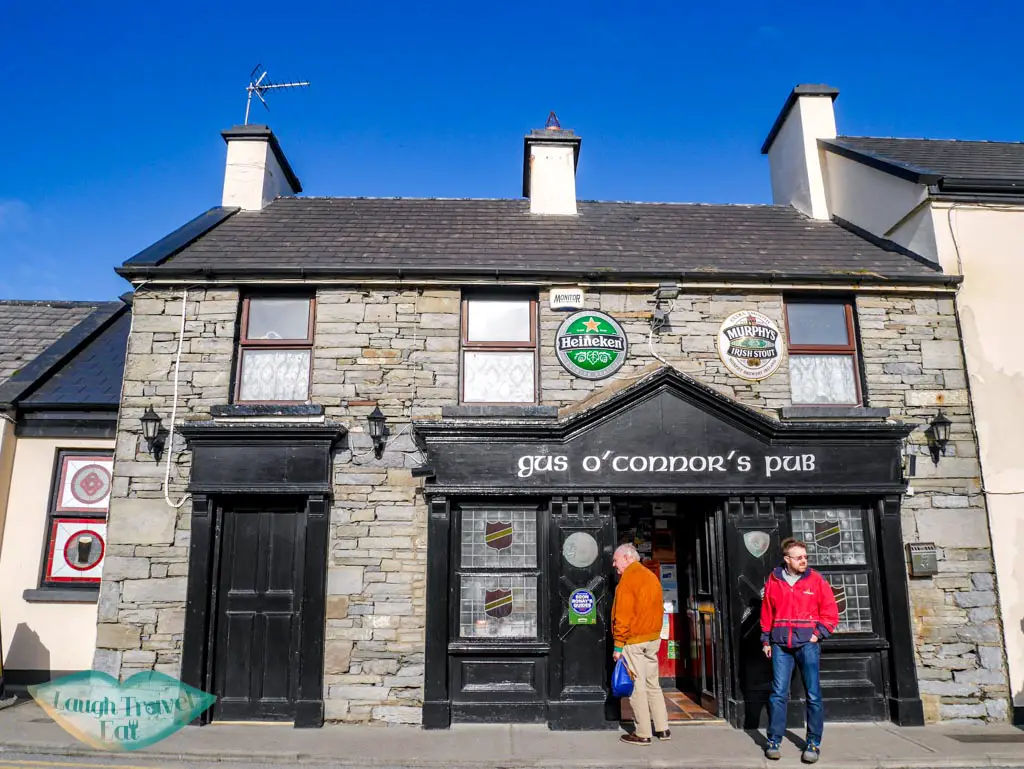 After the castle it's lunchtime! As the next stop is Cliff of Moher, we headed to a pub closed by called Gus O'Connor's Pub. It's quite spacious inside with traditional Irish food on offer (I highly recommend the salmon!).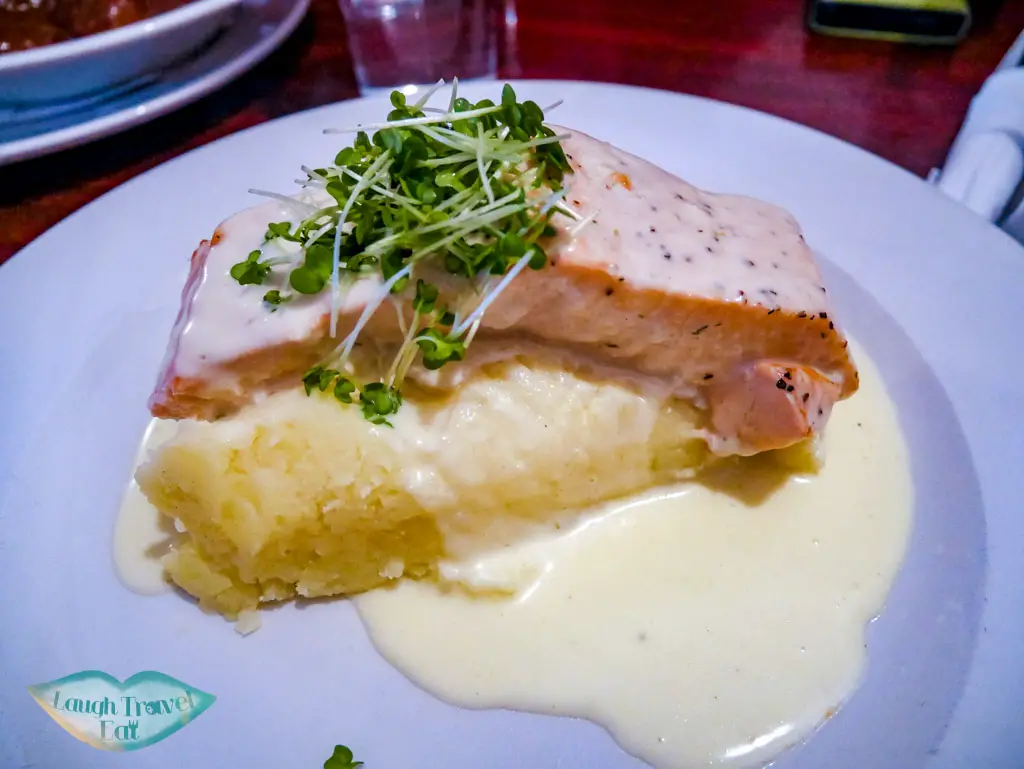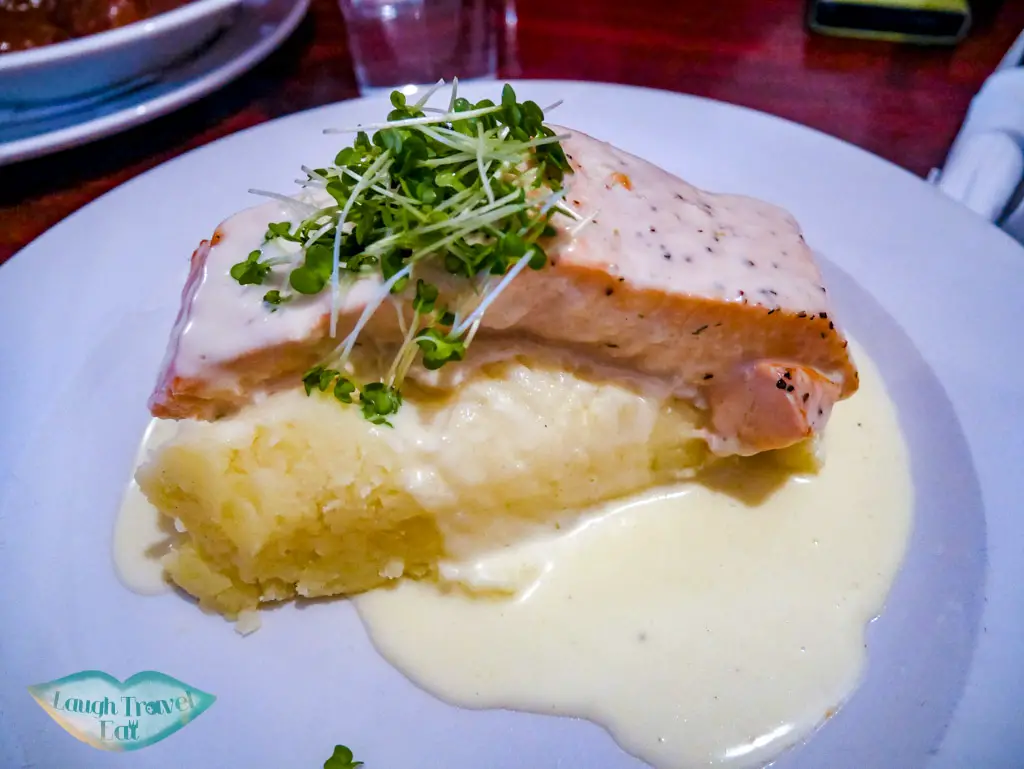 If you finished early, take a stroll up the road and you will be able to see the Cliff of Moher from a distance! Watching the gigantic wave crushing onto the cliff truly takes my breath away.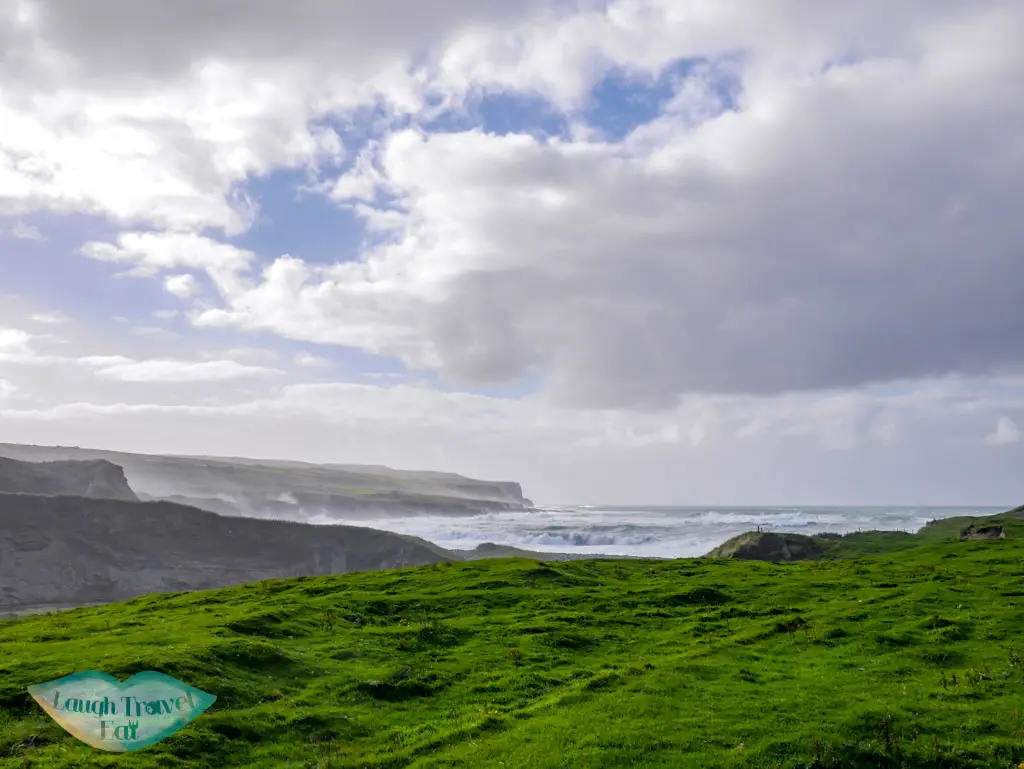 Cliff of Moher
Now onto Cliff of Moher! I cannot tell you how excited I am. Fortunately it wasn't raining when we were there (thank you Ireland for giving us a break from the rain!).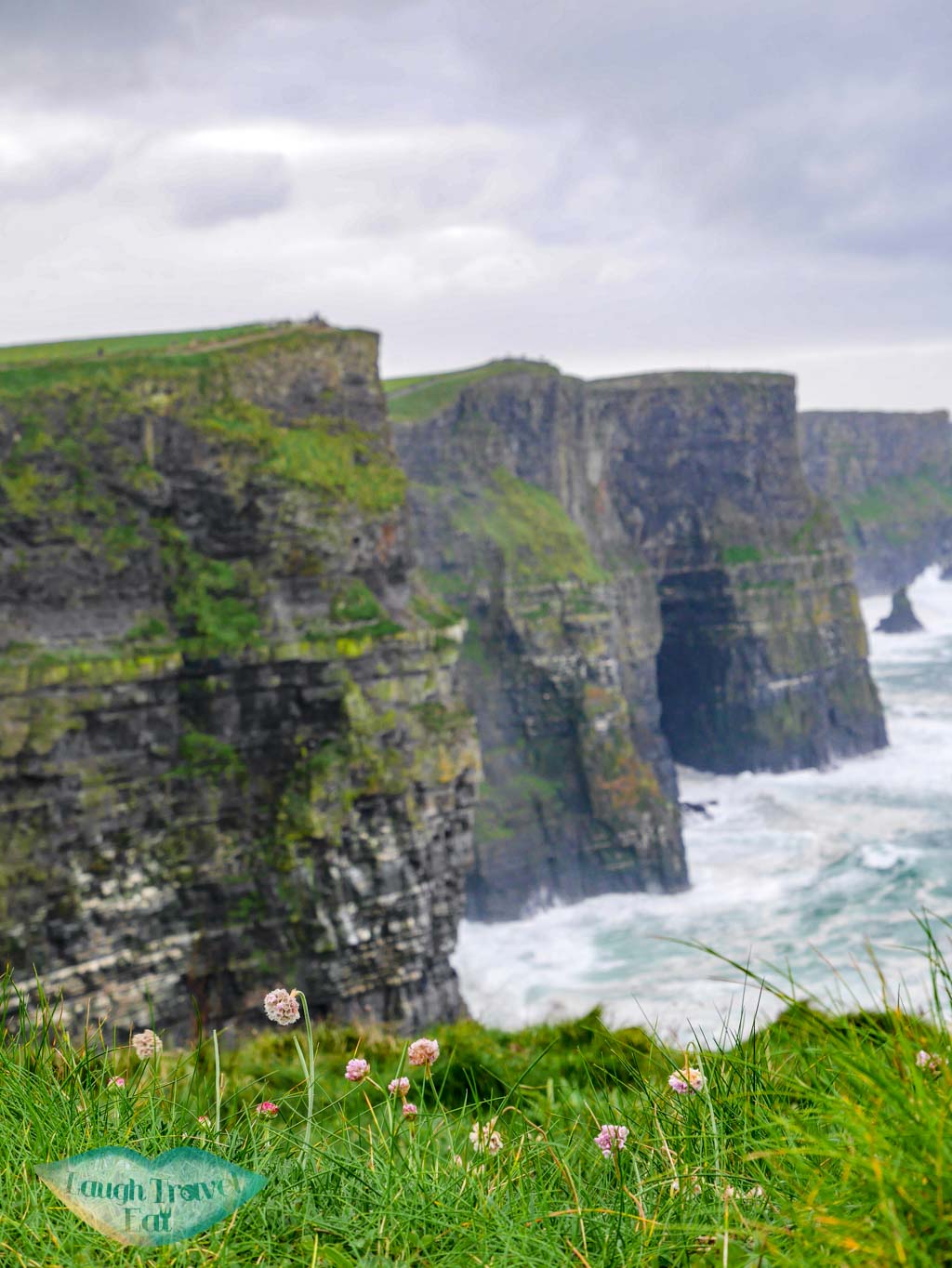 There's two path for you to choose (left or right) and they are both similar. The Railtours staff recommended us to take the right one as it is less steep. The path is well paved and lined the cliff, giving you a good view of the Cliffs.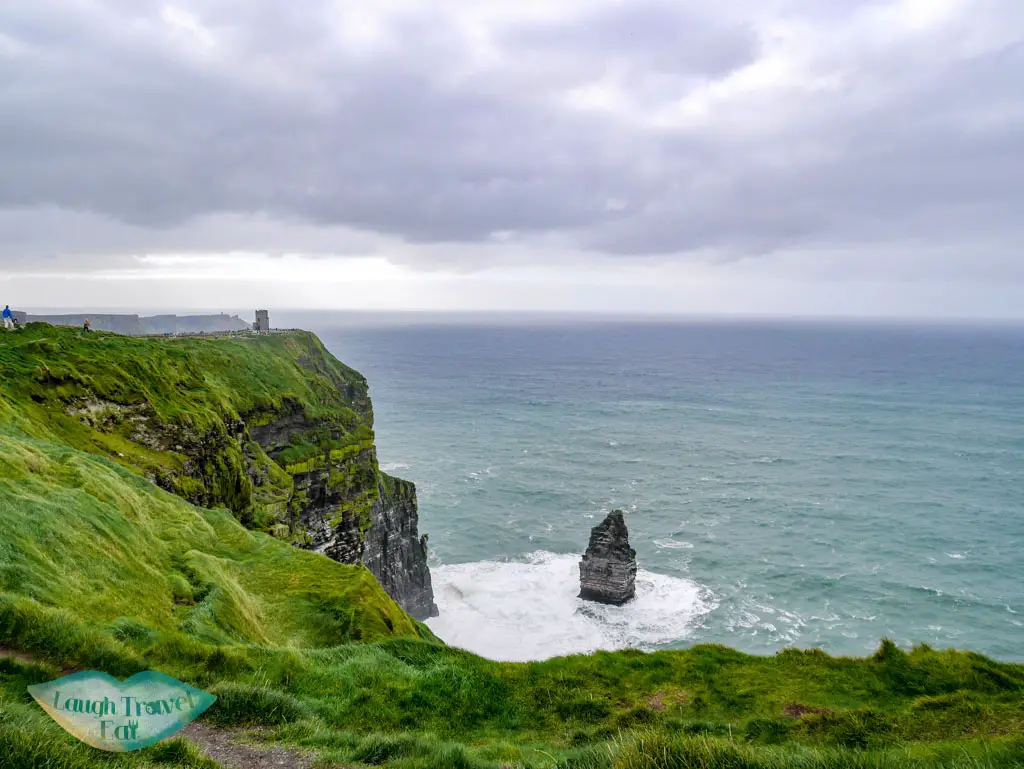 After strolling around the Cliffs and well satisfied with the view (or gotten a bit sick of standing in strong wind), you can make your way back to the visitor center where you will find geological information about the cliff, a souvenir shops, cafes etc. When the allocated time is up we went back to where the coach dropped us off and off to our next destination.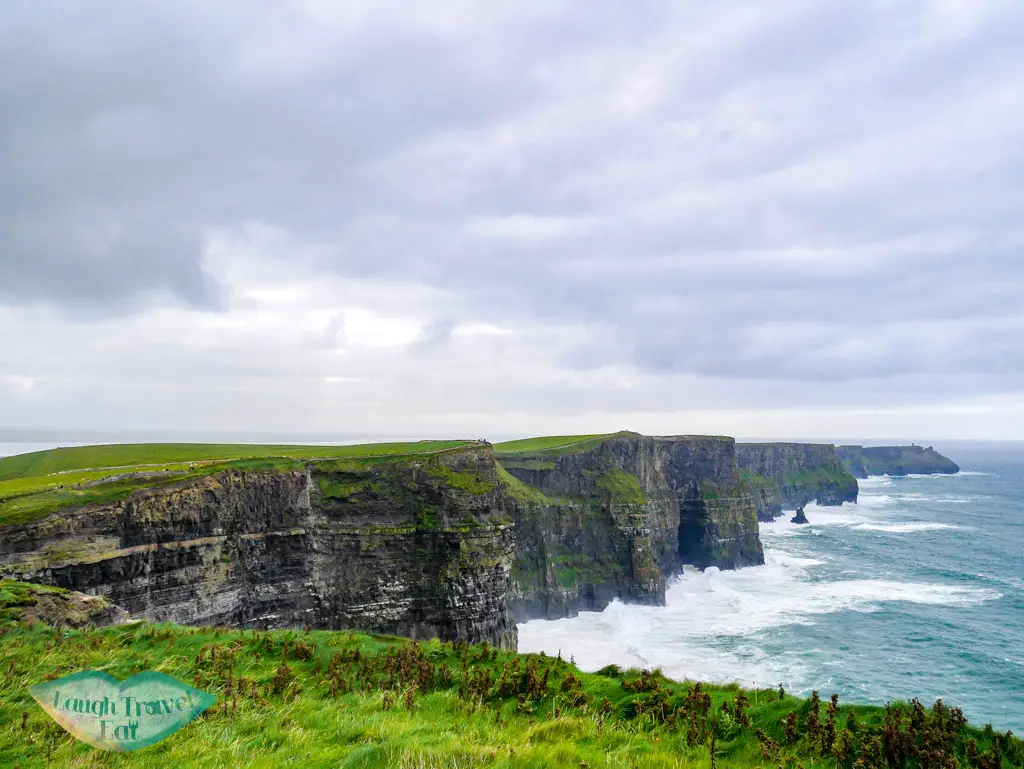 The Burren
The Burren was a pleasant surprise to us: we haven't heard of the Burren before. When the coach pulled over we were quite taken by the scenery.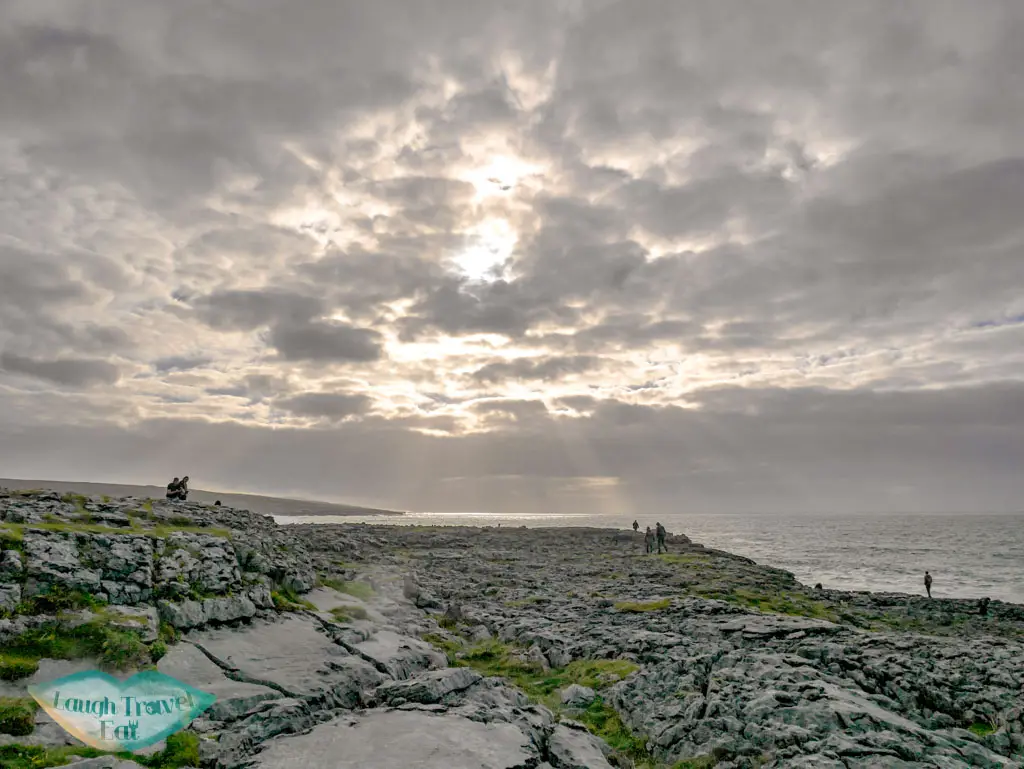 Burren is Irish for the 'rocky place', and one look at the place you can see why. At first I thought it's named the barren, as the landscape is pretty much free of vegetation. This is due to the underlying geology of limestone.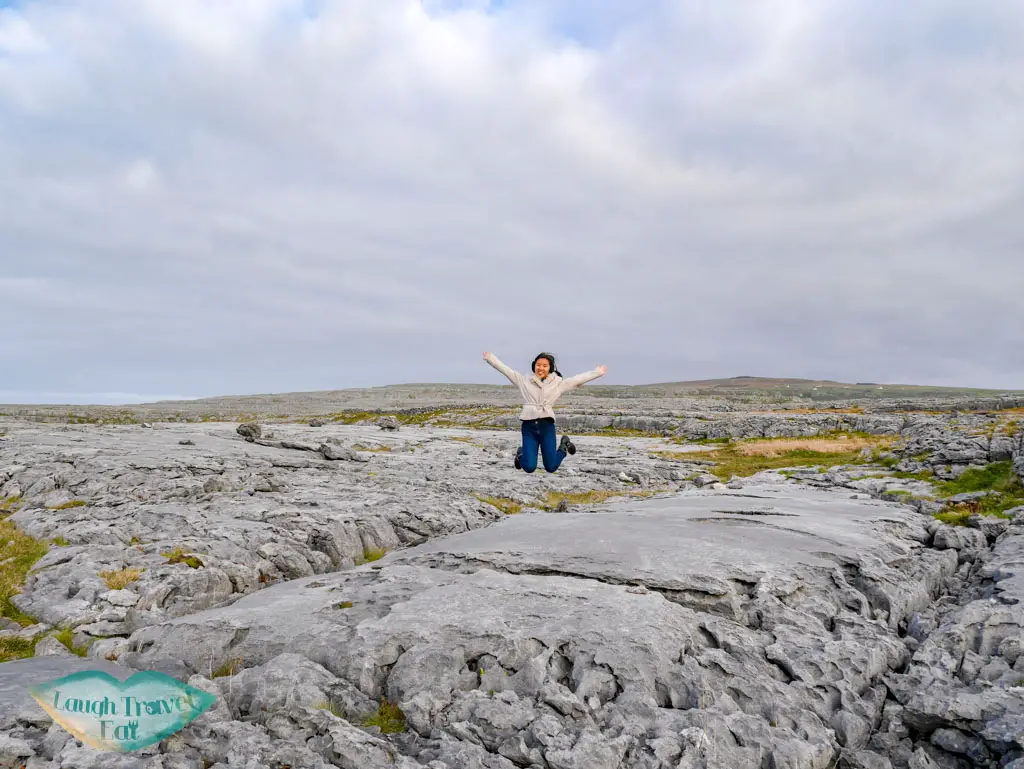 We had around 20 minutes to walk around and take photos. It would be great to have some more time there, but to be honest the landscape is pretty similar everywhere, and 20 minutes is enough to take some good photos.
Afterwards we are off to Galway, where we would be staying for the night.
Galway
I believe the hotel you will stay in varies, for us we stayed at the Harbor Hotel Galway. Based on the hotel's recommendation, we headed to Quay Street to look for food. We were quite overwhelmed with all the choices available, and at the end we decided to go for Gemelles.
Yes to duck confit
Day 2: Connemara, Kylemore Abbey
Meet up with the tour is at 10:00 at Galway Train Station, which is just 15 minutes' walk from the hotel. The weather today it's out fortunately not as good as yesterday.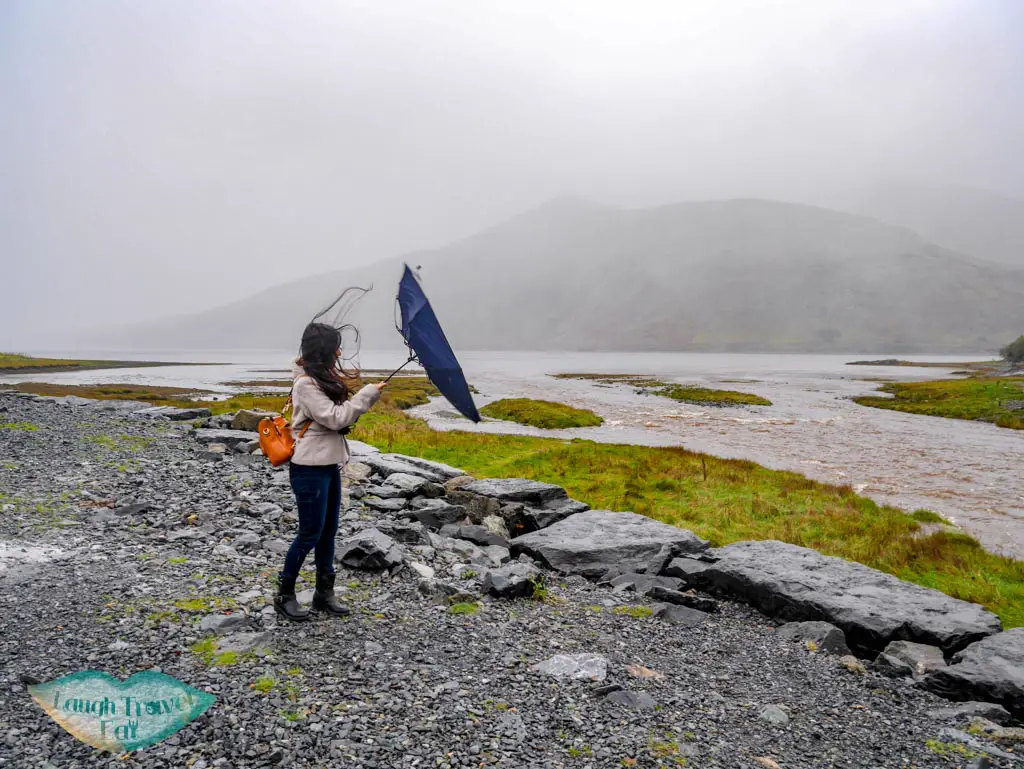 Driving into Connemara, we arrived at Kylemore Abbey, our main (and only) itinerary for today. The abbey has quite a complicated and interesting history. The castle was constructed by an English gentleman, Mitchell Henry, who on his honeymoon with his wife fell in love with the landscape at Connemara. After his father's death, he used the inheritance to build Kylemore Castle and established the Kylemore Estate, completed with gardens, woods, walkways etc.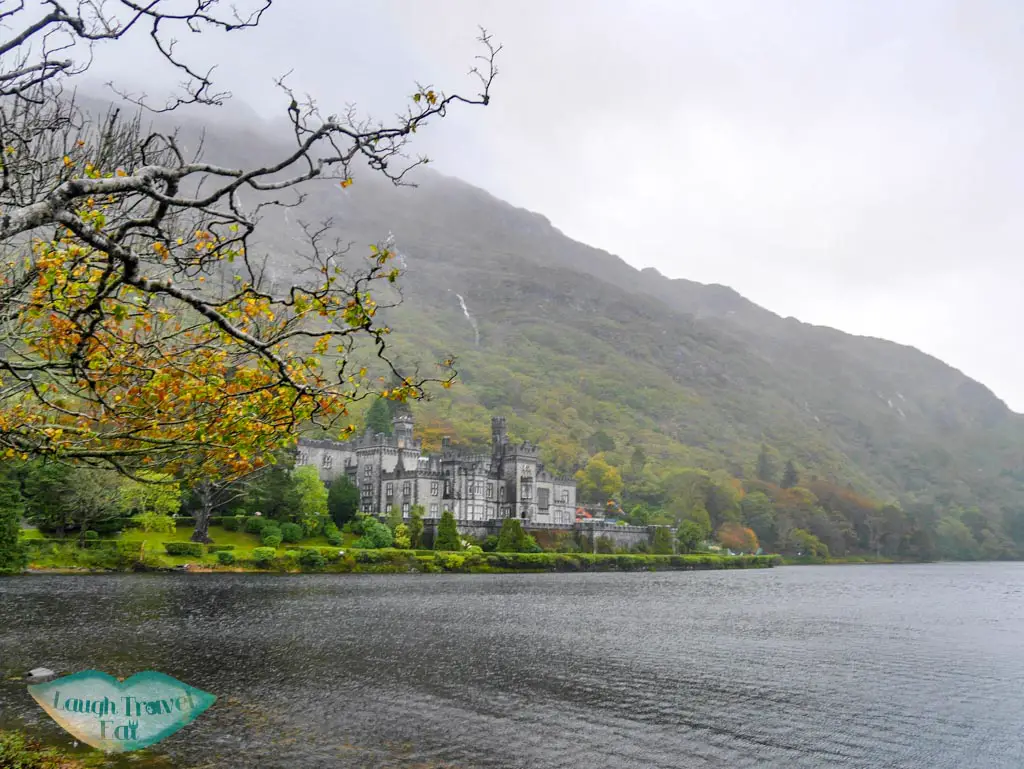 It was then sold to the Duke and Duchess of Manchester in 1915, but their gambling debt soon piled up and they were forced to sell off Kylemore Abbey.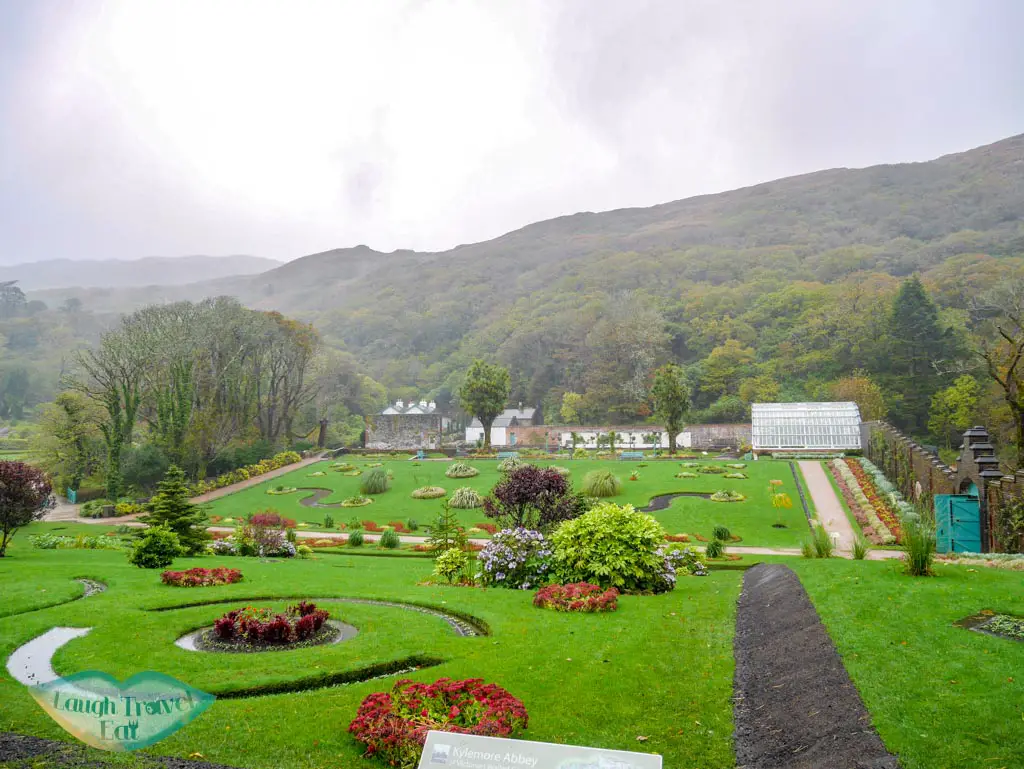 During World War I, the Irish Benedictine Nuns were forced to leave Belgium due to bombing of their abbey; they relocated to Connemara, purchased Kylemore Abbey and opened up an international boarding school as well as a day school for local (Girls' school!). The Abbey is still run by the nuns, however they are now too old to continue teaching, hence the schools are closed and the Abbey is now open for visitors!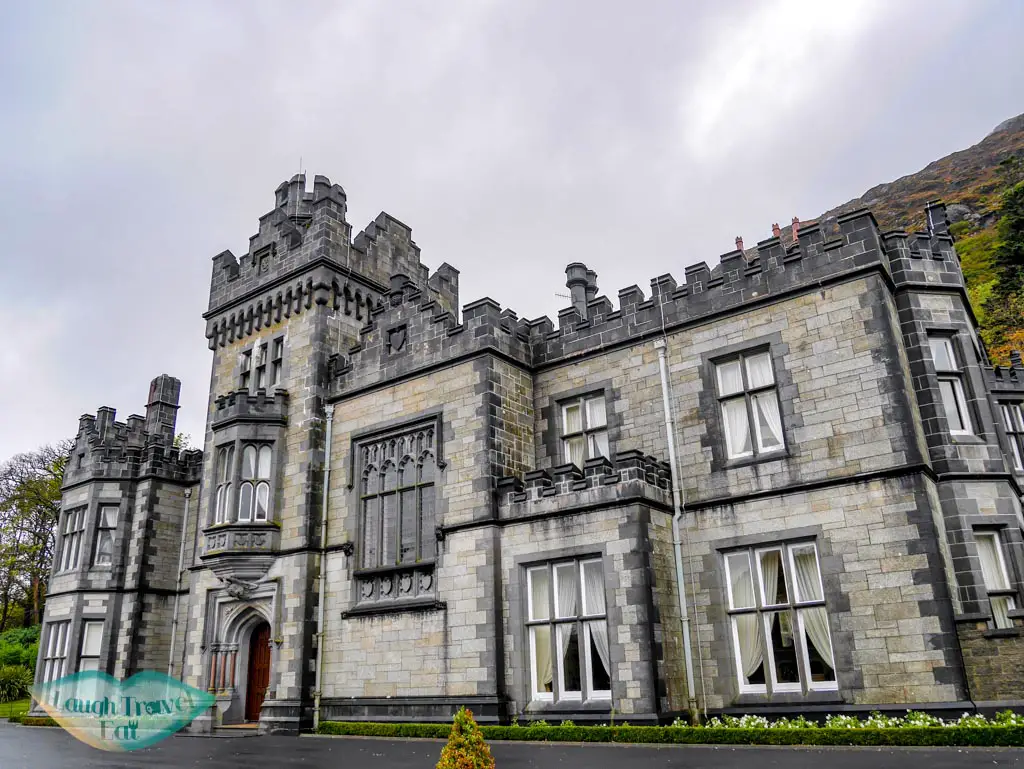 We then drive back to Dublin, and arrived back at the Heuston Station at night.
Pin me!

Pin me!