Hoi An is not only a beautiful old port town, it is itself a popular day trip destination but there are also plenty of day trips you can do from Hoi An. With its strategic locations in Central Vietnam and coastal location, there are many unique culture sites and natural sceneries. Be it diving, snorkelling, cooking or paddling through water coconut forest, Hoi An does not disappoint.
Many people had doubts as to whether or not I would run out of things to do in Hoi An for the 6 days I was there, the answer it I didn't. Between seeing the Old Town, shopping for souvenirs and clothes, eating all the local delicacies, and doing day tours, we had a busy 6 days! In fact, I loved my experience so much that I went back in July 2019 after my first visit 3 years prior. Here are the top 5 tours you should take in Hoi An:
My Son Sanctuary
Dubbed as the mini version of Angor Wat, this used to be the sacred ground of the Champa Empire. My Son means beautiful mountain in Vietnamese. A mixture of Hindu and later Buddhist temples, it had been a place of worship since the 4th century, chosen because of its geographical location. Surrounded by mountains in a valley with the River Bon running through the ground, it has all the features of a holy ground.
When the Nguyen dynasty came to power in the early 19th century, My Son was abandoned and it was only rediscovered in the later part of the same century by French scholars.
Unfortunately, the bombing in the Vietnam War has destroyed most of the structures, leaving only a few distinctive clusters. Most of the buildings that survived are made of brick from the 10th to 13th century, and out of the six chief clusters, only group C and B are semi-intact.
If you have been to Angor Wat, this will perhaps be a disappointment. However, I still find the history interesting and as someone who has never visited a Hindu Temple, it was a great experience. Did I mention it's a UNESCO heritage site?
Tour: we booked with Eden Travel in town for a sunrise tour, including breakfast. The breakfast was mediocre and we had to get up at 4am, but the sanctuary was empty when it opens at 6am and gave us plenty of opportunity to take photos. We then had a boat ride to a carpentry village before being dropped off at the center around 11 am.
Pro tip: if you can, go early or late. Sunrise tour is more expensive but you are guaranteed the place almost to yourself.
Address/How to get there: I recommend doing a half day tour either in the early morning or late afternoon to avoid the crowd. You can drive there, parking costs 5,000 dong. The journey is about an hour. Tour costed 264,000 dong (~11 USD) NOT inclusive of the admission but with a guide.
You can also book online for the tour here (20 USD)
For a none Sunrise option is 22 USD
Opening times: 6:30 – 17:00
Entrance Fee: 150,000 dong
Cham Islands
A beautiful island offshore of Hoi An, Cham Islands are a UNESCO Biosphere Reserve with some of the clearest water and rich biosphere I have ever seen. Cham Islands has a longer settlement history than Hoi An, and are the holy islands of Cham people. There are a dozen different types of corals and I even saw a few blue starfish.
A trip to Hoi An definitely wouldn't be complete without a snorkel or diving trip to Cham Islands. There are eight islands in the group, though on a snorkelling trip, we only covered two spots and stopping at the largest and only inhabited island, at Bai Chong Beach, for lunch and some beach time. They say a picture is worth a thousand words, so here are some stunning views:
There are only two companies who run snorkelling and diving excursion in Hoi An with the same price, so we ended up going with Cham Island Diving (the other is called Blue Coral Diving).
Tour: two snorkel sessions around 50 to 60 minutes before lunch, lunch then stay at the beach. The trip from Hoi An to Cham Islands lasts around an hour. Snorkel gear and fins are provided.
Time: pick up at 8:30 and drop off around 17:00
Cost: 52 USD for snorkel, I do believe it's something around 1,000,000 dong to 1,200,000 dong, and diving is another 100,000 dong extra.
Note: snorkeling can be cancelled by the government due to weather condition on the morning of the trip. Pick up time also varies depending on your hotel's location.
An Bang Beach
Perhaps this one shouldn't be counted as a trip, but An Bang Beach is definitely a place where you can spend a whole day at. About 4 kilometer from the Old Town, you can easily Grab, bike, or motorcycle there. With long stretches of sandy beach and readily available sun umbrellas and bars, it is perfect for a chill day.
Cua Dai beach to the south used to be the favourite until it succumbed to pollution and erosion. While the scene there is idyllic, there are some jellyfishes in the ocean, so you better be careful about this.
Before you go running to An Bang, there are a few things you should know:
Sun umbrella fee: we ended up paying 100,000 dong for 2 sun loungers and an umbrella, though we did see people get rip off. If you are planning on staying long, choose a restaurant where a sun lounger is free if you buy their food and drinks (which is basically most).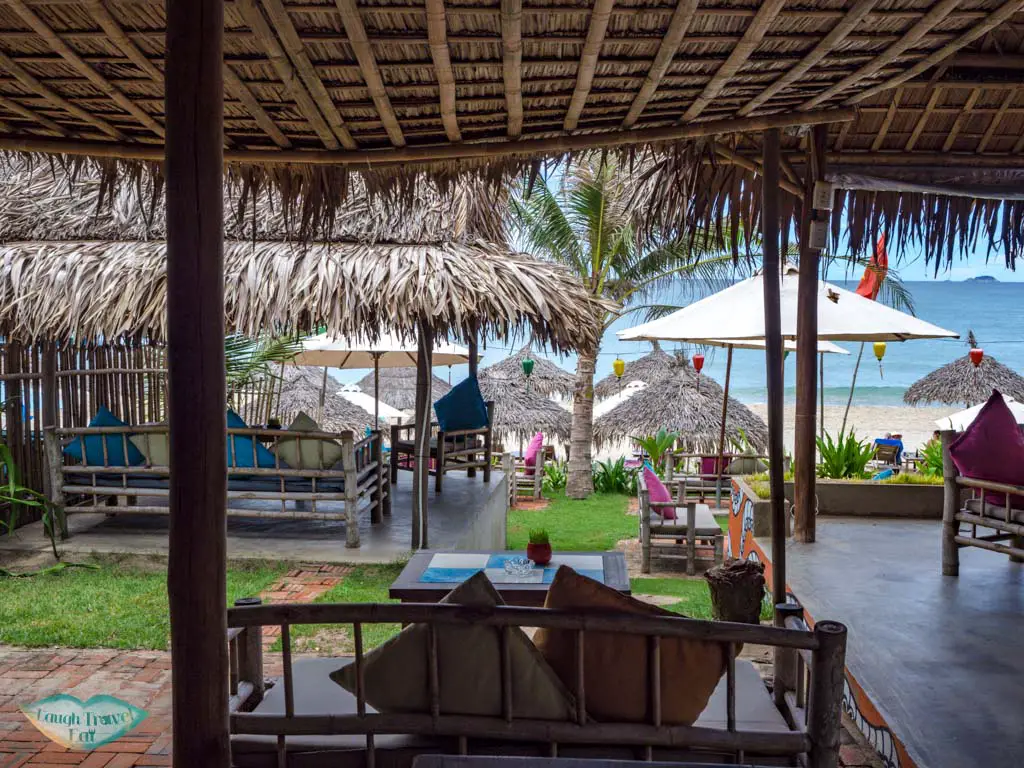 We ended up at Soul Kitchen as our Hotel Belle Maison Hadara let guests use the loungers for free and provide beach towel.
Do note that the prices at these restaurants tend to be higher than town!
My sister's tuna steak with mango sauce – the tuna is a bit dry

My coconut steamed shrimps was pretty good
Parking fee: bicycles are the cheapest, but parking fee can go up to 10,000 dong. A taxi ride is 70,000 dong on average and faster. A Grab ride from town should be around 60-70k dong
Popular time: morning are usually quiet, it gets increasingly crowded in the afternoon before sunset.
Cooking Class
Vietnamese cuisines are the bomb, and so there are plenty of cooking classes vying for your attention. From the famous restaurant to packaged sight-seeing and cooking courses advertised in travel agency, it's best to decide just how hands on you want to be for this class and how much you are willing to pay. On average, the price you'll find online are around 30 to 35 USD. And it makes no difference whether you book it in advance or when you arrive in the city.
We had combined our cooking class with a trip to the water coconut village, which we booked at Eden Travel and costs 525,000 dong in 2016.
However, we didn't do a lot of hands-on cooking; but rather, we made fried spring rolls and helped in making the rice pancake and papaya salad. There was no proper instruction, so if you are looking to experience more hands-on cooking, this isn't for you. However, if you want a value for money tour with lunch that you help make, this is the one.
Some restaurants also offer cooking class such as Morning Glory that would be more hands on
Let's talk about water coconut village:
Water coconut village
To the east of the Hoi An Old Town are an area called Cam Thanh with quint waterways and a maze of water coconut village. One of the most unique places I have ever visited, the locals have made use of them for hundreds of years. They navigate the water channels in rounded boats made of the bamboos, which are chosen and treated in underwater mud pits for about one year.
A visit usually involves you being shuttled around the canals by a local boater. We got some grass-knit accessories as well. There are individual visits to the village, and you can cycle around as well. In fact, we know of several homestays in the area, so for those of you who are less keen on tour, you can head there on my own.
There is a similar course available online for 28 USD
I joined a tour by Hoi An Family Tour in 2016, but in 2019 I was with my family and we opted for a private tour by Fayfay.com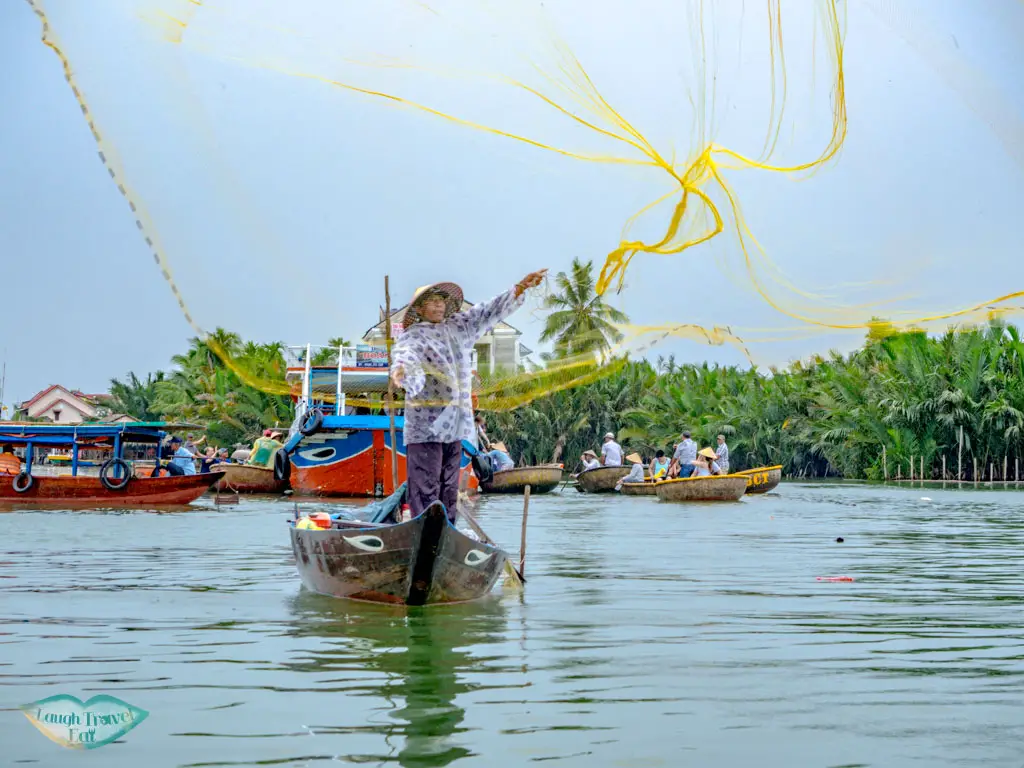 We were picked up on a private car to the coconut forest in the morning, where we were given water and then head on to board 2 bamboo boats (since there is 3 of us). The fishermen were super kind to us, making sure we stayed dry when it started raining.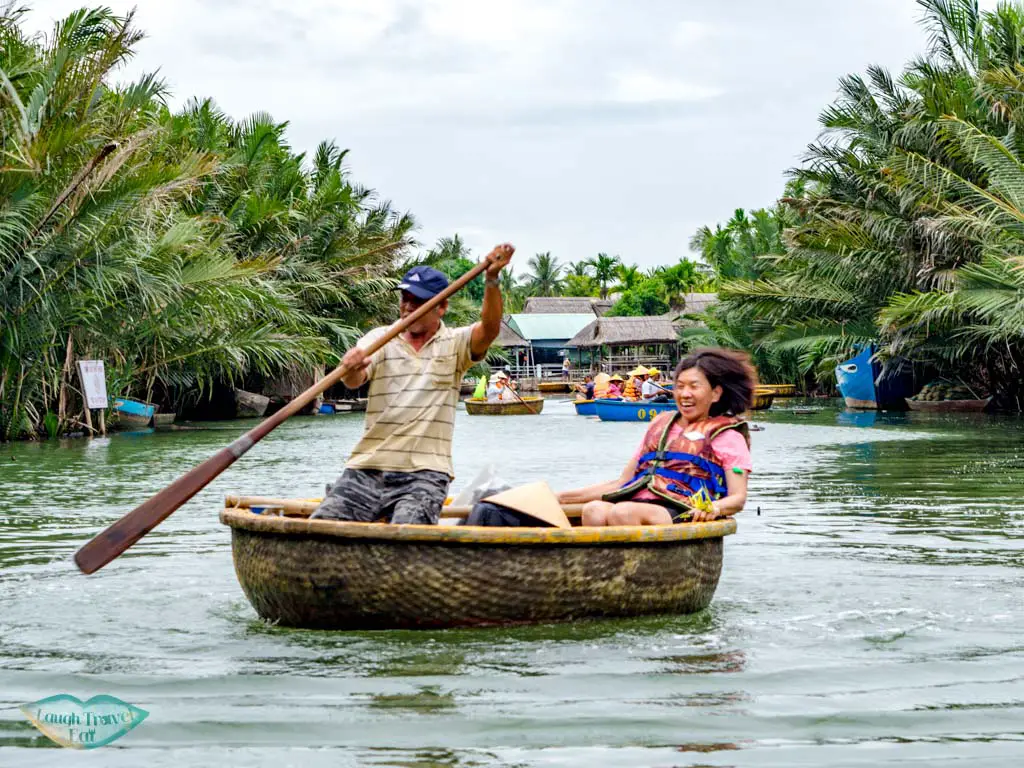 After about an hour or so, the rain got to much and we were herded back. I didn't realised that we were given food so that was nice!
Vietnamese coffee

Hoi An's speciality Cao Lau
I was hosted for the bamboo basket tour but my family are not – all opinions are our own

Nam
Pin me!

Pin me!
*Note: the post contain affiliate links which means I get a % of sale if you purchase something after clicking it but at no cost to you