Hoi An is one of the most beautiful towns in Vietnam with its historic old quarter. It is a must-see in Central Vietnam and once you've visited, you will understand why people flock to visit this tiny coastal town. It was the international trading center in the 16th and 17th century, doing business with Japanese, Chinese, Dutch and India traders. The collision of culture created rows of colourful tiled houses in pastel shades that made up of the old town. It was also the center of trade in the Champa Empire and declared UNESCO World Heritage Site in 1999, which is a testimony to its heritage and beauty.
We've covered shopping, dining, and tours around Hoi An, and it's finally time to talk about the Old Town. But first, a little more history:
Hoi An History
Hoi An wasn't always called Hoi An; the European referred to it as Fai-fo or Faifoo, and its name means "peaceful meeting place" in Chinese.
The town was founded by the Cham people as a spice trading port sometime between the 7th and 10th centuries. It attracted sailors and merchants from all over the world. The city reached its height in the 16th and 17th centuries with many foreign nations settling in. The Assembly Halls were all built by the Chinese merchants, and the Japanese Bridge marks the settlement of Japanese across it.
Hoi An continued to flourish until the 18th century, even with the Cham people moving south to Nha Trang. However, when the Nguyen Dynasty came to an end in the late 18th century, Da Nang was established as the new trade center and Hoi An was forgotten. This was also due to the river mouth of the port silting up. Untouched in the next two centuries, it now becomes an important tourist attraction as a 15th to 17th centuries south-east Asia trading port.
Get a FREE map of Hoi An for your trip!
Hoi An Old Town essential info
Hoi An Old Town is the heritage site, but it's not all there is to Hoi An. Before my visit, I was extremely confused about the old town area. But here are some hard and fast facts:
The old town does not, in practice, requires tickets to go into. Although we have been checked about three times in six days
The tickets you purchase in the tourism office allow 5 entries to 21 Assembly Hall, Old house or museums, and you can pick and choose which one you visit.
The tickets are valid for two weeks
The area in the old Town is a cycle or walk only area. It consists of three, four blocks, but you'll still find motorbikes whizzing by especially in the early hours.
Ticket cost: 120,000 VND
There are maps provided in the information center scatter around the entrance point of the Old Town – do pick up one to locate the Assembly Halls and Old Houses.>For more information, visit the official Hoi An tourism website.
Things to do in Hoi An
There are, perhaps, a little too much to see in Hoi An. Especially in terms of Assembly Halls and Old houses. I definitely can't say that I got around to every single one; but here are the ones that did catch my attention:
Phuc Kien Assembly Hall
The only Assembly Hall on my radar before my visit, the Phuc Kien Assembly Hall was built by Fukien people.
Originally, the site stood a Buddhist Pagoda but was sold to the Fujian in 1759. They were the largest Chinese ethnic group at the time, and the temple is dedicated to the sea goddess Thien Hau (or Tian Hau).
It features typical Chinese architecture with dragons, fish and turtle sculptures and Paifang leading up to the main temple with the tilted roof.
Address: 46 Trần Phú, Minh An, tp. Hội An, Quảng Nam, Vietnam
Opening times: 8:00 – 17:00
Admission fee: included in the ticket
Quang Trieu Assembly Hall
This is the Cantonese Assembly Hall, dedicated to Tien Hau as well as several others. Built by the Guangdong people in 1885, its main attraction is the pottery dragon in the fountain in the smack center.
The intricate pillars and tiled floors are also worth a closer look.
Address: 176 Tran Phu Street, right by the east side of Japanese BridgeOpening times: 8:00 – 17:00Admission fee: included in the ticket
Quan Cong Temple
Located near the Central Market (more on that soon!), the Quan Cong Temple was built in the 17th century by the Chinese and the Viet people. It is dedicated to Quan Kong, the Taoist god and general that many worships for household protection.
There is also a Tin Hau Temple inside, but the most memorable point would be the beautiful tiles!
Address: 24 Ð Tran Phu, Hoi An, Vietnam
Opening times: 8:00 – 17:00
Admission fee: Included in Old Town Ticket
Hoi An Bridge
I get a vast majority of my best shots from Hoi An Bridge, even if the bridge itself isn't all that photogenic.
They do, however, have a cute sign that declares this place as Hoi An – a great checkpoint for any Facebook or Instagram lover.
Japanese Bridge
I find the bridge less impressive than the one near Hue, however, it is extremely photogenic providing there is water flowing in the little river under it. It was built by the Japanese in 1590 and one of the only roofed bridge in the region.
It is also connected to a Buddhist temple inside, which, requires a ticket to enter. To get the best view of the Japanese Bridge, go to the Walker's Bridge and be there before 8am!
Central Market
The best way to get the local vibe is through their markets. Hoi An Centra Market is situated in the eastern end of the Old Town and it's a chaotic affair like no other.
Tens and hundreds of stalls and basket of good spill onto the road with motorcycles trying to force their way through. Everywhere you look, the vibrant shade of green and various brightly coloured fruits and flowers greets your eyes.
Inside the wet market – you find an array of fish, meat, and homemade fish balls. It's perhaps not for everyone, but I enjoyed the hustle and bristle of it.
Alternatively, the night market on An Hoi Island, which is connected via the Hoi An bridge, would be a better browsing ground involving more tourists-orientated goods.
Hoi An Old Town itself
The Old Town itself is a treat for the eyes. I can wander there all day without getting bored! So here is a quick look: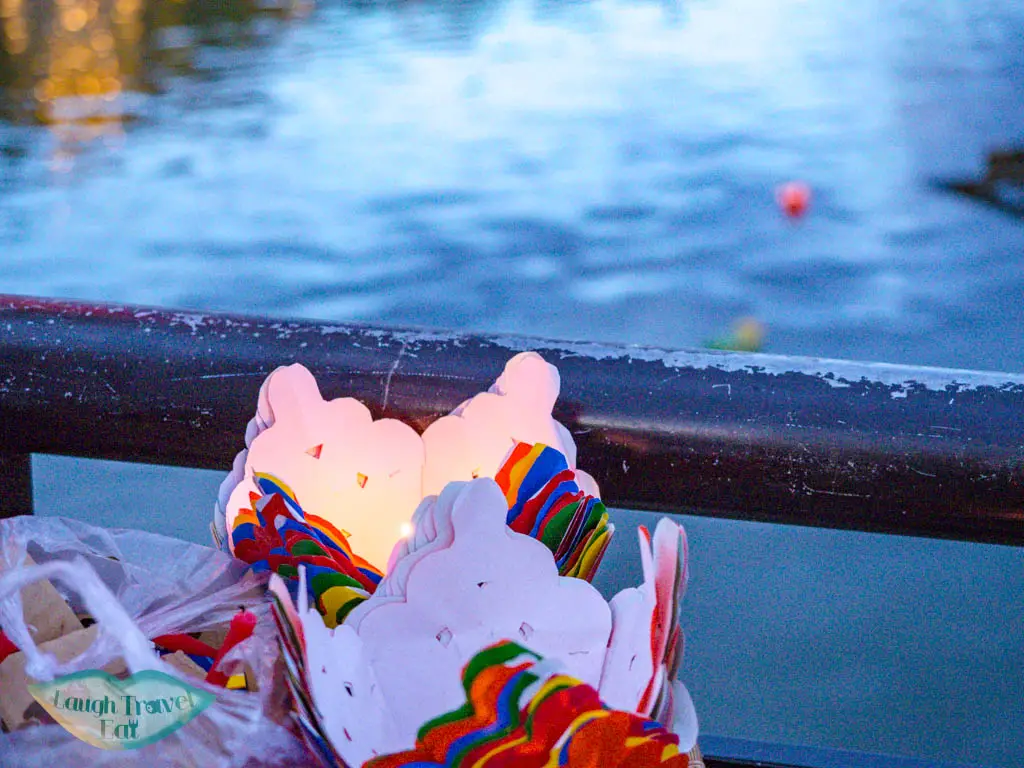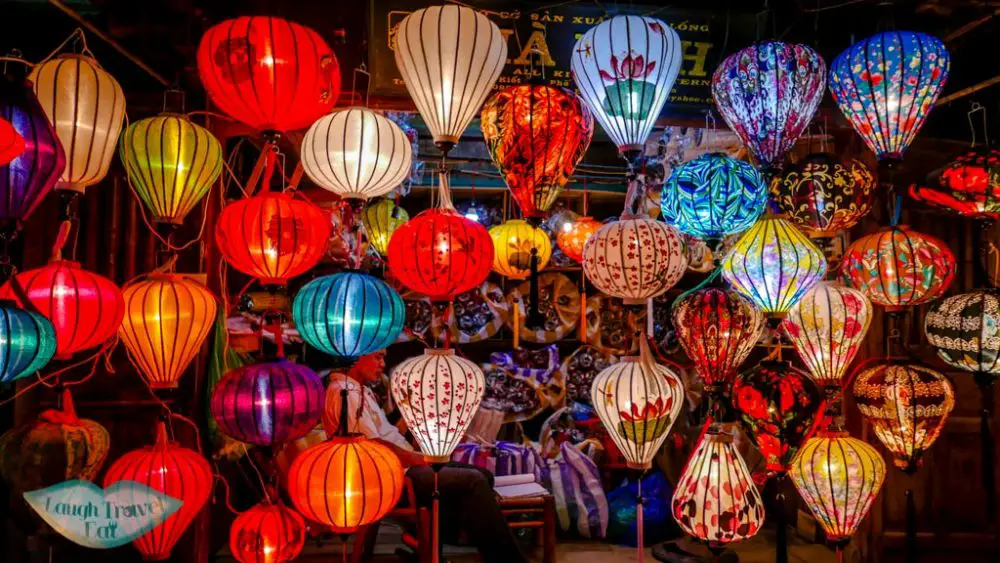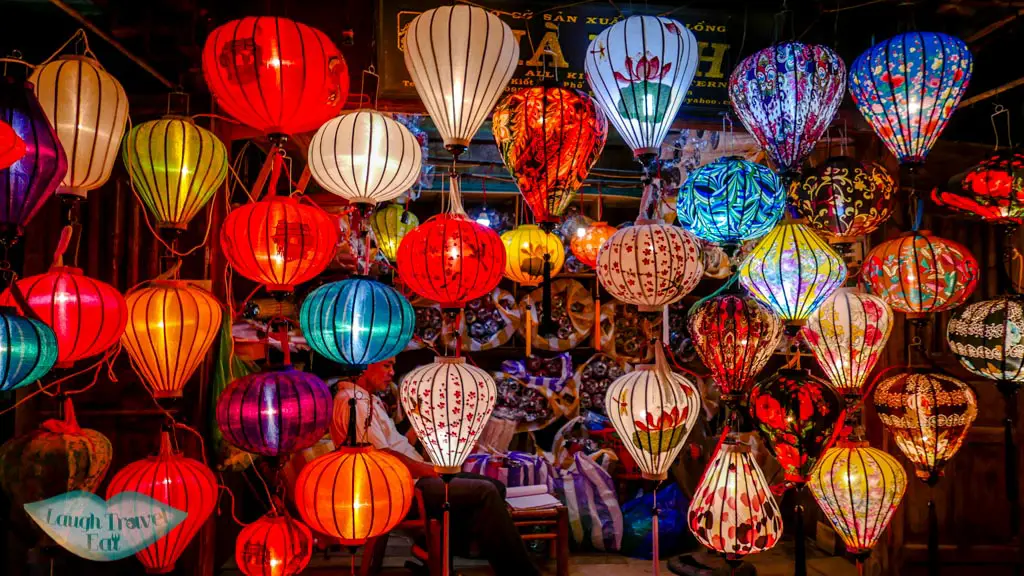 As I have said before, I definitely haven't covered everything due to time constraint and personal interests. There are no less than a dozen Assembly Halls, Old Houses and Museums, not to mention the An Hoi Island and Cam Nam Island. For more information, Hoi An Tourism has more comprehensive information.
Spa Hoi An
While Hoi An isn't especially famous for spas, there are now a variety of options for tourists! Here are two that I've tried:
Palmarosa Spa
It's located just north of the Hoi An Old Town and seems to be a favourite among Korean tourists. We went back twice during our 5 day stay in Hoi An and enjoyed their affordable treatments.
We did the Signature and a normal massage – for the full list and their prices, you can visit their website here. We were able to book on the day for the first time, but the second time, we had to pre-book, so it might be worth asking your hotel to call ahead!
Address: 48 Bà Triệu, Cẩm Phô, Hội An, Quảng Nam, 越南
Opening times: Daily 9:30 – 21:30
Blue Gift Massage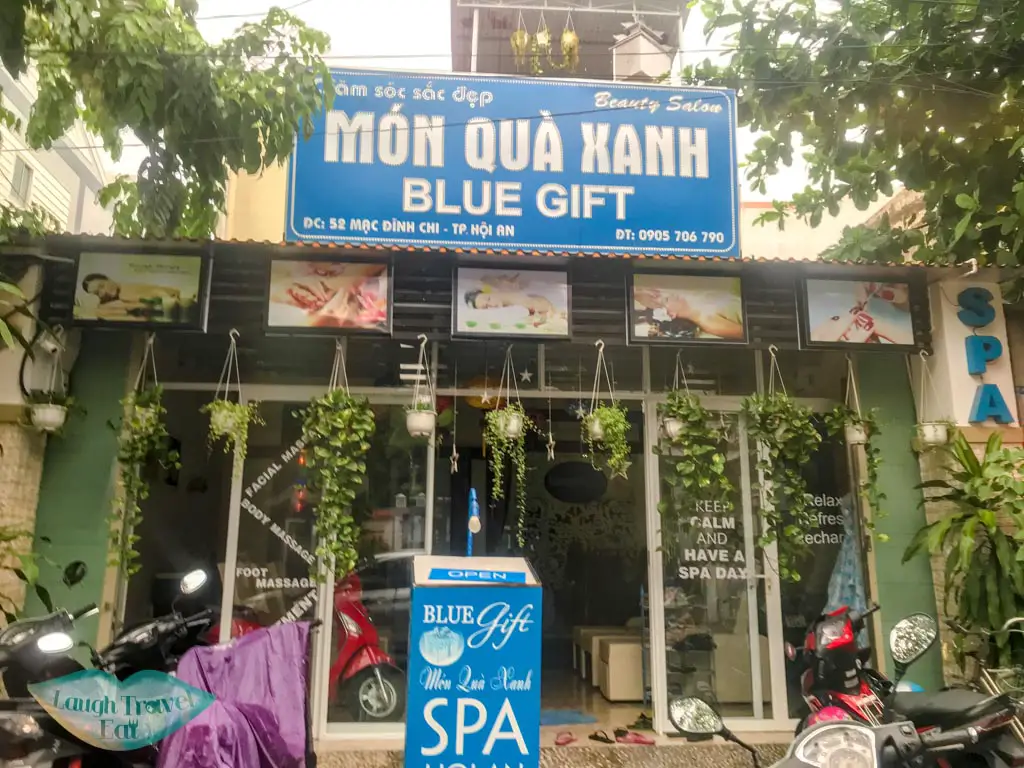 I went here twice with my family in 2019 – while the massage isn't amazing-amazing, it's extremely affordable and the pick up and drop off services they offer is great, too.
Be sure to reserve online as it gives you 30% off. The owner is very friendly and reply quickly to any messages. I also love that they offer yogurt afterwards in addition to the arrival teas.
Address: 52 Đường Mạc Đĩnh Chi, Cẩm Sơn, Hội An, Quảng Nam, 越南
Opening times: 9:00 – 21:00
Where to Stay in Hoi An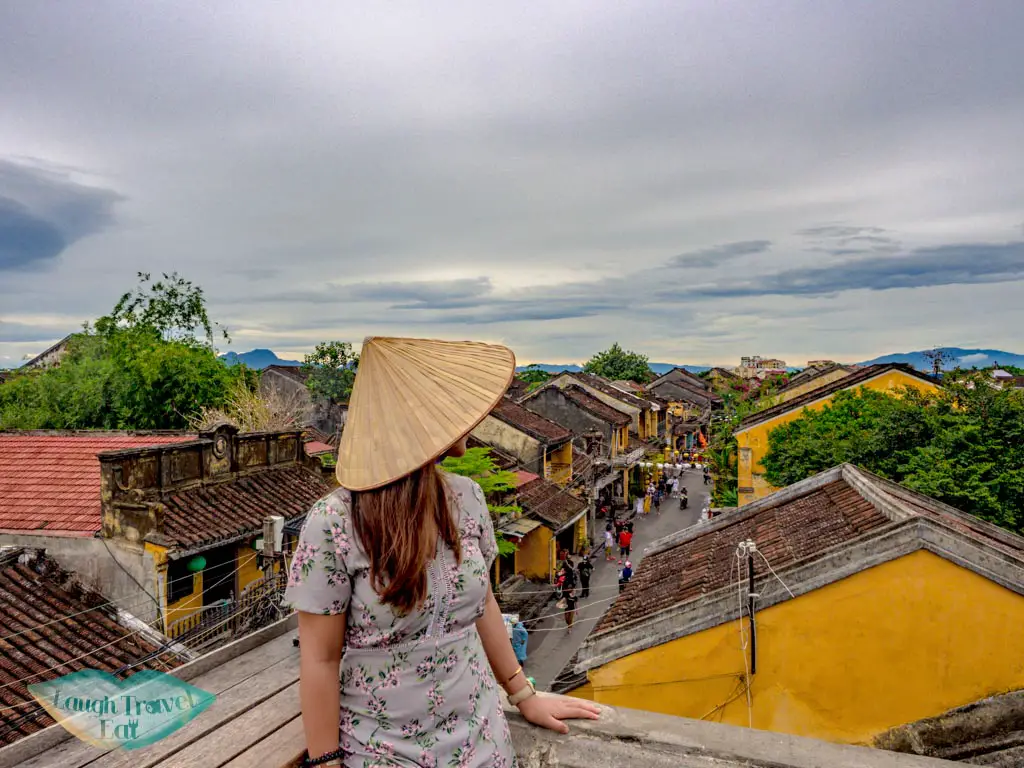 There are plenty of options as to where to stay in Hoi An. It is without a doubt most convenient to stay around the Old Town, but if you are a confident cyclist (do note that the traffic in Vietnam isn't for the faint of heart) or doesn't mind a bit of a walk, there are plenty of great options further out, too.
Hoi An Ancient Town Hotels
Editor's choice: Belle Maison Hadana Hoi An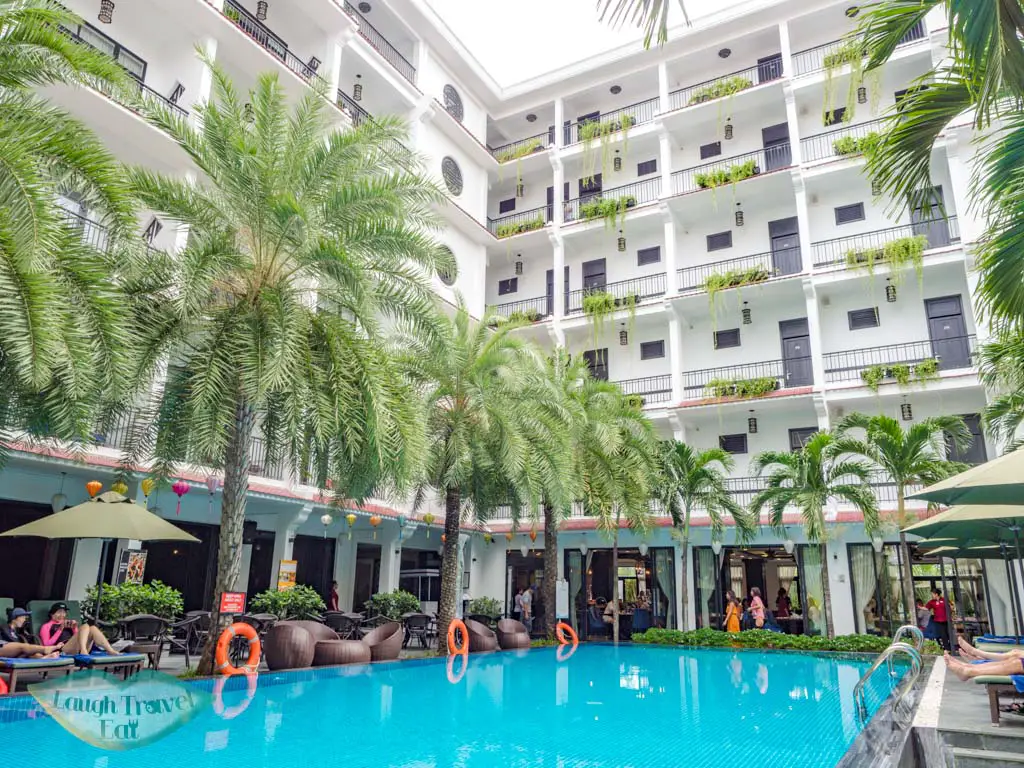 Only 900m from the Old Town with a quiet environment on the main street, I enjoyed my stay at Belle Maison a lot and especially love that they have a free shuttle to An Bang Beach as well as the friendly staff.
Super Budget: If you are looking for best location and value backpacking hostel, Hoa Binh Hostel is a great choice! 
Budget: located on the western edge of Hoi An Old Town, La Tonnelle is a restaurant-accommodation with beautiful and quiet room perfect for those who want to be centrally located but still have some peace and quiet!
Mid-range: Vinh Hung Heritage Hotel is a beautiful period hotel right in the heart of Hoi An Old Town and a must-stay if you love heritage hotels. For somewhere with a swimming pool, try Green Heaven Hoi An Resort and Spa on Cam Pho Island (still part of Hoi An Old Town!) and next to the night market!
Hoi An Homestay
For a more homey and more countryside experience, you can choose homestays and resorts further out of town (with FREE bike rentals).
Budget: Herbal Tea Homestay was beyond a doubt the best accommodation I've been to on this trip with amazing breakfast and service. The only downside is that it doesn't have a pool – it's a 15 mins cycle and 40 mins walk to town!
Midrange: Hoi An Coco River Resort & Spa is located in an amazing riverside location with free shuttle to Old Town, and it could easily charge triple if it's in other parts of the world! For something a little closer to town with glowing reviews, Villa Orchid Garden Riverside has a pool, beautiful rooms, and is 30 minutes walk to town!