Treviso is a quiet little town less than 30 minutes from Venice Mestre. Known as little Venice, it belonged to the Venetian empire and a world away from the overflowing streets of Venice. While it cannot compare to its big sister in grandeur, its small town charm and affordability makes it a tranquil escape for those tired of the crowds of Venice. Here's what you can do for a day (or even half day) trip.

Treviso to Venice train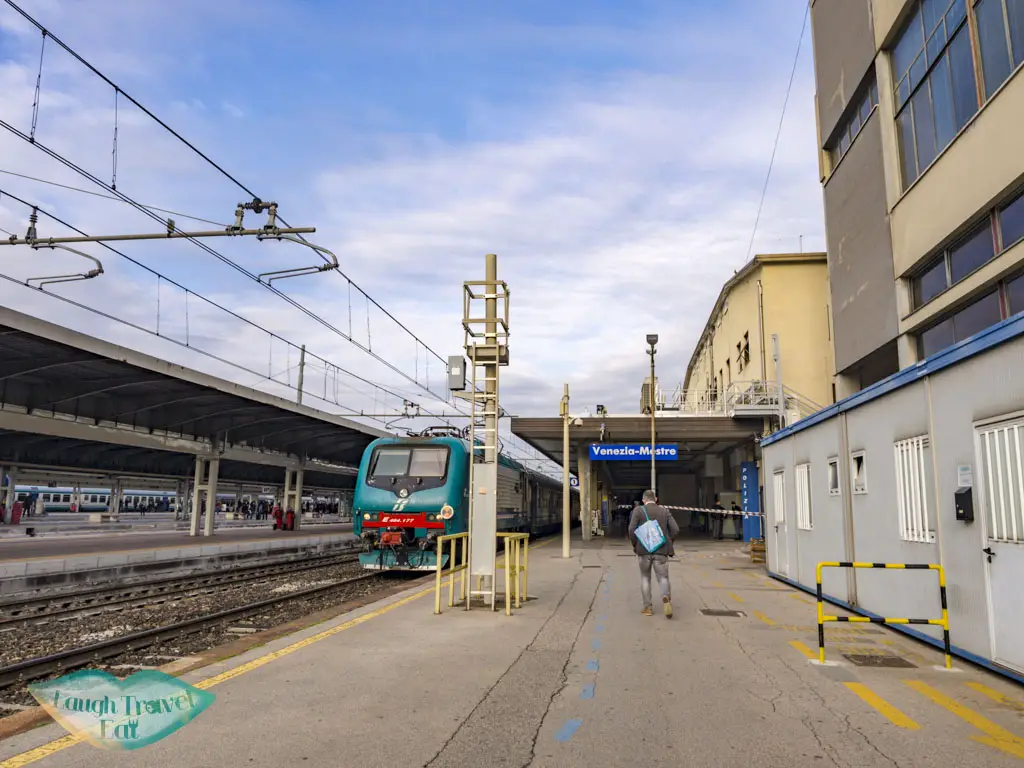 There are regular trains from Venice to Treviso, with the journey taking less than half an hour. The town center of Treviso is small, and you can easily walk from the train station to the other end of town in half an hour.

A single journey from Mestre costs 3.55 euro, and with 4 trains per hour, there's no need to pre purchase tickets so you can be flexible with time. Although buying it on the Omio app saved me time to queue for a ticket machine and validation.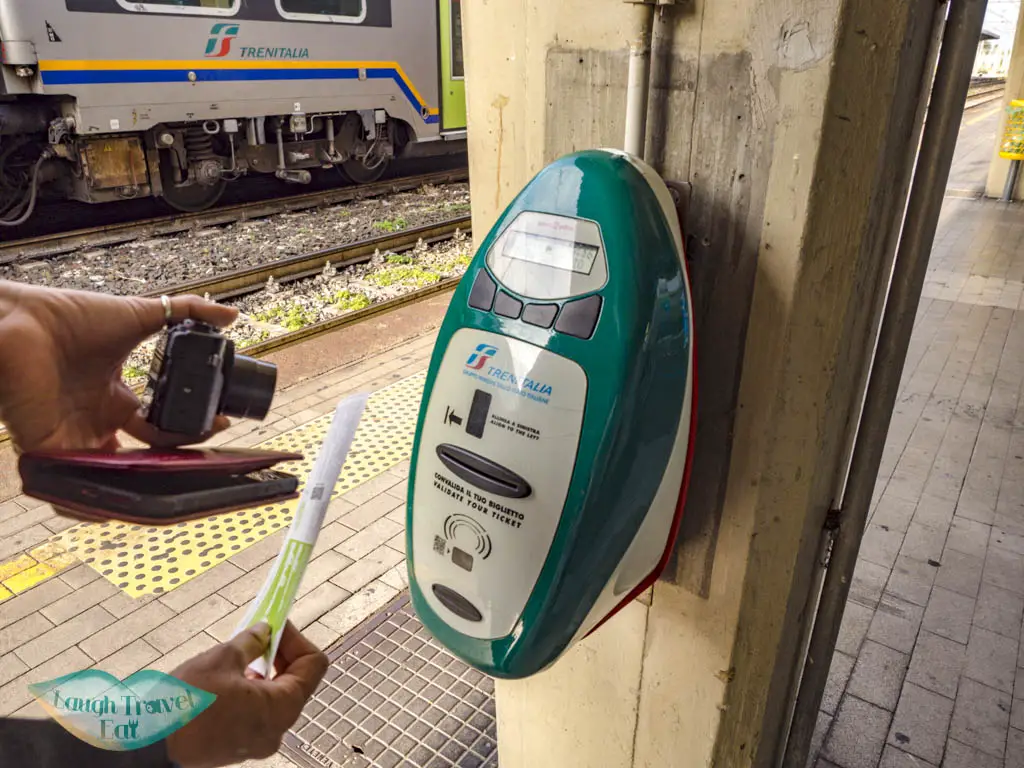 The Treviso train station is at the southern end of town. It's on the southern end of town and there's a subway from the platform that can take you across the main road towards town center.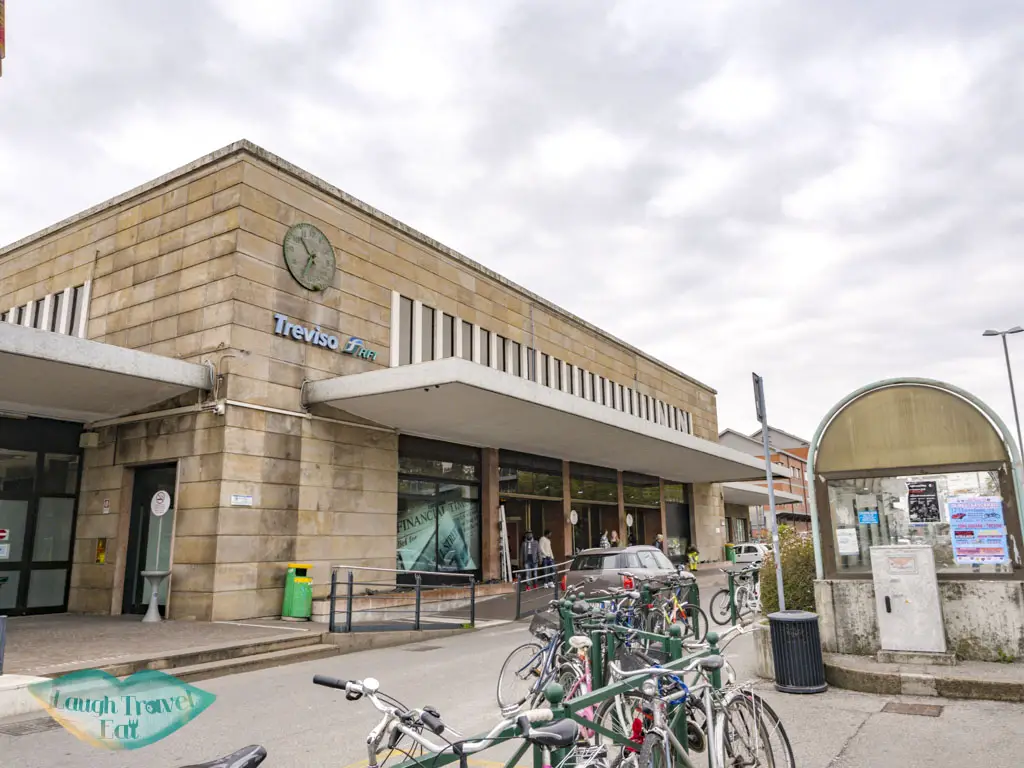 You can walk across the entire town in around half an hour, hence Treviso is best explored on foot.

History of Treviso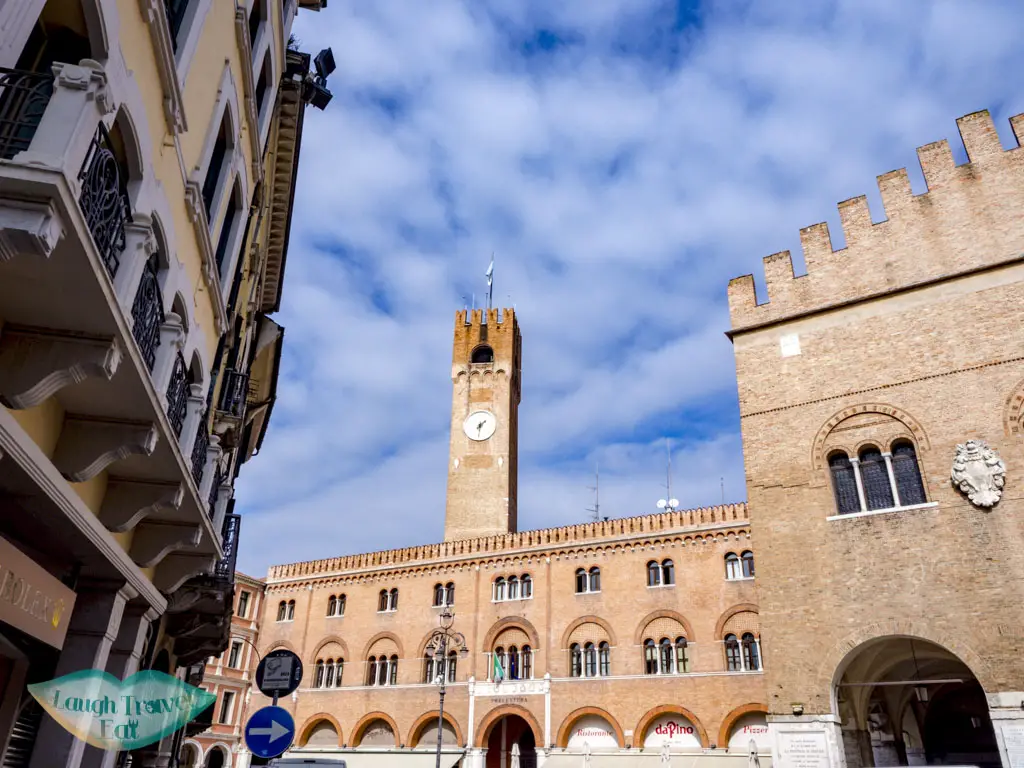 The history of Treviso goes as far back as the Roman times, although it remained unharmed during Atilla the Hun's march west.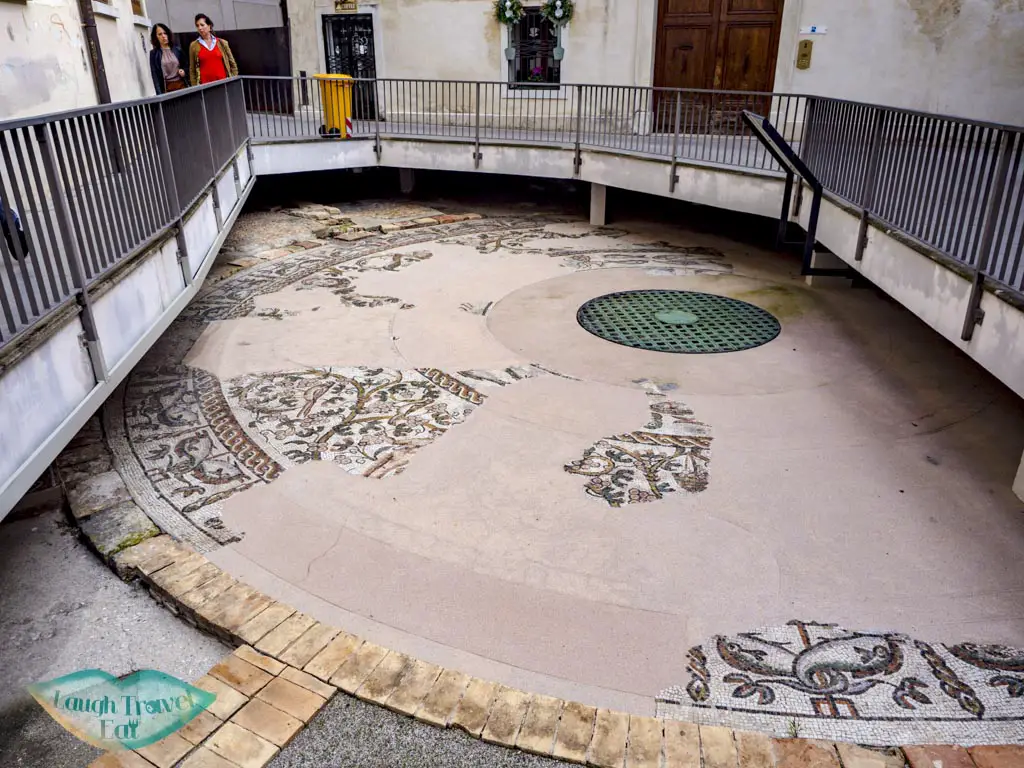 Its citizens had a part of the founding of Venice, although it didn't join the Venetian Empire until the 14th century. It was under this period that it built its wall and the city as we know it is shaped.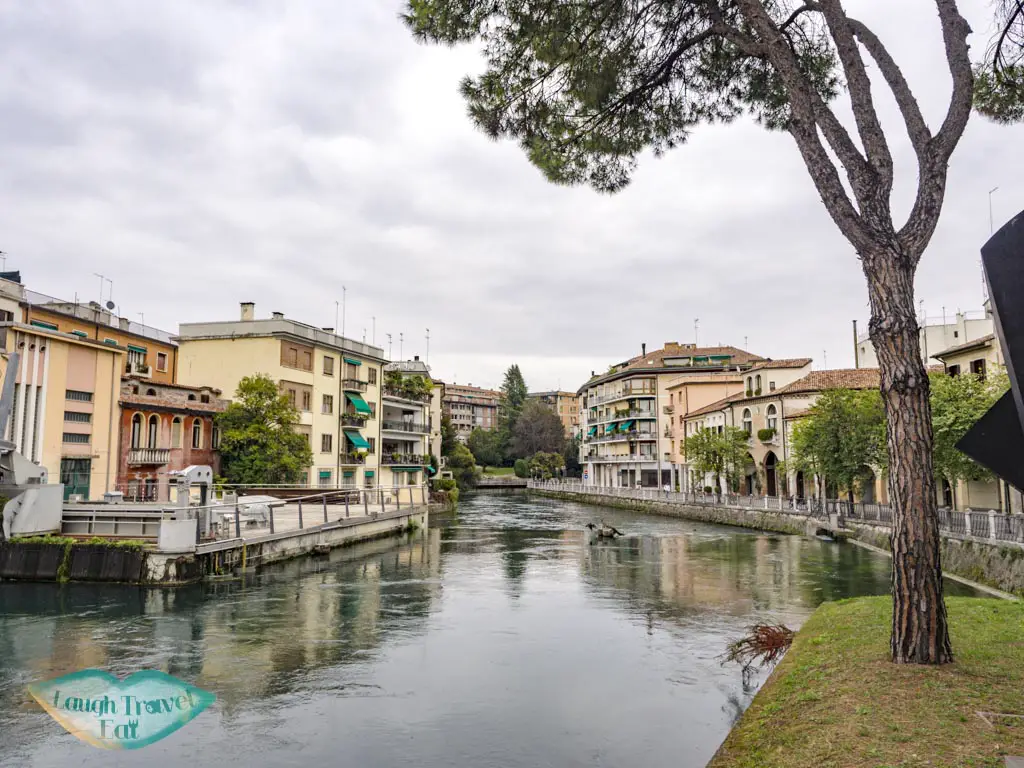 Treviso remained predominantly under Venetian rule with a brief occupation period by the Austria until 1797, when it was captured by French. They then passed under the rule of Austro-Hungarian, and it was eventually annexed to the newly formed Italy in the late 19th century. It was near the frontline during WWI and was heavily bombed during WWII, with the town rebuilt afterwards.

Things to do in Treviso
Piazza dei Signori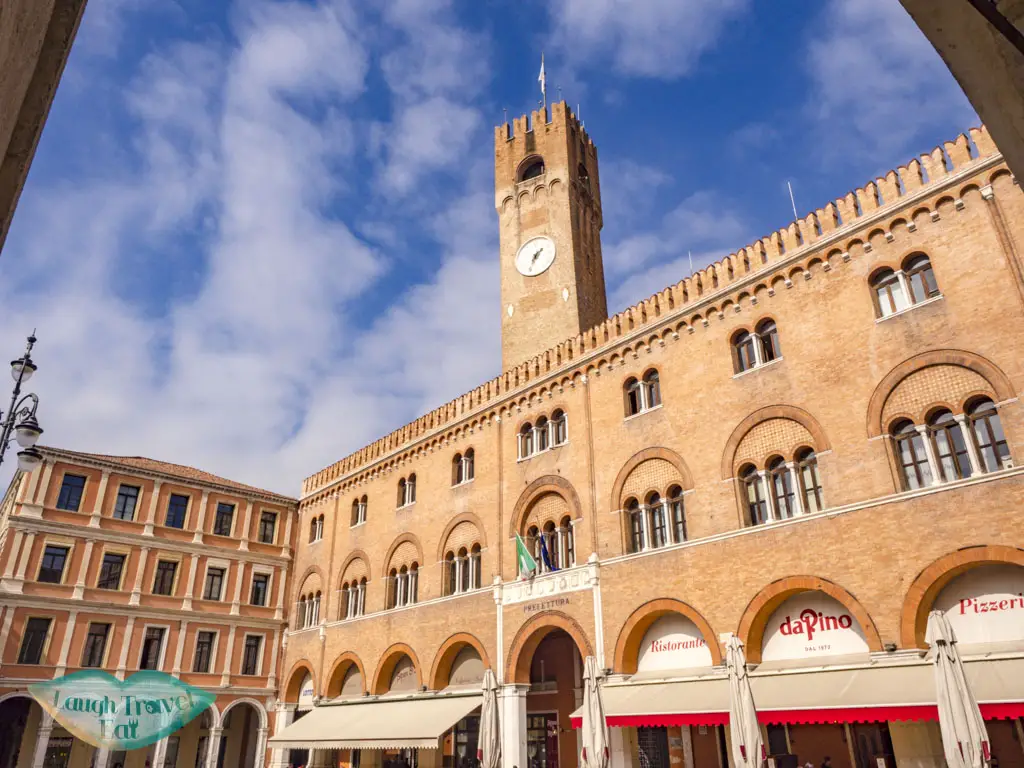 The most famous square in Treviso, Piazza dei Signori's name derives from the many palaces that surrounds it. The most eye-catching is the Palazzo del Podestà from the 14th century with its red brick clock tower. Although not as large as other cities' main square, the lack of tourists gives you a glimpse of local life, especially at the restaurants in the loggias by the piazza.

Church of San Nicolò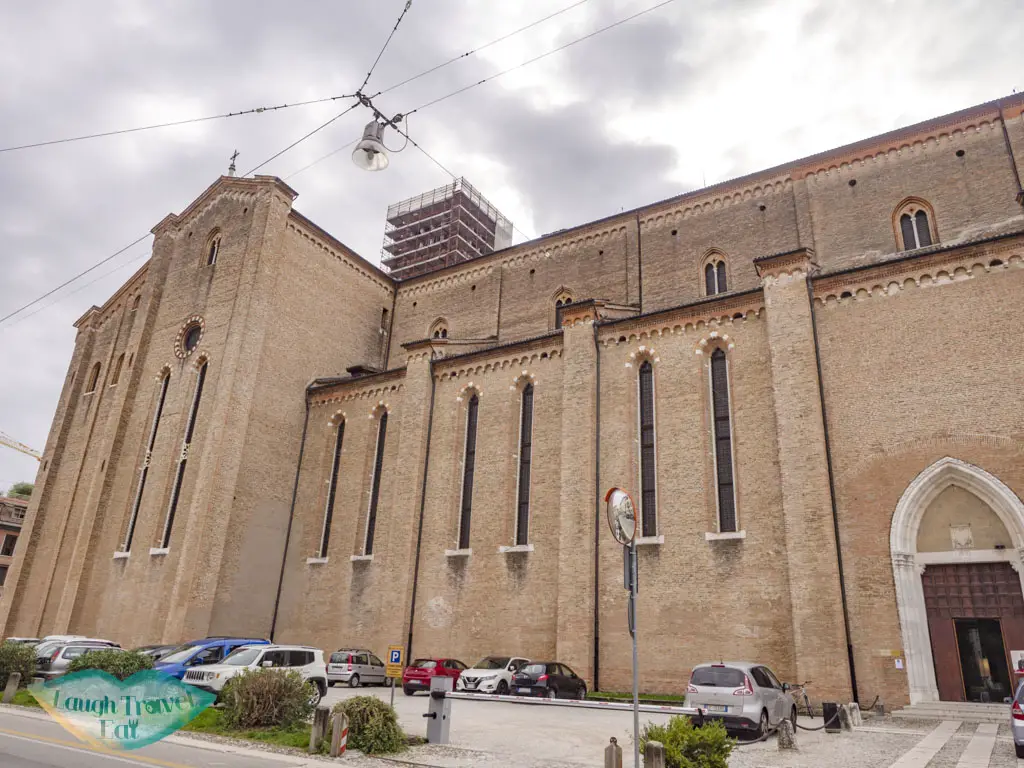 The Parrocchia di San Nicolò in Italia, the rectangular brick church was built in 1303 in Romanesque-Gothic style.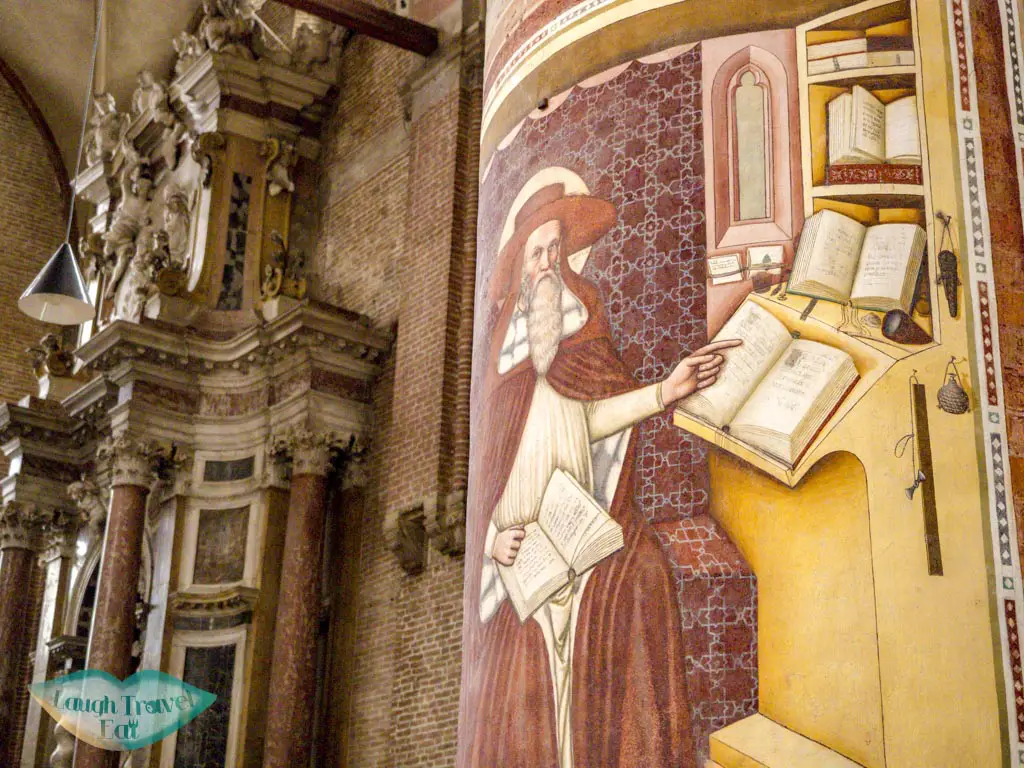 It is known for the beautiful fresco on its pillar, the work of famous painter Tommaso da Modena. The exposed wood ceiling also sets it apart, as well as the pink, black, and white colour scheme. The organ is also a work of art so don't miss it.
Opening times: closed for visitors on Sunday 8:30-12:00 15:30 -18:00
Admission free

Treviso Cathedral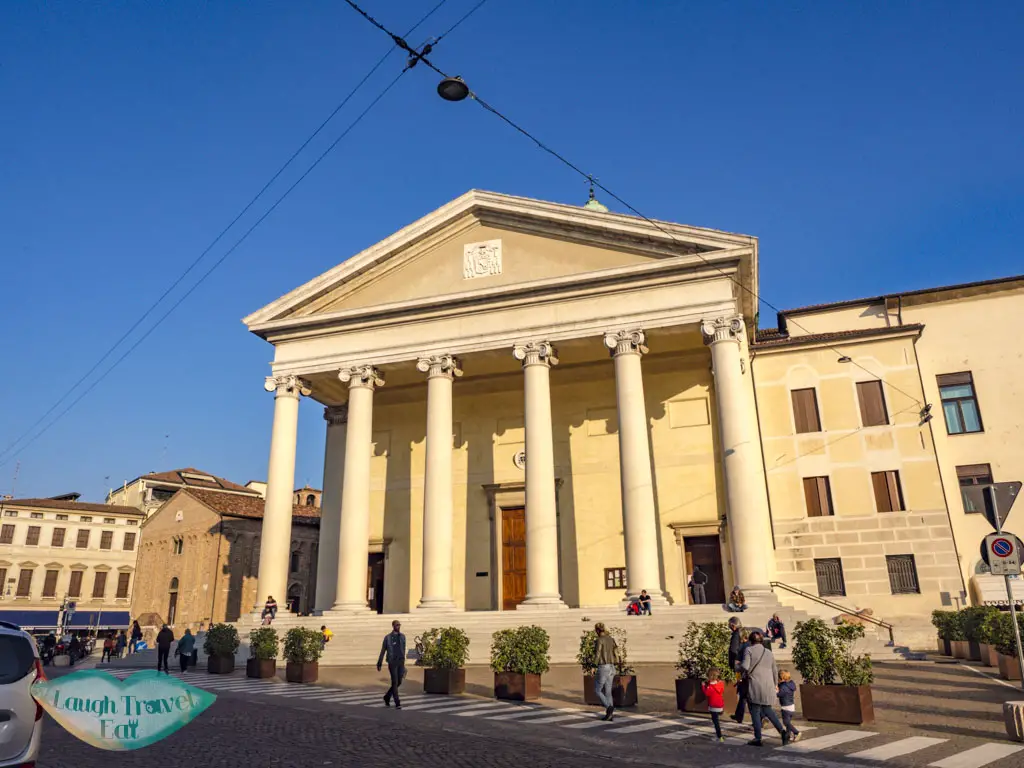 The Duomo of Treviso is more of a complex than a single church. The current church was built in the 19th century in Neoclassical style, but it was first built in the 6th century, then renovated in the Romanesque style in the 12th century.
Dedicated to St Peter, with many famous paintings by prominent painters throughout the 16th century. In particular, the altarpiece is from 1315 by Blessed Enrico.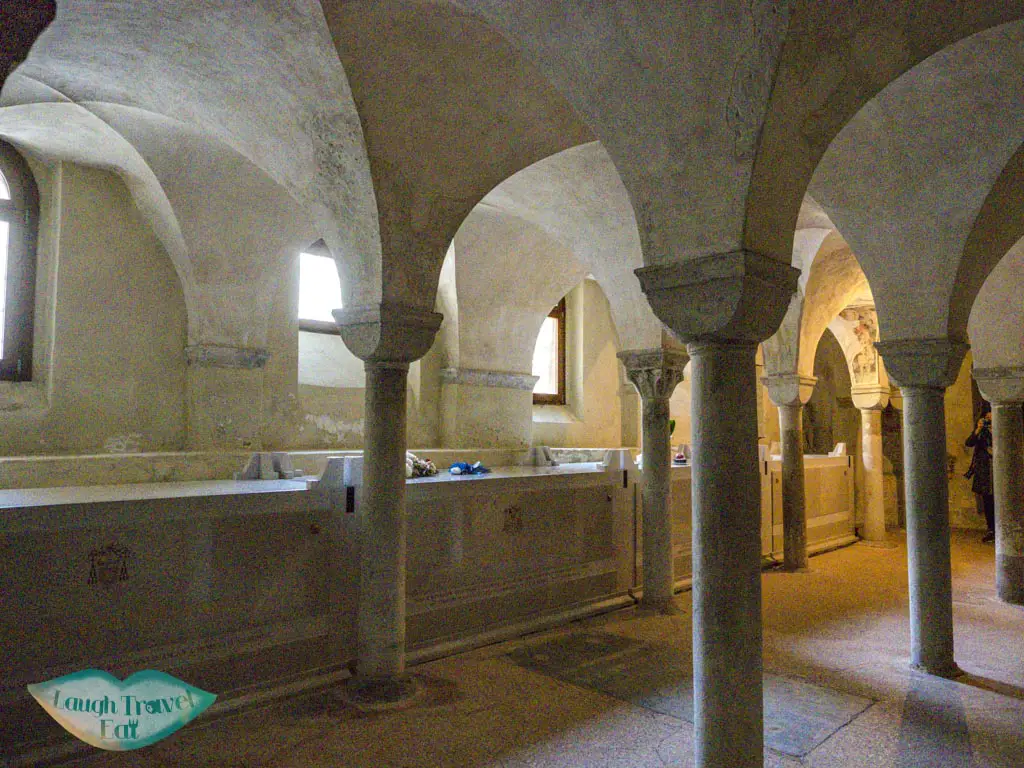 Don't confuse it with the brick Baptistery San Giovanni right next to it! The few steps lead visitors up through its greek-like entrance into the church. There is a crypt where service are also held.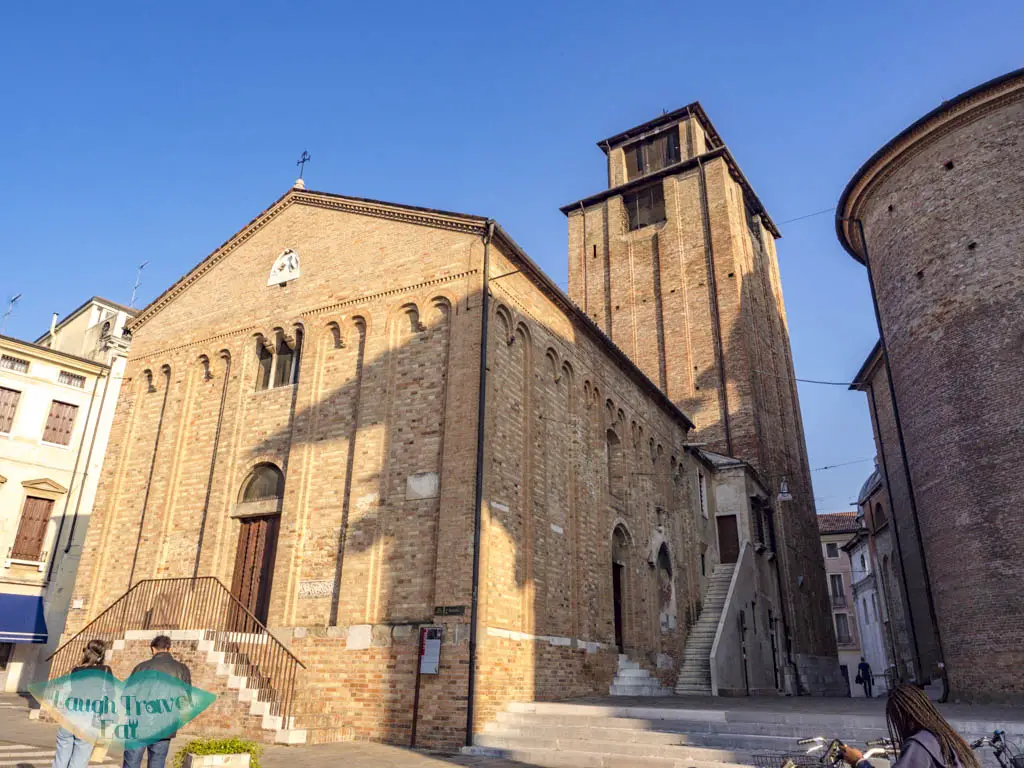 Opening times: closed for visitors on Sunday 8:30-12:00 15:30 -18:00
Admission free

Northern wall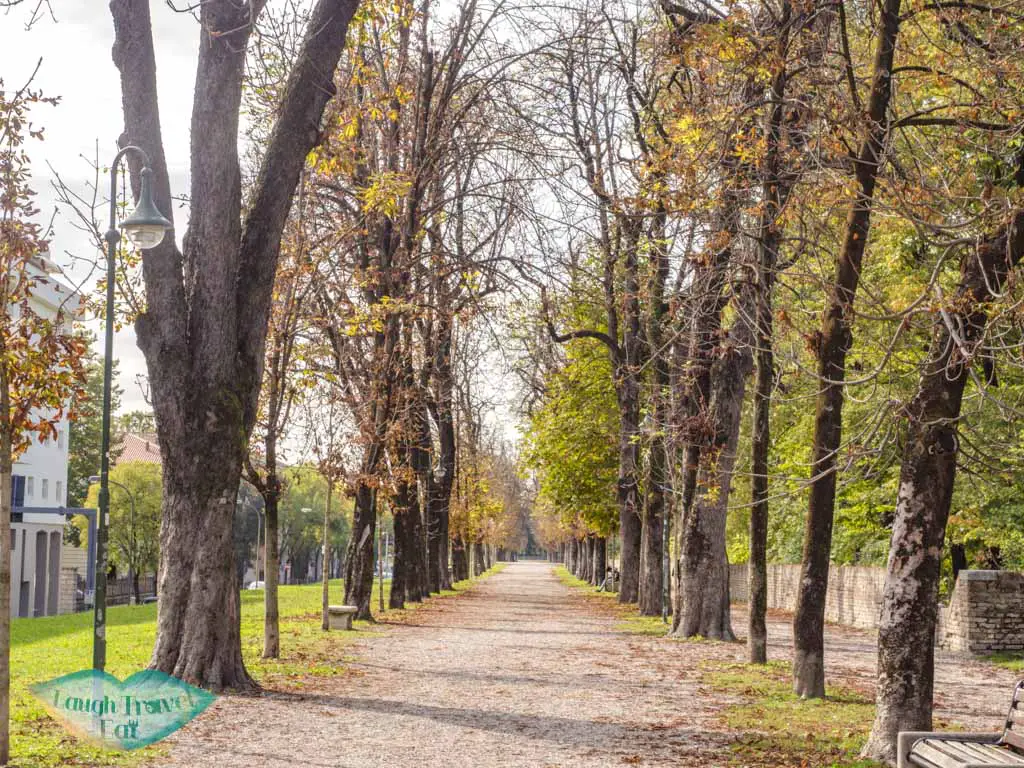 The old walls in the northern end of town are still well preserved. While its scale cannot compare to Verona's, these structures are a relict of Venetian time when the city built defenses against many invading forces. Nowadays, the wall is a park where many come for a walk or to enjoy the nature.

Buranelli canal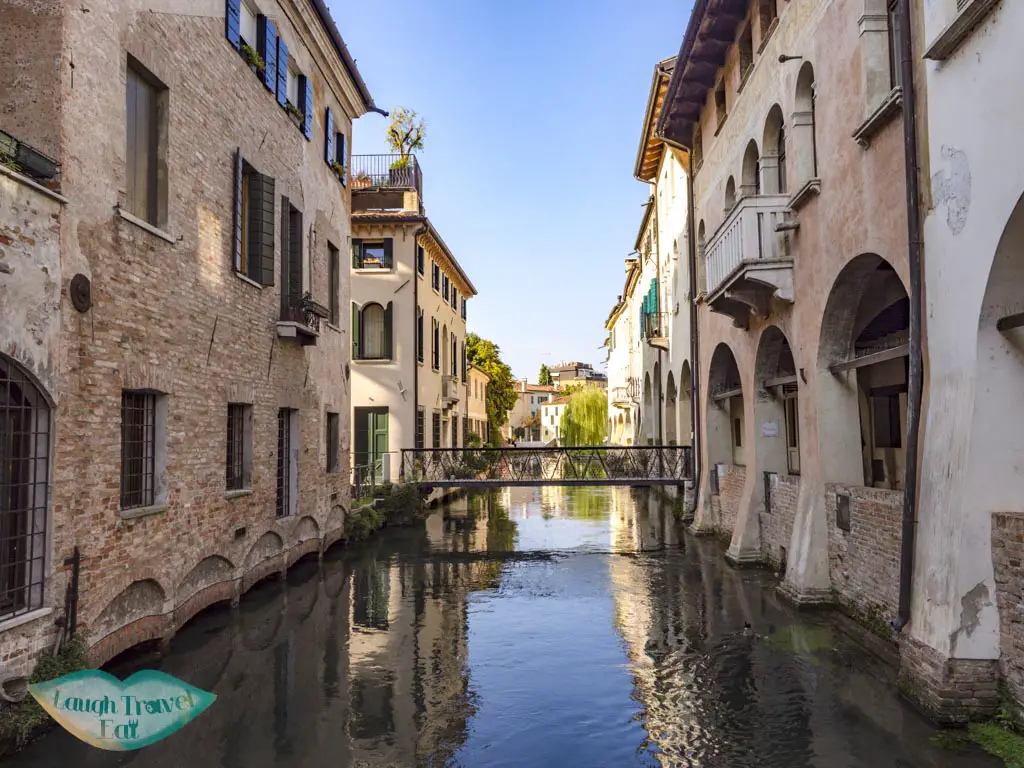 Some calls Treviso the little Venice, however, Buranelli Canal is probably the only place that resembles Venice a little. It diverts some of the water from Pegorile into the heart of Treviso. The famous little bridge is built over a section where women used to come to do laundry in WWII. The name of the canal comes from Burano since many merchants from the island resides in the house nearby. The majority of the canal is covered, passing under buildings.

Church of St Francesco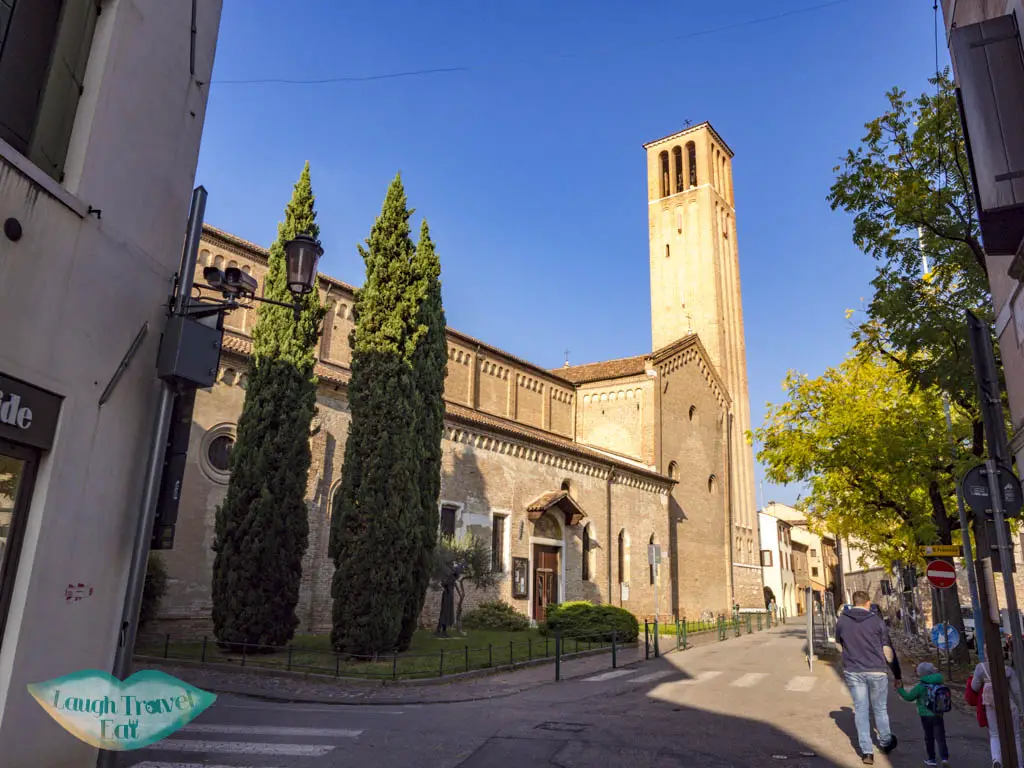 The Chiesa san Francesco was built by the Franciscan order in the 13th century in the Romanesque-Gothic style. Its ceiling are uniquely built to resemble the overturned hull of a ship. It was looted by Napoleon's army and used as a stable, but eventually restored and opened in 1928.
Its other claim to faith is that it houses the tomb of the son of Dante: Pietro Alighieri, and daughter of the poet Francesco: Francesca Petrarca.

Piazza San Vito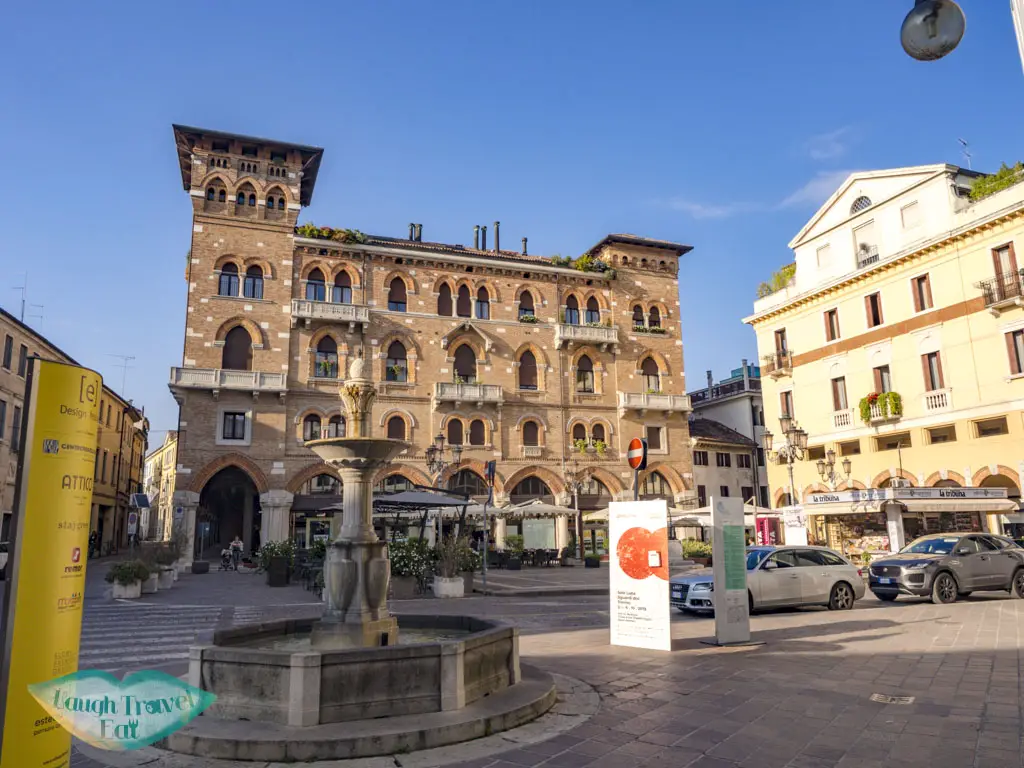 The centerpiece of Piazza San Vito is the water fountain. A sleek marble piece, it was installed in 1930, a project supported by many local merchants. It stands in front of a palace-like neo-Romanesque building and a square, which used to be the vegetable market.

Chiesa San Vito and Santa Lucia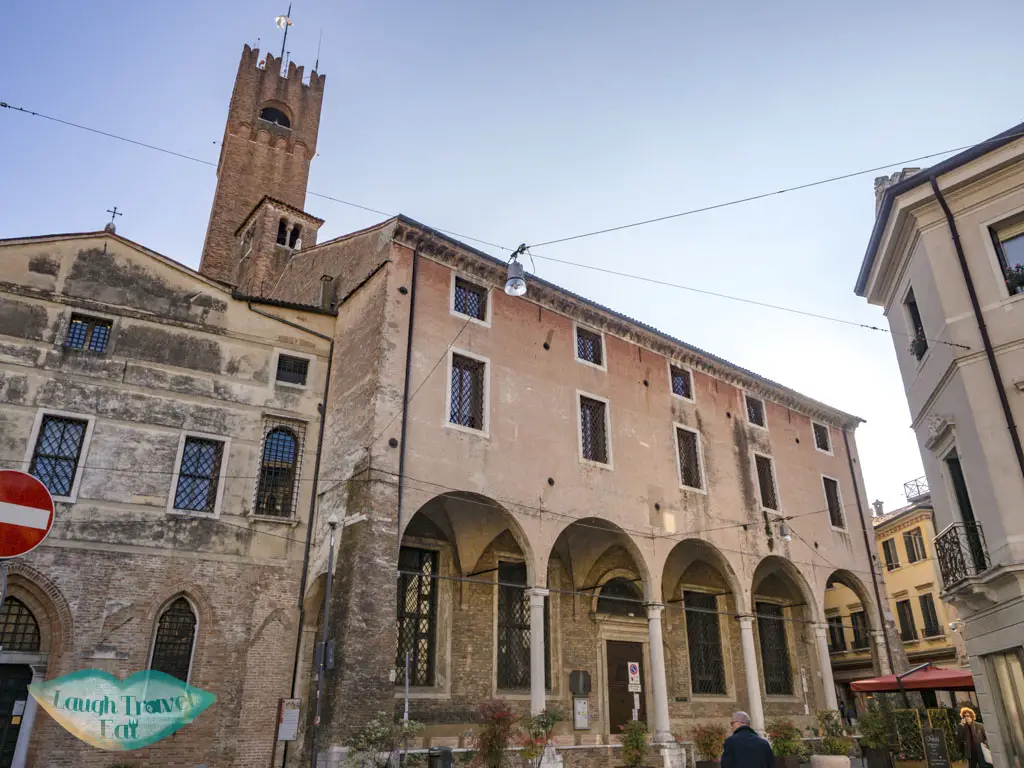 Across from the piazza are the Church of St Vito and St Lucia. These are actually two churches, St Vito and St Lucia. St Vito was founded in the 9th century, but renovated in the 16th century. It was once connected to a hospital. St Lucia is right by St Vito, founded in the mid 14th century atop a former prison. Both churches feature works by painters from the 14th century.

Monumento ai Caduti di Piazza Vittoria
It lacks an official English translation, but this is a war monument in a park near the post office which can be spotted on the walk to and from the train station. It was built in the 1930s to honour those who died in WWI. The design was picked during a national competition in 1926, and was won by a Turin sculptor.

Piazza Vittoria, 3, 31100 Treviso TV, Italy
Where to eat in Treviso
Pizzeria Ristorante da Roberto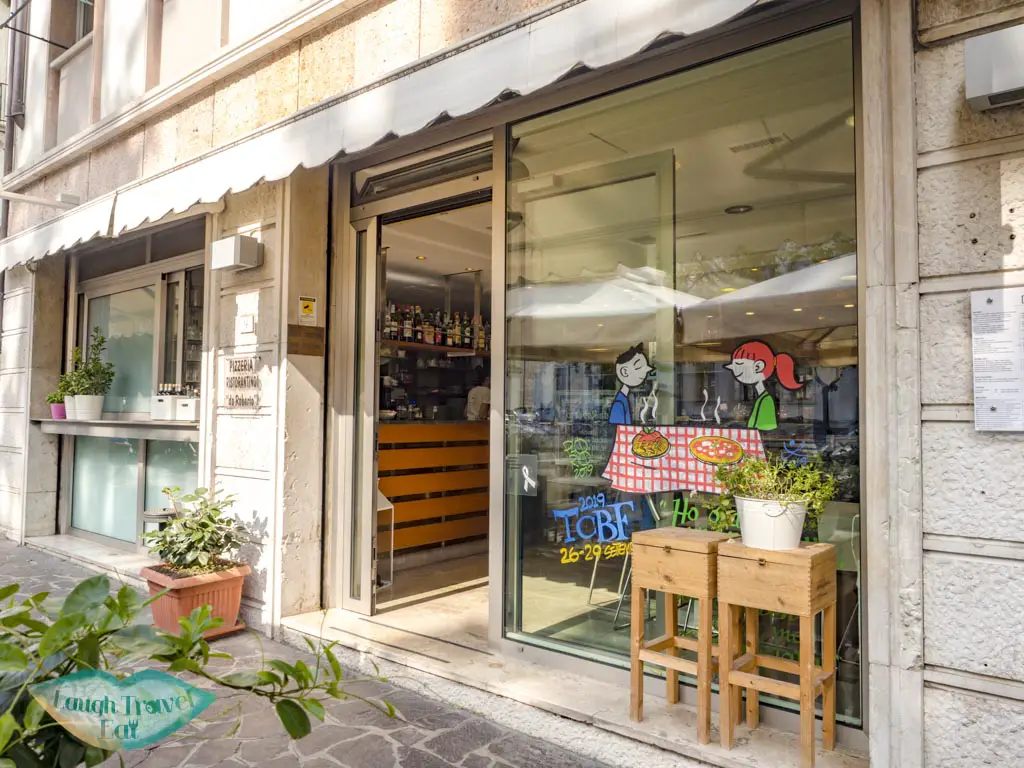 Not too far from the train station but in town, Pizzeria Ristorante da Roberto is a great choice for lunch. Compare to Venice, the value for money is great as we shared a pizza, a brownie, and had a glass of wine each for 25 euros in total!
The restaurant seems to be frequented by locals as well, as it filled up quite quickly for lunch after our arrival. It has clean bathrooms too and also serves cakes and coffee.
Address: Via Luigi Cadorna, 16, 31100 Treviso TV, Italy
Opening times: close Thursday 12:00 – 15:30, 19:00 – 0:00

Gelateria la Romana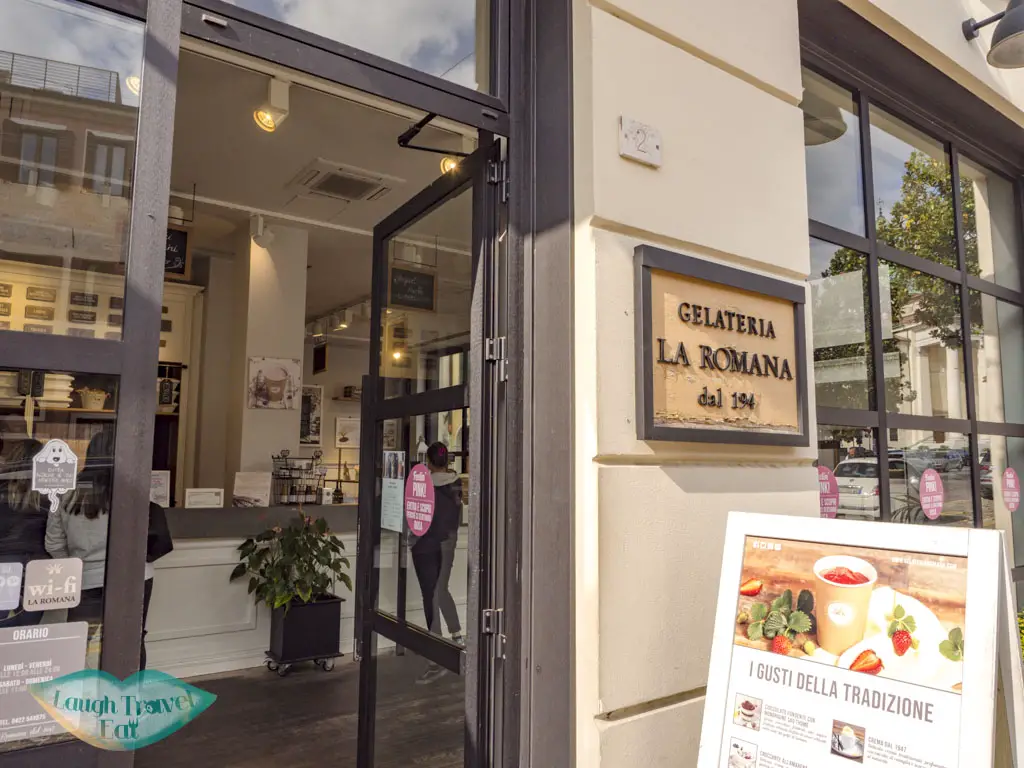 A gelateria chain that can be trusted, it provides a much needed snack stop as we roam the city on foot. They have a good range of flavours and even some cakes if you would like. There are seats and free WiFi if you need them, too.

Address: Viale Cesare Battisti, 2, 31100 Treviso TV, Italy
Opening times: Sun – Mon 11:00 – 23:00; Tues – Thurs 11:00 – 0:00; Fri – Sat 12:00 – 0:00

Hotels in Treviso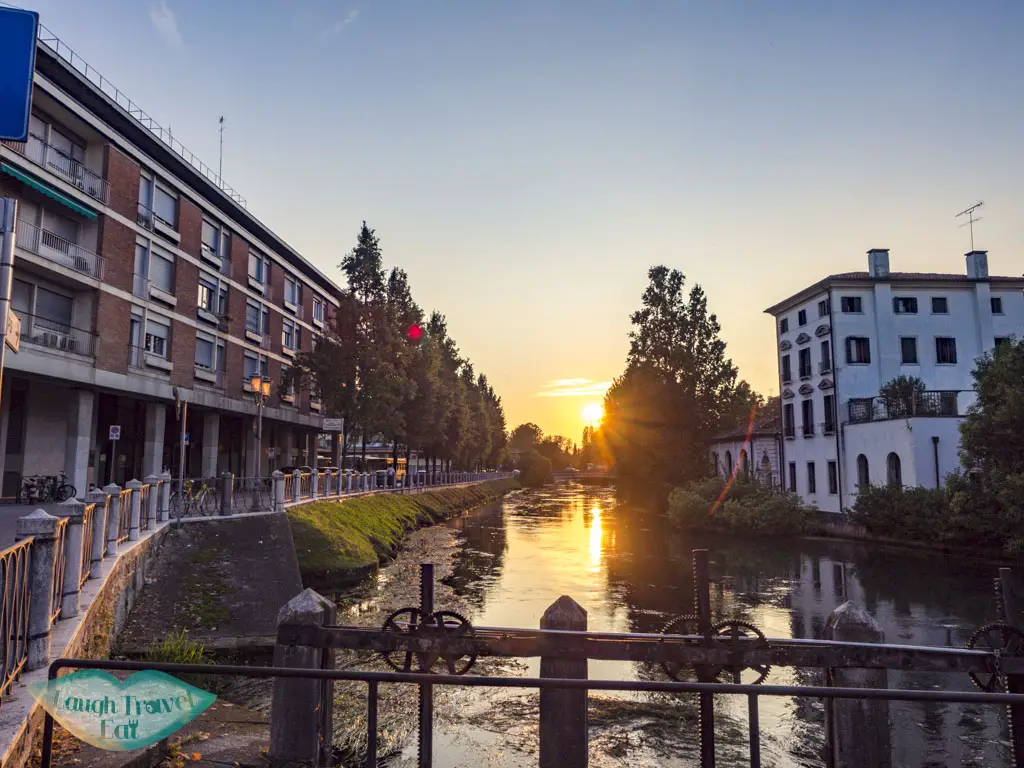 If you want to overnight at Treviso, there are little budget options but overall the value for money is higher than in Venice.
Midrange: B&B Hotel Treviso is close to the train station and sights with spacious and clean rooms. If you prefer a more rustic and cozy stay, check out Little Garden.
Splurge: Locanda Ponte Dante is beautifully restored from a historic building with exposed brick details by the river. Maison Matilda is a boutique hotel that is in a 19th century building and one of the top picks for Treviso.