L'Escape Hotel Review: a Parisian Escape in Seoul, South Korea
Ideally situated in Myeongdong, the L'Escape Hotel is a Parisian escape in Seoul. From the moment you step into the black-and-white tiles lobby, you are transported you to 19th century Paris in all its glory. The boutique hotel opened in July 2018 and designed by Jacques Gracia, who has also designed Hotel Costes in Paris and NoMad Hotel in New York.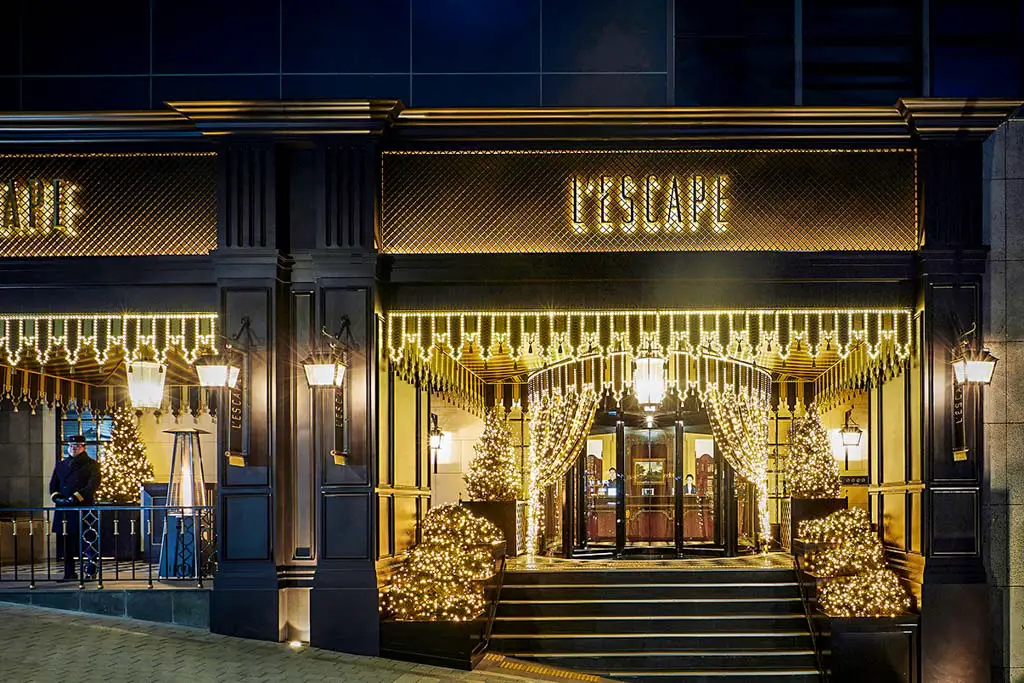 L'Escape Hotel design
The entrance of the hotel is located on top of a slope with an old-fashioned revolving door and a side entrance. The most eye-catching element is the flower tree designed by Tony Marklew, dominating one corner of the lobby with its gorgeous pink and white flowers.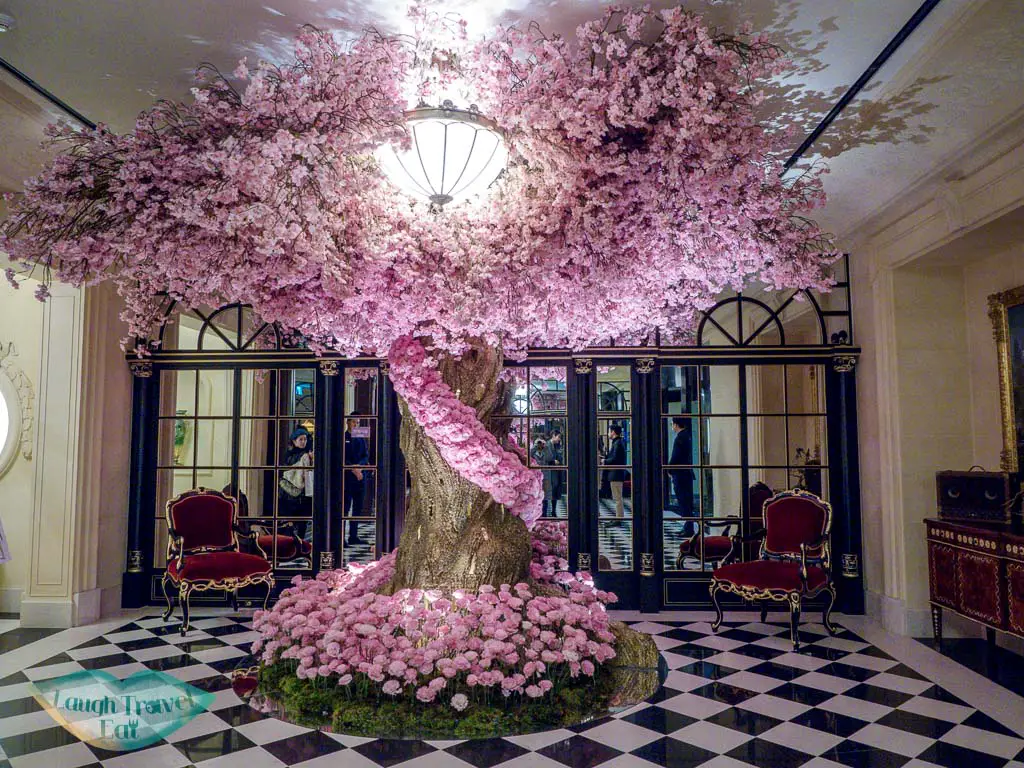 From the black and white tiled floors to the wood and upholstery walls, everything in L'Escape oozes elegance and charm that matches its name.

Reception (Lv 7)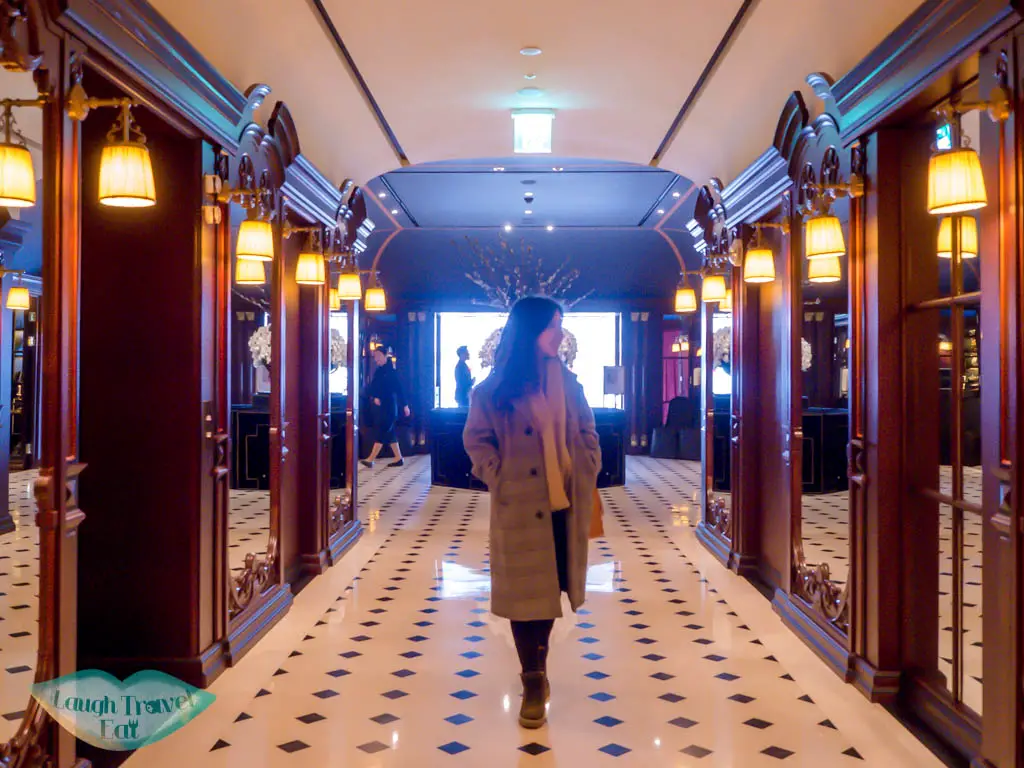 The main reception is on the 7th floor. The rows of elevator opens to reveal the classy black-and-white checkered tile floor again, and we were greeted warmly and ushered to the check in desk right of the central atrium. Do note that you will need a credit card to hold a deposit of the room, which will be held and released when you check out.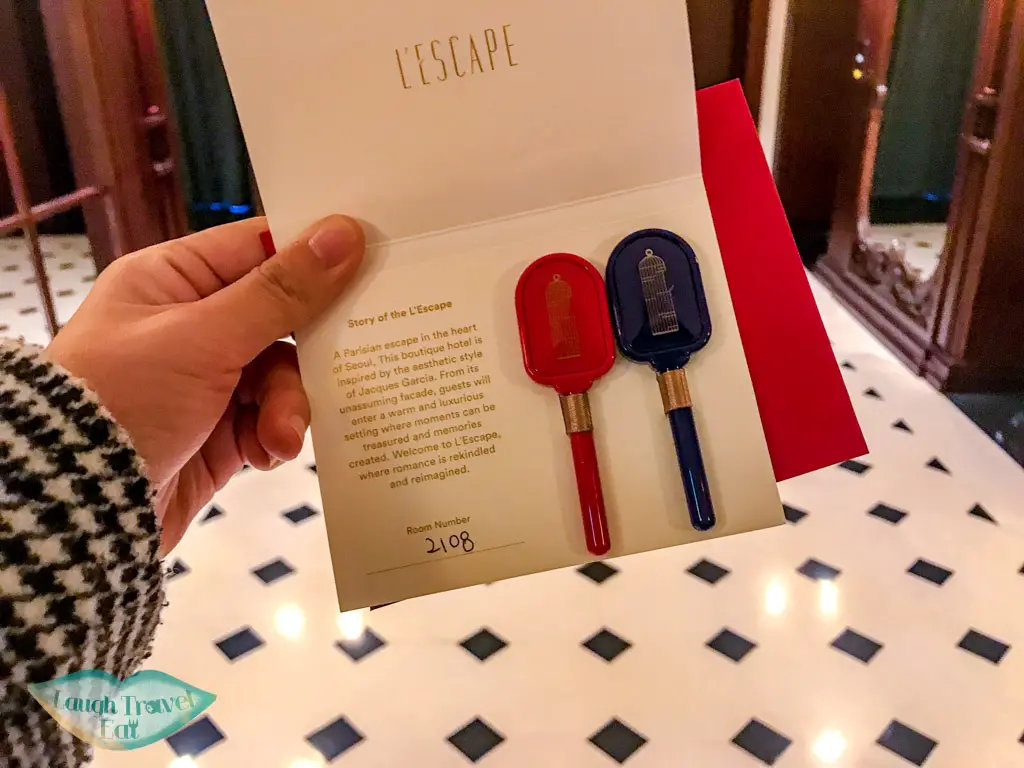 The room keys aren't the typical swipe cards but two plastic keys. Other than that, they operate exactly the same as swipe keys, required to swipe to enter your own floor and one to activate the electricity in the room.
You can also leave your luggage at the reception on check out. There is a room off to the side where they can store it and give you a luggage tag to collect them upon return.

Library (Lv 7)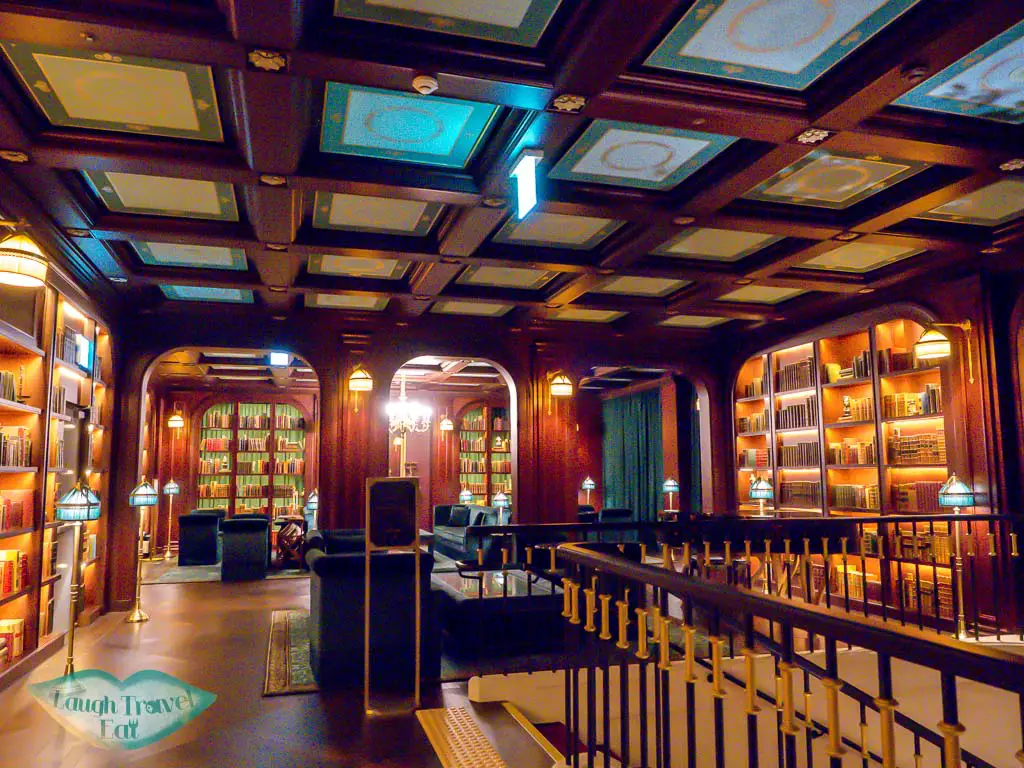 Perfectly recreating the vibe and looks of an aristocrat's library from a century or so ago, the bottle-green lounge space houses real aged tomes in addition to comfortable sofas.

The space is for suite-room guests only, but it's worth heading into to have a look and snap some photos. If my room isn't so comfortable, I'd definitely be spending some time here to read and relax.

Gym (Lv 8)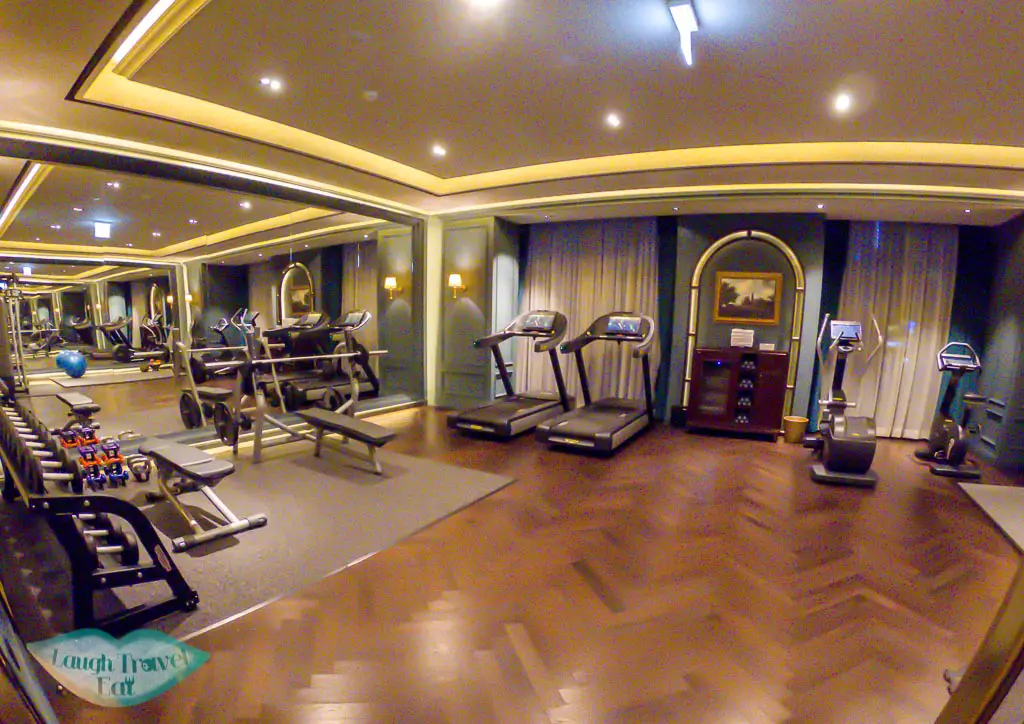 A comprehensive gym with a modern design, L'Escape uses the best equipment from TECHNOGYM. With a weight area, treadmills, and spin bike, it serves the need for the regular gym goers just fine. Admittedly, we were too busy running around the city to enjoy this!

Spa by Beaute Br (Lv 8)
Before you reach the gym, you'll catch a glimpse of the serene spa space runs by Beaute Br. They are a well-renowned French cosmetic brand and offer their products in addition to spa services.

L'Escape Hotel Rooms
L'Escape offers two main types of room: deluxe room and suite room. The major difference lies in the size of the room and the bathroom, with the latter featuring a bigger sitting area and cloakroom. The four differently sized deluxe room range from 27.2 to 41m2 and the suites goes from 53 to 157m2.

All the rooms are richly decorated completed with a canopy on the bed, heavy curtains, and elaborate wallpaper.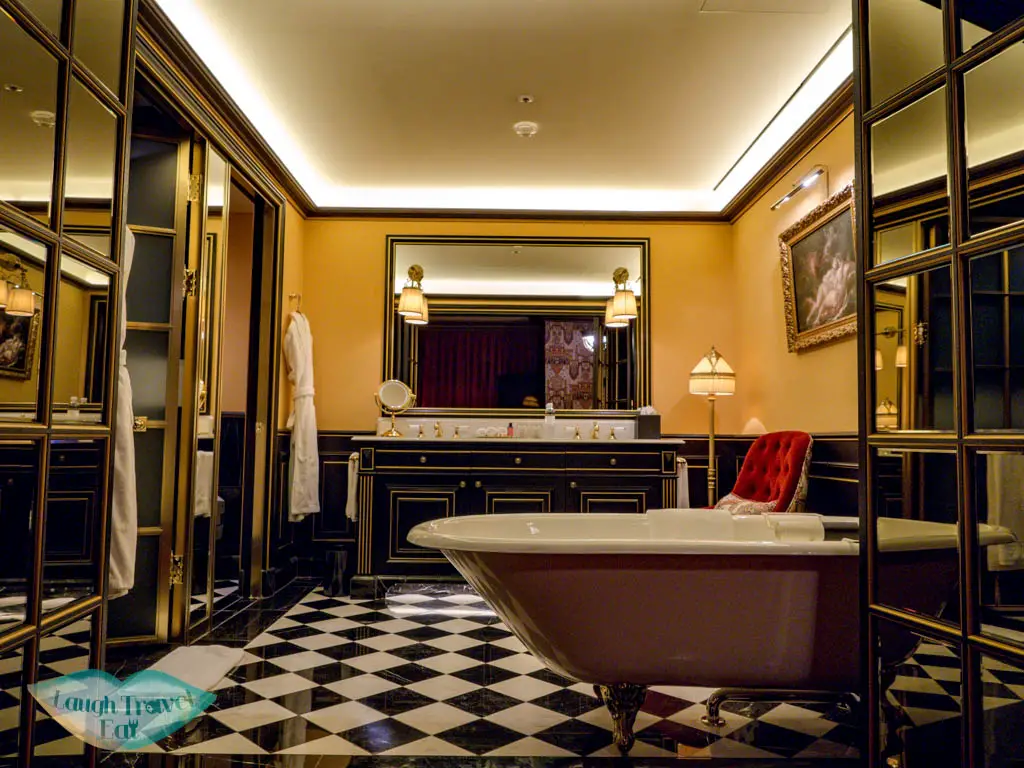 The bathrooms are elegant with white-and-black checkered tiles and porcelain bathtub. A metal tray is provided so you can enjoy a cup of tea and have somewhere to put your book while taking a bath. Bath salts are also provided. There's an additional shower stall so you get the best of both world, with the bathroom also separate.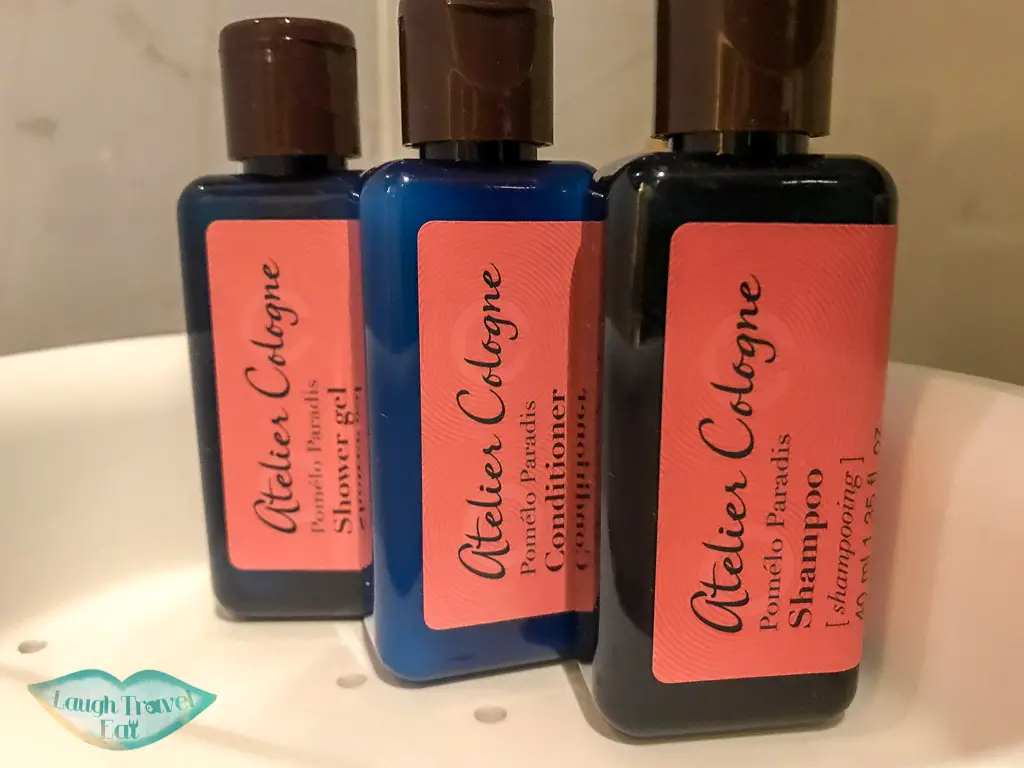 The toiletries are provided by Atelier Cologne, created with ingredients grown exclusively in Grasse in France.


There's also an extra worktable in the suite that's great for business travelers. I'm also a fan of the hidden sockets on the desk and bedside table, making charging your phones and camera accessible. It certainly saves me from climbing up and down and inspecting the walls to find an outlet.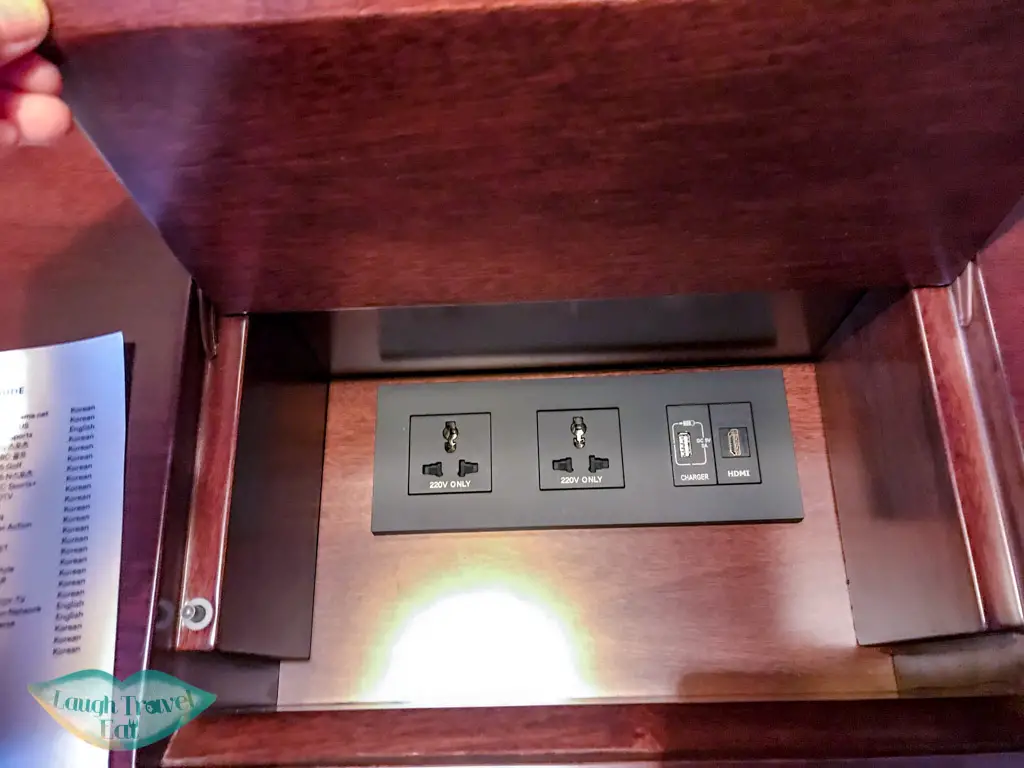 Another great addition to the rooms is the voice-controlled assistant Genie. By giving it a command after calling it 'Genie-ya', it can turn the lights and music on and off, alert housekeeping that you need cleaning or extra sleepers, as well as tell you the weather!

Note: the hotel also has 14 pet friendly rooms on the 9th floor and has a variety of pet supplies available for rent! A service charge of 100k won is required for the dog, with the second dog's presence charged at 60k won.

Hotel Breakfast
We stayed two nights in L'Escape and during the weekend, it's a buffet breakfast. On the weekday, we had an a la carte menu and a list of choices. I particularly love their croissant, which is the perfect amount of buttery and flakey.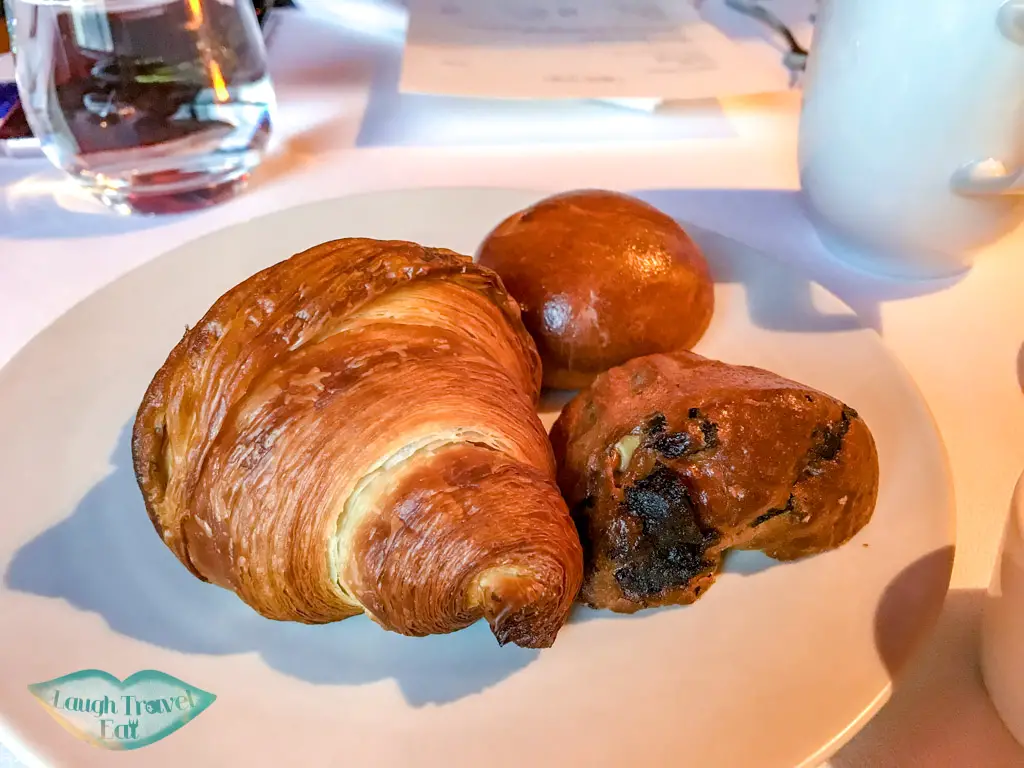 On the buffet day, there was a selection of cheese, bread and pastry, fruits, cold meat, and salmon. The waiter came to our table for our egg of choice and hot drinks. There's also a juice station with grapefruit, orange, and tomato.
For a la carte, we also get a pastry basket and a fruit salad in addition to our choice of eggs. Their egg benedict is a good size for the combo and the eggs done perfectly.

Breakfast time: 7:00 – 10:00

Restaurants in L'Escape Hotel
Whether you are looking to not step outside for food or for instagram-worthy dining options, there are some pretty lovely places to chill in the hotel:

HELL Cafe (level 7)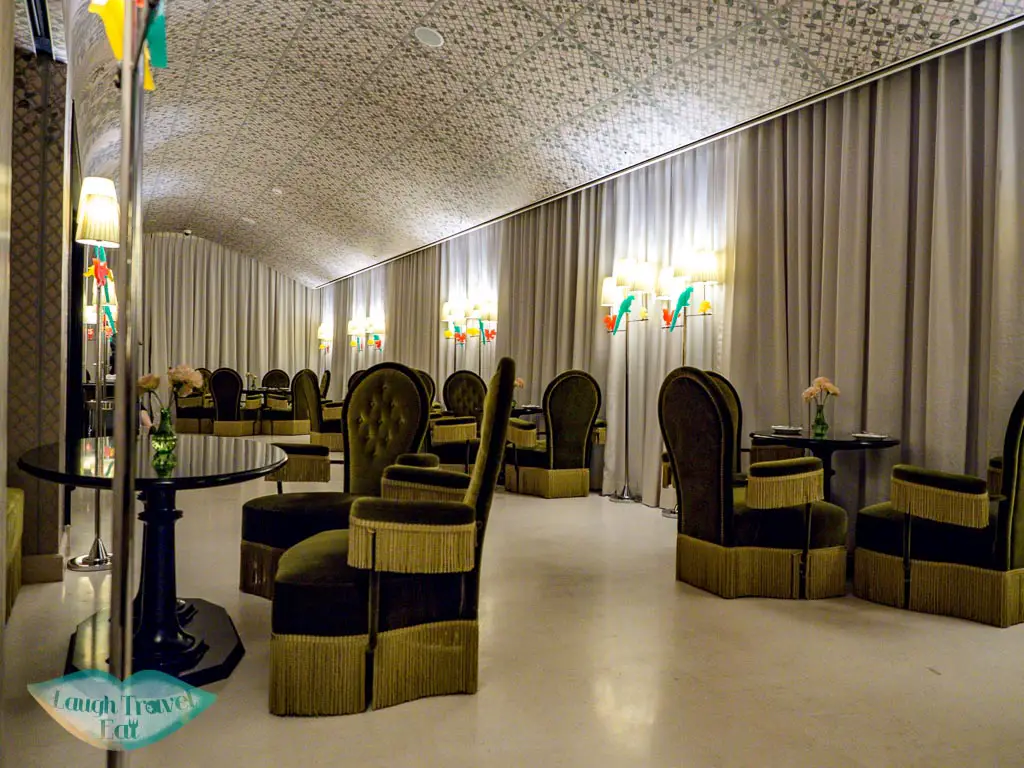 The room adjacent to the reception are both part of the Hell Cafe. with bottle green velvet chairs and lights adorned with acrylic tropical birds, the cafe serves a variety of blended tea and speciality coffee to patrons. We tried their tea and mocha and would definitely recommend hitting it up!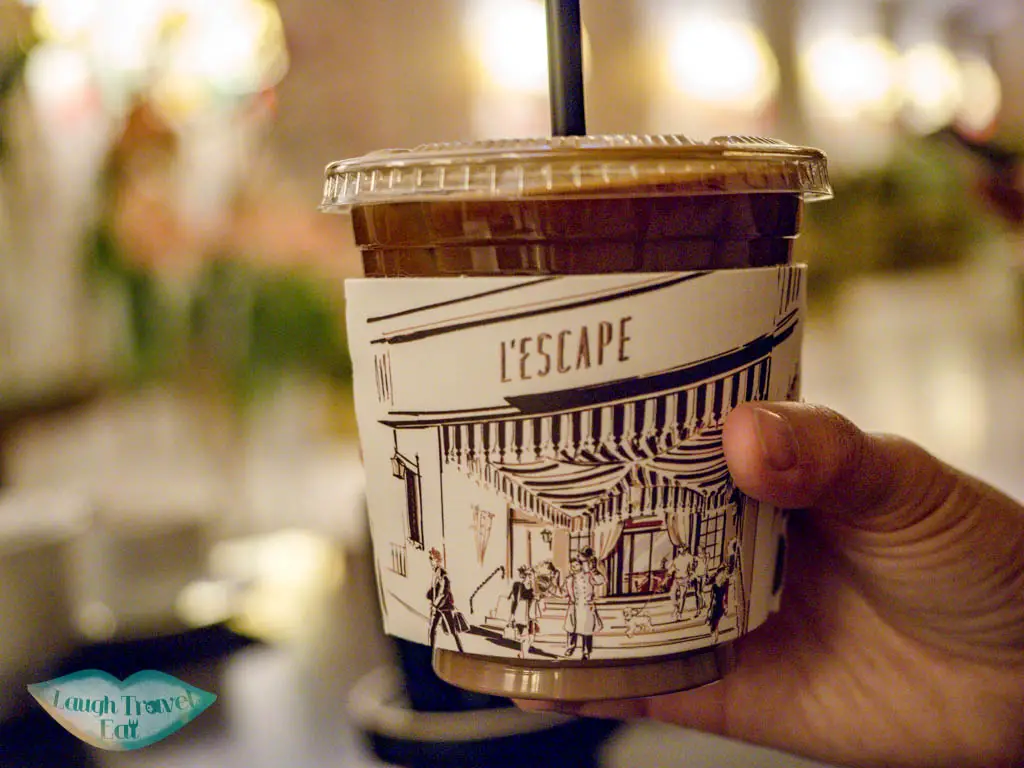 Opening times: 12:00 – 22:00

La Salon by maison M'O (level 7)

Palais de Chine (level 6)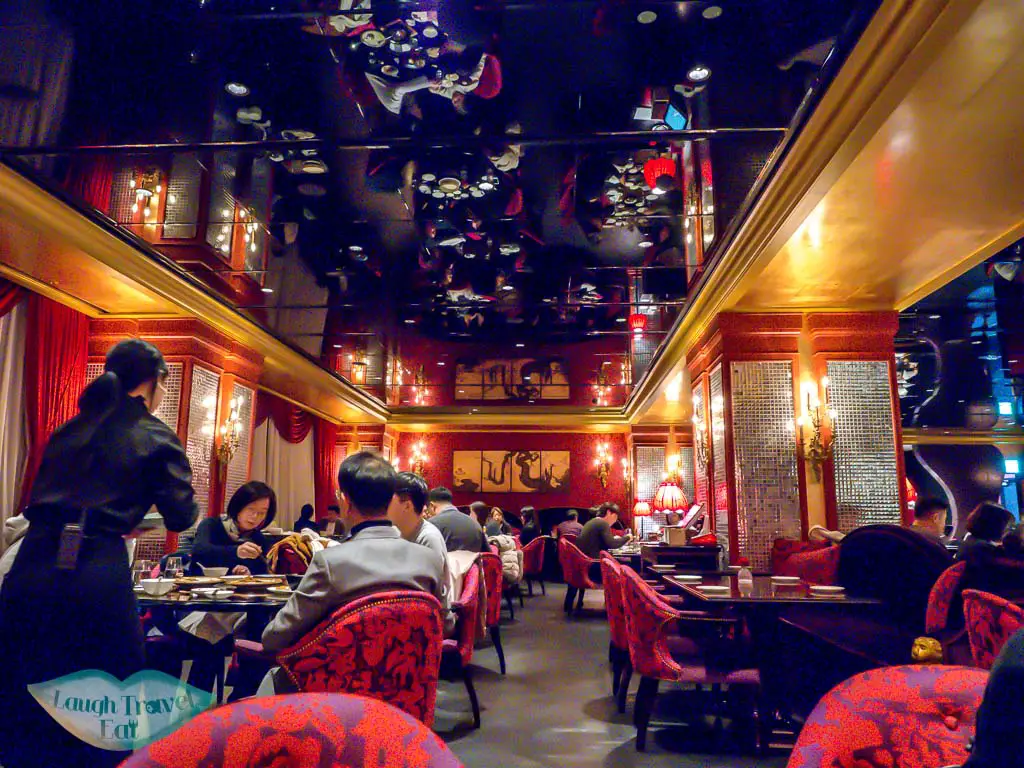 Palais de Chine is the sister restaurant to the famous Mott 32 in Hong Kong. Serving up authentic and gourmet Chinese food, dining in Palais de Chine invoke a sense of time traveling to Shanghai in the 30s. They are most famous for the roast pork belly and barbeque pork, but those requires advance booking to prepare.
We ordered Black Truffle Paste, Crispy Conpoy Seafood Fried Rice which was my favourite (35k). The Sweet & sour Pork Dragon Fruit with Aged Black Vinegar was also really good, with the perfect amount of sauce (35k).
For vegetables, Sauteed Asparagus, Water Chestnuts & Ginkgo Nuts is done expertly leaving the vegetable still crispy but cooked, although it is a little oilier than ideal(17k). We also had to try their Soft Quail Egg, Pork, Black Truffle Siu Mei, which comes in a set of 3 and super yum (12k).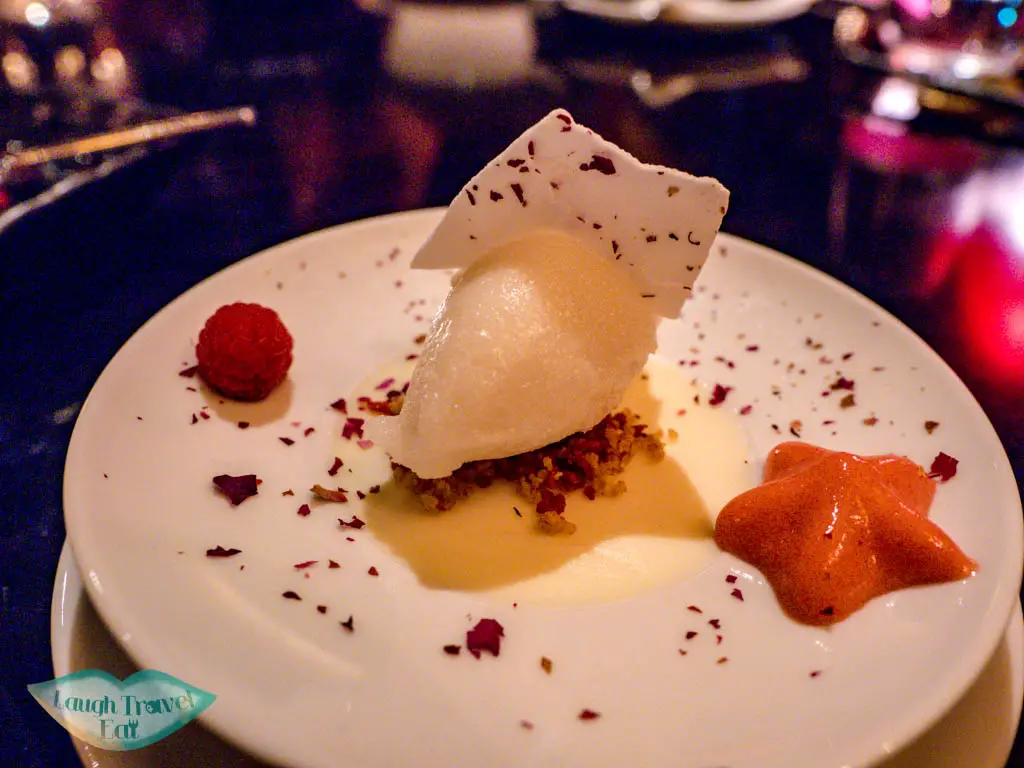 For dessert, we shared a White Panna Cotta Lychee Sorbet Plater – which is on the small size but bursting with flavour.

L'Amant Secret (level 26)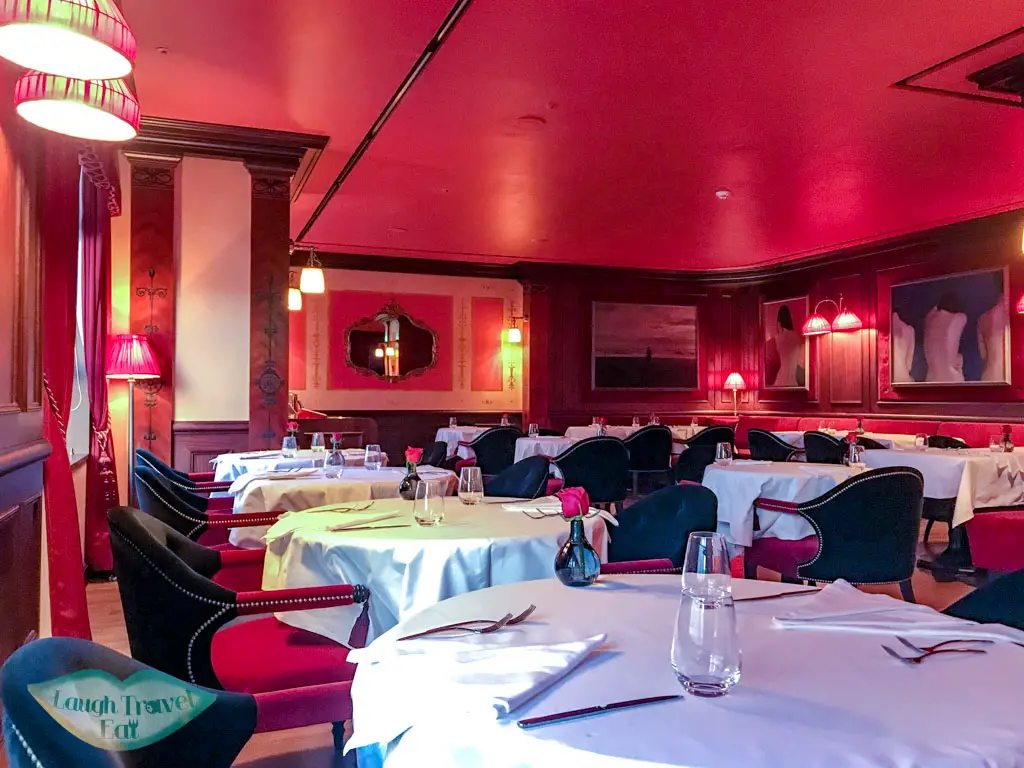 More of a fan of western food? Head up to the top floor to L'Amant Secret. The name translates to Love's Secret and the restaurant is a collaboration with the Modern in New York, which is a 2 Michelin Star American restaurant.

Note: this is also where the hotel breakfast take place.
Marque d'Amour (level 26)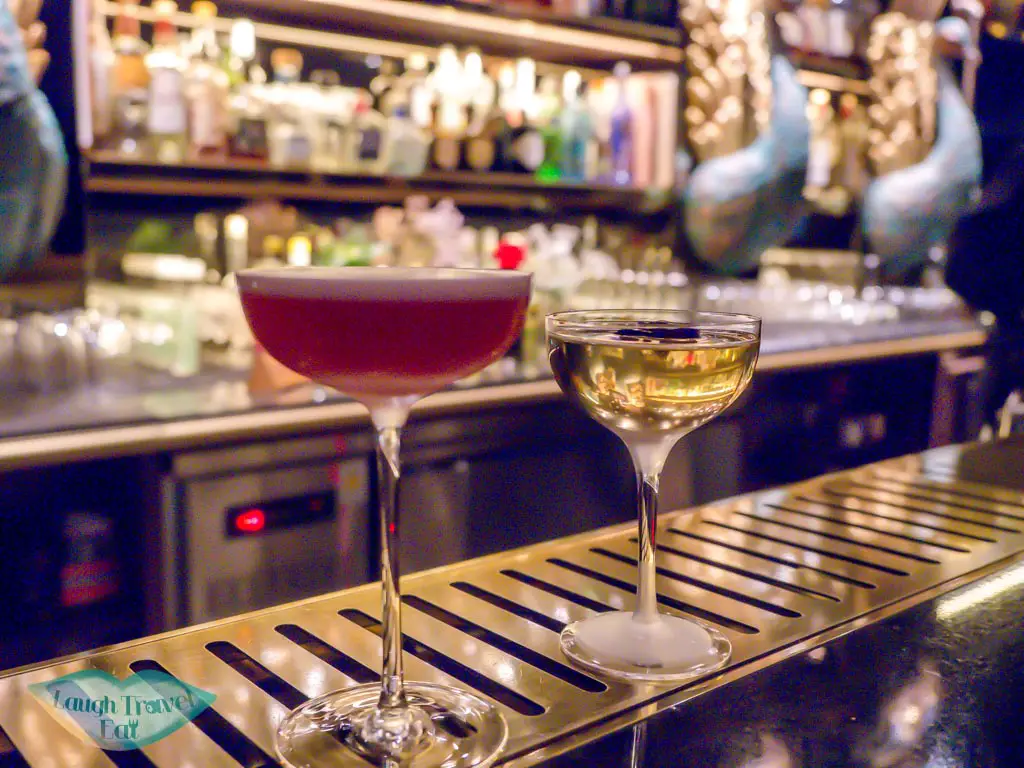 Enjoy a decadent cocktail in the lavish Marque d'Amour to end the night. A perfect place for an intimate evening of drinks, surrounded by plush chairs and lush interiors with friendly bartenders. In addition to classic cocktails, they also have fruity and innovative drinks on a separate menu.

What's nearby
When I say the hotel is steps away from the hotel, it literally is across a small road and a 30 seconds' dash away. Not only is it conveniently close to Myeongdong station, it's a very walkable area too.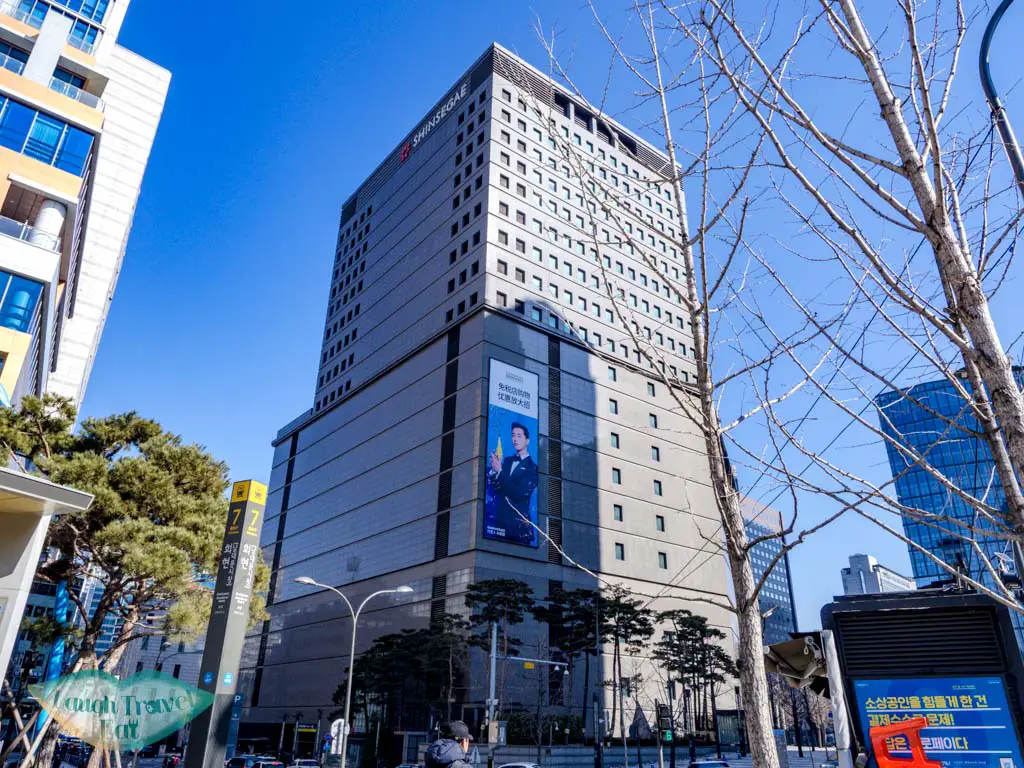 First, there's the Shinsegae department store and duty free across the main road. One of the day we spent in Seoul was a snow day and it was the perfect place for us to get all our skincare and cosmetic shopping done in one place at a great price. The popular Korean brand Innisfree and 3CE both have counters there in addition to many smaller and international brands.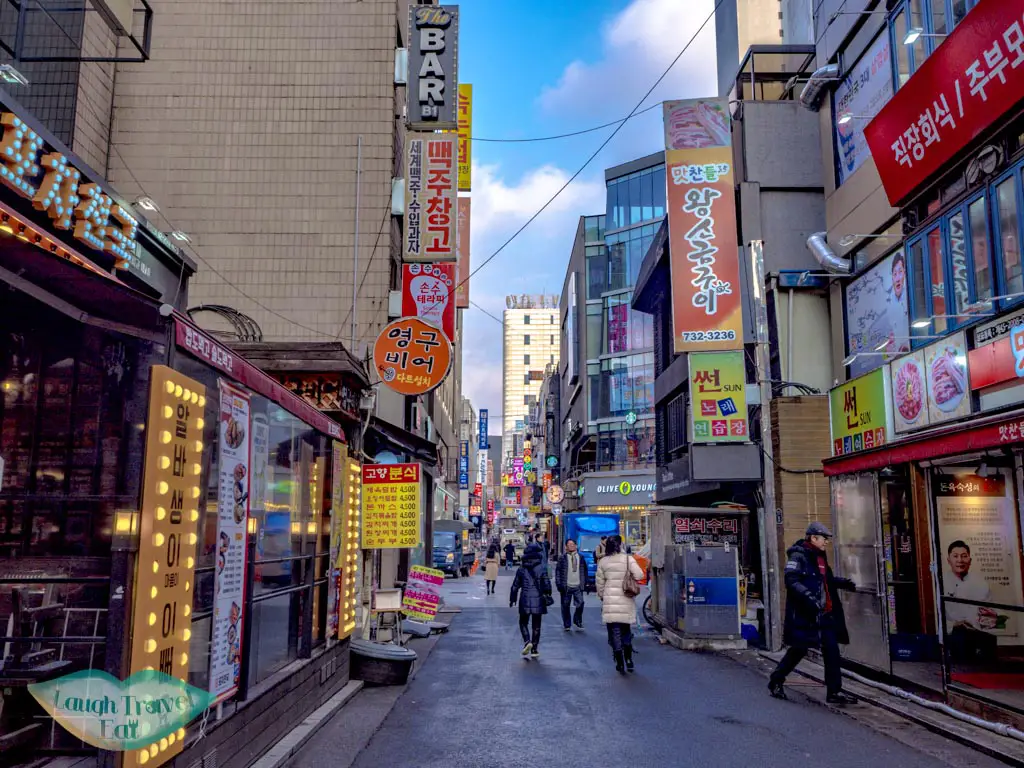 The heart of Myeongdeong is 5 minutes' walk away where street food and shops await. It took us less than ten minutes to get our money exchanged and start spending the wons in Myeongdong! For more information on exploring the area, see my 5 day Seoul Itinerary here.

You can also see the Namsan Tower from the streets and the hotel and it's a 15 minutes walk to the cable car station. My friend and I hiked up to Namsan from the hotel, then down to Seoul Station before going back to the hotel via Namdaemun market. It honestly can't get more convenient than that!