Nami Island Winter: what to do on a day trip and MORE
Nami Island in winter is totally different from what it's like in the other season. It's one of the popular winter activities from Seoul, since it's made famous by the K-Drama Winter Sonata with plenty of things to do. It is just over an hour from Seoul in Gangwon Province and the alleged burial ground of the 15th century Nami General. Many visit Nami Island during winter and the different seasons to see its beauty, but usually only for a day, but it deserves more time than that!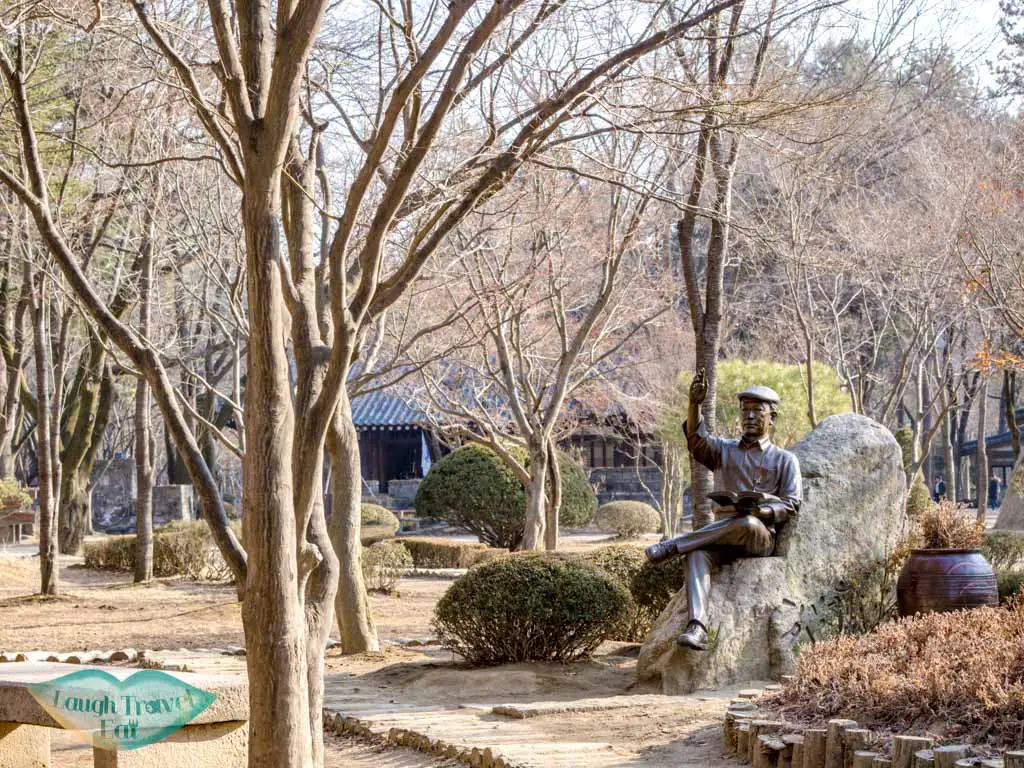 Nami Island was nothing but a sandy island 50 years ago, bought by the founder Mr Minn Byeong-do. It is 4 km in diameter and once connected to the mainland, but the flooding from the building of the Cheongpyeong Dam has resulted in it being cut off. It went from a barren isle to a home for fifty thousand trees, 40 species of birds, as well as various other animals and farming activities. However, it is famous for being the shooting location of the 2002 popular K Drama Winter Sonata.
Note: my visit there was hosted by Nami Island, but all opinions are my own. See here for my Seoul Itinerary if you're looking for things to do there as well!


Nam
Getting in and out of Nami Island
Myeongdong to Nami Island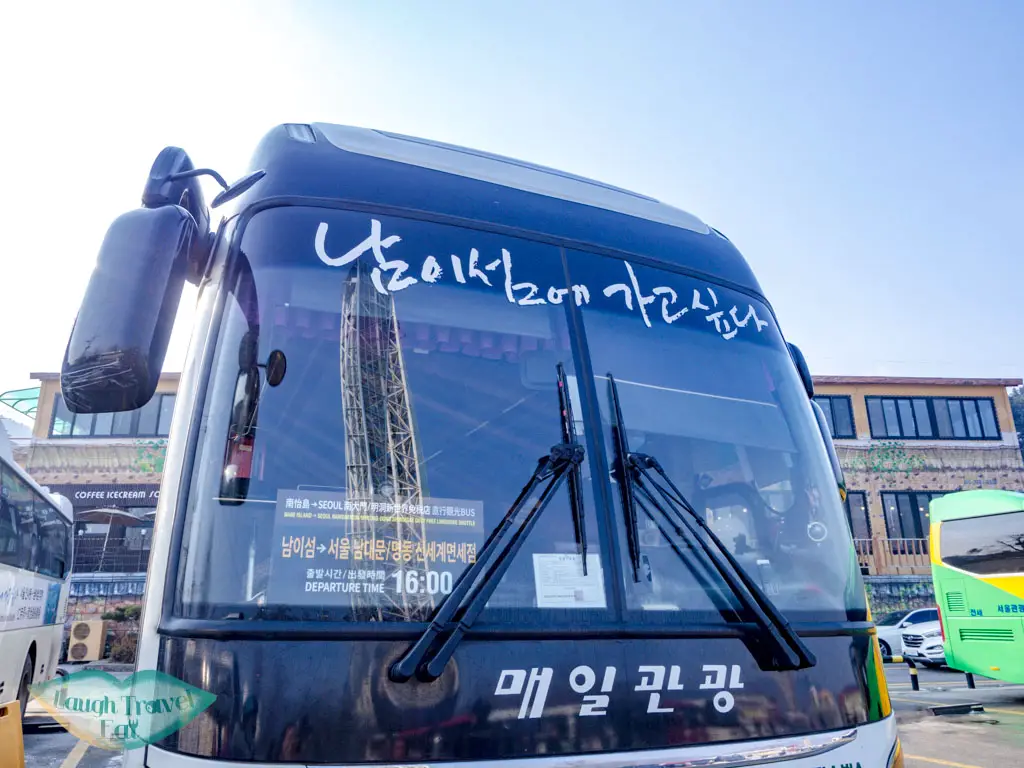 There is a shuttle to and from Nami Island and Seoul, which stops outside Shinsegae Duty Free in Myeongdong and Namdaemun. It is a popular shuttle service, so definitely book in advance. It's easiest to buy combo tickets online but remember to have the voucher/barcode ready to present to the driver.
The tickets can also be inclusive of the entrance ticket to Nami Island – either via ferry both ways or zipline in and ferry out. (This roundtrip is currently unavailable, an alternative is below):

Nami Island to Seoul
There are also shuttles to and from Insadong, and it is possible to use public transport but it is more convoluted. It involves taking a train to Gapyeong Station before changing to a bus.
Time table:
Insadong 9:30
Namdaemun 9:30
Myeongdong 9:45
Nami Island 16:00
Cost: 15k won round trip, 7.5k won one way

Note: A shuttle is also available between Vivaldi Ski Resort, although we actually went to Alpensia in Pyeongchang beforehand.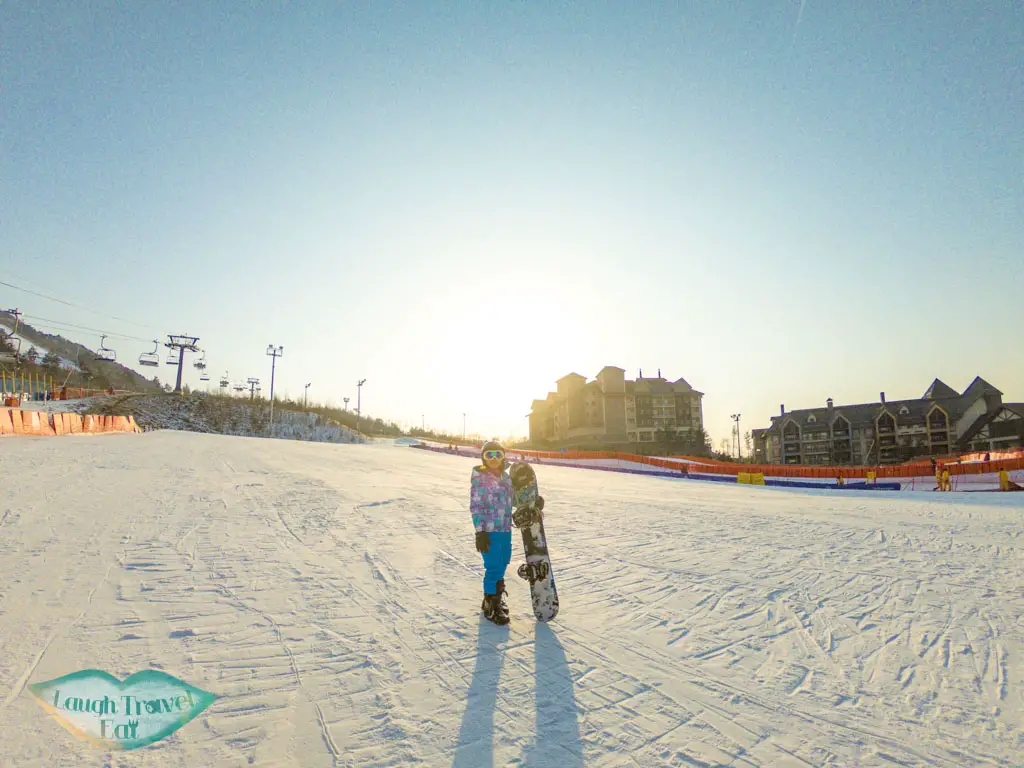 There are also many Nami Island tours from Seoul that include other attractions nearby such as Petit France, Gangchon Rail Bike, and Garden of the Morning Clam. Personally, I think that would be too rushed on Nami Island, but it's dependent on what you want to see and your itinerary.

Getting into Nami Island
Nami Island Zipline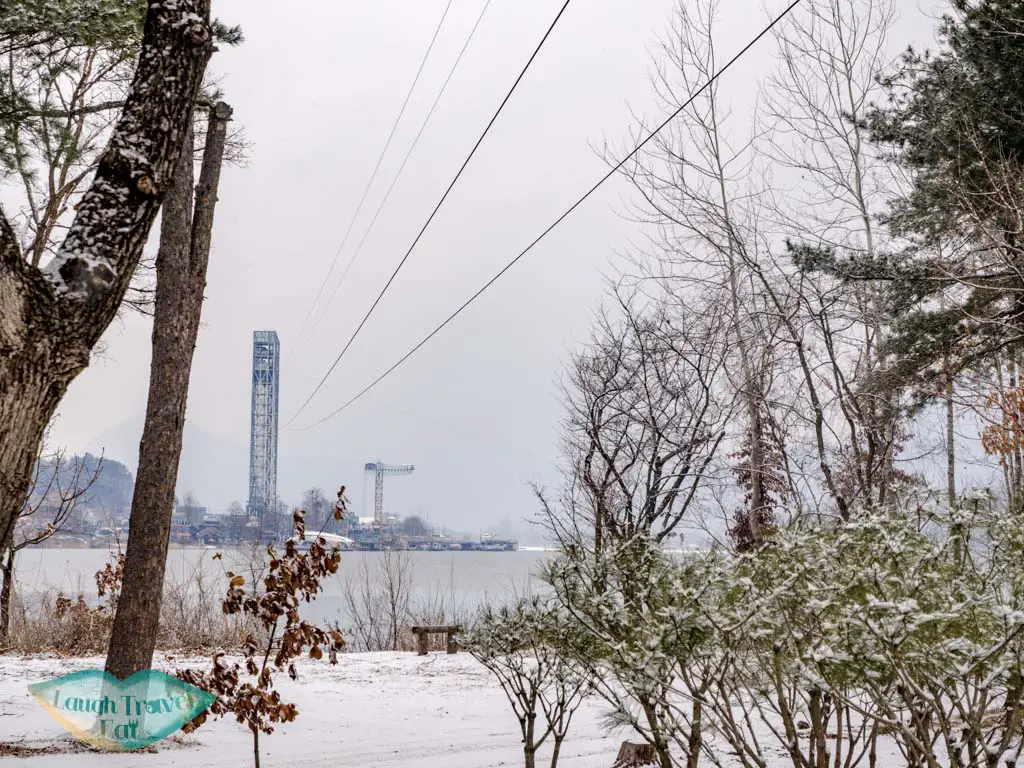 Reaching 35 km per hour at top speed, you can zipline to Nami Island is a must for adrenaline junkies! While I have ziplined before in Chiang Mai, I was still a bit tentative until I learn that it was a seated zipline – this really does make a world of a difference, and way more comfortable.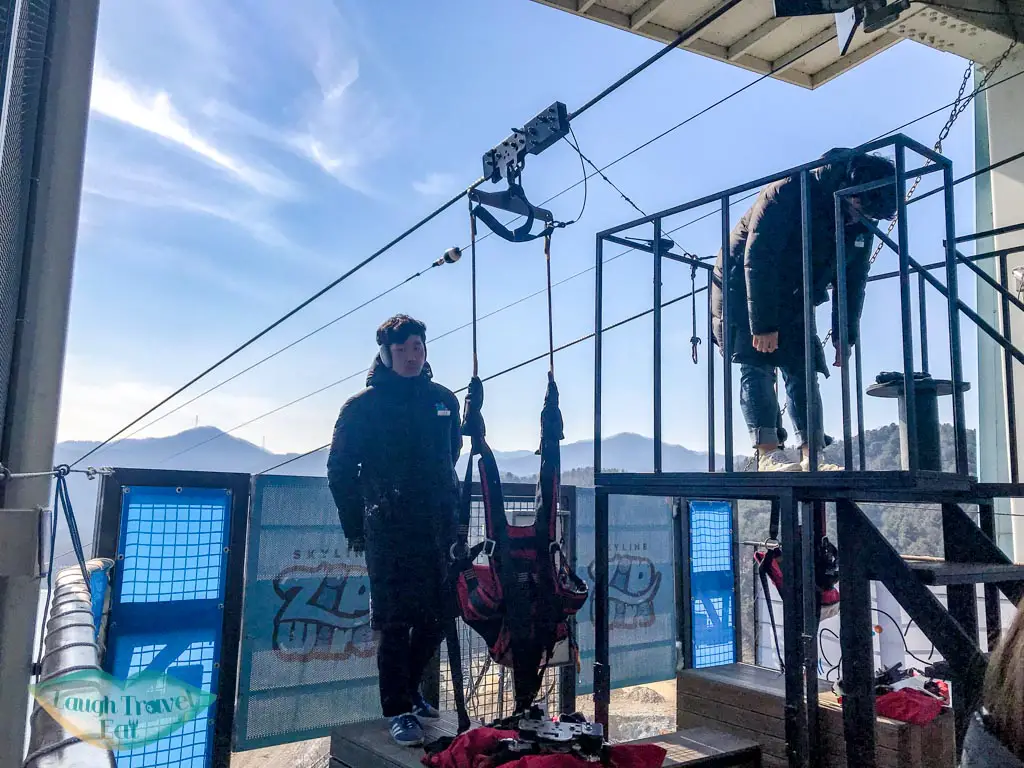 That said, it was still daunting but exciting going up to the top of the tower to zipline across. Most people were carrying crossbody bags or backpacks, which are both fine, but if you are scared, it is advised that you don't take anything out. I was told not to use a pole for GoPro and used a wrist strap instead.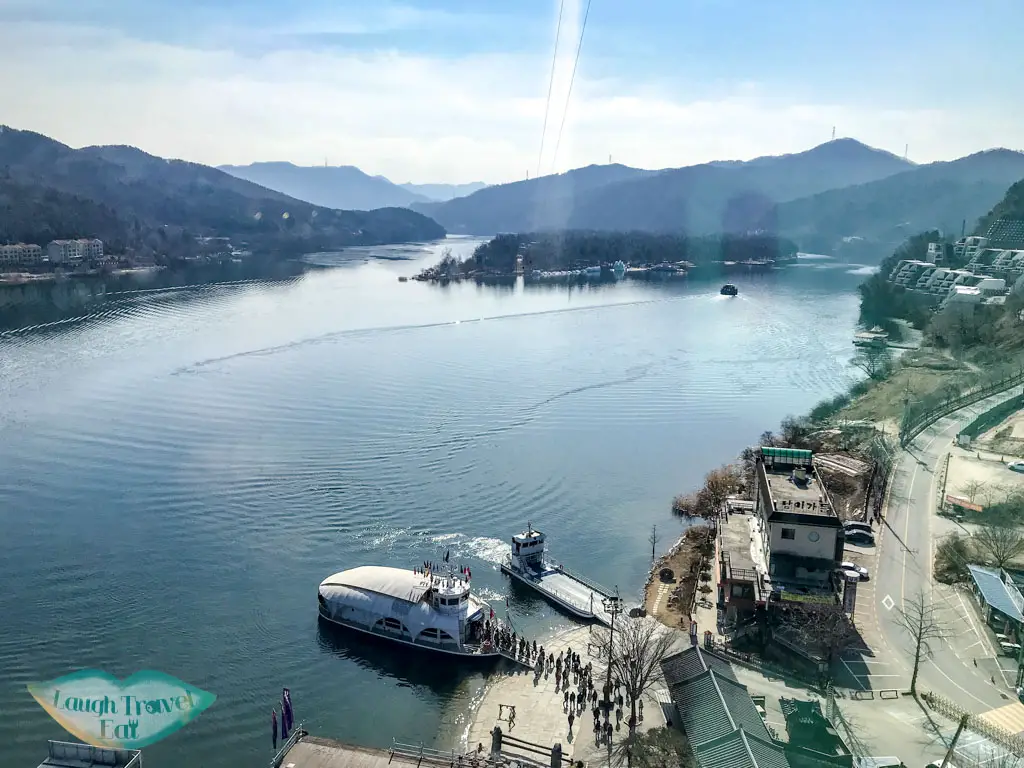 The adrenaline-inducing ride zips you across the river quickly and into the treeline. It actually slows before you reach the station fully and the staff will pull you in. Be sure to smile for the camera since I definitely didn't and looked as though I was bored.
Cost: 44 k won
Operation hours: April – Oct 9:00 – 19:00; Nov – March 9:00 – 18:00

Ferry to Nami Island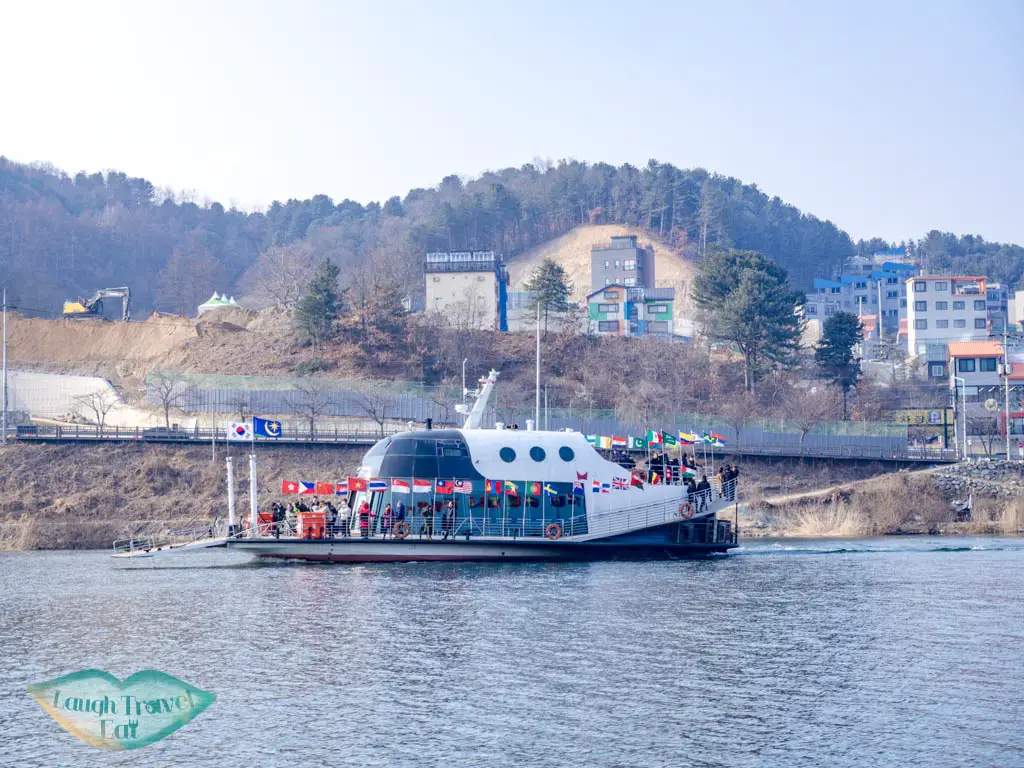 The ferry is the only other way to get to Nami Island apart from the zipline, and the only way out. While not as exciting, it's a lovely journey.
Cost: 13k won
Schedule: every 30 minutes 7:30 – 9:00 and 18:00 – 21:40 ; 10-20 minutes 9:00 – 18:00

Nami Island Winter
What is there to do in Nami Island in the winter? You get to experience a true winter wonderland as the snow gathers on the branches, grounds, and river. While it seems that winter is the least popular season, there's something charming about the barren branches of the trees as well as the warming up by a cozy wood fire that dotted around the island.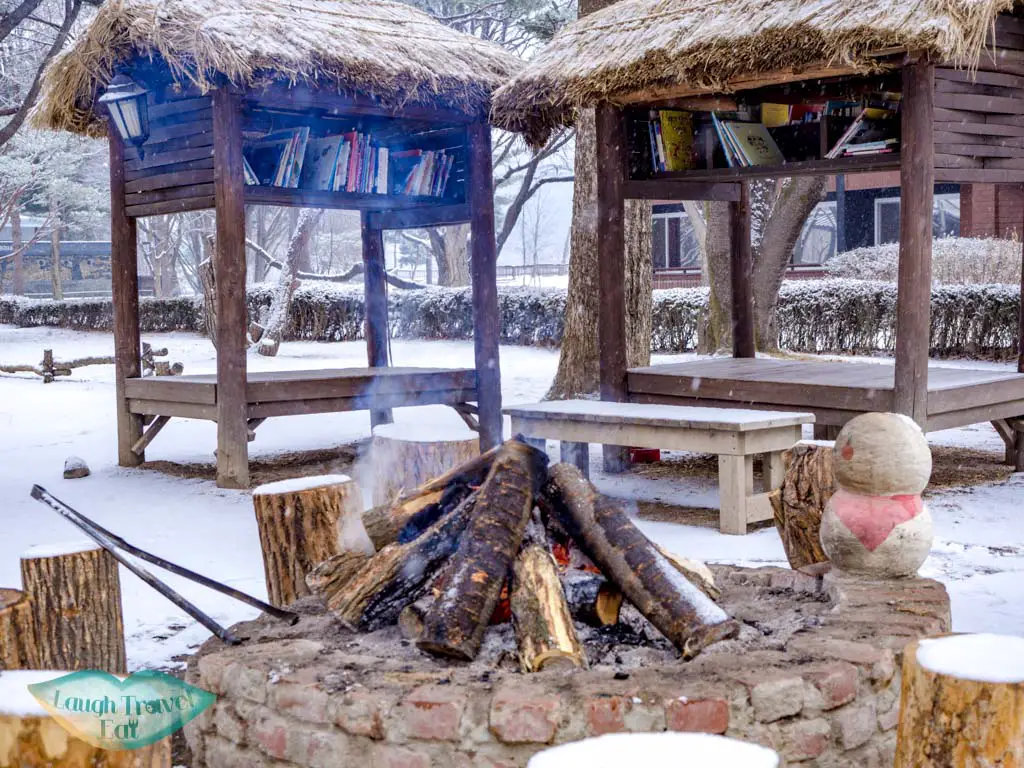 Winter in Nami Island is truly magical, especially in the snow, although that does mean that many of the activities such as cycling wouldn't be possible. However, it's easy to just spend hours walking around the island and admire the snow views. Plus, there'll be a sledging hill instead for the adrenaline junkies!

Does it snow on Nami Island?
Winter in Nami Island can bring snow – although not as frequent as one would like. On average, Seoul snows around 25 days per year, usually between December and February. It's still fairly wet in November and not quite cold enough for snow. Here's an overview of the three months:
Nami Island in December: average temperature is -7 to 1 Celsius ( 19-34 Fahrenheit)
Nami Island in January: average temperature is -11 to 0 Celcius ( 12-32 Fahrenheit)
Nami Island in February: average temperature is -7 to 4 Celcius ( 19-39 Fahrenheit)
Note that these are just historical average – when I went in Feb 2018, it went down to -11 Celcius and I was freezing.
Nami island photo spots
The primary attraction for Nami Island is its picturesque surrounding. Almost every corner is a photo opportunity but there are some better than others:

The Maple Lane of True Love
When it comes to the most iconic spot, you can't separate the K-Drama Winter Sonata from Nami Island, especially with the Maple Lane. A romantic spot between two rows of tall maple trees in front of the river, it's not easy to get a photo there without people but it's worth the effort to! It has a different look throughout all seasons but it definitely looks stunning in the snow.

Central Korean Pine Tree Lane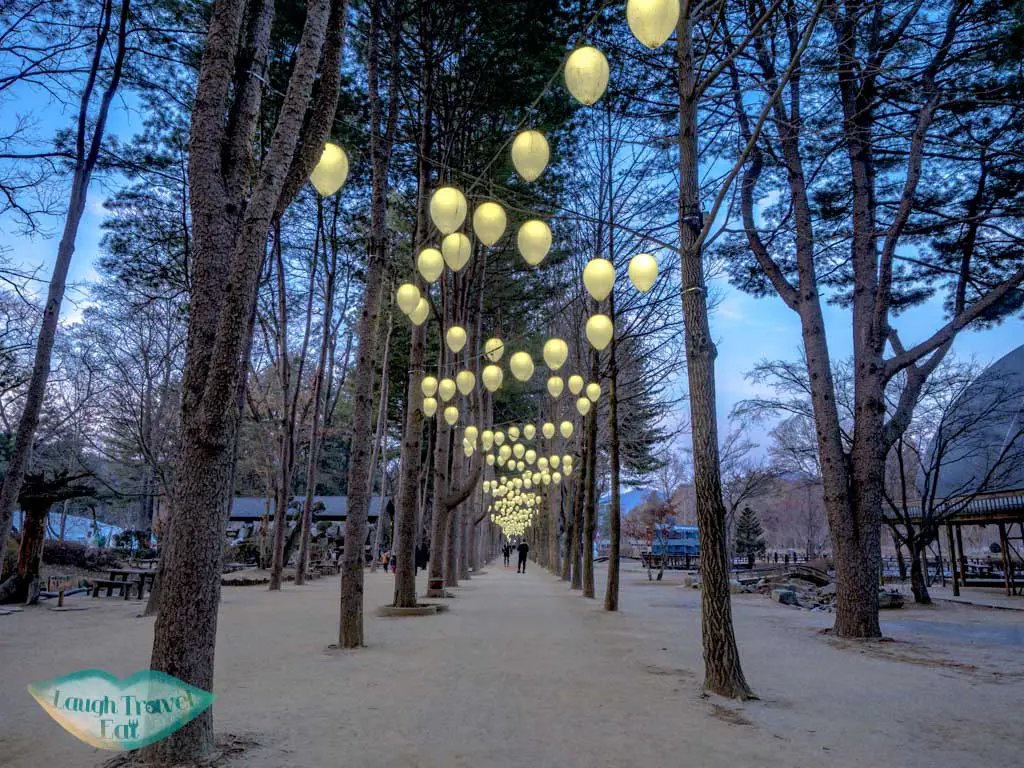 Most recognisable by the lights hanging between the trees, the Pine Tree Lane is the main path that leads the visitors from the wharf to the center of the island. It has a different look during the day and when the lights come on at night, so it's worth staying for if time permits! Don't worry if you get cold, because there's a fire pit right at the end to warm you up.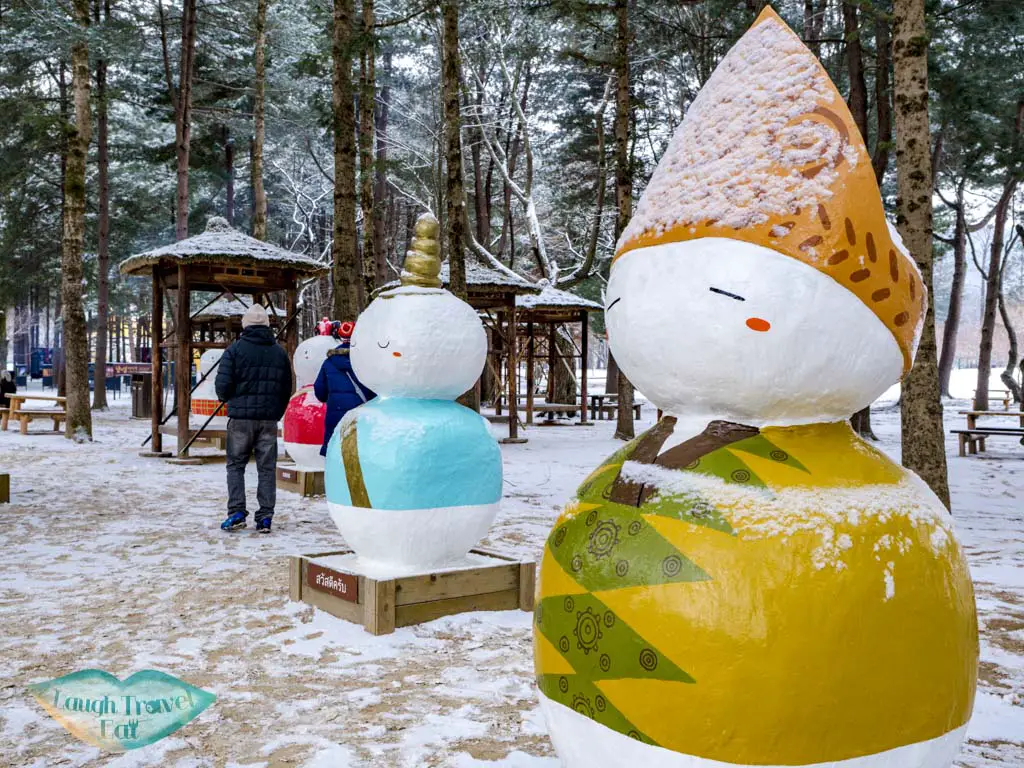 There are also cute statues of snowman that represent Nami Island by the lane, too.
Gingko Tree Lane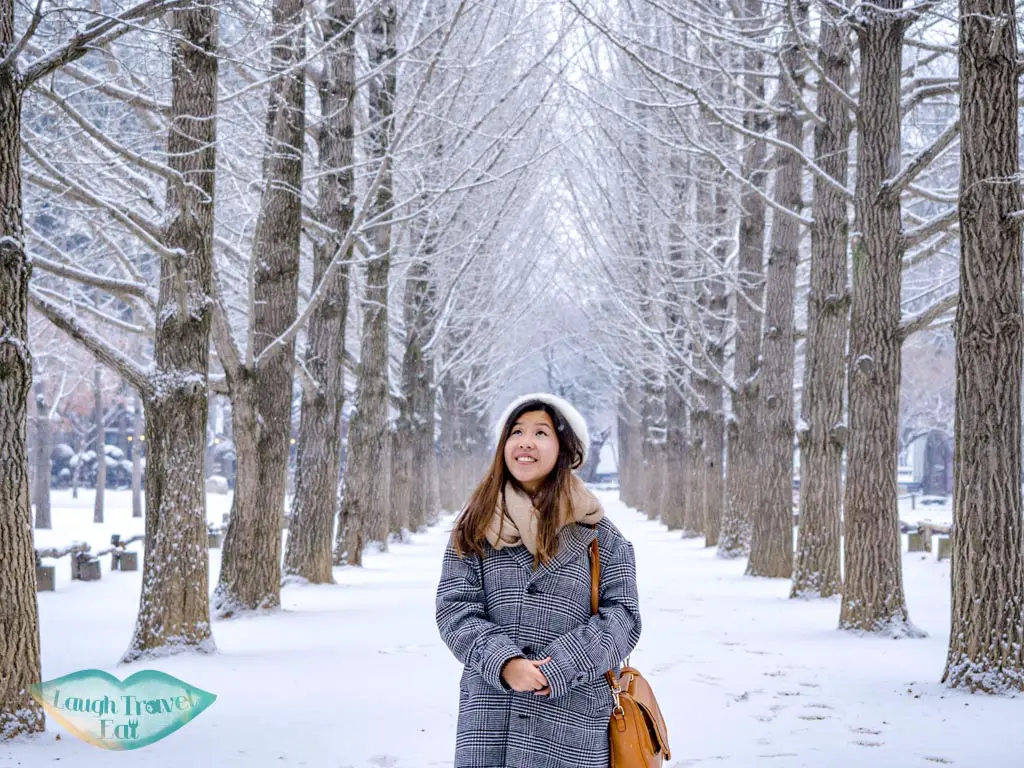 Can't bear the crowds at the Maple Tree Lane? Walk further on to the Gingko Tree Lane towards the Elysian Waterfall. While the trees aren't as tall and the lane wider, there is a higher chance that you'll have a people-less photo here.

Tulip tree lane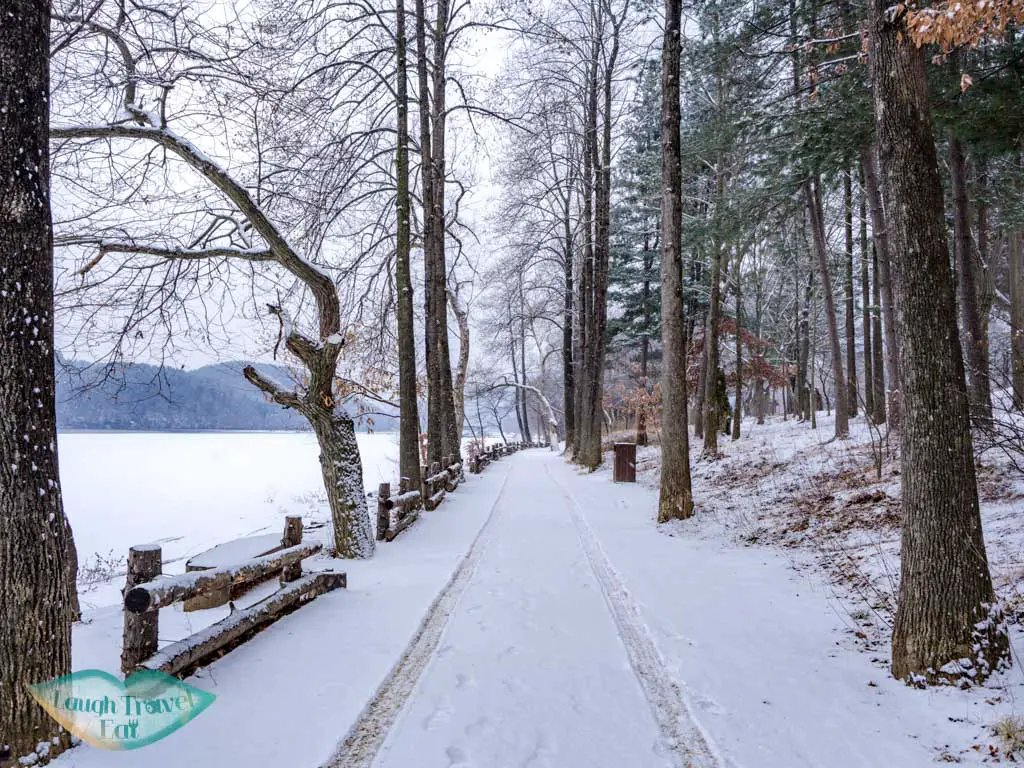 Change it up and head to Tulip Tree Lane on the eastern side of the island by the river. You'll get trees on one side and river on the other, and some remaining red leaves, too.

Riverside Lover's Gingko Lane
Alternatively, the Riverside Lover's Gingko Lane is close to the Gingko Tree Lane in front of the 2+2 cottages. It is a narrow wooden pathway for pedestrian and gives a quainter vibe.

Gate to Jeonggwanru
If you turn left on reaching Ginkgo Tree Lane, there's a traditional Korean gate that looks beautiful and is usually pretty quiet.

Hut Bridge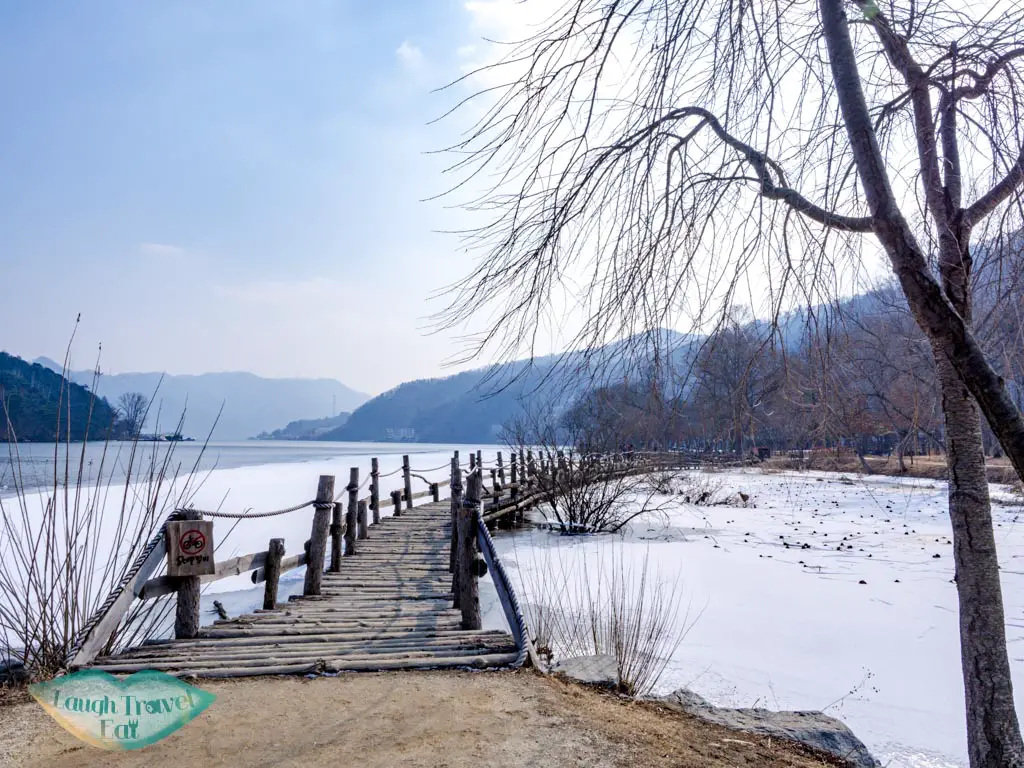 Towards the southeast side of the island, Hut Bridge is a wooden structure that span over a small bay. Since it snowed when we were there, the surface was frozen and covered in snow, making it looks as though we are in the deep north wilderness.

Changgyeongdae Platform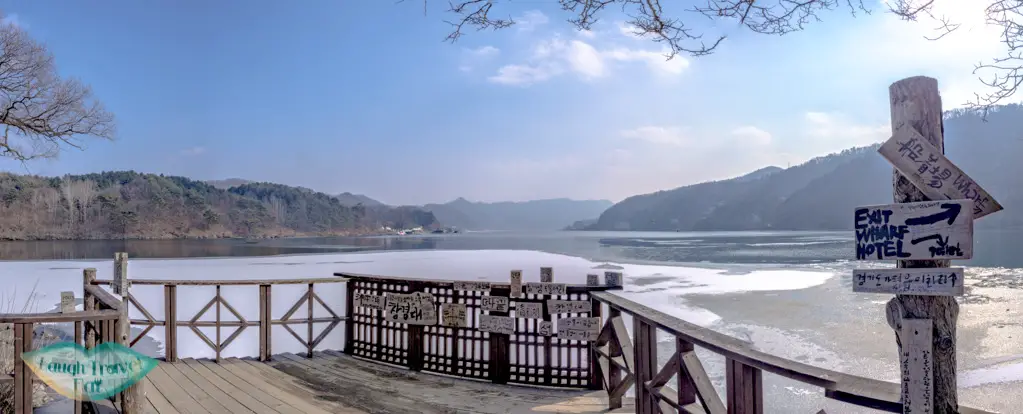 Head on the the very tip of the island past Hut Bridge is the Changgyeongdae Platform. It offers an unobstructed view of the river.
What to do on Nami Island: Nami Island itinerary
What exactly is there to do in Nami Island? You might ask. Aside from the photo spots above, there are plenty of things to do on the island that you might just overlook on a day trip:

Take the Unicef Train to the center

A cute blue train that takes you from the pier to the Unicef Hall in the center of the island, it's a time efficient way to head in and fun for childrens.
Cost: 3k one way

Learn how to craft glass at the Handicraft Studio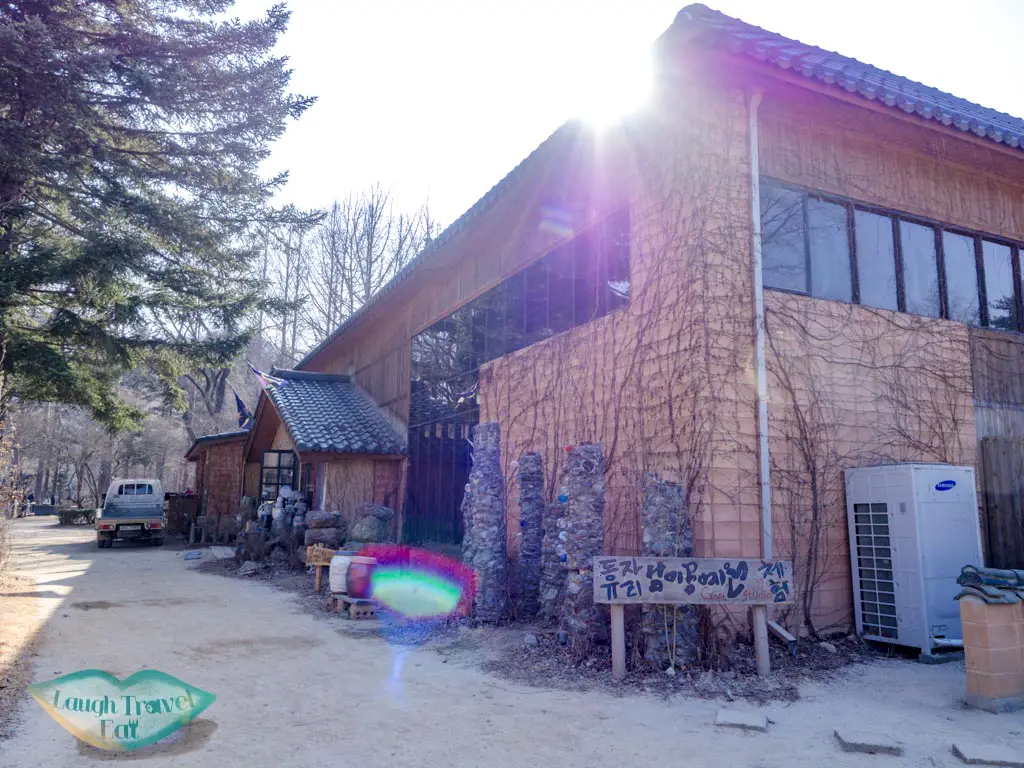 There are more than just glass making at the handicraft studio, but on my visit we tried lamp working and glass blowing only. Other options are mug painting, sanding sheet to a glass cup, painting on a frame or soju bottle, pottery, and making a personal stamp. Here is the full list: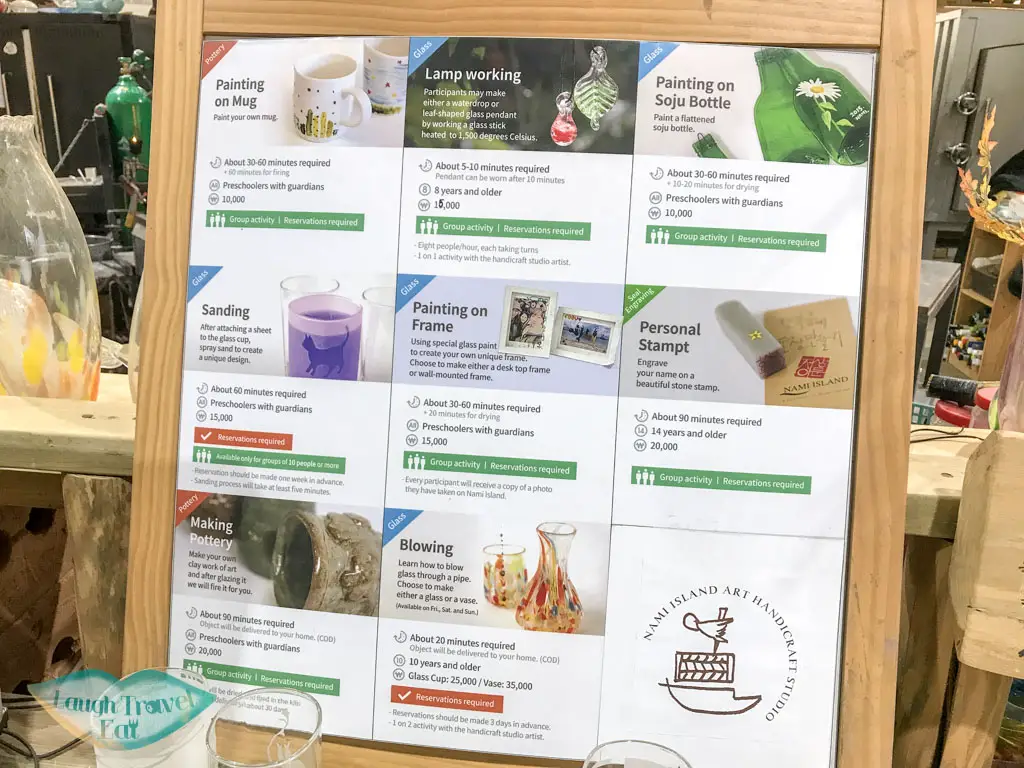 For lamp making, there is a choice to make either a teardrop or leaf-shape pendant from a glass stick. To be completely honest, my involvement was basically putting a hand on the rod and doing what the instructor told me to do. But I did get to do the pulling and the breaking, so that was pretty cool! The whole process takes about 10-15 minutes using a flame gun that burns up to 1500 degree celcius!

Although it might sound cooler, glass blowing is actually really difficult. It's hard to blow the glass up. In the end, the only part that I managed to do was when the glass (or vase) is put into the shaper and I had to blow into the tube so that it inflates and mode into the shape. That said, it's amazing to watch and also great to bring home!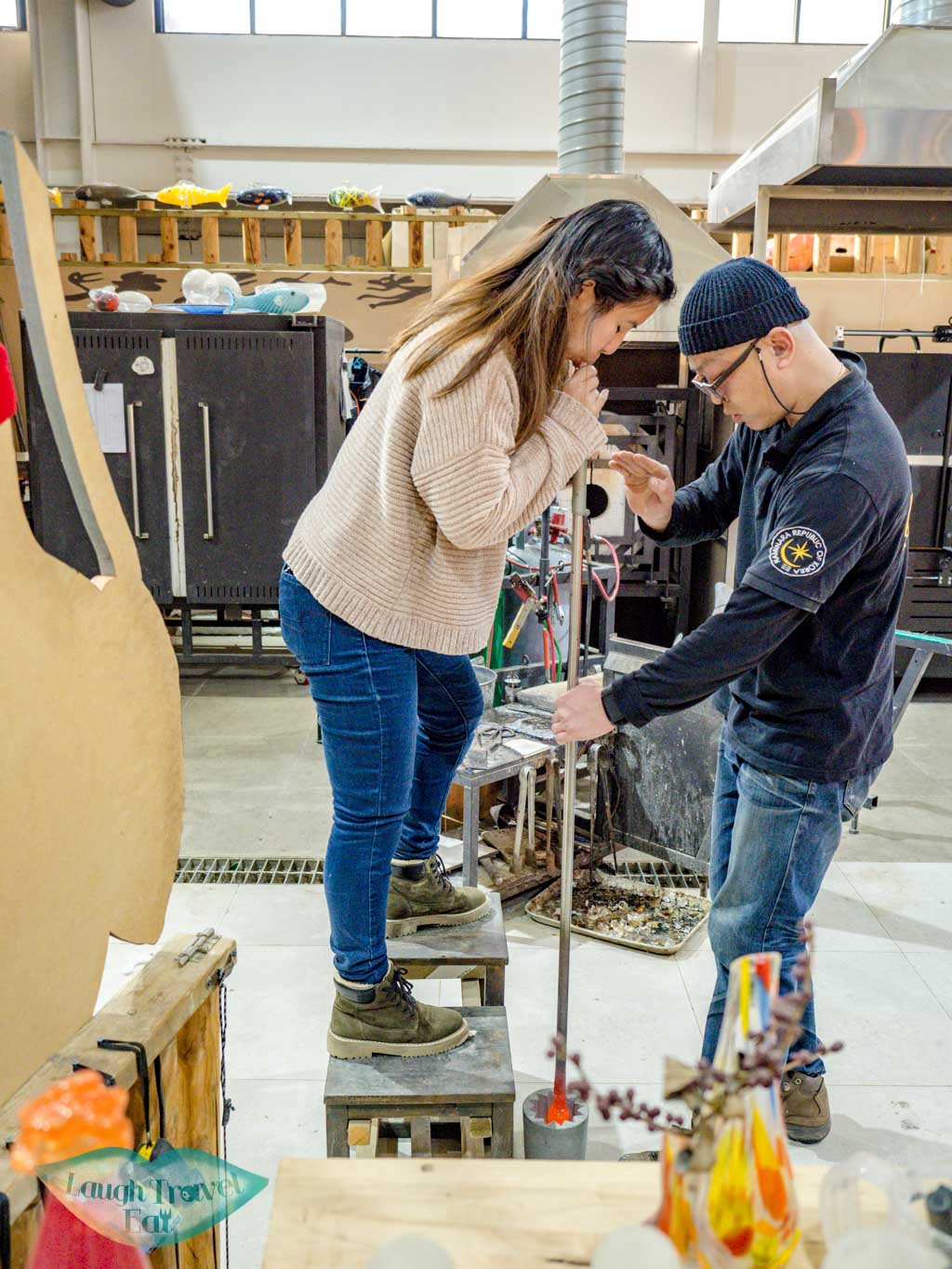 Note: all of them are group activities and reservation is required – so make up our mind before your visit!

Sledging!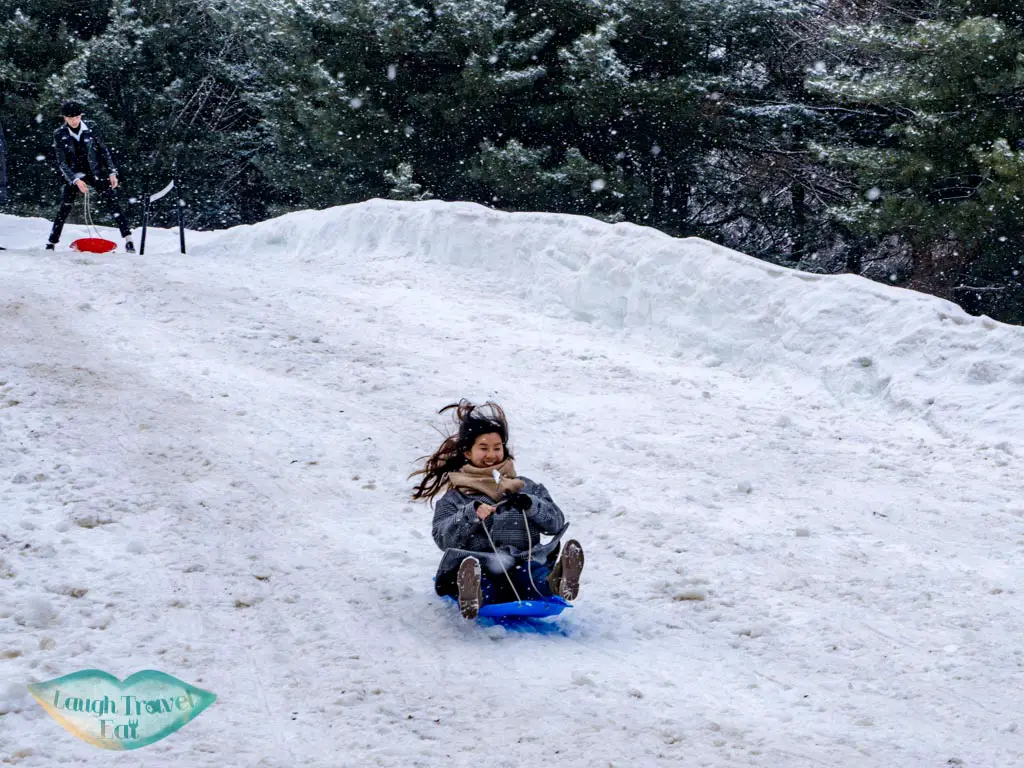 Taking advantage of the snow in winter season, a small hill is piled up for all to enjoy some sledging fun! It's free to play and I ended up going down four times. The stairs up can be slippery so be careful
Free

Cycle around the island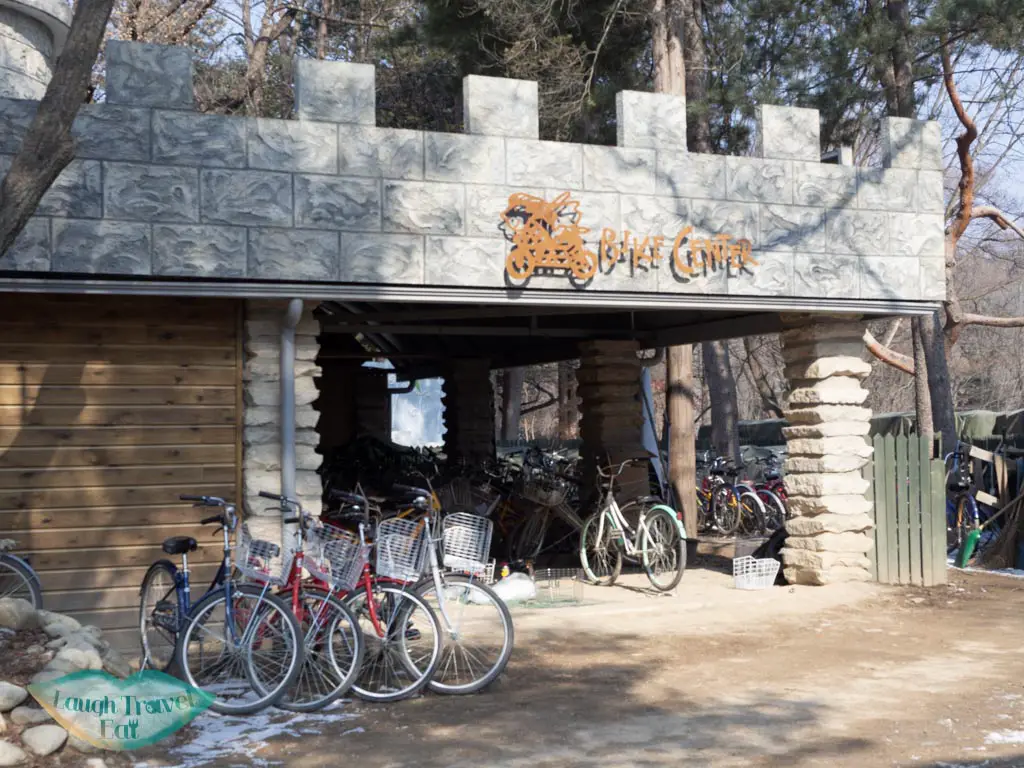 Another great way to see the island in a short time is by cycling. You can rent the normal bicycle or a couple bike, which are both fun! However, the bike center will close if it's raining or snowing – or if there's snow in the ground.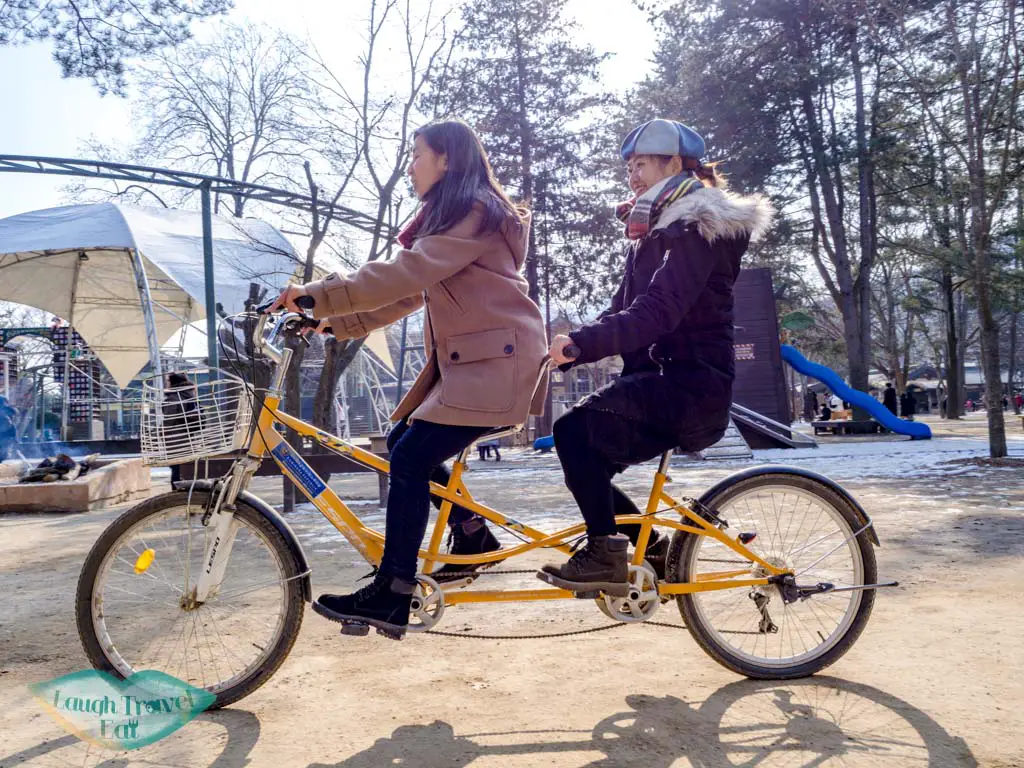 Cost (in 30 mins, one hour, overtime charge per 15 minutes):
Single 4k, 8k, 2k
Couple: 8k, 16k, 4k
Family: 15k, 30k, 5k
Sky bike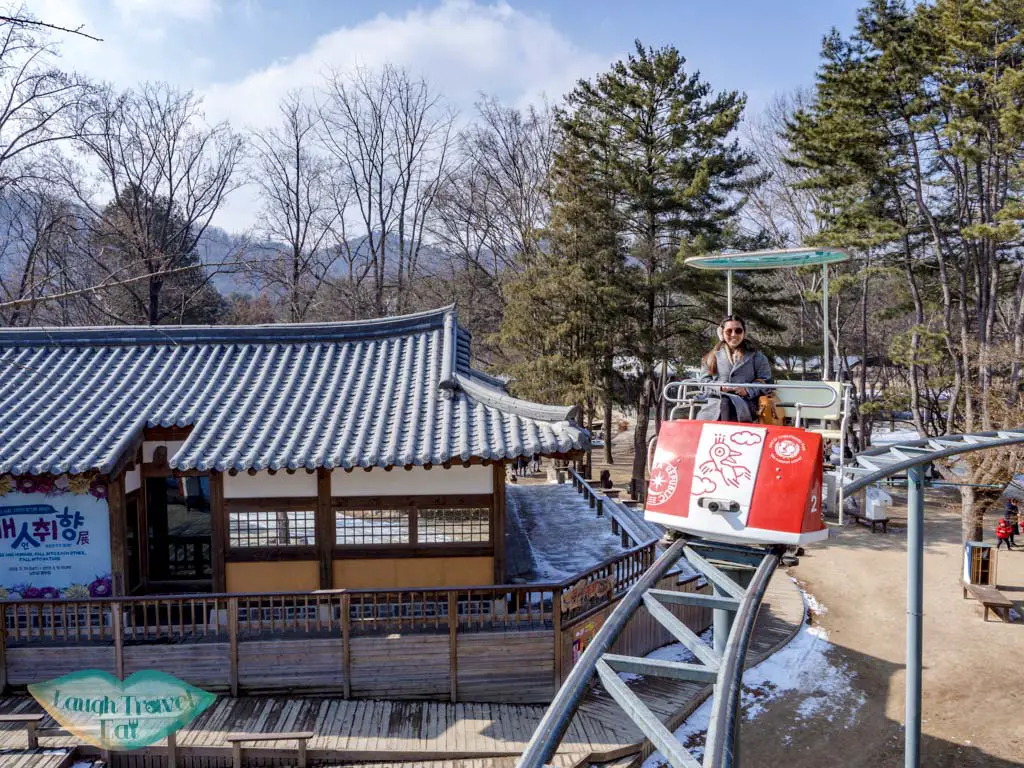 Alternatively, there is a sky bike rail next to the bike center that opens even if there is snow on the ground. It's reminiscent of a theme park ride except power by yourself. The rail is about one and a half storey above ground and go in a slightly meandering loop. I highly recommend doing it in twos and not alone because it can be exhausting to go fast alone.
Cost: 3k

Seek out ostriches, rabbits, or squirrels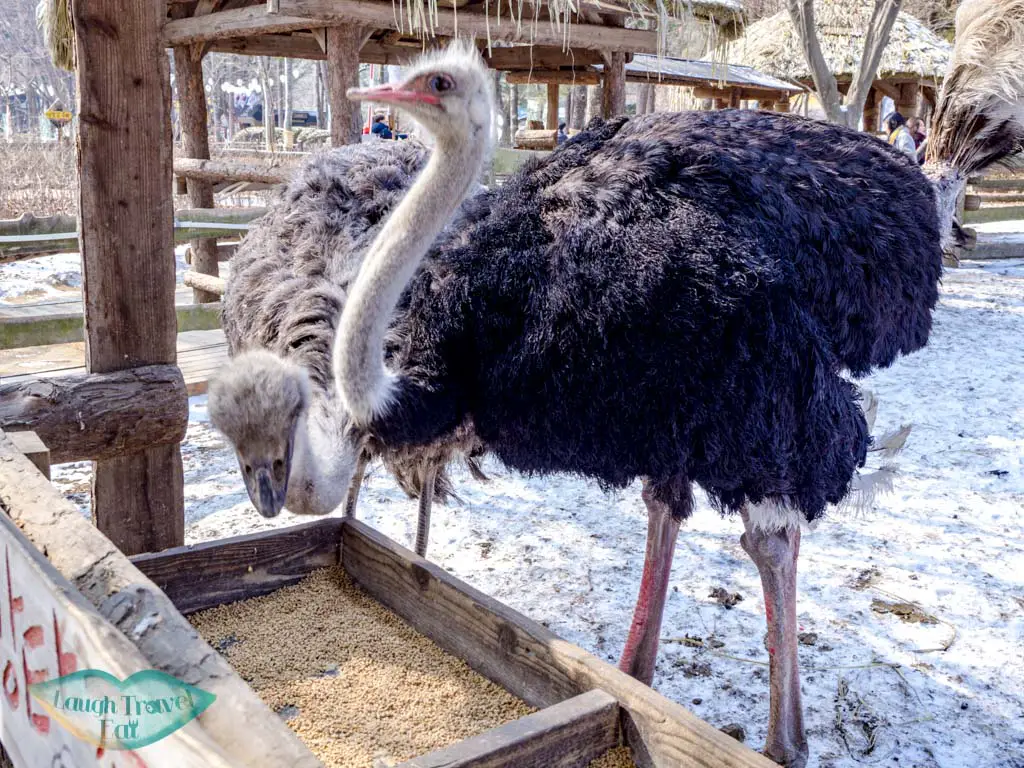 Believe it or not, there are plenty of critters running around Nami Island even in winter. They are ostrich, peacocks rabbits, and squirrels. All of the animals allow to stay and roam free except ostrich. The reason is that back in the days, the ostrich ate many people's food and even phone and car keys.

Also they often get feathers plucked and for into fights so now they live in their own enclosure. Though also harassed, the peacocks can fly a little distance and often escape onto rooftops to hide from tourists with wandering hands.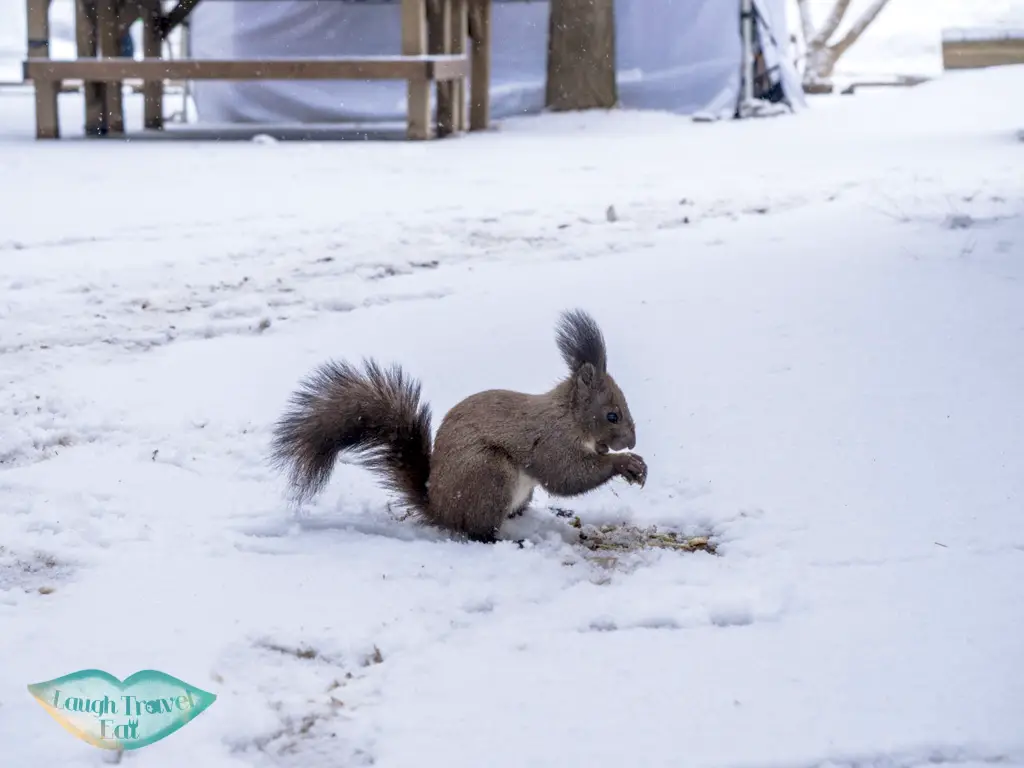 Squirrels, interestingly, are most commonly seen around in the winter. They often hide inside the rubbish bin since there's food and it's warm!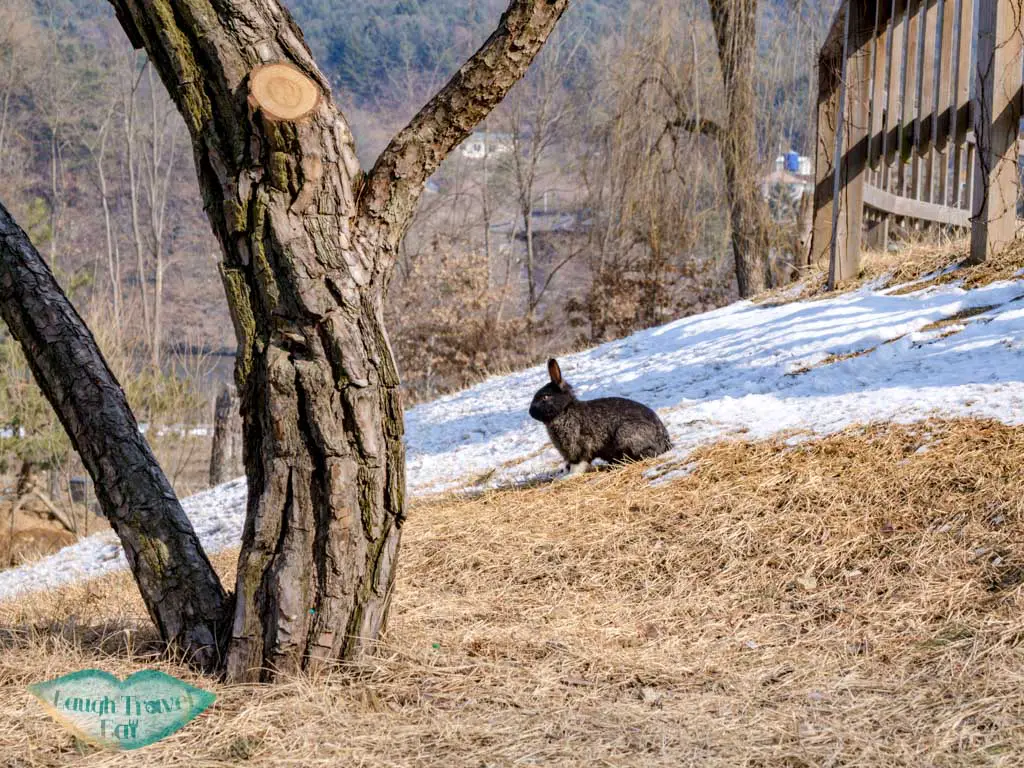 The rabbits are probably the hardest to spot, usually hanging out behind the hotel near the southeastern edge of the island.

Forest adventure Tree Go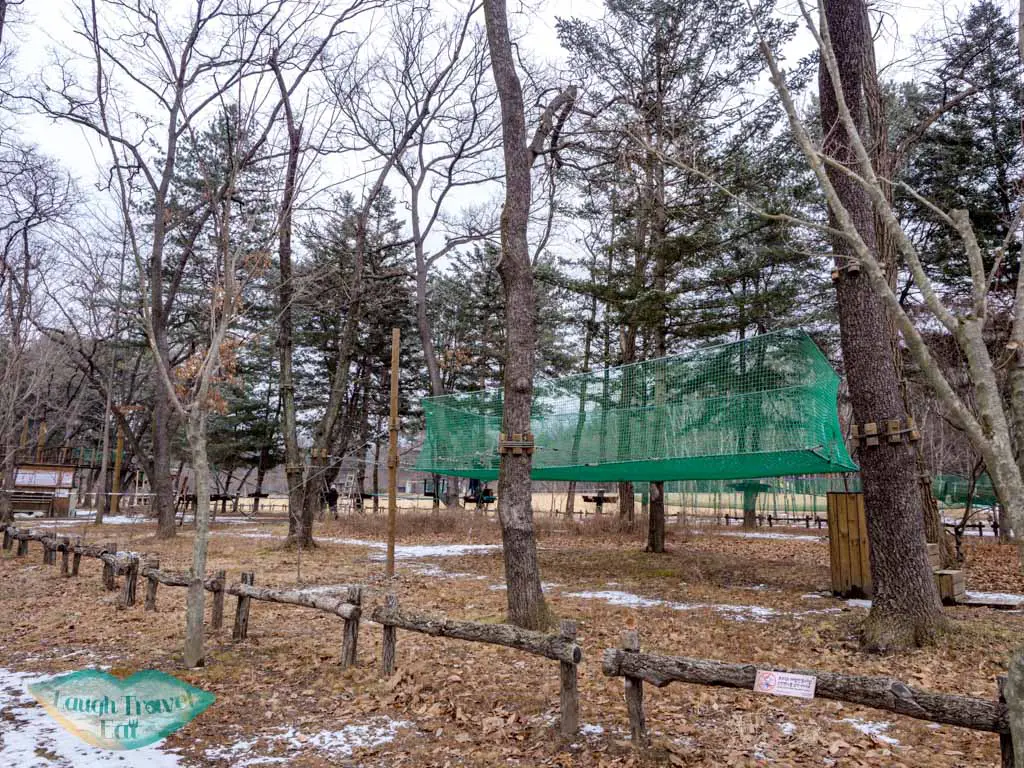 For an extra dose of adrenaline in addition to the zipline, the Forest adventure is for you. The series of rope course and short ziline is on the northwestern edge of the island, which has a discovery or adventure route. The minimum height requirement is 120cm and 140cm respectively for each course with a maximum weight of 100kg. It was under maintenance during our visit and will close during bad weather.
Cost: 20k won
Duration: 2 hours
Operation time: April – Oct 9:00 – 18:00; Nov – March 9:00 – 17:00
Exhibition centers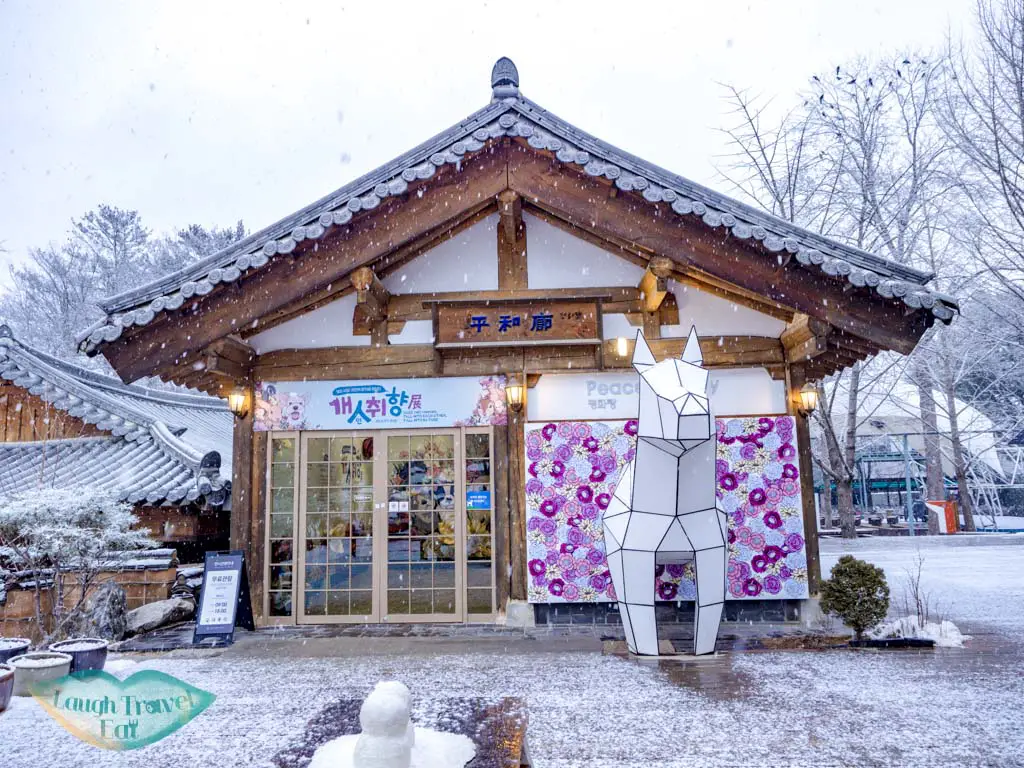 On the day it snowed, we ended up going around to the different galleries and exhibition centers on Nami Island. Most of them are geared towards children,
Free

Story Train
If you want to get a great overview of the island in as little time as possible, then the story train is the best choice. It starts and ends at the tourist information center by the arrival wharf onboard an electric buggy. It takes you on a loop around the entire island and shares interesting story and history throughout in Korean and English.
Cost: 7k won
Duration: 20 minutes

Nami Island eat/restaurant
Believe it or not, there are actually enough restaurants on Nami Island that I didn't eat at the same place twice for three days (save for breakfast)! Here are some of my favourite eateries on the island:

Yeongajiga Lunch Box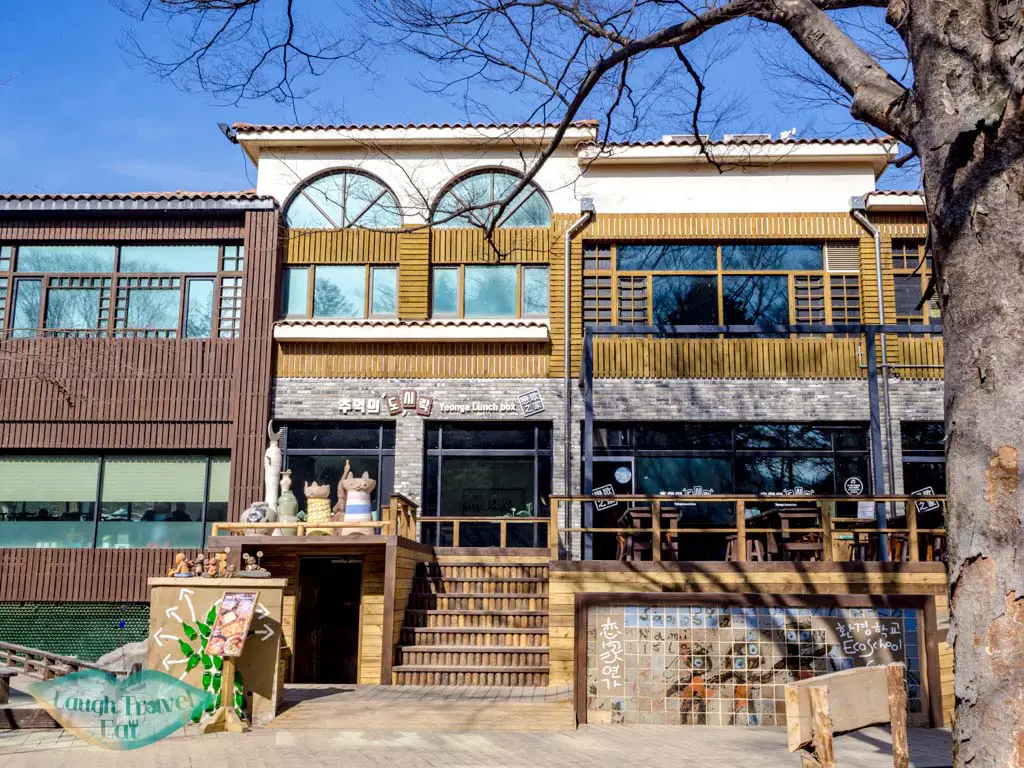 Most popular for its shaking lunch box, Yeongajiga Lunch Box is by the main restaurant and office cluster in the center of the Nami Island. It's a great choice if you are looking for some staple style Korean food in a shorter time frame.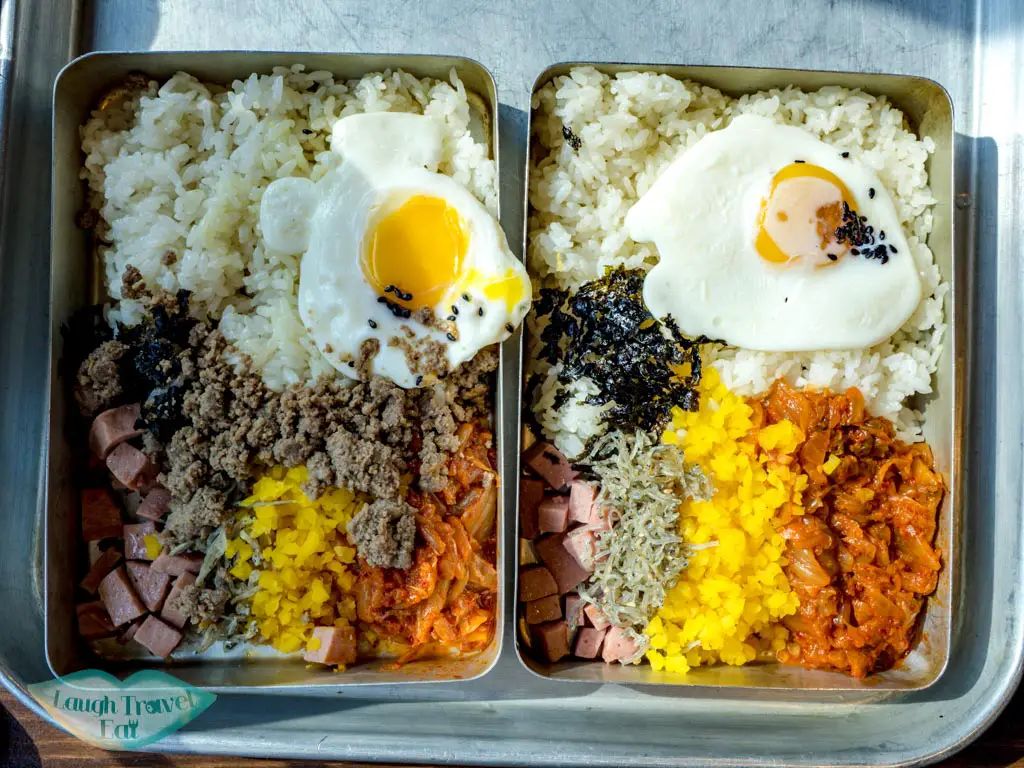 The shaking lunch box, as the name suggested, requires shaking to mix it thoroughly before eating. There's also a cook-it-yourself ramen, and spicy rice cake.
Note: the restaurant is self-serving

Seomhyanggi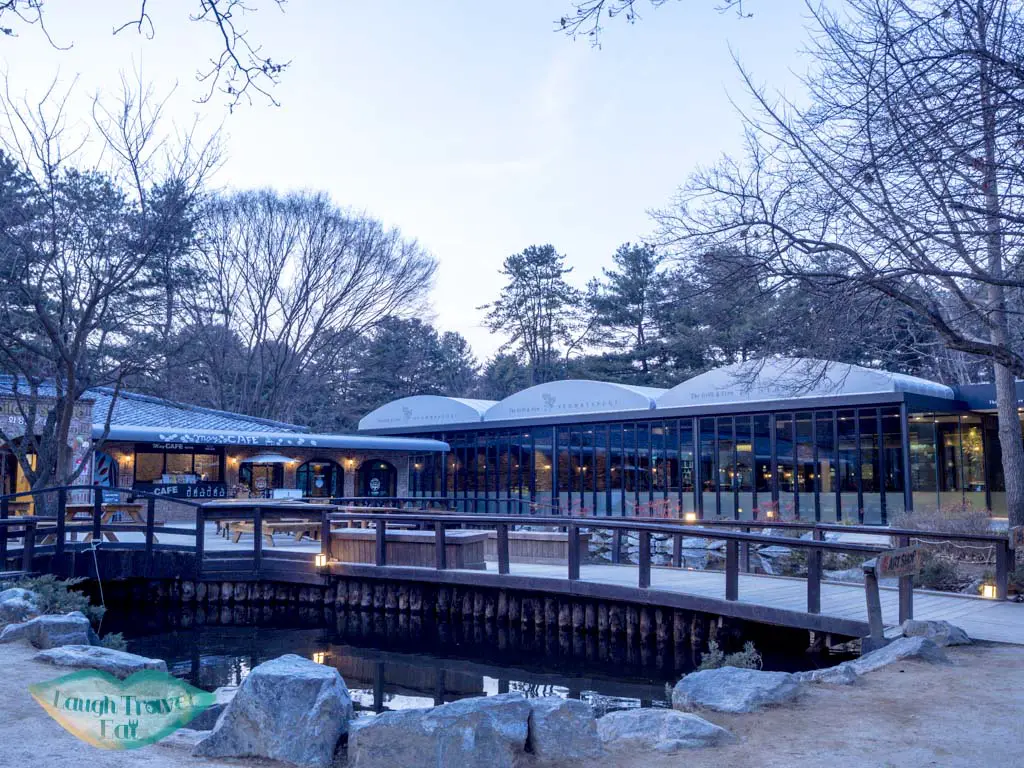 A pretty glass building by the end of Central Korean Pine Tree Lane, Seomhyanggi is a Korean grill and stew restaurant. We had dinner there and opted for the meat grill with pork cuts and duck breast. They are also famous for spicy grilled chicken.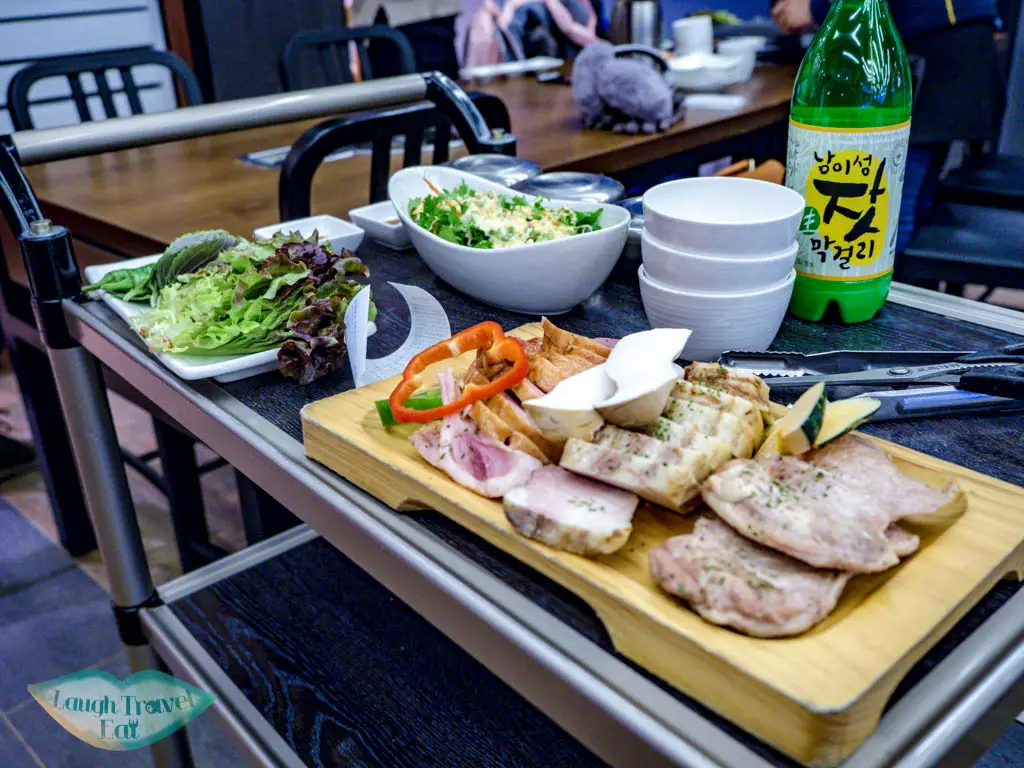 Nammoon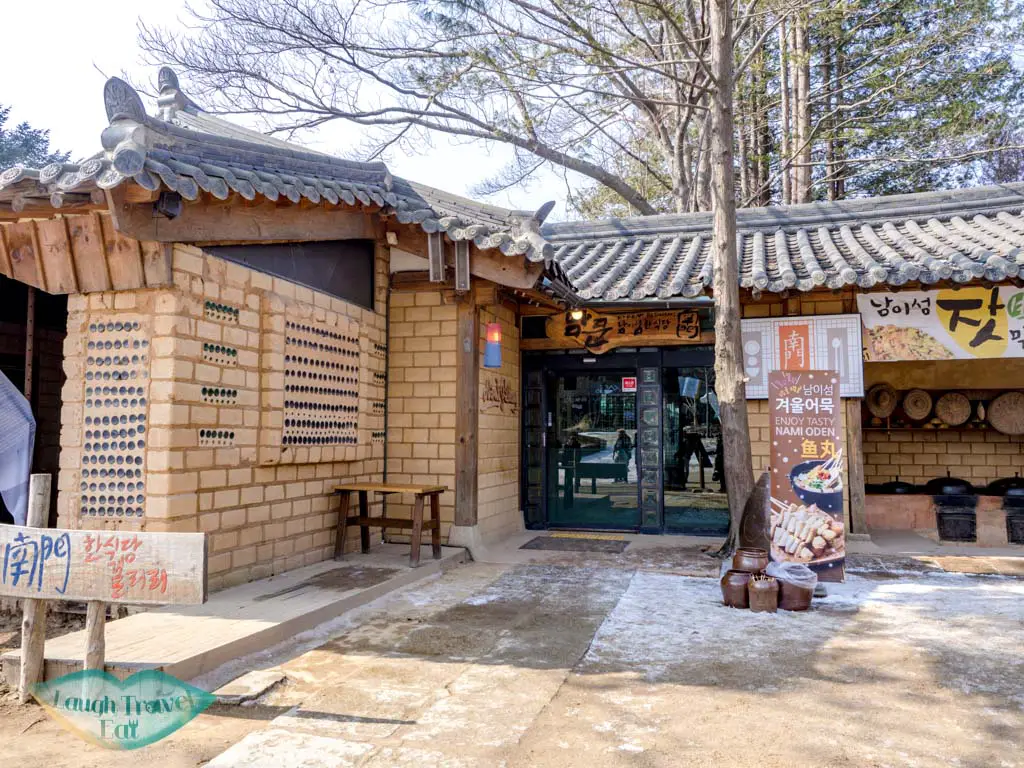 Across from the main building cluster, Nammoon is the place to go for traditional Korean food. The broth-based food are a great way to warm up in the winter!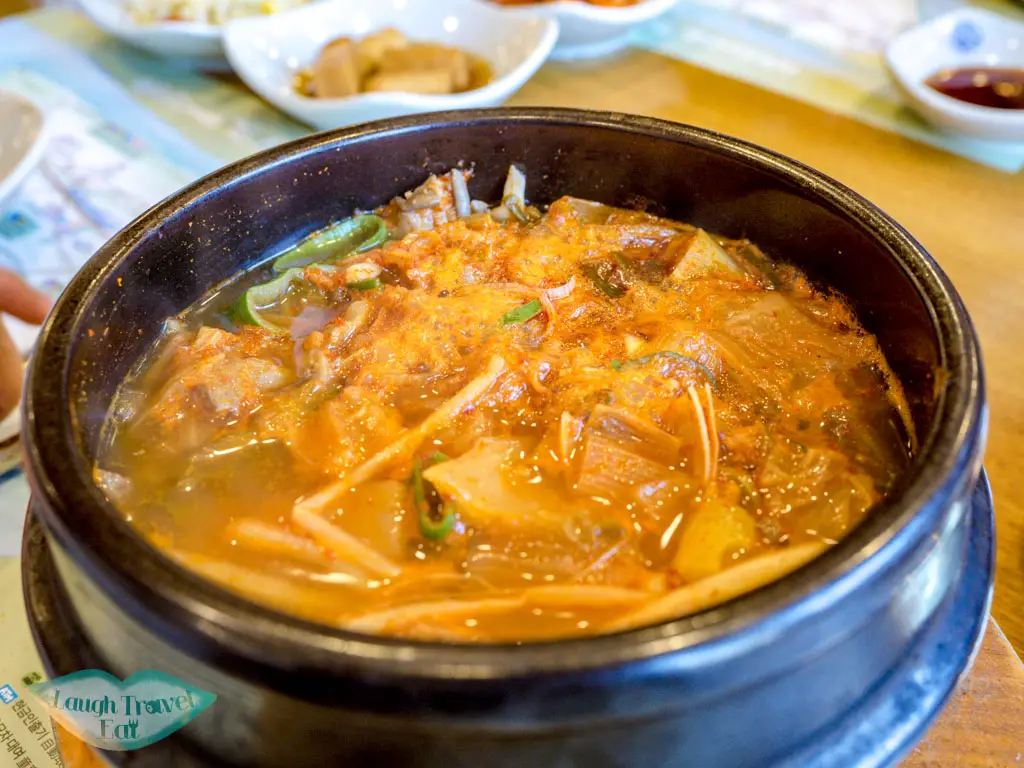 Spicy food lover can order the sodubo – which is spicy tofu broth!

Dongmoon (Asian family restaurant)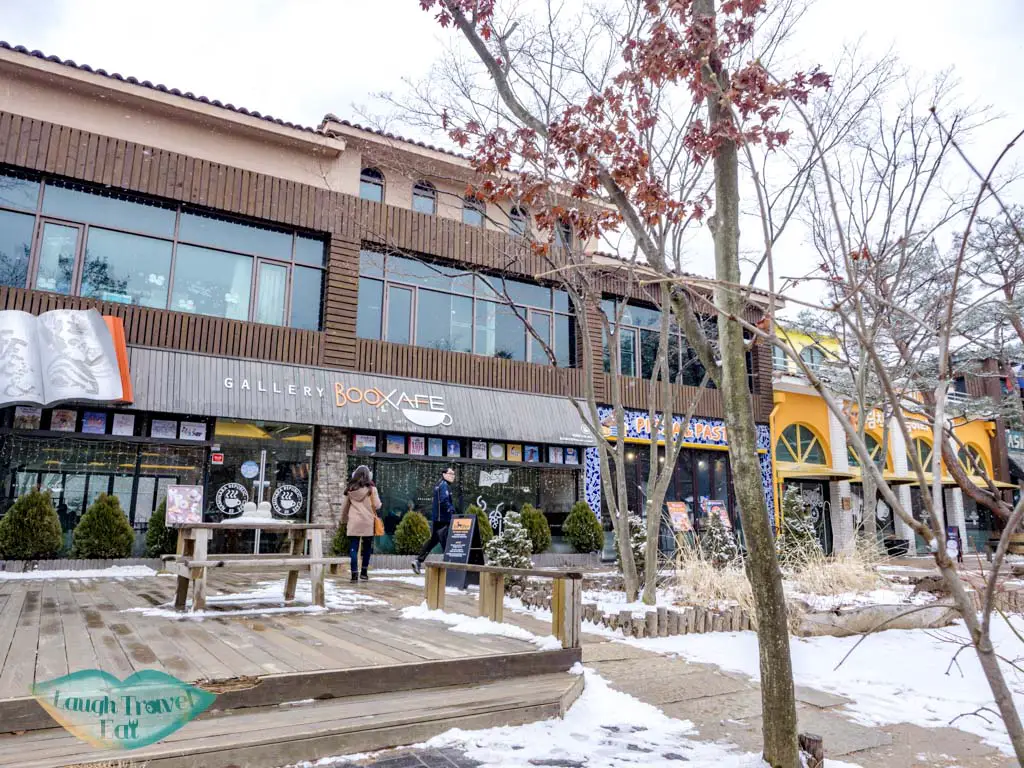 Its name giveaway that it's a great restaurant for Asian families, Dongmoon is also a great place for Muslims. The restaurant uses Halah meat and has no pork, serving different type of cuisines from Indonesian to Hong Kongese.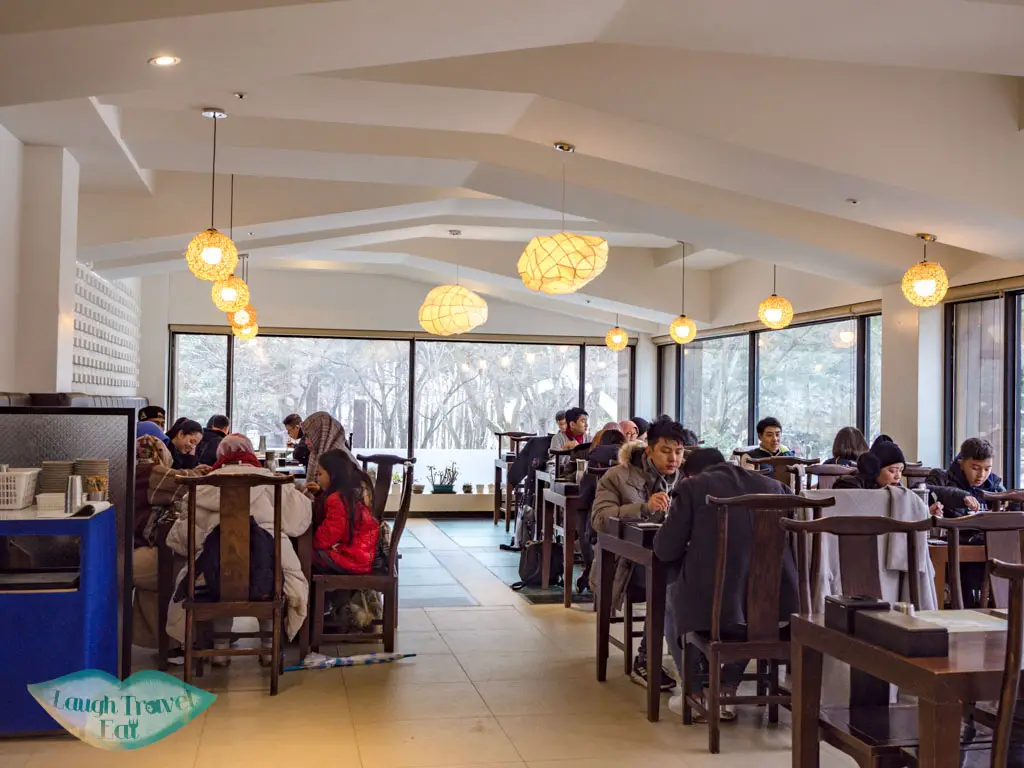 Best dishes to try is their spicy noodles and the wonton noodles.

Pizza & Pasta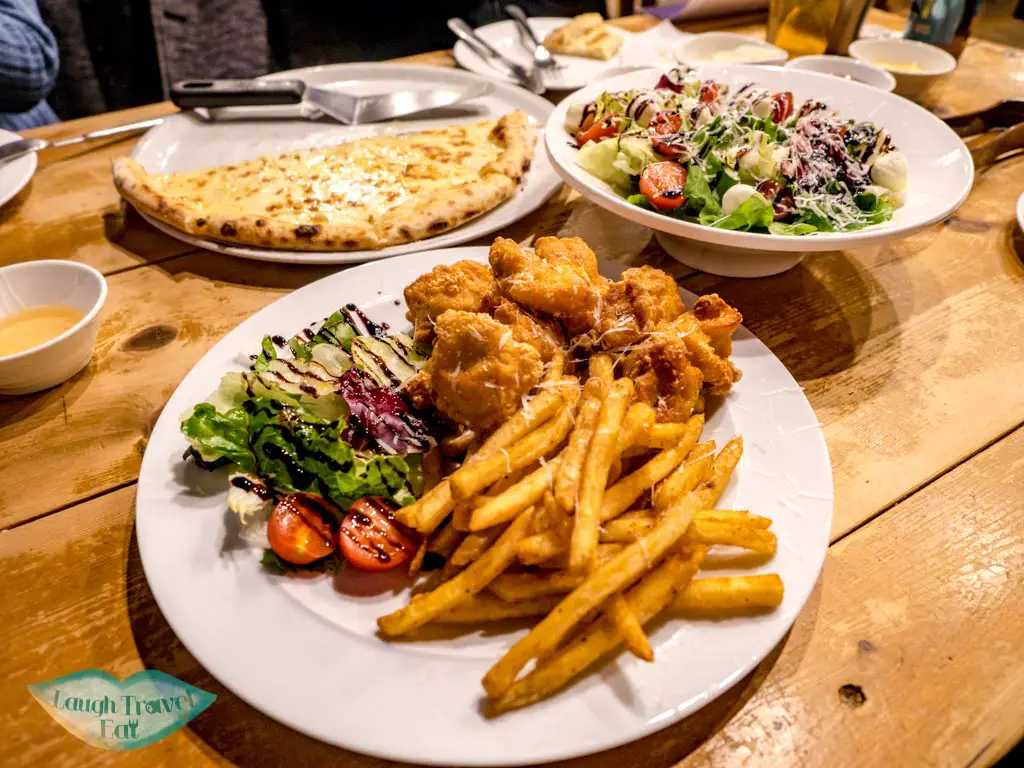 If you are seeking western food, Pizza & Pasta is just a few meters from Dongmoon and is Hallah and vegetarian-friendly. With salad, pasta, and pizza on the menu, there are some more innovative toppings on pizza like the Jeju orange slices!
Note: you can even take a pizza-making class here

Swing Cafe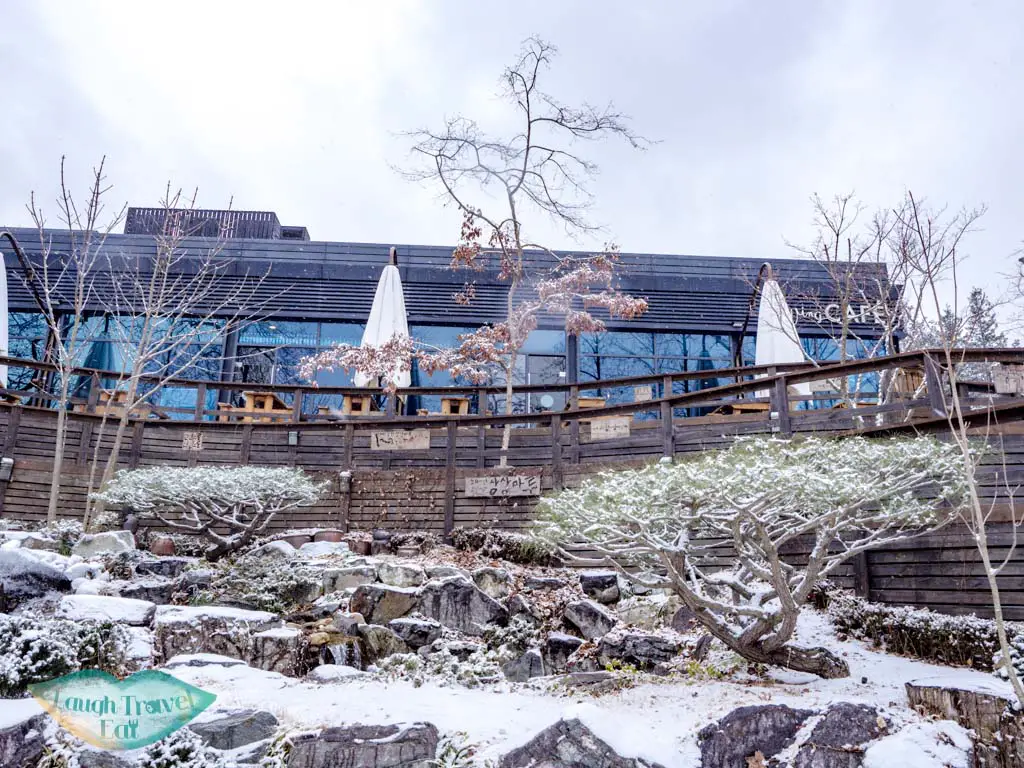 A cute cafe with a cozy atmosphere, Swing Cafe has a musical theme and overlooks the river and Tulip Lane. You get freshly baked bread daily at 11pm and 2pm (though sometimes they don't have a new batch in the afternoon).
It also has great coffee and outdoor seatings!
Nami Island hotels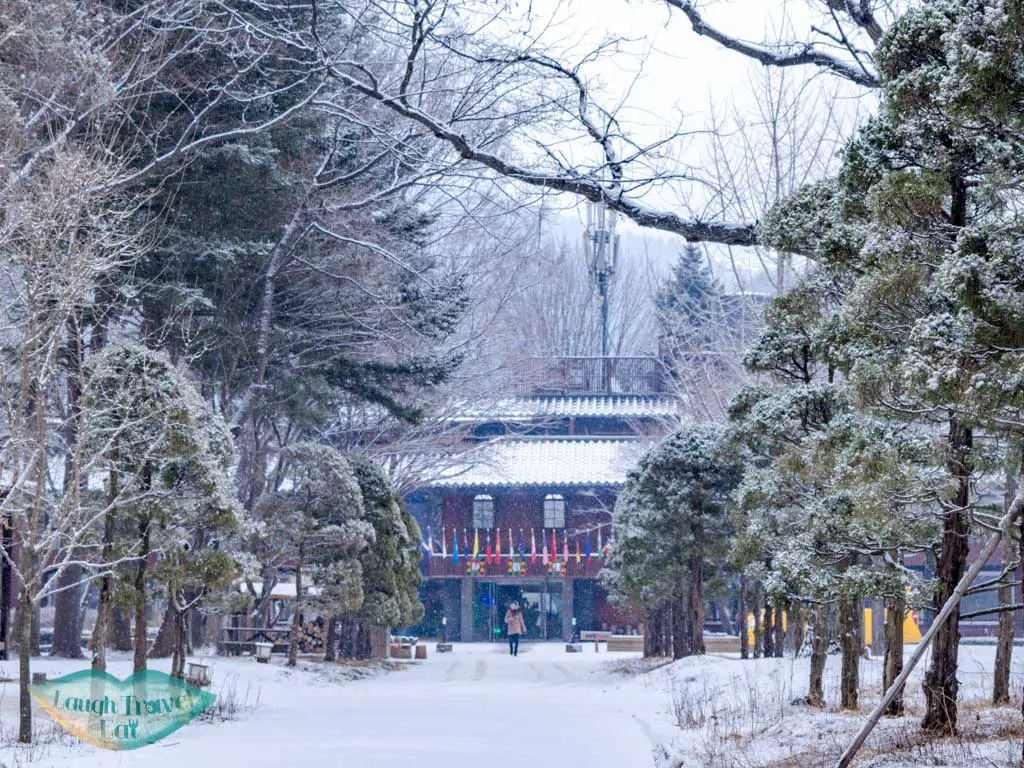 It might be surprising to learn that there are Nami Island accommodation options, and in truth most of the guests there are Korean themselves. However, it can be a great way to enjoy the island at a quieter time as well as get close to nature. We actually lucked out and were one of the first to see the snow in the morning before the masses arrived after 9am. The accommodation options are also pretty sweet:

Hotel Jeonggwanru
The main hotel is the Jeonggwanru which is across the island from the entrance and ferry port. There are three floors and two types of rooms, a Korean style with floor bed sets and a western style with bed. Each of the 44 guest rooms is decorated by many artists and most importantly – heated floors! It is definitely needed in the winter!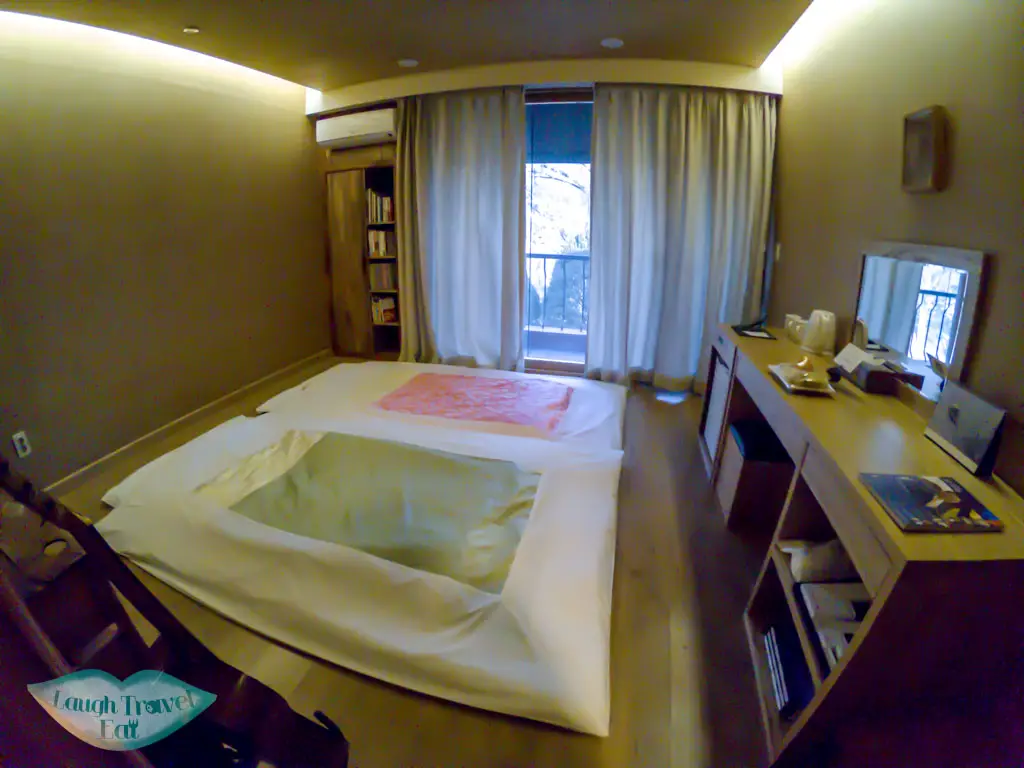 All of the rooms have ensuite bathroom with a bathtub but no TV. the rooms on the second floor all have a small balcony.
Note: the WiFi there isn't the strongest
Rate:

2+2 Cottages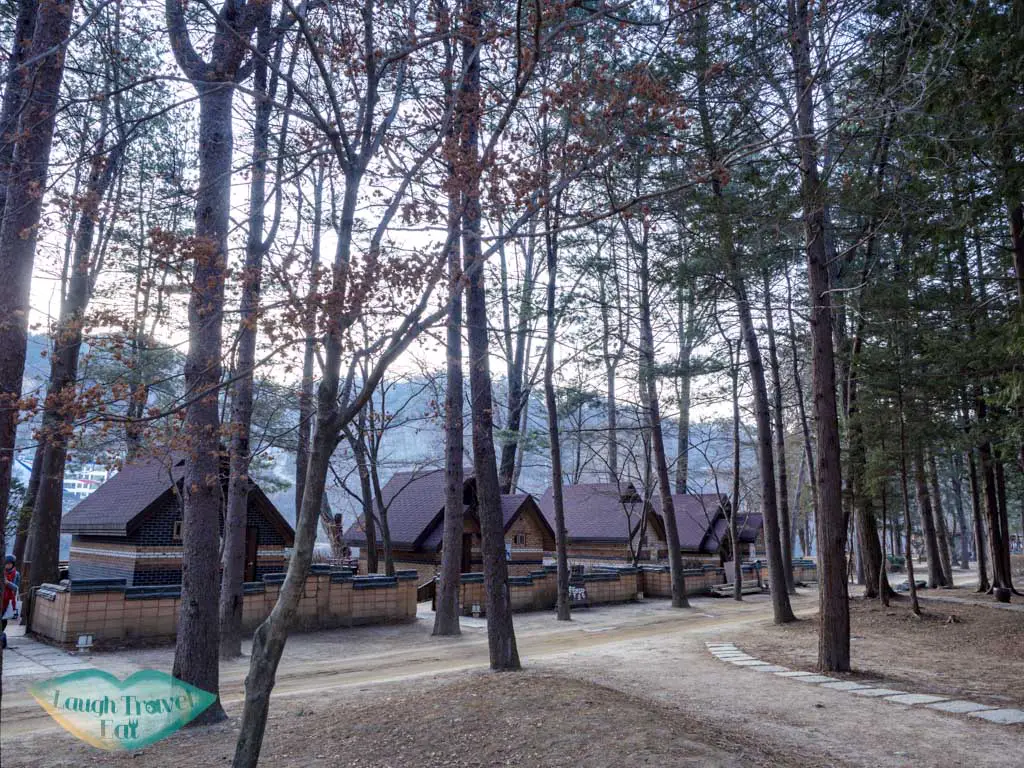 Lining the river with a terrace, the villas are a romantic and secluded choice for couples or friends looking for a quieter escape. Named after an animal found on the island. The floors are also heated, keeping your feet as well as the room warm in the winter.
An ensuite bathroom is present but the shower stall doesn't have doors or curtains, although there is a handy small window for ventilation. Each villa is named after an animal found on the island!

Do note that there's no WiFi in the villas!
Also be careful of the self-locking balcony door

Breakfast at Cafe Islana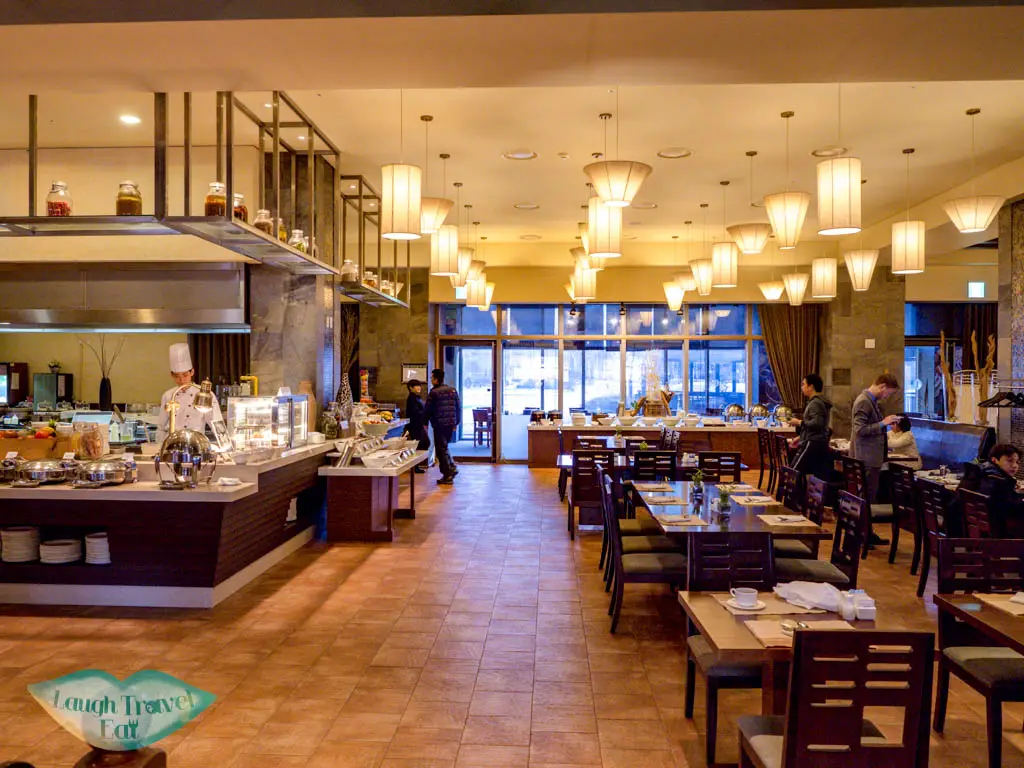 The breakfast at the hotel starts at 8:30 until 10:30, with a choice between Korean or Continental style. Both are set meal with the former being seafood congee and the latter the usual bread with bacon, eggs, and bread.
Both of the portion size are fairly generous, especially the congee!