South Korea is one of the most popular ski destinations in Asia alongside Japan. With numerous ski resorts scattered across the peninsula, it is recognised as a world-class winter sports destination with the 2018 Winter Olympics being held in PyeongChang. Excited to go on my first ski trip, I ended up choosing PyeongChang and here's what it's like to winter away in a South Korea Ski Resort. Note: the trip is hosted by Gangwon Tourism Board but all opinions are my own
Pyeongchang ski resort: Alpensia ski resort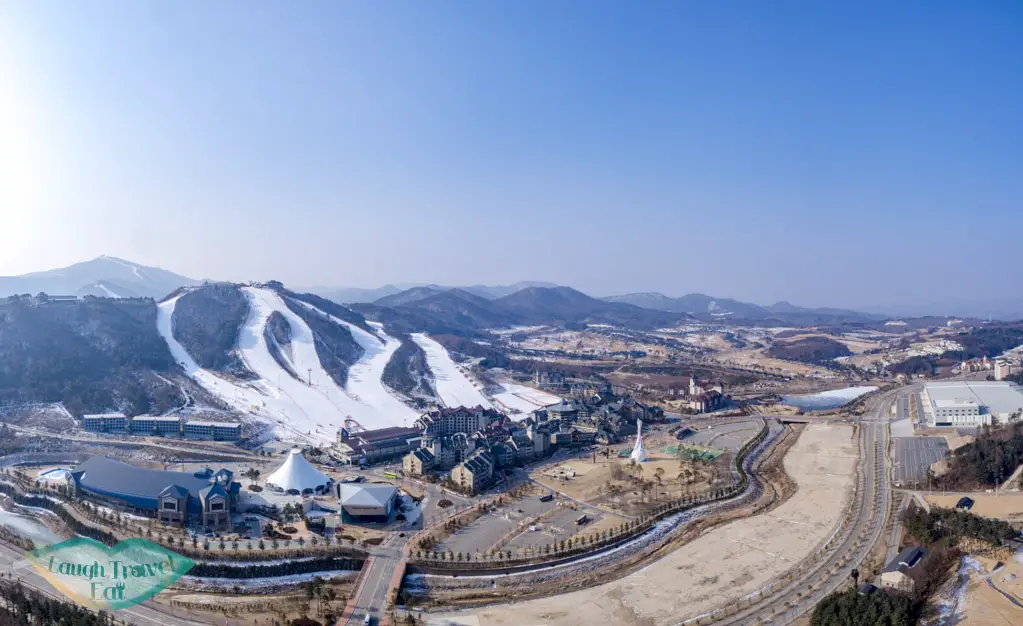 The Alpensia Resort was a state-of-the-art resort built for the Pyeongchang Winter Olympic 2018. Located in the Gangwon Province, it is 700m above sea level and close to the Pyeongchang-gun town itself. Built in 2013, it held the 2013 Special Olympics World Winter Games in the same year. After the Olympics, the resort's many facilities are being used for leisure as well as international events such as the PyeongChang Forum.
Getting to PyeongChang Ski Resort
Alpensia is about 2.5 hours away from Seoul. They offer shuttles from the airports or Seoul which are frequent and convenient. Otherwise, public transport is also possible but requires changing from train to bus.
Daewon Express
Better known as the purple shuttle bus, Daewon Express runs several lines to and from the PyeongChang Ski Resort.
Direct from the airport:
Incheon Airport → Alpensia Resort: 07:30, 09:30, 15:00, 16:30
Gimpo Airport → Alpensia Resort: 08:00, 10:00, 15:30, 17:00
Alpensia Resort → Gimpo/Incheon Airport: 08:35, 14:35
Cost: 35 USD for adults, 20 for child
Duration: 3 hours
To and from Seoul
There are several picks up points in Seoul, though the Sports Complex in Myeongdong is likely the main hub. However, you can also book pick up from Hongkit University Station, Sinchon Station, and Myeongdong Station in addition. There are only two picks up time, either 5-6am or 7-8am.
Tip: have the barcode ready for scanning upon boarding. Some reviews also suggest that the need to change bus depending on the pick up location and that you might have to identify the correct shuttle yourself.
Skiing in Korea: the slopes

The resort has 6 slopes up to 1.4 km long, named after the phonetic alphabet from A to F. There are three ski lifts in total, one for Alpha, one shared by Bravo, Charlie, and Delta, and One for Echo and Foxtrot.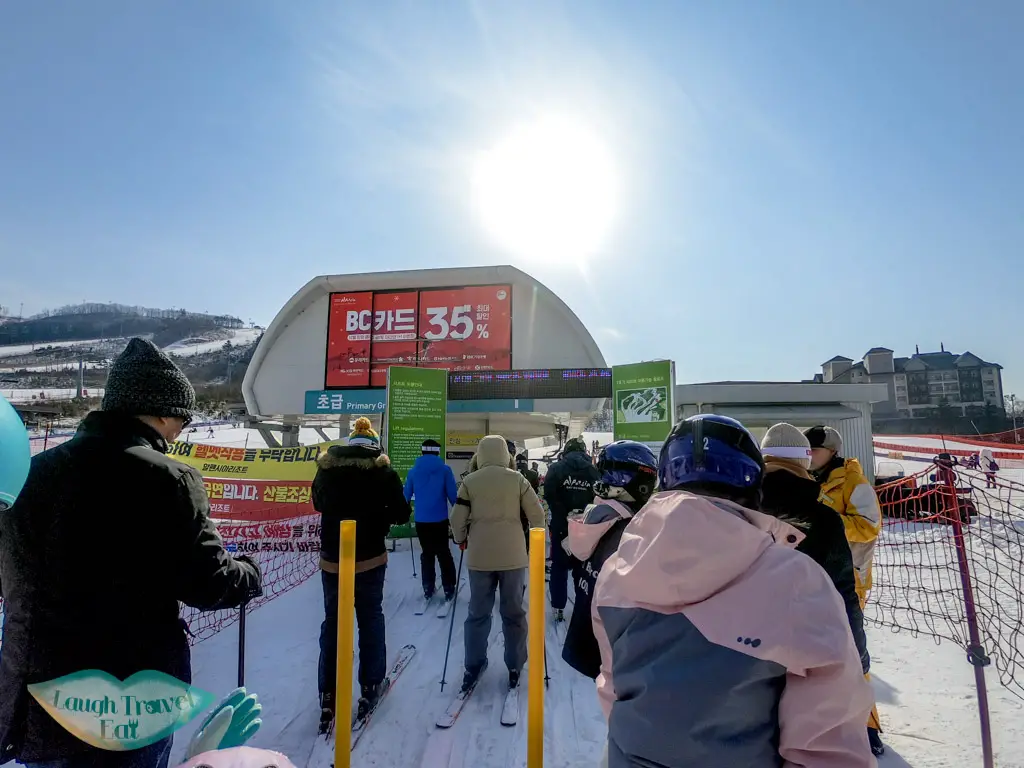 As a beginner, the Alpha and Bravo trails are plenty enough. There is also a snowboard specific area and a ski school. The slopes are open for three time slots in the morning, afternoon, and night. The same goes for the ski lifts:
8:30 – 12:30
12:30 – 16:30
18:30 – 22:00 (night ski)
Lift prices starts at 10k won per ride, and 115k for lift and board. Guests staying in the resort hotels have 20% discount. More information here.
They also offer free shuttle to the nearby Yongpyeong ski slopes for more advanced skiers and snowboarders
Lessons in Alpensia Resort
Both skiing and snowboard lessons are offered by the resort, with individual lesson starts at 270k won for one on one (2 hours). All day lesson for up to four people at 400k won (4 hours).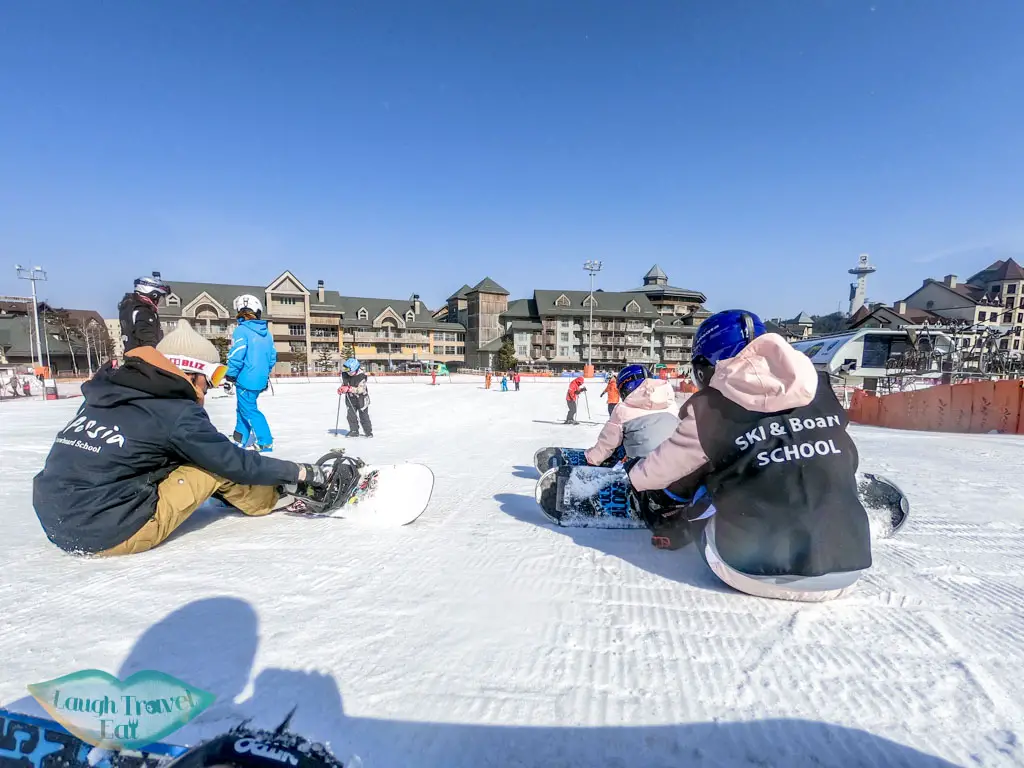 The slopes in Alpensia are great for beginners and intermediates, with the reserved section for learners by the alpha ski course. Our snowboard instructor took us to the ski school where there's a gentler small slopes without the crowd. For the full day lesson, we covered how to wear and put our snowboard, safety landings, and the basic of how to snowboard.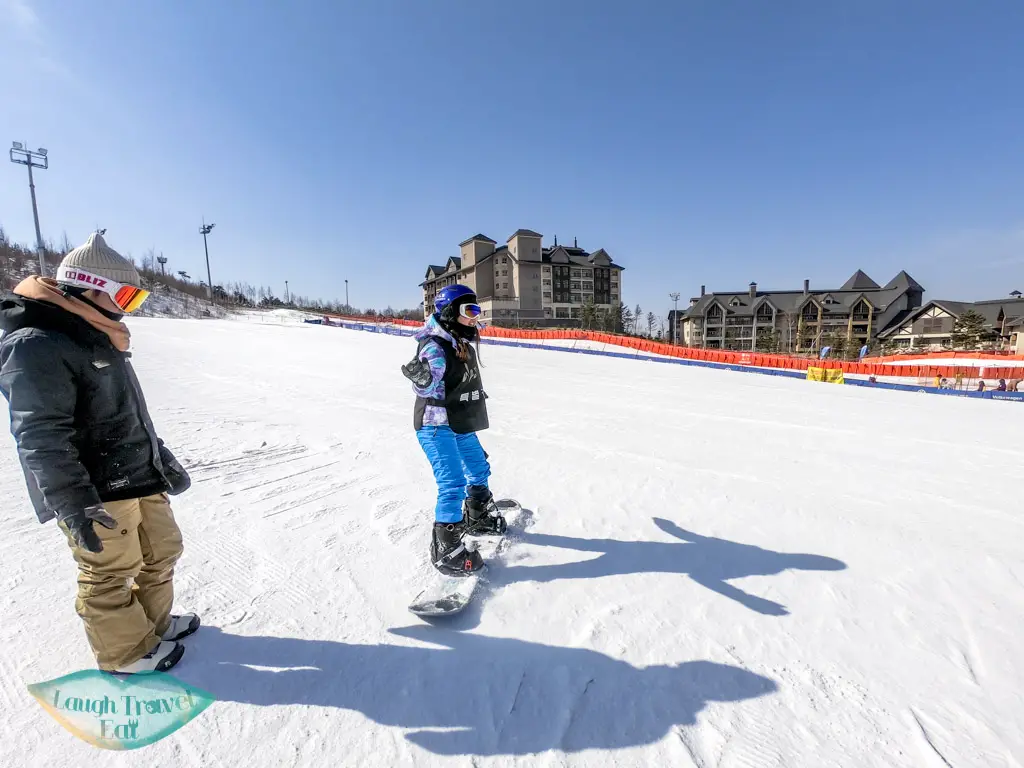 In the afternoon, we went up with the ski lift to the top of the alpha course. It's a bit daunting to start going down, but aside from my inability to get up or turn right, there wasn't any problem!
More information on ski/snowboard lessons here.
Ski or snowboard equipment Rental
The tickets for equipment rental, ski lift, and clothing rental can all be purchased together. If you are staying at the resort, you get 30% off the lift and equipment price. You can buy single trip or per time section or day pass, but only for the day on the day.
More information on rental prices etc
Eating at the Alpensia Resort
There are no shortage of restaurant and food in the resort with many affordable options. They are all centered around the hotels and the ski center, so everything is about 10 minutes walk from each other. In particular, there are several convenience store GS25 for snacks and drinks at affordable prices. We didn't managed to try all of them, but here are some that we did:
육대장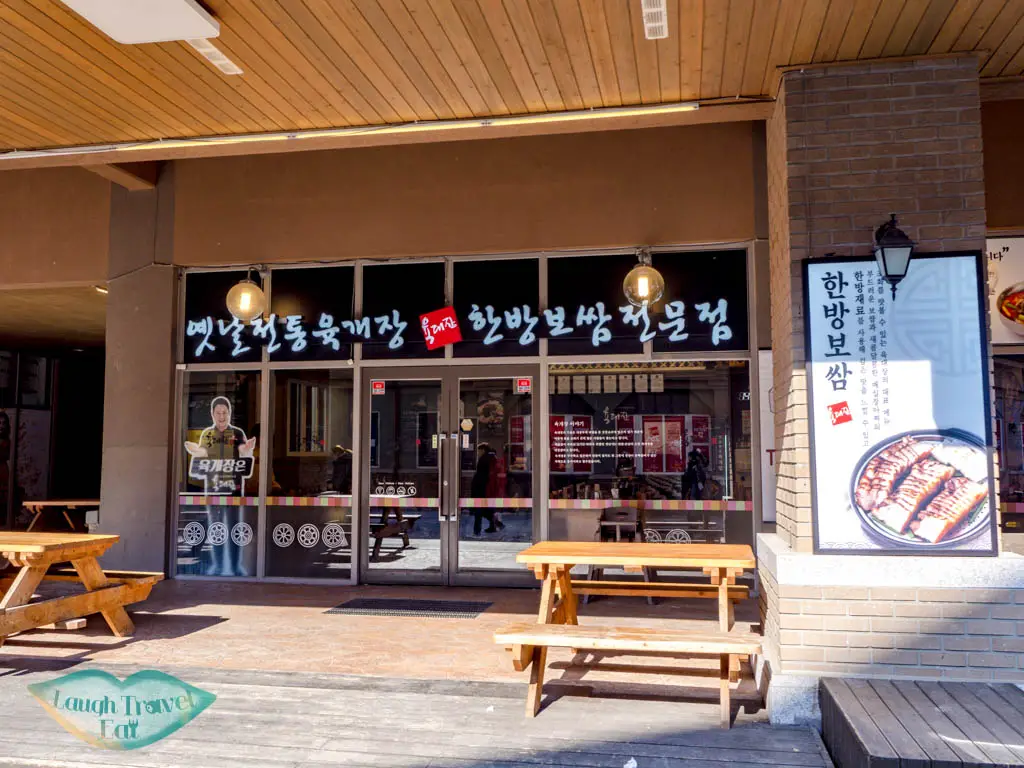 A Korean restaurant across from the ski center, it has great dumplings and hot food perfect for a ski break. Costs are generally 9-11k won, so it's very affordable considering it's a ski resort. Their dumplings are delicious and the portions are on the big side.
Opening times: 8:00 – 22:00
Mont Blanc Restaurant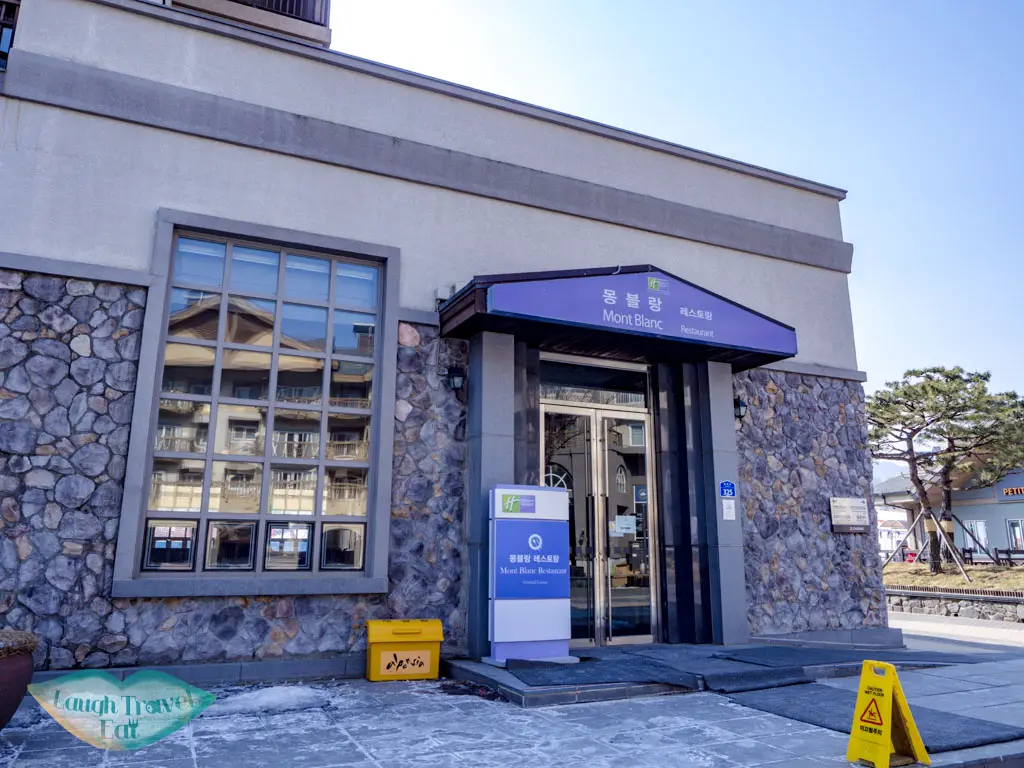 Part of the Holiday Inn Resort, the Mont Blanc Restaurant serves both Korean and Western menu. The western food includes old favourites such as burgers and steak in addition to snitzel.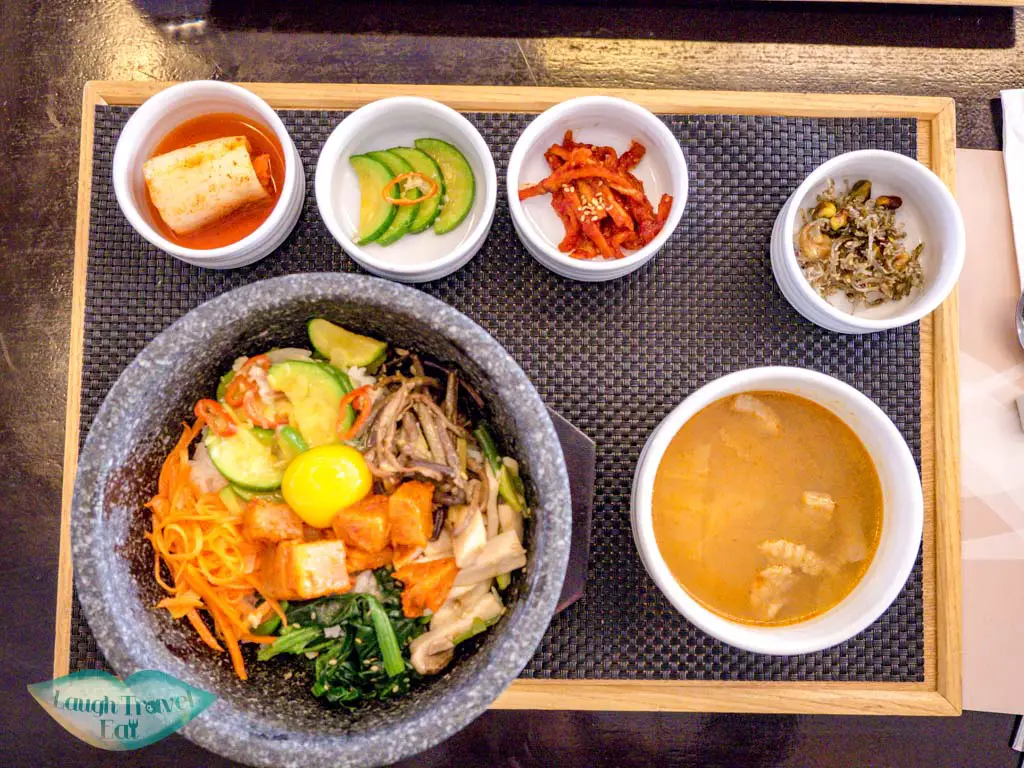 We ended up ordering bibimbap and it was delicious. It is a little more upscale than the above with a meal costing around 12-20k won.
Other restaurants
Other restaurants includes Lotteria, a Dominoes, Angel-in-us Coffee, a Japanese Teriyaki place, Korean Fried Chicken and several other restaurants. Honestly, there are enough choices around to eat for a week here without getting bored!
There is also a food court style restaurant right by the ski slopes so you can eat or snack there in between ski sessions. If you have a rental car or is looking for food outside of the resort area:
Daegwalnyeong Hanwoo Town 대관령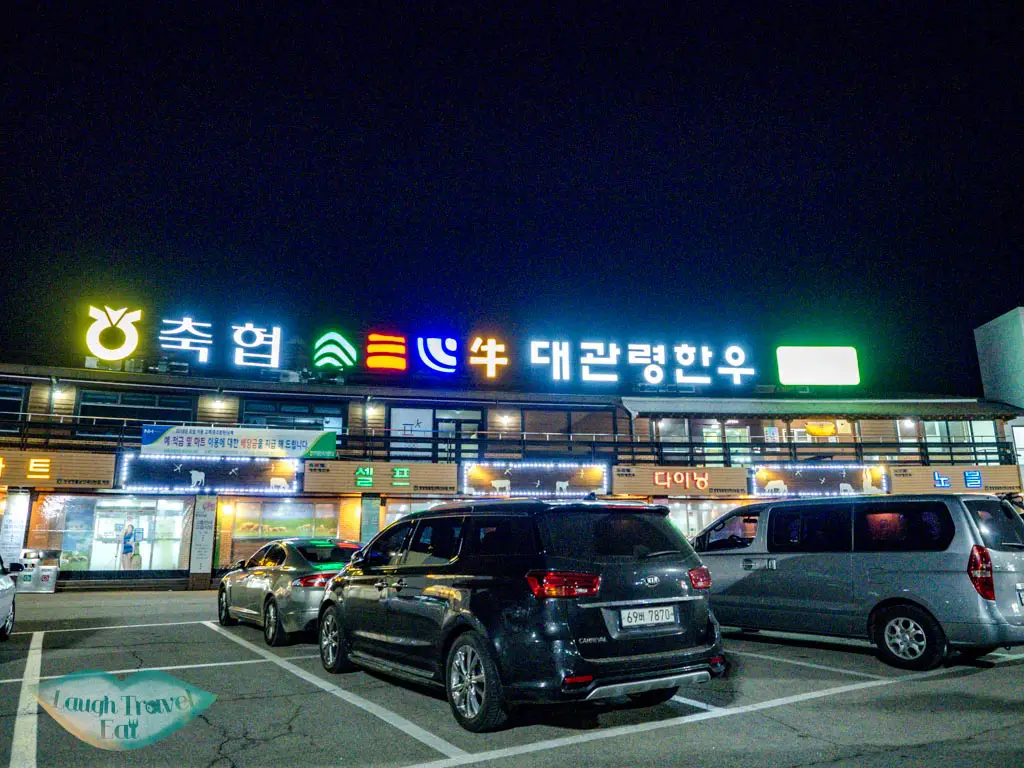 About 10 minute's drive from Alepnsia Resort is a great bulgogi or Korean bbq place. The beef are from Daegwallyeong nearby which is also its name in Korean. It is super tasty and cute, great for group of friends. Parking spaces are available and there is a cute cafe right next to it.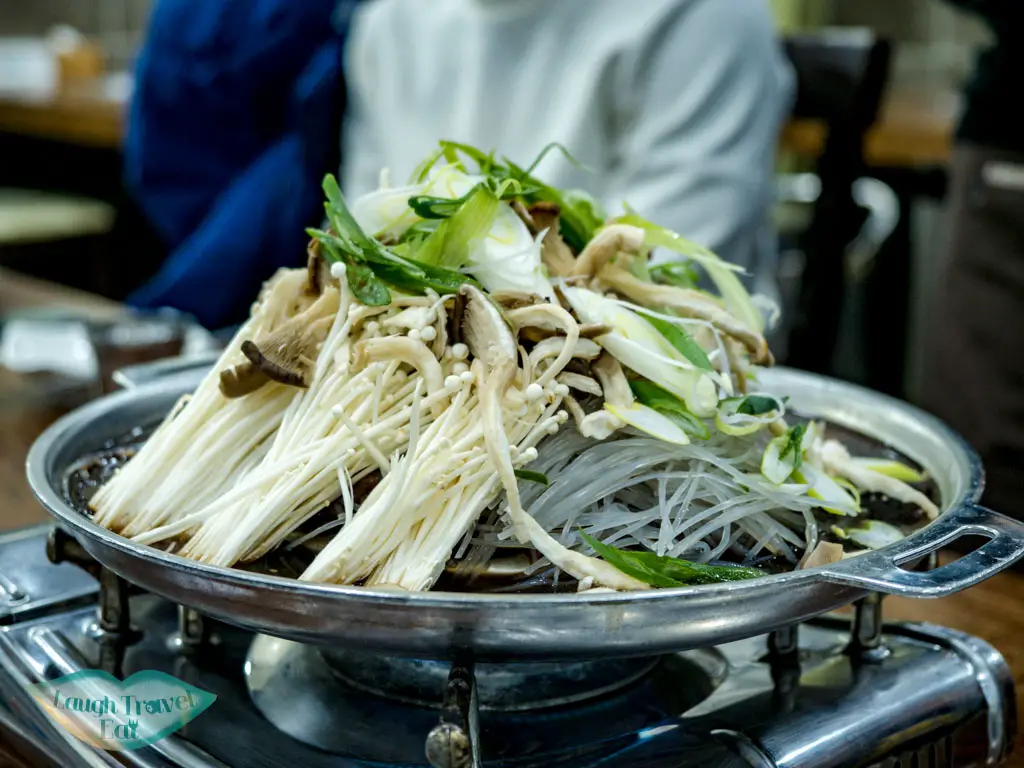 Address: 38 Olympic-ro, Daegwalnyeong-myeon, Pyeongchang-gun, Gangwon-do, South Korea
Opening times: 11:30 – 21:30
Staying in Alpensia Resort
Various accommodation options are available in the resort and are clustered in the center. It resembles a little fairy-tale village with stony facades and sloped roof. The three hotels are the Intercontinental Hotel, Holiday Inn Resort, and Holiday Inn Suites. We stayed at the Intercontinental, though the suites is a great choice for a group of friends together.
Intercontinental Hotel Alpensia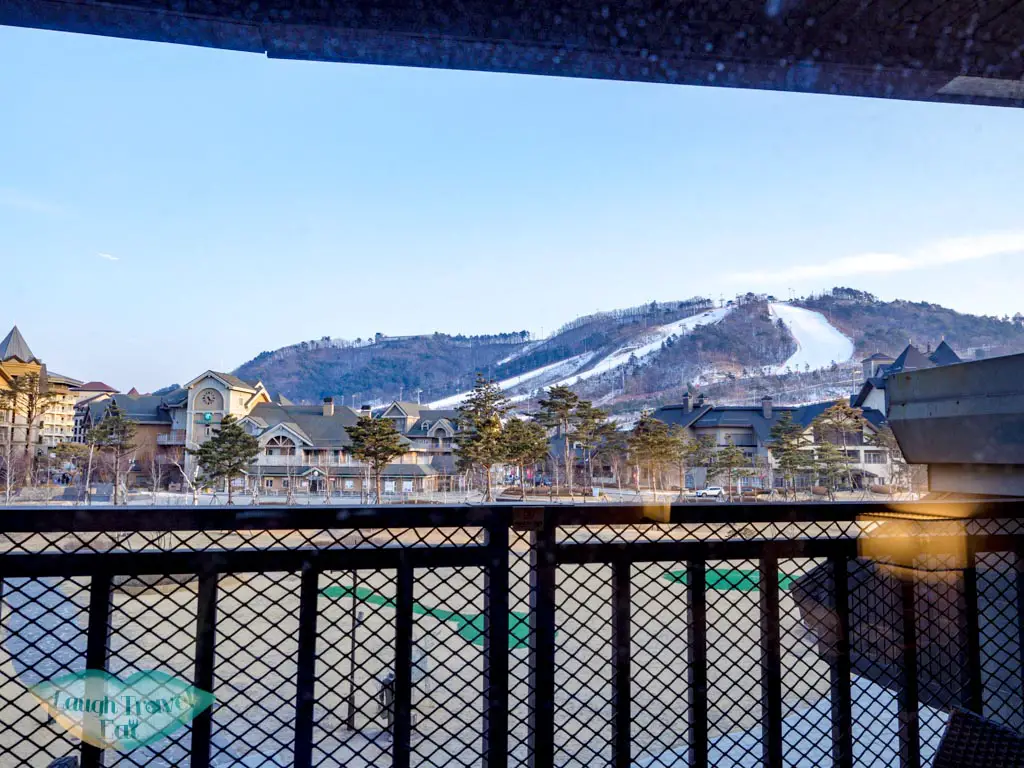 The intercontinental stands alone on the far side of the ski slopes and boosts a side that faces the them. The lobby is spacious and each room has a balcony that either faces the slopes or the lake on the other side. The rooms are super spacious, with a bed, working desk, and seating area. The bathroom is also nice with a tub and a shower – good to soak away stress from skiing or snowboarding.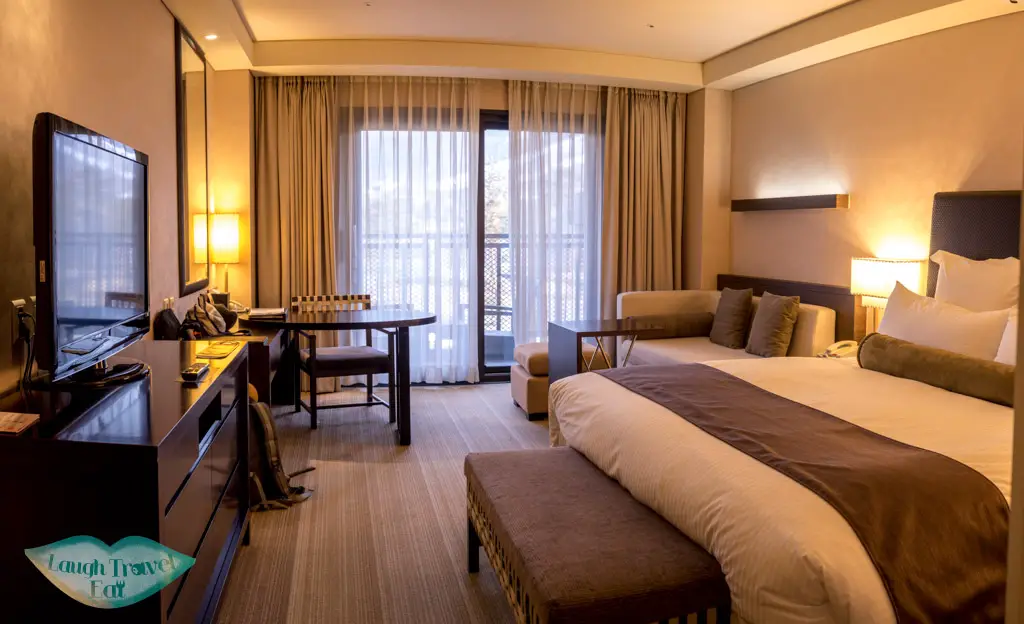 Their breakfast buffet is one of the largest I've seen with a great range of pastries, bread, cooked food option, eggs your way, pancake and waffle, cheese, Korean food, congee etc. Basically, you name it, you got it. There's even fresh carrot juice! A genuine guarantee that you'll get enough energy to go up and down the slope.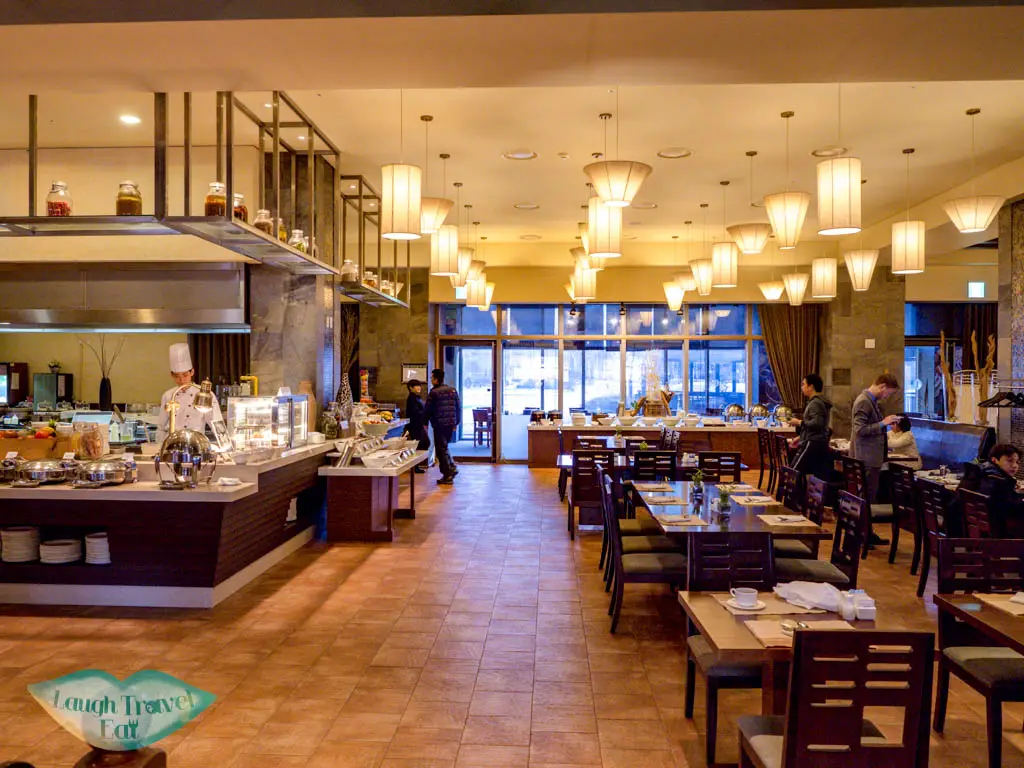 Tip: you can't wear slippers down, I had to go back up and change!
What to do in near Alpensia
Skiing or snowboarding isn't the only thing you can do in or near the Alpensia Ski Resort. It is also home to a Convention Center as well as various other cool things. If you need to take some time to recover from the bumps and bruises or just to expand your holiday, here are some great options:
Alpensia Ski Jump Studio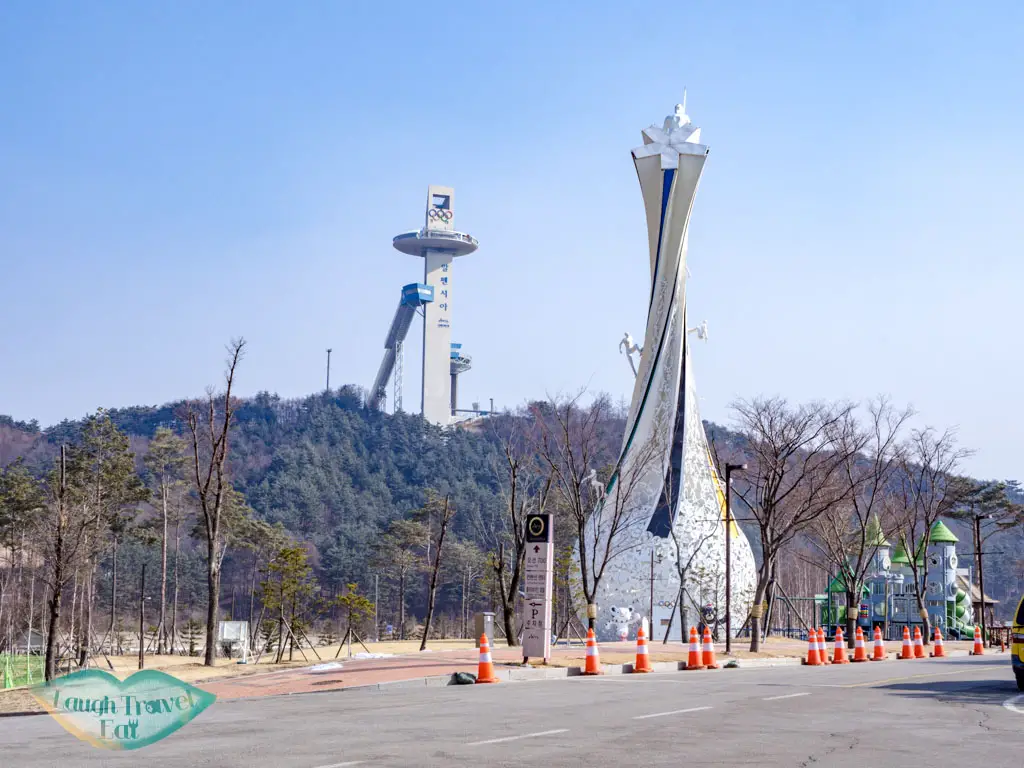 Technically still part of the Alpensia Resort, it's a 5 minutes' drive away and visible from the main resort. The high tower has two high jump ski slope for the athletes but also an observation tower for all visitors.


There is also a monorail that would take you up the high structure. The two ski slopes are at level 2 and 3 respectively, with the observation deck above. It offers a 360 degree panorama with an outdoor and indoor section. It gives you the perfect view of the ski resort and its surrounding, though it does get very cold outside in the winter.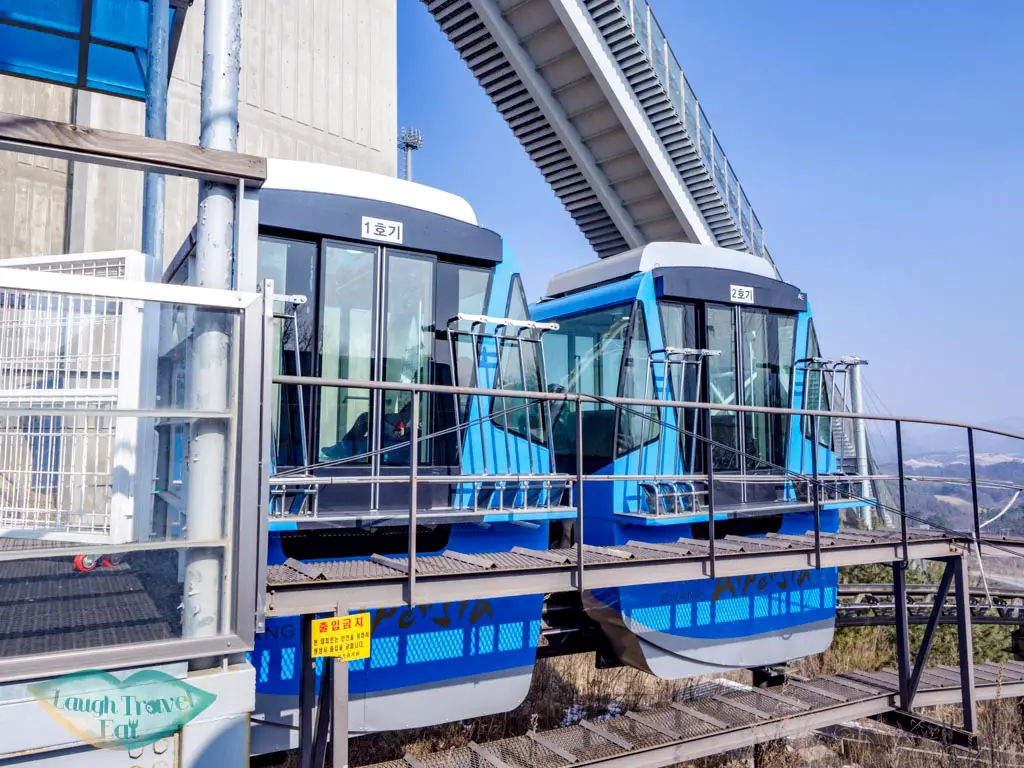 Across the road from it is the cross country ski training area which was fun to watch for a little while.
Admission fee: 2k won for adult, 1.5k for Youth, 1k for children for monorail
Opening times: 9:20 – 17:55
Sledging
Next to the ski school, there is an area for sledging which is completed by an escalator up at the side! This means that you get to have all the fun without having to climb back uphill yourself.
Admission fee: morning or afternoon pass 20k (16k for hotel guests) adult, 15k (12k) child, 29k (23.2k) couple; you can also get 5 times or 3 times ticket at 25% or 50% off
Opening times: morning 9:30-13:00, afternoon 13:00 – 16:30
Ocean 700
On the other side of the resort there is a fun-looking building that houses the Ocean 700 Water Park. The indoor water park keeps the water temperature at a balmy 26 degrees celsius and has facilities such as slides and man-made waves. It can be a good place to defrost after a day out in the cold and would be family friendly, too.
Admission fee: day pass 60k (42k) adult, 53k (37.1k) child; afternoon pass 55k (38.5k) adult, 45k (31.5k) child; night pass 43k (30.1k) adult, 33k (23.1k) child
Opening times: 10:00 – 20:00; afternoon pass 14:00 – 20:00; night 17:00 – 20:00
PyeongChang Forum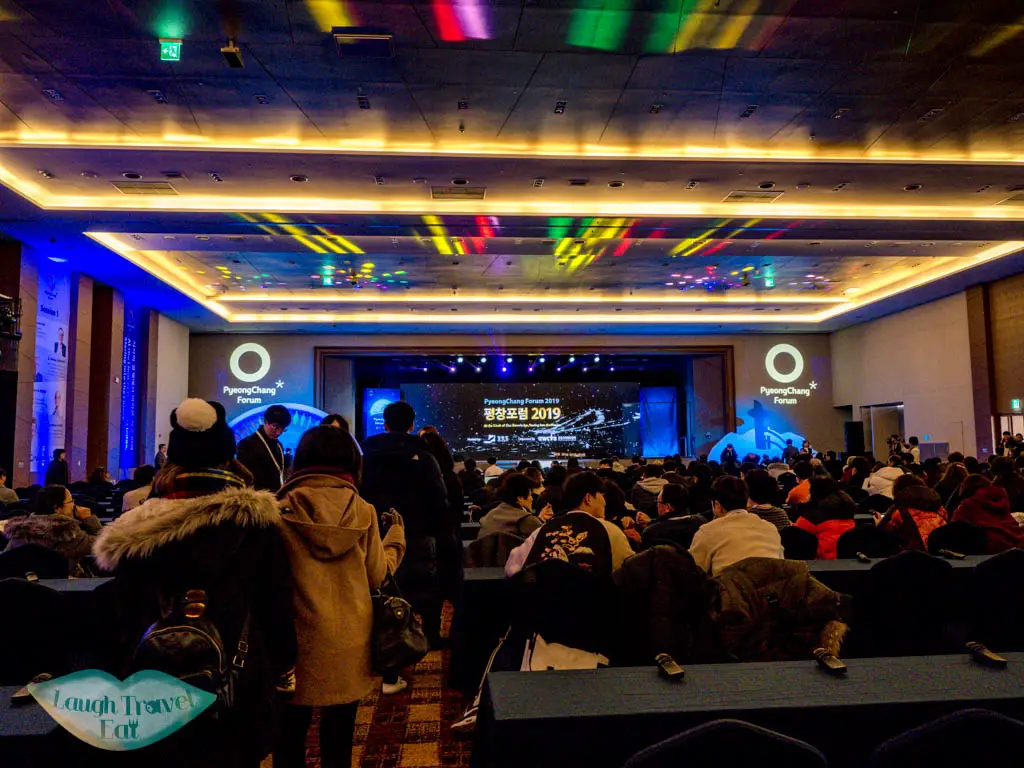 The forum is an annual event that attracts national and international scientists to discuss global issues and sustainability. It also focuses on adulation and welcome public and students to attend. The forum is held annually in February with its first event in 2018 and lasts 3 days.
More information click here
Odaesan Park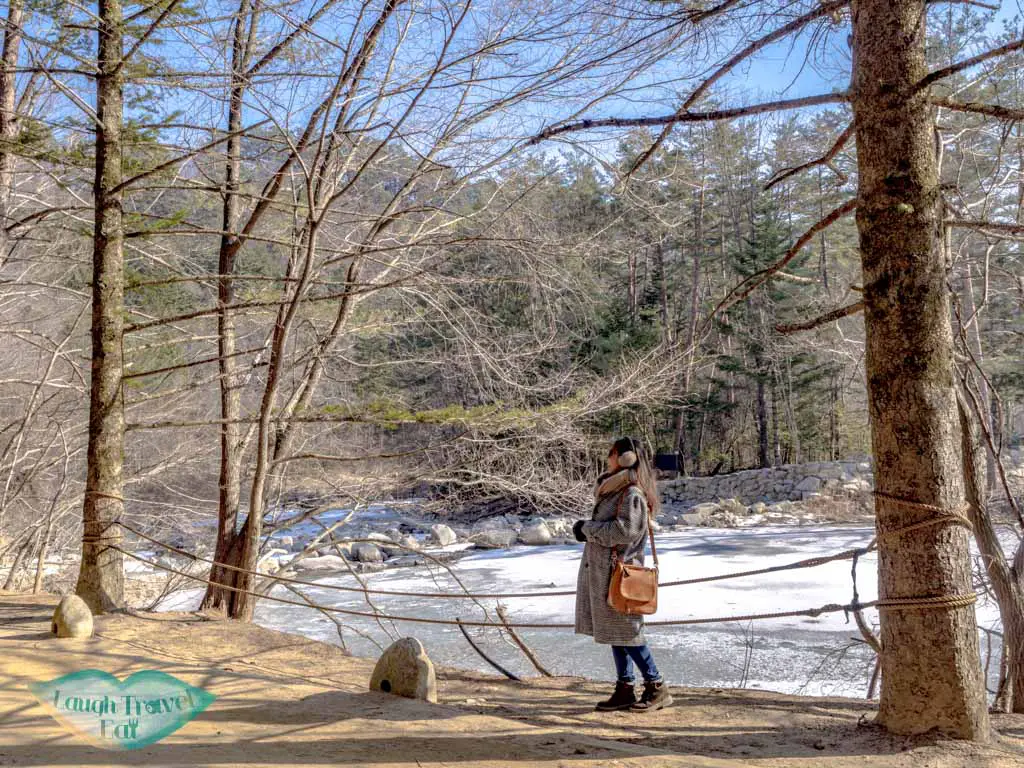 A nearby national park that's only 20 minutes drive away, Odaesan Park is famous for its beautiful fir forest. The park itself is fairly big and to discover it properly can take more than one day.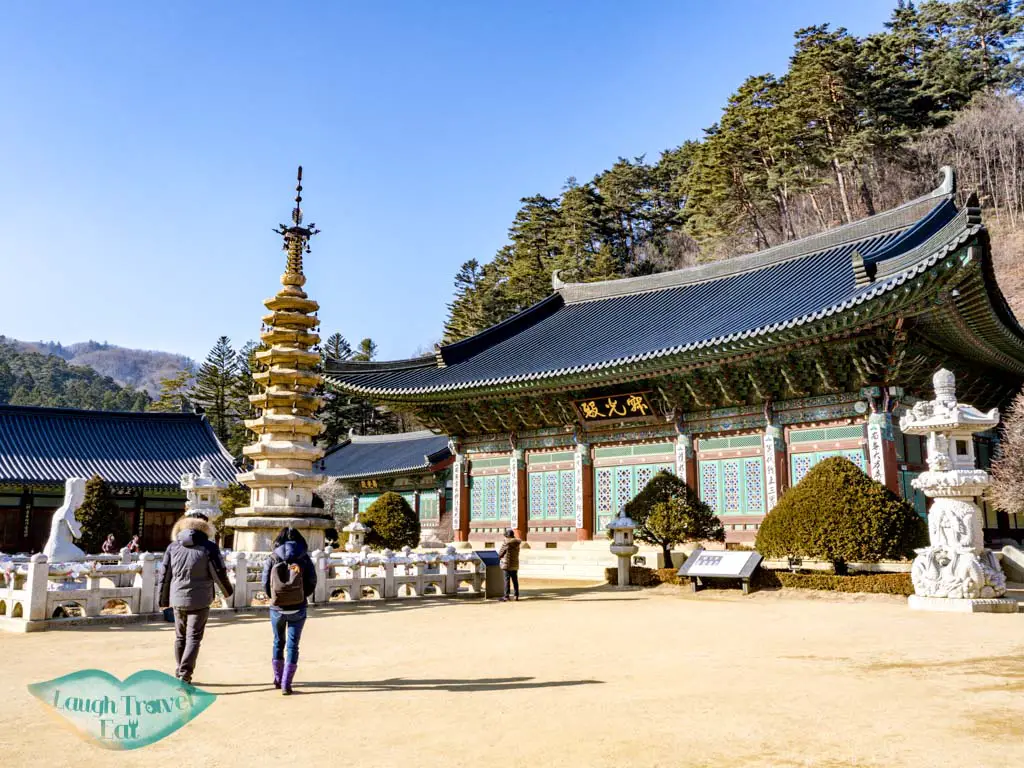 However, you can drive to the park and visit the Woljeongsa Temple which dates back to the 7th century and is a working Buddhist temple. The other main attraction is the fir forest walk that is about 1.9km long and beautiful even without snow.
This is also one of the filming location for the popular K Drama Guardian: the Lonely and Great God. It takes place on one of the bridges going into the park. P.S. a temple stay is possible at the Woljeongsa Temple!
Admission fee: Adults 3,000 won, Teenagers 1,500 wo, Children 500 won
Parking fee: Light-weight car (under 1,000cc) 2,000 won Mid-sized car / Small-sized car 4,000 won (Peak season 5,000 won) Large-sized car 6,000 won (Peak season 7,500 won)
Duty Free

There is a duty free located across from the Holiday Inn Resort for those who needs to do souvenir shopping. Normally, duty free isn't exactly on my to-do list when visiting a country but when it comes to Korea, skin care and make up are a must-buy and good value in duty free. If you are headed to Seoul later, the Shinsegae Duty Free in Myeongdong has 4 floors and a great one stop shop destination.
Casino
A casino is also present in the resort. I didn't get a chance to check it out because there are simply to much to do!