Hanbok Rental Seoul: booking tips, review, and photo spots
Renting a Hanbok in Seoul has become a popular thing to do in Seoul. With various palaces and hanok (traditional Korean houses) villages concentrated near Gyeongbokgung, it's almost a shame not to deck up Hanbok for photos and to imagine yourself being a princess in the palace. Here's what it's like to rent, wear, and photograph around Seoul in a Hanbok:

Note: the experience was hosted by Trazy Korea but all opinions are my own

A brief history of Hanbok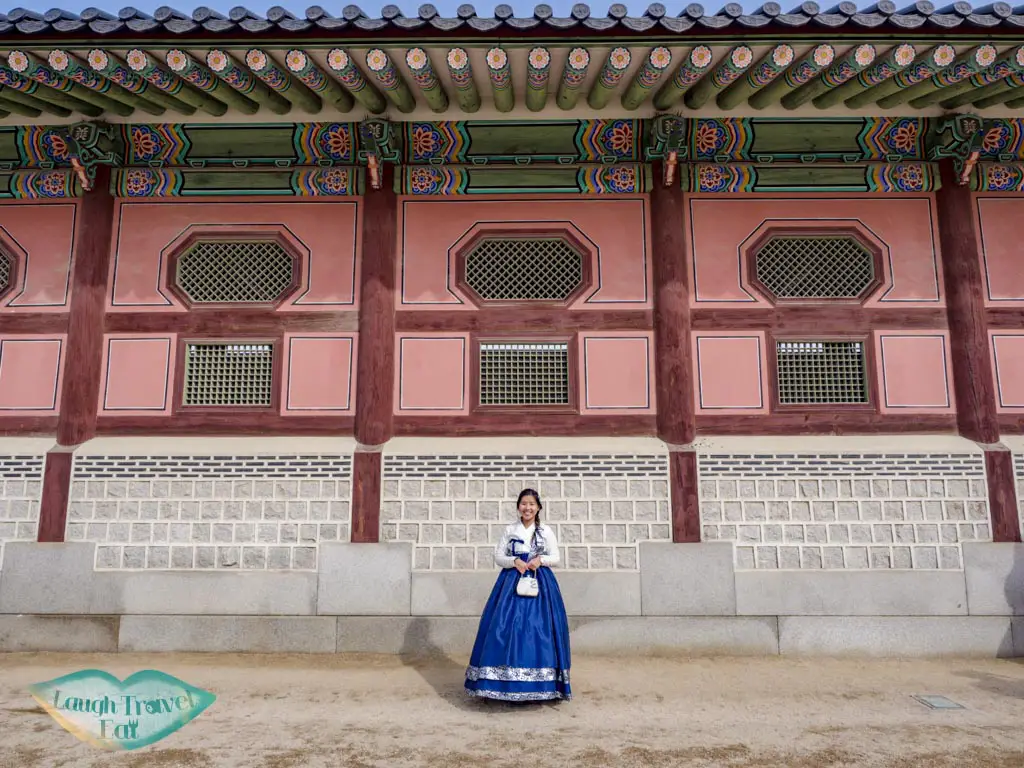 Hanbok is the traditional Korean dress that is characterized by the high waistline and simple lines. It bears some similarity to the Chinese Hanfu, originating in the Joseon era, more specifically adopting the present silhouette in 19th century. Featuring a shirt called Jeogori and a full skirt called Chima. The Jeogori is long-sleeves and crop-length, often featuring a ribbon closure on the chest with no collar. The Chima is often a colourful affair, with pretty patterns and usually buffed to a semi-bell shape by a crinoline.

Where to rent Hanbok in Seoul and what to look out for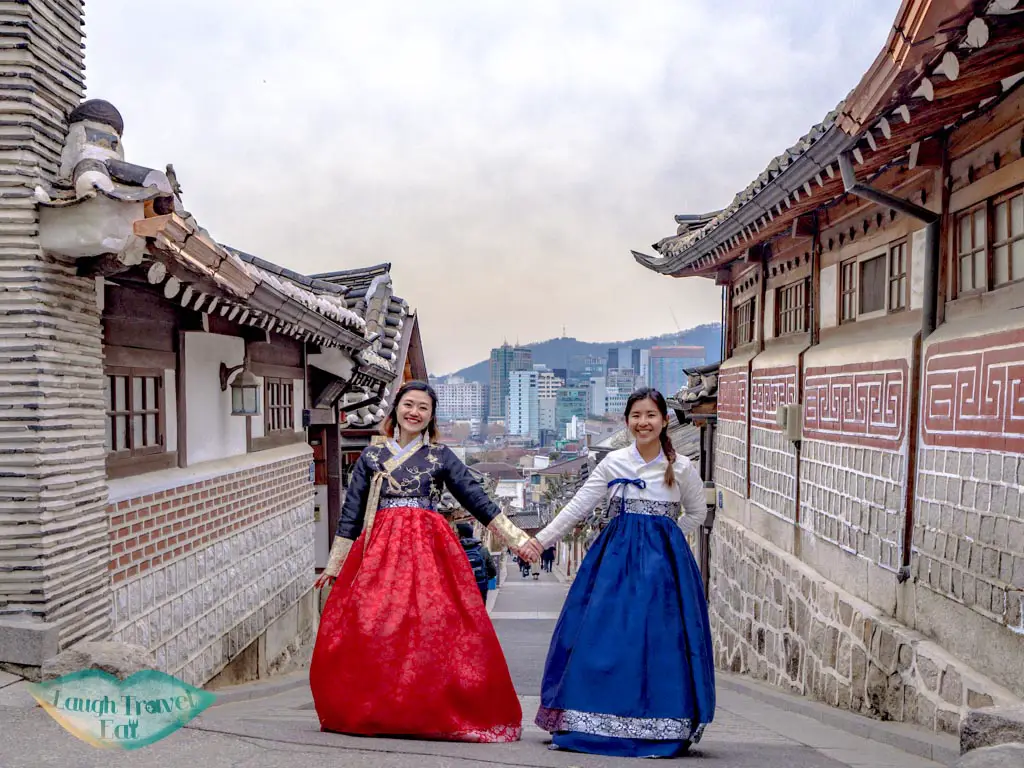 The most popular place to rent hanbok is by the main palace Gyeongbokgung or the picturesque Bukchon Hanok Village. The two are actually next to each other and within easy walking distance and there are many shops that advertise hanbok rental around the area.
Generally, I'd recommend booking an appointment with a reviewed rental studio in advance.
Firstly, studios only have a certain number of hanbok, it's a first-come-first serve basis so it's best to make sure you have enough choices.
Secondly, not all the studio provide an underskirt for the chima but it's essential in giving the hanbok that bell-shaped silhouette.
Some studios will also include hair-styling and accessories, while others don't or would incur extra charge. For the most part, if you opt for full day rental, all of the extras should be included.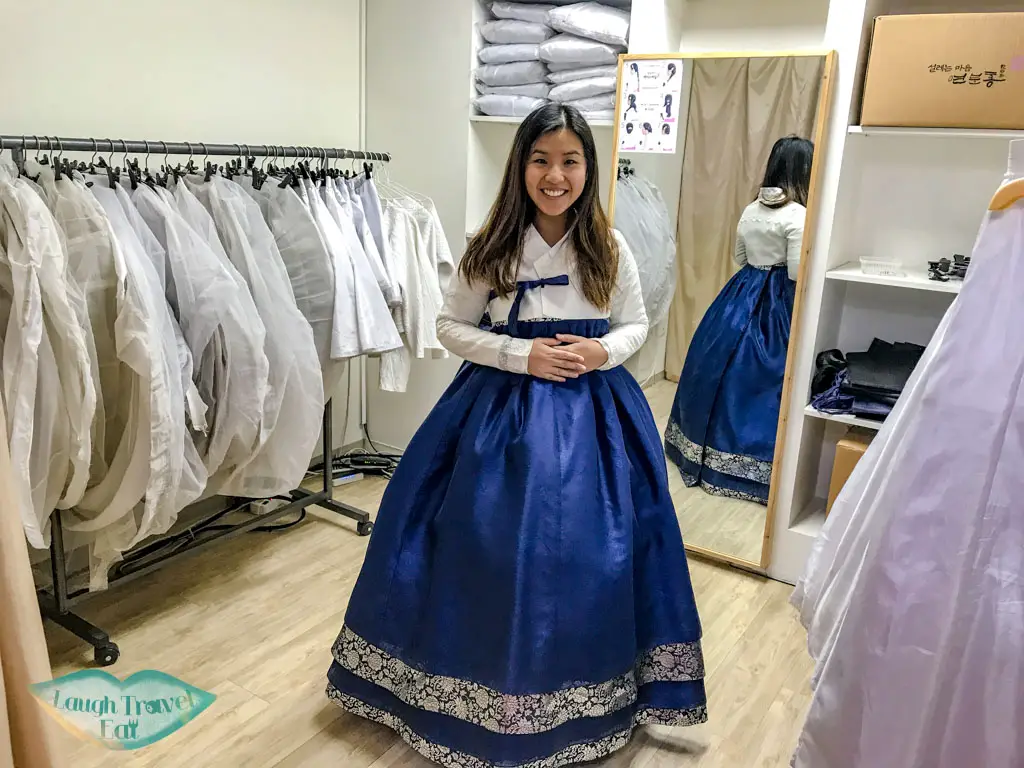 Since we visited in winter, we first wore a white top under the Jeogori, then the underskirt before the chima. We also wore a scarf and a wrap and had a small reticle.
The bigger studio will offer 2 hours, 4 hours, and full day rental option. Personally, I'd recommend going for the full day rental option, especially in bigger groups, because it's easy to get carried away taking photos. Not to mention making time for lunch and getting dressed in the beginning! We spent a solid 4 hours in Gyeongbokgung alone.

Hanbok rental near Gyeongbokgung: renting in 3355 with Trazy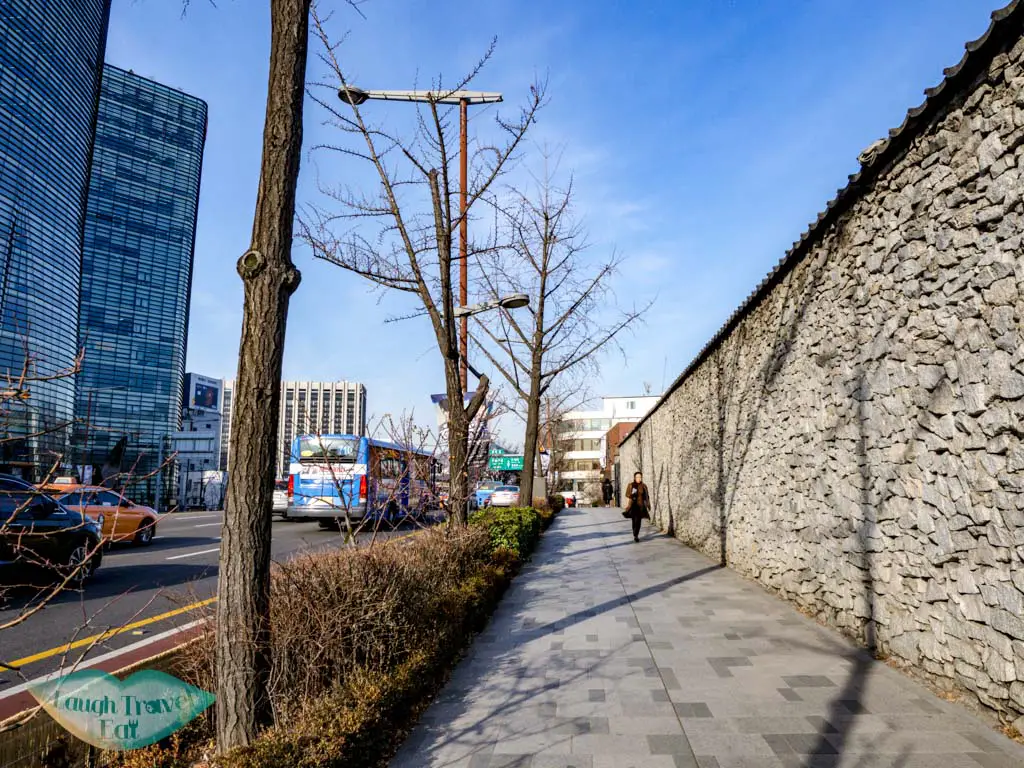 The nearest mtr is Anguk station, which is on the Orange aka line 3. Take exit 1 and turn right. Keep walking until a small lane across from a glassy SAN building. The 3355 shop has a big sign on top and is right by the path about 2 minutes in so it's easy to spot.

The rental shop is located at the basement level. Give your name and voucher code/booking platform to the staff and you can get started right away.

There are three different hanbok package from A to C, which has different style of Hanbok. It's worth browsing a little online before you decide. We had gone with A, and the staffs are friendly and helped us pick out one we'd like.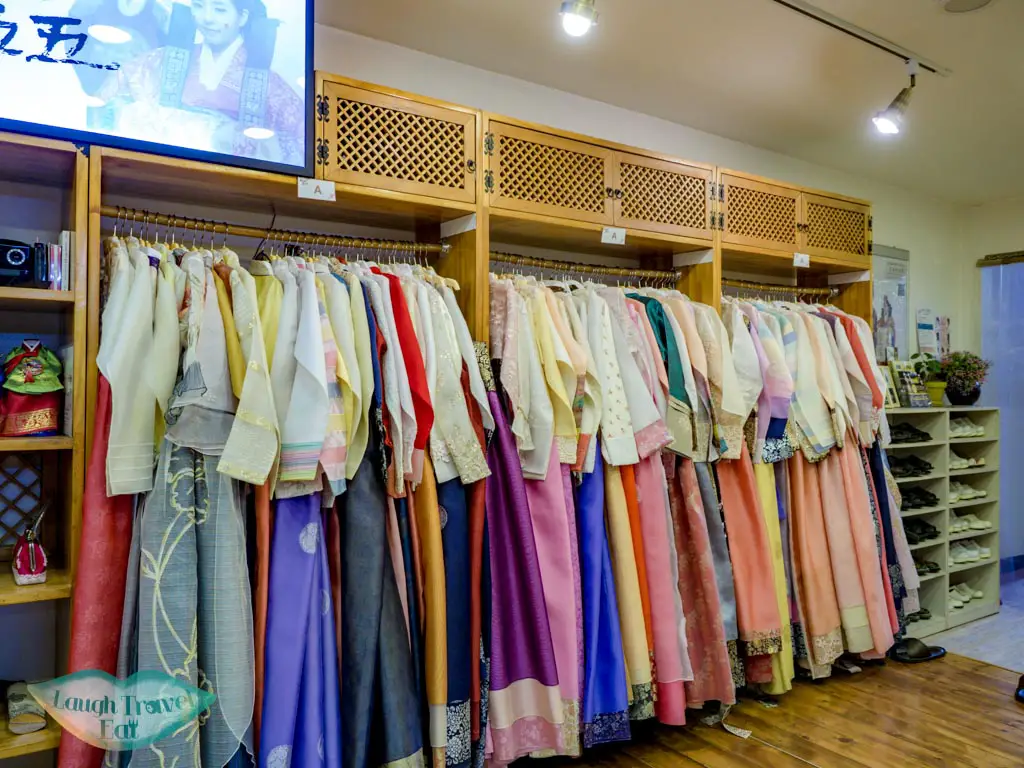 You can mix and match the Jeogori and Chima, and the lengths are adjustable for the most part. There are more traditional styles to more flamboyant ones with laces and silver motifs, but for the most part most are still more authentic, which is a plus. Once you've picked your hanbok of choice, it's time to wear it.
Wearing Hanbok
While the traditional Hanbok involves 7 layers, there's only two. As it is winter, we wore thermal ourselves but also a white top from the rental shop. This is to make sure that the Jeogori shows up white and not whatever colour your undershirt is.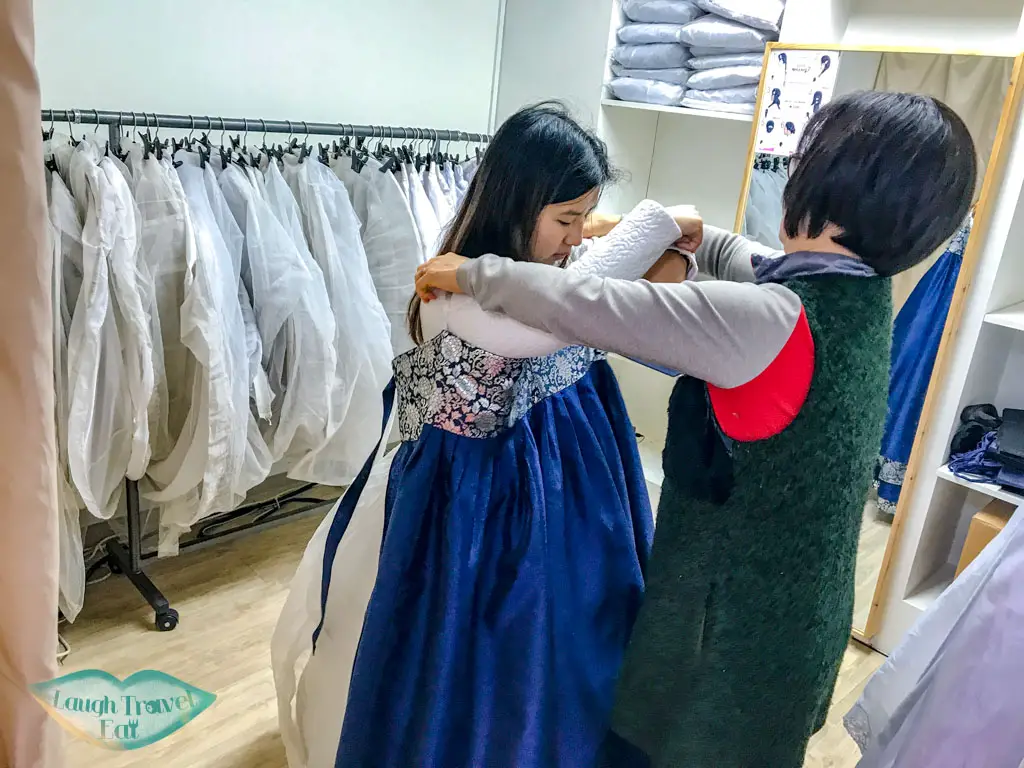 A crinoline is also wore under the chima to give the hanbok that bell shape. The chima has two spaghetti strap that can be tightened to shorten the skirt length. Mine was practically hoisted up to my armpit before I wear the Jeogori on top. That said, as someone who is barely 5 foot 2, the skirt was still a little too long and I had to be careful of tripping over myself the whole day.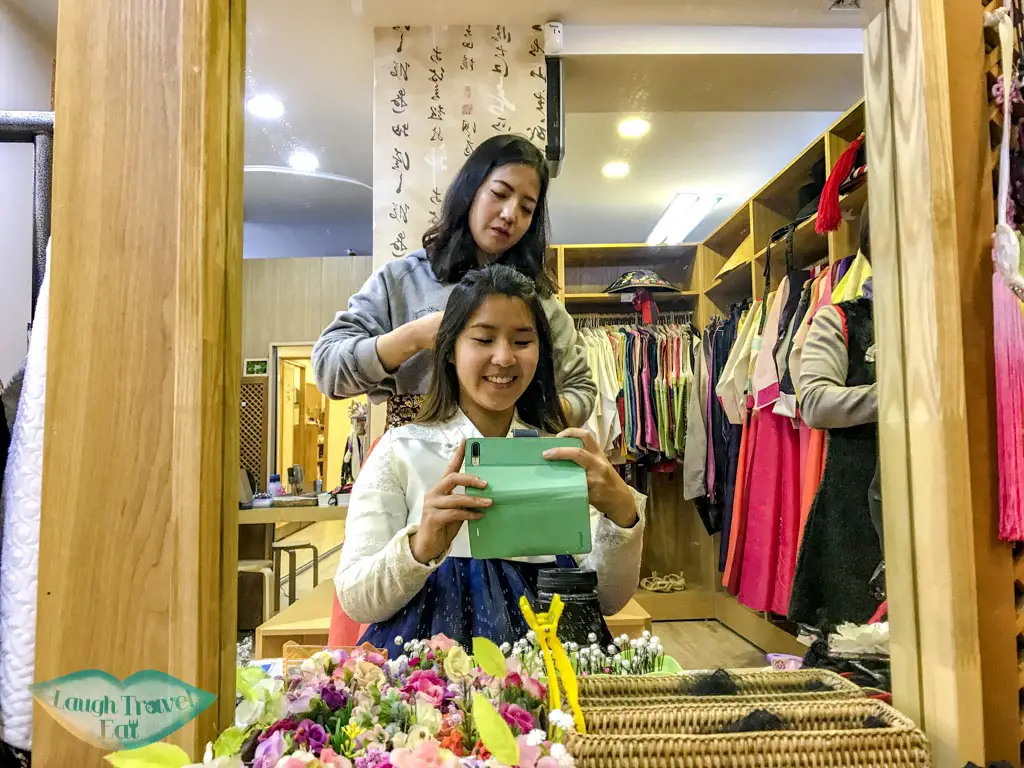 Once we are dressed, our clothes are stored in a giant black bag along and we moved onto the hair. There are also different hair-styling option. Traditionally, hair are braided into a single plait to the back, although now there are half-do options to choose from.
I opted for a side braid with a cloth tied at the end but ended up taking the forehead accessory off since it felt too much. Floral crowns are also a hair accessory option too, and most will have pearls and small flowers pinned to the hair.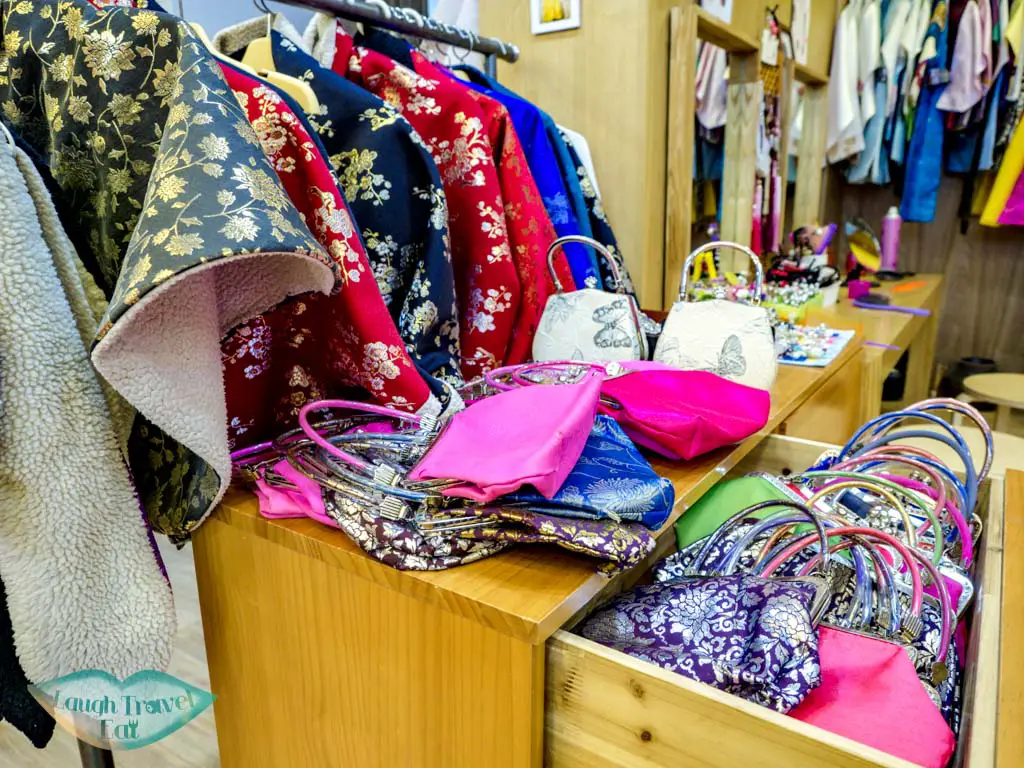 We were then free to choose a reticle or small purse of choice. Since it's winter, we also got a scarf and a wrap too to brave the cold. We did end up taking off both to take photos but it's definitely needed when just walking around.

Note: if you want to try on more than one hanbok there's an extra charge

Address: South Korea, Seoul, Jongno-gu, Samcheong-dong, 사간동 45 삼삼오오 한복
Opening times: 9:00 – 18:00 (if the hanbok is returned late there's a 10k won per hour charge)
Close Tuesday but they also have a branch in Bukchon Hanok Village nearby

What to have with you on Hanbok day out
Here's a list of what we brought along during our day around:
lip balm
gloves (winter)
money
camera with extra battery
Photo spots when wearing Hanbok
The rental place provided us with a map showcasing the best photo spots around which is surprisingly insightful. As I've mentioned, we ended up spending too much time in the Gyeongbokgung Palace, but my friend Sora is a veteran in wearing Hanbok and Seoul in general, and here's some best places to take photos in Hanbok in and within walking distance:

Gyeongbokgung Palace
Bukchon Hanok Village
Cheonggyecheon stream