Seoul is a wonderful city to visit but in winter it can be a bit harder to sight see given that the temperature can go below zero. Our five days in Seoul was packed with less sights than usual, but on the flip side, winter means less tourists and even a chance to see snow! Many of the things you can still do year round but given the cold, we did do less that we'd of it's spring or autumn. Here is what we managed to do on a 5 day winter visit to Seoul:

Arriving in Seoul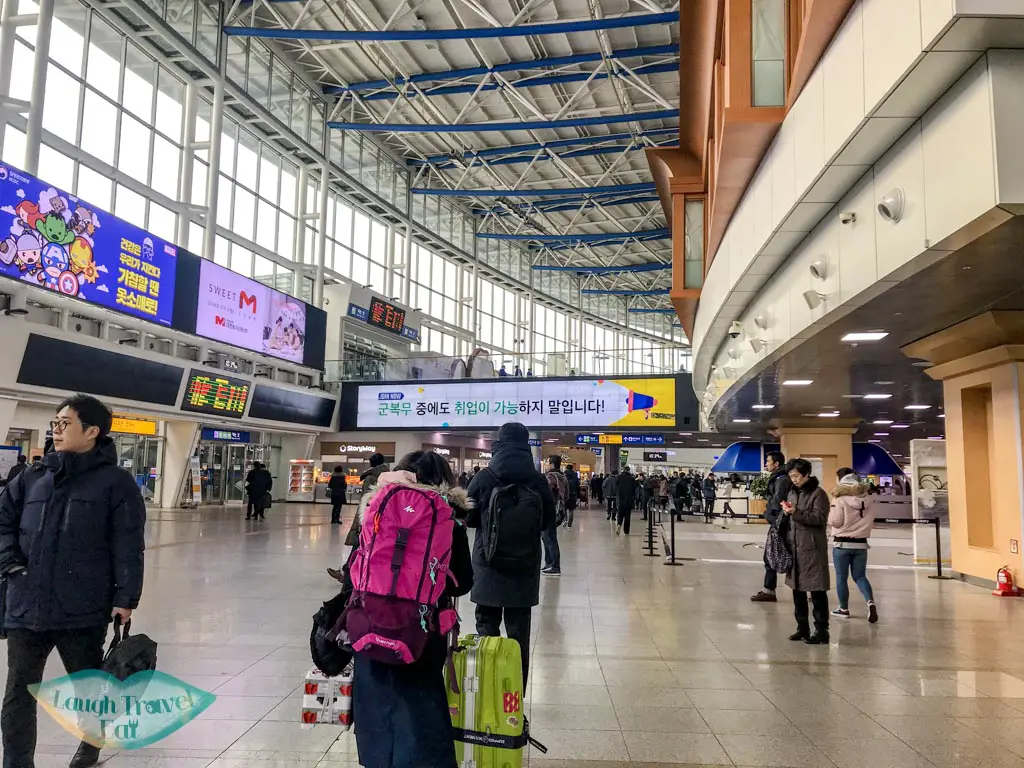 Most planes get in at the Incheon airport – which has two terminals. The fastest way to the city is the airport express to and from Seoul Station, which goes to both terminals.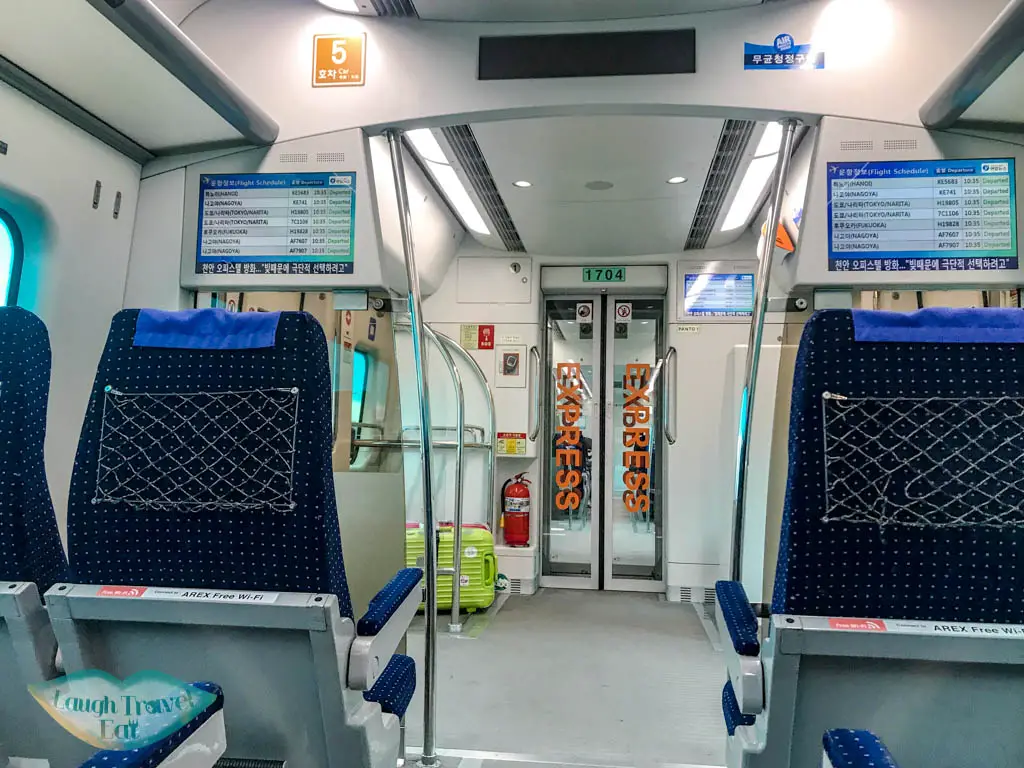 You can get the tickets online to save time or buy on spot, and train departs around every half hour. Definitely check the time table to ensure you won't be late to the airport.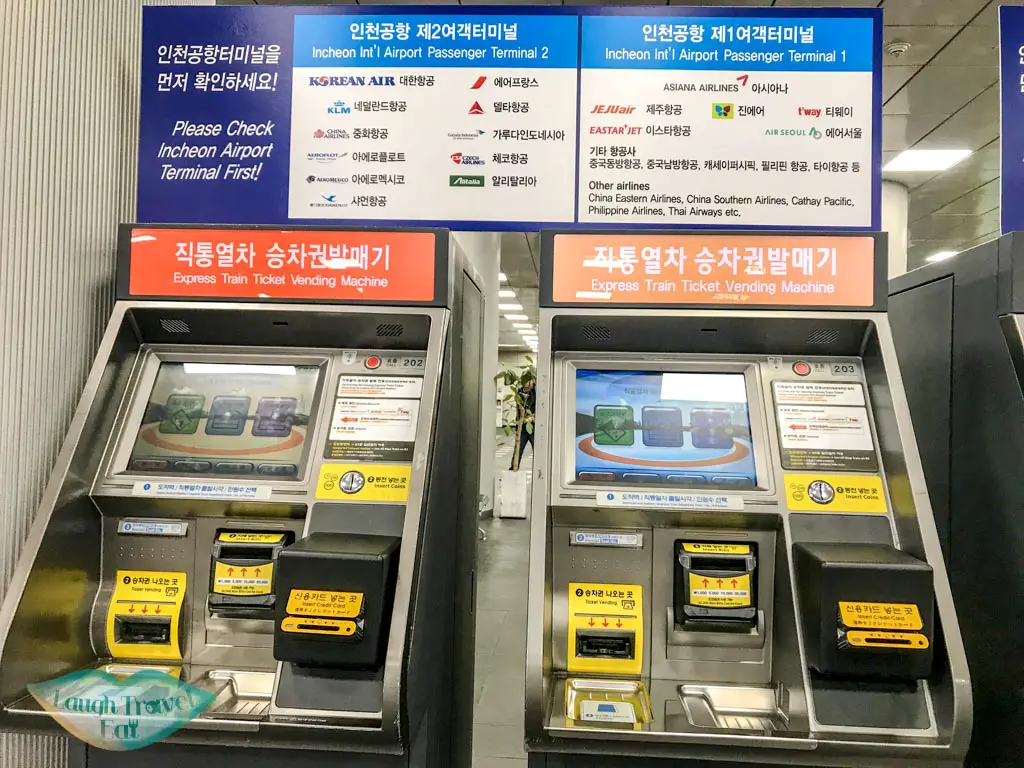 I booked my ticket on Klook and redeemed the ticket at the machine with the voucher number.
You'll also need 500 won (coins and notes both accepted and change can be given) as a deposit for the ticket, which can be returned once it's returned to a machine on arrival.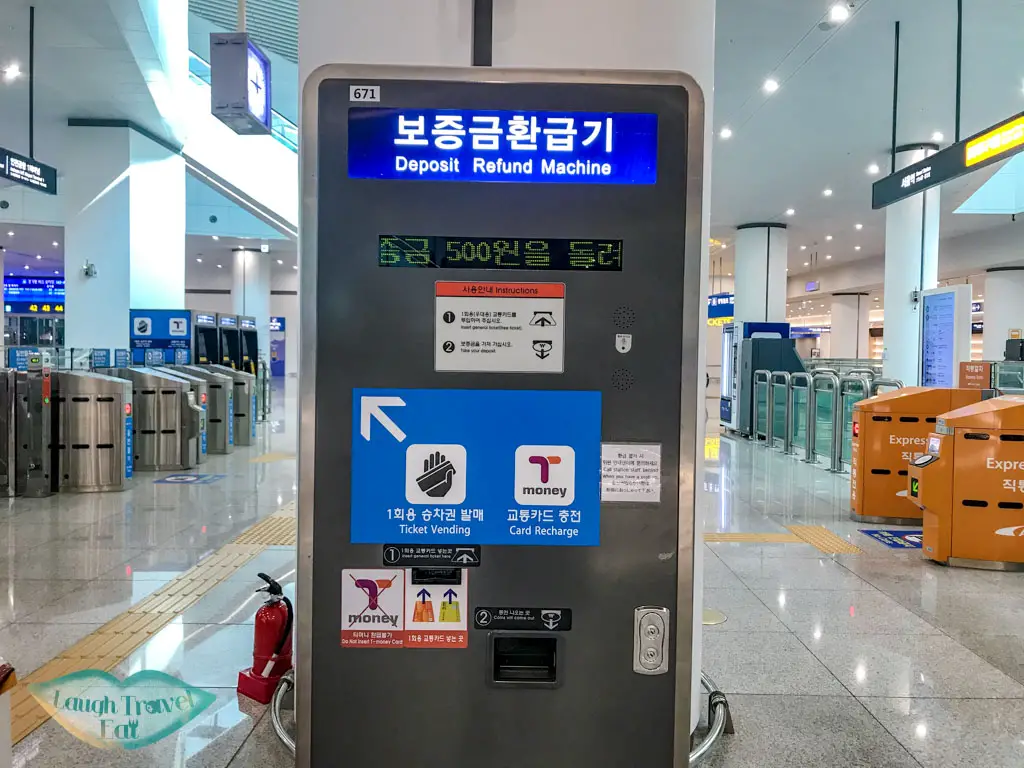 The two terminals are half an hour's journey apart so definitely check before you buy your tickets.

WiFi or data in Seoul
A lot of shopping malls and shops have free WiFi, but it's best to stay connected since most things are in Korean and we couldn't have got around without using Kakao Map.
Getting around Seoul
The major transportation in Seoul is the metro or the bus, but a lot of major sights are within walking distance of each other. Interestingly, google map doesn't work that well in South Korea and locals tend to use Kakao Map. I'd definitely recommend downloading it as it gives very clear instruction for public transport – although mostly in Korean.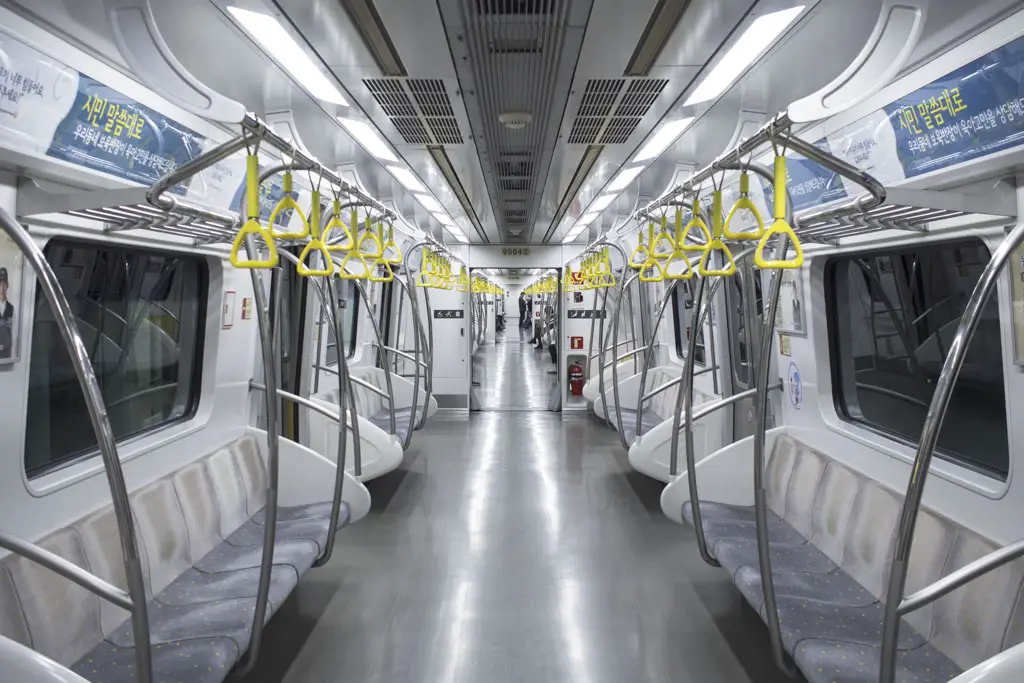 Photo by Adam Chang on Unsplash
To get around, it's best to get a T money card which can be used on any public transport. They are available in stations or convenience store and costs around 4K won to buy. You can also top up in a convenience store or at any of the machines in the stations.
Within the city center, a ride generally costs 1,125 won and is deducted upon entering, which is a little different to my usual experience. But you also need to swipe your card on exit and if you have travelled further than the originally deducted fare, the extra charge will show and be taken off.
The same goes for buses, so definitely remember to swipe on and off.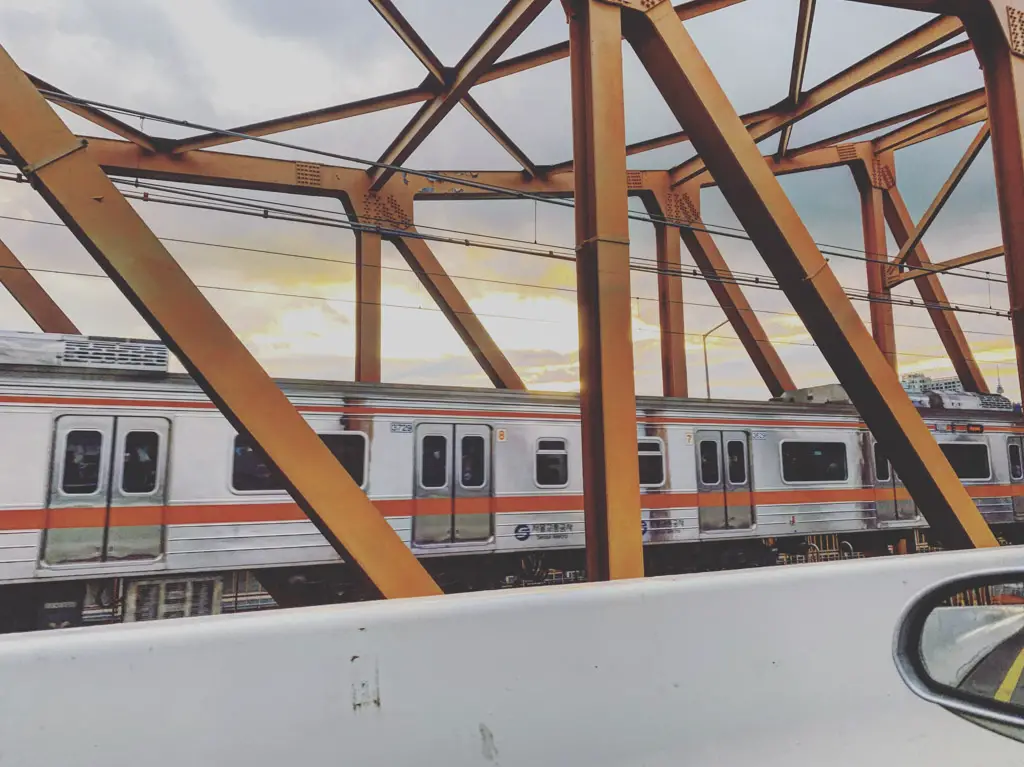 Photo by hoyoung hwang on Unsplash
Another thing to note is that a fair number of metro stations have different entrances for different directions of the line, and it's important to enter the right one since you cannot get across once inside without exiting. And you'll be charged if you do that!
Currency Exchange in Seoul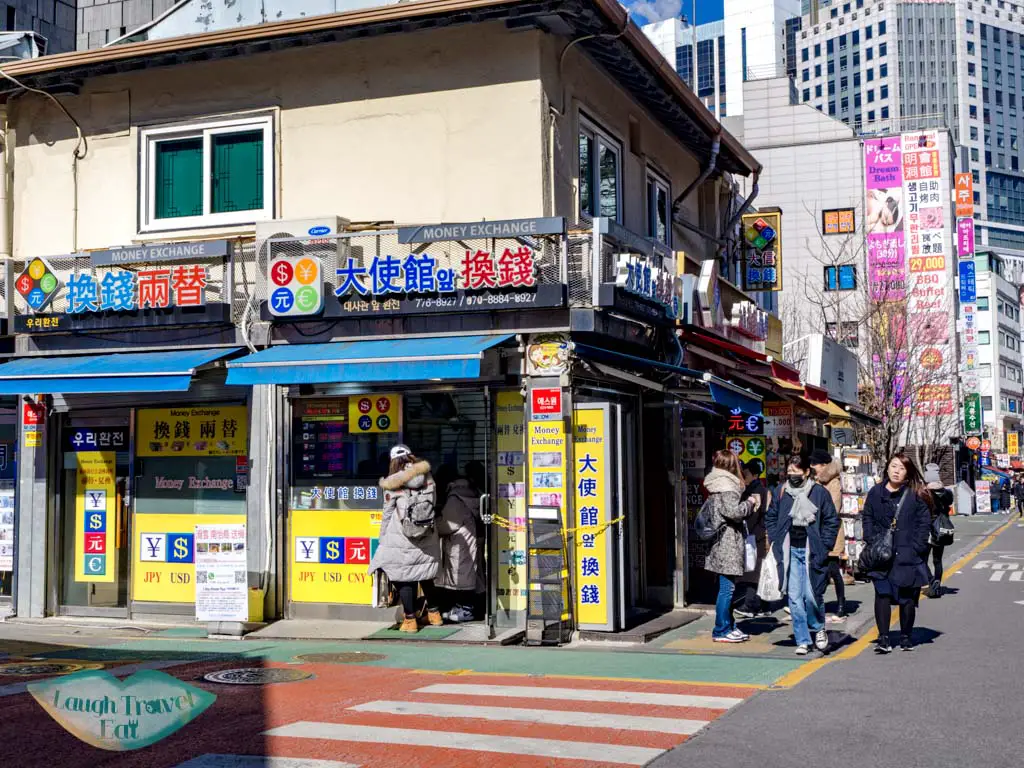 The best place to exchange your money for the best bucks is in Myeongdong. Almost all of the shops exchange money at the same rate, although if you are exchanging anything less than 100 USD chances are the rate will be reduced. More often than not, it amounts to very little difference so it doesn't matter. In the end, we walked around and found one without a queue to exchange.

Seoul itinerary 5 days winter
Day 1 itinerary in Seoul
Myeongdong shopping and explore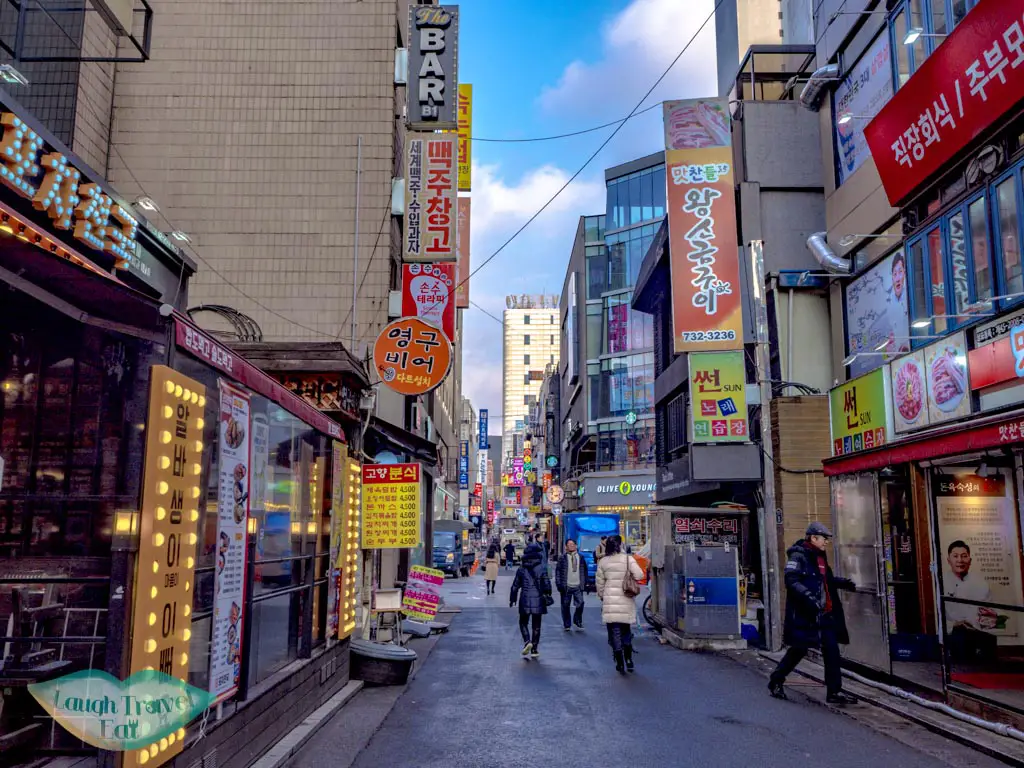 The best place to go shopping in Seoul is arguably Myeongdong! Many shops have a flagship store here and it's super easy to simply spend the entire day browsing and spending money in the connected streets. Here are some notable shops and things to buy:

Shinsegae Duty Free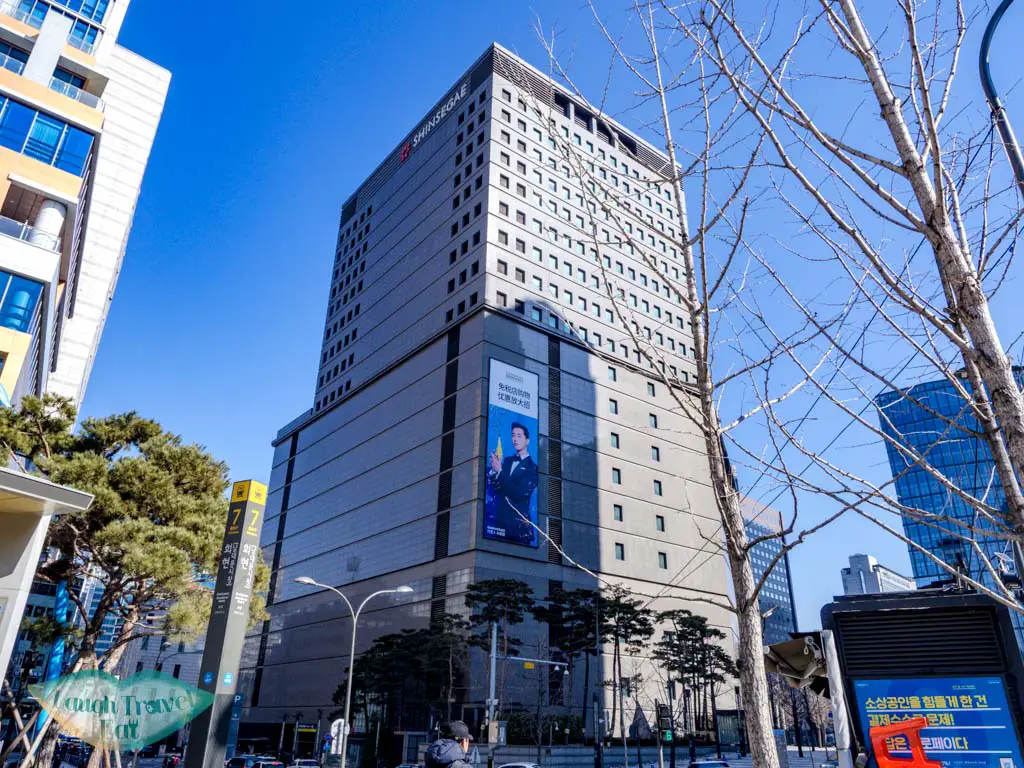 With 4 floors of dedicated Duty-Free goods in their department store, Shinsegae is the best place to go for one stop shopping for skincare and makeup with best deals.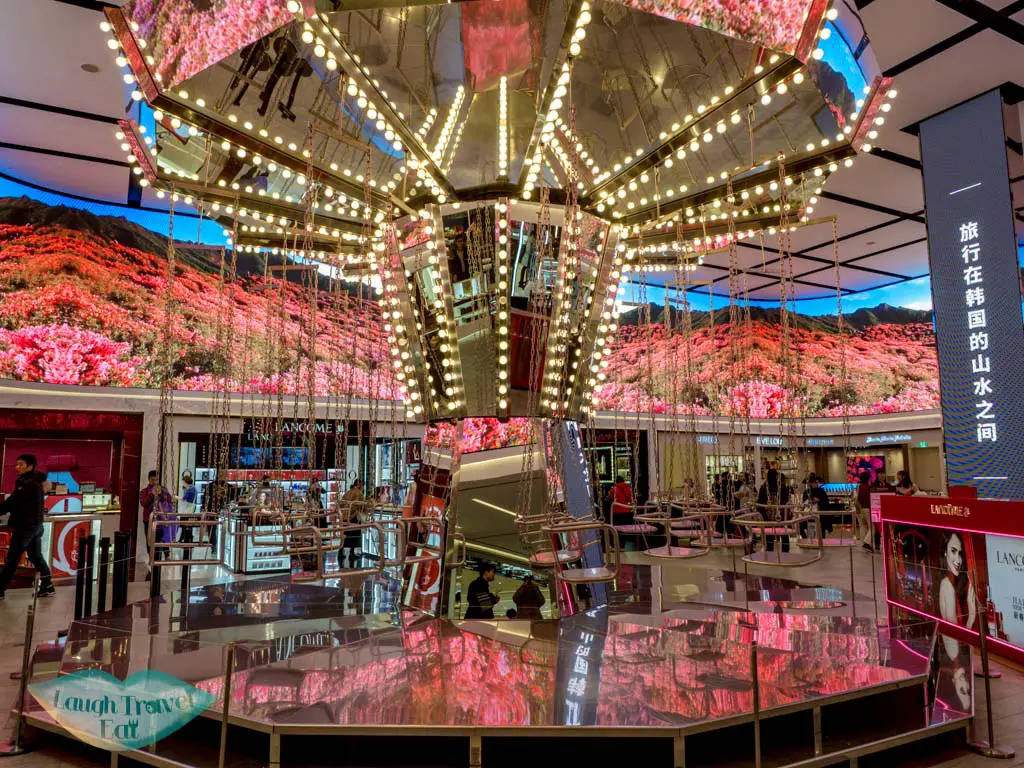 I basically bought all of those there at the Korean brand corner on the 11th floor. There was a discount for Innisfree if I bought in 3s and I also made a stop at 3CE and Orchid Skin. It saves the trouble of doing tax returns myself and making sure I bought enough in a single shop.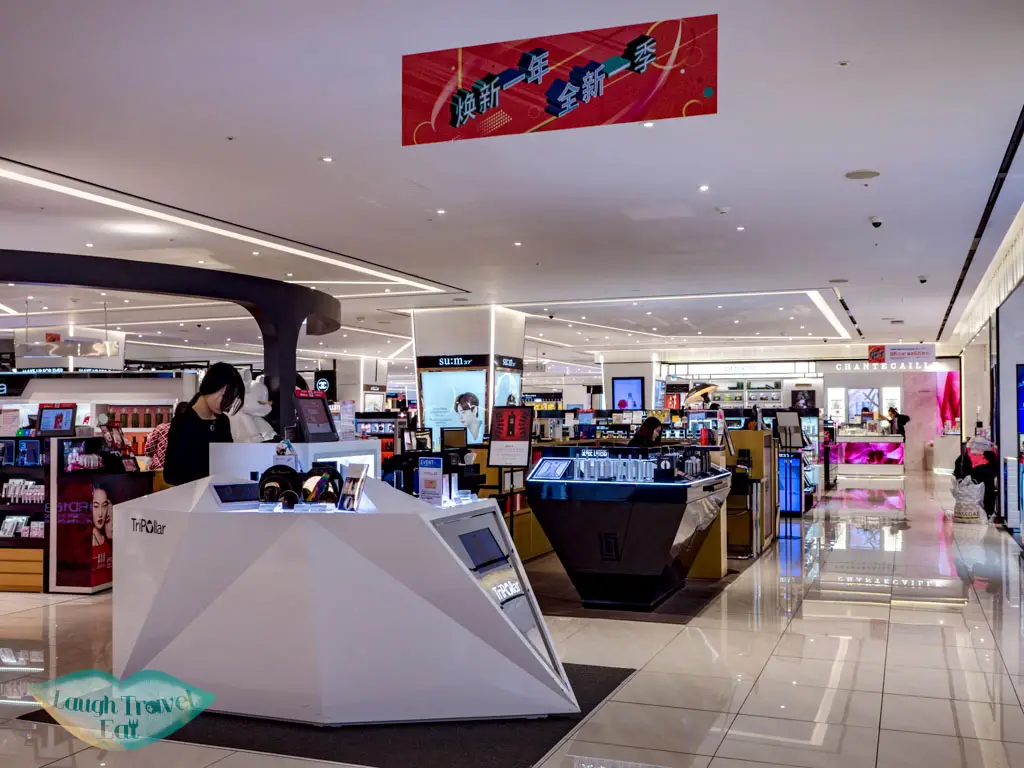 You'll need to have your passport and outbound flight number ready when making your purchase. It is also popular for Chinese tourists but fortunately, they mostly cluster around international brands.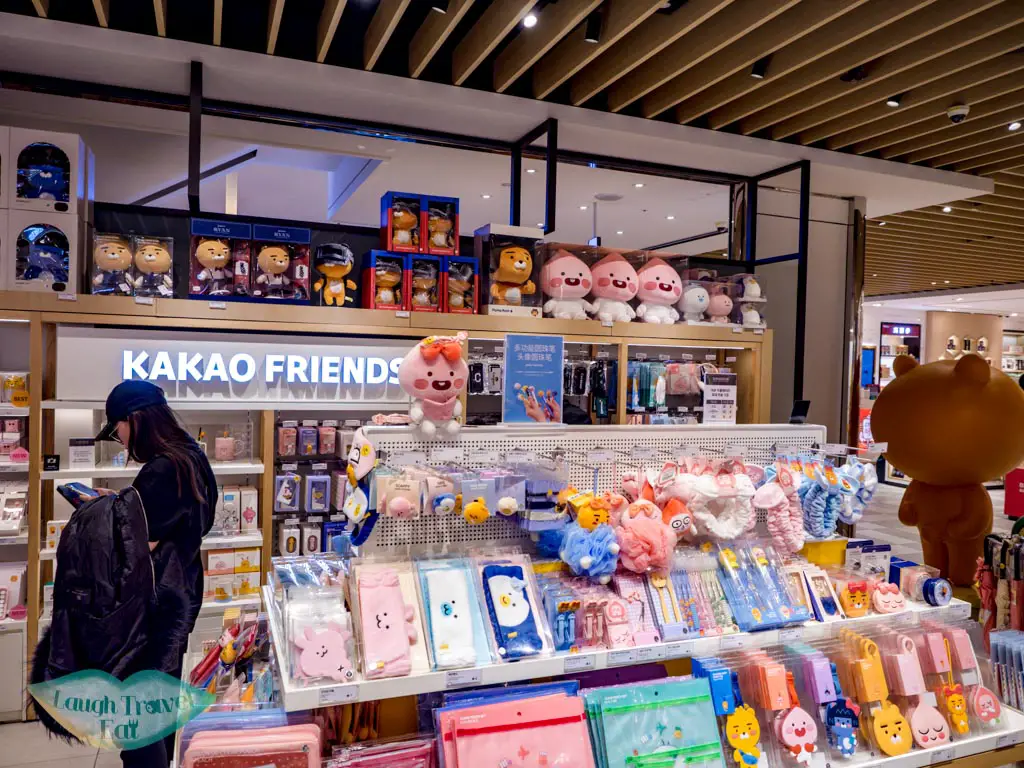 Do note that some international brands require you to pick up purchases at the airport. I bought something from MAC and had to retrieve it at the airport.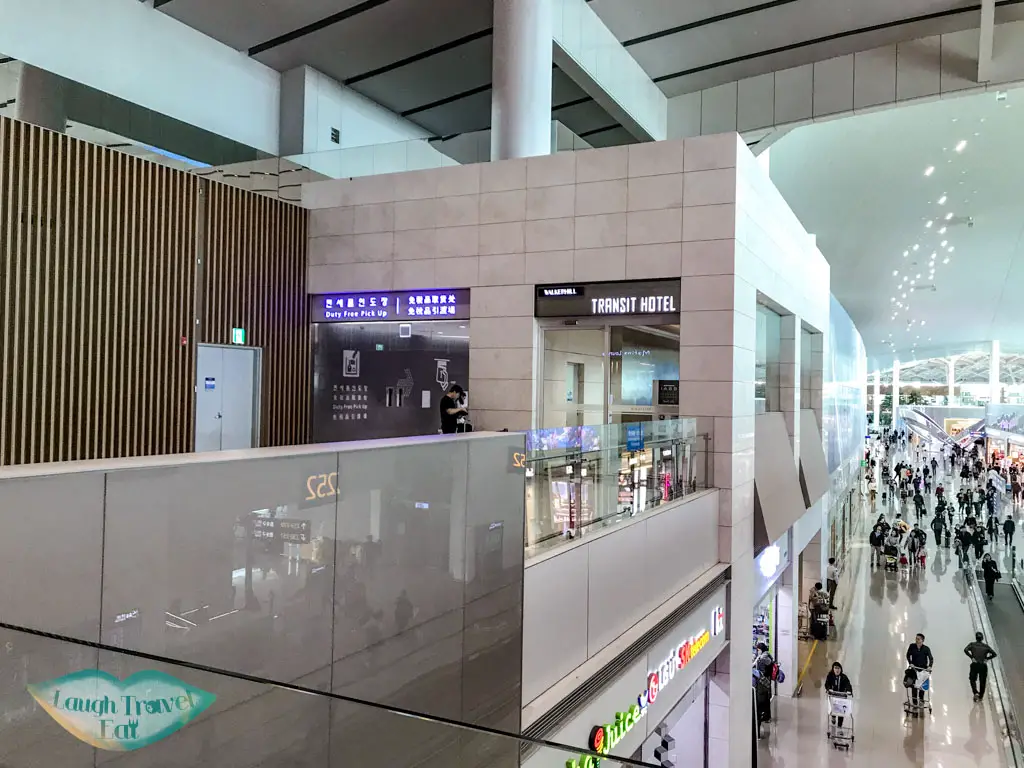 They'll give you the receipt and a leaflet at the pickup location. Interestingly, my was in Korean but I figured out in the end that the pick-up is Not the shop itself. For terminal 2, it's near gate 252 on the second floor. You scan the receipt at a machine by the front and wait for your number to pick it up.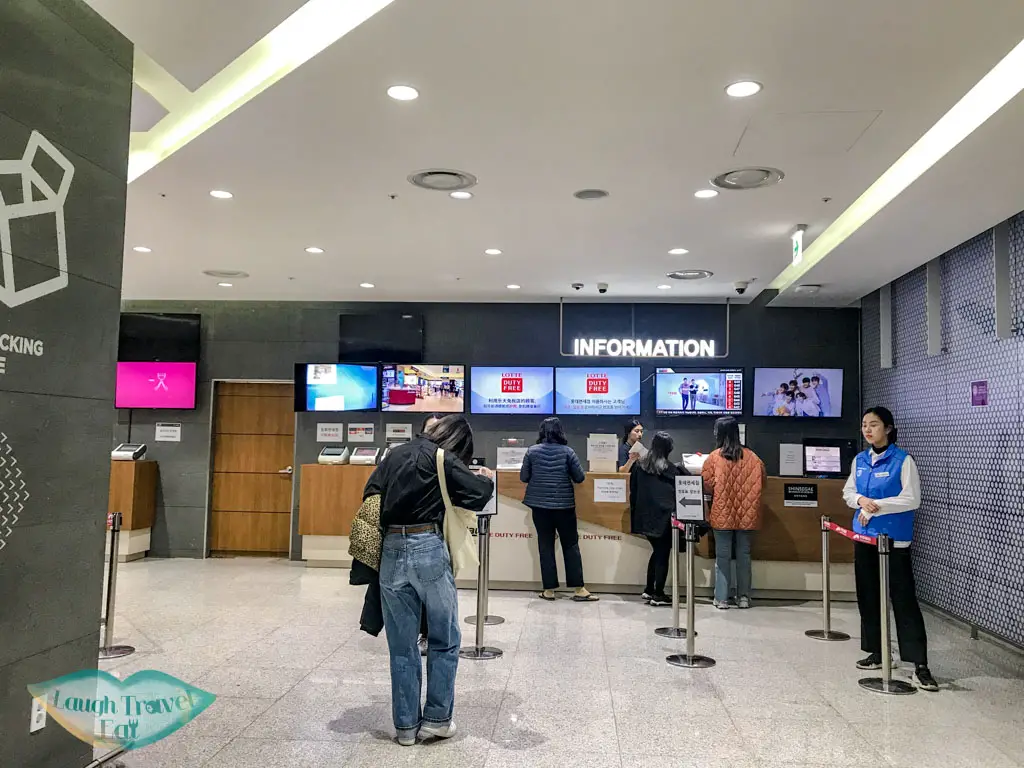 Note: if you are looking for a specific colour or line of makeup it doesn't always carry it so it's best to check with the staff.

Address: 77 Toegye-ro, Chungmuro 1(il)-ga, Jung-gu, Seoul, South Korea
Opening times: 10:30 – 20:30

Olive Young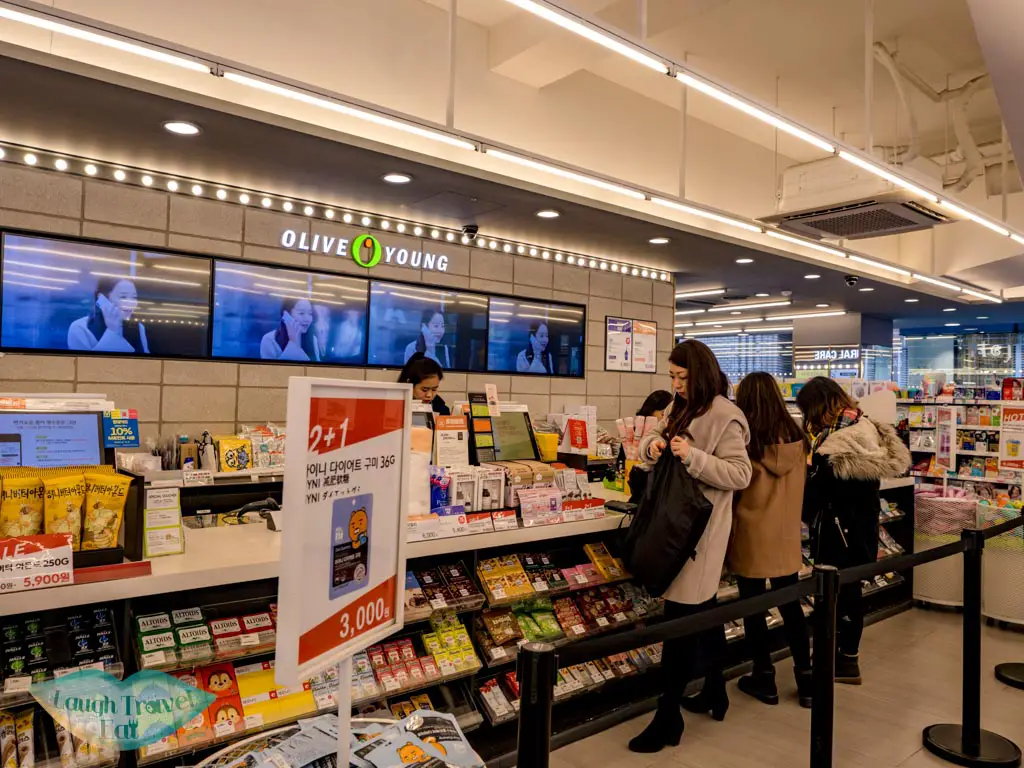 The chain drugstore in Korea, Olive Young is equivalent to Watson's in Hong Kong and Boots in the UK. You can get masks, makeups here too that are great as souvenirs or self use. They have shops throughout the city and we walked past at least 4 on our stroll.

Osulloc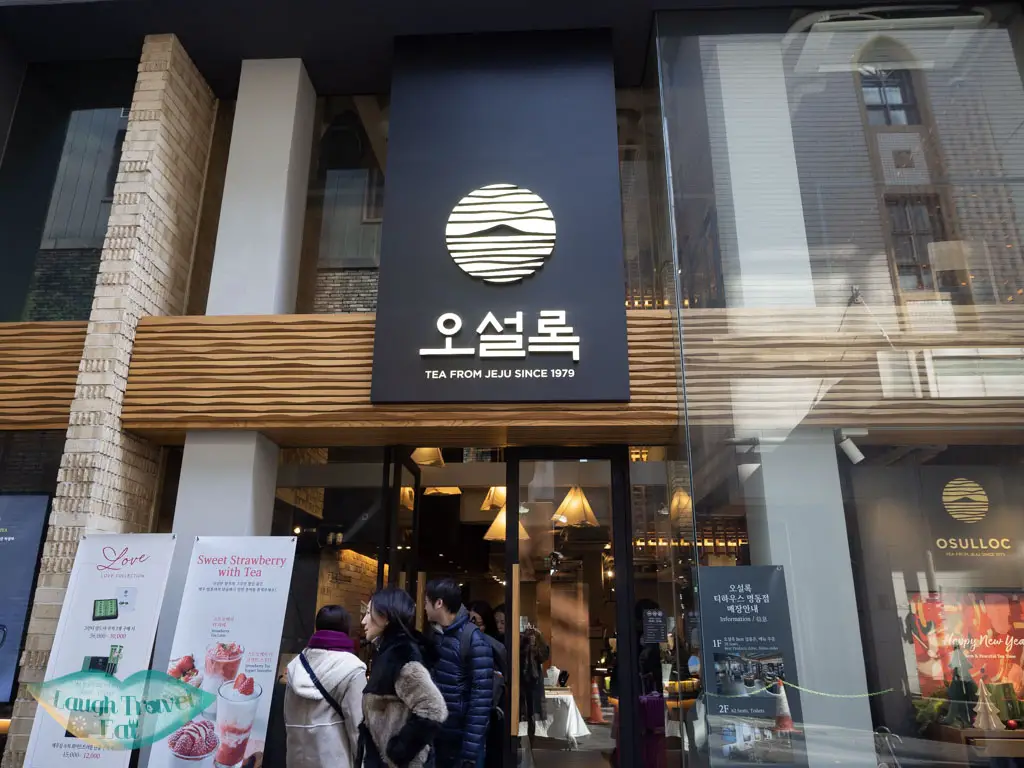 For tea fans, this is a must stop! They have a range of blended and original tea with taster teapots set up and a cafe space. All the ingredients are from Jeju and their most popular item is their wedding tea and matcha spread. Personally, I love their decor as well with the lights being dangling tea bags.

Address: 12 Myeongdong 7-gil, Myeongdong 1(il)-ga, Jung-gu, Seoul, South Korea
Opening times: 10:00 – 23:00
Socks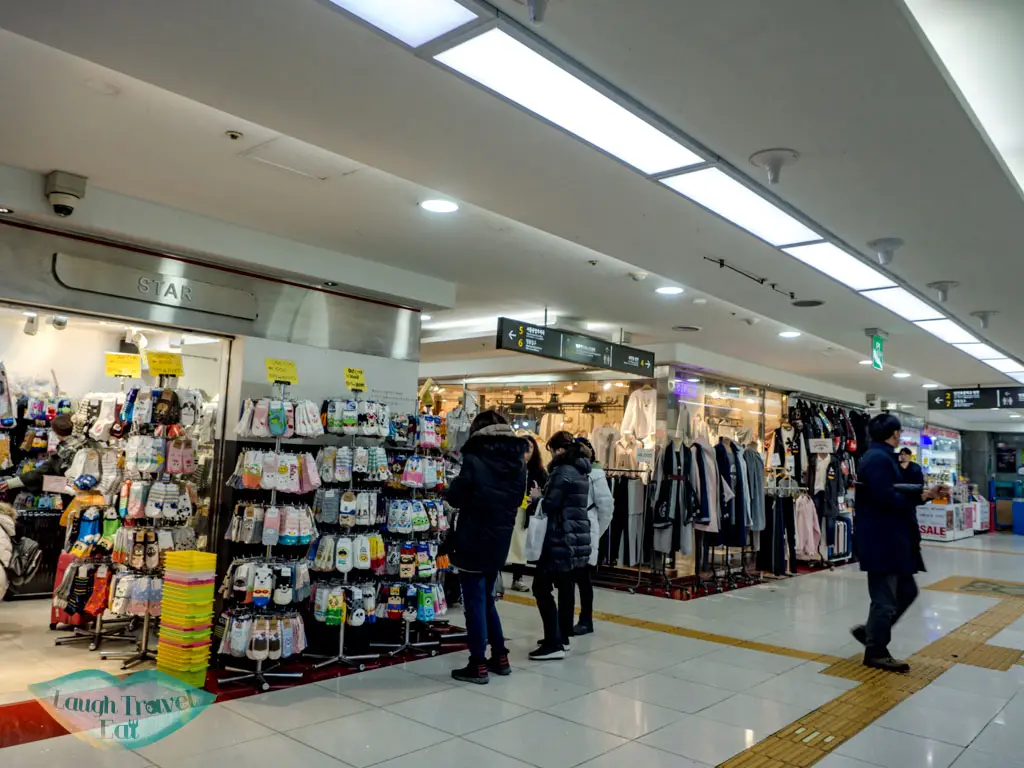 Costing 1k won a pair, socks in Myeongdong are cheap as dirt and it's buy 10 get 1 free! There are many styles and for all ages, with cute doggie prints to troll ones with Trump's face. If you don't know what souvenirs to get your none skincare or makeup obsessed friend, get them a pair of socks.

Note: we left the last day for food or snack shopping so we can get them home fresh (fruits are a must in winter!)

Lunch at YeJiSigDang 명동 예지식당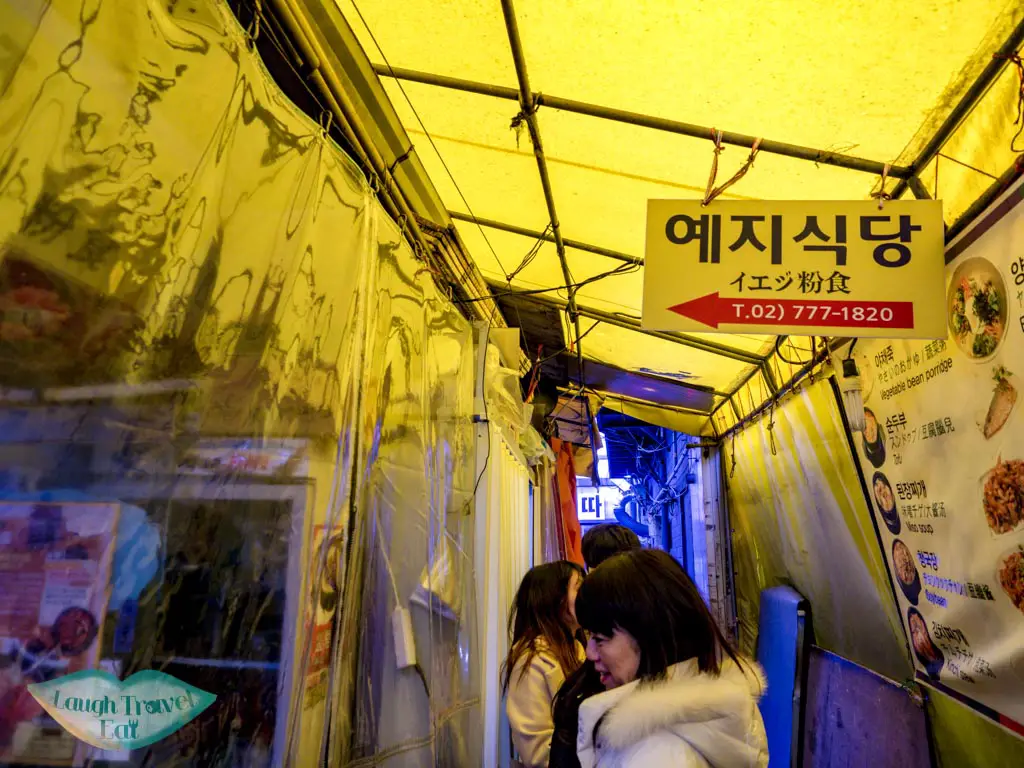 Tucked away in a hidden corner of Myeongdong down an alley, YeJiSigDang serves up some delicious soondubu (aka seafood soup with tofu). The restaurant is cozy with only five tables, but luckily the chairs double up as storage for our bags and coats. With an average dish costing around 8k won, this is another value for money meal choice! They also serve each table some quintessential small dishes, with the regular kimchi, beansprouts but also Korean egg rolls!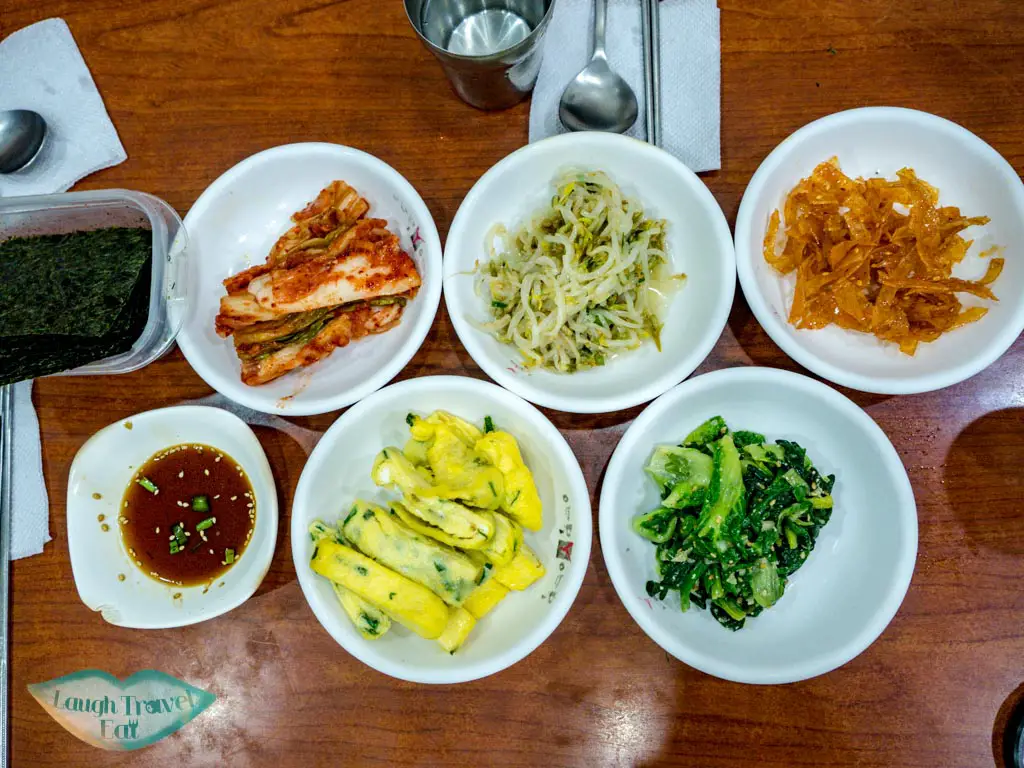 Despite being hidden and small, they are quite popular with Japanese tourists in particular as they were featured in a food show. The owner is a friendly uncle who greets every customer warmly, something that you won't get in a big restaurant.
Address: 서울특별시 중구 명동1가 42-2
Opening times: close Sunday, 05:30-21:00

Namsan Tower
The official name for Namsan Tower is N Seoul Tower, an observation and communication tower that has become a landmark in Seoul.
Located on the Namsan Mountain, it stands at 236m and is an excellent viewpoint in the heart of Seoul. It was built in 1971, with a cable car near Myeongdong as well as trails and bus links.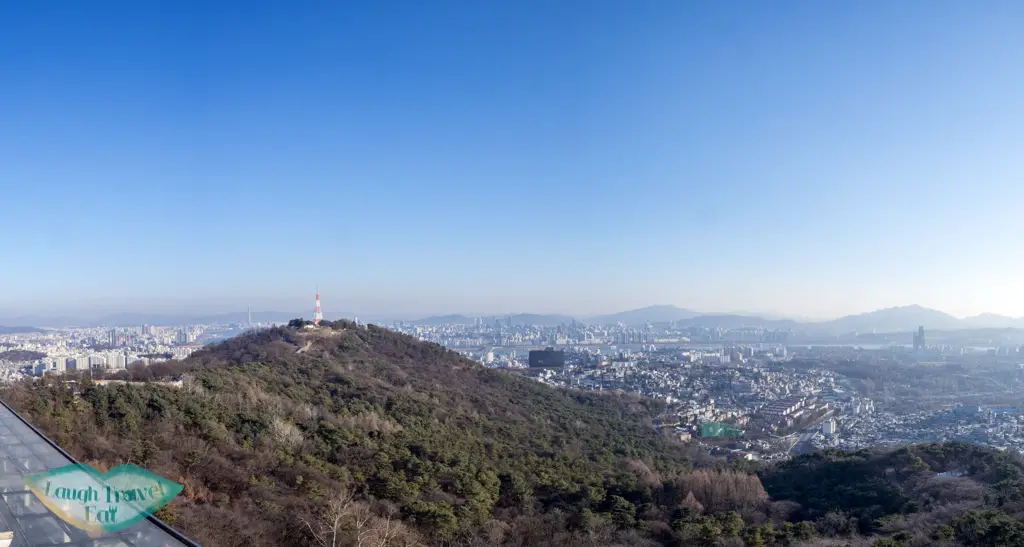 While the observation deck is the main attraction, the view from the mountain top is already amazing. Tickets can be purchase on site or online, with various other photo spots dotted around such as the heart benches and lock terrace.
It is also a popular sunset and night view spot, though we didn't manage to stay long enough up there in the cold this time!

Getting up to Namsan Tower
It is very possible to walk up to Namsan Tower from Myeongdong and the journey takes about an hour. It makes for a good walk and offers various viewpoints back towards the city or of the Tower and cable car on the way up.
There are several ways to get up, and the easiest way would be to head towards the cable car station. If you stay on the main road, you can reach the main footpath directly. However, we took a short funicular to the cable car station, then turn cross the road and head up the path a short distance to the left.
Then we go back right which leads us to the footpath up!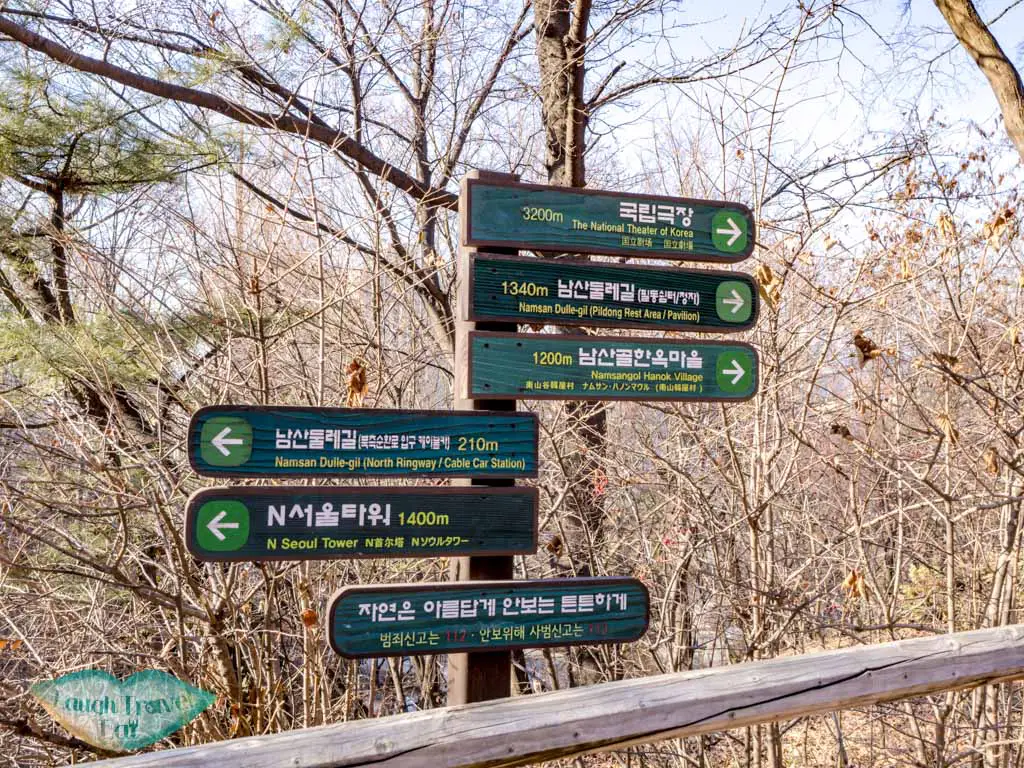 The route is well signposted and runs along a stretch of old city wall. The hike, though not long, involved a lot of stairs and took us around 45 minutes.

There is a viewing platform about ⅓ of the way up already and gives a good panorama of the north.


Strangely, google map doesn't show this trail, but it is there!
We ended up walking back down and took a fork to the left that took us to the Seoullo 7017 that leads to Seoul Station.

Seoullo 7017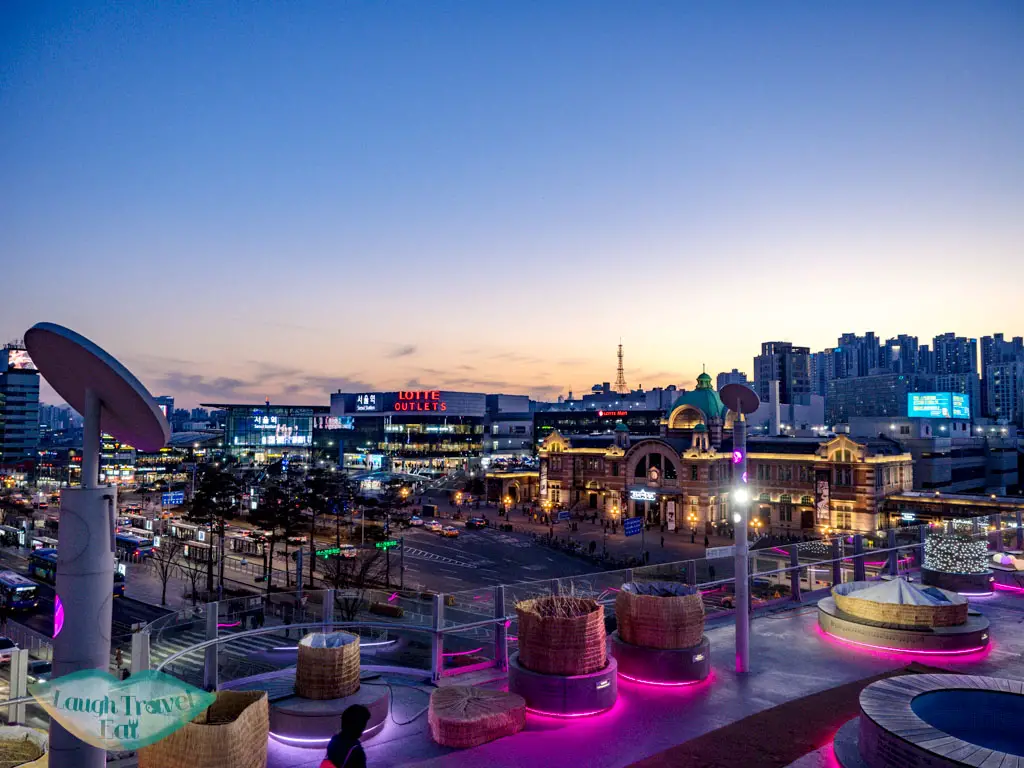 A kilometer long highway overpass turned park, Seoullo 7017 opened in 2017 as a public park. It straddles Seoul Station, branching off into three forks in the west and reaching Namdaemun to the east. We caught the sunset on the Seoullo 7017, first from the eastern end with the sun setting to the west, then dusk over the main road by Seoul Station.
They have a number of plants and art installations on the Seoullo 7017, ranging from constellations in 2D to mini-museums on railway history.
Street Eats in Namdaemun and Myeongdong
Either walk from Seoullo 7017 to Namdaemun, or take one stop from Seoul Station to Myeongdong to treat yourself to some street eats. From 2pm onwards, the streets of Myeongdong is graced by carts with billowing steam and the aroma of delicious food.
You can find the street snacks such as skewers, oreo churros as well as Korean favourites kimbap and corndogs. My personal favourite is the eggy bread and since it's winter, it's strawberry season and you can buy a box for as little as 5k won.

Drinks at Marque d'Amour
To finish off the night, we had drinks at Marque d'Amour on the top floor of L'Escape Hotel. The Parisian bar's antique decor with moody dim lighting, a classy and laid back Parisian lounge bar nestled on the top of a highrise.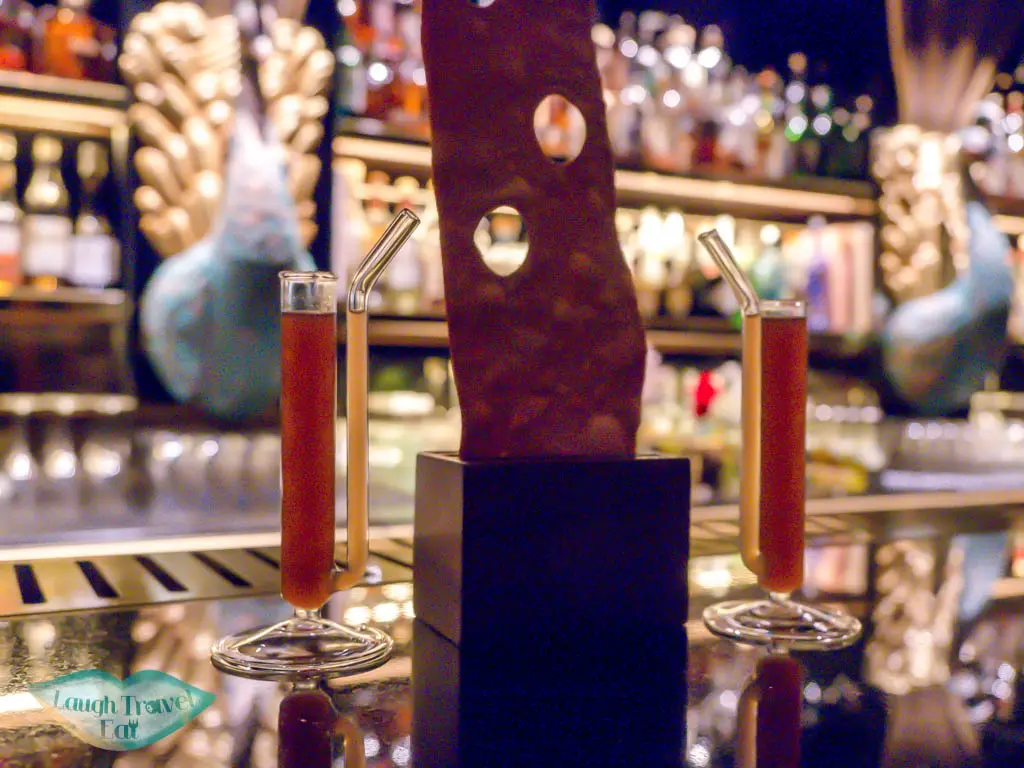 They serve both classic cocktails and innovative menu with cute graphs that tells you their fruitiness, sweetness etc. Our lovely bartender – SJ – welcomed us with a watermelon and lemon infused shot and snacks, and gave us recommendations for cocktails. Here's the menu: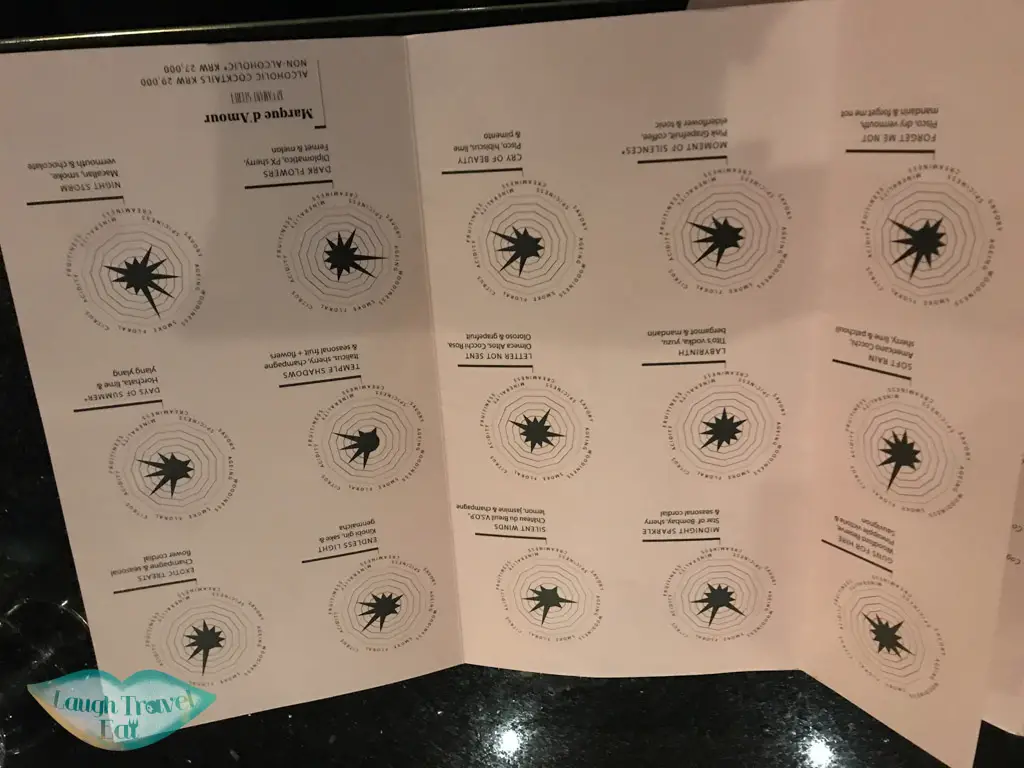 I ordered a Forget Me Not, my friend ordered an Exotic Treats.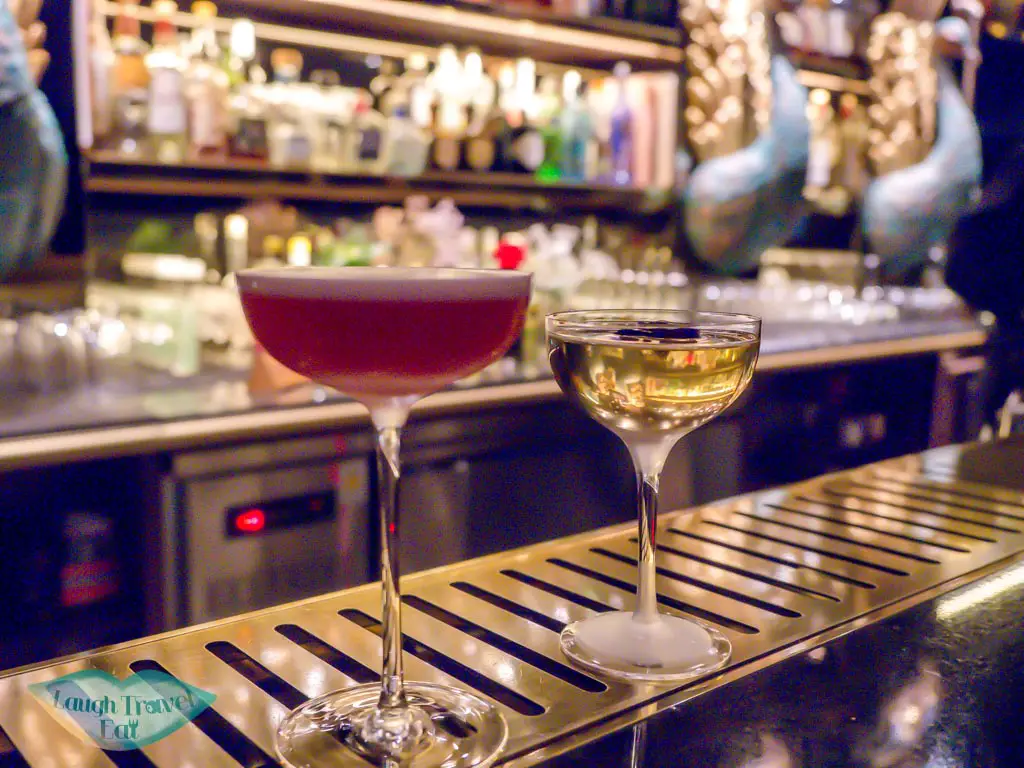 Address: L'Escape Hotel level 26
Opening times: 18:00 ~ 02:00
Day 2 itinerary in Seoul
Hanbok rental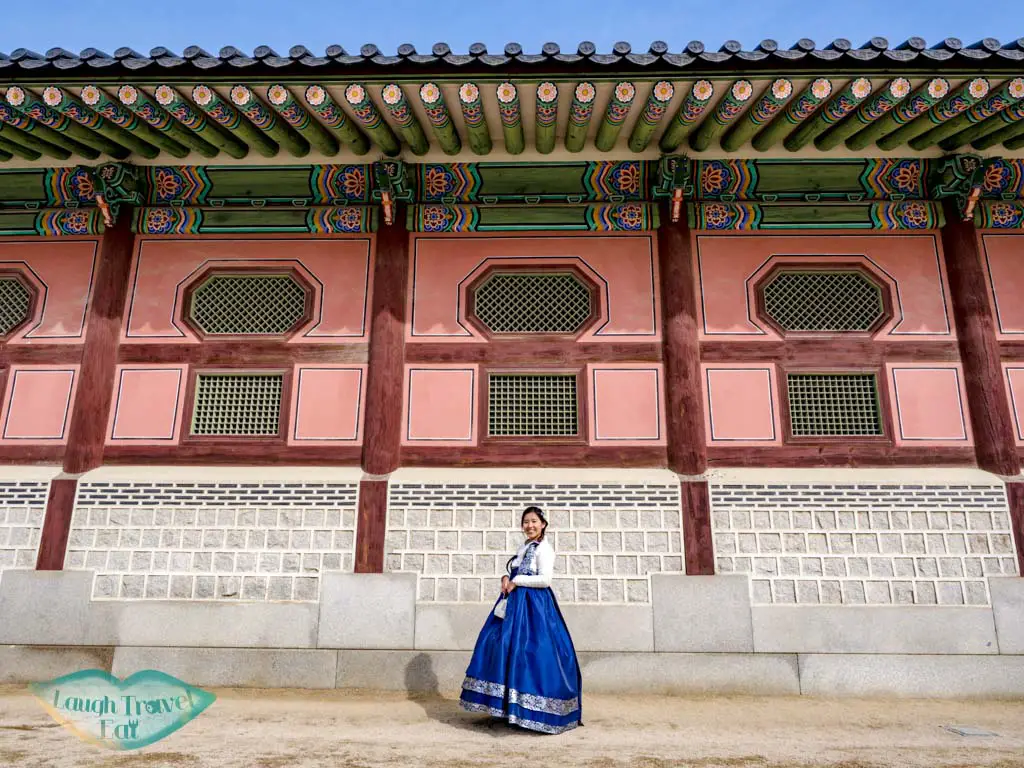 We started the day early with a 9 am appointment for Hanbok rental! We opted for a full-day rental to make sure we have enough time to take photos around the Gyeongbokgung area. I've written about our experience in a separate blog post here. As well as things to consider when choosing hanbok rental.
Gyeongbokgung
If you have to visit anywhere in Hanbok, Gyeongbokgung is a must. The Hanbok rental we chose is right next to the palace, making it a natural first stop. Fun fact: if you are wearing a hanbok, you get free entry to the palace!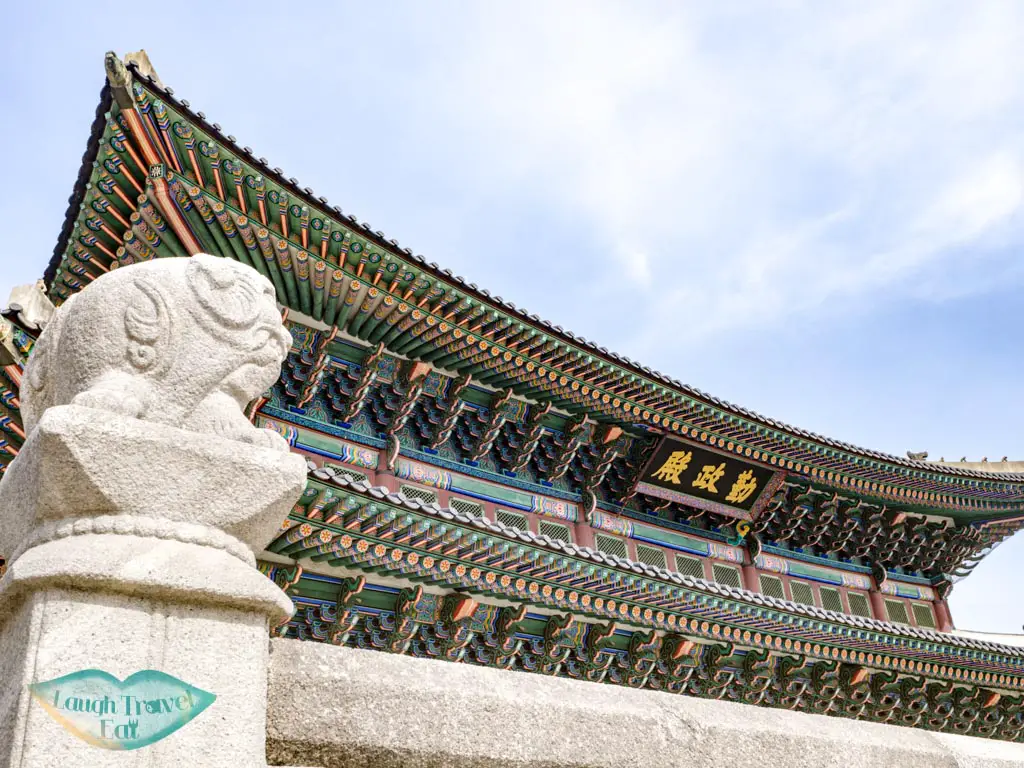 Gyeongbokgung means "Scenic Lucky Palace" and was built in the late 14th century during the start of the Joseon Dynasty. The architecture style is similar to the Forbidden Palace in Beijing and the Citadel in Hue, Vietnam, with its own twist. Most notable difference are the colourful tiles on the walls of the inner courts, the slightly different roof figurines.
Gwanghwamun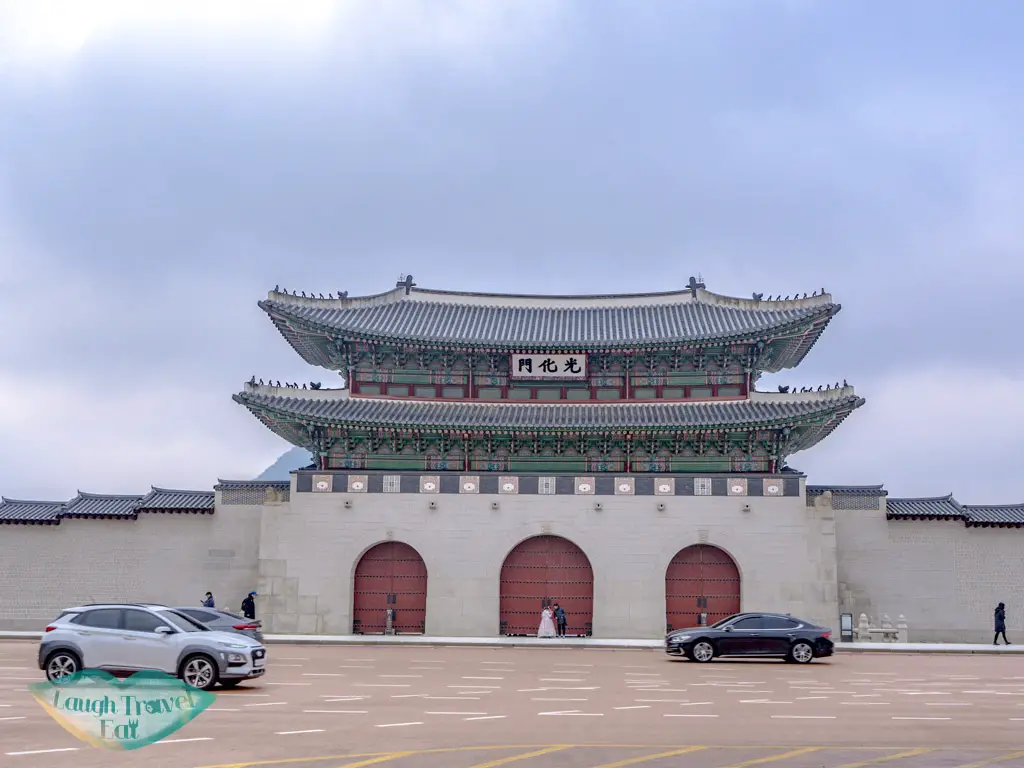 There are a few entrance but it's worth going to the front gate Gwanghwamun in the south. If you time it right, there's 6 changing of guard ceremonies there every hour on the dot starting from 10am.
The best places to take photos are in the corridors either side, which are pretty much the same throughout both sections of the outer court. We spent the longest around the first outer court, between Gwanghwamun and second inner gate.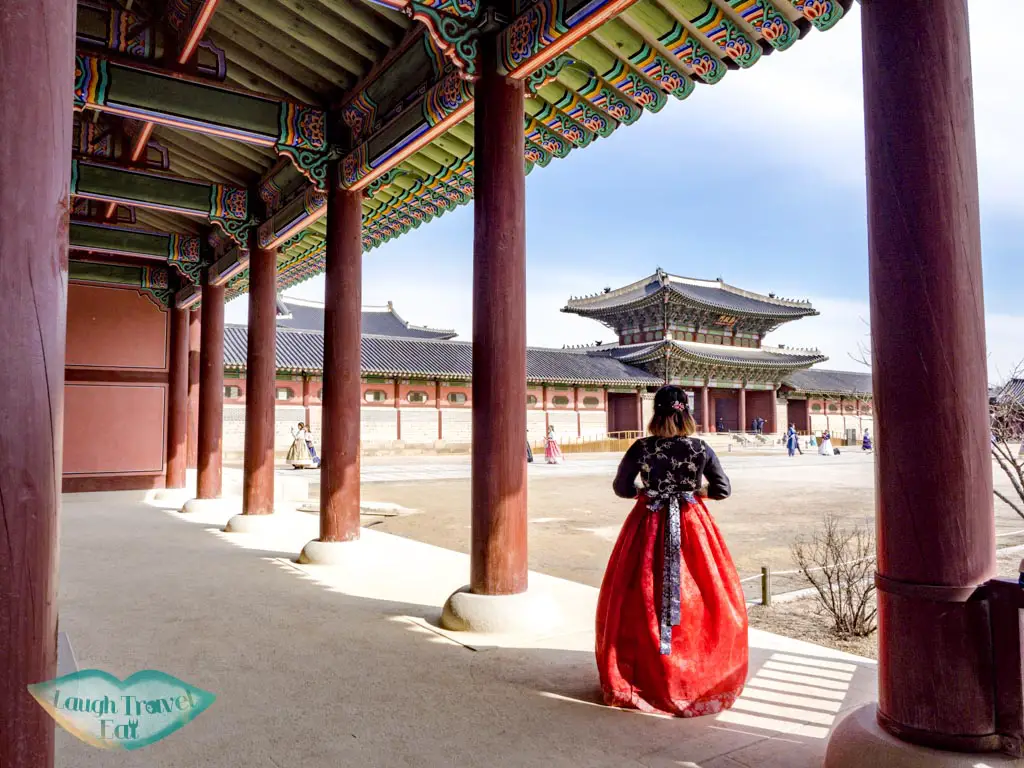 Geunjeongjeon: the main hall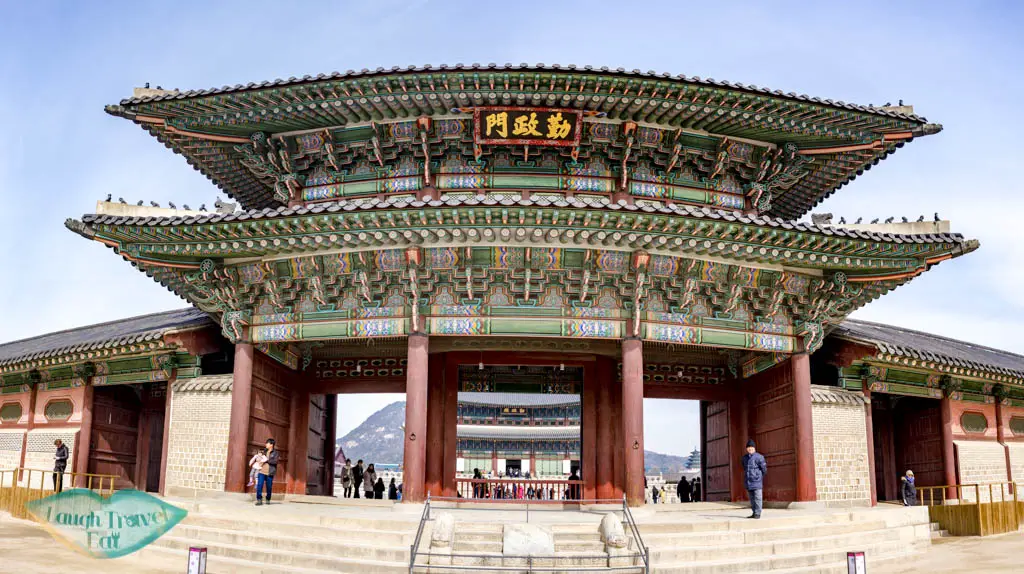 The second gate leads us to the Geunjeongjeon, which is where the king receives visitors and hold audiences. The name means 'hardworking and diligence' and the hall was rebuilt in the 16th century after it was destroyed by a fire during a war with the Japanese.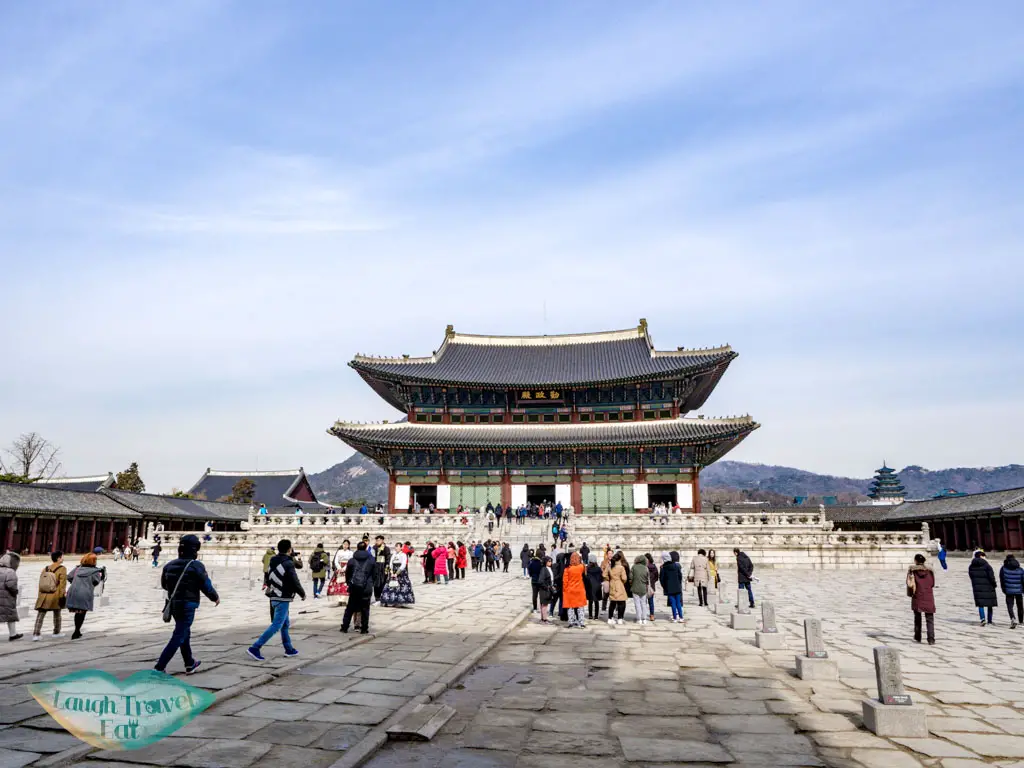 It is sat on top of a two tiered stone platform with balustrades, making it another great photospot. You can peek inside to see where the king used to sit!

Gyeonghoeru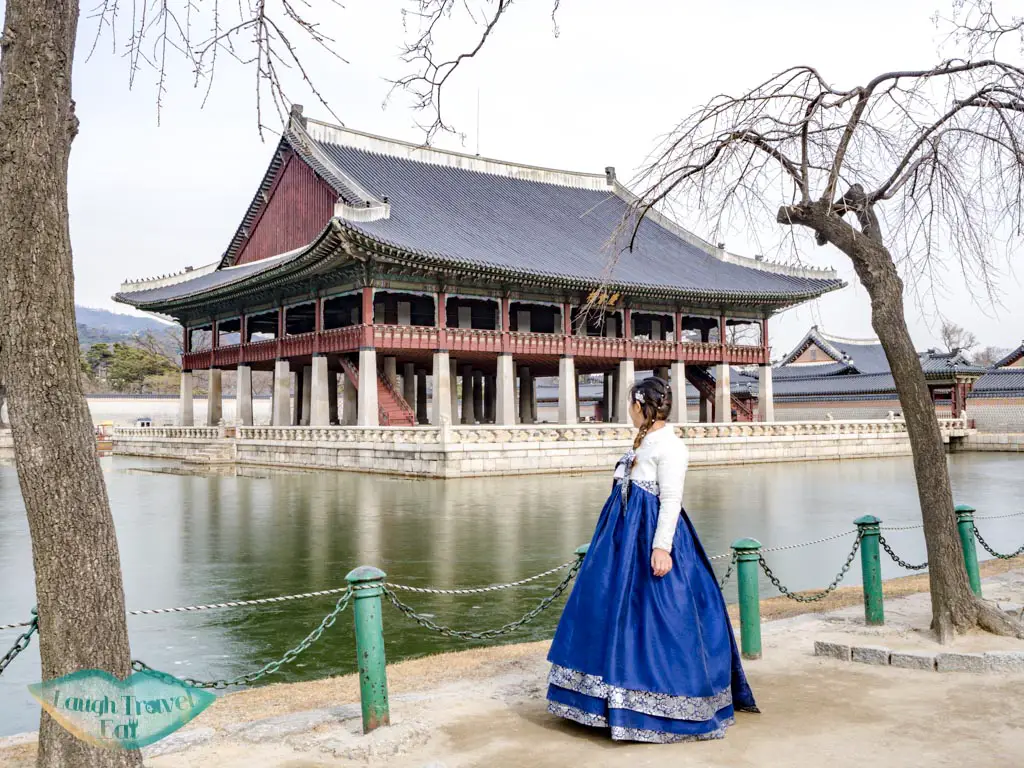 From here, you can go sideways or continue onwards to the inner courts. The Gyeonghoeru is to the left sat in the middle of a small lake. While visitors are not allowed inside, it's lovely to see the tree-lined paved path by the water. This used to be the banquet hall where important functions are held.

Inner Court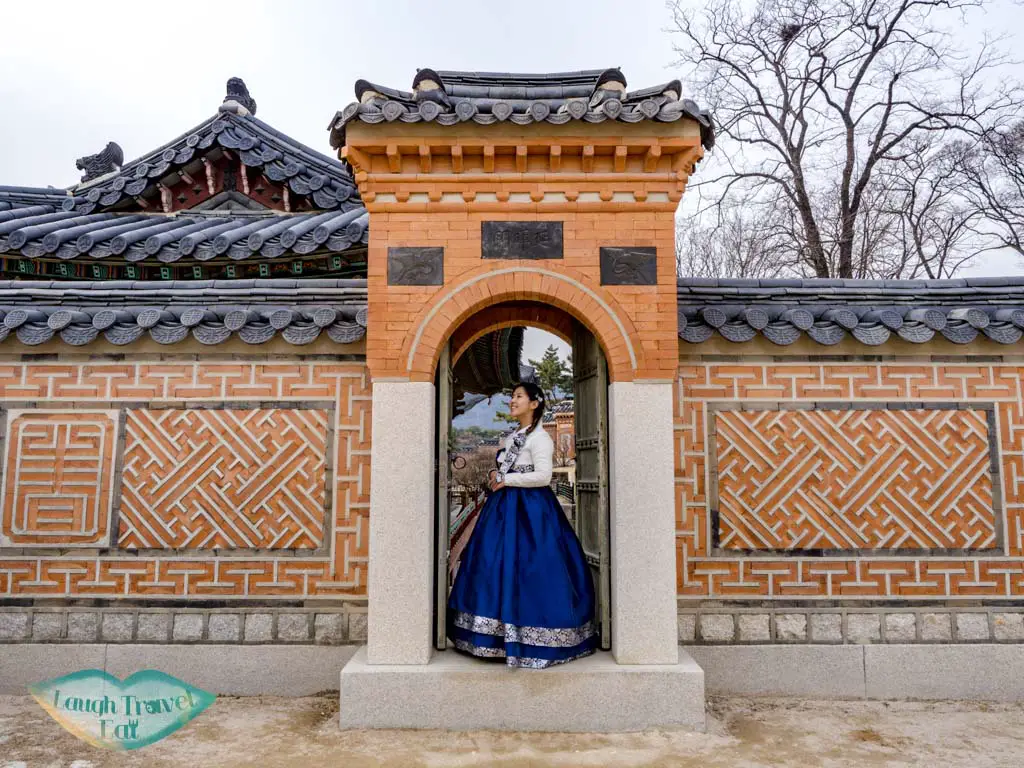 There are plenty of beautiful corners in the home of the king and his families and servants. The doorways are lower here and since it's more convoluted and spread out, it's easier to find nooks and crannies without people. The best thing to do is wander around and see where's good for photos. Here are some of the ones we took:

Samcheongdong Sujebi
Enroute to Bakchon Hanbok village, we stopped for a late lunch at Samcheongdong Sujebi. This unassuming little restaurant is Michelin recommended and popular even before the district has become attractive to tourists. They don't have an English shopfront, so here's what it looks like: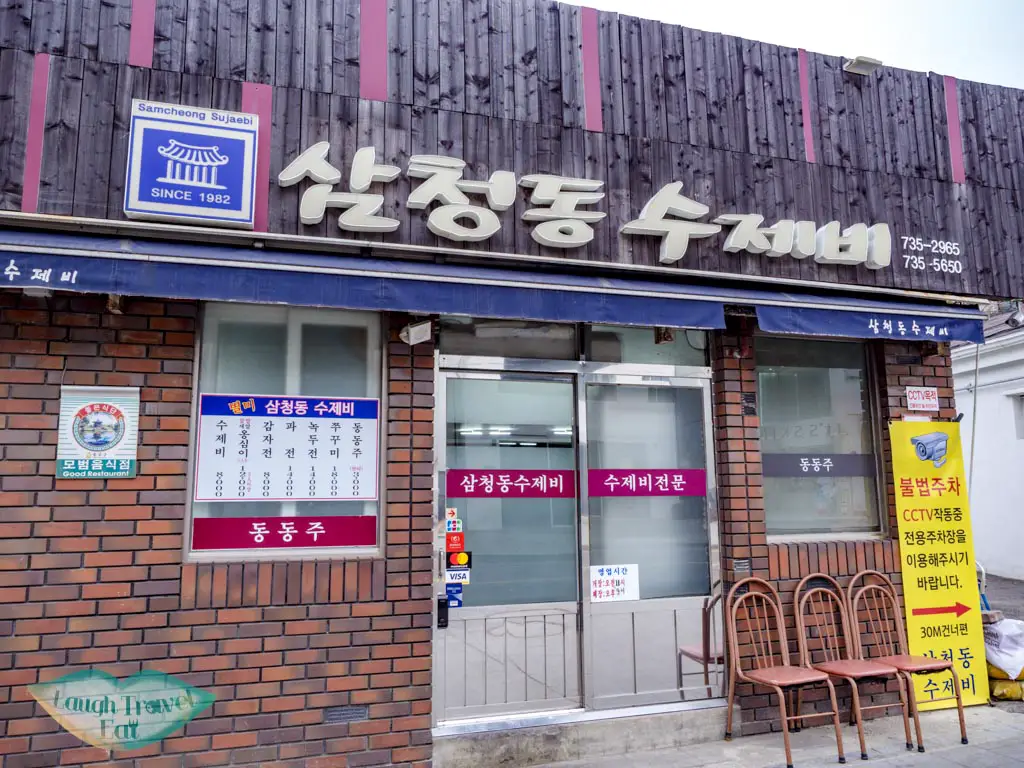 It is most famous for its noodles, which are cut by hand and more of a square shape than the usual long strands. The soup is fish based with clams, potato, and carrots as well, though the noodles itself is the main component.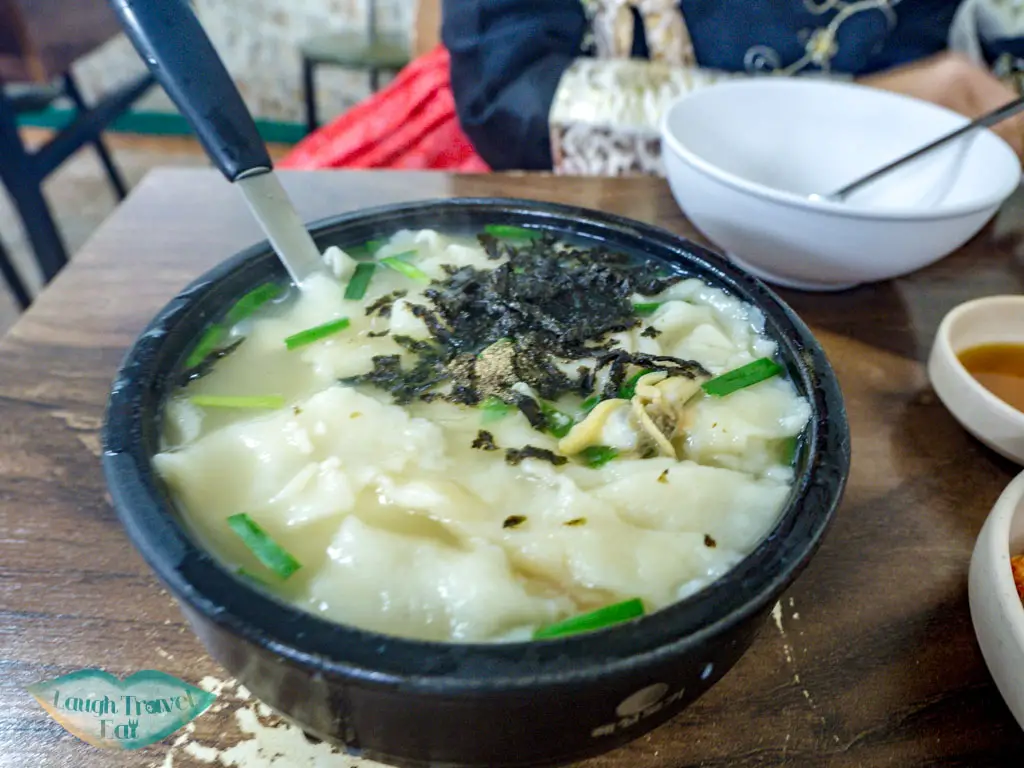 Another popular dish is their potato pancake: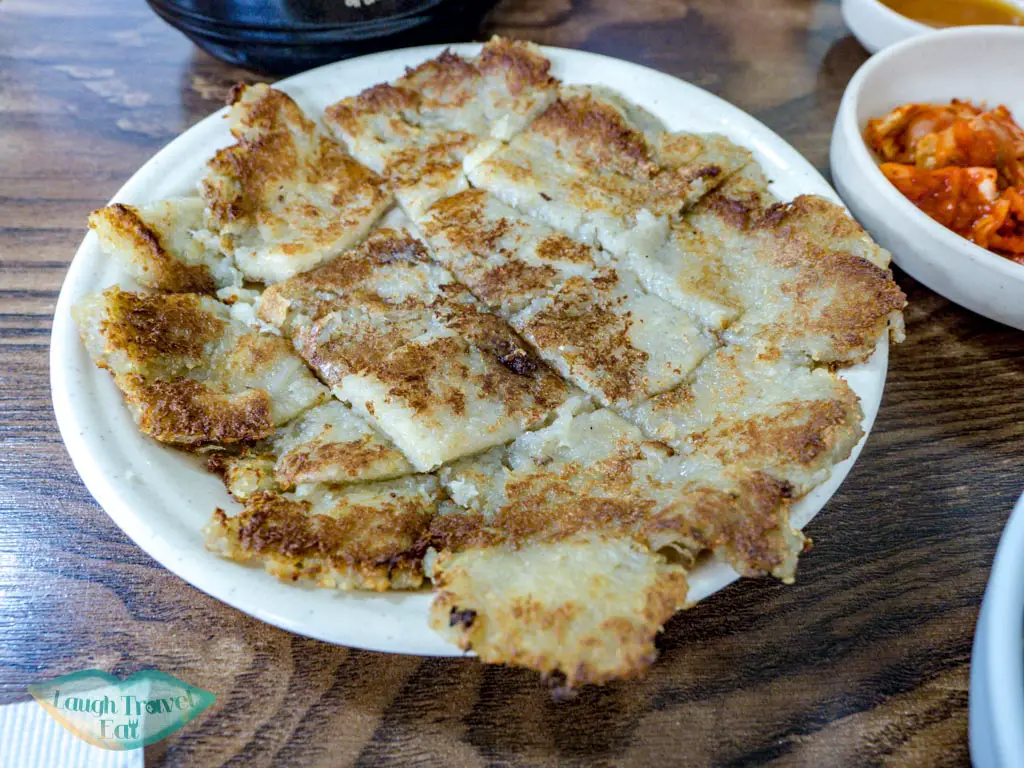 At around 8-10k won per dish, this is a very affordable and delicious lunch!

Address: 101-1 Samcheong-ro, Samcheong-dong, Jongno-gu, Seoul, South Korea
Opening times: 11:00 – 21:00

Bukchon Hanok Village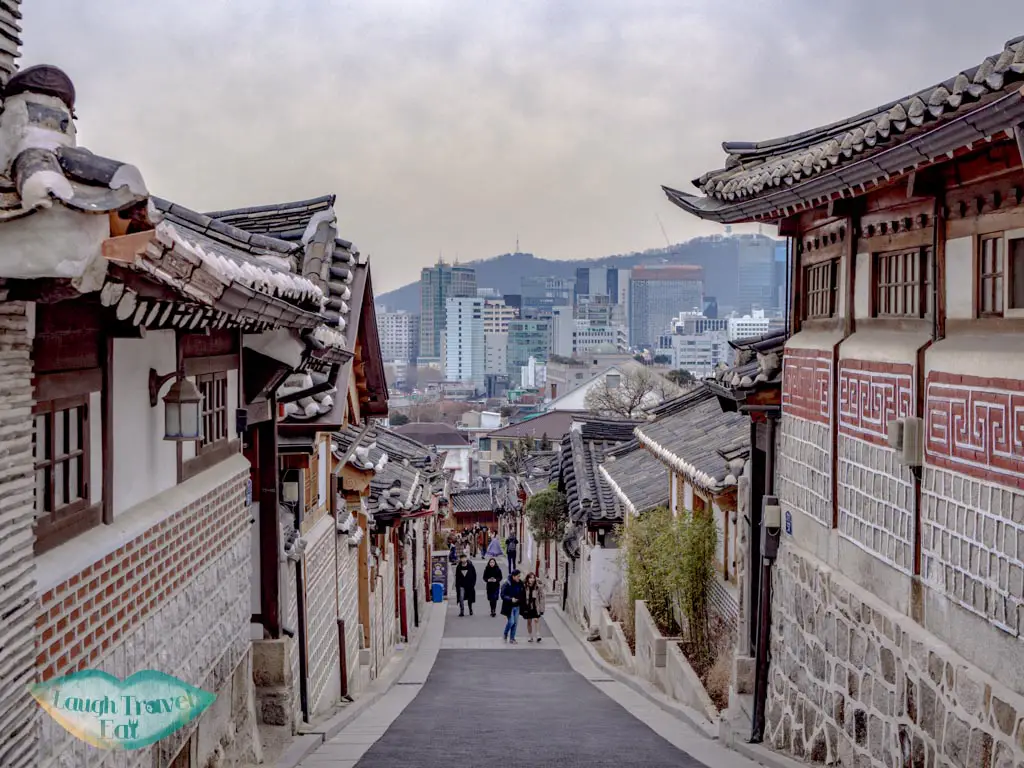 Hanok is the name for traditional Korean houses, and Bukchon is the village's name. Essentially, this is a traditional neighborhood by Gyeongbokgung, built on a slope with a spectacular view south towards the palace and Namsan.

Its picturesque streets takes visitors a step back in time and make it another popular place for hanbok photoshoot in addition to sightseeing. The lower part of the village is also a hip place with many hanbok rental shops alongside cute cafes and shops.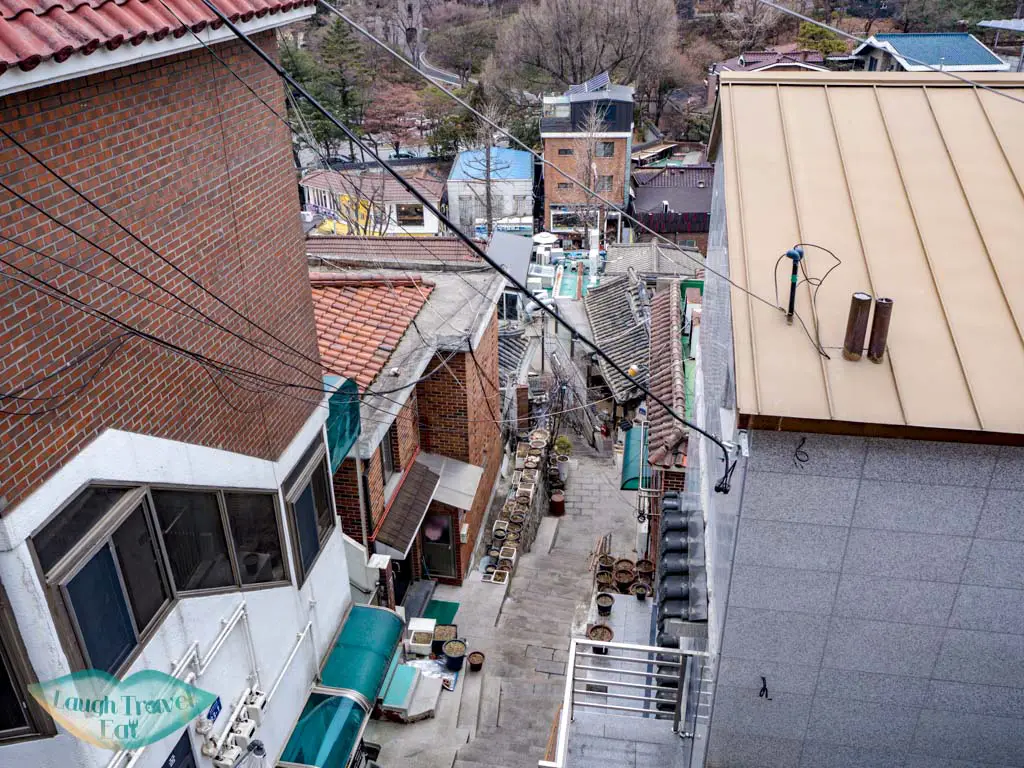 There are two ways to reach the top. From the Samcheongdong restaurant, simply cross the road and find the staircase that head up. It's about 5-10 minutes' worth of stairs up straight to the top. Alternatively, there's a path by the otherside of Gyeongbokgung that goes up more gently.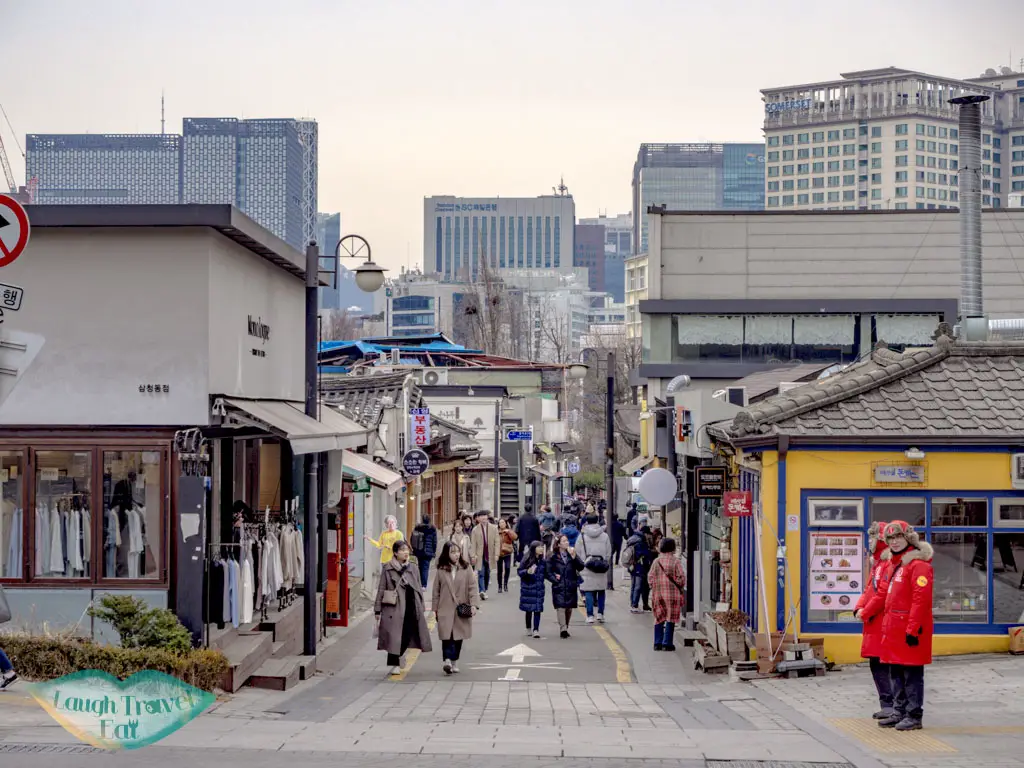 Depending on the time you have left (in Hanbok and in the day), you can shop around and enjoy the streets after taking photos at the highest point. Namsan Tower is also visible at several vantage points.
We were running out of time and headed back after taking a few photos to return our hanbok just before 6pm!
Note: it is a residential neighbourhood so keep your voices down
(Can also visit the other palaces if time permits)

MAPOGALMAEGI: Korean BBQ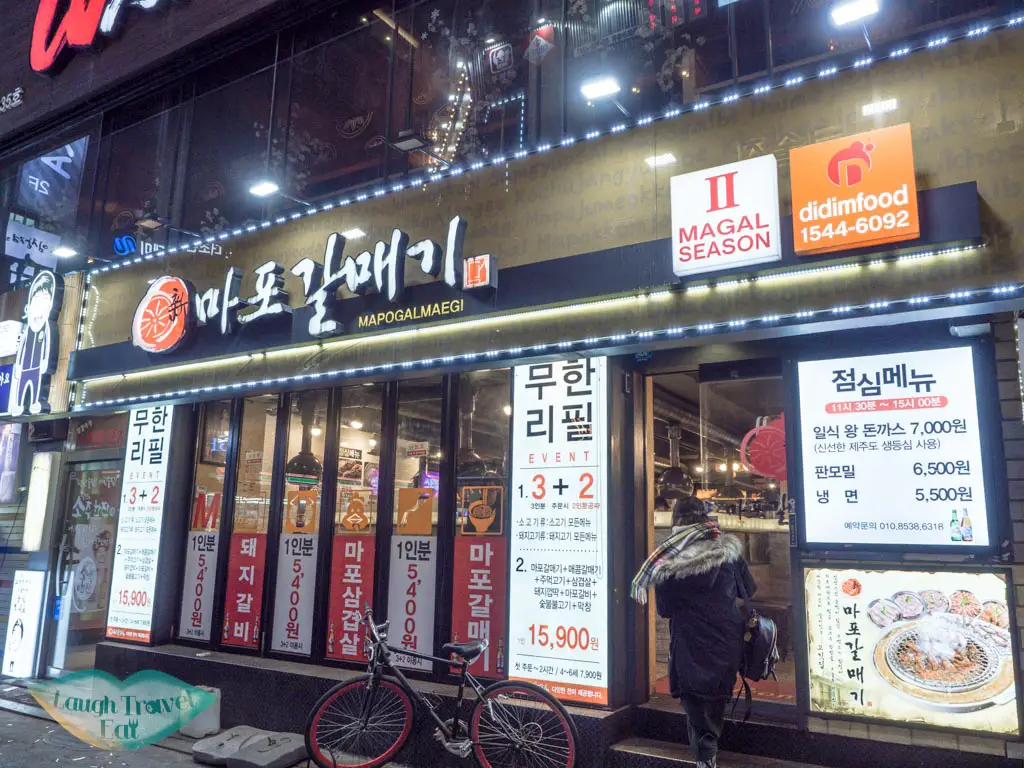 After a long day out in the cold, we went back to our hotel to take some rest before venturing out again for dinner.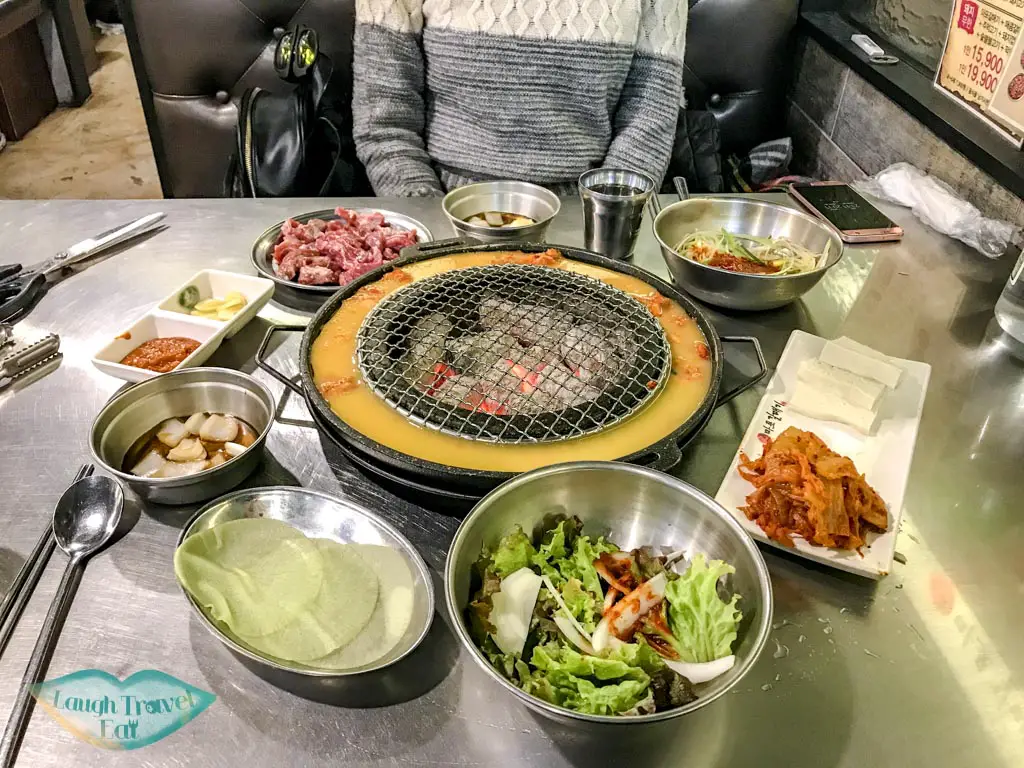 We ended up going for a Korean BBQ place that offers a 15.7k won all you can eat! There's no English menu, so it was with my friend Sora's korean and some trial and error that we managed to figure out the system.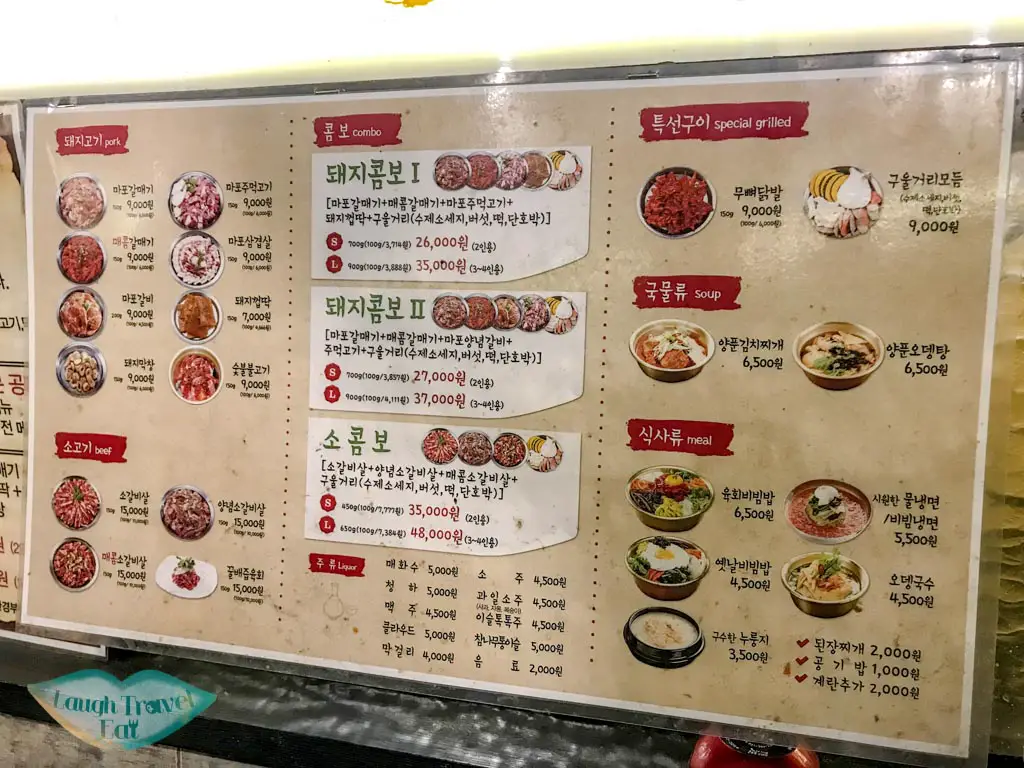 Basically, you can only order two dishes at a time and at 150g portion until you finish. The menu is also limited to the pork dishes that can be cooked on the grind grill. If you want the plate changes, it's 4K won. We also got kimchi egg roll around the plate, but topping up costs 2k won. Vegetable side dishes can be refilled at any time, and you pretty much get your money back once you ordered two rounds.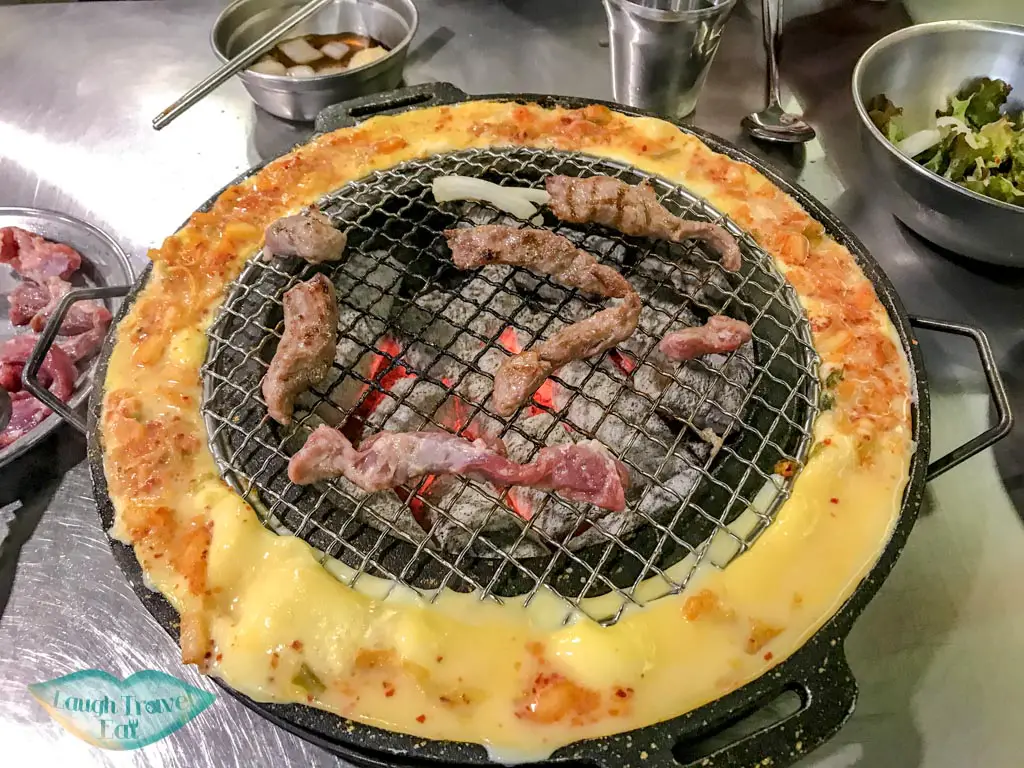 For the most part, we just ordered everything and see which one we like best!
Address: 16 Jong-ro 10-gil, Gwancheol-dong, Jongno-gu, Seoul, 韓國
Opening times: 11:00 – 3:00

Day 3 itinerary in Seoul
Issac toast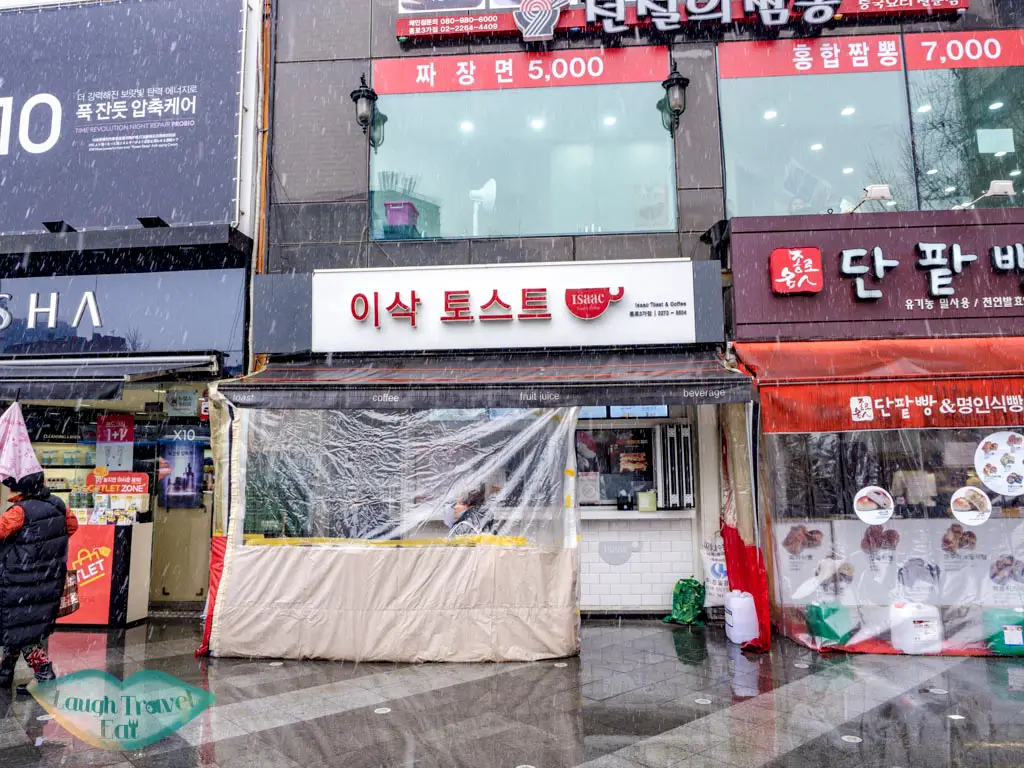 There's no such thing as not enough food so we went to Issac to start our day off. Issac is a chainstore in Seoul that's most famous for their toast with various topping combinations. They also have shops all over the city (and the whole country).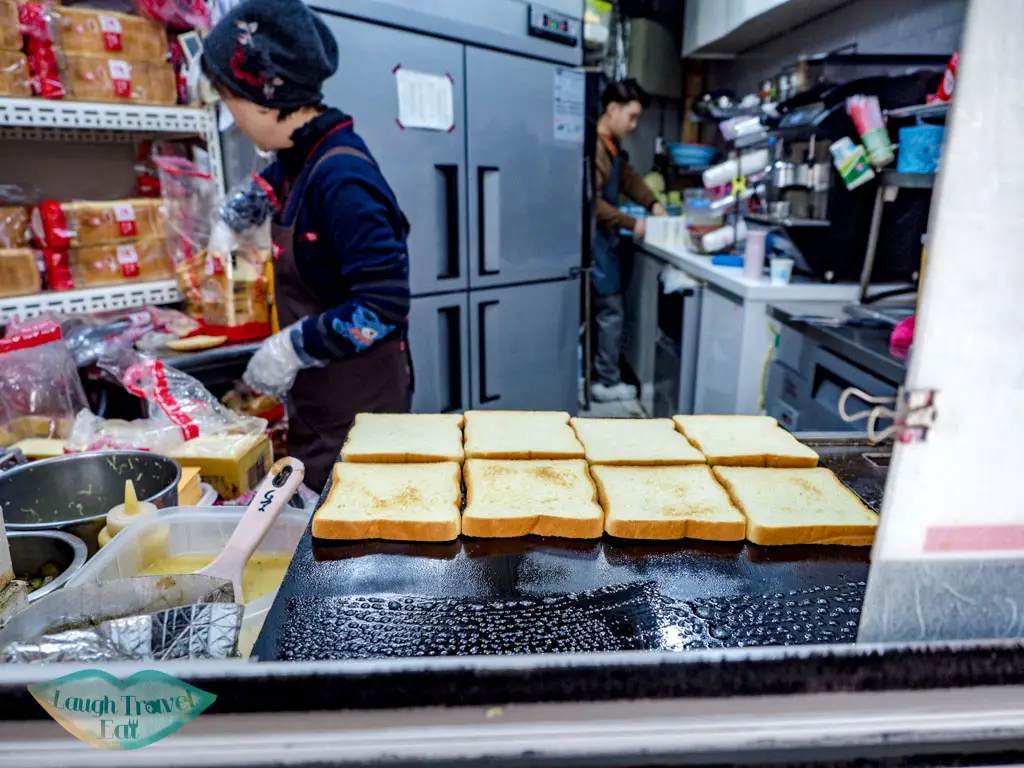 The majority of them don't have seatings provided, so consider it a kind of street food best enjoy on your feet.

Myeongdong stores:
17-1 Myeongdong 10-gil, Myeongdong 2(i)-ga, Jung-gu, Seoul, 韓國 7:40 – 21:30
98 Supyo-ro, Jongno 3(sam)-ga, Jongno-gu, Seoul, 韓國 6:00 – 0:00

Cheonggyecheon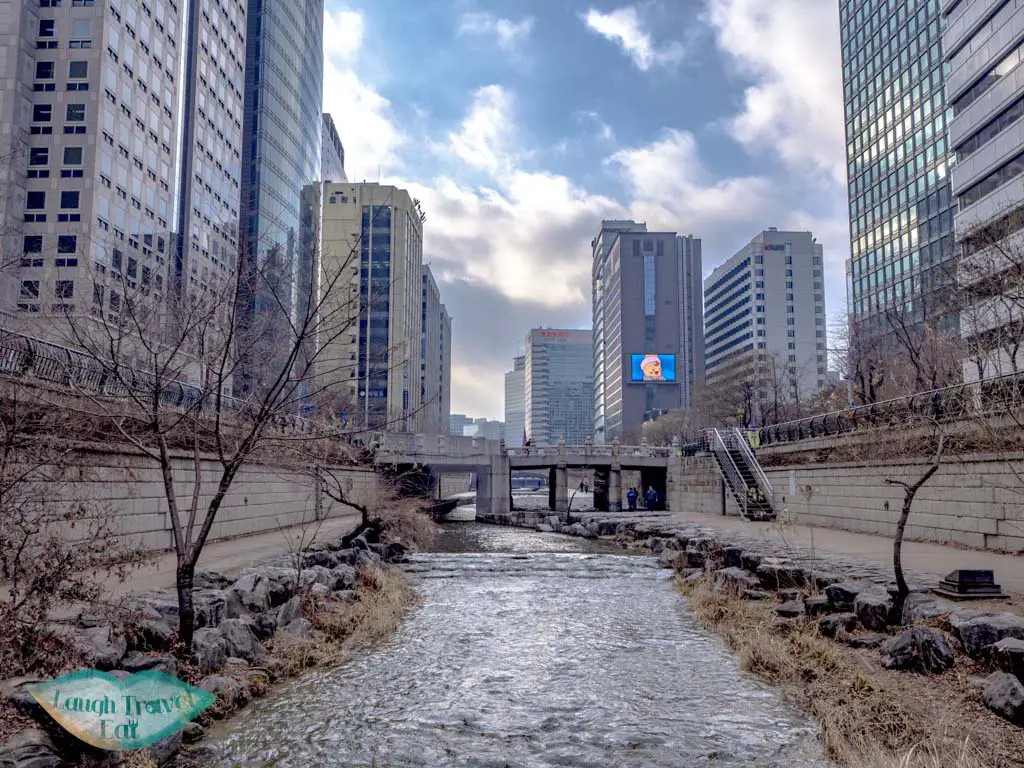 The Cheonggye Stream runs east-west by the end of the Gwanghwamun Plaza and has an interesting history. It was originally built as a drainage system in the early Joseon dynasty in the heart of Seoul, but was covered up in the 60s. The plan to excavate in 2005 was initially unpopular, but now it's a favourite spot for many, flowing for 10.9km before joining Jungnangcheon.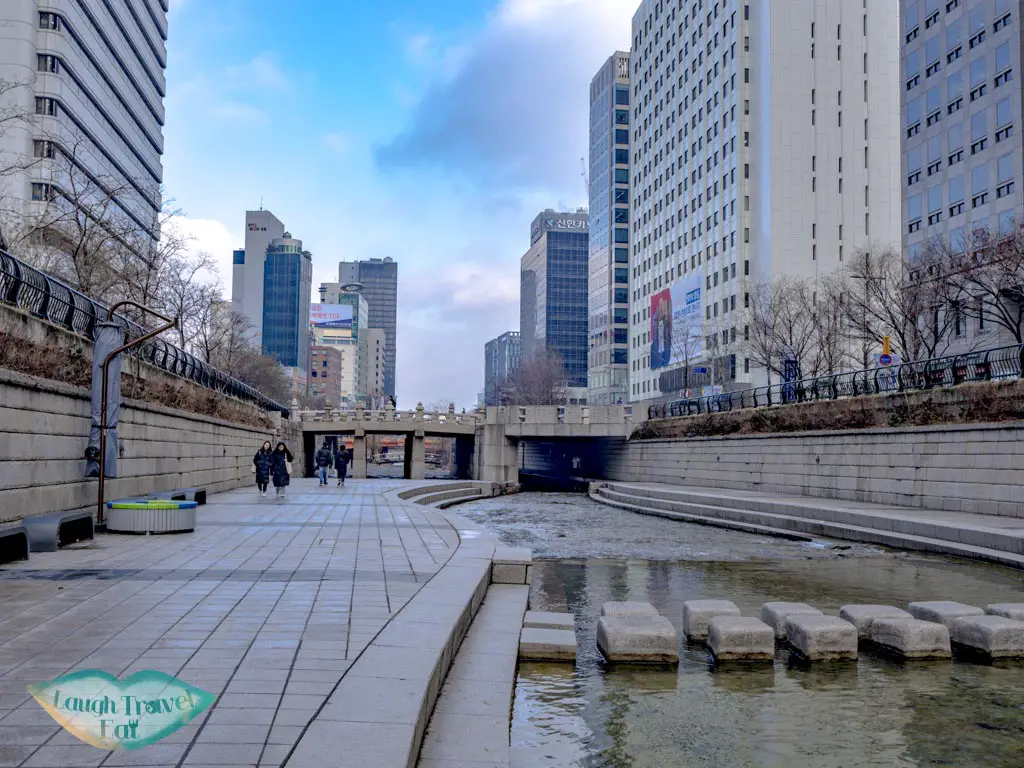 Two historic bridges were also reconstructed, along with many stepping stones and smaller bridges along the stream. Not only has it become a beautiful, integral part of the city, but it also helps lower temperature in the summer!

The Gwanghwamun Plaza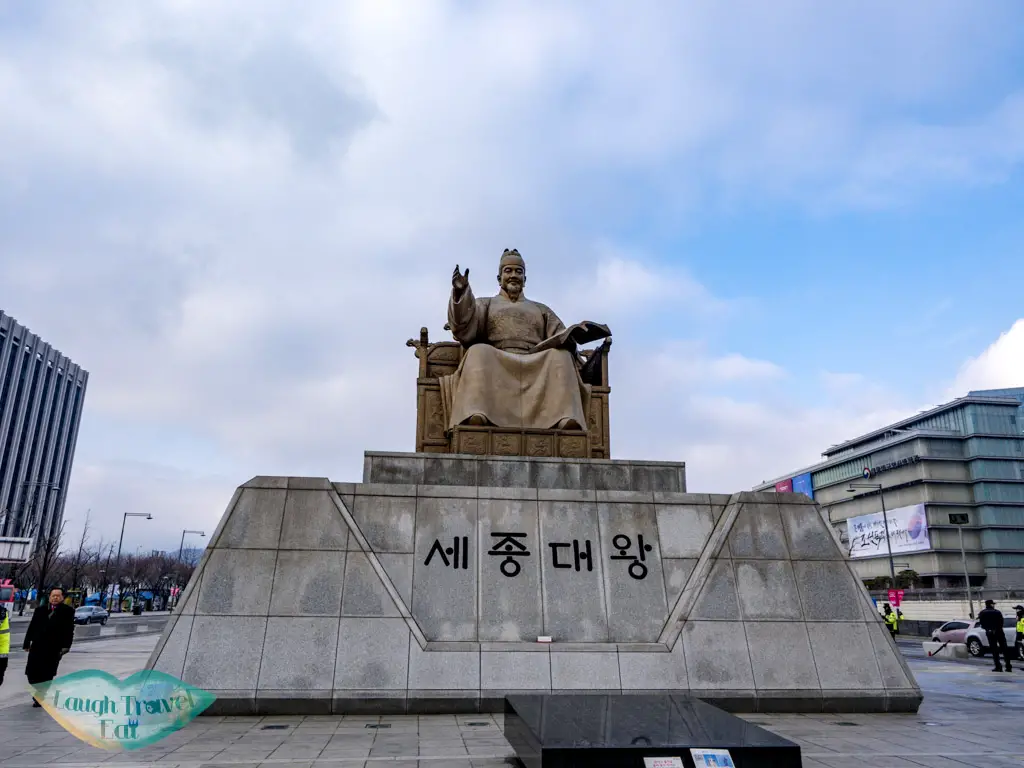 A spacious rectangular plaza that extends north to south in front of Gwanghwamun, it is better known to me as the square in K Drama the Memories of Alhambra. The most notable structures on the plaza are the statue of King Sejong on a throne and Admiral Yi Sun-Sin standing atop a pillar. The plaza was built in 2009 as part of a revitalisation project, and beforehand it used to be a 16-lane main road.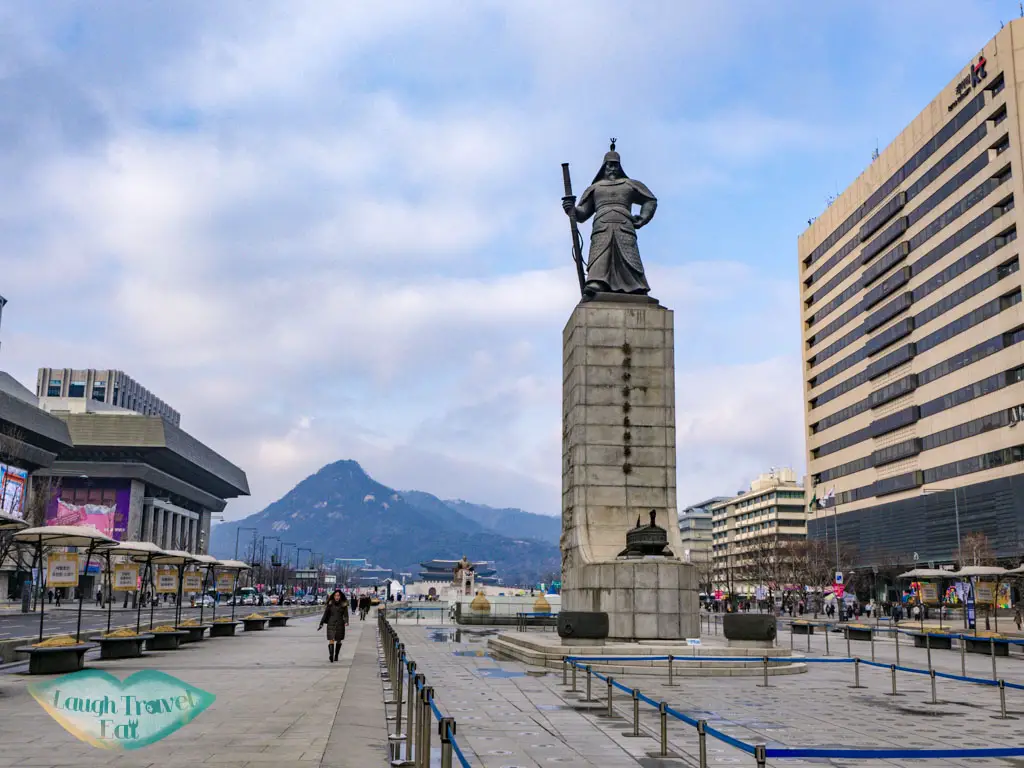 The vibe of the plaza reminds me of the one in front of the City Hall in Ho Chi Minh City, which is smaller in comparison!

Tosokchon Samgyetang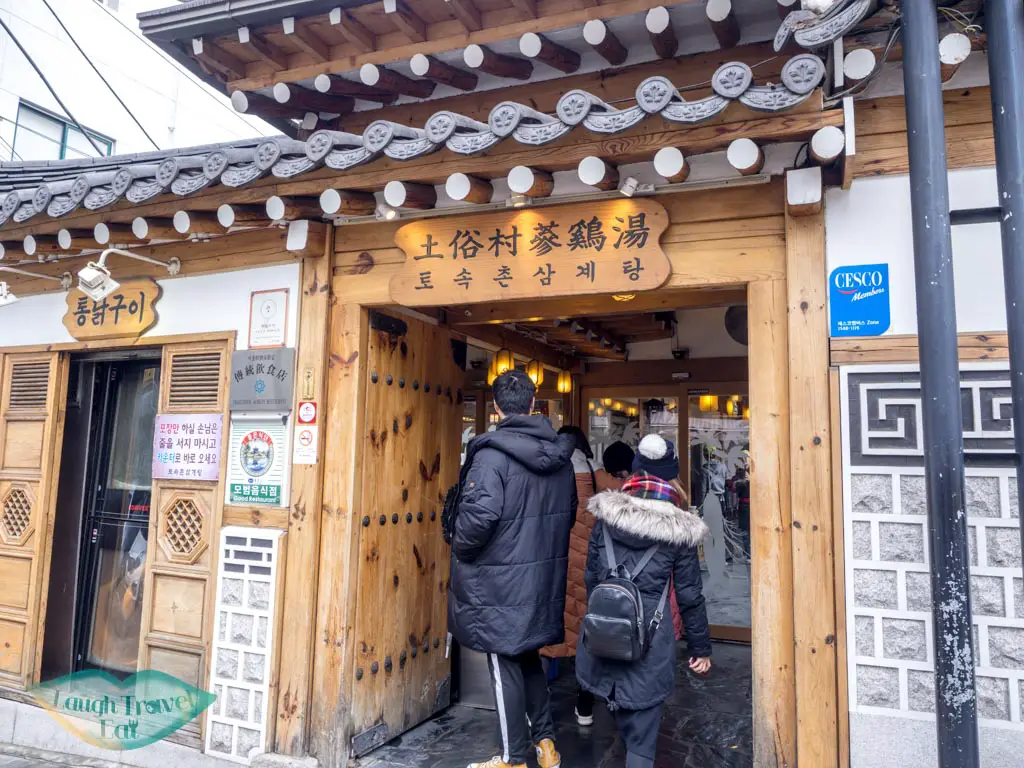 One of the best places to try Korea's most famous dish – Ginseng Chicken Soup – is Tosokchon Samgyetang. Its store by Gyeongbokgung also has the added bonus of being a Hanok, with diners taking off their shoes to enter the rooms and sitting on the floor.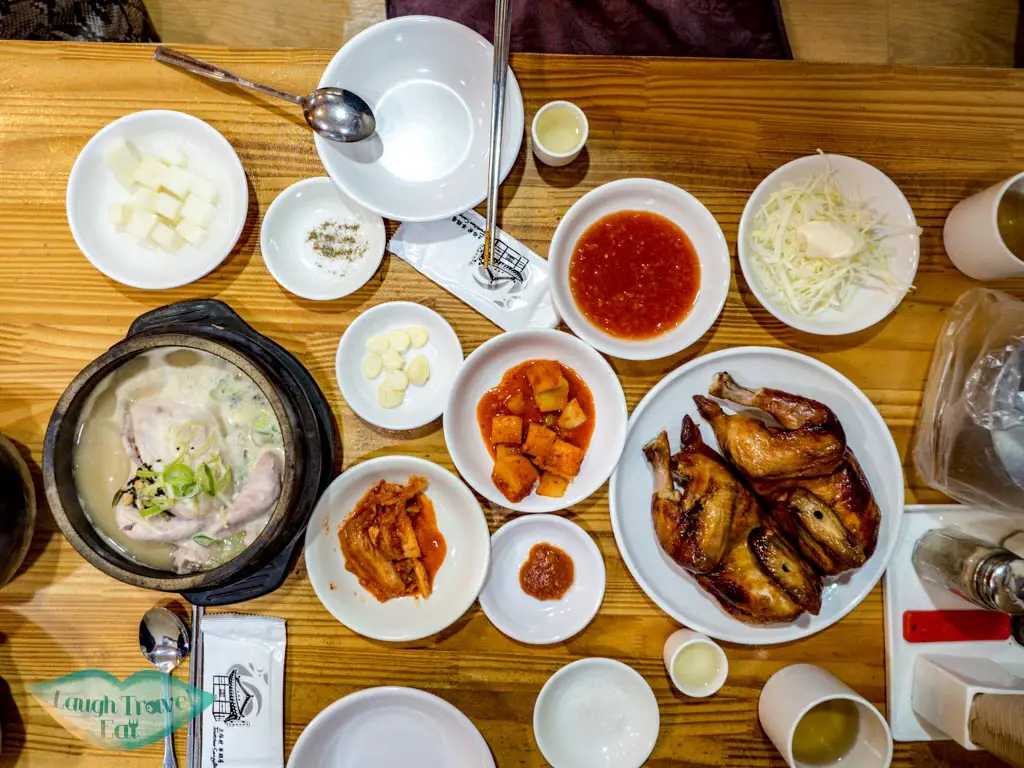 Aside from the Ginseng Chicken Soup itself, they also have Ginseng Roast Chicken which is worth a try.
The portion size is pretty big and we barely managed to finish a soup and roast chicken between two.

Pro tip: the bigger of the small bowls are for self-serviced kimchi in the big tin container. The smaller bowls are for salt and peppers that you'd use to dip the chicken in the soup.
You'll also be given a small glass of ginseng wine. You can drink it on your own or pour it into the soup.

Address: 5 Jahamun-ro 5-gil, Chebu-dong, Jongno-gu, Seoul, South Korea
Opening times: 10:00 – 22:00

Gangnam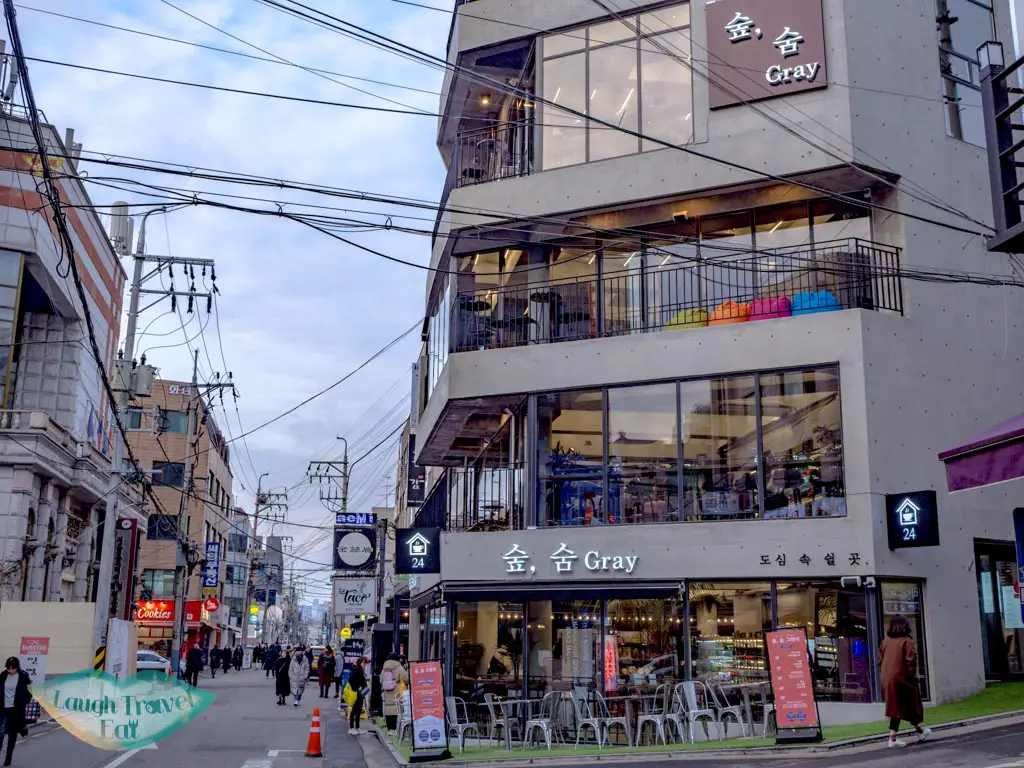 It's time to head in south across the Han River to Gangnam! Most well known as the wealthy district and from the Song Gangnam Style, the things to do here are a bit more spread out so it takes more time to get around. Given that we had a late start, we didn't have a lot of time to explore it properly as it takes Just under an hour to reach from Myeongdong.

Cafe Mula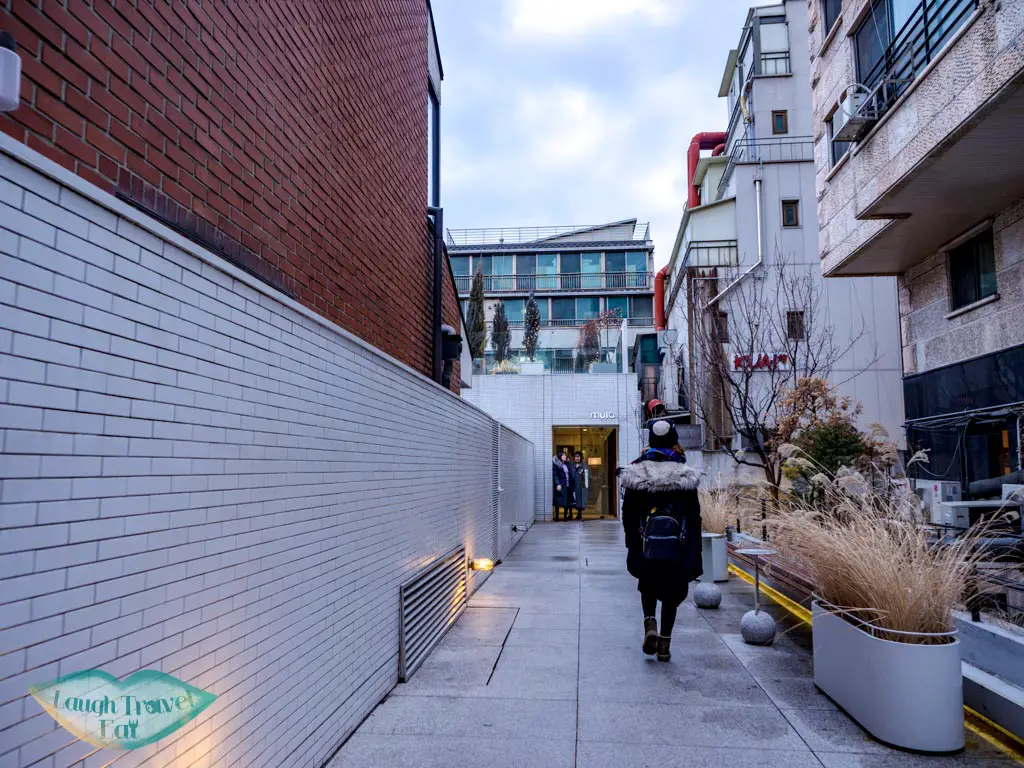 The dream greenhouse Café of Instagrammers, Cafe Mula is hidden in an area full of equally gorgeous restaurants and coffee shops. Aside from its glassy and grassy decor, it stands out with the fact that it also sells some quality yoga clothes.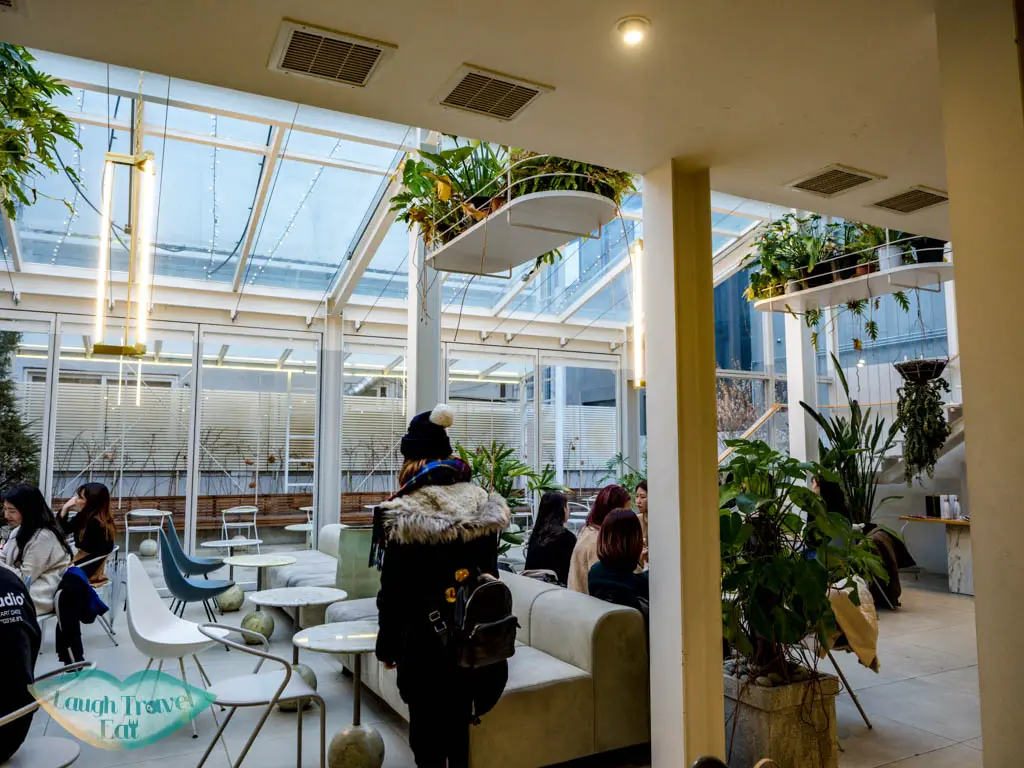 So grab a flavourful latte and or treat yourself to the house special tiramisu, then burn them off shopping for a chic yoga outfit.
Address: 524-22, Sinsa-dong, Gangnam-gu, Seoul
Nearest station: Sinsa Station Exit 8

Pearl of Mud Flat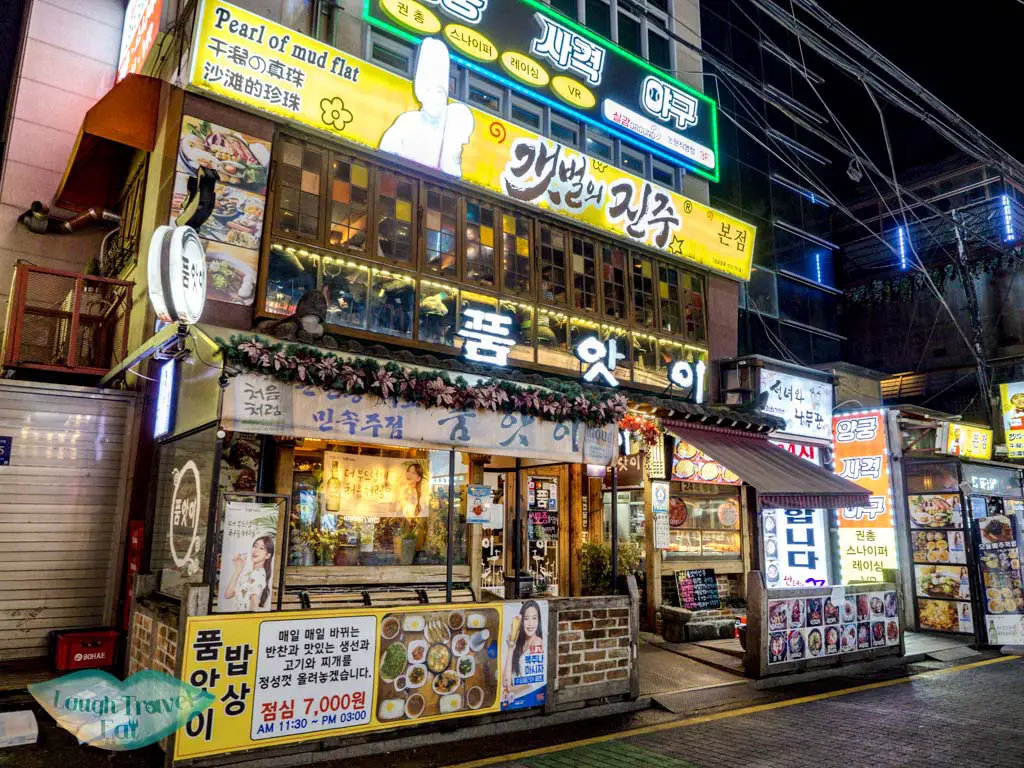 Seafood lovers beware because this place will be your downfall! Their seafood grill sets are delicious and value for money, with choices for both spicy lovers and those who can't handle it. Depending on how much you eat, usually a two people's set is enough for three. We opted for the scallop set and it came with a good dozen scallops with various toppings, an octopus rice cake, pasta, and various other grilled seafood.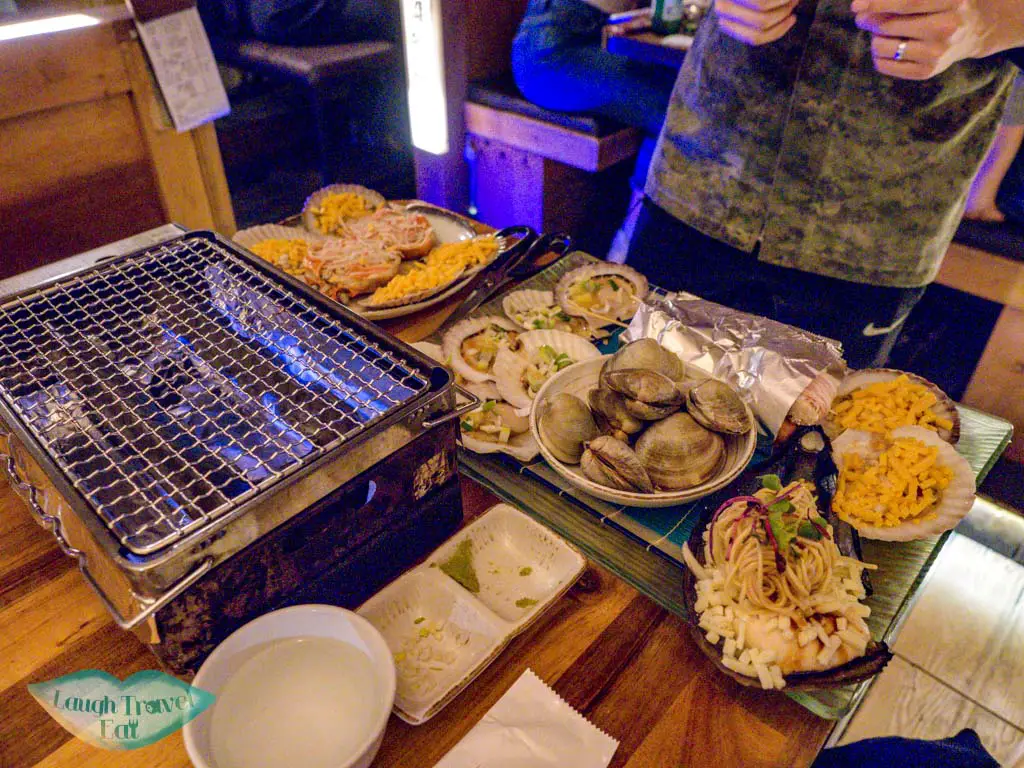 This isn't a pure DIY joint either. Waiters are dressed in their military gear and fluttered around the restaurants like butterflies helping patrons cook their food to perfection. Our waiter is a funny guy who greeted us with amazing Cantonese and chatted with us intermittently throughout the meal.
Address: 182 Nonhyeon-dong, Gangnam-gu, Seoul, South Korea
Opening times: 17:00 – 7:00
Nearest station: Sinnonhyeon

Starfield Library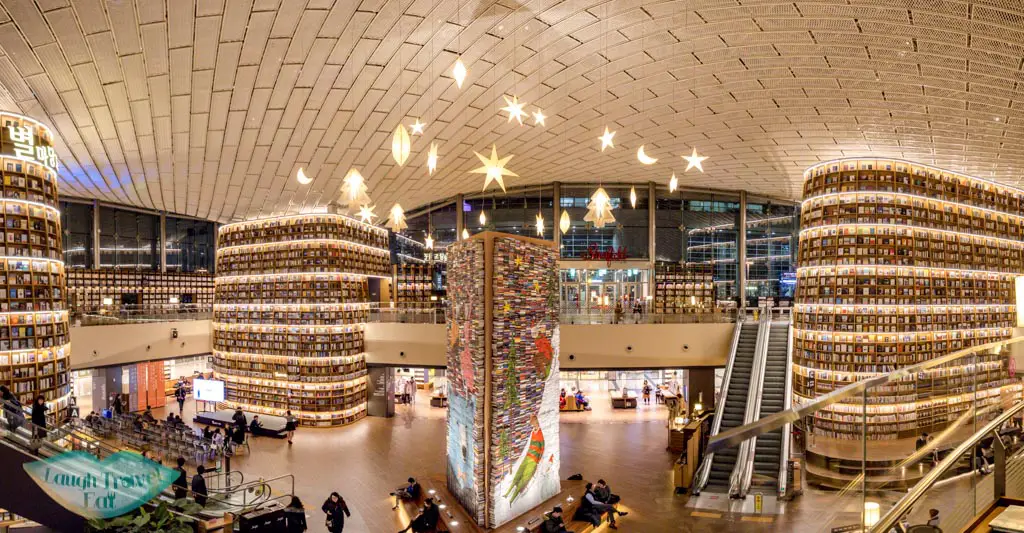 An Instagram famous library that's not really a library, the Starfield Library is in the center of COEX Mall. It is best to visit at night, since that's when the lights along the shelves light up and contrast beautifully with the dark. We arrived 45 minutes before closing and it was less busy enough that we got some good shots!
There are a good number of workstations around the second floor with sockets, and many people were scattered around the chairs and benches there. The mall itself offers a lot of shopping opportunities with a giant Alan and plenty of Korean and international brands.

Note: everything closes at 10
Address: 955-9 Daechi-dong, Gangnam-gu, Seoul, South Korea
Nearest Stations: Samseong

Day 4 itinerary in Seoul
Depending on your preference, take a day trip of choice away from Seoul to see the surrounding area! Here are some suggestions in winter:
Nami Island day trip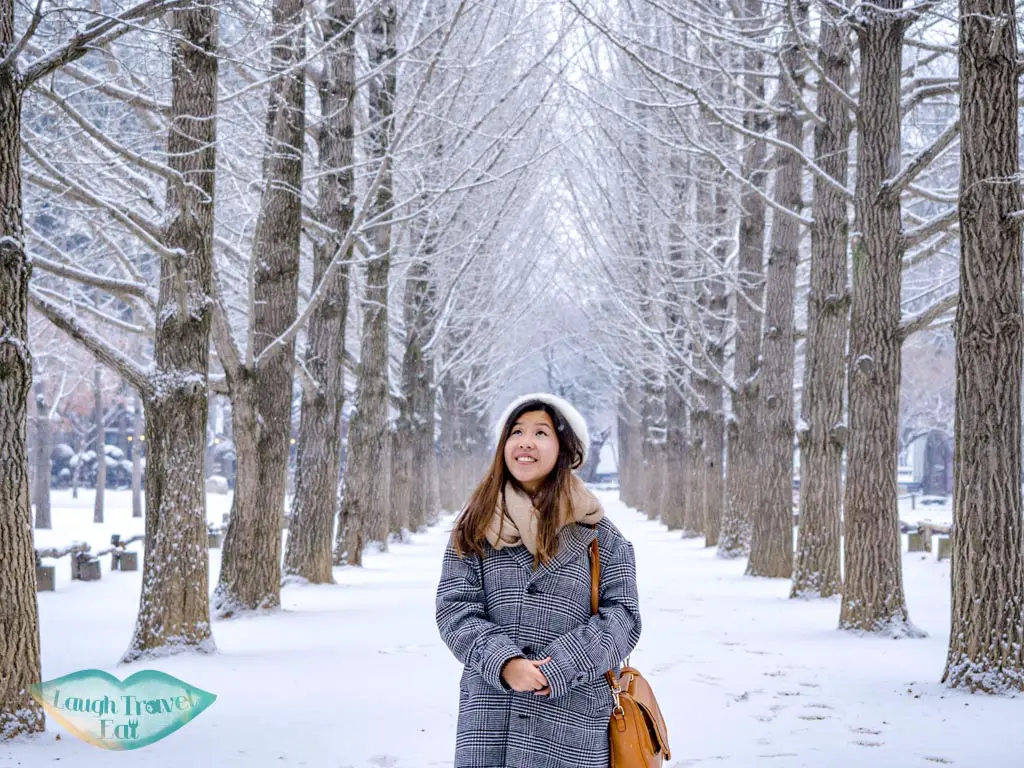 We had done Nami Island before reaching Seoul, but most people commonly head to this Gangwon Province Island for a day trip from Seoul. You can combine it with other attractions like Petit France or the Railway cycle, but there's more than enough to do on Nami Island for a full day.
Ski day trip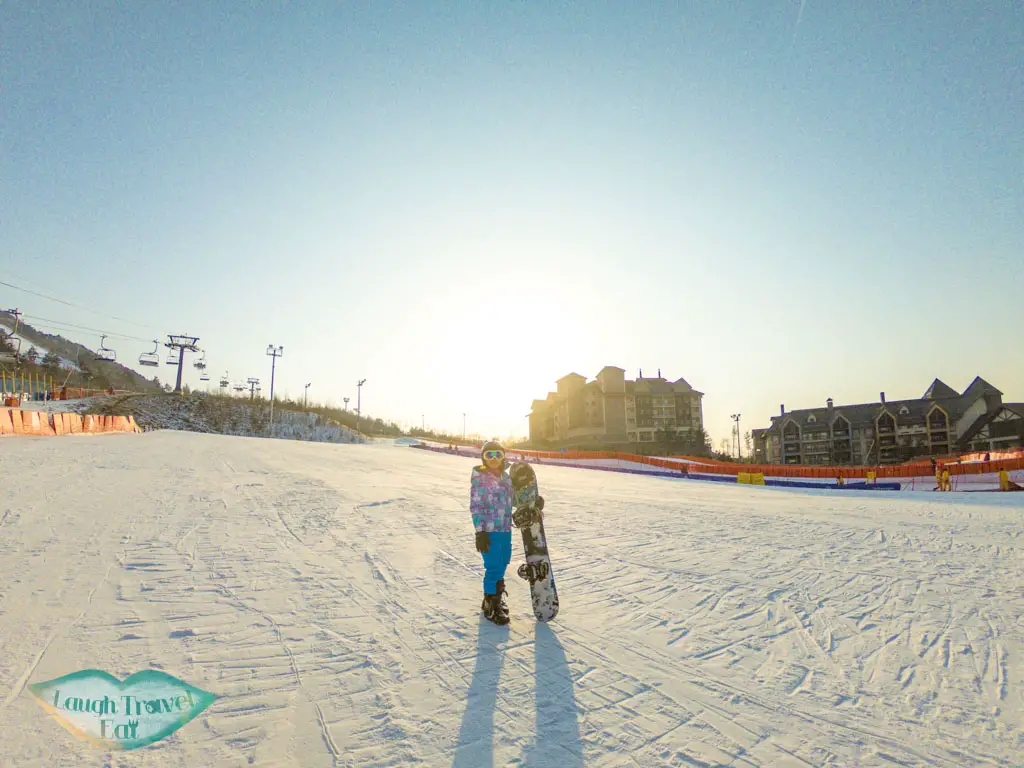 In winter, taking a day trip to ski is also another idea. There are a number of ski resorts within a 3 hour radius of Seoul, and you can take your pick depending on your skill level. Before Nami Island, we spent two days in Alpensia Resort in Pyeongchang – you can see what there's to do here.
Day 5 itinerary in Seoul
Depending on when you leave for airport, you might have more time to do things or not. Our flights leave at 2pm and that leaves us just enough time to:

Lotte Mart snack shop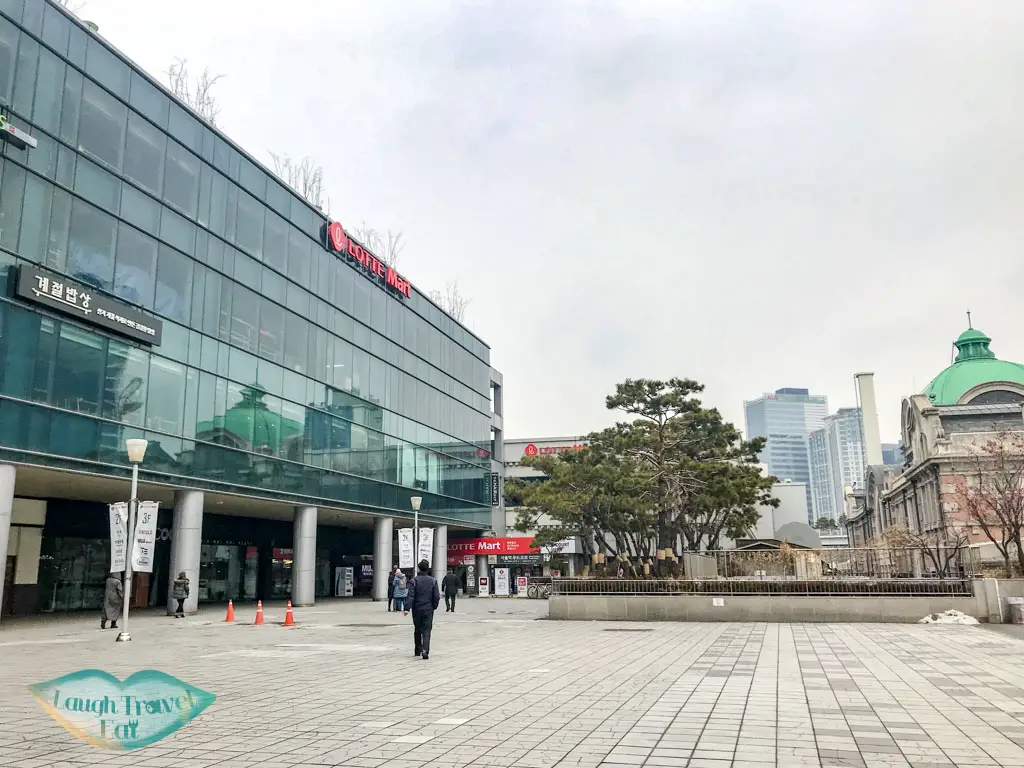 Snacks always make for the best souvenir whether it's for yourself or others. Particularly if your friends aren't into skincare, makeup, or socks! So go make yourself the most popular person in your family or office and go crazy at the Lotte Mart.
Barely 50m from the airport express and metro at Seoul Station, it opens at 10 and welcomes a flock of s tourists and locals hungry for some food shopping.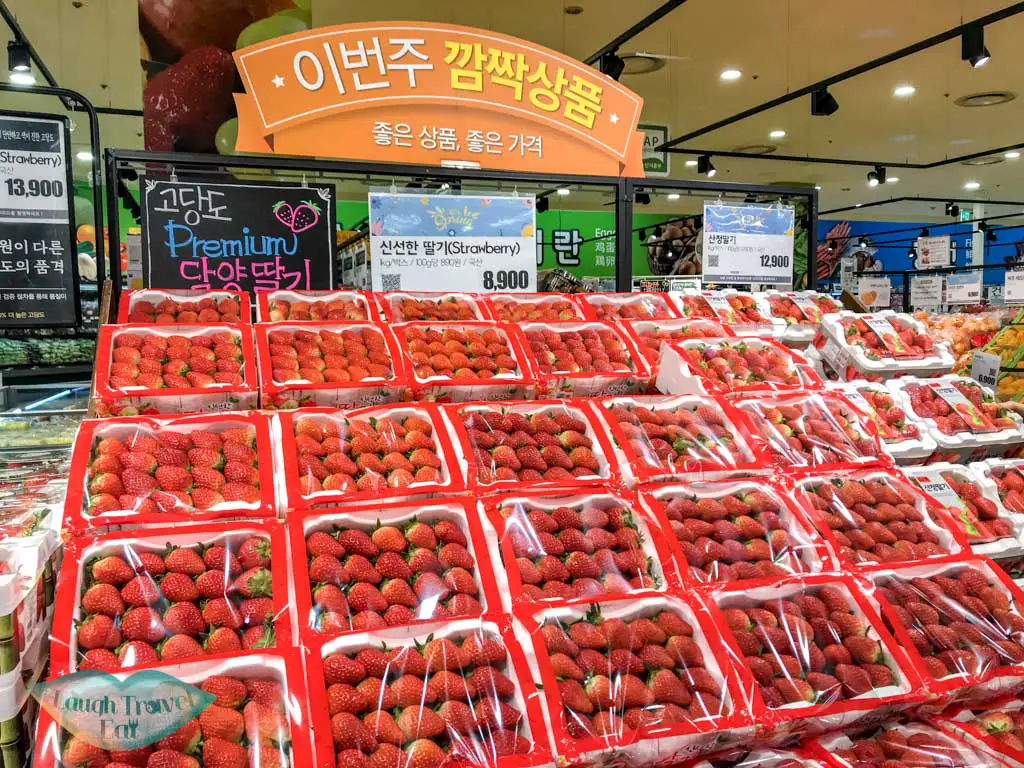 The main attraction in winter is their strawberries, which are guaranteed to be sweet and cheaper. Purple sweet potato are another specialty in the fresh fruit and veg category.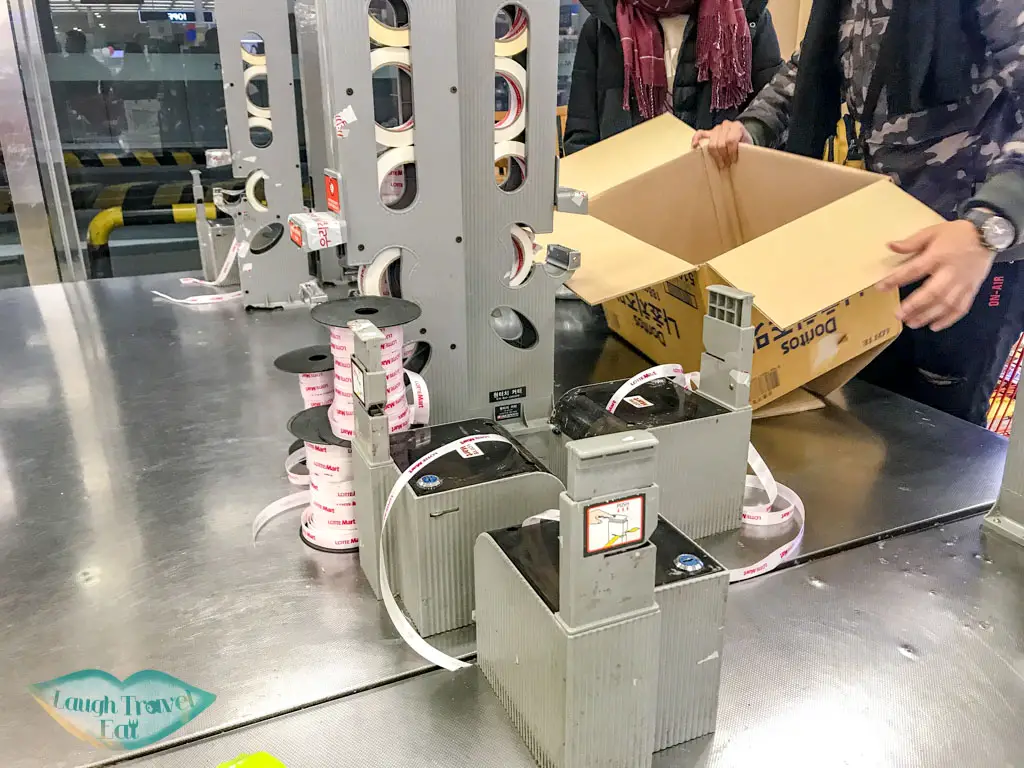 Here are some other tasty treats worth grabbing:
Peach yoghurt drink
Brownies
Seaweed
Kimchi
Popcorn and Chips with interesting flavours
Pro tip: forego the lockers and head to the end where you can leave your big luggage for two hours for free.
Pro tip 2: if you have a big bag, no need to put them in a locker. Get a trolley and put it in so you can push it around the supermarket

Address: 405 Hangang-daero, Hoehyeon-dong, Jung-gu, Seoul, 韓國
Opening times: 10:00 – 0:00

Silloam Fire Pot Sauna
If your flight happens to leave later or if you are landing from a redeye flight, the Korean Sauna is your answer to everything. Spend your first/last day unwinding Korean style in Silloam Fire Pot Sauna, which is less than 5 minutes from Seoul Station. It's a mini-ecosystem of its own with hot springs, sauna rooms, sleeping area, food, and drinks for sale.
Note: it's also a great place to stay if you went on a night out and needed some place to get sober
Address: 49, Jungnim-ro, Jung-gu, Seoul, Korea
Cost: (bath/bath + sauna) 5:00 – 20:00 adult 8k / 10k, children 6k/9k; 20:00 – 05:00 adult 9k/15k, child 7k/11k

Get the airport express from Seoul Station
The airport express train at Seoul Station is within easy reach of both Lotte Mart and the Korean Sauna. Make sure you check the time table, bought the ticket, and get off at the right terminal!

Where to stay in Myeongdong
As first-time visitor to Seoul, I highly recommend staying in Myeongdong because of its prime location. Not only is it within walking distance to most of the attractions such as Namsan Tower, it also has lots of shops, restaurants, and best-value money exchangers. Here are some hotel recommendations:

Budget
Myeongdong Ecohouse is by the Myeongdong station with clean Korean-style rooms – aka floor bedset – and a great location. However, the rooms are on the smaller side and the building has no elevator (5 floors in total). For western-style beds, Hotel Thomas Myeonngdong is an alternative, though the rooms are still on the small side.
Mid-range
Philstay Myeongdong Station is centrally in Myeongdong with clean and simplistic rooms but is on the small side! Sotetsu Hotels The Splaisir Seoul Myeongdong is also great value for money.
Alternatively, there are plenty of beautiful AirBnB in the area as well.
Splurge
A Paris escape in the center of Seoul, L'Escape is a boutique hotel that newly opened in the summer of 2018. It's steps away from Myeongdong Station, which is one stop away from Seoul Station, making it convenient for both sightseeing and transport. Enjoy amazing and insta-worthy rooms (and bathrooms) in addition to great service!