Sawara Festival – a step back in time in Chiba, Japan
Sawara, a historical town less than two hours from Tokyo, is a perfect day trip destination from Tokyo. What's even better is that the town holds several festivals throughout the year, is the perfect place to glimpse the Japan that was 200 years ago. Even without festivals, its picturesque canals and houses are reminiscent of the Edo period. Plus, it so close to the Narita airport that a side trip here makes for a wonderful change from Tokyo.
Getting to Sawara from Tokyo

There are two main ways to get to Sawara: bus and train. It might be worth driving there as well for those who are comfortable with renting and driving a car (I wasn't). But from Tokyo, it's no doubt that public transport is easier.
Tokyo to Sawara by bus

The fastest way is by bus. You can get a bus from the West Entrance of Tokyo Station from the JR office. Because it's so difficult to figure out how and which ticket to get, here's a video clip: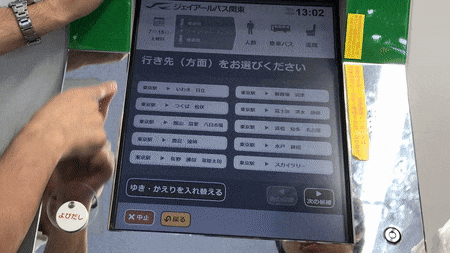 It costs 1,750 yen.
The journey takes about 1 hour and 20 minutes direct, and we were dropped off at the train station. The only down side is that the last bus leaves at 3:30 pm, so if you plan to stay longer, you will have to catch the train to leave.
Tokyo to Sawara by train
The regional train's timetable is inside the station, so I recommend you to have a look at what's available and purchase tickets as soon as you arrive. These aren't reserved so you can get on any. Here's one from me take July 2017: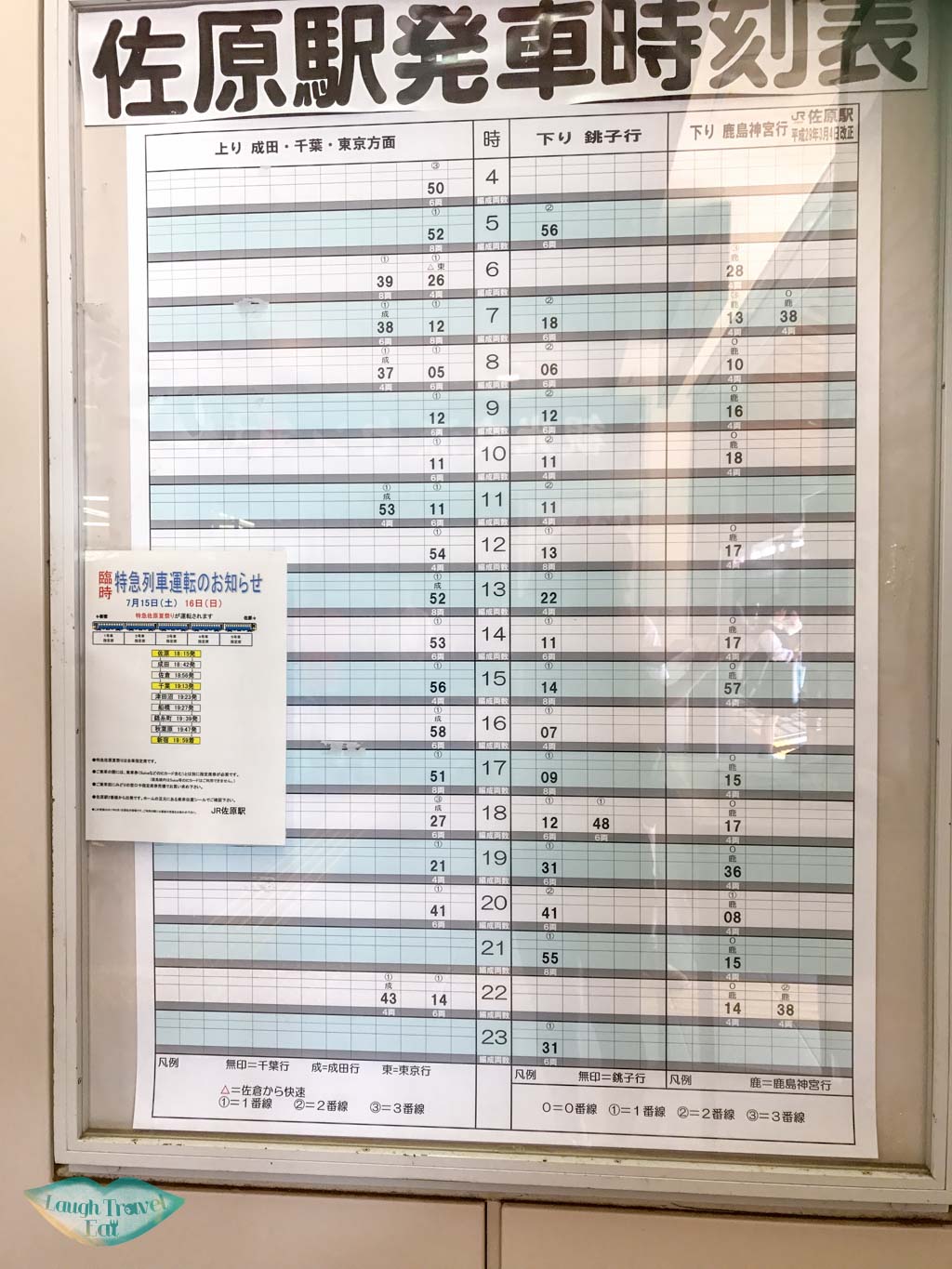 For these, you will have to change at Chita. This will also take up to 2 hours.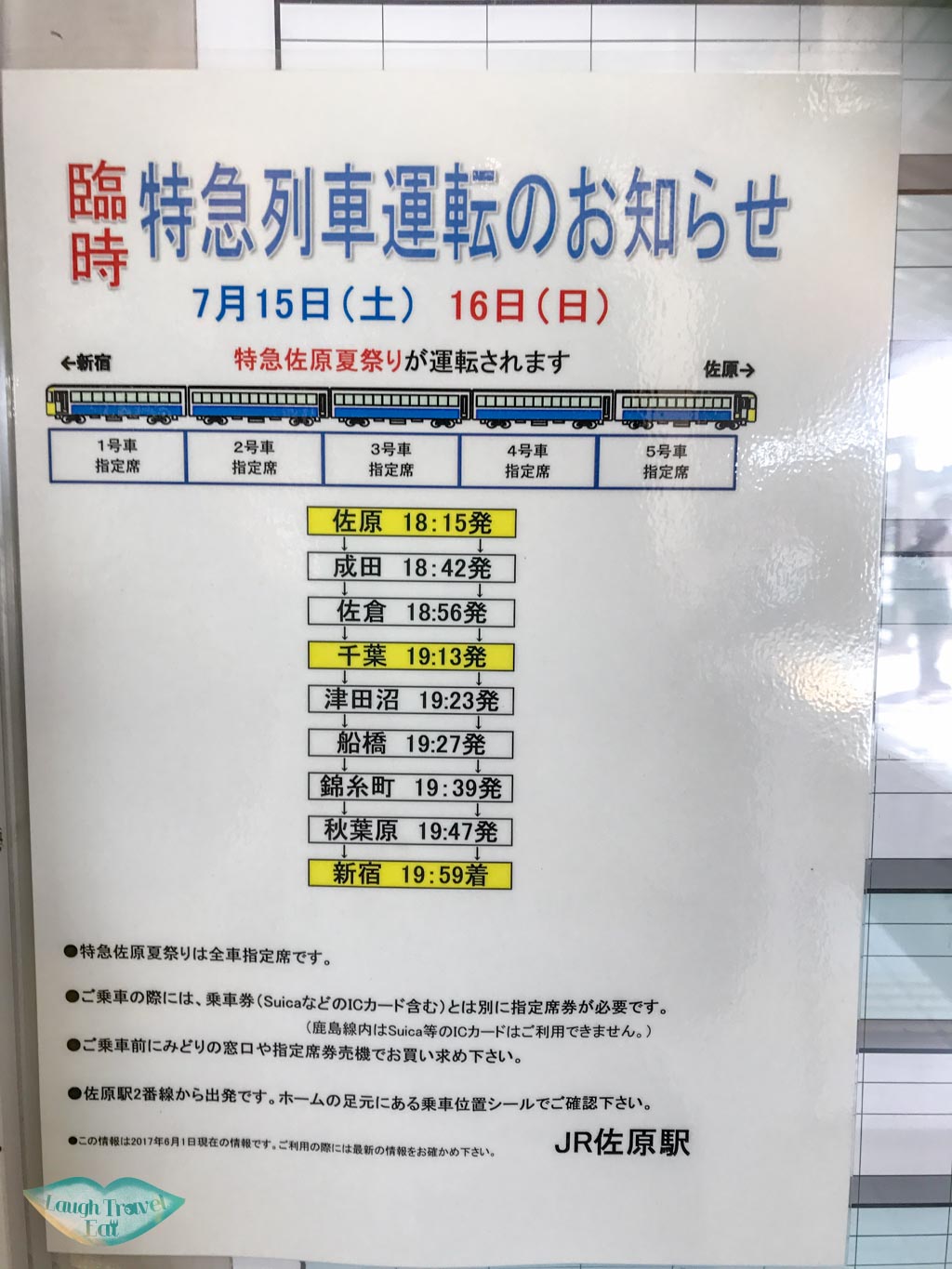 Since the festival was going on, there was also a special express train to Shinjuku, however, it still leaves too early for us. Train to Tokyo center is on platform one, which is right behind the ticket barrier.
The Grand Sawara Festival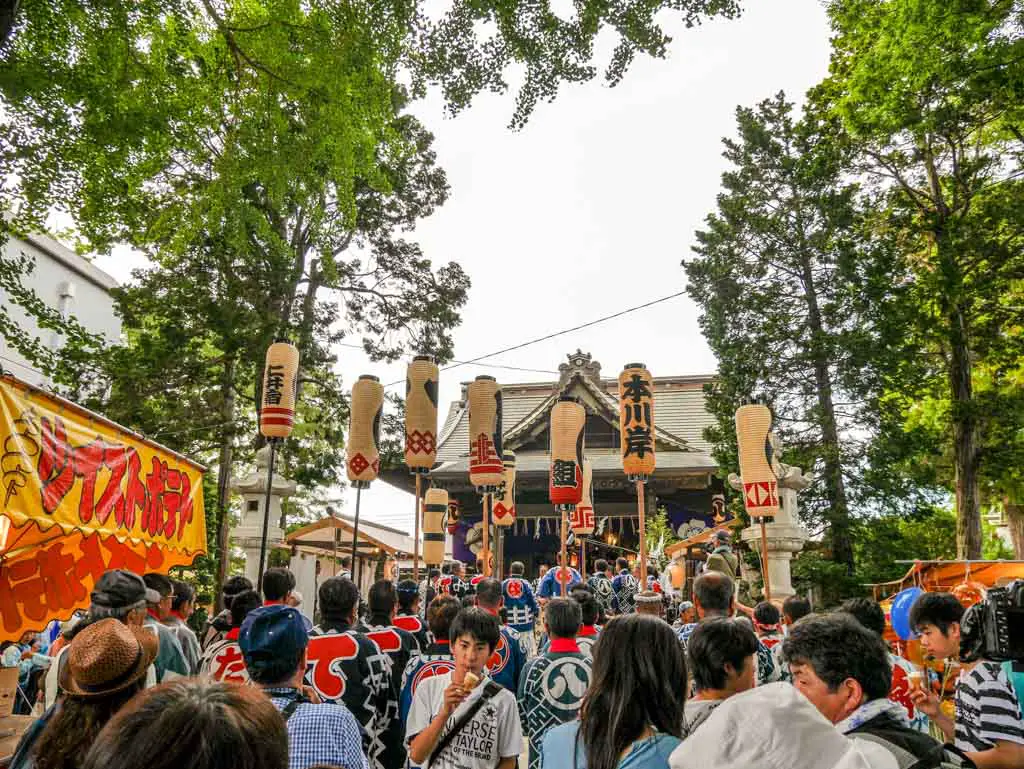 The name of the festival actually refers to two, once in July and once in October. These parades originated in the Edo period, around 200-300 years ago. The one in July that we visited is organised by Yasaka Jinja Shrine.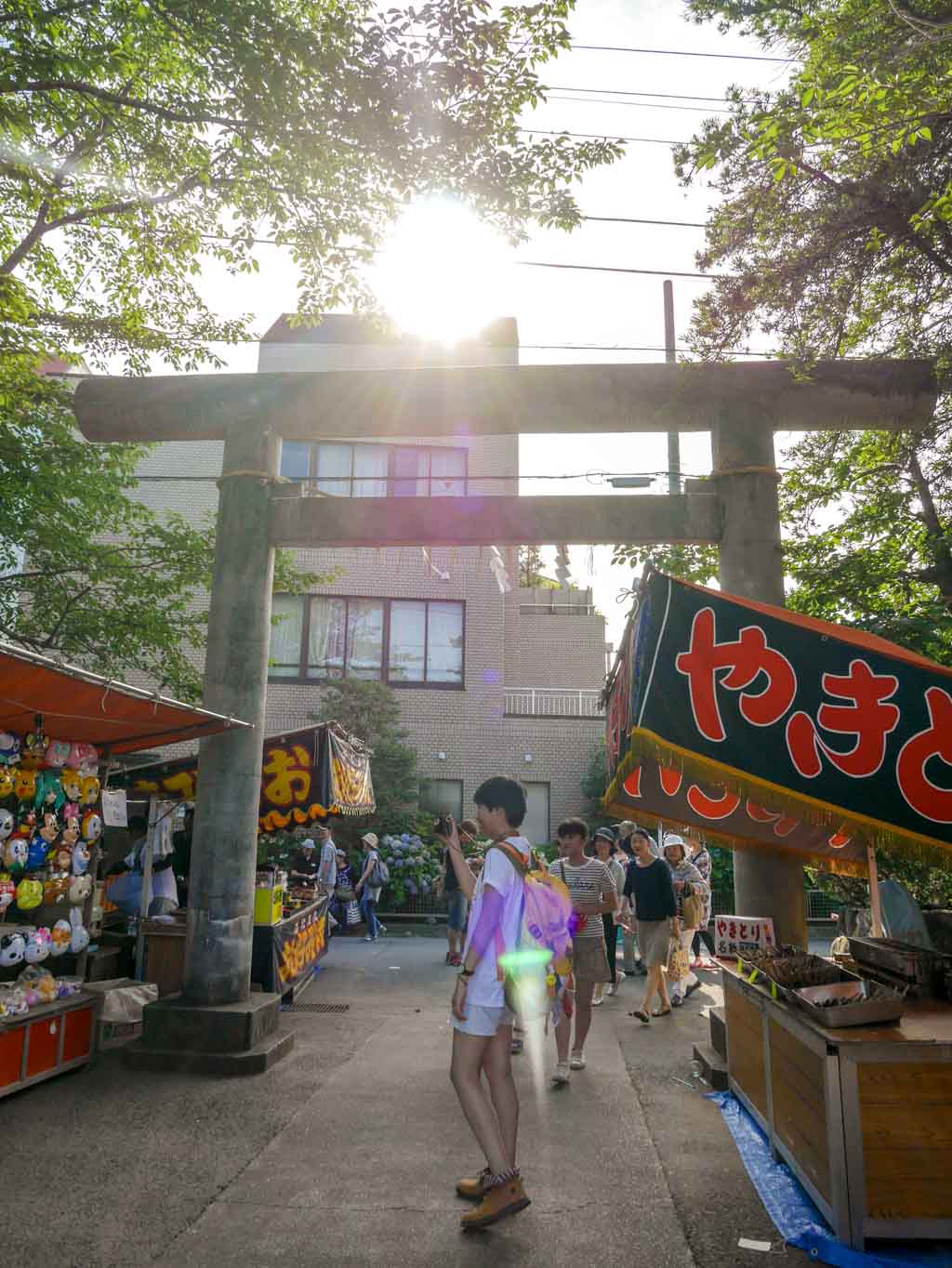 To give you a little bit of background, the Shinto religion is the native religion of Japan, with the inhabitants believing that many gods live in Japan, who are responsible for the natural phenomena around them. The July Grand Sawara Festival, which is also known as Gion Matsuri, was hosted to fend off the diseases that occur during the wet summer months by appealing to the Shinto god Gozu Tenno. The October Grand Sawara Festival, also known as the Suwa Jinja, is to thank the gods for a good harvest.
What to expect at Grand Sawara Festival?
Festival games and snacks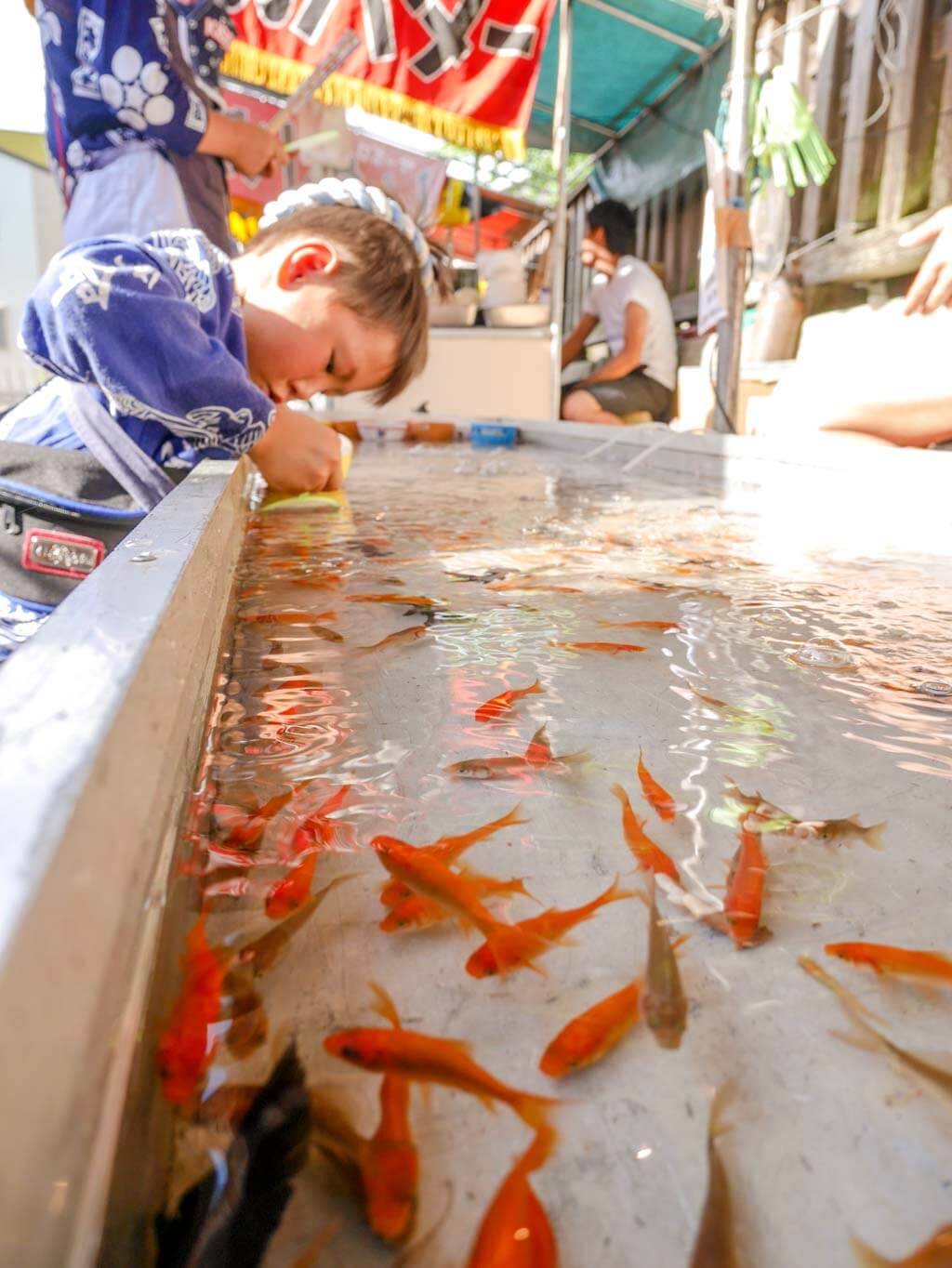 All the way along the festival float route and around the shrine, stalls with games or snacks are set up to entertain the people. Most are typical for Southeast Asia countries, such as catching the goldfish with a thin paper film net, catching marble balls from a moving stream. Of course, the main focus for us was the snacks, some of the favourite was shaved ice to cool down, a delicious and filling glutinous rice wrapped with meat, shaved strawberry with condensed milk as well as good old fried chicken.
[huge_it_gallery id="18″]
Festival floats
The main focus of the festival are the elaborate floats. While I had expected to see them electrified and roll down the road in my head (not dissimilar to the one in Disney), the truth was far from it.
The floats were all pulled by men, with musicians sat atop playing music along the way. There were 10 floats or so, each decorated differently honouring a different deity or symbolism and created/maintained by a different company. I'm not sure I caught all of them, but here are some:
Emperor Jinmu
Sugawara Michizane
Ota irrigation
Mr Shigetsu
Heavenly life (girl doll)
Carp (fish)
Bamboo Hammer
Kintoki Mountain Witch
Ikki Nagi
Hawk
[huge_it_gallery id="16″]
*These are July Grand Sawara Festival floats and are different from the ones in October.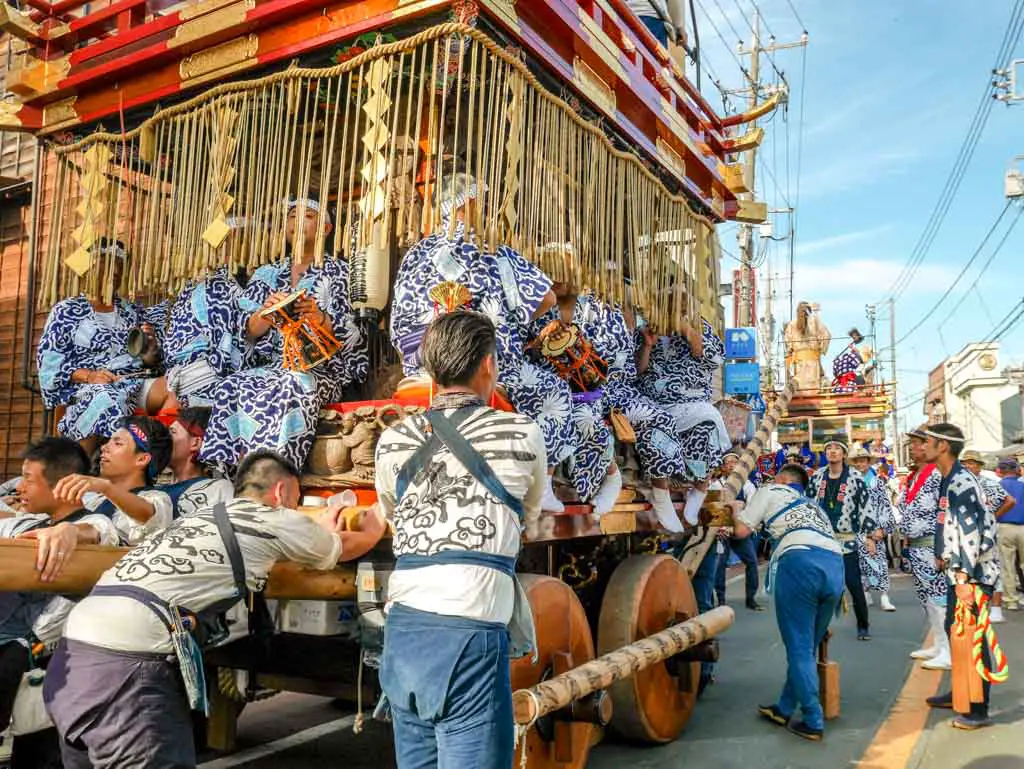 Man power!
Contrary to the modern floats, since these were pulled by human, the procession doesn't go around in one fluid motion with spectators all lining along the designated path to watch. I'd recommend checking with the schedule so that you know when the floats would move, then going in the day to see all the floats and take photos. On the day of our visit, the floats weren't scheduled to parade until at night, so we stayed until after dark.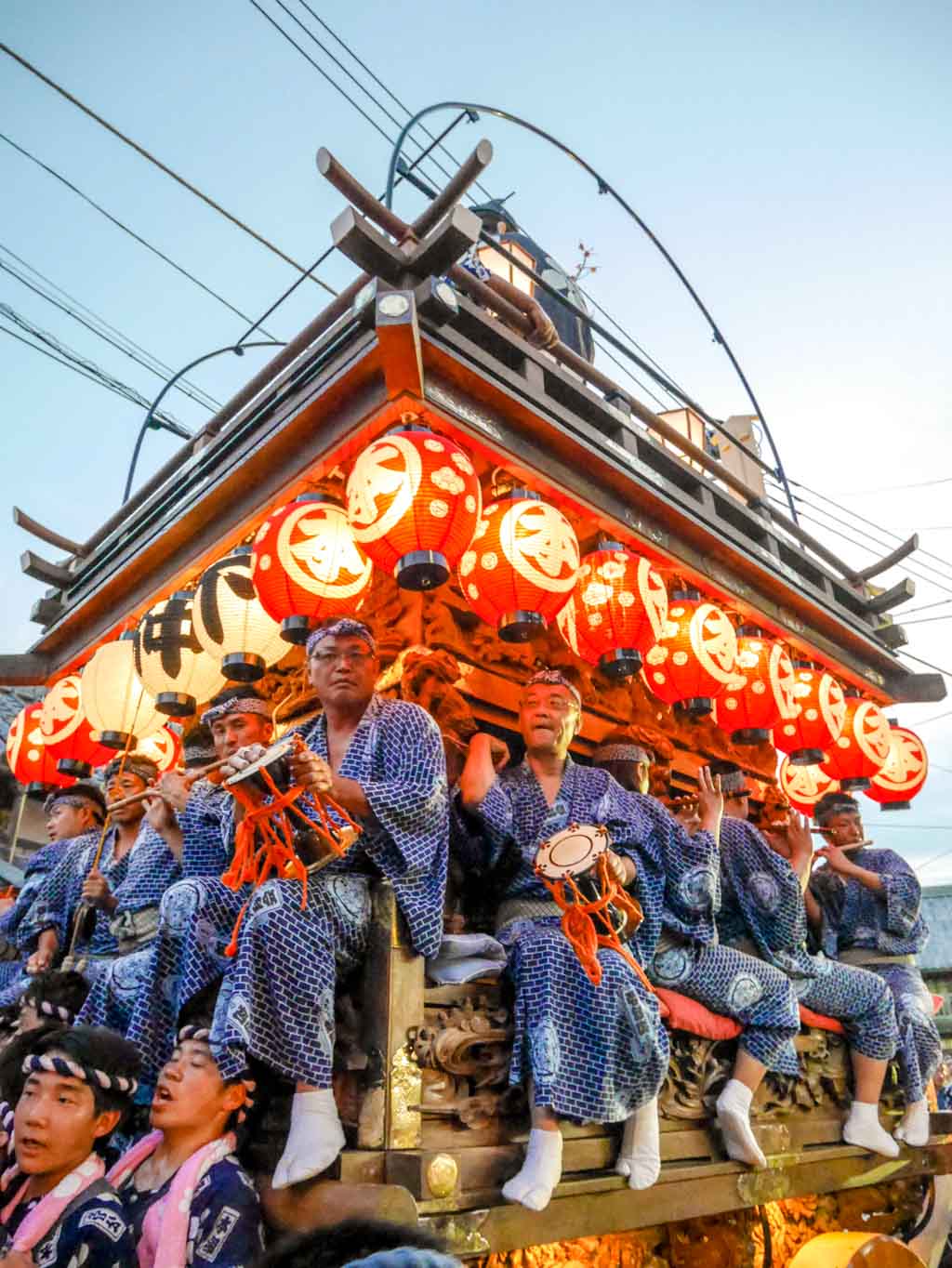 It turned out to be the best decision as they added lanterns to the float. The main attraction is the turning of the float, when all the men, dressed in festival garb, performed the turn together as a team.
[huge_it_gallery id="19″]
Before each float starts to move, there is a mini ceremony where two of them walked between the others, all lined up in front. We followed one float, then the other, watching them turn. They are sufficiently spaced apart so it'd be a bit boring to stand and watch. Plus, it's easy to catch up on them.
Sawara point of interest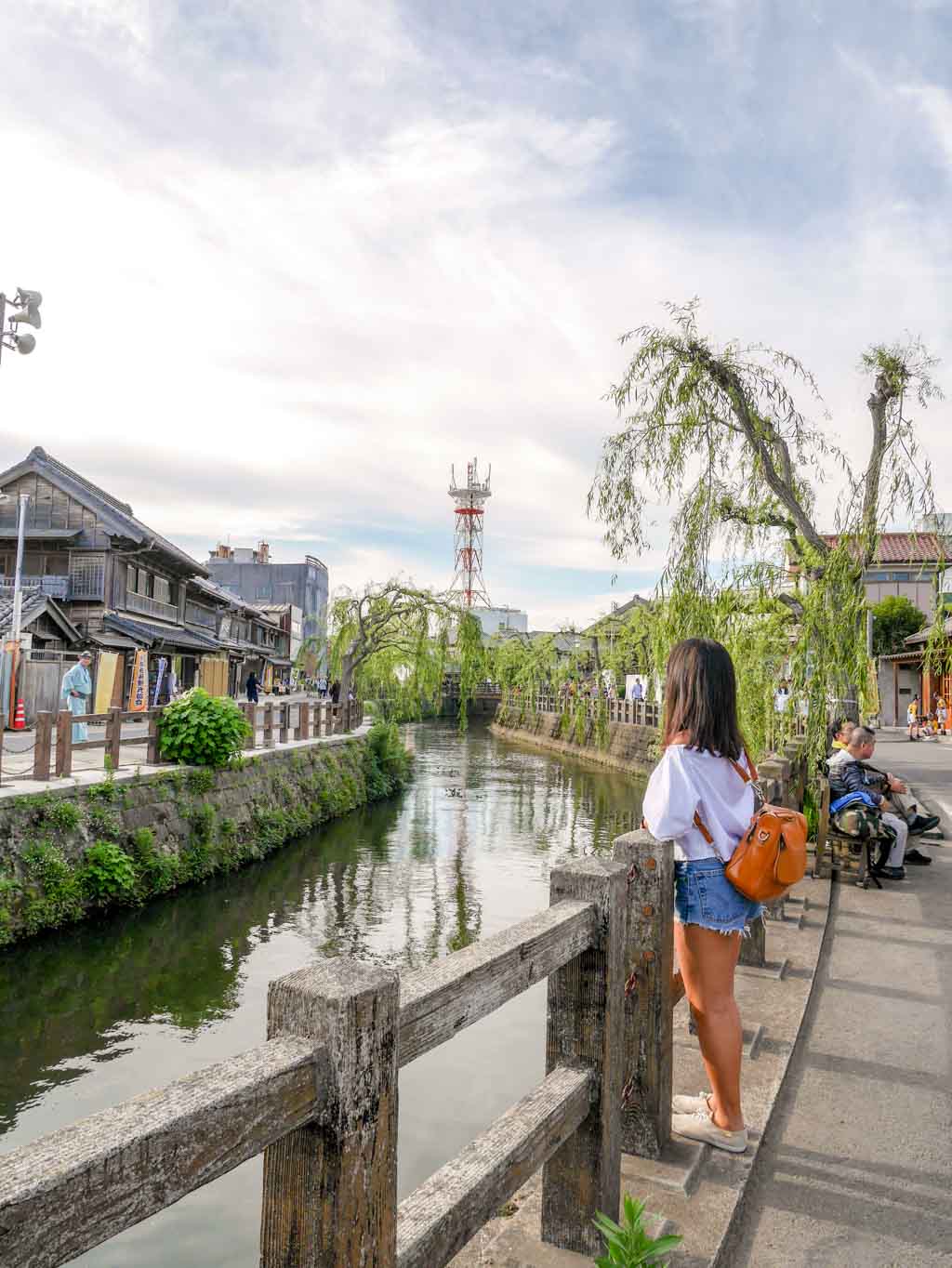 Sawara is actually dubbed as Venice of the East, having flourished during the Edo period as a harbor town. Many buildings, as well as the canals, had been kept exactly the way it was all those hundreds of years ago, making it appear straight out of a movie scene. Even without the festivals, it's worth a visit.
The Sawara canals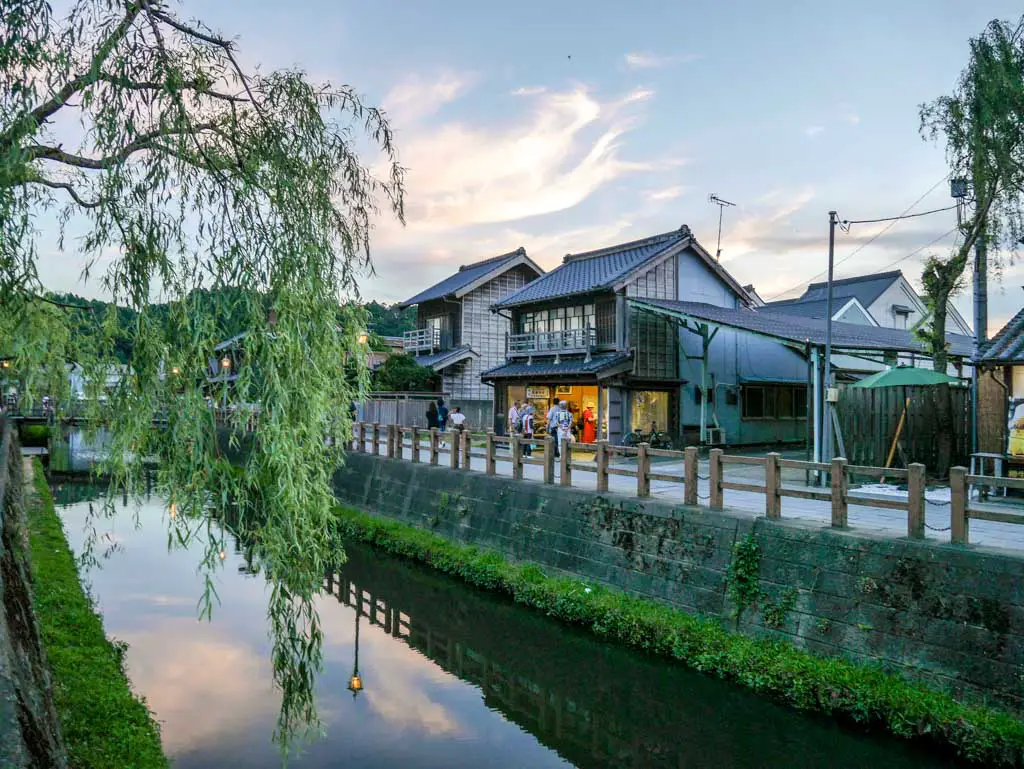 The canals are arguably the most notable part of Sawara, with wooden or stone bridges framed by willow trees. You can hop on a traditional flat boat at one of the many stations along the canal to experience this ancient mode of transport, or stroll along to admire those in the boat.
Cost: 1300 yen for adult, 700 yen for children in primary school and below
Inō Tadataka House
Inō Tadataka was the first Japanese surveyor and cartographer who had walked the entire coast of Japan to complete its map. It took 17 years and 35,000 km, from 1800 to 1816. His house is now a National Historical Site and you can visit the museum.
Address: 千葉縣香取市佐原1722-1
Opening times: 9:00 – 16:30 (last entry 16:00)
Cost: 500 yen for adult, secondary school and below 250 yen
(There are many others such as the Katori Shrine, Burekimera Oyasumidokoro etc. that we didn't have time to visit)
Other festivals in Sawara
Hina Doll Tour
Occurs in early February to late March, the Hina Doll Tour is held at the changing of season. Another festival related to "scaring away diseases", it evolved from the practice of rubbing a wooden doll on your body to transfer the illness to them. The dolls eventually become more and more ornate and decorated, becoming Hina Dolls.
Bon Festival in Sawara
Occurs in mid-August, this is the equivalent of Halloween in Sawara and involves lanterns being released and offerings to the dead.