Asakusa is a lovely historic district in Tokyo with many things to do for visitors. It had completely over thrown the impression I have of Tokyo being a bustling metropolis, much like Hong Kong. The buildings were mostly low-rise dotted with temples, shrines, quaint tiled streets and old-fashion stalls with wooden beams and calligraphy signs. It has the charm of both old-time Tokyo with skyscrapers here and there, boosting a unique skyline. My two-day stay there was the best way to start off my Tokyo trip and here are 8 things to do in Asakusa:
Asakusa hotel: Stay at the Gate Hotel Kaminarimon
note: my stay at The Gate Hotel Kaminarimon was sponsored but all opinions are my own
One of the best things I did in Asakusa was staying at the Gate Hotel Kaminarimon. Why? Because of this view: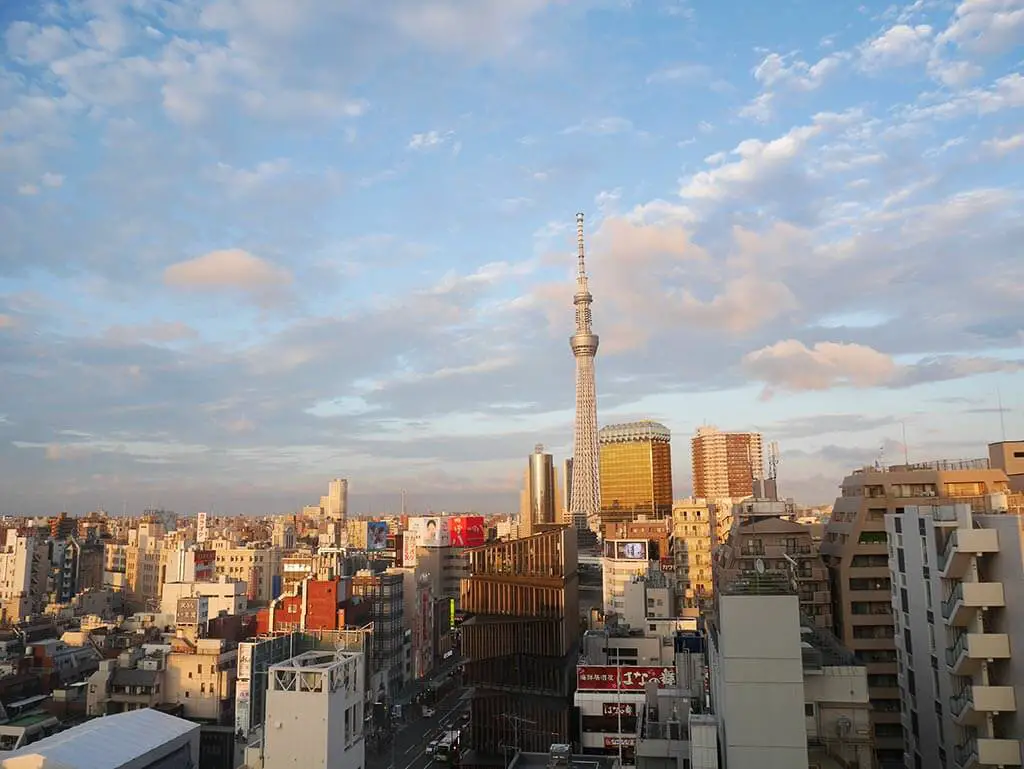 Of course, there are many other reasons, here's a short list within the list:
The hotel is located a stone throw away from that Kaminarimon gate itself, and my room had a perfect view of it as well as the Sky Tree opposite the river, making me never want to leave the hotel room
While Asakusa isn't that big district and all attractions are nearby, staying in such an ideally located hotel meant that I could pop back for a rest during the day, something that I can never do at home. It was especially appreciated when I was parading around in a Kimono one day (more on that soon!)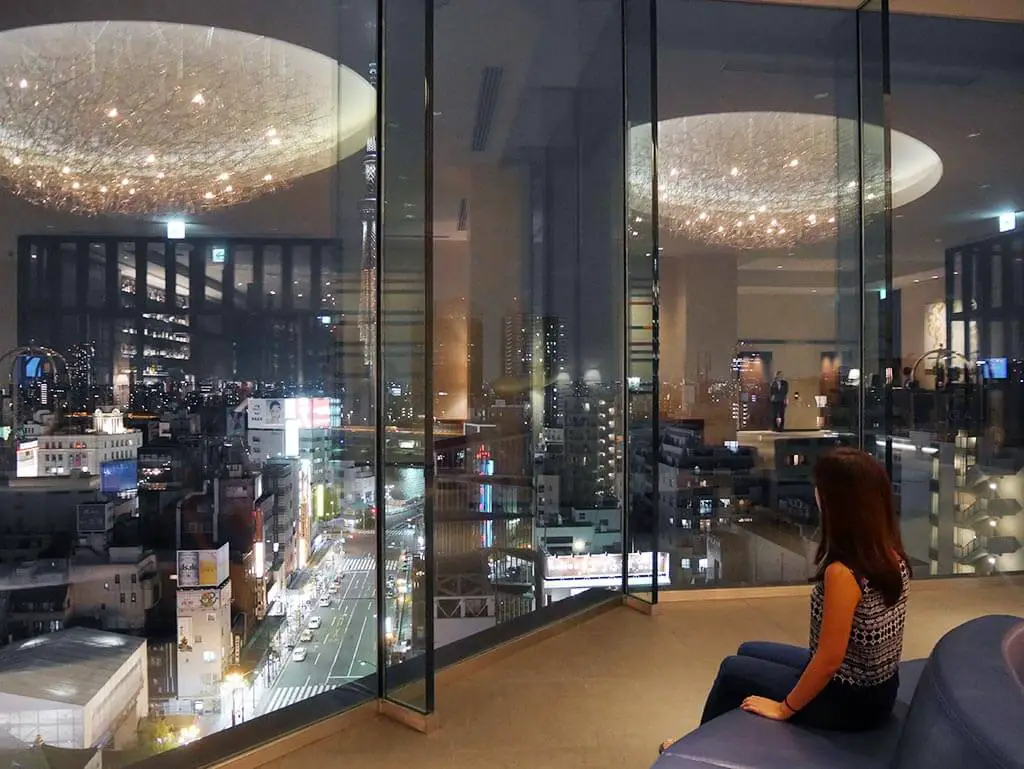 The hotel is different in the sense that their lobby is on their top floor, 13th floor, along with their restaurant. Their breakfast spread is nothing short of impressive, and I fully recommend getting there early for a seat by the window.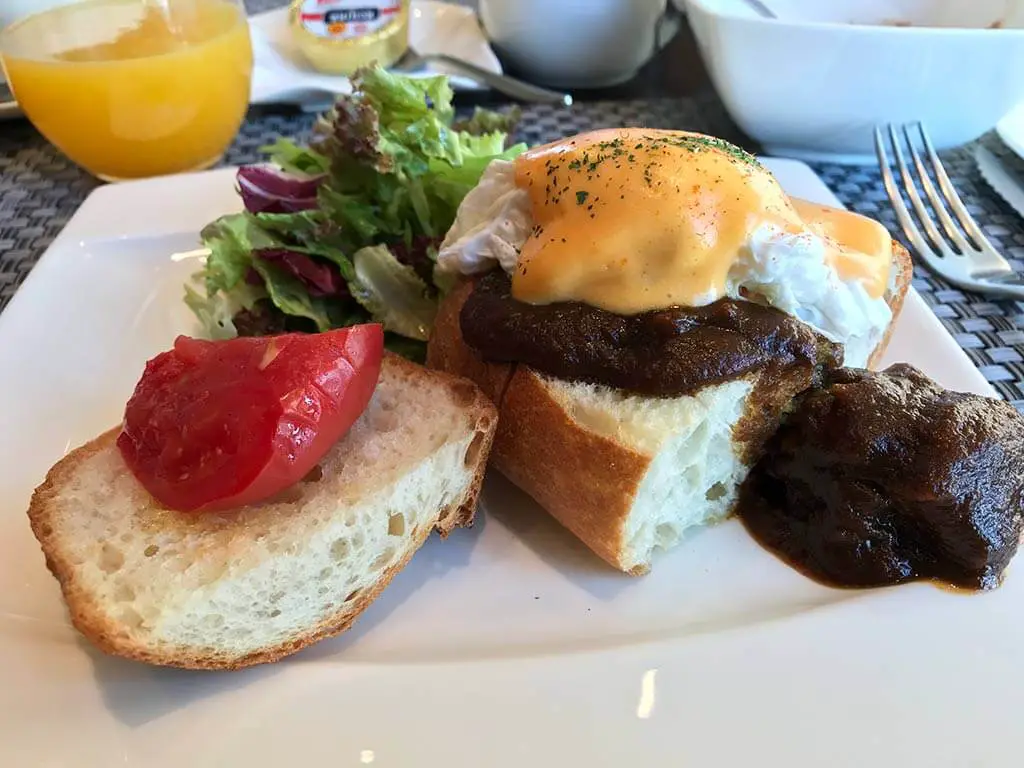 Their Curry Egg Benedict is the perfect fusion of Japanese food and western egg benedict, and the best food to start the day. Did I mention that they have fresh orange juice?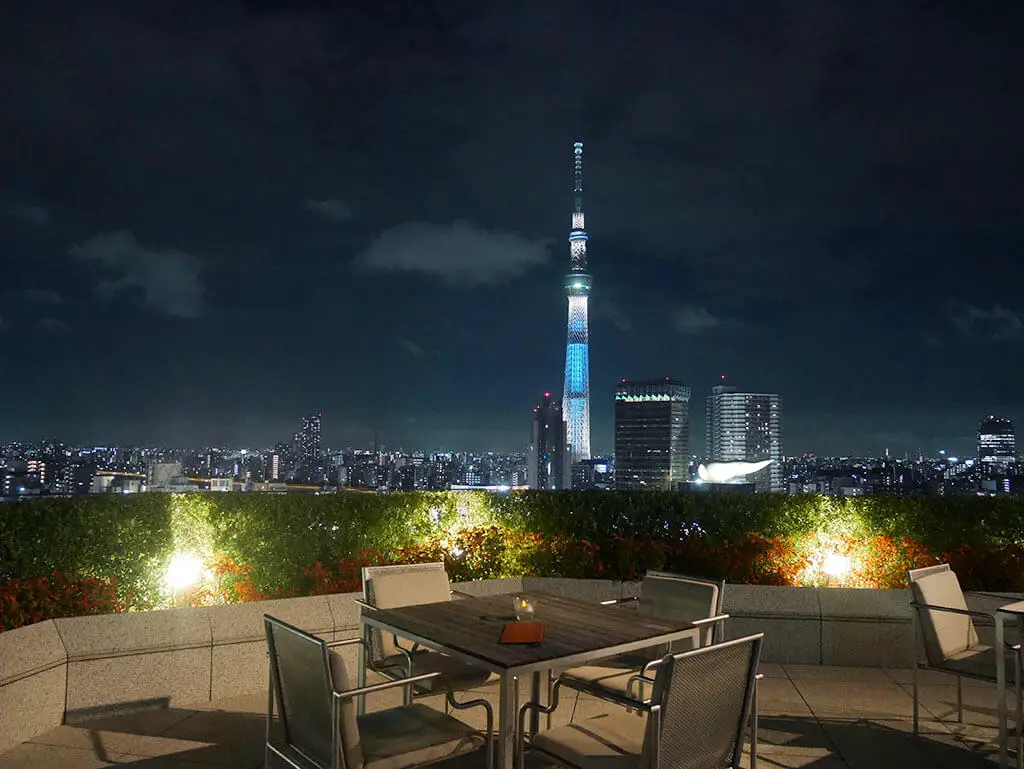 Roof top – the rooftop is exclusive to the hotel guests and free to go up, though it doubles up as a bar at night. Go up there during the day and at night for a different feel of the panorama.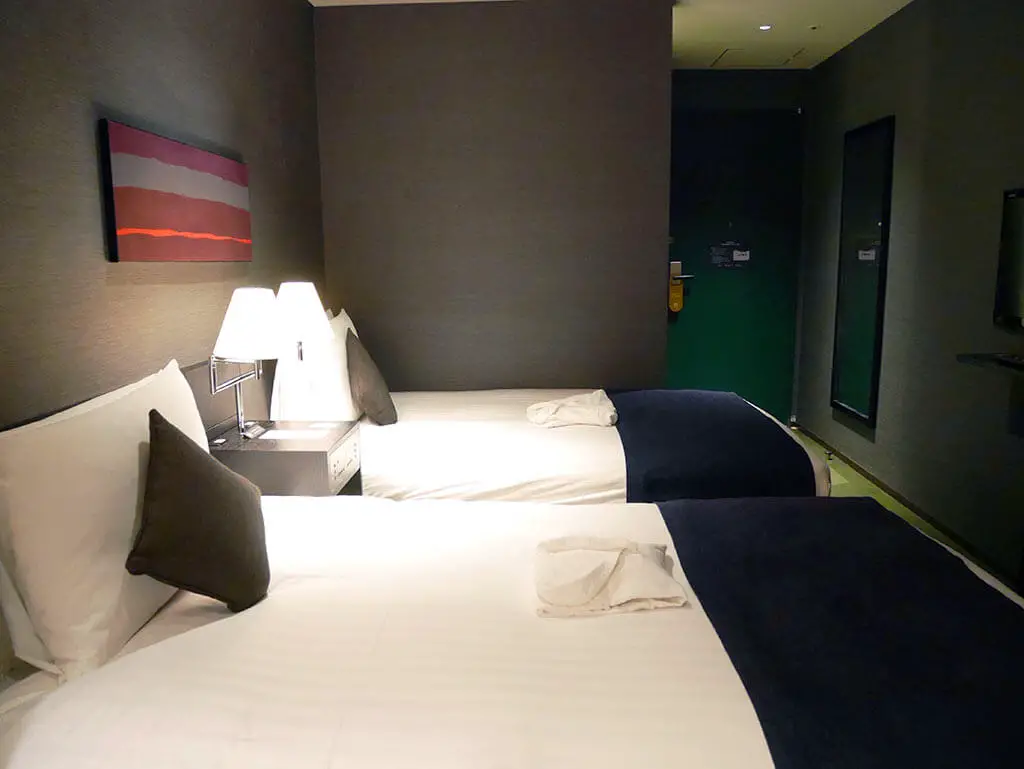 Spacious, comfortable room – I was told that Tokyo hotels are all small, but it isn't the case with The Gate Hotel Kaminarimon. We were able to put our suitcases in a corner and not trip over ourselves (which happened plenty of time in my trip afterwards), as well as a large single bed each.
Great amenities – they have all the bathroom necessities and more, including hair conditioner and bath salt that isn't always included in the hotel. They even had pajamas for guests!
Words alone don't do it justice, so below is a short video of my time there:
Address: 2 Chome-16-11 Kaminarimon, Taito, Tokyo 111-0034, Japan
Asakusa kimono renal: parade around in traditional Japanese clothes
What's more fun and authentic than trying on the Japanese traditional clothing in a historic district? It also makes for some stunning photos that are great bragging rights to your friends back home.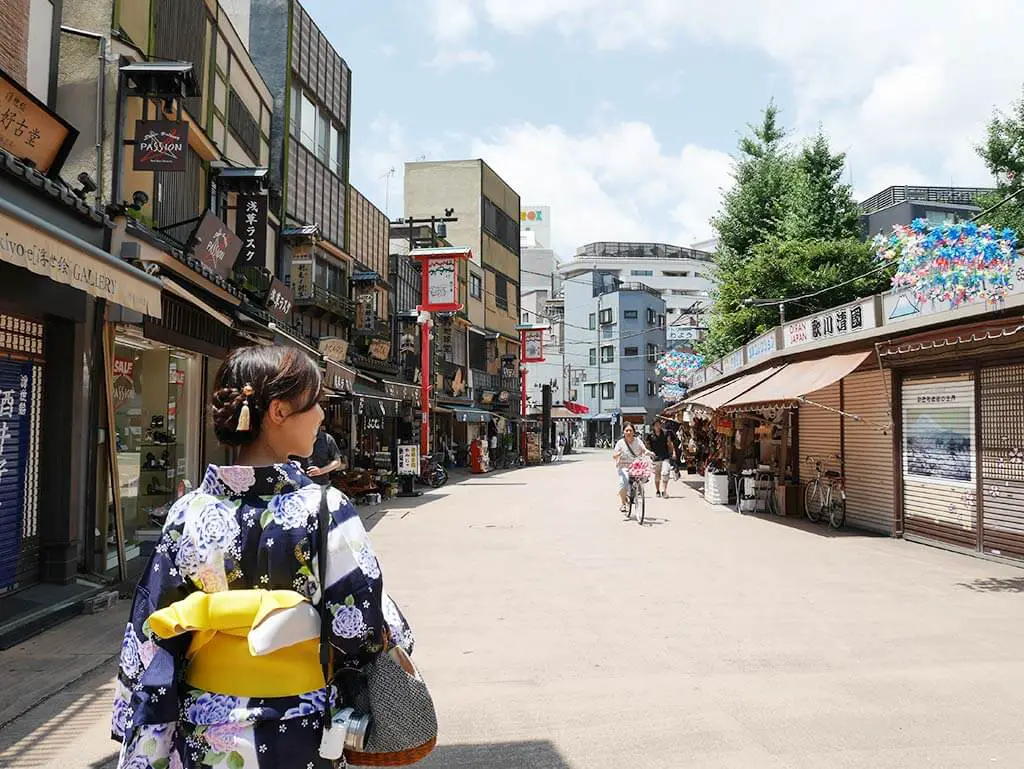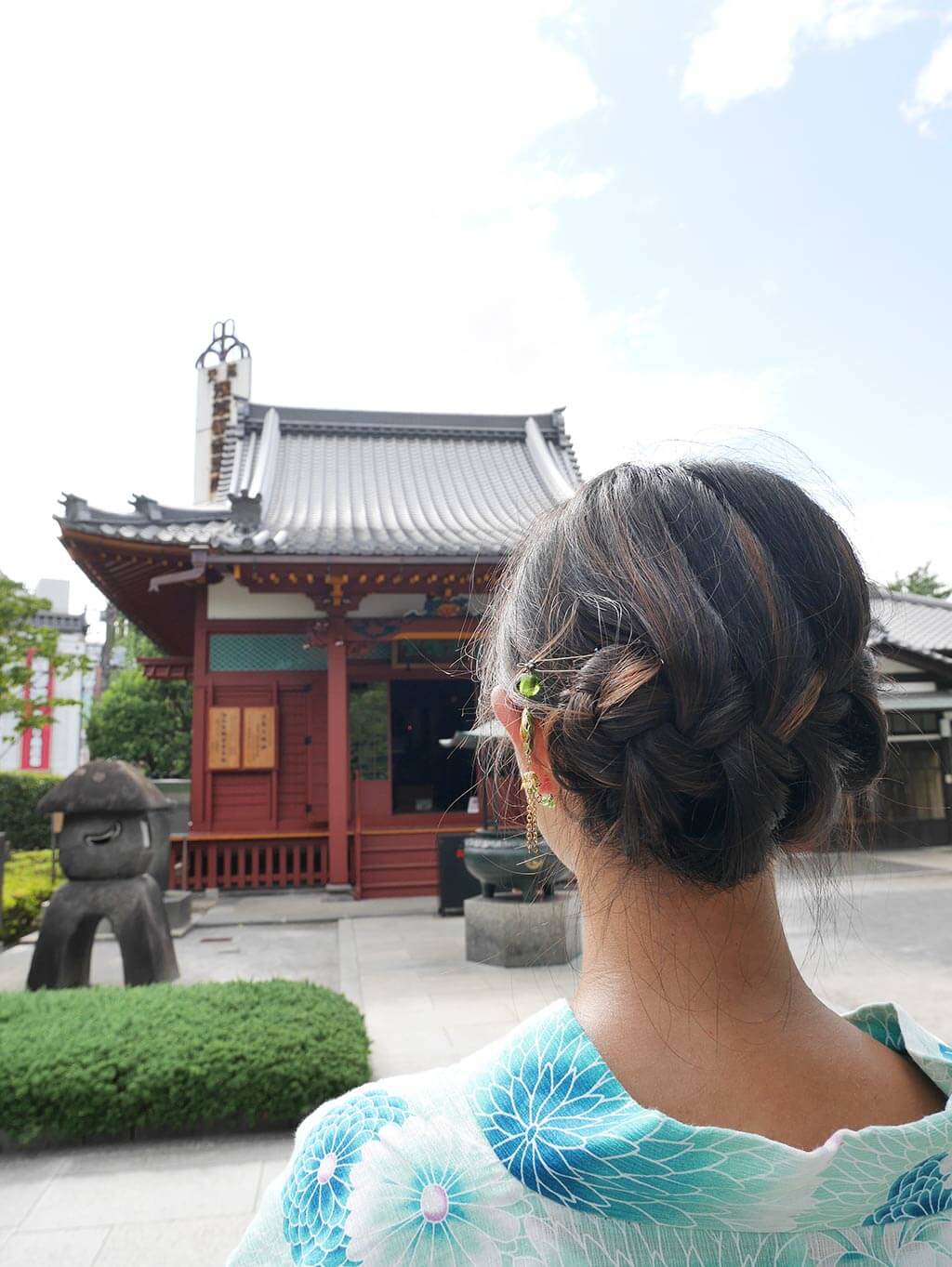 There are plenty of places to rent Kimono or Yukata, a lighter summer kimono, in Asakusa. Most require booking ahead, so it's something that you definitely need to think about ahead of our visit. Most places rent it out to you for the entire day (not by hours), so it's best to get there/book as early as possible to have full choices. Make sure whether there are hair accessories or bags included.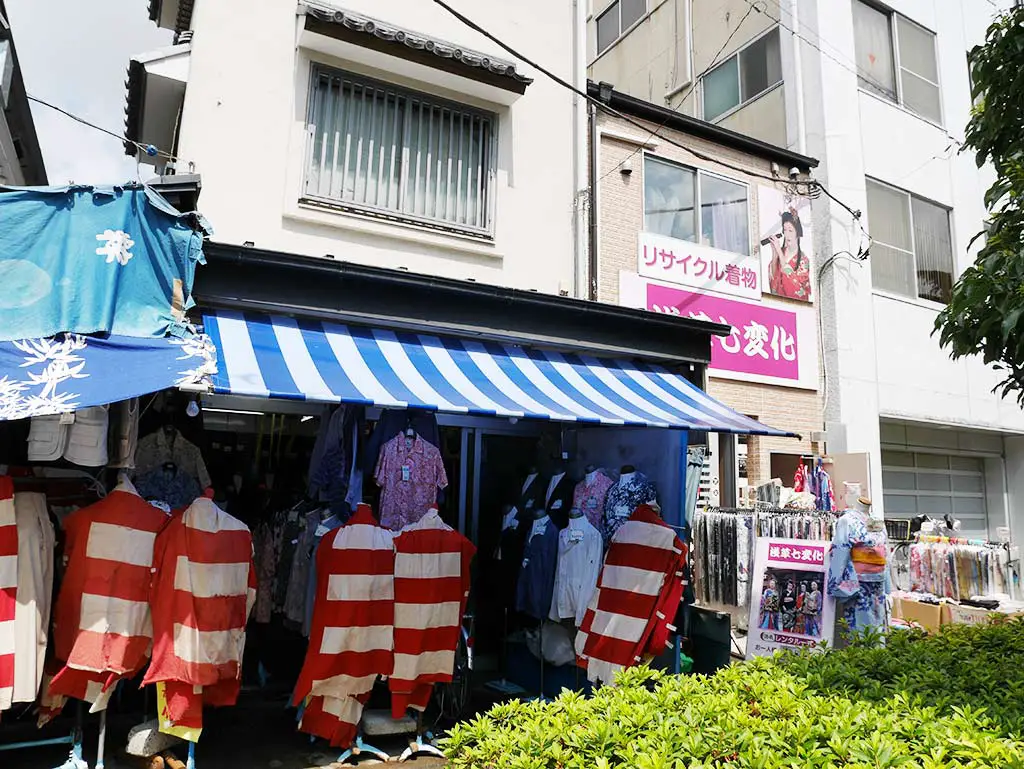 Alternatively, you can also buy them, but personally, I didn't think I'd wear a kimono again once I'm home, and it is nice to have someone put it on you properly.
Then it's photoshoot time:
[huge_it_gallery id="17″]
My sis had scoured the internet and we went with Asakusa 7 henge淺草七變化, a family owned little shop on the outskirts of the Asakusa temple garden.
Address: Japan, 〒111-0032 Tokyo, 台東区Asakusa, 2 Chome−29−21
Opening times: daily 10:00 – 17:00
Tip: email them to book (no payment upfront) around a month ago for the best time slots – their English is limited.
You can book directly with other vendors online here
Visit Kaminarimon

The kaminarimon literally translates as thunder gate and is one of the most iconic sights in Tokyo. Apparently, I had visited it as a child but I had no memories of it whatsoever. Kaminarimon stands at the start of the Nakamise Street, built by the military leader Taira no Kinmasa in 941 and moved to this location in 1635. Standing at 11.7m tall, it is flanked by Shinto gods Raijin and Fujin statues at the front, although the gate is currently under half construction (hence the white scaffolding). The current gate is a replacement built in the 1960s after a fire destroyed the old one in 1865.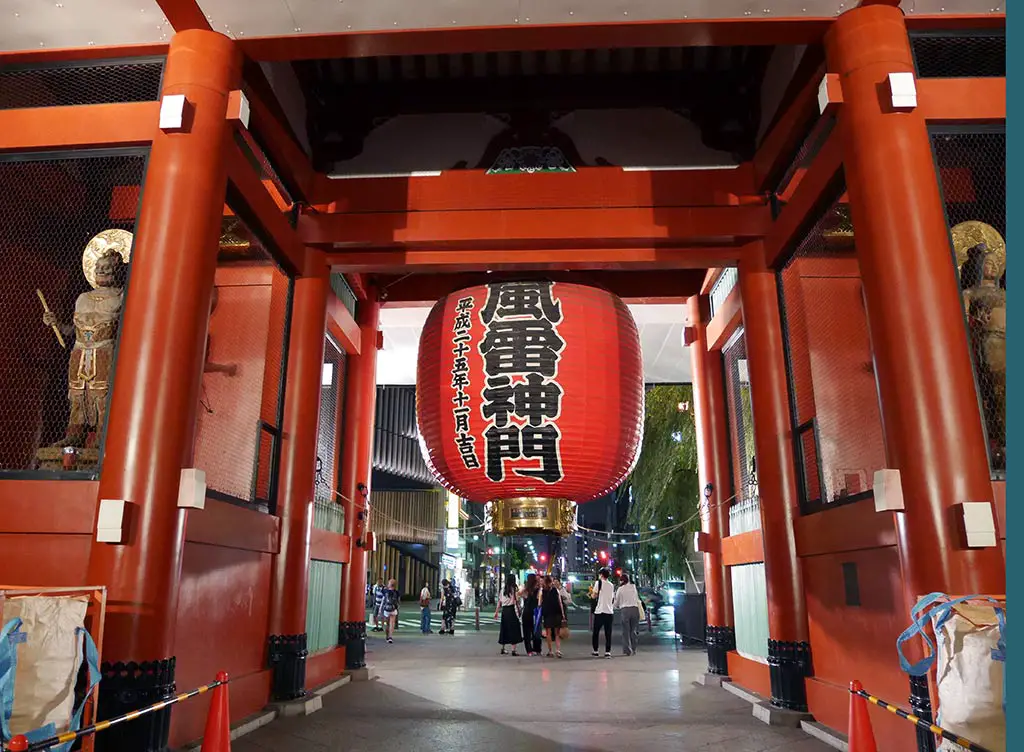 The highlight of the show is, of course, the red chochin (lantern) that's 4m tall with Kaminarimon 雷門 (thunder gate) written at the front and Furaijinmon 風雷神門 (wind thunder god gate) at the back. Taking a photo there is notoriously hard, so it's best to arrive early or late, before 8pm or after 7pm.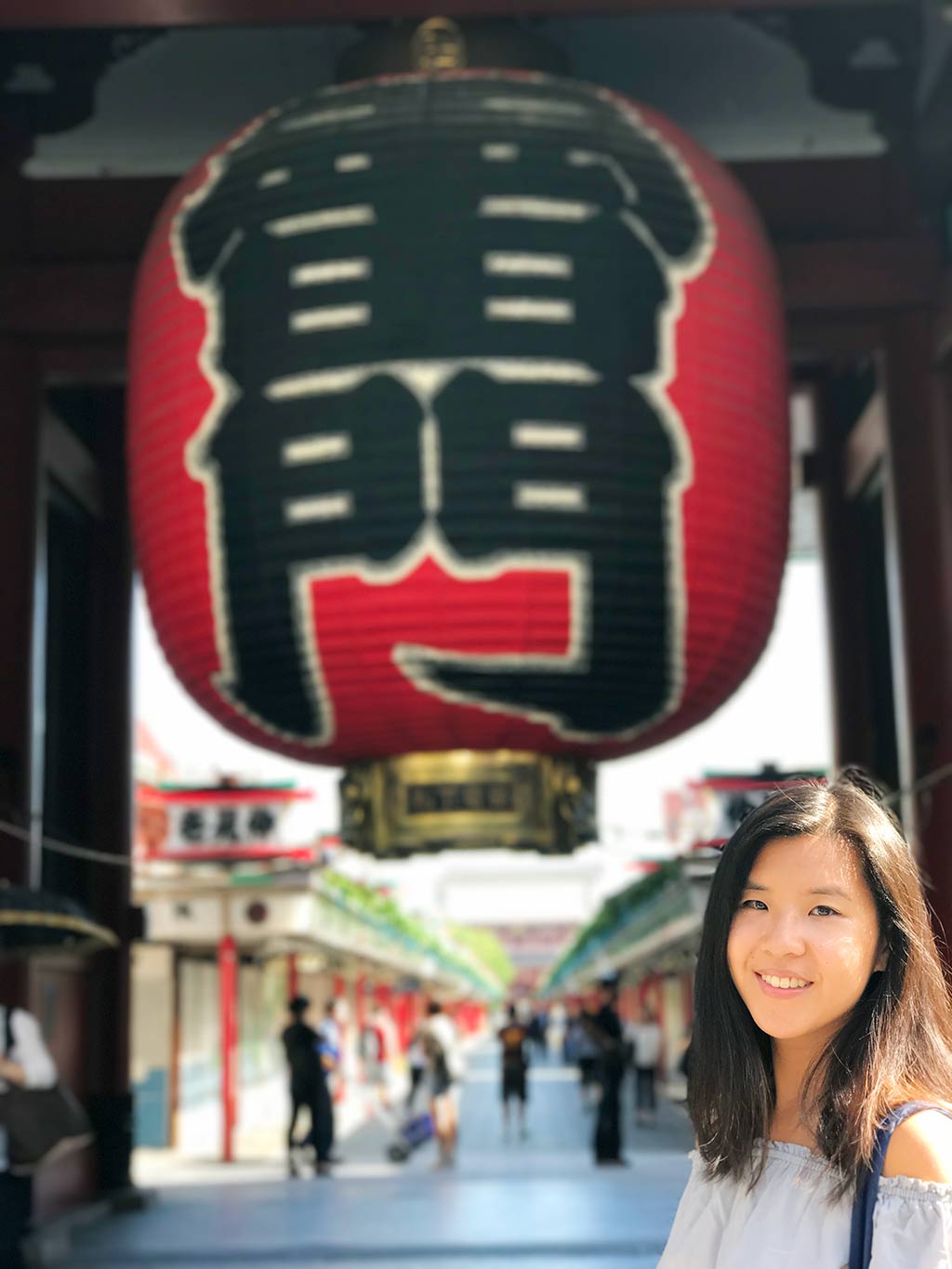 Extra tip: for those with an iPhone, portrait mode is an excellent way to get you face in with the gate even if there is a huge crowd.
Wander down the Nakamise shopping arcade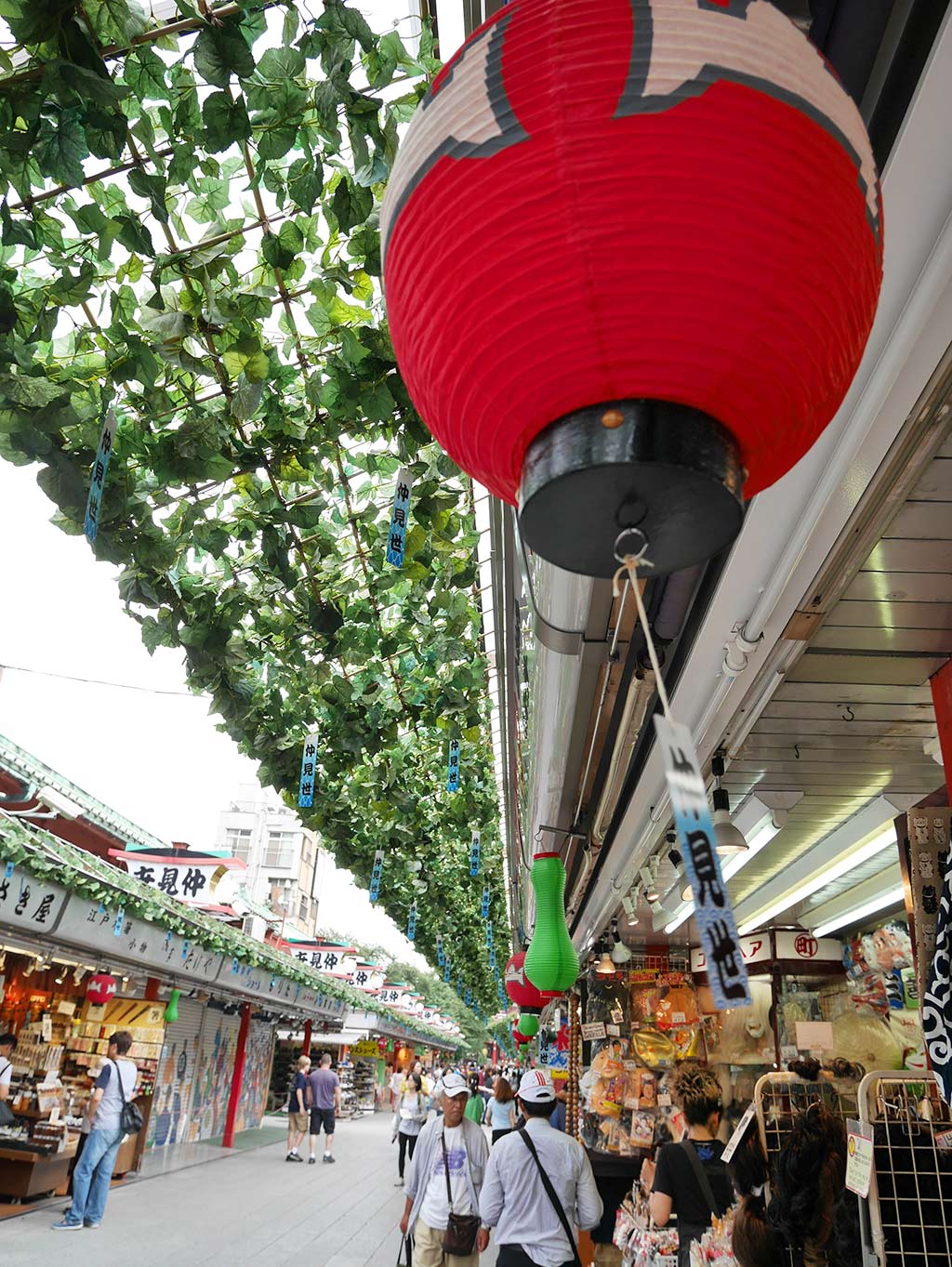 The 250m street that leads from Kaminarimon to the Senso-ji temple is called Nakamise, and it's full of quaint shops selling souvenirs, various Japanese goods, and food. Their uniform of appearance and vibrancy makes for an infectious, bustling atmosphere, although we didn't end up buying anything.
Despite selling a lot of commercialized items catered for tourists, the street actually dates back to the late 17th or early 18th century, consisting of 89 stores. It is a great place for the aforementioned photo shoot with your kimonos.
Visit the Senso-ji Temples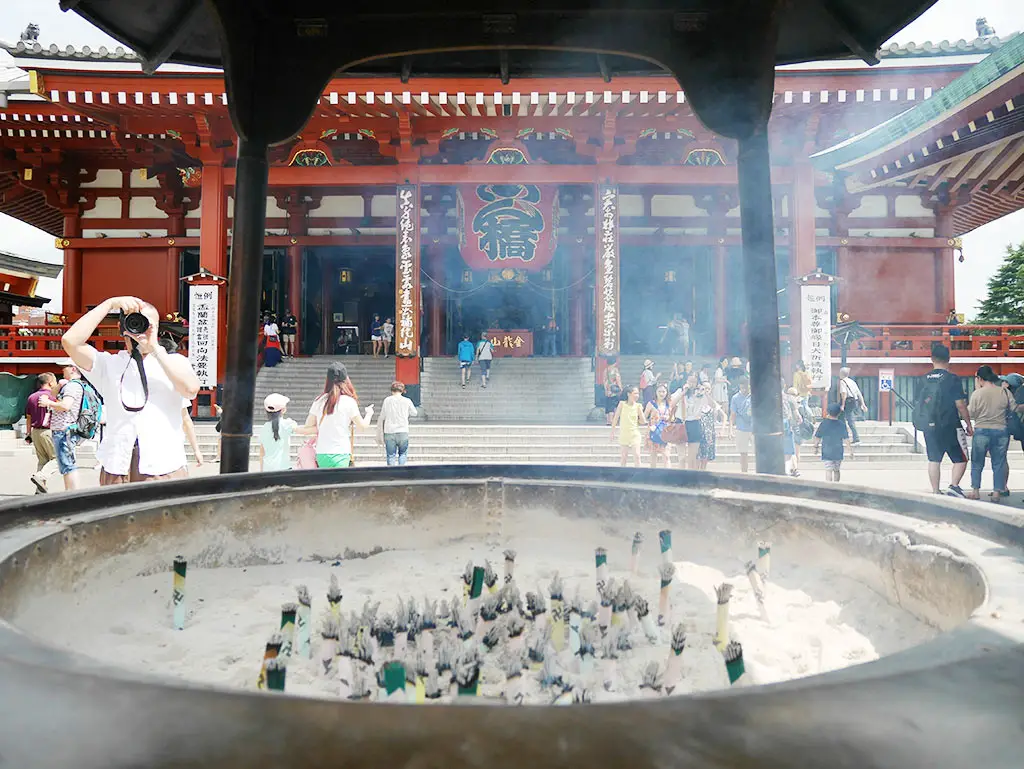 The Senso-ji 金龍山淺草寺 temple is the star attraction that is surrounded by the aforementioned sights. As the oldest temple in Tokyo founded in 654, it is a Buddhist temple dedicated to Guanyin, the Buddhist Goddess of Mercy. The surrounding shrines are equally historic, and together they made up the Senso-ji Temple complex. Although it was damaged in WWII, it was rebuilt and continue to be an important part of Tokyo.
Many devotees burn incense and smell them in front of the temple, and you can get your fortune told as well (more on that soon).
Hozomon (The Treasure Gate)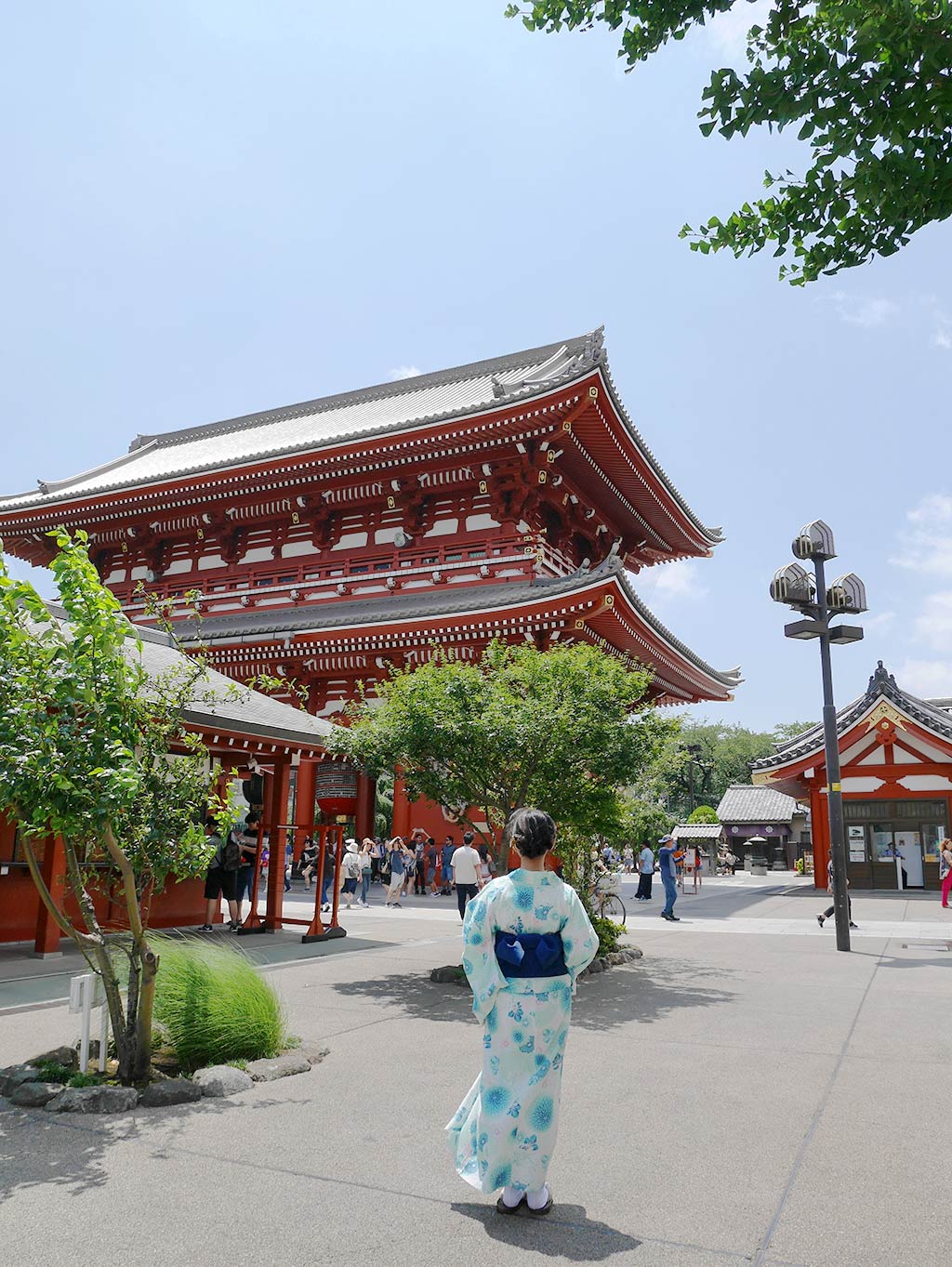 This is the gate after Kaminarimon before you reach Senso-ji, also known as the inner gate. With two stories, at first, I assumed it was a temple until I got closer. Its name refers to the treasure stored in the second storey, and the gate is over 22 m tall and 8m deep. It is guarded by the Buddhist deities Nio, guardians of the Buddha.
It was built in 942, but was subsequently destroyed by fire and well as air raids in WWII. The current one was built with modern material and method in 1964 through money raised from donation.
Asakusa Shrine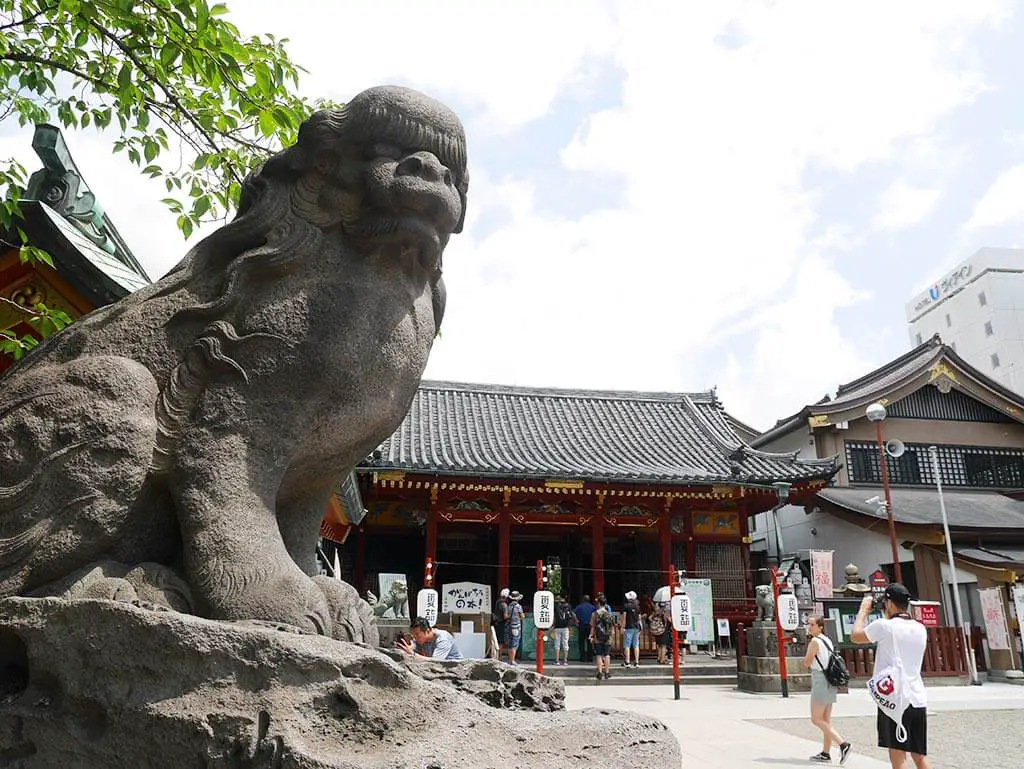 A shinto shrine that dated back to 1649 in the Edo period, it is among the most famous in Japan and situated east of the Senso-ji temple. This shrine is dedicated to the three men that were responsible for the building of Senso-ji. It is said that two fishermen caught a Buddha statue, and was subsequently approached by the third man, who was wealthy and a Buddhist, who converted them to Buddhism and built the Senso-ji.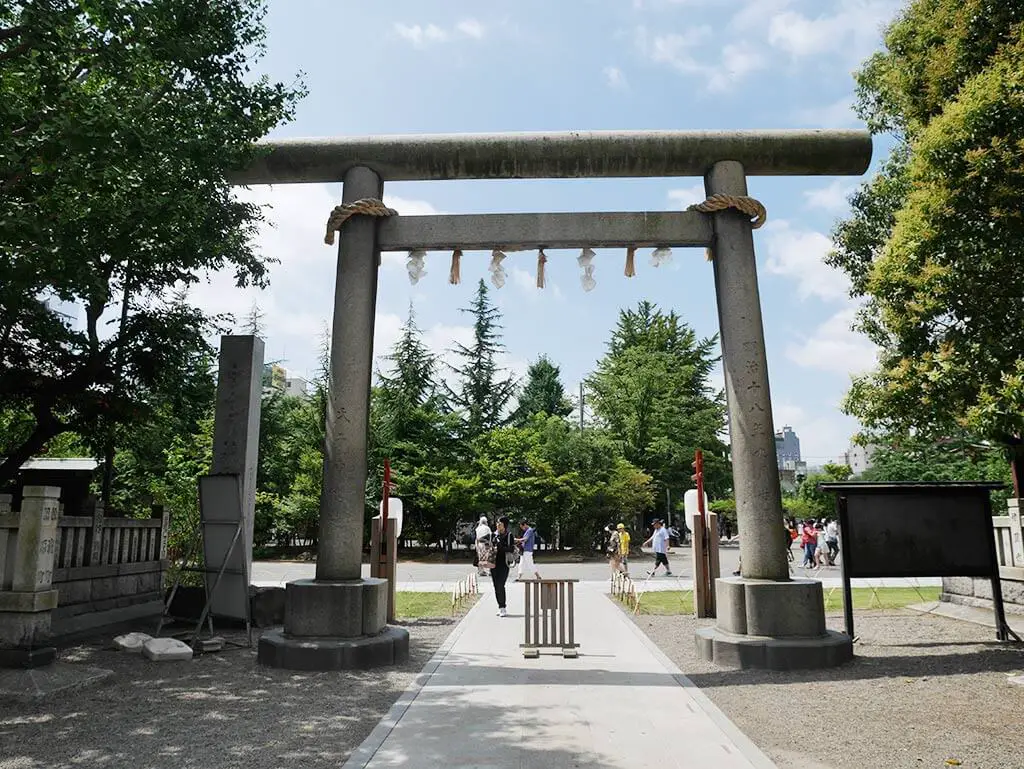 It survived WWII and some of the key features include the lion statues either side of the shrine, the tori leading to the shrine and the summer lanterns.
Get your fortune told by Kau cim at Senso-ji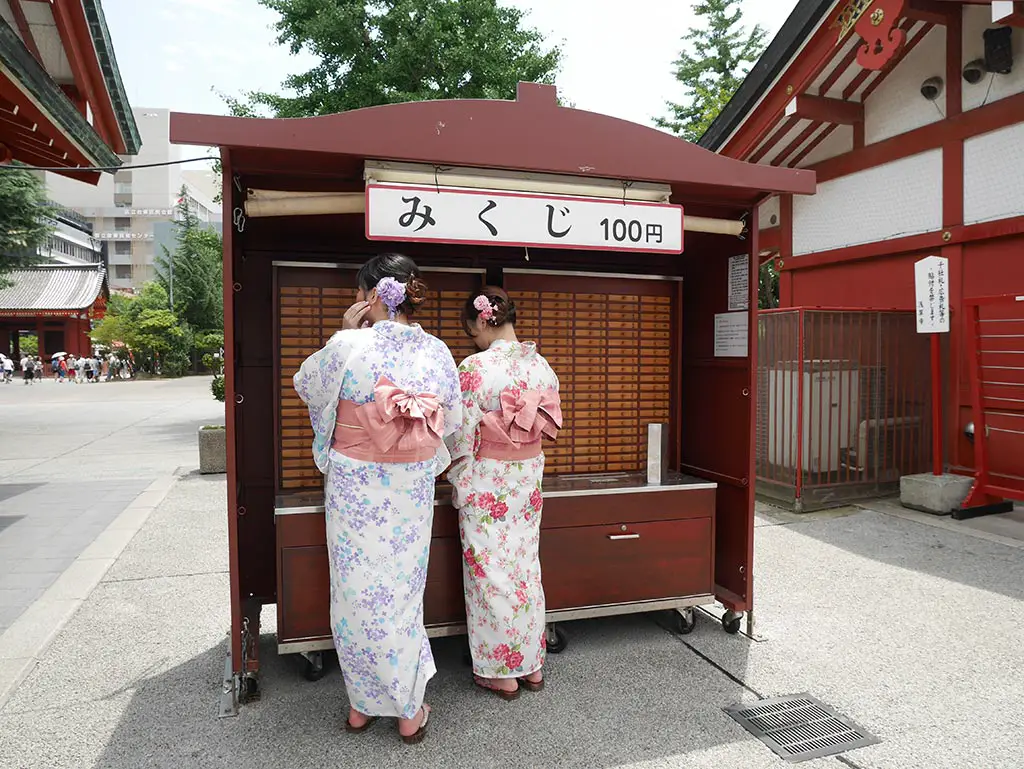 It is common in Buddhist temple to get your fortune told by Kau cim. It is essentially the practice of shaking a cim bucket (unlike the ones in China, these one are close-topped with a single slot for the stick (cim) to come out) until one stick comes out. Then, you find the corresponding number that will reveal your fortune.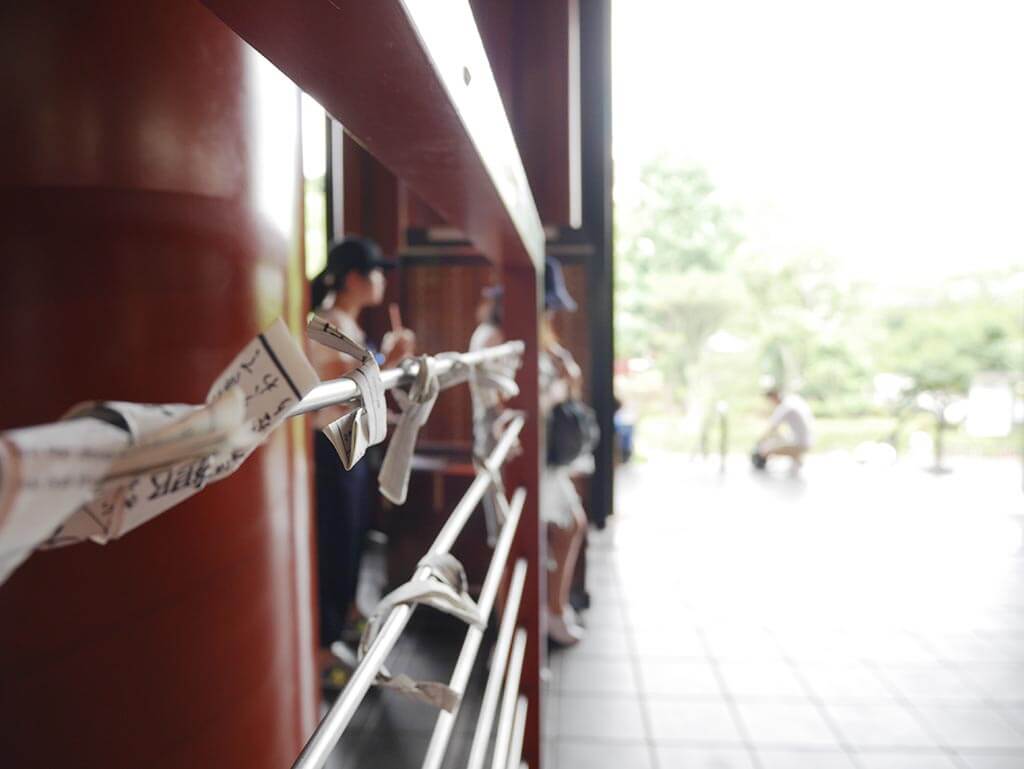 Unfortunately, the fortune will be written in Japanese. However, as a Chinese, I was able to read the kanji (which are essentially Chinese characters). To make it easy for you, your general fortune meaning can be interpreted on the first line by one character: if you get 吉 – it means good fortune. If you get 凶, it means bad fortune.
(I got bad luck and my sis got good luck. Figures.)
What do I do if I got bad fortune? You might ask. Well, you must leave it behind. You can do so by folding your fortune and trying it on the racks nearby. If you got a good fortune, then take it away with you!
There are numerous stands around between the Hozoman and Senso-ji, and you only need to pay 100 yen to discover your luck!
Hanayashiki amusement park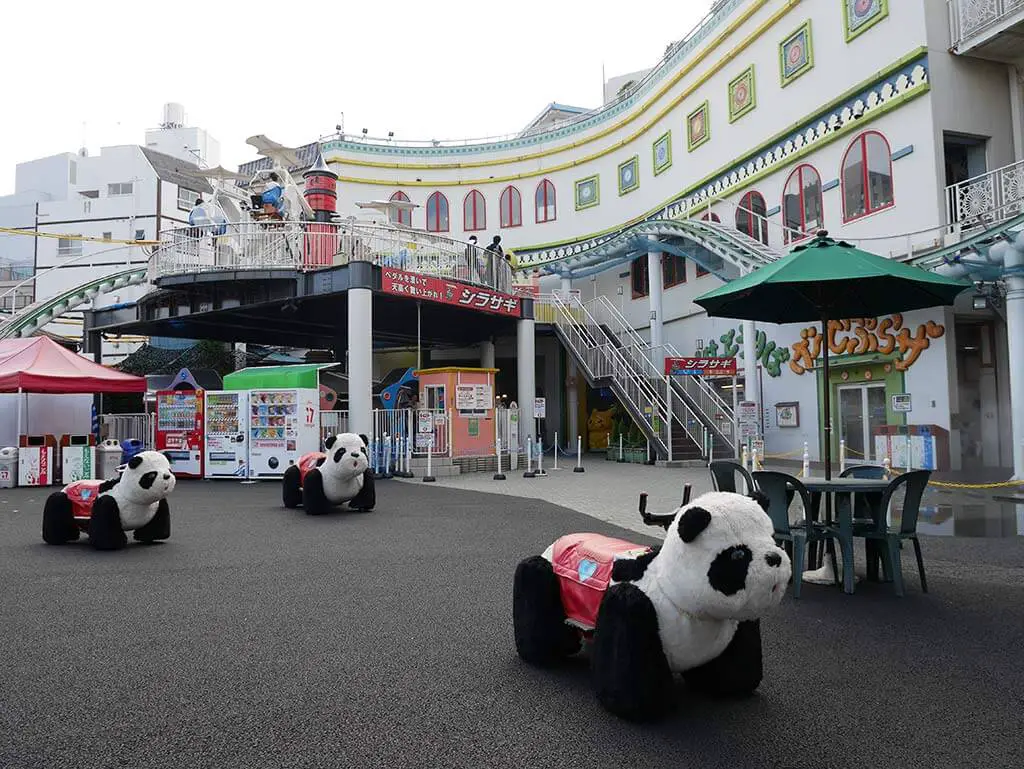 The oldest amusement park in Japan opened in 1949, the Hanayashiki Asakusa amusement park might not be big, but it is an interesting sight to behold. Note that the 1,000 yen entrance fee doesn't include all of the rides, you'd have to buy tokens (100 yen each) and pay however many each required. Not that we went in for the rides, we just wanted to see it as well as take photos.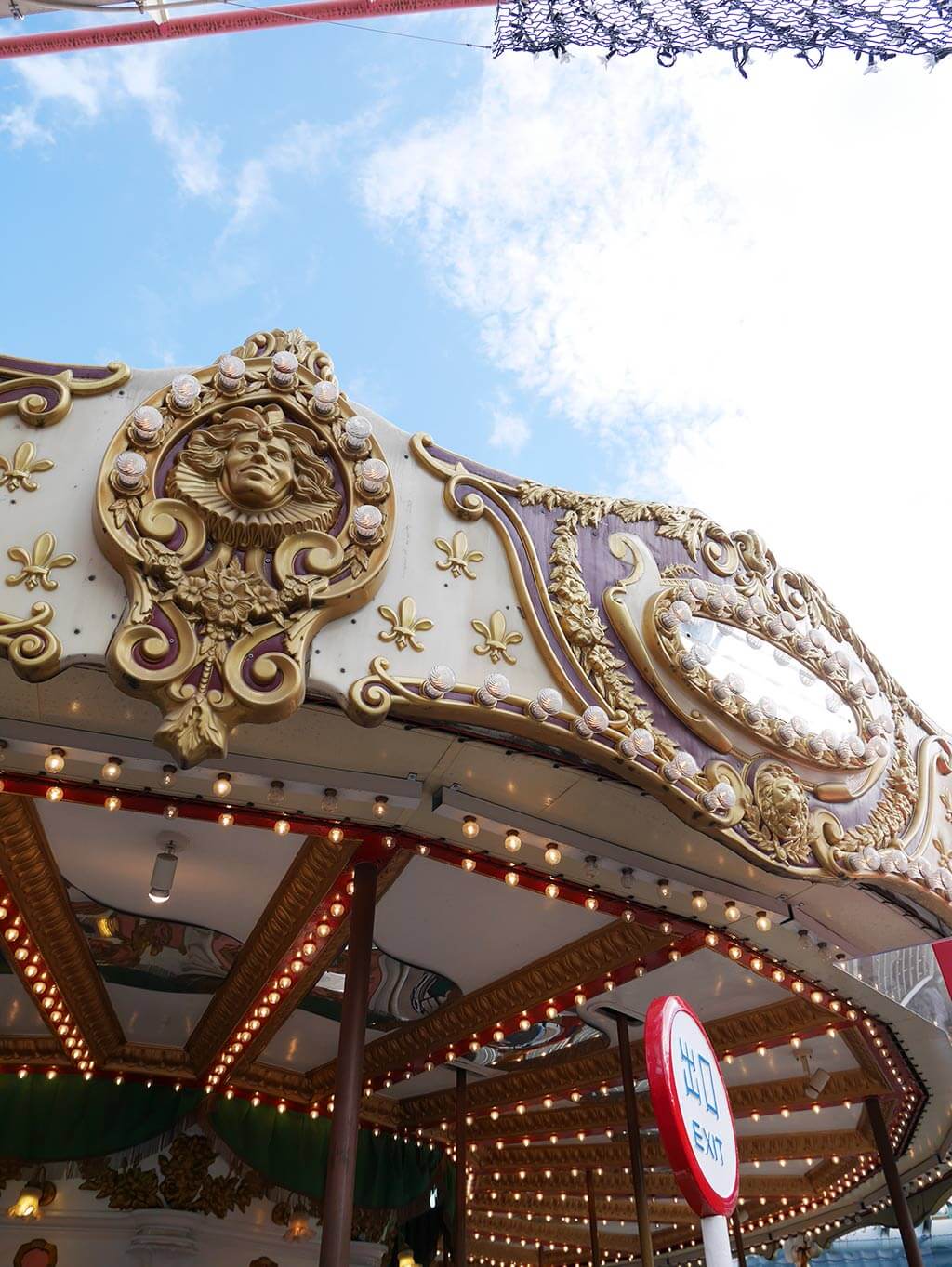 They have a Merry go round, a square with moving panda cars (wind up for kids), and we had a few goes at the gaming arcade.
There are plenty of snack shops around, too, if you fancy some food.
Address:  2 Chome-28-1 Asakusa, Taito, Tokyo 111-0032, Japan
Opening times: daily 10 – 18:00
Entrance fee: Just entry 1,000 adults, 500 for primary school children and 65+; all inclusive: adult 2,300, primary school students 2,000, 65+ 門and children who has yet to enter school 1,800; children under 2 free
Tokens: 100 yen per token; 1,000 yen for 11 tokens
Try Gyukatsu in Asakusa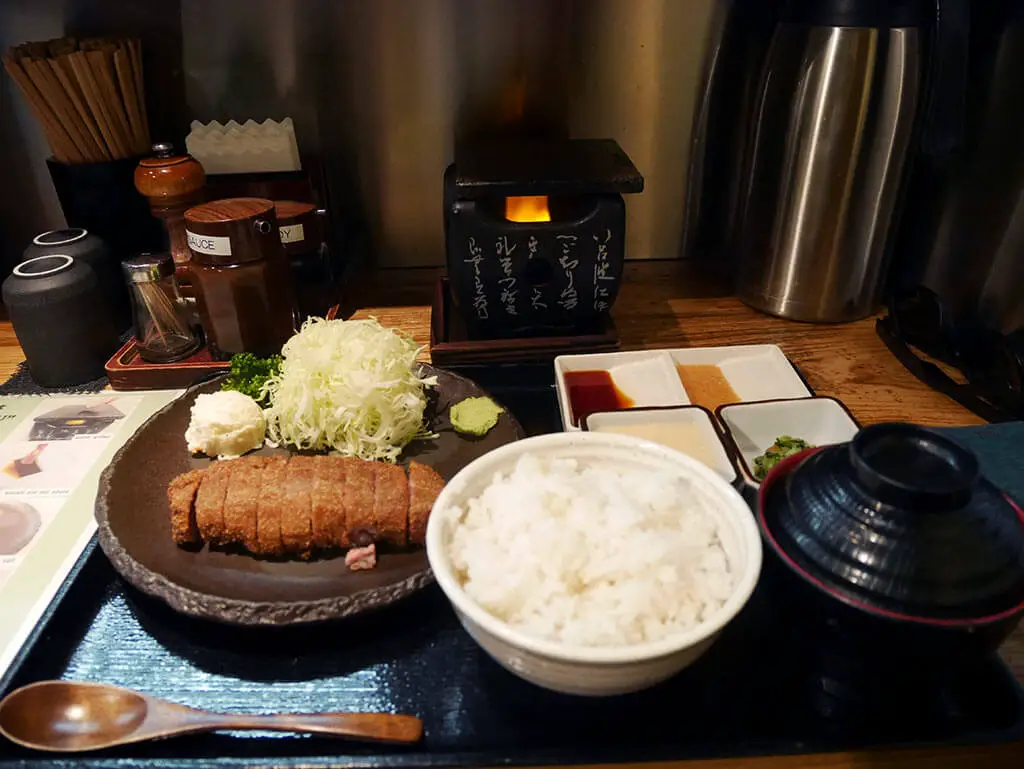 Most of you are probably familiar with pork katsu (fried pork chops) in Japanese cuisine, but have any of you had Gyu-katsu? It's basically the beef version and, oh my, it is out of this world. A minute away from the Gate Hotel Kaminarimon is the Asakusa Gyukatsu restaurant hidden underground. The small shop was quite small so we had to wait for a while to get seated, though we were able to order first so it would be ready for us when we sat.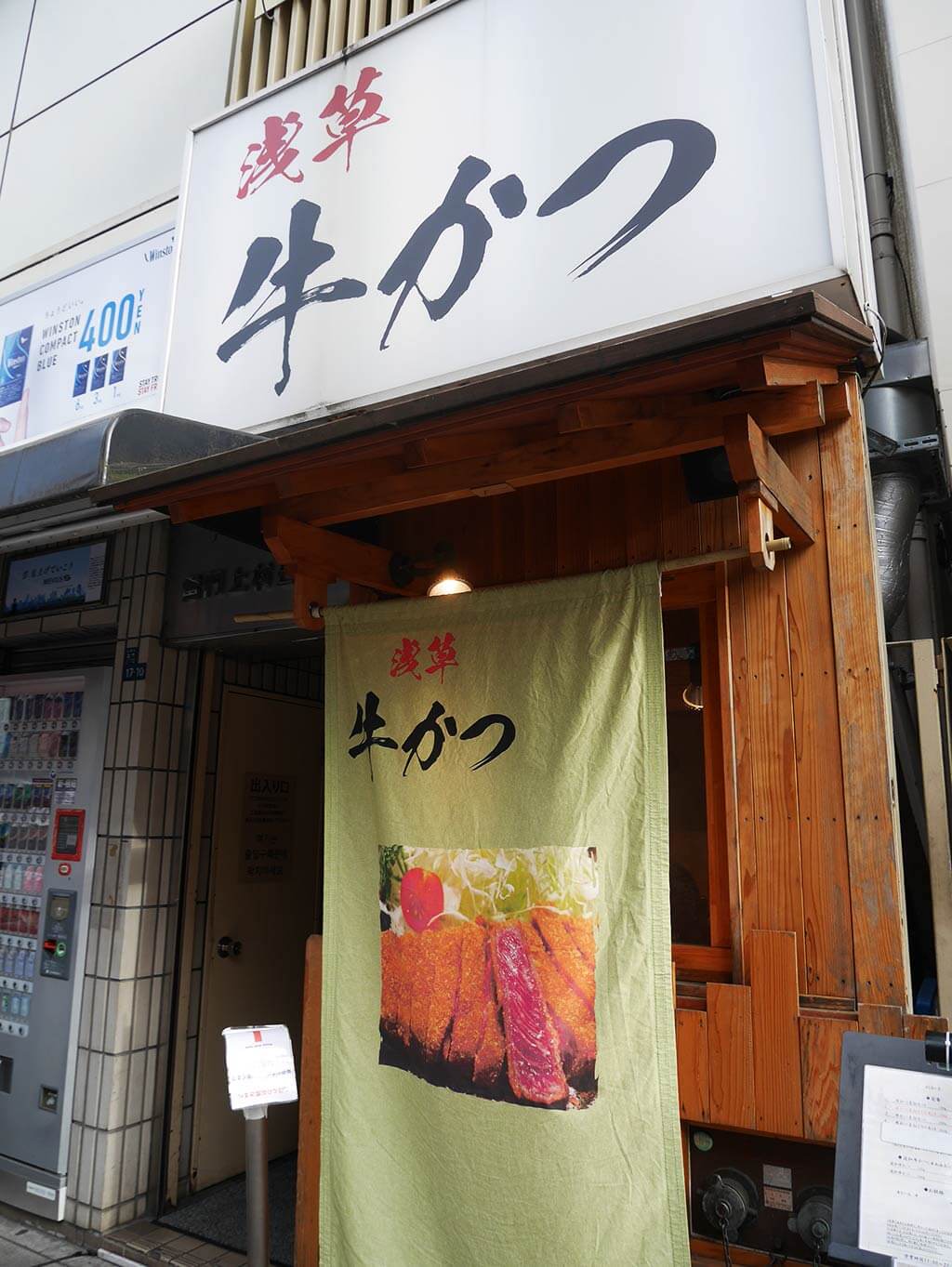 We were given a little hot plate to cook the Gyu-katsu to our own liking, along with different dips and more cabbage than I had ever wanted to see. We also ordered yam mix to go with the rice and it was actually nice.

We enjoyed the Gyu katsu so much that we ordered extra portions. So worth the weight gain!
Asakusa Gyuukatsu
Address: Japan, 〒111-0034 Tokyo, Taito, Kaminarimon, 2 Chome−17−10 雷門上村ビル
Opening times: daily 11:00 – 23:00
Cost: I had their set meal #1 for 1300 yen
I stayed at the Gate Hotel Kaminarimon as a guest, but all opinions and thoughts are my own