Last updated on December 23rd, 2019 at 09:18 am
Tokyo is a metropolis, there is no doubt about it. As the most densely populated city in Japan, this capital is famous for being crowded and compact, though not to the point of Hong Kong.
Given that it is such a big place, how do you make sure you see everything during your trip? The answer is you probably can't. However, my twin happens to be a great planner and we focused on seeing the most famous historical sights, shopping, and food on our week-long trip to Tokyo in the summer. Beyond that, we even hiked Mount Fuji, the tallest mountain in Japan, before we dive into the itinerary, here's some useful info:
Getting around Tokyo
Tokyo metro is one of the most efficient systems in the world, and there is no other way to get around other than using it. You have several options as to how you can get around the Tokyo transport system and below are some advice:
Tokyo 3 day metro pass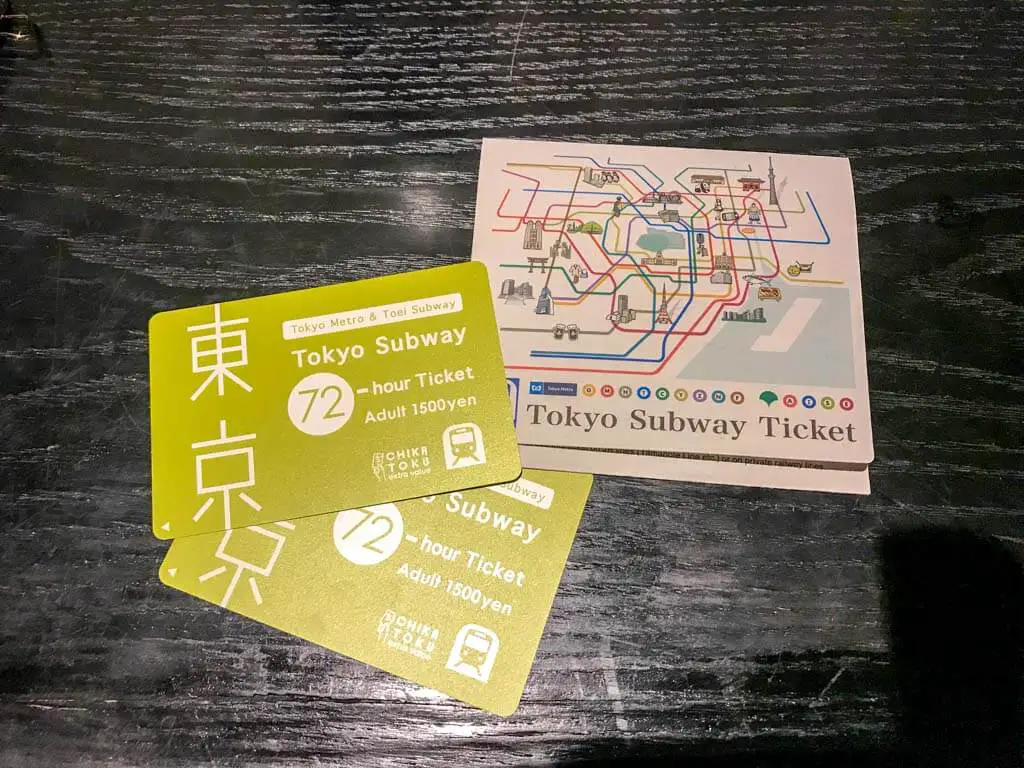 For 1,500 yen, you can get a 3 day Tokyo subway pass (which doesn't include the JR line). It's a pretty good deal for us as we planned on travelling more for 3 days. It is activated by day of first use, so you can buy them in advance.
It's easiest to get them when you arrive at the airport at T2. There are also 1 and 2-day pass, more information here.
You can also pre book your metro day pass here
IC card
The transport card for Tokyo, IC Card can be purchased at any station and you can top up as you please. Since I haven't used it, I don't know much about it, but here's the official website.
Individual tickets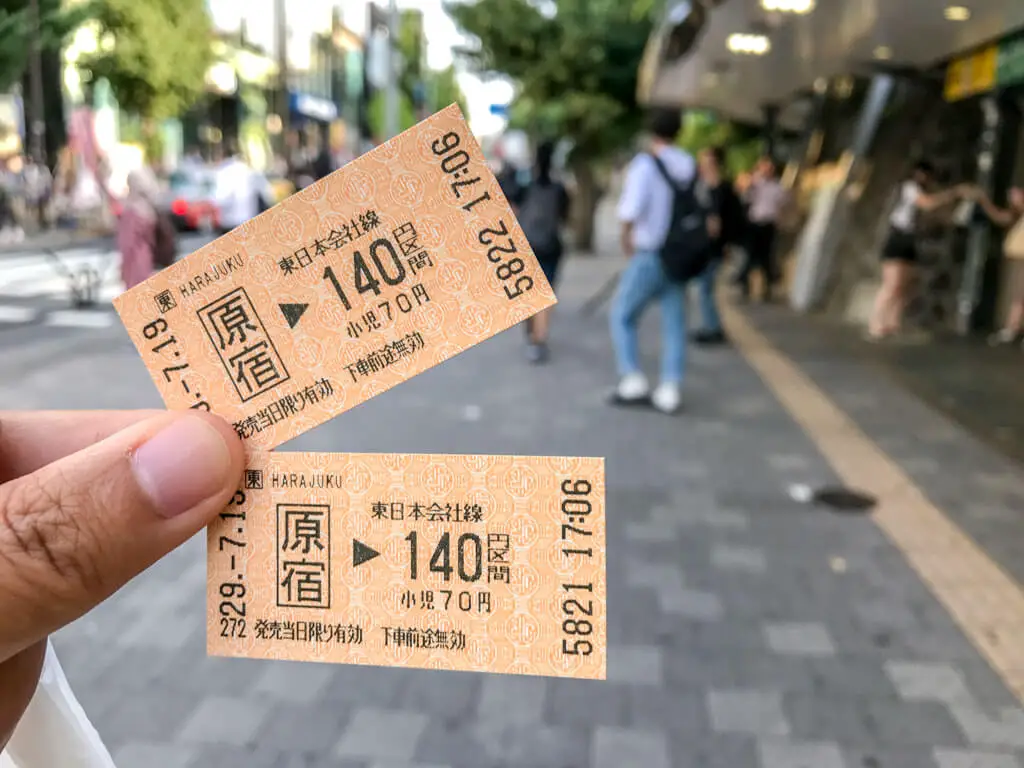 Individual tickets for a single trip can be purchased at any station, but bear in mind that tickets purchase at a station can only be used FROM that station, so don't buy more.
Tickets are available in denominations of 170 yen, 200 yen, 240 yen, 280 yen and 310 yen – based on distance from the station of travel. IF you end up going further or closer, you can get the fare difference at the manned ticket barrier or Fare Difference machine.
WiFi or Sim card for Tokyo
It's important to stay connected in a big city, I wouldn't be able to navigate effectively! I have booked a WiFi egg through Klook and picked it up at the Hong Kong airport, but there are sim card and Tokyo airport pick up options, too.
When to visit Tokyo
I visited Tokyo in the summer since Mount Fuji only opens to hiker between late June to early September. However, Tokyo – and Japan in general – can be visited year around. In spring, there is cherry blossom, in summer there's good weather, autumn brings red leaves, and winter brings snow. Here's 5 amazing things to do in Winter in Japan.
Tokyo itinerary 7 days
Day 1 – Asakusa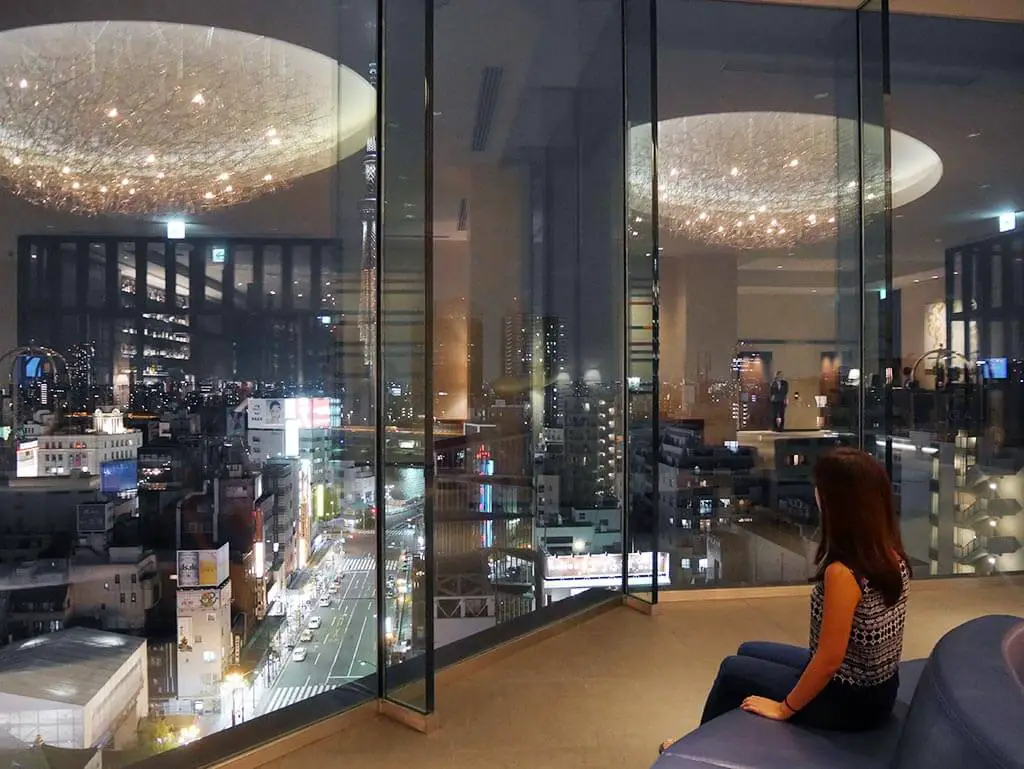 We arrived late on our first day and checked into the Gate Hotel Kaminarimon in Asakusa, so we'll start with our day 2 itinerary.
Asakusa Kimono experience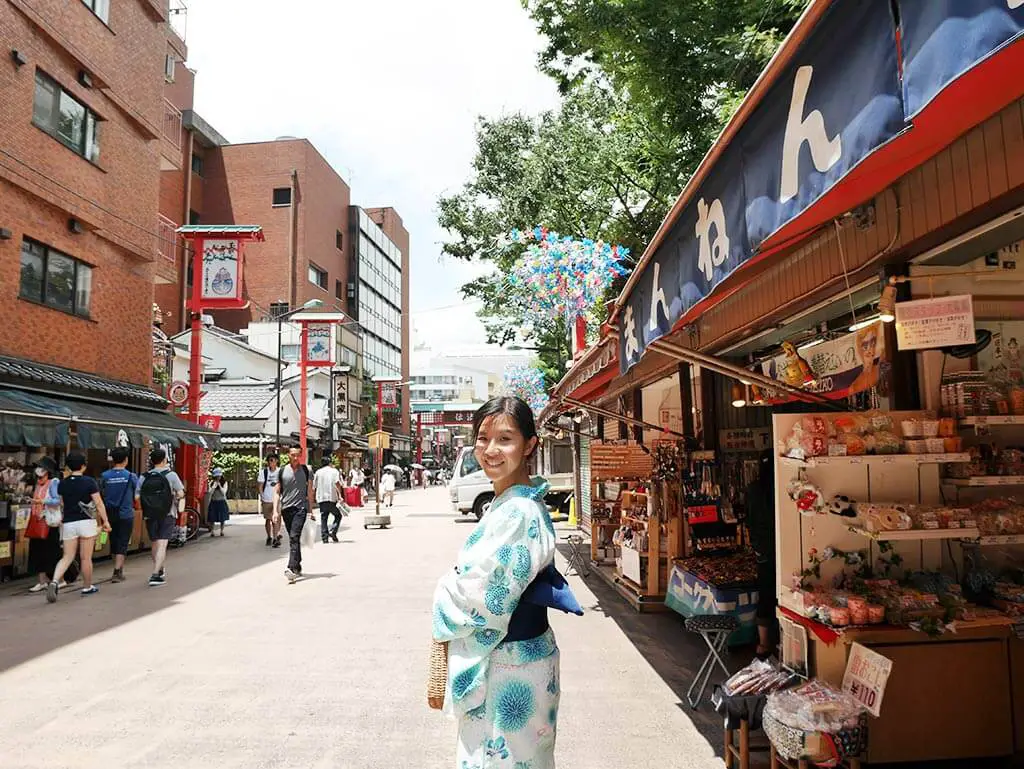 We had booked a month in advance at Asakusa 7 Henge for Yukata (a summer Kimono) rental at 10:30, so after a delicious breakfast at the hotel, we headed to the other side of Sensoji Temple to get dressed in Yukata
.
Kimono or Yukata Rental in Asakusa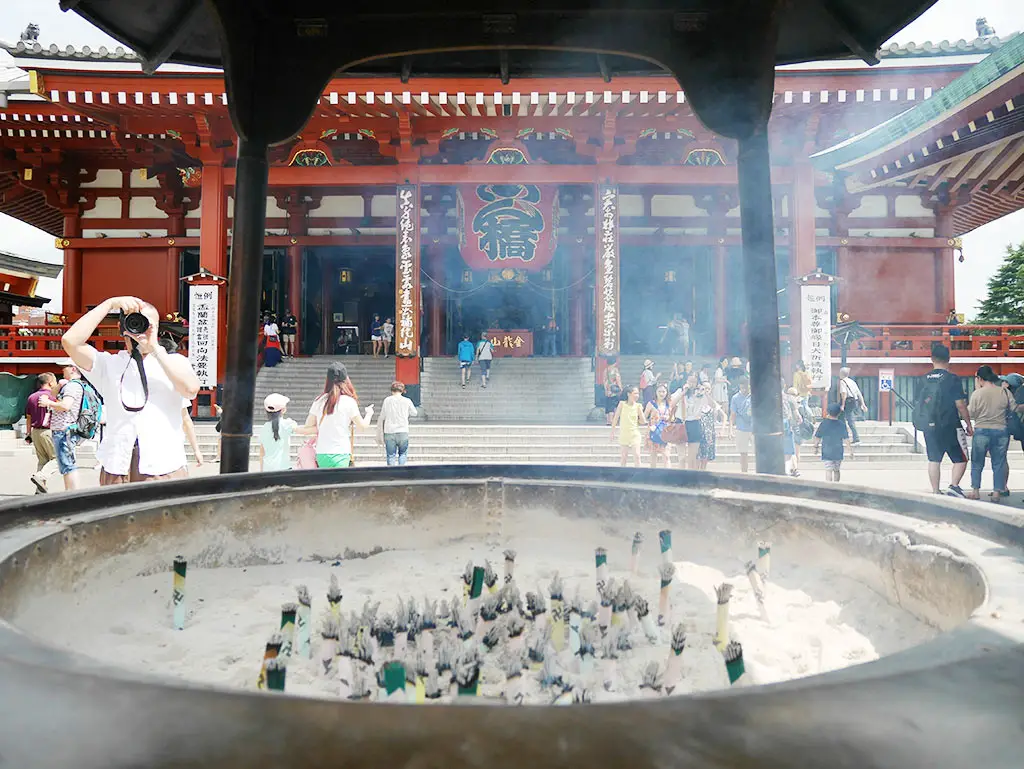 The incense burner
We then explored Sensoji, which is the oldest temple complex in Tokyo, and used this opportunity to take photos in our Yukata.
There are many restaurants in Asakusa, we decided to go with the least crowded option and went for sushi.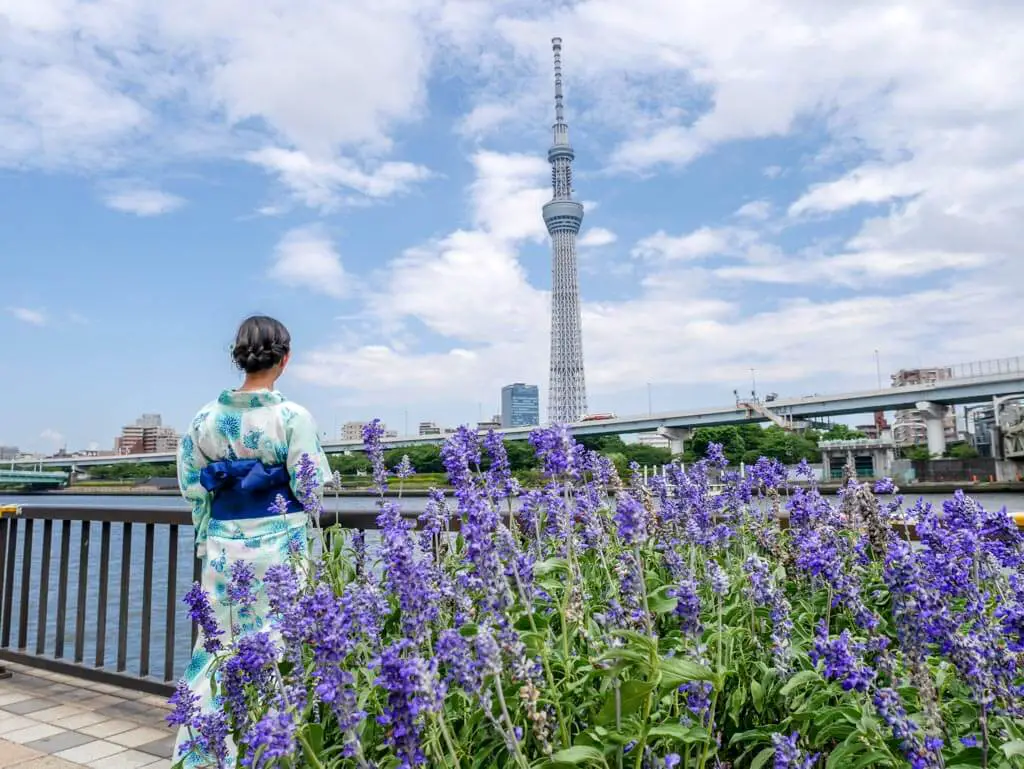 We hit some more outlying temples and shrines in the Asakusa area such as the Bentendo Hall as well as the Sumida Riverside Park before returning our Kimono.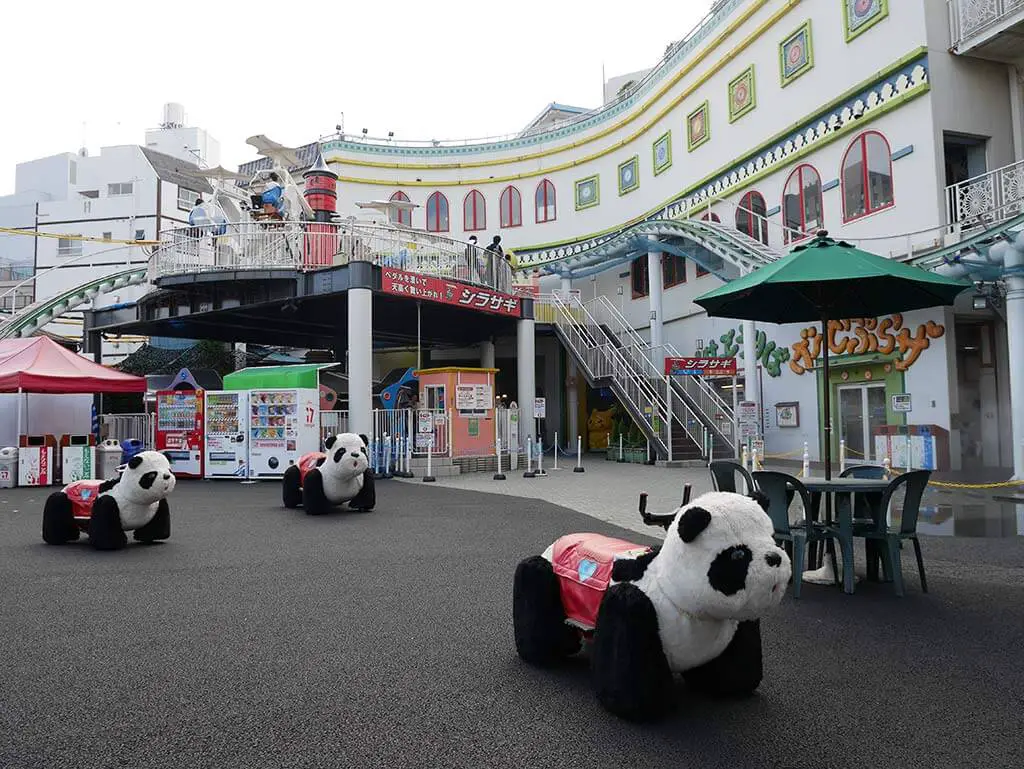 Afterwards, we headed to the Hanayashiki amusement park, the oldest in Japan!
Gyukatsu dinner
We then caught the stunning sunset at the hotel and enjoy the evening on the rooftop terrace.
Day 2 – Odaiba, Tsukiji Market, and Ueno
Odaiba has a special place in my heart because of my love for Digimon, as the Fuji TV Station is where one of the most iconic scenes is located.
Odaiba
We took the scenic Yurikamome (seagull) ride from Shimbashi Station (ticket costs 320 yen one way) – try to get in at the front because they have a glass window that gives you an unparalleled view.
*You can buy tickets at the ticketing machine for two single journeys to go back. We were using Tokyo metro 3 day pass which doesn't include this stretch.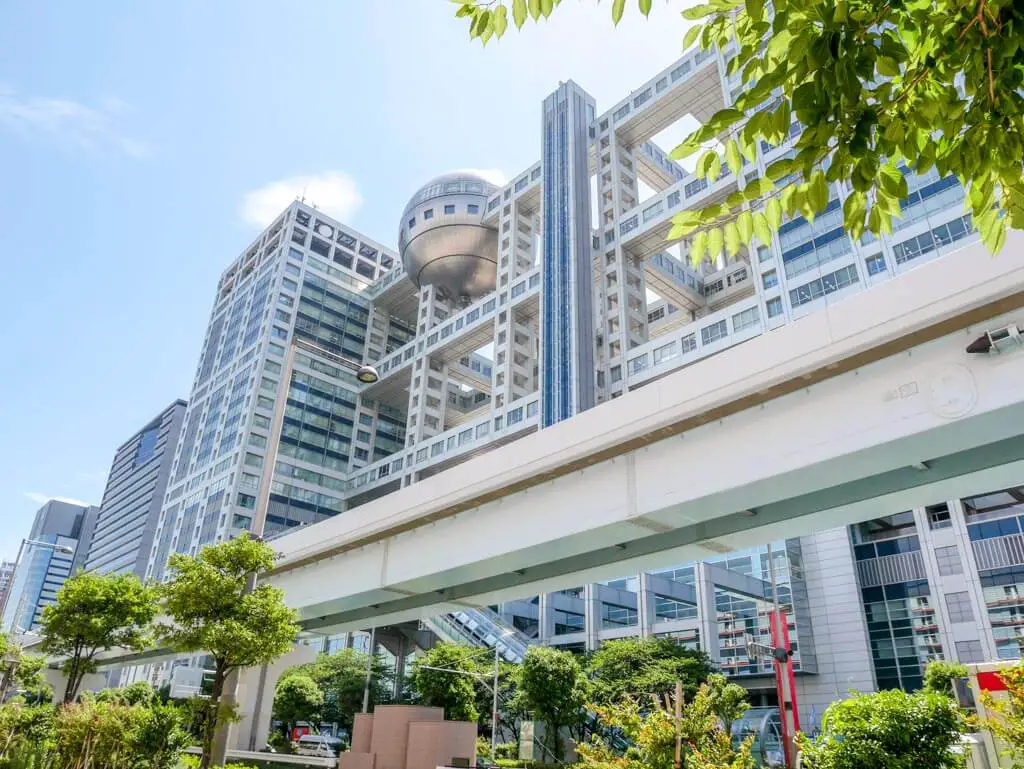 Odaiba is a more expensive, upscale area not dissimilar to Canary Wharf (London) in style. Aside from the Fuji TV Station, there is the small Statue of Liberty and several malls around. And did I mention a beach? Everything is connected by the skywalk right out of the metro station.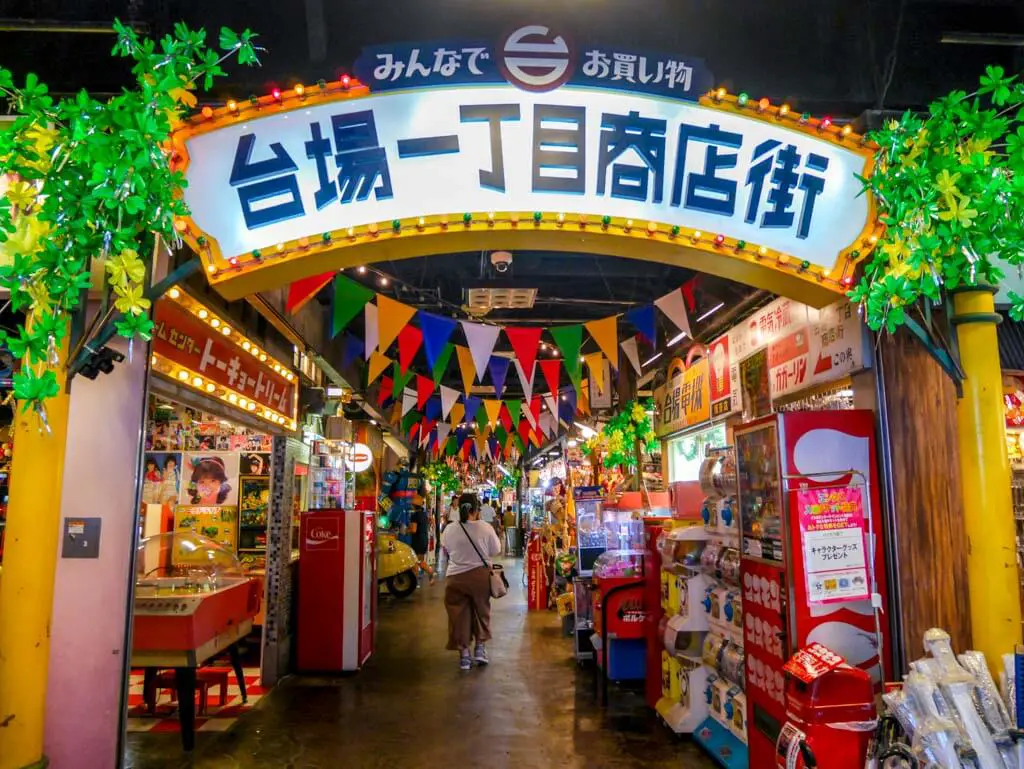 We visited the Decks Mall as well since they have a 50s Tokyo style street.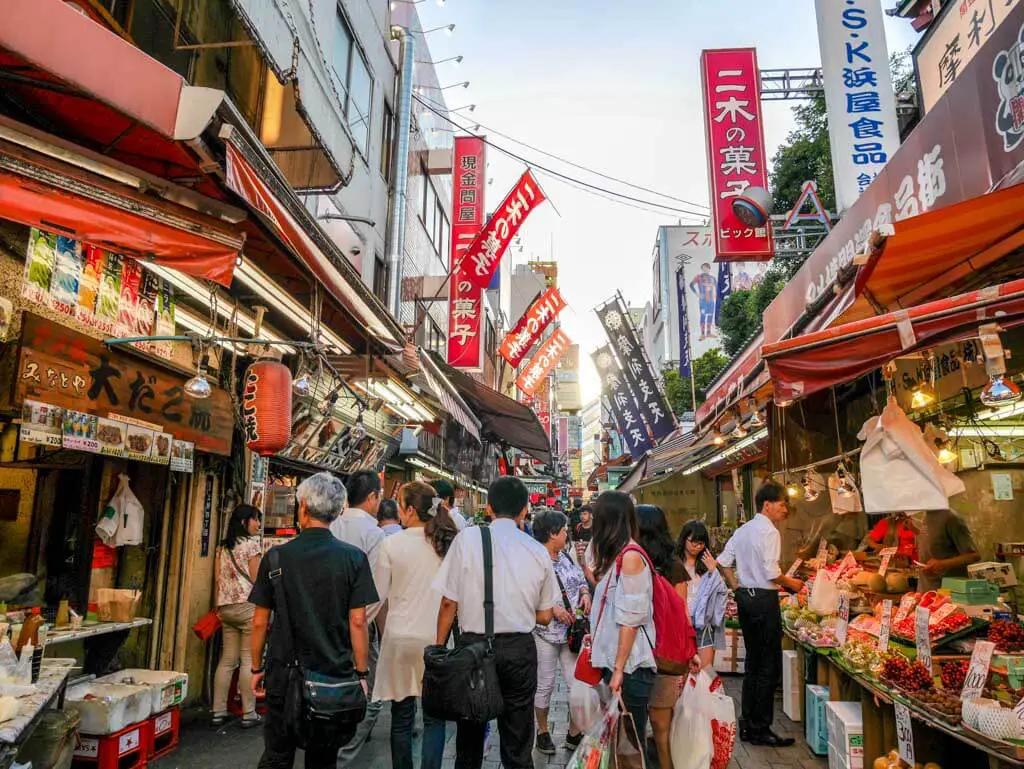 Tsukiji fish market
We headed to Tsukiji Market, the most famous fish market in Tokyo for some lunch next. Tokyo has some of the best tuna and that was what we had.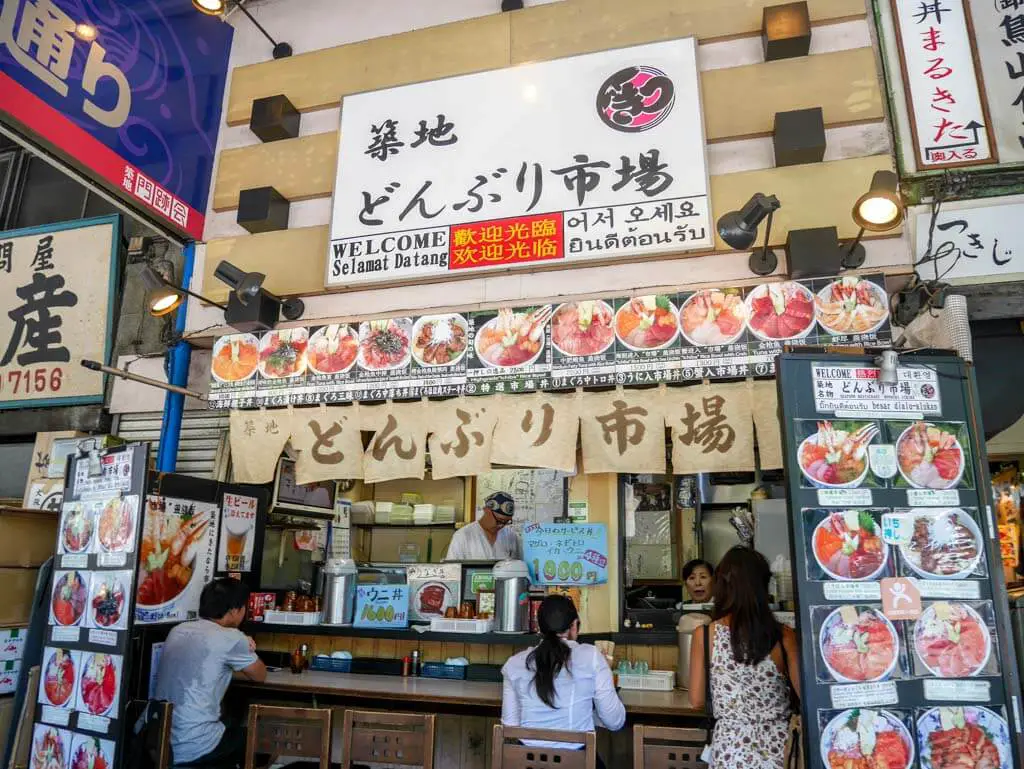 The seared tuna cheek store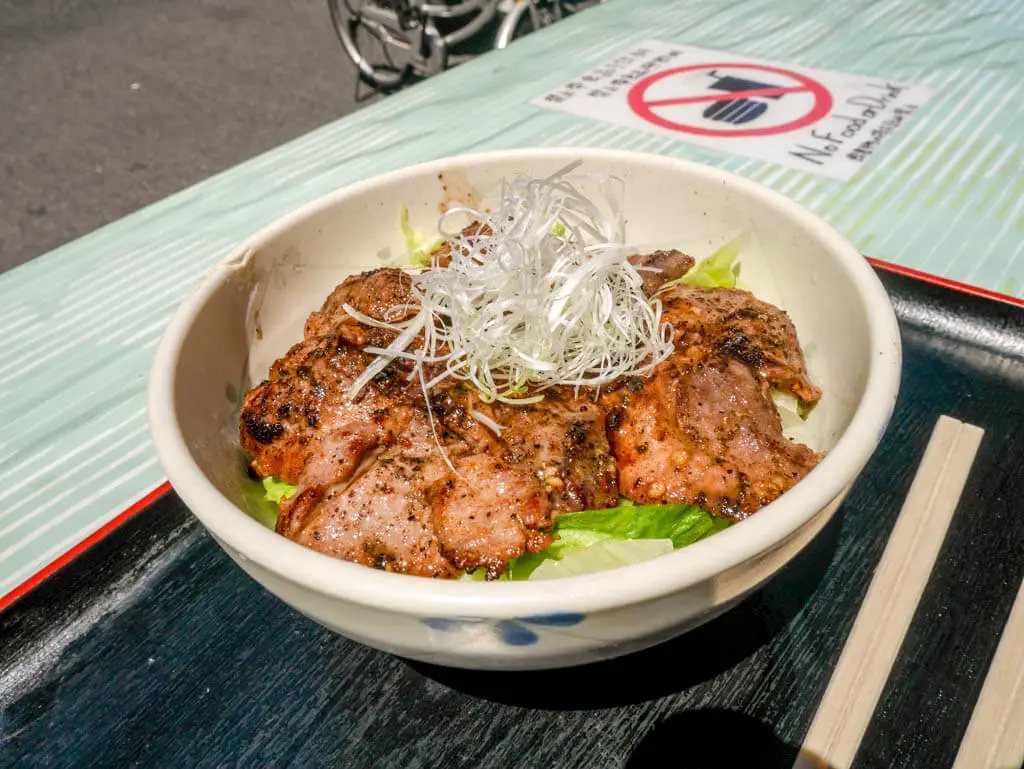 First, we went to try the Seared Tuna Fish Cheeks (which I didn't like but the others loved), it was a bit too fishy but tastes like beef.
Then we had a tuna sushi platter at Sushizanmai for 1,280yen.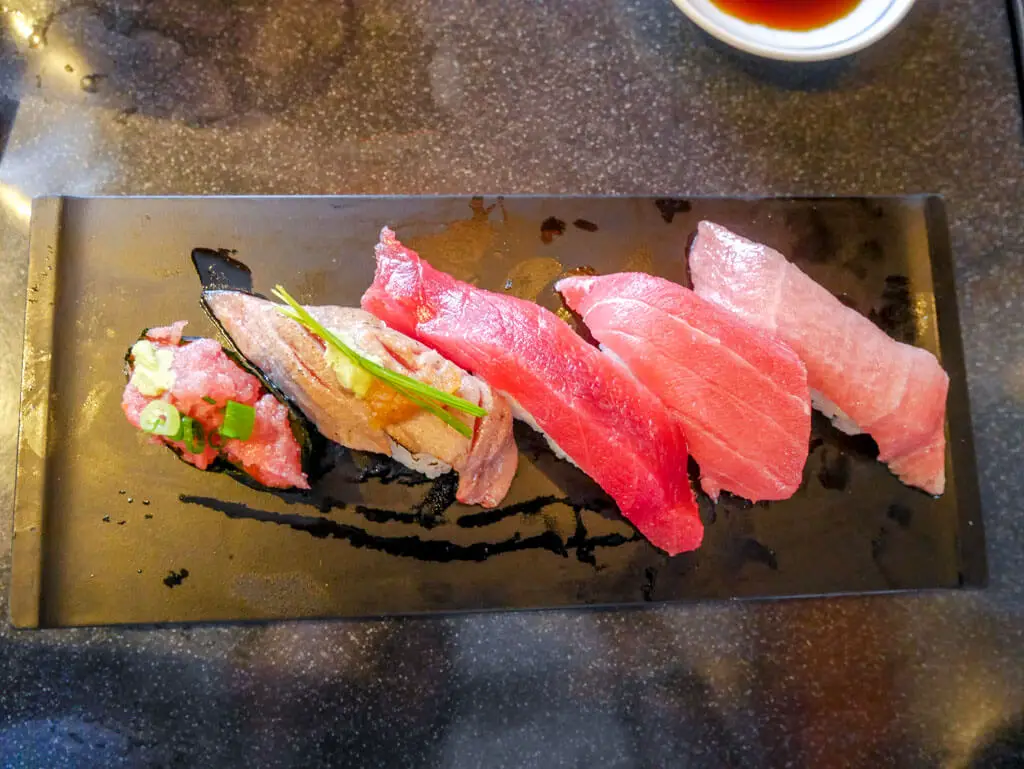 Tip: get off from Tsujiki Market metro stop, turn right and you'll reach it
Ginza
After lunch, we popped over to Ginza to check out the summer sales in the department stores as well as the crowd. There is a 5 storey tall Uniqlo!