Budapest itinerary: (around) 3 days in Budapest
Planning an itinerary for Budapest is like planning a fairy tale tour. Whether you're looking to spend 3 days in Budapest or only have a weekend, visiting Budapest is still an absolute delight. I have spent over a week exploring the capital of Hungary after first visiting in 2013 and let me tell you, I'm totally in love with this city.
If you like beautiful architecture, meaty dishes, efficient public transport, and cute squares, you'll love Budapest:
Budapest Essential Information
Budapest is the capital of Hungary and with the danger of sounding like a broken record, I've to say that it's one of the prettiest cities in the world. Here is some bite-sized info to help you get to know the city:
A Short History of Budapest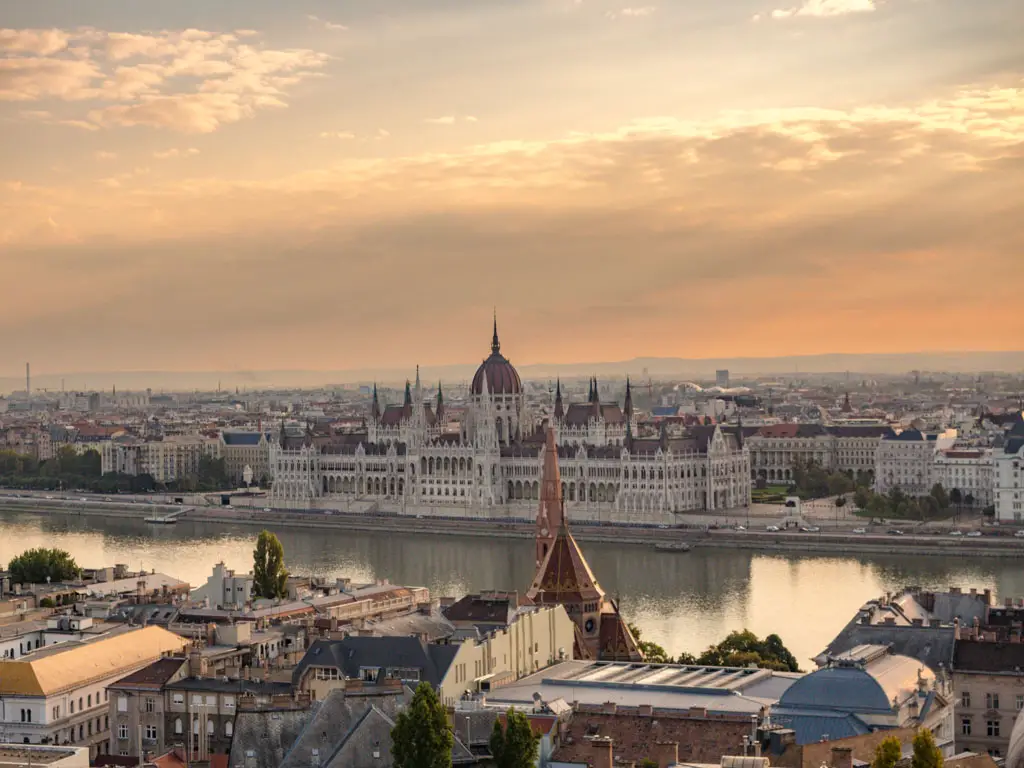 The history of the city stretches back to medieval times, back when it was not one but three free towns: Buda, Pest, and Obuda.
Buda is in the west and where the wealthy and royalty have lived on the hill, while Pest is the city on the plain east of the Danube River.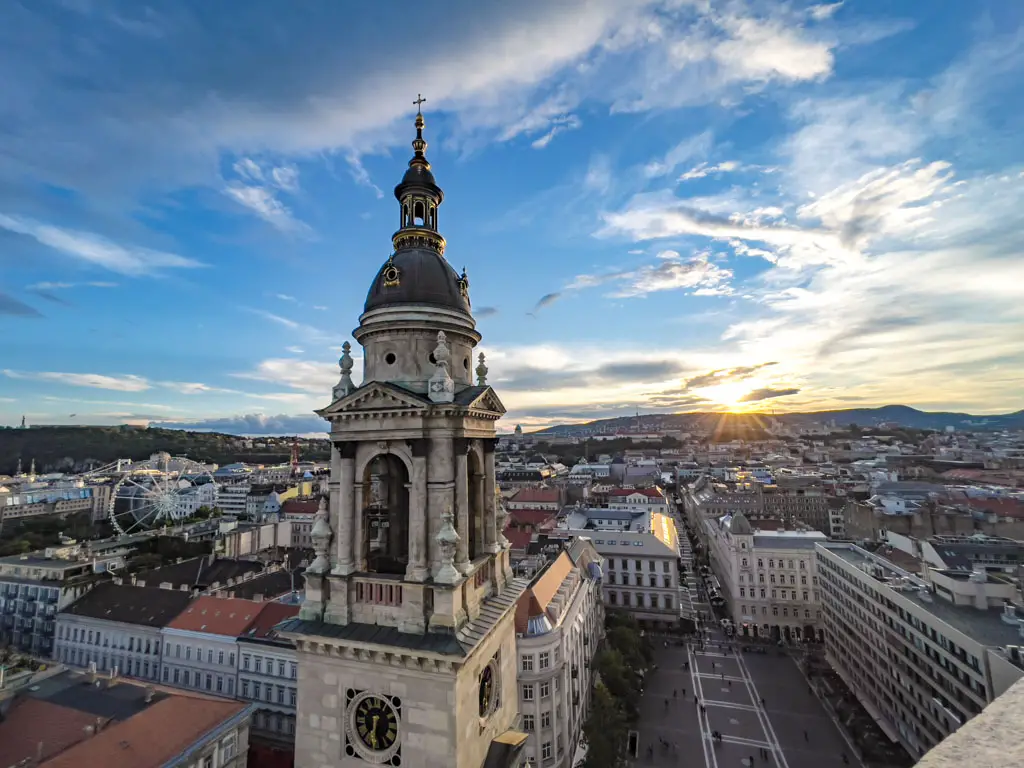 Eventually, the city grew and swallow up each other, forming Budapest today. But the term Buda and Pest are still frequently used, so be sure to know the difference!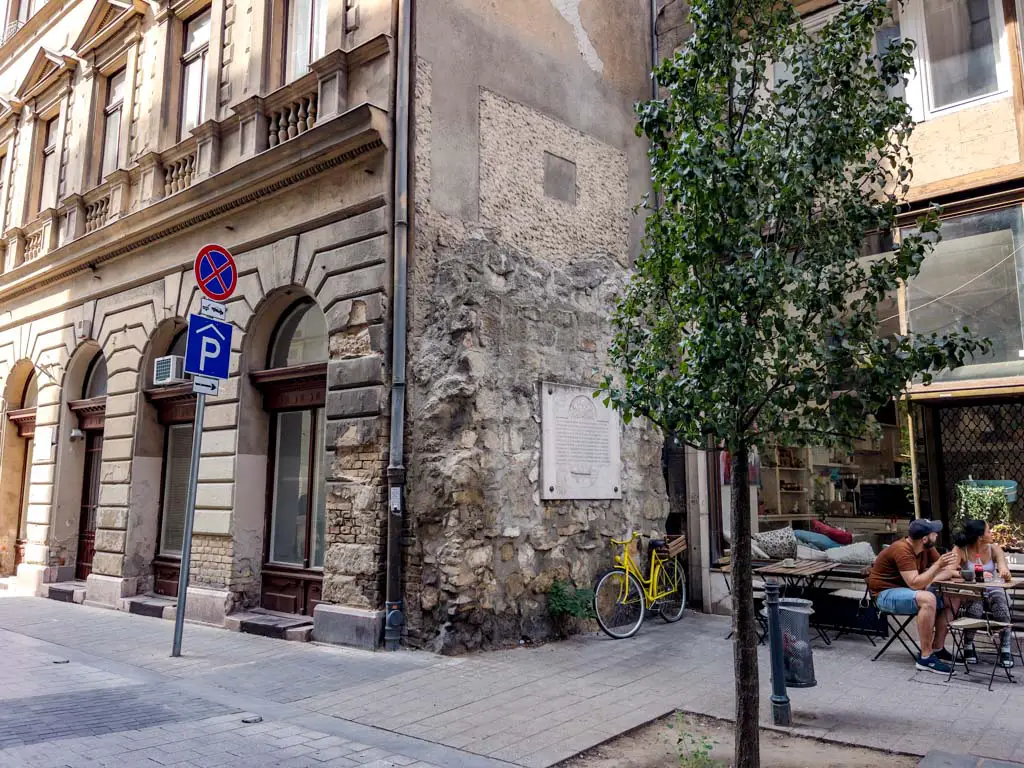 The founding of the Hungarian nation dates back to the year 960 and the capital and country went through Mongol Invasion, crowned several Bohemian Kings, then the Turks came and it got incorporated into the Austrian Empire and become part of Austro-Hungarian. It fell under a fascist government and then communism in the 20th century, eventually shrugging it all off in the late 20th century to develop into the country and city it is today.
Is Budapest worth visiting?
Absolutely! The capital of Hungary is beautiful and historic. There are museums, opera, and historic buildings for the culture fans, and also plenty of nightlife for party people. Foodies would also love the wine and the cuisine, although it is not as vegetarian-friendly.
How many days in Budapest is enough?
Generally, people spend 2-5 days in Budapest. Depending on how packed you want to fill your days, I'd say 3-4 days is optimal, while 5 days give you a more relaxed schedule and day trip options. Of course, if you only have a weekend to see Budapest, you still absolutely should because at a spectacular city.
What is the best month to visit Budapest?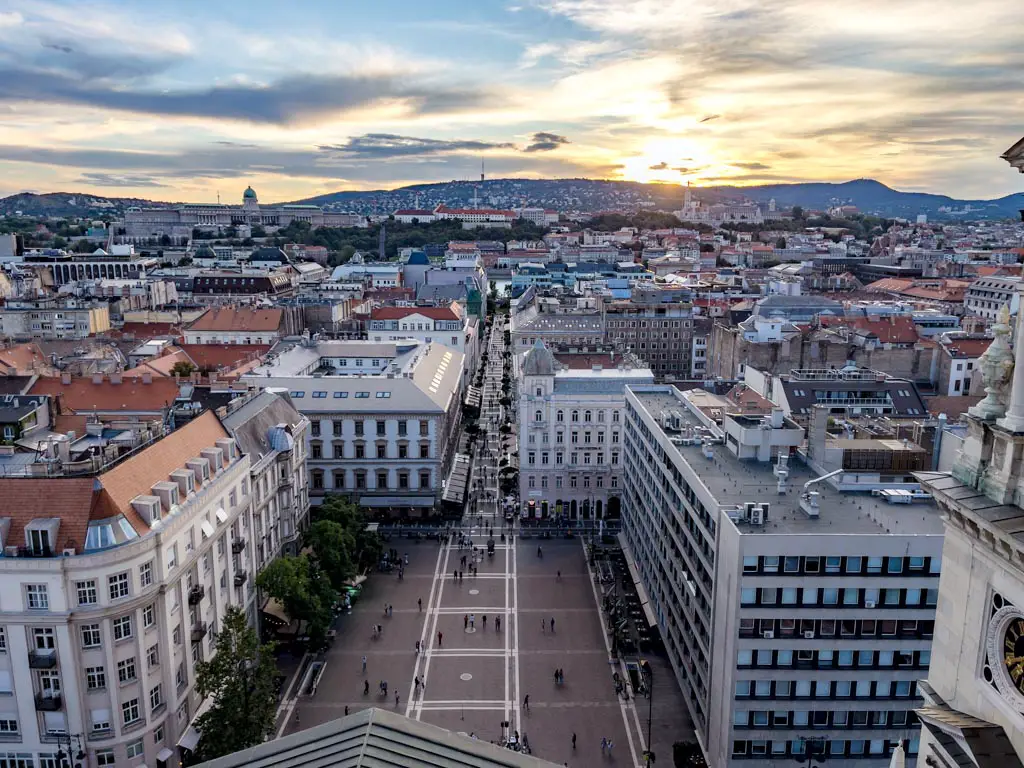 I visited Budapest in April and September respectively and both are wonderful times to visit. It does get very cold as Budapest and Hungary is landlocked in continental Europe. But there is a different kind of beauty in the snow.
Cash or Card in Budapest?
I'm happy to let you know that you can use your card in most places in Budapest. There is only a few places that didn't accept cards. I even paid for something in 400 HUF (~1 euro) in card at a shop!
Do note that convenience stores most likely have a limit for how much is required before they can take card.
Sim Cards in Budapest
You can purchase a sim card in Budapest that can be used in the rest of Europe as well, making this a good first stop for your Europe trip. I went to a Vodafone shop and there is usually some waiting time, and you'd need to have your passport with you.
I got a 30 day sim card for 5500 ft that has 5GB local data and 15GB of roaming, which is a little weird but good for my week-long stay here, then my continued journey to the Czech Republic.
Is Budapest Card Worth it?
You can get a Budapest Card for 1 day, 2 days, or 3 days (and 3 days plus). It includes free entry to various attractions, discounts at certain attractions and restaurants, as well as act as a public transport pass.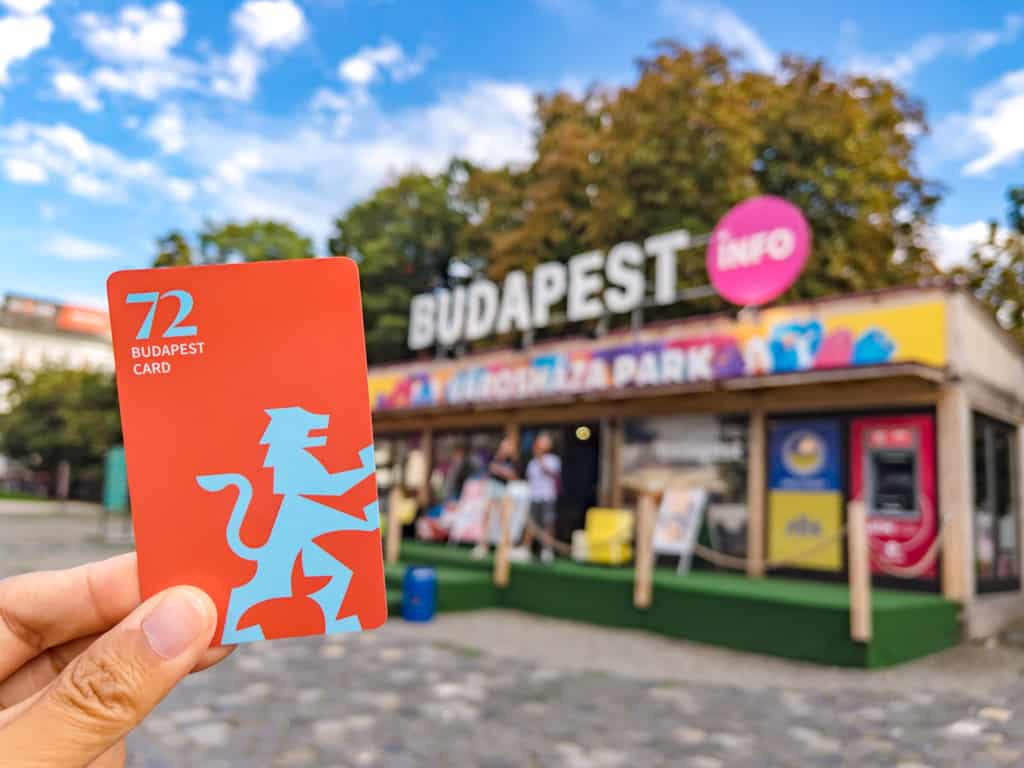 It can be a headache trying to figure out if it's worth getting the card. The bottom line is that if you plan to go to more than 2 museums in 3 days, it's worth getting it for the transport pass as well, since you can pick it up at the airport and start using it.
24-Hour Card: 29 euros
48-Hour Card: 43 euros
72-Hour Card: 54 euros
72-Hour+ Card: 87 euros
96-Hour Card: 69 euros
120-Hour Card: 82 euros
Hungarian Language
The Hungarian language is a difficult one. It belongs to the Uralic family language, similar to Finnish and Estonian but the speakers don't understand each other. With 44 letters in alphabet, it's not an easy language to learn. Here are few phrases I've learned:
See-yau = hello
Puussy = bye bye little kiss
Kurtsie = thank you
'I(eye) guess she can drive' said very fast = cheers
Transport in Budapest

Budapest has a great network of transport systems that is easy to navigate with the help of Google Map. Here is a breakdown + how to get around:
Budapest Airport to Budapest City Center
It's very easy to get from Budapest Airport to the city center with 100E airport bus. I got my bus ticket from the tourist information counter, and the bus stop is well marked on the outside of the terminal with more ticket machines available.
It makes several stops along the way including Kalvin Ter Metro and Astoria Metro. Although for most, you can take it to the end stop Deák Ferenc Tér Metro which is in the city center. Your hotel, if on the Pest side and in city center, it should only be a short walk away.
Cost: 1500 Ft
If you'd like a point-to-point drop-off, this shared transfer option is great value for money or there is also a pre-booked private transfer option.
Transport Passes and Tickets in Budapest
If you're not getting a Budapest Card, then a transport pass would be a good way to save money getting around the city. Here is an overview of the passes:
24 hours ticket: 1650 HUF
72 hours ticket: 4150 HUF
7 day travel card: 4950 HUF
As a single ticket is 530 HUF, you get your money back if you make more than 4 trips.
Trams in Budapest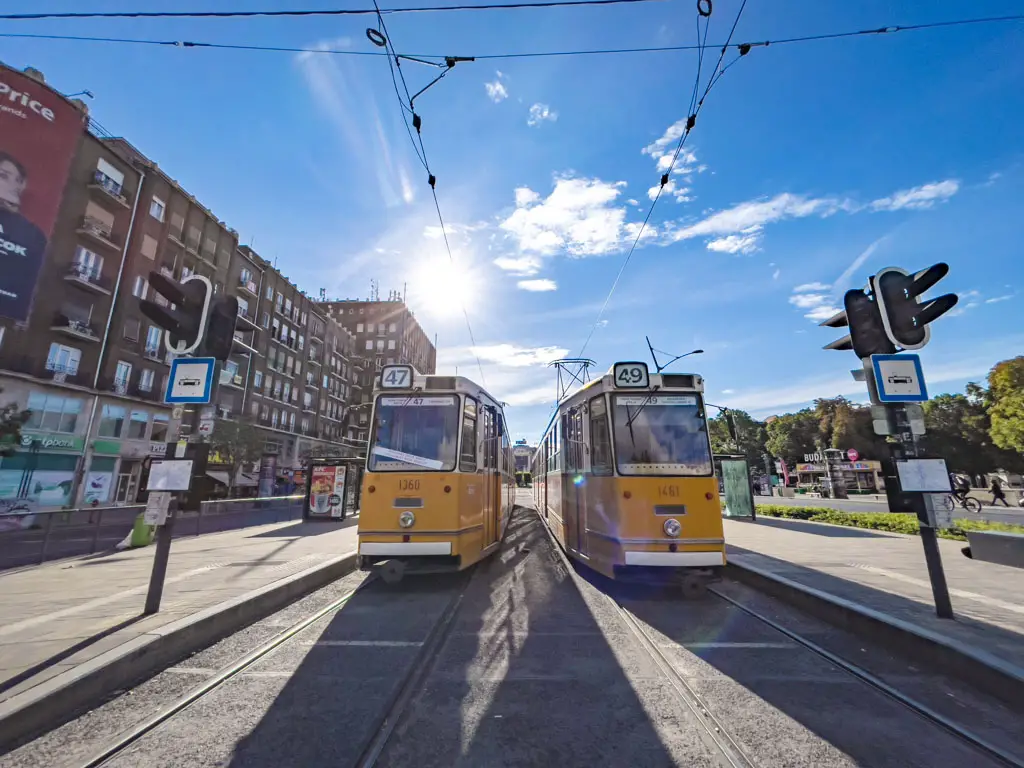 I personally really like the trams in Budapest, as they loop around the city and take you to most major tourist attractions. Some of them are even scenic rides in their own right!
Tram number 2 on the Pest side goes along the Danube with a spectacular view of the Buda side.
And tram 17 and 19 on the Buda side runs parallel with a great view of Pest.
Metro in Budapest
There are only a few major metro lines in Budapest that you'd likely use as a tourist, and they are line 1 (yellow) : the oldest metro on continental Europe, line 3 (blue), line 2 *red), and line 4 (green).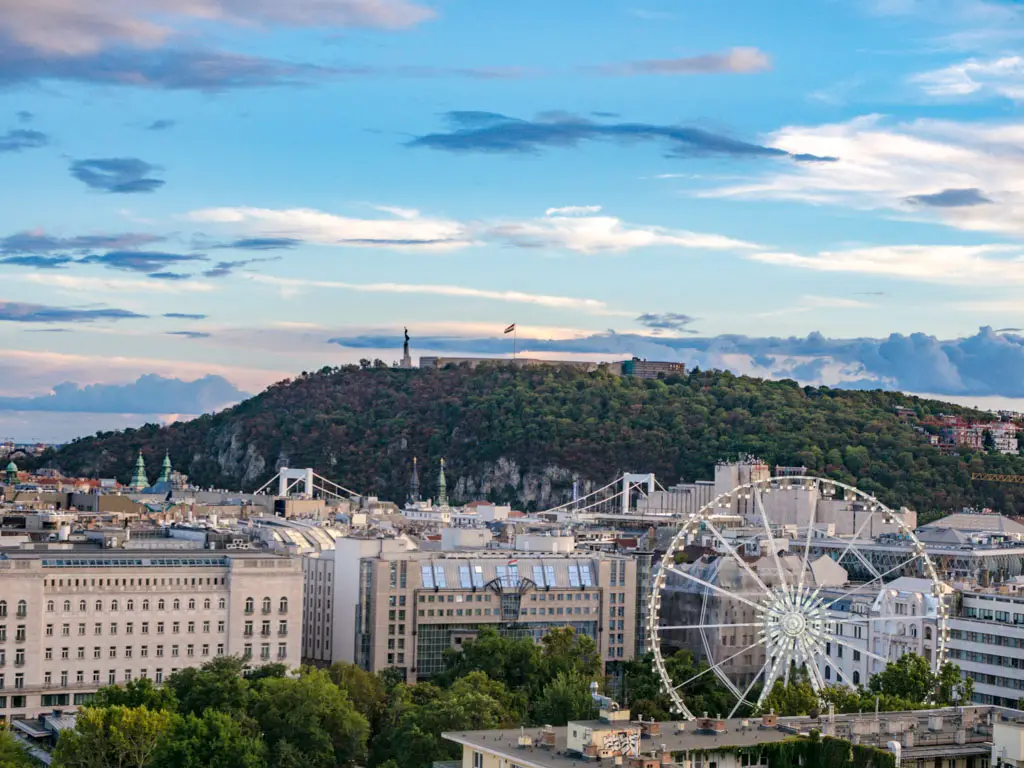 The main station is Deak Ferenc Ter on the Pest side, which connects to line 1, 3, and 2. It's worth taking metro line 1 because of its history.
Buses in Budapest
Buses in Budapest are frequent and I mostly used it to get from Pest to Buda Hill, which is more direct. Your transport pass 
Taxi in Budapest
The easiest way to order a taxi in Budapest is to use the Bolt app. That said, I think the public transport system is very good and it's not really necessary to use it!
Where to stay in Budapest
Since you're only in Budapest for a short time, the ideal place to stay would be by the Pest's side close to the city center or in the Jewish District. Here are my top picks

Budget: stay next to St Stephen's Basilica at Pal's Hostel and Apartments which is basic but comfortable with a shared kitchen. An alternative nearby is SasOne Rooms.
Mid-range: Barcelo Budapest is one of the top rated hotels with very spacious rooms. Roombach Hotel Budapest Center is also nearby with great breakfast.
Splurge: Leonardo Boutique Hotel Budapest M-Square is close to all public transport with friendly staff. Hotel Moments Budapest is a stylish hotel with a rooftop terrace.

Long stay? I stayed at Vagabond Soho and was very happy with it.
Budapest Itinerary
Instead of giving you a rigid itinerary, I've arranged the itinerary so that they are in half-day blocks, so feel free to mix and match at the bottom. Restaurant recommendations will be given, or you can refer to my Budapest food guide again.
3 Days in Budapest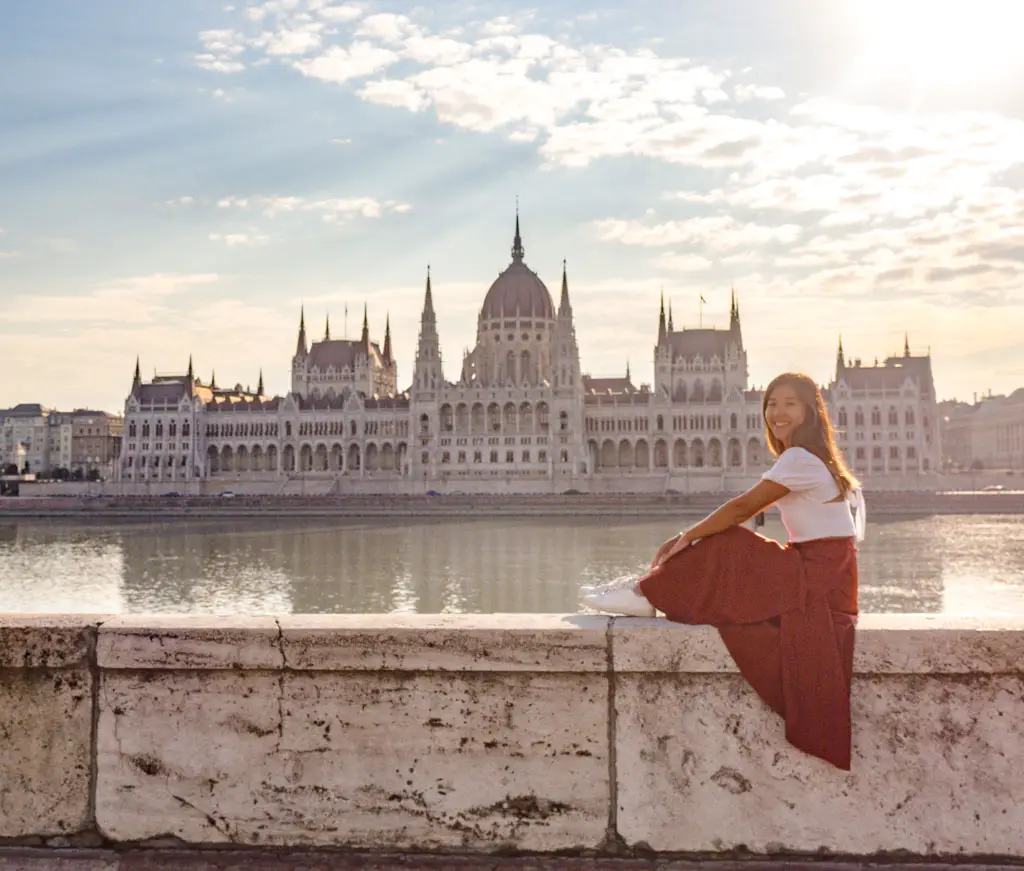 How do you spend 3 days in Budapest? That's a really good question. The answer is that you can see the highlights with my Budapest 3 day itinerary, but you'll have to make some choices or be prepared to run around! If you like everything in the itinerary, consider making this a 4 day trip! Although I'd be adding even more options to make your life difficult and fill with choices!
Note: scroll down to the next section to see details of the attractions and sights.
Day 1: Jewish Quarter and Budapest Food Tour
You've made it to Budapest! Depending on when your flight gets in, you have a few choices on your first day:
Morning: Pest Central
Explore the Jewish Quarter and see the synagogues, architecture
Roam the Gozsdu Courtyard
Visit St Stephen's Basilica
Chain Bridge (still under construction as of Nov 2022)
Afternoon: Budapest Food Tour
Budapest Food Tour: the best way to get to know a city. Food Tour Budapest is run by Nora, who is a local and she will not only tell you all about Hungarian food but also the city's history.

So it's basically a walking tour and a food tour! You'll also visit the Central Market Hall on the food tour, otherwise there's no time on this itinerary to add it in.

Full review in my Budapest food guide.
Evening: Ruin bar
The Karavan Street Food has many budget options and plenty of variety for everyone. It's very convenient as it's right next to Szimpla Kert.
Go ruin bar hopping!
Or you can take it easy and rest for Fisherman's Bastion sunrise mission.
Day 2 itinerary for Budapest
Day 2 in Budapest involves all the most iconic locations. While it was a struggle, watching the sunrise at Fisherman's Bastion was incredible and I'd highly recommend it!
Sunrise: Fisherman's Bastion
If you can't decide whether you want to wake up, I'll just leave the view here so you can see why you should get there for sunrise.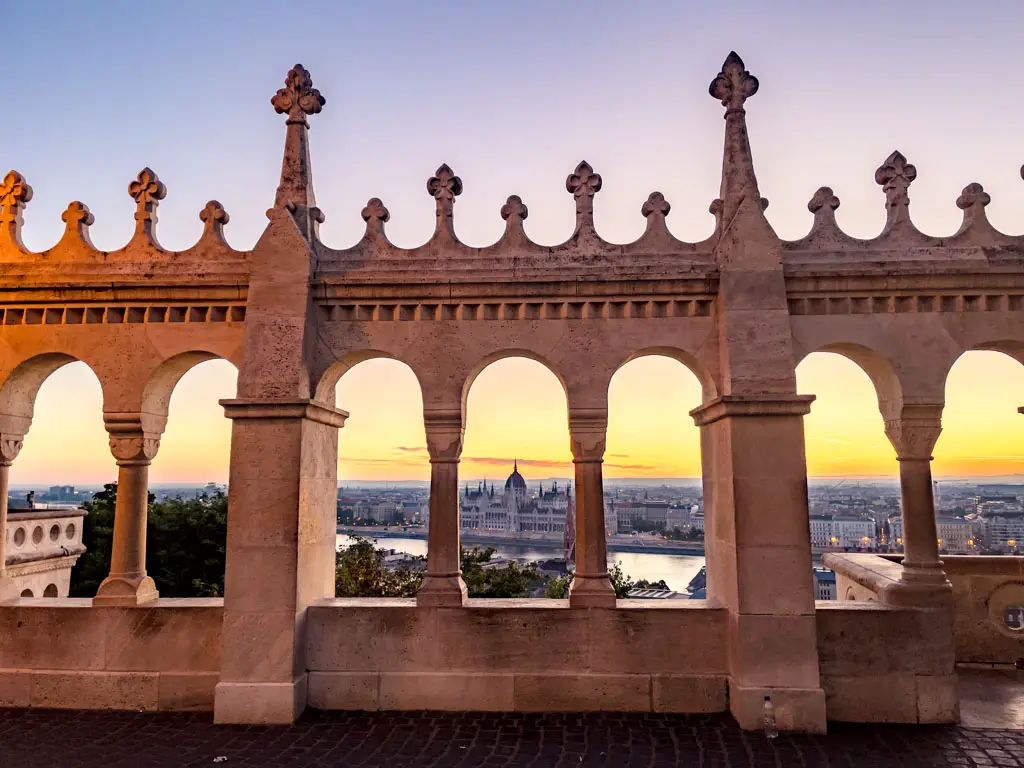 Even if you don't, that's fine, it is quite early!
Breakfast at Home of Franziska
If you have gone up at the crack of dawn, head down so you can warm up or cool down with breakfast at Home of Franziska. It's one of the most popular brunch spot in the city that also happens to open at 7:30am during weekdays (9am on weekend).
The prices are on the higher side, but it's a cute cafe with lovely decor and also WiFi.
Address: Budapest, Iskola u. 29, 1011 Hungary
Opening time: Mon – Fri 7:30 – 17:00; Sat – Sun 9:00 – 16:00
Morning: St Matthias Church and Buda Castle
From St Matthias Church it's only a 5-10 minutes walk to the Buda Castle Complex. Inside, there are several museums:
Hungarian National Gallery
Buda History Museum
If you have time, I'd recommend visiting both especially if you have the Budapest Card as entry is included. Otherwise, my personal choice is the Buda History Museum!
This is where I had the best meal in Budapest! Their duck confit and foie gras risotto was the best thing I've had in a long time.
Afternoon: Jewish Quarter (and City Park)
The Jewish Quarter is district 7 of Budapest. There are synagogues, beautiful buildings, hidden courtyards, and plenty of good restaurants. Macesz Bistro is located inside. The highlights are:
Dohány Street Synagogue
Gozsdu Court
See the Jewish Quarter section for more details on what to see.
If you are fast, you can also visit the City Park as well or leave it for day 3 afternoon if you have a late flight!
Evening: cruise along the Danube on a dinner cruise
It's time to unwind in the evening and there's no better way than a cruise on the Danube! Watch as the sky turns red and then blue and the landmarks light up in the dark. There are quite a few cruises to choose from: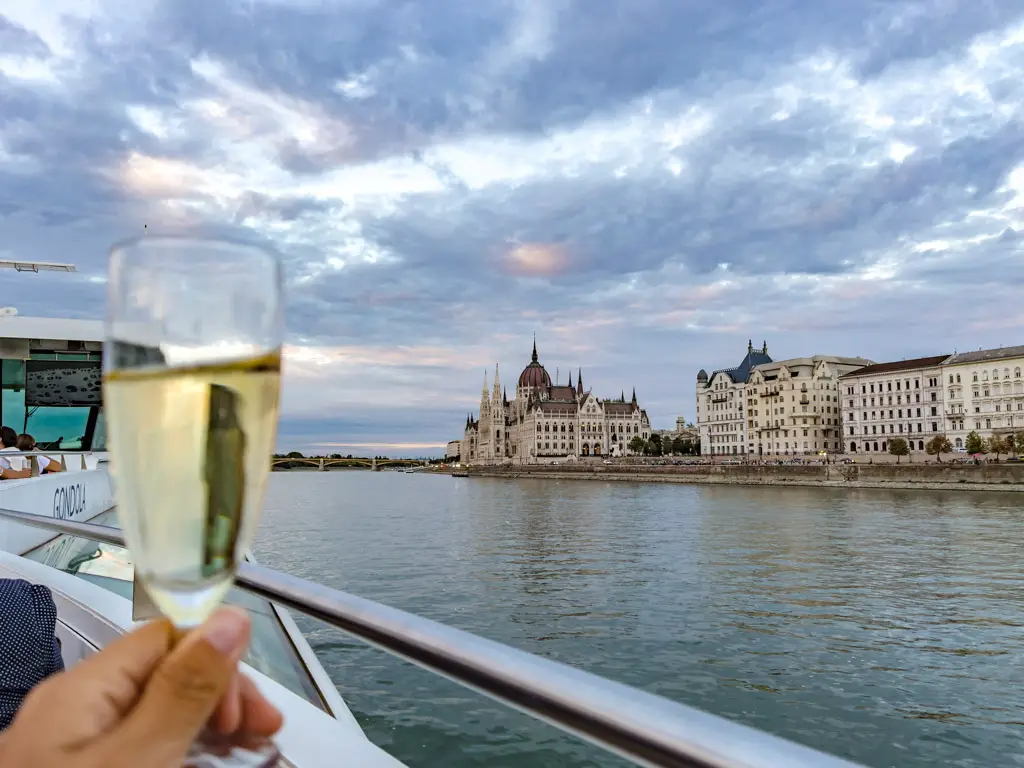 Alternatively, there is also a party cruise for those who want to party!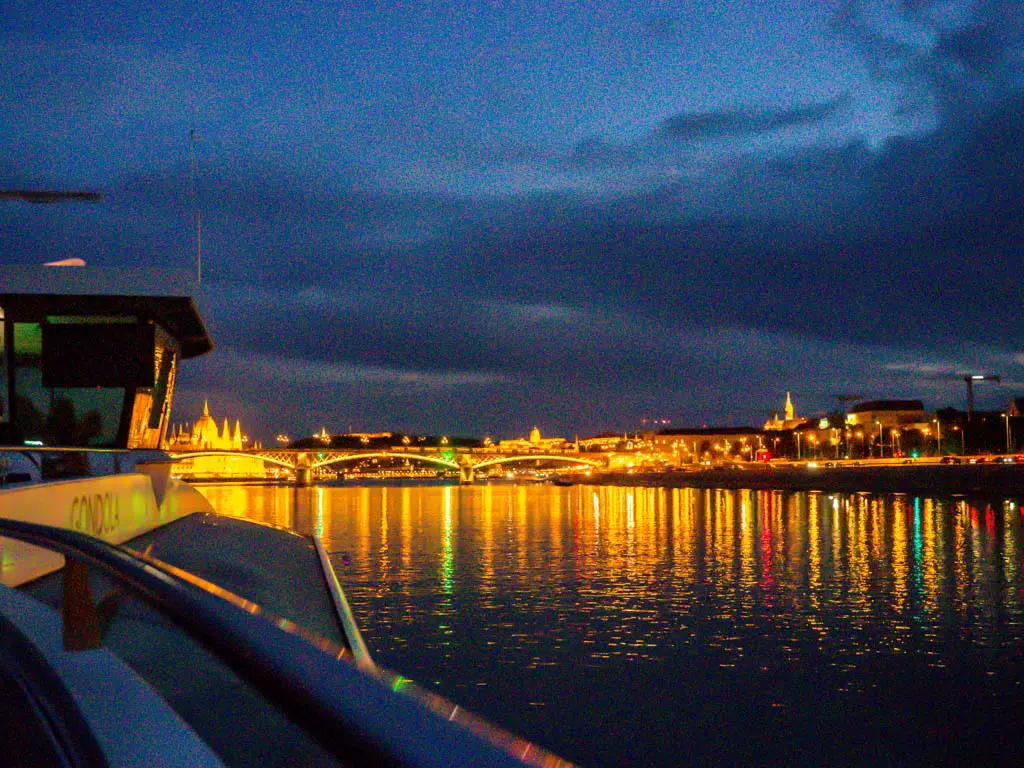 If you have the Budapest Card, you get 20% off Legenda Cruises, which has an excellent audio guide and a free glass of wine and lemonade!
Day 3 in Budapest
Today is your final day in Budapest! It's sad and there are still things you haven't seen. Depending on how much time you have, I have a half day suggestion and you can go back and do some things you didn't manage to on day 1 and 2, or pick something in my extra suggestions for the 4 days in Budapest itinerary.
Morning: Pest North (or take a free walking tour!)
Visit the Parliament in the morning and get the place all to yourself!
See the Shoes on the Danube
Enjoy a tram ride on tram 2 on your way to lunch!
(Alternatively, take a free walking tour and learn about the history of Pest!)
Lunch: Langos or Hungarian food
You can get off tram 2 once you're back to the center of Pest by the river. There are a few options depending on if you need to leave immediately or head to City Park after:
For a quick bite that's cheap as well, you can't go wrong with Retro Langos
A great choice in the city center is Parisi 6 which is not far from the M1 station
Afternoon: City Park
The City Park is one of the biggest sight-seeing cluster away from the Danube. 
Heroes' Square is the iconic landmark in the city park
The Vajdahunyad Castle is inside the city park
If you want, you can also go to the Szechenyi Thermal Spa instead or as well (depending on time)
Alternatively, take the M1 to Octogon and visit the House of Terror to learn about the Jewish history.
4 Days in Budapest
Follow the 3 day itinerary – you'll likely have time to do everything plus one or two more activities. And maybe even have an actual full spa day:
Budapest Free Walking Tour
There are several free walking tours in Budapest and I took one on the Pest side which is east of the river. It starts at the Elizabeth Square near the Budapest Eye and is a comprehensive 2 hours tour that took us all the way to the Parliament.

There is also a Buda side free walking tour if you don't want to explore it by yourself!
Note: it's still customary and expected for guests to tip the tour guide. I usually tip around 5 euros (so 2000 HUF), which really is quite affordable for a tour.
Palvolgyi Cave Pál-völgyi-barlang
Did you know that there are over 170 caves under Budapest? The Palvolgyi Cave is one of the hidden gems of Budapest that not many international tourists venture out to see. It's not far from the city on the Buda side and the largest cave system in Hungary.
These caves are formed by thermal water dissolve parts of the rocks which forms caves, and this one was discovered in the 1900s by miners. In fact, most caves nearby were found during construction.
The cave is up to 90m deep in places but on the guided tour we only went down to 30m. It's a lot colder inside, so wear a thick jacket enough in the summer, and preferably waterproof. These tours run on the hour and the guide mostly spoke in Hungarian, but there is also an audio guide for you.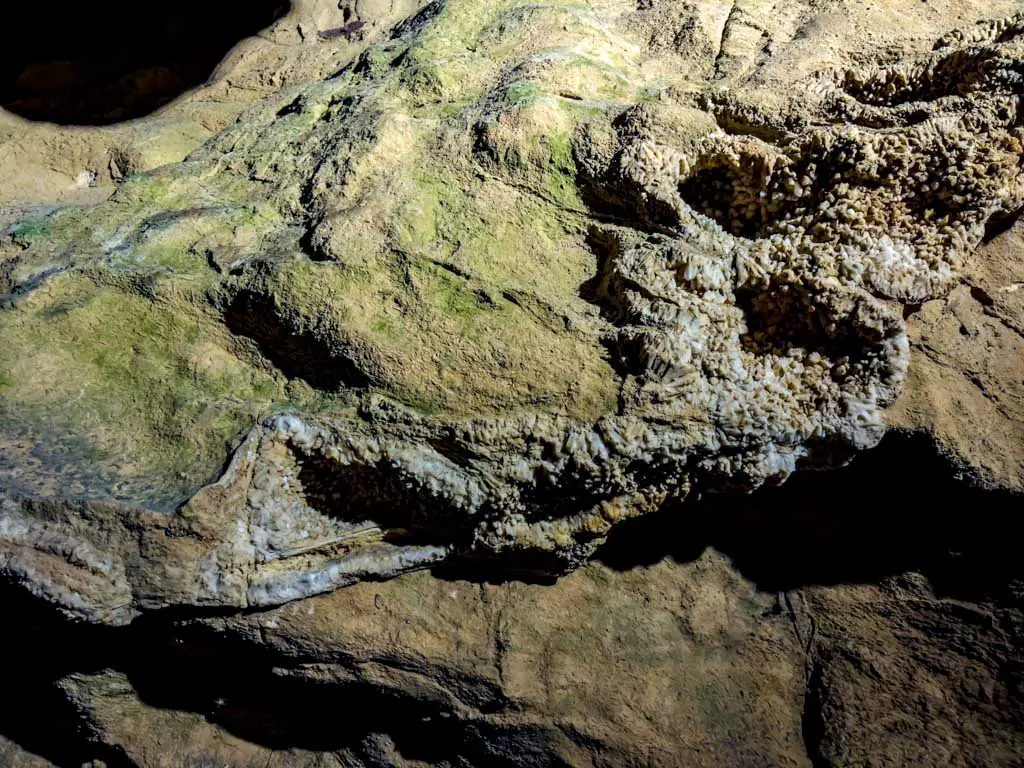 It is a fun activity for families, but be sure to wear appropriate footwear as well. 
Fun fact: bats come to the cave in November, and they sleep through the winter and leave during spring.
They also organise adventure tours – although the guide told us that one group got lost inside, so I'm not sure I'd be up for trying. (They did make it out though!)
How to get there: there are two bus stops nearby, use google map to see which one is better for you
Entry fee: Included in the Budapest Card
2 Days in Budapest
If you only have two days in Budapest, there is a lot less time and you'll have to pick and choose. In order of importance, you absolutely must visit:
Day 1: Pest Central > Jewish Quarter
If you have to choose due to late arrival, do only Pest Central! St Stephen's Basilica is a must-see and the view from the Danube as well.
St Stephen's Basilica -> Shopping Street -> Great Market Hall -> Liberty Bridge
or
St Stephen's Basilica -> Dohany Street Synagogue -> Gozsdu Court
Depending on whether you have time to eat, I'd suggest the one meal be at Macesz Bistro. But if you want to stay in the city center, I'd suggest Parisi 6.
Day 2: Buda Castle Hill > Pest North or City Park
You will probably have to choose between Pest North or the City Park, and here it really depends on your preference!
Fisherman's Bastion -> St Matthias Church -> Buda Castle Complex (Buda History Museum) -> Chain Bridge (close for renovation Nov 2022, so take the metro, bus or tram back to Pest)
Lunch break 
City Park (take the metro) or Pest North (which is reachable with tram)
One Day in Budapest
When you only have one day in Budapest, you really have to pick and choose. It's likely that this is your stopover on a longer trip, and if so it's probably easiest to visit the Pest side where the main train station and bus station is. That said, if you can, I'll try to make it up the Buda Castle Hill:
Buda Castle Hill + Pest Central
If you only have one day in Budapest, I'll go to Buda Castle Hill because you can see the rest of the city from up there!
You can then take the metro or tram back to Pest Central!
Budapest Itinerary: build your own in blocks
Here are the half-day blocks:
Jewish Quarter
The Jewish Quarter of Budapest is a historic area with synagogues, hidden alleyways, gorgeous buildings, and great eateries. You can just take a walk around and admire the street art and architecture, or hit up some of my top favourite spots and find some food:
Dohány Street Synagogue
The Dohány Street Synagogue is the biggest synagogue not only in Budapest but also in Europe. The Moorish Revival style and two onion dome towers stood out against the other European style building near the main road. It was built in the mid-19th century with a graveyard and museum attached. 
If you're interested in Jewish history, it's worth a visit inside to see the cemetery and learn about the Jewish ghetto during WWII as well. You can also see the metal willow tree in the courtyard behind the synagogue without entering. Each leaf holds the name of a Hungarian Jew killed by the Holocaust.
Note: remember to wear clothes that cover shoulders and knees when visiting. Male visitors will also be provided with a small cap to wear during their visit.
Opening times: close on Saturdays, generally open 10:00 – 16:00 with longer hours during summer and spring, and closes 2 hours earlier on Friday.
Entry fee: adults 5 000 HUF, students 3 800 HUF (10% off with Budapest Card for both); 6-12 years old 1 700 HUF, under 6 free. Family tickets of 2 adults + 2 children 11 300 HUF
Gozsdu Court Budapest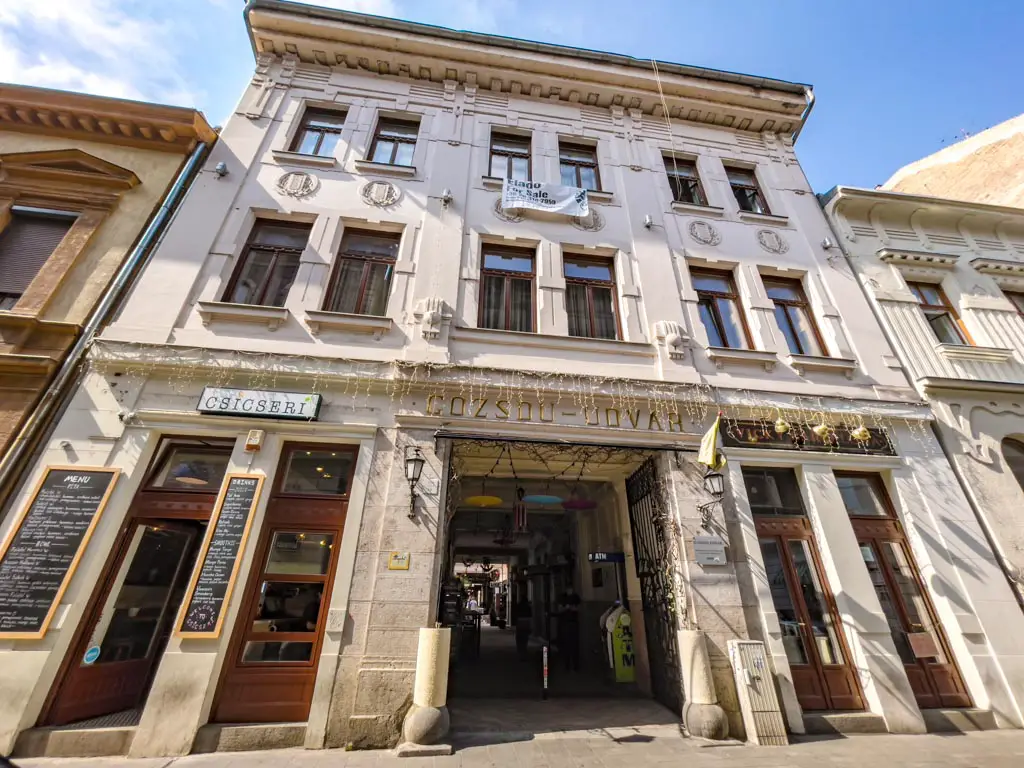 Gozsdu Court is a lively series of courtyard that spans six courtyards. It was built in the beginning of the 20th century and designed by Gyozo Czigler under Mano Gozsdu's ideas. It's a mixed retail and residential building with many vendors, shops, and restaurants. There are also social events in certain evenings, which you can check here.
Pest Central
Pest Central is the heart of Pest that is close by the river side adjacent to the Jewish Quarter. This is where the major shopping street and the three metro lines connect.
St Stephen's Basilica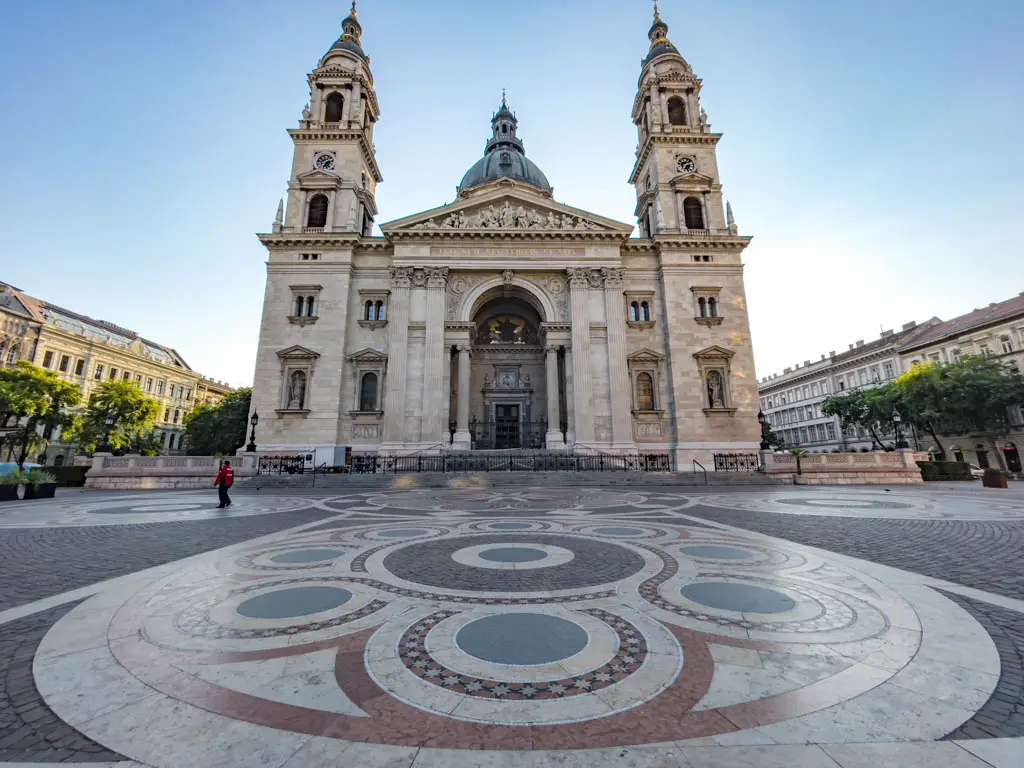 The St Stephen's Basilica is the most famous church in Budapest with its imposing size and huge mosaic square in front. It's not far from the Jewish Quarter and named after the first king of Hungary. In fact, his mummified right hand is held inside the church as a holy relic (yes I'm not kidding).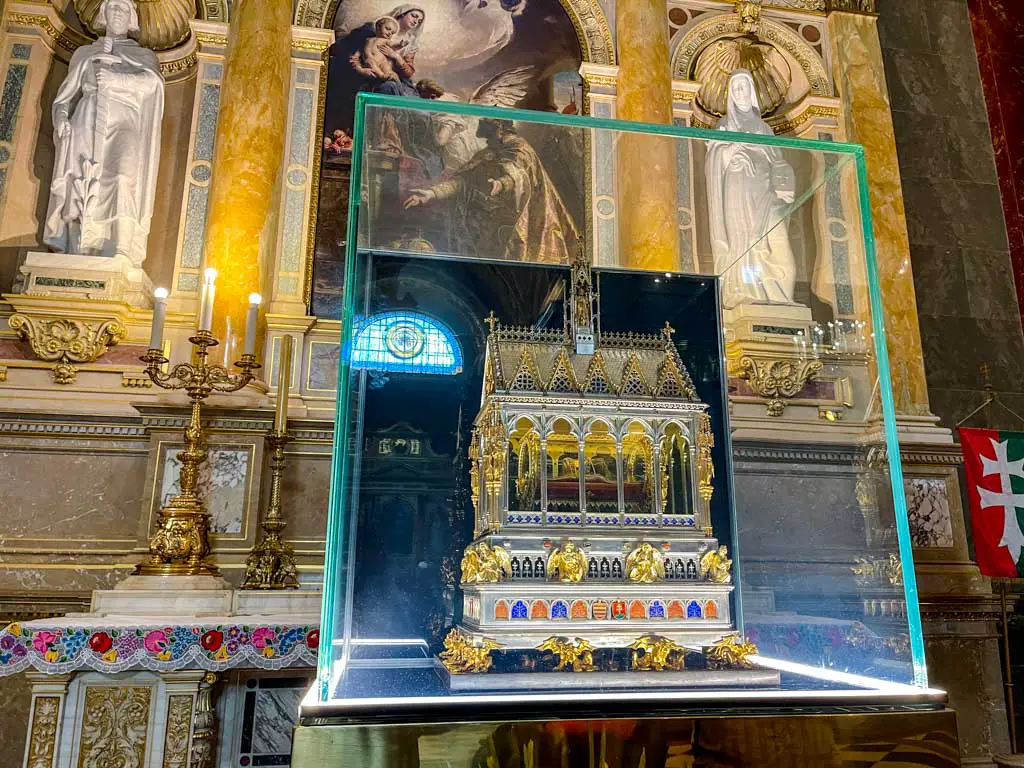 The Roman Catholic Basilica stands at 96m with two towers and a central dome, and it took 54 years to build it due to the dome collapsing. The basilica was completed in 1905 under three different architects, giving it a mix of Classical and Neo-Renaissance style.
It's worth seeing the opulent interior and the right hand of the patron saint St Stephen. You can also go up one of the bell towers for a spectacular panorama of the city.
Music lovers can also consider attending one of the many concerts they host during the evening after the church is closed for visitors.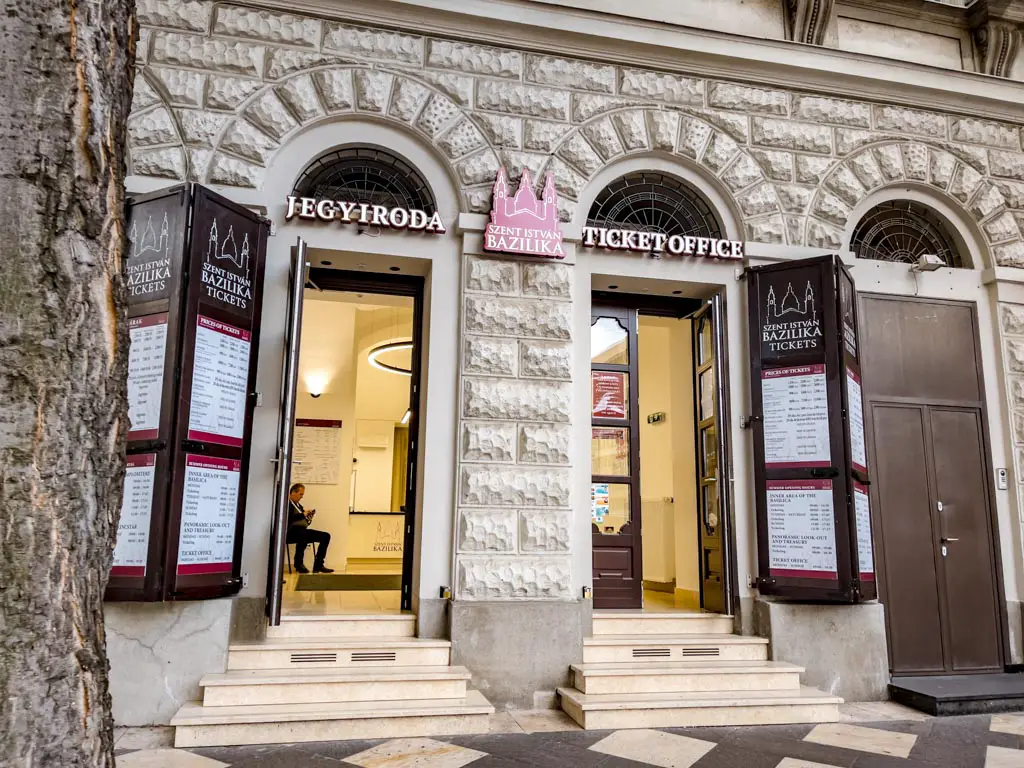 Note: the ticket booth is not in the church but on the street to its left when you're facing the entrance.
Opening times for church: Mon: 9:00 – 16:30; Tues – Sat 9:00 – 17:45; Sun 13:00 – 17:45
Opening times for tower: March – Oct 9:00 – 19:00; Nov – Feb 9:00 – 17:00 
Note: tickets often close 30 minutes before closing time, and they tend to close the lookout tower early.
Entrance fee: you can get a ticket for just the church, just the bell tower and treasury, or an all in one ticket. Group and family tickets are available, 20% off for Budapest Card holder
adult 1200 HUF/2200 HUF/3200 HUF, students 1000 HUF/1800 HUF/2600 HUF, seniors 900 HUF/1600 HUF/2300 HUF
Chain Bridge
Chain Bridge is the most famous bridge in Budapest in the heart of the city. It was the first permanent bridge to be constructed across the Danube, supported by Szechenyi and designed by an Englishman and built by Scotts.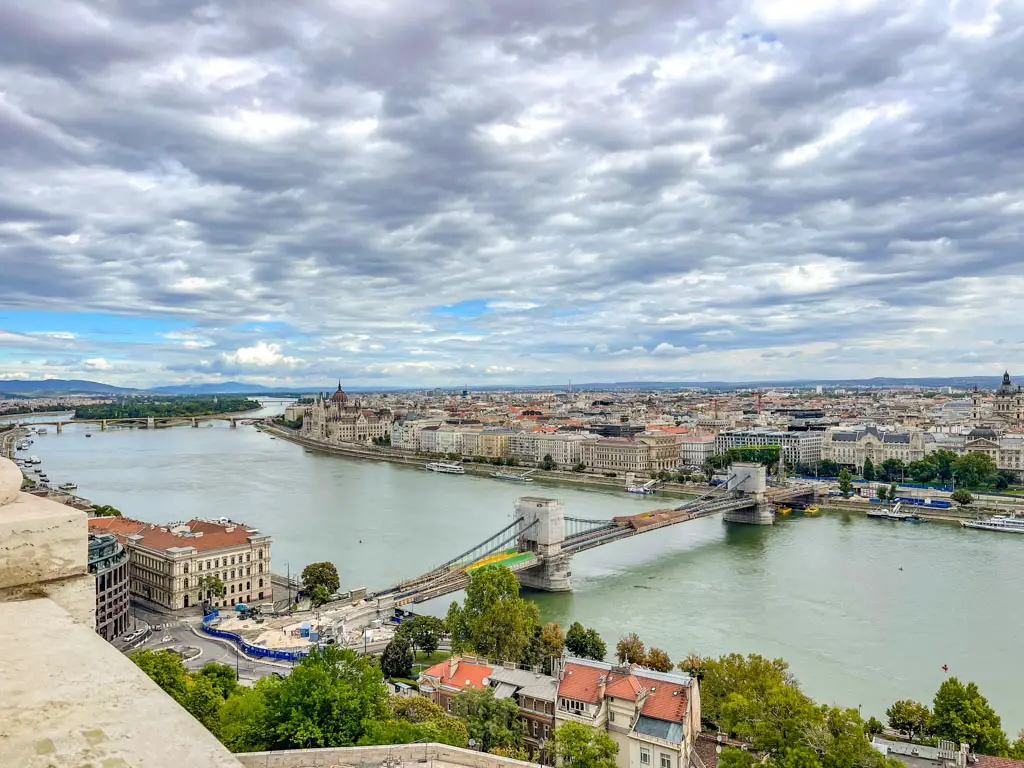 It was opened in 1849 and rebuilt after its destruction in WWII. It's currently under renovation but you can still admire it from both Buda and Pest side.
Hungarian National Museum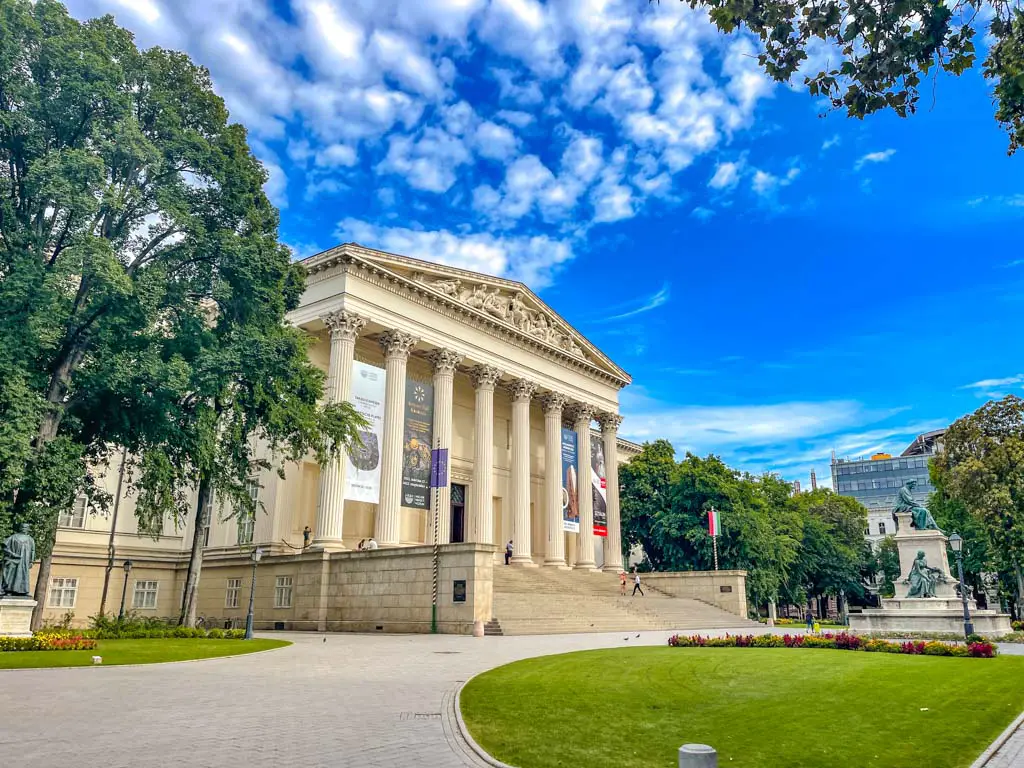 The Hungarian National Museum is housed in a classical building 5 minutes walk from Astoria metro. It houses exhibits and artefacts that tell the history of Hungary's founding from 960 AD through numerous rooms.
While it is a little jumpy in places, the history was comprehensive in Hungarian and English. There is a cloakroom downstairs to leave your things as well.
Opening times: Tues – Sun 10:00 – 18:00
Admission fee: adult 2600 HUF, EAA citizen 6-26 + 62+ 1300 HUF
Free with Budapest Card
Great Market Hall
The Great Market Hall is another big attraction in Budapest not only for its central role in food but also for its architecture. And did I mention it's the oldest and largest indoor market in the capital?
Its roof tiles come from the same place as St Matthias Church and were designed by Samu Pecz in the late 19th century. Its archway interior is reminiscent of a train station.
It's a good place to go and shop for the Hungarian sweet paprika and also spy on the prices of foie gras. It's best to come here with someone who knows the place, which I did with the Food Tour Budapest.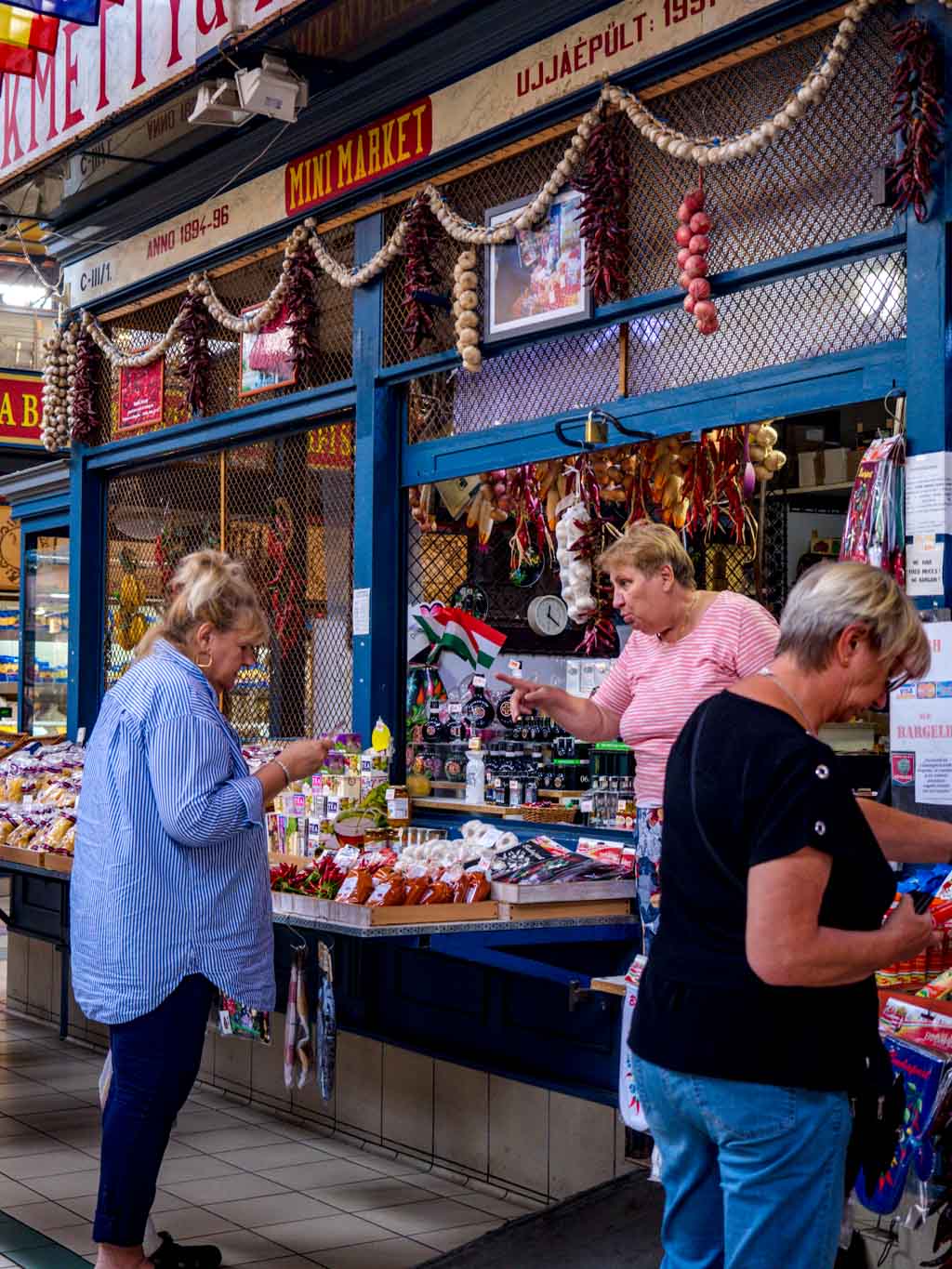 Note: definitely visit before mid-afternoon for the full experience. Many shops start to pack up prior to the closing time.
Opening times: Mon: 6:00 – 17:00; Tues – Fri 6:00 – 18:00; Sat 6:00 – 15:00
Liberty Bridge
The Liberty Bridge is my favourite bridge in Budapest with its green iron structure. It was originally named Franz Joseph Bridge when it was built at the end of the 19th century after the Habsburg Empire, but was renamed Liberty Bridge when Hungary became independent. It is the shortest bridge spanning across the Danube in the city center at 33.6m long. It makes for a nice walk between the Great Market Hall and Gellert Spa (then Gellert Hill).
City Park
City Park is on the other side of the Jewish Quarter and at the end of the M1 metro line. It's not far at all from the city center and home to some important monuments and landmarks:
Heroes' Square 
The Heroes' Square is located at the end of the Andrassy Avenue by the city park and another iconic sight of the city.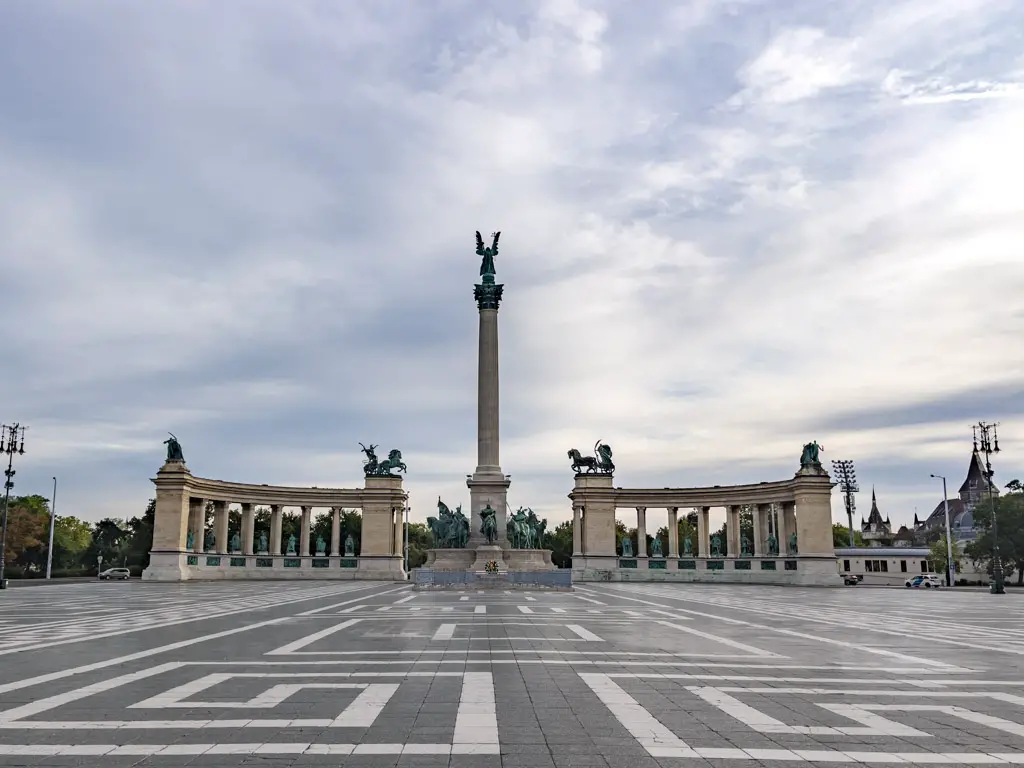 It consists of a central pillar flanked by the fourteen chieftains of the Magyars and important Hungarian leaders behind in two colonnades. It was completed in 2002 and therefore also called the Millennium Monument. Atop the central column is the Archangel Gabric holding the Hungarian Holy Crown and a cross.
Here is a list of the chieftains from left to right facing the city park (this reminds me a little of the 7 king park in Hua Hin, Thailand):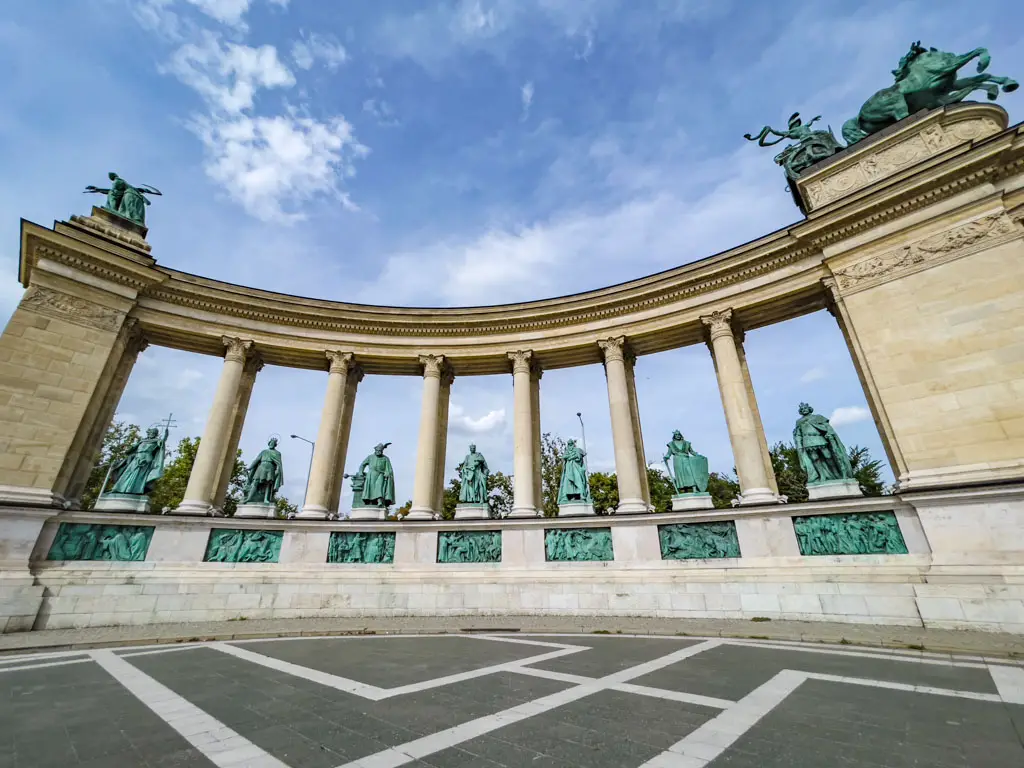 Stephen I of Hungary
Ladislaus I of Hungary
Coloman of Hungary
Andrew II of Hungary
Bela IV of Hungary
Charles I of Hungary
Louis I of Hungary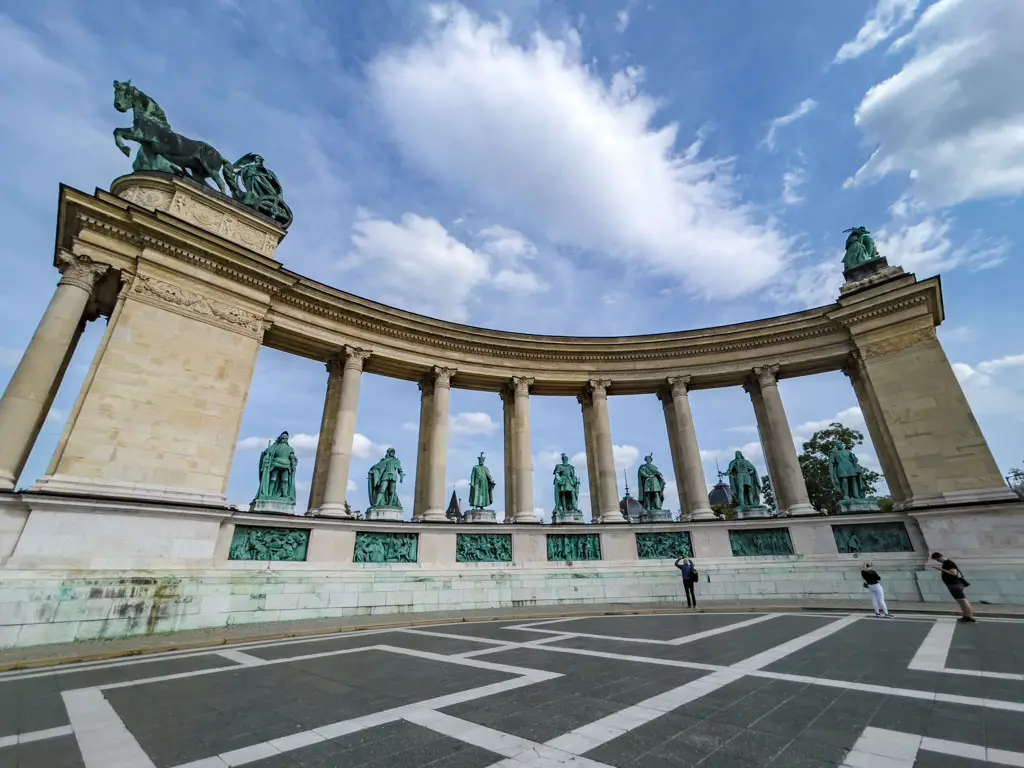 John Hunyadi
Matthias Corvinus (King Matthias)
Istvan Bocskay
Gabriel Bethlen
Imre Thokoly
Francis II Rakoczi
Lajos Kossuth
The Palace of Art and Museum of Fine Art are either side of the Heroes' Square if you have not museum out!
The Vajdahunyad Castle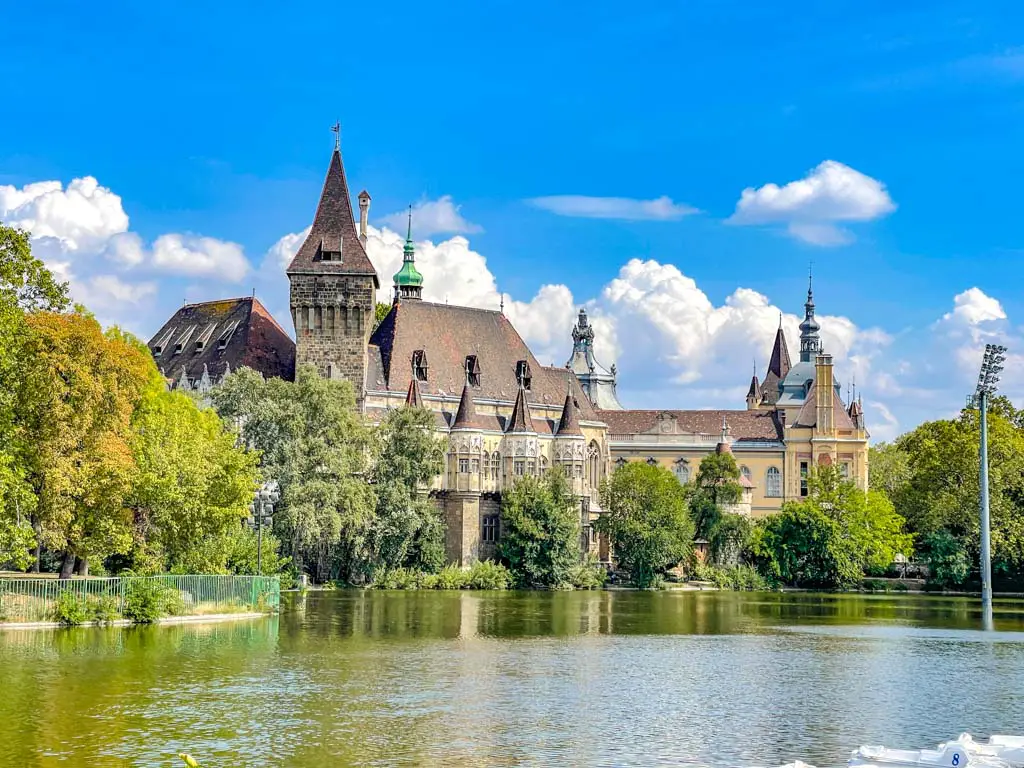 Did you know there's another castle in Budapest? The Vajdahunyad Castle was built in the late 19th century that is a copy of the Hunyad Castle in Romania. It's an eclectic mix of Romanesque, Gothic, Renaissance, and Baroque.
It's a beautiful place to walk through and it also houses the Museum of Hungarian Agriculture. It's located next to a lake, making it a picturesque scene.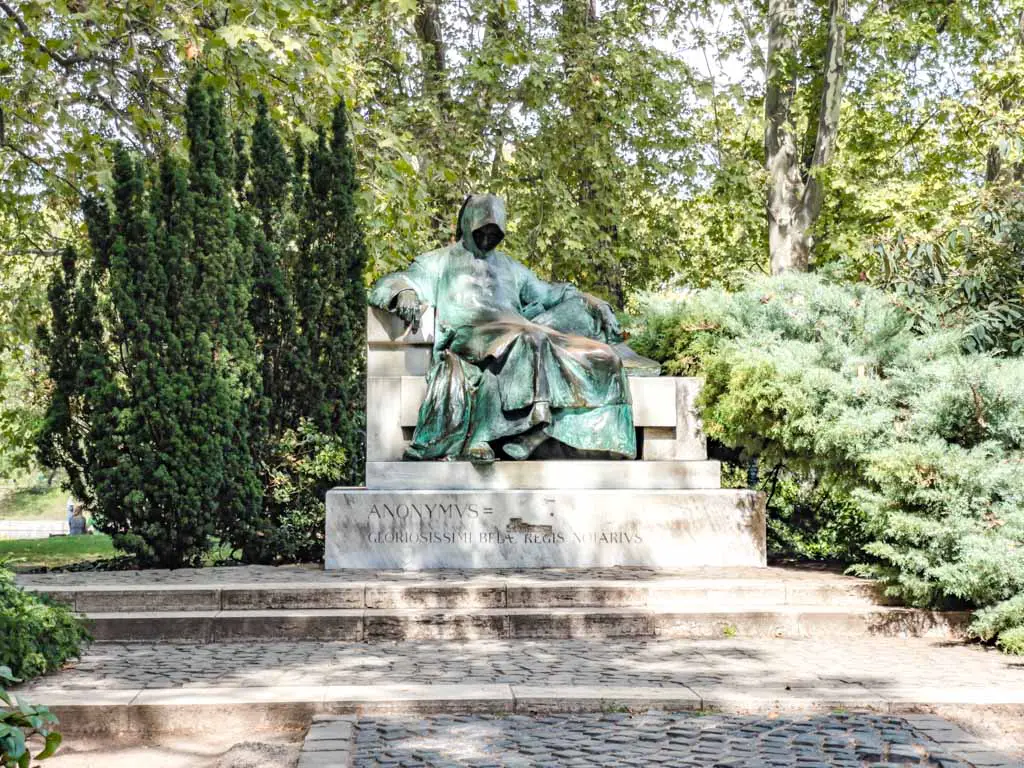 P.S. see if you can spot this creepy statue!
Metro Line One 
The Metro line one, aka M1, is the oldest part of the Budapest Metro that was built in the late 19th century. It's the oldest underground on continental Europe and connects Pest's riverside to the City Park.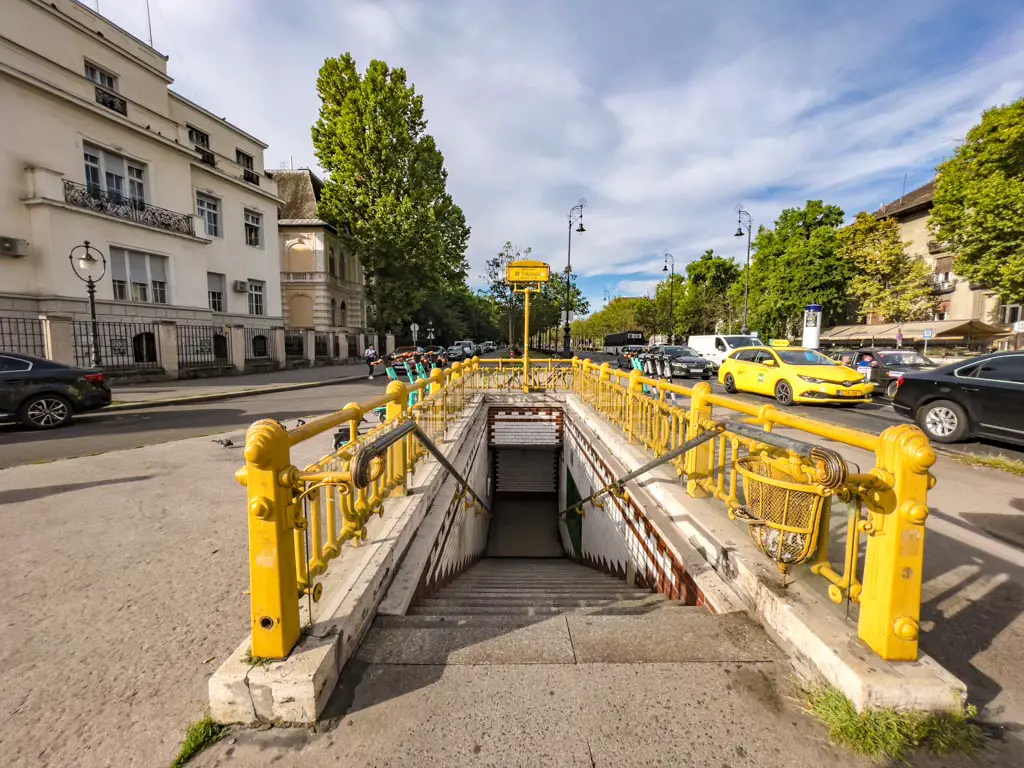 Each of its station looks like an Art Art Nouveau and you need to make sure you walked down the right side for the direction you want to go in!
House of Terror
House of Terror is by the Oktogon station, located on 60 A street has served as the House of Loyalty during the communist period. The museum chronicles the Nazi occupation and communism era that the Hungarian people were subjected to.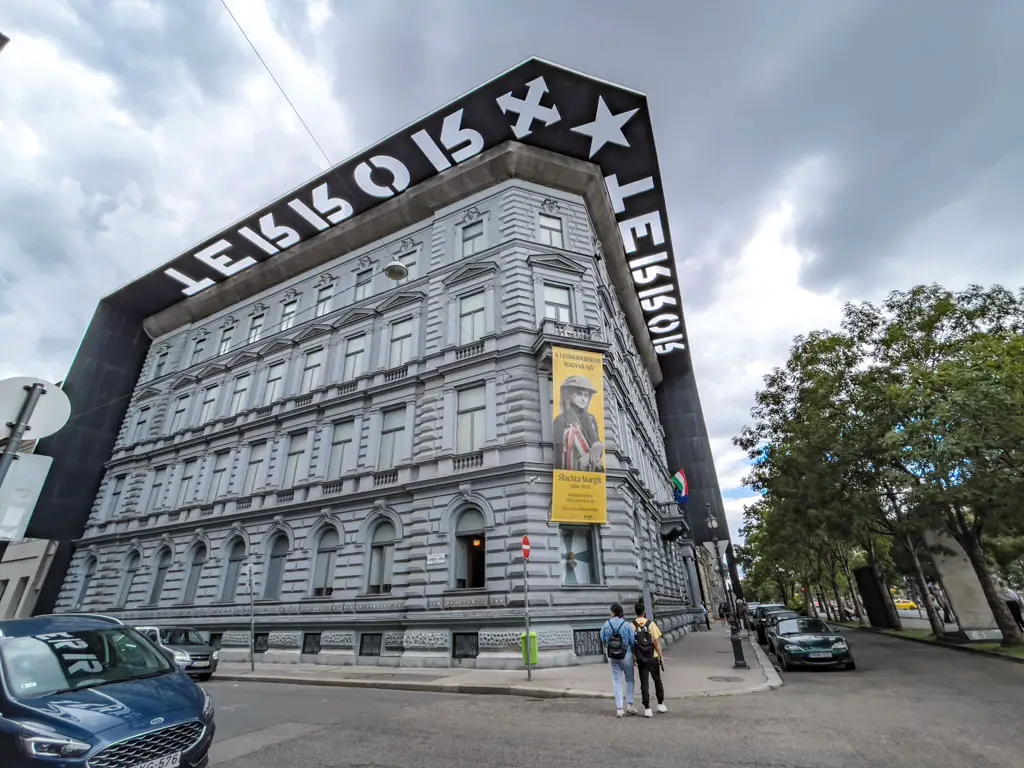 You can easily spend hours in the House of Terror as they have many audio-visual elements inside, including interviews of survivors. You are not allowed to take photos inside, but the majority of the rooms have a factsheet/summary that you can read and take.
If you are very interested in the stories, I'd recommend getting the audio guide as well. This is a heavy stop that's one of the best museums I've visited (the other being the Warsaw Uprising in Poland). It's not as suitable for kids or sensitive teenagers.
They do have bathrooms and lockers available.
Address: Budapest, Andrássy út 60, 1062 Hungary
Opening times: Tues – Sun 10:00 – 18:00
Entrance fee: adult 4000 HUF, reduced (6-25, 62-70 EEA) 2000 HUF
Pest North
Pest north is just north of pest central, but for this build a block's sake, I've put it here so that it's separate!
Hungarian Parliament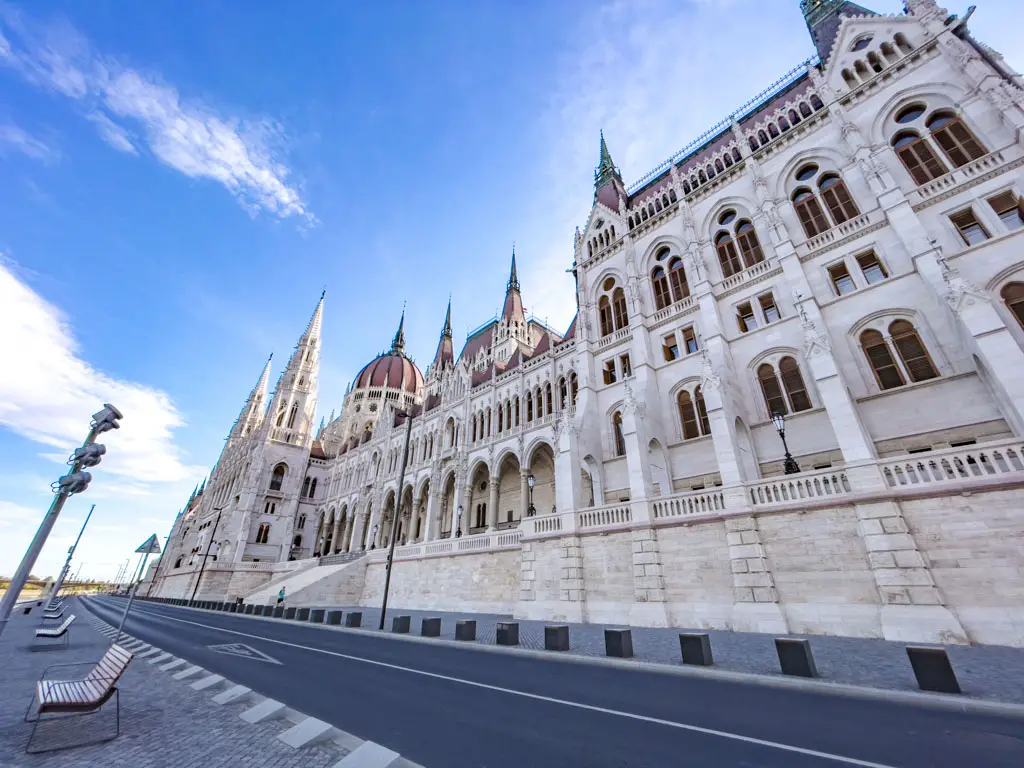 The biggest contender to the Fisherman's Bastion as the most beautiful and iconic building in Budapest is the Hungarian Parliament. It is also the most expensive building in the capital – it was planned to finish in 1896 but it took until the start of the 20th century for it to be completed due to the cost. In fact, it was the biggest parliament in the world when it finished but not anymore.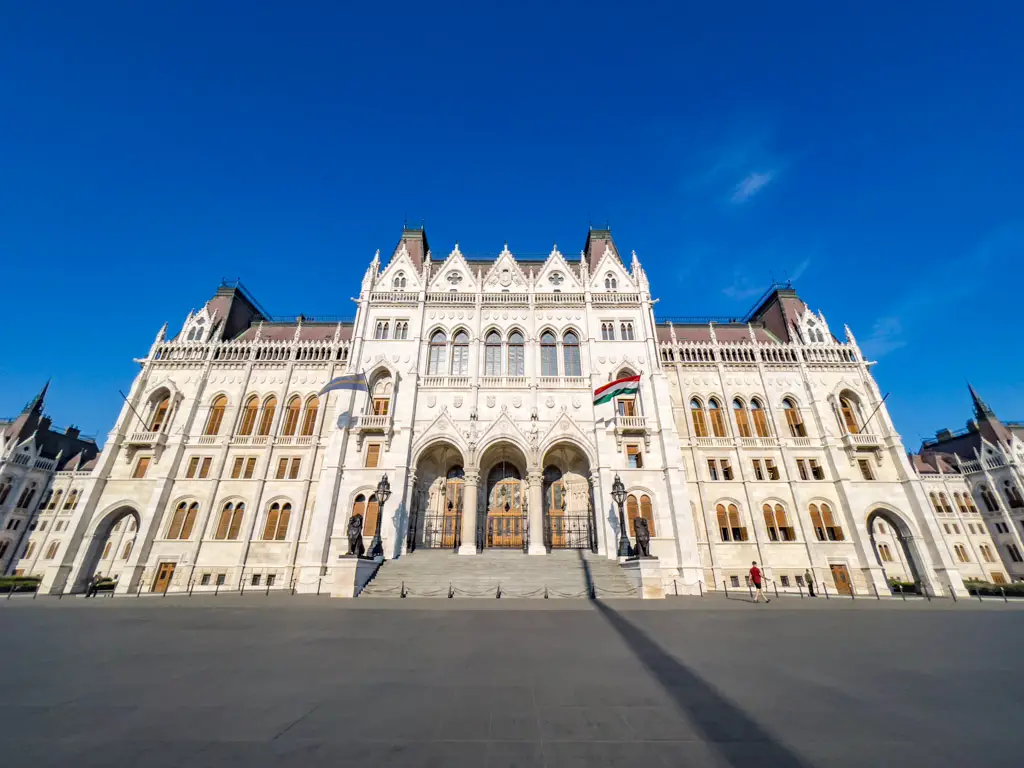 It was designed by architect Imre Steindl, who won the competition in late 19th century for the extravagant and stunning design. The design is a mix of Gothic Revival and Renaissance Revival, symmetrical across the central dome. It is one of the two highest buildings in Budapest, along with St Stephen's Basilica, both standing at 96m tall.
Fun fact: during Communism era, they put a 3m tall red star at the top, making it higher than St Stephen's Basilica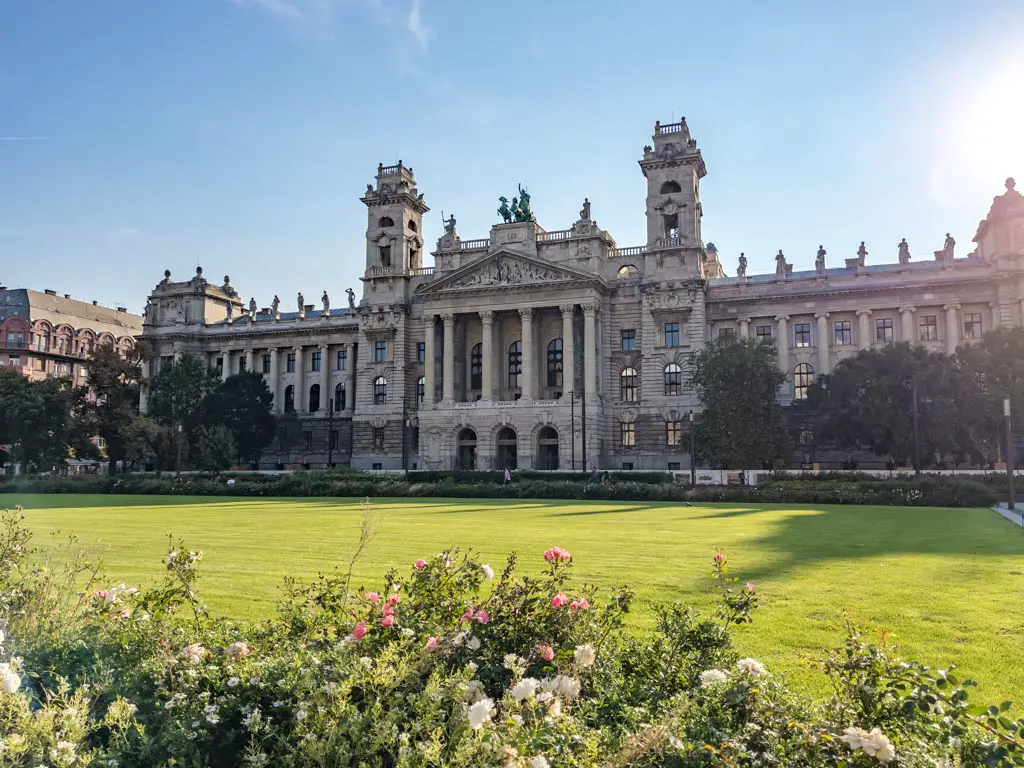 Also, the other two winning designs were also built around the corner. One of them serves as the Ethnographic Museum, and the other the Hungarian Ministry of Agriculture.
Opening times: 8:00 – 16:00
Entry fee: You can book your tickets online on the official website here. According to their official website, there might be limited tickets available for individual visitors on the day, and you can try tour luck at the ticket office.
EEA citizen 4200 HUF, EEA 6-24 age 2100 HUF, non-EEA citizens 8400 HUF, student non-EEA 4200 HUF. Family tickets available.
Shoes on the Danube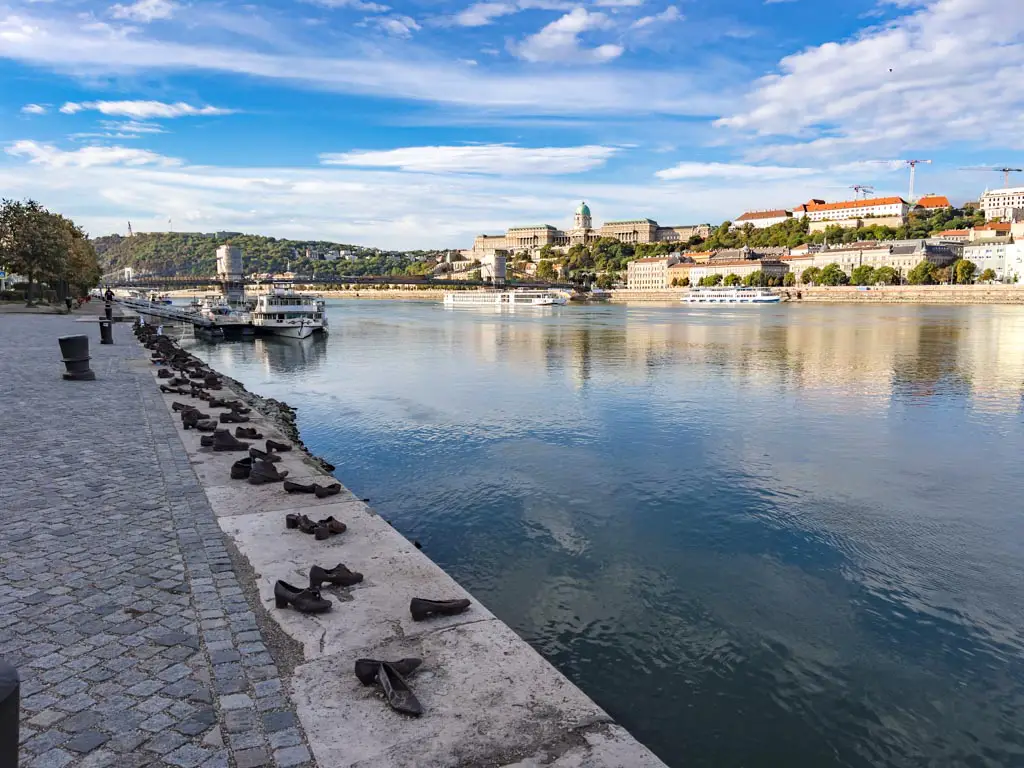 From the Parliament, it's a short walk to see the Shoes on the Danube. They are a memorial installed in 2005 to commemorate the Jews who were murdered by the riverside by the Hungarian Fascist Militia in WWII. The 60 pairs of shoes represent 1000 Jews that was murdered.
Margaret Bridge and Margaret Island
The Margaret Bridge connects Buda and Pest and the Margaret Island in the middle on the northern edge of Budapest city center. 
Margaret Island is one of the greenest spaces in the city with many hidden dining spots and sports facilities. It's a popular place for locals and tourists to be in nature with bicycle rentals and plenty of trails meandering through the park.
It was once an important religious island with the Knights of St John making it their base in the 12th century and remaining a religious hub until the 16th century. It used to be called the Island of Rabbits and was renamed in the 14th century after Saint Margaret. 
I came across an outdoor cinema when I was visiting in early September and if you're there at night, the fountain music light show takes place daily at 8 pm.
Note: the Tram 4 and 6 go past the island and are a great way to get there
Buda Castle Hill
The Buda Castle Hill is the heart of Buda and Budapest and the seat of power since the 12th century. Be warned, even though it's called a hill, it's just about 60m high!
Fisherman's Bastion
The Fisherman's Bastion is arguably the most famous landmark in Budapest, with Parliament being the strong contender. It's located high on Buda Hill and overlooks the Danube River.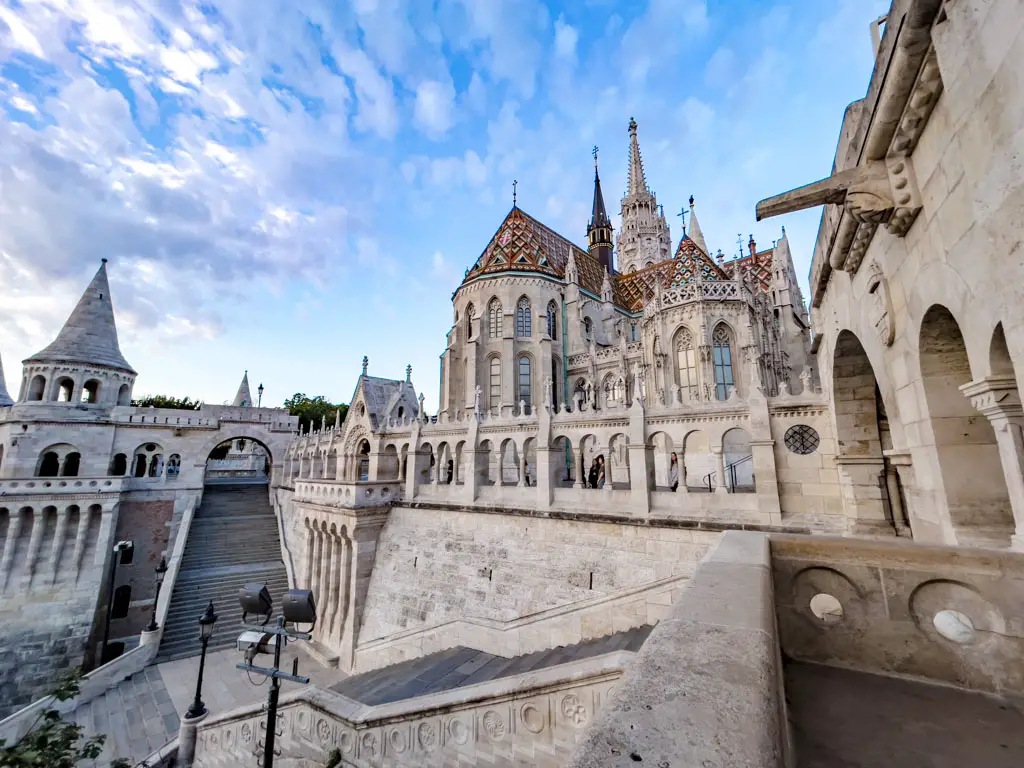 The bastion is a fortification built in the Romanesque Revival style, known for its white colour and panorama. It faces directly east, which means it gets an unobstructed view of the sunrise and also the city. 
It was built in the late 19th and early 20th century to replace the original walls from the 1700s. It's said to be maintained or protected by the Fishermen's guild, hence the name!
There tend to be a couple of wedding shoots and also other early birds snapping photos there during sunrise. But with 140m of space, you should be able to find your own space.
Note: before the ticket office opens, you can go up to the lookout for free!
St Matthias Church 
If you end up skipping sunrise, have breakfast first and then visit the Fisherman's Bastion and St Matthias Church in one go. We've visited the church dedicated to Hungary's first king, now it's time to visit the one dedicated to the 15th-century monarch.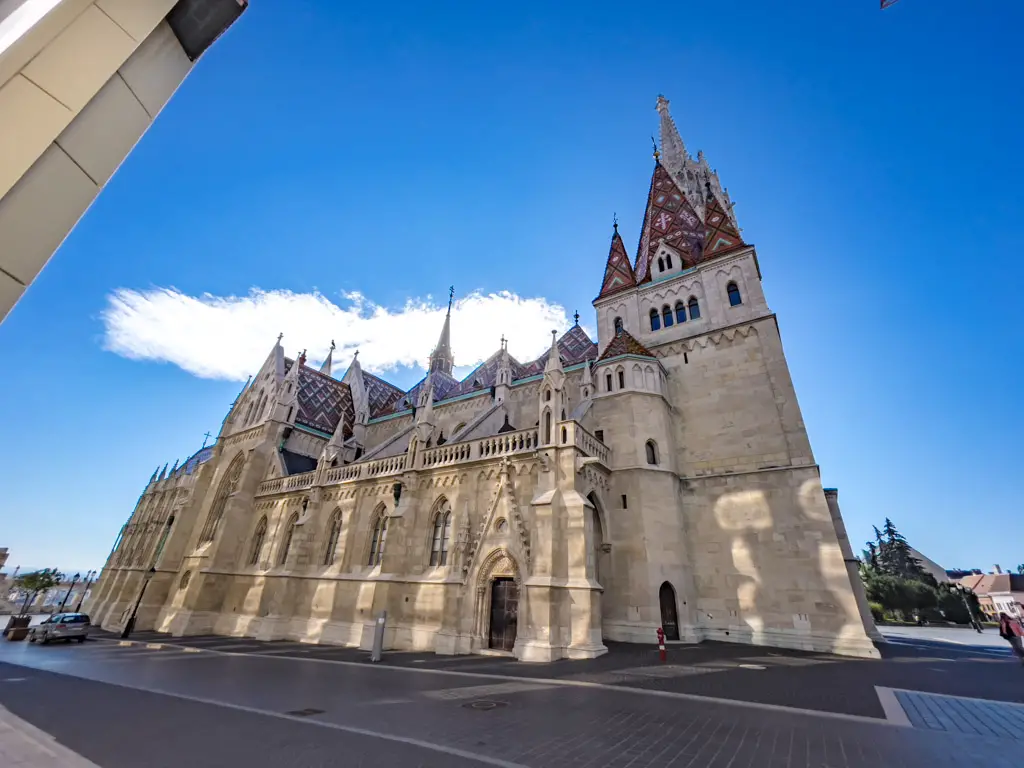 King Matthias was known as Matthias the Just, popular for his patronage of science and art, in particular the Renaissance, and his marriage to Beatrice of Naples, who brought Renaissance art and food to Hungary. 
The church itself is also known as The Coronation Church of Our Lady with colourful roof tiles produced from the Zsolnay factory in Pecs. The original church on the site was dedicated to St Stephen, but was destroyed by the Mongols in the 13th century. The current iteration was rebuilt in the 19th century under Franz Joseph I in the gothic style.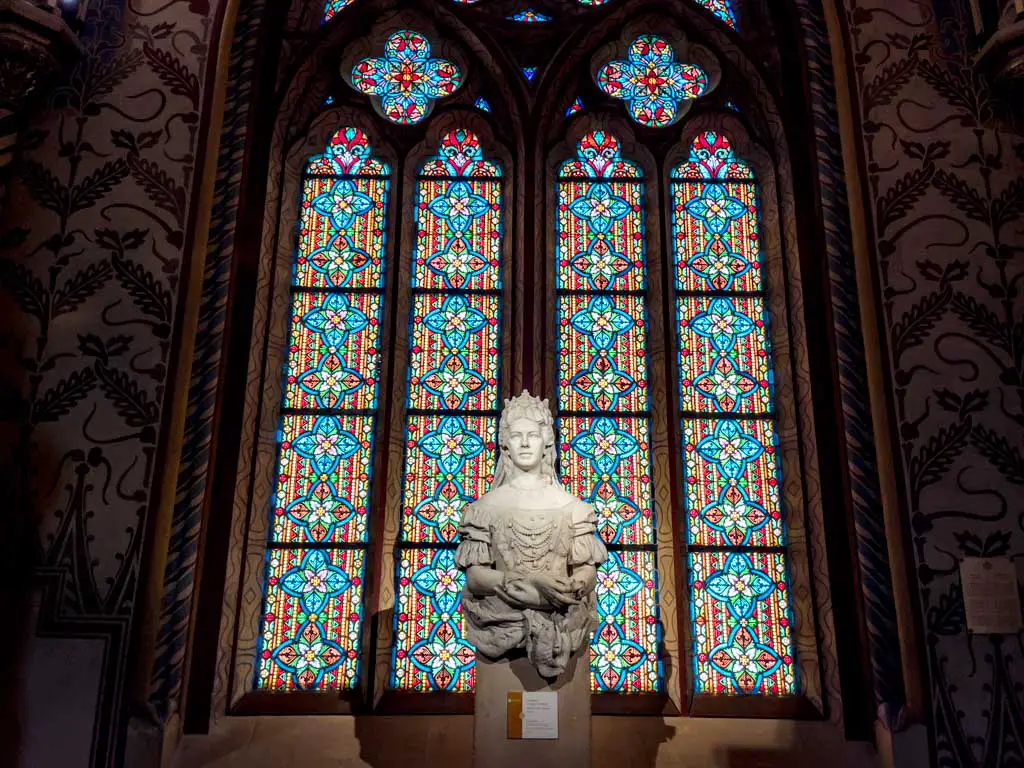 The church is beautiful with stained glass and artful arches. Don't forget to go upstairs where they have various rooms and exhibitions of the church and Budapest's history.
You can also see the tomb of King Bela III and his wife Anne de Chatillon. They were reburied here after being excavated in 1848, as the original church they were buried in was destroyed by the Turks.
Opening times: Mon – Fri 9:00 – 17:00; Sat 9:00 – 12:00; Sun 13:00 – 17:00
Entrance fee for church: adult 2000 HUF, student and senior 1500 HUF, family: 4750 HUF
Entrance fee for tower:  adult 2200 HUF, student and senior 1700 HUF, family: 5250 HUF
Buda Castle
The Buda Castle is a complex that has occupied the area from the 14th century onwards, and the current one was built in 1700s for the Habsburg. Although no one really lives there as the court is in Vienna.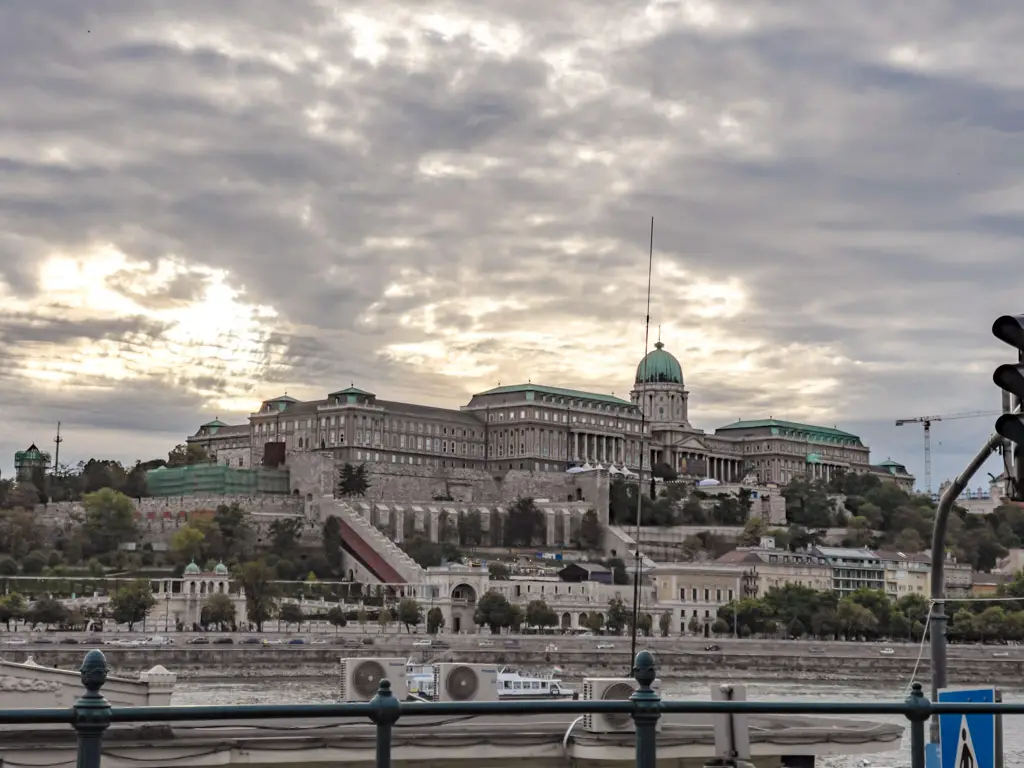 It's a short walk from the Fisherman's Bastion and St Matthias Church. Now it houses the Buda History Museum, Hungarian National Gallery, and the national library.
Hungarian National Gallery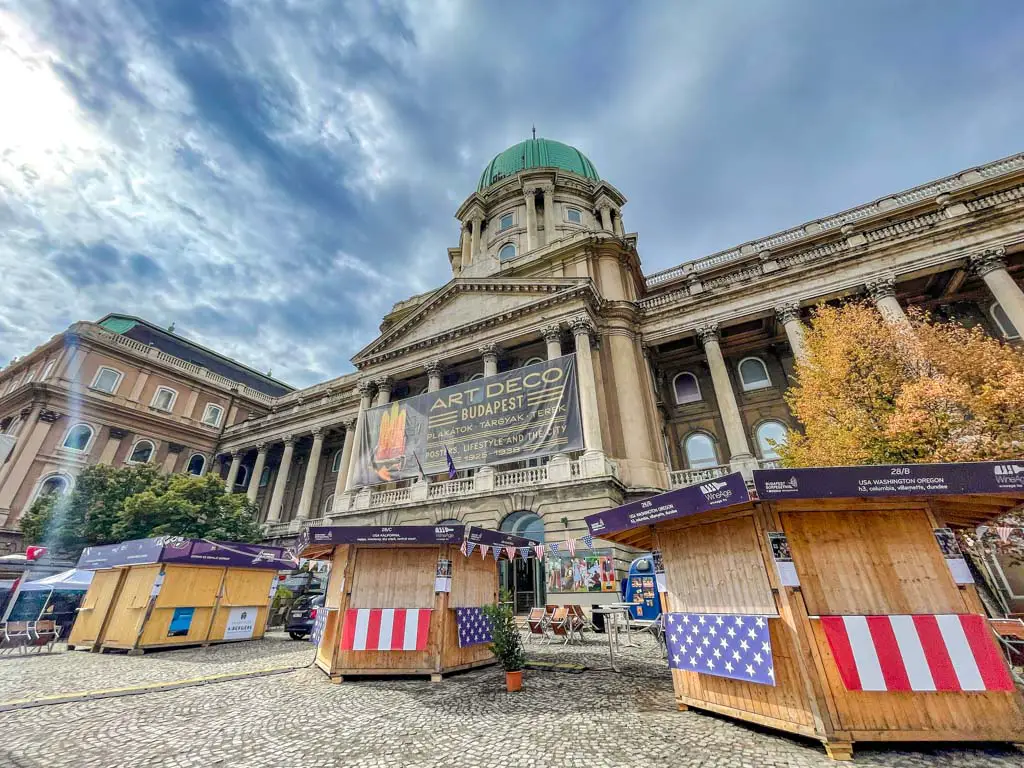 The Hungarian National Gallery houses 3 floors of Hungarian paintings and sculptures, mostly from the 19th and 20th century. Many of them have studied or worked in Paris and in various other parts of Europe.
It's located in the riverfront castle building and there is information on the building scattered around. For example, the throne room that now houses the gothic altarpiece on the first floor. You can also go up to the perimeter of the dome, where there are spectacular views and also modern art sculptures and installations.
As I'm not much of an art fan, I didn't enjoy it as much as the Buda History Museum.
Opening times: Tues – Sun 10:00 – 18:00 (dome visits closes at 17:00)
Entry fee (for permanent exhibition): adult 3400 HUF, concession 1700 HUF 
Permanent collection free with Budapest card
Buda History Museum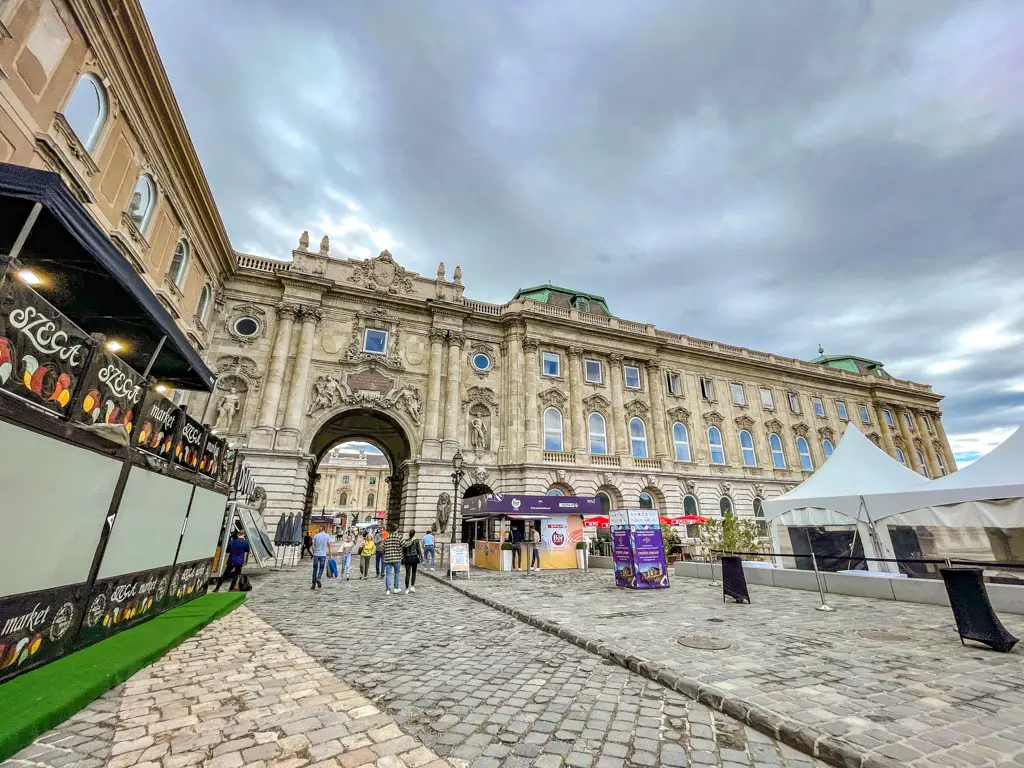 If you only have time for one museum in the complex, I'd make it the Buda History Museum. It has three floors with the history of the complex starting in the basement on the medieval history, first floor after the Independence War in 17th century, and modern history on the top floor.
You can also visit some of the castle ruins, such as the chapel at the bottom. It's a bit of a maze at the bottom, so budget some time and patience to look around. I also really enjoyed their exhibition on the 1000 years of Budapest history.
The other highlight of the Buda History Museum is the state rooms. There is the Hunyadi Room that reflects King Matthias's time, St Stephen's Room, and the Habsburg Room. You'd need an extra ticket to visit St Stephen's Hall on the first floor.
Opening times: Tues – Sun 10:00 – 18:00
Entry fee: adult 3900 HUF, 6-26 years old + senior 1950 HUF
Combined ticket with St Stephen's Hall: adult 4500 HUF, concession 2250 HUF
Audio guide: 1200 HUF, guided tours also available
Budapest Thermal Spa
Alternatively, head on to one of the many spas in Budapest. The city is famous for its thermal spa and entrance fee for the St Lukacs Spa is included in the 72 hours Budapest Pass. But it's located on the northern edge of Buda, which can be a bit out of the way. It's a small spa with two outdoor pools, a rooftop terrace with sunbeds, and a series of thermal pools inside with sauna.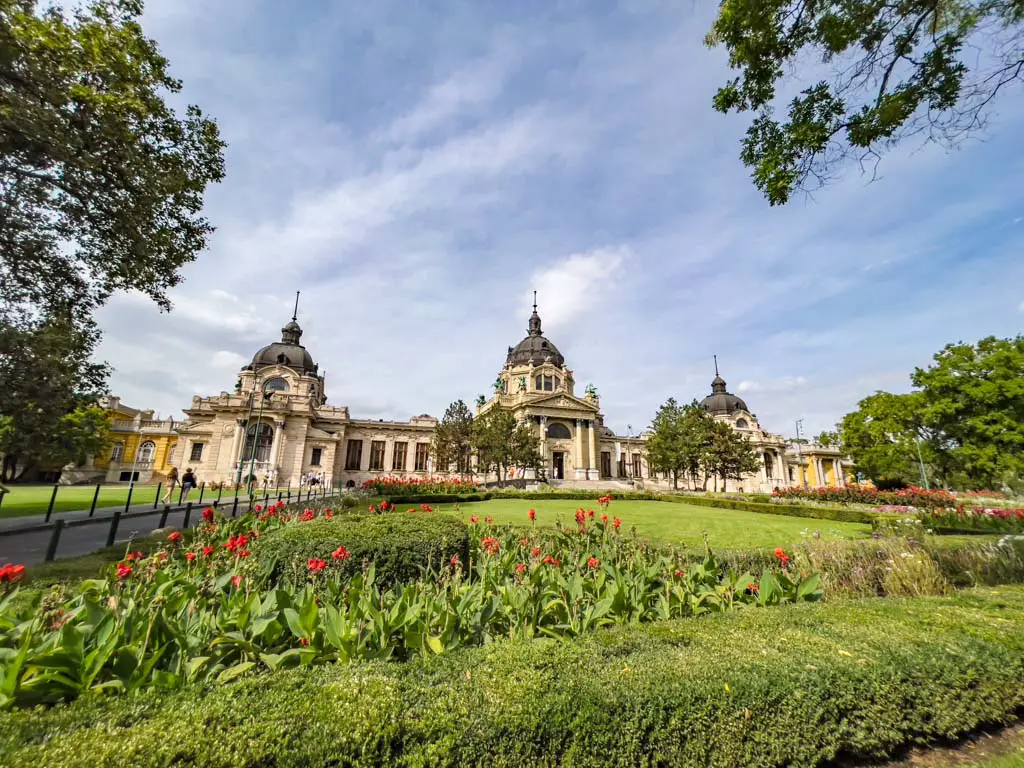 Otherwise, the best (and yes the most expensive) is the Széchenyi Thermal Bath. It's named after István Széchenyi Hungarian politician and poet. It is the largest thermal spa in Europe fed by two hot springs in a yellow Neo-Baroque building built in the early 20th century. It is a sprawling complex with 3 outdoor and 15 indoor pools.
You can easily spend a whole day there, but if you're like me, you won't be able to sit back and do nothing. They also have spa parties on certain weekends, although I've read that it tends to be more men than women.
St Lukacs Spa
Address: Budapest, Frankel Leó út 25-29, 1023 Hungary 
Opening times: Thurs – Mon 7:00 – 19:00; Tues – Weds 7:00 – 20:00, counters close an hour before closing
Entry fee: free with 72 hours Budapest Card. Adult 3800 HUF/4200 HUF, student and senior 2800 HUF/3700 HUF, afternoon tickets 2800 HUF/3700 HUF (weekday/weenekd)
Szechenyi Thermal Bath:
Address: Budapest, Állatkerti krt. 9-11, 1146 Hungary
Opening times: 9:00 – 19:00, outdoor pols might be open until late depending on season
Entry fee: tickets start at 7 100 HUF on weekday and 7 600 HUF on weekday, you can see the full price list here. They also have massages and other spa services available.
Note: night tickets are cheaper, so you might want to go for a night dip to save money.
Sunset or Night time activities in Budapest
Gellert Hill Sunset
If you can muster up the energy, head up to Gellert Hill for sunset spectacular! It's one of the top places to see the sunset in Budapest and on the Buda side. It's on the southern end of town, and although only 235m (771 ft) high, it has a great view of the Danube and both Buda and Pest.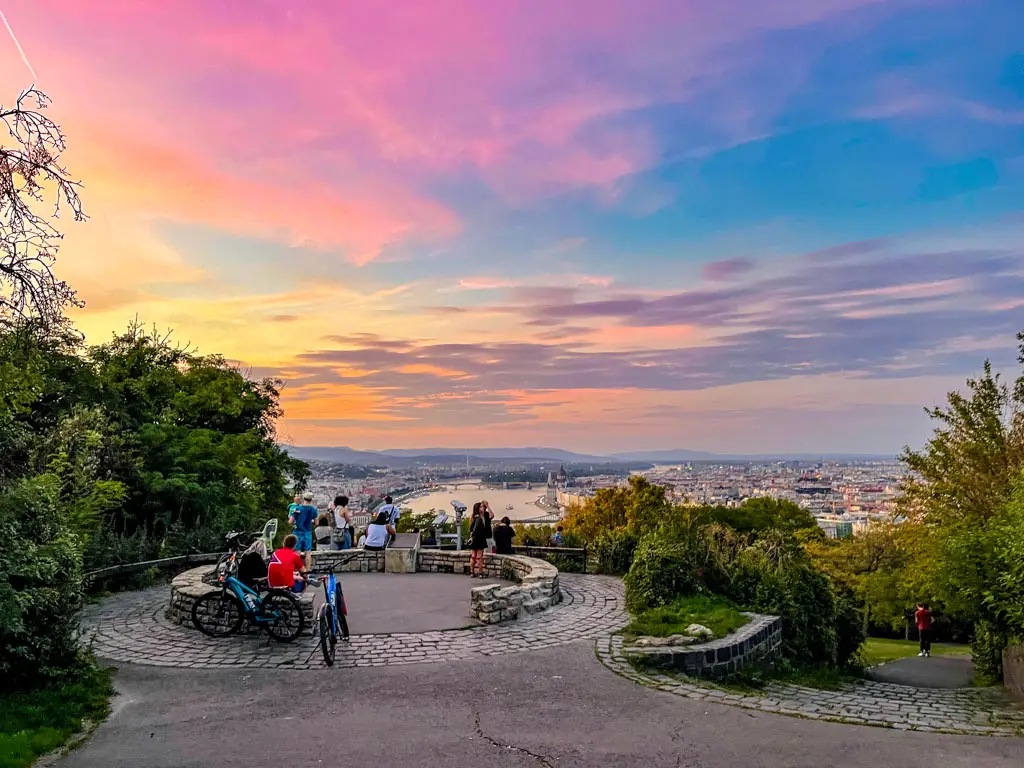 It is named after Saint Gellert, a bishop in the 11th century who was killed during the pagan rebellion. It then became a vineyard in the 18th century and the citadella was built in the mid 19th century.
The area is currently (Autumn 2022) under renovation, but you can still climb to the view point to see the sunset. There are also numerous modern art sculptures scattered around. Most notable is the Liberty statue – it was built in 1945 post soviet liberation, and in 1989 the inscription changed to for all of those who died for the freedom of Hungary.
How to get there:
The best way is to take the metro or tram or bus to Gellert Spa and then walk from.
Ruin Bar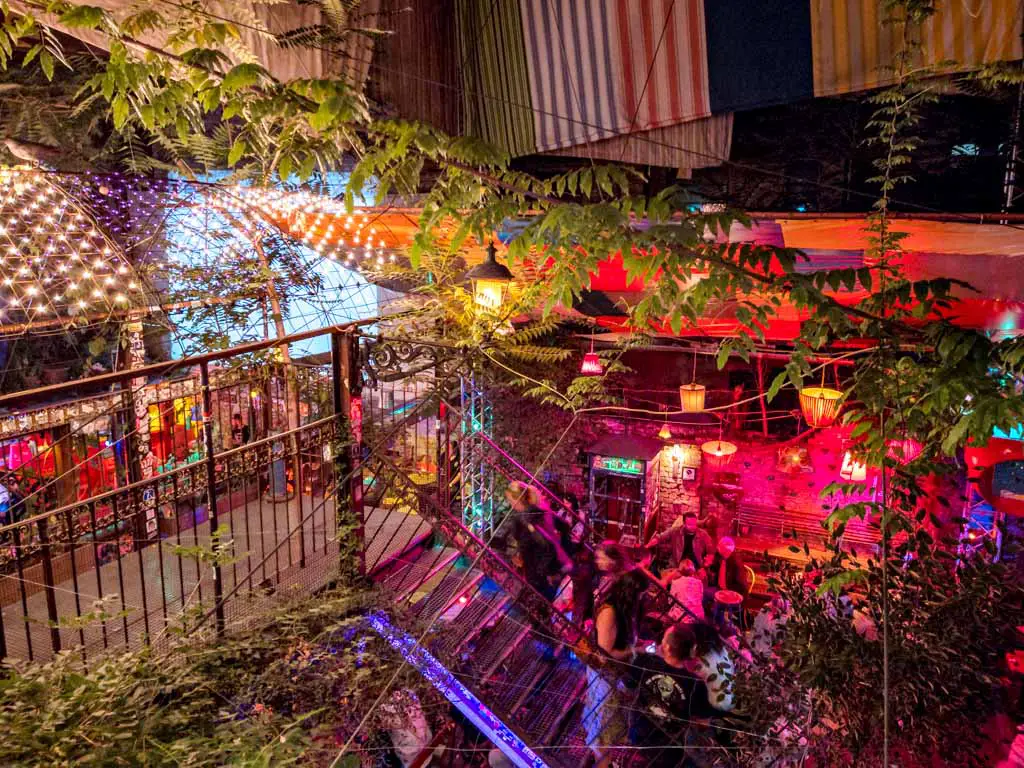 One of the oldest ruin pubs in Budapest is Szimpla Kert, which is right next to Karavan Street Food. The Ruin bar culture has been popular in Budapest for the past decade plus with many pubs and even cafes taking over spaces that could use a bit of renovation but becomes the character of the establishment. It is free to enter the bar, although they do check your ID, and it's worth a walk through during the earlier hours of the night even if you don't like drinking.
Popular Ruin bars: