Warsaw became the capital of Poland in 1596 with its strategic position and was known as the Paris of the North. While the city had been razed in WWII, the old town has been rebuilt and the skyline is a mish-mash of medieval buildings and highrises. From the summer palace of the Polish kings to a museum dedicated to the uprising of the Warsaw people, it's a perfect city trip for culture and history lovers.

A short history of Warsaw
Warsaw started out as a fishing village before it was founded as the capital of Masovian Duchy in the 14th century. It became part of Poland in the 16th century when the ducal line died out, and in 1596, Sigismund III Vasa moved the capital from Krakow to here. It was besieged many times but still developed as a cosmopolitan city under the elected rulers of Polish and Lithuania CommonWealth until it was annexed by the Russian Empire in 1795.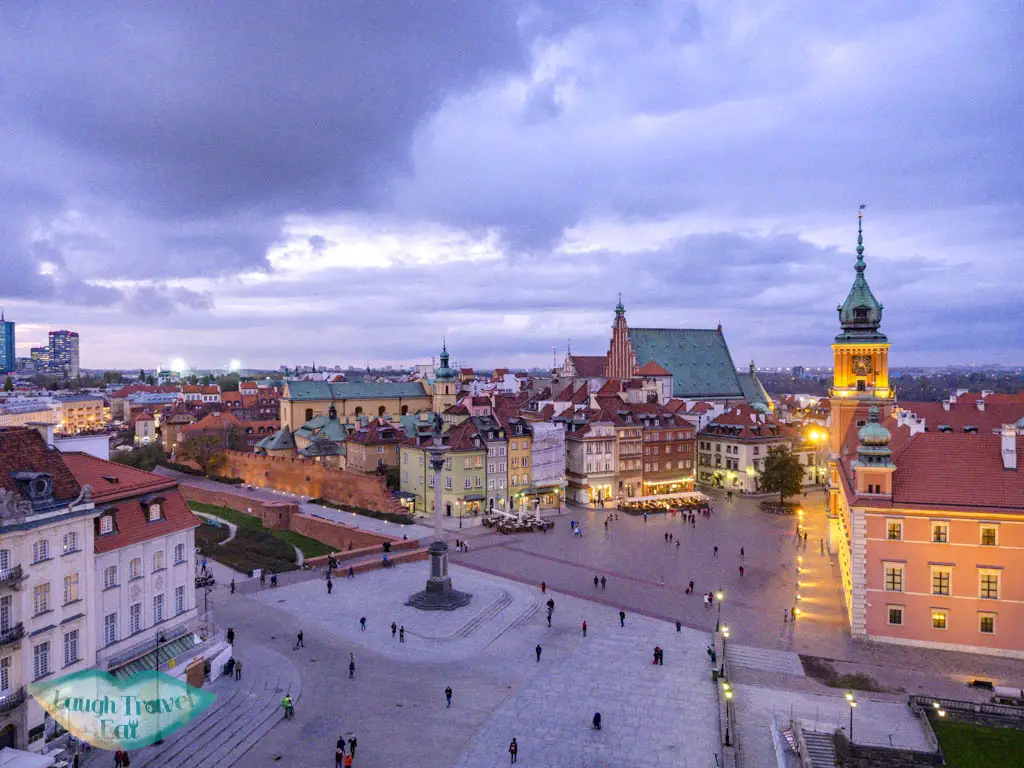 While it regained freedom in the early 19th century, but fell under Russia again after the November Uprising. It was liberated again after WWI but this time it was Germany who invaded them in 1939. The Warsaw Uprising (see the museum later) was only partially successful and it fell under Russia again in 1945. Poland was finally liberated in 1989 and it has seen rapid development, including the building of metro lines and restoring the old town since.

Getting around Warsaw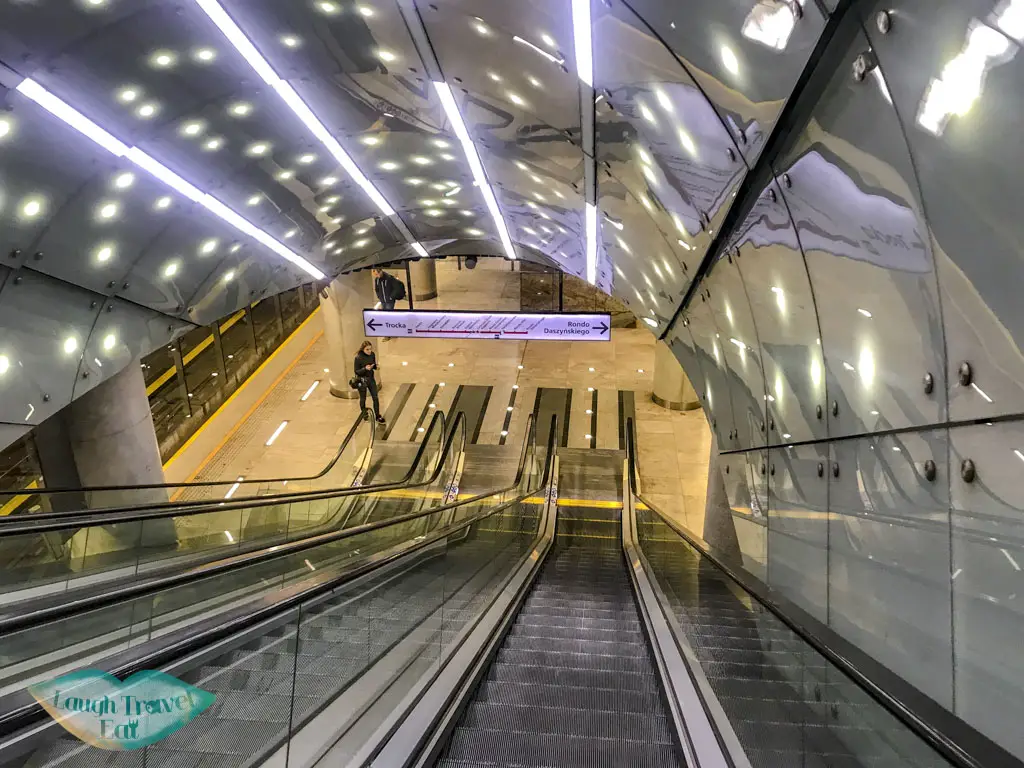 Public transport in Warsaw
Warsaw has one of the best public transport system I've been to on my trip (perhaps save from Vienna and Berlin). There are metro, tram, and buses, and I ended up using the latter two the most as it only has two metro lines as of now.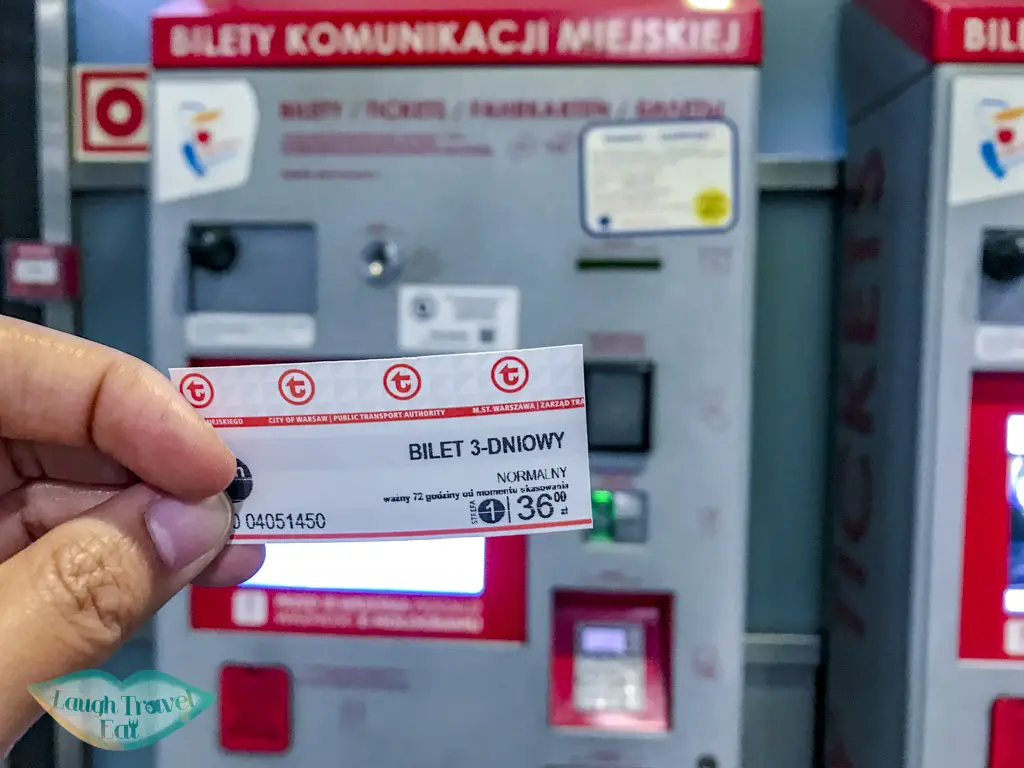 I got a 3 day transport card for 36 PLN, which was value for money especially in winter given that it was really cold. Alternatively, if you choose to stay near the Old Town, everything is reasonably walkable and you likely only have to take several trips.
Note: use smaller notes or go to the counter as the machines do not accept big bills and can end up swallowing it.

I used Google Map to navigate and it has the bus, tram, and metro time correctly and never led me wrong.

Use Bolt
Bolt is the Uber of Poland and a ride can be very affordable here. I didn't end up using it, since I got the transport pass, but it's worth downloading beforehand so you already have it.
Travelling to and from Warsaw
If you are looking to travel out of Warsaw – I booked LuxExpress to Vilnius using the Omio App. It was super easy, I could use my home credit card, and the ride was like a plane ride with entertainment option, bathroom, and free hot drinks!
From Krakow, where I was for 3 days before, I took the train instead of the bus since it was much faster. You have to book tickets at the station in person, but the process was easy.

Warsaw Pass
Warsaw has a city pass that includes free public transport for the duration of your pass. It includes numerous admission fee for attractions and discounts, including the popular Wilanów palace. After careful consideration, I decided it wasn't worth it for me. Its main savings are with the Vodka Museum, Hop on Hop off bus, and the rooftop on the Palace of Culture and Science. As I didn't want to visit any of it, I didn't get it. But if you do want to use it, here are some details:
24 hours Warsaw Pass costs 129 złotych
48 hours Warsaw Pass costs 169 złotych
72 hours Warsaw Pass costs 199 złotych
Essential information for Warsaw:
Most attractions are closed on Monday
There are summer and winter opening times so best to check before your visit as google isn't always right
Day 1 Old town
I decided that the first day should start with the oldest part of Warsaw – despite it being reconstructed – at the old town. It's known as Stare Miasto, two blocks west of the Vistula River with buildings rebuilt from original materials being razed in WWII. There are many things to see, but here are my top picks in the morning:

Sigismund's Column
At the entrance to the narrower streets of Old Town lies a huge square and in the center is the Sigismund's Column. The square is Castle Square, and the column was built in the 17th century dedicated to King Sigismund III Vasa. If you remember from my short history of Warsaw, he's the king that moved the capital from Krakow. It was built under the order of his son, King Władysław IV Vasa.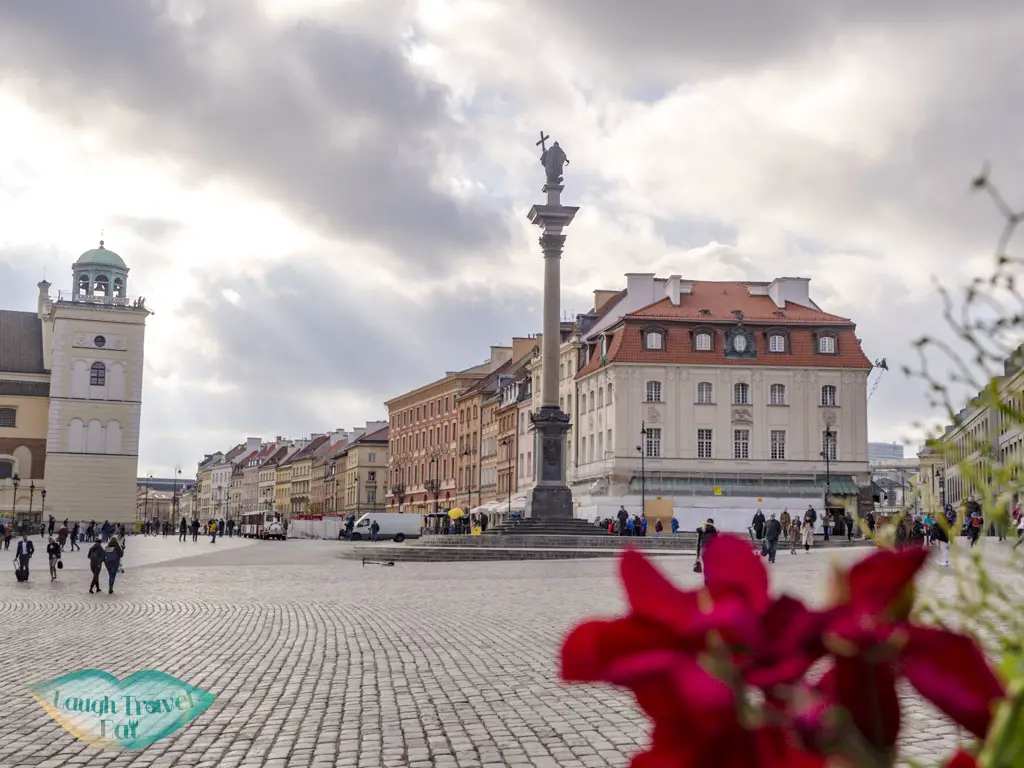 The columns stands at 22m high, with the statue itself at 2.75m high. It was originally made of red granite but was destroyed by the German in 1944. It's a popular meeting place for many and also where free tours around Warsaw starts.

St. John's Archcathedral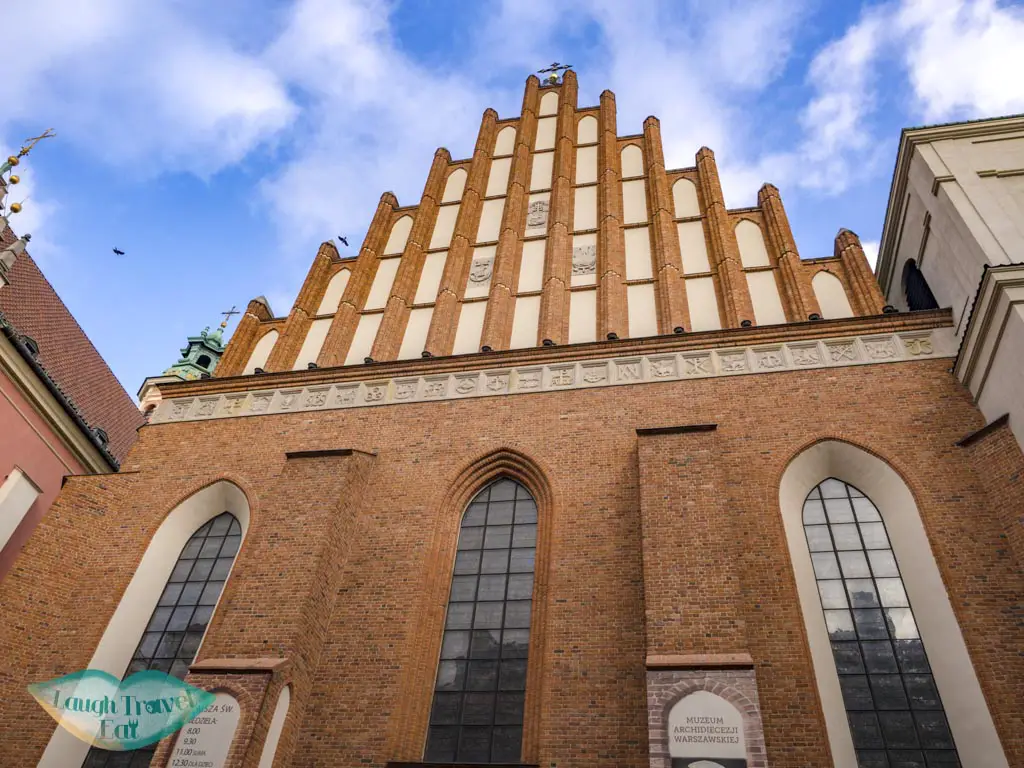 The unique stepped triangle top of the archcathedral makes it stands out among the row of buildings along the narrow street in old town. While it is founded in the 14th century, the current church, like the rest of the old town, is a reconstruction. It used to be connected to the Royal Castle by an elevated corridor, and is the burial site of numerous Masovia dukes and notable Poles.

Warsaw Mermaid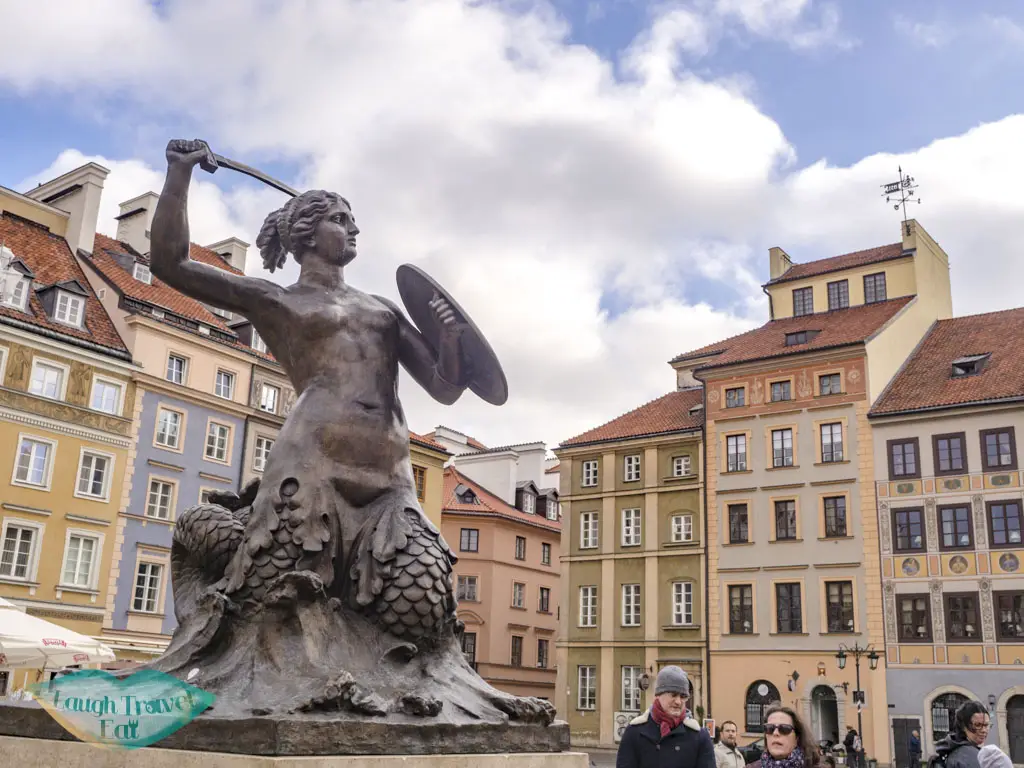 The symbol of the city, Warsaw's warrior mermaid is in the central square of the old town. She's wielding a sword and a shield to protect the city, and there are several legends about her origin. She was first seen in the coat of arms in the 17th century and it is said that fishermen notice strange things around the river, and it was because of her. They fell in love with her singing and freed her after she was captured by a merchant, and she's been protecting the city ever since.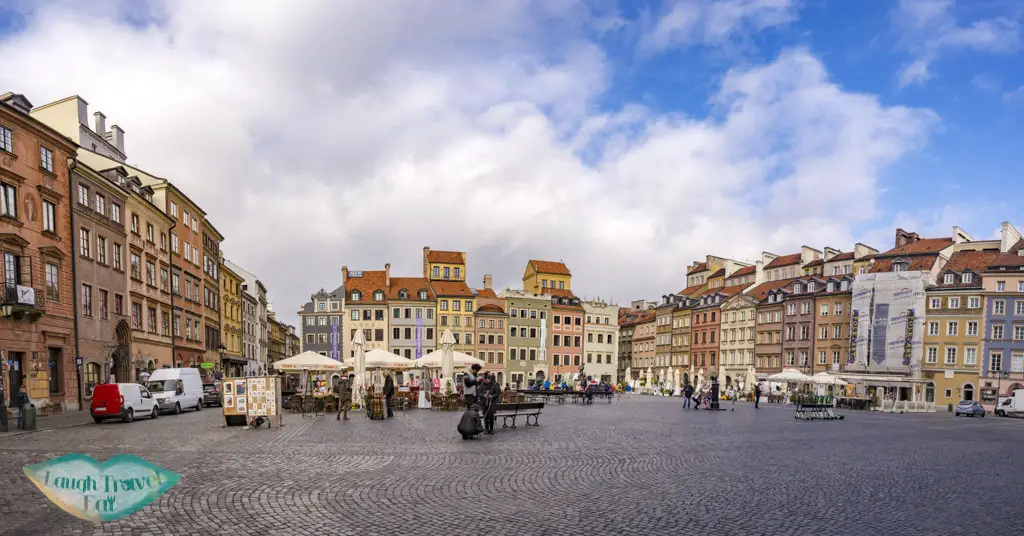 The statue in the marketplace was originally made in the late 19th century, but this is a recent replacement as the original was too damaged.

Barbican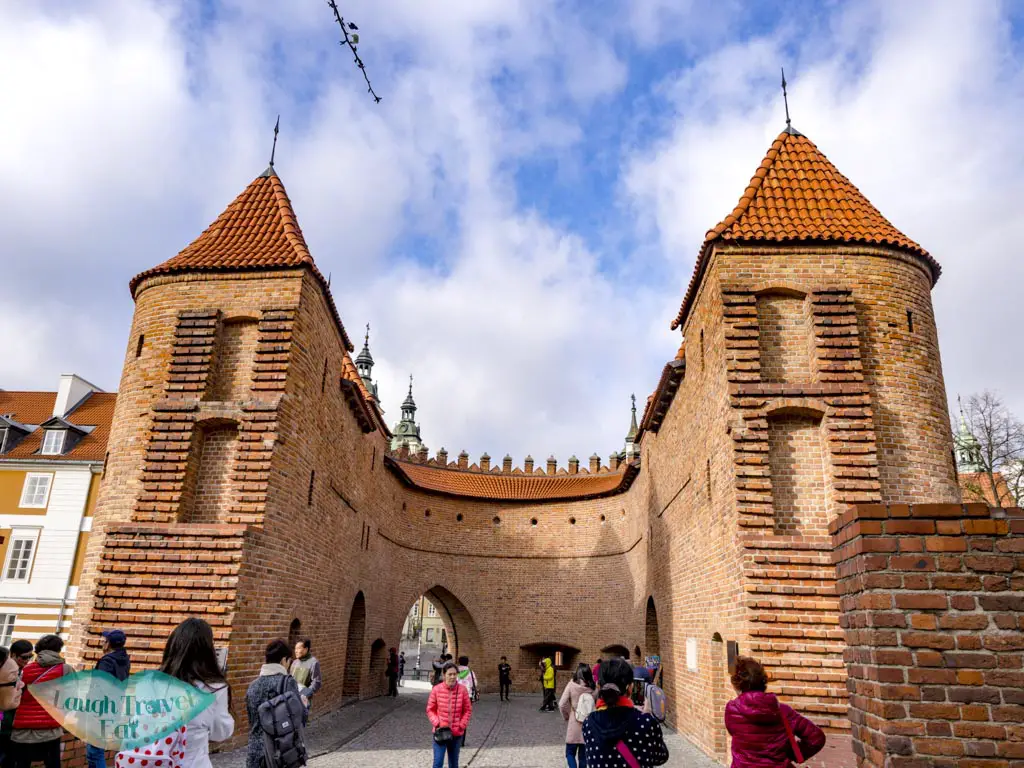 The Warsaw Barbican stands between the Old Town and New Town, a 16th century city defence that was part of a renewal of the older 14th century defence. While the red brick structure is towering and beautiful, with a semicircular gate and three storeys, by the time it was built it was no longer needed.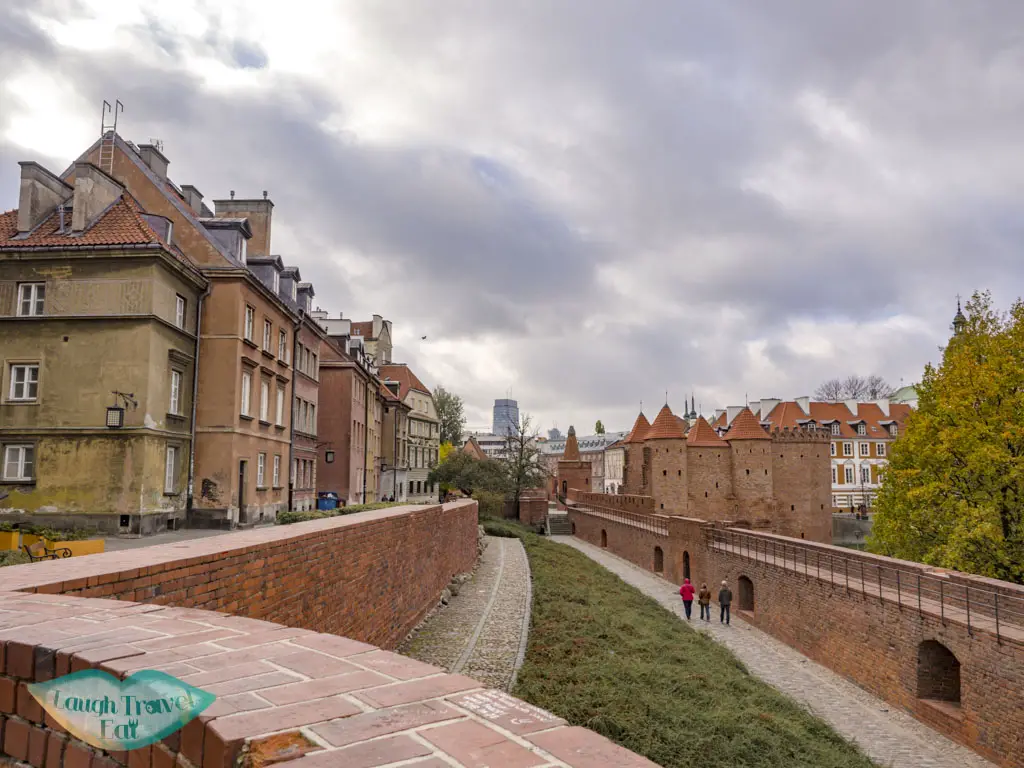 It was partially dismantled and then completely destroyed during the turbulent uprising and the later world wars. It was reconstructed after WWII.

New Town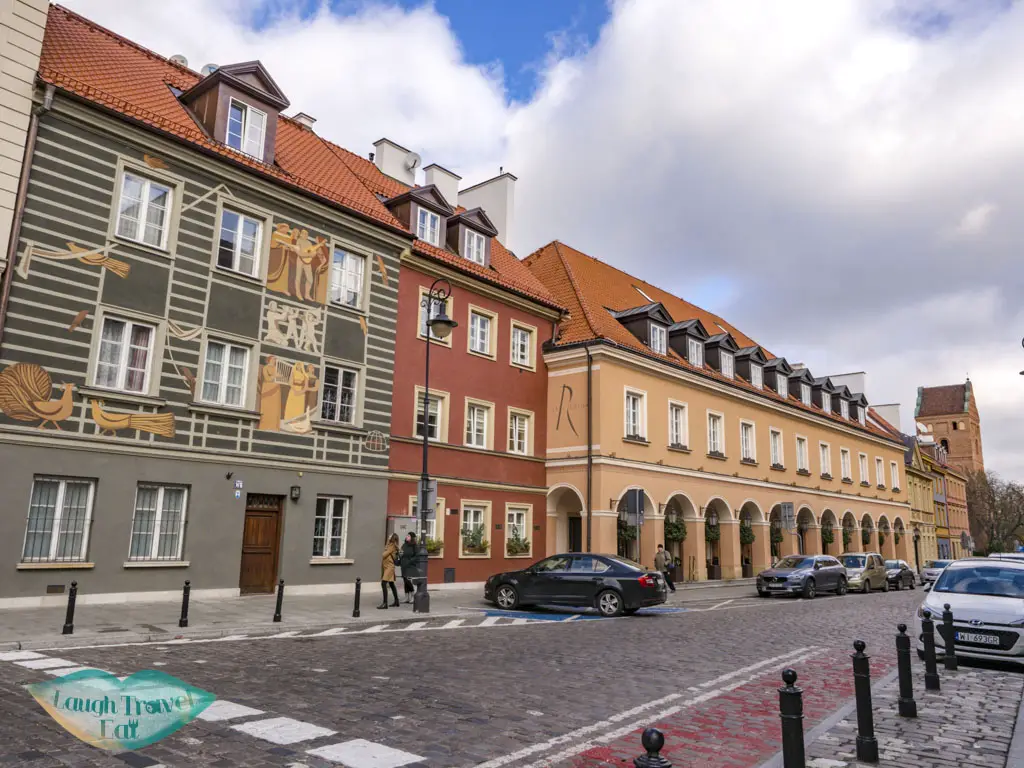 Although it's called the New Town, the district is actually founded in the 15th century as an independent city north of the Barbican. At first, it consisted of timber buildings but they were rebuilt after the 17th century invasion by the Swedish and Brandenburgian.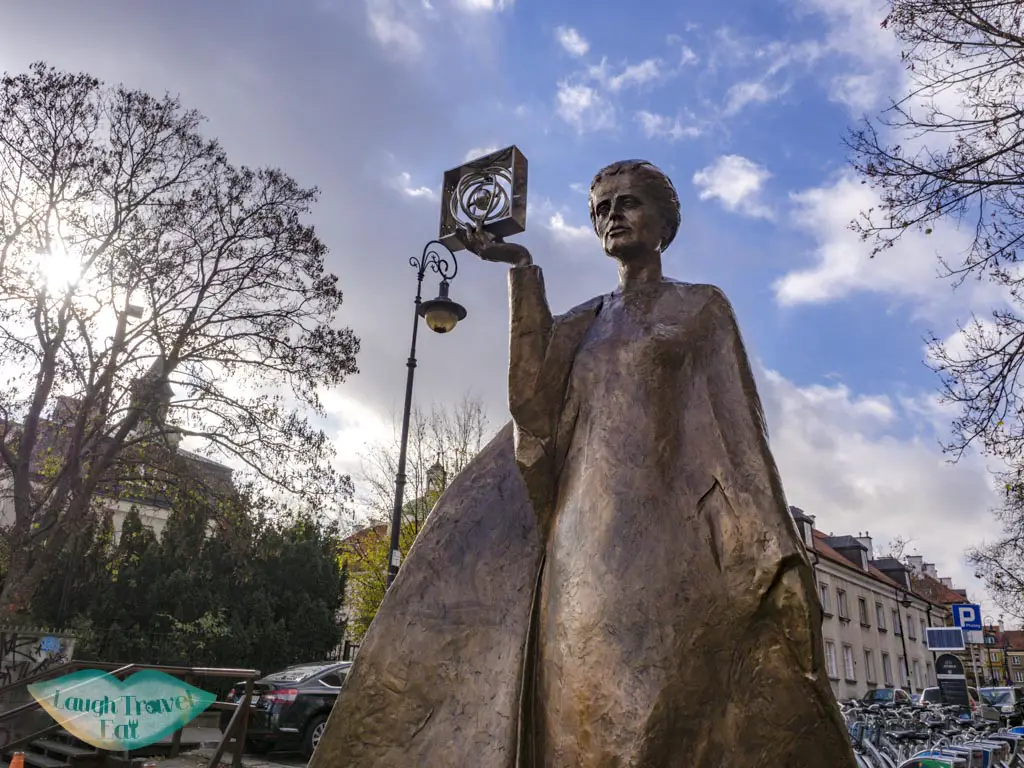 It finally became part of Warsaw in 1791, but was destroyed during the uprising. It was rebuilt in the 50s but some were never restored. There is a statue of Marie Curie, the Physics Noble Prize winner.

Pad Barbakanem. Bar mleczny lunch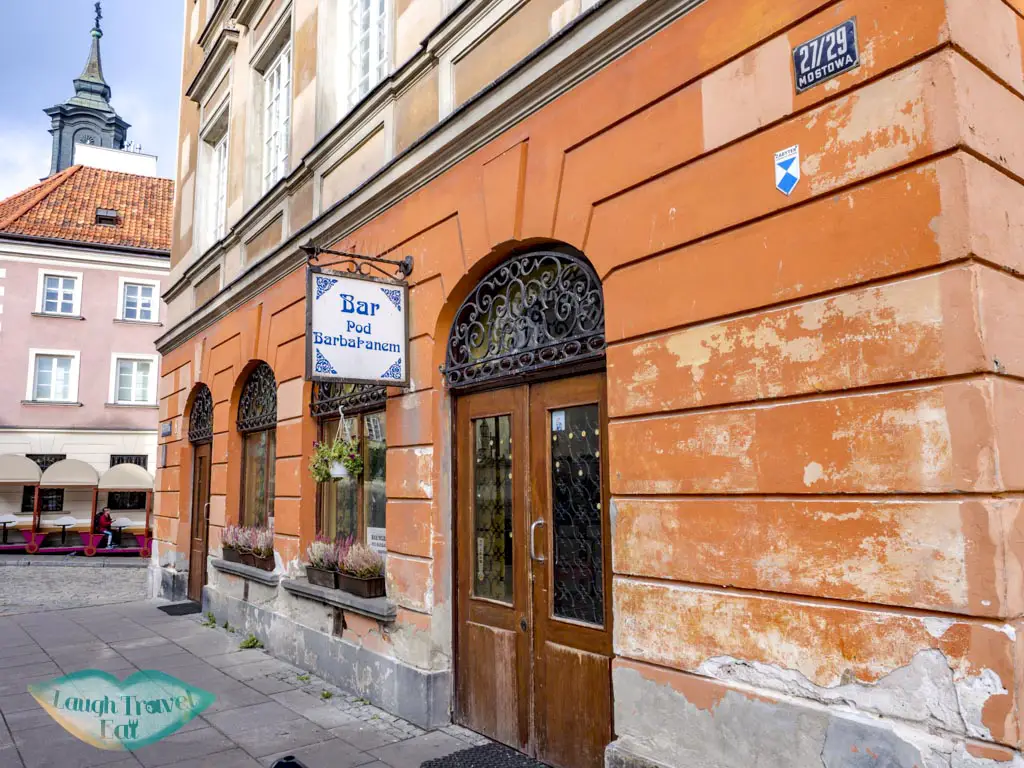 By then, I was getting hungry and found a nice, cheap lunch place in the New Town no far from Barbican. It's a self-service restaurant with old Polish ladies as staff, and I ordered traditional dumplings and hot chocolate for a total of 14 PLN. It's basic but so cheap and good, definitely value for money.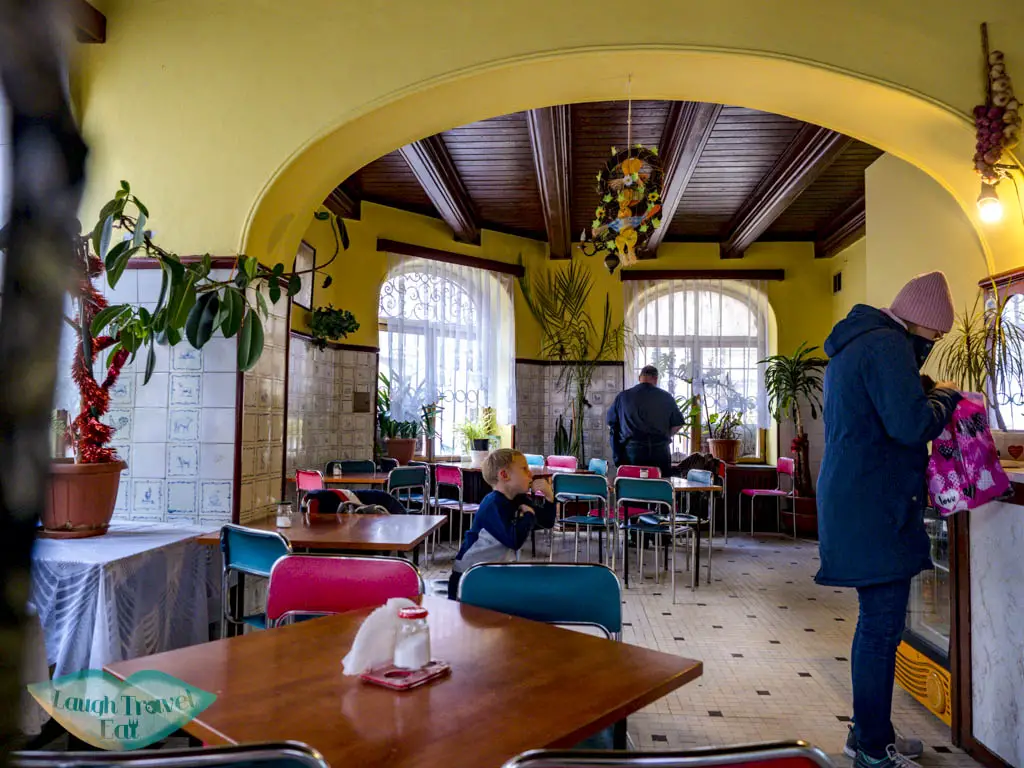 Address: Mostowa 27, 00-260 Warszawa, Poland
Opening times: Mon – Fri 8:00 – 16:00; Sat – Sun 9:00 – 17:00

Warsaw Royal Castle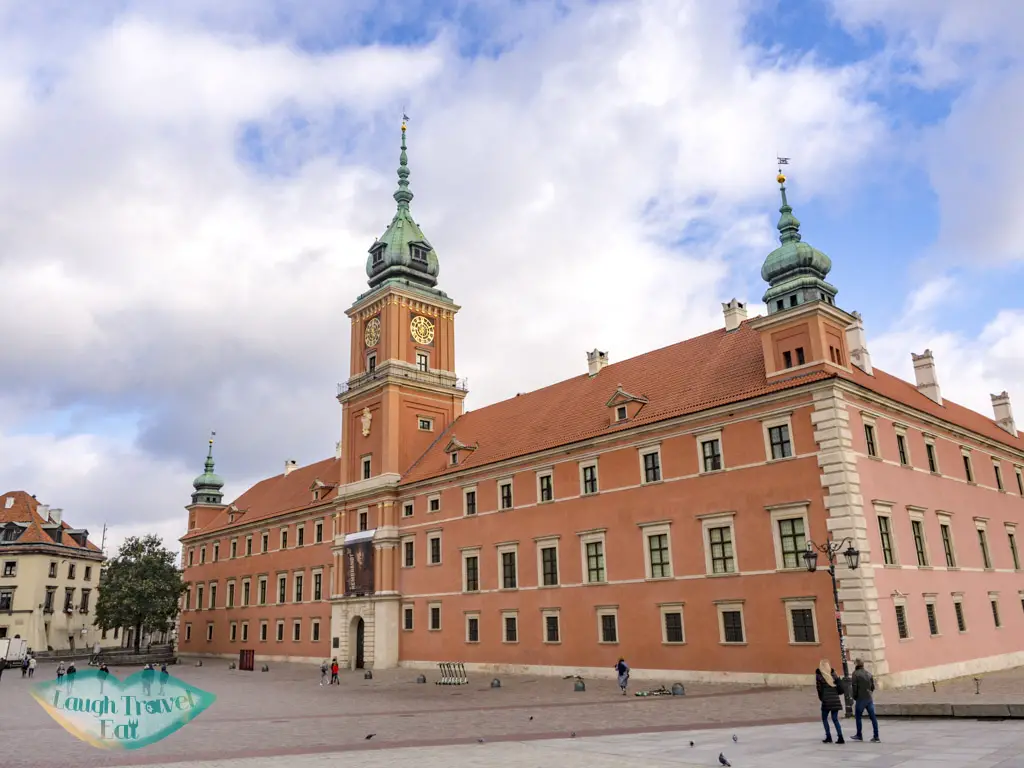 A compound by the Castle Square of red and pink building with the distinctive clock tower – the Sigismund's Tower – the Warsaw Royal Castle was first built by the Dukes of Masovia in the 14th century. Its current incarnation was reconstructed in the 70s and 80s, after it was burned to the ground by German in WWII in 1944.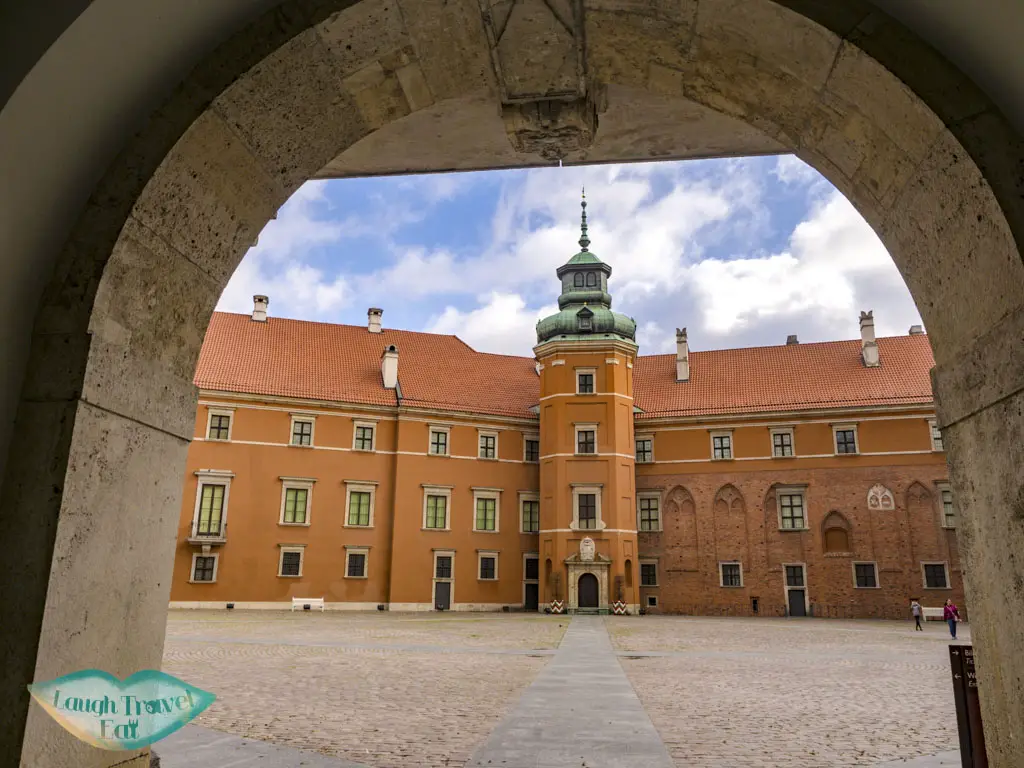 The Polish-Lithuania Commonwealth, Russian Tsar, and the Polish president had all been under its roof, and you can now visit the reconstructed castle interior such as the House of Parliament and Royal Apartments.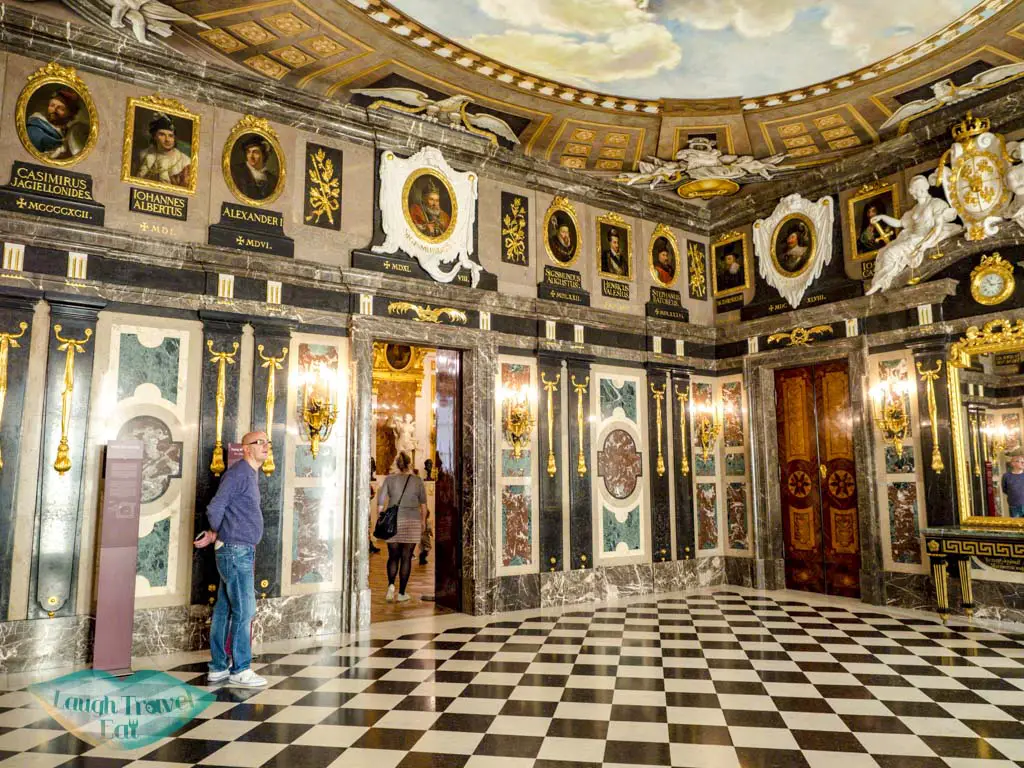 It's worth a visit if you are interested in the rich history of the Polish monarchy and the history of Warsaw.
Opening times: varies seasonally, check here
Admission fee: free on Wednesday, 30 PLN adults, 20 PLN concession, under 16 1 PLN

Church of St Anna Belfry for sunset

To get a sweeping view of the old town, head to the Belfry of St Anna's Church and go up to the rooftop at sunset. The exact coordinates is here. For 6 PLN, you can head up and stay as long as you want, which is what I did.

Zapiecek Restaurant
Zapiecek is a Polish chainstore known for its traditional decor and wait staff uniform. I actually got takeout from there on my way back to my AirBnB because I was so cold and hungry!
Address: click here for a list of their locations

Day 2: Palaces and Jewish Ghetto
Wilanów Palace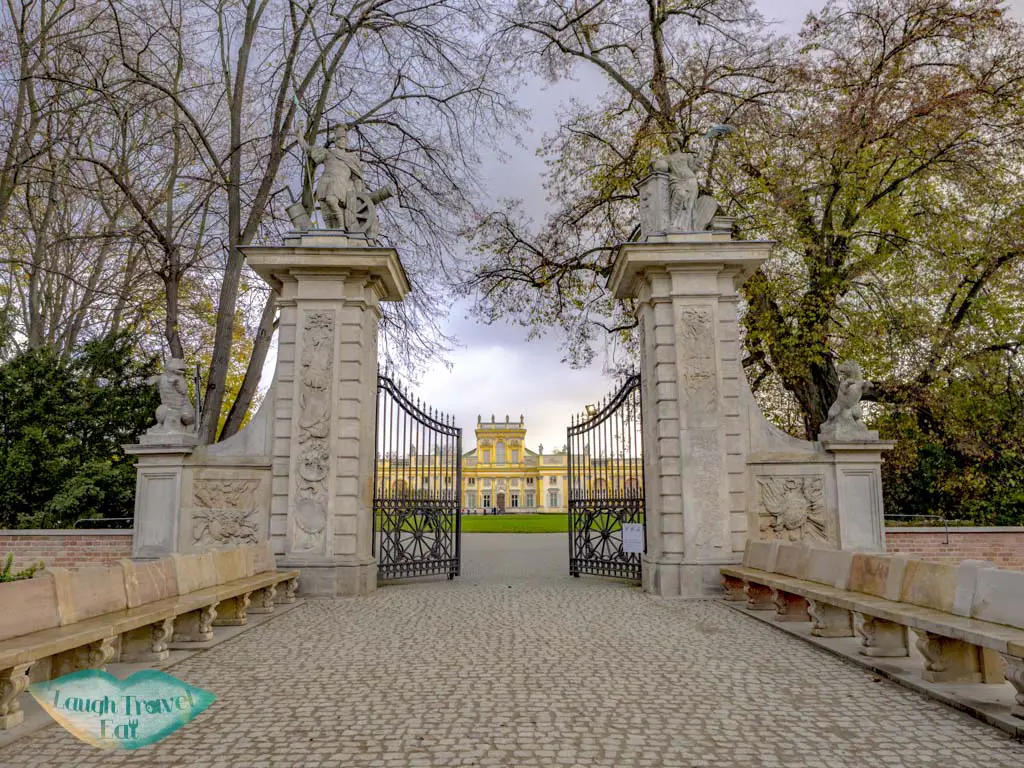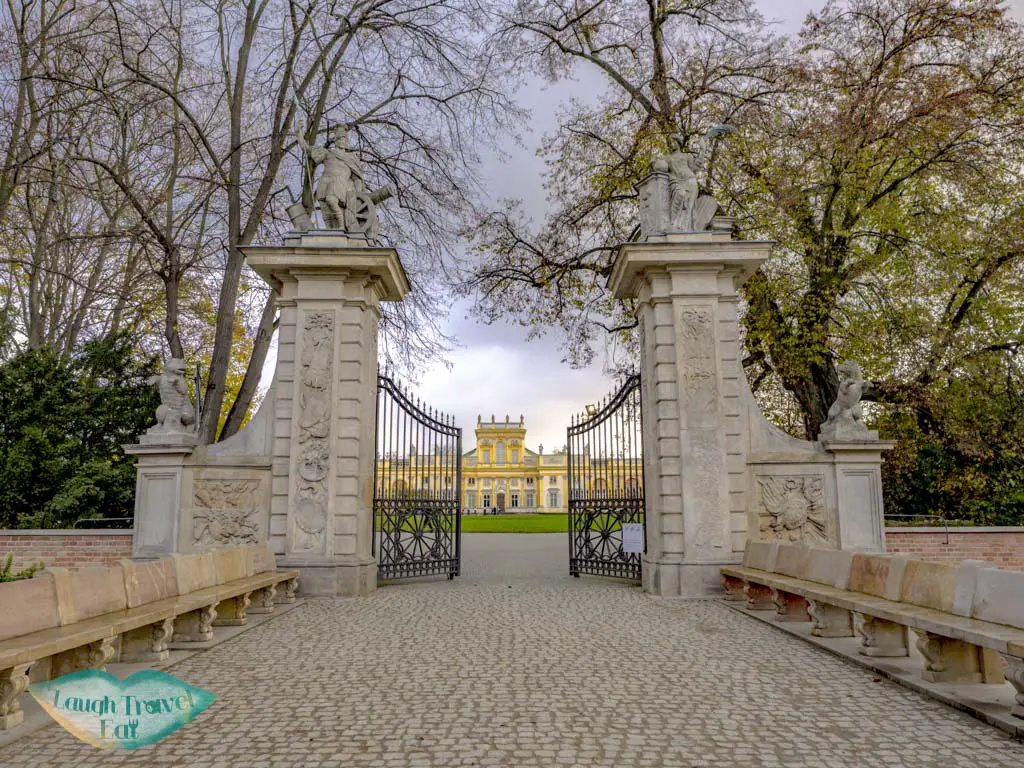 Modelled after Versailles, the Wilanów Palace was built in the late 17th century as a country manor for King John III Sobieski, who didn't like living in the city. It changed hands throughout history under magnet families and kings, each refurbished it with the latest style.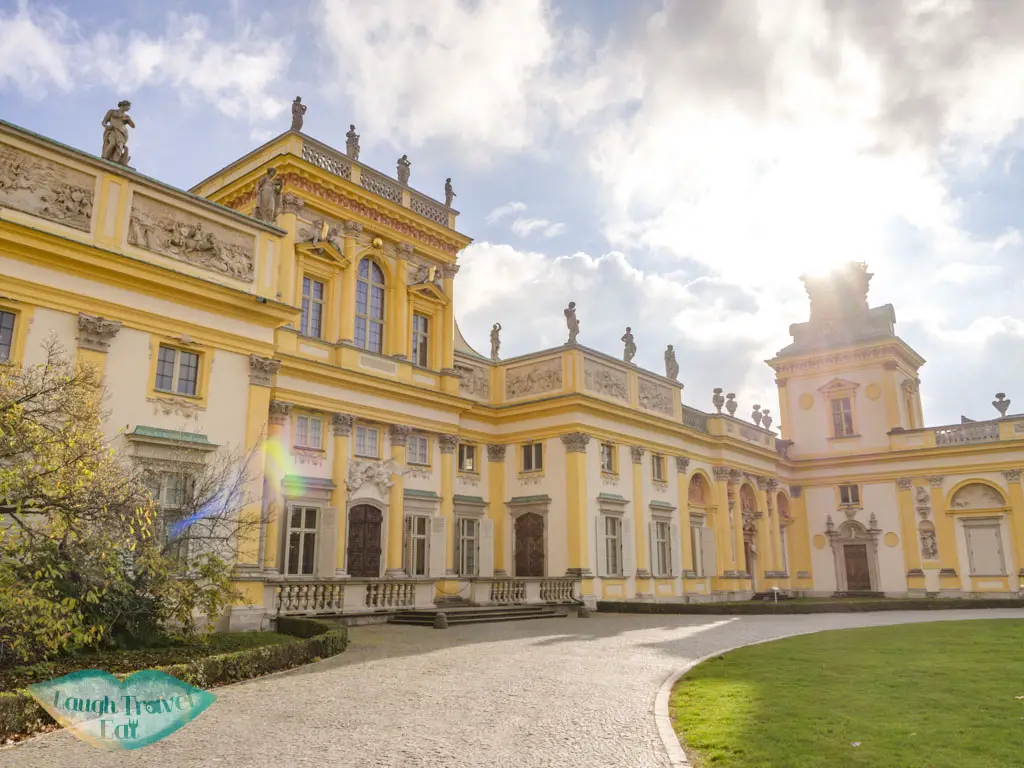 It survived the uprisings and the world wars, maintaining its Baroque design and pastel yellow facade. It is free to get up to the palace and roam the grounds before it, with a small fee to visit the garden and the interiors.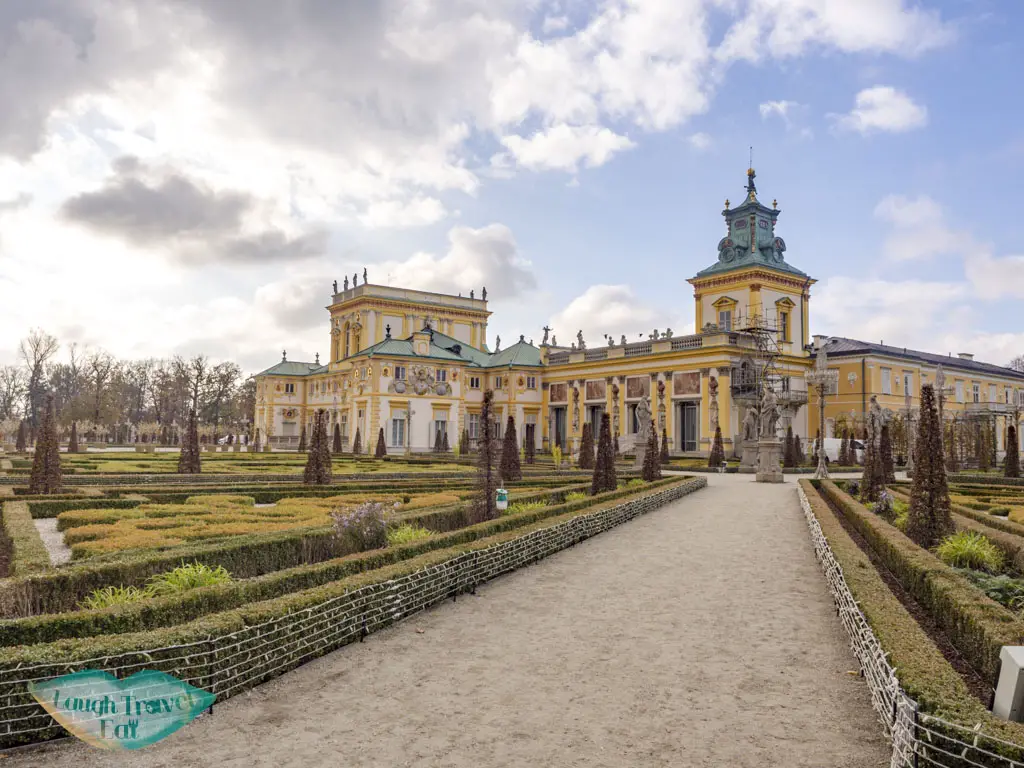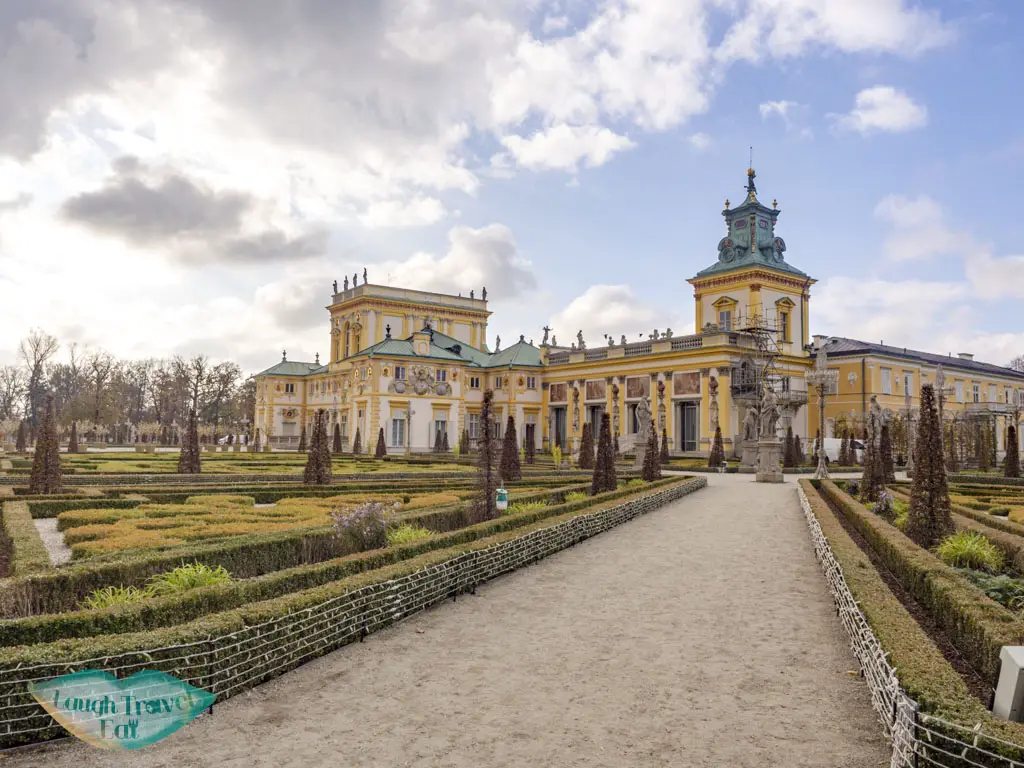 Unfortunately, I was misinformed by the google opening times which displays summer and not winter, so I only saw the garden and the exterior. However, I got a lot of information with the app they have, and the area is equipped with free WiFi so I could scan and download the code and listen or read the guide.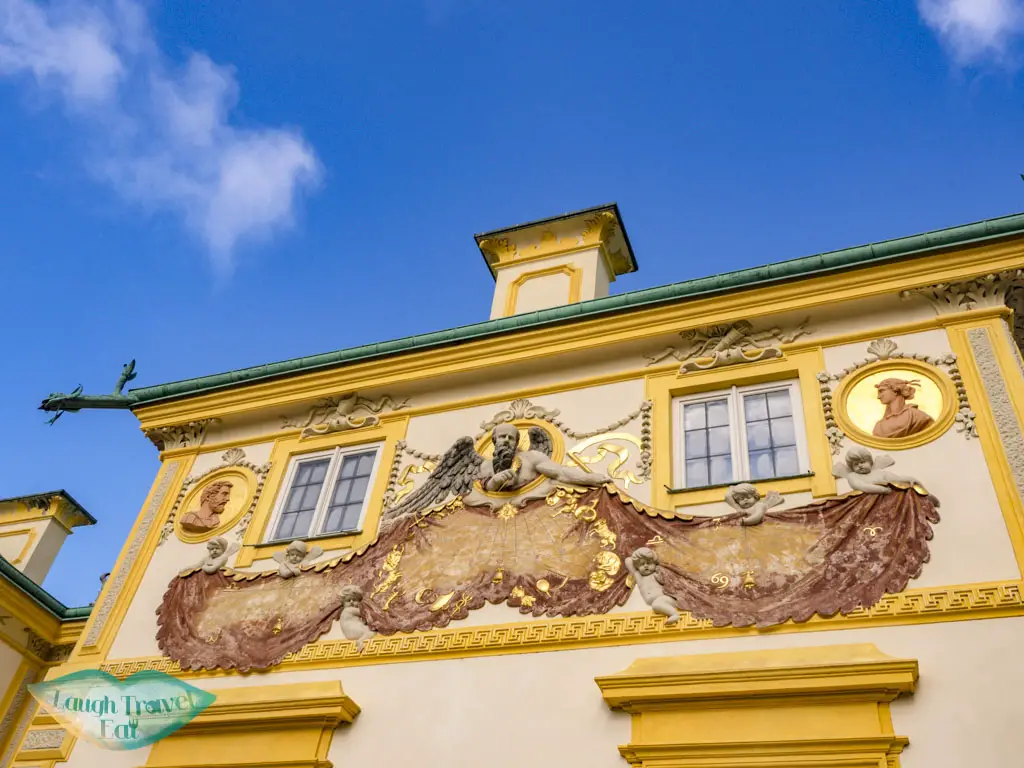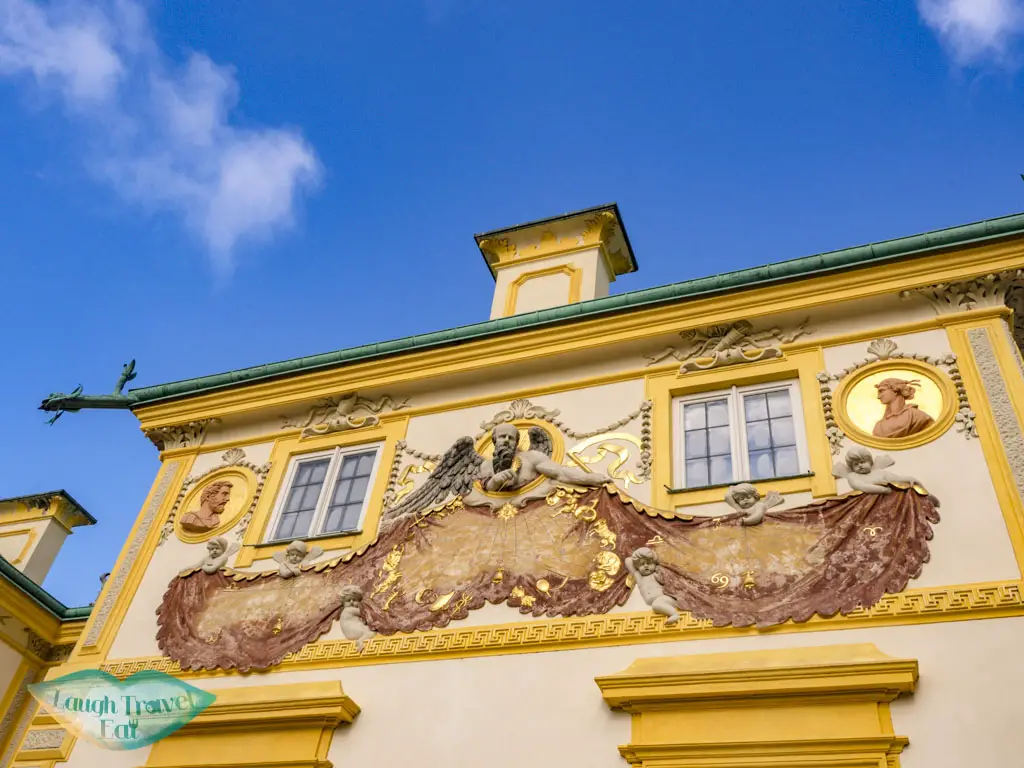 In particular, I was able to get detailed info on the astrological clock at the back of the building facing the garden, which made it a more enlightening trip.
Opening times: Mon, Weds, Sat 9:30 – 18:00; Tues, Thurs, Fri: 9:30 – 16:00; Sun 10:30 – 18:00 
Admission fee: depends on which route you choose, but from 10-35 PLN. Check here.

Palace on the Isle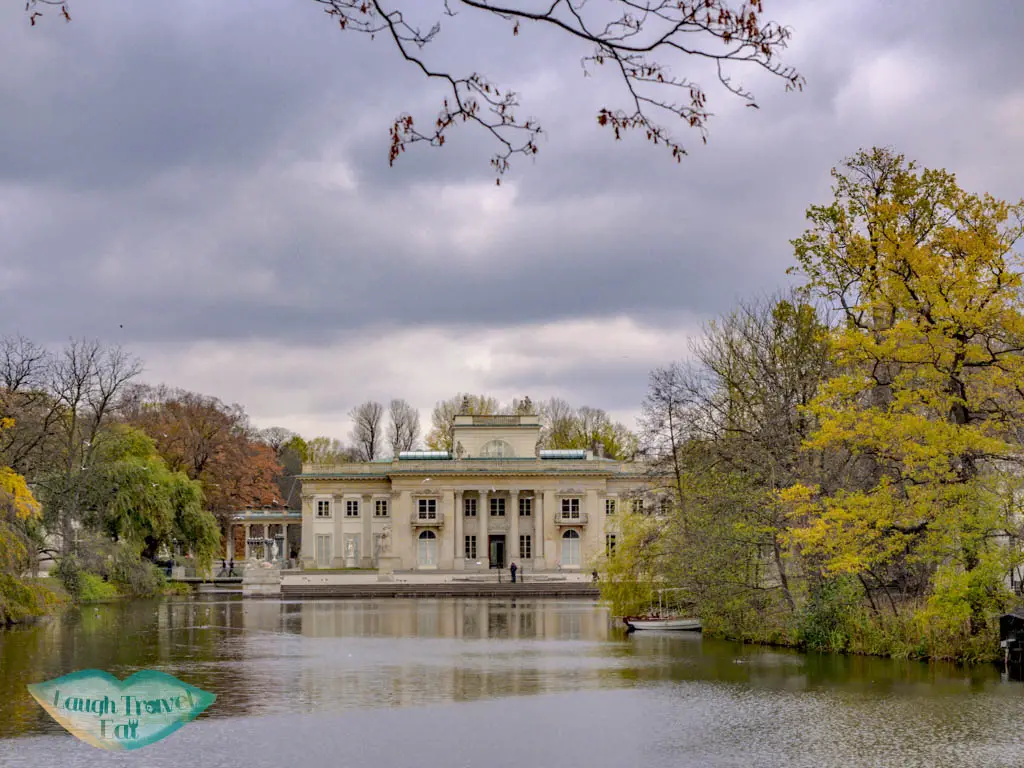 Another late 17th century building, the Palace on the Isle was built as a bath house in the Royal Bath Park by a Polish Noble. It was built in the Classist style, atop an artificial island that gave it its name.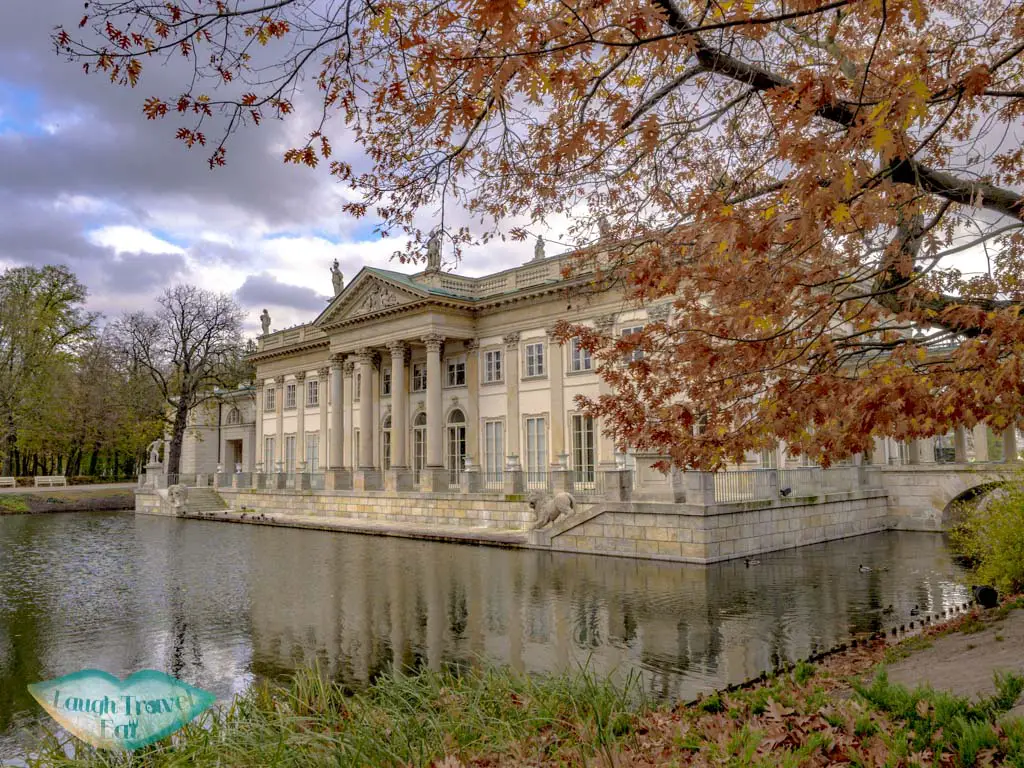 It was purchased by King Stanisław August in the late 18th century to modify as his summer residence in the neoclassical style.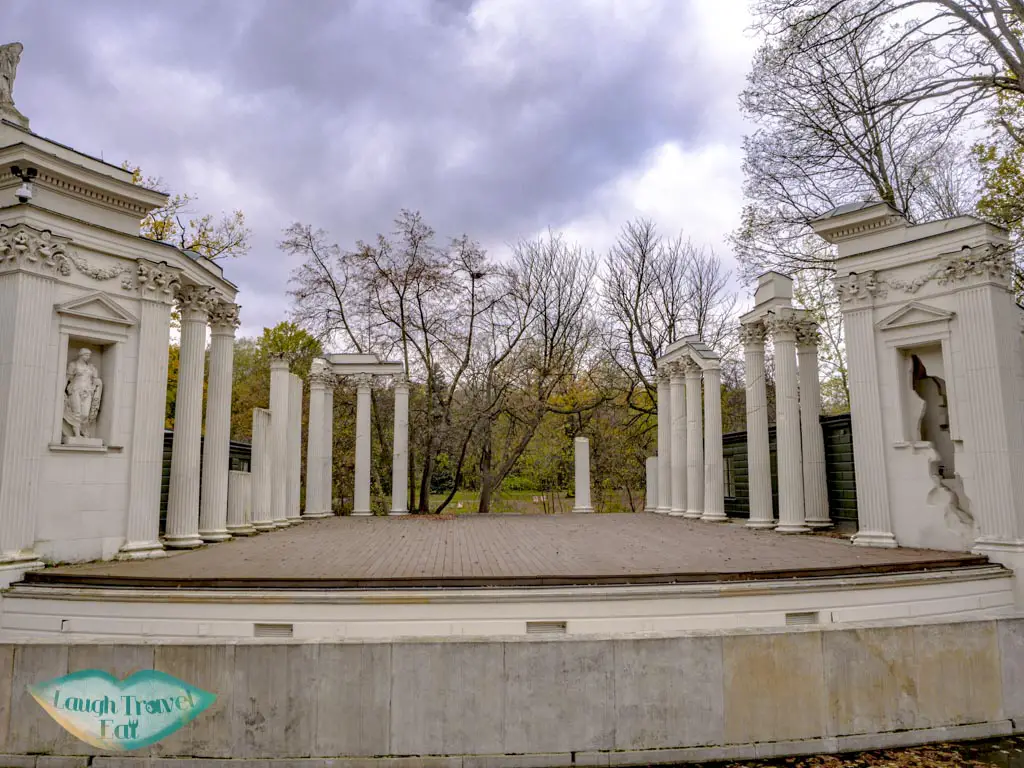 The surrounding park are also interesting to see, from the beautiful scenery along the river to amphitheater, it's worth a walk around. The museum in the villa, which houses thousands of works of art, is closed on Monday,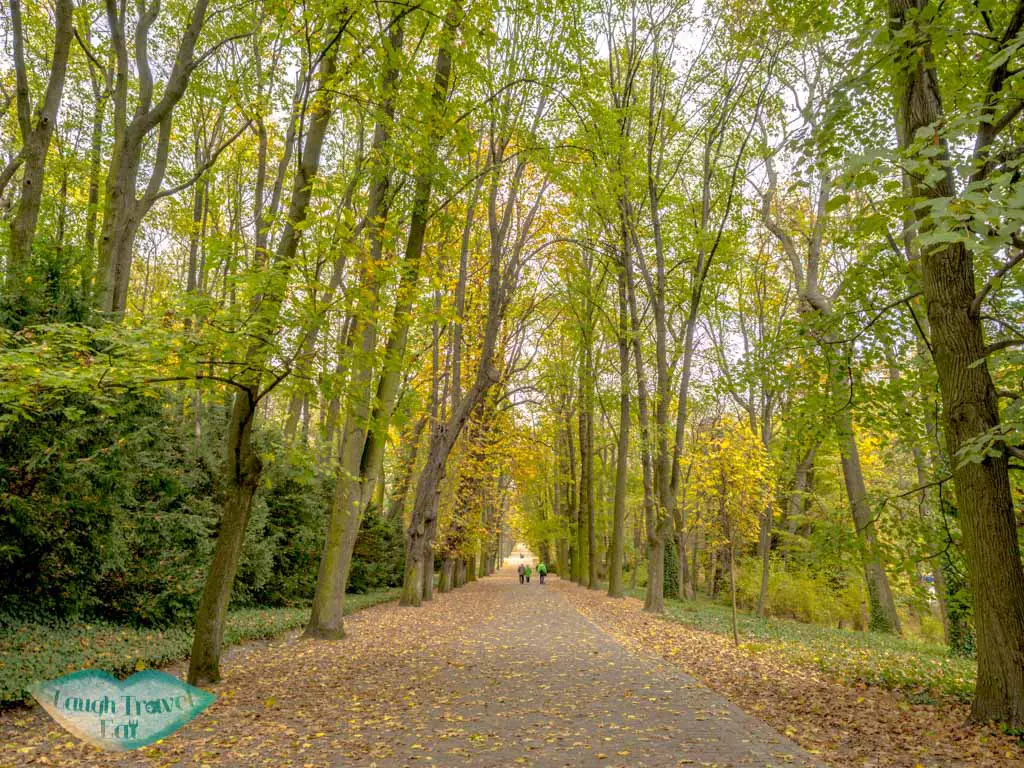 Opening times: Tue – Sun 9:00 – 16:00
Admission fee: depends on which ticket you choose, up to 25 PLN.

The Royal Route
From the Palace of the Isle, you can walk all the way back to the old town along the Royal Route. It's a scenic route and pleasant if the weather is nice, but I took the bus up to find lunch as I was getting hungry.

Setka Warszawa lunch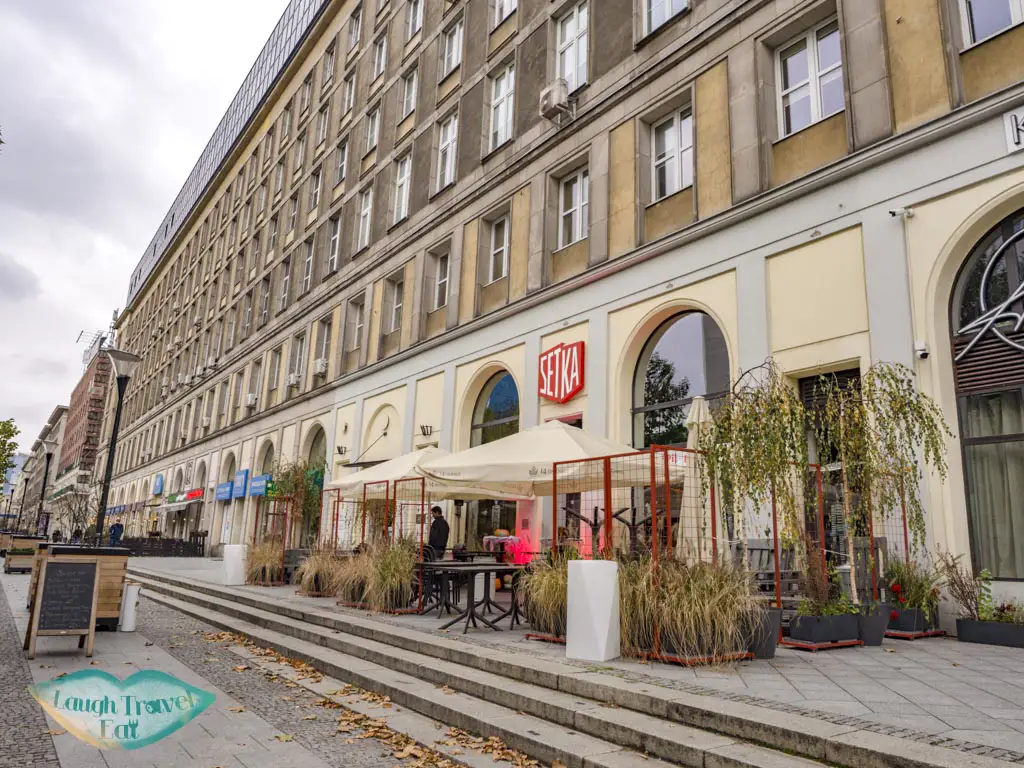 One of my favourite meals in Warsaw, Setka Warszawa is a lovely little restaurant that's cute and affordable. They have a daily special that's super cheap, and on the day I went it was the Polish potato pancake and it costs me 19 PLN for that and a cup of hot tea! Score.
Did I mention that it's a really cute place?
Address: Świętokrzyska 14, 05-077 Warszawa, Poland
Opening times: Mon – Fri 9:00 – 4:00; Sun – Sat 9:00 – 6:00

Palace of Culture and Science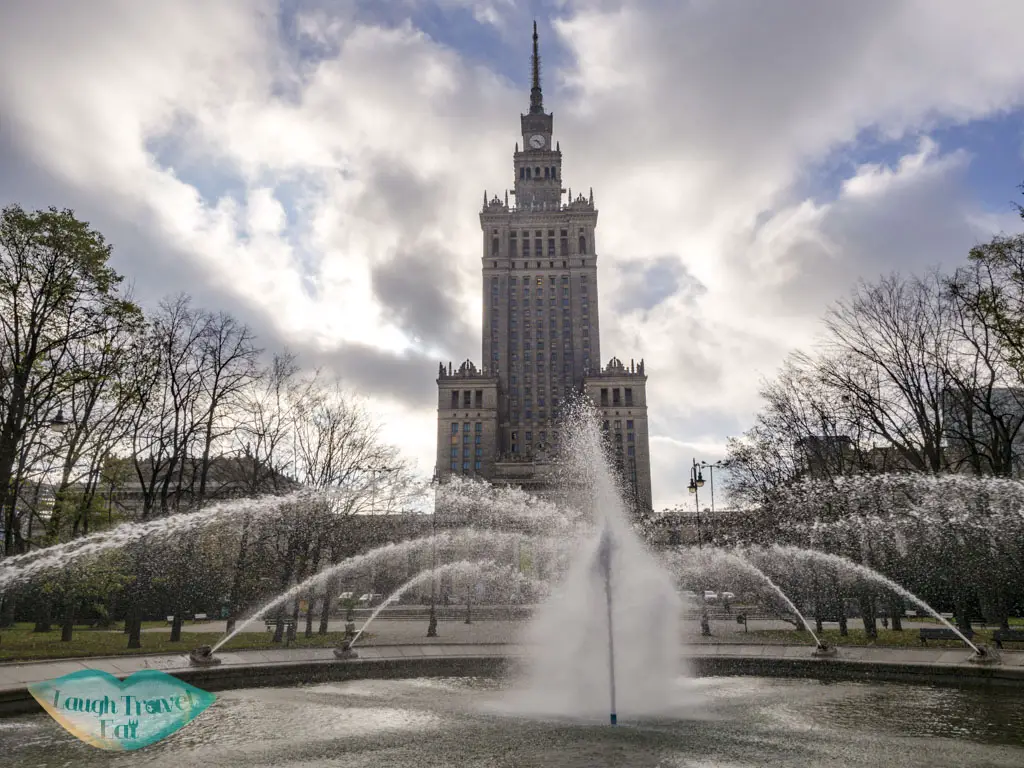 It is impossible to miss the Palace of Culture and Science, which stands at 237m high as the tallest building in Poland. It was built in the 50s, during the Soviet era with a mix of art decor and Polish architecture style. It's near the main train station and is a multi-purpose complex that houses museums, offices, swimming pool, and even a cinema.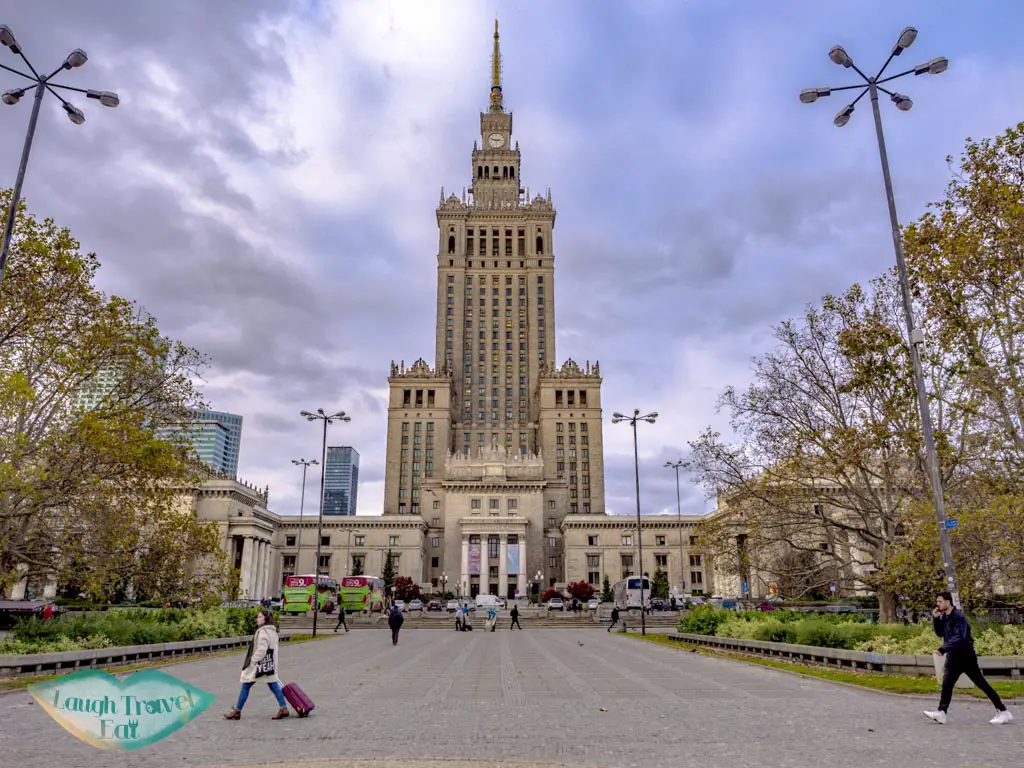 You can access its observation deck for a fee to see the skyline of Warsaw, though given that it isn't near the old town, the view is limited to the surrounding. There is also a tourist information center here.
Opening times for roof top: 10:00 – 20:00
Admission fee: 20 PLN adults, 15 PLN concession

Tomb of the Unknown Soldiers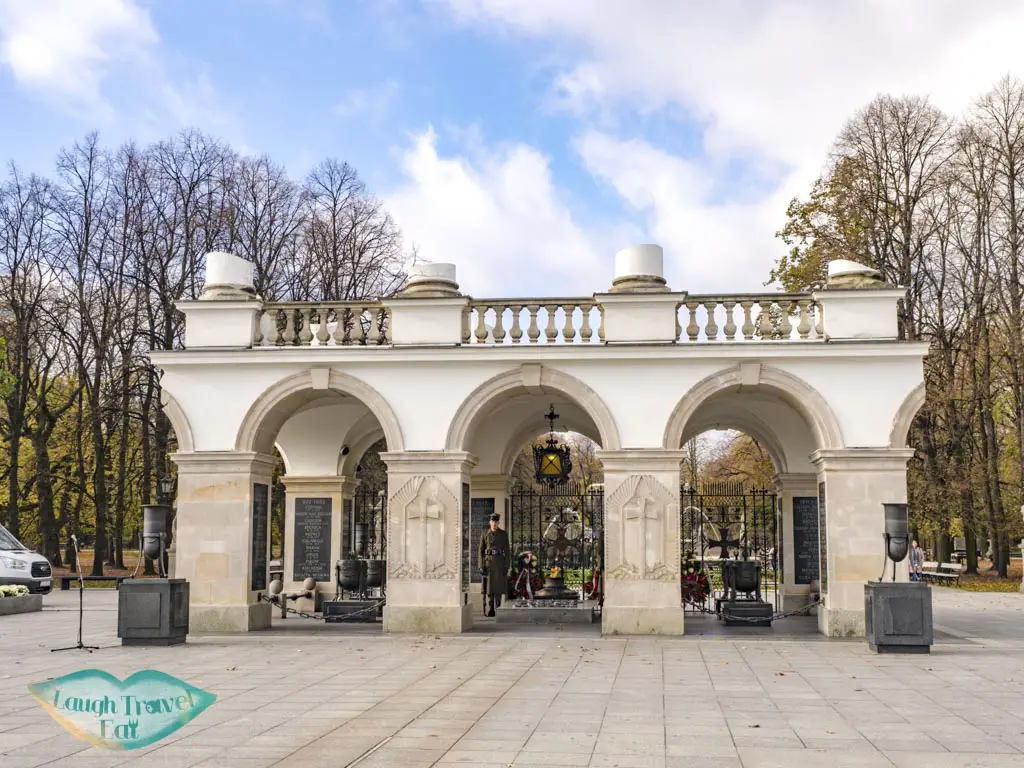 On the ground of the Saxon Palace, which was destroyed in WWII, is the Tomb of the Unknown Soldiers. It replaces a plaque that stands in front of the palace pre-WWII, and houses the bodies of three unidentified sergeant, private, and soldier from the Defence of Lwów as well as soils from the ashes of various wartime cemetery. The tomb is always accompanied by a guard and lit by an eternal flame,

Jewish Ghetto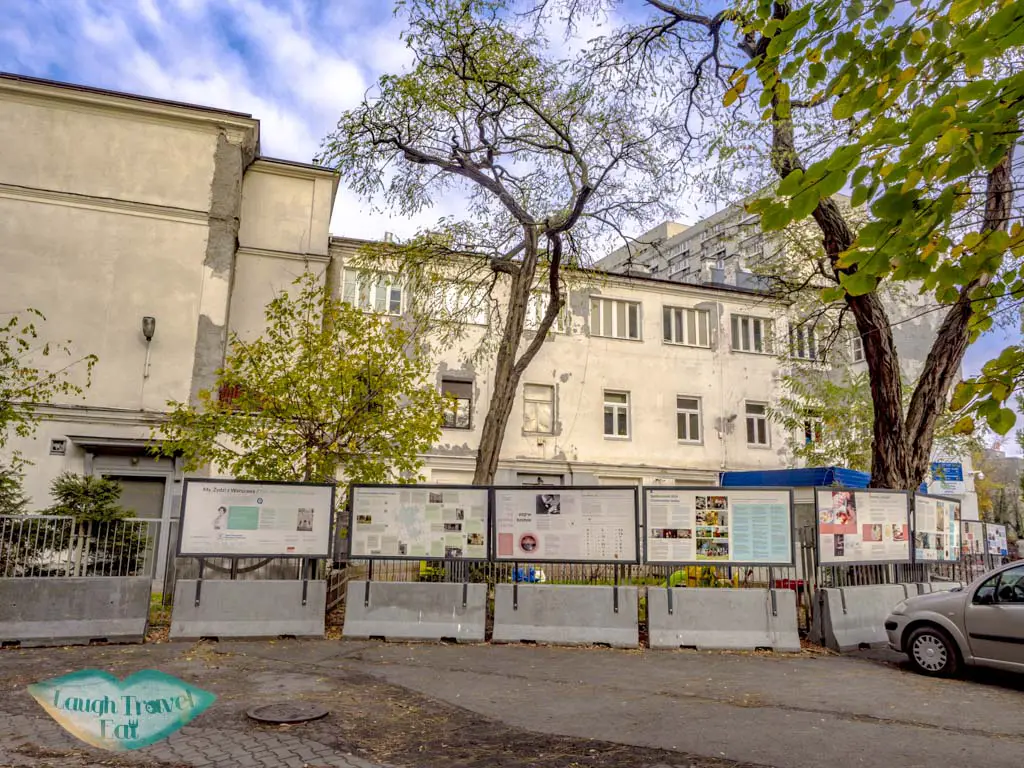 Warsaw is actually home to the largest Jewish Ghetto, however, much of it has been redeveloped. The ghetto starts near the Palace of Science and Culture and stretches west, covering 3.4 km2. There are relics scattered across the area, and it might be best to take a walking tour if you are interested to learn more. Here's a few key places that I saw:

Nożyk Synagogue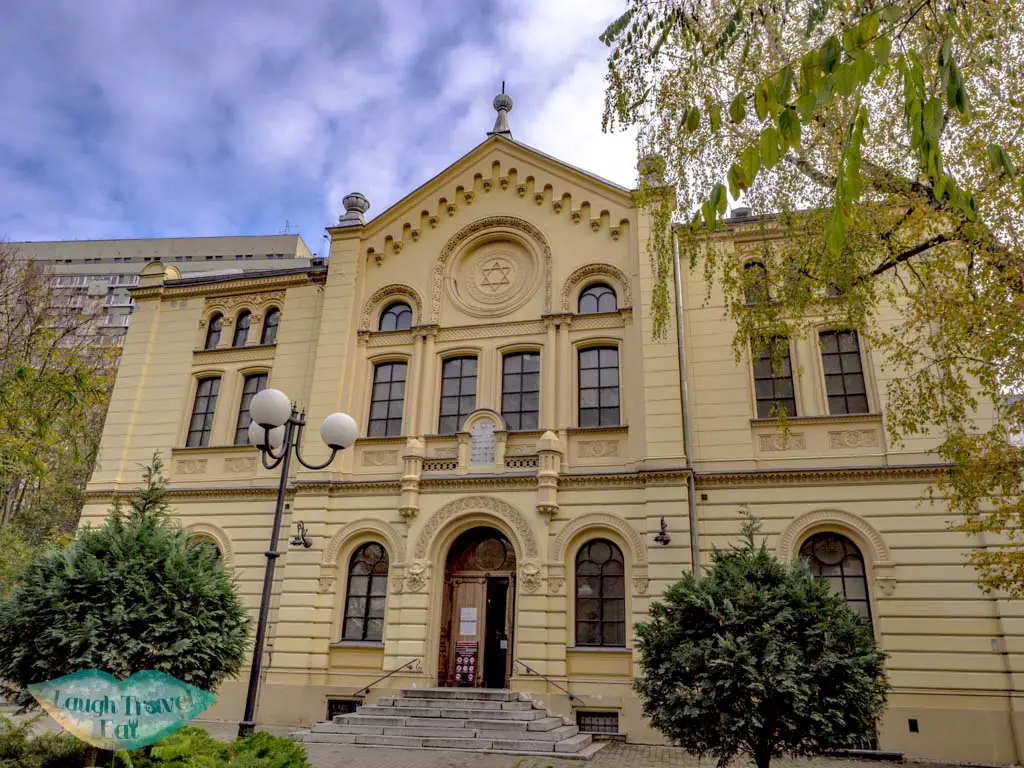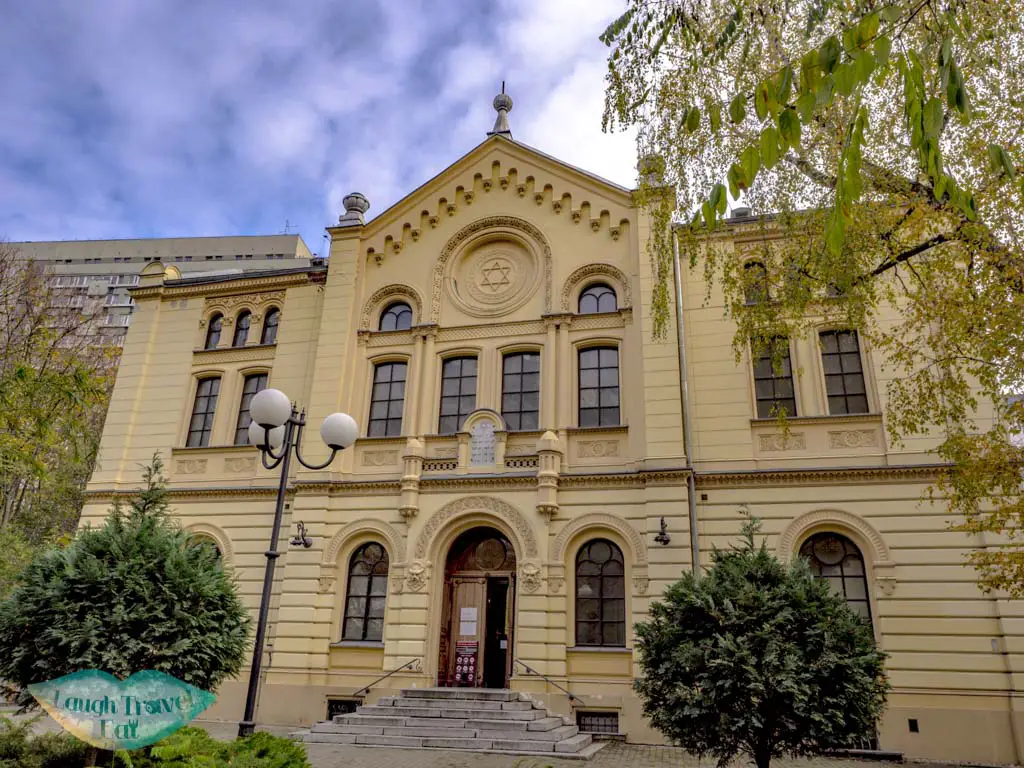 Built at the turn of the 20th century, Nożyk Synagogue is the only surviving synagogue in Warsaw. There are a series of very informative information boards nearby that covers Jewish culture and history in Warsaw. The synagogue is hidden between buildings with a neo-romanticism design with neo-Byzantine elements. 
Address: Twarda 6, 00-950 Warszawa, Poland
Admission fee: 10 PLN

Ghetto Wall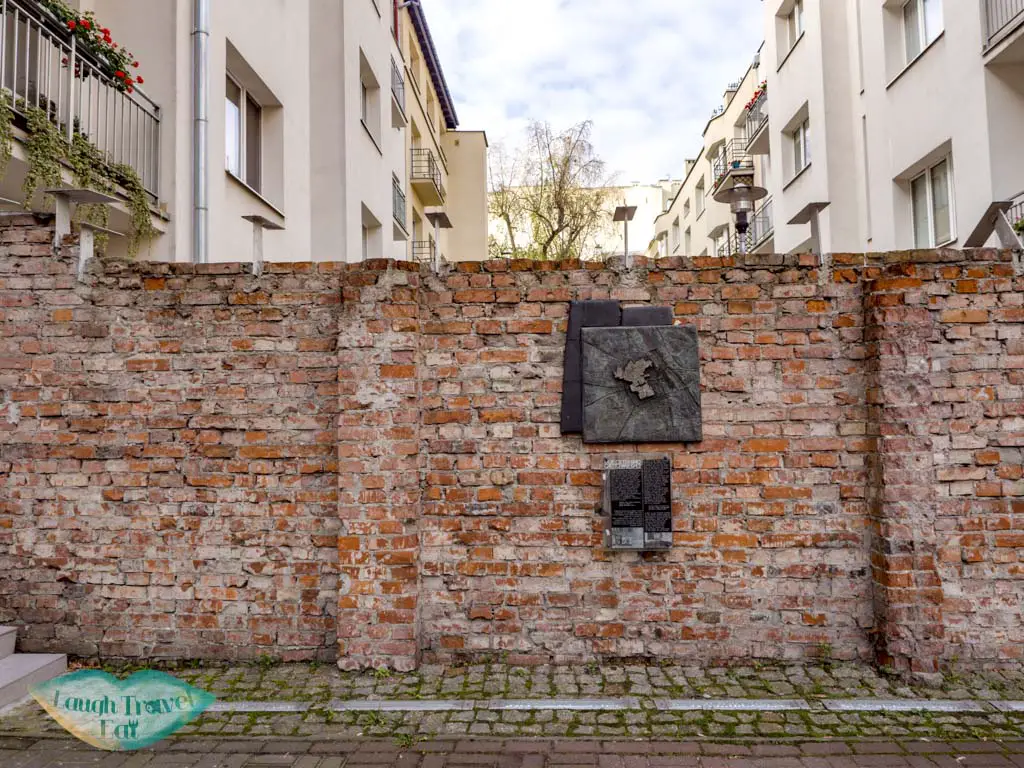 There are several fragments of the Jewish Ghetto Wall, one is across the western main road from the central station. Most of it are taken down or incorporated into the housing, and I only found one after a kind local saw me wandering and pointed me to it.

Restaurant Kameralna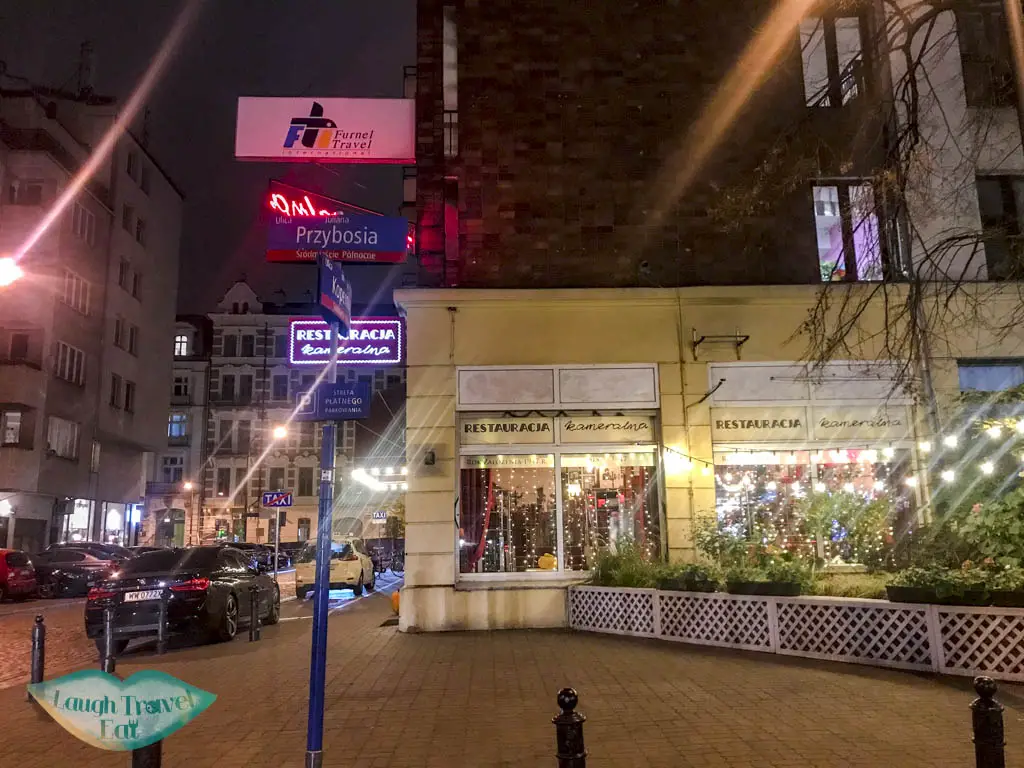 A bit more expensive than the other places I have eaten at (but only relative), I decided that it was time to treat myself and headed to Restaurant Kameralna. Located on a quiet street, it's a traditional style restaurant with red chairs and dim-lit interior.
I was given bread with pate as a starter and ordered a duck confit, which was on the pricier end of the menu but delicious. The total damage came to 54 PLN, still not bad.
Address: Kopernika 3, 00-367 Warszawa, Poland
Opening times: Mon – Thurs 12:00 – 23:00; Fri – Sat 12:00 – 0:00; Sun 12:00 – 20:00

Day 3: Warsaw Uprising Museum and Praga
Warsaw Uprising Museum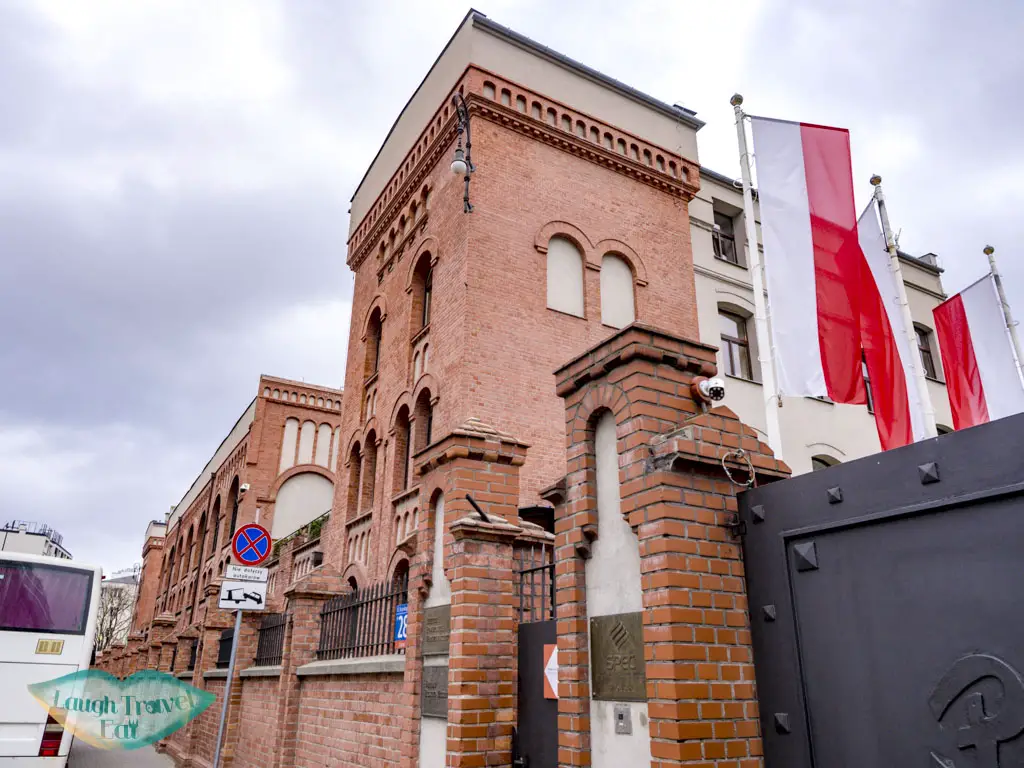 An absolute must see in Warsaw, the Warsaw Uprising Museum chronicles the turbulent history of Warsaw from the 19th to the end of the 20th century and the people's struggle for independence and freedom.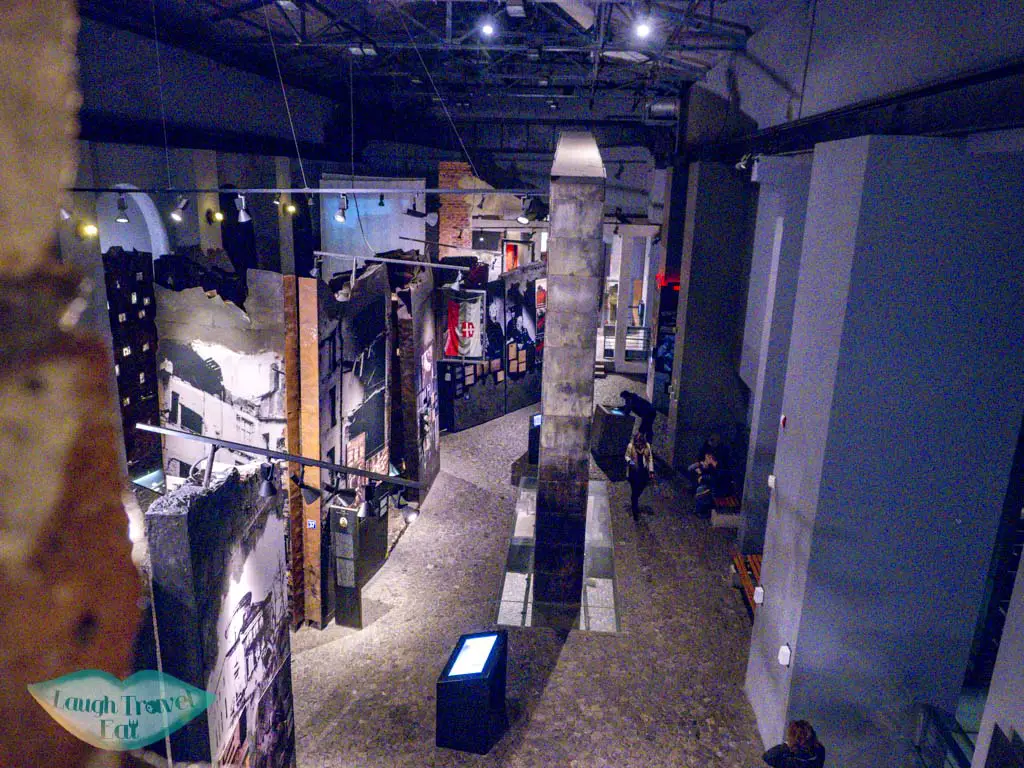 The museum is housed in a sprawling warehouse with over three floors and a basement, with information supported by exhibits, multimedia, and even a reconstruction of the tunnel used by messengers.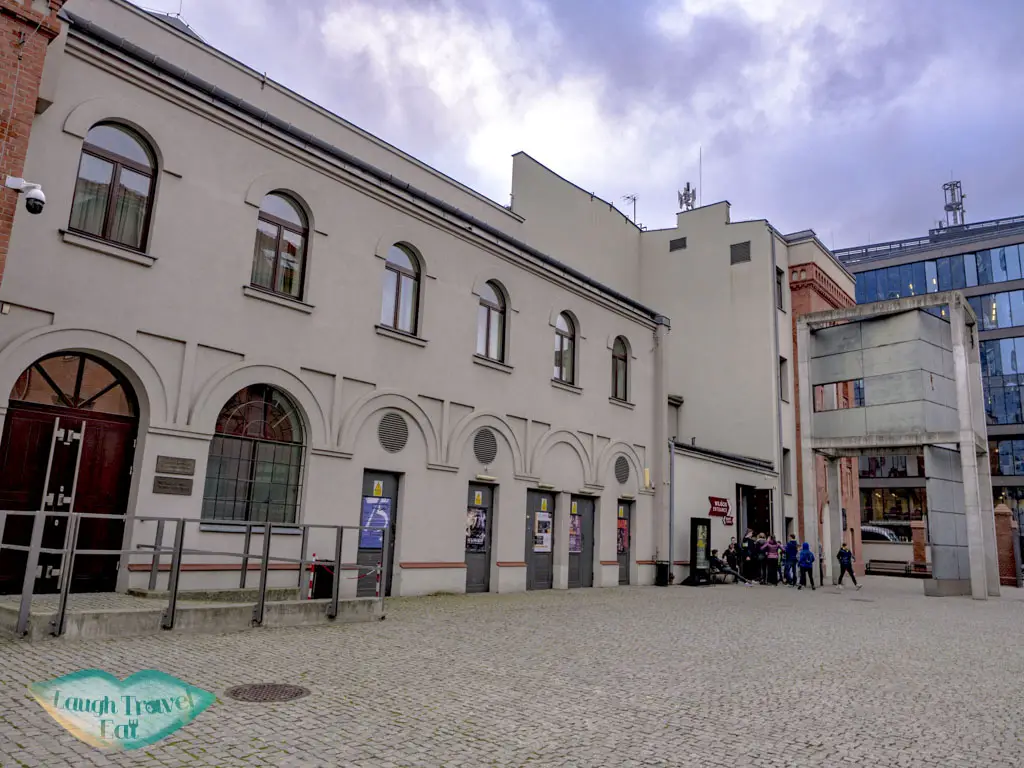 There are lockers outside the museum for you to store your coats and luggage, as well as a cloak room. You can spend hours here and I'd definitely budget for about 2 hours.
Opening times: closed Tuesday, Mon, Weds, Friday: 8:00 – 18:00; Thurs 8:00 – 20:00; Sat – Sun – 10:00 – 18:00
Admission fee: 25 PLN adults, 20 PLN concession

Bułkę przez Bibułkę lunch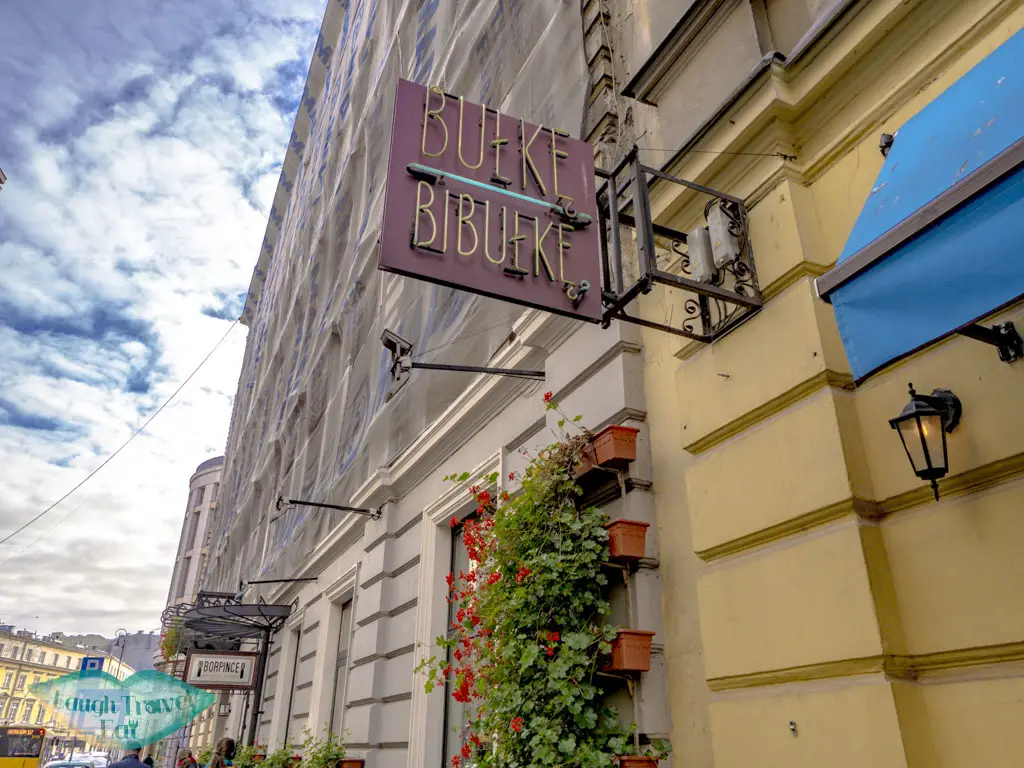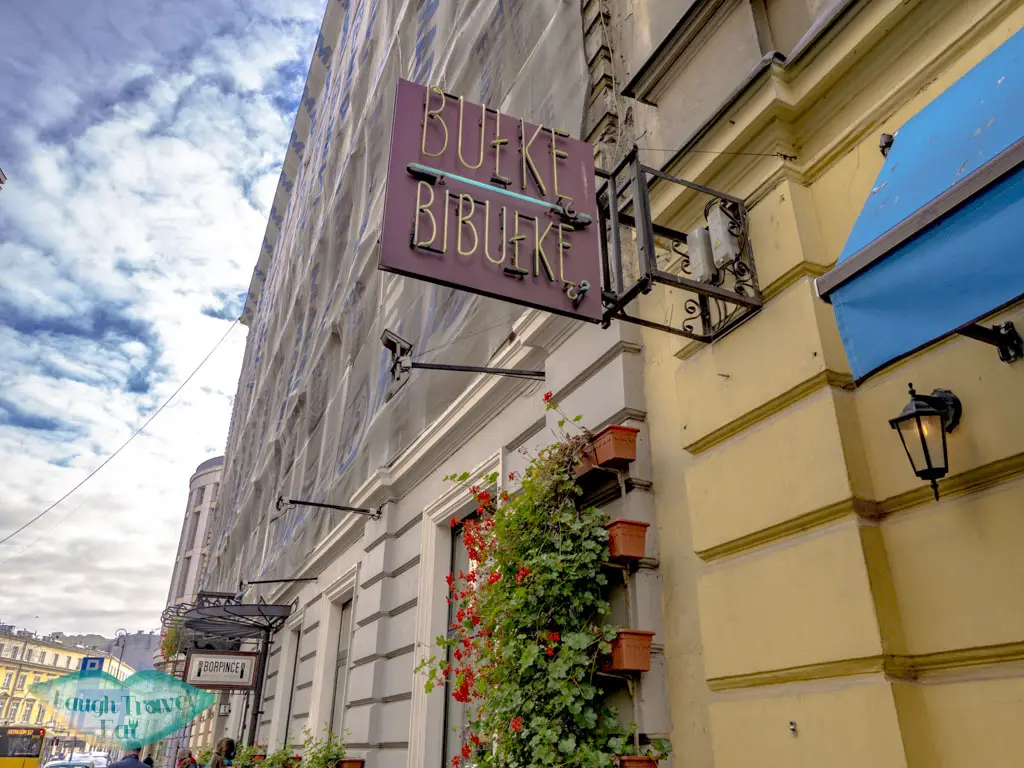 One of the best brunch places in Warsaw, Bułkę przez Bibułkę is a cute restaurant that is popular for both locals and tourists. I had their pancakes which was good, though I wouldn't especially queue up for it.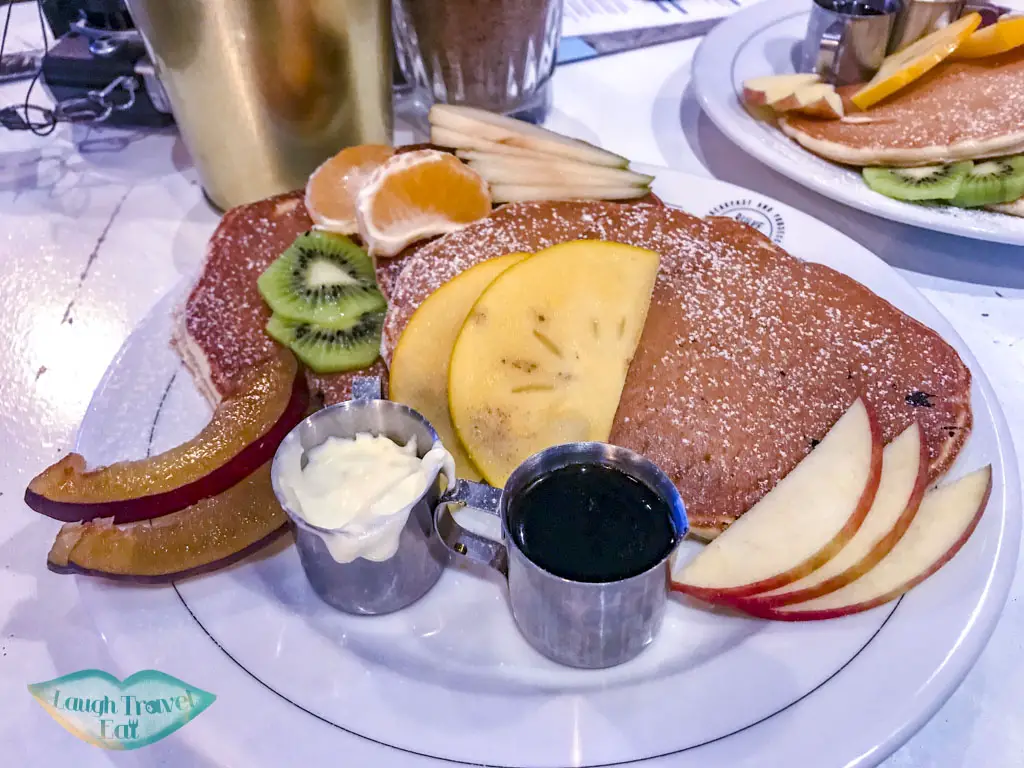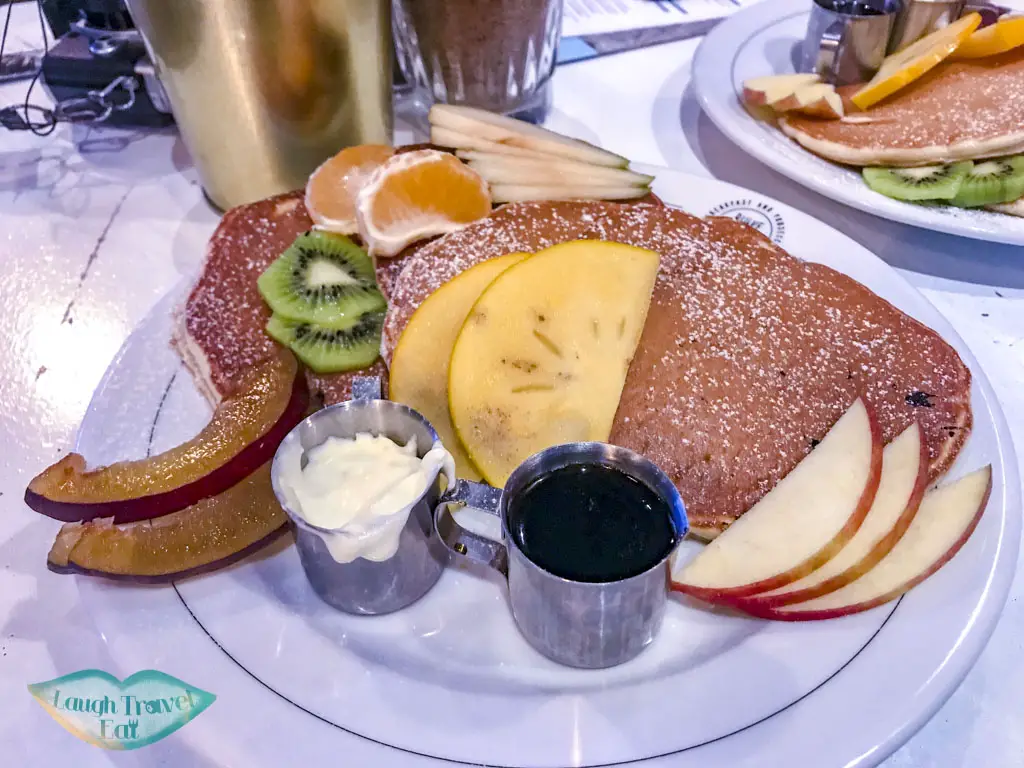 Address: Zgoda 3, 00-018 Warszawa, Poland
Opening times: Mon – Fri 7:30 – 23:00; Sat 8:00 – 23:00; Sun 8:00 – 22:00

Praga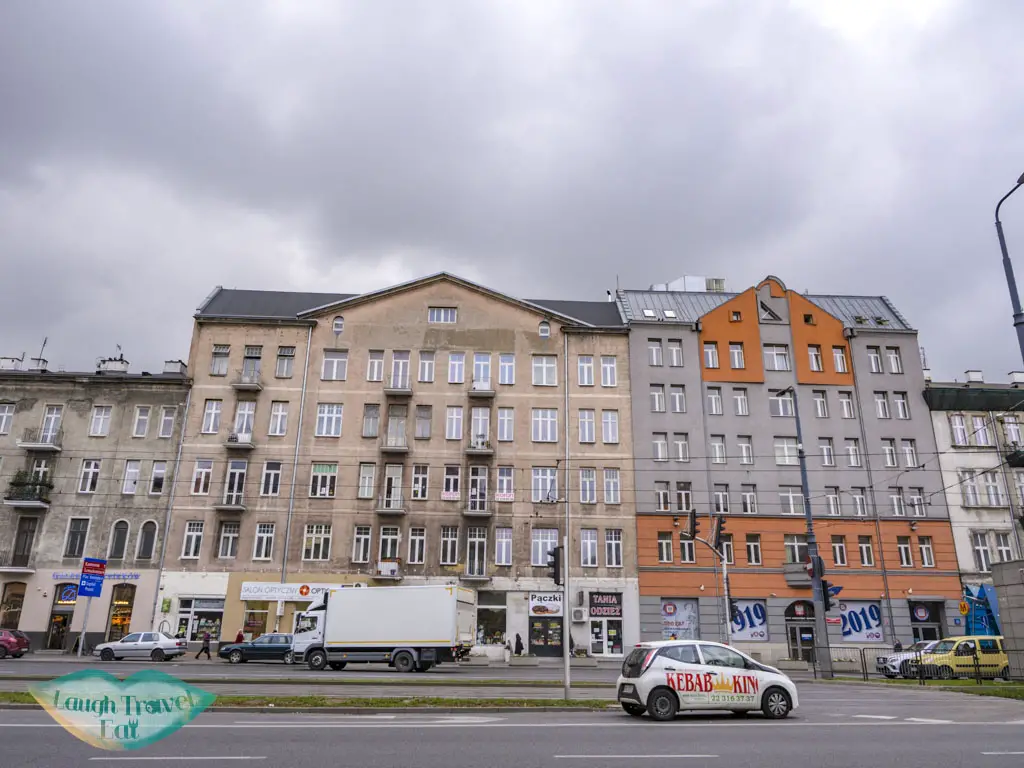 The district of Praga is on the east bank of the Vistula River. It had its own history before being incorporated into Warsaw, and can be reached by both bus tram, and metro. It had become known as the more gritty, authentic part of Warsaw, although if you are short on time, I wouldn't prioritise a visit here over other sights. 

Praga Museum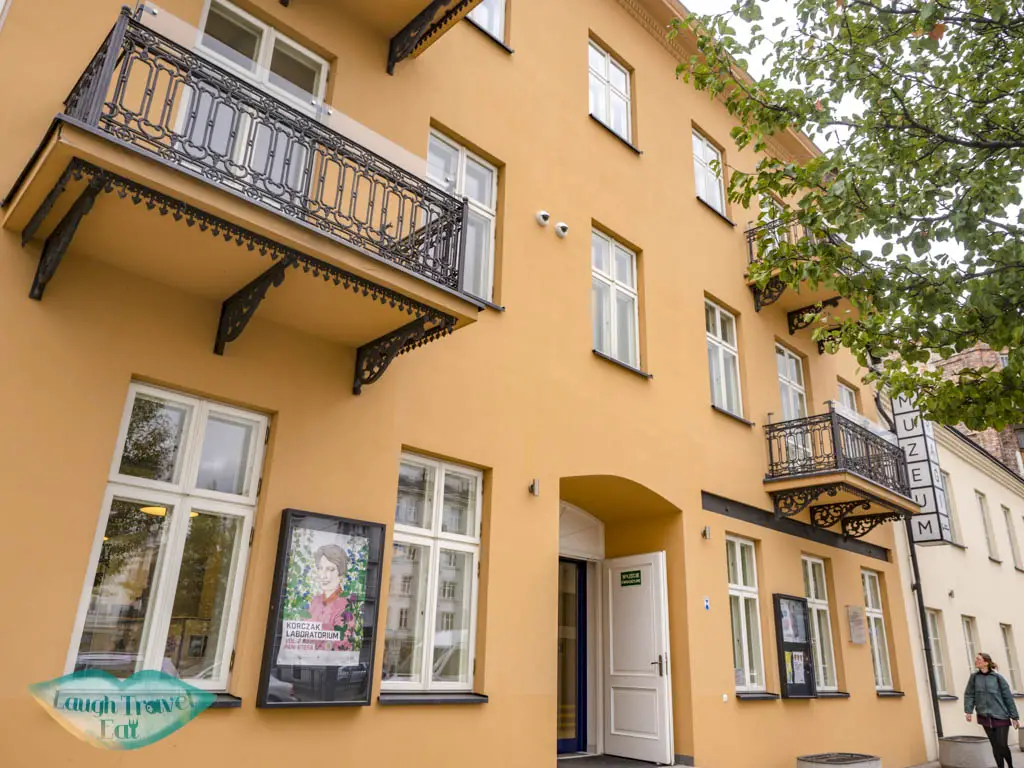 Intrigued about Praga? There's no better place to learn more about the district than the Praga Museum.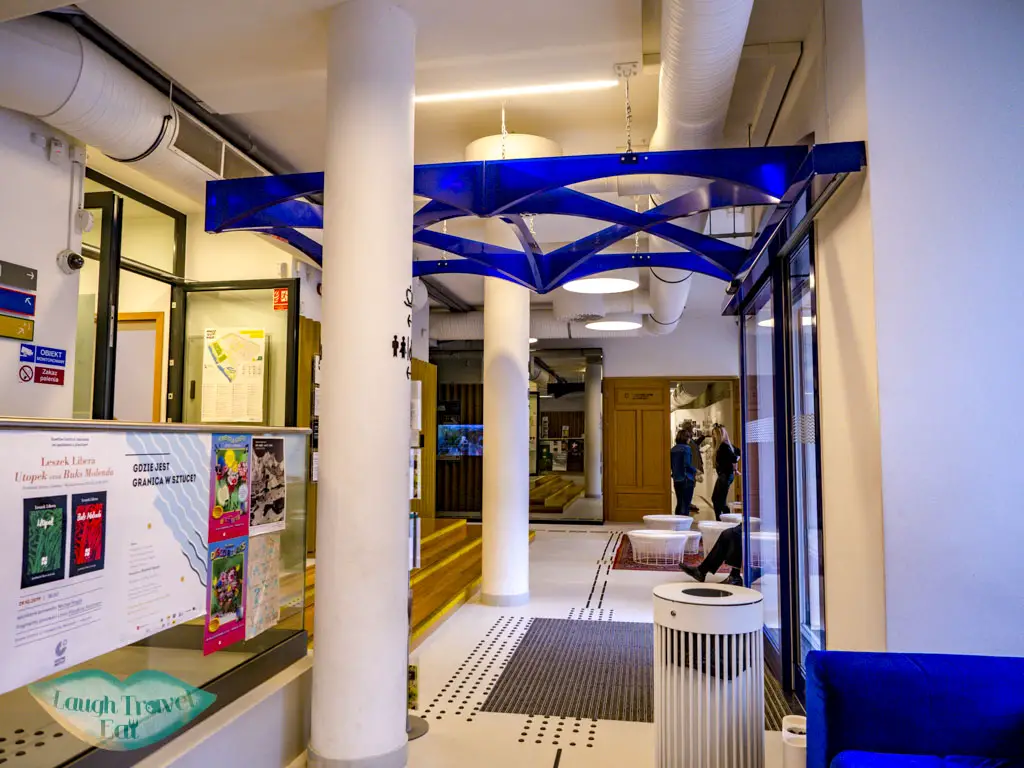 While it cannot compare to the Warsaw Uprising Museum, the Praga Museum's 3 floors has a comprehensive and innovative display and exhibit. I particularly love the timeline on the ground floor and the audio tidbits with voice clips from residents.
Address: Targowa 50/52, 03-733 Warszawa, Poland
Opening time: Tue, Weds, Fri –Sun 10:00 – 18:00; Thurs 10:00 – 20:00
Admission fee: 10 PLN

St. Florian's Cathedral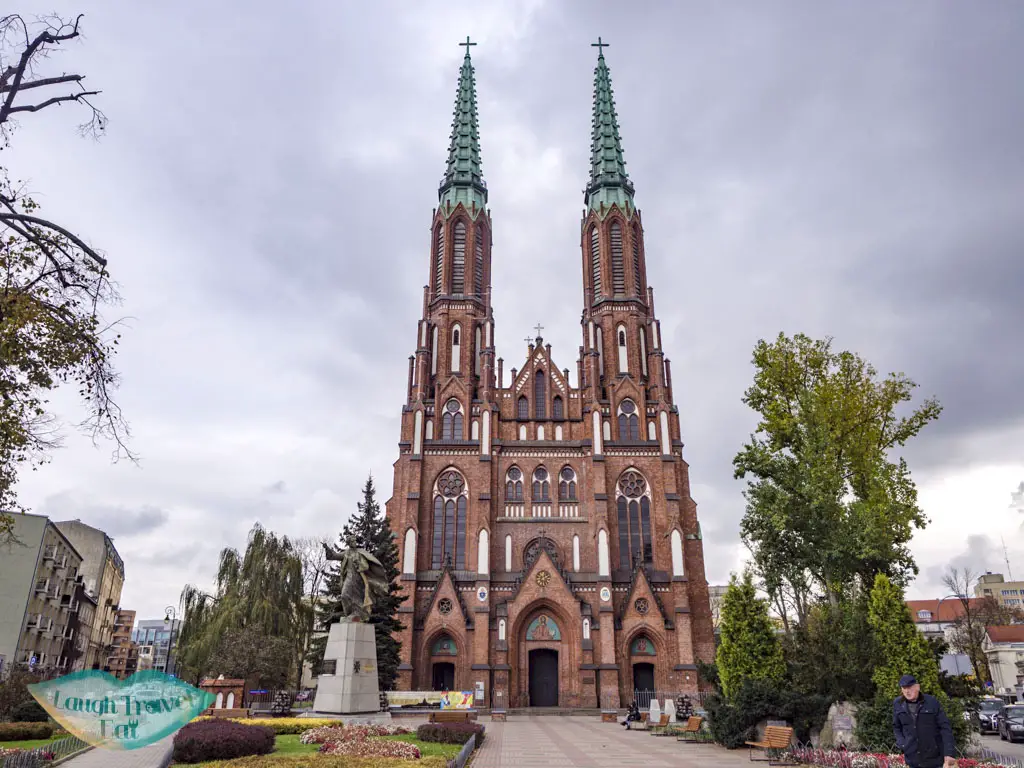 The distinctive church with hits 75m tall twin towers is located by the bridge that connects old town to Praga. The gothic revival and red brick exterior dominates the skyline – which you can also see from the belfry viewpoint at the old town.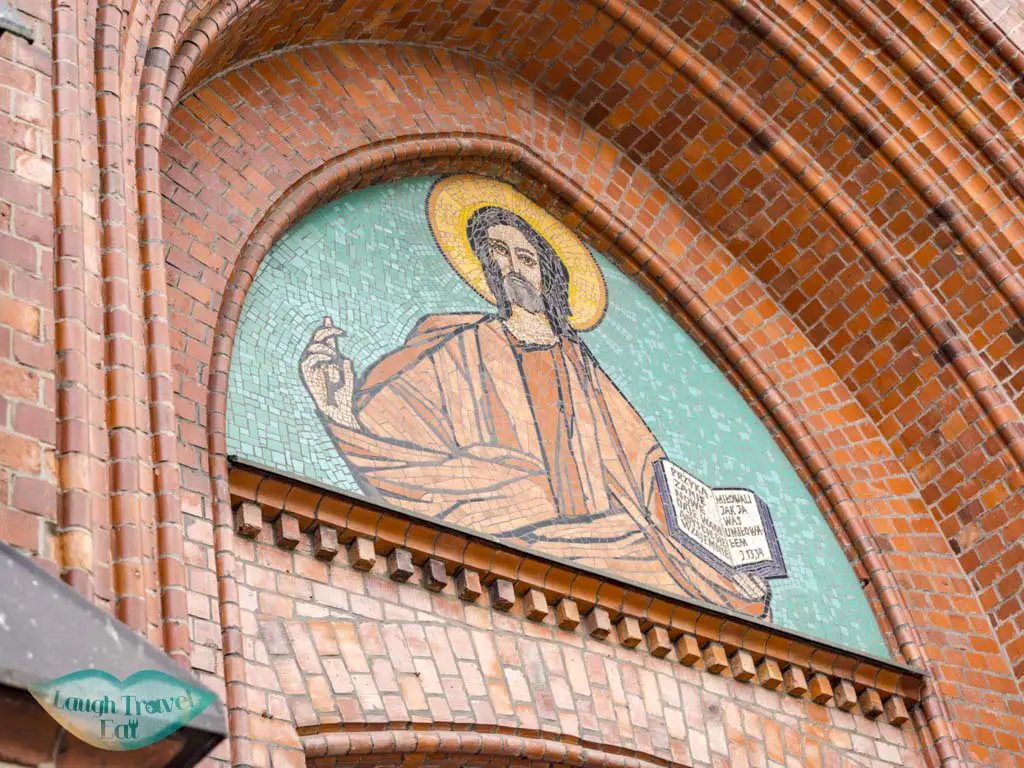 Built in the beginning of the 20th century during Soviet occupation, it was a defiance against the other orthodox church being built. It was destroyed during WWII and rebuilt in the 50s, it remains to this date a Roman Catholic Cathedral. It's free to visit the church so go inside and admire the intricate stain glass windows.

Polish Vodka Museum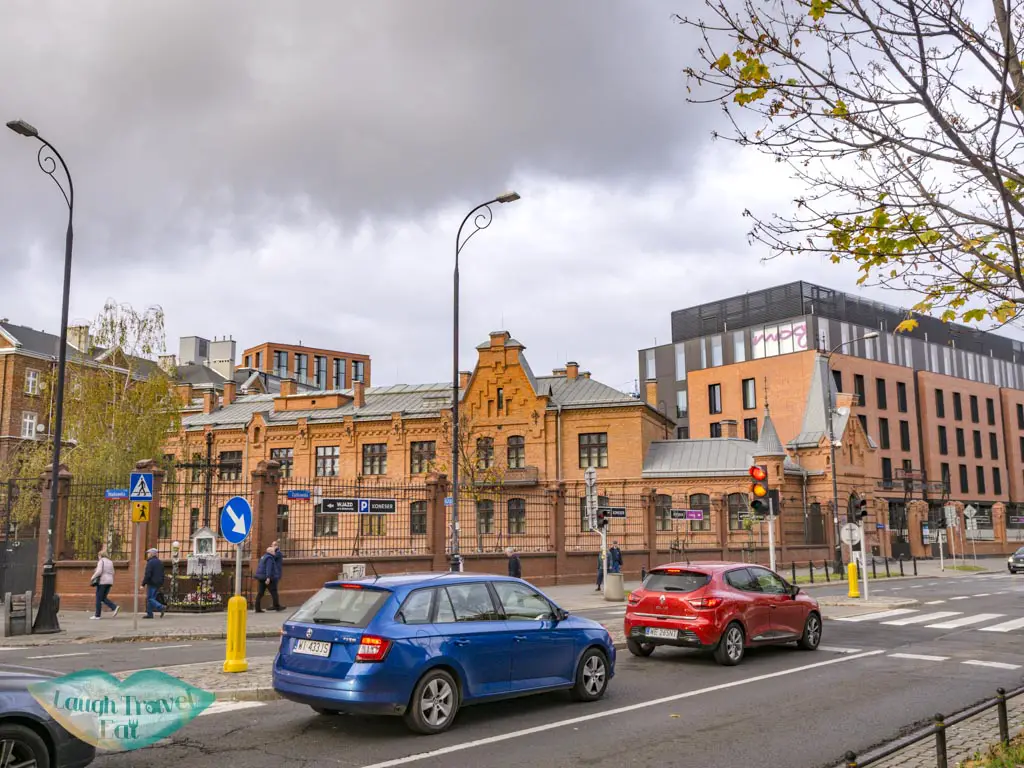 Do you like Polish Vodka? The national drink is as quintessential to the nation as the Polish dumplings and you can learn all about its history and even do some tasting at the Polish Vodka Museum here in Praga. Since I'm not a big vodka fan, I decided to skip it.
Opening times: Tues – Thurs 11:00 – 18:00; Fri, Sat: 13:00 – 21:00; Sun 12:00 – 19:00
Admission fee: permanent exhibit 19 PLN, visit including tasting starts at 40 PLN
Where to stay in Warsaw
As the public transport is very efficient, staying anywhere from the old town to the central station still makes it very convenient. Since I was traveling from Krakow then to Vilinus, I stayed right by the station and getting around was fairly easy. Here are some top picks:

Budget:
Oki Doki OLD TOWN Hostel is located in the Old Town with both dorms and private rooms. It's also in an old 18th century building! Motel One Warsaw-Chopin is near the University metro stop and about 30 mins from the old town on foot, with clean hotel rooms that are soundproofed.

Mid-range:
PURO Warszawa Centrum is one of the most highly rated hotels in Warsaw and right next to the Palace of Culture and Science and the central train station. Hotel Indigo Warsaw Nowy Świat is also a great choice, centrally located by tram stops with a boutique design. For something more rustic and on the cheaper end, consider Chopin Boutique B&B.

Splurge:
Why not treat yourself and stay at Radisson Collection Hotel, Warsaw which has a wellness and spa center?  It has modern and sleek rooms perfect for a city stay. Want another option? Check out Raffles Europejski Warsaw, who also has a spa as well as a la carte breakfast.