Budapest food guide: best restaurants in Budapest and what to eat
The Budapest food scene is vibrant and varied, with Hungarian restaurants as well as various Asian and Asian fusion choices. What surprise me though is that many different bakeries, budget eateries, and also food that just really hit the spot.
Given that I frequently travel to Vietnam and Thailand, I opt to focus more on the local food during my week here. 
Food Tours in Budapest
When it comes to Hungarian food, most of us are probably going to say goulash then pause to think. Which is why I opt to do a Budapest food tour run by local and chef-trained Nora.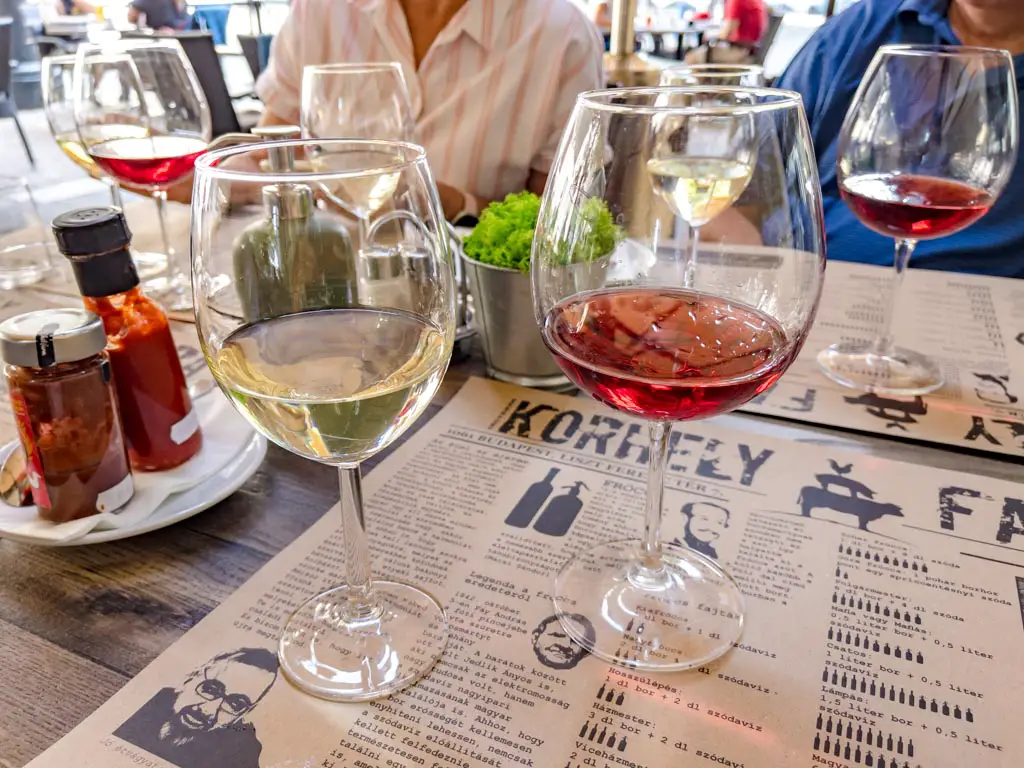 To say that it's just a food tour would be doing it injustice because it's really a walking tour as well. Nora was full of information on the city, Hungarian culture, and recommendations that I learned more from her than on the free walking tour.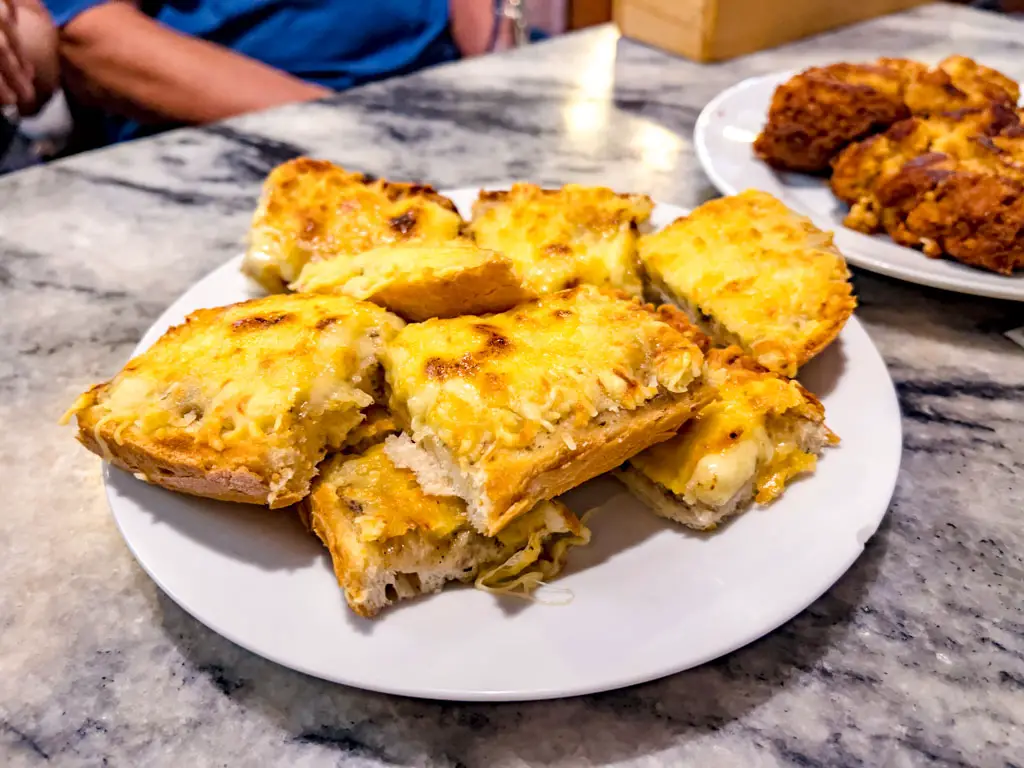 There are 5 food stops but plenty of roaming and exploring during this 5 hours tour. So it's a good balance of food and burning calories. Here are some of my quick highlights:
Learning about typical breakfast and dinner in a local wine bar
Sampling local unicum and palinka liquor
Trying Hungarian wines and learning about the wine regions
Eating salami from venison and hairy pork and exploring the central market
Just learning about Hungarian life in general! 
Cost: 78 euros
Duration: 5 hours or so, and wear your walking shoes!
Things to know about eating out in Budapest
Tap water is drinkable so you can ask for it
Most restaurants accept card
Euro to Hungarian Forint rate is terrible, so it's best to pay by card if you don't have enough cash
Some restaurants automatically charge a service charge between 10-15%, while some don't. It's difficult to say which one does what
Almost all restaurants have WiFi with passwords either on the table sheet, little card stand, or by the cashier. But you can always ask!
Tipping is not mandatory, but you're welcome to round up. Note that if you say thank you when paying the bill, it means to keep the change!
The majority of restaurants I visited are understaffed, which does lead to longer waiting times when ordering or asking for the bill
Budapest food you have to try
You are probably familiar with what goulash is just as I was, but here's what I enjoyed a lot that wasn't top of the head:
Langos
Langos is the fried dough/bread of Hungary and a must-try. It's mostly for savoury dishes and is almost eaten like a pizza!
Hungarian Sweet Wine
Hungarian wines are good but I have a soft spot for sweet wine! When I learned that they have it – I had to get it! And it's absolutely delicious.
Palinka
Palinka is the fruit brandy of Hungary with various flavours available. The most authentic one is sour cherry flavour and there is a stronger and sweeter version.
Unicum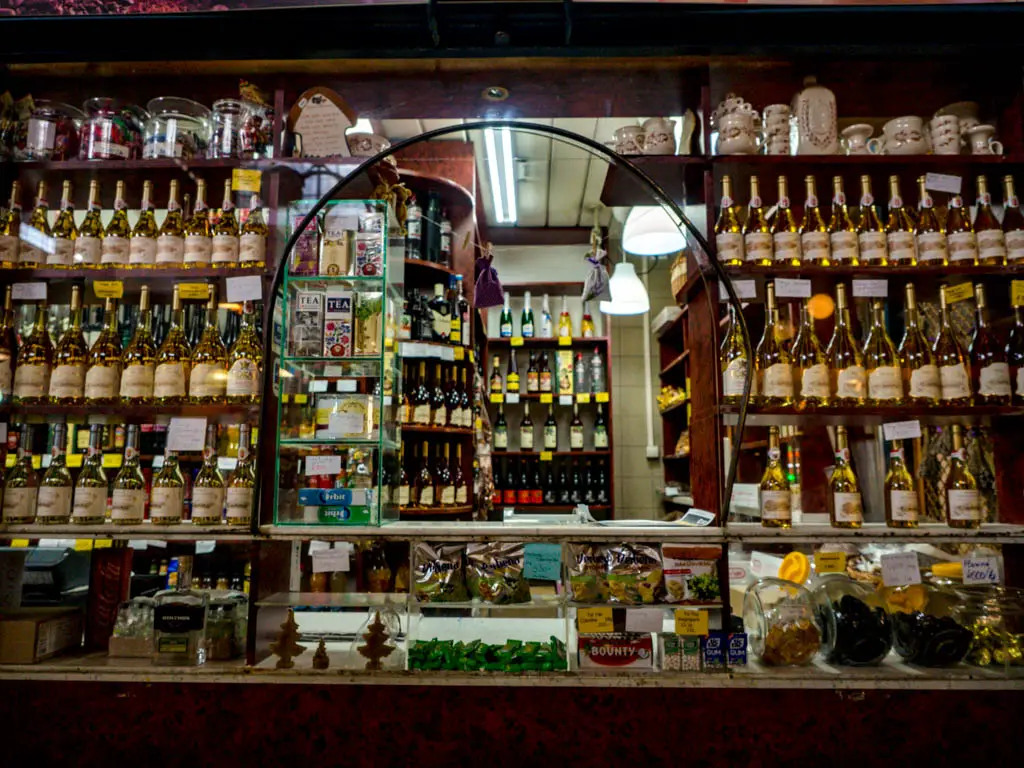 Unicum is a herbal digestive drink created by a local family in Budapest. There is a museum you can visit to learn more about it and it's also available to order in most places.
Frocci
Frocci is the wine spritzer of Hungary with a litany of combinations with different names. It's made from white, red, or rose wine with soda water (not carbonated water) in various ratios. 
Flodni Cake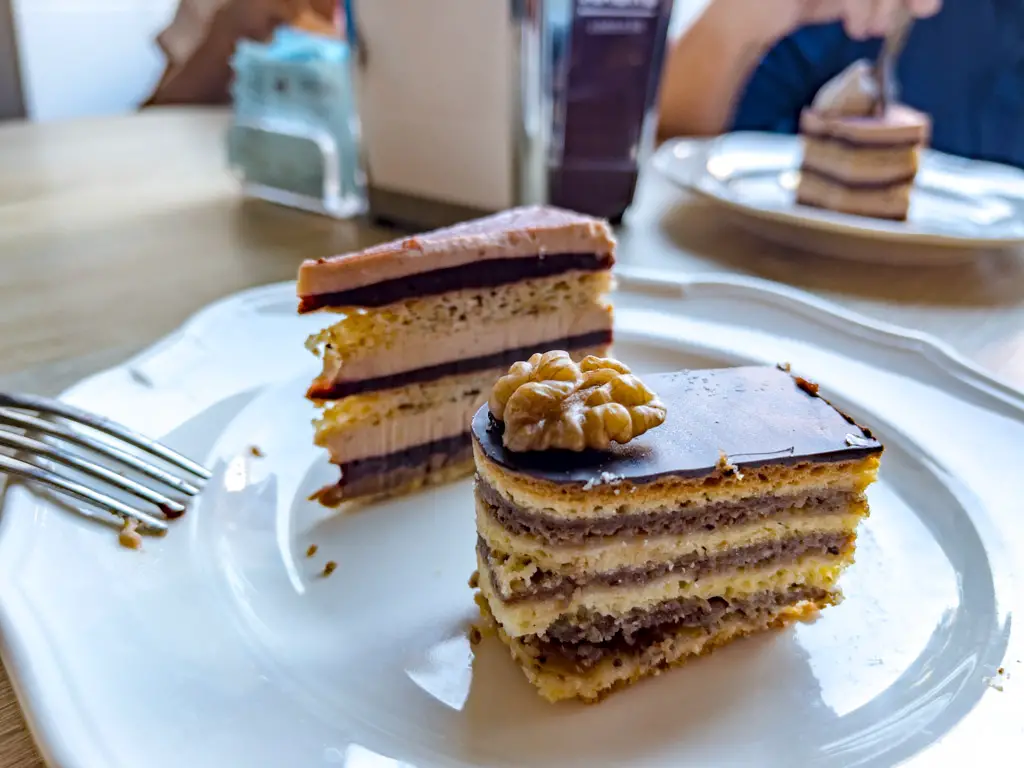 Flodni is a Jewish Budapest traditional layered cake. The layers are poppy seed, walnut, apple, and plum jam. It's a drier cake that's been around for a long time and is worth a try.
Foie Gras
Foie Gras is not cheap, but it's certainly the cheapest to eat in Hungary since the country is the second largest producer of it. You can also buy some at the markets but remember to check whether or not it's mixed with something else.
Anything with Paprika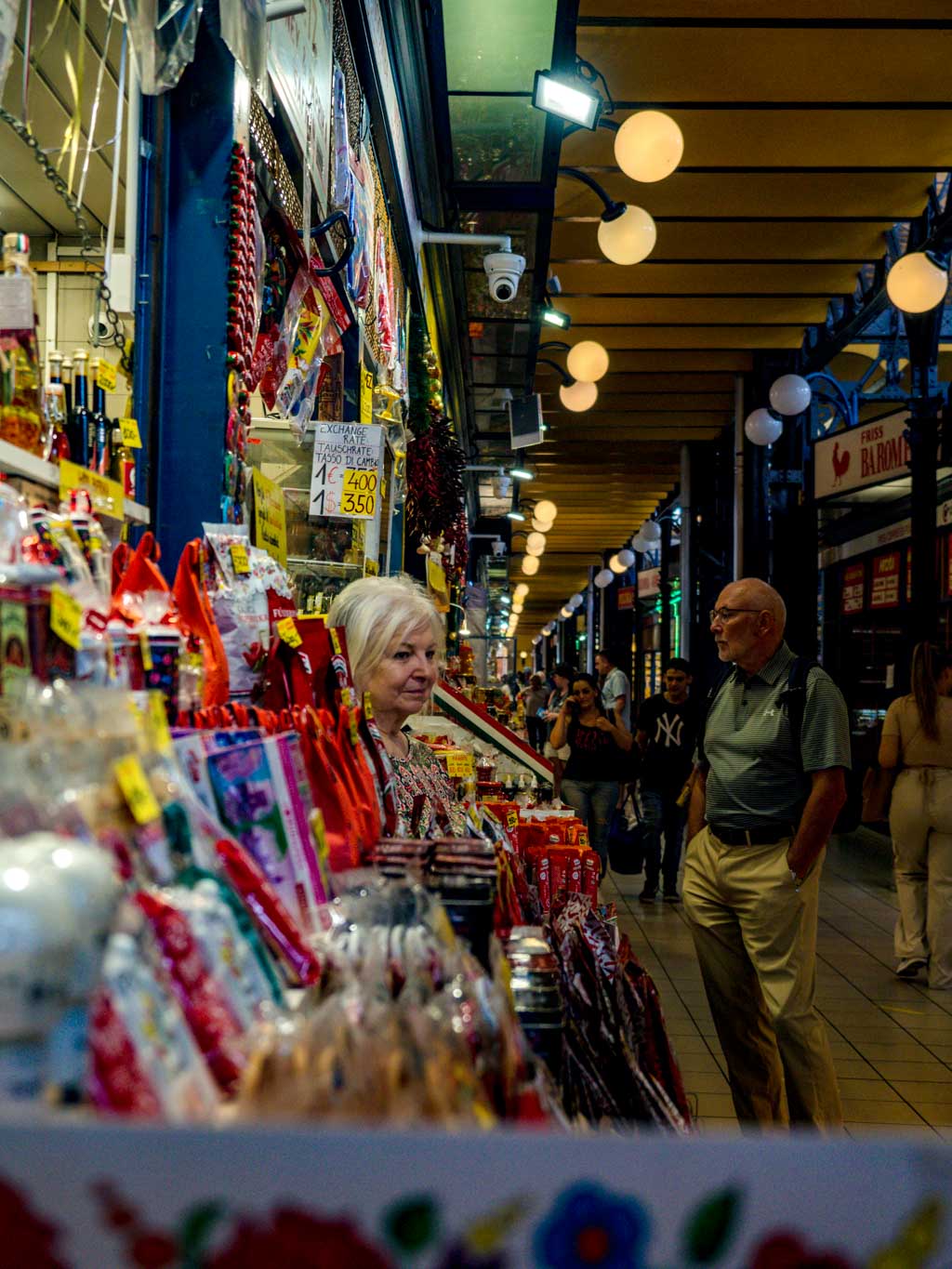 Paprika, which refers to both the vegetable and spices, is one of the favourite ingredients in Hungary. Sweet paprika, in particular, is unique to Hungary. Most dishes you'll find feature it as a spice heavily, and the dish to go for is Chicken Paprika.
Best Hungarian Restaurants in Budapest
Macesz Bistro
Macez Birstro is just down the road from the Orthodox Jewish Church in Budapest and where I had the best meal.
It's a Hungarian-Jewish restaurant with a comprehensive menu. I picked the duck leg with foie gras on vegetable risotto and I'm still thinking about how good it is! 
Note: there is a service charge added at the end
Address: Budapest, Dob u. 26, 1072
Opening times: Sun – Weds 12:00 – 23:00; Thurs – Sat 12:00 – 0:00
Parisi 6
Parisi 6 is a small but friendly Hungarian restaurant close to Fashion Street. The food are reasonable priced, and I tried their beef stew which was very tender. There is seating inside and out, but the space outside is limited and is likely full. 
Address: Budapest, Párizsi u. 6b, 1052
Opening times: Fri – Sun 14:00 – 21:30; Mon, Thurs 17:00 – 21:30
Menza Étterem és Kávézó
Menza is a cute bistro close to the main shopping avenue. The restaurant is quite busy throughout the day, so it's worth booking for the peak hours. I had to wait 10 minutes even though I went there at 3pm.
They also have a weekly menu in addition to their regular menu. The staff are friendly and efficient and I have never gotten my food faster before! I had their week's special of breaded chicken stuffed with duck liver and porcini with salad, and a nice fröcc (wine spritzer).
Address: Budapest, Liszt Ferenc tér 2, 1061 Hungary
Opening times: 11:00 – 23:00
Frici Papa
To be completely honest, I think the food in Frici Papa is average, if not slightly below average. But it makes up for that in portion and affordability. When a goulash with noodles and lemonade costs less than 9 euros, you can't complain too much! That said, I was harassed by small flies during my dining time and it was a bit annoying.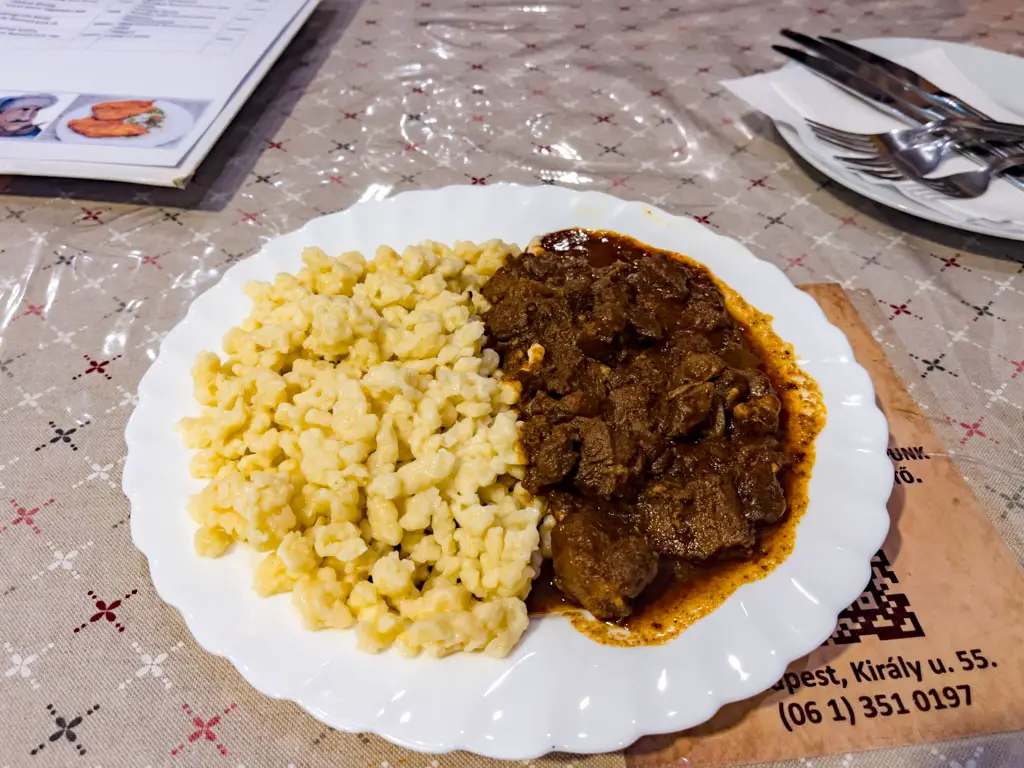 Another friend has been there twice and commented that it's a hit or miss experience – the food can be good one day and bad the next.
Address: Budapest, Király u. 55, 1077
Opening times: 11:00 – 22:00
Here are a list of other recommendations I received but did not end up trying:
Blue Rose Restaurant – Address: Budapest, Wesselényi u. 9, 1077, 12:00 – 21:00
Getto Gulyas – Address: Budapest, Wesselényi u. 18, 1077, Sun – Thurs 12:00 – 22:30; Fri – Sat 12:00 – 23:00
Spinoza Cafe & Restaurant – Address: Budapest, Dob u. 15, 1074, Weds – Mon 17:00 – 23:00
Menza Mester – Address: Budapest, Irányi u. 27, 1056, Mon – Fri 11:00 – 17:00
Tukory Etterem – Address: Budapest, Hold u. 15, 1054, 11:00 – 22:00
Best Brunch in Budapest
There is an amazing array of bakeries and brunch spots in Budapest and given I've woken up early to take photos during my stay, they're a blessing.
Franziska – Pest
Franziska is an up and coming brunch chain and this is their new Pest location. They have vegetarian and vegan options for savoury and sweet breakfasts as well as smoothie bowls. 
Address: Budapest, Rumbach Sebestyén u. 3, 1075
Opening times: 8:00 – 16:00
Home of Franziska – Buda
They also have a Buda location by Battery Ter that's an excellent choice after watching the sunrise on Fisherman's Bastion. I was very glad for the wifi and heating. It is also cuter than the Pest location with outdoor seating.
Address: Budapest, Iskola u. 29, 1011
Opening times: Sat – Sun 9:00 – 16:00; Mon – Fri 7:30 – 18:00
Freyja – the croissant story
Pastry friends should definitely try a croissant or two at Freyja. This neighbourhood cafe is only a little out of the way and worth a visit if you like croissants. I had the pistachio croissant with lemon and ginger tea and it was the perfect start to the morning.
There is a large table and small stepped tables inside and a few tables outside, but most people seem to come in for a grab and go.
Address: Budapest, Szövetség u. 10-12, 1074
Opening times: 8:00 – 15:00
A Table! Wesselenyi
A Table! Is on Wesselenyi street and a small bakery and a quick bite cafe. They have both breakfast pastries and dessert pastries, and I couldn't resist getting their lemon tart on top of croissants, and it was an excellent decision.
They also have a sit-down brunch menu but I haven't got the chance to try it.
Address: Budapest, Wesselényi u. 9, 1077
Opening times: Mon – Fri 7:00 – 18:00; Sat – Sun 8:00 – 18:00
Aran Bakery
Aran Bakery is among the most popular bakeries in the Jewish district, often sporting a long queue. So I decided to get takeaway instead. I tried their cruffin and it was perfectly baked as well as a croissant. They have mostly savoury croissants so unfortunately, I couldn't get a chocolate croissant.
But overall great value for money and it was delicious.
Address: Budapest, Wesselényi u. 23, 1077
Opening times: Mon – Fri 7:30 – 18:00; Sat – Sun 8:00 – 15:00
Cirkusz Cafe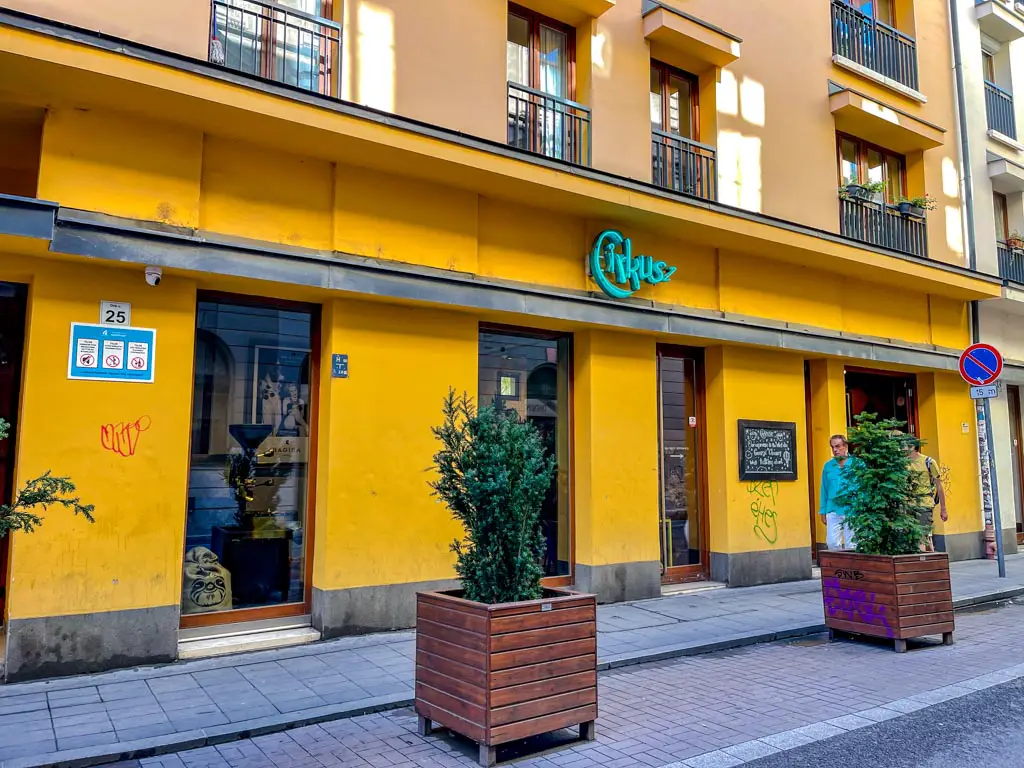 I had hoped to make it to Cirkusz Cafe on my last morning in Budapest but alas I was in too much of a rush. It's also in the Jewish district and a friend recommended it to me as well, saying that they have a full English breakfast and a great mango lassi.
It certainly looks busy whenever I walk past it during the day!
Address: Budapest, Dob u. 25, 1074
Opening times: 8:00 – 16:00
Best Street Food in Budapest
Karavan Budapest
Karavan is a street food corner in the heart of the Jewish district in Budapest. The best thing about it is that you can find both international and local fare, with burger stands hosted next to Langos burger as well as a goulash bread bowl.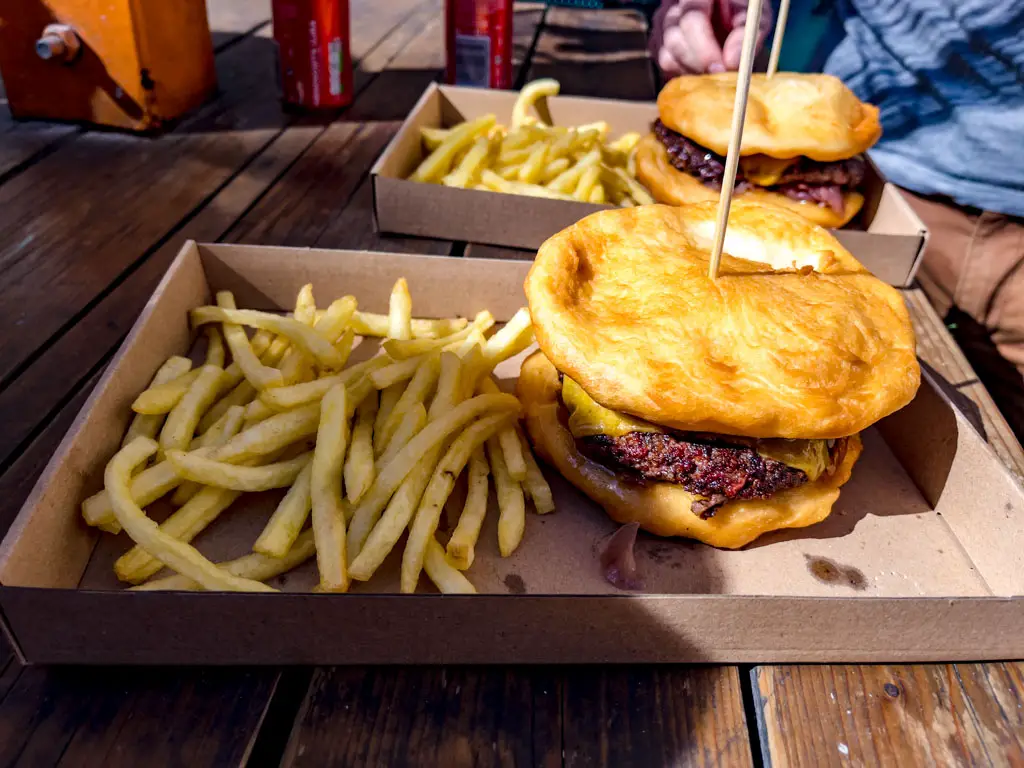 There are also Mexican, beer, and ice cream, however, there are limited seats and most people have to dine standing. Prices are also comparable to sit-down places, so it's not the most budget option.
Address: Budapest, Kazinczy u. 18, 1075
Opening times: 11:30 – 0:00
Retro Langos
Retro Langos is a classic place to get Langos, the fried dough of Hungary. Just because it's a cheap and quick place doesn't mean they skim out on the size. The portions are huge and you can get all sorts of savoury toppings with it.
The classic one is either plain or with garlic, and it's quite filling so I recommend sharing it unless you're eating it as a meal.
Address: Budapest, Bajcsy-Zsilinszky út 25, 1065
Opening times: 11:00 – 22:00
Best Cafes in Budapest
New York Cafe
New York Cafe is known for its beautiful interior (and exterior) and serves all three meals with flair. They offer a buffet breakfast in the morning, a la carte menu for lunch and dinner, as well as afternoon tea offers and dessert.
I remember loving my afternoon tea there 9 years ago but admittedly the portion seems to have gotten smaller while the prices are higher. It is understandable but I was disappointed at the level of service as I had to wait for the bill for over 20 minutes with a waiter who seem quite happy to ignore me.
That said, it's worth popping in for a quick dessert.
Address: Budapest, Erzsébet krt. 9-11, 1073
Opening times: 8:00 – 0:00
Asian food in Budapest
Find Tea
Seeking out a good bubble tea place is my mission and I'm happy to report that Find Tea is an authentic place to get one. It's near St Stephen's Basilica and the fashion street. They have a comprehensive basic menu of the popular bubble tea and I ordered the pomelo lemon tea, which was pretty good!
The best thing is that they accept card payment – a lot of bubble tea shop often don't!