Prague Itinerary: 3 days in the city
Are you looking for a Prague itinerary and wondering how many days to spend in Prague? This is what this blog post is for! The capital of the Czech Republic is one of the prettiest and most affordable cities in Europe, and while a few days is enough to get a feel for it and see the highlights, you can easily stay for a month and still be in love with the vibe.
That said, you're here for a Prague itinerary! Here is my best 3 days in Prague itinerary with hotel recommendations!
Essential Information and FAQ on Prague
Here is some essential information and frequently asked questions on Prague! If it's your first visit or second visit after a while, hopefully, this is helpful. The city has changed a lot between my two visits which are admittedly like 8 years apart!
How many days to spend in Prague?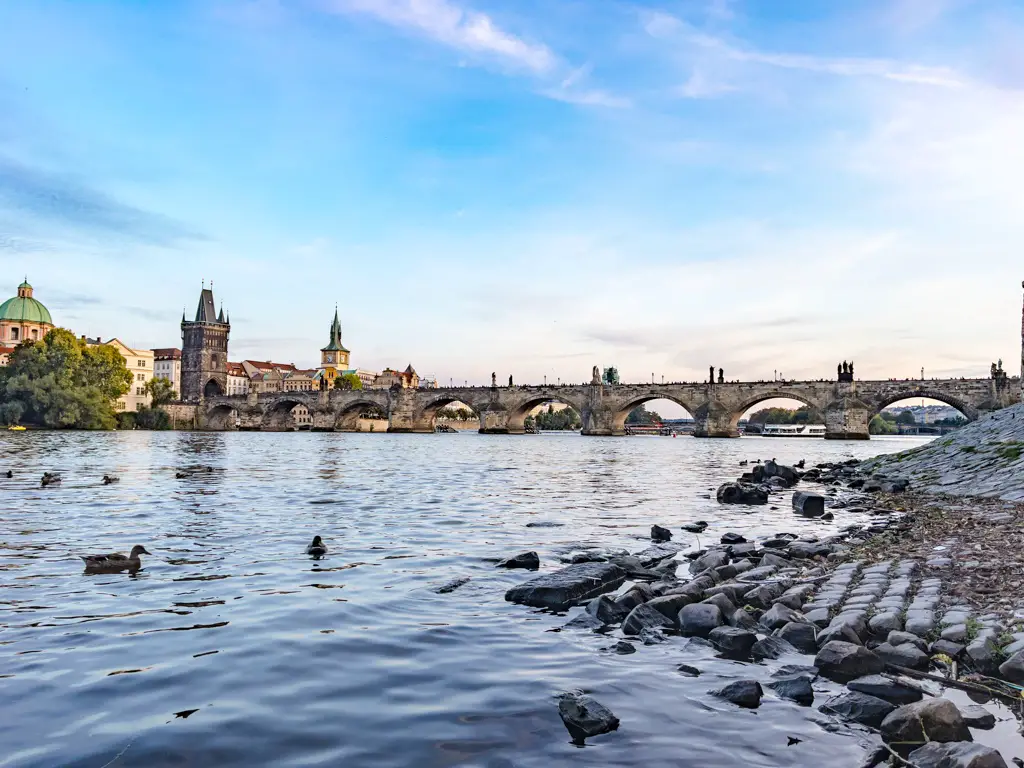 If you're not planning to take day trips from Prague, I'd say that 3 days is enough to see the highlight, while 4-5 days would give you a more relaxed pace.
Do I need cash?
I paid with my card for almost everything during my time in Prague and Czech Republic and only really needed cash on two occasions at street food carts. The lowest limit to use card is usually around 50 CZK.
Public Transport in Prague
You can now buy tickets using your card or directly tab it. For Prague, a 30-minute ticket costs 30 CZK, and once you get the ticket, it's already pre-validated.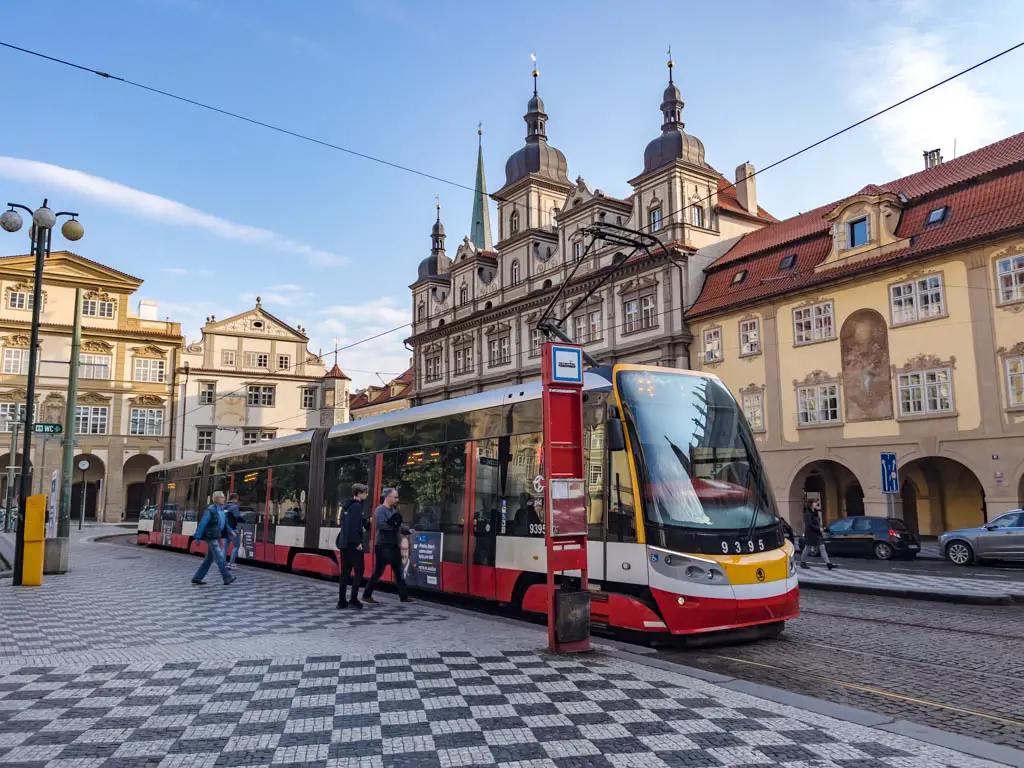 If you get on a tram or bus, look for a red machine to purchase the ticket, as the orange ones are for validating existing tickets only.
Trams in Prague
Trams are very convenient in Prague, with a main station by the central Wenceslaus Square. 
Metro in Prague
There are two main metro lines in Prague that visitors would use: Line A and B. They are well labeled, and it's easy to use them following Google Map's directions.
Taxi in Prague
You can use either Uber or Bolt app for taxis, which gives you a better price. I mainly use Bolt but only to and from the train station.
Travel Pass for Prague
You can get a Travel City Pass for Prague for 1, 2, 3, and 5 days. It includes free transport and also the airport bus. It includes over 60 attractions, including Prague Castle Complex combination tickets. You can see the full list here.
Prague 3 Day itinerary
Here are my suggestions for an itinerary for Prague for 3 days. Feel free to mix and match 
Prague Day 1
Kick it off with a Food Tour!
Depending on when you arrive in Prague, I'd start off with a food tour to get to know the city's history and the best things to eat! I did the Prague Food Tour, which was basically a walking tour and a food tour – you can see the full review here and they have various start times as well.
Note: the food tour is almost like a walking tour as well, so you'd be able to see a lot of the attractions in Prague already if you do it.
Beer Spa
If there is time, I highly recommend a beer spa to unwind, as it is a Czech tradition since the Middle Ages. The beer is good for your skin and hair, and the best way to enjoy it is to shower beforehand, soak it in, and let it work its magic on your body afterwards. And did I mention unlimited beer?
Sunset views on a hill or a cruise
Evening: Depending on when the food tour ends, you can go watch the sunset at the local's favourite hangout. Riegrovy Sady is a park east of the train station with a large grass patch perfect for hanging out with a glass of wine or a picnic.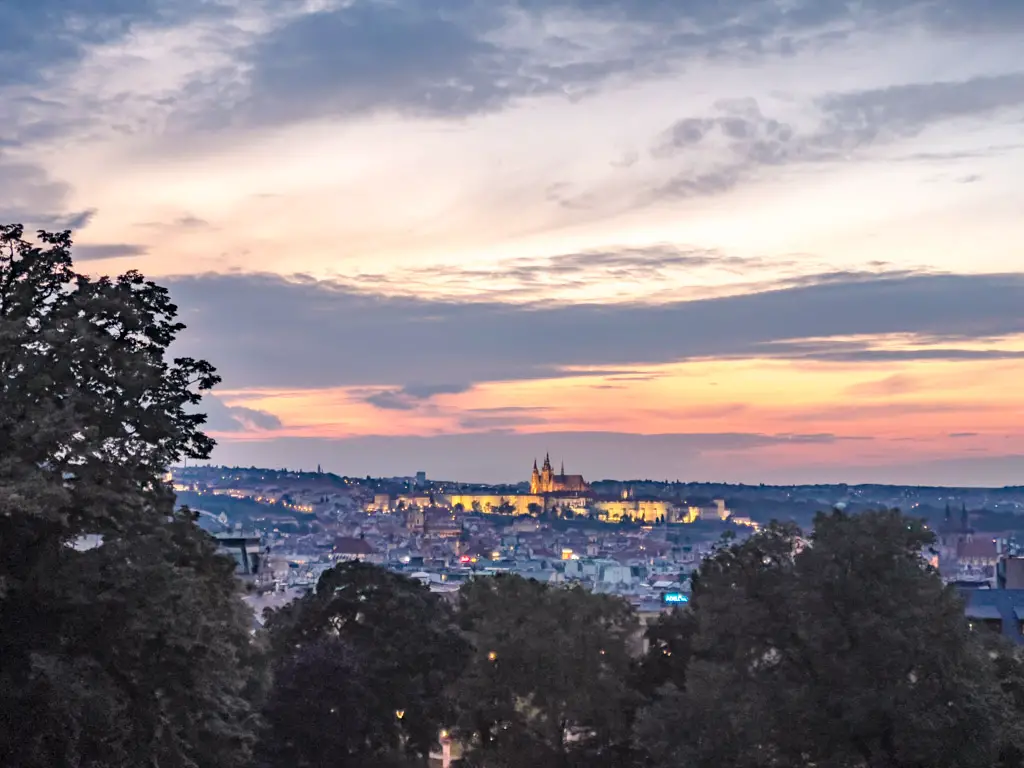 Alternatively, you can take an evening dinner cruise or sightseeing cruise along the river and enjoy the spectacular view, 
Prague Day 2
Sunrise/Early morning at Charles Bridge and Astronomical Clock
If you can wake up, get to the Charles Bridge and Astronomical Clock before or around sunrise so you can see it and take photos without the crowd. If you're not an early bird, head back here after Petrin Hill and you can also go up the bridge or inside the clock tower.
Prague Castle
Then head on over to Prague Castle. The castle also remains quiet until around 8:30 am when the group tours start to arrive. You can get the tickets for the castle online and skip the queue.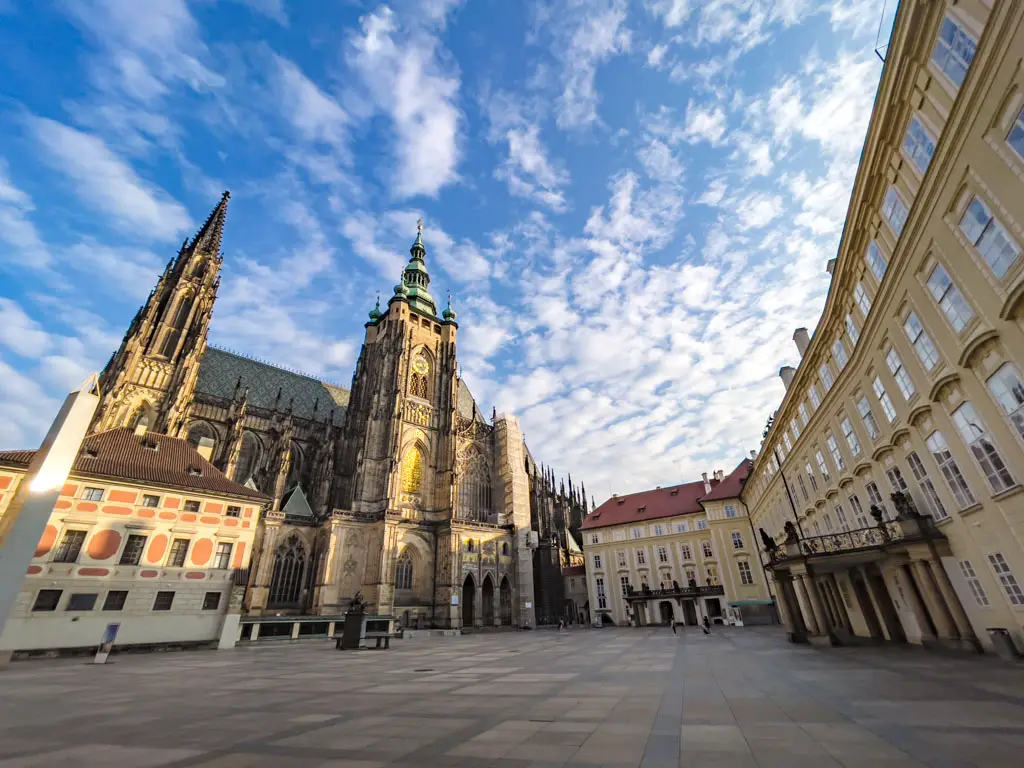 The combination ticket allows you entry to 4 places:
St. Vitus Cathedral – the Gothic Church is the central point of Prague's castle complex. It is where most Bohemian Kings and Holy Roman Emperors are buried with beautiful stained glass and a south tower that stands at 102.8m high.

Old Royal Palace – you can see the old royal palace and learn about the different dynasties that ruled Czech Republic and resided in Prague. You can see the main hall, several offices, and the coat of arms painted on the wall.
St. George's Basilica – the small pink basilica behind St. Vitus Cathedral is the oldest surviving church in the castle area. It dates back to the 10th century and is where Ludmila of Bohemia, grandmother of Wenceslaus I, was buried.
The Golden Lane – the Golden Lane is a street of narrow shop houses that has become a living museum of its past inhabitants. They also added medieval armours and weapons on the top floors and various dungeons and old room reconstructions.
Note: this doesn't include the St. Vitus Cathedral Tower or the Lobkowicz Palace. Audio guides are also on a separate ticket.
The tickets are quite affordable, but if you don't feel like springing the cash for them, you can see the interior of the St Vitus Church without paying as the ticket barrier is located inside. You can also poke your head into the Golden Lane.
Lunch at a traditional restaurant
There are several nice restaurants around the castle complex for you to refuel after the morning's visit, I recommend U Tri Jelinku which is just below with a good Czech menu and free WiFi.
Loreto Church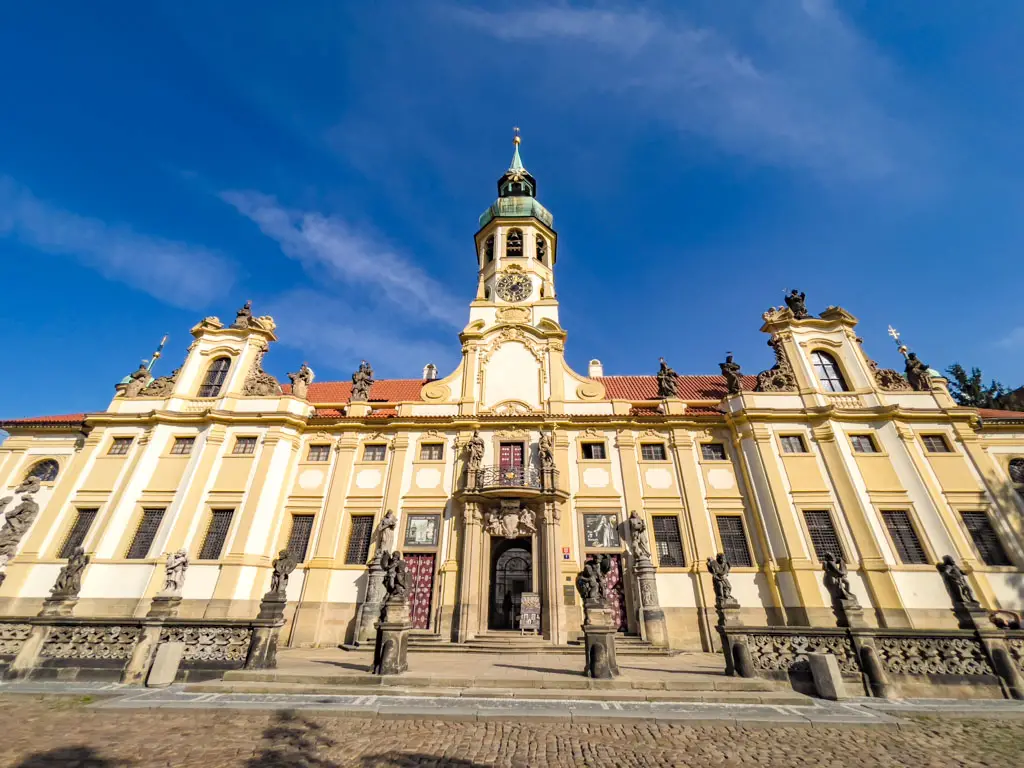 Walk along the beautiful streets of Prague's Old Town and make a stop by the pretty Loreto Church along the way. It's a beautiful church with a pastel yellow facade and a popular pilgrimage place with a cloister!
Strahov Monastery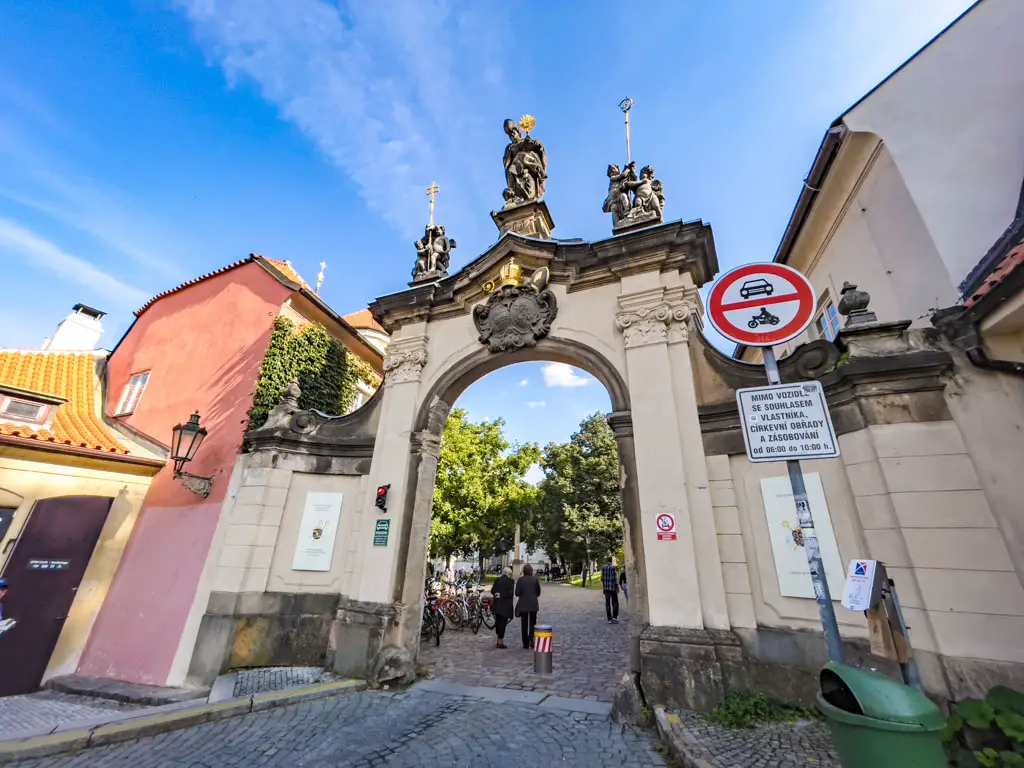 Another 5 minutes from Loreto Church is the Strahov Monastery on the foot of Petrin Hill. It is a little complex with a pub and restaurant, a church, and the famous Strahov Library.
The monastery was founded in the 12th century and the famous library and halls were built between the 17th and 18th century. Everything had to be reconstructed after the communist regime when the monastery was returned to the Premonstratensian Order.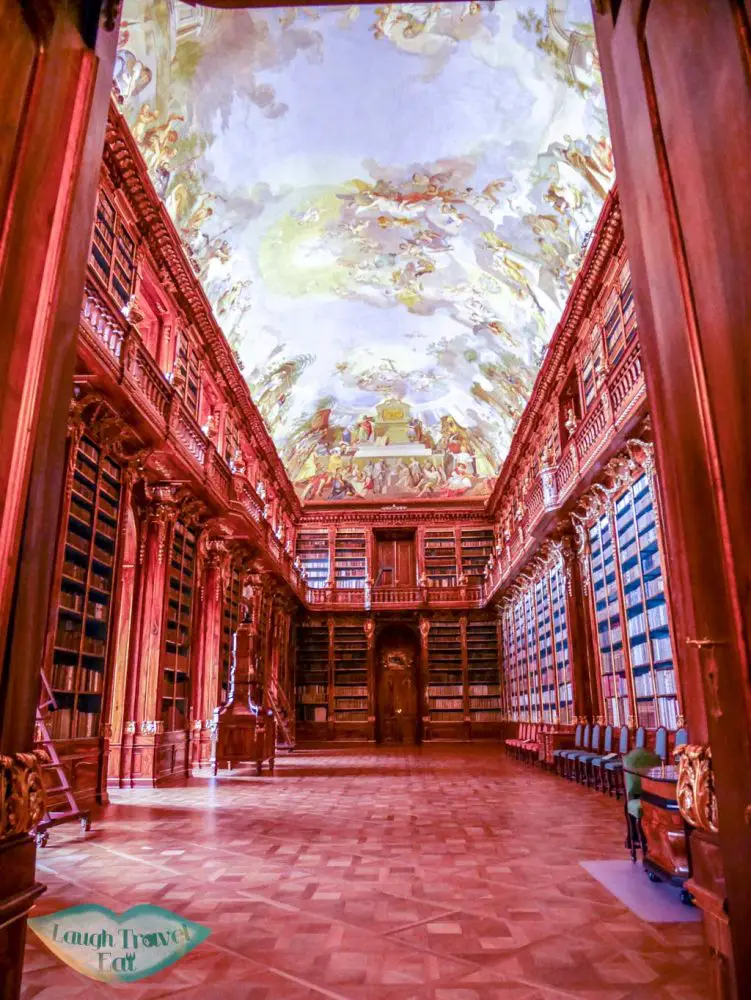 The complex and the church are free to enter and you can eat at their restaurant (instead of my previous suggestions), as they also have their own beer. But there is an admission fee for the library and no camera is allowed.
Admission fee: Strahov Library only: Adults 150 CZK. Reduced 80 CZK, Family 300 CZK (2 adults + max 3 children under 15 years)
Photo permission (no flash) 50 CZK
Strahov Library and Gallery (only till 4 p.m.): Adults 280 CZK, Reduced 140 CZK, Family 500 CZK (2 adults + 3 children under 15 years), Photo permission (no flash) 80 CZK
Petrin Hill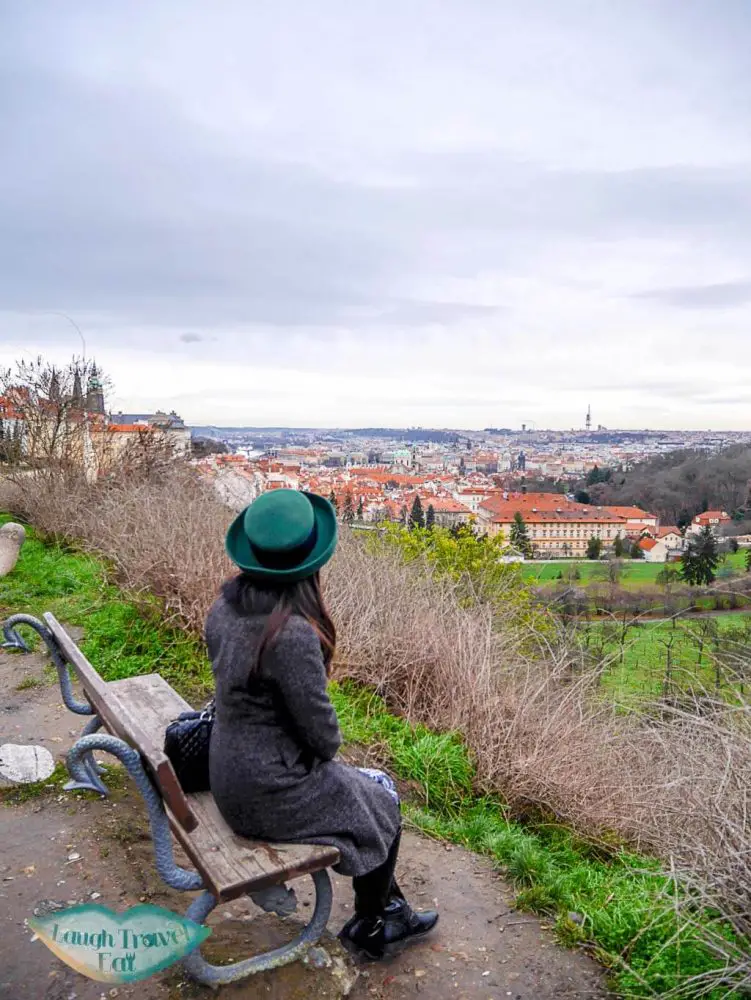 Petrin Hill stretches from Strahov Monastery south and is a great place to get a good view of Prague. There are a few attractions and it's also a nice walk from Strahov Monastery back down towards the river where you can catch the public transport or be back at your hotel.
Petrin Tower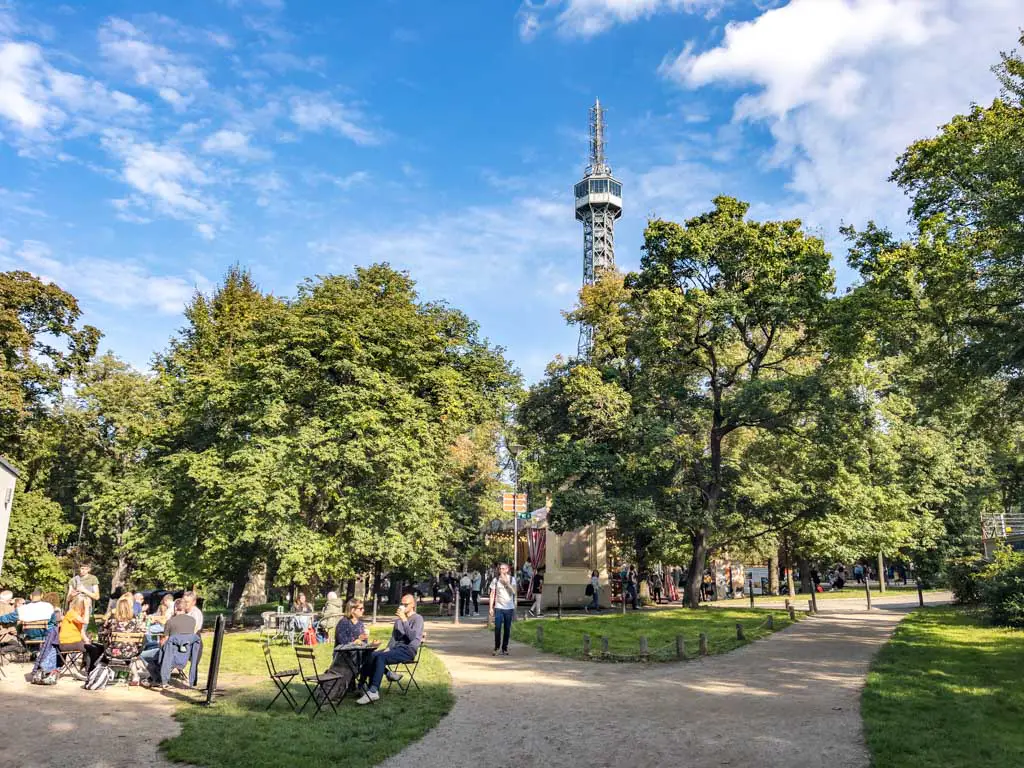 Petrin Tower almost looks like a mini Eiffel Tower standing at 63.5m high on top of the hill. It was built in 1891 as an observation and transmission tower, but is now a place for people to get a panoramic view of the city.
Mirror Maze in Petrin Park
Close to the Petrin Tower is the famous wooden castle-like manor with a mirror maze. It was built for the 1891 Prague Exhibition and a fun place for the family.
Admission fee: 70 CZK for adults, 50 CZK for those under 15, 20 CZK for those under 6
St Lawrence Church
Also nearby to the maze and tower is St Lawrence Church. It's a Baroque Church in dusty red colour with green-bronze domes.
Hunger Wall
The Hunger Wall was built under Charles IV in the 14th century as a means to provide job to the starving population. It was built from Marl which was quarried on Petrin Hill. The wall was an important medieval defensive line and was strengthened in the 17th and mid-18th century.
Petrin Funicular
The Petrin Funicular was also built for the Prague Exhibition in 1891 and takes you from Ujezd Station by the Lesser Town near the river up to the top of the hill. It has 3 stops in total over 510m long and 130m elevation. 
Admission fee: 60 CZK 
Dinner
Head to Cafe Louvre or Hotel U Krize close to Petrin Hill for a Czech dinner before heading back to the hotel for some rest!
Prague day 3
Dancing House
The iconic dancing house is one of the landmarks in Prague. It looks like a building that was warped around after it was finished, a masterpiece by Croatia-Czech architect Vlado Milunic and Canadian-American architect Frank Gehry.
Vysehrad
One must not forget the other castle complex in Prague. Vysehrad is on the east side of the Vltava River south of the New Town. There is the Basilica of St Peter and St Paul, the Vysehrad Cemetary, and it's even more gothic than St. Vitus Cathedral. The cemetery is also the burial place for many famous Czechs,  so you do see people going there to pay their respect.
Alfons Muncha Museum
Alternatively, or depending on when you leave, head over to the Alfons Mucha Museum and learn about the famous Art Nouveau painter. It was one of my favourite places in Prague and I highly recommend it. 
Admission fee: 280 CZK, reduced 190 CZK, family (2 adults + 2 children) 700 CZK
Opening times: 10:00 – 18:00
Lunch at one of your favourite places
I always believe in going back to your favourite meal before you leave a city!
Where to stay in Prague
Eco-friendly choice: Mosaic House Design Hotel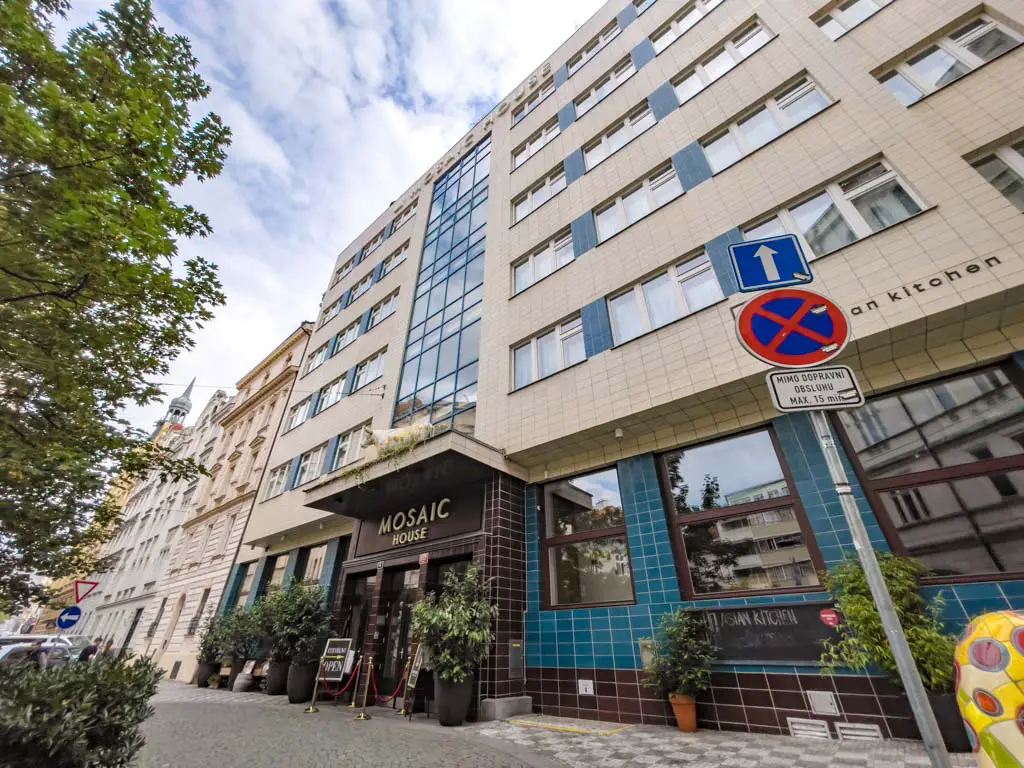 The Mosaic House Design Hotel is a modern and quirky hotel near the Dancing House. It is one of the most eco-friendly hotels in Prague. The first things you'll notice are the mushroom statues in front of the hotel and the beautiful mosaics. They also have a secret garden behind the warm, spacious lounge and cafe, with a library upstairs.
I stayed in a top-floor room with a balcony that overlooks the Prague New Town and it's cozy but has everything you need.
The bed was comfortable, there are enough space for me to work and the TV has Netflix! I also love that they give you glass bottles and the toiletries are from REMEDIES brand that is bio, vegan, organic, and in recycled packaging.
Other amazing sustainability the hotel is doing:
Gray water cleaning system that recycles shower and sink water which is used to flush toilets
99% of the lights in the building are LED
Solar panels and bacteria-generated heat are used to heat water
Waste from the cafe and compost and used for green areas
The hotel is carbon neutral with electricity from renewable sources
Free bike rental
Ecological detergent to wash bathrobes and towels
70% of the food is sourced locally
The breakfast buffet is also very comprehensive with juices, cereals, a buffet bar of cold cuts and cheese, as well as pastries.
Other options:
Budget: Prague Dream Hostel is a great hostel just off of Wenceslaus Square with plenty of bathrooms and curtained dorm beds.
Mid-range: On the same street as Prague Dream Hostel is K + K Fenix Hotel, where I stayed the first time I visited Prague.