23 things to do in Milos + a 4 days itinerary
Milos is arguably the Greek island with the most diverse landscape with picture-perfect fishing villages, moon-like cliffs, and turquoise hidden coves. It might not be as famous as Mykonos or Santorini, but it's certainly getting more and more popular. This was the most anticipated stop on our Greece island hopping trip, and we managed to spend 4 days here with only 1 day of driving and saw most of the major attractions. Here are the top things to do + some essential information:
How to Get to Milos Greece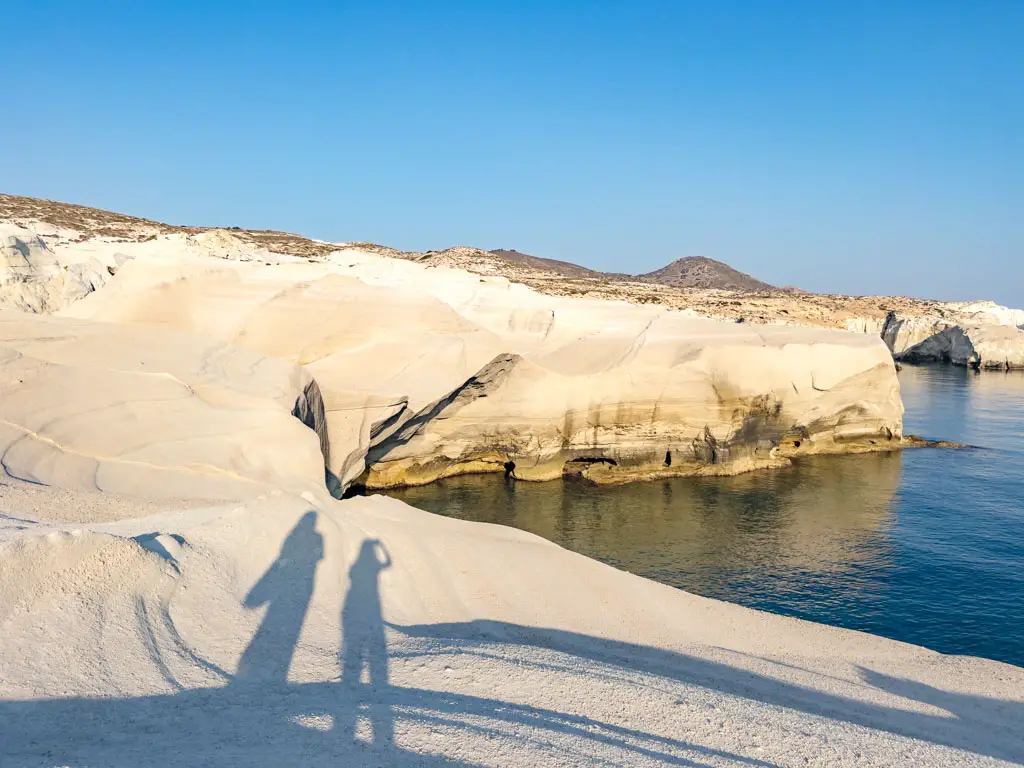 Milos is part of the Cyclades Islands, which are not too far from Athens. Depending on your preference, you can get a ferry from Piraeus port or take a domestic flight to Milos:
Athens Milos Boat
There are 5 different companies that offer ferry services from Athens to Milos. The average duration is around 3 hours 20 minutes to 4 hours 30 minutes, with slower ferries that can take up to 7 or 15 hours. 
We took the Knossos Palace from the Minoan Lines at 10am, arriving in Milos at 2:30pm.
I use Ferry Hopper to book all my ferry tickets!
Flying to Milos
There are daily flights from Athens to Milos. The flight takes 40-45 minutes, and the airport is 5km from the Adamas Port. 
Should I fly to Milos or take a ferry?
Personally, I prefer the ferry as the price remains the same even when I booked last minute. Also, it's more comfortable and people who have a car can take it onboard as well. That said, don't expect to have good data signal throughout the ride and the WiFi was not free on the one we took.
Another consideration is that there is no luggage limit for the ferry and it's easy to reach your accommodation if it's by the port.
Milos Essential Information
A short history of Milos
Milos has been inhabited since antiquity, its volcanic rocks and obsidian deposit attracting settlers who use the latter to make tools. It is also the center of the Cycladic culture in the Bronze age and was inhabited by Mycenaean, Dorians (from Sparta), was caught in the Peloponnesian War, and eventually under Roman times.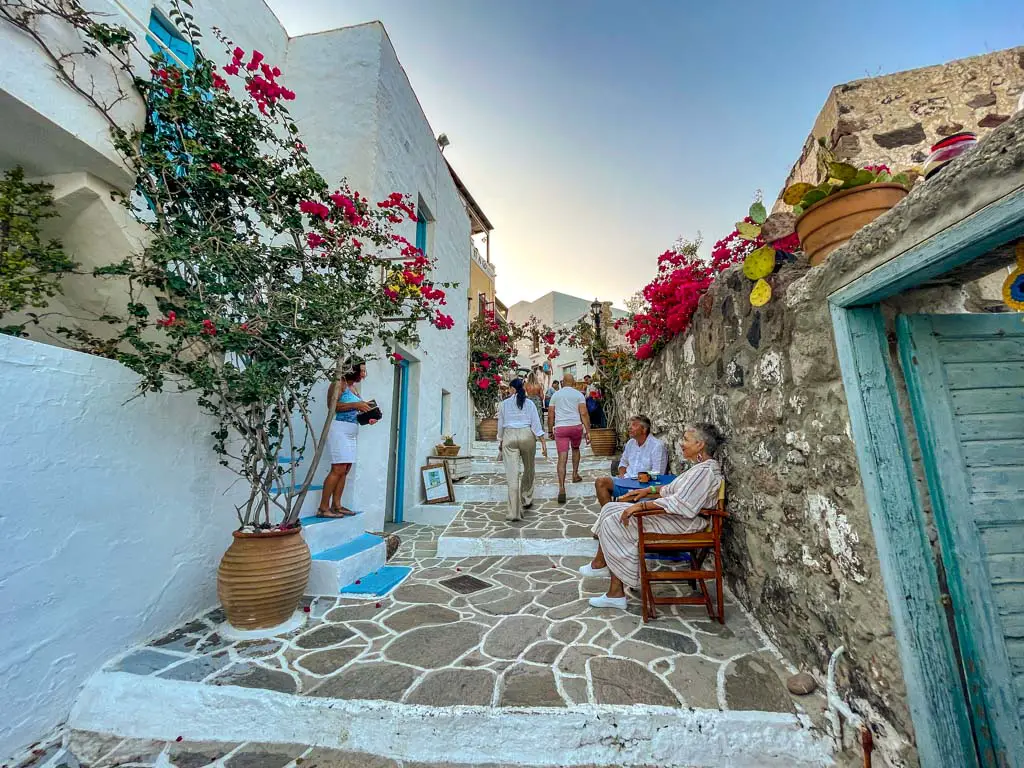 The capital changed from where Pollonia is now to the fishing village of Klima by the time medieval time rolls around. It was subjected to many pirates raid during Byzantine time with Venetian taking over after the fall of Constantinople in 1204.
Between the 16th to 18th centuries, it was ruled by the Ottoman until the revolution in the 1820s, becoming a part of Greece in 1830. It was used as a naval base during WWII by the British and French.
Is Milos Worth Visiting?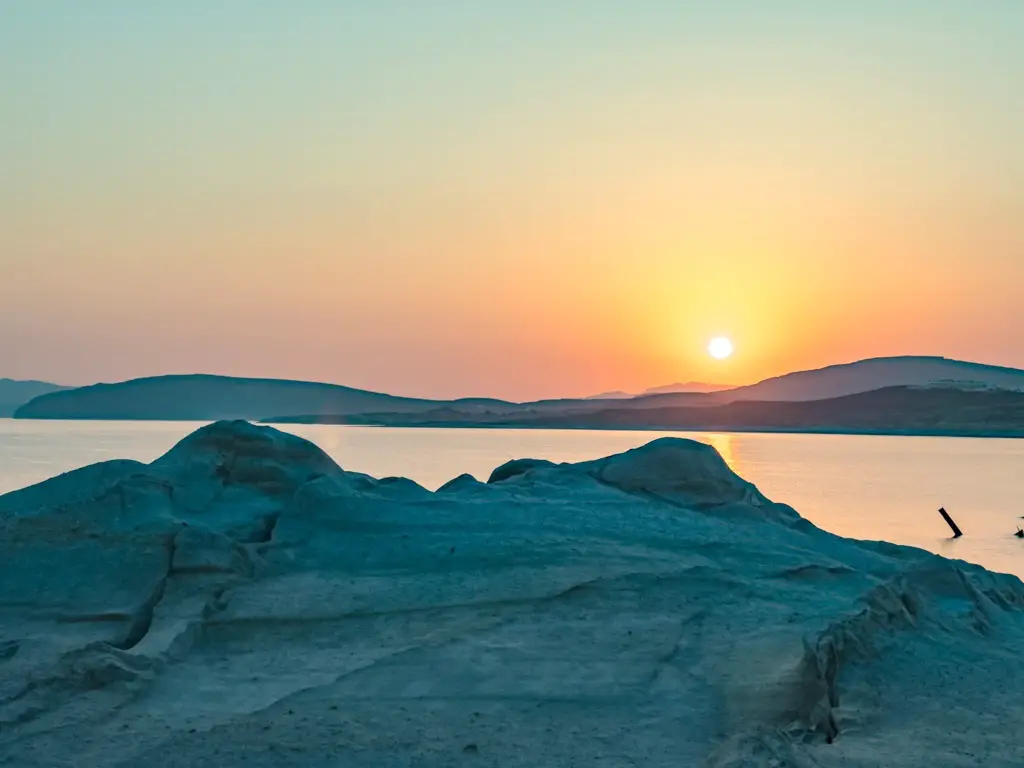 Yes, Milos is worth visiting because of the dreamy landscape and also for its history. Did you know that this is the birthplace of the famous Venice of Milos? Several luxury brands also shot their promotional campaign on the island because of its surreal landscape, which really says something about its beauty.
How many days do you need on Milos?
Milos might not be very big, but to see it properly, you would need to drive around and that takes time. I'd say a minimum of 3 days and up to a week if you want to hit everything or relax on a beach.
We did the highlight of Milos in 4 days, although I wish we have one more day to see all the cultural sights as well.
Is Milos too touristy?
Milos is definitely a little touristy but I would not say it's anywhere near Mykonos or Santorini. If you are looking to rent a vehicle, pre-booking especially during the summer high season is the best policy.
Transport in Milos
To see Milos, the best way is to rent a vehicle and drive yourself around. There are buses on the island, but they don't reach all corners of the island and the schedule can be sparse.

Milos' main town and port is Adamas, and I'd recommend staying there for ease of travel. Other popular places to stay are Plaka with is a short drive (uphill) to the northwest) and the beach town on the northeastern tip Pollonia.
We ended up renting an ATV for a day to drive around the island. While a lot of the important attractions are on the north coast of the island, there are also some that are in the south and remote. This means you either have to drive all the time or join tours. The best way is to take a boat trip! See more on what we do under Milos itinerary.
Renting a vehicle on Milos
You can rent a car, scooter, or ATV on Milos. The roads can be steep and narrow on Milos, so parking can be difficult with a car. The steep roads also make driving a scooter dangerous, especially for those who are not familiar with riding one.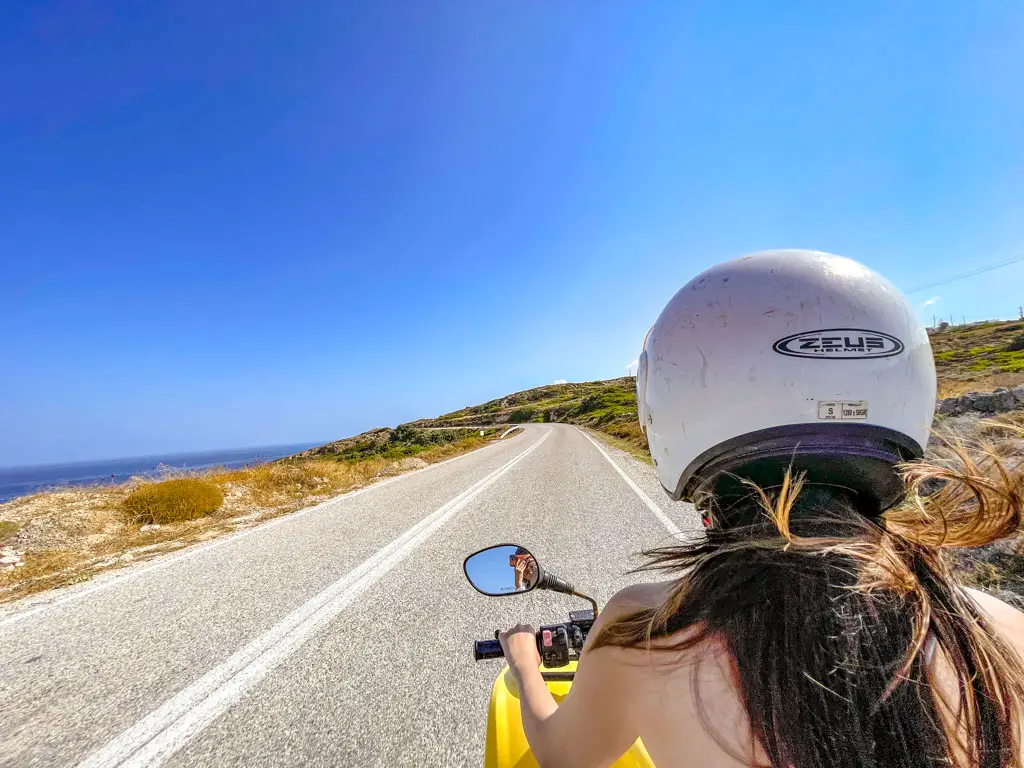 ATV is arguably the best option, but do be careful on the bends and drive slowly! Alternatively, you can join a tour take would take you around the island
The average price for rental is around 50 Euros, but expect it to basically double during the summer season. We walked around Adamas, the main port, to shop for prices and availabilities. Most of the reputable ones are booked out, and we ended up renting a 150cc ATV for one day for 95 Euros from Safari – Rent Motorbikes. You'd need:
International driving license
ID
There is no young driver's charge as long as you are over 18.
Here are some rental place recommendations:
Driving on Milos
Driving on Milos is are along occasionally steep and windy roads, especially when you need to go up the hills and down to the beach. There are some fairly windy roads, so it is a little dangerous.
If you're not an experienced driver, I'd advise against driving here!
Buses on Milos
Milos have 6 bus lines that connect the Adamas port to various villages and attractions:
Adamas – Triovasalos – Plaka – Tripiti – Katakomves
Adamas – Pachena – Papafragas – Flakopi – Pollonia
Adamas – Zefiria – Paliochori
Adamas – Hivadolimni – Provatas – Camping – Airport
Adamas – Sarakiniko
Adamas – Firiplaka – Tsigrado
This is the bus schedule from August 2022. The buses are more frequent in the summer season:
How is the WiFi/Signal on Milos?
The WiFi signal and data work pretty well on Milos. It works better than in Athens and there's no problem on the Adamas port. Don't expect the signal to last when you're on the road or on the sea as it does get spotty.
The important thing is to pre-plan your driving and navigation route.
Things to do in Milos
There are three main types of things to do in Milos: seeing the natural sights, the fishing villages, and the cultural attraction. But I'll group the attractions into locations:
Adamas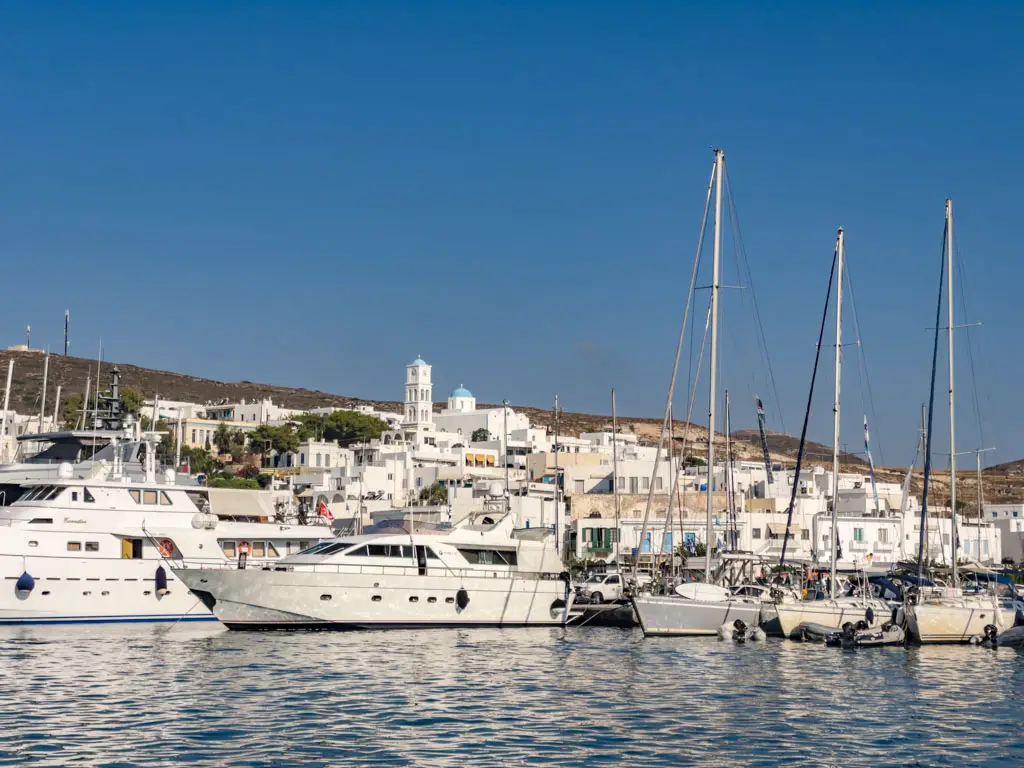 Adamas is the main port and therefore the largest town in Milos. There are a few museums and most amenities are clustered around here:
Agia Triada
The Church of the Holy Trinity looks like a typical church in this corner of Greece with its white walls and bell tower. But it dates back one thousand years and was renovated several times. The current iteration is 600 years old from Frankish time. Don't miss the courtyard's mosaics even if you don't have time to go in the church.
Ecclesiastical Museum
The Agia Triada (Holy Trinity Church) is also home to the Ecclesiastical Museum in Milos. The museum houses some rare icons, paintings, and epitaphios (wood-carved lecterns and stands).
Milos Mining Museum
The Milos Mining Museum was built in the late 90s to educate the public on both the mining and geological history of the island. It consists of two floors and a basement with a rich collection of obsidian artefacts as well. They have some geo walk maps if you're looking for recommendations.
World War II Refuge Museum
The World War II Refuge Museum is also just known as the bomb shelter. It's a former bomb shelter turn art gallery. Although it's a short and interesting visit, many note that it remains unopen during its advertised opening time.
Entry fee: 2 euros
Plaka
Plaka is the other main town on Milos and it's actually the capital of the island! It's high on the hill and only a short drive from Adamas (it's not walkable though).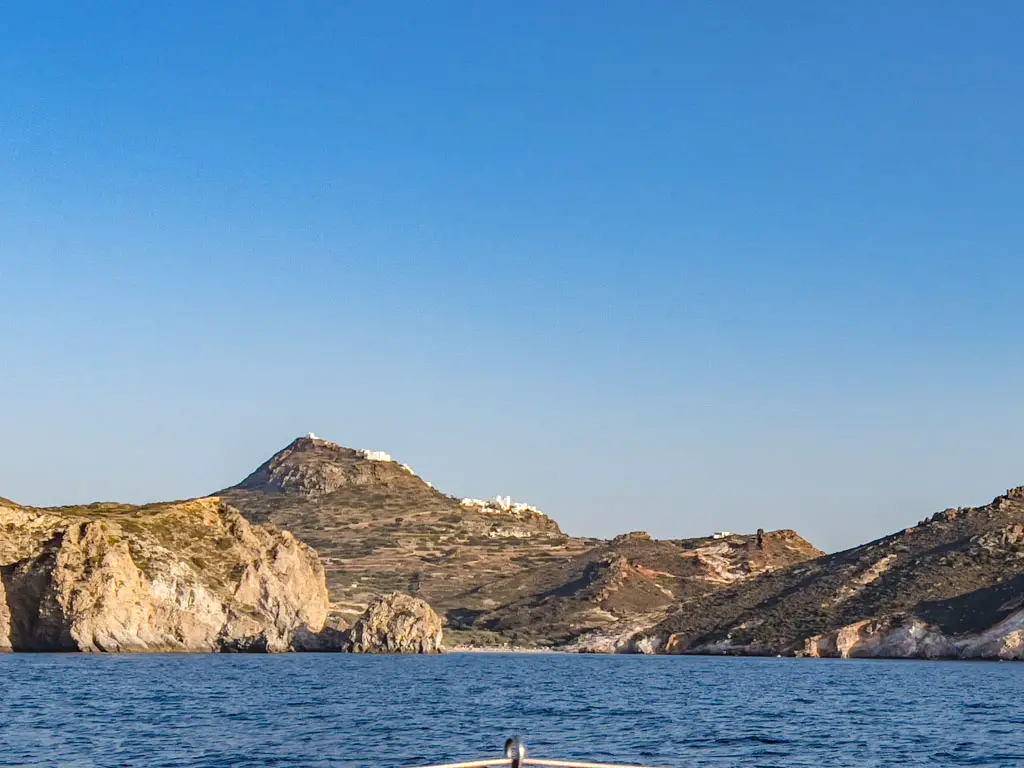 The town is arguably most famous for the Venetian Castle ruin. But if you take the time to explore the hilly settlement you'll find its charms as well despite being lost in its meandering streets. There are several museums for history buffs as well:
Note: the town has no-driving hours. The best thing to do is to park at the designated parking lot (well signposted) by the foot of the town and walk around. 
Plaka Castle (Kastro/Castello)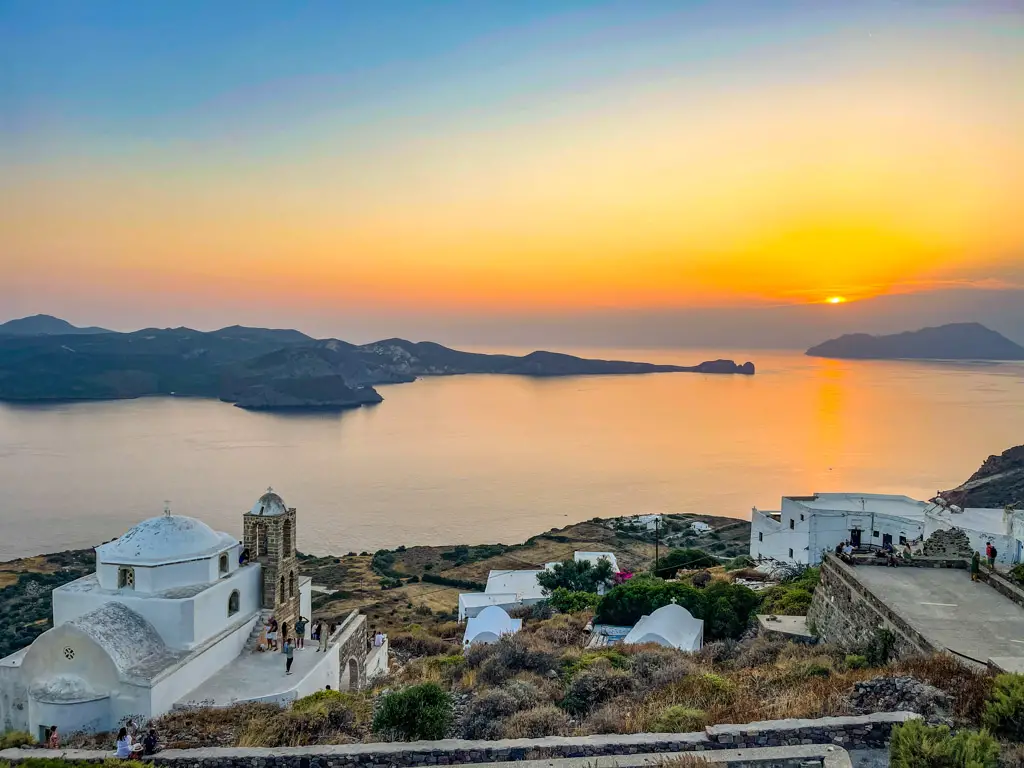 The Plaka Castle is also the Venetian castle, which is atop the hill at the highest point of the island. It was indeed built by the Venetians during their rule to fortify the village. There is a church on the hill just below the ruin which is the most popular photo spot for sunset.
The way to get up is a little confusing, which is typical of Plaka. There are two paths from the village to go up to the stairs. Neither of them is marked, but one is by a pretty archway-like house with a potted plant, and the other is at the very end of the street.
The stairs also split up here and there, but there is an arrow that vaguely points you up!
Panagia Thalassitra
Panagia Thalassitra is the name of the church that is just below the castle. What is most interesting about it aside from the location is that the bell tower frame is made from pumice, which is most likely mined locally.
Archeaological Museum Plaka
The Archaeological Museum in Plaka is the perfect place to learn about the history of Milos. It was established in 1985 in a neo-classical building in the town square. It's especially famous for the collection of Cycladic art and artefacts from the Bronze Age. There are 4 rooms in total and you can find a copy of the famous Venus of Milos statue here! 
Address: Plaka 848 00, Greece
Opening times:  Sun – Mon, Weds – Thurs 8:30 – 15:30; Fri 14:00 – 22:00; Sat 9:00 – 22:00
Admission fee: 2 Euros
Folklore Museum
The Folklore Museum in Plaka is a small museum established in the 60s to showcase life on Milos. It covers the way of life, traditional costumes, and household life from the 17th century until now. It's next to the Panagia Korfiatissa Church, which means you can see both in one go!
Note: it's temporarily closed as of Nov 2022
Panagia Korfiatissa
Aside from Panagia Thalassitra, there is also another church in Plaka. Panagia Thalassitra is along the main street of town along the cliffside with an intricate mosaic and the classic plaka pavement in front.
Sarakiniko Beach
Sarakiniko Beach does not only sound pretty, it is the most beautiful beach on Milos on the north coast. Calling it a beach might be weird because the area is made from limestone cliffs that formed during a period of volcanism on the island.
The erosion has formed strange arches and pillars on the beach and the lack of vegetation gives it a moon-like quality. The area is huge and the most famous spot is an archway that guards a small rock pool where people like to cliff jump and swim back up.
But if you walk further, you'll be rewarded with a crowdless cliff. There are quite a few people waiting for sunrise, but a lot of them leave immediately after and we got the place to ourselves until after 8 am for an hour or so.
Note: the rocks are smooth to walk on for the most part, but if you plan on cliff jumping, wearing wetshoes is a must.
Papafragkas
Papafragkas is a narrow cove on the northern coastline of Milos known for its turquoise water. To get there on land, you'll have to look out for the small parking lot entrance on the way from Adamas to Pollonia and then hike down a steep path.
There is a little beach at the base of the cliff but it's more dirt-sand than sand. But the cove itself is beautiful with shallow water, perfect for photos and swimming!
Here is what the car park would look like so you can find it!
Sikia cave
Sikia Cave is an open-roof cave on the east coast of Milos Island. It's famous for the narrow entrance that's only 5m high and 20m wide. Only half day or full day boat trip to Sikia and Kleftiko would take you inside on a small boat.the other boat trips all only stop at the entrance.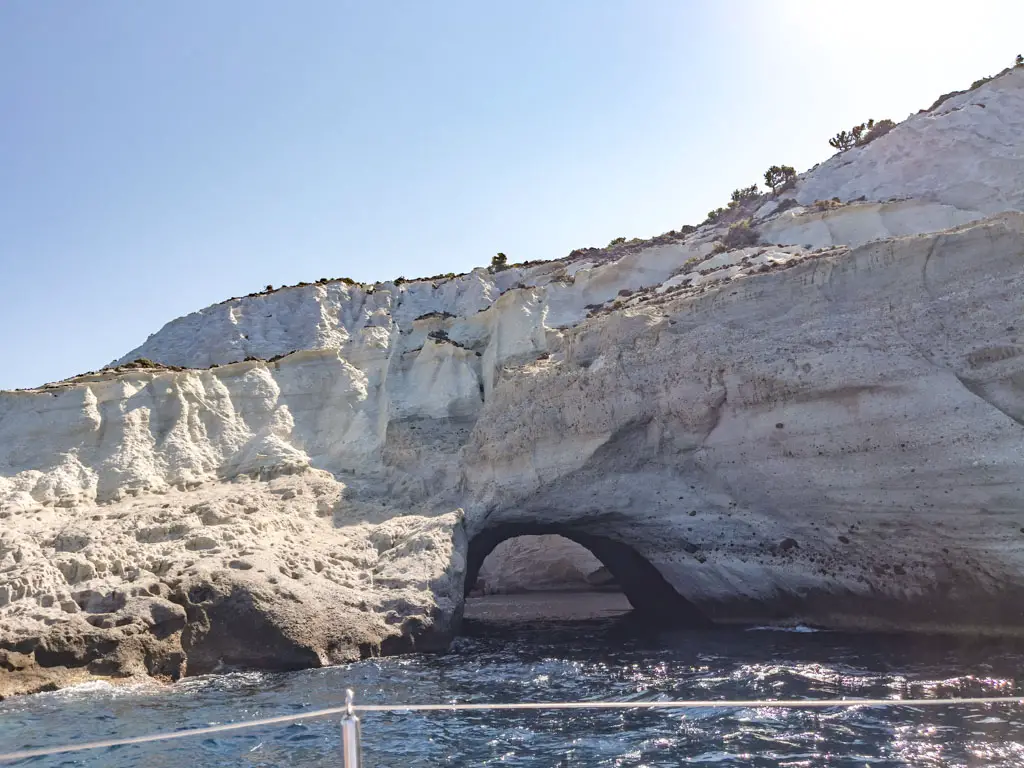 It is most famous for its open roof view with a small beach on one corner.
Even if you can't go in, you can admire the Santorini lava as well as chalk and tuff layers.
Kleftiko
Kleftiko is also known as Bandits' Lair and is a cove with numerous limestone and chalk pillars and crystal clear water. You can only get there by boat, which is why it made for a great place for pirates to hide.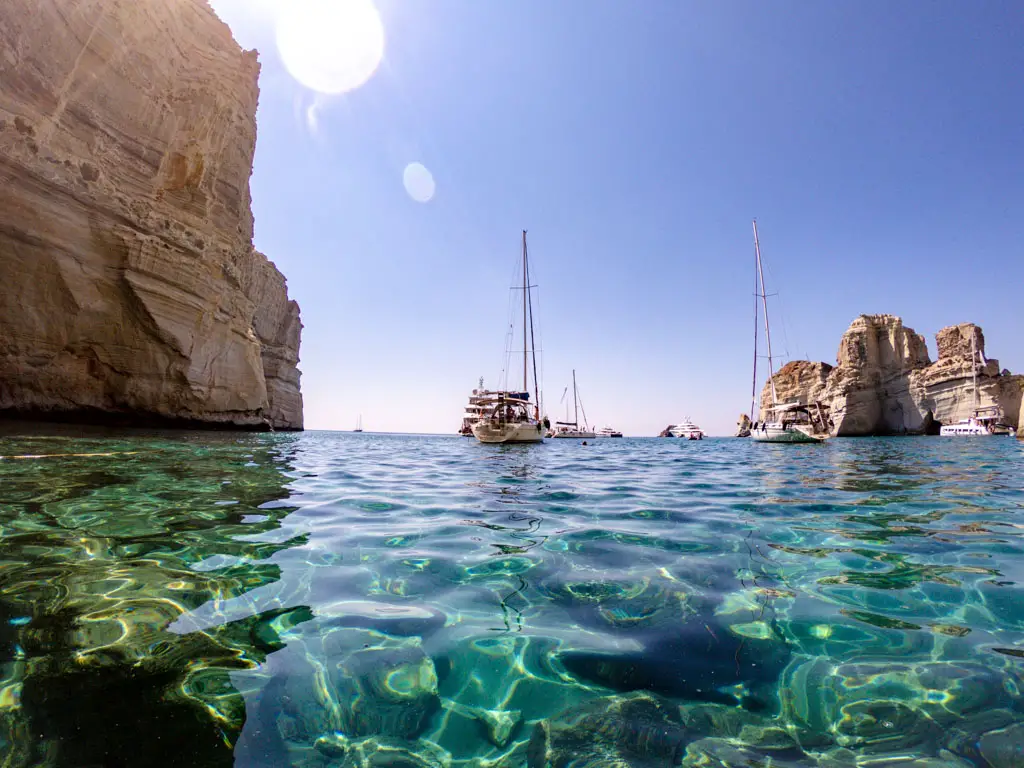 It's a great place for swimming and snorkeling!
Gerakas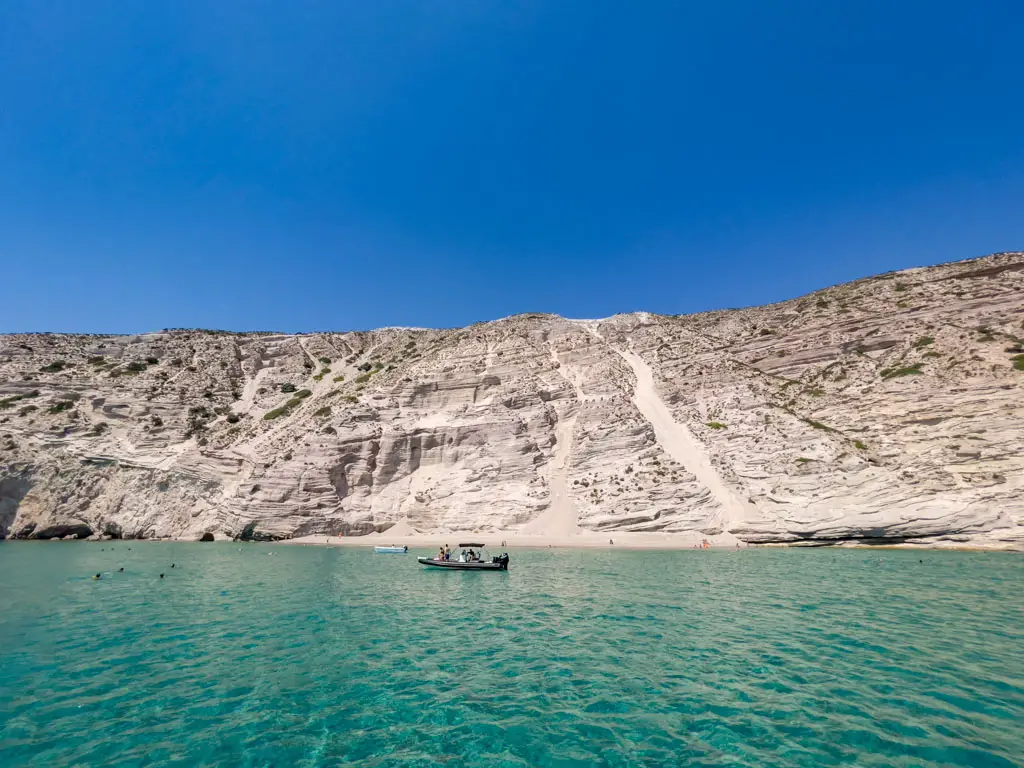 Gerakas might be referred to as a beach, but it's more of a dramatic limestone cliff with several small landslide trails that collects into a small bank of sand. It contrasts beautifully with the turquoise water, which seems more green here and looked like molten glass.
Again, this is not accessible by road and only via the sea route.
Tsigrado Beach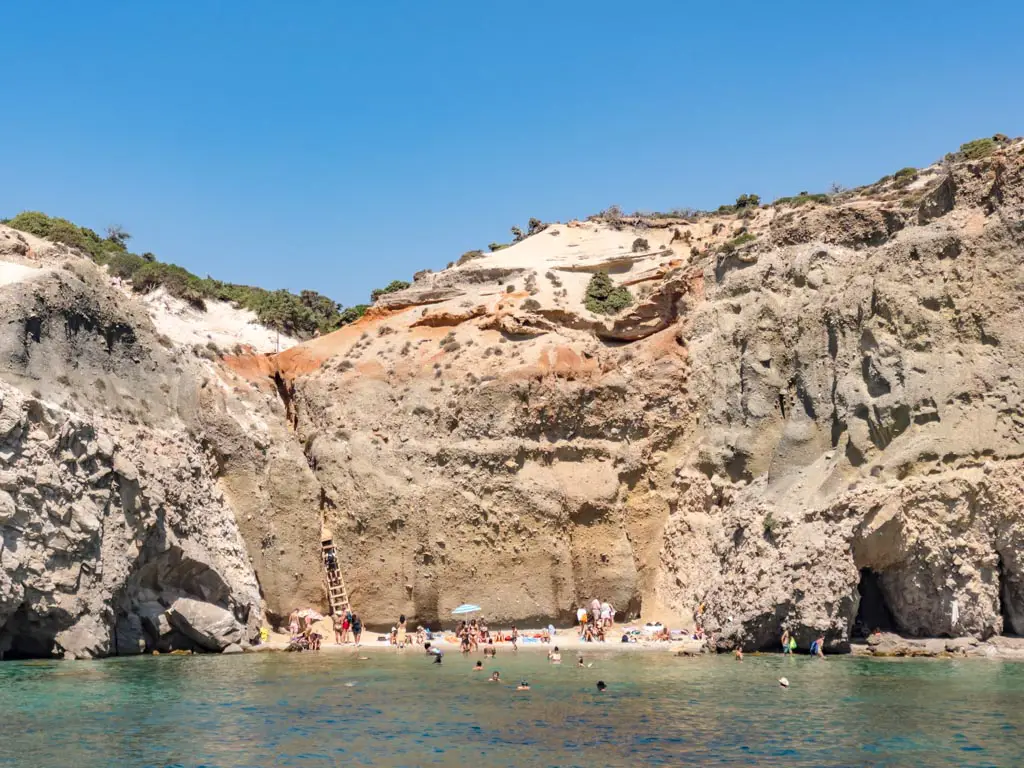 Tsigrado Beach is most famous for its inaccessibility on the south coast of Milos. The way down is only possible on a long ladder and the beach itself is relatively small. The drive there is not too short from Adamas, so we only saw it from afar on a full day boat trip. 
Thiorichia Beach (Old Sulfur Mines)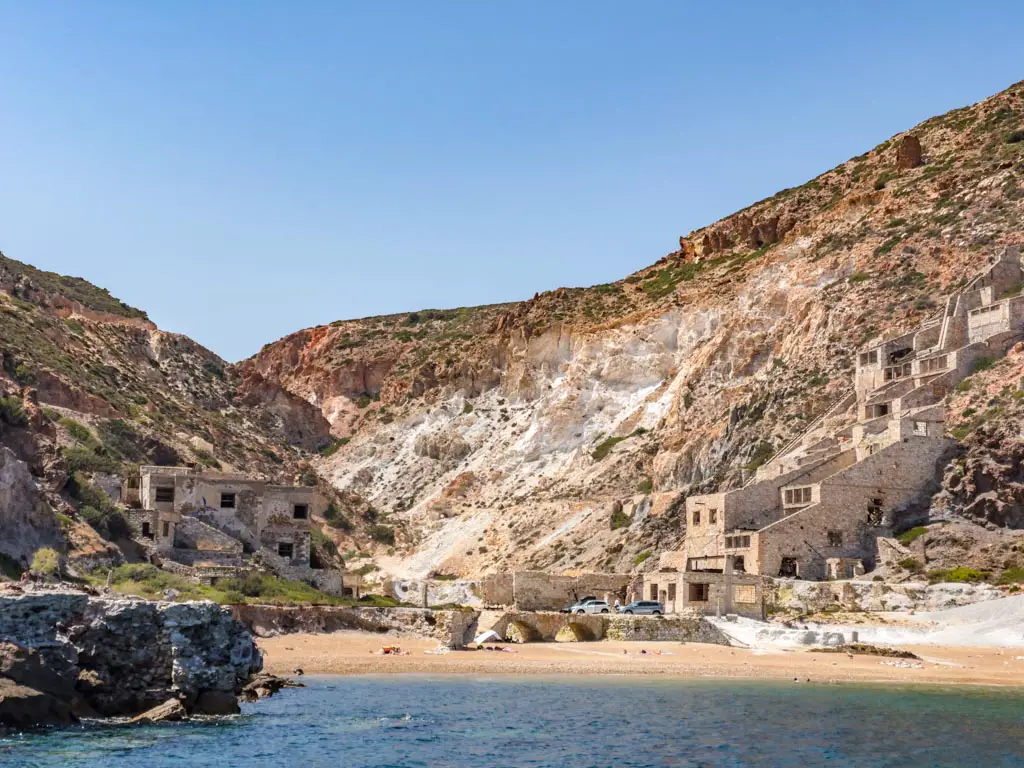 The Thiorichia Beach is home to the old sulfur mine of Milos on the island's east coast. While sulfur has been mined around the region since antiquity, this mine started in the mid-19th century and stopped in the 60s.
Now, the mine has been abandoned and you can see the abandoned building and the telltale red and yellow tint to the cliff. Given that the buildings were not protected or preserved, it's best to just to look at it and not attempt to climb it.
Note: driving there is along a small dirt road, so it's only accessible on ATV or a jeep.
Poliegos
Poliegos is an island on the northeast side of Milos and an uninhabited island known for its unbelievably blue water. Interestingly, the name of the island means many goats, as it is where farmers leave their goats for pasture.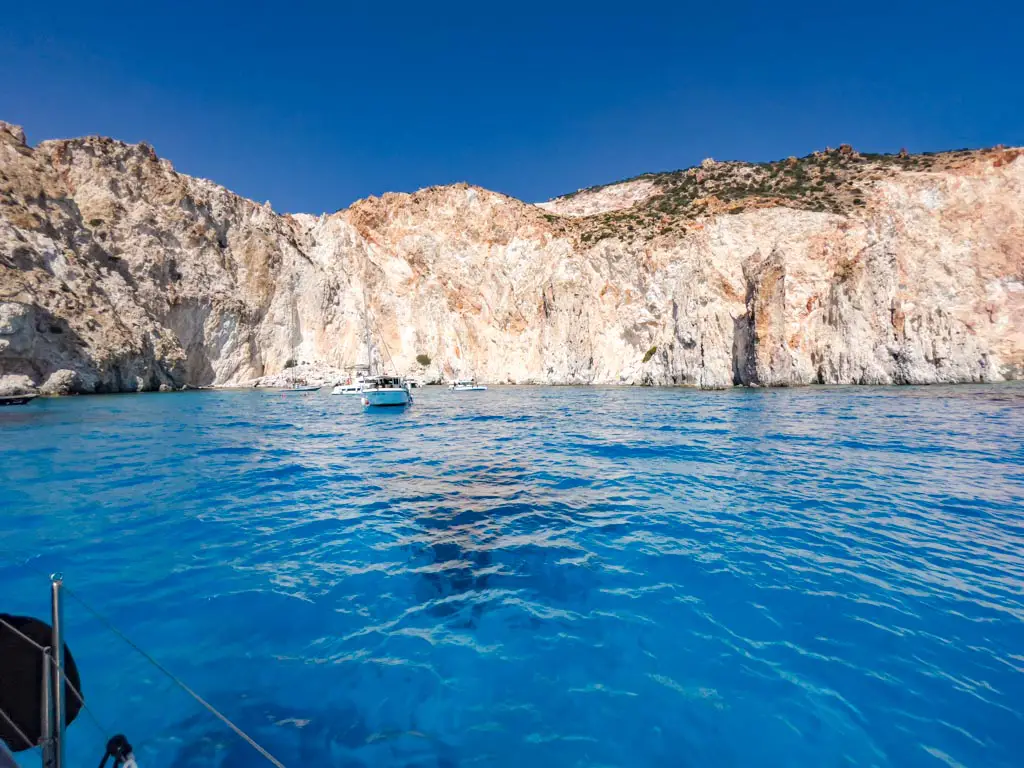 The blue water is surrounded by white cliffs making it a perfect stop for boat trips, which is the only way to visit the island.
Explore Fishing Villages
There are some picture-perfect fishing villages around Milos and it's worth visiting to get a sense of the local life and also for some amazing photos. In fact, some of them remind me of Cinque Terre with their colourful houses, except they are even smaller!
Klima 
Klima is a small village most known for the stripe of white houses with colourful doors right by the sea. But did you know that this was the ancient harbour of Milos during antiquity?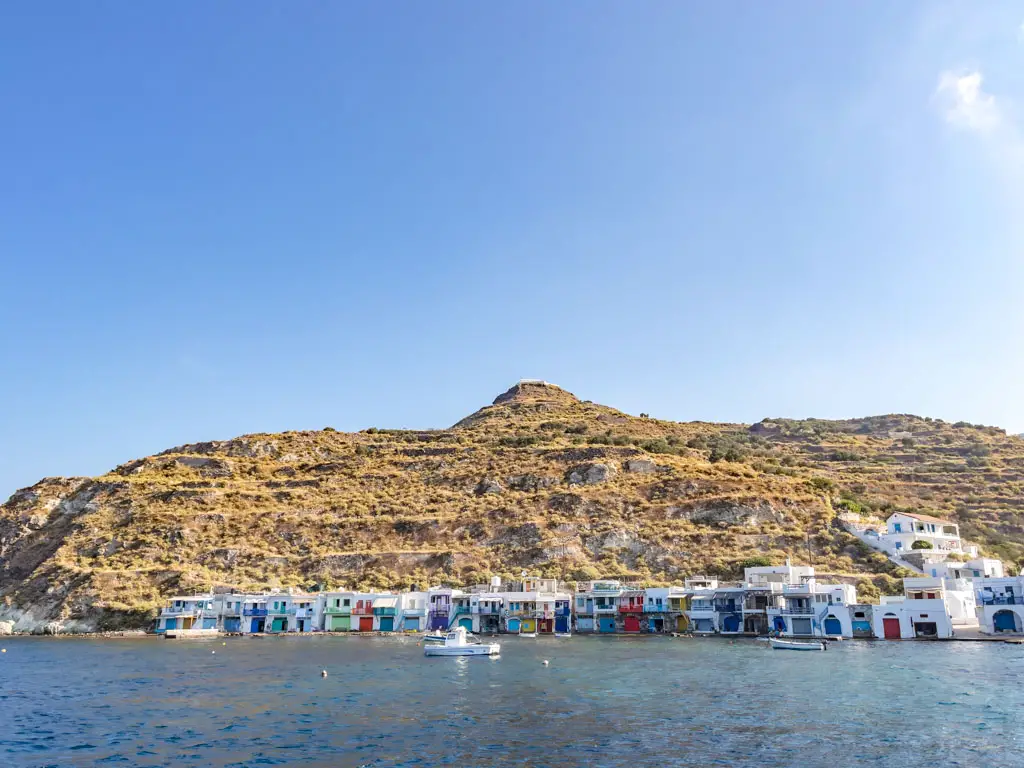 Do note that the pavement in front of the houses is narrow with concrete jetties jutting out. It can get very slippery and crowded.
Personally, I was fairly okay with taking photos of it from our boat trip.
Mandrakia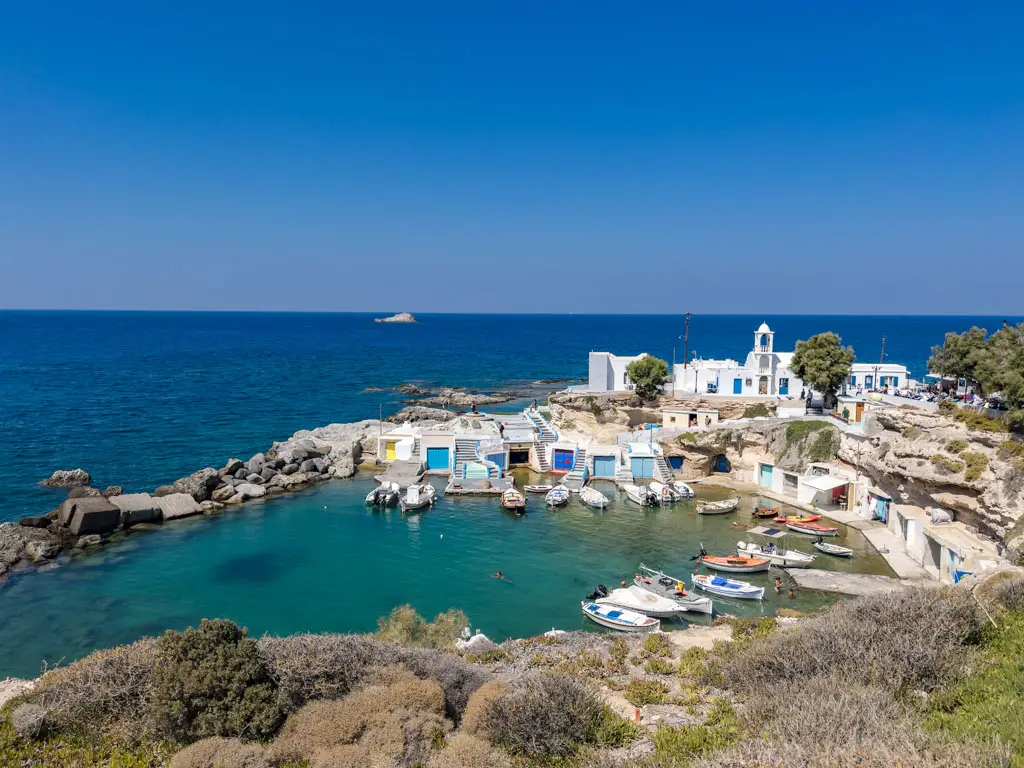 Mandrakia reminds me of Vernazza of Cinque Terre. It's a bigger fishing village than Klima that is spread over a headland with a small nature harbour. From the car park, you get the perfect view of the ring of houses and fishing boat.
It is also famous for the Medusa Restaurant which is often crowded and it's best to make a reservation when visiting during high season. We didn't get to eat there but we saw the octopus drying on washing lines. It's not too far from the church in the small town square, so you'll be sure to see it.
Across from the village is the Tourkothalassa Beach, which has the signature turquoise water of Greece.
Firopotamos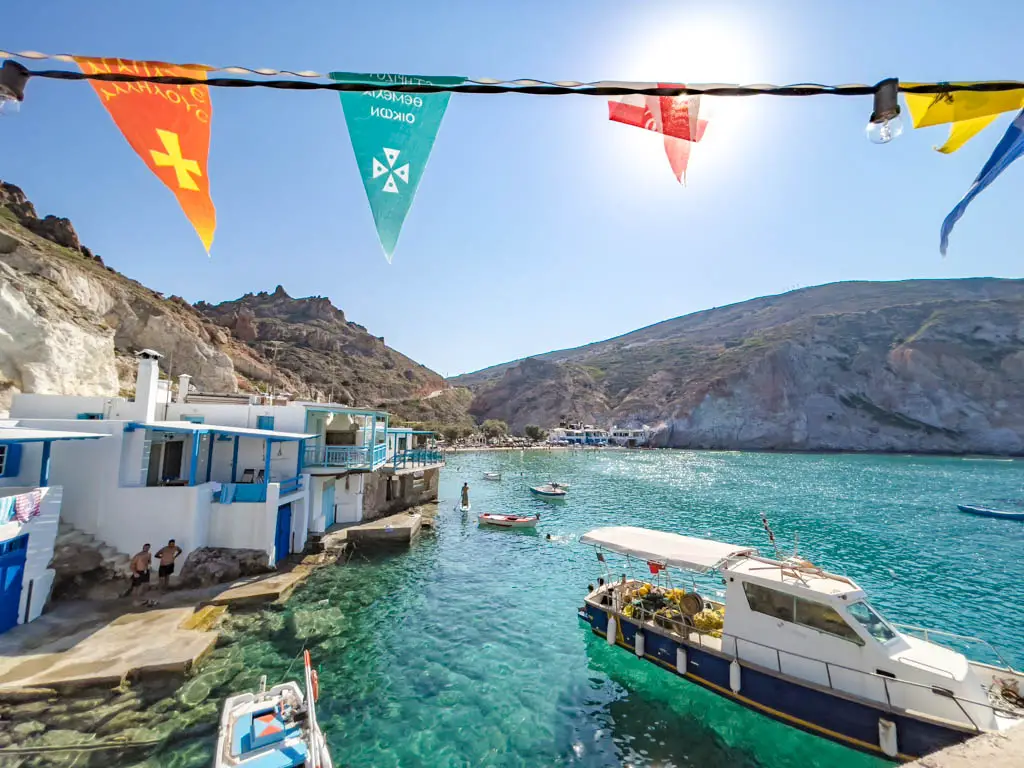 We visited Firopotamos on a friend's recommendation and it was a gorgeous village and the biggest of the three. It's towards the northwest corner of Milos and the road to get down is very steep and parking difficult.
That said, I do enjoy the village the most because not only is there a beach, the church across on the far end is surrounded by dramatic volcanic rock!
Don't miss the Agios Nikolaos, which is the best place to look back at the village and the dramatic mountain.
Catacombs of Milos
The catacombs of Milos is right by the Trypiti village and an early-Christian monument that dates back to sometime between the 1st to the 5th century. It is not only a burial site but also a place of worship and a safe refuge from Roman prosecution.
Three sections have been uncovered, but visitors can only access section B.
Opening times: Weds – Mon 9:00 – 18:45
Admission fee: 4 euros, 65+ 2 euros, Free to EU student
The Ancient Theatre
The Ancient Theater is near the catacombs and makes for a good combined trip. It's an open-air structure that hosts summer theater festivals. It is not kept in good condition, but it's worth a stop if you're already nearby.
Have some amazing seafood
Since we're on an island, seafood is definitely a must. Since we had a tight schedule, we didn't eat in as many places as we'd like, but here are the places we like in Adamas:
Volta Restaurant
Yankos cafe restaurant
Barko Restaurant
Milos Itinerary
While we didn't do everything on the list, we tried our best and here is a 4-day Milos itinerary that is part of our Greek island hopping trip:
Day 1 in Milos
We arrived in Milos at 2pm, so we walked straight to our Tilomachos Studios to check in.
Lunch and pick up rental car
After checking in, we went into town for some gyros at Gyros of Milos by the port. It took us a while to find a decent rental place,but if you have pre-booked, head straight to Plaka.
Alternatively, you can get a bus or even a taxi to Plaka.
Plaka: Museums and Castle sunset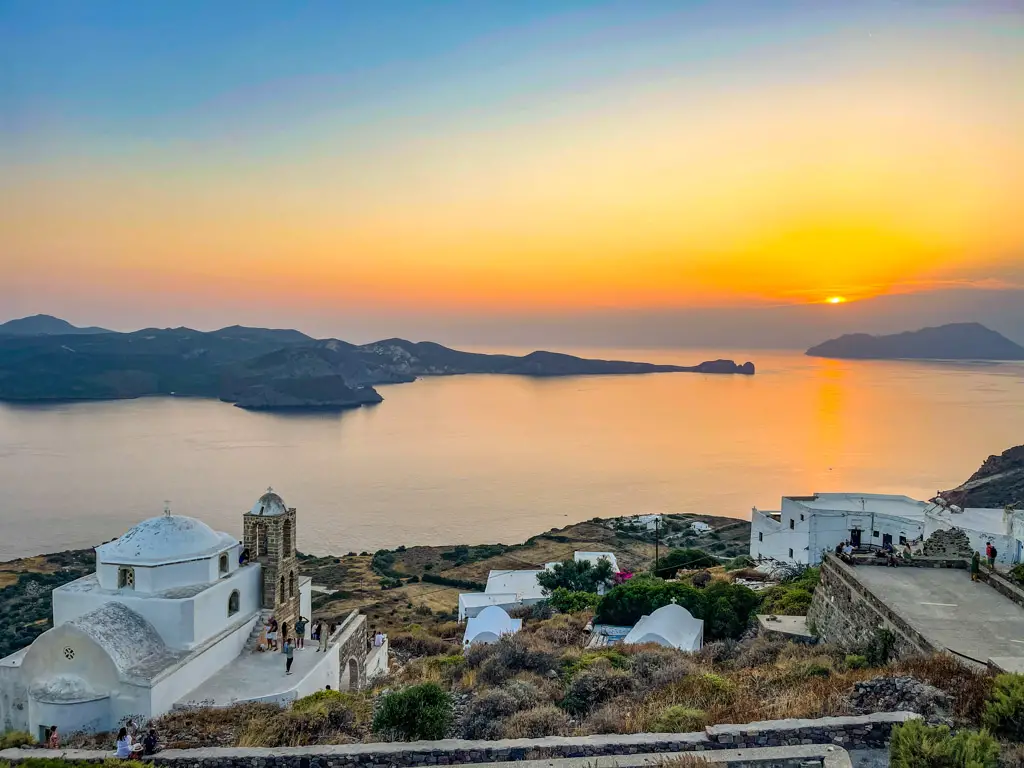 Plaka gets increasingly busier as the time approaches sunset, but not so much before that at 3-4pm. You can see one of the museums (or two) before heading up to the castle for a sunset view.
Dinner at Volta Restaurant
Day 2 in Milos
Day 2 is a jam packed day for us because we drove around chasing photospots. You can take it easy but if you on'y want to rent a car for a short time, then it's a good one to follow:
Sarakiniko sunrise
We got up early and drove to Sarakiniko for sunrise. It's absolutely beautiful and worth it if you want to see the colours.
Papafragkas
From Sarakiniko we headed to Papafragkas. I wouldn't say it's a good place to suntan, and it got really hot, so we headed back to Adamas.
Lunch at Yankos cafe restaurant
If you can, head straight to Mandrakia and eat lunch at Madusa restaurant. We needed a nap and a siesta, so we had lunch at Yankos Cafe back in Adamas. But the shrimp sanganaki pasta was good.
Siesta
If you're visiting during the summer, I recommend taking a siesta because it can get incredibly hot. You can always pop by a beach if you prefer!
Fishing village hop: Mandrakia and Firopotamos
Explore the two fishing villages before returning the car rental – we only used ours for one day and returned it at 6:30pm.
Dinner at Barko Restaurant
Barko restaurant was recommended by a local friend and a nice little place with outdoor seatings. The portion sizes are generous and there are also lots of cute cats.
Day 3 in Milos Full Day Boat Trip in Milos
We decided on booking a full day boat trip in Milos which would take us past all the major attraction on the coastline, even if it doesn't stop everywhere.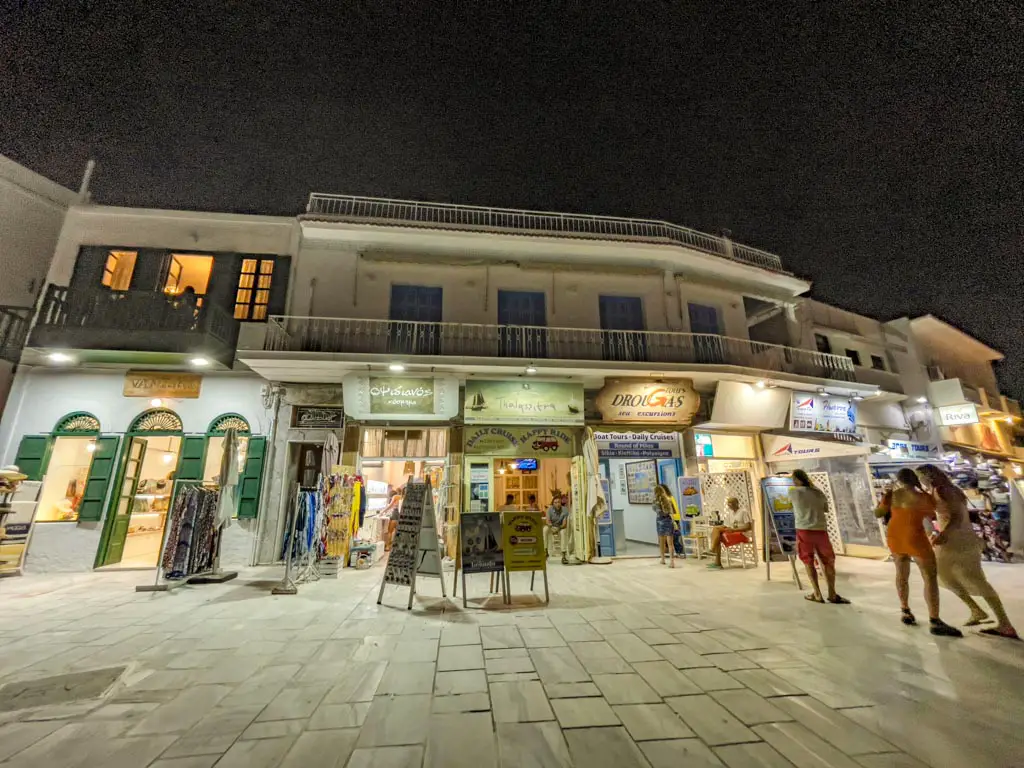 After shopping around (which does take up valuable time), we settled on Aquattica. All of them are similar in itinerary and offering, but Aquattica had the cheapest price and also cater to dietary restrictions.
Here is how the day out looked:
We met in front of the company's office at 8:40 am, then leaves at 9am on the boat.
Klima village – we headed out and saw the famous village first, we also got close to the volcanic red rocks
Sikia cave – didn't go in but saw the Santorini lava as well as chalk and tuff layer
10:30 we had breakfast – which was chicken wrap with ham. Because my friend can't have that, she got a salad
Kleftiko – we arrived at 11 for some swimming
Gerakas – also where we had lunch. It was a delightful chicken dish with a couscous salad side.
Sulfur mine and Tsigrado Beach – view from the sea!
Poliegos – it was surreal to swim in the blue water!
We also saw Sarakiniko from afar – and the sailing boat was nice although it is a little more crowded than I'd like.
Dinner and pack
We had gyros again and spent the night packing and relaxing!
Day 4 in Milos
Our ferry for Ios left at 6:20am, so it was a very early checkout for us.
Best place to stay in Milos 590/22
Where to stay in Milo? I recommend staying at the Adamas Port unless you've planned in advance to rent a car and drive for the whole trip. The other suggestions would be Plaka or some boutique hotels on the island:
Adamas Accommodation
Budget: We stayed at Tilomachos and were very happy with the room and location. Christina Rooms are further from town but have really lovely rooms.
Midrange: Milos Inn is in the center of Adamas with well-appointed bedrooms. If you prefer studios, Moschoula Studio and Eris Studios are both great.
Splurge: Casa Aiora is an entire apartment with a garden and terrace, suitable for friends and family. Acro Solium Suite is one of the best reviewed option in the port town.
Plaka Accommodation
Splurge: Sunset Nest is a one bedroom apartment in the heart of Plaka with a rooftop terrace. 
Unique Milos Hotels
Budget: Panorama Hotel in Klima makes for a great stay in a small fishing town.
Midrange: Villa Windmill is a unique option with windmill in the center of the island. 
Splurge: Hotel Milos Sea Resort has a private balcony and pool villa rooms, but you'll have to drive to get around. Volcano Luxury Suites Milos is by the south coast with great staff and near the beach.