Geneva is the second biggest city in Switzerland with an international airport, many based their trip here and take day trips out to see the nearby region, including the lovely Swiss Rivera, via the effective trains. Since it is at the western edge of Switzerland, you can reach both France and the rest of Switzerland easily. Here are some day trip ideas for you:
Day trips from Geneva
Montreux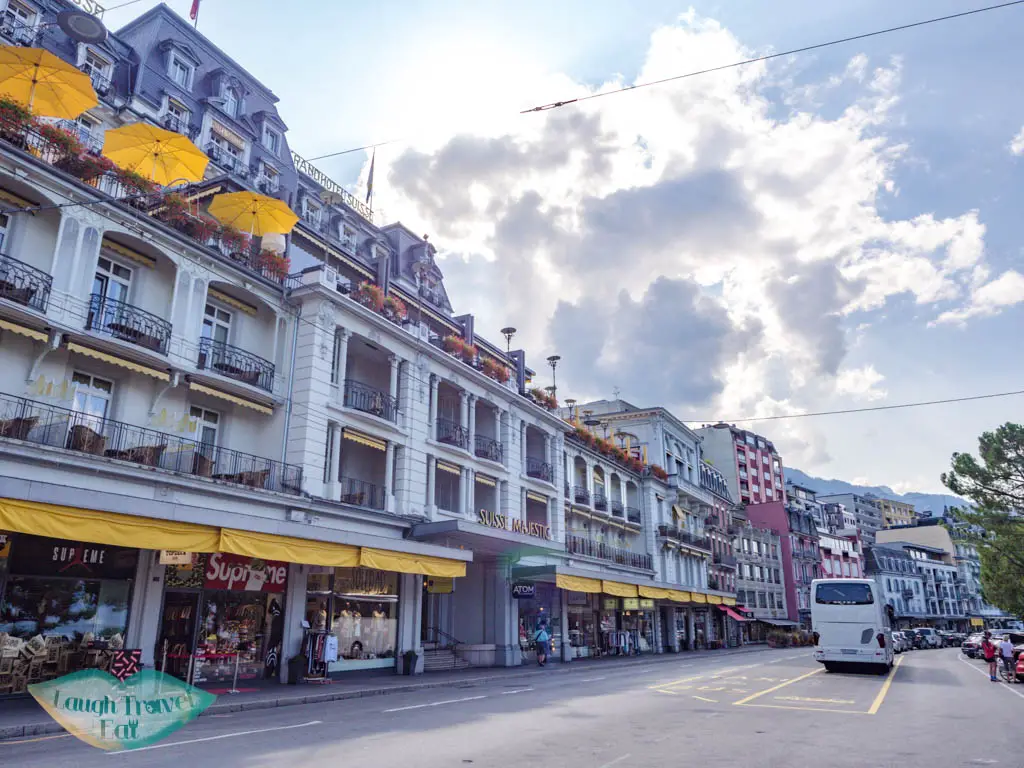 Just an hour's ride from Geneva is Montreux, a beautiful town that's the start of the Golden Panoramic Pass as well as part of the Swiss Riviera. It was an important Roman town which later became a prime wine growing region. There is a Co Op by the right of the station if you need to grab a bite on the cheap, and there is free bathrooms by the ticket office at the front.
The Riviera Promenade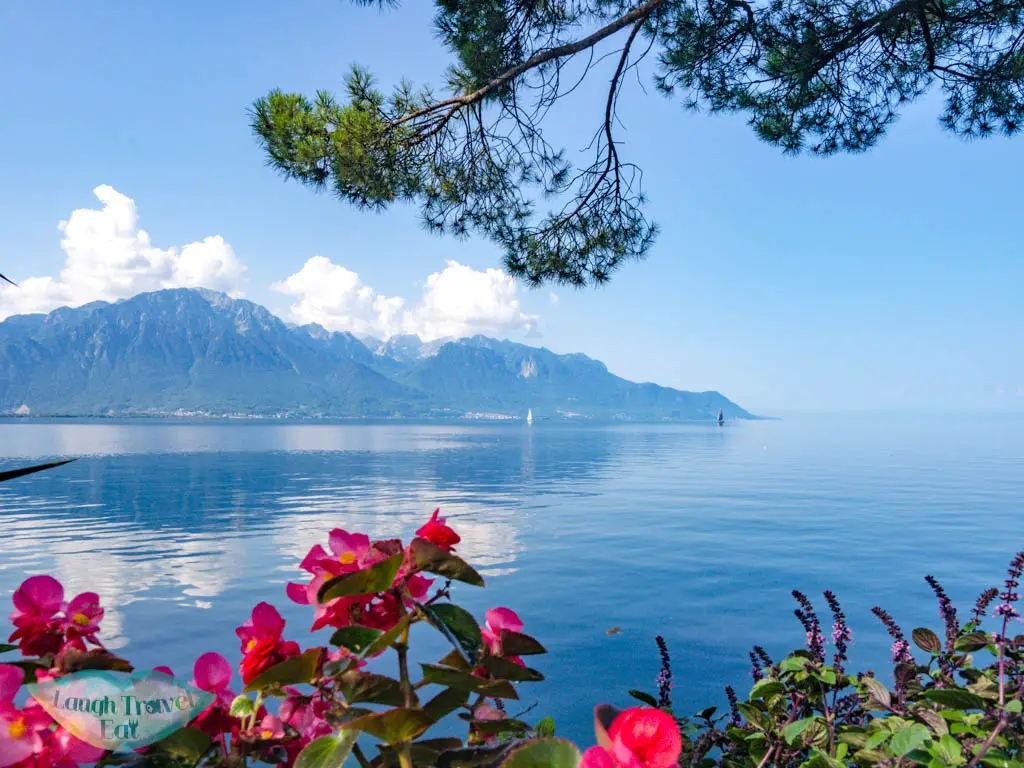 From the train station it's only two blocks down to reach the Riviera Promenade fronting Lake Geneva. Lined with flowers and the serene view of the lake. There is also a statue of Freddie Mercury and the ferry port, too.

Rochers de Naye

A 2,042m tall mountain that stands between Montreux and the basin behind it, Rochers de Naye is a great place for nature lovers since it offers stunning vistas and many hiking trains, and is accessible by a train that goes almost to the top.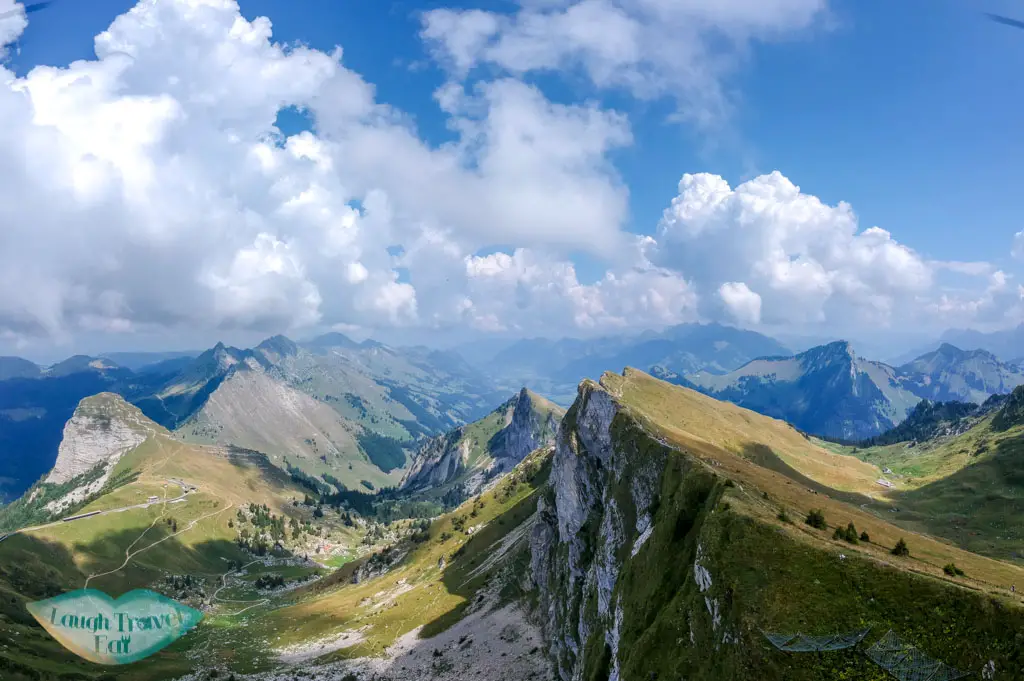 A train every hour at 17 minutes past from Montreux station and tickets purchased by the MOB platform not the front of the station
Cogwheel train up to Rochers de Nayes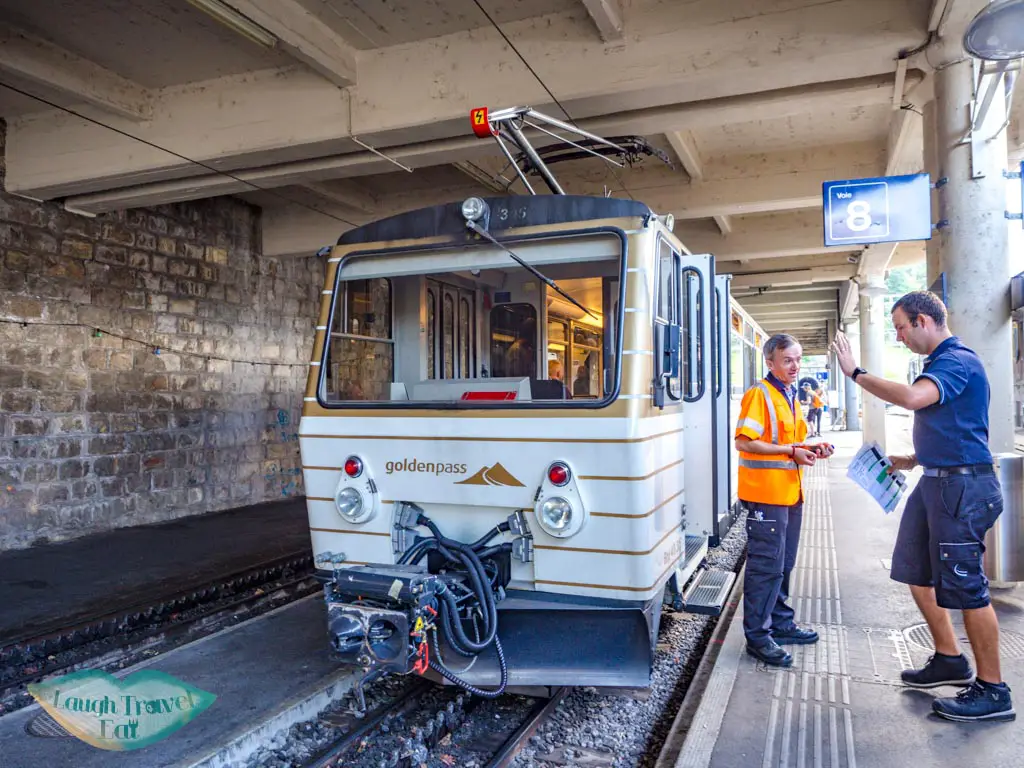 The train up to Rochers de Nayes departs on platform 8 in Montreux Station every hour at 17 minutes past. It's a small, two carriage affair so it's best to arrive early to snag a window seat. The train has a total of 14 stops, the distance between each station isn't long but fairly steep.
The train snakes up the mountain so you can sit on both sides and still enjoy a view. The platform side sees the lake going up initially but from Valmont to just before Caux. I recommend sitting away from the platform since it gets both mountain and lake view. The journey up takes 49 minutes, and departs from the top at 11 minutes past the hour. But it tends to run a little late on the ride down.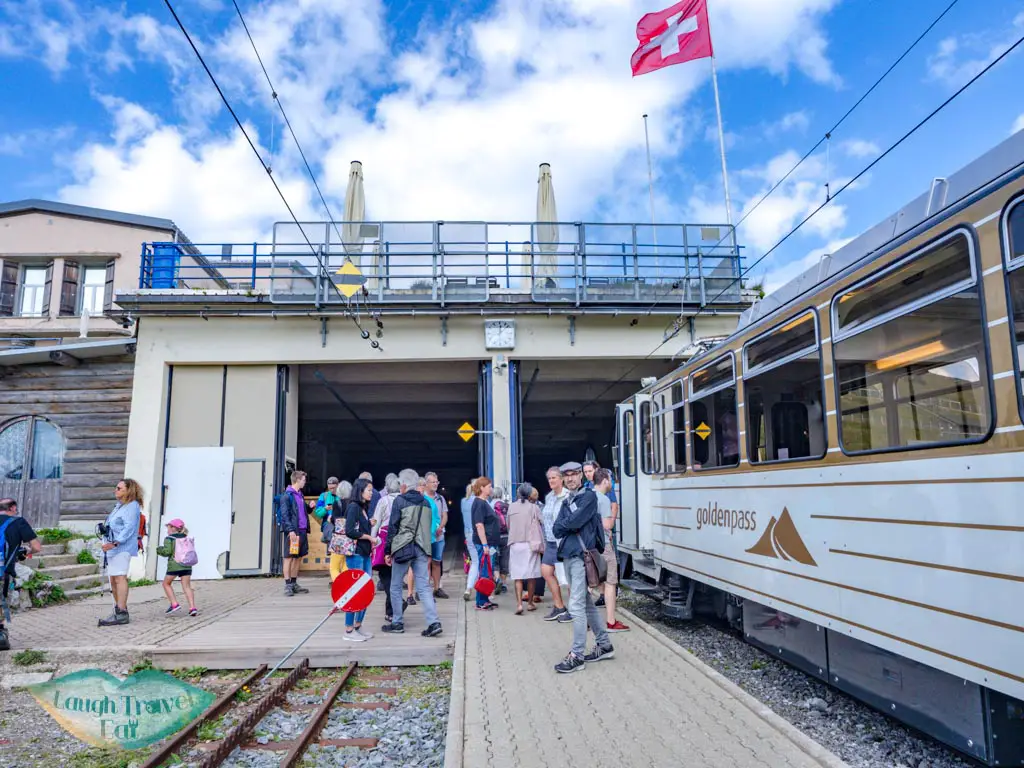 Note: if you haven't purchased tickets already, you can do so at the MOB counter by the tunnel going up to platform 8, and not the front office counter. Swiss Travel Pass holder gets 50% off.

Return fare: Adult CHF 70, under 16 CHF 35, CHF 26.5 for Swiss Travel Pass holder
Alpine Garden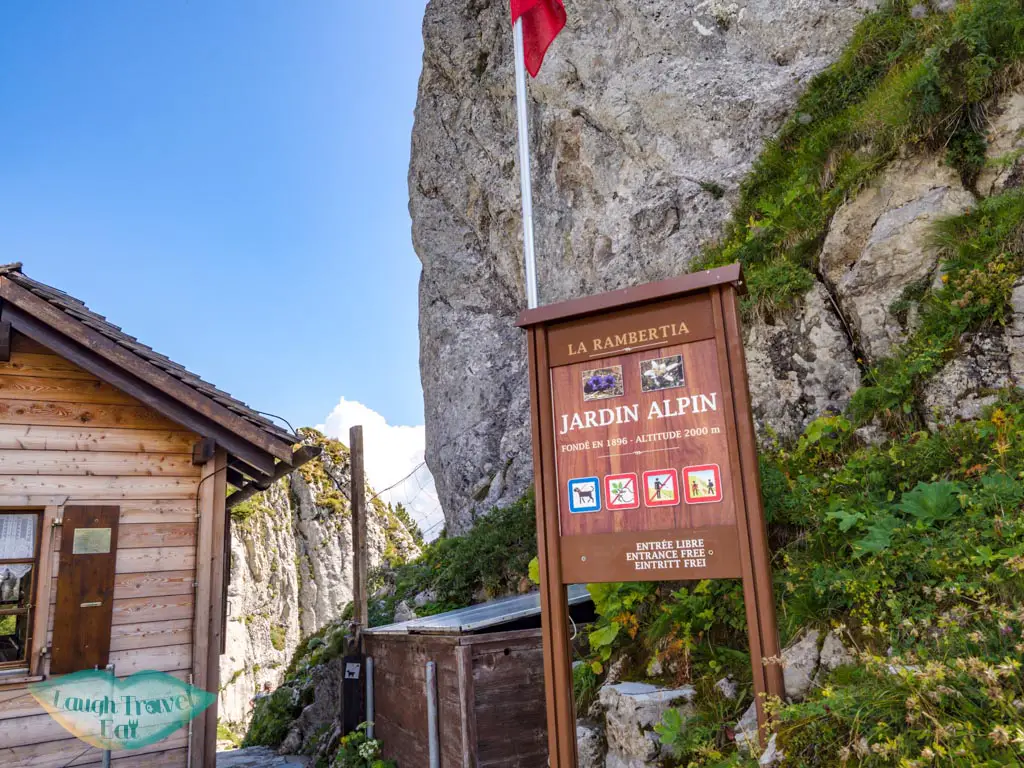 For those who want to look around without too much walking, the walk from the station to the Alpine Garden offers excellent view and is generally flat.
There is a Nepalese stupa gifted by the Nepal Government enroute, as well as a picnic area.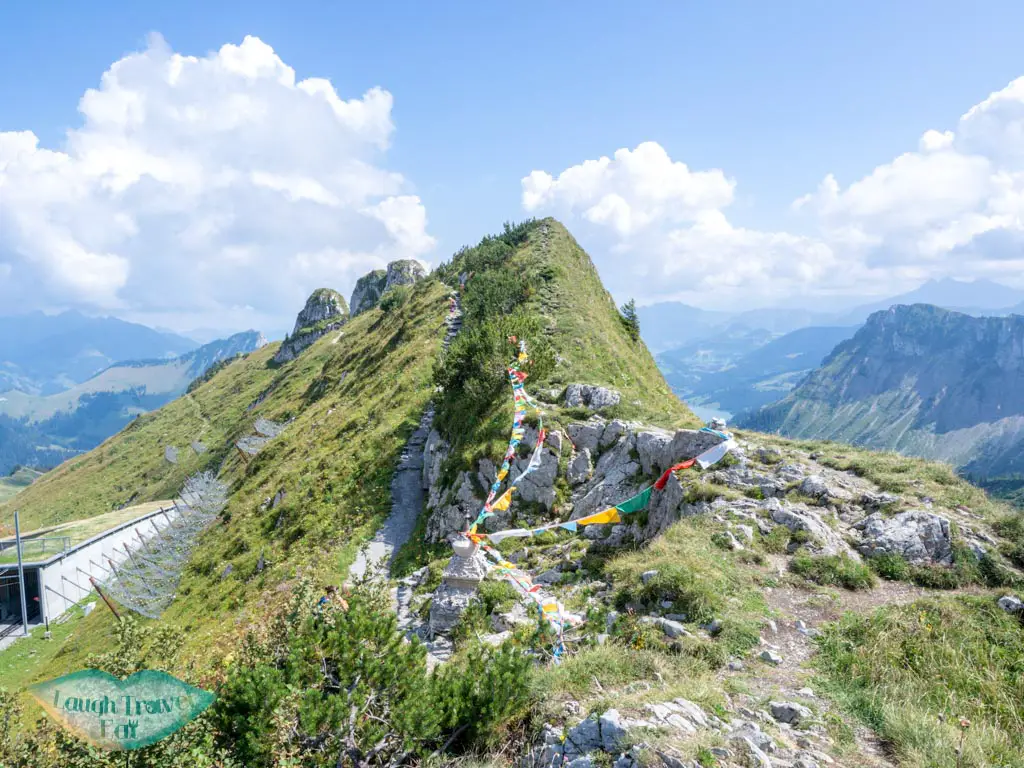 The highlight, in my opinion, is the view when you look back, but the Alpine Garden is a cute place that's reminiscent of a much smaller version of Exotic Garden in Eze.
Hiking around Rochers de Naye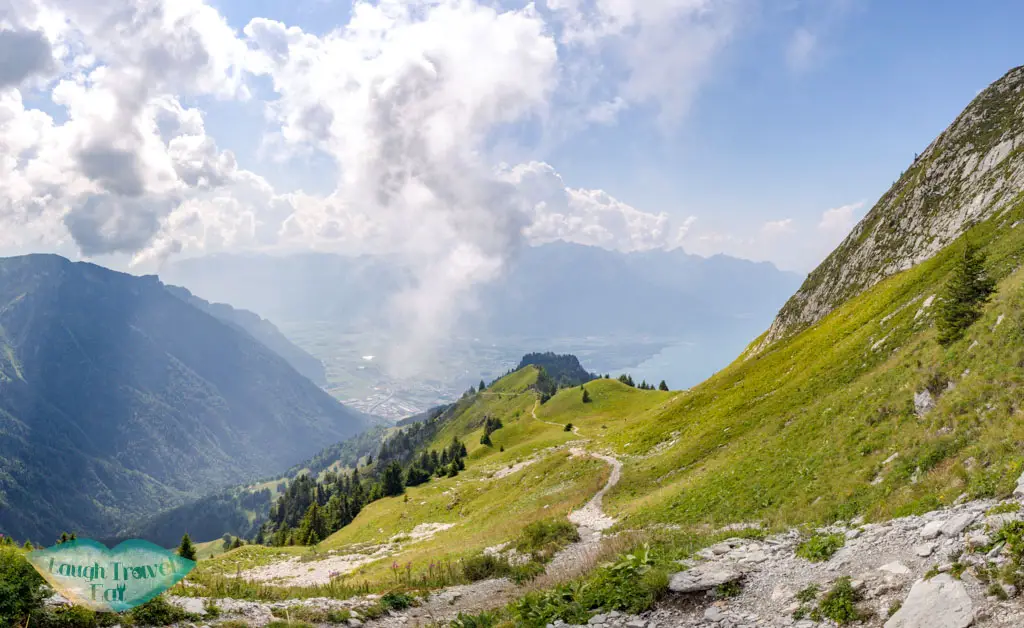 There are perhaps too many hiking options between Montreux and Rochers de Nayes, since you can hike the entire stretch yourself.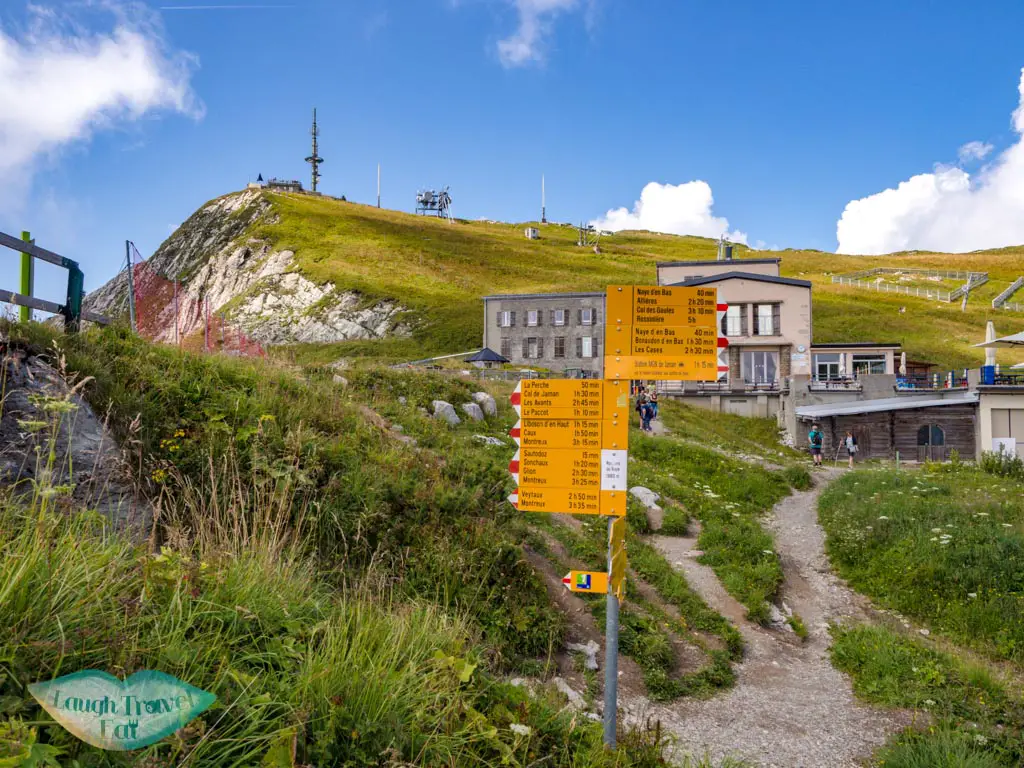 The signs are well marked and you can easily pick a trail to any one of the stations in between and hop back on.
I ended up descending one stop and enjoyed the nature without anyone else. However, the scree slopes wasn't easy to hike down and requires good footwear.
Via Ferrata
Rochers de Nayes has a Via Ferrata (assisted climbing route) that's renowned for its stunning view as well as its difficulties. It starts at Jamon station and you can find more information here.

Chillon Castle
A fairytale rust-and-stone castle perched on a rock by the shore of Lake Geneva, Chillon Castle is situated at an ideal geographical location that control the passage towards France and Germany to one side and Italy to the other.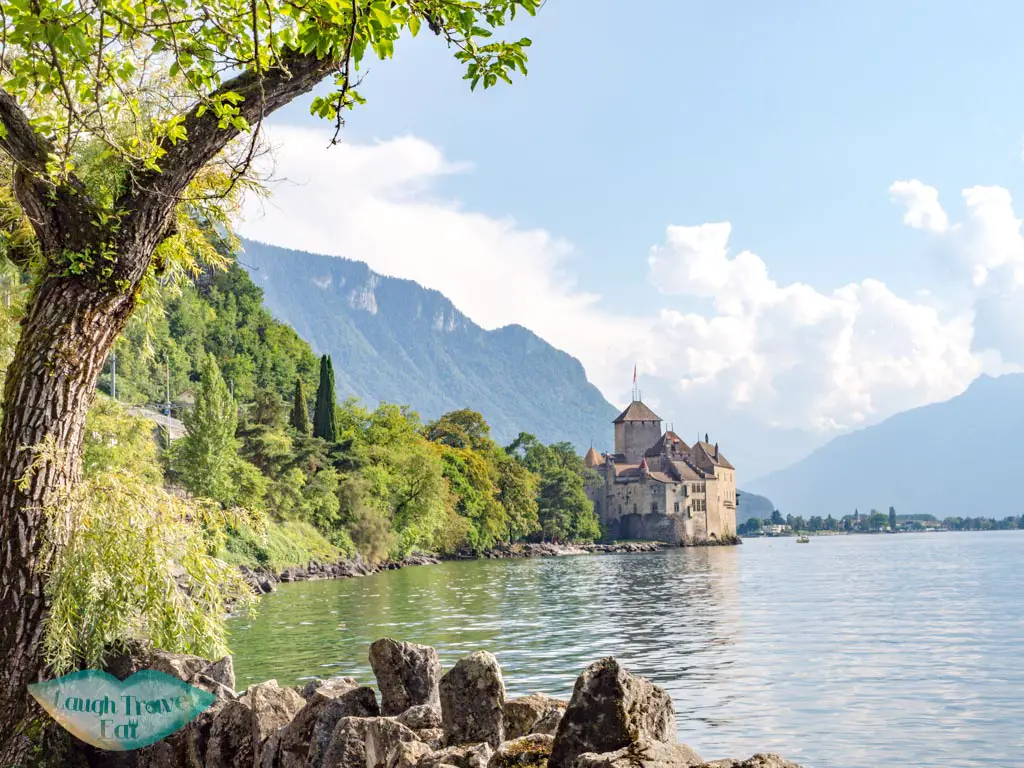 It is believed that an outpost already existed in Roman times with occupation signs dating as  far back as the Bronze Age. But the castle as we know it today was mentioned for the first time in the early 11th century under the Savoys. It was then occupied by the Bernese between 16th to 18th century, then the Vaudois. The most famous use of the castle was as a prison, with the poem The Prisoner of Chillon by Lord Byron.
The castle was restored throughout the 19th century. The basement is surprisingly airy and spacious, and you can get an audio guide (CHF 6) or use the route provided on the map for a self guided tour.
You can visit Chillon Castle on its own combined with Montreux or one of the other beautiful lakeside towns. It's a short bus ride from Montreux station and you can also get a train to Chillon which is also a few minutes from the castle.
Admission: Adult CHF 12.5, children CHF 6. Free with Swiss Travel Pass
Opening times: change seasonally – check here
How to get to Chillon Castle
You can take the bus from Montreux train station (tickets purchased at the ticket counter) towards Villeneuve VD, and the journey only takes about 9 minutes. There is also a train station at Chillon. The distance is 4 km so it's possible to walk, too.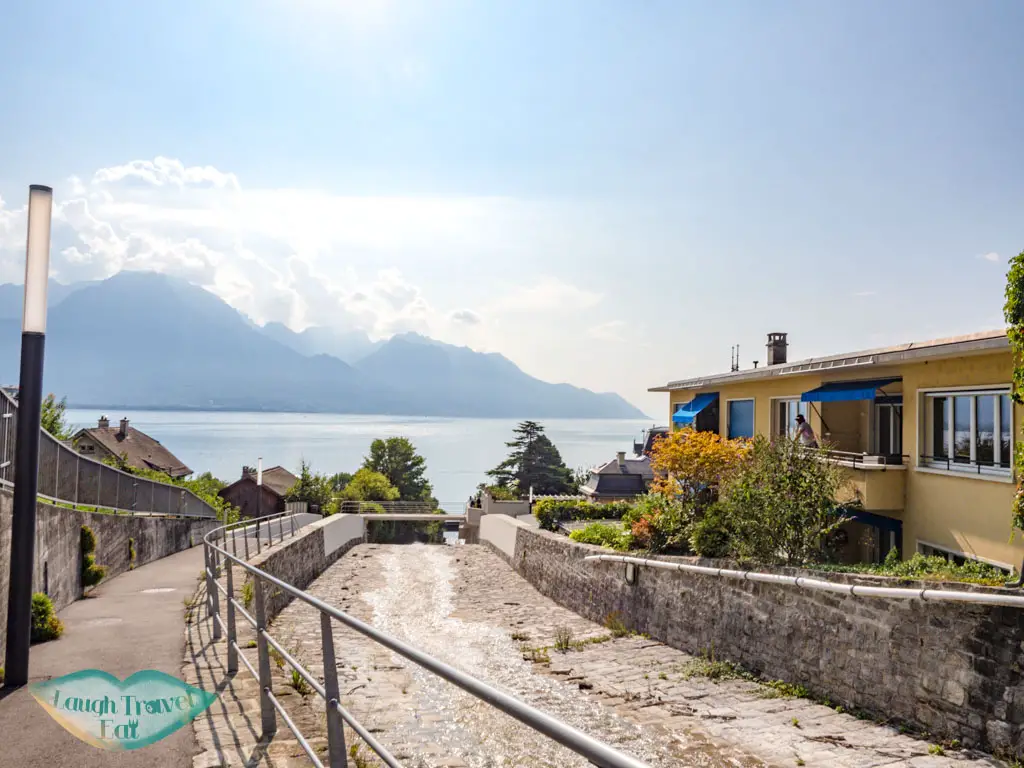 Alternatively, you can also time your visit to get the CNG ferry from Montreux to Chillon, both a short walk from the train station and castle respectively.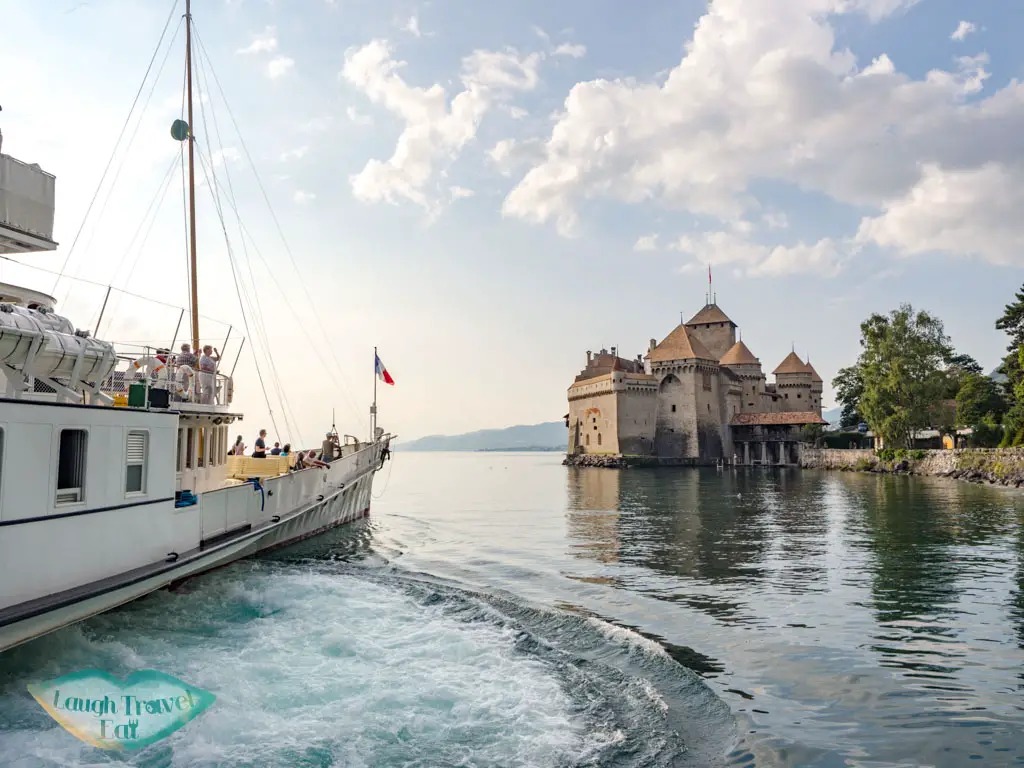 For the best view, take the CGN ferry from the pier east of the castle that'll take you to Montreux and Vevey.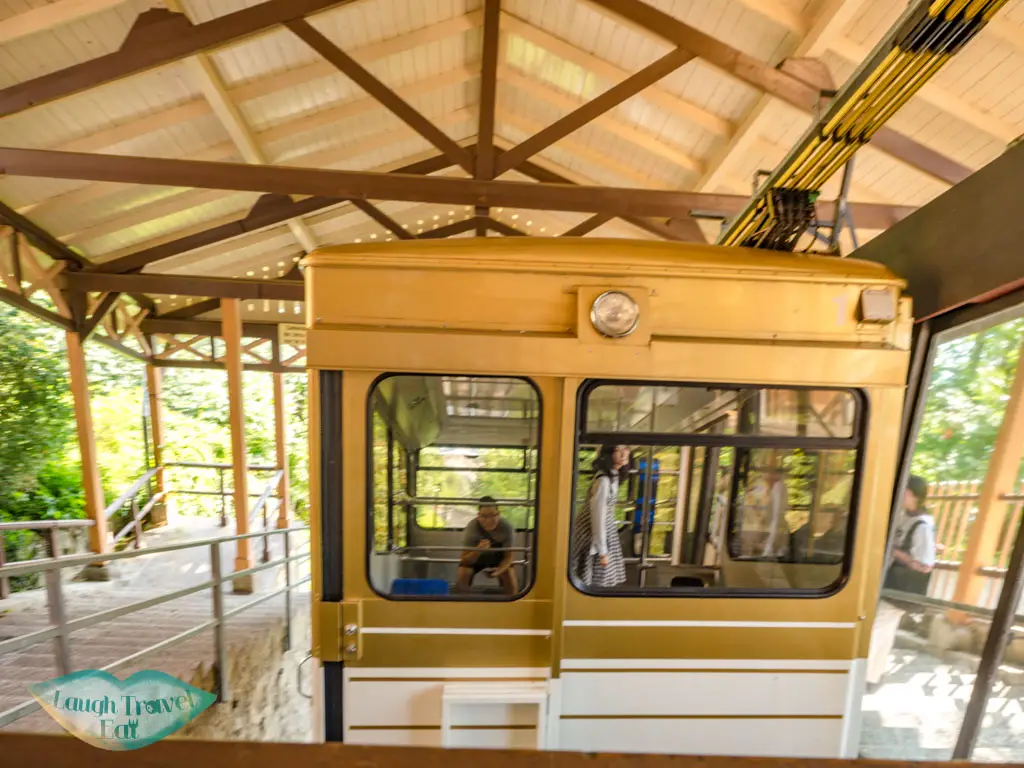 If you are going to Chillon castle from Rochers de Naye, stop at Glion and get the funicular down to Territe. From there it's a 20 minutes walk. Remember to validate the ticket you purchase in the orange machine by the office.

Lake Geneva Cruise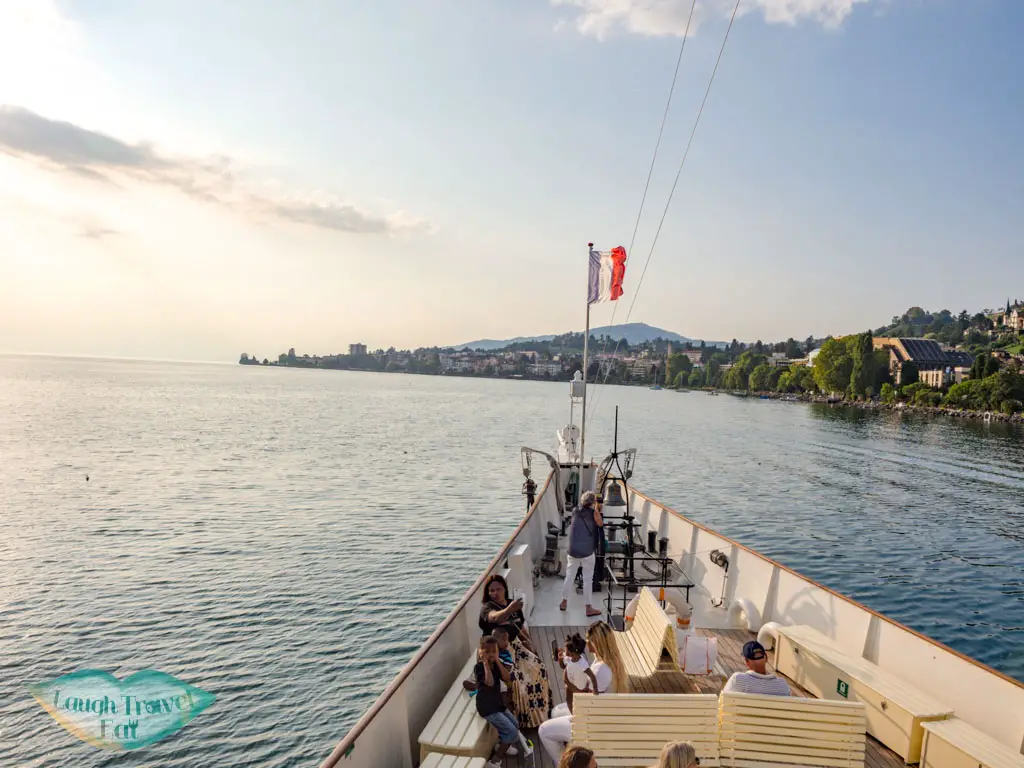 Feeling the breeze on Lake Geneva especially during sunset is doubtless one of the best ways to pass time in the area. The CGN ferry runs between all of the big cities and towns, but a ride from Geneva to Lausanne can take almost two hours.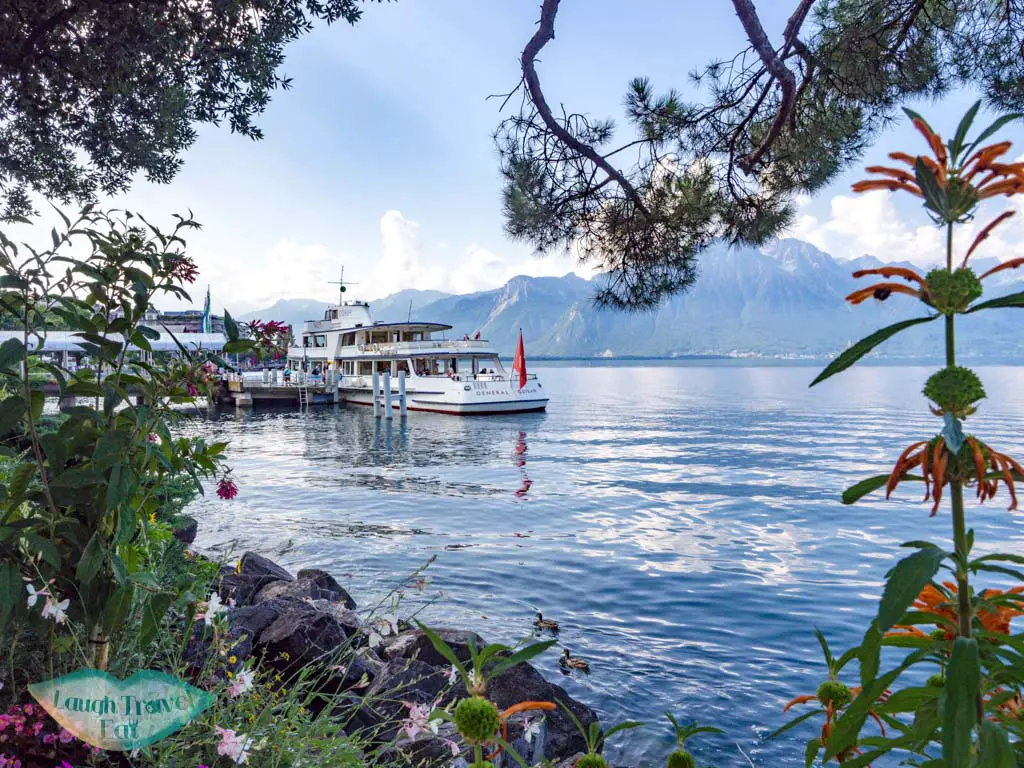 The best stretch to cruise on is between Lausanne and Montreux (and Chillon). I absolutely loved my ride from Chillon to Vevey (I was supposed to get off at Montreux but I didn't want to!).

Free with Swiss Travel Pass, you can see a list of prices here.
Vevey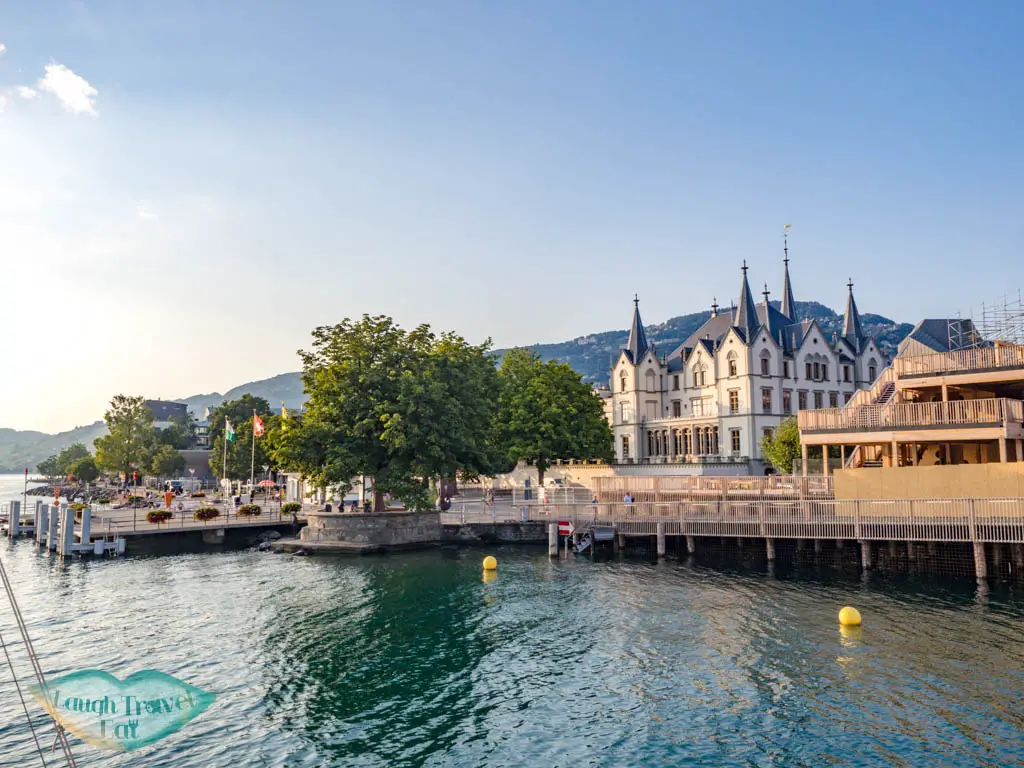 The pretty lakeside town is west of Montreux and the headquarters of Nestle! While I only caught a glimpse of the town as I made my way from the ferry port to the train station, it has a lovely riviera charm with pretty rows of houses and pretty lakeside beaches.
You can visit the Nestle Headquarter among other things, including the Neoclassical Grand Palace, a huge modern art statue of a fork in the lake, among other sights. For more on what to see in Vevey, see here.

Lausanne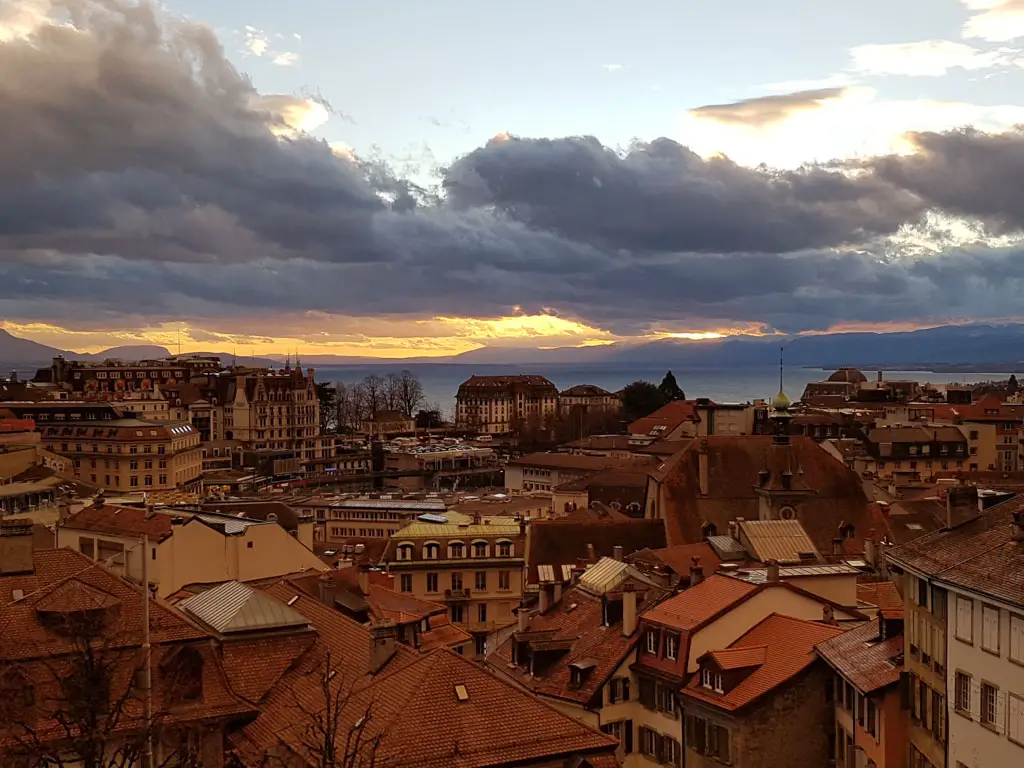 Less than half an hour from Geneva, Lausanne is a big city at the northernmost point of Lake Geneva. It is part of the French Riviera and was settled even before the Romans arrived by the Celtics. It is also home to two universities and many medieval buildings, meaning you can sightsee during day time and party at night. For more things to do in Lausanne, here's an article on it.

Lavaux Vineyards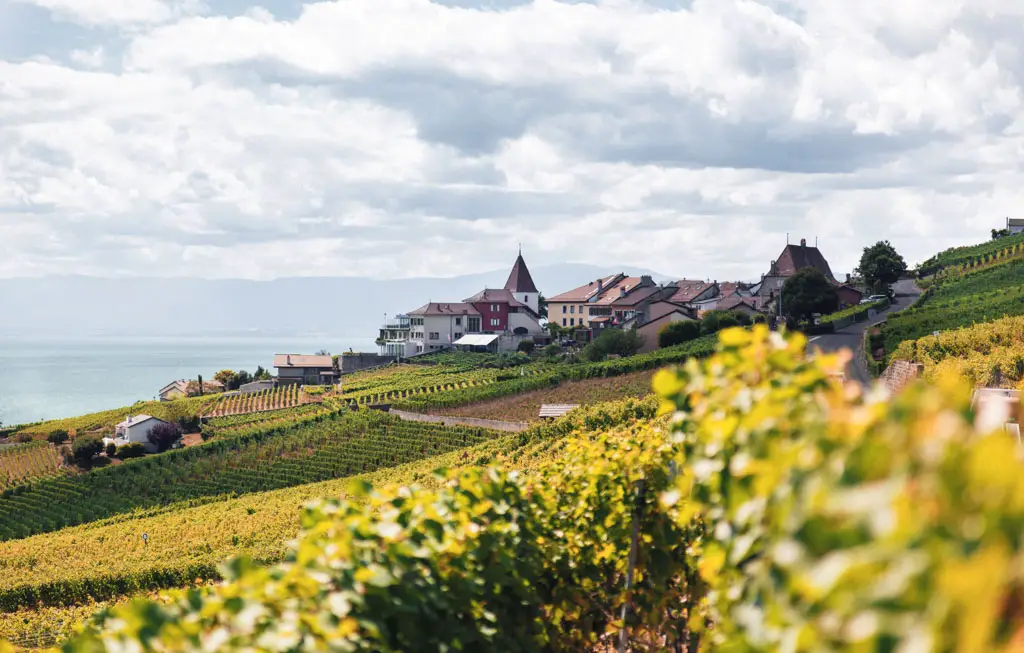 Stretch between Lausanne and Vevey, the Lavaux Vineyards can be seen on the train as you whizz past the French Riviera. The lush green terraced vineyard can be visited on a hike and combined with wine tasting. Did you know that Switzerland consumed 98.5% of wine produced is consumed locally? So don't miss out on the chance to try these yourself!
I decided to skip this in favour of visiting Rochers de Nayes and the Chillon Castle, but here's a great post on wine tasting and visiting the vineyards.
Annecy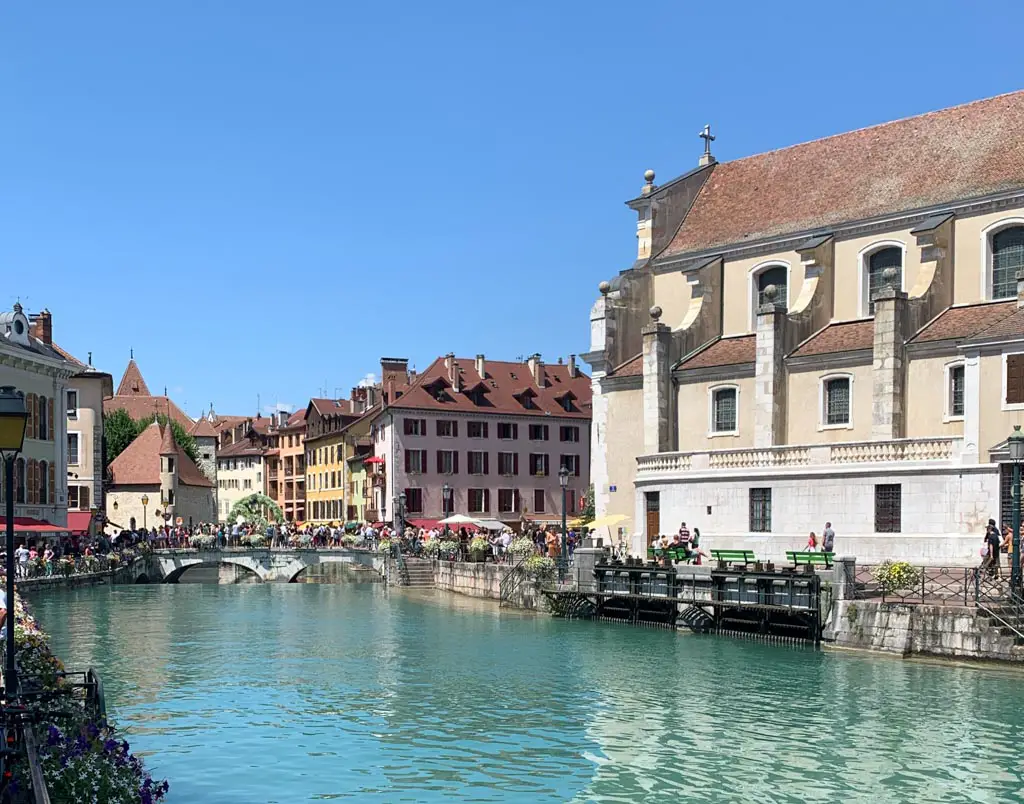 Skipping over to France is fairly easy from Geneva and Annecy is one of the top picks for those who want to take a day trip from Geneva. A picture perfect medieval town full of canals and colourful buildings, and of course, a castle.
There are numerous buses leaving daily from Geneva to Annecy, with the drive being around an hour. Costs are around CHF 32 round trip. To be honest, this town might warrant a short stay to enjoy it – here a post by another blogger who shares some beautiful photos of the town.

Chamonix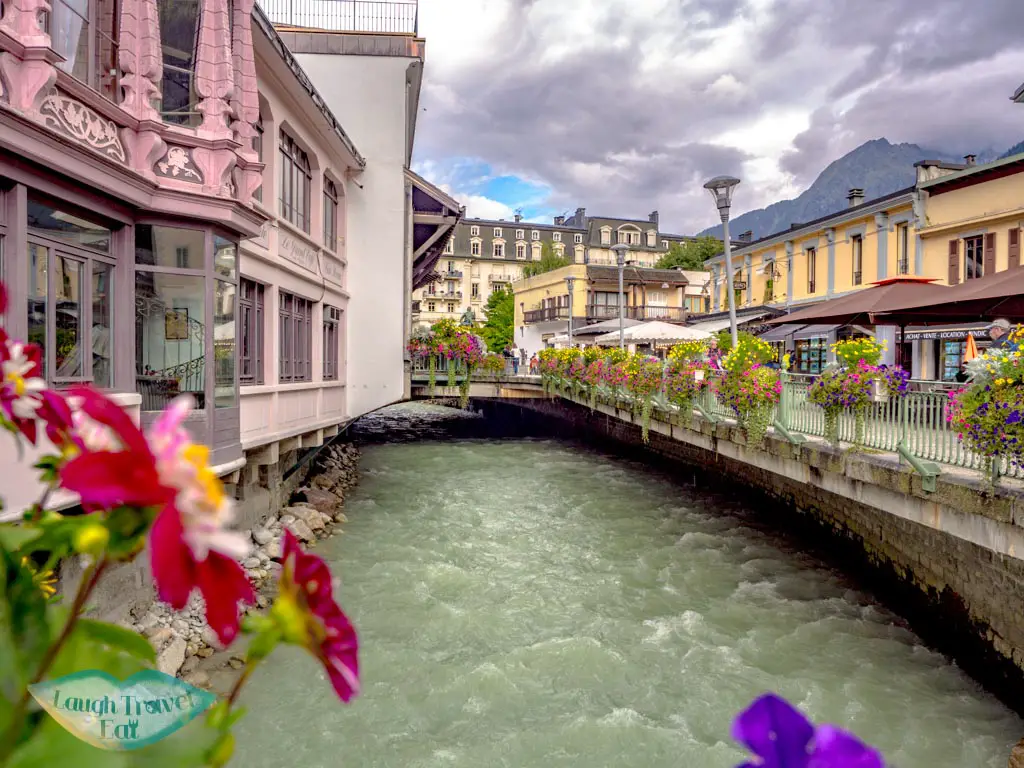 Arguably one of the most famous mountain towns, Chamonix is just an hour from Geneva in France, close to the Italian border itself. It is best known for its Alpinism, Mont Blanc, and Mer de Glace (sea of ice). It has the quintessential alpine vibes mixed with the stunning landscape with plenty of outdoor activities on offer. A day trip is easily doable and you'd also have time for a short hike or heading up one of their cable cars for panoramic mountain views.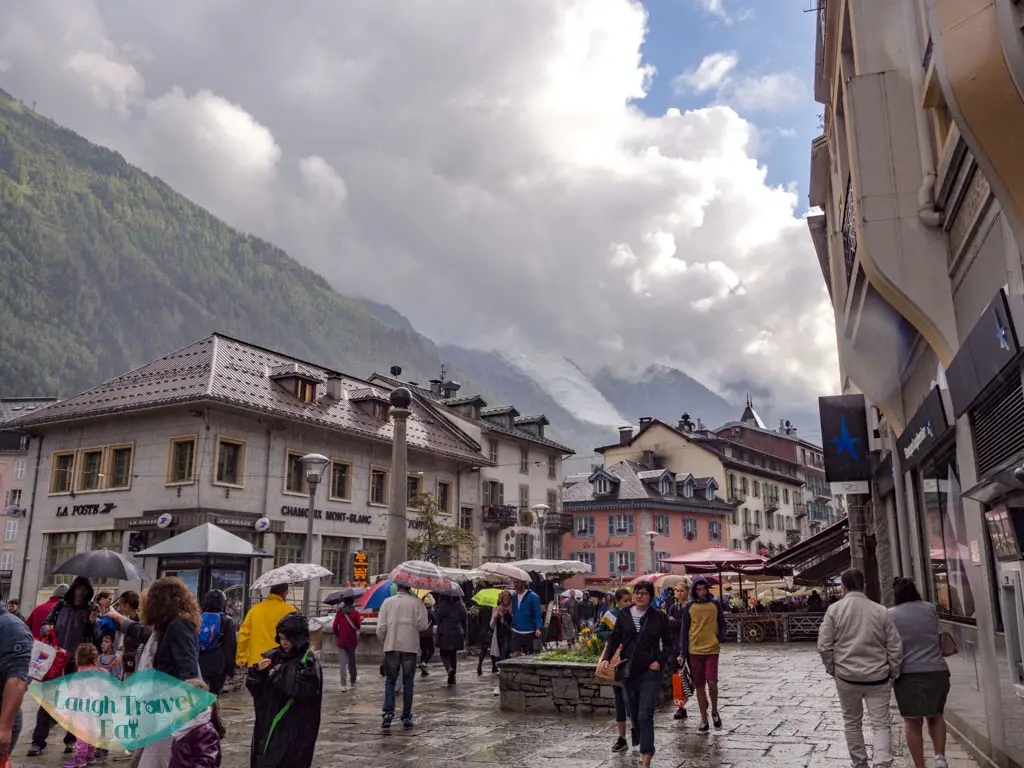 It's also a popular ski town in the winter which offers a totally different feel to the city. There are also numerous outerwear stores including big brand names, so shopping for active wear here is also a popular pastime.

Mont Blanc
On a good day, you can see Mont Blanc from the town itself. Unfortunately, the weather was pretty grim on my visit so I didn't get to see much, but you can check out a list of hiking trails you can go on here. 

Mer de Glace

The largest glacier in France, Mer de Glace is over 7.5km long and you can hike parts of it by taking the Montenvers train up or down. You might need special gears to walk on the ice, which you can rent in town, but for the most part hiking on Mer de Glace can be done for anyone with a good level of fitness who are careful. For more information on hiking it, read here.