Things to do in Interlaken and Jungfrau region
Interlaken is roughly in the center of Switzerland and the main hub for the Jungfrau region. Needless to say, there are countless things to do in the area and it can be confusing for first time visitors to figure out what there is to do and where to stay. But you're in luck, because I spent hours (days even) researching and got the load down for you!

Note: if you've the Swiss Travel Pass (more on them here), you'll get to reach certain places free or at a discount. More details at the end of each thing to do!
Table of Contents
Understanding Jungfrau region
Interlaken (pronounced Inter-Lak-en) is the biggest city made up of three connecting towns in the Jungfrau region. It is the gateway to the rest of the area in a valley between two turquoise lakes – hence the name Interlaken – Thunersee and Brienzersee.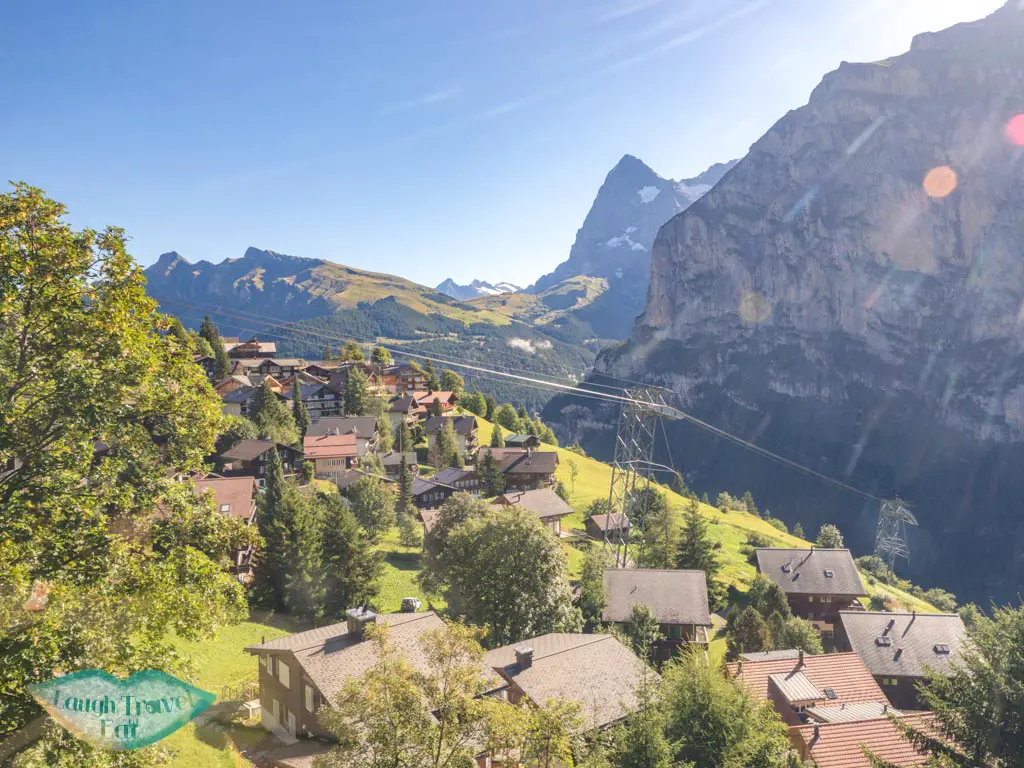 You can get a train to Lucerne directly and the rest of Switzerland via a change in Spiez, which is convenient. However, most people tend to steer away from Interlaken in search for a more dramatic landscape for their stay.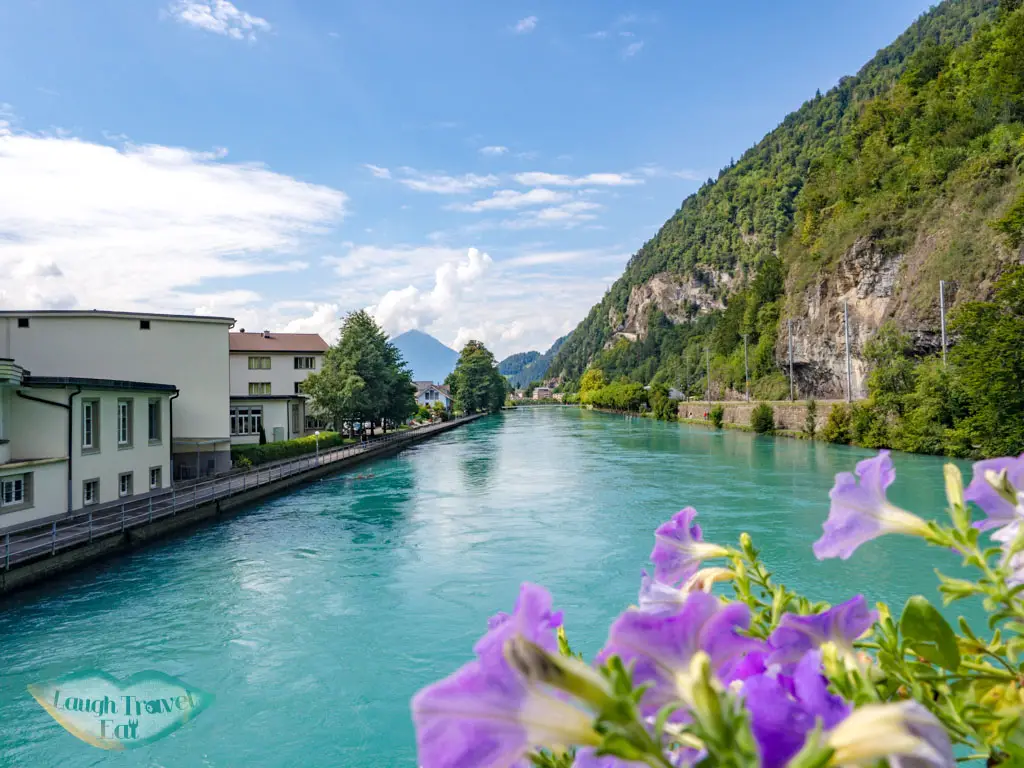 The region stretches roughly south of Interlaken, linked by trains and cable cars. It can be further divided into two that loops between the station Zweilütschinen and Kleine Scheidegg, the latter being the gateway to Jungfraujoch. Lauterbrunnen and Wengen are to the west and Grindelwald to the east.
If you're wondering where is the best place to stay, skip straight here.
I highly recommend picking up a regional map, available at the tourist information center or at your hostel or hotel. It shows all the towns, cities, and hiking trails in between as well as transport options.

Things to do in Interlaken 
Paragliding in Interlaken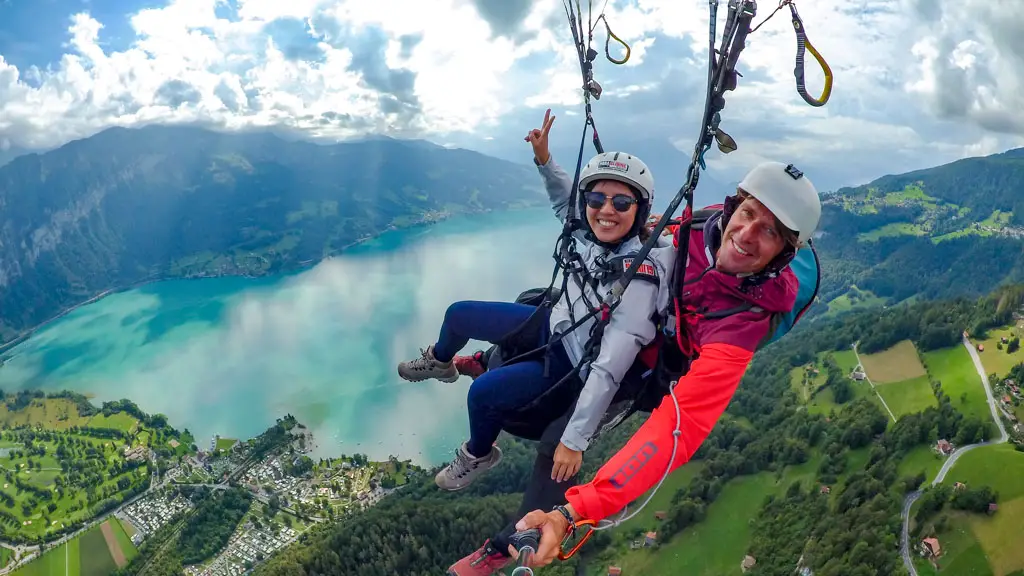 Hands down the best way to see Interlaken, paragliding is one of the highest points of my Switzerland trip. Paragliding Interlaken is a reputed company in town specialising in, yes, you've guessed it, paragliding.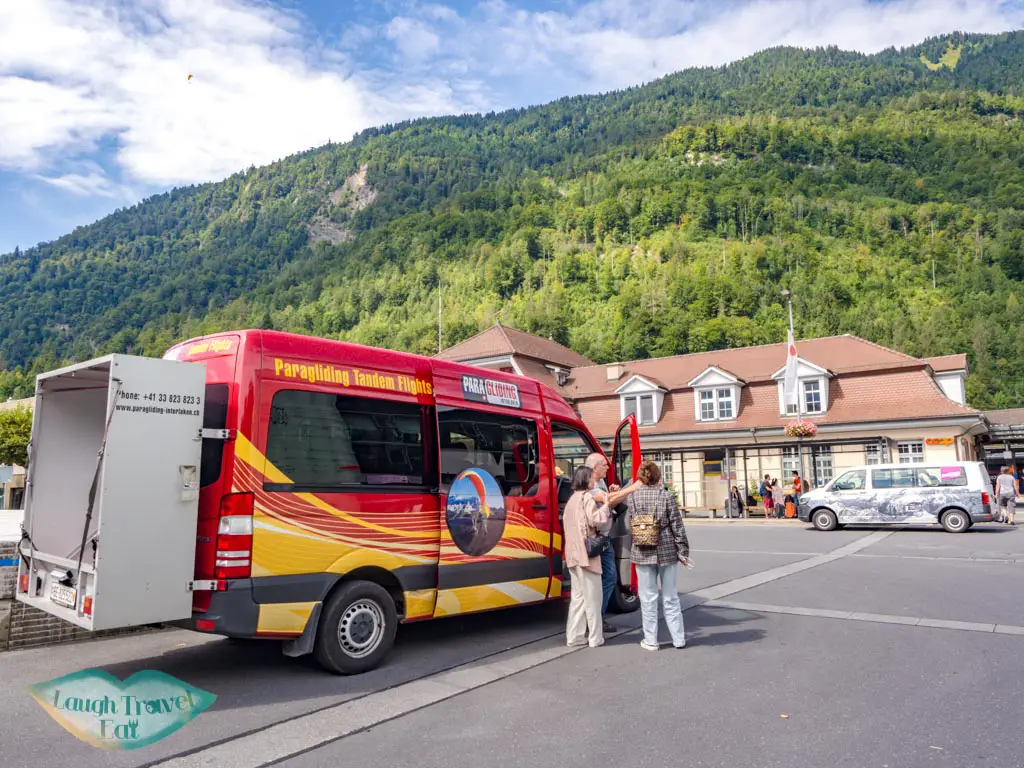 You can book easily online, choosing a timeframe to your liking with the option of getting picked up at the train station or head directly to their office in town. It's only a 15-minute walk max between the two so it's whatever that's convenient for you.
Tip: use the bathroom at the train station as this is the last bathroom break.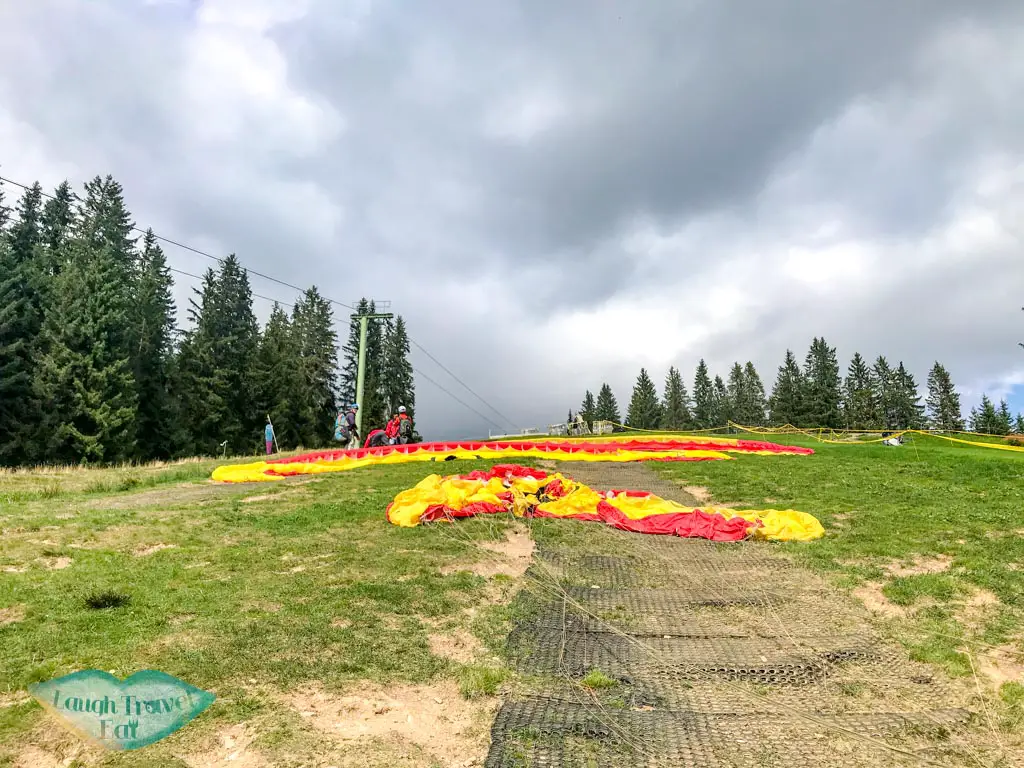 It's hard to miss the pick-up since the van has a huge photo of paragliding on it along with the company name. We were whisked off to the office where bigger bags are stored in the lockers behind the counter and paragliders were picked up.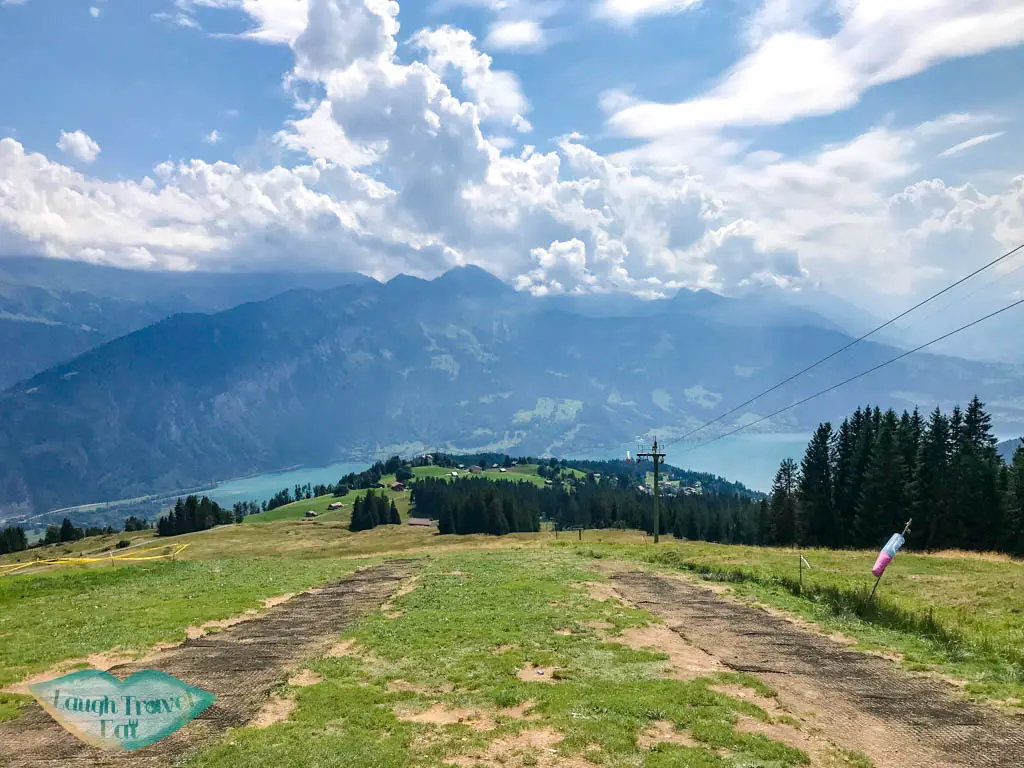 If you have one, I'll bring and wear your windbreaker but they also have one for you if it looks like it'd be cold and windy. The drive up to the mountains is about 20 minutes.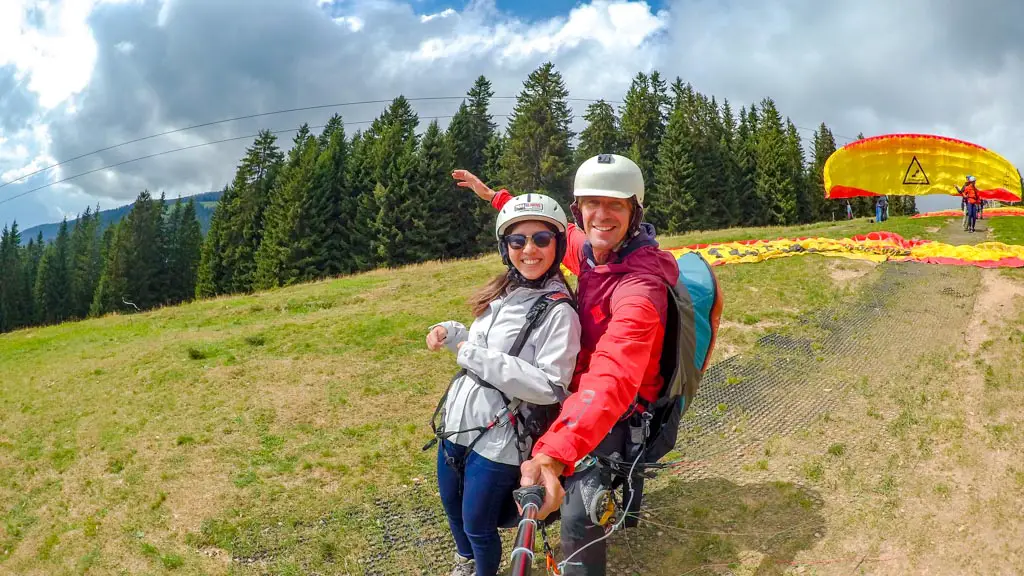 You can bring a GoPro but no using the phone as you'll fly over town as dropping the phone can be dangerous. I brought my phone up but had it stored at the pocket behind me for safety once we started gearing up. I was a little nervous about running, but once I see that it was downhill, I felt less nervous and honestly, I barely ran 4 steps before we took off!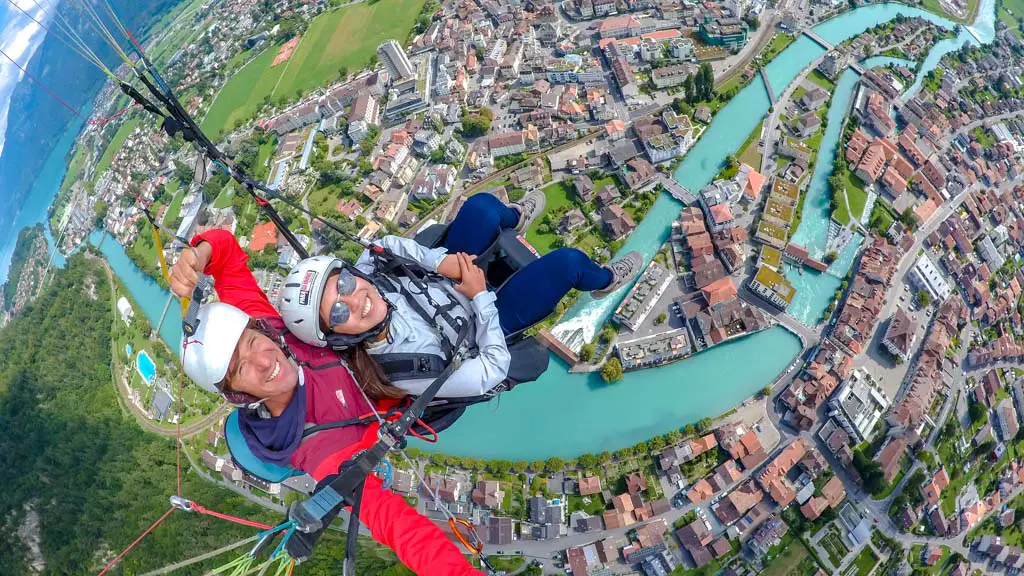 The paraglider can take photos for you and give them to you at the end via your phone. You can decide then whether you want to pay for them then. 
There are also tricks that they can do but it can make you a bit dizzy. It's quite vertigo-friendly as the feeling of g-force is minimal and you'll be sitting back.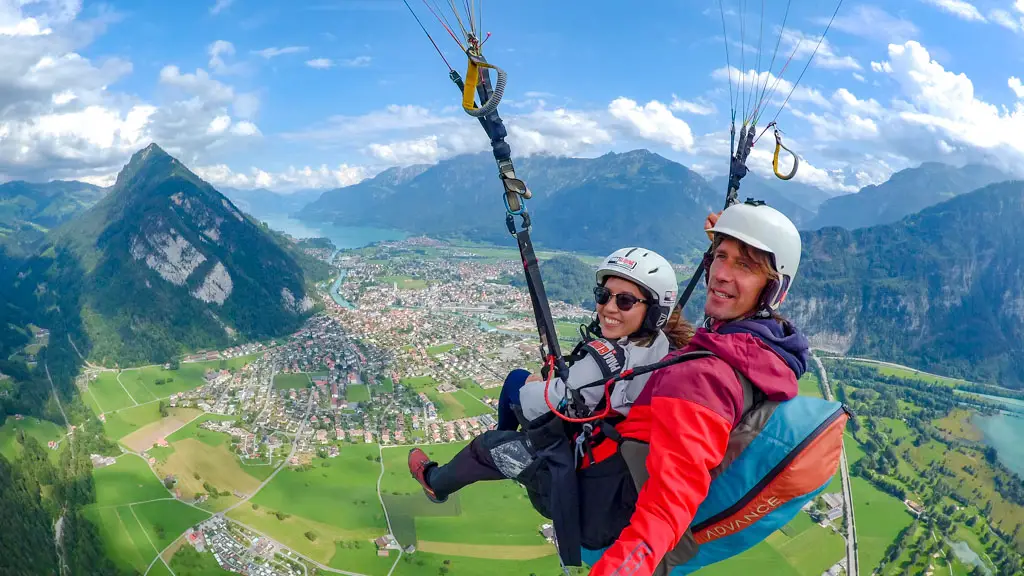 I honestly really enjoyed it and felt more nervous flying a drone. The flight down is another 15-20 minutes, depending on the wind direction. We landed right in the center of Interlaken by the main road in town, under the snaps of dozens of phone cameras and the watchful eyes of curious tourists.

Cost: CHF 180, with photos +CHF 32, with videos as well total +CHF 40
I was hosted by paragliding Interlaken but all opinions are my own 

Harder Kulm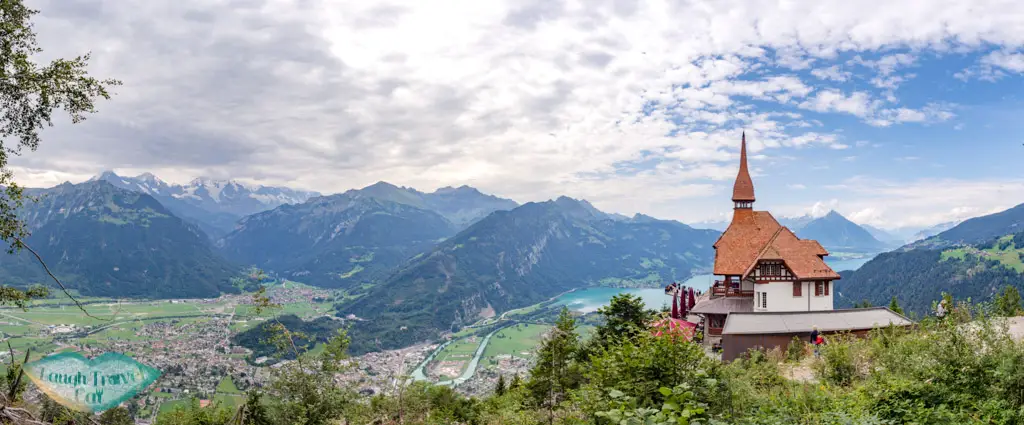 With the slogan of Top of Interlaken, Harder Kulm stands at 1322 metres above sea level with a sweeping view of the city and both lakes.
While the view can't compare to paragliding, I did really enjoy the funicular ride up and there are several hiking trails that you can head off in from there.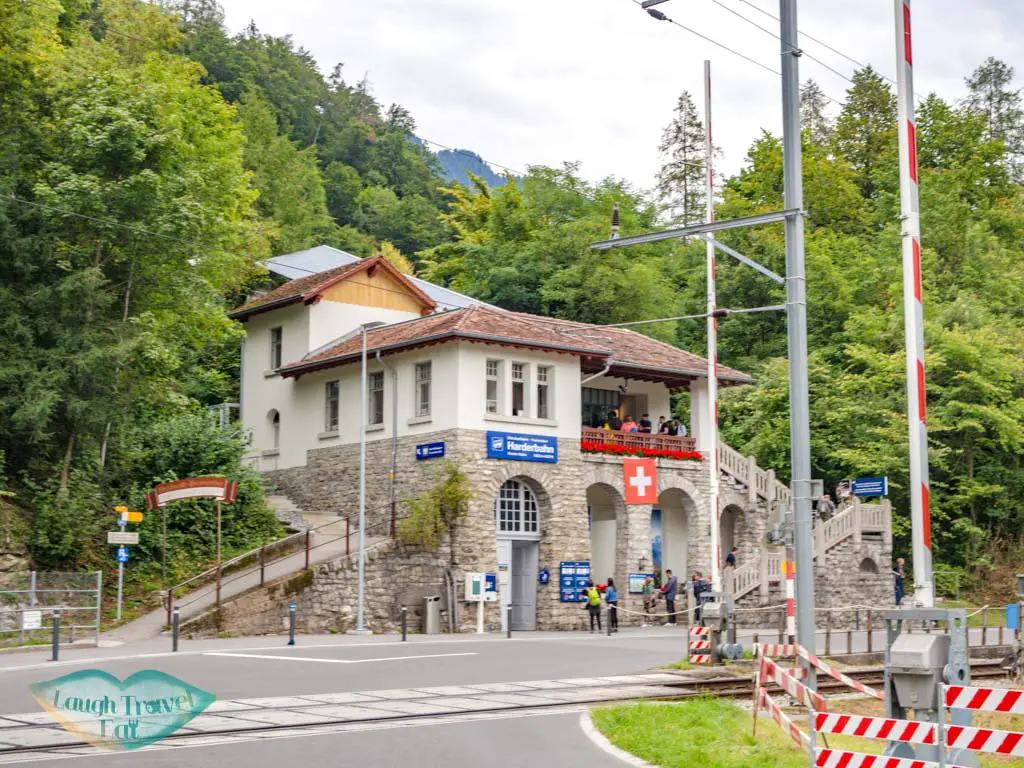 The tickets can be purchased at the Interlaken Station, but the station is about a 5 minute's walk away. Basically, you turn right out of the station and keep going until you see a bridge, then cross it and Harder Kulm is right there.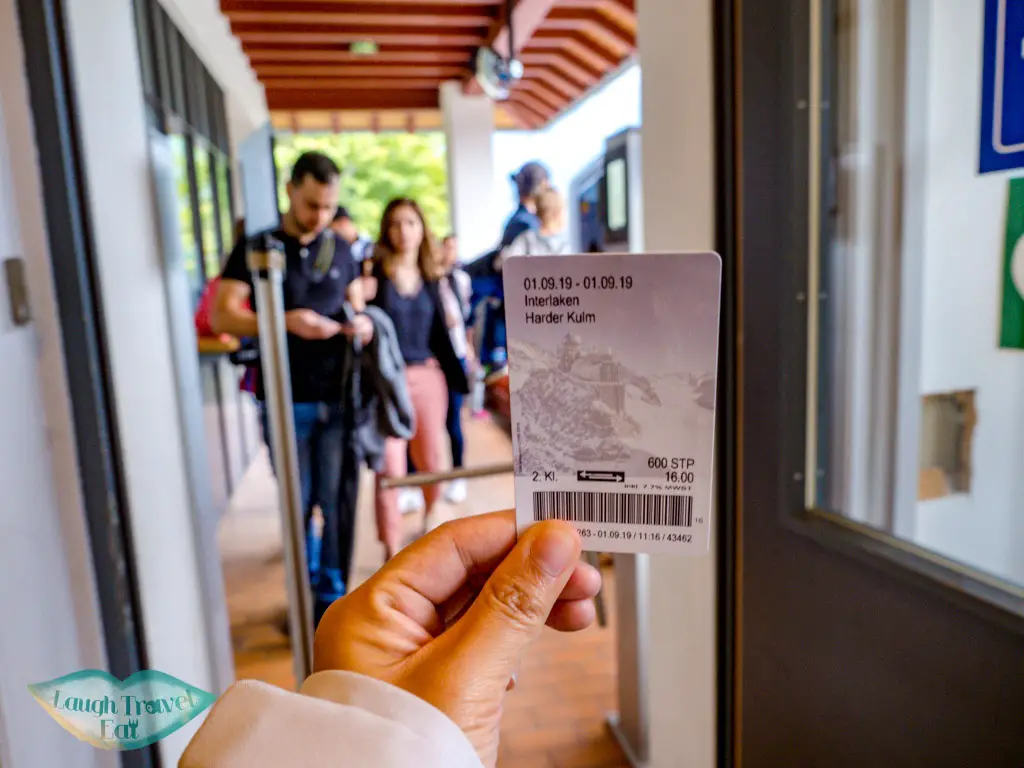 There is a queue for people with tickets and another one without. If you have tickets already then you can go straight to the ticket barrier and head right in.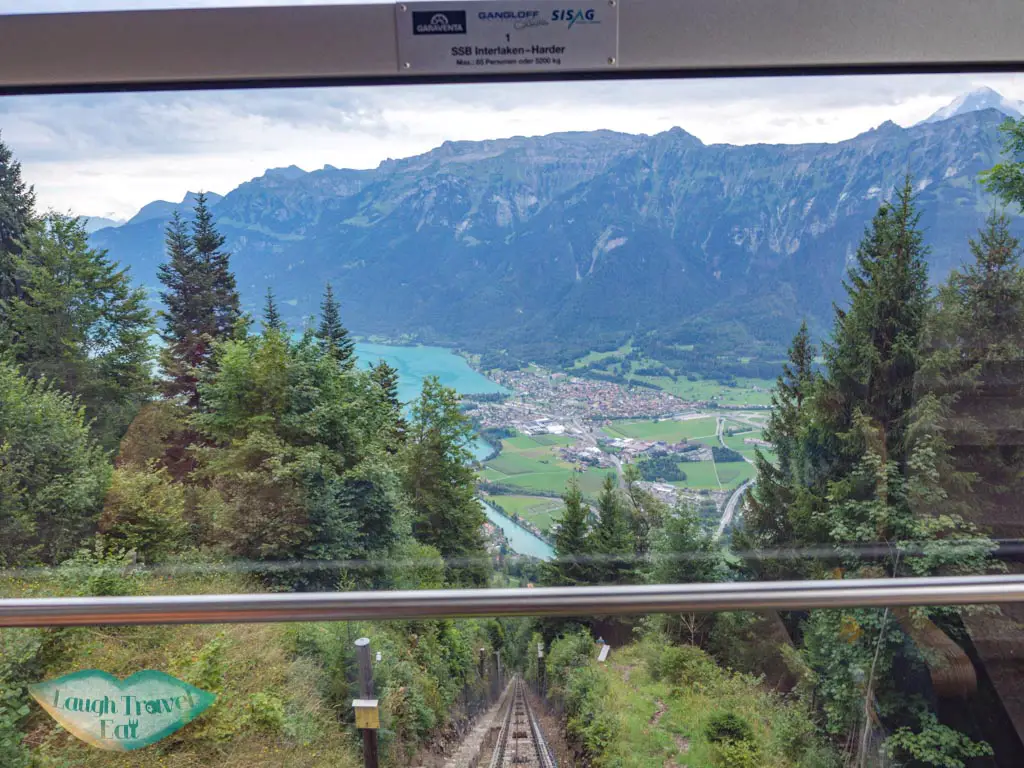 The front seats are very limited so I advise you to get there as early as possible. There's a train going up every 30 minutes so get there early.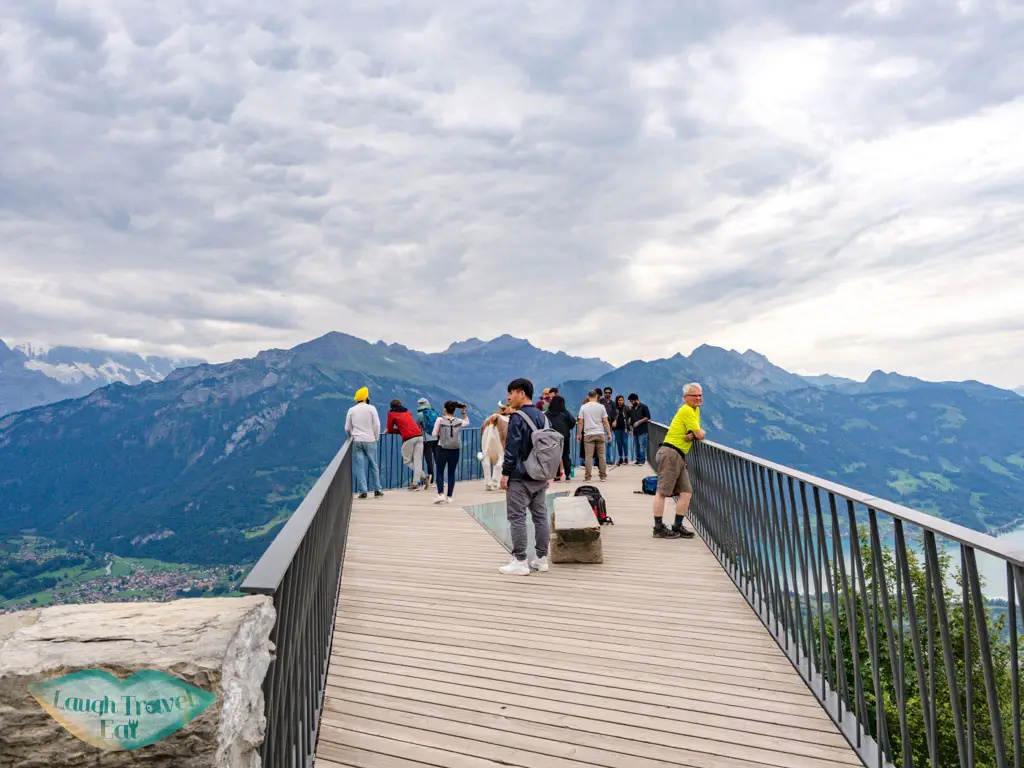 There isn't much to do at the top save form the viewpoint and the restaurant. And the viewpoint is often crowded but there is a path by the restaurant and you can get up there a little for a good view of the whole area as well as the facilities on Harder Kulm itself.
While I didn't eat at the restaurant myself due to lack of time, the menu and the price is pretty decent and it makes for a good lunch spot.
Half price with Swiss Travel Pass at CHF16, full price CHF 32
Lauterbrunnen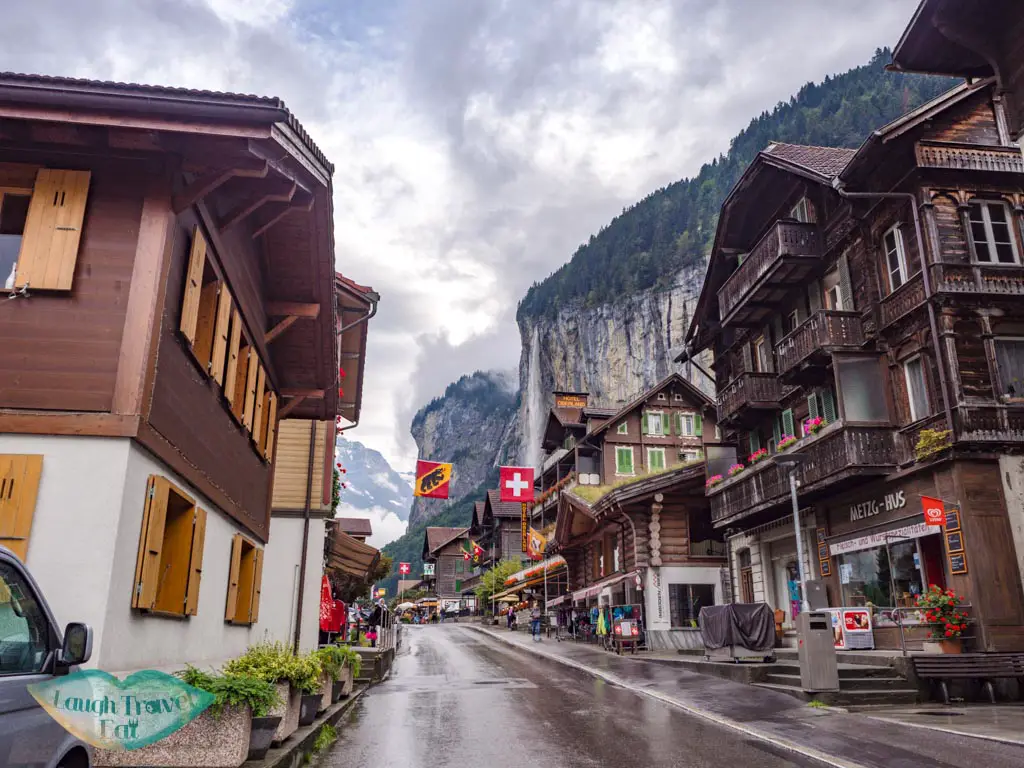 The charming town of Lauterbrunnen is only a 20 minutes train ride from Interlaken and known for being surrounded by dramatic cliffs and waterfalls. Highly recommended by a friend who had visited a few months before, I chose it as my base for the region.
The alpine buildings is straight out of a fairy-tale, complete with flags of Switzerland hanging across the road. It's surrounded by nature with hike options and access to other quaint towns.
Staubbach Waterfall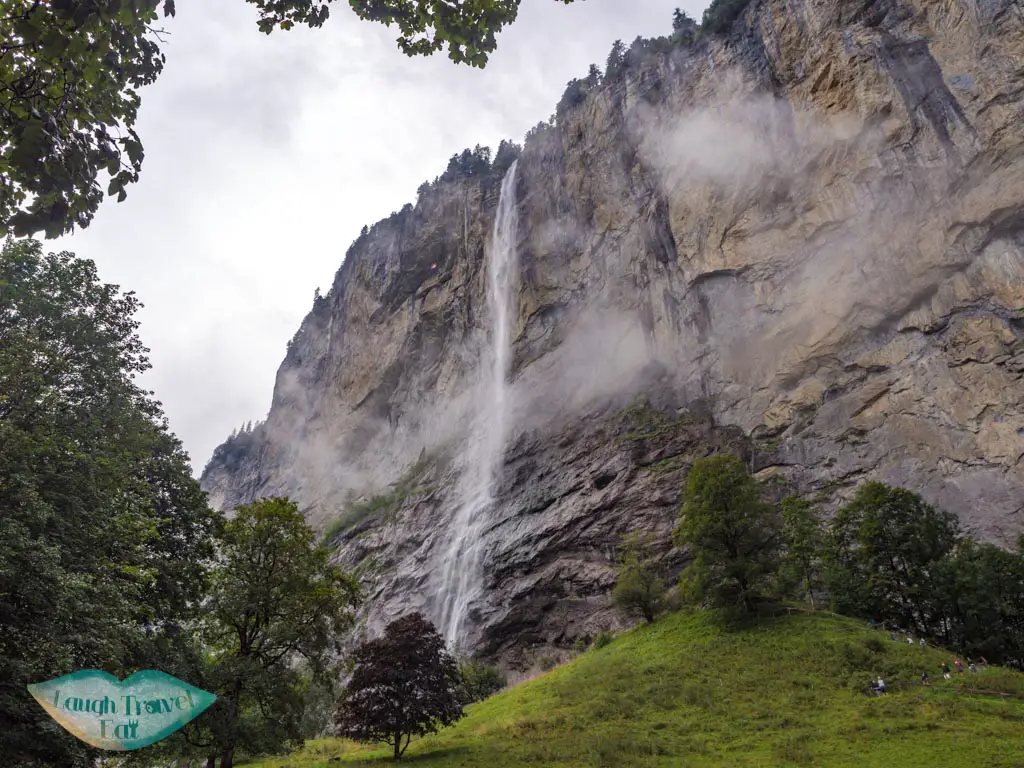 The biggest waterfall out o f the 72 in the area, the Staubbach Waterfall is the most prominent one that's a short walk from the city center. You can see it as soon as you get off the train, dropping a staggering 297m height from an almost sheer cliff.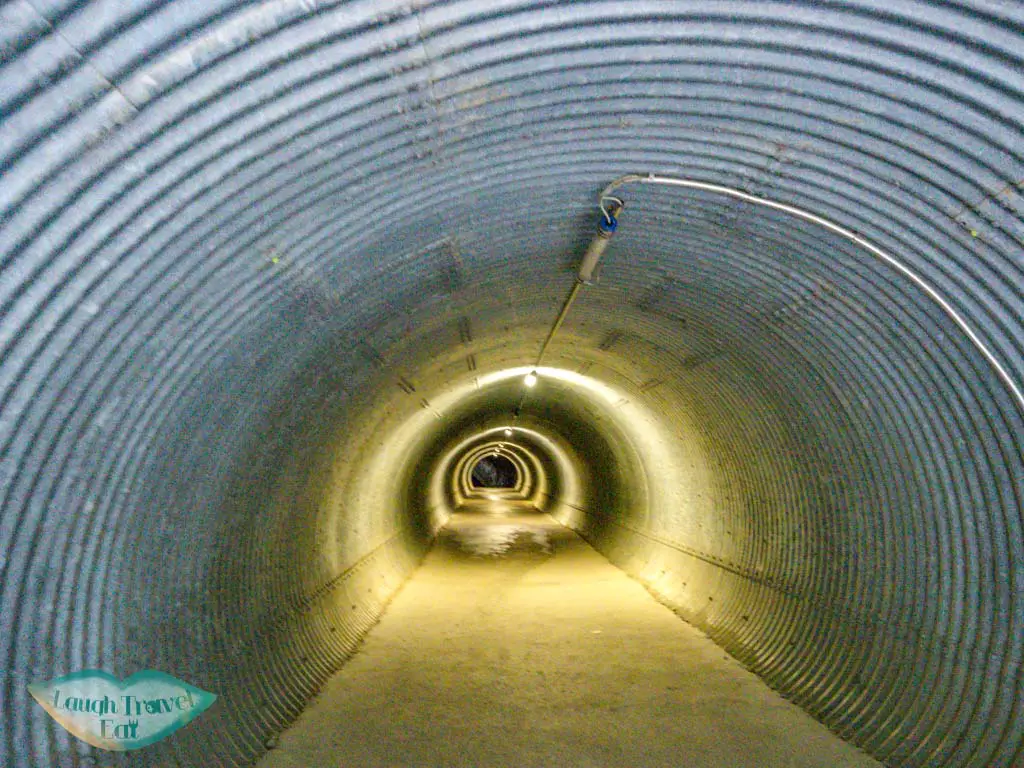 You can go almost right under the waterfall by going up the path just behind the church.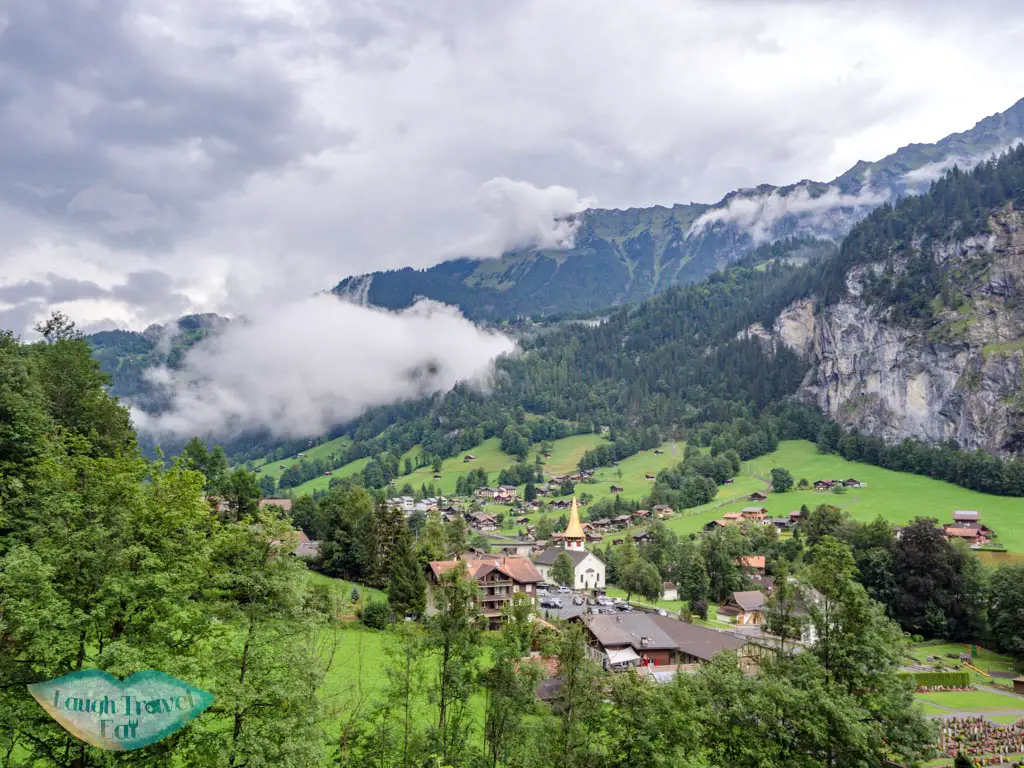 The path gets very slippery towards the end and rocky, so definitely be careful, but it does also offer a sweeping view of Lauterbrunnen.
Murren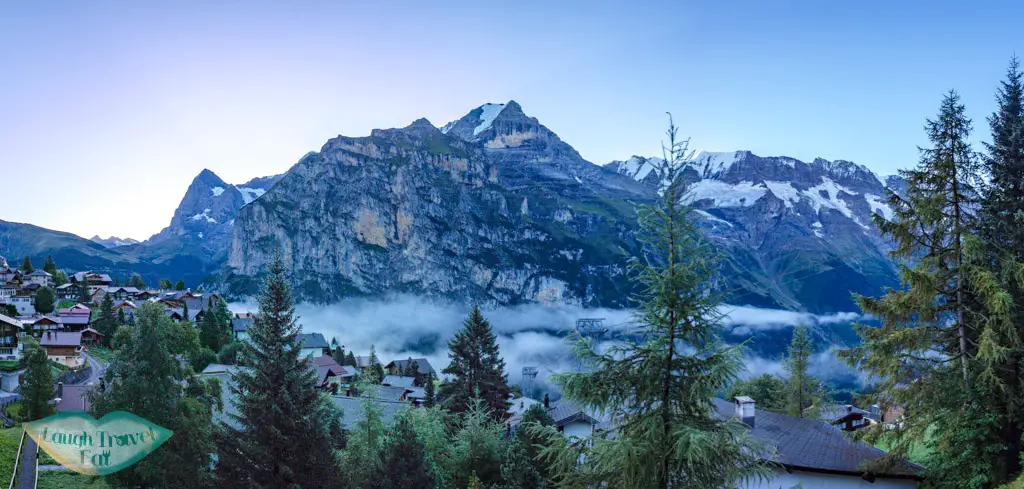 A popular contestant to Lauterbrunnen's beauty is Murren, which makes up for its lack of waterfall with a sweeping view of snow capped mountain with its higher elevation. There are two ways to reach Murren:
Cable car from Lauterbrunnen then taking the train from Winteregg to Murren
Take the bus  from Lauterbrunnen to Stechelberg, then take the cable car up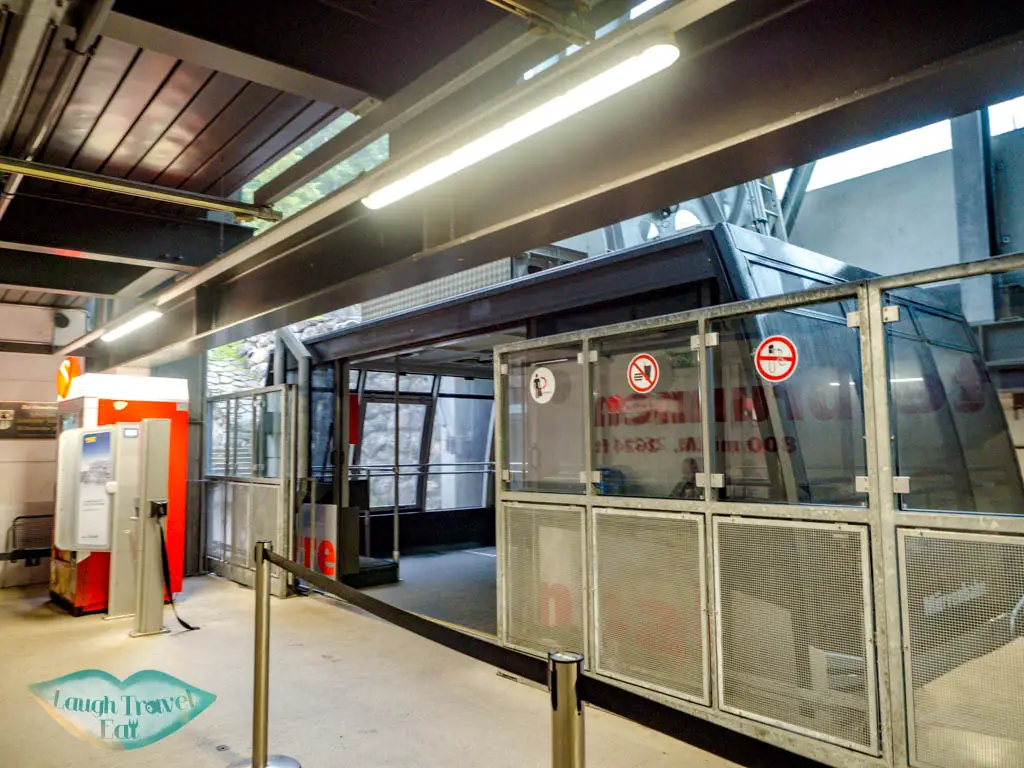 The train station and cable car station are about 15 minutes apart, and the bus second option is better connected.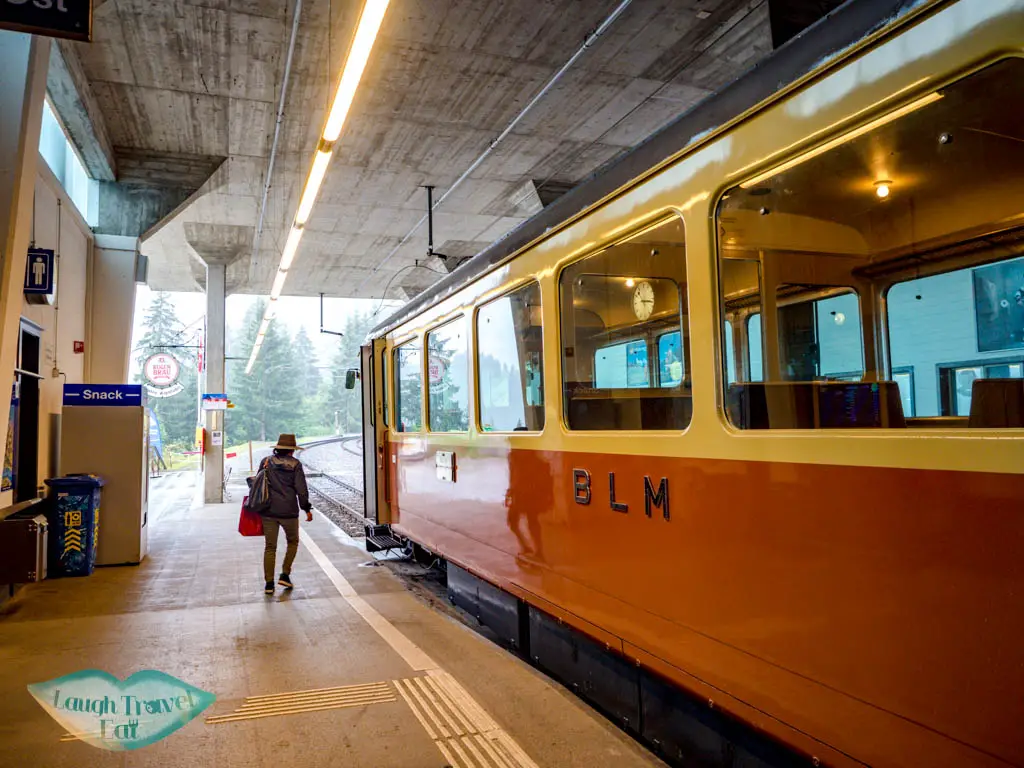 My visit to Murren was brief due to bad weather, but many agree that it is a gorgeous place and I did  finally get to see its beauty during my sunrise mission to Schilthorn. Shopping is said to be nice there, too.
Schilthorn 

Schilthorn stands at 2976m high and is a mountain that I hadn't heard of until I got to Lauterbrunnen. However, it is actually fairly well known since it's the filming location for a 007 movie: Her Majesty's Secret Army in 1968.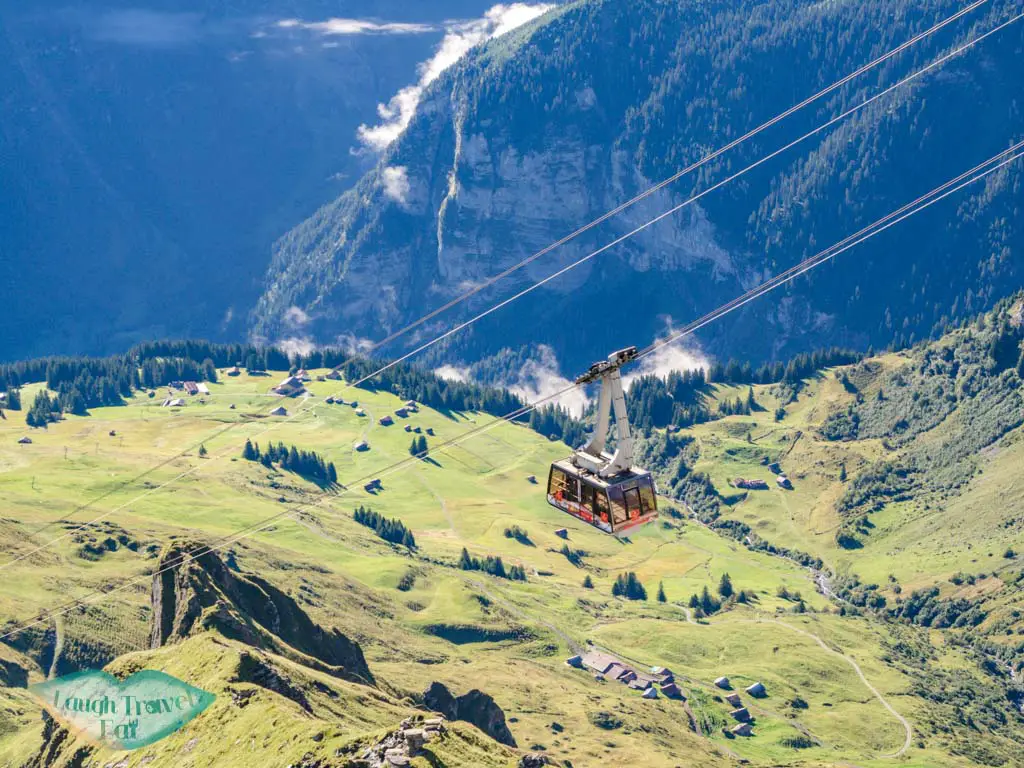 The cable car is the fastest and most direct way to get to Schilthorn, which was built the year before the movie was  filmed. The base station is Stechelberg, which is only 10 minutes from Lauterbrunnen by bus. While it is technically a direct cable car, you change at each stop along the way: Gimmelwald, Murren, Birg, then finally Schilthorn.

Everything very well timed, including the train from Interlaken to Lauterbrunnen, and then connecting bus from Lauterbrunnen station to Stechelberg. I suggest to take the earliest possible (6:35 from Interlaken and 7:05 from Lauterbrunnen) since it gets crowded up there.


The restaurant at the top is called Piz Gloria and offers a panorama of the surrounding mountains, including Jungfrau, Eiger, and Mont Blanc at times.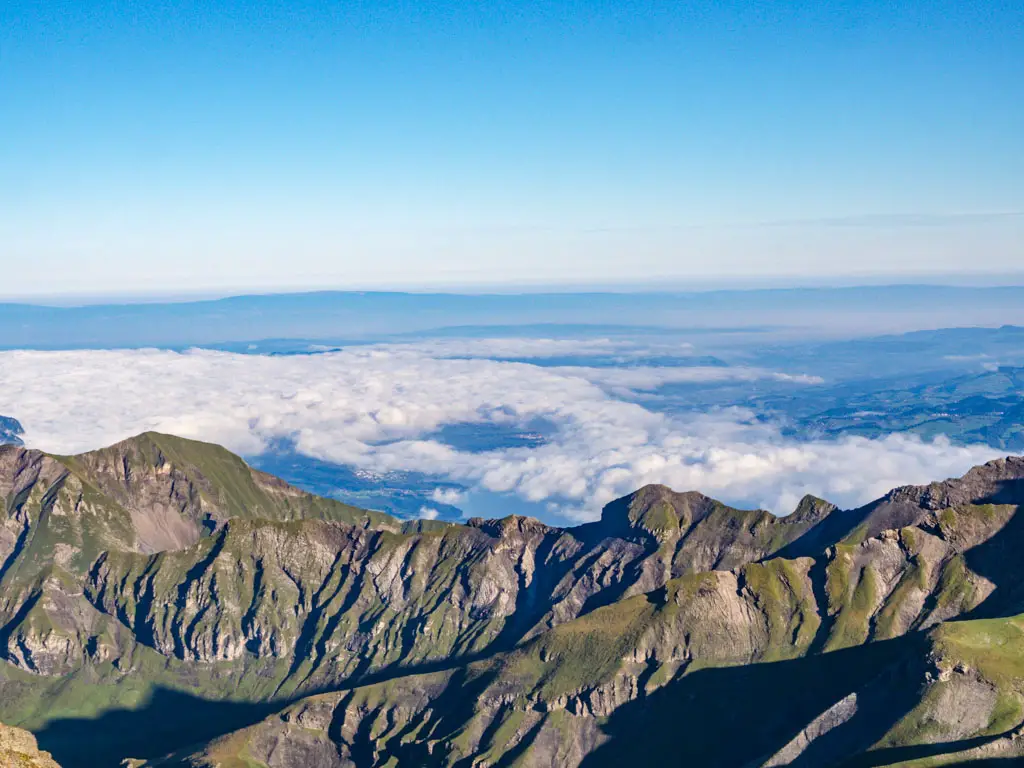 In winter, you can ski right down from the station, and there are hiking trails that starts there, too.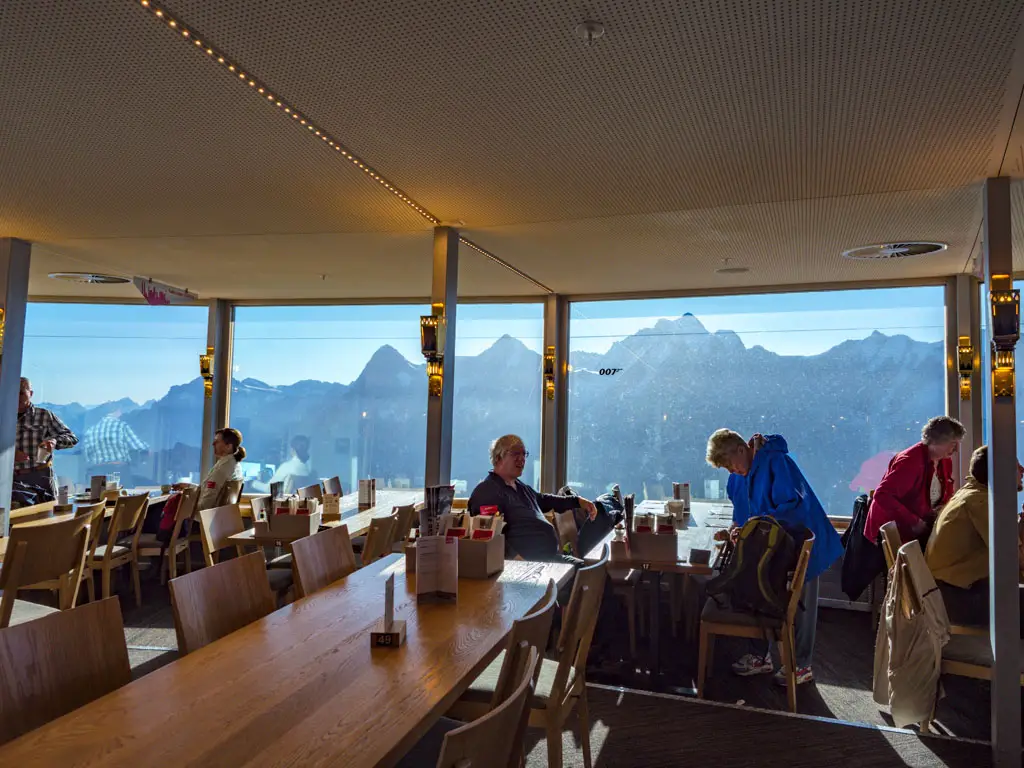 Although I highly recommend you take the cable car up then hike down (or the other way around).                  

Birg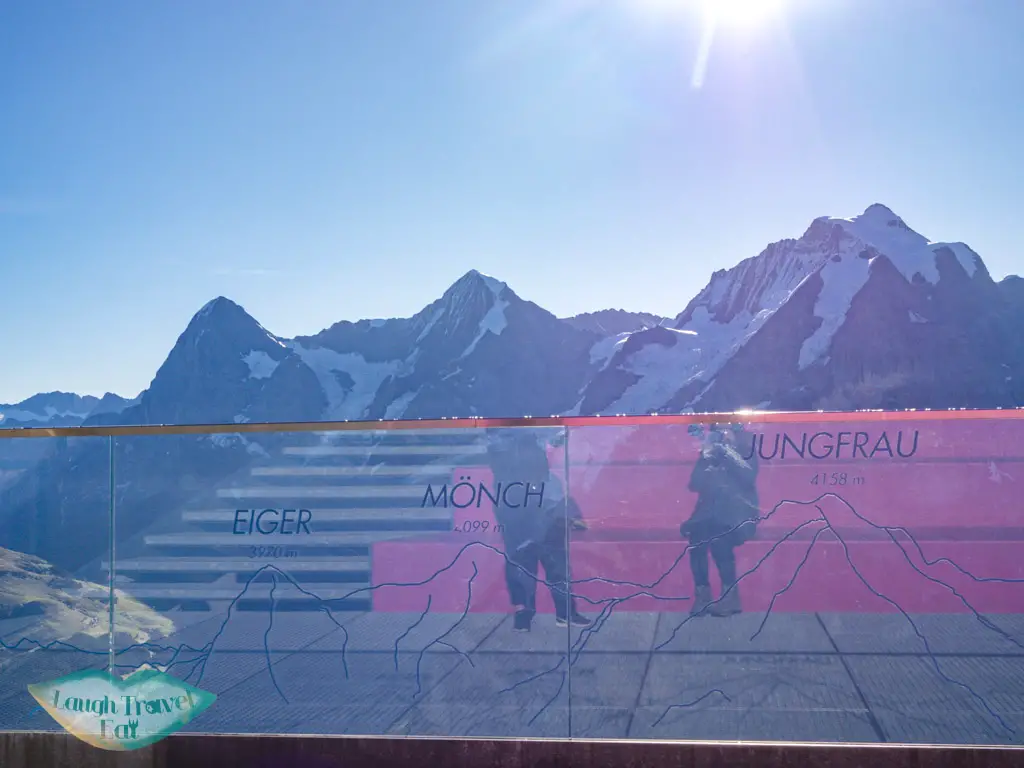 Birg is one station down from the peak and stands at 2677m, with a restaurant of its own and the Thrill Walk.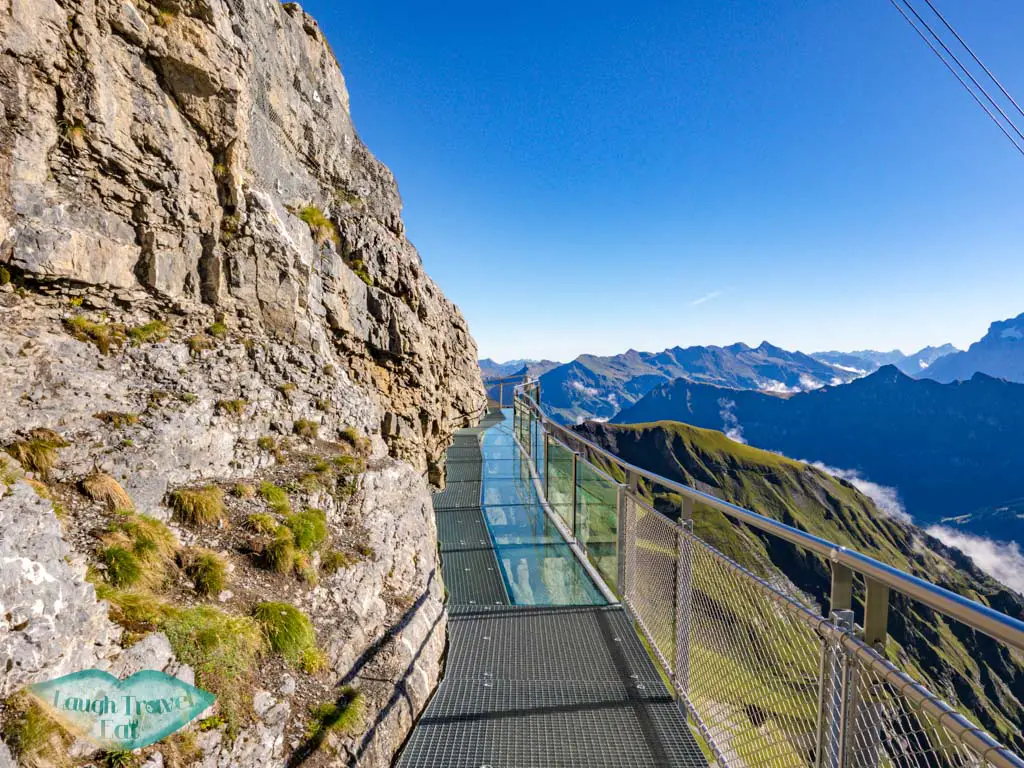 It was opened in 2016, it is a 200m long walk along the sheer cliffs with added adventurous parts, such as a tightrope or wire tunnel, there's even a glass part! You can stop by with your ticket to Schilthorn without additional fee.

Return fare from Stechelberg to Schilthorn: CHF 105 adult, children and Swiss Half Fare Card Half-priced. 
Opening times: varies depending on the season, but tend to run between 7am until 6pm for Schilthorn,  and until midnight for Murren 
Full price table and opening times can be found here.
Free for Swiss Travel Pass until 2020 when it'll become half priced

Jungfraujoch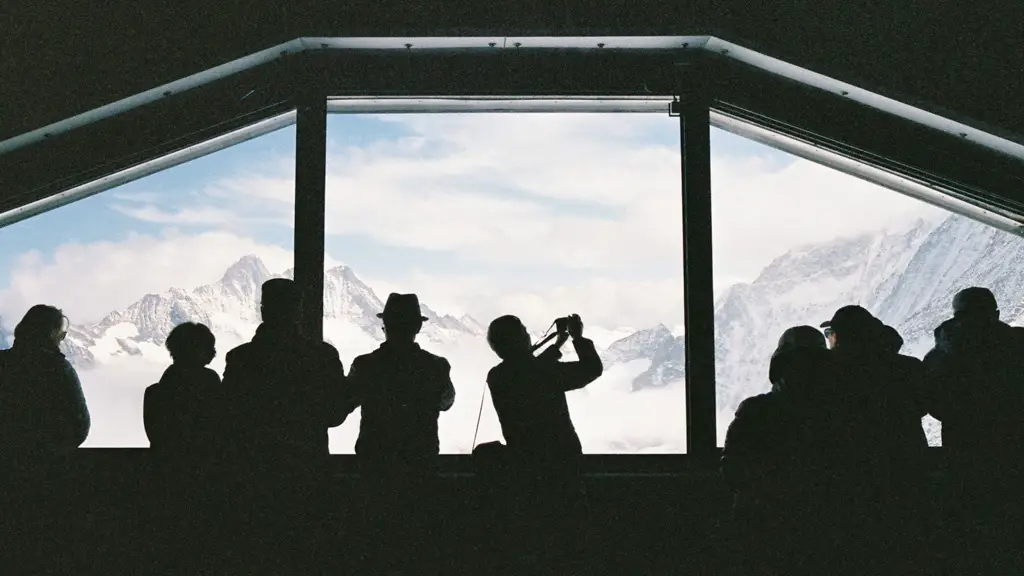 Unless you are dead set on heading up Jungfraujoch, I highly advise against purchasing tickets with a set date because the weather can render the trip completely pointless. There is a live cam feed on their website with weather forecasts that you can check, and on my one full day in the area it was completely cloudy. Meaning that for those who had bought tickets up, all they can see is snow on the ground.


Jungfrau is the highest mountain in Europe and Jungfraujoch is located at 3,454m above sea level, nestled between the two Jungfrau mountains, which stand at 4,158 m. There are two ways to get up to Jungfraujoch from Interlaken: via Grindelwald or Lauterbrunnen, both trains goes up to Kleine Scheidegg, which then heads up to Jungfraujoch. The temperature at the top average to be below zero, so definitely wrap up if you are headed that way.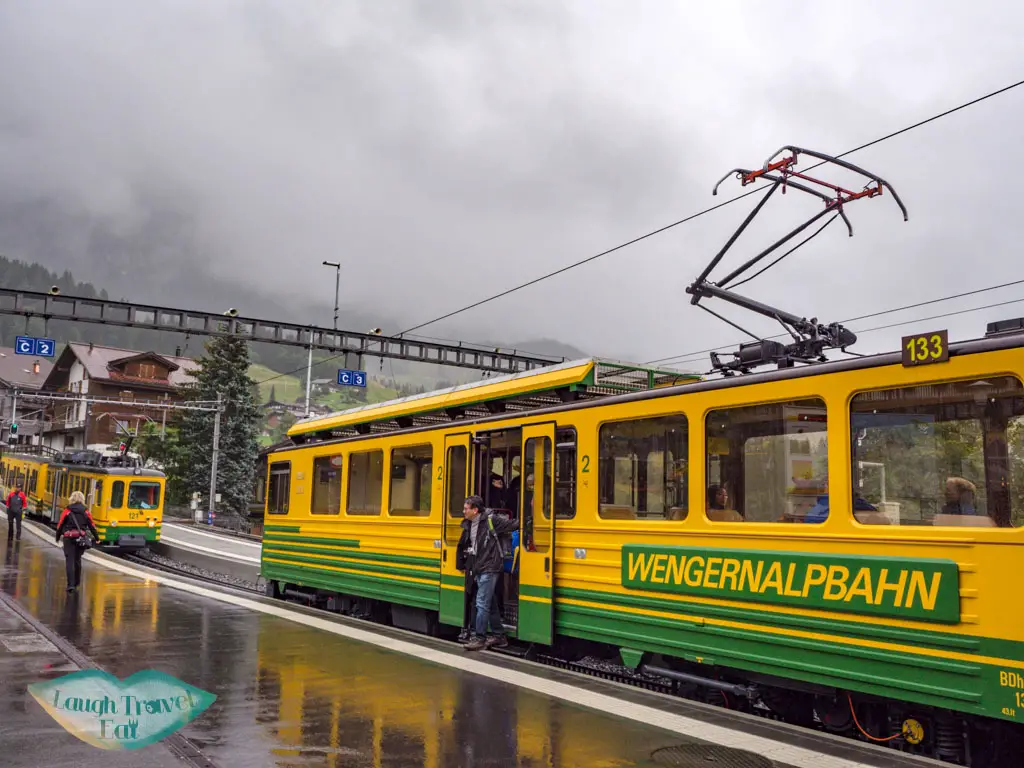 The railway up to Jung fraujoch was built in 1912, taking tourists on a 35 minutes ride  from Kleine Scheidegg. At the top there's the Sphinx Observatory where you can take in the view of the surrounding mountains without being out in the cold. There's also an ice palace and various other things at the top, although a kind Malaysian lady who I ran into at Harder Kulm said that once you have time to take in the view, you are better off spending time at the other towns.    
Ticket cost: Interlaken to Jungfraujoch return CHF 210.80
With Swiss Travel Pass and Half Fare Card, you save 25% and only need a ticket from Wengen to Jungfraujoch and back. The full price is CHF 76, with the pass you save CHF 4 and only pay CHF132. You don't have to get off at Wengen to buy the tickets, simply get it at your starting statin and show them in combination with your Swiss Travel Pass       

Wengen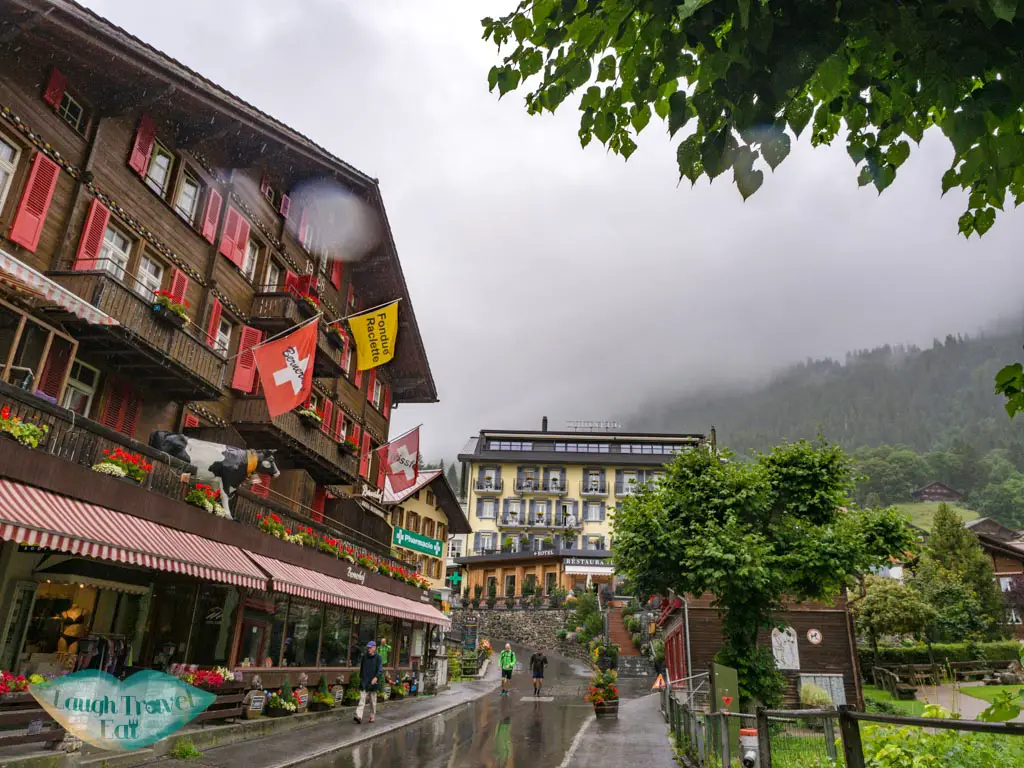 Enroute to Kleine Scheddeg from Lauterbrunnen, Wengen is as far as the Swiss Travel Pass holders can go for free. It's another beautiful town with several nice hikes that gives a sweeping view of the Lauterbrunnen valley. Since my day around was shrouded in fog that often doesn't extend down to the valley, so I decided to do a short hike from town:

Leiterhorn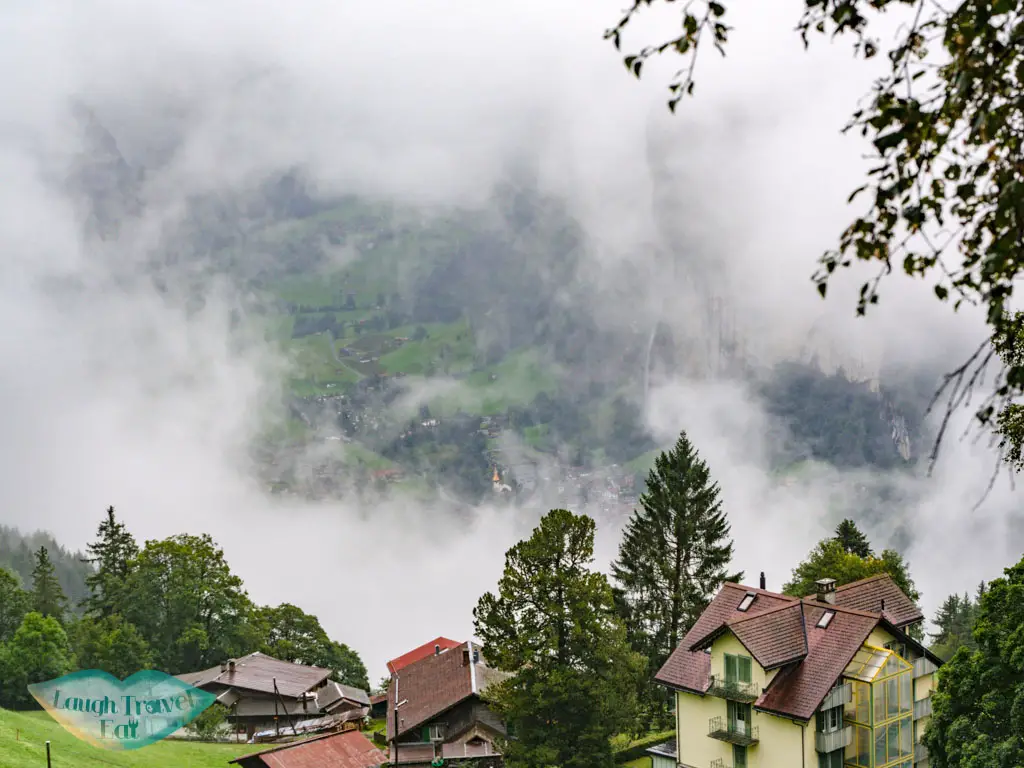 Following the signs from the Wengen train station, I hiked for about an hour over a relatively flat path up to a small viewpoint by farmland. While there isn't much to see that day, I did get a few glimpses of Lauterbrunnen below. Depending on your speed, I'd budget 2-3 hours for this little trek.               

Grindelwald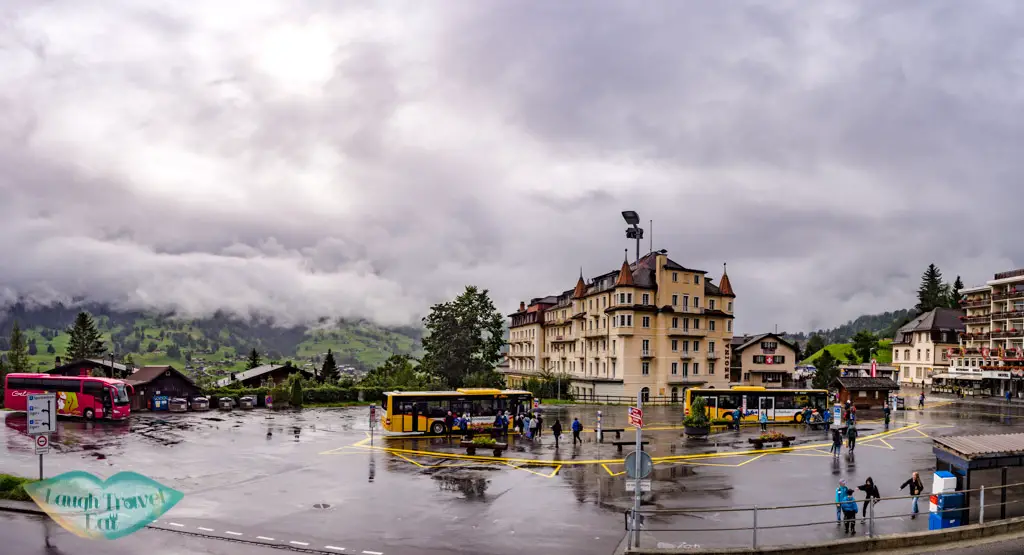 On the other side of Lauterbrunnen, Grindelwald is a much bigger ski town with better amenities and shopping. In fact, I saw the biggest Co Op in my entire trip in Switzerland here! It is closer to Kleine Scheidegg, and about half an hour from Lauterbrunnen and a little less from Interlaken.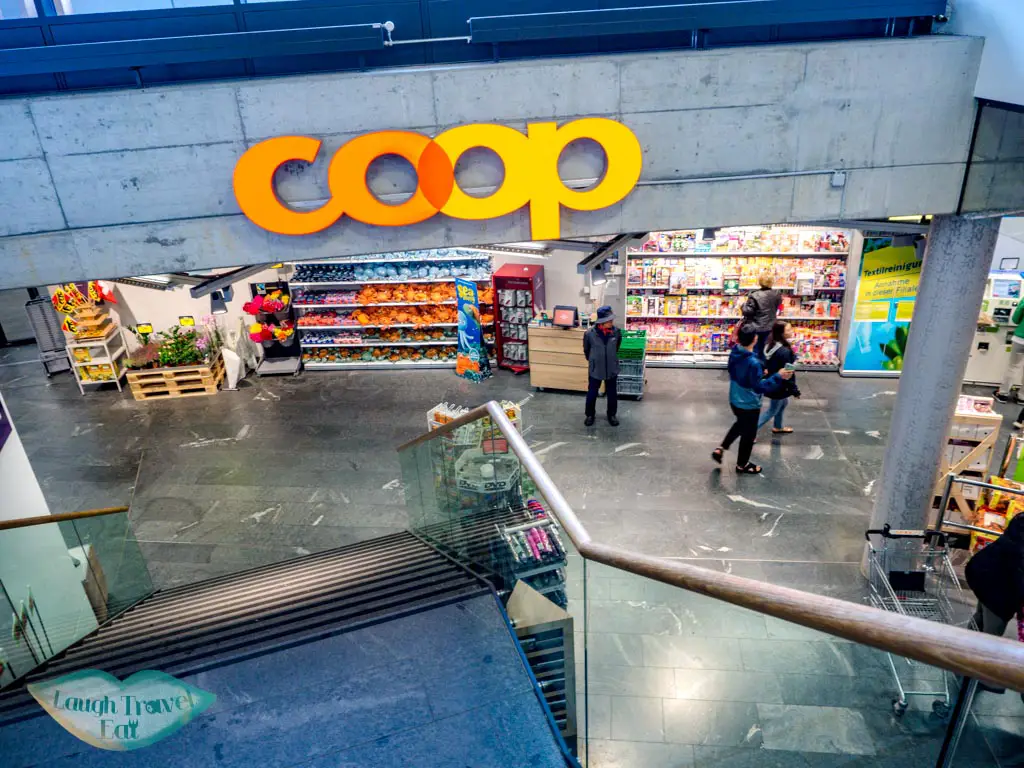 It is also idyllic, though lacks the cliff side charms of Lauterbrunnen. Given that I had very limited time, I didn't get a chance to see much of Grindelwald, but here's an article about some great summer activities to do there. It is also a very popular ski town that flourishes in winter.                  

Which town to stay in Jungfrau region
As I've mentioned before, Jungfrau region can be a little confusing. Depending on how long you have and what your aim is, here are some pointers on each town and where to stay:
Interlaken: for the easiest transport option and access to the other cities
Lauterbrunnen: small town charm and close access to Murren and Jungfrau
Murren: a secluded and beautiful town on the cliff, but harder to get to. Close to Schilthorn and hiking trails 
Wengen: an intermediate between Murren and Lauterbrunnen, but further from Interlaken 
Grindelwald: the counterpart to Lauterbrunnen, a ski resort town that's less small town charming but with more facilities.
Where to stay in Interlaken
Budget: Happy Inn Lodge offers clean rooms and dormitory for budget travellers. They have a free shuttle in the winter for skiers and is by the Interlaken West station. If dorms aren't your thing and you don't mind staying one station away from Interlaken, Edelweiss Lodge has great reviews and reviews say they are squeaky clean.         

Midrange: Interlaken Youth Hostel has slightly pricier hostel rooms in addition to private rooms but its location by the train station is unrivaled. Don't need dorms?  Hotel Interlaken might be a good pick since the private rooms aren't that different in price and are just a little further along.

Splurge: the Victoria Jungfrau Grand Hotel & Spa has an elegant and sleek design in the center of the action and onsite spa facilities, perfect for those looking to indulge.     

Where to stay in Lauterbrunnen
Budget: the Valley Hostel is only 5 minutes from Interlaken train station with a full size kitchen and spacious rooms. I stayed here  for two nights and liked it, although there's no lockers in the room and only 3 showers. But you can't beat the price!

Midrange: Hotel Steinbock is directly across the Lauterbrunnen train station and guests love their breakfast. The price  for its location, Swiss decor, and the service is excellent since this is Switzerland! But the train can be noisy for some so consider bringing ear plugs if you need to sleep early or want a lie in. 

Where to stay in Murren
Midrange/splurge: Hotel Edelweiss Superior offers a sweeping view of the valley below and the mountains across, too. They're between the cable car and train station and can provide pick up on request.

Where to stay in Wengen
Midrange/Splurge: Pasta & More Bed & Breakfast is 3 minutes to the train station. It has both budget and balcony view room that are pretty good for its price point. I ate at their restaurant and really love the food.  For apartment fans, there's Haus Bel Air with a delightful cosy alpine decor and central location. 

Where to stay in Grindelwald 
Midrange: Hotel Restaurant Alpina tick all the boxes with ambience, service, and location, with the added bonus of a large garden.    
Splurge: Eiger Selfness Hotel has view of the mountains and even the Eiger on a good day, is close to the train station with woody yet modern rooms. As well as free spa facilities, of course.