Switzerland travel tips: how to save money for train, food, and more
Switzerland is known for its stunning landscape, cheese fondue, and being expensive. As a budget conscious traveller, it can be daunting to visit as you count how much money you'll have to spend. That said, Switzerland does try to make things easier for tourists, and there are ways to save money as well as make your trip easier. Here are some of my top tips on visiting Switzerland:
Essential Switzerland travel information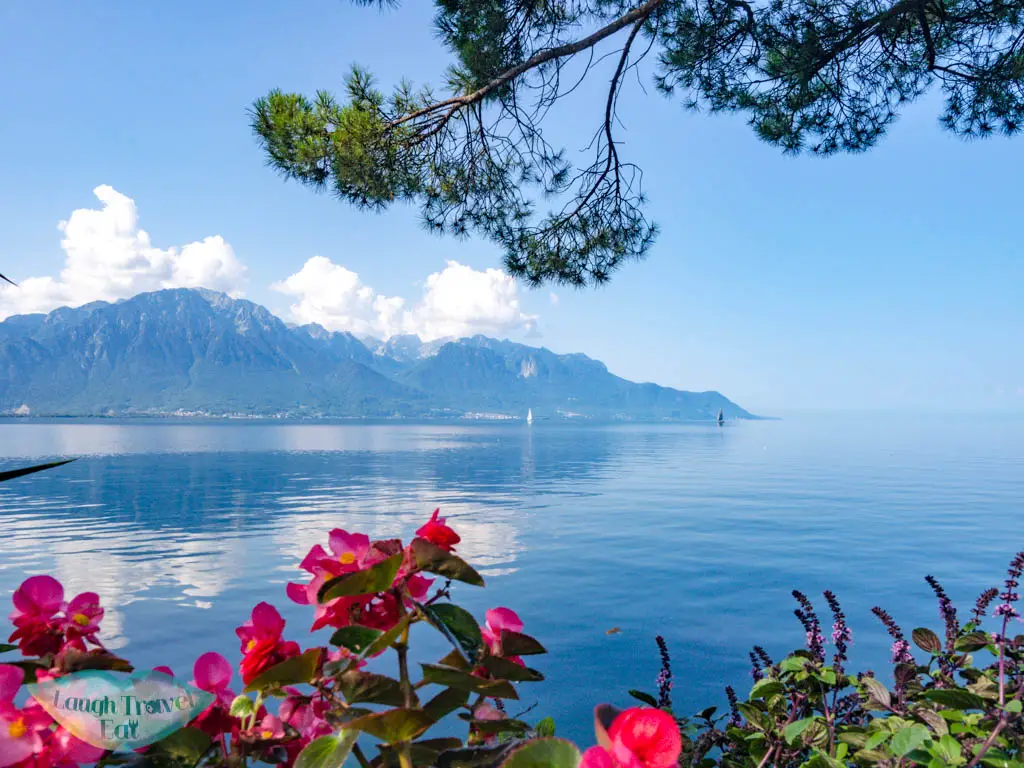 Currency used: CHF, EU accepted in some places but usually at 1:1 exchange rate
Language spoken: French, Swiss German, Romansh, Italian and English
Average cost of a meal: ~ 30 CHF, less if you buy at the supermarket
Tap water is drinkable, in fact, the quality is amazing!
Plug is type C or J, basically two round pegs if you don't understand that, like me. Their plug shape is a narrow hexagonal, so either bring a plug that extends or try to find an adapter as the European round shape doesn't fit 
Tax is already included in prices, some restaurants add service charge but some don't and tipping is appreciated but not necessary
You can ask for tap water in restaurants, some give it for free while some charge CHF 3 per litre. It's worth asking as not every waiter/waitress tell you about this charge
There is almost always a supermarket by the train station should you need to buy a snack or a sandwich
Swiss Travel Passes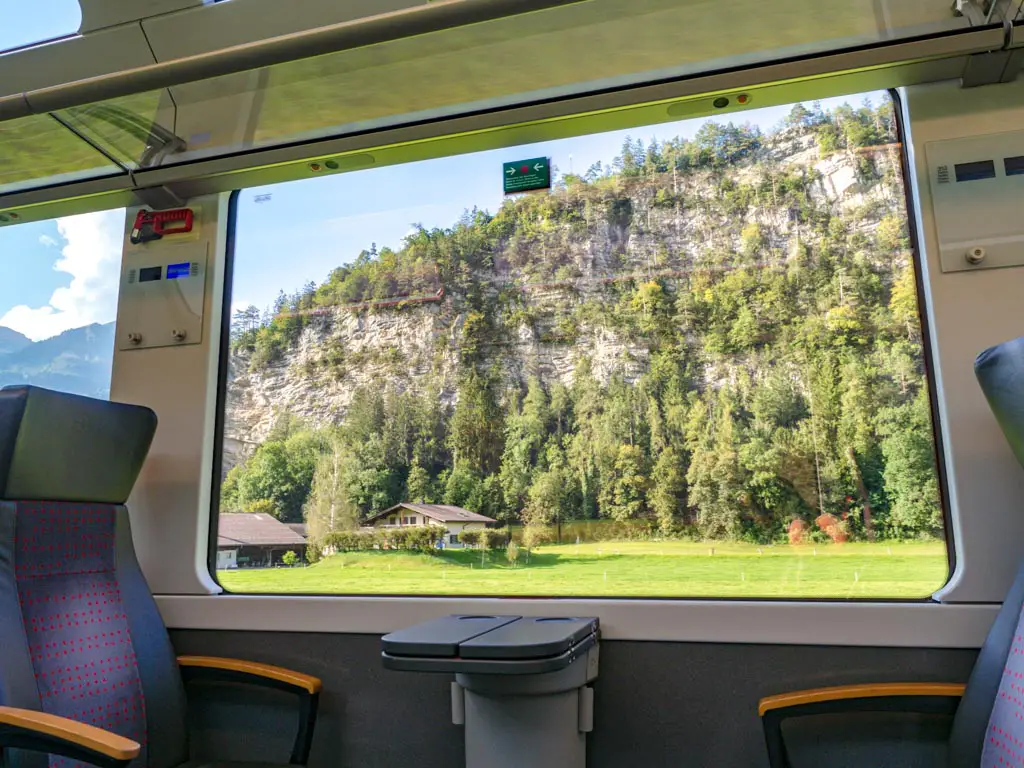 Arguably the most expensive part of your Switzerland journey would be transport, and that's where the Swiss Travel Passes comes in. There are three types of passes you can get:
Swiss Half Fare Card – you get 50% off train, bus, and boat for 1 month (115 EU)
Swiss Travel Pass Flex – choose between 3, 4, 8, 15 days of non-consecutive travel days (225 – 537 EU) within a month
Swiss Travel Pass – choose between 3, 4, 8, 15 days of unlimited travel (221 – 489 EU)
Both of the Swiss Travel Pass has first and second class options. Price range given above relates to the 2019 second class adult prices. For full price table, check their official website.
Note: youth (<26) and children (6-16) prices are available, as are family passes.
You must carry a valid ID and have a printed copy of the pass with you. I advice printing multiple copies as reprinting at the office costs CHF 5
What's included in Swiss Travel Pass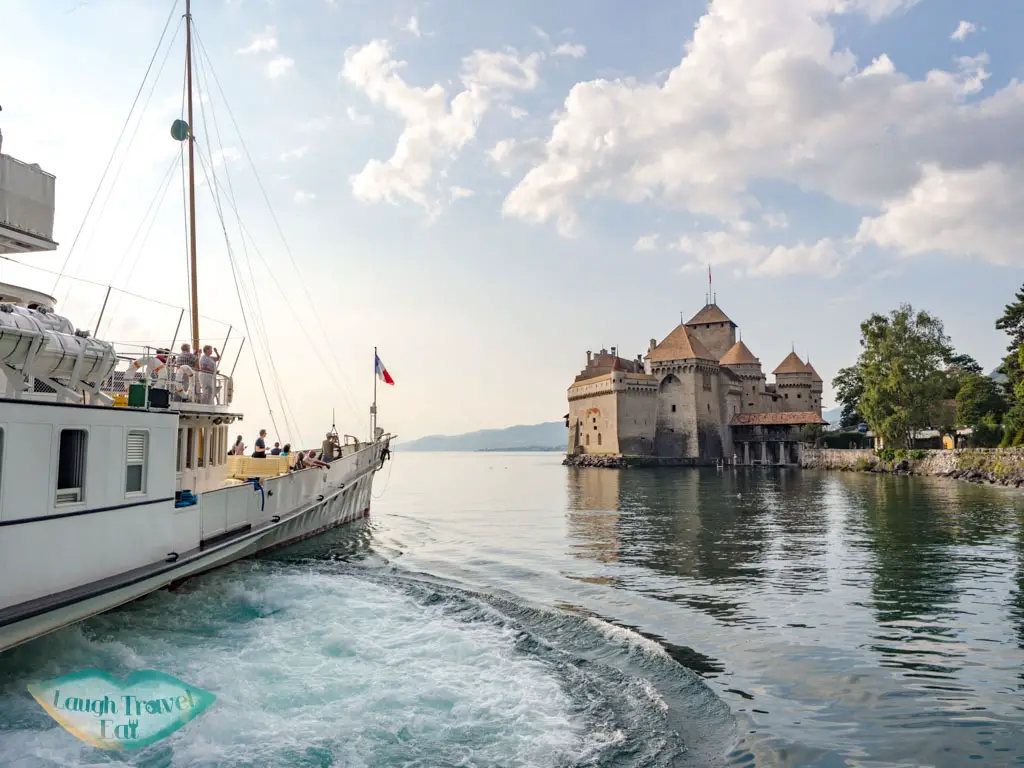 The Swiss Travel Passes also include free entry to museum, boat rides, cable cards. Some mountains are also included: Stanserhorn, Schilthorn and Rigi. Some only 50% (or less) discount e.g. Harder Kulm, Jungfrau.

Over 500 museums are also included in the pass, as well as transport inside the cities, so there's no need for a city pass.
You can find the full map of the train lines and other transport here
Note: the half fare card does not give you free public transport in cities or museum entry! However, most mountains still offer 50% discount
SBB train app for planning
The SBB website is an absolute gem for planning your train journey, whether you have a pass or not. It also shows you a map of platform change if you need one! As well as notification for upcoming trains or changes you need to make. I used it extensively on my 7 day trip to Switzerland and it helped me pre plan and even last minute plan my train transfers!
It shows the time table, what's available on the train e.g. restaurant, panoramic coach, whether reservation is possible. The best part is that it also indicate the occupancy expectations, so you know whether you should make a reservation or not.
Reservation for trains in Switzerland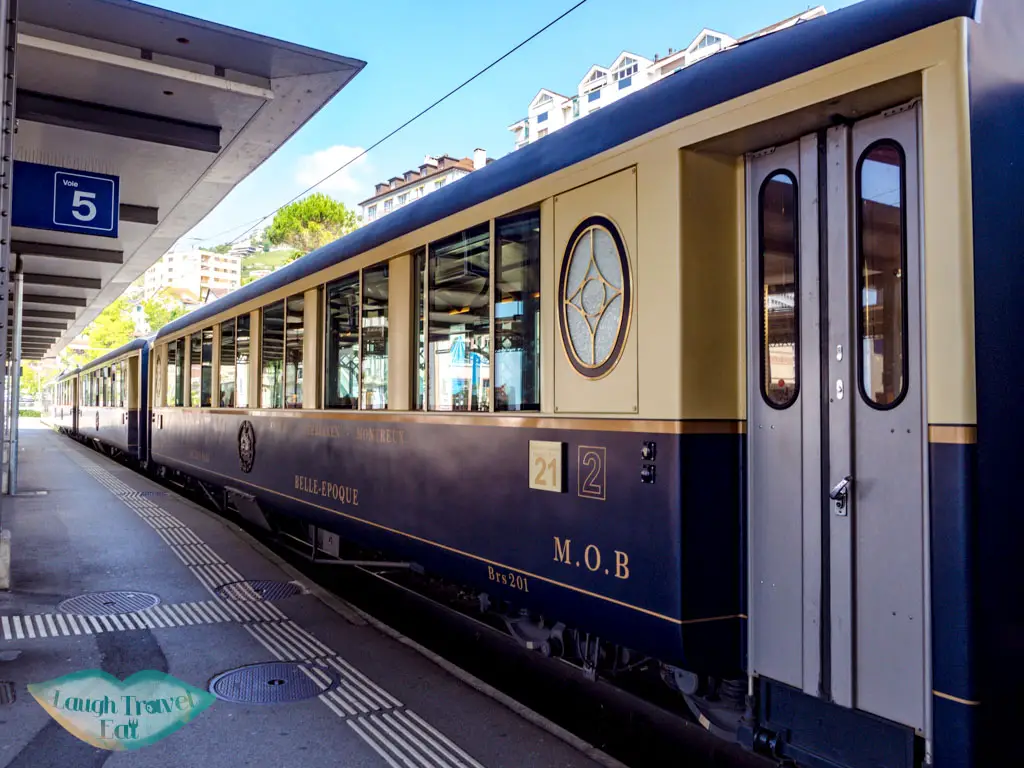 A lot of the trains don't offer reservation – and they are as frequent as every half an hour. It might be easier to simply turn up earlier for your desired train than trying to figure out reservation!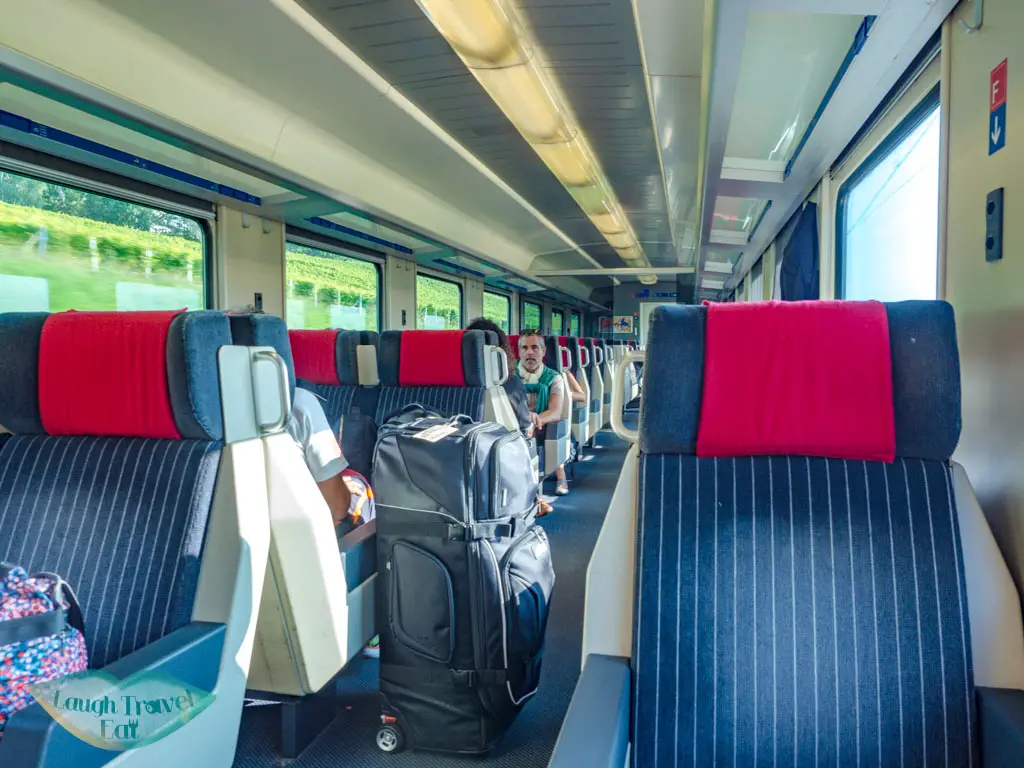 To make a booking/reservation without a pass or with the half fare card, simply select the train and pay online on SBB. You can also add the train to your timetable on the app and it'll keep you alert with platform numbers, departure and arrival time etc.
The only exception is the panoramic trains. They are as following:
Glacier Express: Zermatt – Brig – Andermatt – Chur – St-Moritz
Bernina Express: Chur/Davos/St. Moritz – Bernina Pass – Poschiavo – Tirano – (Italy)
Golden Pass: Lucerne – Interlaken – Zweisimmen – Montreux
It is not mandatory to reserve but if you want a panoramic seat then it's a good idea.
Gotthard Panorama Express (boat) : Lucerne – Flüelen – Bellinzona – Lugano
PostBus Express Routes (bus) : Palm Express – San Bernardino – Julier Route Express – plus many more
Note: some of the panoramic train have different prices according to the different seasons. You can reserve seats on their own website respectively. For travel pass option, just keep going through and you will find the option to use it before checkout so they only charge you the reservation fee.
Connecting trains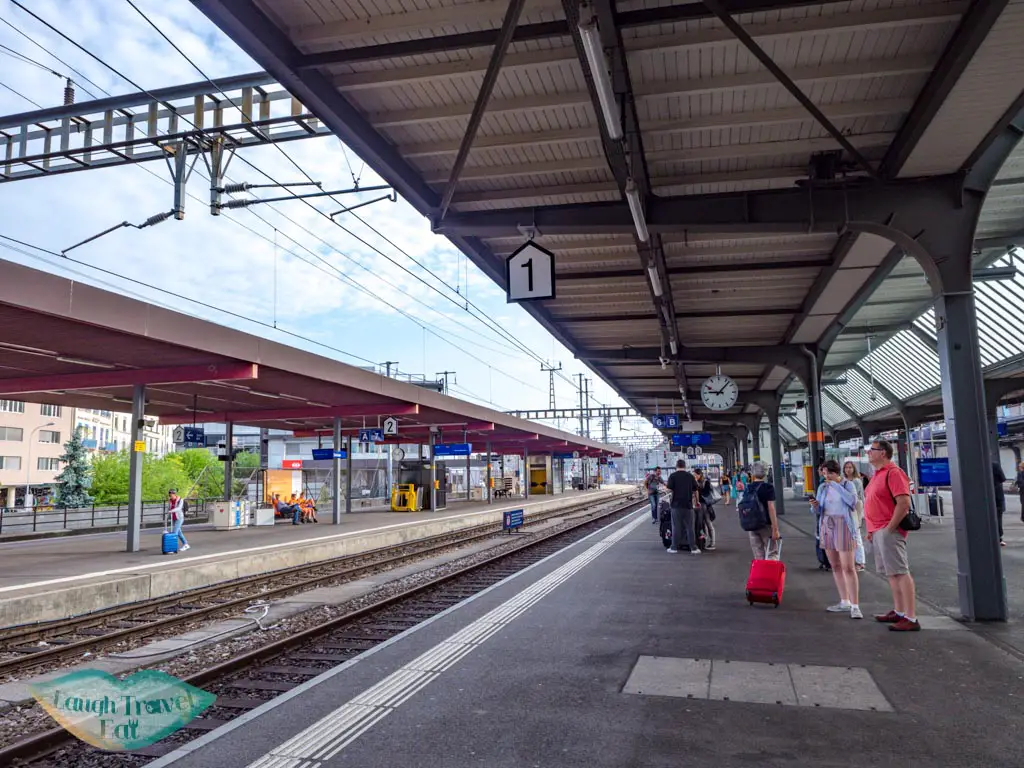 For the most part, the connecting trains are timed so that it's easy for passengers to change platform and continue their onward journey. The only one that I've ended up missing is the connection at Montreux from Geneva to Rochers de Naye, which is schedule just a few minutes after and my train was late and missed the connection.
Train station lockers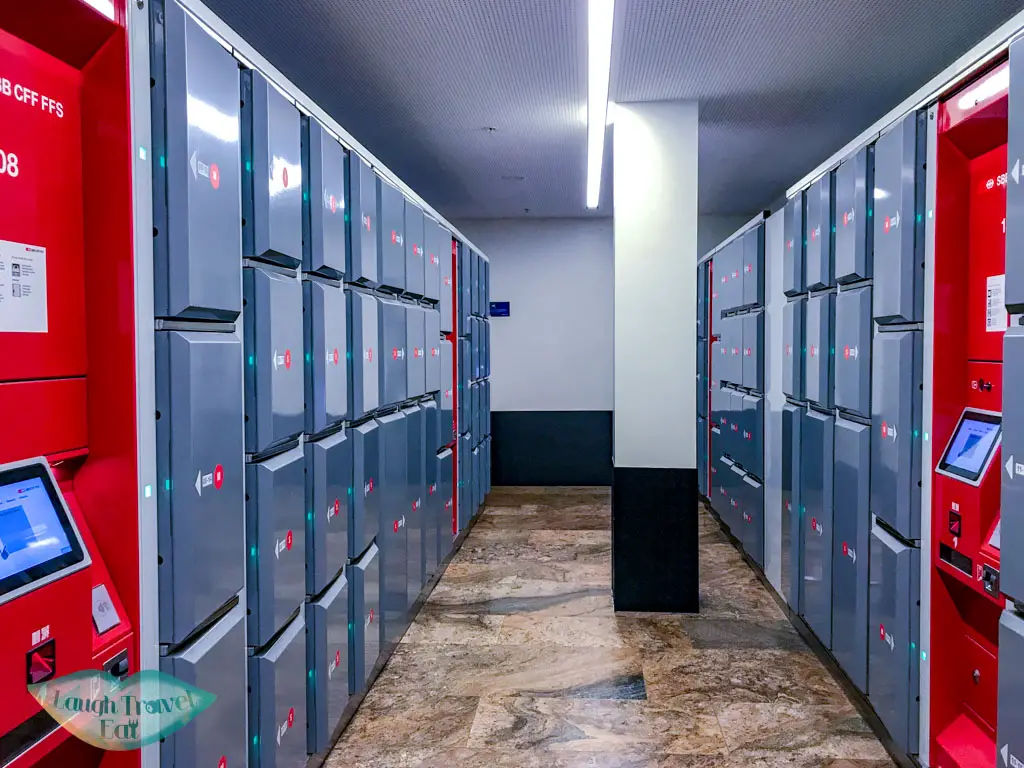 Most train stations have both locker services and manned luggage counter. Personally, I prefer the lockers since you can add another bag at no extra cost if it fits.
Costs depends on the size of the locker and charge at a minimum of 6 hours hold. If you exceed the time, you'll be asked to pay more on retrieval.
Card is accepted but cash only with coins, but the staff at the counter should be able to help you with change.
I stored my medium sized suitcase and backpack for 10 CHF at Geneva station for 6 hours just fine. Coin only operated lockers that are blue usually charges CHF 5, 7, and 10 for various size lockers up to 24 hours.
PS it's a real hassle if you lose the receipts take good care of it. Old fashion lockers use keys so don't lose those, too.
Most lockers are located near the main entrance of the train stations.
City travel card
If you are using the Swiss Travel Pass Flex, Half Fare card or just staying a city or two, you might want to consider a city pass – for example, I had a Geneva Pass in Geneva before I started using my Swiss Travel Pass. These cards usually last from 1 to 3 days and cover public transport as well as numerous attractions and additional discounts.
In Geneva, I was able to go on variety of museums. It's worth getting if you are staying at an AirBnB, however, if you are staying at a hostel or hotel, you might get a free transportation pass for the duration of your stay anyway.
How to eat cheap in Switzerland
Find hostels with kitchen (or AirBnB)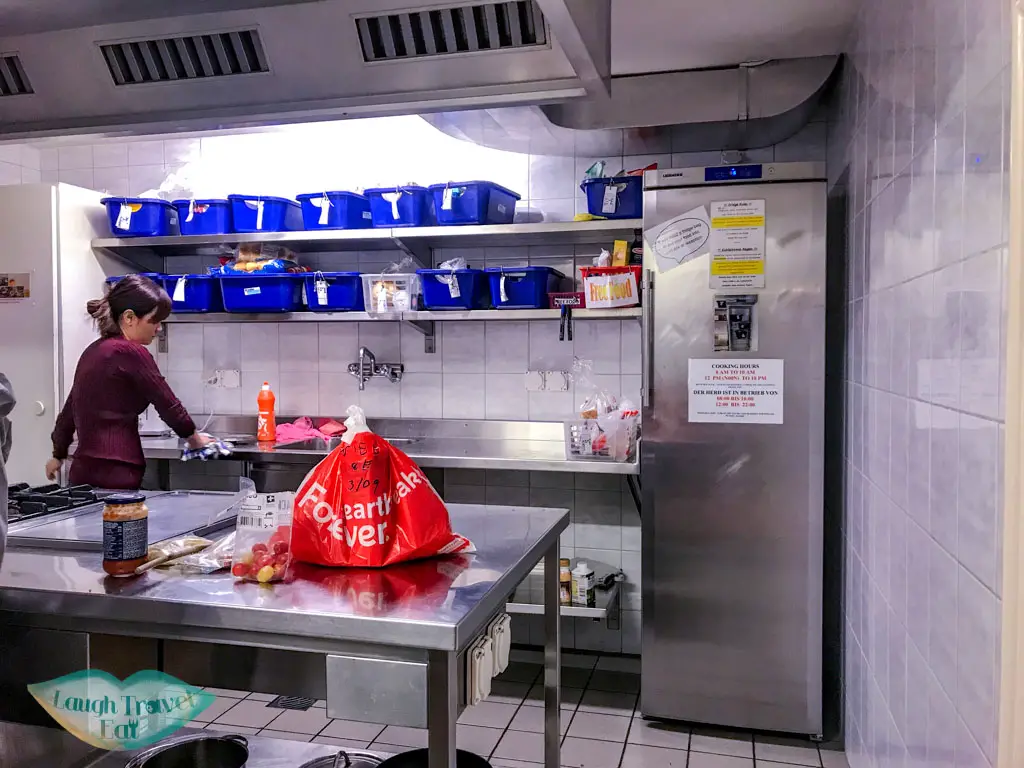 Cooking your own meals, especially dinner, is the best way to save money. A lot of hostels and some hotels will have kitchens available for guests to use. Here are some extra tips:
Bring food to cook – if you have space in your luggage, why not bring some basic things from home? Noodles, pasta, or instant meals are all safe and ok to bring.
Don't forget to bring snacks to tie yourself over!
Meat tend to be more expensive in Switzerland, so try to be a vegetarian for the week
You might want to pack lunches, so bring a lunch box or ziplock bags so you can store them
If you are staying less than 2 nights alone you are unlikely to want to cook. In that case it's best to get ready meal or sandwiches from supermarket.
Note: city tax is applicable for all accommodations. Some homestays/B&B might also add on extra cleaning fee etc, so be sure you double check before booking.
Take advantage of weekday lunch sets
Cooking isn't doable for the entire trip, so if you have to eat out, make it lunch on a weekday. Most restaurants offer set menus starting at around CHF 19.99, which is pretty good for Swiss standard.
Buy your food at supermarket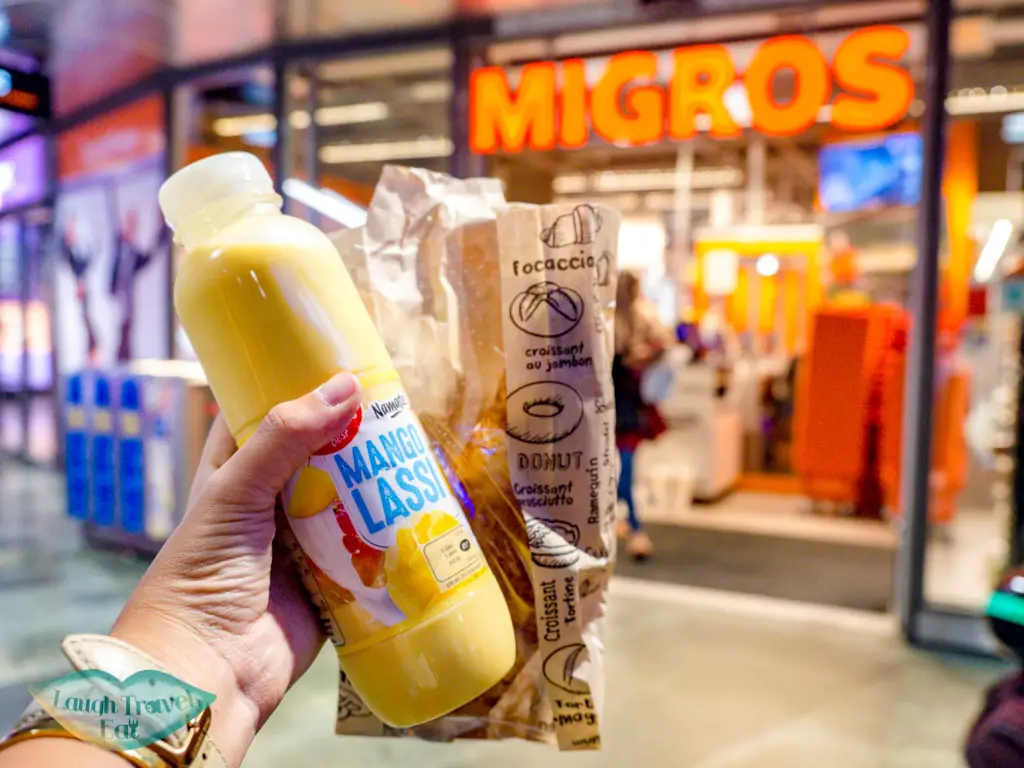 If cooking or eating out doesn't appeal, supermarket is still the place to go. They usually have a range of breads, pastries, sandwiches, and ready to eat meals. Costs range from CHF 1 for a croissant to CHF 6 or so for a sandwich, more for salads and meals.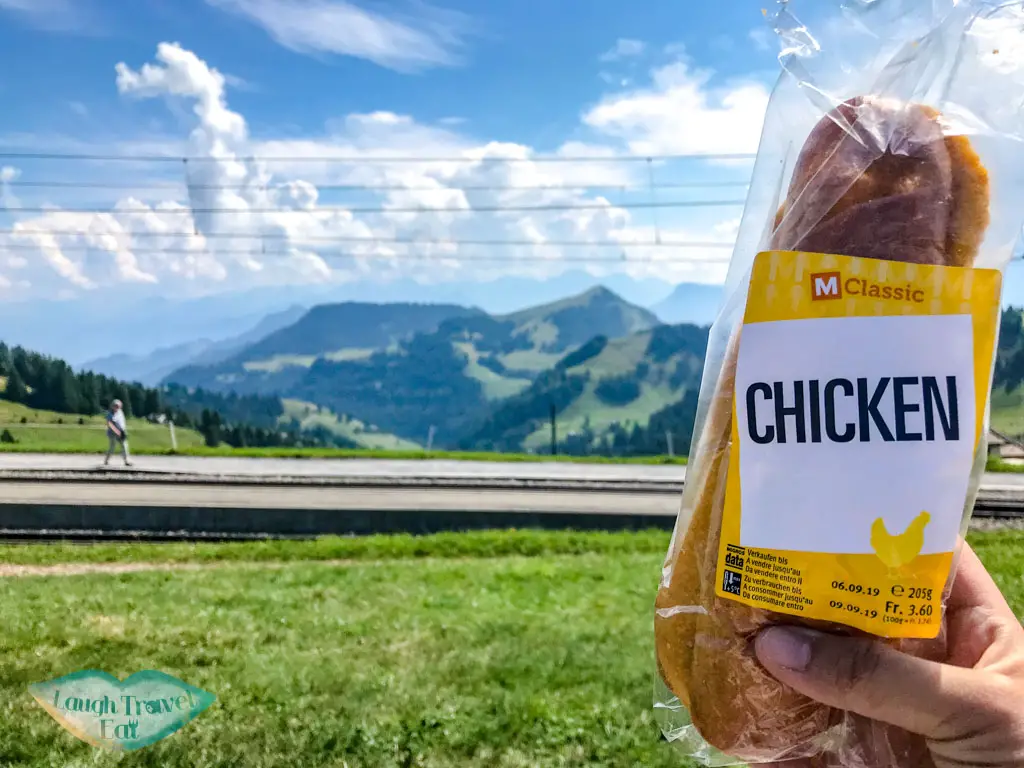 Sometimes you can find sandwiches close to expiration date on a discount. I picked up such a croissant ham and cheese sandwich for 50% off at a Co Op by Montreux train station.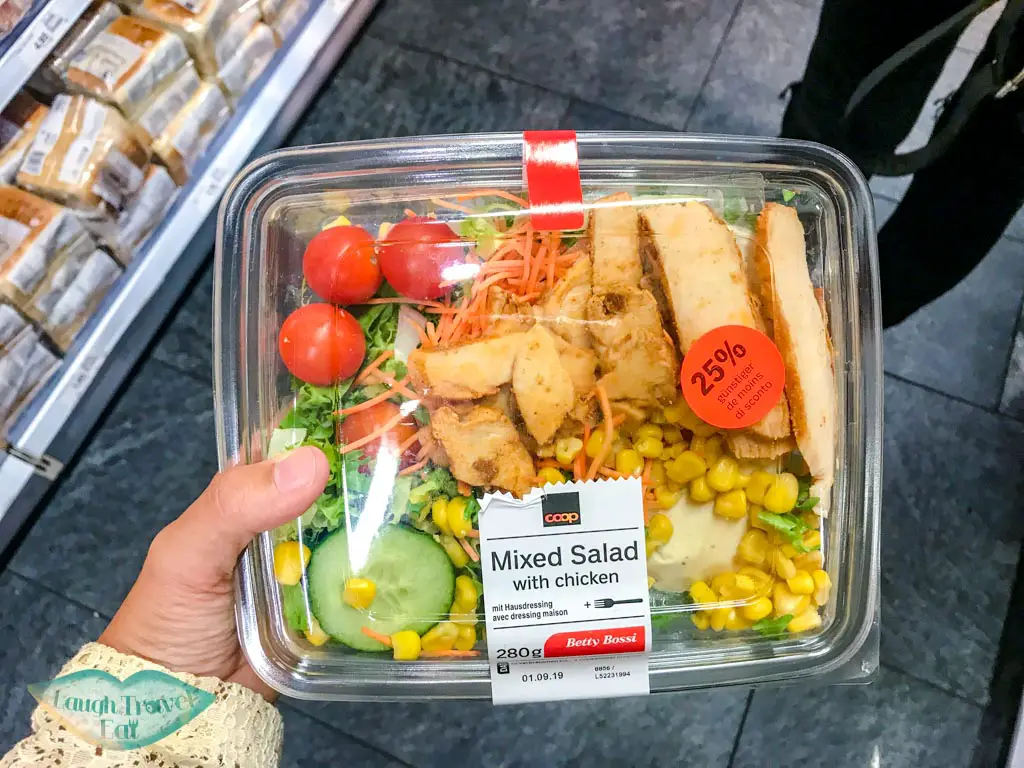 Personally, I find the Migras bakery better. A chocolate croissant is about CHF1.7, not a massive amount more expensive than Hong Kong so I kept getting it for breakfast. Plus they are quite fresh in the morning.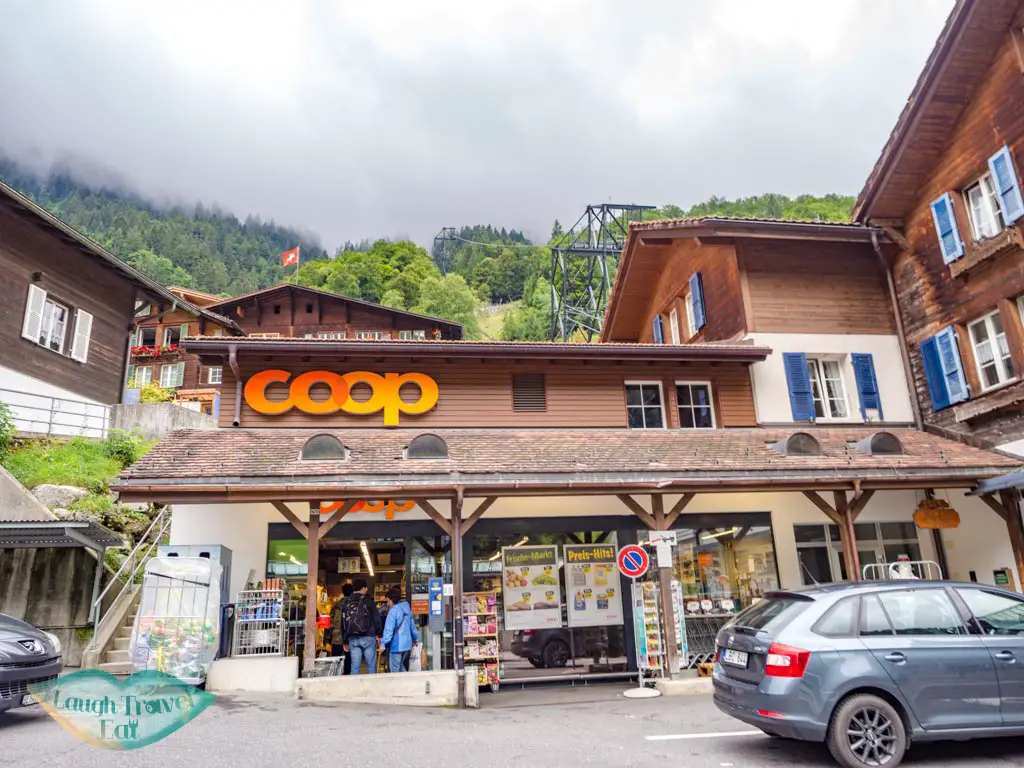 Note: there is usually a Co Op by the train station, at least there has been to all the cities and towns that I've visited. DO check their opening times as some closes on Sunday and have varying opening hours.
Best time to visit Switzerland
In terms of price, it's best to avoid the absolute peak season of July and August. I travelled there at the end of August and early September and I had gorgeous weather until September hits!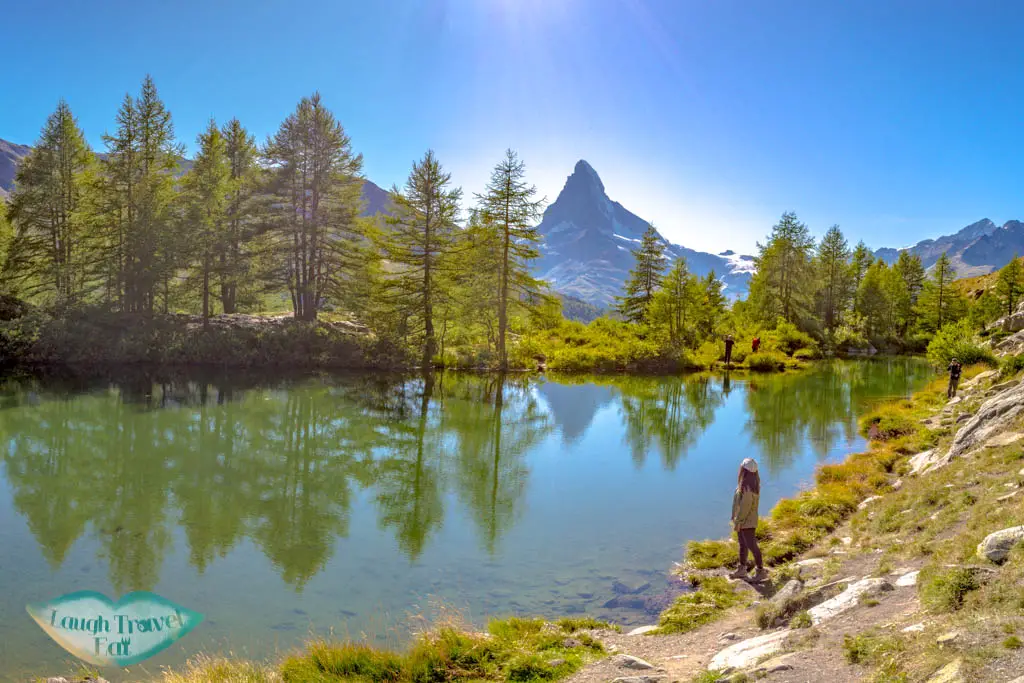 The shoulder seasons just be before July around May to June is also good, however, if you plan on heading up into the mountains, it'll still be cool/cold even in the summer. Do note that hikes can be closed if the mountains are still snowy!
For skiing and snowboarding, the season doesn't truly start until December when enough snow as collected, though you should expect to start seeing snow starting from around September.
Love hikes? Bring layers!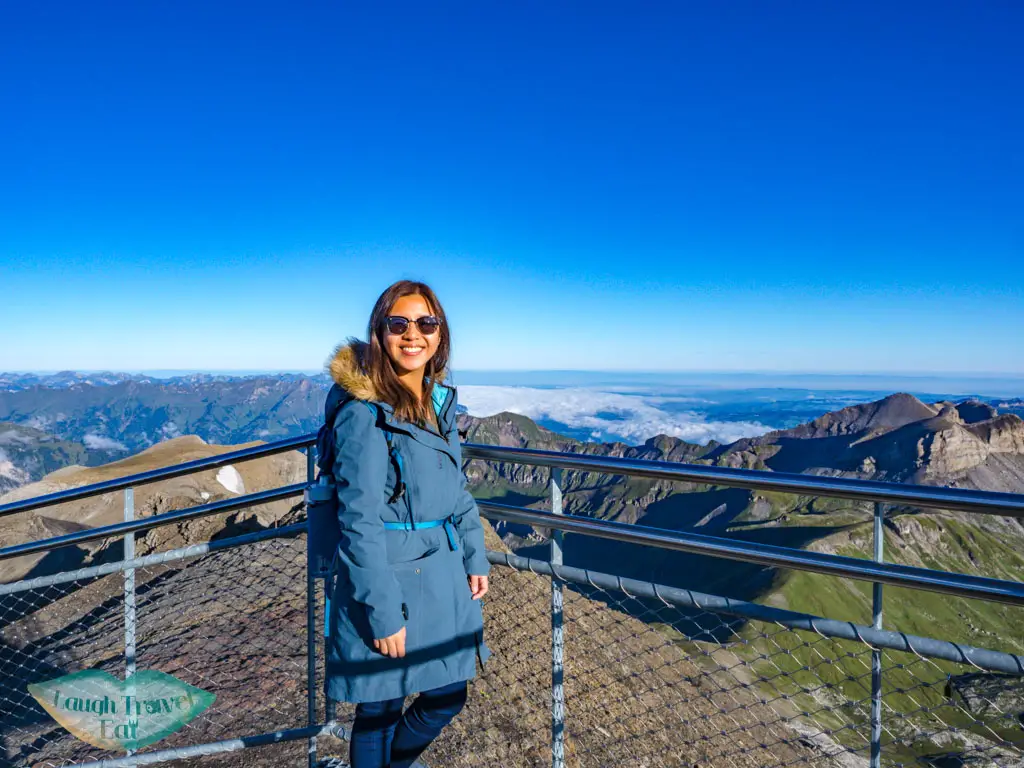 Weather changes very quickly in Switzerland, particularly if you are going to different regions and altitude. My trip went from 27 degree celcius in sunny Geneva to 6 degrees on my last morning in Zermatt! Layers is the key, and a raincoat is a must if not in addition to an umbrella. Especially if you are headed up to the mountain towns like Zermatt.