Zermatt summer: a 2 day Zermatt Itinerary
Are you looking for a Zermatt itinerary or planning a last-minute Zermatt trip? I had 2 days to see Zermatt in summer, and while it might not be as popular as it is in winter, this mountain town by the Switzerland-Italy border is a hiker's paradise when it's not covered in snow.
While it is known to be touristy, its beauty and car-free charm make it a quintessential stop on all Switzerland itineraries. I only have two days here and I was determined to make the most out of it – and here's a complete guide on things to do in Zermatt in the summer:
Essential Information on visiting Zermatt
How to go to Zermatt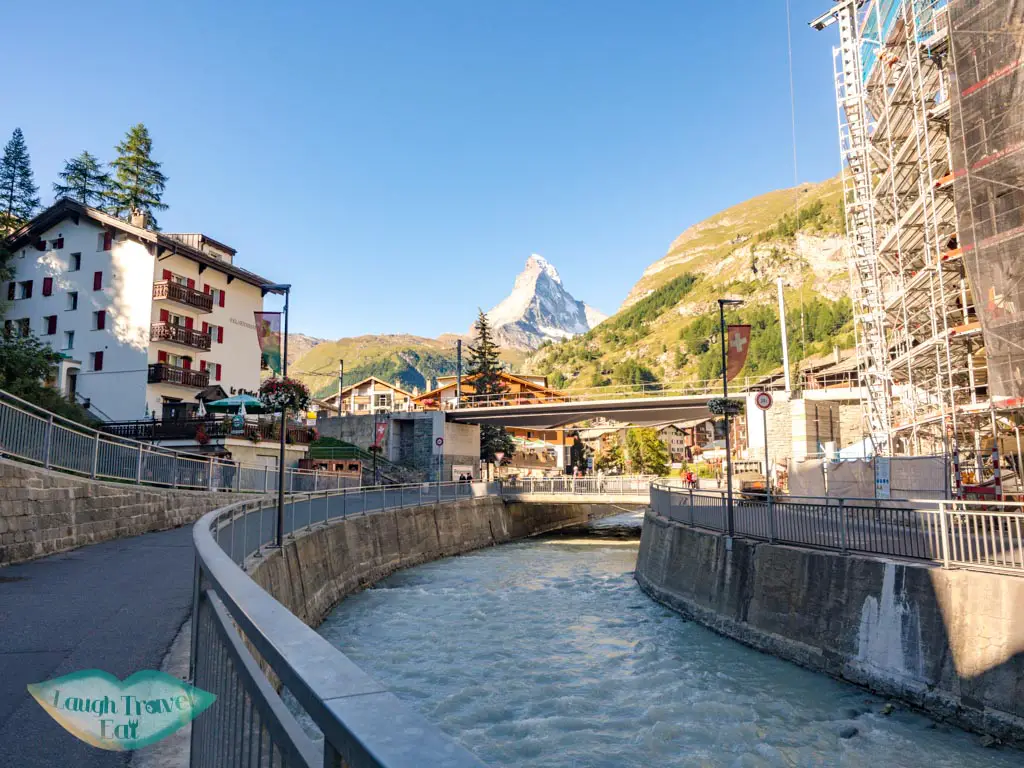 Zermatt is at the southern border of Switzerland towards the west and the easiest way to get there is by train. As a city that's car-free, you'd have to park outside the city and take the train in. Most hotels have electric cars that can pick guests up from the train station, so no need to worry about lugging your luggage around.    
Is it worth going to Zermatt?
Absolutely! Zermatt is famous for being the town underneath the iconic Matterhorn mountain. It's also a quaint village in itself with a small town alpine charm.
How many days do you need in Zermatt? 
I only spent 2 days in Zermatt, which enabled me to see some of its highlights – mostly the hikes and the views. I'd spend 2- 4 days here, more if you're planning on hiking (in the summer) or skiing in the winter.
Things to do in Zermatt in Summer
Wondering what to do in Zermatt in summer? Zermatt is mainly a hike and ski destination, with enough trails that would keep you busy for weeks. Here are some of my top picks if you've two days and want to do some challenging but not too hard hikes. For a Zermatt 2 day itinerary – you can do one hike per day and relax the rest of the time!
(Actually, I had 36 hours in Zermatt and was able to squeeze everything in.)
Hiking in Zermatt Switzerland
Hike Zermatt to Gornergrat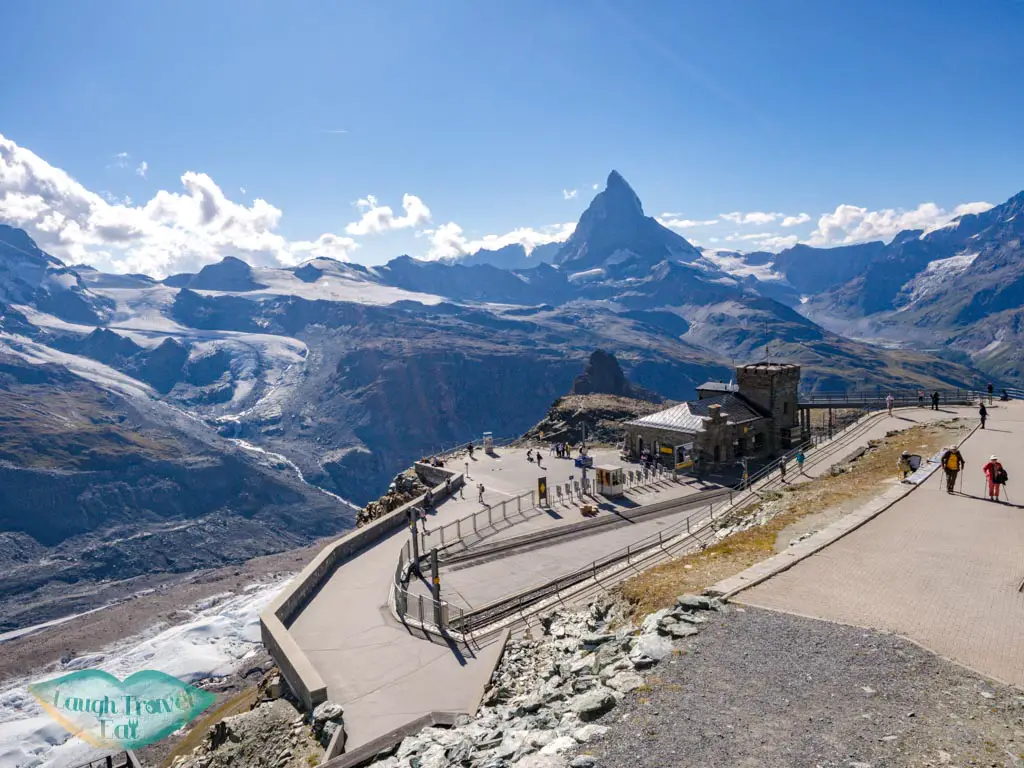 Visiting Gornergrat is one of the top things to do in Zermatt. You can hike or take the train from Zermatt to Gornergrat for a great day out. The Matterhorn-Gornergrat rail is a great choice for all ages and hiking abilities since it has numerous stops, interlinked trails, and a great view of the surrounding mountains and glaciers.
The ride takes 29 minutes from the center of town to the 3,089 m peak, stopping not quite at the top. There is a panoramic route that takes you up to the viewing platform on the peak with a view of the surrounding mountains. In particular, you can see the Klein Matterhorn and Monte Rosa (the glacier).
Riffelsee Hike
Time: 1-2 hours from Gornergrat, take the train out from Riffelberg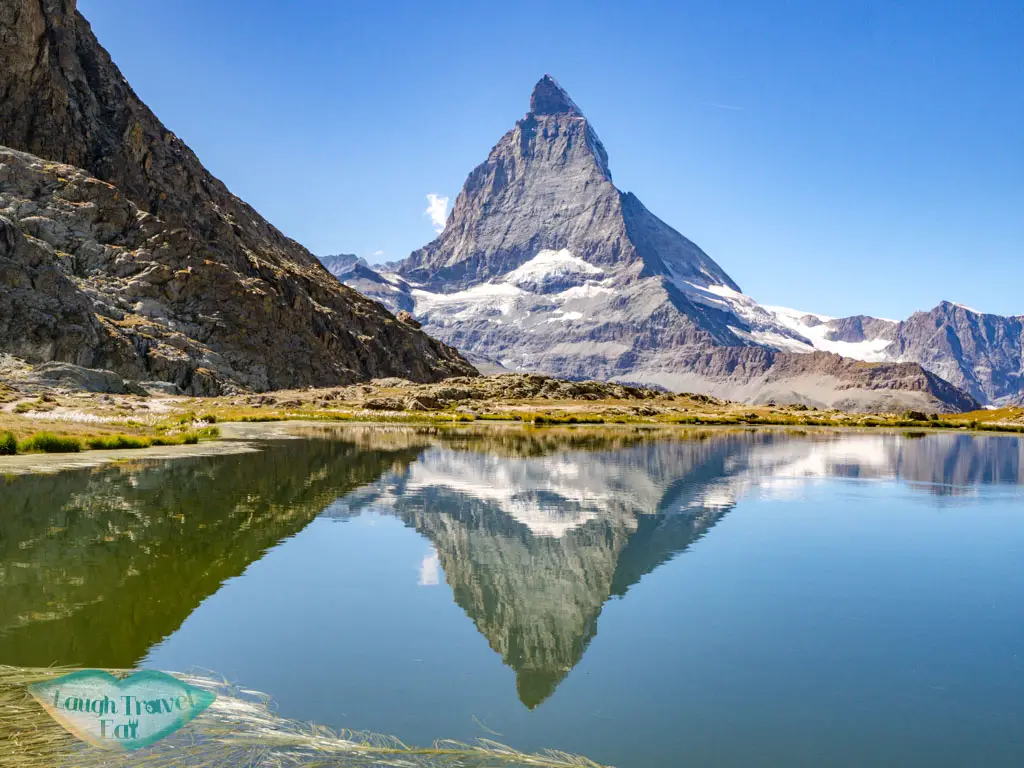 The most popular short hike to do is to trek from Gornergrat down to Riffelsee, or the other way around. It's a relatively straightforward stretch if you are going down, but good footwear is essential as most of the trails are loose rocks and gravel. It also takes you past the train track and you'll face the Matterhorn the entire way, so get your camera ready for the view!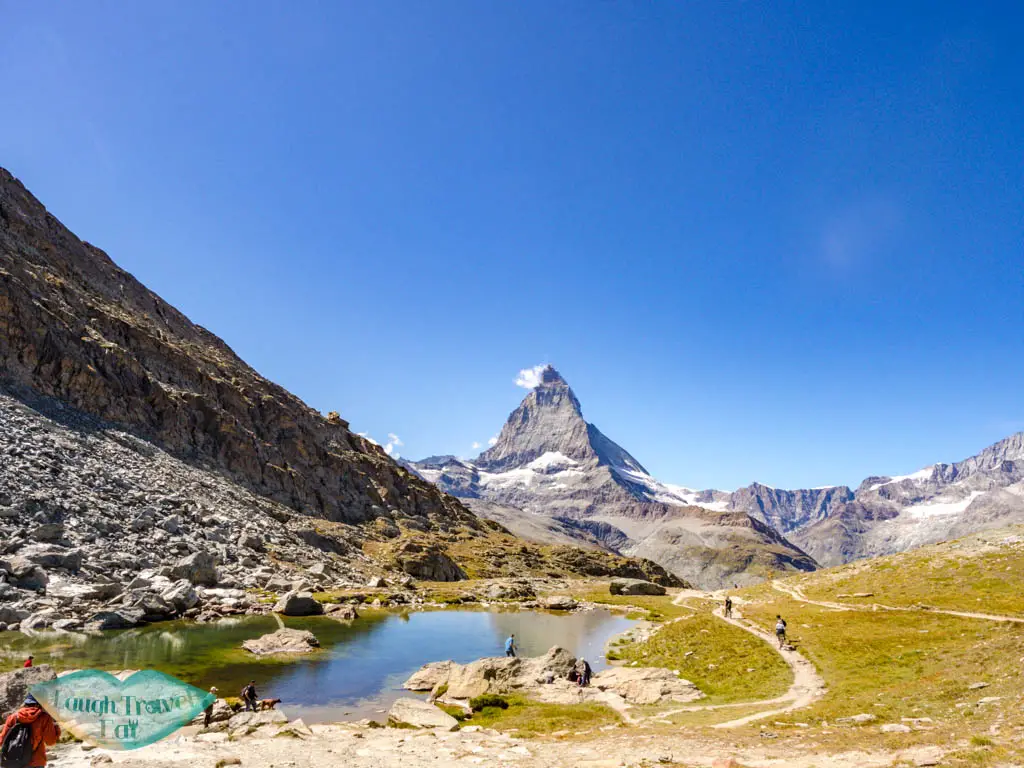 There are actually two lakes. Riffelsee is the first one you'll come across hiking down from Gornergrat, and you'll spot both as you descend. The second unnamed lake is right by Riffelhorn, which, although small, is charming in its own way.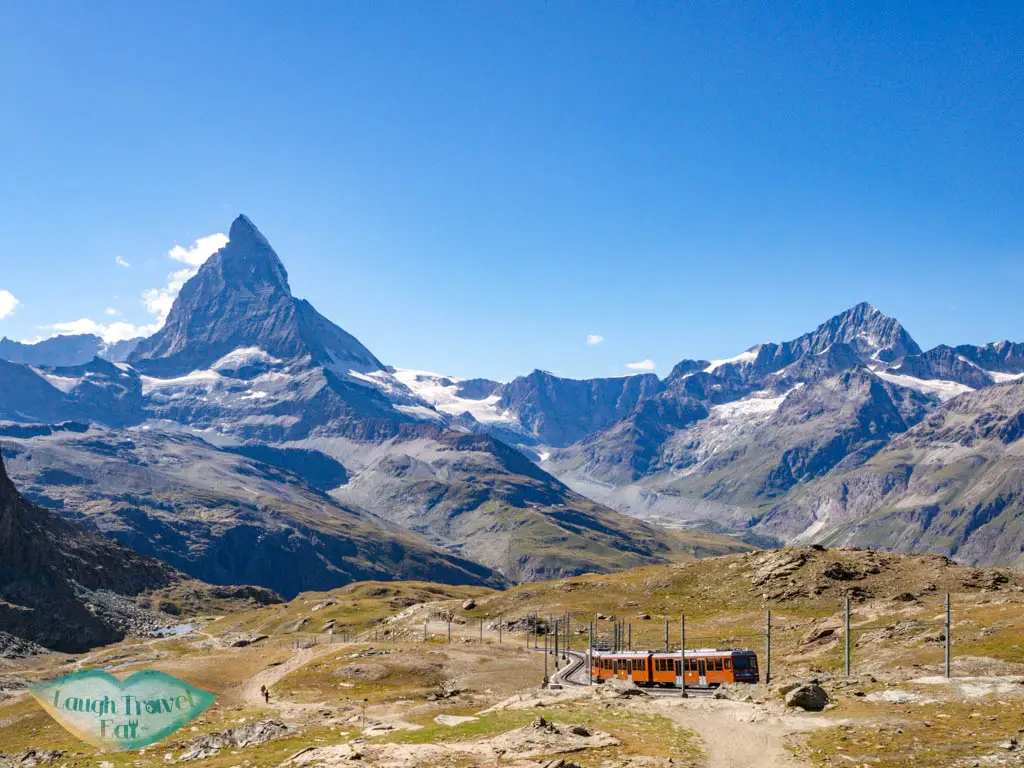 I'll budget one to two hours for this hike, especially since you'll want to stop for photos. I hiked up en route from Riffelalp and the high altitude and the ascent were not easy! More on that below.

Riffelalp to Gornergrat Hike
Time: 5 hours up to Gornergrat, take the train down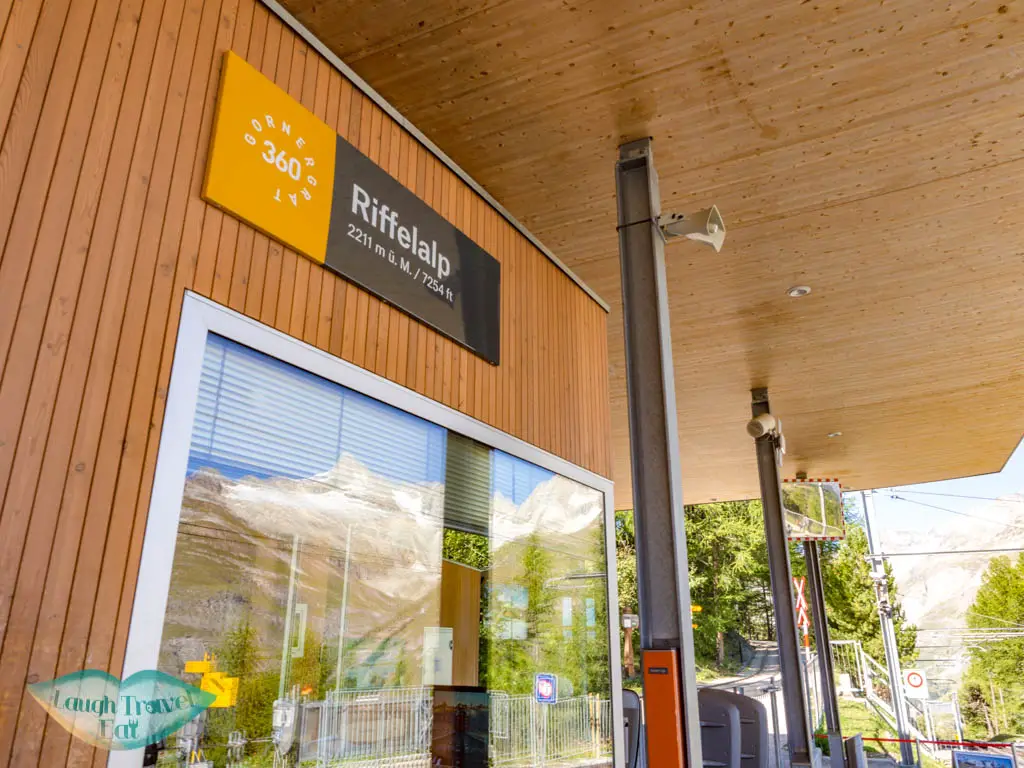 If you want to challenge yourself and also save some money, you can hike up from Riffelalp (or even Zermatt). It's the first stop from Gornergrat and stands at 2211 m, following the trail up to Gornergrat via Riffelsee, catching a glimpse of the Monte Rosa Glacier (which is fully visible from the top anyway). This features 924m of elevation gain all the way up to Gornergrat at 3135, so be prepared!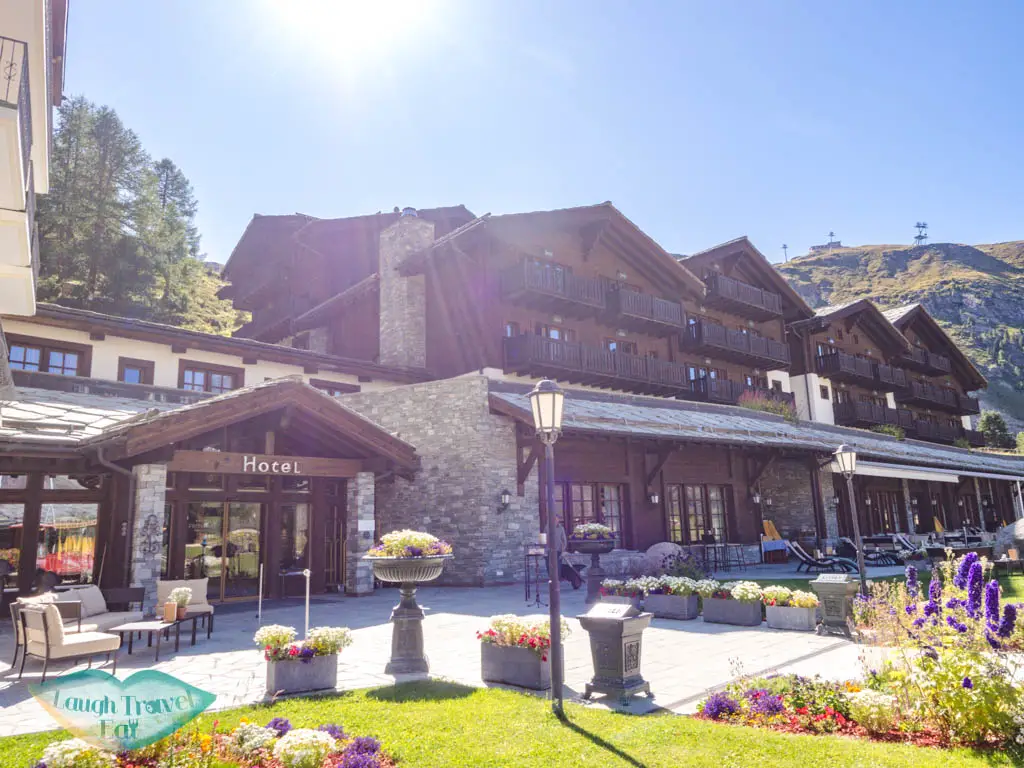 The trail around here is not marked on google map but following the sign had proven to be surprisingly easy. From Riffelalp, head out towards Riffelalp Hotel, where you can see the Matterhorn to the right.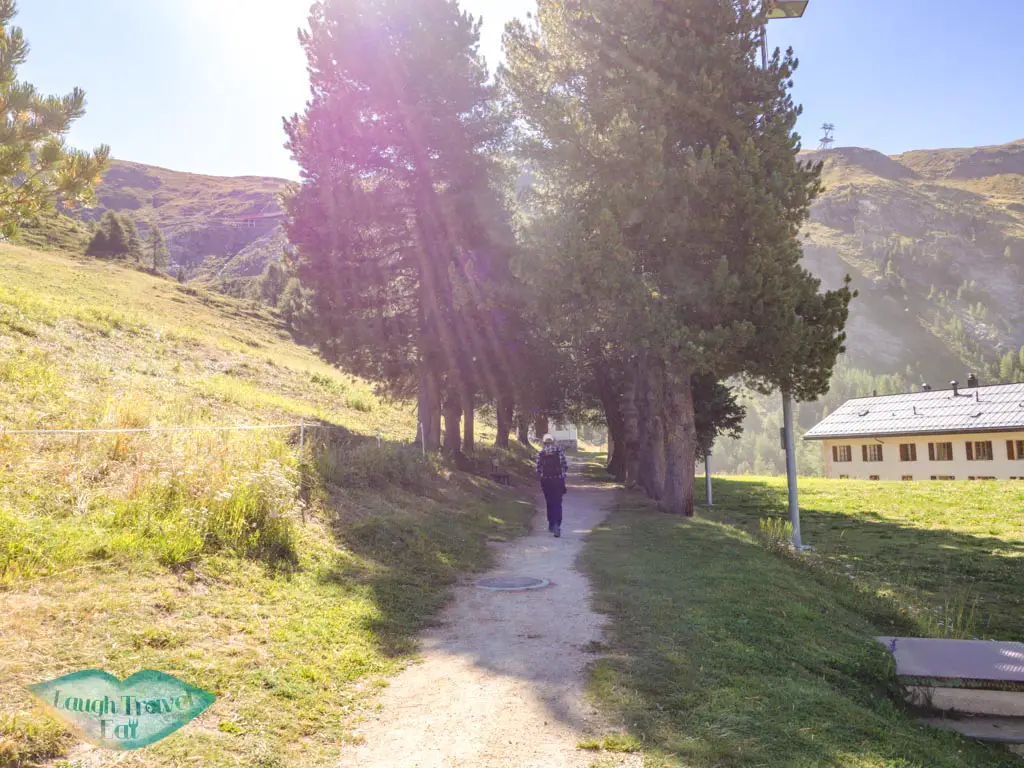 The only confusing part of the trail is here, where a sign points left uphill for Gornergrat but also towards a small shaded path. Take the small path past a chapel to the left on a pretty and narrow lane that slowly starts to zig-zag up.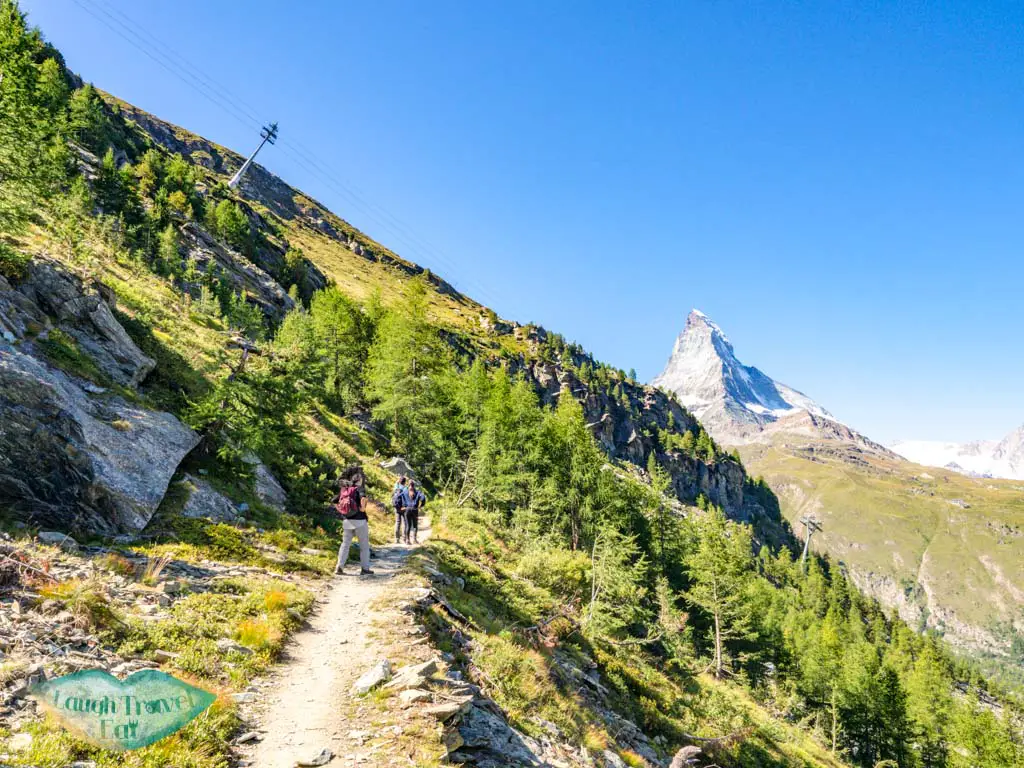 But you'll get a full view of the Matterhorn and then Zermatt as you go up.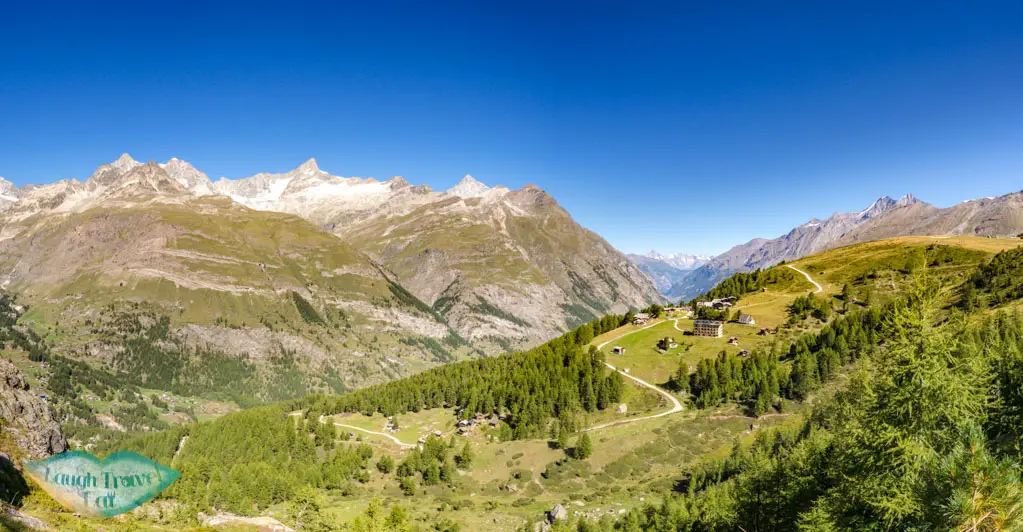 Keep going until you start seeing ice to the valley and mountain to your right.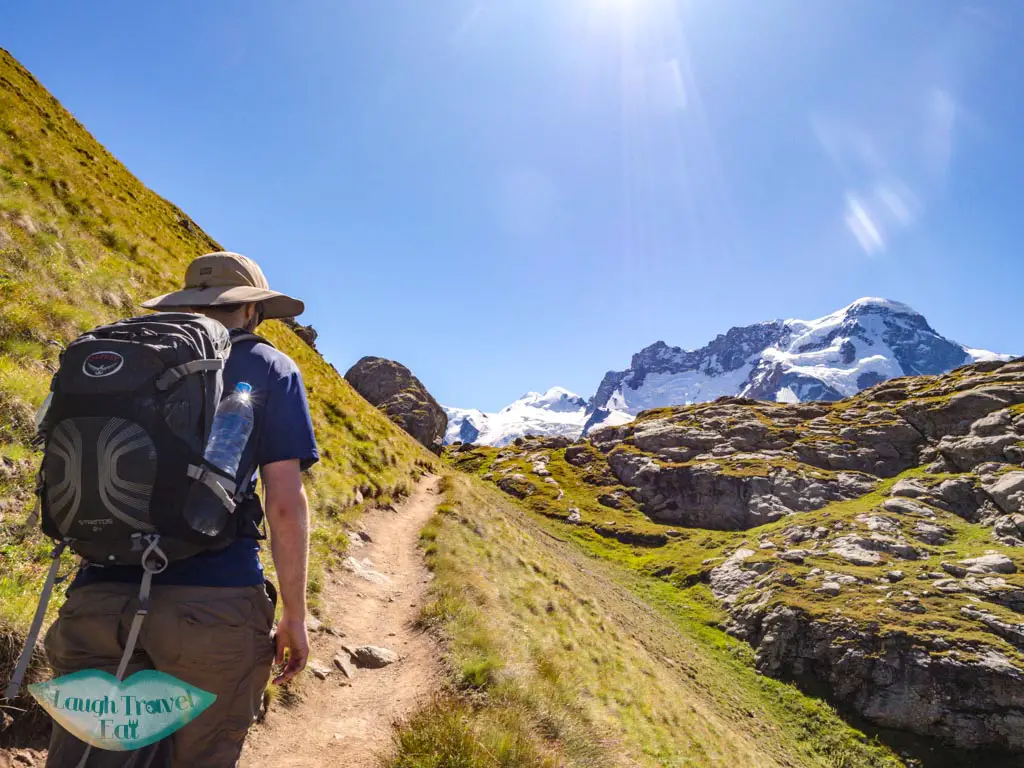 By now, you'll probably see more people or come across a sign or two. It's the start of the glacier that extends to Monte Rosa, and follows the sign towards Riffelsee.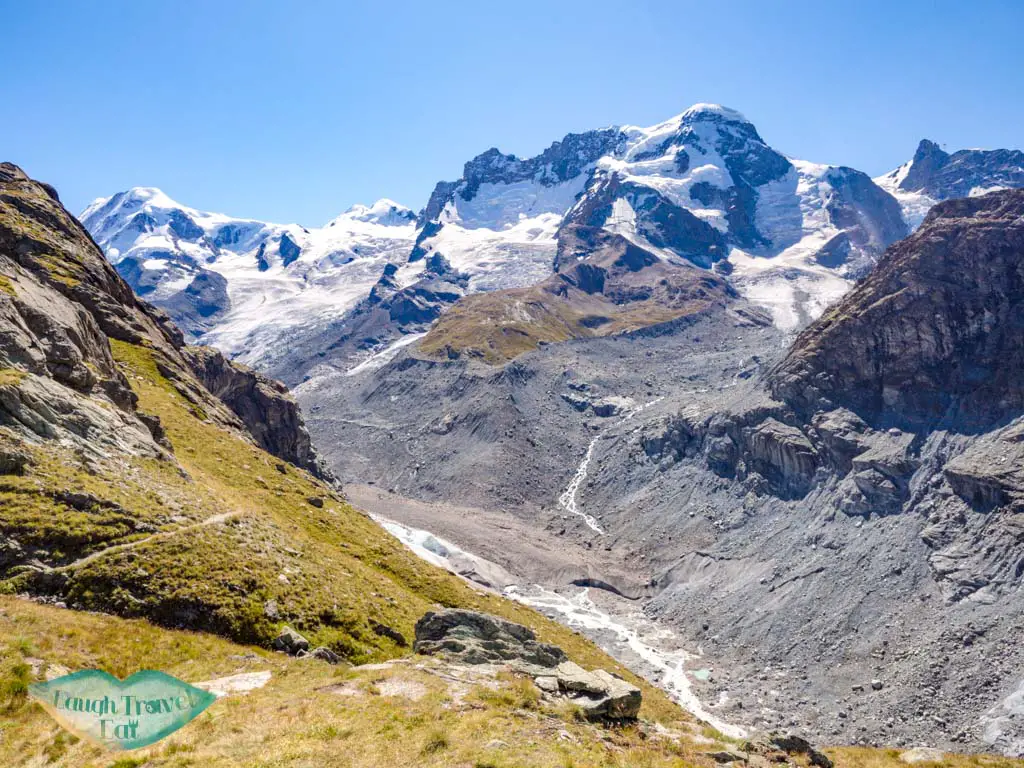 There is a smaller lake before you reach Riffelsee, right by a sharp, barren peak that's the Riffelhorn. From here on it's another uphill battle but the Matterhorn is behind us now!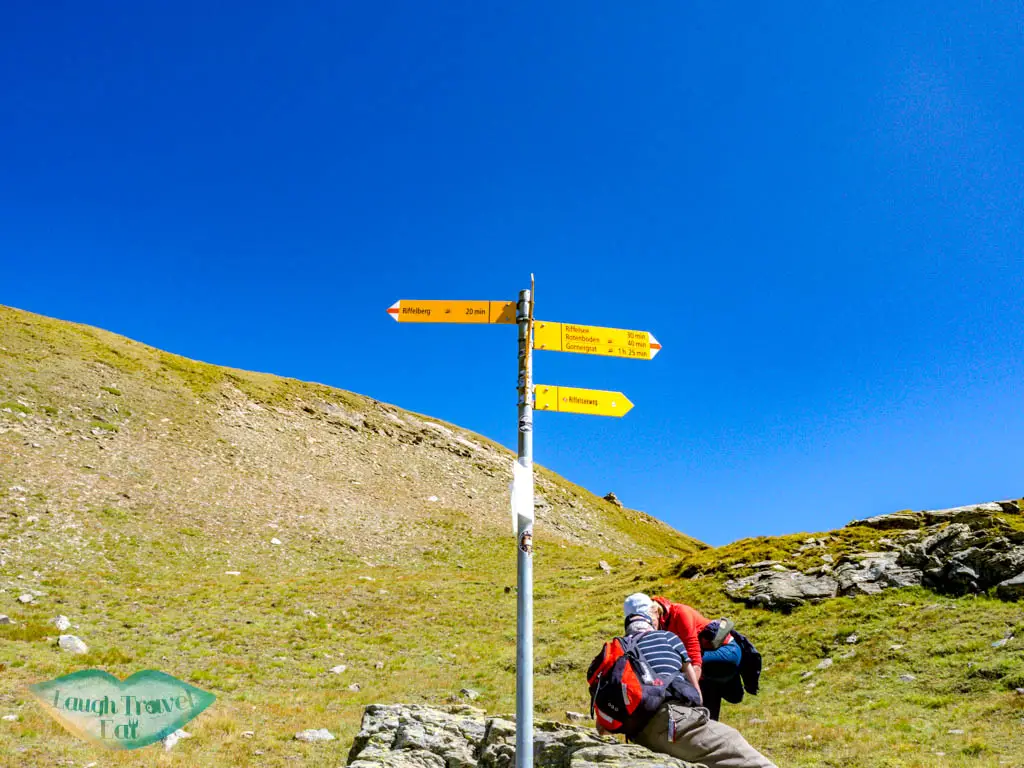 This is basically the section from Gornergrat down to Riffelsee. I dashed into the Riffelberg station bathroom before continuing up, because it is a lot harder!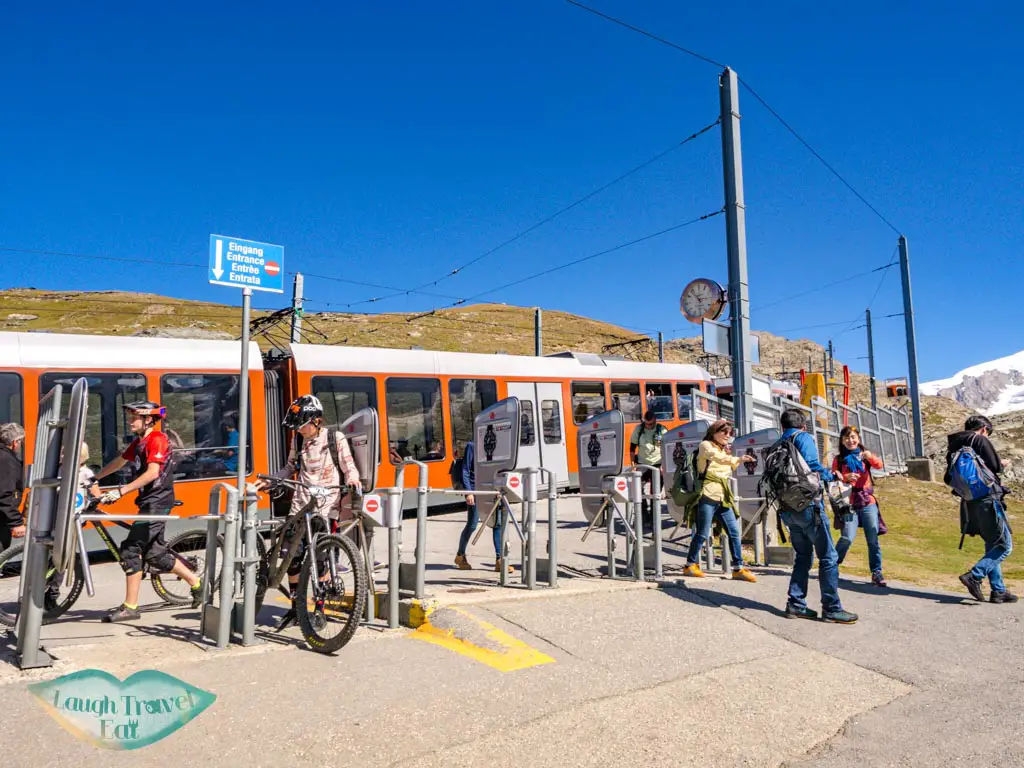 It's pretty cool to see the train snaking up the railway with the Matterhorn behind it. It comes every 30 minutes until 5pm during Zermatt summertime, so not too long a wait if you are tired and want to catch your breath.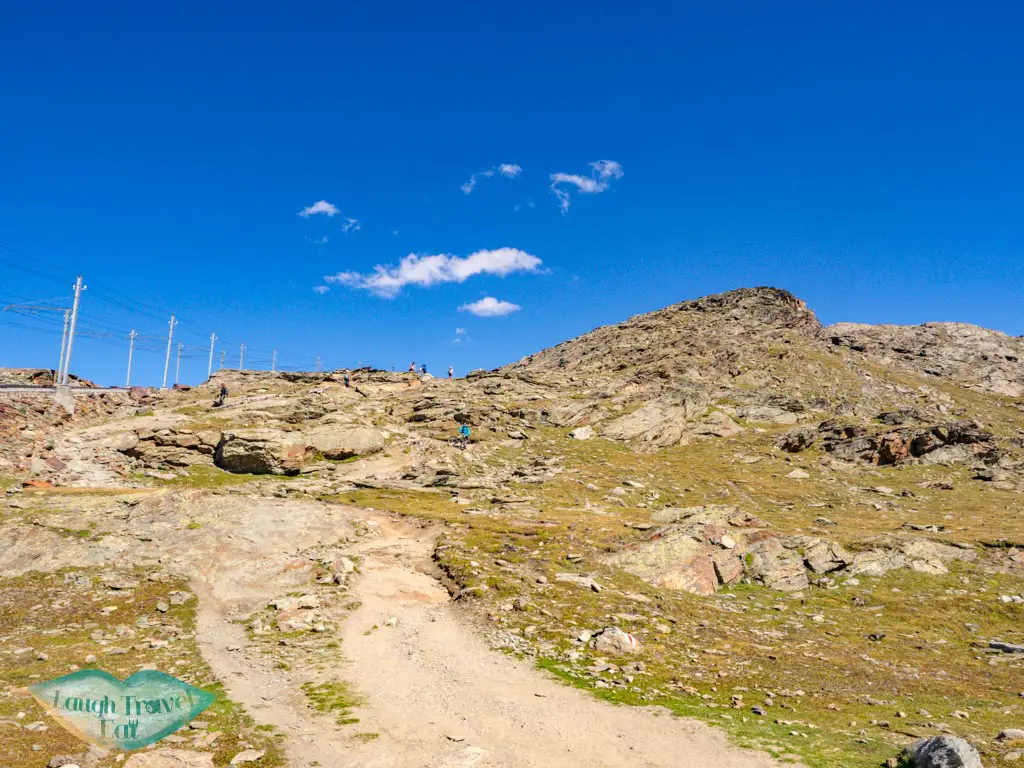 This last part up to Gornergrat is pretty steep. It took me a total of 5 hours to get from Riffelalp to Gornergrat, but I did take liberal photo breaks and a few breaks here and there.
Before you get to Riffelsee by the glacier, there's the option to go down closer to it and the trail will take you up to the peak of Gornergrat on the other side.
The peak is a viewing platform with free binoculars annotated with the mountains' names and height instead of zooming in, which is pretty handy.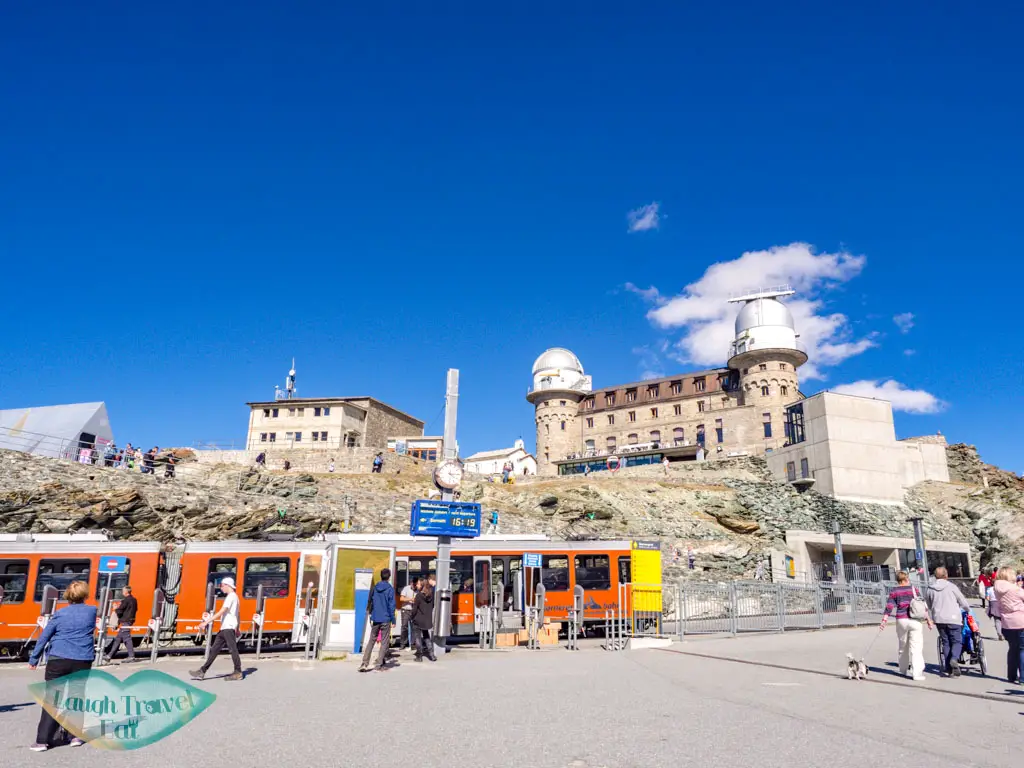 There is a restaurant on site, though the food didn't look particularly good and is rather expensive. The ticket office wasn't operational and the instruction was to wait for the train conductor and buy the ticket from him before you get on the train.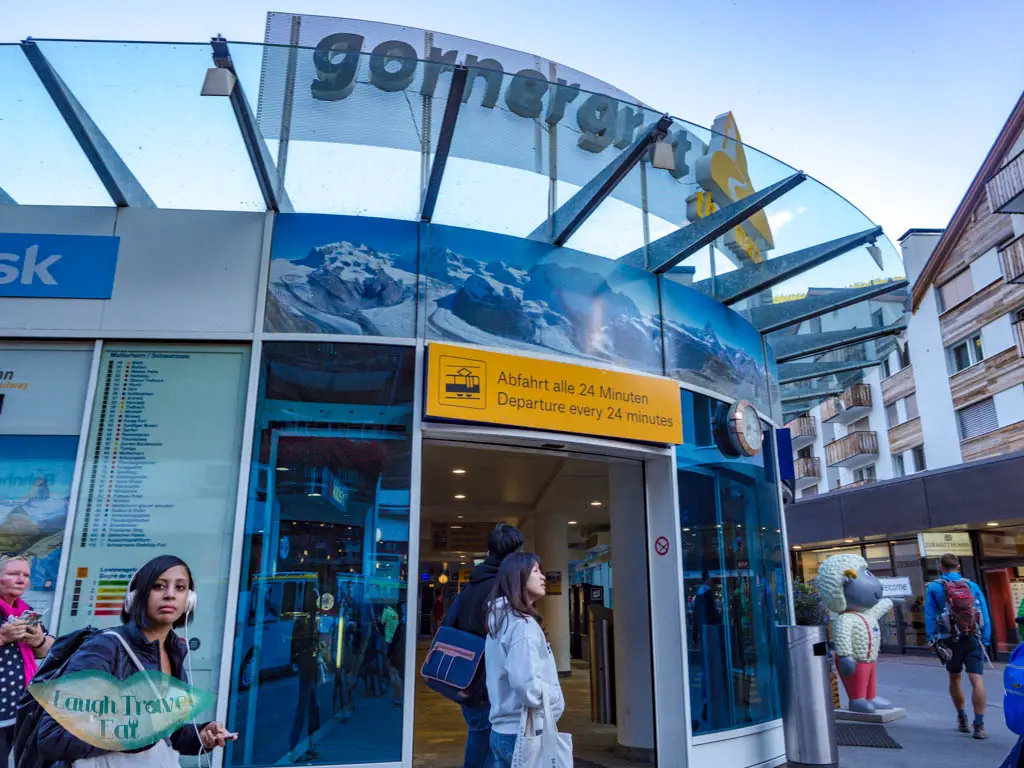 So I suggest either to buy yours beforehand at the station when you are down there or have the timetable handy.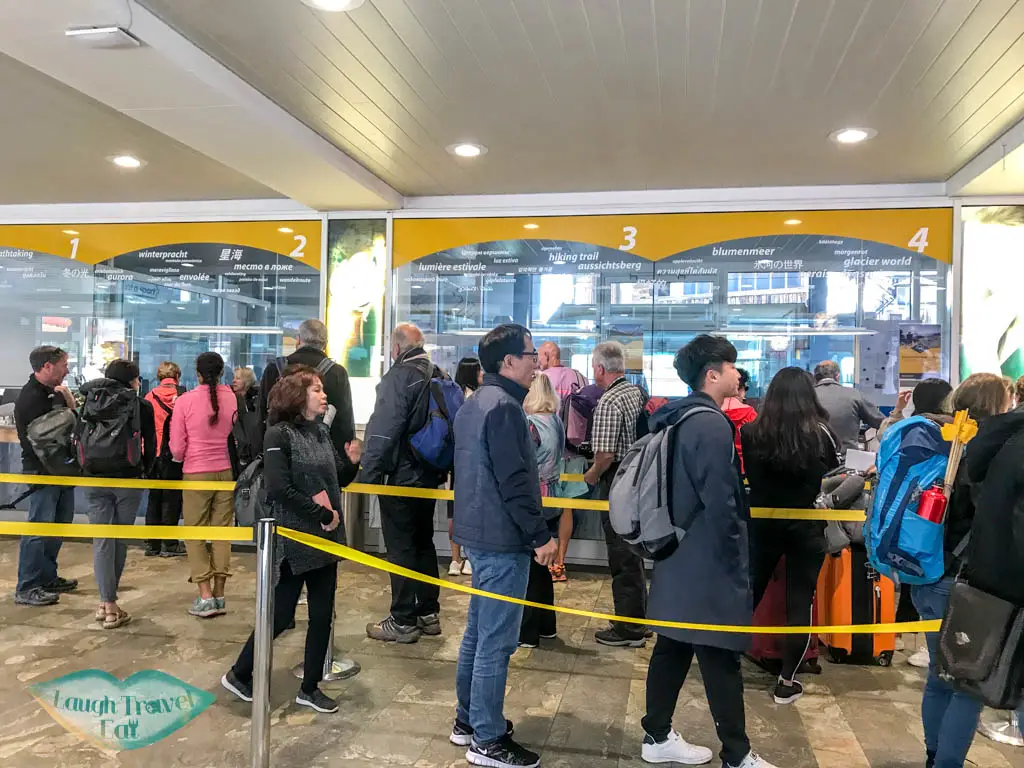 Hike up from Zermatt
The trail from Zermatt to Riffelalp isn't particularly scenic, and takes around an extra hour or two, depending on your speed. But you'll save the CHF 26 that it costs to go up! 
Cost: CHF 98 return Gornergrat in September if you have a Swiss Travel Pass or Half Fare Card, then you get 50% off.

5 Lake Hike Zermatt
Time taken: 2.5 hours, but budget more time for photos
Start at Blauherd end at Sunnegga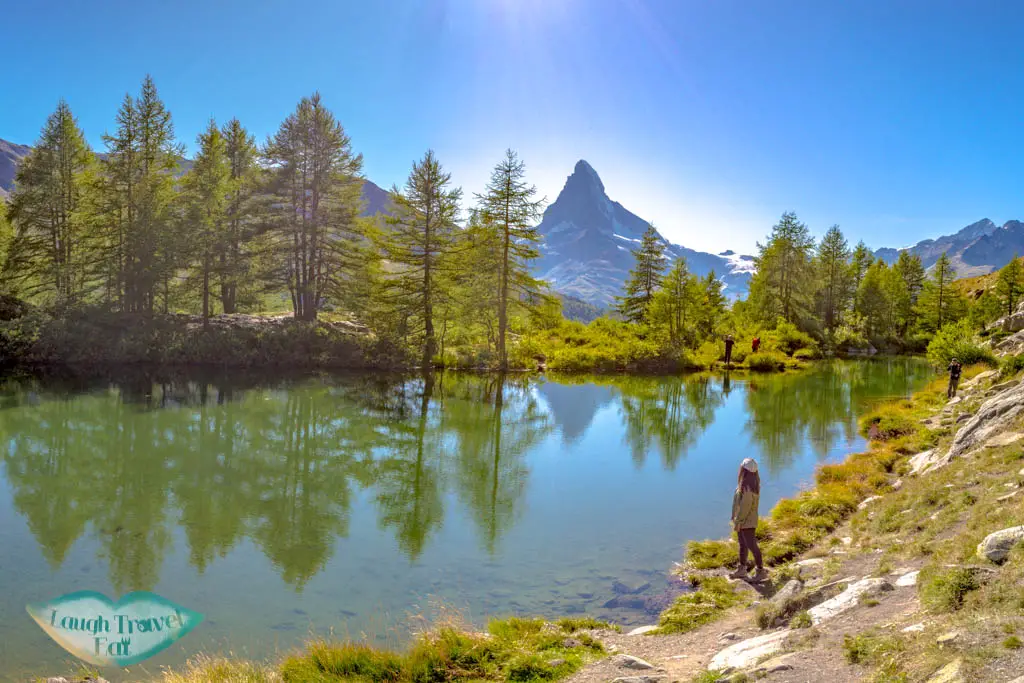 One of the most famous hikes to do in Zermatt is the Five Lake Hike. The five lakes refer to Stellisee, Grindjisee, Grunsee, Mosjessee, and Leisee. It is within easy reach from the Blauherd Station, and even if you don't plan on seeing all, you can pop down to Stellisee. As with all trails in Switzerland, everything is marked clearly. However, because there are many route combinations, it's best to plan ahead on which lakes you want to see and in which direction. Here is an overview of what I did:

From Zermatt to Blauherd station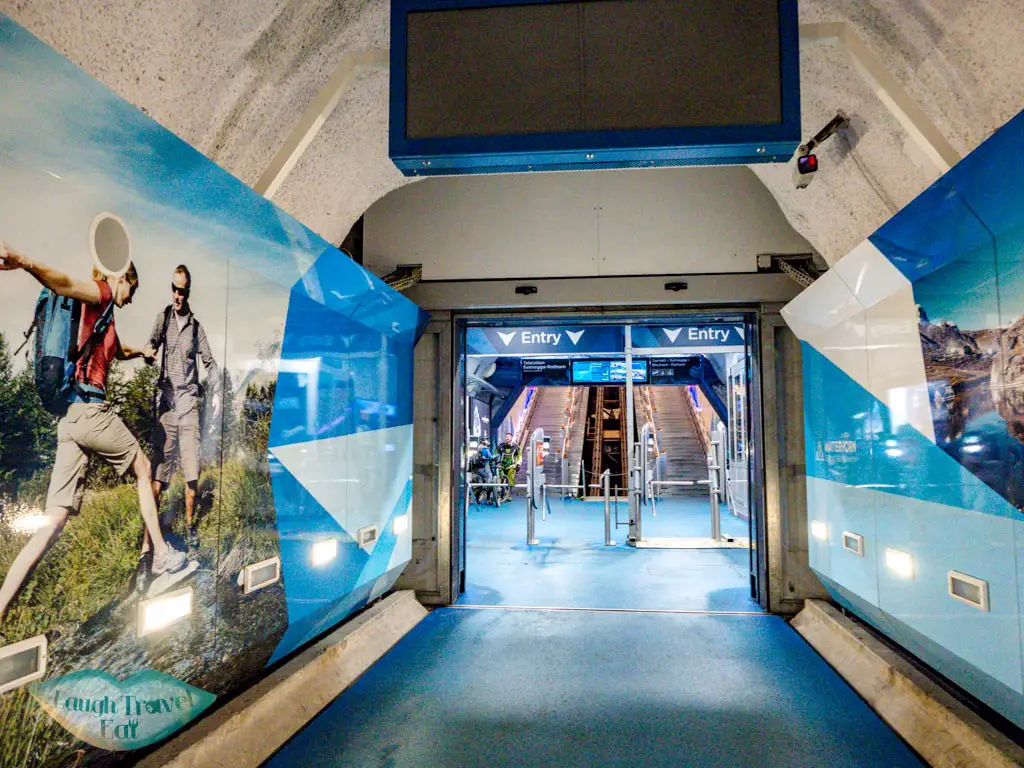 Take the funicular up to Sunnegga and change to Blauherd. You should get both tickets to save time when you leave. It costs CHF 43 for the return journey, but if you have a Swiss Travel Pass it's half-priced at CHF 21.5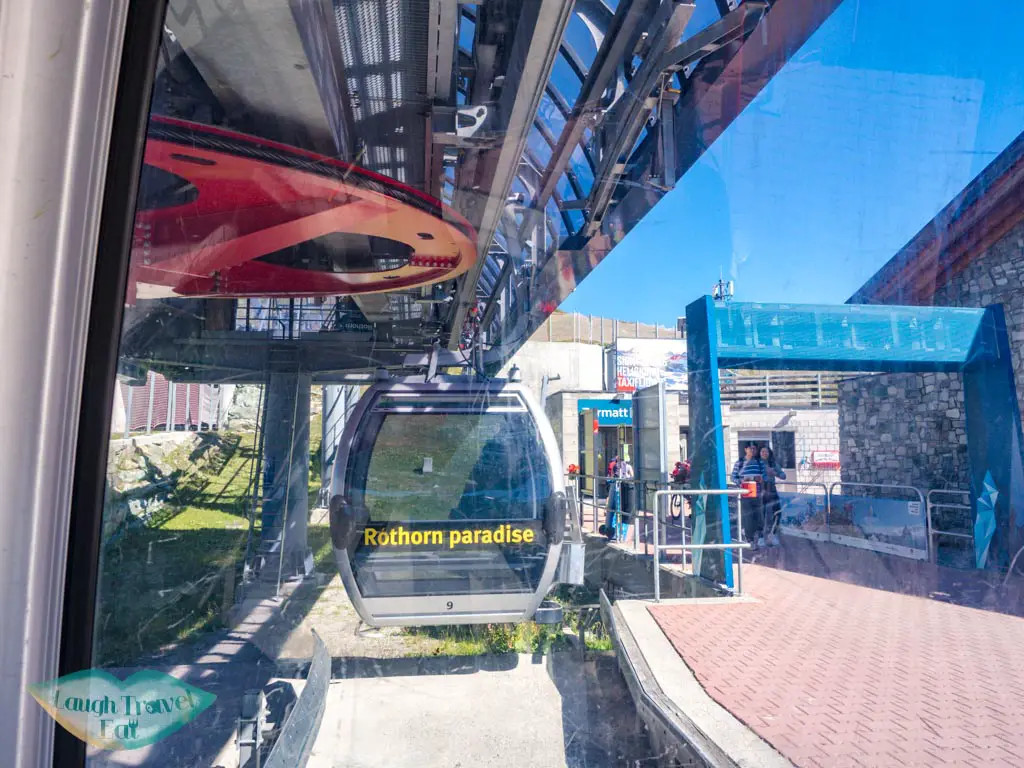 You need to get off at Sunnegga and follow the sign and change to the cable car up to Blauherd. The card is a swipe card, so keep it with you and swipe in and out. The cable car is rotational so you can get on as the door opens and hop off (don't forget to hop off!).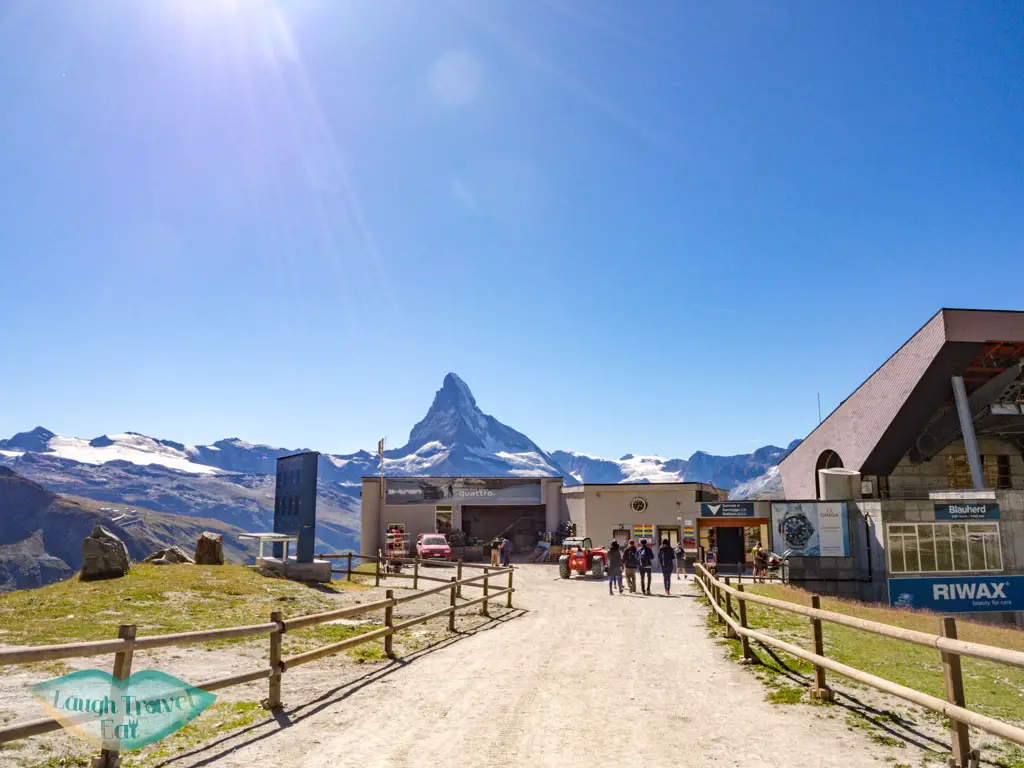 From Blauherd, check the sign or follow google map to the first lake, Stellisee.

Stellisee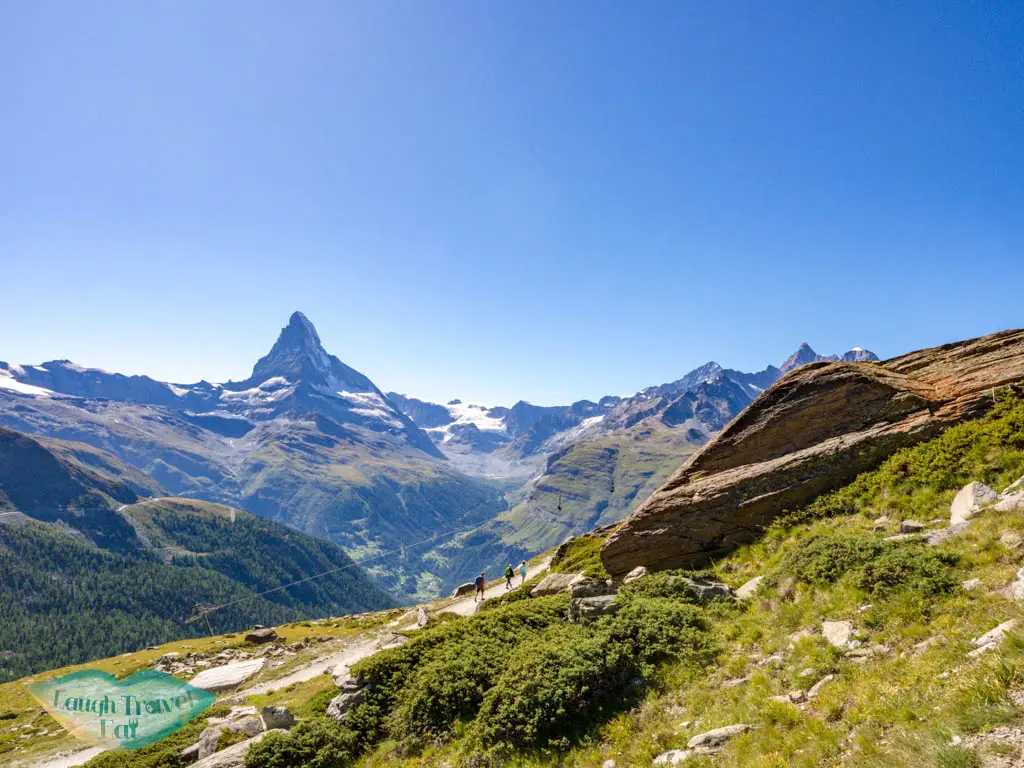 Many people only pop over to Stellisee and then head back to Blauherd. This part can be a leisurely hour-long walk as it is relatively flat. The Matterhorn is to the back, but I enjoyed walking on the mountainside and saying hike to other hikers.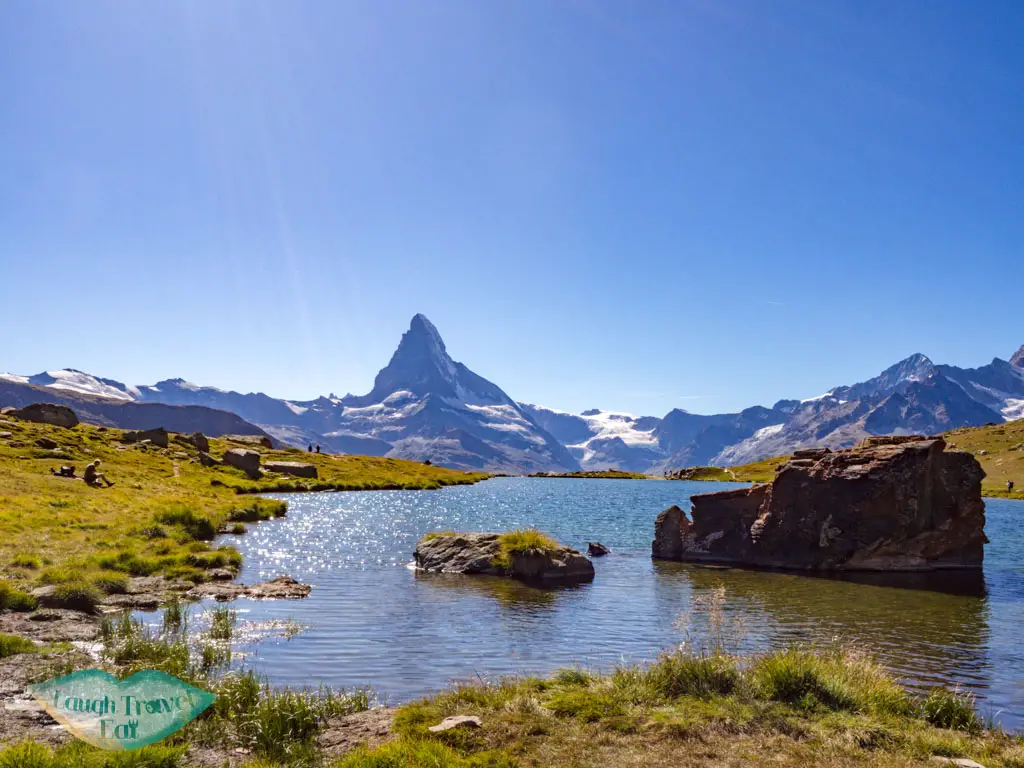 It is the most popular lake of the five and one of the biggest, perhaps because there is a restaurant behind it. The best viewpoint is at the far end since you then face the Matterhorn. It was a little crowded, so getting a photo wasn't as easy. If you're fast, getting from Blauherd to Stellisee only takes 30 minutes.

Grindjisee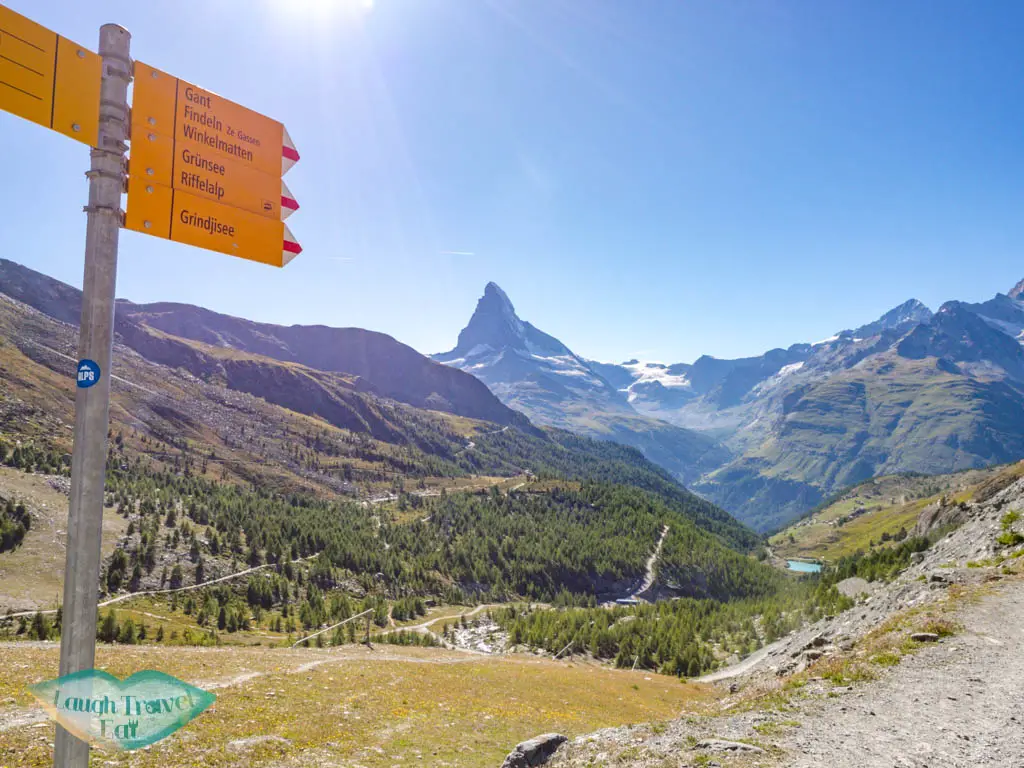 The path from Stellisee to Grindjisee is a little confusing. I recommend marking all the lakes on your map and zooming in and out to see the best route option. The divergent point is on the southwest corner of the lake, but it zig-zag down and around. Part of the trail is also the mountain biking trail, meaning it's big and wide.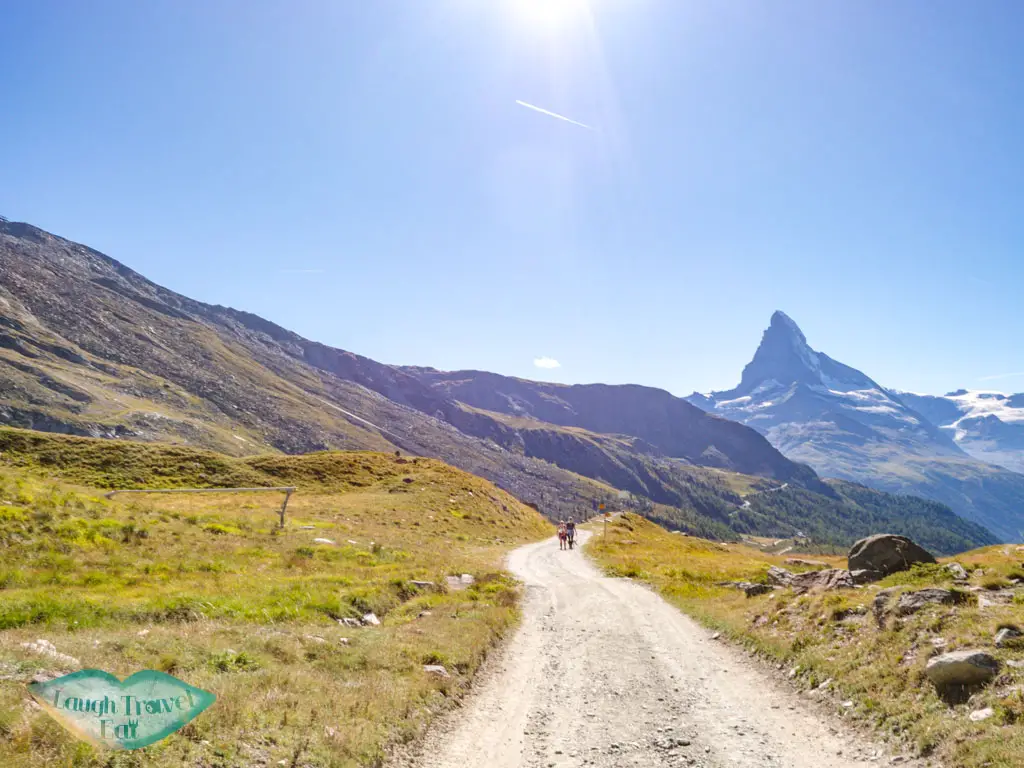 There weren't a lot of people since it was already late afternoon, and if it wasn't for google map, I wouldn't have found the obscure little path that allow me to nip into the perimeter of the Grindjesee.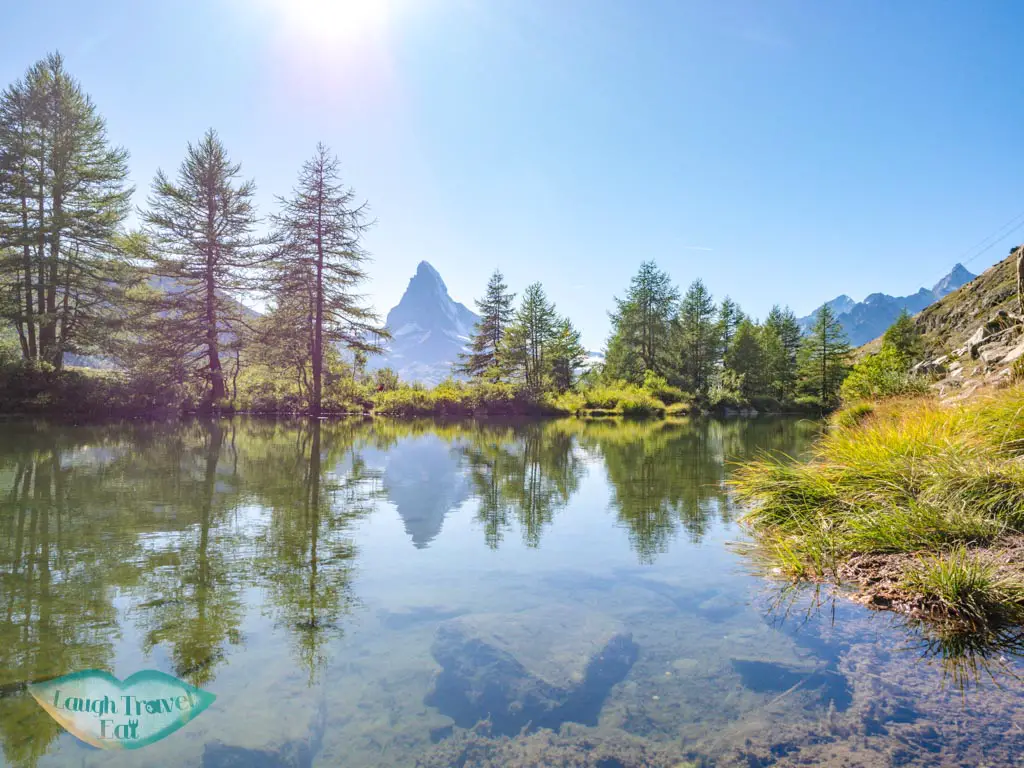 To my surprise, this was my favourite lakes out of all, surrounded by trees with the Matterhorn peeking out from the other side. The water was relatively still for a few minutes, letting me get a snap.

Grunsee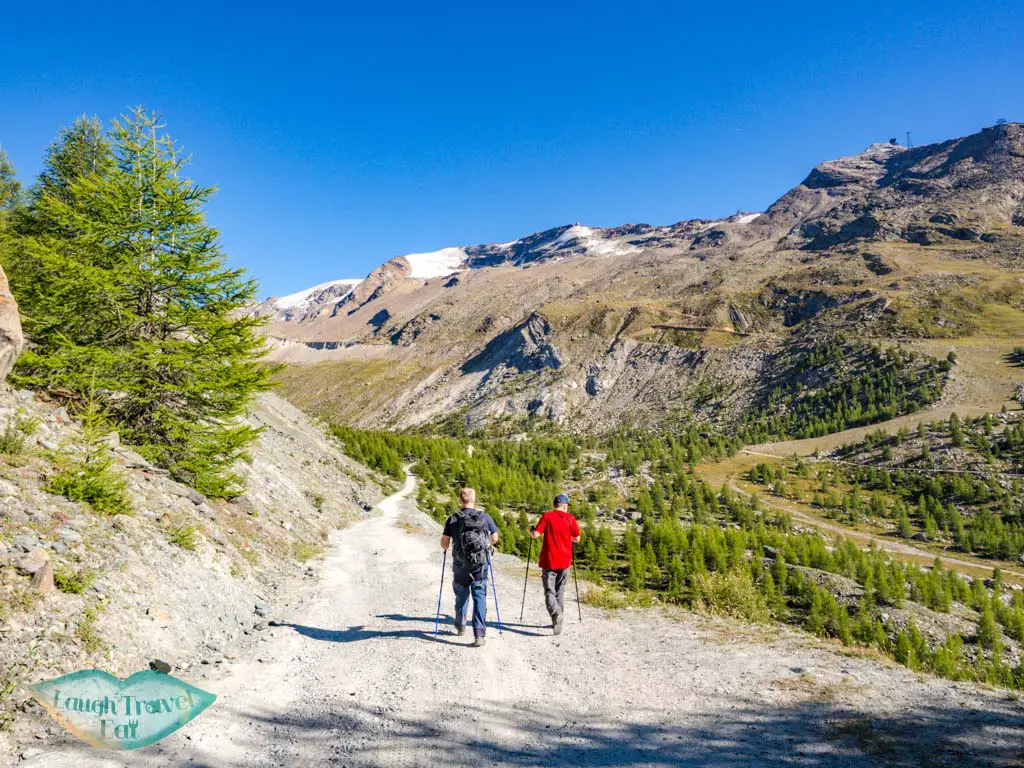 Grindjisee to Grunsee was a mix of downhill and big path affairs. It took me past a river and the cutest wooden bridge that I couldn't help but stop for a photo, even though I'm already running a little behind!

Follow the sign and turn towards the smaller trail.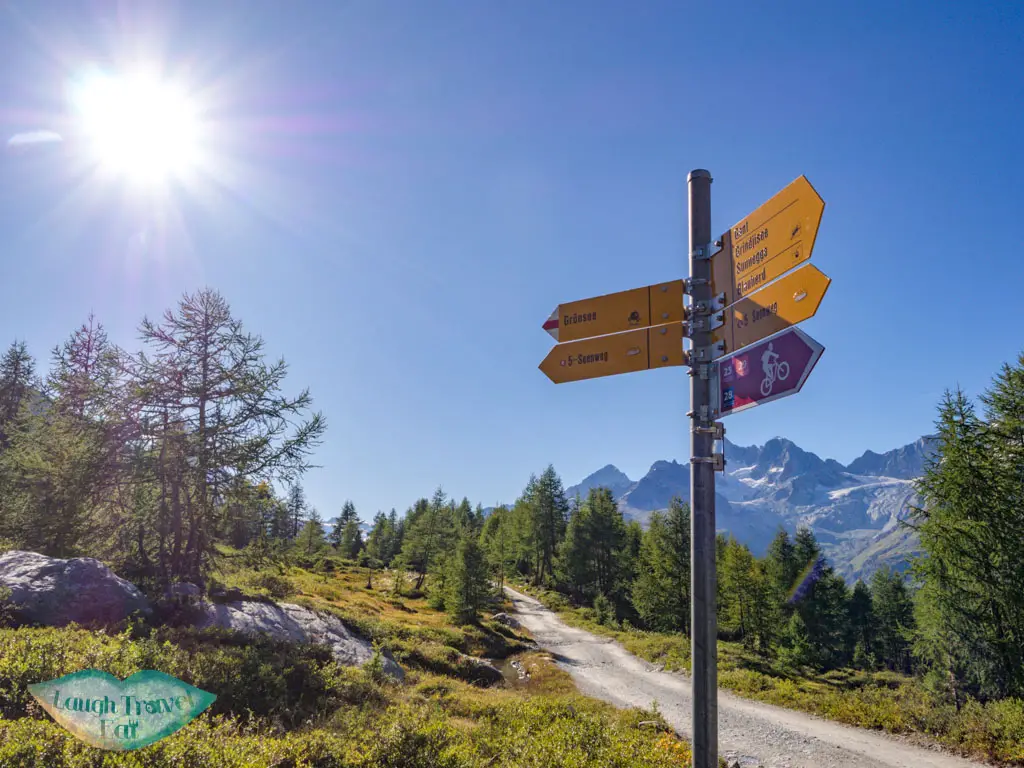 My first glimpse of Grunsee, which means green lake, was that it wasn't very green.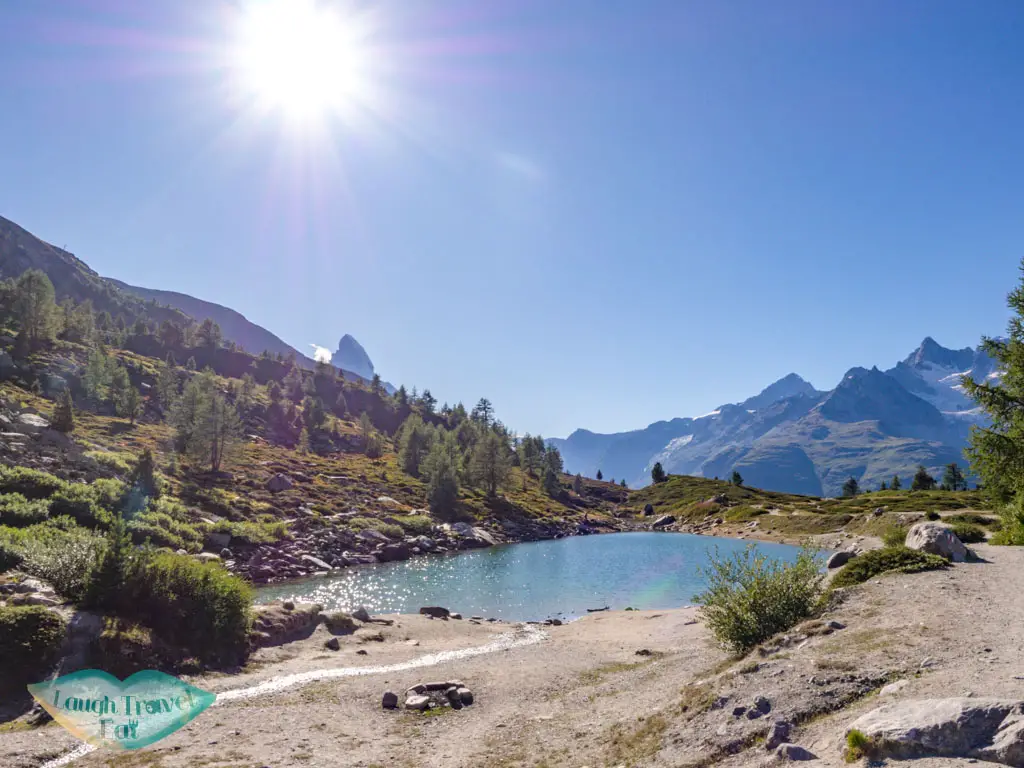 But it's a trick of the light since as I turn around and see it from the other side, it's very green!

Mosjessee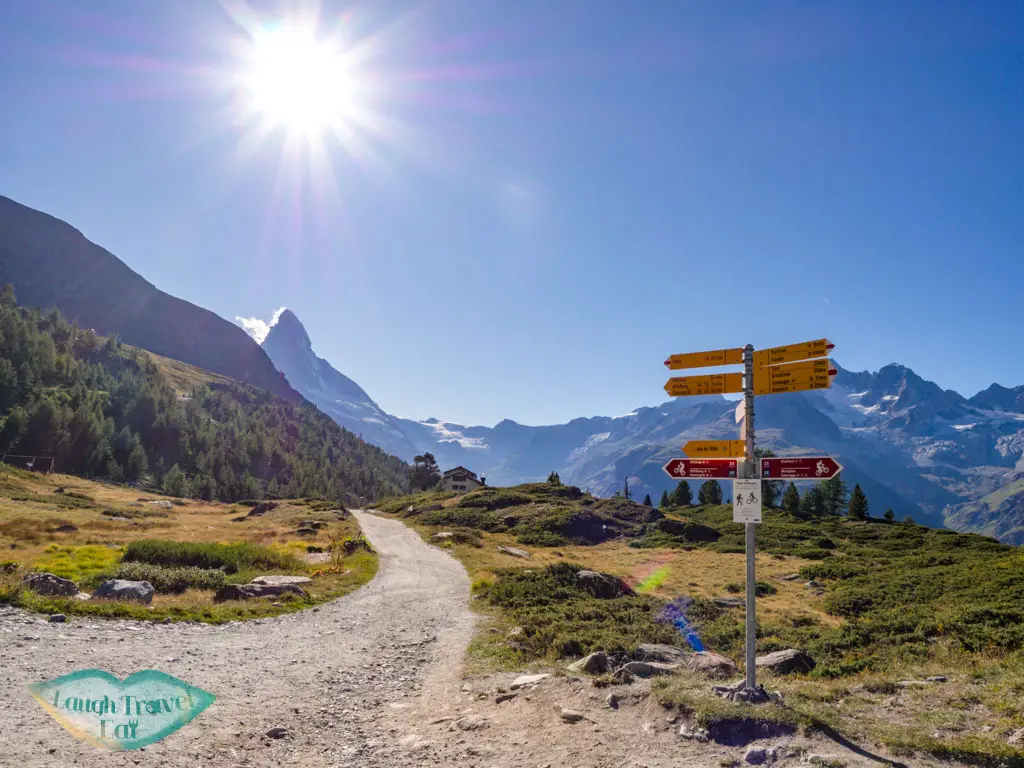 Grunsee to Mosjesee is the longest part. Keep an eye on the map and on the road sign as you'd need to turn right by a small building where I saw some rams.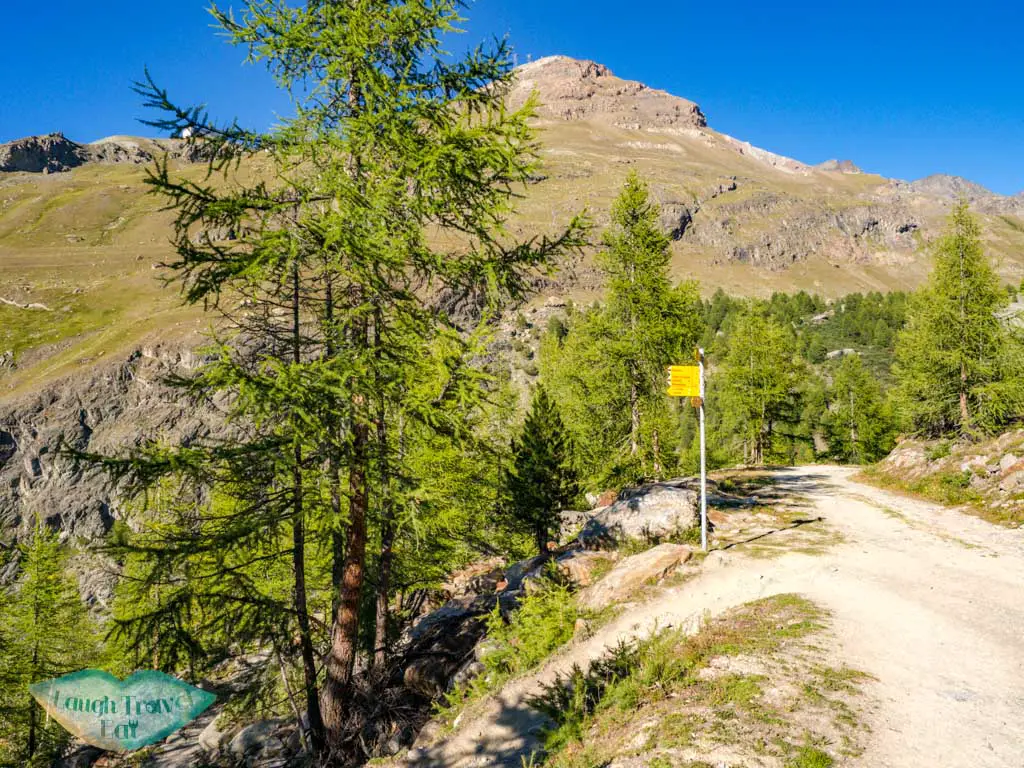 It took me parallel to the big mountain bike path again, then a series of Switchback down that wasn't very pleasant on the knees.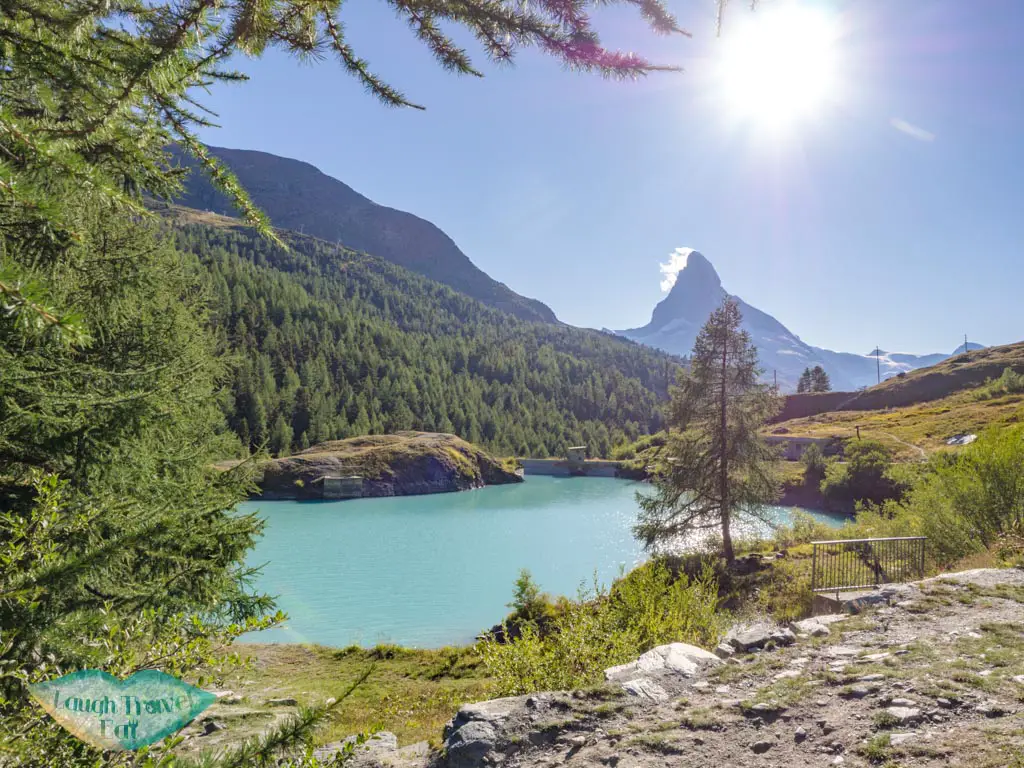 There was a man-made dam that signal the start of the uphill stretch, and that's when I notice that Mosjesee, despite the gorgeous colour, is partially dammed by concrete.

Leisee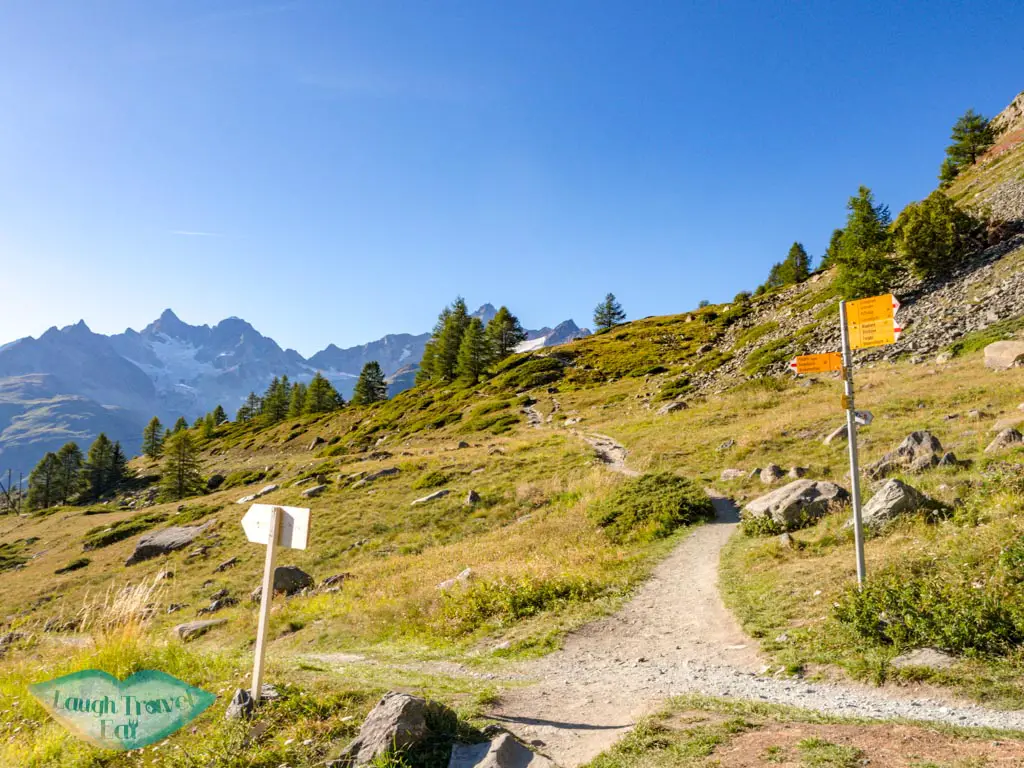 The stretch from Mosjesee to Leisee isn't long but it is uphill. Since I was out of time, I basically ran all the way up. Leisee is the smallest and arguably the least impressive of the five lakes since it's basically a swimming hole for visitors.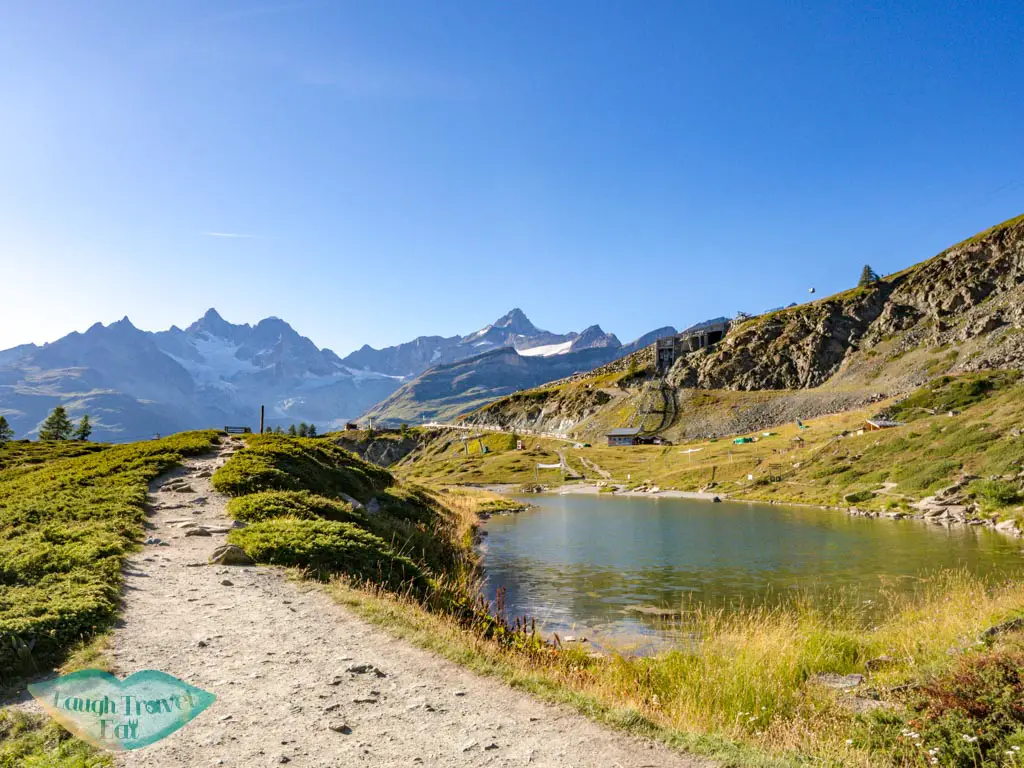 I had caught a glimpse of it on the cable car up to Blauherd from Sunnegga, and it didn't impress up close even with a fountain in the middle. I legged up to the station and made it just in time for the last train at 6 pm! 

Leave from Sunnegga Station
Note: the last train from Sunnegga leaves at 6 pm, so be sure to leave for the hike early enough for a pleasant stroll (recommend 3-4 hours) so you don't have to run the last two lakes like me!

Matterhorn Museum
I ended up not visiting the museum because they don't open until 11 am, but it's a good spot to visit if the weather is not great. It chronicles the history of Matterhorn, its first summit, and so forth.
Opening times: 11:00 – 18:00
Admission: CHF 10, free with the Swiss Travel Pass!

Best Zermatt Hotels
Wondering what to see in Zermatt? The Matterhorn is definitely on the top of the list. And this is why picking a hotel that has a view of it is the best idea. And I have just the place for you:
Cervo Zermatt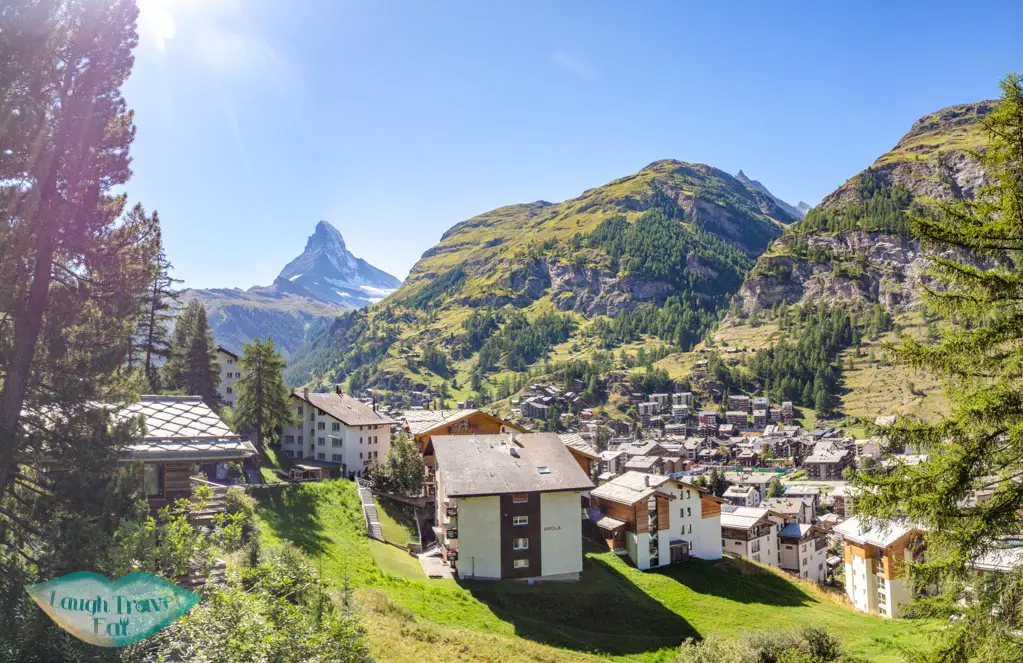 Located atop a hill with elevator direct access to town, Cervo is perfect no matter if you are staying in Zermatt in the summer or winter. They have a great view of the Matterhorn and Zermatt, and I'm totally in love with their alpine-style room.
I was also pick up from the train station and received a lovely welcome drink – see here for my full review. 

Note: their restaurant and room service was impeccable too. I'm normally not the type to eat at my hotel, but man was it good! A full review is included above.