Switzerland itinerary: 7 days through Geneva, Lucerne, Interlaken, and Zermatt
Switzerland is a vast and beautiful city and planning an itinerary to visit it for 7 days is not easy. With gorgeous cities, stunning railways, and majestic Swiss Alps, it's important to prioritise your focus on your visit so you don't overstretch yourself. After several headache episodes and being realistic about travel time and what I want to and can feasibly see, I've decided on a 7/8 day itinerary that focuses on hiking in mostly the western part of Switzerland: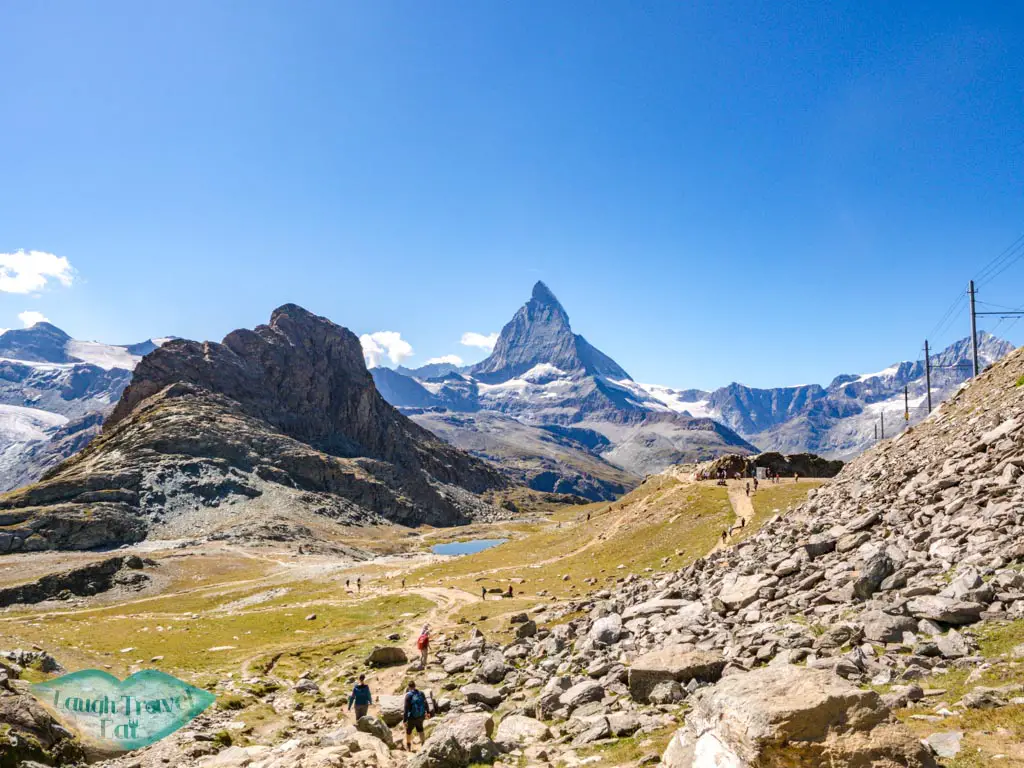 Note: I arrive in Geneva and ends in Zermatt/Geneva, but the transport between big cities are very convenient so you can mix and match the days and order.

This post focuses on the timing and logistics of the trip. For more information for each of the destination, see the individual post linked.

How to get around Switzerland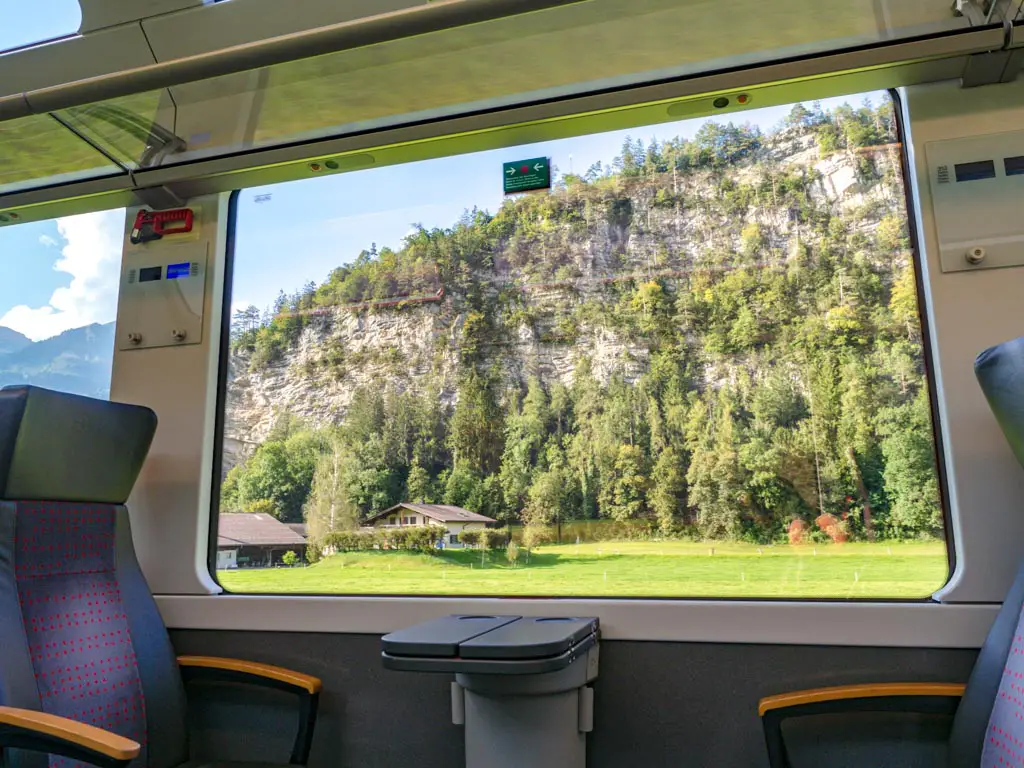 Switzerland is well linked by trains. For my 7 days (more like 8 days) visit, I used the Swiss Travel Pass 8 days to get to and from. Since I'll be traveling each day, the pass is extremely useful as it helps me saves tons of money and also offer discounts to many attractions. For more information, see their official website as well as my Switzerland Travel tips post.
Budget for 7 or 8 days in Switzerland
It's difficult for me to explain the entire budget in words, which is why I have a spreadsheet here on my spending in general, then on how much I save using the Swiss Travel Pass – each cost is individually broken down! If you want to save it, simply make a copy as you can't edit this one 🙂 Hotel costs are not included, only my daily spending + transport.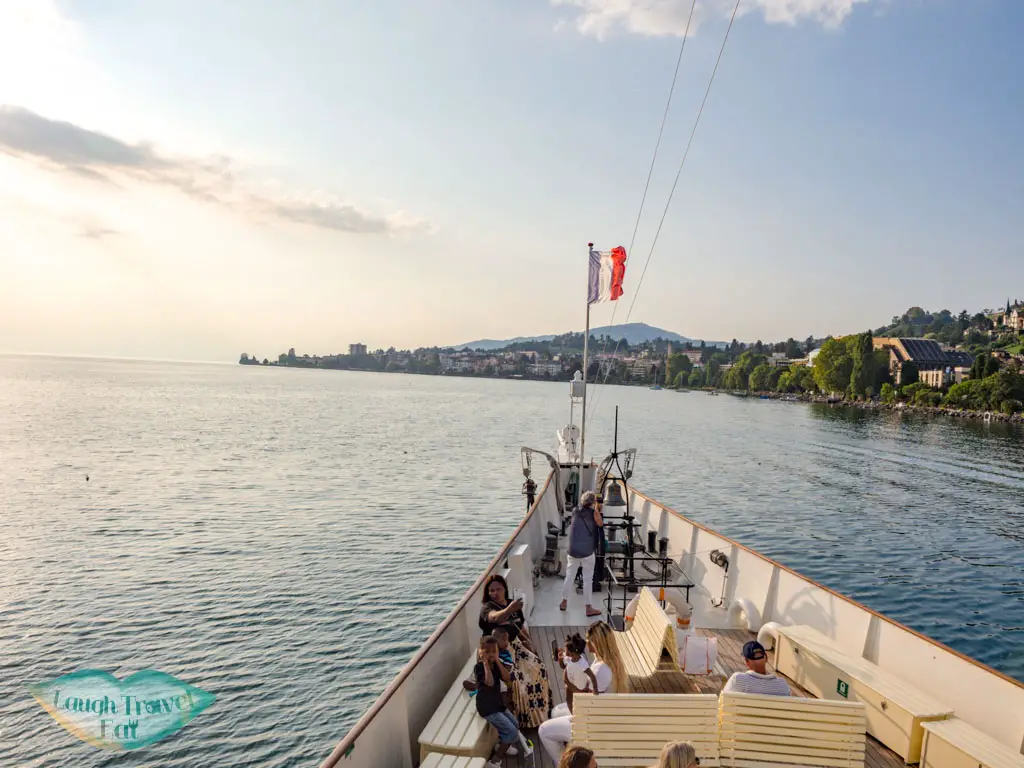 But in a nutshell, the Swiss Travel Pass saved this trip CHF 207.6 since it offers discounts on so many attractions as well.
As for daily spending, I avoided eating out as much as possible and also brought cup noodles from home (which is why there's some missing meal stats). I'd pad it up with another CHF 100 in case if you want to use it for reference.
Day 0: arrive in Geneva
Arrival day in Switzerland! If you have the time, Geneva is a great place to stay for a day or three. Especially if you are a museum lover.
Day 1: Day trip to Montreux
There are many day trip options from Geneva, but with the Swiss Travel Pass and an itch for hikes, I opted for a tightly packed day trip to Montreux to go up Rochers de Naye and pop by Chillon Castle as well. If you're interested in what other sights to see from Geneva, here's a full list of day trip options.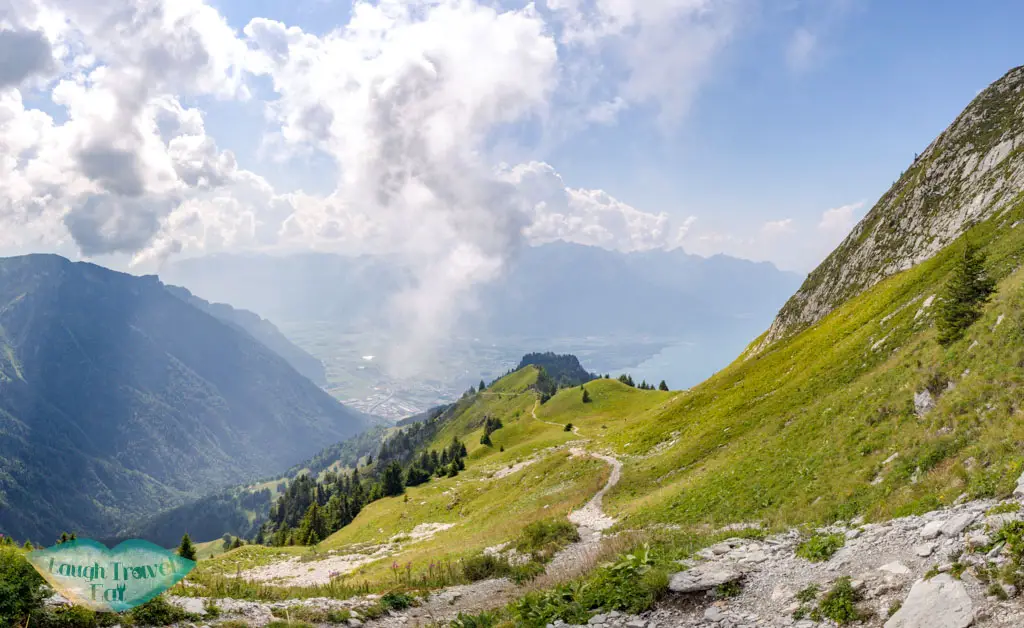 I took the 9:12 train from Geneva to Montreux, which is supposed to arrive in Montreux at 10:11 but train was actually late. The connecting train to Rochers de Naye runs every hour at 17 minutes past, so after getting tickets I had to wait for 11:17 train up.

So I went over to the Co Op on the right of the Montreux Station and took a walk along the lakeside promenade, which was unexpectedly pleasant. I highly suggest getting to the cogwheel train up at platform 8 early since the two carriage train fills up fast.

Rochers de Naye
Station at the top
The train gets you almost all the way to the top, and even without doing any hiking you get a spectacular view. I hiked around the peak and then to the Alpine Garden for two hours, soaking in the view and taking photos.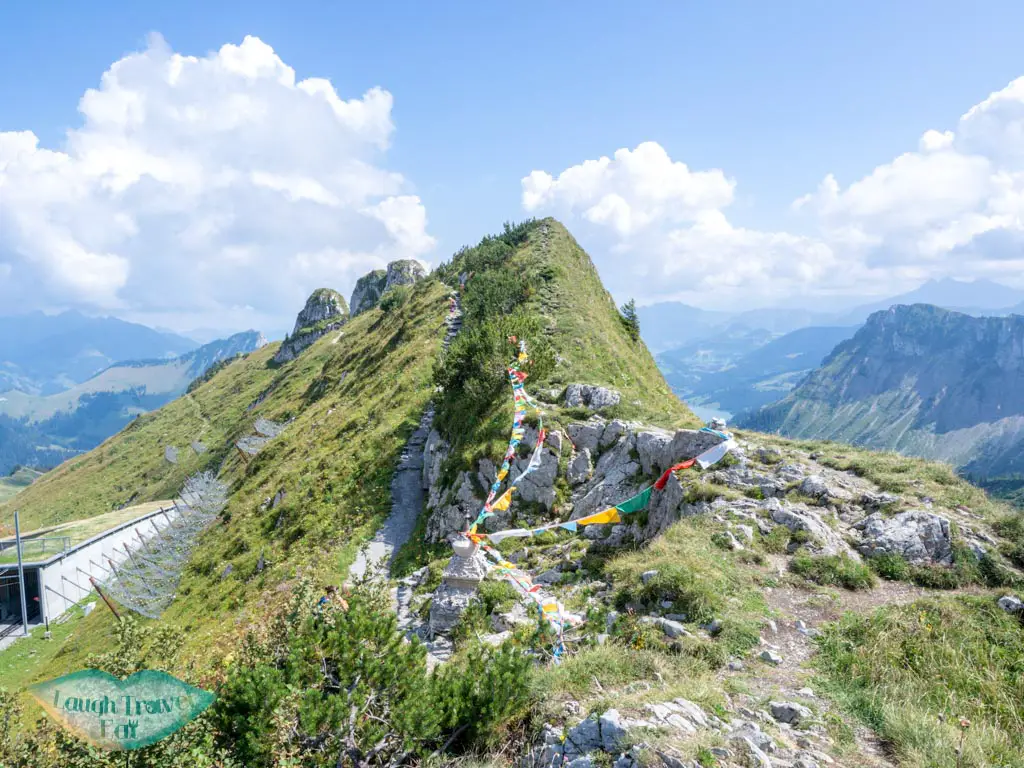 I still felt like doing more hiking, I then went down to La Perche, going downhill for 1 hour, then got the 3ish cogwheel train. Instead of going all the way down to Montreux, I got off at Glion.
At Glion, I got a ticket for the funicular to Territe then walked 20 minutes to Chillon. I didn't want to stick to the main road the whole way, and got to the lakeside by heading down the bridge over the river here: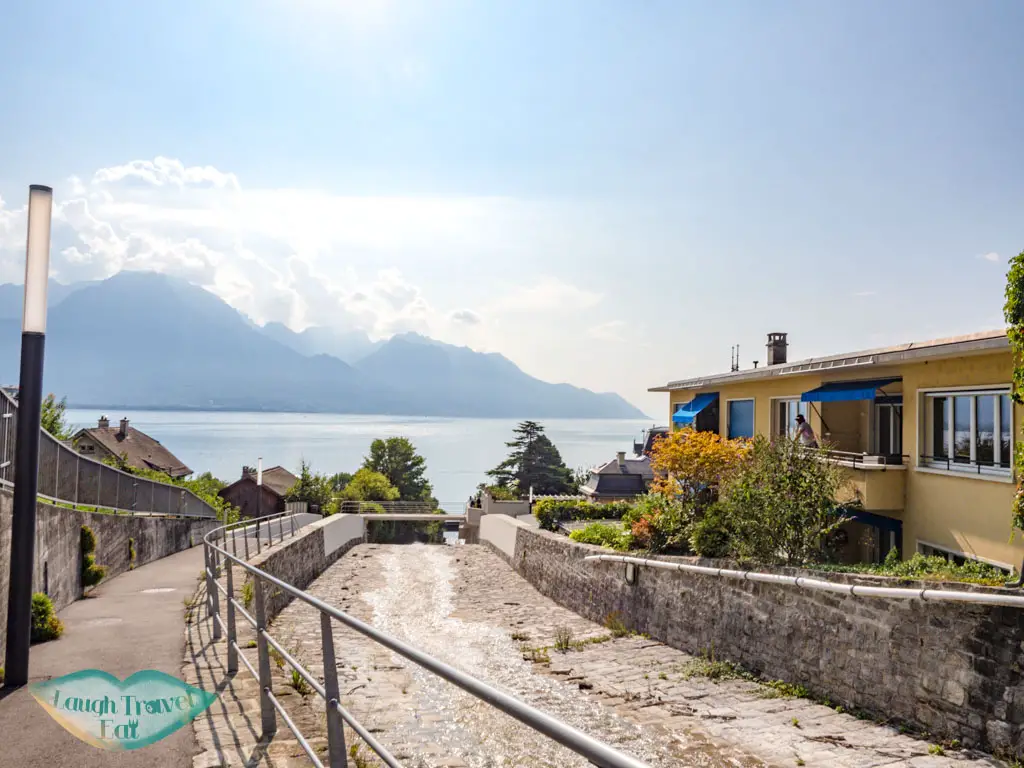 Chillon Castle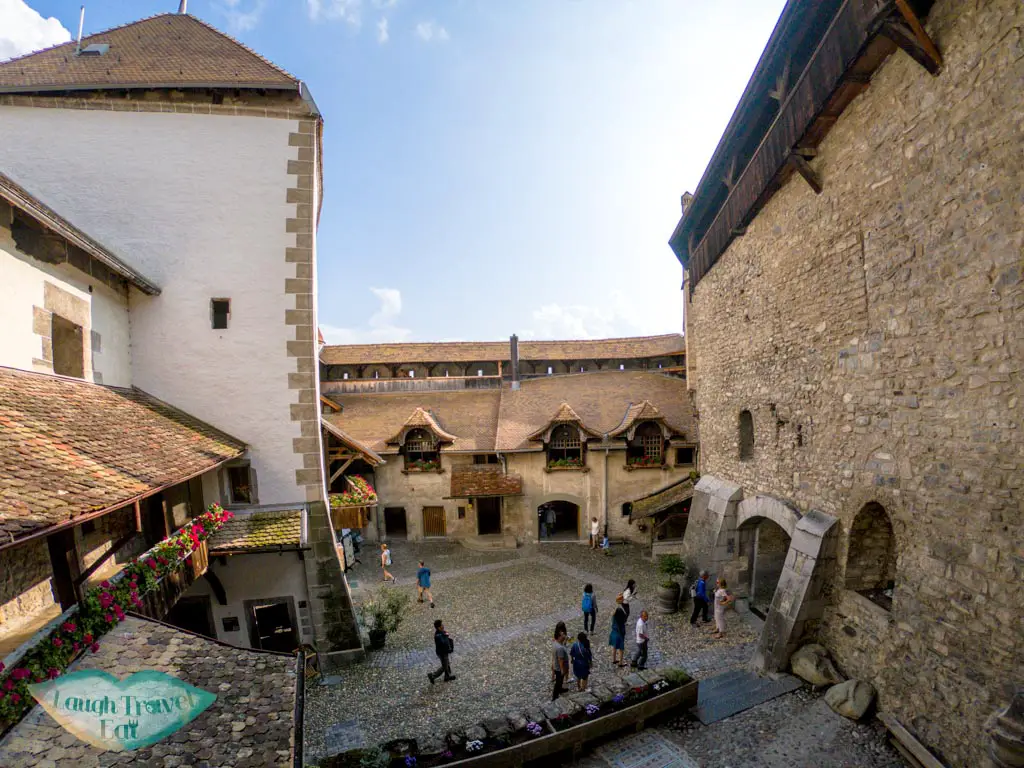 One of the most famous landmarks in the region, the castle stays open late in the summer and I got there with plenty of time to spare. Expect to spend 1-2 hours there, and don't forget to walk out on the other side for photos! It also happens to where the port is.
Opening times: varies according to season but always open 10:00 – 17:00, check here for full opening time
Admission: CHF 12, free with Swiss Travel Pass

Lake Geneva cruise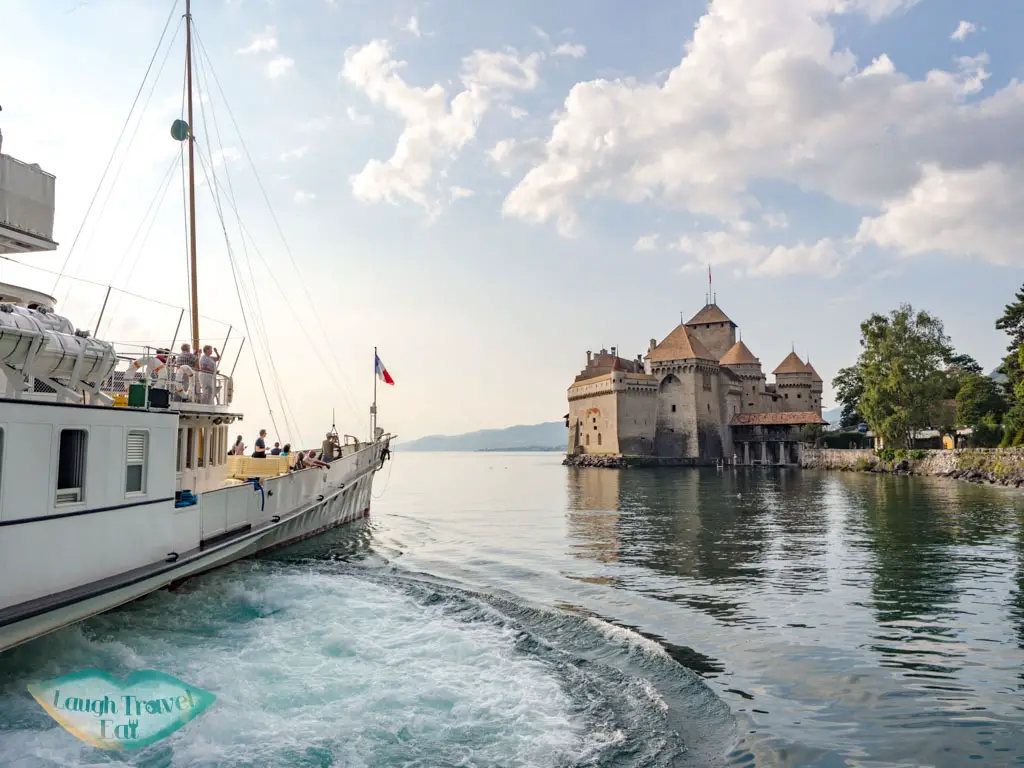 The CGN ferry departs from a pier 5 minutes walk from the castle. I caught the 18:15 ferry and originally intended to get off at Montreux, but it was too beautiful a cruise that I stayed for an extra stop.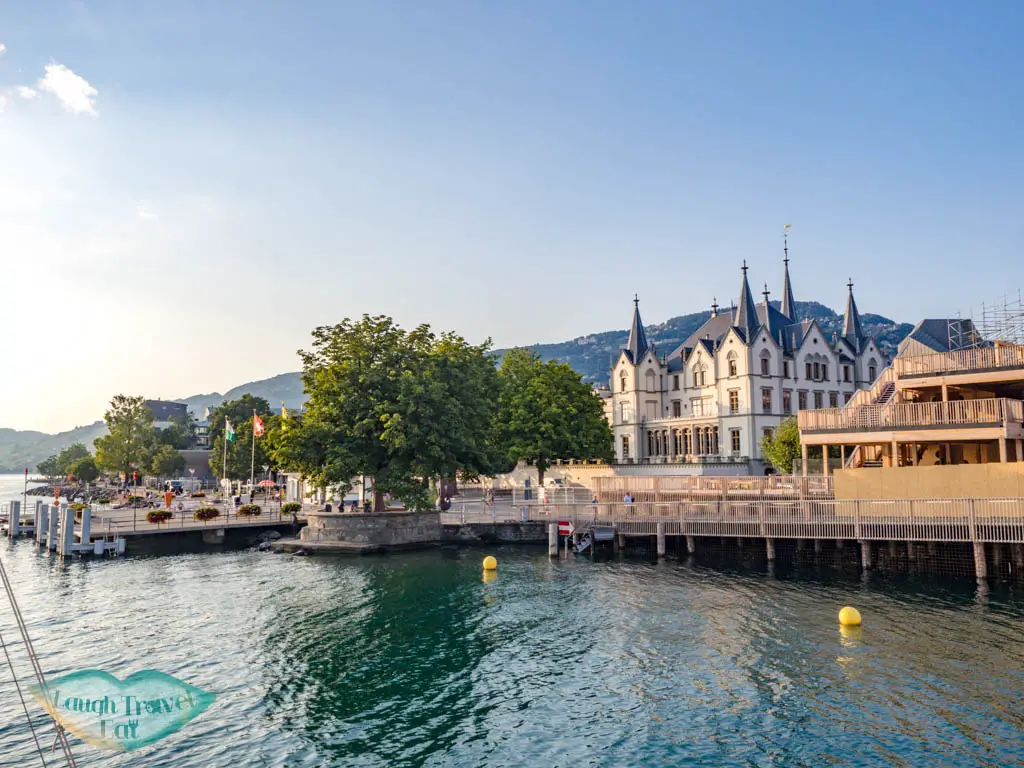 I got to Vevey at 18:45 and had to run to the station to catch the 18:55 train back to Geneva – arriving back at 19:48.
Free with Swiss Travel Pass

Where I stayed in Geneva
I stayed with a friend – which saved me some bucks! Thanks Suzie if you happened to see this.

Day 2: Golden Panorama to Lucerne
Morning sightsee in Geneva
I packed all the none old town sights on my last morning in Geneva, making a visit to Carouge, then bus over to the UN Palace, the Arian Museum, and the Botanical Garden. This was all so that I could get the Belle Époque train on the Golden Panorama Route from Montreux to Zweisimmen.

Geneva to Montreux
I took the 12:12 train to Montreux from Geneva instead of the 12:30 one, which means I arrived at 13:11 instead of 13:38.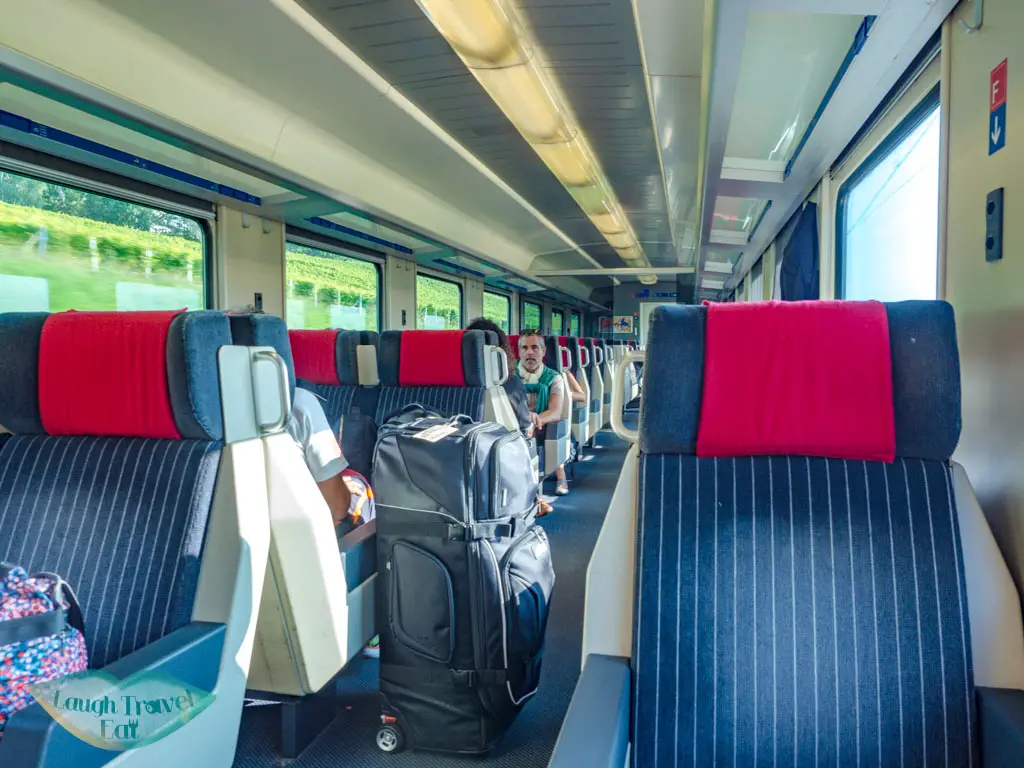 This allowed for some time to get food, heave my suitcase around, and of course take photos of the train. I saw the 13:38 arriving and it really only just allows for enough time to change platform and get on.

Golden Panorama Train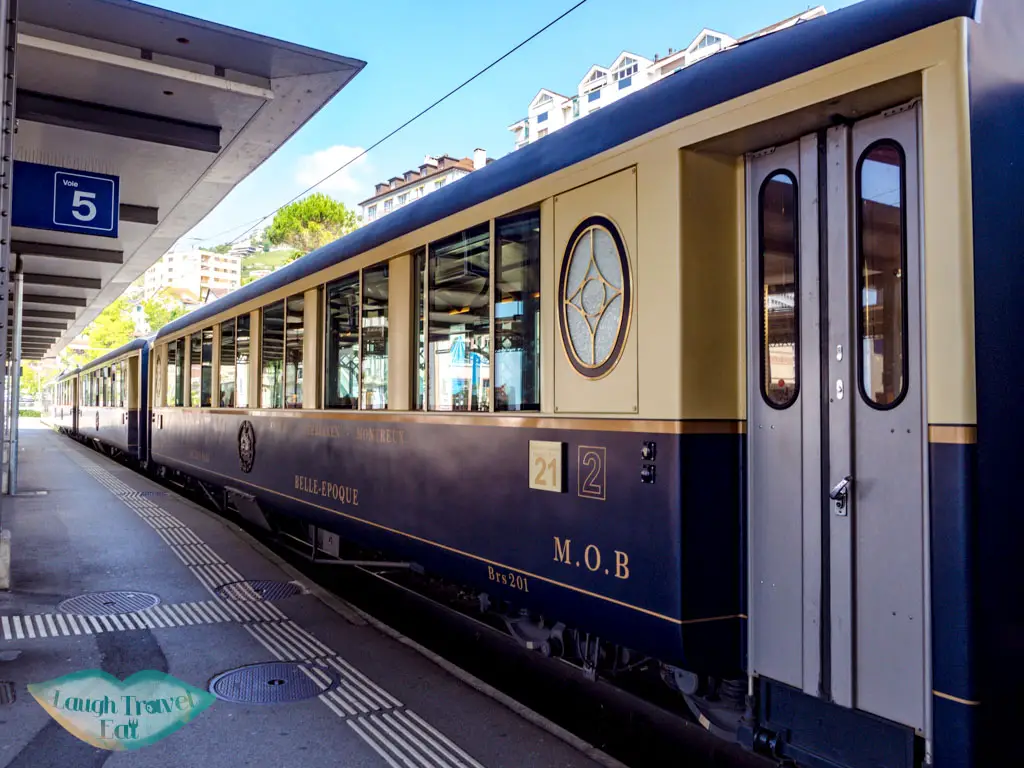 The Belle Epoque Golden Panorama from Montreux to Zweisimmen runs daily at 13:44, though the route itself runs almost hourly. This is a special vintage design that makes all your royal dream comes true. In fact, if you are up for splurging I highly recommend going first class.
They have minibar service but it is quite expensive, then and again this is Switzerland.
Sits on the single seats side has a little better view but it is great on both sides.
The train runs from 13:44 to 15:33, so you get just under two hours of epic views.
GoldenPass Line: Zweisimmen to Interlaken
We had to change trains at Zweisimmen and everyone was a bit on edge since we were running late. The connecting train, fortunately, is across the platform and all the passengers made it as far as I could tell. The schedule for this is from 15:39 to 16:50 and the change was from platform 8 to 12.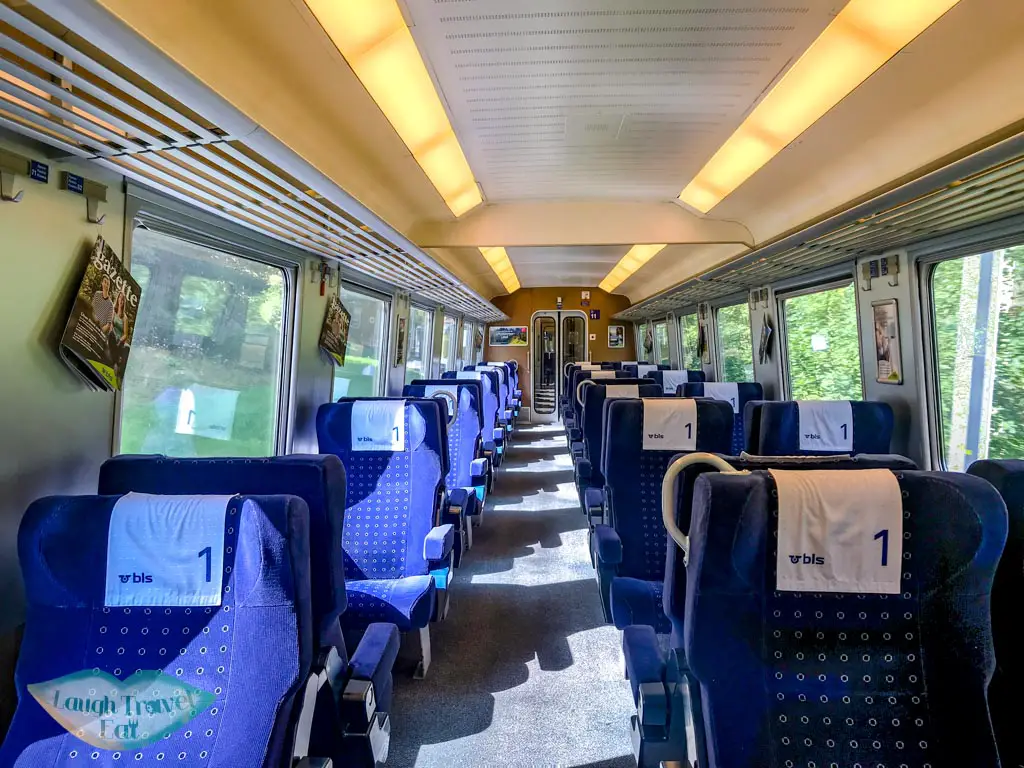 While the view continued to be great with a turquoise river running alongside for the majority of the time, the train is shabbier in comparison to the Belle Époque and there was no sockets. 
But somehow, I had first class carriage practically to myself, which was quite nice. It goes past the Thunersee between Spiez and Interlaken, very pretty.

Luzern-Interlaken Express
The last leg of my epic train journey that day was from Lucerne to Interlaken. I had 15 minutes to change platform to get on the 17:05 train.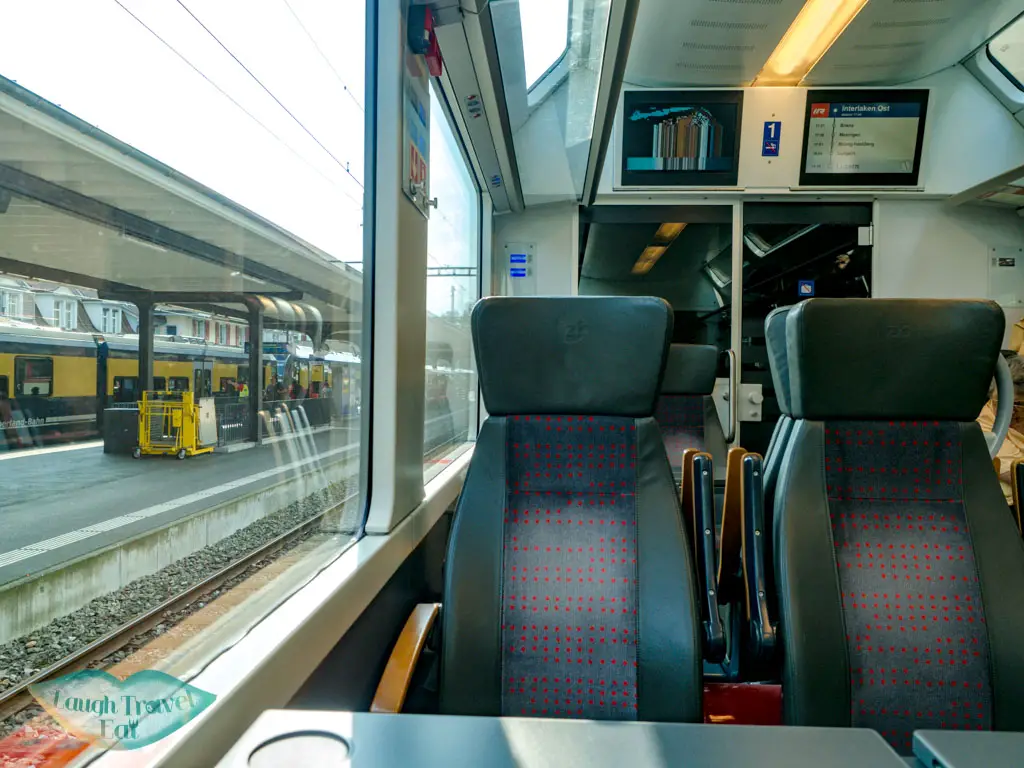 There were ramps so it wasn't too bad with a suitcase from platform 4 to 12.
It was by far my favourite journey with the carriage air conditioned, completed with big windows, foldable tables and outlets.
I got to Lucerne at 18:55, finishing my almost 7 hours long train day. The sunset that greeted me was spectacular:
Day 3: Lucerne and Mount Rigi
My plan was to explore Lucerne in the morning, and I ended up getting up just before sunrise. The city was basically empty and I was able to get photos of the Chapel Bridge without the crowd!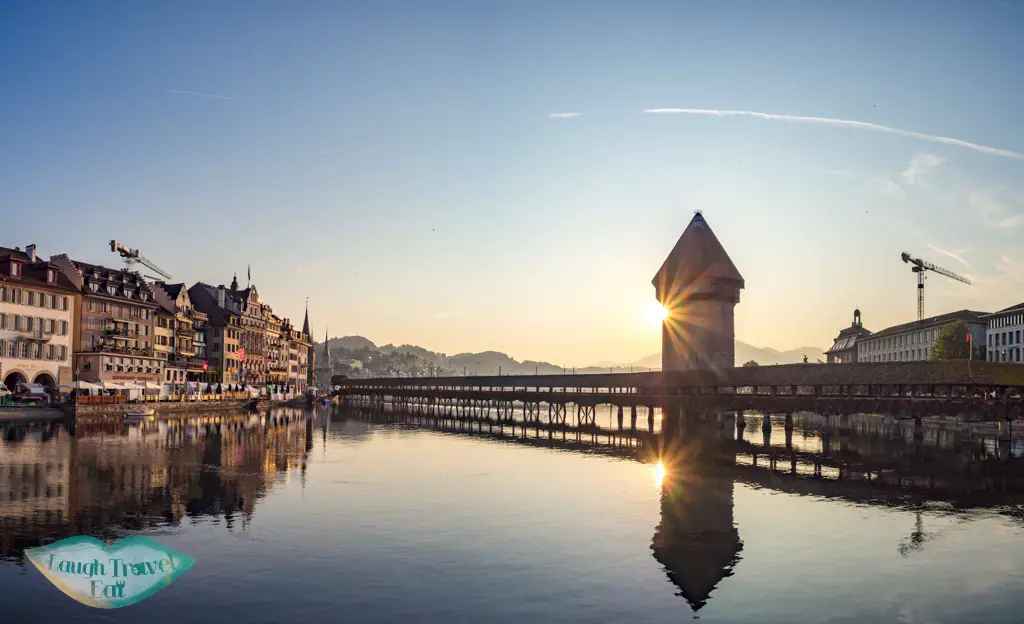 I got a sandwich at the Millet close to the train station and got on a ferry to cross the Lake Lucerne on a half day trip to Mount Rigi, and managed to get back before 5pm.
I had dinner at Taube, and while the food is good, I wasn't a fan of the service.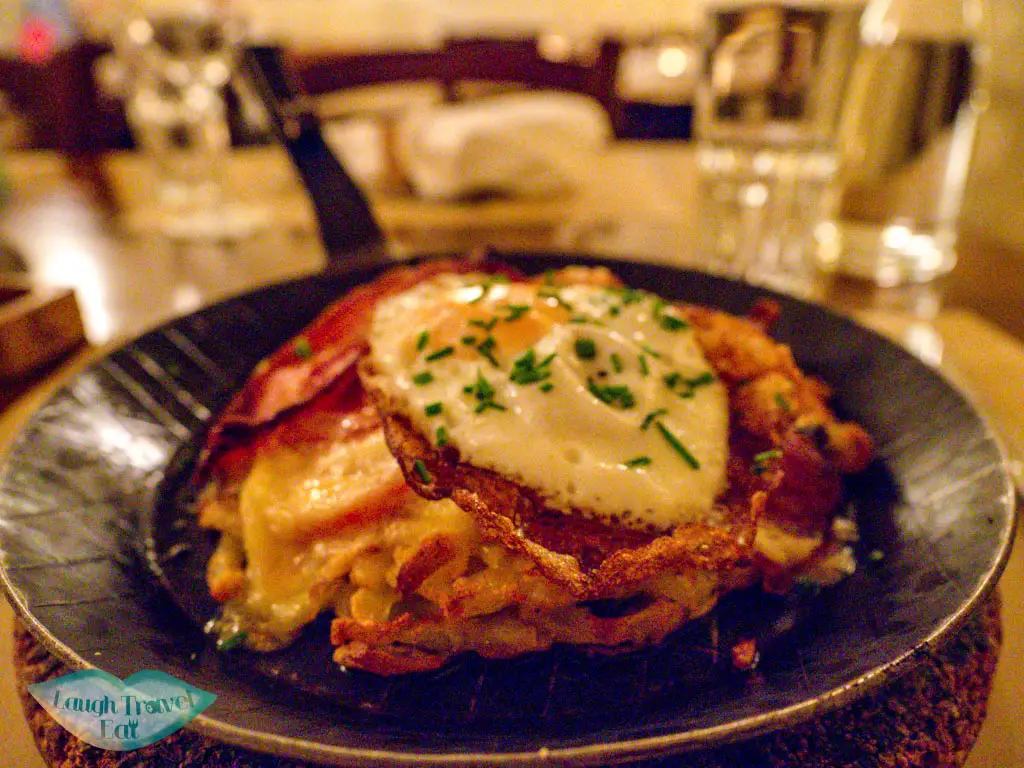 If you can, make a reservation as they seemed a lot nicer to those with one.

Where I stayed in Lucerne
I stayed at Barabas Hostel and Hotel which is walkable to the train station and on the edge of the old town in front of the Musegg Walls. Aside from its former prison status making the room stuffy (because window is small), I enjoyed it a lot.

Day 4: Interlaken
I got the 9:06 train from Lucerne and arrived Interlaken at 10:55, it was a bit busy so reservations would be nice if you know you'll be taking this one. Otherwise, arrive at the platform early to get settled in as there are a lot of people with suitcases.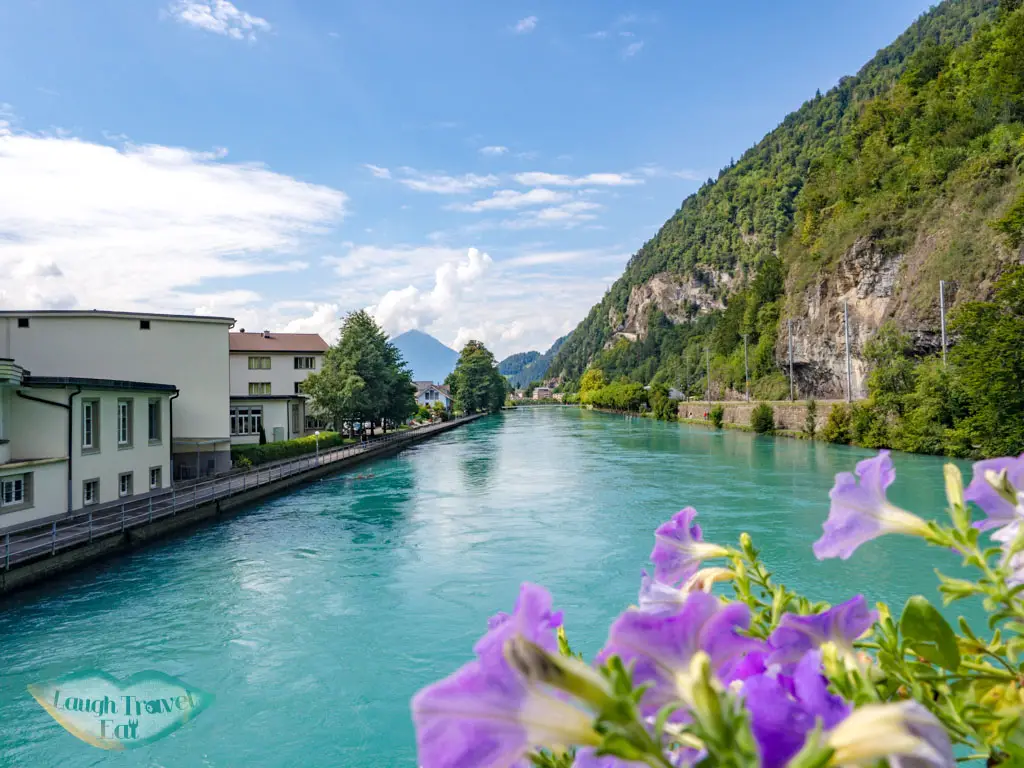 I left my luggage at a medium sized locker at the station, which was big enough to fit my backpack as well. The cost was 7 euros for 12 hours.
Harder Kulm
From Interlaken station, Harder Kulm is only 5 minutes walk away. I took the 11:40 funicular up and spent about an hour plus there. You can do hikes around the area, otherwise there's only the panoramic viewpoint and the restaurant. 

Lunch at Co Op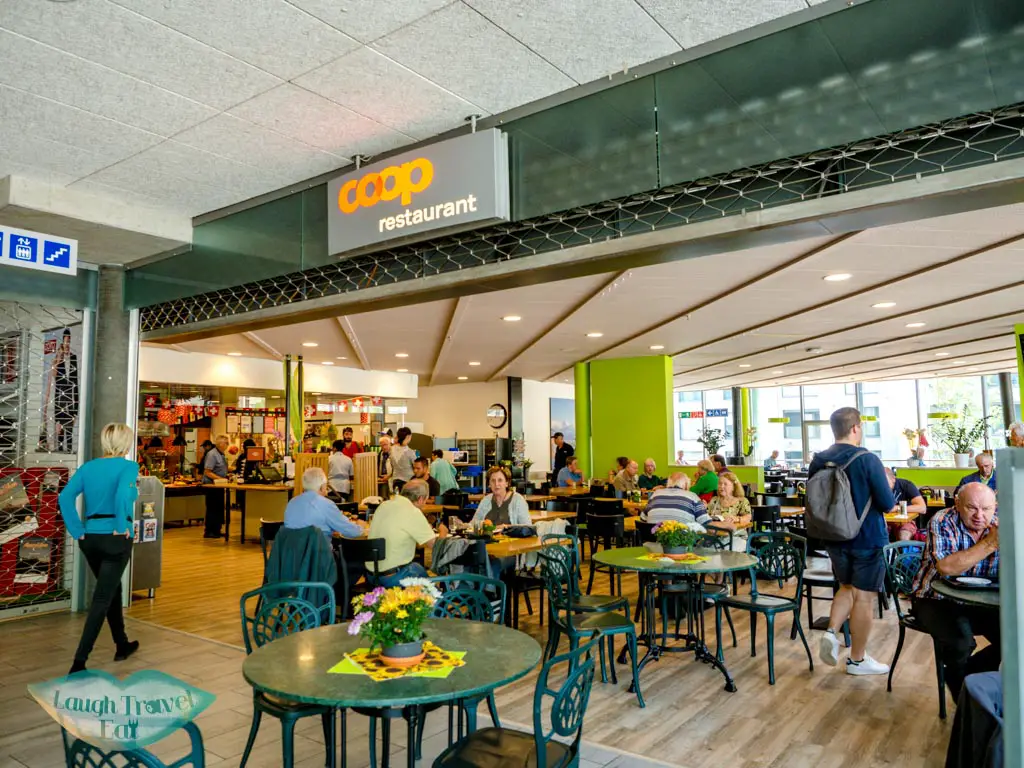 Co Op has a restaurant across from the train station, although I didn't spot that it was still open on Sunday and bought a salad from the Co Op shop at the station.

Paragliding Interlaken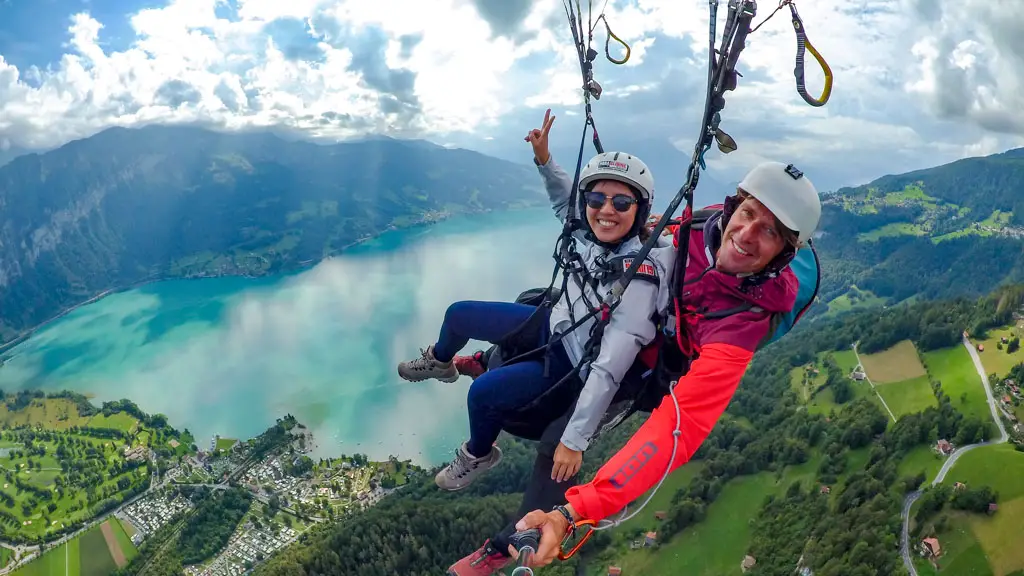 I booked a 14:15 slot for paragliding and was picked up promptly at the station. They drove us to the office which is very nearby before heading out the mountains. It was one of the best things I did – hands down, and I got back – more like landed back – in Interlaken around 3:30pm.

Launterbrunnen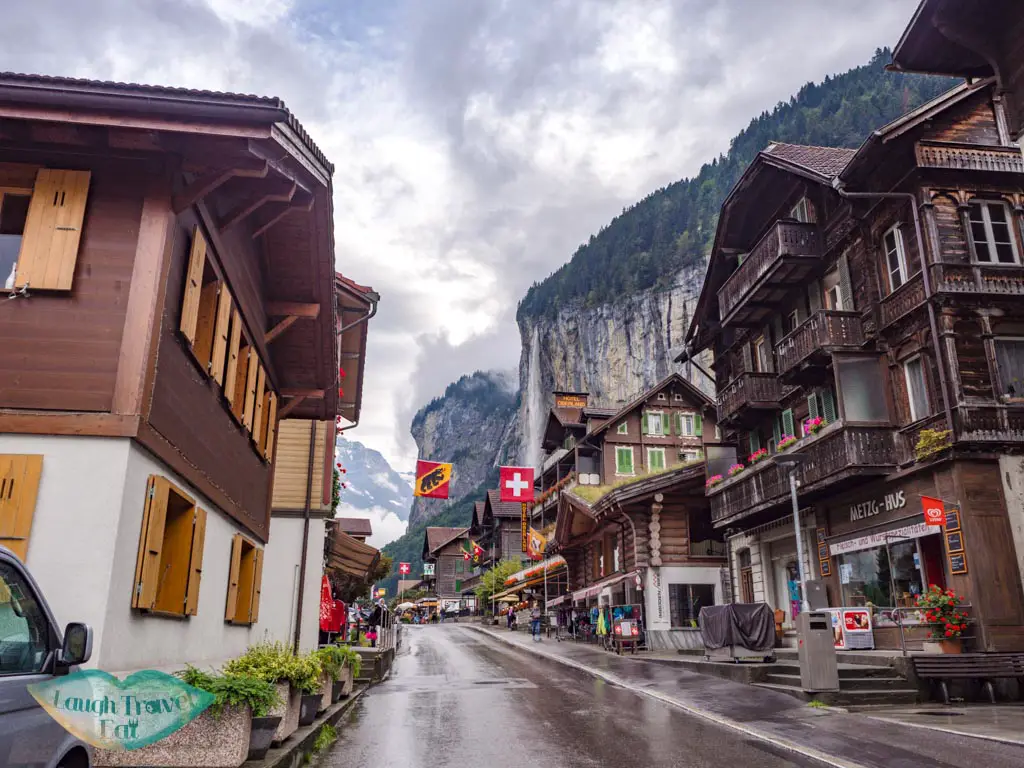 I got my luggage and then on the 16:05 train to Lauterbrunnen, where my hostel is. The train departs from Interlaken to Lauterbrunnen every 05 and 35, 20 minutes. My hostel was only about 5 minutes walk away and I settled in.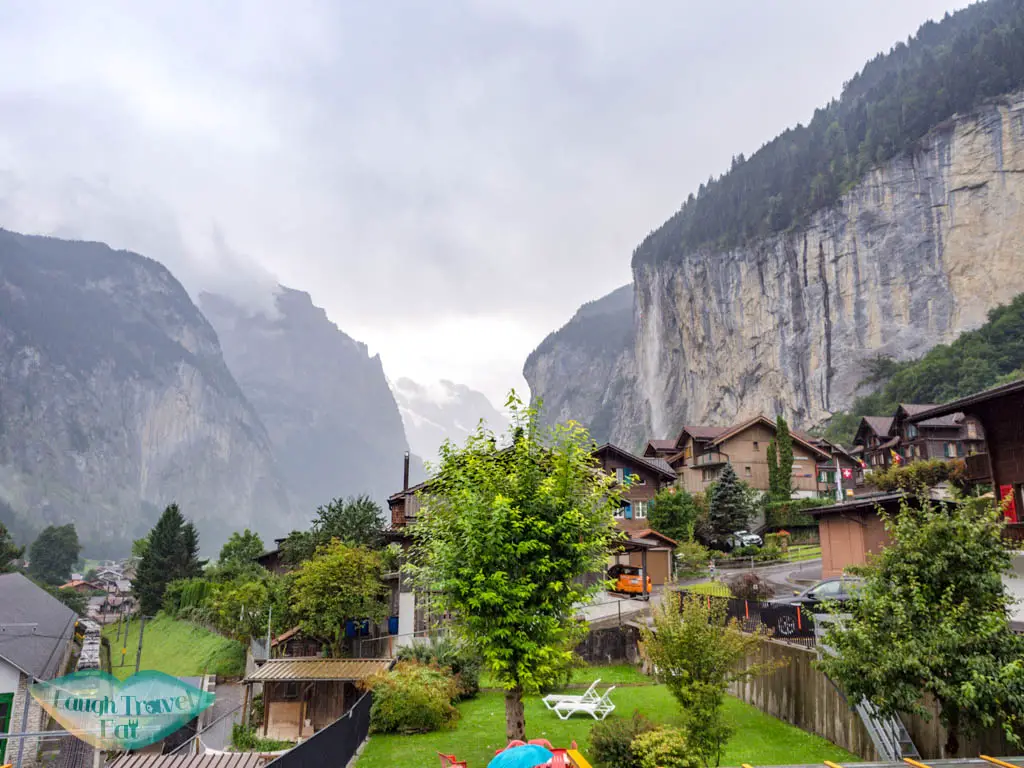 The weather had gotten gloomy but I still hiked to the Staubbach Waterfall and walked around a bit.
A Co Op is right across the train station and my hostel has a big kitchen for everyone to use. I end up eating my second cup noodles so I don't have to go out.

Day 5: Launterbrunnen and Jungfra
I had planned to visit Jungfraujoch in the morning, but after a check on the livecam it was clear that the visibility was next to zero. If you want to visit there, head to my Jungfrau region guide.

Another option is to do Schilthorn, which I did the next morning when the weather is good.
Since I had the Swiss Travel Pass, I decided to utilise all the free option available. I got the cable car from Lauterbrunnen to Winteregg – then to Murren and back. The weather was miserable so there wasn't much to see.
An alternative was a day trip to Bern, the Switzerland capital, is also nice.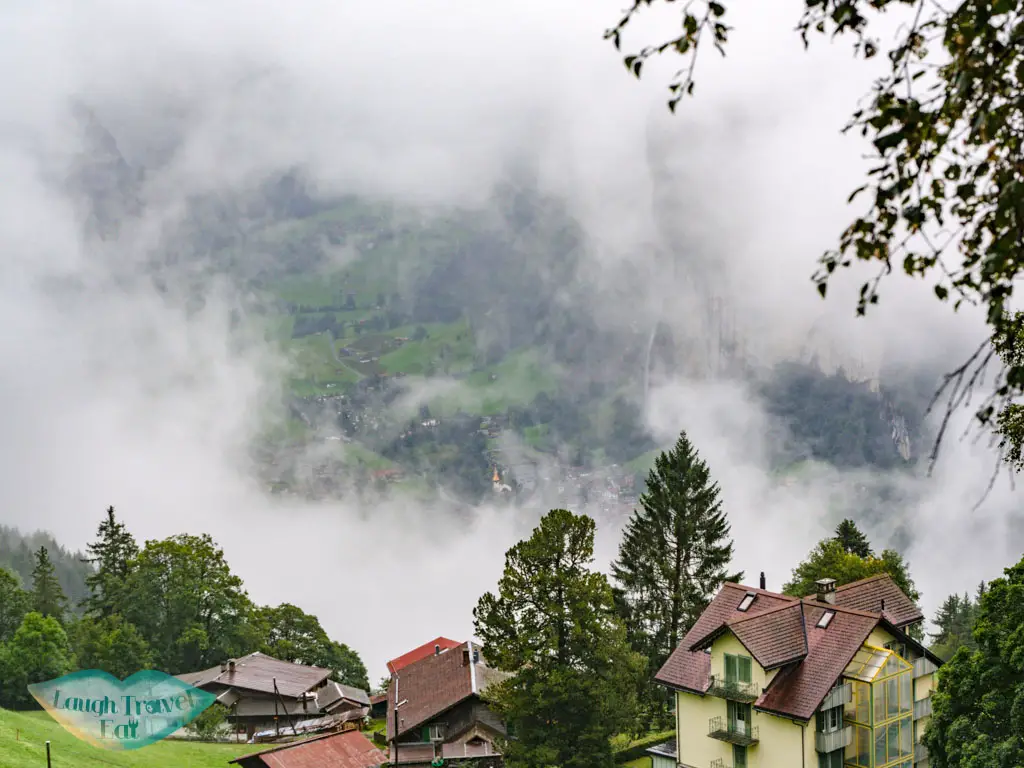 I got back to Lauterbrunnen before 11am and then took a train to Wengen, where I ended up on a two hour return hike to Leiterhorn that gives a good view to Lauterbrunnen for a few minutes when the clouds parted.

Lunch at Pasta & More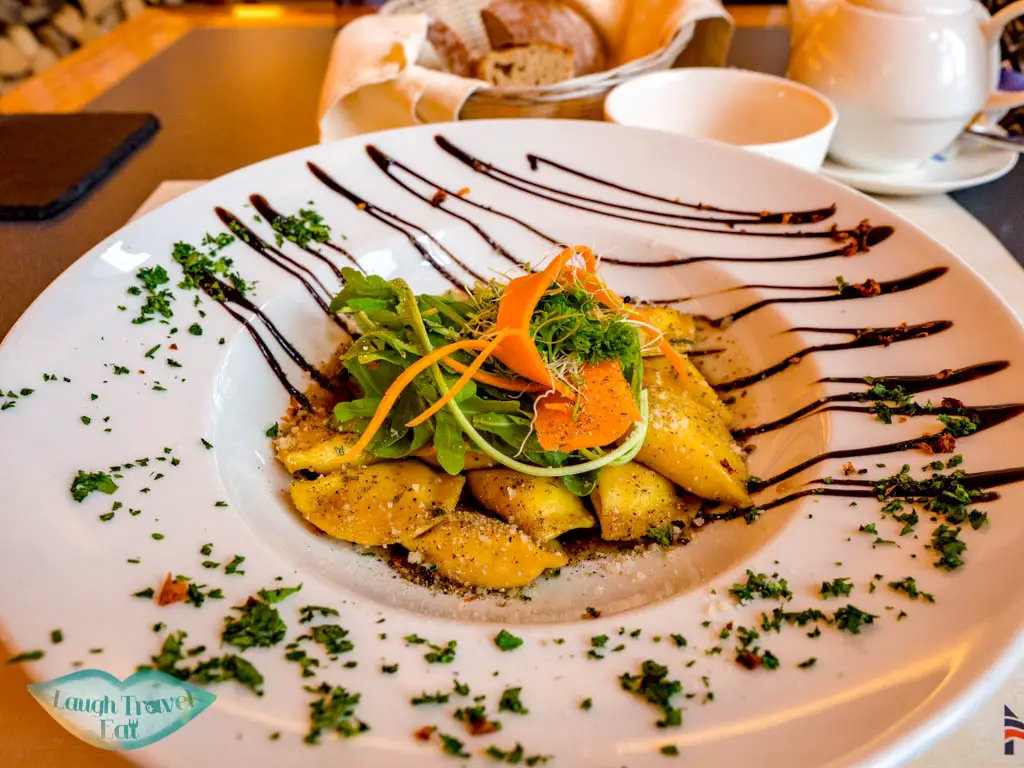 Once I got back to Wengen, I decided it was time for a proper meal and went to Pasta & More. I had a delicious ravioli, which was an average sized portion but they also gave me a basket of bread. The waitress told me that they charge for tap water so I got a tea that they are happy to refill.
Address: Dorfstrasse 1, 3823 Lauterbrunnen, Switzerland
Opening time: 9:00 – 22:00

Grindelwald 
After a break at the hostel, I ended up going to Grindelwald which is half an hour away by train including one change.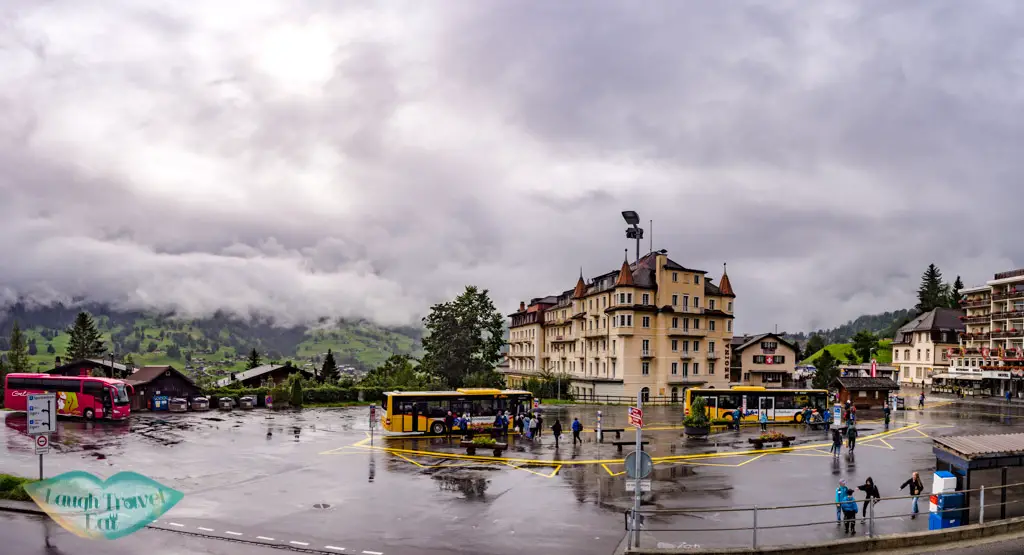 It was still rainy and I didn't end up doing much apart from buy food at the Co Op for dinner and head back!
Full price table for Jungfrau region here

Where I stayed in Lauterbrunnen
Valley Hostel! They had luggage storage and everything was quite DIY but you can't beat the price point and the view of the town. The big kitchen and close proximity to the train station are also ideal!

Day 6: Schilthorn, then Zermatt and 5 lake hike
Schilthorn
Given that I saw zero things yesterday except the towns, I decided to get up at the crack of dawn to go up to see Schilthorn. They have an excellent timetable linking all the transport together.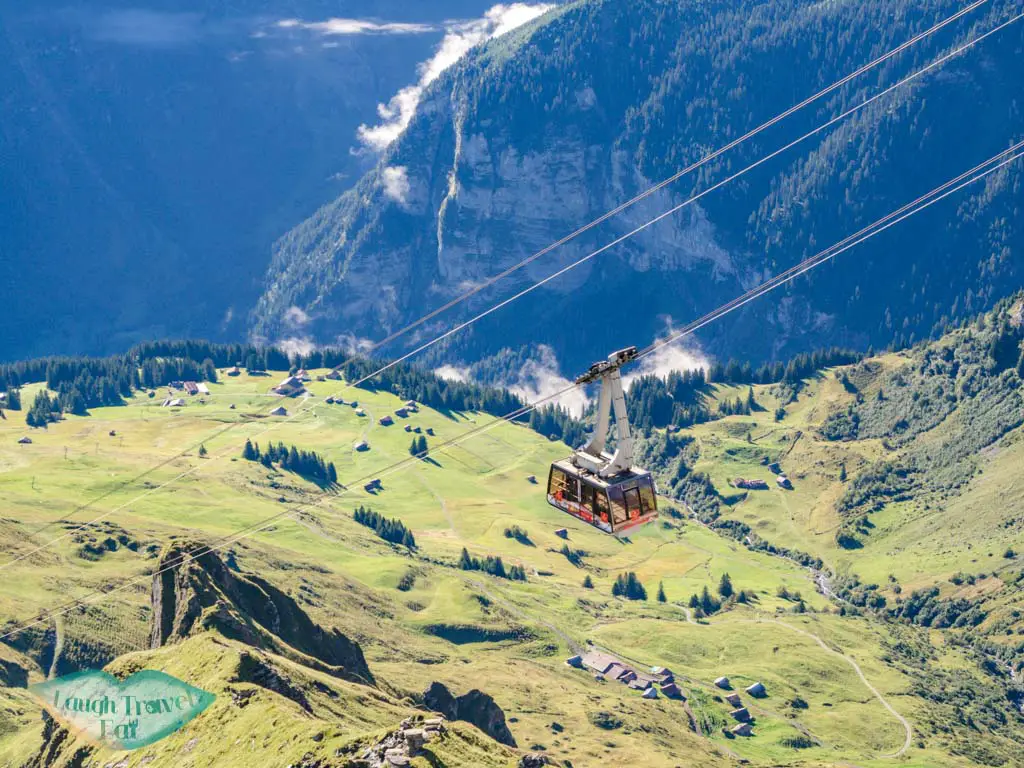 6:35 bus to station that goes to Schilthorn – which turns out I read the Interlaken timetable and thus had half an hour in Murren. But I got a pretty good view of the predawn colours by the cable car entrance.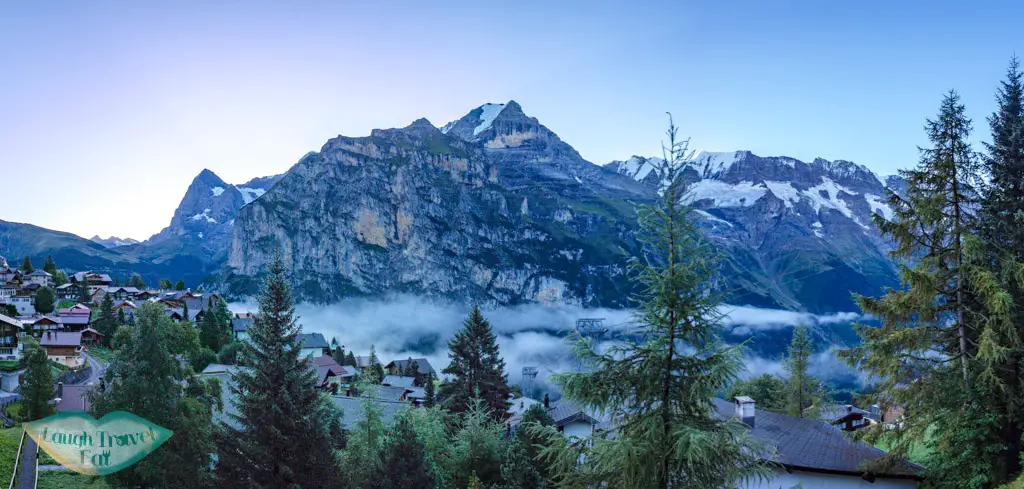 I then proceeded to wait around for the cable car up to Birg and Schilthorn, finally arriving at the summit of Schilthorn at 7ish. The summit, though has a stunning view, don't have a lot of things to do outside of the restaurant.


Most people seemed to get up there that early to eat breakfast there, but I was on a time crunch!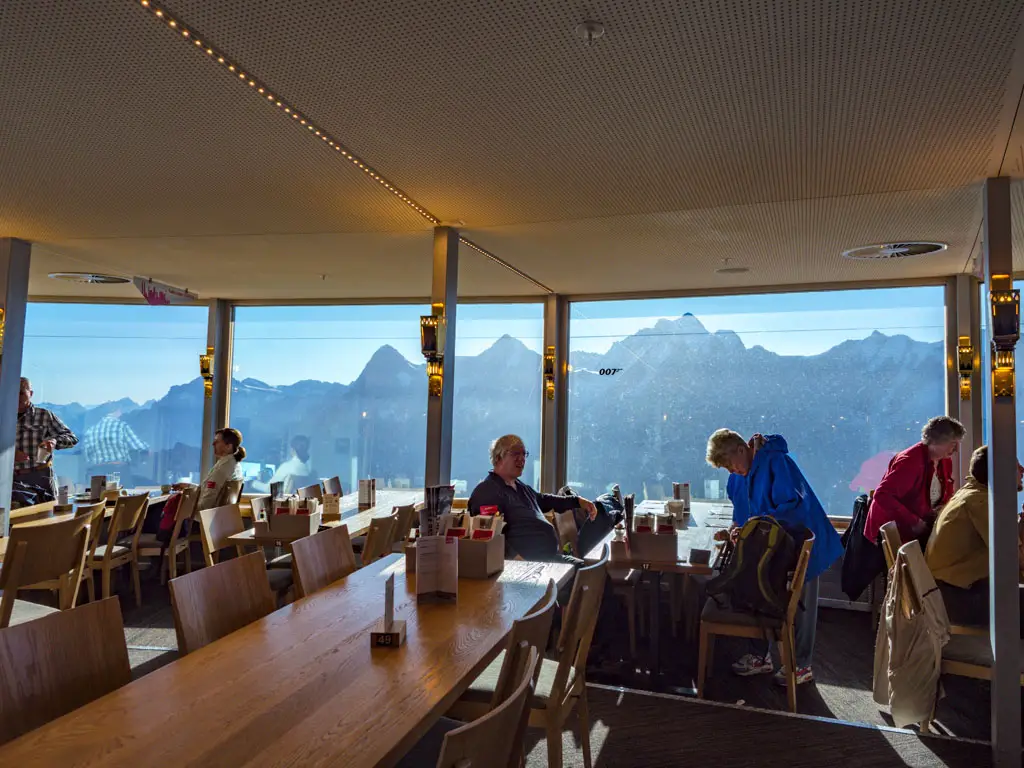 I left at 8ish to Birg to do the thrill walk, which took around half an hour so.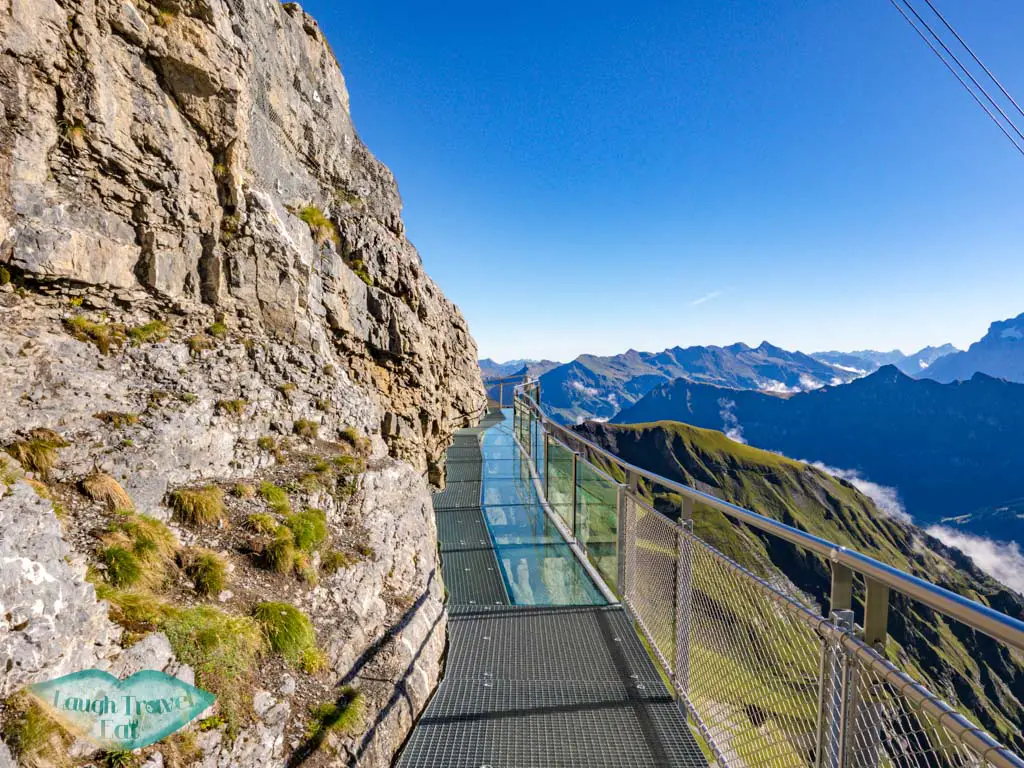 I got the next cable car to head all the way back down for the 9:40 shuttle back and connect to bus then grab my luggage and ran.

Lauterbrunnen to Zermatt
Which got me on the 10:32 train from Lauterbrunnen, with a change at Interlaken and Spiez to Zermatt, arrive at 13:14.

I sent my train in the morning to my hotel Cervo, who picked me up and whizzed me up. After relaxing a bit and eating a cup noodle (I know, I'm horrible but Cervo has an amazing restaurant, too).

I set off to do the 5 lake hike around 15:30, which was too late, I should have left at 14:00. The funicular to Sunnegga is just down from the elevator for Cervo level, which made it very convenient to get to and purchase tickets.
The last train from from Sunnegga departs at 6pm during the summer season, which meant I had just over two hours to do the two and a half hour hike from Blauherd to Sunnegga – and I made it, just about. If not, the hike from Sunnegga back down is said to be about two hours. So budget in more time and don't be like me!
Dinner at Cervo
Since I had to run, dinner at Cervo was a great idea! I had time to relax with a bath and the terrace of the restaurant offers a stunning view of the Matterhorn as the sun sets.

Where I stay in Zermatt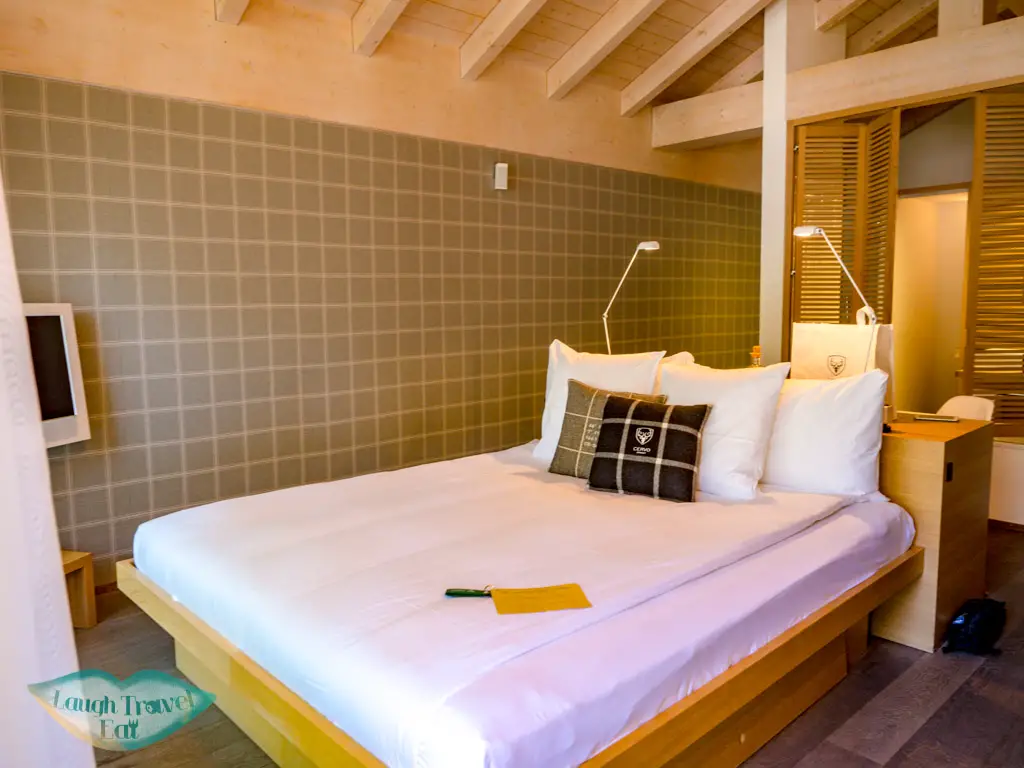 Cervo Zermatt, which was an absolute dream come true with a great view of the Matterhorn, lovely breakfast, many free food in the room itself, and yes, a lovely and spacious room. More on my review here.

Day 7: Zermatt Gornagnet and leaves
I decided to take it easy in the morning, waking up and had a great breakfast at Cervo before setting off to Gornergrat Bahn at 10ish. The elevator took me to the ground level of Zermatt town where the station is about a 5-10 minutes walk.
If you are pressed for time, getting a return ticket for Gornergrat and spending some time up there shouldn't take more than 3 hours, and you can get up even earlier. I wanted to do a proper hike and went to Riffelalp then hiked up to Gornergrat, a 924m ascent that took 5 hours!
I got back down to Zermatt at 18:00ish, as the train only runs hourly after 17:00, and ended up ordering room service.