Kayak Dubrovnik – Roughing the Sea around Lokrum Island
Though Dubrovnik is famous in its own right, kayaking around Dubrovnik is equally as fun. And what is a trip to this city without visiting at least one of its surrounding islands? One such island is Lokrum – a small island a mere 600 m from Dubrovnik. It is now a protected national park that is void of inhabitants due to a curse set on it by the Benedictine monks who were evicted in 1808. It is also the alleged site of Richard the Lionheart's shipwreck in 1192.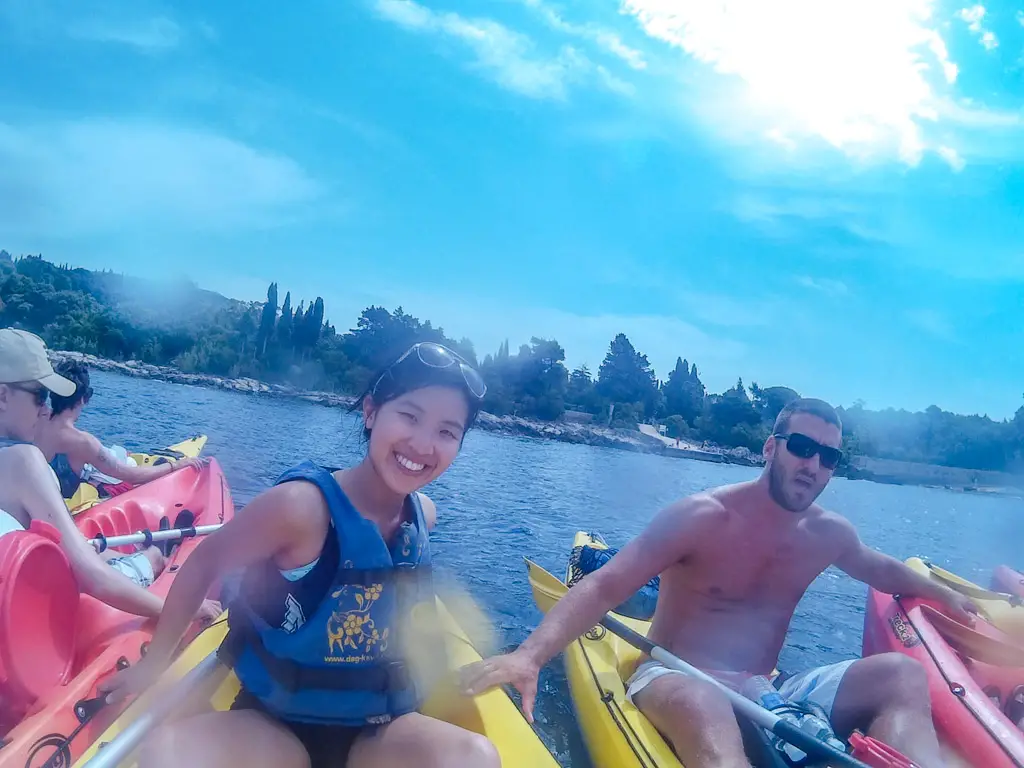 Check out the itinerary of the trip online
Kayaking tour from Lokrum
We booked via Viator, we decided on a morning kayaking trip around the island of Lokrum would allow us to enjoy the view of Dubrovnik from the sea and also to get active.
Note: this tour doesn't go ON the island of Lokrum, pick this one if you want to go up.
The tour is with Adventure Dubrovnik and the departure point is the beach by Pile Gate (thank goodness!). You reach the beach via the stairs by the pedestrian crossing outside of Pile Gate and despite the 9:30 start everyone was already geared up on our arrival.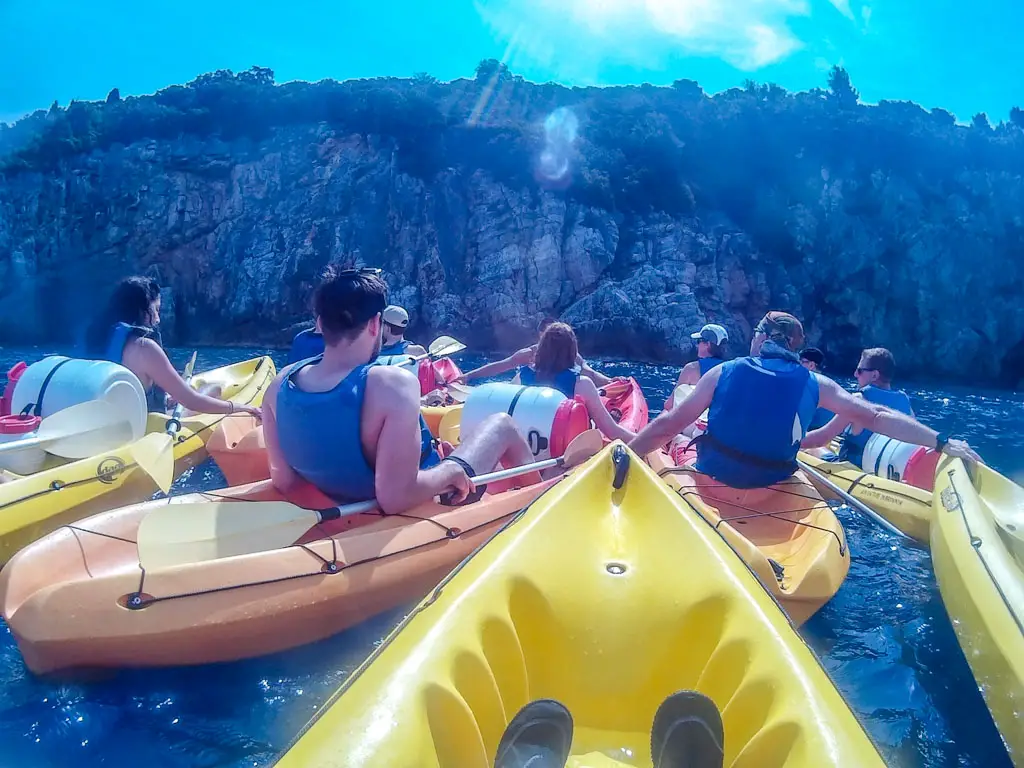 Scrambling to get our stuff into the sealed container provided we donned our life jackets and grabbed a paddle each and stand by our assigned double kayak. After a short briefing, we were told to get out of the small bay between two massive rocks and if we don't make it in three minutes – we were to turn back.
A little unsettled, we all set off towards the bay and luckily everyone had made it. In all honesty – kayaking isn't easy and I definitely wouldn't recommend this excursion if you had never kayak before. Especially since there is no guarantee what the weather would be like and you trip might even end up being cancelled. Usually, the wind strengthens throughout the day, therefore if you book for a morning session you have a better chance of the trip going ahead.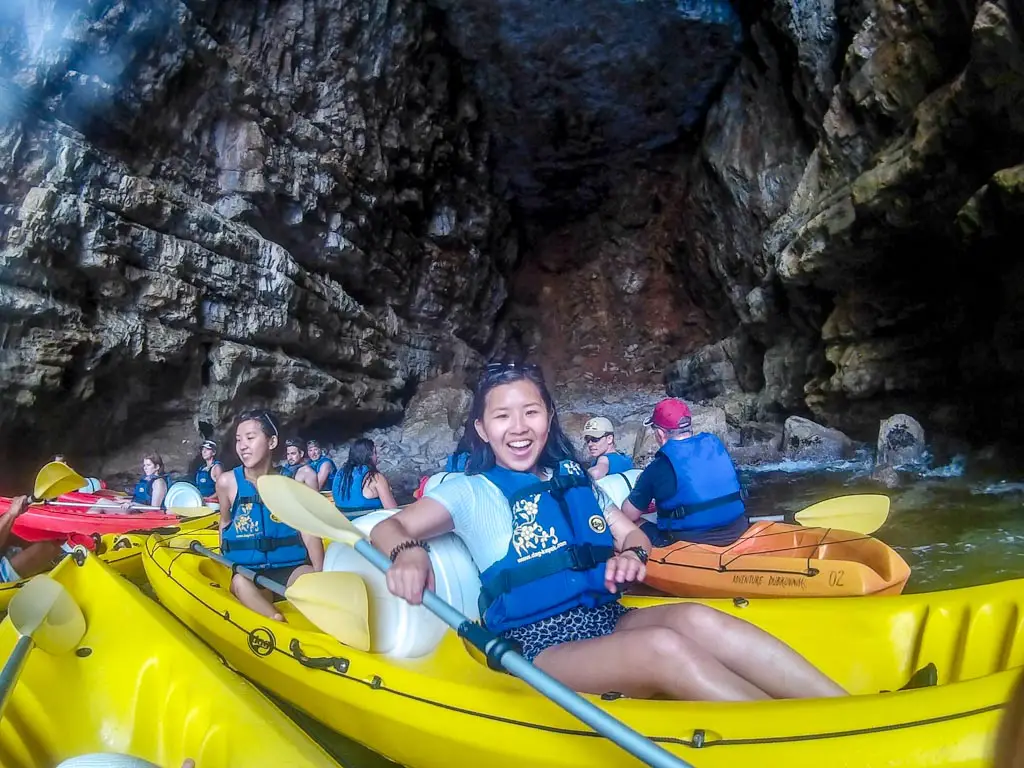 The kayaking trip involves several rest breaks around Lokrum Island, where the instructor will point out some point of interests. You do not go ashore onto the island with this trip, but you will see the abandoned monastery from the sea. We were told that rest breaks would be taken every 30 minutes, in reality, that only applied to our first two stops on the NW facing side and we kayaked for 50 minutes around the SE side back to the mainland where we stopped at a small cove with pebbly beach for lunch.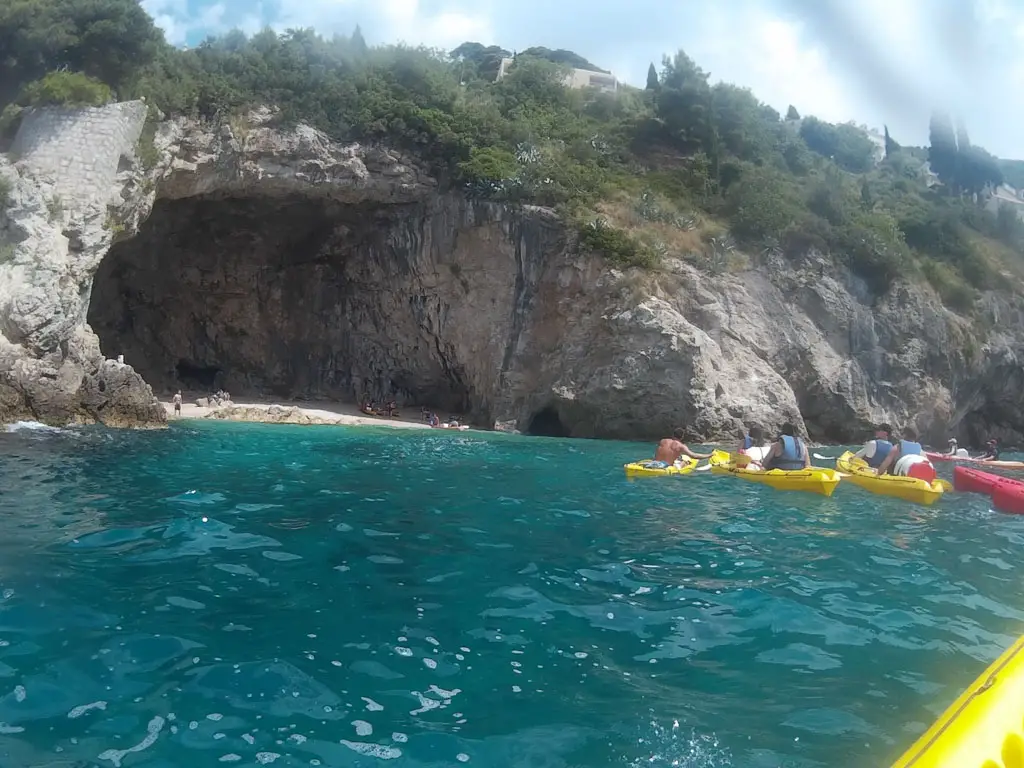 During the 50 minute journey, there were points where the waves were so strong that no matter how hard we kayak – we just didn't seem to be moving. It was hilarious and we had to paddle twice as hard to move on but it turned out that they did have a speed boat tailing us to make sure that no one was left in the dust. If only I had known beforehand…
Snorkeling in Dubrovnik and lunch
The lunch was nothing fancy – a simple sandwich with ham and cheese. You can swim in the cove, however, the sea was extremely rough and we were all tired from overusing our arms. The cove was SW of the city and we then paddled all the way around the coast of Dubrovnik to Pile Gate, admiring the high stone walls along the way at around 12pm.

Verdict:
Overall – we had a great time on this excursion and our instructor had been fantastic. Since there is the safety of a speedboat which would catch you up to the main group – you really needn't worry about falling behind. However, if you wanted to set foot on the island then this trip isn't for you.