Bled is known for its picture perfect lake, but there are actually tons of active, fun activities that you can do there. From cycling to Canyoning, you can be as adventurous as you want or as chill as you would like. But one thing's for sure, Bled is definitely a place for water lovers and adrenaline junkies!
Cycling
If you are short of time, or not much of a walker, then cycling around the perimeter of Lake Bled would be a great idea. Not only does it shave the amount of time it will take you to go all the way around, the paths around there are actually pretty cycle-friendly too! You might have to go on the road a bit on the southern bank, and beware of pedestrians, but you can practically rent a bike anywhere within the town. I rented mine from my hostel, and it costed me 6 euros for 2 hours, and they lent me a helmet too.
Costs: 6 euros 2 hours
Rental place: Castle 1004 hostel
Canyoning

When it's raining outside and you have nothing to do, Canyonning might not be a bad idea. To be completely honest – I am not the most adventurous girl you will ever meet. However, my friends, before they left, made me promise to try it out and I did. Despite the fact that I probably won't ever do it again, I actually had a great experience. If you don't' know what Canyoning is, it's a combination of jumping, swimming, walking and abseiling down a canyon. We were put in wetsuits and special shoes, as well as helmets, and taught how to use the ropes and hooks.
Even though I was petrified at the idea of jumping, I actually ended up doing all the jumps (because abseil hurts my non-existent abs too much). I have to thank the professional instructors who offered me all the right words of encouragement to make me jump, and applaud to the girl who leaped off after me even though she was absolutely horrified. All in all, it was quite an experience that was worth the 60 euros.
Unfortunately, having lost my action camera to the sea a week back, I wasn't able to take any photos, but here's one the girl I met on the trip sent me: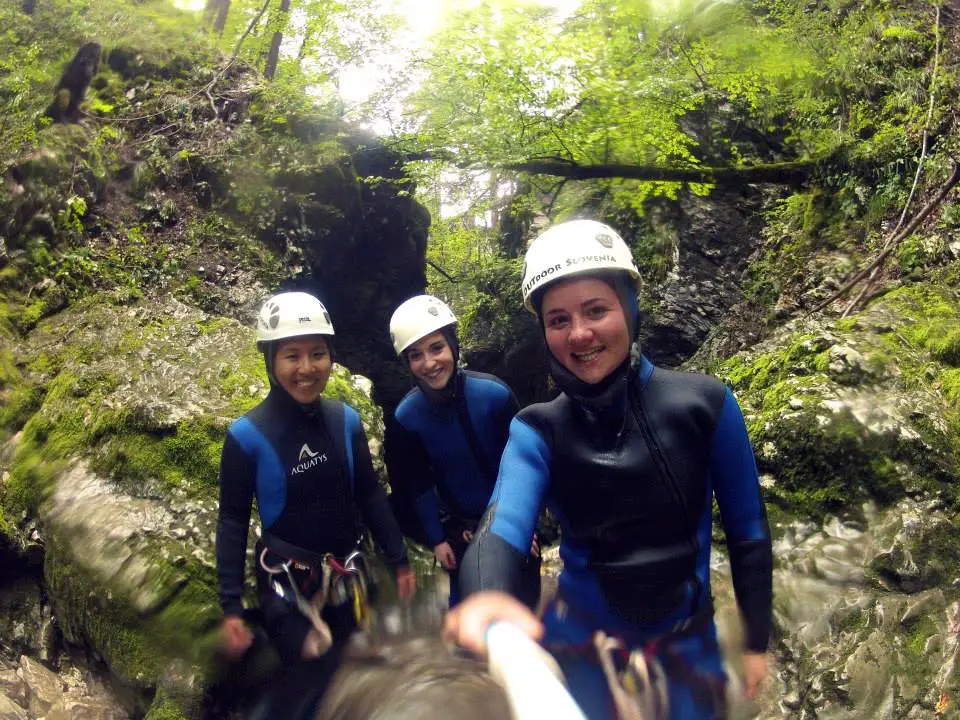 Costs: 60 Euroes
Booked with Castle Hostel 1004, lasted for half-day, transport included
Paddle board
This is the one sport that I promised myself that I would try, but never ended up doing. There are several places that rent paddle boards, most of the situated in the south-western bank of Lake Bled. It's a good way to go around the lake, and you would look pretty cool doing it. You can probably get a dry bag from the rental place as well and head out to Bled Island.
Cannot remember the cost – but it's slightly more expensive than Kayak.
Rowing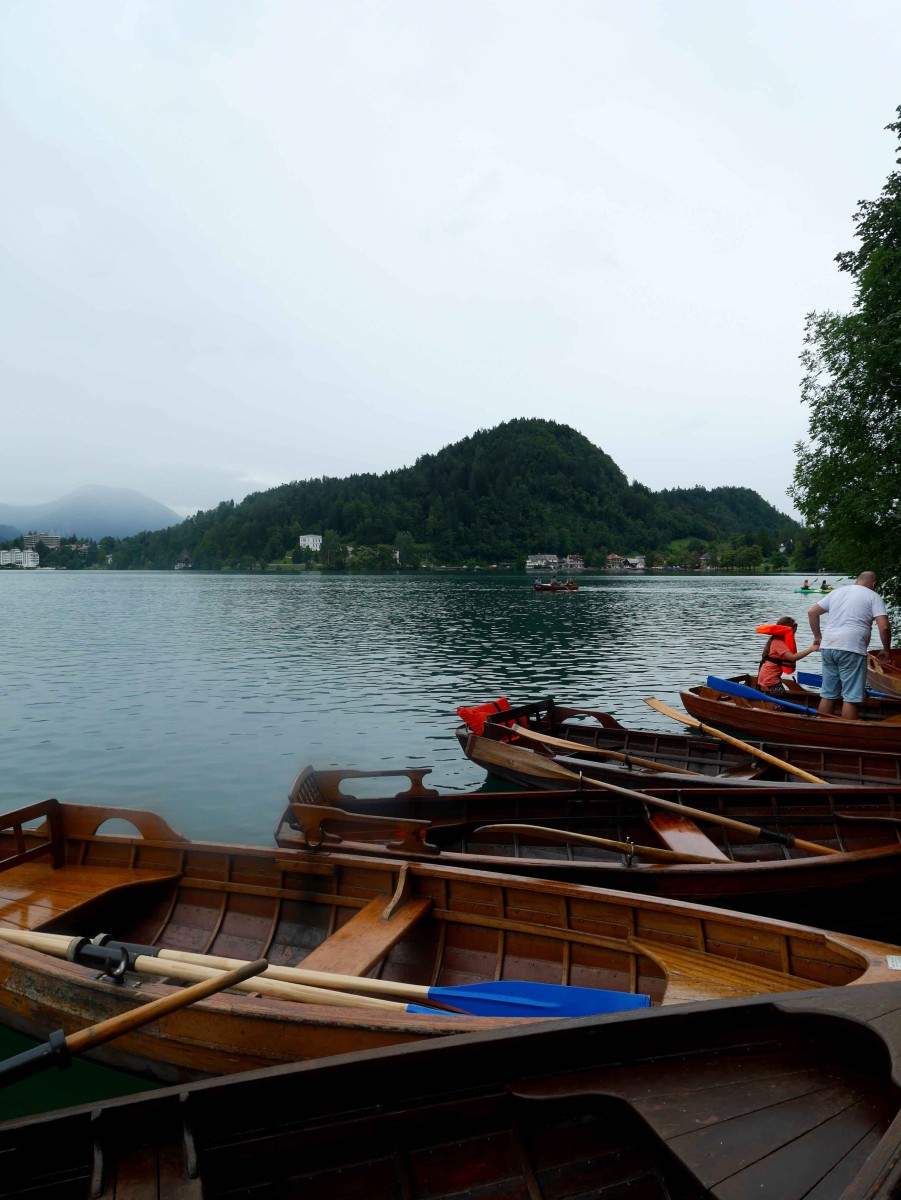 A great alternative if you are a group of friends or a family to go around the lake and or head to Bled Island. Some people would opt for the boat services that ferry you to and from, but rowing yourself is so much more fun. It's also super romantic if you are a couple, just sayin'!
Me and my friends had fun rowing across to the Bled Island, each of us having a go and the helm and I actually got quite good at it! It costs 12 euros an hour, an additional of 8 euros per hours after, and pretty cost effective if you split it. An hour is plenty enough for you to go to Bled Island and back (unless you stay and eat at the over price café there).
Cost: 12 euros first hour, 8 euros every hour after
Rental place: a small store next to the supermarket on the SW corner of Lake Bled
Kayaking

What I did instead of paddle boarding, kayaking in a lake is like a dream, unlike that time I roughed the sea in Lokrum, Croatia. I rented a kayak in the morning and challenged myself to go around the entire lake, donning a safety vest to make me feel safe. I was the only one out paddling in the cool August morning and ended up getting my photos taken by a bunch of tourists that just docked on Bled Island. It was a true celebrity moment! Not to mention you can get cool panorama of the lake on the lake!
Cost: 7 euros for 1 hour, extra 1 euro for lockers
Rental Place: at a little beach on the southern stretch of the west bank of Lake Bled
Swimming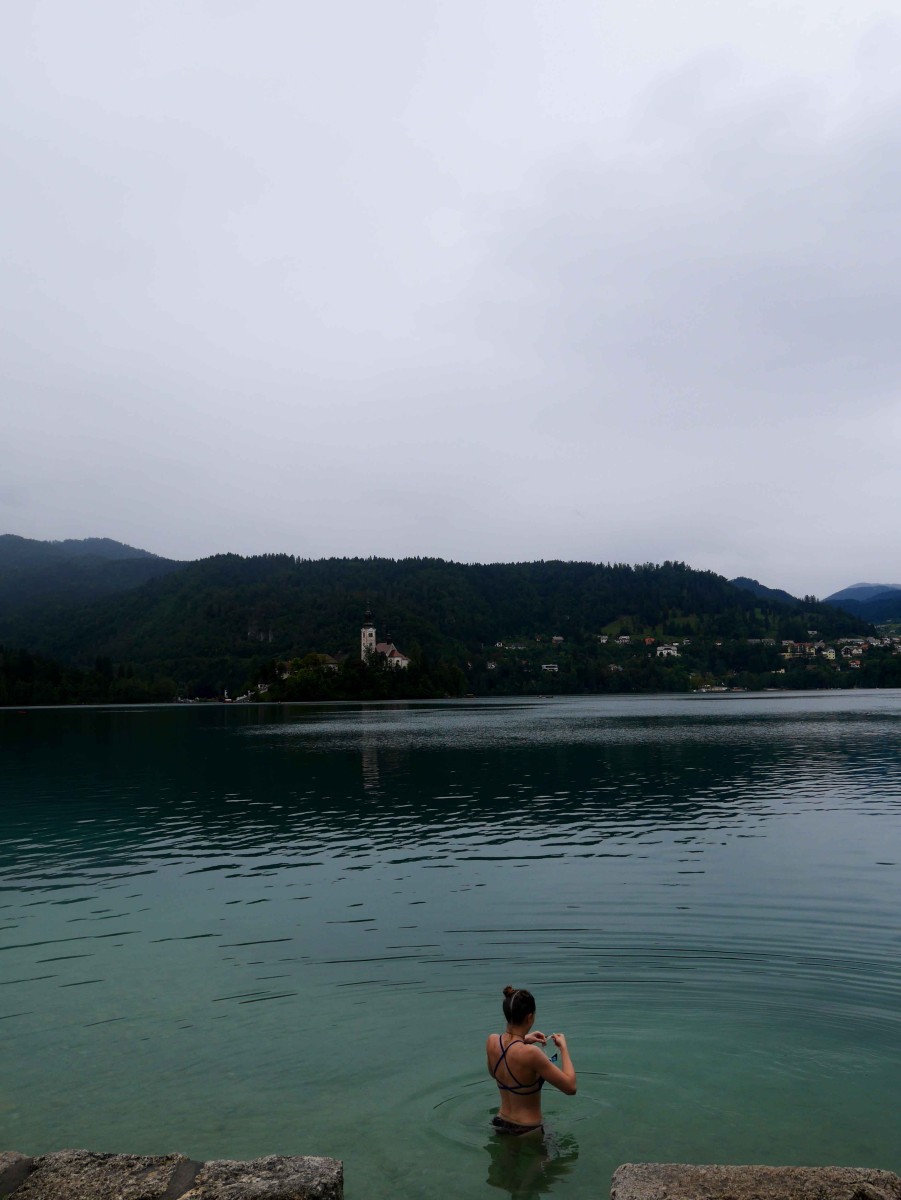 Lake Bled is a glacial lake, and the temperature is actually quite cold, even in the summer months. Combine with the fact that it's a lake, swimming in it isn't as easy as swimming in the sea. Even though there's plenty of boat traffic, you can swim in Lake Bled. My friend did a quick lap to the island and back whiles me and another friend waited by the shore – so if you are feeling super active, then this is a challenge for you!
Free!
Etc
There is a myriad of things you can do in Bled – and the above are just some of the ones that I did or wanted to do myself. The hostel I stayed at, Castle 1004 gave us a sheet with activities that you can do there, some of which are paragliding, skydiving and horseback riding. So honestly, you can pretty much spend a week in Bled and not get bored – and if it's in the winter, you can even go skiing.